The Strange World of Bill Scranton
Pennsylvania Governor Candidate Must Explain Ongoing Cult Ties
** A POLITICS1.COM EXCLUSIVE : Please Credit **
August 1, 2005
by Ron Gunzburger
Former Pennsylvania Lieutenant Governor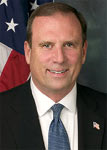 Bill Scranton III (R) has been less than candid in how he and his campaign are spinning his close and continuing ties to the purported international pseudo-religious cult led by Maharishi Mahesh Yogi -- despite his claims these connections no longer exist. With polls now showing Scranton running within a few points of incumbent Governor Ed Rendell (D), voters have a right to know what influence these cult connections could have on how Scranton would govern the state if elected.
In 1986, Scranton saw his gubernatorial campaign get derailed in the final days when his Democratic opponent launched a hard-hitting spot that attacked Scranton's ties to past drug use and the Maharishi. Scranton has long explained that he first became involved in the Maharishi's movement when he had a drug problem and they helped him quit. The "Guru" spot, as it was called -- with sitar music playing in the background -- even used an old photo of a youthful Scranton with long hair and a beard. Days later, Scranton's lead evaporated and he narrowly lost the race.
To avoid a repeat of the 1986 implosion, Scranton's current gubernatorial campaign now likes to downplay those past problems. "People look at things like this much differently now then they did in 1986. No one will care that Bill likes to go off and spend fifteen minutes meditating at the end of each day," campaign spokesman Mike Devaney told Politics1. The truth of Scranton's close involvement with the Maharishi cult, however, consists of much more than just a few minutes a day spent alone in quiet contemplation. Considering this is a cult group that advocates a universal government, a one-world currency, and has a detailed political platform -- with the Maharishi touting himself as world's new leader ("Founder of the Global Country of World Peace") -- these connections could well have serious import into the Governor's Mansion should Scranton win next year.
Who is Maharishi Mahesh Yogi?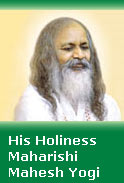 Maharishi Mahesh Yogi, 88, is a native of India. He began his career in the sciences, earning a degree in physics. Within a short period of time, he instead became a cleric in a Hindu sect. Over time, Maharishi -- as he is called by his followers -- evolved it into a new sect founded upon his own works. He is today listed in the group's publications as "His Holiness Maharishi Mahesh Yogi" and is frequently pictured in a deified manner with sun-like rays emanating from his visage.
The Maharishi is best known around the world as the founder of the Transcendental Meditation (TM) movement. It was originally created as a pseudo-religious movement named the "Spiritual Regeneration Movement" -- before it was re-tooled for Western nations into what appeared a more secular group named TM. The Maharishi claims TM is based upon "Natural Law" and "Vedic science." In the 1970s, the Maharishi established TM centers around the globe -- many of them still functioning today. They also established various Maharishi universities and research centers around the world.

According to the Maharishi, TM allegedly brings the practitioner to a special state of consciousness often characterized as "enlightenment" or "bliss." The method involves entertaining a mantra, an allegedly special expression which is often nothing more than the name of a Hindu god. Disciples pay hundreds of dollars for their mantras -- and pay lots more for attending higher-level "training programs." The basic TM course at Maharishi University in Fairfield, Iowa -- where a large community of his US followers settled -- costs $2,500 in tuition. Costs run higher for the "advanced TM-Sidhi" courses.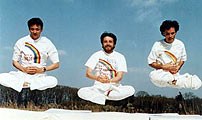 While meditation and yoga, in general, can be healthy and stress-reducing for practitioners, the Maharishi's beliefs and goals extend beyond mere meditating. He advocates a practice called "yogic flying," by which truly "enlightened" TM followers seated in a lotus-position may achieve a state of "bubbling bliss" and be able to levitate across rooms. Yogic flying plays a part in the Maharishi's political views, as he advocates it as a "scientifically proven" tool to reduce war, terrorism, crime and economic problems. This "scientific proof" is offered on various Maharishi websites: "The Global Maharishi Effect was first created in 1983 by the group practice of 7000 Yogic Flyers -- 7000 being approximately the square root of the world's population at the time … During the periods of [these] assemblies … there was a significant decrease in international conflict worldwide." When the Maharishi brought 8,000 TM instructors ("peace-creating experts") together at the group's Iowa HQ, they claimed the meeting channeled so much positive energy that their positive energy waves caused a "decreased traffic accidents and infectious diseases, improved economic performance worldwide, and a marked increase in positive events reported in the press about international relations."
While we're at it, don't forget about Maharishi Vedic Vibration Technology -- which promises you "instant relief" from migraines, stress, diabetes, depression, asthma, and more! Or "regulate the universe" through "expanded awareness" at the Maharishi Vedic Observatory. If you'd like as 24/7 Maharishi lifestyle, you can move to the new Maharishi Vedic City, Iowa. If you're hungry, buy some Maharishi Honey. All for a price, of course.
The Maharishi's Followers Enter US Politics
The Maharishi directly entered the world of politics in 1992, when he urged his followers to create and launch Natural Law Parties in as many nations as possible. In response, his US adherents launched the Natural Law Party and ran party co-founder and Maharishi University think tank director John Hagelin for President in 1992, 1996 and 2000. The party achieved its best results in 1996, when Hagelin qualified for ballot status in 44 states and earned 114,000 votes. The party also ran hundreds of candidates for Congress and other offices, before the Maharishi had his followers disband the global network of more than 80 different Natural Law Parties in mid-2004 in favor of creating a US Peace Goverrment and a "Parliament of World Peace" with "peace palaces" in every nation on earth. He is also now advancing the concept of a universal, Mahrishi-created one-world currency. The Maharishi explained that his goal is to replace existing laws with his laws: "Vedic Law, Justice, and Rehabilitation must replace the prevailing system of law, justice, and rehabilitation in order to make law nourishing to all, justice equally satisfying to all, and rehabilitation effective for all."
The last NLP platform (2000) explained what the Maharishi's followers would do if elected to office. The solution to crime: reduce societal stress, teach TM to everyone, and incorporate TM into criminal rehabilitation programs. Education: Incorporate TM into public schools. Economy: Adopt a national flat tax and encourage businesses to teach TM to all employees. Abortion: Use of TM to reduce abortions, while keeping it legal but without government funding. Guns: pro-gun rights, but teach TM to reduce gun crimes. The party was also pro-drug legalization, pro-labor unions, pro-free trade, and pro-affirmative action -- but TM also tied into many of these policy areas. And yogic flying was the party's solution to create world peace. You get the idea.
Scranton Put Maharishi Leader on State Payroll
Bill Scranton III was elected Lieutenant Governor in 1978. One of Scranton's first acts in 1979 was to hire Nat Goldhaber on the state payroll as his Special Assistant. The hiring of Goldhaber indicates how far Scranton would go to advance the political goals of the Maharishi's movement. In the 1960s, Goldhaber was the founder of the TM Center in Berkeley, California. A short time later, Goldhaber became the Maharishi's personal assistant. In 1970, Goldhaber proposed the creation of Maharishi University -- and he served as the Executive Vice President of the school for several years in the 1970s before coming to work for Scranton.
While on Scranton's staff, Goldhaber focused on nuclear and coal energy issues and briefly served as interim director of the State Energy Agency in 1979. Goldhaber left Scranton's staff in 1982 to go into the high tech field, where he later became a multi-millionaire.
Scranton Involvement in the Natural Law Party
After the late Bob Casey (D) defeated Scranton in the 1986 gubernatorial race, Scranton left Pennsylvania and moved to California for seven years. He also largely dropped out of mainstream politics for a while.

When the Maharishi's followers launched the Natural Law Party in 1992, Scranton was one of the people there to help grow the new party. Scranton donated $1,000 to August 1992 to John Hagelin's Presidential campaign. By contrast, Scranton gave zero dollars to any other candidates from 1990-1999.
In 2000, Scranton became active again in John Hagelin's third Presidential campaign. This is the action with which Scranton has been most disingenuous -- and the timeline of events is key to understanding this. Despite anything Scranton says today, he was clearly a Hagelin supporter in 2000.
In the 2000 election, the Maharishi's followers made failed attempts to broaden their political base through high-profile and failed hostile takeover attempts of the Green Party and Ross Perot's Reform Party. Scranton's support of Hagelin's effort to grab control of these parties was prominently featured on both the Natural Law Party's website and Hagelin's defunct campaign site. Scranton was a featured speaker -- along with Hagelin, Hagelin's campaign manager, and a New Age author who supported Hagelin -- in a February 16, 2000, national conference call to supporters. The topic: "Strategies for Victory in 2000: Find out why John Hagelin is running for the Presidential nomination of the Natural Law Party, Reform Party, and Green Party." (Note: The NLP recently removed Scranton's name from the current online version of the website -- even though the reference to the February 16 still event remains there online.)
By Spring 2000, Hagelin dropped the Green Party bid and focused on grabbing the Reform Party nomination away from conservative Pat Buchanan -- who was himself trying to grab control of Perot's party. Perot even threw his weight behind Hagelin in a last ditch attempt to stop Buchanan from wresting away control of his centrist party. The rival groups held competing national conventions in August 2000, with a breakaway group nominating Hagelin and the other group nominating Buchanan. At the Hagelin convention, the delegates selected Nat Goldhaber to be Vice Presidential nominee over rival candidate Lenora Fulani. One month later, a federal judge ruled that Buchanan was the legitimate Reform Party nominee -- not Hagelin -- and Buchanan seized all of the Reform Party ballot spots nationwide. The ruling also had a direct impact in Pennsylvania, as it caused Buchanan to replace Hagelin on the Reform line on the ballot.
Scranton gives a few conflicting and materially misleading accounts of his actions from 2000. In 2001, Scranton told the Harrisburg Patriot he had merely helped an old friend from the TM movement who was never a threat to George W. Bush, and that he "actively supported" Bush. Scranton also falsely told the Patriot that -- as of 2001 -- he was "no longer active in the movement." Last week, when Politics1 referenced Scranton's past cult ties, the Scranton campaign contacted the conservative GrassrootsPA.com website to insist Scranton had "never endorsed Hagelin" and supported Bush. The site posted the campaign's brief response to our earlier story last week. Scranton's campaign even sent GrassrootsPA.com a photo of Scranton at an October 2000 Bush rally.
Yet another account of Scranton's 2000 activities was provided to Politics1.com by Scranton spokesman Devaney last week, who explained Scranton only took part in Hagelin's February conference call to "show support for his former aide Nat Goldhaber, who was Hagelin's runningmate."
The timeline proves all of these accounts false or deceptively misleading. Scranton's participation in the event promoting Hagelin's candidacy was in February 2000 -- six months before Goldhaber was ever announced as the VP candidate. Further, Scranton only jumped into the Bush campaign in October 2000 after Hagelin had already been knocked off the Pennsylvania ballot in favor of Buchanan a month earlier. While not disputing this timeline, the Scranton campaign still maintains Scranton really supported Bush -- and only Bush -- in 2000.
Scranton Still Active in Maharishi Movement
Despite Scranton's 2001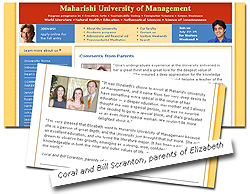 statement to the Patriot that he was "no longer involved" in the Maharishi movement, the current Maharishi University website disproves this statement. As of last week -- and we captured a high-res screenshot of the page (PDF file, 875kb), just in case it quickly gets removed -- Scranton is still prominently featured with his name, photo and quote promoting the Maharishi's movement.
While the quote on the Maharishi University site is attributed to "Coral and Bill Scranton," the text ("Her mother and I always thought …") indicates candidate Scranton -- and not his ex-wife -- wrote the paragraphs. Like the candidates, his former wife Coral is also a long-time TM movement acolyte. Writing about how proud they were that their daughter Elizabeth attended and graduated from Maharishi University, Scranton praises the cult leader's school as "a special place … I'm very pleased that Elizabeth went to Maharishi University of Management … She got an excellent education … It has been a parent's dream …."
A "parent's dream"? An "excellent education"? Did he read what his adult daughter Elizabeth Scranton -- also featured on the university website -- wrote about her experience at the university: "To me, studying literature is simply the absorption of the variety of beautiful and eloquent ways to express the truths of life found in Maharishi's Vedic Science … I would never want to study literature anywhere else. Without [the Vedic Science], the essence of the literary works would be missing … Maharishi has said that sacrifice brings the greatest bliss, and I agree. By giving to others, I have gained joy." In case you wondered, yogic flying is also part of the school's curriculum. That should placeScranton's parental comments into proper context.
Unanswered Questions
Politics1.com contacted the Scranton campaign for comment last week.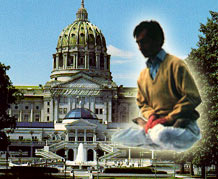 When his campaign asked what they could do to "prove" he didn't endorse Hagelin in 2000, we asked for the audio of the conference call that had only recently been taken off-line by the Natural Law Party. When asked how any of this was relevant, we asked if Scranton rejected the concept of government-sponsored TM as a "scientifically proven" solution to reduce crime, fight terrorism and improve the economy. We also inquired if Scranton believed people could achieve actual flight through yogic flying, and if he accepted or rejected the Mahirishi's political views expressed through the Natural Law Party's 2000 platform.
After our initial conversation with Devaney, the Scranton campaign neither called back with responses over the past four days nor returned our subsequent call for comment. Perhaps Pennsylvania reporters can hold Scranton's feet to the fire and demand real answers to these questions. Without doing so, the Keystone State voters run the risk of electing a candidate for Governor who may be using a major party label to advance a wacky and fringe ideology of a purported international cult leader.
Then again, perhaps I'm too skeptical. Maybe Pennsylvania will have the honor of electing America's first levitating Governor.