NEW MEXICO
Your complete directory of New Mexico candidates for Governor, United State Senator and Congress in the current election cycle ... state political parties ... the official state election office ... and state news sources.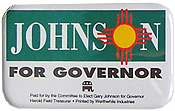 ELECTION CALENDAR:
Filing Deadline (Major Parties): February 1, 2022
Filing Deadline (Others, Indep & Write-Ins): June 30, 2022
Primary: June 7, 2022
CANDIDATE DIRECTORY LEGEND:
Bold = Active Candidate
Italics = Potential Candidate
* = Incumbent
= Winner
(Incumbent Party Listed First)
This page was last updated on July 7, 2022
---
STATE CONSTITUTIONAL OFFICERS:
GOVERNOR & LIEUTENANT GOVERNOR:
(Note: Governor & Lt. Governor candidates run together on tickets in the General Election.)
Michelle Lujan Grisham (D)* - (Campaign Site)
& Howie Morales (D)* - (Campaign Site)

Mark Ronchetti (R) - TV Weatherman & '20 US Sen Nominee
& Ant Thornton (R) - Businessman & Aerospace Engineer

Karen Bedonie (L) - Businesswoman, Ex-Construction Worker & '20 US Rep Candidate
& Travis Sanchez (L)
Next State Constitutional Officer Elections in 2022.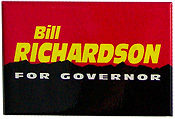 SECRETARY OF STATE:
Maggie Toulouse Oliver (D)* - (Campaign Site)
Audrey Trujillo (R) - Businesswoman & Ex-Childcare Center Owner
Mayna Myers (L) - '18 County Magistrate Candidate
ATTORNEY GENERAL:
[ Hector Balderas (D)* - Term-Limited in 2022. ]
Raul Torrez (D) - Bernalillo County District Attorney & Ex-White House Fellow
Jeremy Gay (R) - Attorney & USMC Veteran
STATE AUDITOR:
[ Brian Colon (D)* - Lost Primary for Attorney General in 2022. ]
Joseph Maestas (D) - State PSC Commissioner, Ex-Santa Fe City Councilor & Ex-Espanola Mayor
Robert "Jason" Vaillancourt (L/WI) - Sales Manager
STATE TREASURER:
[ Tim Eichenberg (D)* - Term-Limited in 2022. ]
Laura Montoya (D) - Ex-Sandoval County Treasurer, Ex-Legislative Aide & '20 US Rep Candidate
Harry Montoya (R) - Ex-Santa Fe County Commissioner, Drug Counselor & '12/'20 US Rep Candidate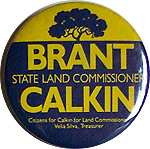 STATE COMMISSIONER OF PUBLIC LANDS:
Stephanie Garcia Richard (D)* - (Campaign Site)
Jeff Byrd (R) - State PRC Commissioner & Rancher
Larry Marker (WI) - Businessman
---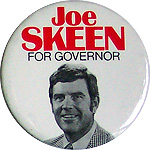 STATE LEGISLATURE:

State House

State Senate
---
U.S. SENATOR:
Martin Heinrich (D)* - (Campaign Site) - Next Election in 2024.
Jerry Rose (I) - Ground Control Station Technician & Iraq War Veteran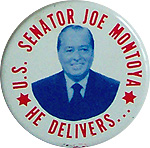 Ben Ray Lujan (D)* - (Campaign Site) - Next Election in 2026.
---
U.S. CONGRESS:
District 1:
Melanie Stansbury (D)* - (Campaign Site)
Michelle Garcia Holmes (R) - Retired Police Officer, '20 Nominee & '18 Lt Gov Nominee
Victoria Gonzales (I)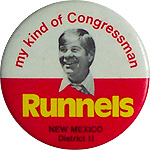 District 2:
Yvette Herrell (R)* - (Campaign Site)
Gabe Vasquez (D) - Las Cruces City Councilor & Conservation Group Deputy Director
Eliseo Luna (WI)
District 3:
Teresa Leger Fernandez (D)* - (Campaign Site)
Alexis Martinez Johnson (R) - Environmental Engineer, Trump Activist & '20 Nominee
---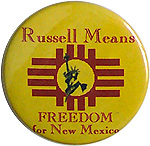 STATE POLITICAL PARTIES:
Constitution Party of New Mexico (C)
Democratic Party of New Mexico (D)
Green Party of New Mexico (G)
Independent American Party of New Mexico (IAP)
Libertarian Party of New Mexico (L)
Republican Party of New Mexico (R)
---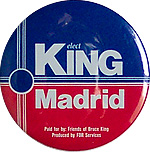 STATE ELECTION OFFICE:
Secretary of State's Office

NMVote.org
---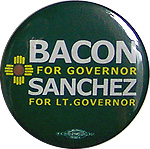 STATE NEWS SOURCES:
Alamogordo Daily News
Albuquerque Journal
Albuquerque Weekly Alibi (Alternative)
Carlsbad Current-Argus
Clovis News Journal / Portales News-Tribune
Deming Headlight
Farmington Daily Times
Gallup Independent
Hobbs News-Sun
KBIM TV-10 (CBS - Roswell)
KOBT TV-4 (NBC - Albuquerque)
KUNM - New Mexico Public Radio
Las Cruces Sun-News
Los Alamos Monitor
Lovington Daily Leader
New Mexico Free Press
New Mexico Magazine
NM Political Report
New Mexico Politics with Joe Monahan
Rio Rancho Observer
Roswell Daily Record
Ruidoso News
Sangre de Cristo Chronicle
Santa Fe New Mexican
Sante Fe Reporter (Alternative)
Silver City Daily Press
Taos News
Truth or Consequences Herald
Valencia County News Bulletin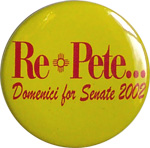 HELP MAKE POLITICS1 COMPLETE!! IF YOU KNOW OF A CANDIDATE MISSING FROM OUR LISTS, PLEASE .