WISCONSIN
Your complete directory of Wisconsin candidates for Governor, State Cabinet, United State Senator and Congress in the current election cycle ... state political parties ... the official state election office ... and state news sources.
ELECTION CALENDAR:
Filing Deadline: June 1, 2018
Primary: August 14, 2018
CANDIDATE DIRECTORY LEGEND:
Bold = Active Candidate
Italics = Potential Candidate
* = Incumbent
= Winner
(Incumbent Party Listed First)
This page was last updated on August 19, 2018
---
STATE CONSTITUTIONAL OFFICERS:
GOVERNOR & LIEUTENANT GOVERNOR:
(Note: Governor & Lt. Governor candidates run together on tickets in the election.)
Scott Walker (R)* - (Campaign Site)
& Rebecca Kleefisch (R)* - (Campaign Site)

Tony Evers (D) - State Supt. of Public Instruction, Ex-School Dist. Administrator & Educator
& Mandela Barnes (D) - Ex-State Rep., Policy Analyst & '16 St Sen Nominee

Michael White (G) - Ex-State Green Party Co-Chair & Physician
& Tiffany Anderson (G) - Corporate Program Coordinator & Green Party Activist

Phil Anderson (L) - State Libertarian Chair, Businessman, '16 US Sen Nominee & '14 St Rep Nominee
& Patrick Baird (L) - Customer Service Agent, Navy Veteran & Patient Advocate

Arnie Enz (Wisconsin) - Technology/Business Consultant & Software Engineer
& Runningmate Not Designated

Maggie Turnbull (I) - Ex-Antigo Town Councilwoman, Astronomer & Astrobiologist|
& Will Losch (I) - Teacher, Charter School Founder & '10 State Assembly Candidate

Nick DeLeon (Write-In) - Pastor & LGBT Activist
& Runningmate Not Designated

Robbie Hoffman (Write-In) - Artist, Psychologist & '16 US Rep. Candidate
& Runningmate Not Designated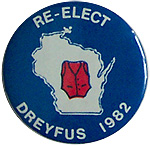 Next State Constitutional Officer Elections in 2018.
ATTORNEY GENERAL:
Brad Schimel (R)* - (Campaign Site)
Josh Kaul (D) - Attorney & Voting Rights Activist
Terry Larson (Constitution) - Technical Writer, Projet Manager & Conservative Activist
SECRETARY OF STATE:
Doug LaFollette (D)* - (Campaign Site)
Jay Schroeder (R) - Ex-Menasha Town Supervisor, Mortgage Administrator & Frequent Candidate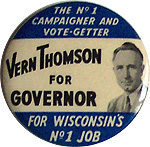 STATE TREASURER:
[ Matt Adamczyk (R)* - Candidate for State Assembly in 2018. ]
Travis Hartwig (R) - Mutual Fund Administrator & GOP Activist
Sarah Godlewski (D) - Venture Capitalist & Democratic Activist
Andrew Zuelke (Constitution) - Ex-State Party Chair, Factory Worker & '14 Nominee
2021 Election:
STATE SUPERINTENDENT OF PUBLIC INSTRUCTION:
(Note: Superintendent is officially a non-partisan post. Next Election in 2021.)
Tony Evers (D)* - (Campaign Site)
---
STATE LEGISLATURE:
State Assembly
State Senate
- ( Democratic Caucus )
---
U.S. SENATOR:
Tammy Baldwin (D)* - (Campaign Site)
Leah Vukmir (R) - State Sen., Ex-State Assemblywoman & Nurse
John Schiess (Write-In) - Retired Driver, Ex-Park Ranger & Frequent Candidate
Mary Jo Walters (Write-In) - Artist, Progressive Activist & '14 Gov. Candidate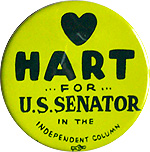 Ron Johnson (R)* - (Campaign Site) - Next Election in 2022.
---
U.S. CONGRESS:
District 1:
[ Paul Ryan (R)* - (House Speaker Site) - Retiring in 2018. ]
Bryan Steil (R) - State Board of Regents Member, Manufacturer & Attorney
Randy Bryce (D) - Labor Union Activist, Ironworker, Army Veteran & Frequent Candidate
Ken Yorgan (I) - Chiropractor & '07 Racine Alderman Candidate
District 2:
Mark Pocan (D)* - (Campaign Site)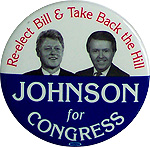 District 3:
Ron Kind (D)* - (Campaign Site)
Steve Toft (R) - Retired Army Colonel
District 4:
Gwen Moore (D)* - (Campaign Site)
Tim Rogers (R) - Delivery Driver
Robert Raymond (I) - Paralegal, Conservative Activist & Frequent Candidate
District 5:
Jim Sensenbrenner (R)* - (Campaign Site)
Tom Palzewicz (D) - Business Consultant & Navy Veteran
District 6:
Glenn Grothman (R)* - (Campaign Site)
Dan Kohl (D) - Ex-Milwaukee Bucks Asst Gen Manager & Nephew of Ex-US Sen Herb Kohl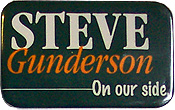 District 7:
Sean Duffy (R)* - (Campaign Site)
Margaret Engebretson (D) - Attorney & Army Veteran
Ken Driessen (I) - Electrician, Clean Energy Activist & '10/'16 Candidate
District 8:
Mike Gallagher (R)* - (Campaign Site)
Beau Liegeois (D) - Attorney & National Guard Officer
---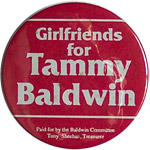 STATE POLITICAL PARTIES:
Constitution Party of Wisconsin
Democratic Party of Wisconsin
Wisconsin Green Party
Libertarian Party of Wisconsin
Pirate Party of Wisconsin
Wisconsin Republican Party
---
STATE ELECTION OFFICE:
Wisconsin Elections Commission
---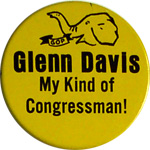 STATE NEWS SOURCES:
Appleton Post-Crescent
Ashland Daily Press
Beloit Daily News
Chippewa Herald
CNI Newspapers (23 suburban Milwaukee newspapers)
Eau Claire Leader-Telegram
Fond du Lac Reporter
Green Bay News-Chronicle
Green Bay Press-Gazette
Janesville Gazette
Kenosha News
LaCrosse Tribune
Madison Capital Times
Manitowoc Herald Times Reporter
Madison Isthmus (Alternative)
Marshfield News-Herald
Milwaukee Journal Sentinel (Politics Blog)
Greater Milwaukee Today
Oshkosh Northwestern
Racine Journal Times
Right Wisconsin
Sheboygan Press
Stevens Point Journal
Superior Daily Telegram
Watertown Daily Times
Wausau Daily Herald
The Wheeler Report (Politics)
WISC TV-3 (CBS - Madison) / Channel 3000
Wisconsin Election Watch
Wisconsin Rapids Daily Tribune
Wisconsin State Journal (Madison)
WisconsinVote.org
WisInfo.com
WisPolitics.com
Wisconsin Radio Network
WKOW TV-27 (ABC - Madison)
HELP MAKE POLITICS1 COMPLETE!! IF YOU KNOW OF A CANDIDATE MISSING FROM OUR LISTS, PLEASE .