RHODE ISLAND
Your complete directory of Rhode Island candidates for Governor, United State Senator and Congress in the current election cycle ... state political parties ... the official state election office ... and state news sources.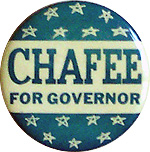 CANDIDATE DIRECTORY LEGEND:
Bold = Active Candidate
Italics = Potential Candidate
* = Incumbent
(Incumbent Party Listed First)
Filing Deadline: June 25, 2014
Primary: September 9, 2014
This page was last updated on September 16, 2014
---
STATE CONSTITUTIONAL OFFICERS:
GOVERNOR:
[ Lincoln Chafee (D)* - Retiring in 2014. ]
Gina Raimondo (D) - State General Treasurer, Venture Capitalist & Attorney
Allan Fung (R) - Cranston Mayor, Ex-Cranston City Councilman & Attorney
Anna Winograd Vrankar (Compassion)
Bob Healey (Moderate) - Attorney, Ex-Warren School Board Chair & Frequent Candidate
Thomas Davis (Independent) - Retired Truck Driver & National Guard Veteran
Kate Fletcher (Independent) - Businesswoman
Leon Kayarian (Independent) - Antique Auto Dealer
Christopher Reynolds (Independent) - '12 US Sen. Candidate
Next State Constitutional Officer Elections in 2014.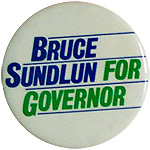 LIEUTENANT GOVERNOR:
[ Elizabeth Roberts (D)* - Term-Limited in 2014. ]
Dan McKee (D) - Cumberland Mayor & Businessman
Catherine Taylor (R) - Ex-State Elderly Affairs Director, Ex-Congressional Aide & '10 Sec. of State Nominee
Tony Jones (Libertarian) - Radio Show Host & Disc Jockey
William Gilbert (Moderate)
SECRETARY OF STATE:
[ Ralph Mollis (D)* - Lost Primary for Lt. Governor in 2014. ]
Nellie Gorbea (D) - Ex-Deputy Sec. of State & Ex-Housing Official
John Carlevale (R) - Book Publisher, Ex-Social Worker & Frequent Candidate
Pamela Azar (Independent) - Teacher
ATTORNEY GENERAL:
Peter Kilmartin (D)* - (Campaign Site)
Dawson Hodgson (R) - State Sen. & Attorney
GENERAL TREASURER:
[ Gina Raimondo (D)* - Candidate for Governor in 2014. ]
Seth Magaziner (D) - Investment Fund Manager
Ernie Almonte (Independent) - Ex-State Auditor General, Accounant & Ex-Democrat
---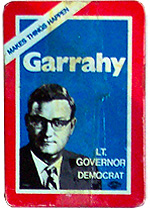 STATE LEGISLATURE:
State House
State Senate
---
U.S. SENATOR:
Jack Reed (D)* - (Campaign Site)
Mark Zaccaria (R) - Ex-State GOP Chair, Ex-North Kingston Councilman, USAF Veteran & '08/'10 US Rep. Nominee
Sheldon Whitehouse (D)* - (Campaign Site) - Next Election in 2018.
---
U.S. CONGRESS:
District 1:
David Cicilline (D)* - (Campaign Site)
Cormick Lynch (R) - Financial Consultant & USMC Veteran
Joe Zuccolo (Independent) - Haberdasher & '12 North Providence Town Council Candidate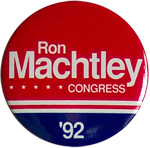 District 2:
Jim Langevin (D)* - (Campaign Site)
Rhue Reis (R) - Home Renovation Conractor & Casino Floor Supervisor
Charles Picerno (Independent) - Junkyard Worker, Army Veteran, Tea Party Activist & '00 US Sen. Candidate
---
STATE POLITICAL PARTIES:
Constitution Party of Rhode Island
Rhode Island Democratic Party
Green Party of Rhode Island
Libertarian Party of Rhode Island
Rhode Island Republican Party
---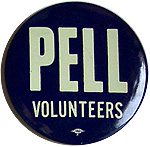 STATE ELECTION OFFICE:
Secretary of State: Division of Elections

State Board of Elections
---
STATE NEWS SOURCES:
Anchor Rising (Conservative)
College Hill Independent
Coventry Courier
Cumberland Valley Breeze
East Bay Newspapers
Newport Daily News
Pawtucket Times
Providence Business News
Providence Daily Dose
Providence Journal-Bulletin - (Politics)
Providence Phoenix
Rhode Island's Future (Liberal)
Rhode Island Public Radio
South County Independent
Southern Rhode Island Newspapers
Warwick Beacon
Westerly Sun
Woonsocket Call

WJAR-TV 10 (NBC)
WLNE-TV 6 (ABC)
WPRI-TV 12 (FOX) - (Politics)
WPRO Radio 630 AM
HELP MAKE POLITICS1 COMPLETE!! IF YOU KNOW OF A CANDIDATE MISSING FROM OUR LISTS, PLEASE .