Presidency 2008:


Former US Senator Maurice R. "Mike" Gravel
(Libertarian - Virginia)
---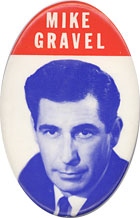 BIOGRAPHICAL FACTS:
POLITICAL: Alaska State Representative, 1962-66 (elected 1962, 1964). Speaker of the Alaska House of Representatives, 1965-66. Candidate for US Congress, 1966. US Senator from Alaska, 1969-81 (elected 1968, 1974; unsuccessful candidate for renomination in 1980). Candidate for Vice President, 1972 Democratic Convention (226 delegates - 3rd place - 7.5%). Founder & President, Democracy Foundation and National Initiative for Democracy non-profit groups. Candidate for Democratic Presidential nomination, 2008 primaries. Quit the Democratic Party and joined the Libertarian Party, March 2008.
PROFESSIONAL: Author. Real estate developer. US Army, 1951-54.
EDUCATION: B.S. (Economics), Columbia University, 1956.
PERSONAL: Born May 13, 1930, in Springfield, Massachusetts. Married to Whitney Stewart Gravel. Two children, three grandchildren. Unitarian. Moved to Virginia in the 1990s.
---
LINKS:
Mike Gravel for President - Official Campaign Site.
National Initiative for Democracy - Gravel Organization.
Democracy Foundation - Gravel Organization.
Biographical Director of the US Congress: Mike Gravel - Government Site.
LitSite Alaska: Interview with Mike Gravel - Educational Site.
Wikipedia: Mike Gravel - Online Resource.
---
OFFICIAL CONTACT INFORMATION:
Mike Gravel for President
P.O. Box 948
Arlington, VA 22216-0948
Phone: 703.243.8303
Fax: 703.349.2958
Email: info@gravel2008.us
---
---
For those who would like to track Politics1 with a newsreader, we publish a RSS feed: