MISSOURI
Your complete directory of Missouri candidates for Governor, State Cabinet, United State Senator and Congress in the current election cycle ... state political parties ... the official state election office ... and state news sources.

ELECTION CALENDAR:
Filing Deadline (D/R/Libertarian): March 27, 2018
Filing Deadline (Other Parties & Indep): August , 2018
Filing Deadline (Write-Ins): October 2018
Primary: August 7, 2018
CANDIDATE DIRECTORY LEGEND:
Bold = Active Candidate
Italics = Potential Candidate
* = Incumbent
= Winner
(Incumbent Party Listed First)
This page was last updated on August 9, 2018
---
STATE CONSTITUTIONAL OFFICERS:
GOVERNOR:
Mike Parson (R)* - (Campaign Site)
Next State Constitutional Officer Elections in 2020.

LIEUTENANT GOVERNOR:
Mike Kehoe (R)*
SECRETARY OF STATE:
Jay Ashcroft (R)* - (Campaign Site)
STATE TREASURER:
Eric Schmitt (R)* - (Campaign Site)

ATTORNEY GENERAL:
Josh Hawley (R)* - (Campaign Site)

Next State Auditor Election in 2018:
STATE AUDITOR:
Nicole Galloway (D)* - (Campaign Site)
Saundra McDowell (R) - Attorney, State Securities Division Official & USAF Veteran
Jacob Luetkemeyer (C) - IT Security Professional, Conservative Activist & '10 State Rep Candidate
Don Fitz (G) - Research Psychologist, College Professor & '16 Gov Nominee
Sean O'Toole (L) - State Libertarian Party Treasurer, Options Trader & Frequent Candidate
---

STATE LEGISLATURE:

State House

State Senate
---
U.S. SENATOR:
Claire McCaskill (D)* - (Campaign Site)
Josh Hawley (R) - Attorney General & Conservative Activist
Jerome Bauer (G) - University Lecturer, Progressive Activist & Frequent Candidate
Jo Crain (G) - Retiree & Progressive Activist
Japheth Campbell (L) - Internet Marketing Consultant & Graduate Student
Craig O'Dear (I) - Attorney & Ex-Republican

Roy Blunt (R)* - (Campaign Site) - Next Election in 2022.
---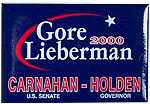 U.S. CONGRESS:
District 1:
Lacy Clay (D)* - (Campaign Site)
Robert Vroman (R) - Real Estate Investor, GOP Activist & '14 State Rep Candidate
Robb Cunningham (L) - Musician & Frequent Candidate
District 2:
Ann Wagner (R)* - (Campaign Site)
Cort VanOstran (D) - Attorney & Law Professor
David Arnold (G) - Computer Programmer & '10/'16 Candidate
Tony Kirk (L) - Retired Police Officer & Ex-Old Monroe Police Chief
District 3:
Blaine Luetkemeyer (R)* - (Campaign Site)
Katy Geppert (D) - Analytical Chemist
Donald Stolle (L) - Iraq/Afghan War Veteran

District 4:
Vicky Hartzler (R)* - (Campaign Site)
Renee Hoagenson (D) - Businesswoman & Community Activist
Mark Bliss (L) - Pastor, Sociologist & '16 Nominee
District 5:
Emanuel Cleaver (D)* - (Campaign Site)
Jacob Turk (R) - Businessman, USMC Veteran & Frequent Candidate
E.C. Fredland (C) - Retired Industrial Engineer & Conservative Activist
Maurice Copeland (G) - Artist, Retired Businessman, Vietnam War Veteran & Peace Activist
Alexander Howell (L)
District 6:
Sam Graves (R)* - (Campaign Site)
Henry Martin (D) - Teacher, High School Coach & Army Veteran
Dan Hogan (L) - Graduate Student, USAF Veteran & '16 Nominee

District 7:
Billy Long (R)* - (Campaign Site)
Jamie Schoolcraft (D) - Physician Assistant & '06 State Rep Nominee
Ben Brixey (L) - Soccer Coach, '16 Nominee & '14 County Commission Candidate
District 8:
Jason Smith (R)* - (Campaign Site)
Kathryn Elllis (D) - Social Worker
Jonathan Shell (L) - Factory Worker & '16 Nominee
---

STATE POLITICAL PARTIES:
Constitution Party of Missouri
Missouri Democratic Party
Missouri Green Party
Missouri Libertarian Party
Missouri Republican Party
---

STATE ELECTION OFFICE:
---

STATE NEWS SOURCES:
Camdenton Lake Sun Leader
Columbia Daily Tribune
Columbia Missourian
Columbia Tribune
Conservative Thoughts
Farmington Daily Press Leader
Fired Up! Missouri
Hannibal Courier-Post
Independence Examiner
Joplin Globe
Journal Register Co. (St. Louis Area Community Newspapers)
Kansas City Star
Kansas City Metro Voice News (Conservative)
Lebanon Daily Record
Levasy / Buckner / Sibley Gazette
Lee's Summit Journal
MissouriNet
Missouri Scout
Missouri Viewpoints
Pitch Weekly (Kansas City - Alternative)
PoliticMO
The Radical Republican (Conservative)
Springfield News-Leader
St. Joseph News-Press
St. Louis Post Dispatch
St. Louis Riverfront Times (Alternative)

HELP MAKE POLITICS1 COMPLETE!! IF YOU KNOW OF A CANDIDATE MISSING FROM OUR LISTS, PLEASE .