KANSAS
Your complete directory of Kansas candidates for Governor, State Cabinet, United State Senator and Congress in the current election cycle ... state political parties ... the official state election office ... and state news sources.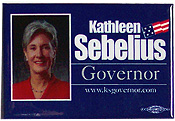 CANDIDATE DIRECTORY LEGEND:
Bold = Active Candidate
Italics = Potential Candidate
* = Incumbent

= Election Winner
(Incumbent Party Listed First)
Filing Deadline (Party Candidates): June 2, 2014
Filing Deadline (Independents): August 4, 2014
Primary: August 5, 2014
This page was last updated on September 19, 2014

---
STATE CONSTITUTIONAL OFFICERS:
GOVERNOR & LIEUTENANT GOVERNOR:
Sam Brownback (R)* - (Campaign Site)
Jeff Colyer (R)* - (Campaign Site)\

Paul Davis (D) - State House Minority Leader & Attorney
& Jill Docking (D) - Ex-State Board of Regents Chair, Investment Advisor & '96 US Sen. Nominee

Keen Umbehr (Libertarian) - Attorney, Ex-Trash Hauling Contractor & '12 State Rep. Candidate
& Josh Umbehr (Libertarian) - Physician & Son of Keen Umbehr
Next State Constitutional Officer Elections in 2014.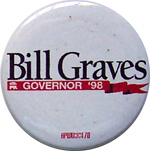 SECRETARY OF STATE:
Kris Kobach (R)*- (Campaign Site)
Jean Schodorf (D) - Ex-State Sen., Speech Pathologist, Ex-Republican & '10 US Rep. Candidate
ATTORNEY GENERAL:
Derek Schmidt (R)* - (Campaign Site)
A.J. Kotich (D) - Attorney & USMC Veteran
STATE TREASURER:
Ron Estes (R)* - (Campaign Site)
Carmen Alldritt (D) - Ex-State Vehicles Director, Ex-Harper County Treasurer & Business Consultant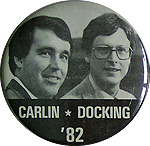 STATE INSURANCE COMMISSIONER:
[ Sandy Praeger (R)* - Retiring in 2014. ]
Ken Selzer (R) - Accountant
Dennis Anderson (D) - Businessman & Insurance Educator
STATE LEGISLATURE:

State House

State Senate
---
U.S. SENATOR:
Pat Roberts (R)* - (Campaign Site)
Randall Batson (Libertarian) - QA inspector, Navy Veteran, '10 State Sen. Nominee & '12 State Rep. Nominee
Greg Orman (Independent) - Businessman, Ex-Democrat & '08 Candidate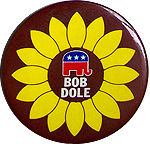 Jerry Moran (R)* - (Campaign Site) - Next Election in 2016.
---
U.S. CONGRESS:
District 1:
Tim Huelskamp (R)* - (Campaign Site)
Jim Sherow (D) - Ex-Manhattan Mayor, Ex-Manhattan City Commissioner & Historian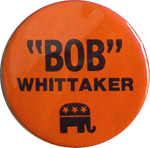 District 2:
Lynn Jenkins (R)* - (Campaign Site)
Margie Wakefield (D) - Douglas County Democratic Chair, Attorney & Ex-Congressional Aide
Chris Clemmons (Libertarian) - Teacher
District 3:
Kevin Yoder (R)* - (Campaign Site)
Kelly Kultala (D) - Ex-State Sen., Ex-Kansas City Commissioner & '10 Lt. Gov. Nominee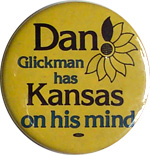 District 4:
Mike Pompeo (R)* - (Campaign Site)
Perry Schuckman (D) - Businessman & Community Activist
---
STATE POLITICAL PARTIES:
Kansas Democratic Party
Libertarian Party of Kansas
Moderate Party of Kansas
Kansas Reform Party
Kansas Republican Party
Socialist Party of Kansas
---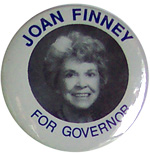 STATE ELECTION OFFICE:
---
STATE NEWS SOURCES:
Abilene Reflector-Chronicle
Anderson County Review
Andover Journal-Advocate
Anthony Republican
Ark Valley News
Arkansas City Traveler
Atchison Daily Globe
Augusta Daily Gazette
Baldwin City Signal
Blue Valley Sun
Chanute Tribune
Clay Center Dispatch
Coffey County Republican
Coffeyville Journal
Columbus Daily Advocate
Derby Daily Reporter
DeSoto Explorer
Dodge City Daily Globe
Downs News
El Dorado Times
Ellsworth Reporter
Emporia Gazette
Eudora News
Eureka Kansas
Garden City Telegram
Great Bend Tribune
Gyp Hill Premiere
Hays Daily News
Haysville Times
High Plains Journal
Hillsboro Free Press
Hillsboro Star Journal
Holton Recorder
Hutchinson News
Iola Register
Jewell County Record
Johnson County Business Times
Johnson County Sun
Junction City Daily Union
Kansas City Jewish Chronicle
Kansas City Kansan
Kansas City Pitch Weekly (Alternative)
Kansas City Star - (Political Blog)
Kiowa News
Lawrence Journal-World
Leavenworth Times
Lincoln Sentinel-Republican
Linn County News
Louisburg Herald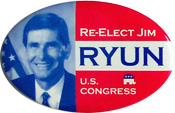 Manhattan Free Press
Manhattan Mercury
Marion County Record
Marquette Tribune
Marysville Advocate
McPherson Sentinel
Miami County Republic
Minneapolis Messenger
Nemaha County Sentinel
Newton Kansan
NWKansas.com
Olathe Daily News
Osage County Herald
Osawatomie Graphic
Ottawa Herald
Parsons Sun
Peabody Gazette-Bulletin
Pittsburg Morning Sun
PoliticsKS.net
Pratt Tribune
Sabetha Herald
Salina Journal
Sedgwick County Times-Sentinel
Smith County Pioneer
Southwest Daily Times
Stafford Courier
Taylor Newspapers
Tonganoxie Mirror
Topeka Capital-Journal - (Politics Section)
Topeka Metro News
University Daily Kansan (University of Kansas)
Wellington Daily News Online
Westmoreland Recorder
Wichita Business Journal
Wichita Eagle
Wilson World
Winfield Courier
Wyandotte West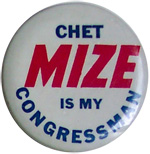 HELP MAKE POLITICS1 COMPLETE!! IF YOU KNOW OF A CANDIDATE MISSING FROM OUR LISTS, PLEASE .