German voters go to the polls this weekend in their national parliamentary elections. Having observed some of the German electoral politics first hand during my recent vacation there this past summer, I find they differ rather substantially from what we Americans are used to. For example, Germans vote in a parliamentary system only for local party candidates (not for a national leader) -- and the victorious party's leader automatically becomes the head of government.
Now, the Germans have always seemed a bit "off" to me (in an absurdist way) -- a culture that has produced both Beethoven and incomprehensibly dense artsy films. Plus, they're also pretty well known for their extreme sexual kinks (often involving rubber, floggers and lots of genital piercings -- kinda like a Genitorturers concert, only in German), fatty foods, strong political opinions, beer, goosestepping, eccentric eyeglasses, and a world war or two.
But, let's get back to the sex stuff. Sex apparently plays a major role in German politics. Although I cannot exactly determine what condoms have to do with supporting the re-election of incumbent Socialist Chancellor Gerhard Schröder (SPD), be assured that they apparently must have some significance. You see, while I was out walking on a crowded city street in Germany this summer, the SPD was helpful enough to pass out campaign materials containing condoms: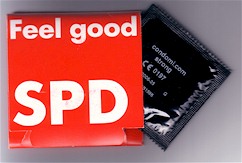 The condom package itself was a clever variant on the logo of Schröder's SPD party -- a red box with the letters SPD along the lower left portion of the box (as shown at right). I can only imagine the conversation that led to the creation of this item:
Schröder: "I want to win re-election."

Consultant: "What about giving out condoms?"

Schröder: "Condoms??"

Consultant: "Well, our party logo is a red square ... and wrapped condoms are usually square-shaped ... so we could make a cardboard condom package that looks like our party logo ..."

Schröder: "Makes sense to me -- because I sure love to have sex. But be sure to leave blank space inside under the flap so I can write my name and phone number when I'm giving them out to girls at night in the bars."

Consultant: "What if we write 'Feel Good' along the top -- because we want Germans to get the message that it feels good having sex with Gerhard Schröder."

Schröder: "Ja, women often say I'm very good in bed. Okay, I'm convinced -- let's go with it. Hey ... should we work in something about my genital piercings?"
Not to be outdone, the Green Party festooned German streets with giant posters promoting gay equality. Remember those cheesy meeting notices that groups (like the College Republicans) posted around college campuses -- you know, the ones that read something like "SEX!! ... Now that we've got your attention..."
Well, forget about that lame old tease ... because the Greens in Germany are making a direct sex appeal on their campaign posters:
I am not making this up (see this web site for more official designs)! Check out the other subtle touches on the poster: the Mohawk buzz on the guy being felt-up by Jughead, the fancy earings both women are wearing (like you noticed the earings!), the engagement ring held up by one of the women, and the classy curtains. Also notice the strategic placement of the party logo -- cleverly designed to catch the attention of straight men. Apparently, nipple tweaking seems to be a rather popular form of greeting friends within the Green Party -- and I certainly find it far preferable to the Heil Hitler greetings formerly used by Germans of an older generation.
The Greens have also produced another poster with images of the parliamentary leaders of the opposition SPD and CDU parties ... and emblazoned it with the mocking English slogan of "No Sex, No Drugs, No Rock 'n' Roll."
And I haven't even touched on the campaign being waged by center-conservative Edmund Stoiber of Bavaria, leader of the CDU and the marginal frontrunner in the race. Stoiber's mere image alone projects an intense animal magnetism and a raw sensual undercurrent of hot sex and free love...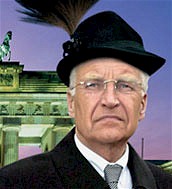 Trust me, you'd get it if you were German.
---
RANDOM GERMAN MUSING #1:
Gay Pride usually takes place around the globe in June of each year -- to roughly correspond with the historical Drag Queens-versus-NYPD street brawl of 1969 that is pegged as the start of the modern gay liberation movement.
Except in South Florida, where the large Pride festival takes place in February (because the organizers like the weather better in February). Then again, we're talking about Florida here -- and these people haven't even learned how to count correctly -- so why should we expect them to get ANYTHING right these days?
Anyways ... getting back to Germany. Thus, it was a major surprise to be wandering around the pedestrian shopping streets of the historic section of Frankfurt on the waning hours of a Sunday afternoon in late July -- and to accidentally come across the city's gay pride fest. There was lots to eat and drink at the various booths -- so long as what you wanted was sausages and beer. Most entertaining was the musical group performing on the main stage when we walked up: a four-piece band -- in various combinations of drag and traditional Lederhosen. A trumpet player, a trombone player, a tuba player, and a tall drag queen in a bad Marilyn Monroe platinum blond wig strumming a banjo. "Marilyn" was also the lead singer for this drag disco/jazz/oom-pah-pah combo. And what did they close their set with? A unique version of disco diva Gloria Gaynor's "I Will Survive" -- raspy, deep singing set to brass instruments and a pulsing, Germanic, tuba oom-pah-pah backbeat!
Trust me, you'd get it if you were German.
---
RANDOM GERMAN MUSING #2:
The following -- exactly as reported in a Berlin newspaper -- is a review of a new German film comedy:
"Lick An Apple Like a P***y: The Movie Stanislawski Never Made", by Carl Andersen, Germany, 2002. As you can see from the title, this underground movie (but "how underground can you be" as the main protagonist interestingly remarks) is neither a sex/erotic/porn movie, nor an intellectual Stanislawskian exercise of style: it's both. Or, to phrase it more precisely, a intellectual-existential wank about sex and life -- or rather failure in life. An emotionally broken Polish director -- the excellent Malga Kubiak, herself an actor-director of sexually graphic movies in real life -- gathers a bunch of German wannabe actors in a remote bungalow deep in the forest. The obsessive director, an increasingly tyrannical psycho-maniac, wants total commitment from her actors to her movie, i.e., wants them to have real sex before the camera. She chose German actors because she thought Germans didn't have any problem with nudity. But the cast rebels. They don't mind playing sex, but don't want to do it for real on camera. The director -- whose suggestive forlorn beauty is that of a retired porn star -- doggedly sticks to her idea, inflexible in her demands. The whole experience turns into a sheer disaster for everyone. A big joke, with hilarious scenes of failed sex that conveys a sense of absurdity close to Gogolian despair.
Come again?? "Stanislawskian exercise of style ... hilarious scenes of failed sex ... absurdity close to Gogolian despair." Ha, ha -- now you can see why those funny Germans are known worldwide for their great sense of humor!
Trust me, you'd get it if you were German.
[Postscript: Carl Anderson -- the director of the film -- dropped us an email to thank us for the write-up of his film. To thank us??]