CONNECTICUT
Your complete directory of Connecticut candidates for Governor, State Cabinet, United State Senator and Congress in the current election cycle ... state political parties ... the official state election office ... and state news sources.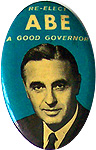 CANDIDATE DIRECTORY LEGEND:
Bold = Active Candidate
Italics = Potential Candidate
* = Incumbent

= Election Winner
(Incumbent Party Listed First)
Filing Deadline (Major Parties): June 10, 2014
Filing Deadline (Independents): August 4, 2014
Filing Deadline (Third Parties): September 3, 2014
Primary: August 12, 2014
This page was last updated on February 19, 2014

---
STATE CONSTITUTIONAL OFFICERS:
GOVERNOR:
Dan Malloy (D)* - (Campaign Site)
Toni Boucher (R) - State Sen., Ex-State Rep. & Businesswoman
Mark Boughton (R) - Danbury Mayor, Ex-State Rep., Ex-Teacher & '10 Lt. Gov. Nominee
Tom Foley (R) - Ex-US Ambassador to Ireland, Businessman & '10 Nominee
Mark Lauretti (R) - Shelton Mayor & Teacher
John McKinney (R) - State Senate Minority Leader & Attorney
Next State Constitutional Officer Elections in 2014.

LIEUTENANT GOVERNOR:
Nancy Wyman (D)*
David Walker (R) - Ex-US Comptroller General & Accountant
SECRETARY OF THE STATE:
Denise Merrill (D)*
Peter Lumaj (R) - Attorney & '12 US Sen. Candidate
ATTORNEY GENERAL:
George Jepsen (D)*

STATE TREASURER:
Denise Nappier (D)*
Bob Eick (R) - Venture Capitalist & Ex-State Development Authority Member
STATE COMPTROLLER:
Kevin Lembo (D)*
---
GENERAL ASSEMBLY:
State House
- ( Democratic Caucus - Republican Caucus )
State Senate
- ( Democratic Caucus - Republican Caucus )
---
U.S. SENATOR:
Richard Blumenthal (D)* - (Campaign Site) - Next Election in 2016.

Chris Murphy (D)* - (Campaign Site) - Next Election in 2018.
---
U.S. CONGRESS:
District 1:
John Larson (D)* - (Campaign Site)
Matthew Corey (R) - Window Cleaning Contractor & Navy Veteran
District 2:
Joe Courtney (D)* - (Campaign Site)
Lori Hopkins-Cavanagh (R) - Realtor & '11 New London Mayor Candidate

District 3:
Rosa DeLauro (D)* - (Campaign Site)
James Brown (R) - Teacher
District 4:
Jim Himes (D)* - (Campaign Site)
Joe Bentivegna (R) - Surgeon, Ron Paul Campaign Activist & '94 US Sen. Candidate
Dan Debicella (R) - Ex-State Sen., Ex-State Rep., Business Consultant & '10 Nominee
Carl Higbie (R) - Businessman & Iraq War Veteran
John Shaben (R) - State Rep. & Attorney

District 5:
Elizabeth Esty (D)* - (Campaign Site)
Mark Greenberg (R) - Businessman & '10/12 Candidate
Sal Lilienthal (R) - Bicycle Tour Company Owner
William Petit (R) - Physician
---
STATE POLITICAL PARTIES:
Concerned Citizens Party (Constitution Party)
Connecticut Democratic Party
Connecticut Green Party
Independent Party of Connecticut
Justice Party of Connecticut
Connecticut Labor Party
Libertarian Party of Connecticut
Connecticut Republican Party
Socialist Party of Connecticut
Connecticut Working Families Party
---
STATE ELECTION OFFICE:
---

STATE NEWS SOURCES:
PRINT MEDIA:
Bristol Press
Connecticut Post (Bridgeport)
Danbury News-Times
Darien News-Review
Fairfield County Weekly
Fairfield County - Hersam Acorn Community Newspapers
Greenwich Time
Hartford Advocate
Hartford Courant - (Politics)
Manchester Journal-Inquirer
Meriden Record-Journal
Middletown Press
Moodus Hometown News
New Britain Herald
New Haven Advocate
New Haven Register
New London Day
Newtown Bee
Norwalk Advocate
Norwich Bulletin
Stamford Advocate
Torrington Register-Citizen
Waterbury Republican-American
Westport Minuteman

BROADCAST MEDIA:
News-12 Connecticut (TV - Cablevision)
WFSB TV-3 (CBS - Hartford)
WTNH TV-8 (ABC - New Haven)
WVIT TV-30 (NBC - Hartford)



BLOGS:
Auggie V's CT Green Blog
Bob Greenberger
Colin McEnroe
Connecticut Bob
Connecticut Commentary: Red Notes from a Blue State
Connecticut Local Politics
Connecticut Weblogs
Corner Report
CT News Junkie
CT Progressive Democrat (State Rep. David McCluskey)
Democracy for Connecticut
Hat City Blog
Media Attache
My Left Nutmeg
Peace Garden
Radio Free West Hartford
Stokes Report
Tim White Listens
HELP MAKE POLITICS1 COMPLETE!! IF YOU KNOW OF A CANDIDATE MISSING FROM OUR LISTS, PLEASE .