BLOG ARCHIVE: DECEMBER 16-31, 2007.
RON'S OPEN THREADS TO KEEP YOU BUSY UNTIL HE'S BACK FROM VACATION.
Next Update: January 3, 2008 (Iowa Caucus Day)
I'm on vacation with Dana and others in my family, visiting Israel and the West Bank. I've never been to the Middle East before, so I'm looking forward to it (and not bringing my laptop). To keep you busy during this very brief lull, I've created several threads with designated dates. Please try to stick to the suggested dates, as it will make your interaction with other readers more lively. Thanks!
THREAD FOR DECEMBER 30-31.
Iowa is rapidly approaching.
Posted by Ron Gunzburger - 12.30.07 | Permalink |
THREAD FOR DECEMBER 28-29.
So, what's going on out there in the world of politics?
Posted by Ron Gunzburger - 12.28.07 | Permalink |
THREAD FOR DECEMBER 26-27.
The very brief post-Christmas/pre-New Year campaign window opens for Iowa and NH.
Posted by Ron Gunzburger - 12.26.07 | Permalink |
THREAD FOR DECEMBER 23-25.
Merry Christmas.
Posted by Ron Gunzburger - 12.23.07 | Permalink |
SUNUNU REGAINS LEAD; MATCHING FUNDS APPROVED FOR SEVEN; CONDI BLASTS HUCKABEE; MLK-ROMNEY STORY PROVES MOSTLY TRUE.
NEW HAMPSHIRE - US SENATE: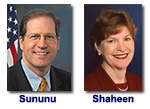 A new American Research Group poll shows US Senator John Sununu (R) has retaken a wide lead in his re-election race against former Governor Jeanne Shaheen (D). The numbers: Sununu - 52%, Shaheen - 41%. Early polls two months ago all showed Sununu trailing Shaheen. Important to note: Shaheen received much bad press in the past two weeks over her husband's repudiated remarks attacking Barack Obama. Also, the poll showed GOP voters have now solidly rallied in support of Sununu.
NEW HAMPSHIRE - P2008: A new USA Today/Gallup poll of New Hampshire voters shows very close contests in both Presidential primaries. The DEMS: Hillary Clinton and Barack Obama are tied with 32% each, John Edwards at 19%, Bill Richardson - 8%, Joe Biden - 4%, Dennis Kucinich - 3%, Chris Dodd - 1%. The GOP: Mitt Romney - 34%, John McCain - 27%, Rudy Giuliani - 11%, Mike Huckabee and Ron Paul tied with 9% each, Fred Thompson - 4%, Duncan Hunter - 1%.
MATCHING FUNDS: The Federal Elections Commission on Friday certified several Presidential candidates eligible for federal matching funds. Here are the approved candidates and the amounts each will receive in March: John Edwards (D) - $8.8 million, John McCain (R) - $5.8 million, Tom Tancredo (R) - $2.1 million, Chris Dodd (D) - $1.4 million, Joe Biden (D) - $857,000, Dennis Kucinich (D) - $100,000, and Duncan Hunter (R) - $100,000. To qualify for FEC matching funds, a candidate must raise at least $100,000 by collecting at least $5,000 in each of at least 20 states, and in amounts of no greater than $250 from any individual contributor. Many of the leading candidates opted out of the matching funds program because it also comes with maximum spending limitations. Also, no word yet what will happen with Tancredo's approved amount, as he withdrew from the race and endorsed Mitt Romney on Thursday.
HUCKABEE: In

a rare foray into the GOP Presidential contest, US Secretary of State Condi Rice publicly took issue with Mike Huckabee's recent article in Foreign Affairs journal in which he accused the Bush Administration of having an "arrogant bunker mentality" on foreign policy. At a Friday news conference in DC, Rice complained: "The idea that somehow this is a go-it-alone policy is just simply ludicrous. One would only have to be not observing the facts, let me say that, to say that this is now a go-it-alone foreign policy." Huckabee responded quickly: "Certainly she has a right to speak out ... I respect her very much ... [but] did she actually read the article or is she reacting as others have to the headlines and to the synopsis that has been printed?" In the article, Huckabee wrote that "American foreign policy needs to change its tone and attitude, open up, and reach out. The Bush Administration's arrogant bunker mentality has been counterproductive at home and abroad. My Administration will recognize that the United States' main fight today does not pit us against the world but pits the world against the terrorists."
ROMNEY: Despite widespread media doubts, Mitt Romney told the truth when he claimed this week that his father had marched for civil rights with Dr. Martin Luther King Jr. The Politico reports eyewitnesses stepped forward to verify that then-Michigan Governor George Romney walked side-by-side with King in a 1963 civil rights march in Grosse Pointe, Michigan. A reference to George Romney participating in the 1963 Grosse Point march was also found in a political book published in 1967. While Mitt Romney was not present to personally view it, his memory of the event taking place proved correct. Romney had also been criticized for falsely claiming he "saw" his father march with King, although he later explained he was speaking figuratively.
Posted by Ron Gunzburger - 12.22.07 | Permalink |
FREE SPEECH ZONE.
Before I leave for Israel and the West Bank on Sunday, I'll post a bunch of open threads for you to play with until my return on January 3 (Iowa Caucus Day).
Posted by Ron Gunzburger - 12.22.07 | Permalink |
FRIDAY NEWS UPDATE.
FREE SPEECH ZONE.
I did way too much writing at work on Thursday -- answering three new lawsuits, among other things -- to have much energy left to write much tonight. Sorry. But I promise to post an update Friday night, for the weekend, in anticipation of my upcoming trip.
Posted by Ron Gunzburger - 12.21.07 | Permalink |
THURSDAY NEWS UPDATE.
TANCREDO TO QUIT PREZ RACE; EDWARDS CALLS SCANDAL STORY "NONSENSE"; LOTT DEPARTS; RAMSTAD RETHINKS.
TANCREDO: Congressman

Tom Tancredo's GOP Presidential campaign -- having never polled above the 2% mark in any of the early contest states -- plans to quit the race on Thursday. Tancredo claims his campaign succeeded in his real goal: making his staunch anti-immigration views a major topic of discussion in the race. Now, with most of the Republican hopefuls embracing views close to Tancredo's, he will exit the race. Tancredo previously announced he will retire from Congress next year. No word as to whether Tancredo will endorse one of the remaining candidates. But, as Tancredo picked Iowa as the venue for his announcement, an endorsement would seem likely.
EDWARDS: John Edwards' strongly denied the sex scandal allegation published Wednesday on the cover of the National Enquirer as "absolute

nonsense." The story claims Edwards impregnated a campaign staffer, Rielle Hunter, who is now six-months pregnant. Hunter denied the story in a written statement, saying that "this has no relationship to nor does it involve John Edwards in any way. Andrew Young is the father of my unborn child." Andrew Young, who served as Edwards' North Carolina Finance Director, also issued a statement saying that he is the father. Young recently quit the campaign staff. The newspaper reports Young made the arrangements to place Hunter in a rental home -- owned by another Edwards supporter -- in a gated community located near the Edwards national headquarters. Interestingly -- and I say this because you just know trial lawyer Edwards will sue the Enquirer when the race is over if this story is false -- the newspaper is sticking with their version that Edwards is the father of Hunter's unborn child. Stay tuned because Enquirer's past history indicates they usually save the most damning evidence in these situations to print in an upcoming edition once the the target is locked into a denial story. [Editor's Note: Several readers complained that I'm running the sex scandal story because I'm an Obama supporter. Actually, I'm running it because it could impact the race and -- if and when -- something like this breaks about my endorsed candidate, I'll report on it, too.]
MISSISSIPPI: US Senate Minority Whip Trent Lott (R) left office this week, submitting the paperwork in which he resigned effective December 18 at 11:30 pm. The resignation's timing coincided with the holiday adjournment of Congress. Now comes the legal battle, as the Democratic Party and Attorney General Jim Hood (D) both say state law requires a special election to be set within 100 days of the resignation date. Governor Haley Barbour (R) says he intends to appoint someone to the vacancy -- likely Congressman Roger Wicker (R) -- and schedule the special election to coincide with the November 2008 Presidential vote. Expect the courts to quickly resolve this dispute as to whether Barbour gets to fill the seat for a year ... or if voters will see a special election in mid-March.
MINNESOTA: Congressman Jim Ramstad (R) "is seriously reconsidering" his decision to retire next year, according to Roll Call. Ramstad, a GOP centrist who is respected on both sides of the aisle, is telling friends he may decide to run again in 2008.
Posted by Ron Gunzburger - 12.20.07 | Permalink |
FREE SPEECH ZONE.
"Liar, liar, OEOB office on fire."
Posted by Ron Gunzburger - 12.20.07 | Permalink |
EDWARDS SEX SCANDAL BREAKING; PAUL CALLS HUCK A FASCIST; BILL'S AWESOME ROAD TRIP PLANS; IA, FL POLLS; CLIPPING BYRD'S WINGS; AND FAVORITE GADGETS & EX-PRESIDENTS.
EDWARDS:

The new cover of the National Enquirer -- hitting the streets on Wednesday -- will feature a shocking scandal story about a leading Democratic Presidential candidate fathering a soon-to-be-born "love child." National Enquirer claims John Edwards had an 18-month affair with female staffer on his campaign, who is supposedly now six-months pregnant and in hiding. Edwards and the staffer reportedly are vehemently denying the story -- although the newspaper purportedly has interviews with friends of the woman in whom she reportedly confided about the Edwards details. The newspaper also claims to have emails and other evidence supporting the story. With Edwards' "good husband" image associated with his ailing wife, this story -- if it has legs -- has the potential to destroy his campaign. Yes, it's a tabloid newspaper -- but remember that it was also a gossip tabloid that broke the Paula Jones sex scandal story about Bill Clinton during the 1992 campaign. Stay tuned.
P2008 - GOP: Congressman Steve King (R-IA) endorsed Fred Thompson for President. King praised Thompson's tough stance on immigration issues ... Ron Paul bashed Mike Huckabee's new Christmas TV spot airing in Iowa and New Hampshire. The Huckabee spot "reminds me of what Sinclair Lewis once said. He says, 'When fascism comes to this country, it will be wrapped in the flag carrying a cross.' Now, I don't know whether that's a fair assessment or not, but you wonder about using a cross like he is the only Christian or implying that subtly," said Paul, during an appearance on FOX News on Tuesday. Huckabee later joked about Paul's attack: "Actually I will confess this: if you play this spot backwards it says 'Paul is Dead, Paul is Dead, Paul is Dead.' So the next thing you know, someone will be playing it backwards to find out the subliminal messages that are really there." No, Huckabee wasn't wishing Ron Paul was dead -- it was a reference to an urban legend about the Beatles' White Album.

CLINTON: Former President Bill Clinton made an impromptu announcement in Iowa on Monday that his wife Hillary Clinton's "number-one priority" upon becoming President would be having him team up with former President George H.W. Bush on international goodwill missions. The purported purpose: restore US standing with nations around the globe caused by the damage of the current President Bush. The only problem is nobody had checked with "Bush 41" if he was up for the road trip. The former President "wholeheartedly supports the President of the United States, including his foreign policy. He has never discussed an 'around-the-world-mission' with either former President Bill Clinton or Senator Clinton, nor does he think such a mission is warranted since he is proud of the role America continues to play around the world as the beacon of hope for freedom and democracy," said GWH Bush's spokesperson on Tuesday.
IOWA: A new Insider Advantage poll of likely caucus goers shows two close Presidential contests in the state, as the January 3 caucus date draws closer. The GOP: Mike Huckabee - 28%, Mitt Romney - 25%, Fred Thompson - 10%, John McCain - 9%, Ron Paul and Rudy Giuliani tied with 6% each. The DEMS: Barack Obama - 27%, John Edwards - 26%, Hillary Clinton - 24%. The Democratic contest doesn't award local delegates to candidates capturing under 15%, so supporters under that amount often jump to others before the final count is tallied. That's where a second set of numbers seems more significant. When asked to name their second choice in the race, Dems gave Edwards 42%, Clinton 31% and Obama 27% -- indicating Edwards may remain be the sleeper in the race (note: subject to what happens with the sex scandal story).
CONGRESS: The Politco reports a group of US Senate Democrats are trying to find a way to dislodge 90-year-old Senator Robert C. Byrd (D-WV) from the Chair of the powerful Appropriations Committee. Committee members grumble that Byrd's physically deteriorating condition is impairing his ability to chair efficient meetings. One idea being floated is to name Byrd "Chairman Emeritus" and elevate Senator Patty Murray (D-WA) to "Acting Chair for the remainder of the 110th Congress. The newspaper cautions that "no decision has been made" yet by the Senate Leadership. "Senator Byrdís experience and respect for the Senate speak for themselves. He has no peer. The Appropriations Committee did an outstanding job this year despite an all-out effort by the White House to try to again shortchange the priorities of the American people," said a spokesman for Senate Majority Leader Harry Reid.
FLORIDA: A new Strategic Vision-R poll shows Rudy Giuliani's lead slipping away in the Sunshine State. The GOP: Giuliani - 25%, Huckabee - 21%, McCain - 15%, Romney - 13%, Thompson - 10%, Paul - 4%, Tancredo - 2%. The DEMS: Clinton - 48%, Obama - 31%, Edwards - 6%. While the Dem numbers are largely unchanged since last month's poll, Giuliani is down 6-points and Huckabee is up 12-points since November.


TOYS AND EX-PRESIDENTS: In an ongoing series of fun questions posed to the Presidential hopefuls, the AP this week asked the leading candidate to "name their favorite electronic gadgets." Hillary Clinton: iPod. Barack Obama: BlackBerry. John Edwards: iPod. Bill Richardson: BlackBerry. Rudy Giuliani: CD Player. Mike Huckabee: "Probably my laptop. Or my bass guitar and amplifier." John McCain: Razr cell phone and the TV remote. Mitt Romney: BlackBerry. Fred Thompson: iPod. The AP also asked each to "name their favorite 20th century President from the opposing party." Clinton, Obama, Edwards and Richardson all named Theodore Roosevelt. Giuliani, Huckabee and McCain each named Harry Truman. As for Thompson, he named fellow actor Martin Sheen ... for his portrayal of fictional President Josiah Bartlett in West Wing and his portrayal of actual President JFK in a mini-series.
Posted by Ron Gunzburger - 12.19.07 | Permalink |
FREE SPEECH ZONE.
Kudos to Senator Chris Dodd (D-CT) for his successful filibuster this week of the FISA renewal legislation (because it contained a blanket immunity for the telecommunications companies that eavesdropped without warrants on US phone calls for nearly five years).
Posted by Ron Gunzburger - 12.19.07 | Permalink |
PAUL'$ HAUL; MITT ATTACKS; HILLARY CAMPAIGN BASHES OBAMA; McKINNEY ANNOUNCED PREZ RUN; NRCC RAISES $3 MILLION; CONGRESSIONAL DEMS FOLD AGAIN ON WAR FUNDING.
P2008 - GOP: Ron Paul's campaign apparently broke the all-time, single-day online fundraising record for a Presidential campaign on Sunday. The tally: somewhere between $6-6.5 million (the campaign is still sorting actual dollars donated versus future pledges). In any event, a very impressive take. Now comes the even harder part: Paul has just 17 days to take his giant bankroll and produce actual results in the Iowa Caucuses on January 3 ...

Last week Mitt Romney hit Mike Huckabee with a TV spot in Iowa bashing him on immigration. This week he's on the air with a TV spot hitting Huckabee on crime. Huckabee "granted 1,033 pardons and commutations, including 12 convicted murderers. Huckabee granted more clemencies than the previous three Governors combined. Even reduced penalties for manufacturing methamphetamine," says the ad. Romney has largely focused his Iowa efforts on Huckabee in recent weeks, ever since Huckabee slipped past him into first place in the state. Huckabee, meanwhile, has his own spot airing in Iowa in which he delivers a warm Christmas message. Huckabee, with Silent Night playing in the background, says voters need to see that "what really matters [at this time of the year] is the celebration of the birth of Christ."
P2008 - DEM: Hillary Clinton used surrogates Monday to repeatedly bash rival Barack Obama. Former President Bill Clinton, in an interview with Charlie Rose, went through the list of Dem candidates and pronounced all but Obama qualified to be President. Later, former US Senator Bob Kerrey damned Obama with knowingly incendiary words he claimed were offered in praise. "I like the fact that his name is Barack Hussein Obama, and that his father was a Muslim and that his paternal grandmother is a Muslim. There's a billion people on the planet that are Muslims, and I think that experience is a big deal," said Kerrey to reporters in Iowa.


P2008 - GREENS: Controversial former Georgia Congresswoman Cynthia McKinney -- now a California voter -- officially announced her candidacy for the Green Party's Presidential nomination on Monday. "I am proud to say that the Green Party is my new political home. I am a Green because of the Green Party's commitment to its core principles of peace, social and racial justice, genuine democracy, and protecting our precious planet. I am a Green because the Green Party has long understood that for our earth to sustain us, we must sustain it ... I am a Green because the Green Party stands up for the right to vote and the right to have all votes counted. When the Republicans stole the presidential election in Ohio in 2004, and the Democrats turned tail and ran before all of the votes were counted, it was the Greens who demanded an investigation and a recount, speaking out on behalf of thousands of disenfranchised African-American voters," said McKinney, in her online video announcement. McKinney, as a US House incumbent, twice lost Democratic renomination races.
CONGRESS: The

NRCC finally has some money to spend, thanks to a cash infusion from GOP House members. At the urging of Minority Leader John Boehner, various House Republicans transferred a little over $3 million from their own campaign accounts into the NRCC's account. The DCCC has vastly outraised the NRCC this year, as the Dems had over $30 million cash-on-hand as of the end of September. The four biggest donors: Boehner kicked in $505,000, while Dave Dreier donated $500,000, Wally Herger have $250,000, and NRCC Chair Tom Cole contributed $175,000. Herger is seeking to replace retiring Jim McCrery as the ranking Republican on the powerful Ways & Means Committee ... It looks like Congressional Democrats are on the verge of appropriating the President's requested war funding, with no strings attached. Dems also backed down in the face of veto threats on abortion, the environment, health care, and other issues of concern to the party's base. The move will enable Congress to adjourn before Christmas. "We should have sent [the President] more appropriations bills and made him veto all of them. We're letting him off easy," complained liberal Senator Tom Harkin (D-IA) to The Politco.
Posted by Ron Gunzburger - 12.18.07 | Permalink |
FREE SPEECH ZONE.
Just a reminder, but I'm leaving on vacation to Israel next Sunday -- so there will be no updates between 12/24 and 1/2.
Posted by Ron Gunzburger - 12.18.07 | Permalink |
LIEBERMAN BACKS McCAIN; HILL COLLECTS ENDORSEMENTS; ANOTHER BIG MONEY DAY FOR PAUL; KANSAS A.G. QUITS IN SEX SCANDAL; CONGRESSIONAL WEDDING BELLS.
P2008: US Senator Joe Lieberman (Independent Dem-CT) is

set to endorse John McCain (R) for President on Monday (weather permitting in New Hampshire). Lieberman is one of the strongest congressional supporters of the Iraq War, and McCain shares a nearly identical position. The Lieberman endorsement is likely to boost McCain, particularly in New Hampshire among Independent voters ... Ron Paul's campaign designated Sunday as the target day for breaking Paul's previous record ($4.2 million) for the most money ever raised online by a Republican candidate. As of 8:30 pm on Sunday, Paul had collected over $3.6 million in contributions from over 30,000 people. To date just during the current quarter, Paul has raised an impressive total of approximately $16.4 million. FYI: The two candidates who previously raised the most money online in single day are Hillary Clinton ($6.2 million) and Barack Obama ($6 million) ... Oregon Governor Ted Kulongoski, Maine Governor John Baldacci, former US Senator Bob Kerrey and Congressman Leonard Boswell (D-IA) both endorsed Hillary Clinton over the weekend ... The Portsmouth (NH) Herald endorsed McCain on Sunday ... Iowa First Lady Mari Culver (D) is expected to endorse John Edwards (D) on Monday.
KANSAS: Attorney General Paul Morrison (D) resigned on Friday, after admitting to an improper sexual relationship with a women he had employed. The woman is suing Morrison for sexual harrassment. By state law, Governor Kathleen Sebelius (D) will select a replacement.
CONGRESS: Congresswoman Mary Bono (R-CA) and Congressman Connie Mack (R-FL) were wed on Saturday in a private ceremony. Bono, 45, is the widow of the late Congressman and entertainer Sonny Bono. Mack, 40, divorced his wife in order to marry Bono.
Posted by Ron Gunzburger - 12.17.07 | Permalink |
FREE SPEECH ZONE.
Just an open thread.
Posted by Ron Gunzburger - 12.17.07 | Permalink |
CONGRESSWOMAN CARSON DIES; McCAIN, CLINTON, OBAMA WIN KEY NEWSPAPER ENDORSEMENTS.
INDIANA: Congresswoman Julia Carson (D), 69, died Saturday after a lengthy illness. She had missed much of the congressional sessions this year, and announced just last month she had been diagnosed with terminal lung cancer. Her office also confirmed last month she had entered hospice care, so her

passing was not entirely unexpected. No likely dates yet for the special election -- but state law indicates it must take place at least 60+ days following the death. Governor Mitch Daniels (R) warmly praised Carson as "honest and brave, and a lioness in causes she believed in." He said his office was making arrangements for Carson's body to lie in state in the rotunda of the Indiana State House.
P2008: Two influential newspapers issued Presidential endorsements on Saturday. The Des Moines Register endorsed Hillary Clinton (D) and John McCain (R). While the Register highly praised Barack Obama for having "inspired our imaginations," the paper gave the edge to Clinton on her experience. The endorsement was also a major blow to John Edwards, who won the Register's endorsement for the 2004 Iowa caucuses. As for McCain, the Register said he project a "moral authority could go a long way toward restoring Americans' trust in government and inspiring new generations to believe in the goodness and greatness of America." The Boston Globe -- highly influential in New Hampshire -- endorsed Obama and McCain. In endorsing McCain, the Globe passed over local favorite son Mitt Romney. Recent polls place McCain second in New Hampshire, so it appears he may have reclaimed his former first-tier status.
Posted by Ron Gunzburger - 12.16.07 | Permalink |
JOIN THE POLITICS1
FACEBOOK GROUP:



BLOG ARCHIVE:

January 1-15, 2008
December 16-31, 2007
December 1-15, 2007
November 16-30, 2007
November 1-15, 2007
October 16-31, 2007
October 1-15, 2007
September 1-30, 2007
August 16-31, 2007
August 1-15, 2007
July 1-31, 2007
June 1-30, 2007
May 16-31, 2007
May 1-15, 2007
April 16-30, 2007
April 1-15, 2007
March 16-31, 2007
March 1-15, 2007
February 16-28, 2007
February 1-15, 2007
January 16-31, 2007
January 1-15, 2007
December 16-31, 2006
December 1-15, 2006
November 16-30, 2006
November 1-15, 2006
October 16-31, 2006
October 1-15, 2006
September 16-30, 2006
September 1-15, 2006
August 16-31, 2006
August 1-15, 2006
July 16-31, 2006
July 1-15, 2006
June 16-30, 2006
June 1-15, 2006
May 15-31, 2006
May 1-15, 2006
April 16-30, 2006
April 1-15, 2006
March 16-31, 2006
March 1-15, 2006
February 17-28, 2006
February 1-16, 2006
January 16-31, 2006
January 1-15, 2006
December 2005
November 2005
October 2005
September 2005
August 2005
July 2005
June 2005
May 2005
April 2005
March 2005
Jan-Feb 2005
December 2004
November 16-30, 2004
November 1-15, 2004
October 16-31, 2004
October 1-15, 2004
September 16-30, 2004
September 1-15, 2004
August 16-31, 2004
August 1-15, 2004
July 16-31, 2004
July 1-15, 2004
June 16-30, 2004
June 1-15, 2004
May 16-31, 2004
May 1-15, 2004
April 16-30, 2004
April 1-15, 2004
March 15-31, 2004
March 1-14, 2004
February 15-29, 2004
February 1-14, 2004
January 17-31, 2004
January 1-16, 2004
December 16-31, 2003
December 1-15, 2003
November 17-30, 2003
---
POLITICAL BLOG ROLL:
KINDA NEUTRAL:
ABC News: The Note
CNN: Morning Grind
CQ Politics
Political Wire
MSNBC: First Read
CJR Daily
Rothenberg Pol. Report
LexisNexis: US Politics
Stateline.org
Governing.com
Political State Report
Hotline On Call
Hotline's Blogometer
Beltway Blog
WatchBlog
Lawmakers Blog
Centerfield Aggregator
Command Post
FactCheck.org
WSJ: Best of the Web
WSJ: Washington Wire
D.C.'s Political Report
2008 Political Perspective
Media Bistro
Larry Sabato: Crystal Ball
PressThink
Politics-Line
TheCapitol.Net: Blog
MyElectionAnalysis.com
DEM/LEFT:
DNC Blog
DCCC Blog
DailyKos
Lefty Blogs
Howard Dean/DFA
OurSenate.com
Frameshop
The Washington Note
Emerging Dem Majority
Think Progress
AmericaBlog.com
Amer Prospect: Tapped
Arianna Huffington
Al Franken
BAG News Notes
Eric Alterman
Senate Majority Project
FishBowl DC
Fired Up! America
TalkLeft
TNR: The Plank
The Raw Story
Blogging of the President
Joe Trippi
Swing State Project
Media Matters
Josh Marshall
Wonkette
MyDD
Working for Change
Crooks & Liars
Mathew Gross
Penndit
Progressive Dems: Blog
Atrios/Eschaton
Off the Kuff
Tom Tomorrow
Mother Jones
Jerry Springer
TruthOut
Dem Bloggers
Liberal Oasis
Penndit
Firedoglake
Good As You
AtariDemocrat
Henry Lewis
BuzzFlash
Brad Blog
Dean Nation
Louise Slaughter
TruthDig
Dem Underground
Jared Hall
Bad Attitudes
The American Street
District Blogs
GOP/RIGHT:
RNC (GOP.com)
Club for Growth
National Review: Corner
C-Log
Real Clear Politics
Andrew Sullivan
John Ellis
StoneZone
Mickey Kaus
Virginia Postrel
RedState.org
WSJ Opinion Journal
Free Republic
Instapundit
Drudge Report
Pajamas Media
Hugh Hewitt
Daniel Drezner
Daily Pundit
Bully Pulpit
Outside the Beltway
Little Green Footballs
World Mag Blog
Right Wing News
Volokh Conspiracy
Brothers Judd
David Frum
Mister Politics
Enter Stage Right
Right Wing News
PoliPundit
Power Line
Hedgehog Report
Right Voices
Booker Rising
Don Singleton
Save the GOP
OTHER:
ThirdPartyWatch.com
Centrist Coalition
Kn@ppster
Green Commons
News for Greens
---
For those who would like to track Politics1 with a newsreader, we publish a RSS feed:
---

---