BLOG ARCHIVE: DECEMBER 1-15, 2007.
LA SEN POLL; CLINTON NH CO-CHAIR QUITS;PAUL OPENS DOOR TO INDY RUN; SHARPTON TARGET OF FED PROBE; "HOW WOULD YOU LIKE YOUR COFFEE?"

LOUISIANA: A new Roll Call/SurveyUSA poll shows US Senator Mary Landrieu (D) narrowly leading challenger State Treasurer John Kennedy (R) by a 46% to 42% vote.
P2008: Billy Shaheen, NH Co-Chair of the Hillary Clinton campaign, publicly resigned on Thursday. The move came one day after he attacked rival candidate Barack Obama for his acknowledged past history of youthful drug use and hinted Obama may have once sold drugs. Shaheen's comments caused such a quick, sharp political backlash that the departure -- to wit: falling on his sword to protect the campaign -- was no surprise. Shaheen said his comments had not been authorized by the campaign. Shaheen is the husband of former Governor Jeanne Shaheen, the Dem candidate against US Senator John Sununu (R). Clinton also reportedly apologized directly to Obama on Thursday in Iowa.


PAUL: In an interview with Newsweek, Congressman Ron Paul (R) pointedly kept open his option of bolting the GOP to make a third party White House run next year. Paul carefully said he has "no plans" at this time to make an Indy run. Here is the key excerpt: "QUESTION: If you don't win, will you support the GOP nominee and promise not to run on the Libertarian or any other ticket? ANSWER: I'm not promising any of those things. If we have a Republican nominee that has convinced me they have come around on foreign policy … I would consider it. As far as running on a third-party ticket, or [as an] Independent, or Libertarian, I have no plans to do that."
MISSISSIPPI: Former Attorney General Mike Moore (D) announced Thursday he will not run for the open US Senate seat next year. Moore retired from politics four years ago to enter the private sector.The polls show I could win; and I would have the money I needed to win the race," Moore said. "It all just came down to whether it was best for me and my family. The truth is, I made my decision four years ago, and it has been a good one for my family and me," he explained in a written statement.
SHARPTON: According to various news reports, civil rights activist Al Sharpton (D-NY) is apparently the target of a federal corruption investigation related to his 2004 Presidential campaign, his

National Action Network organization, and six Sharpton-related business ventures. The allegations relate to whether Sharpton inflated his 2004 contributions to qualify for federal matching funds. The FBI and IRS issued subpoenas for documents going back to 2001 and for individuals related to Sharpton's various groups. An angry Sharpton said the investigation is retaliation for his activism in the Jena Six case in Louisiana. "I have probably been under every investigation known to man and I can't remember a time that I've not been under investigation. The issues raised are issues that we've learned [happen to me] over and over again, particularly when we are approaching an election season," said an angry Sharpton. A source close to Sharpton told Politics1 that Sharpton skipped the 2008 Presidential race because he had already decided instead to run in 2012 -- even if it amounts to a primary challenge against an incumbent Democratic President.
THANKS A LATTE: In a fun aside on the Presidential hopefuls -- especially as I spend my daily lunch hours at a coffee shop (instead of eating lunch) -- the AP reported on the candidate coffee preferences. Hillary Clinton: Drinks coffee black, but sometimes has it with cream. Barack Obama: Drinks his coffee black (but said he rarely drinks coffee). John Edwards: Doesn't drink coffee. Bill Richardson: Coffee with cream. Rudy Giuliani: Coffee with whichever kind of artificial sweetener is available. Mike Huckabee: Coffee with Splenda. John McCain: Cappuccino, or coffee with cream and sugar. Mitt Romney: Doesn't drink coffee, but volunteered he sometimes drinks hot chocolate. Fred Thompson: Coffee with cream.
Posted by Ron Gunzburger - 12.14.07 | Permalink |
FREE SPEECH ZONE.
Kudos to the NJ Legislature for making the Garden State the first state in the nation to ban to death penalty in over 40 years.
Posted by Ron Gunzburger - 12.14.07 | Permalink |
ROMNEY, CLINTON & OBAMA LEAD IN NH NUMBERS ... AND A LAZY DAY.
NEW HAMPSHIRE: The latest CNN/WMUR-TV poll gives us a new look at the state of the New Hampshire primary. The GOP numbers: Mitt Romney - 32%, Rudy Giuliani and John McCain tied with 19% each, Mike Huckabee - 9%, Ron Paul - 7%, Fred Thompson and Tom Tancredo tied with 1% each, and Duncan Hunter - 0%. The DEM numbers: Hillary Clinton - 31%, Barack Obama - 30%, John Edwards - 16%, Bill Richardson - 7%, Dennis Kucinich - 3%, Joe Biden and Chris Dodd tied with 1% each, and Mike Gravel - 0%. While the GOP frontrunner numbers are largely unchanged (except for the total collapse of Thompson), these numbers reflect a 5-point drop for Clinton and an 8-point rise for Obama since the last CNN/WMUR-TV poll.
HUCKABEE: If you've got a good, sarcastic sense of humor, be sure to check out this faux Mike Huckabee ad.
OTHER NEWS: Okay, I had a long day at work today, so thus this very short posting today. Sorry.
Posted by Ron Gunzburger - 12.13.07 | Permalink |
FREE SPEECH ZONE.
Anything and everything else. Also, FYI, I've discovered that when you're part of an upcoming group trip to Israel coordinated by a leading US Jewish organization, it's very hard to try to make arrangements to visit somewhere behind the wall in the Palestinian Authority-controlled West Bank like Bethlehem or Jericho (but I'm still working on it).
Posted by Ron Gunzburger - 12.13.07 | Permalink |
WEDNESDAY NEWS UPDATE.
LATTA, WITTMAN SCORE GOP WINS; HUCK SHIFTS ON IMMIGRATION, CUBA; ROMNEY ATTACKS; FRED RETOOLS; DEMS BICKER; OBAMA GAINS ON HILLARY IN SC; NJ SEN RACE UPDATE.
OHIO CD-5: The Democrats forced the NRCC to spend nearly $300,000 -- 16% of its total cash-on-hand -- to defend what was traditionally a safe GOP seat on Tueday. In the end, State Representative Bob Latta (R) comfortably won the CD-5 seat his father held two decades ago. In the final days of the campaign, Latta largely limited his message to one of emphasizing a tough stance on immigration issues. Latta defeated think tank official Robin Weirauch (D) by a vote of 57% to 43%. Latta will replace the late Congressman Paul Gillmor (R), who died September 5 from injuries sustained during a fall down the stairs in his home.
VIRGINIA CD-1: As expected, State Delegate Rob Wittman (R) cruised to a landslide victory over Iraq War veteran Philip Forgit (D) in Tuesday's special election. The vote: Wittman - 63%, Forgit - 35%, and Lucky Narain (Independent) - 2%. The seat is considered safely Republican. Wittman will replace the late Congresswoman JoAnn Davis (R), who died of cancer on October 6.
P2008 - GOP: The National Review

endorsed Mitt Romney on Tuesday ... Romney's campaign sent an attack mailer to Iowa voters which blasted Rudy Giuliani, Mike Huckabee and Fred Thompson on the immigration issue ... Huckabee called the Romney attack "desperate" ... ... Minuteman Project founder Jim Gilchrist (Constitution) endorsed Huckabee on Tuesday, despite his previous comments that Tom Tancredo was the "inspiration for launching the" civilian border patrol group. "Whatever the Governor might have done 10 or 20 years ago regarding this issue, that was then, this is now," said Gilchrist, explaining he believes Huckabee now shares Tancredo's anti-immigration stance. "An endorsement won't change the fact that Mike Huckabee has an abysmal record on immigration enforcement," responded a Romney spokesman ... Huckabee this week reversed his 2002 call for normalizing relations with Cuba. At the time, Arkansas wanted to sell more agricultural products to Cuba. When asked by FOX News what caused the new outlook, the former Arkansas Governor responded: "What changed was I'm [now] running for Ppresident." In related news, Florida House Speaker Marco Rubio (R) endorsed Huckabee, saying he appreciated Huckabee's new tough-on-Castro position. Rubio is the first Cuban-American to serve as Florida Speaker ... In a strategy shift, Fred Thompson has decided to exclusively focus his campaign in Iowa for the next three weeks until the caucuses there. Reuters reports the move is an effort to jump-start the campaign, which has seen Thompson's support dwindling in several key Southern states. Thompson's initial strategy, now abandoned, had focused largely on scoring early successes in the South Carolina and Florida primaries ... John McCain swooped into Fort Lauderdale for a weekend fundraiser accompanied by Senator Lindsey Graham (R-SC), former Congressman Tom Loeffler (R-TX) and veteran GOP strategist Charlie Black. Local attorney and McCain advisor Scott Rothstein -- who is posturing for a US Attorney appointment -- hosted the event, which raised around $50,000. Polls in NH show McCain inching back into the first tier over the past month.
P2008 - DEMS: Hillary Clinton's

campaign sent a mailing to Iowa voters this week attacking Barack Obama's health care plan ... Joe Biden started running an attack spot in Iowa taking a swipe at both Clinton and Obama for lacking his experience and vision. Biden was the last of the Dems to air a TV spot in Iowa ... Congresswoman Carol Shea-Porter (D-NH) endorsed Obama on Tuesday.
SOUTH CAROLINA: A new WCSC-TV/SurveyUSA poll of likely Democratic primary voters shows the Hillary Clinton-Barack Obama contest has tightened following Oprah Winfrey's appearance for Obama here on Sunday. The numbers: Clinton - 44%, Obama - 40%, John Edwards - 11%, Others - 3%.
NEW JERSEY: State Republican leaders have been disappointed with the lack of a strong candidate to challenge aging Senator Frank Lautenberg (D) next year. State Assemblyman Joe Pennachio and wealthy developer Anne Estabrook are both considered weak candidates. Now comes word that the NRSC is interested in enticing State Assemblyman Kevin O'Toole (R) into the race. O'Toole -- despite the name -- is a Korean-American who currently represents an urban district and has run well with Democrats and Independent voters in the past. He is also Chair of the powerful Essex County Republican organization. The Korean-American community is seen as a strong potential fund-raising base, as money woes are a big GOP concern for 2008. O'Toole has reportedly agreed to meet with NRSC officials to discuss the race.
Posted by Ron Gunzburger - 12.12.07 | Permalink |
FREE SPEECH ZONE.
Nope. Nothing. That's right. I've got nothing at all to say opinion-wise today. Also, FYI: my family -- ten of us, including Dana and me -- are going on vacation to Israel during December 23-January 2. I know the Iowa caucuses are January 3, but this was planned well in advance of Iowa's jockeying for an earlier calendar date. Dana and I have never visited the region before. We'll visit the Golan Heights, Tel Aviv, Jerusalem, the Dead Sea, Masada, farming communities, etc. -- and Dana and I also plan to spend a day behind the Security Barrier visiting the Palestinian West Bank (possibly either Jericho or Bethlehem). At this point, I'm not planning to bring my laptop, so I'm just giving you an early heads-up.
Posted by Ron Gunzburger - 12.12.07 | Permalink |
TUESDAY NEWS UPDATE.
SPECIAL TUESDAY IN VA, OH; AK SEN/HOUSE POLLS; SC PREZ POLL; RON PAUL'S BLIMP; BUNNING TO RUN AGAIN IN '10.
SPECIAL ELECTIONS: Voters go to the polls on Tuesday to cast ballots in congressional special elections in Ohio and Virginia. Expect low turnouts in both races. In Ohio, the NRCC spent 16% of its total cash-on-hand just to hold onto what most believe is a safe GOP seat. By contrast, State Delegate Rob Wittman (R) is a safe bet to hold the open seat in Virginia. Both special elections were caused by the deaths of GOP incumbents.


ALASKA: Two new Research 2000 polls conducted for DailyKos.com shows Alaska may see some highly competitive federal races next year. In the US Senate race, incumbent Ted Stevens (R) trails Anchorage Mayor Mark Begich (D) by a vote of 47% to 41%. In the US House race, incumbent Don Young (R) trails former State House Minority Leader Ethan Berkowitz (D) by a vote of 49% to 42%. Both Stevens and Young are reportedly the targets of separate FBI corruption investigations.
SOUTH CAROLINA: A new WCSC-TV/SurveyUSA poll of likely GOP primary voters shows Mike Huckabee moving into a solid lead in the Palmetto State. The numbers: Huckabee - 30%, Mitt Romney - 19%, Fred Thompson - 18%, Rudy Giuliani - 13%, John McCain - 10%, Others - 6%.
PAUL: In one of the most bizarre campaign publicity stunts of the campaign season, Libertarian Party supporters of Congressman Ron Paul's longshot bid for the GOP Presidential nomination are using a stunt that could have been used in the days of Calvin Coolidge or Herbert Hoover. They are going to fly a Ron Paul blimp from North Carolina to New Hampshire to generate publicity

for Paul. Yup, nothing symbolizes the future like ... a dirigible.
KENTUCKY: Cantankerous US Senator Jim Bunning (R), 76, told the Kentucky Post that those Republicans who claim he is going to retire in 2010 are "liars." Some leading state GOP activists are openly hoping the erratic Bunning -- a pro baseball Hall of Fame pitcher -- will retire, fearing he is simply too vulnerable. Bunning struggled to win a very tight re-election race in 2004. "I'm going to be a candidate for the Senate in 2010. You know how many times I've said that? I said it the day after I won re-election in 2004. I've been saying it every day," said Bunning. Congressman Ben Chandler (D) is believed to be gearing up to challenge Bunning in 2010.
Posted by Ron Gunzburger - 12.11.07 | Permalink |
FREE SPEECH ZONE.
Call it "Six Degrees of Waterboarding" .. or just write it off as a really weird coincidence. One day after my rather incendiary editorial about wanting to see US leaders and CIA interrogators tried for war crimes in The Hague, it turns out the CIA interrogator who captured and waterboarded suspected al-Qaeda leader Abu Zubaydah was a close college friend of mine. Retired CIA Agent John Kiriakou and I both attended college at GWU, both served together on the board of GWU College Democrats, and lived in the same dorm. John, in an interview with ABC News on Monday, said he was a CIA interrogator who struck and was involved in waterboarding Zubaydah, that Zubaydah broke after just 35 seconds on the waterboard, and that he now believes waterboarding is a form of torture. "The next day, he told his interrogator that Allah had visited him in his cell during the night and told him to cooperate. From that day on, he answered every question ... We're Americans, and we're better than this. And we shouldn't be doing this kind of thing ..[but] what happens if we don't waterboard a person, and we don't get that nugget of information, and there's an attack? I would have trouble forgiving myself," John told ABC. Did he quit the CIA over what he experienced? Nope, he nonchalantly said he "loved" being in the CIA but just didn't like the long hours and frequent travel that kept him away from his four kids. For a guy who was -- at the time we were in school together -- such a genuine, kind and gentle soul, I have serious trouble reconciling my humane friend with the CIA interrogator who stood over a prisoner tied to a waterboard. John seems to prove Hannah Arendt's concept about the banality of evil. Sad to think my former college friend was a future war criminal.
Posted by Ron Gunzburger - 12.11.07 | Permalink |
MONDAY NEWS UPDATE.
McCRERY RETIRES; UDALL CRUISES IN NM; OPRAH 4 OBAMA; PELOSI SUPPORTED TORTURE; DEMS LOSE TOP CANDIDATES IN IL, KY.
LOUISIANA: Congressman Jim McCrery (R), 58, surprisingly announced Friday evening he will not seek re-election next year. McCrery -- first elected to Congress in 1988 -- this year moved up to the Ranking Republican spot on the powerful House Ways & Means Committee. He explained his decision was prompted by the GOP loss of control of the US House in 2006 and the long odds for his party to recapture majority status in 2008. McCrery had always wanted to serve as Ways & Means Chair, but the Dem victory in 2006 blocked him from the post. "Twenty years is a long time to serve in Congress. I believe it is time for me to step aside and let someone with fresh enthusiasm and new ideas step in to represent the 4th district ... The Chairmanship would have allowed me to play a leading role in addressing some of the biggest long-term problems facing our country ... So, given that disappointment ... I will not seek re-election to the Congress in 2008," explained McCrery. He said he does not yet have any plans as to what he will do after leaving office. Attorney Jerry Jones, a former top McCrery aide and an unsuccessful 2006 candidate for Shreveport Mayor, has quickly emerged as the consensus GOP candidate for the seat. Democrats being mentioned as possible candidates for the CD-4 seat include retired Shreveport Mayor Keith Hightower, State Public Service Commissioner and '07 Governor candidate Foster Campbell, and former Congressman Buddy Leach. Race rating: GOP Favored.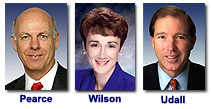 NEW MEXICO: Albuquerque Mayor Marty Chavez (D) quit the race for the US Senate over the weekend and endorsed Congressman Tom Udall (D) for the open seat. According to the Albuquerque Journal, it was poor internal polling data -- not behind-the-scenes pressure from the DSCC -- that prompted Chavez's withdrawal. With Chavez out, Udall now faces only very nominal opposition for the nomination. By contrast, the Republicans are facing a likely bruising and expensive primary battle. Race rating: Leans DEM.
OBAMA: As had been anticipated for weeks, beloved TV show host Oprah Winfrey hit the campaign trail this weekend in support of Barack Obama's Presidential campaign. Winfrey headlined large crowd events in Iowa on Saturday, and in South Carolina and New Hampshire on Sunday. A massive and cheering crowd of nearly 30,000 turned out for the South Carolina event -- the largest crowd to date for any candidate this Presidential election cycle. By contrast, Hillary Clinton used her mom, daughter Chelsea and husband Bill
TORTURE: On Friday it was widely reported that the CIA intentionally destroyed videotapes of the waterboarding interrogations of two suspected al-Queda operatives. The destruction apparently took place contrary to the instructions of then-White House Counsel Harriet Myers that the tapes must be preserved as they had

been officially requested by both the courts and Congress. However, in proof that there are unclean hands on both sides of the political aisle, on Sunday it was revealed that Speaker Nancy Pelosi (D-CA) and three other senior congressional leaders on the intelligence committees were informed by CIA officials in September 2002 at a closed-door session that waterboarding and other potential torture methods were being used on captured prisoners of war. According to the Washington Post, others who attended the briefings included Congressman Porter Goss (R-FL), and Senators Bob Graham (D-FL) and Pat Roberts (R-KS). No legislators raised question at the time that the methods constituted possible war crime violations of the Geneva Convention. Instead, at least two reportedly asked if the methods "were tough enough" to produce confessions. "The reaction in the room was not just approval, but encouragement," recalled Goss, who later served as CIA Director. Graham claims he "does not recall" the briefing, was "unaware" then of what constituted waterboarding, and "now believes the techniques constituted torture and were illegal." Pelosi declined to directly comment, but a Pelosi congressional ally confirmed to the newspaper that Pelosi attended the session, was aware waterboarding was discussed, and agrees Pelosi "did not object" at the time to the method. Jane Harman (D-CA), who replaced Pelosi in the intelligence panel in 2003, was informed of waterboarding at a subsequent briefing. Harman said she was "not free to disclose anything" publicly because it was deemed classified data, but she promptly filed a formal written objection to the the use of waterboarding. Roberts declined to comment on the report. Jay Rockefeller (D-WV), who replaced Graham in 2003, began pushing for open hearings on the topic in 2005 after information on the US use of waterboarding began to leak out to the media.
ILLINOIS: Republicans got a great gift this weekend when former pro basketball coach Dick Versace (D) quick the race for the open CD-18 seat being vacated by retiring Congressman Ray LaHood (D). Without elaborating, Versace said he was withdrawing from the race "for personal reasons." Filing closed November 5, but state election laws allow the Democrats to substitute a new candidate before the general election. However, it is highly unlikely the Dems will find any viable candidate on a par with what had appeared to be Versace's potential. Three Republicans remain in the race, with State Representative Aaron Schock the apparent frontrunner for the GOP nomination. New rating: Safe GOP.


KENTUCKY: It's official. The DSCC's top recruited candidate to oppose US Senate Minority Leader Mitch McConnell (R) next year has decided to pass on the race. State Auditor Crit Luallen (D) telephoned party leaders on Friday to let them know of her decision. Outgoing Attorney General Greg Stumbo (D) -- who was also rumored to be quitting the contest -- told the AP on Friday he was"still evaluating" the race. Stumbo established an federal exploratory committee three months ago. Other Dems looking at the race include wealthy cable TV magnate Charlie Owen, retired Marine Corps officer Andrew Horne, and a handful of other lesser-knowns. Until the Dems get a viable candidate to commit to the race, we're changing our rating from GOP Favored to Safe GOP.
P2008: The GOP Presidential candidates -- minus one -- debated in Spanish on Sunday night on Univision. Although the candidates were all instructed to speak exclusively in English -- as the network would provide all translations -- Congressman Tom Tancredo refused to participate because it was not being conducted in English. Tancredo boycotted the event, describing it as "pandering" to non-English speaking voters.
Posted by Ron Gunzburger - 12.10.07 | Permalink |
FREE SPEECH ZONE: AN EDITORIAL ON WAR CRIMES.
This may be the most provocative editorial to date that I've ever penned, but it is time the US again stood in support of the rule of well-accepted international law. The day we decided to conduct waterboarding and engage in illegal "renditions" of US prisoners of war to nations like Syria and Romania that allow the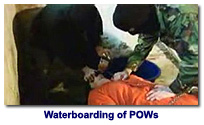 torture of prisoners was the day the US abandoned the high moral ground we always claimed. Previously, I made it clear I don't back a move to impeach President Bush or Vice President Cheney because at this point it is simply a futile move that will tear this country further apart and bring all other Congressional activity to a total halt. However, I wouldn't have any objection to the US government -- after a new Administration takes office in January 2009 -- promptly handing all of the policy makers of the former criminal regime who approved of the waterboarding policy in their official capacities (plus those US interrogators who actually participated in conducting the actual waterboarding sessions) over to the International War Crimes Tribunal in The Hague for prosecution. That list should seemingly now include Bush, Cheney, Rumsfeld, Goss, Pelosi, the US interrogators, etc. The US has been very clear in our strong historical support of the use of that esteemed international legal venue for dealing with war criminals from Rwanda, Serbia/Bosnia, etc. Likewise, the US solidly established at the Nuremberg Trials in 1946 the principle that policymakers who "only" planned or approved actions in their official capacity -- even if legal under a nation's existing laws -- may still be tried for war crimes if those actions are proven to violate international law. The last time I checked the torture of prisoners (even really odious terrorists) was still a war crime under the Geneva Convention. Further, I'm unaware of any "it doesn't count as a war crime if the US does it" loophole in the rules -- and the US cannot unilaterally exempt itself from international law. A war criminal is a war criminal, regardless of why the person committed or ordered the torture of prisoners. I'll readily agree that President Bush isn't a Hitler, Stalin or even a Milosevic. But with the use of waterboarding, illegal renditions of US prisoners of war to secret foreign prisons, the black hole of Guantanamo filled with "the disappeared" captives the Administration refuses to even name, and the gradual daily loss of our domestic constitutional protections, President Bush is well on his way to becoming our Pinochet. The United States deserves better.
Posted by Ron Gunzburger - 12.10.07 | Permalink |
ROMNEY'S BIG MEDIA DAY; KYL, ALEXANDER WIN SEN GOP POSTS; NEW IOWA, SC POLLS.
ROMNEY: Mitt Romney gave his so-called

"big speech" on Thursday, trying to address to "Mormon issue" he's tried to avoid for most of the campaign. In the speech, Romney mentioned to word Mormon only once. Instead, he made a plea that candidates should not be chosen or rejected solely due to religious beliefs. Rather than address the concerns of Evangelicals about Mormon beliefs, Romney instead insisted the only important qualification for the Presidency is that a candidate devoutly belief in and worship God. "I believe that Jesus Christ is the son of God and the savior of mankind ... Freedom requires religion, just as religion requires freedom ... Freedom and religion endure together, or perish alone. When I place my hand on the Bible and take the oath of office, that oath becomes my highest promise to God," said Romney. While some praised the speech, conservative columnist Robert Novak reported that Romney's own campaign consultants were not among the fans of his speech. According to Novak, the Romney campaign "political advisers" saw Thursday's speech as "a bad idea" and an "overreaction" to Mike Huckabee's recent rise in the polls. After the speech, prominent Southern Baptist Convention leader Richard Land praised the speech as "Kennedy-esque" and said Romney mentioned everything possible to portray himself in the best light to assuage Evangelical Christians. "I don't think his Mormonism is a deal-breaker for most Americans," said Land to the AP. Yet when asked a direct follow-up by ABC News as to whether he considered Mormons to be "Christians," Land responded: "No, I do not." Still, Romney commanded a major share of the day's political media attention so -- regardless of whether the speech solved his electability problems or not -- the speech certainly didn't seem to do him any harm.
US SENATE: The US Senate Republicans filled two vacant leadership posts on Thursday. US Senator Jon Kyl (R-AZ) was elected Whip without opposition, replacing resigning US Senator Trent Lott (R-MS). Senator Lamar Alexander (R-TN) easily defeated Senator Richard Burr (R-NC) for Kyl's #3 position of Conference Chair by a vote of 31-16. According to CQ, Alexander's allies portrayed the race as a contest between an respectful institutionalist willing to work across party lines (Alexander) versus a hardcore, confrontational conservative (Burr). The vote showed Senate Republicans "are here not to play games, but to make things happen," said Alexander.
IOWA: A new

Insider Advantage-R poll shows Mike Huckabee and Barack Obama holding onto leads in this key early caucus state. The GOP numbers: Huckabee - 27%, Mitt Romney - 24%, Rudy Giuliani - 13%, Fred Thompson - 11%, John McCain - 6%, Ron Paul - 5%, Tom Tancredo - 2%, Duncan Hunter - 1%. The DEM numbers: Barack Obama - 32%, Hillary Clinton and John Edwards tied with 25% apiece, Joe Biden - 5%, Bill Richardson - 3%, Chris Dodd and Dennis Kucinich tied with 1% each.
SOUTH CAROLINA: A new Insider Advantage-R poll shows Mike Huckabee has moved into the lead in the Palmetto State. The numbers: Huckabee - 23%, Rudy Giuliani and Fred Thompson tied at 17% each, Mitt Romney- 14%, John McCain - 10%, Ron Paul - 6%, and Duncan Hunter and Tom Tancredo tied with 1% apiece.
Posted by Ron Gunzburger - 12.07.07 | Permalink |
FREE SPEECH ZONE.
Have at it.
Posted by Ron Gunzburger - 12.07.07 | Permalink |
SWIFT BOATERS REDUX; NH NARROWS; MEL'S PRIMARY PROBLEM; NOT SO FARR TO GO; STILL SITTING ON THE SIDELINES.

P2008: Hmmm ... Citizens United Not Timid, a 527 committee set up to "Educate the people as to what Hillary Clinton is" has just been launched by two California organizers with past ties to the infamous Swift Boat Veterans for Truth group from the 2004 race, according to infamous GOP dirty trickster Roger Stone. No surprise, but the general election campaign is going to get very nasty. Despite the rather offensive acronym, Stone claims the group is real and will be selling t-shirts, etc.
NEW HAMPSHIRE: A new ABC News/Washington Post poll of likely Democratic primary voters show the Clinton-Obama fight rapidly narrowing. The numbers: Hillary Clinton 35%, Barack Obama 29%, John Edwards 17%, Bill Richardson 10%, Dennis Kucinich 3%, Joe Biden 2%, and Chris Dodd 1%.
FLORIDA: US Senator Mel Martinez (R)
may draw an unexpected challenge for re-nomination when his seat comes up in 2010, possibly from ambitious State House Speaker Marco Rubio (R). Some Florida Republicans are upset with Martinez over his immigration position, others in the agricultural community are unhappy about his support for CAFTA (Central American Free Trade Agreement), and party activists grumble about his brief, hands-off RNC Chairmanship. Considered a fairly poor campaigner with weak name ID and no discernable association with any particular issue, Martinez could be vulnerable to a challenge from the right. Others who know Martinez -- who was largely strong-armed into the race by the Bush White House -- say he is simply not enamored with serving in the Senate and may opt to not seek a second term. Rubio, meanwhile, is also being mentioned as a possible primary challenger in 2010 to Governor Charlie Crist (R), as the two have feuded openly in recent months over property taxes and other issues. Former Governor Jeb Bush (R) is among those who have privately been bad-mouthing the centrist Crist during GOP cocktail chatter. According to one source, Bush sarcastically joked Crist was jockeying for the VP spot next year on the Democratic ticket. Bush and others derisively point to Crist's open support for universal health care, his call for a serious national response to combat global warming, and his frequent outreach to Dems in the Legislature as proof of these "liberal" tendencies. While some conservatives may be upset with him, Crist currently has the highest approval rating of any Governor in the nation.
US SENATE: Senate Democrats have so far blocked the federal judicial nomination of conservative Thomas Farr to the US District Court in North Carolina. The rumor in DC is that Senate Judiciary Committee Ranking Member Arlen Specter (R-PA) may have worked a behind-the -scenes deal with Committee Chair Pat Leahy (D-VT) to advance Farr's nomination to a committee vote. Specter has brokered agreements in the past to gain confirmation for Republican nominees. Farr's nomination was pushed by US Senator Elizabeth Dole (R-NC), and she reportedly asked her longtime friend Specter to help her advance the nomination. On a related note, the 77-year-old Specter has seemingly launched into overdrive his fundraising for a 2010 re-election bid. Specter now says his health is excellent, having survived a bout with Hodgkin's Disease two years ago. All signs point to Specter intending to seek another term. The centrist Specter barely survived a conservative primary challenge in 2004, but then cruised to an easy general election victory.
ENDORSEMENT: The Hill has a great list of the "big names" that have yet to make any endorsement in the Presidential race. It includes those with influence on each side of the aisle.
Posted by Ron Gunzburger - 12.06.07 | Permalink |
OPEN THREAD: SO, HOW FAIR IS RON'S NEWS COVERAGE?
To those who wrote me emails complaining of my "defense" yesterday of Hugo Chavez, I urge you to go back and re-read what I posted. I didn't defend Chavez. I simply wrote that the demagogic Chavez isn't the simplistic dictator caricature that those on the right want many to believe. But, beyond that, please note that when I editorialize on Politics1, I try to always place it under the Open Thread header and clearly delineated it as an editorial (i.e., my opinions, not news reporting). Thus, that leads to a question for today's open thread: Do you believe I am adequately fair and keep my opinions out of the news portion on Politics1? Frankly -- because I don't have the proper perspective to judge this -- I'm curious as to what all of you think. (Well, "all of you" excluding a notorious anti-Semite or two who are regular bloggers here.)
Posted by Ron Gunzburger - 12.06.07 | Permalink |
DCCC, NRCC POUR $$$ INTO OHIO; KUCINICH DRAWS MAJOR PRIMARY FOE; SEN LEADERSHIP RACE TAKES SHAPE; MARYLAND FILING CLOSES.
OHIO: Next Tuesday is the special election in CD-5 for the seat left vacant by the September death of Congressman Paul Gillmor (R). In a surprise move, the DCCC is unexpectedly dumping nearly $150,000 into the district in the form of a TV spot attacking GOP nominee Bob Latta (R). The spot tries to tie Latta to disgraced former Governor Bob Taft (R) and last year's "Coingate" state investment fund scandal. The DCCC move immediately prompted the NRCC to dump over $275,000 into TV ads and direct mail attacking Dem nominee Robin Weirauch as a "liberal." That is a significant amount for the NRCC to spend in this normally safe GOP district, as the NRCC reported having just $2.55 million cash-on-hand available for all House races nationwide as of the end of October. Latta won a very bitter and divisive primary last month -- one that got so dirty the Ohio Republican Party censured both Latta and his main primary foe before the primary for the hostile tone of the race. Governor Ted Strickland (D) and other Dems have recently become actively involved in support of Weirauch (D). The race seems surprisingly competitive -- in a district where Bush carried 61% in 2004 -- but we still rate it as "GOP Favored." The special election in Virginia's CD-1 -- another safe GOP seat -- is also next Tuesday.
KUCINICH: The congressional filing deadline in the Buckeye State is just one month away, but Congressman Dennis Kucinich (D) has yet to announced whether he

plans to seek re-election next year. For the past year, his political efforts have been focused nearly entirely on making his second run for the White House as the most outspokenly progressive candidate in the Dem field. Yet it is his national ambition -- not his stances -- that are causing Kucinich problems at home with his CD-10 seat. Cleveland City Councilman Joe Cimperman (D), a former Kucinich protégé, announced Tuesday he will challenge the incumbent in the Dem primary. "Dennis Kucinich is a good man, but he's a man out of touch. Out of touch with the values of his people, more concerned with ... running for the Presidency than [representing] his own district," said Cimperman. Kucinich, sounding like a candidate for re-election, quickly lashed back. He said Cimperman "is the candidate of downtown Cleveland corporate interests ... [who] brags about how much money he raises from big business. But worse than that, he doesn't live in the district. I guess his big business sponsors are so confident they can buy the election that their candidate doesn't even have to live in the district." North Olmsted Mayor Tom O'Grady (D), an educator and Army Special Forces veteran, is set to announce his primary challenge on Wednesday. O'Grady will emphasize his military service as experience that sets him apart from the others in the crowded primary. Anti-war activist Rosemary Palmer (D), the mother of a US soldier killed in Iraq, is also running and subtly emphasizes Kucinich's inattention to local district needs due to his national ambitions. Also, former Peace Corps executive Barbara Anne Ferris (D) is making a third run for the seat. Of the large field, Cimperman is the most serious challenger to face Kucinich in many years. The primary is March 4.
US SENATE: US Senator Kay Bailey Hutchison (R-TX) on Tuesday quit the race for GOP Conference Chair, the #3 position in the Senate GOP Leadership. The post is being vacated by US Senator Jon Kyl (R-AZ), who is unopposed for the soon-to-be-open post of Senate Minority Whip. With KBH out, Senator Richard Burr (R-NC) and Lamar Alexander (R-TN) will face off for Conference Chair. Outgoing Senate Minority Whip Trent Lott (R-MS) is working behind the scenes to help Burr.


MARYLAND: Candidate filing closed this week in Maryland, creating crowded congressional primary contests across the state. The two key primaries to watch are in CD-1 and CD-4. In District 1, moderate Congressman Wayne Gilchrest (R) is facing an aggressive challenge from conservative State Senators Andy Harris and E.J. Pipkin. As three other Republicans are also running -- and Harris and Pipkin largely share the same conservative primary base -- the split favors Gilchrest to again win a contentious primary. Former Governor Bob Ehrlich (R) is backing Harris, in large part as revenge for Gilchrest having opposed Ehrlich's failed plan to allow slot machine gambling in the state. The NRCC is solidly behind Gilchrest. In CD-4, moderate Congressman Al Wynn (D) is facing a rematch from progressive attorney Donna Edwards. Wynn narrowly defeated the MoveOn.org-backed Edwards in the 2006 primary. Click here for the complete list of Maryland filings.
ILLINOIS: Governor Rod Blagojevich (D) has honored the special election scheduling wishes expressed by resigned former House Speaker Denny Hastert (R). Blagojevich set February 5 -- the Presidential primary day -- as the date of the CD-14 special election primary. The general election contest to fill the open seat will be held on Saturday, March 8, oddly ensuring a very low turnout.
Posted by Ron Gunzburger - 12.05.07 | Permalink |
OPEN THREAD: RON FIRES A TRIO OF LEFTIST RANTS.
EDITORIAL COMMENT #1: When a major
White House candidate attacks a rival for comments made to classmates while a kindergarten student -- kindergarten!! -- you know the attacker has become laughably pathetic. What next? Maybe an attack on the opponent for "broken promises" because he told friends in second grade was going to be an astronaut and walk on the moon when he grew up -- but "he never later applied to be a NASA astronaut." Actually ... that would be what Hillary could say if she was attacking me today since said I really wanted to be an astronaut when I was in elementary school. I also once got busted by my Mom for stealing candy and a pack of baseball cards from a 7-11 when I was maybe eight years old (note: I got away clean but she made go back there, confess, and pay the 20 or 25 cents for the stuff) -- oh, and I inhaled, too -- so obviously there's way too much dirt in my past school days to ever be able to run against a Clinton.
EDITORIAL COMMENT #2: Based upon the latest National Intelligence Estimate prepared by the CIA for the White House, it appears that Iran's nuclear weapons programs today is every bit as menacing to the United States as was Saddam's WMD program in 2002. Of course, that fictional WMD program was good enough reason to get us into one war. Let's see if the Dem leadership in Congress miraculously finds enough backbone to resist getting us entangled in a third, concurrent war. (FYI: I support our multi-national military involvement in Afghanistan, which is why I'm not critical of those operations -- even though I believe our Afghan allies successfully control nothing outside the Kabul region.)
EDITORIAL COMMENT #3: Venezuela's President Hugo Chavez is frequently bombastic in his anti-Bush rhetoric. However, this weekend's vote proved one thing: the populist Chavez isn't an authoritarian dictator. Venezuelans were able to freely cast ballots in a fair, democratic election. The proof is in the results. Chavez narrowly lost an election that in many parts of the world -- and possibly a few US states -- could easily have been fixed in his favor.
Posted by Ron Gunzburger - 12.05.07 | Permalink |
CONNECTIVITY PROBLEMS.
Sorry, but I'm having major internet connectivity issues Monday evening. These problems are making it impossible for me to spend more than a few moments online before the system crashes again. Thus, in a brief moment when I can connect, I'm posting this open thread. It's all I can do tonight under these circumstances. Postscript: It turns out the AT&T outage that caused my problem impacted millions of users across nine Southeathern states during most of Monday night.
Posted by Ron Gunzburger - 12.04.07 | Permalink |
IS DICK MORRIS SECRETLY PAID BY HUCKABEE?; OBAMA, HUCK LEAD IN IOWA; ROMNEY TO GIVE MORMONISM SPEECH; and "SAVE TUCKER" (Yes, Again).
HUCKABEE: According to The Politico, New York Post columnist and FOX News contributor Dick Morris has been secretly advising former client Mike Huckabee on his Presidential campaign.

Morris claims he is acting in an entirely voluntary capacity by simply offering free advice. Keep in mind that nationally syndicated columnist George Will was pilloried by the media when it became public that he had secretly and voluntarily helped Ronald Reagan prepare for his Presidential debates in 1980. A prominent national GOP insider tells Politics1 that he believes Morris -- despite his claims to the contrary -- is paid for his services through Huckabee media consultant Dick Dresner. According to the source, Morris purportedly gets piece of all Huckabee campaign polling revenues, media commissions and consulting fees through money paid to Dresner's firm. Explaining the relationship, Huckabee told one GOP pollster: "I feel like I want to take a shower after I meet with him, but Morris is a smart guy and I need him." This is, of course, part of Morris' revenge strategy against the Clintons. The toe-sucking political consultant has never gotten over being fired by President Clinton in 1996 and Morris wants to prove he can put anyone from Arkansas in the White House. Morris was previously Huckabee's consultant during his statewide runs in Arkansas. If these allegations of funneled payments are true, it raises questions as to whether the NY Post will allow a columnist to take fees from those they write about ... and if FOX News will allow their analyst to be taking money funnelled from a Presidential campaign. Most importantly, how will Evangelical voters react to having the escort-using former Bill Clinton strategist secretly directing the Huckabee campaign.
IOWA: A new Des Moines Register poll of likely Iowa GOP caucus participants confirms Mike Huckabee has moved into the lead in the Hawkeye State. The numbers: Huckabee - 29%,

Mitt Romney - 24%, Rudy Giuliani - 13%, Fred Thompson - 9%, John McCain and Ron Paul tied with 7% each, Tom Tancredo - 6%, and Duncan Hunter - 1%. On the Democratic side, Barack Obama has moved into the lead. The numbers: Obama - 28%, Hillary Clinton - 25%, John Edwards - 23%, Bill Richardson - 9%, Joe Biden - 6%, and Chris Dodd and Dennis Kucinich tied with 1% each.
ROMNEY: In the face of falling poll numbers and a surging Mike Huckabee, Mitt Romney has decided he needs to give a speech voters explaining his Mormon religious beliefs. Romney and his advisors have debated giving this speech for months, and as recently as a week ago Romney said he didn't anticipate giving "the speech." According to the AP, Romney is now set to give a speech named "Faith in America" at the George Bush Presidential Library in Texas on Thursday. A campaign spokesman said Romney would discuss "how the Governor's own [Mormon] faith would inform his presidency if he were elected." The selection of Texas for the venue is also seen as very intentional, as John F. Kennedy gave his famous speech discussing his Catholic beliefs in 1960 in Texas. The move is a sign of how much Romney's faith is causing his campaign growing problems in Iowa.
TUCKER: Preppy conservative pundit Tucker Carlson became known nationally for his trademark bow ties when he was the co-host on CNN's defunct Cross-Fire. CNN even ran an ad back then with the headline: "The Man, The Legend, The Bow Tie." Yet sources tell Politics1 that after conducting focus groups, MSNBC ordered

Carlson to dump the bow ties and start wearing a standard neck ties for his current Tucker show. "You take away a man's mojo and then you complain about his ratings" asked Alain Jean, co-organizer of the SaveTucker.org group. The group was formed to urge MSNBC top executives to keep Tucker (Weekdays, 6 PM) on the air after the New York Times reported network was considering canceling the show. "Tucker Carlson brings balance, wit and interesting insight to MSNBC. He provides balance to Keith Olberman, Dan Abrams and Chris Matthews," said Jean, a Florida Democratic activist and former Nancy Pelosi staffer. According to the Times, MSNBC is considering moving their evening programming leftwards in a bid for younger viewers. "The idea that younger views are liberals is false," said John Bertran, a Cuban-American Republican and co-organizer of the pro-Tucker group. The SaveTucker website allows viewers to join send targeted emails to MSNBC executives. While FOX's conservative Bill O'Reilly is bested by MSNBC's Olberman among younger viewers, O'Reilly beats Olberman among older viewers. MSNBC purportedly thinks they can pick up younger viewers by doing for the Left what FOX does for the Right. Dumping Tucker mau be part of that new marketing strategy.
P2008: Joe Biden's campaign wins the award for the most unintentionally hilarious headline used to date to tout a candidate's progress: "Biden Surges Past Richardson in Iowa." The campaign used it on a mass emailing sent to supporters on Friday, showing Biden now led Bill Richardson by a 8% to 4% vote in the latest ARG poll.
Posted by Ron Gunzburger - 12.03.07 | Permalink |
JOIN THE POLITICS1
FACEBOOK GROUP:



BLOG ARCHIVE:

December 16-31, 2007
December 1-15, 2007
November 16-30, 2007
November 1-15, 2007
October 16-31, 2007
October 1-15, 2007
September 1-30, 2007
August 16-31, 2007
August 1-15, 2007
July 1-31, 2007
June 1-30, 2007
May 16-31, 2007
May 1-15, 2007
April 16-30, 2007
April 1-15, 2007
March 16-31, 2007
March 1-15, 2007
February 16-28, 2007
February 1-15, 2007
January 16-31, 2007
January 1-15, 2007
December 16-31, 2006
December 1-15, 2006
November 16-30, 2006
November 1-15, 2006
October 16-31, 2006
October 1-15, 2006
September 16-30, 2006
September 1-15, 2006
August 16-31, 2006
August 1-15, 2006
July 16-31, 2006
July 1-15, 2006
June 16-30, 2006
June 1-15, 2006
May 15-31, 2006
May 1-15, 2006
April 16-30, 2006
April 1-15, 2006
March 16-31, 2006
March 1-15, 2006
February 17-28, 2006
February 1-16, 2006
January 16-31, 2006
January 1-15, 2006
December 2005
November 2005
October 2005
September 2005
August 2005
July 2005
June 2005
May 2005
April 2005
March 2005
Jan-Feb 2005
December 2004
November 16-30, 2004
November 1-15, 2004
October 16-31, 2004
October 1-15, 2004
September 16-30, 2004
September 1-15, 2004
August 16-31, 2004
August 1-15, 2004
July 16-31, 2004
July 1-15, 2004
June 16-30, 2004
June 1-15, 2004
May 16-31, 2004
May 1-15, 2004
April 16-30, 2004
April 1-15, 2004
March 15-31, 2004
March 1-14, 2004
February 15-29, 2004
February 1-14, 2004
January 17-31, 2004
January 1-16, 2004
December 16-31, 2003
December 1-15, 2003
November 17-30, 2003
---
POLITICAL BLOG ROLL:
KINDA NEUTRAL:
ABC News: The Note
CNN: Morning Grind
CQ Politics
Political Wire
MSNBC: First Read
CJR Daily
Rothenberg Pol. Report
LexisNexis: US Politics
Stateline.org
Governing.com
Political State Report
Hotline On Call
Hotline's Blogometer
Beltway Blog
WatchBlog
Lawmakers Blog
Centerfield Aggregator
Command Post
FactCheck.org
WSJ: Best of the Web
WSJ: Washington Wire
D.C.'s Political Report
2008 Political Perspective
Media Bistro
Larry Sabato: Crystal Ball
PressThink
Politics-Line
TheCapitol.Net: Blog
MyElectionAnalysis.com
DEM/LEFT:
DNC Blog
DCCC Blog
DailyKos
Lefty Blogs
Howard Dean/DFA
OurSenate.com
Frameshop
The Washington Note
Emerging Dem Majority
Think Progress
AmericaBlog.com
Amer Prospect: Tapped
Arianna Huffington
Al Franken
BAG News Notes
Eric Alterman
Senate Majority Project
FishBowl DC
Fired Up! America
TalkLeft
TNR: The Plank
The Raw Story
Blogging of the President
Joe Trippi
Swing State Project
Media Matters
Josh Marshall
Wonkette
MyDD
Working for Change
Crooks & Liars
Mathew Gross
Penndit
Progressive Dems: Blog
Atrios/Eschaton
Off the Kuff
Tom Tomorrow
Mother Jones
Jerry Springer
TruthOut
Dem Bloggers
Liberal Oasis
Penndit
Firedoglake
Good As You
AtariDemocrat
Henry Lewis
BuzzFlash
Brad Blog
Dean Nation
Louise Slaughter
TruthDig
Dem Underground
Jared Hall
Bad Attitudes
The American Street
District Blogs
GOP/RIGHT:
RNC (GOP.com)
Club for Growth
National Review: Corner
C-Log
Real Clear Politics
Andrew Sullivan
John Ellis
StoneZone
Mickey Kaus
Virginia Postrel
RedState.org
WSJ Opinion Journal
Free Republic
Instapundit
Drudge Report
Pajamas Media
Hugh Hewitt
Daniel Drezner
Daily Pundit
Bully Pulpit
Outside the Beltway
Little Green Footballs
World Mag Blog
Right Wing News
Volokh Conspiracy
Brothers Judd
David Frum
Mister Politics
Enter Stage Right
Right Wing News
PoliPundit
Power Line
Hedgehog Report
Right Voices
Booker Rising
Don Singleton
Save the GOP
OTHER:
ThirdPartyWatch.com
Centrist Coalition
Kn@ppster
Green Commons
News for Greens
---
For those who would like to track Politics1 with a newsreader, we publish a RSS feed:
---

---