BLOG ARCHIVE: DECEMBER 1-15, 2006
JOHNSON CRITICAL BUT RESPONSIVE; N.J. PASSES SAME-SEX CIVIL UNION LAW.
US Senator Tim Johnson (D-SD) underwent emergency brain surgery Wednesday to treat swelling and bleeding in his brain. Admiral John Eisold, Physician of the United States Capitol, issued this statement Thursday evening: "Senator Tim Johnson has continued to have an uncomplicated post-operative course. Specifically, he has been appropriately responsive to both word and touch. No further surgical intervention has been required" ... The New Jersey Legislature on Thursday approved a bill that extends to same-sex couples all the rights and privileges available under state law to married people. The Assembly approved the bill by a 56-19 vote, and the State Senate passed it 23-12. Governor Jon Corzine (D) announced he will sign the bill into law.
Posted by Ron Gunzburger - 12.15.06 | Permalink |
FREE SPEECH ZONE.
A quick pitch to encourage you to take a few minutes to do a good deed. Visit GlobalGiving.com, a great charitable foundation that uses the Internet to create a highly efficient marketplace for some great non-profit groups around the globe. GlobalGiving provides a more transparent,

informed, and engaging way for donors to give. "Because we enable donors to give directly to projects, they know exactly where their money is going. Donors can see progress updates on most projects as funding is received and goals are met," the group explains. Donations made through GlobalGiving are higher impact because (1) money goes directly to well-defined projects versus supporting general operating expenses; (2) projects have exposure to thousands of donors, enabling them to aggregate multiple sources of funding for each project; and (3) many projects on the site are located in the developing world where a little money goes a long way. And -- if that wasn't enough to sell you on doing good deeds -- remember that your contributions are tax-deductable (and you can even use PayPal to make your contributions).
Posted by Ron Gunzburger - 12.15.06 | Permalink |
SEN. JOHNSON HOSPITALIZED; REID CLEARED; GOP LATINOS BOLT TO THE DEMS.
US Senator Tim Johnson (D-SD), 60, was hospitalized after seemingly suffering stroke-like symptons while speaking with reporters in the Capitol. He remained conscious at all times and was rushed to a nearby hospital. Although he exhibited speech and memory problems, doctors determined he did not suffer either a stroke or heart attack. The actual cause of the illness, however, was not determined as of Wednesday evening. The AP reported Johnson was seemingly much improved by evening. Johnson faces re-election in 2008. Update: Although Johnson's staff had given the media an upbeat report Wednesday, Johnson in fact had emergency brain surgery during the late evening for apparent bleeding in his brain. WIth the surgery now over, Johnson is classified in critical condition ... The US Senate Ethics Committee on Wednesday cleared incoming US Senate Majority

Leader Harry Reid (D-NV) of any ethics violations related to his having accepted free ringside boxing tickets from the Nevada Athletic Commission ... National Journal's Hotline reports that GOP insiders are very troubled by the Tuesday of defeat of Congressman Henry Bonilla (R-TX) in a Hispanic-majority district. The defeat was seemingly caused by the massive defection of Latino voters, including many who supported Bush and Bonilla in the past. Example: "In Maverick County (95% Hispanic), Bonilla won a miniscule 14% of the vote. By contrast, Bonilla carried the county in his comfortable 2004 win." The Hotline explained: "Bonilla was a strong supporter of the tough-on-immigration measures sponsored by the Republicans. He voted for the construction of the 700-mile border fence, and supported Rep. Jim Sensenbrenner's bill penalizing workers who hire illegal immigrants." Bonilla was the only Mexican-American currently serving in Congress, and yet he was defeated when Mexican-American voters sharply turned against him. This pattern, especially if it carries over to non-Hispanic GOP candidates, has Republican political consultants growing rather worried about the impact on the 2008 races. Latino voters were a significant part of President Bush's successful voter coalitions in 2000 and 2004 ... Congressman Steve King (R-IA) and humorist/radio talk show host Al Franken (D-MN) both say they need more time as they are still mulling making challenger races for US Senate in 2008. US Senator Thad Cochran (R-MS) said this week he is not yet ready to make a decision about seeking re-election in 2008. Cochran said he'll wait until November 2007 to make any decision ... "Stay the course" wasn't one of the recommendations from the Baker-Hamilton Iraq Study Group, but you couldn't tell from President Bush's latest moves. CNN reported that "President Bush will soon seek about $100 billion in additional emergency funds for the wars in Iraq and Afghanistan." Bush also says he will not be rushed into making policy changes. "I reject those ideas -- ideas such as leaving before the job is done," said Bush.
Posted by Ron Gunzburger - 12.14.06 | Permalink |
FREE SPEECH ZONE.
Your daily open thread.
Posted by Ron Gunzburger - 12.14.06 | Permalink |
RODRIGUEZ DEFEATS CONGRESSMAN BONILLA IN UPSET; PELOSI SNUBS JEFFERSON.
Former Congressman Ciro Rodriguez (D) scored an major upset in Texas on Tuesday over

Congressman Henry Bonilla (R) in the run-off for the CD-23 seat. Bonilla -- who had frequently been touted as a future candidate for statewide office -- had led in all polls leading up to the December 12 run-off. The liberal Rodrirguez, meanwhile, was significantly underfunded in this race after having lost primaries in 2004 and nine months ago for the nearby CD-28 seat. At one point a few months ago, Rodriguez seemed so discouraged that he announced he was planning to imminently quit the contest. On Tuesday night, Rodriguez won by a 55%-45% vote. With the win, the Dems are +30 over the current US House ... Incoming House Speaker Nancy Pelosi (D) announced Tuesday the Democratic Steering Committee decided to continue to deny scandal-plagued Congressman Bill Jefferson (D-LA) a seat on the House Ways & Means Committee in the next Congress. Pelosi told the AP she plans to hold House Democrats "to higher standards."

Pelosi said she had not yet decided what to do with Congressmen Alan Mollohan (D-WV) and Jim McDermott (D-WA), as both men are currently Dems dealing with ethics problems. McDermott was "admonished" by the House Ethics Committee this week for violating ethics standards by a decade ago by giving reporters access to an illegally taped telephone call involving House GOP leaders ... According to the Nashville Tennesseean, outgoing US Senate Majority Leader Bill Frist (R) is already considering a run for Tennessee Governor in 2010, when incumbent Phil Bredesen (D) is term-limited ... The South Florida Sun-Sentinel reported that the recent Clay Shaw-Ron Klein race for the CD-22 seat cost a whopping $13.5 million, when factoring in the money also spent by outside groups on TV spots. That worked out to $63.51 per vote ... Oregon State Senator Ben Westlund, a Republican and wealthy agribusinessman who briefly made a high-profile Independent run for Oregon Governor in 2006, joined the Democratic Party this week. He is already being mentioned as a probable Dem candidate in 2008 against US Senator Gordon Smith (R).
Posted by Ron Gunzburger - 12.13.06 | Permalink |
FREE SPEECH ZONE.
Your daily open thread.
Posted by Ron Gunzburger - 12.13.06 | Permalink |
KUCINICH RUNS; DALEY'S SIXTH; TANCREDO VS RICHARDSON; OWENS OUT; LAUTENBERG IN.
Congressman Dennis Kucinich (D-OH) will reprise his role as "peace candidate" for President in 2008. On Tuesday, Kucinich will announce his candidacy. Don't look for this prickly gadfly to have any real impact on the race except,

perhaps, in the same way he helped torpedo rival anti-war candidate Howard Dean's candidacy in the 2004 Iowa caucuses with his secret pact with John Edwards' campaign ... Massachusetts Governor Mitt Romney (R) said Monday he plans to file federal paperwork to form a White House exploratory committee in January ... Chicago Mayor Richard Daley (D) announced Monday he will seek re-election in 2007 to a sixth term. "I have more to give to keep Chicago moving forward," said Daley. Cook County Circuit Court Clerk Dorothy Brown (D) and former mayoral aide Bill Walls (D) are both running against Daley in the non-partisan contest, but the 64-year-old incumbent is heavily favored to win again. If re-elected, Daley will surpass the 21 years his late father served as Chicago Mayor ... Congressman Tom Tancredo (R-CO) will speak in Miami on Thursday, just one month after insulting the city as being like "a third world country." The title for Tancredo's speech to the local Rotary Club: "Renewing America: The Need for Assimilation."

Governor Jeb Bush's office was quick to comment on the controversial visit: "The Governor has clearly reminded the Representative that we take pride in Florida's diversity. It is what makes Florida so strong" ... On the other side of the fence from Congressman Tancredo in the immigration debate is New Mexico Governor Bill Richardson (D). Richardson, who will launch his Presidential campaign next month, said immigration issues are one of his highest priorities. Richardson said he supports "scrapping plans for a 700-mile fence" along the Mexican border, and said Congress must recognize that illegal immigrants have "become part of the fabric of our economy and our culture" ... Outgoing Colorado Governor Bill Owens (R) said he does not plan to run for US Senate in 2008 if incumbent Wayne Allard (R) retires ... The Bergen Record reports that, health permitting, US Senator Frank Lautenberg (D-NJ) plans to seek re-election in 2008 ... Several Kentucky newspapers report that Attorney General Greg Stumbo (D) and former Lieutenant Governor Steve Beshear (D) are the two latest hopefuls exploring possible runs next year against embattled Governor Ernie Fletcher (R).
Posted by Ron Gunzburger - 12.12.06 | Permalink |
FREE SPEECH ZONE.
Your daily open thread.
Posted by Ron Gunzburger - 12.12.06 | Permalink |
JEFFERSON WINS; ROMNEY NEEDS TO 'SPLAIN; GOP SENATOR ATTACKS BUSH IRAQ POLICY.
Voters in Louisiana's CD-2 on Saturday re-elected Congressman Bill Jefferson (D) by an unexpectedly lopsided 57%-43% margin in the run-off over State Representative Karen Carter (D). Jefferson -- the target of an ongoing FBI corruption probe -- was not backed by either the DCCC or the Louisiana Democratic Party. With this win,

Jefferson moved to the front of the line of Members of Congress likely to be indicted in the coming months ... Election Season 2006 will finally come to an end of Tuesday with the run-off between Congressman Henry Bonilla (R) and former Congressman Ciro Rodriguez (D) in Texas' CD-23. Bonilla is favored to win ... Some leading Christian conservatives are starting to back away from the Presidential campaign of Governor Mitt Romney (R-MA), based upon a recently resurfaced 1994 letter he wrote to the Log Cabin Republicans. Prominent Religious Right leaders -- including Tony Perkins of the Family Research Council -- suddenly seem to have grave concerns about Romney. In the letter, Romney expressed support for several gay rights positions including a federal ENDA law, "Don't Ask, Don't Tell" (but wrote he saw it as a first step that "will ultimately lead to gays and lesbians being able to serve openly and honestly in our nation's military"), and domestic partner legal rights. Romney's campaign did not repudiate anything in the letter, but noted it is consistent with his anti-gay marriage views and his record as Massachusetts Governor. Perkins told the New York Times the Romney letter was "quite disturbing ... He

is going to have a hard time overcoming this." Paul Weyrich said he feared that almost any explanation by Romney would reveal Romney to be "a hypocrite." In pro-Romney news, Romney locked up several key Florida endorsements last week: Lieutenant Governor Toni Jennings, former State GOP Chair Al Cardenas, and outgoing State House Speaker Allan Bense. All three are close allies of Governor Jeb Bush. ... Human Events, a prominent national weekly conservative publication going back to the 1940s, released the results from its November GOP straw poll. Readers favored Newt Gingrich (R-GA) by a landslide margin: 55% for Gingrich, 14% for Romney, and everyone else in the single digits ... US Senator Barack Obama (D-IL) sure sounded like a Presidential candidate during his weekend visit to New Hampshire ... US Senator Gordon Smith (R-OR) is the latest Republican to turn against President Bush's Iraq War policies. A few days ago Smith said Bush's handling of the war "may be criminal" in its negligence. Speaking Sunday on ABC's This Week, Smith reaffirmed his earlier comments and added the President's handling of the Iraq War was a "dereliction ... [and] deeply immoral." Smith is up for re-election in 2008.
Posted by Ron Gunzburger - 12.11.06 | Permalink |
FREE SPEECH ZONE.
Your daily open thread.
Posted by Ron Gunzburger - 12.11.06 | Permalink |
FREE SPEECH ZONE.
Saturday is election day for the run-off in Louisiana's CD-2. You can find live, real-time results here after the polls close at 8:00 pm.
Posted by Ron Gunzburger - 12.09.06 | Permalink |
LOUISIANA CD-2 VOTES, TOM ALLEN PONDERS, FRANKS MOVES ... AND HOORAY FOR CANADA.
Voters go to the polls in the run-off for Louisiana's CD-2 seat on Saturday.

Congressman Bill Jefferson (D) is facing an aggressive challenge from State Representative Karen Carter (D). Jefferson, the target of an ongoing FBI corruption probe, is expected to soon be indicted on bribery, conspiracy and other charges. Carter is endorsed by the Louisiana Democratic Party. Still, Jefferson has 28-years in elective office and lots of friend in the community. Carter will likely win, but don't expect it to be a landslide ... Congressman Tom Allen (D-ME) told Roll Call he is "seriously considering" running against US Senator Susan Collins (R) in 2008. Dems think they have a shot at the seat, in light of what happened to centrist US Senator Lincoln Chafee (R-RI).

Despite high approval ratings, Chafee still lost because Dems in Rhode Island thought it was more important to elect a Dem than return the a likable, moderate Republican ... Now that the dust has settled, The Hill has the inside scoop on how US Senator Trent Lott scored his surprising 25-24 win over US Senator Lamar Alexander in the race for Senate Minority Whip, after Alexander thought he had the votes locked-up. According to the newspaper, US Senators John Warner and Susan Collins were late defections from the Alexander camp over to Lott. US Senators John McCain, Judd Gregg and John Thune were credited with being particularly instrumental in winning the support of a block of GOP moderates over to Lott's camp ... Congressman Rob Simmons (R-CT), who was narrowly defeated last month for re-election, is lining up support to be the next State GOP Chairman ... Retired Army General Tommy Franks (R), former CENTCOM Commander, sold his home in Florida and is moving to Oklahoma. NBC says the move is related to his "desire to run for federal office from the Sooner State." Does Franks know something we don't, as both US Senate seats are currently held by Republicans. None of the Congressional incumbents look like they're planning to retire, either ...

Canadian Prime Minister Stephen Harper (Conservative) says he kept his word to voters on Thursday by allowing Parliament to vote on whether or not to reopen debate on the country's same-sex civil marriage law that the Liberal Party passed last year by a 158-133 vote. The Conservatives and Liberals both released all their caucus members to freely vote their beliefs, while the Bloc Quebecois and the socialist NDP members unanimously opposed any attempt to repeal the gay marriage law. Gay marriage supporters scored a big win this time, as Parliament voted 175-123 to not reopen debate on the issue. Six of Harper's own Cabinet members were among those voting to retain gay marriage. "Obviously the vote was decisive and obviously we'll accept the democratic result of the people's representatives. I don't see reopening this question in the future," said Harper. (Editorial comment: I guess that means my Canadian marriage remains legally recognized. But just not here in the United States.)
Posted by Ron Gunzburger - 12.08.06 | Permalink |
FREE SPEECH ZONE.
Your daily open thread.
Posted by Ron Gunzburger - 12.08.06 | Permalink |
KUCINICH RETURNS; TWO MOMMIES; MURKOWSKI'S LAST FLING; GATES' SURPRISING FOES.
Congressman Dennis Kucinich (D-OH) is

apparently interested in making a second White House run in 2008, according to the Cleveland Plain Dealer. "Shortly, I will make my intentions known. In the meantime, I am going to continue to challenge the Administration and Congress to cut off the funds for the war, bring all our troops home and end the grave misadventure in Iraq," said Kucinich. In 2004, he scored in the 1-2% range in most of the competitive early contests, but he continued his peace campaign throughout the entire primary season ... Vice President Dick Cheney is soon to be a grandfather again, and his grandchild will have two mommies. Mary Cheney, the VP's

out lesbian daughter, is pregnant. She and her partner Heather Poe are expecting the child to be born sometime in the spring, according to the Washington Post ... Outgoing Alaska Governor Frank Murkowski (R) made 35 appointments to state boards in what was literally the final hour of his term. New Alaska Governor Sarah Palin (R), who handily defeated Murkowski in the GOP primary, immediately vowed to "revisit" the appointments. One appointee was Murkowski's son-in-law, while another was Murkowski's Chief of Staff. According to the Anchorage Daily News, Palin has the authority to withdraw most of these appointments ... Congressman Charlie Norwood (R-GA) -- who underwent a lung transplant in 2004 due to a chronic lung disease -- has now been diagnosed with liver cancer, reported the AP ... The US Senate on Wednesday confirmed Robert Gates to be the next US Defense Secretary by a 95-2 vote. US Senators Rick Santorum (R-PA) and Jim Bunning (R-KY) both voted against Gates, citing their displeasure with his confirmation comments criticizing the Iraq War and US policy towards Iran.
Posted by Ron Gunzburger - 12.07.06 | Permalink |
FREE SPEECH ZONE.
Your daily open thread.
Posted by Ron Gunzburger - 12.07.06 | Permalink |
BONIOR MANAGES, BONILLA LEADS, DOLE DENIES, DAUB PONDERS, GATES SAILS.
The Hotline reports former US House Majority Whip David Bonior (D-MI) -- a 26-year

Congressional veteran -- is reportedly going to manage John Edwards' soon-to-be Presidential campaign. Bonior, who is close to organized labor, will first assume the title of senior advisor to Edwards' leadership PAC until Edwards launches his '08 White House campaign ... According to a new SurveyUSA poll for WOAI-TV, Congressman Henry Bonilla (R) leads former Congressman Ciro Rodriguez (D) by a 53% to 46% vote in the December 12 run-off in the Texas CD-23 race ... Missouri Governor Matt Blunt (R) has thrown his support in the P2008 race behind outgoing

Massachusetts Governor Mitt Romney (R) ... On a visit this week to New York City, US Senator Barack Obama (D-IL) praised US Senator Hillary Clinton (D-NY), a possible rival for the Presidential nomination. "I think she could win if she ran, and she is an extraordinarily able person," said Obama ... Former Omaha Mayor and former Congressman Hal Daub (R-NE) told the Omaha World-Herald he is considering making a 2008 run for the seat currently held by US Senator Chuck Hagel (R). However, Daub said he was not looking to challenge the maverick incumbent in the primary and would only run if Hagel vacates the seat to make a White House run ... US Senator Elizabeth Dole (R-NC) denied reports she would not seek reelection in 2008. Dole was the failed NRSC Chair during the most recent election cycle ... After a one-day hearing, the US Senate Armed Services Committee voted 21-0 on Tuesday to recommend approval of Robert Gates' nomination to be the next Defense Secretary.
Posted by Ron Gunzburger - 12.06.06 | Permalink |
FREE SPEECH ZONE.
Your daily open thread.
Posted by Ron Gunzburger - 12.06.06 | Permalink |
LEVIN RUNS, BOLTON QUITS, BROWNBACK FILES, McAULIFFE RETURNS, BLOOMBERG LOOMS.
US Senator Carl Levin (D-MI) announced Monday he will seek re-election to a sixth term in 2008. The 72-year-old incumbent is a heavy favorite to win re-election. Michigan papers report no major GOP contenders are currently looking at the race ...

The White House announced Monday that John Bolton, the Acting US Ambassador to the United Nations, will resign before the end of the year. Bolton, a temporary recess appointment last year by the President, acknowledged he has no chance of winning US Senate confirmation for the permanent appointment. Democrats, and some GOP moderates, blocked the confirmation of the controversial neo-con ... US Senator Sam Brownback (R-KS) filed paperwork with the FEC on Monday for his White House exploratory committee. Brownback said he wants to use his campaign to promote a message about a "culture of life ... liberty ... justice ... renew our families and rebuild our culture ... [and restore] genuine conservatism and real compassion." Former Major League Baseball Commissioner Bowie Kuhn, Domino's Pizza chain founder Tom Monaghan and retired USMC Commandant Charles Krulak are among those serving on Brownback's steering committee ... At one time, Minnesota Governor Tim Pawlenty (R) was being mentioned as a possible 2008 White House hopeful. After narrowly winning reelection last month, Pawlenty squelched any further discussion of an '08 run this weekend by telling the New York Times he plans to support John McCain for President. National Review also reports Pawlenty is actively helping organize the McCain exploratory effort ... No surprise, but former DNC Chair Terry McAuliffe told the Washington Post he will be "orchestrating" the Hillary Clinton campaign "from the inside" and James Carville will be "orchestrating [it] from the outside" ... Former RNC Chair Ed Gillespie has a new political job. He was elected the new Virginia State GOP Chair over the weekend ... In an

interview with New York magazine, billionaire NYC Mayor Mike Bloomberg (R) sounds much more like someone positioning himself to make a dramatic late entry -- mid-2008 -- into the Presidential contest. "Republicans blame Democrats and Democrats blame Republicans, but just look at both of them. They will do anything, say anything, to avoid talking about the important things and the need to sacrifice. The public wants government to address long-term issues: Who's going to pay for spiraling health-care costs? Or solve our foreign-oil dependency problem? Or pay for retirement costs or take on the environmental issues," says Bloomberg. In 2006, he campaigned around the nation for an eclectic group of candidates he liked including Governor Arnold Schwarzenegger (R-CA), US Senator-elect Claire McCaskill (D-MO), Governor Jodi Rell (R-CT), Governor Rod Blagojevich (D-IL) and US Senator Joe Lieberman (I-CT). He also donated $100 million of his own money to stem cell research at Johns Hopkins University, Bloomberg's alma mater ... Congressman Bob Brady (D) looks likely to soon join Congressman Chaka Fatah (D) as another candidate in the open Philadelphia Mayor race this year.
Posted by Ron Gunzburger - 12.05.06 | Permalink |
FREE SPEECH ZONE.
Your daily open thread.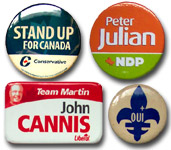 Posted by Ron Gunzburger - 12.05.06 | Permalink |
WANNA TRADE?
I'm interested in building up my collection of Canadian campaign buttons. If you've got Canadian political buttons to trade, I'm interesting in swapping with you for some great US pins. Please drop me a note!
BAYH IN, KERRY DELAYS, DASCHLE OUT OF '08 RACE.
US Senator Evan Bayh (D-IN) told
reporters said on Sunday he will file paperwork with the FEC this week to launch his Presidential exploratory committee for 2008. Bayh -- a former two-term Indiana Governor -- was the keynote speaker at the 1996 Democratic National Convention. He has positioned himself as a Democratic centrist, more conservative than perceived frontrunner Hillary Clinton. "As the people get to know me, I think we'll do very well ... Is this a little bit like David and Goliath? A little bit, but as I recall, David did OK," said Bayh during his appearance Sunday on ABC. Bayh, through his leadership PAC, spent the past two years laying the groundwork for a White House run ... US Senator John Kerry (D-MA) is "reevaluating" whether or not to run for President again in 2008, according to the Boston Globe. The backlack from Kerry's botched election eve joke about soldiers in Iraq, including sharp criticism from fellow Dems, caused Kerry to delay his former plan to make a decision on the race by January 2007. The article quoted several Kerry allies as saying they thought Dems jumped on Kerry over the joke due to "pent-up anger" with Kerry for losing the 2004 race. Now, according to the newspaper, Kerry will wait "until late spring before declaring his intentions" ... Former US Senate Majority Leader Tom Daschle (D-SD) is another hopeful who created a leadership PAC and spent the last year acting like a probably Presidential candidate. On Sunday, Daschle announced he will not run for President. "I've made a decision that I will not seek the Presidency of the United States. I've had a lot of encouragement and I've been very gratified to have the encouragement from within the state [of South Dakota] and around the country," he told KELO-TV. Political associates of Daschle said fundraising concerns played a significant role in the decision ... Appearing on a KWBP radio show, former Oregon Governor John Kitzhaber (D) said Sunday he will not run against US Senator Gordon Smith (R) in 2008 ... US political nomination conventions have become highly stage-managed, scripted, dull, and without any element of surprise. If you want to see how exciting political nominating conventions could be (with some changes to party rules, of course), just look north of the border at this weekend's Liberal Party leadership nominating convention in Canada. Former federal cabinet minister

Stéphane Dion -- a former college professor -- came from behind to unexpectedly win the leadership nomination on the fourth ballot. Dion finished in a virtual tie for a distant third out of the eight hopefuls on the first ballot. After each ballot, the last place candidate each round was automatically eliminated (and some of the others also dropped out). Dion moved up to solid third place on the second ballot, leaped into first on the third ballot, then crossed the 50% mark on the fourth ballot. The reason the convention is a free-for-all is that the races in each province for federal convention delegates are scheduled over a period of just one weekend nationwide. As the party's leader, Dion would become Prime Minister of Canada if the Liberals win the next national election -- which may take place as soon as Spring 2007. The Liberals -- despite their name -- are the centrist party in Canadian politics, with the currently ruling Conservative Party on the right and the social democratic New Democratic Party on the Left. All three parties hold a significant number of seats in the federal parliament (as does the regional Bloc Québécois).
Posted by Ron Gunzburger - 12.04.06 | Permalink |
McCAIN GETS SLAPPED AT HOME; UTAH REDRAWS; CLELAND SAYS NO TO REMATCH.
Former Arizona Governor

Fife Symington lost a bid to become the GOP Chair of his local legislative district, which also happens to be the home district of Senator John McCain. Symington strongly supports McCain for President, and was supported by McCain in the local contest. Incumbent local GOP Chair Rob Haney is openly hostile to the Senator ("The mass media kind of idolizes the guy, but we don't") and portrayed the pro-life and anti-gay rights Symington as not conservative enough. It was the first electoral defeat of Symington's career. Haney told reporters his victory over Symington as a direct slap at McCain, saying it was a vote by grassroots Republicans against McCain running for President. "[McCain] came at us with every big gun he had to take us out of his district. Their plan was to get rid of us because we would object to his Presidency," said Haney. McCain himself also lost a race at the same meeting for State Committeeman. McCain had his name placed in nomination, but he didn't attend the meeting to actively campaign for himself ... Utah

state legislators will redraw the state's congressional districts, starting Monday in a special session, to add a fourth congressional district. The move is in response to a Congressional bill that appears likely to soon pass, giving the District of Columbia a voting seat in Congress. The bill proposes a trade-off of creating a new seat in Utah, likely ensuring the Dems and GOP will each gain one seat apiece. In the 2002 reapportionment, Utah fell only a few hundred residents short of the amount needed to gain one more seat. The bill would increase the size of the US House to 437 voting seats ... Former US Senator and disabled Vietnam War hero Max Cleland (D-GA) said Thursday he will not seek a rematch in 2008 against US Senator Saxby Chambliss (R), who defeated him in 2002. Many leading Dems had urged Cleland to run ... Two of the likely GOP White House hopefuls -- Governor Mitt Romney (R-MA) and US Senator John McCain (R-AZ) -- were both in Miami on Thursday evening for fundraising and visibility events based around the annual meeting there of the Republican Governors Association. Congressman Tom Tancredo (R-CO) presumably didn't attend the event because he couldn't find his passport, or maybe was afraid he'd have to encounter Latinos and Haitians who live in Miami.
Posted by Ron Gunzburger - 12.01.06 | Permalink |
FREE SPEECH ZONE.
Have at it.
Posted by Ron Gunzburger - 12.01.06 | Permalink |
BLOG ARCHIVE:

December 16-31, 2006
December 1-15, 2006
November 16-30, 2006
November 1-15, 2006
October 16-31, 2006
October 1-15, 2006
September 16-30, 2006
September 1-15, 2006
August 16-31, 2006
August 1-15, 2006
July 16-31, 2006
July 1-15, 2006
June 16-30, 2006
June 1-15, 2006
May 15-31, 2006
May 1-15, 2006
April 16-30, 2006
April 1-15, 2006
March 16-31, 2006
March 1-15, 2006
February 17-28, 2006
February 1-16, 2006
January 16-31, 2006
January 1-15, 2006
December 2005
November 2005
October 2005
September 2005
August 2005
July 2005
June 2005
May 2005
April 2005
March 2005
Jan-Feb 2005
December 2004
November 16-30, 2004
November 1-15, 2004
October 16-31, 2004
October 1-15, 2004
September 16-30, 2004
September 1-15, 2004
August 16-31, 2004
August 1-15, 2004
July 16-31, 2004
July 1-15, 2004
June 16-30, 2004
June 1-15, 2004
May 16-31, 2004
May 1-15, 2004
April 16-30, 2004
April 1-15, 2004
March 15-31, 2004
March 1-14, 2004
February 15-29, 2004
February 1-14, 2004
January 17-31, 2004
January 1-16, 2004
December 16-31, 2003
December 1-15, 2003
November 17-30, 2003
---
POLITICAL BLOG ROLL:
KINDA NEUTRAL:
ABC News: The Note
CNN: Morning Grind
CQ Politics
Political Wire
MSNBC: First Read
CJR Daily
Rothenberg Pol. Report
LexisNexis: US Politics
Stateline.org
Governing.com
Political State Report
Hotline On Call
Hotline's Blogometer
Beltway Blog
WatchBlog
Lawmakers Blog
Centerfield Aggregator
Command Post
FactCheck.org
WSJ: Best of the Web
WSJ: Washington Wire
D.C.'s Political Report
2008 Political Perspective
Media Bistro
Larry Sabato: Crystal Ball
PressThink
Politics-Line
TheCapitol.Net: Blog
MyElectionAnalysis.com
DEM/LEFT:
DNC Blog
DCCC Blog
DailyKos
Lefty Blogs
Howard Dean/DFA
OurSenate.com
Frameshop
The Washington Note
Emerging Dem Majority
Think Progress
AmericaBlog.com
Amer Prospect: Tapped
Arianna Huffington
Al Franken
BAG News Notes
Eric Alterman
Senate Majority Project
FishBowl DC
Fired Up! America
TalkLeft
TNR: The Plank
The Raw Story
Blogging of the President
Joe Trippi
Swing State Project
Media Matters
Josh Marshall
Wonkette
MyDD
Working for Change
Crooks & Liars
Mathew Gross
Penndit
Progressive Dems: Blog
Atrios/Eschaton
Off the Kuff
Tom Tomorrow
Mother Jones
Jerry Springer
TruthOut
Dem Bloggers
Liberal Oasis
Penndit
Firedoglake
Good As You
AtariDemocrat
Henry Lewis
BuzzFlash
Brad Blog
Dean Nation
Louise Slaughter
TruthDig
Dem Underground
Jared Hall
Bad Attitudes
The American Street
District Blogs
GOP/RIGHT:
RNC (GOP.com)
Club for Growth
National Review: Corner
C-Log
Real Clear Politics
Andrew Sullivan
John Ellis
Mickey Kaus
Virginia Postrel
RedState.org
WSJ Opinion Journal
Free Republic
Instapundit
Drudge Report
Pajamas Media
Hugh Hewitt
Daniel Drezner
Daily Pundit
Bully Pulpit
Outside the Beltway
Little Green Footballs
World Mag Blog
Right Wing News
Volokh Conspiracy
Brothers Judd
David Frum
Mister Politics
Enter Stage Right
Right Wing News
PoliPundit
Power Line
Hedgehog Report
Right Voices
Booker Rising
Don Singleton
Save the GOP
OTHER:
ThirdPartyWatch.com
Centrist Coalition
Kn@ppster
Green Commons
News for Greens
---
For those who would like to track Politics1 with a newsreader, we publish a RSS feed:
---

---