BLOG ARCHIVE: DECEMBER 2005


Premier Ad. Click here to learn about premier ad placements on Politics1.
ABRAMOFF SCANDAL. There must be lots of very nervous people on Capitol Hill this weekend -- elected officials and key GOP staffers alike. According to numerous news sources,

indicted Republican lobbyist Jack Abramoff's lawyers and federal prosecutors in Miami have reportedly agreed upon nearly all the terms of a plea deal. Both sides met briefly with the federal judge on the case on Friday to go over some key elements of the deal. They are expected to formally announce the completed plea deal on Tuesday. In related news, Congressman John Doolittle (R-CA) appears now to actually be one of the purported targets of the investigation. What does this mean for the 2006 elections? Former US House Majority Leader Tom DeLay still runs for re-election, especially as he's already qualified for the ballot (and filing in Texas closes on Monday) -- but I'd be surprised if he attempts to regain his leadership spot in January. As for Congressman Bob Ney (R-OH) -- and a likely looming federal indictment -- I'd peg the odds a 50/50 that Ney decides to retire. US Senator Conrad Burns (R-MT) and Doolittle? About a 1-in-3 chance that either or both decide to retire, too. And, if Abramoff talks about former Christian Coalition Executive Director Ralph Reed's purported collusion in Abramoff's questionable Indian gaming activities, Reed's campaign for Georgia Lieutenant Governor will be fatally wounded. Who else will be implicated or indicted? Who knows ... but this is clearly the biggest Hill corruption scandal since ABSCAM broke in 1980 ... and this is going to get very interesting very soon.
Posted by Ron Gunzburger - 12.31.05 | Permalink |
SITE OF THE DAY: Our site of the day winner is Lawmakers, a bipartisan site that blogs about elected bloggers.
Posted by Ron Gunzburger - 12.31.05 | Permalink |
FREE SPEECH ZONE. Happy New Year to all! (Shameless Plug: Check out my eBay auctions of various campaign buttons -- particularly if you collect locals or third party items (the "Titus 2000" Constitution Party pin is incredibly rare). We've placed 12 lots online already, and will post a few more before the weekend is over.)
Posted by Ron Gunzburger - 12.31.05 | Permalink |
TEXAS. Candidate filing closes in

Texas on Monday, January 2, and -- based upon those who filed to date -- there are going to be lots of contested elections but only a handful of truly competitive or interesting races. Governor Rick Perry (R) faces a GOP primary against State Comptroller Carole Keeton Strayhorn and general election challenges from the winner of the Democratic primary (either former Congressman Chris Bell or former Supreme Court Justice Bob Gammage), colorful author/musician Kinky Friedman (Independent), and software salesman James Werner (Libertarian). Despite all of these opponents, Perry is favored to win again. US Senator Kay Bailey Hutchison (R) has drawn several minor opponents, but no challenger of significance. Key competitive Congressional races to watch are in CD-17, CD-22 and CD-28. Congressmen Chet Edwards (D) and Tom DeLay (R) will both be slight favorites in their respective races, but each faces a tough fight. Congressman Henry Cuellar -- a fairly conservative Democrat largely allied with President Bush -- faces stiff primary opposition from former Congressman Ciro Rodriguez and two others.
Posted by Ron Gunzburger - 12.30.05 | Permalink |
NEW YORK. Even as Nassau County Executive Tom Suozzi edges closer to a gubernatorial Democratic primary challenge to Attorney General Eliot Spitzer, a new poll shows he should probably forget about it. Suozzi is said to be prodded by US Senator Chuck Schumer (D), a Spitzer personal foe within the NY Dems, to make the primary challenge. A new SIenna College poll out this week shows Spitzer would currently defeat Suozzi by a whopping landslide of 72% to 8%. Without hours of the release of the poll, Schumer backed away from Suozzi's potential candidacy. Despite reports of Schumer's behind the scenes activity on behalf of Suozzi, including trying to collect financial pledges for him, Schumer told the Albany Times-Union he is now "too busy" with his duties in DC as head of the DSCC to get involoved in the primary. Schumer vowed he would stay out of the primary race and make no endorsement, instead focusing his efforts of helping the Dems regain majority control of the US Senate. Spitzer is a solid favorite to win the open gubernatorial race over whomever wins the GOP nomination.
Posted by Ron Gunzburger - 12.30.05 | Permalink |
SITE OF THE DAY: Our site of the day winner is Political Graveyard. Despite the morbid-sounding name, lots of useful research info here.
Posted by Ron Gunzburger - 12.30.05 | Permalink |
FREE SPEECH ZONE. Have at it. Also, FYI, check out my eBay auctions of various campaign buttons.
Posted by Ron Gunzburger - 12.30.05 | Permalink |
ARIZONA. A new Rasmussen Reports poll shows Governor Janet Napolitano (D) remains in very good shape to win re-election next year. Napolitano led GOP activist and former state employee Don Goldwater -- nephew of the late US Senator Barry Goldwater -- by a vote of 50% to 30%. Napolitano led former State Senate President John Greene (R) by a 56%-23% vote. The incumbent also led former State Appeals Court Judge Jan Smith Florez (R) by a margin of 52% to 25%. Arizona may be a fairly reliable red state, but Napolitano is one Dem who looks very safe in her statewide contest.
Posted by Ron Gunzburger - 12.29.05 | Permalink |
SITE OF THE DAY: Our site of the day winner is Follow Me To DC: David Harris for Congress (D-TX).
Posted by Ron Gunzburger - 12.29.05 | Permalink |
FREE SPEECH ZONE. FYI - I'm busy this week selling a bunch of political buttons on eBay. Click here to see what I've place online to date (and much more to come before the end of the weekend).
Posted by Ron Gunzburger - 12.29.05 | Permalink |
GUBERNATORIAL CONTESTS. The Wall Street Journal reported Tuesday the Republicans are facing serious problems in several 2006 gubernatorial battleground states. Even Republican Governors Association Chair Mitt Romney (R-MA) agrees with these dire assessments. Romney told the Journal he expects the Republicans to suffer a net loss of somewhere between 3 to 6 governorships in 2006. In addition to Romney's own open seat, the Journal wrote the others near the top of the potential Democratic pickup list include Arkansas, California, Colorado, Florida, New York and Ohio. Other top states in play include Minnesota, Nevada and Alabama.
Posted by Ron Gunzburger - 12.28.05 | Permalink |
ARKANSAS. Republicans felt confident they

could hold onto the open Governor's Mansion next year when billionaire Lieutenant Governor Win Rockefeller (R) was their likely nominee. Rockefeller was forced to withdraw from the race in July when he was diagnosed with a serious pre-leukemia condition. Since then, Rockefeller underwent a bone marrow transplant in Seattle three months ago -- and remains there today, continuing his recovery. GOP leaders are concerned their current candidate -- former Congressman Asa Hutchinson -- will have a much tougher time in the general election contest. So concerned, it turns out, that some were openly speculating Rockefeller is making a full recovery and will soon be able to jump back into the race. "If the rumor is that he's intending to come back into the race, then the rumor is incorrect," Rockefeller's spokesman told the Arkansas News Bureau. He said the Lt Gov would remain in Seattle for several more weeks and is recovering "smoothly" -- but made a point of noting that Rockefeller already returned nearly all of the gubernatorial campaign contributions he had collected. Hutchinson's campaign downplayed the pining for Rockefeller's return. "We have always operated under the assumption that we would face a strong, well-funded opponent in both the primary and general elections," said Hutchinson's spokesman. Attorney General Mike Beebe (D), former Social Security Administration Commissioner Bill Halter (D), former State Representative Jim Lendall (Green) and musician Rod Bryan (Independent) are all announced candidates for Governor. Candidate filing in Arkansas for the primary closes April 4.
Posted by Ron Gunzburger - 12.28.05 | Permalink |
TEXAS. Will 2006 be a year of comebacks for the Democratic Congressmen ousted by the Tom DeLay-inspired redistricting maps of 2004? The US Supreme Court has already agreed to hear the case this winter as to whether th\e 2004 GOP maps -- a second redrawing of the new district lines created for 2002 from the 2000 Census data -- were illegally redrawn and disenfranchised minority voters. If the US Supreme Court rules in favor of the Dems, they could either reinstate the 2002 districts or order new lines be drawn under federal court supervision. The Fort Worth Star-Telegram speculated that a Democratic court victory could see the political return of former Congressmen Martin Frost, Max Sandlin, Jim Turner and Nick Lampson. Turner confirmed he would run if the old lines were reinstated. Former Congressman Charlie Stenholm (D) says he will not run -- even though he believes the Dems will win the lawsuit -- as he starts work as a high-paid lobbyist next month. Lampson is already challenging DeLay next year in CD-22, and says he does not expect new lines to be in place in time for 2006 even if the Democrats win in court. The Star-Telegram also said freshman Congressman Kenny Marchant (R) would be the most endangered by a reinstatement of the old lines, as his district was custom-designed for him from small pieces of several other Congressional districts. Just my take, but Lampson seems most on the mark here: With the Texas primaries set for March 7th, it seem unlikely the Supremes would force a re-do primary for 2006. New district lines for 2008 seem more likely if the Dems win the lawsuit. Of course, a quick ruling could prompt an injunction delaying the primary until new lines are finished ... but I wouldn't bet on it.
Posted by Ron Gunzburger - 12.28.05 | Permalink |
SITE OF THE DAY: Our site of the day winner is 4President.org, a cool online online museum of Presidential campaign artifacts from 1960 through the present.
Posted by Ron Gunzburger - 12.28.05 | Permalink |
FREE SPEECH ZONE. Have at it.
Posted by Ron Gunzburger - 12.28.05 | Permalink |
MONTANA. A month of critical stories in Montana newspapers about questionable ties between indicted GOP lobbyist Jack Abramoff and US Senator Conrad Burns (R) have already begun to take a toll on Burns' poll numbers. According to a new Billings Gazette/Mason-Dixon poll, Burns has lost ground against both of his leading Democratic challengers. Burns currently leads State Auditor John Morrison (D) by a vote of 46% to 40%. Burns holds a wider lead over liberal State Senate President Jon Tester (D): 49% to 35%. Both of these match-ups indicate roughly a 10-point drop for Burns since the last Gazette poll a few months ago. The poll also tested the Abramoff issue. The results: 58% said they were concerned about it, 33% said they were not
concerned, and the remainder offered no opinion. According to both the Wall Street Journal and Washington Post, Burns, Congressman Bob Ney (R-OH), Congressman Tom DeLay (R-TX) and Congressman John Doolittle (R-CA) are under investigation in the federal corruption probe related to Abramoff.
Posted by Ron Gunzburger - 12.27.05 | Permalink |
OHIO. Here is some more Abramoff news. Congressman Bob Ney (R) made his first detailed public comments on the Abramoff matter on Monday. Speaking to the AP, Ney said "At the end of the day, I am confident I will be cleared ... I have done nothing wrong and the reason I can't comment on this is I have a side to tell of my story. And that side of my story should be told to one or two or both sources: the ethics committee or the Justice Department." Ney denies the allegations contained in last month's indictment of Abramoff lobbying partner Michael Scanlon, in which prosecutors said Ney accepted "a stream of things of value" in direct exchange for using his office to help the lobbyists' clients. Scanlon has already pled guilty and is cooperating with prosecutors, while Abramoff is reportedly negotiating a plea deal of his own. Filing for the Ohio primaries closes on February 16. Chillicothe Mayor Joe Sulzer (D), Dover Law Director Zack Space (D) and training consultant Jeff Woollard (D) have already announced challenges against Ney. No Republican has yet hinted at a primary challenge.
Posted by Ron Gunzburger - 12.27.05 | Permalink |
SITE OF THE DAY: Our site of the day winner is Howard Kaloogian for Congress (R-CA).
Posted by Ron Gunzburger - 12.27.05 | Permalink |
FREE SPEECH ZONE. All the political sites are buzzing about the new Bob Novak column speculating US Senator Trent Lott (R-MS) is expected to announce either re-election or retirement plans within the next week and that his seat could soon be in play for the 2006 cycle ... but what's the big deal? Nearly everyone (including us) reported on this back in September.
Posted by Ron Gunzburger - 12.27.05 | Permalink |
CHRISTMAS/HANUKKAH WEEKEND OPEN THREADS.
SITE OF THE DAY: Our site of the day winner is Congressman Sherrod Brown's GrowOhio.org.
Posted by Ron Gunzburger - 12.24.05 | Permalink |
FREE SPEECH ZONE. Merry Christmas, Happy Hanukkah.
Posted by Ron Gunzburger - 12.24.05 | Permalink |

ALASKA. What exactly did curmudgeonly US Senate President Pro Tempore Ted Stevens (R) mean -- according to the Anchorage Daily News -- when he said "This is the saddest day of my life ... I say goodbye to the Senate tonight"after his proposal to allow oil drilling in the Alaskan National Wildlife Reserve (ANWR) failed on Wednesday? Stevens' staff refuses to clarify the statement. Observers agree Stevens is fed-up with DC politics after his failures this year with ANWR and his failed funding for Alaska's so-called "bridge to nowhere"? Some believe that -- at age 82 and after 37 years in the US Senate -- Stevens is contemplating resigning. While Stevens is not up for re-election until 2008, a resignation in the coming weeks would force a 2006 special election. A state law adopted by voters after Governor Frank Murkowski (R) appointed his daughter Lisa to his vacant US Senate seat now prohibits the Governor from making any interim appointment before the special election. Of course, at the end of the day, this is more likely just Stevens' pissed-off way of saying he probably won't seek re-election in '08.
Posted by Ron Gunzburger - 12.23.05 | Permalink |
MINNESOTA. A new Rasmussen Report poll out on the open US Senare race shows this contest is very competitive. Hennepin County Attorney Amy Klobuchar (D) leads Congressman Mark Kennedy (R) by a vote of 48% to 41%. Child safety activist Patty Wetterling (D) leads Kennedy by a 47% to 43% vote. Wetterling was the unsuccessful nominee for Congress against Kennedy in 2004. However, Kennedy held leads over the two of the Democratic hopefuls. He led wealthy veterinarian Ford Bell (D) by 12-points and a 43%-40% lead over multimillionaire trial attorney Mike Ciresi. Klobuchar is viewed as the current frontrunner for the Democratic nomination, while Kennedy faces no serious opposition for the GOP nod. The NRSC portrays this race as the GOP's best chance for the US Senate seat pickup next year.
Posted by Ron Gunzburger - 12.23.05 | Permalink |
SITE OF THE DAY: Our site of the day winner is US Senator Russ Feingold's Progressive Patriots Fund.
Posted by Ron Gunzburger - 12.23.05 | Permalink |
FREE SPEECH ZONE. Merry Christmas, Happy Hanukkah.
Posted by Ron Gunzburger - 12.23.05 | Permalink |
NEW YORK. Westchester County District Attorney Jeanine Pirro (R) quit the race against US Senator Hillary Clinton (D) on Wednesday, jumping instead into the open contest for Attorney General. The NRCC and Governor George Pataki (R) recruited Pirro into the Senate race, but she got off to a dismal start and recorded weak poll numbers. Republicans are now hoping to entice attorney and President Nixon son-in-law Ed Cox to re-enter the race. Cox quit the day after Pataki openly endorsed Pirro.
Posted by Ron Gunzburger - 12.22.05 | Permalink |
ABRAMOFF SCANDAL. According to
numerous published reports, indicted former high-powered Republican lobbyist Jack Abramoff is in active negotiations with federal prosecutors to cut a plea bargain. In exchange for sentencing leniency, Abramoff is purportedly offering to testify against Members of Congress related to bribes, kickbacks and other corruption. Abramoff business associates Michael Scanlon and Adam Kidan both recently pled guilty and were cooperating in the case against Abramoff and others. Do I think Abramoff-gate is the Watergate of the 2006 election cycle? No, I don't think it alone will generate a tidal wave of change equal to what happened in 1974. Instead, I believe Abramoff is more likely to become the Tongsun Park of the '06 cycle. Park, for those who forget, was the foreign lobbyist who bribed several prominent members of Congress in the so-called Koreagate scandal and then fled the US to avoid prosecution. Between Koreagate and other assorted scandals, Congressmen Richard Hanna (D-CA), Joshua Eilberg (D-PA), Daniel Flood (D-PA) and Otto Passman (D-LA) were all implicated in having collectively accepted hundreds of thousands in gifts, bribes and kickbacks. All were eventually convicted of corruption charges -- and every one implicated in Koreagate who ran for re-election lost their seats. If this proves true again, this could be problematic for Tom DeLay, Conrad Burns, Bob Ney and others -- but won't likely directly hurt Republican incumbents with no Abramoff ties. This isn't to say other factors -- the war, economy, etc. -- won't combine to make 2006 into a 1994-type election year for the Democrats. But the Abramoff scandal, alone, probably won't do it. Postscript Correction: Congressman Dan Flood resigned in 1980 after his conviction, before facing the voters again.
Posted by Ron Gunzburger - 12.22.05 | Permalink |
SITE OF THE DAY: Our site of the day winner is FactCheck.org, published by the Annenberg Public Policy Center of the University of Pennsylvania.
Posted by Ron Gunzburger - 12.22.05 | Permalink |
FREE SPEECH ZONE. Have at it!
Posted by Ron Gunzburger - 12.22.05 | Permalink |
WEDNESDAY NEWS UPDATE.
OHIO. Congressman Ted Strickland continues to be the solid frontrunner for the Dem

gubernatorial nomination, despite recent developments. Flamboyant TV talk show host and former Cincinnati Mayor Jerry Springer (D) announced yesterday he would not jump into the race. Springer said "we have a candidate [Strickland] and a wonderful opportunity for party unity. Let's not blow it. Accordingly, I believe it would be irresponsible, divisive, and a betrayal of principle for me to jump into the race at this late stage." Despite Springer's exit, Congresswoman Marcy Kaptur (D) -- with the urging of the UAW -- appears to be weighing a run for Governor. State Senator Eric Fingerhut (D) -- the '04 nominee for US Senate -- launched an exploratory committee two weeks ago. Additionally, former State Representative Bryan Flannery (D) this week tapped former pro football player Frank Stams as his Lieutenant Governor runningmate. Flannery and Stams played football together in the 1980s on the championship Notre Dame team. In related news, State House Minority Leader Chris Redern, a Strickland supporter, was elected Democratic State Chair this week. Meanwhile, term-limited Governor Bob Taft (R) continues to be an anchor dragging down his party's chances in next year's Ohio contests. A new SurveyUSA poll released Tuesday shows Taft remains the most despised Governor in the nation. He scored an disastrous 80% disapproval rating. FYI: rounding out the "Bottom Five" group of highly disliked Governors were Frank Murkowski (R-AK) at a 69% disapproval rating, and -- tied with disapproval ratings of 63% apiece -- were Arnold Schwarzenegger (R-CA), Kathleen Blanco (D-LA) and Ernie Fletcher (R-KY). The top five most popular Governors were Jodi Rell (R-CT), John Hoeven (R-ND), Mike Rounds (R-SD), Jon Huntsman (R-UT) and John Lynch (D-NH).
Posted by Ron Gunzburger - 12.21.05 | Permalink |
TENNESSEE. New Rasmussen Report poll out on the open US Senare race. Former Congressman Ed Bryant (R) led Congressman Harold Ford Jr. (D) by a vote of 41% to 38%. Former Congressman Van Hilleary (R) led Ford by a similarly close vote of 41% to 39%. However, Ford led Chattanooga Mayor Bob Corker -- the most moderate of the GOP contenders -- by a 42% to 36% vote.
Posted by Ron Gunzburger - 12.21.05 | Permalink |
SITE OF THE DAY: Our site of the day winner is Third Party Watch.
Posted by Ron Gunzburger - 12.21.05 | Permalink |
FREE SPEECH ZONE. Your turn ... your daily open thread. My (hopefully) final Hurricane Wilma update. Since the October 24 storm hit, I went three weeks without electricity, then went even longer without either cable or phone service? How long? Today -- December 21 -- will be the first full day in which we have electricity AND phone AND cable service at the house. At least the 2005 Hurricane Season is over.
Posted by Ron Gunzburger - 12.21.05 | Permalink |
ILLINOIS. Candidate filing for the 2006

primaries closed on Monday. Governor Rod Balgojevich (D) drew two primary opponents: former Chicago Alderman Edwin Eisendrath & political unknown Philip Sitkowski. Blagojevich is heavily favored over both men. On the GOP side, five Republicans filed -- with State Treasurer Judy Baar Topinka as the favorite to win the nomination. Dems are strongly favored to win nearly all of the other statewide offices. In the congressional contests, the CD-6 race is an open seat and all other incumbents drew challengers. In CD-6, State Senator and former Tom DeLay aide Peter Roskam captured the GOP nomination without opposition when his announced centrist primary foe failed to file by Monday's deadline. The Dems will see a feisty three-way primary for the right to oppose Roskam. The CD-6 seat leans Republican, but it should be a competitive race. Seven Republicans will compete in the GOP primary in the Republican-leaning CD-8 district, with the winner taking on freshman Congresswoman Melissa Bean (D). All of the other incumbents look fairly safe. See our Illinois page for all of the filing info.
Posted by Ron Gunzburger - 12.20.05 | Permalink |
MICHIGAN. A new independent poll shows support for Governor Jennifer Granholm (D) is slipping. According to the latest EPIC/MRA poll, Granholm now leads conservative billionaire challenger Dick DeVos (R) by a vote of 53% to 39%. That number indicates the race has tightened by nine-points within the past month. Granholm also saw her approval rating drop seven-points to just 50% over the past month.
Posted by Ron Gunzburger - 12.20.05 | Permalink |
HE'S NEVER HEARD OF YOU, EITHER. As you know, we really like to profile the gadfly candidates you've never heard of. Well, this time we found one that ranks up there with perennial Presidential candidate Randy "The Returned Christ" Crow (D). Meet the Republican candidate for President who calls himself Michael Jesus

Archangel (and also uses the name "Saint Michael Jesus the Archangel"). Trust me, this guy appears rather delusional. Just don't say it too loudly near him, as he appears to be regularly armed with a sword in many of his pictures. Let him explain himself in his own words. "From the time I was a little boy I knew I was God and Michael the Archangel, but I didn't dare tell anyone, not even anyone in my family because I knew that the devil, Satan, was going to try to murder Me, and indeed he did try, four separate times," he explains. He also writes a lot about "My Big Brother, Jesus Christ, Whose parents, My spouse the Blessed Virgin Mary Michelle and her guardian spouse, Saint Joseph." Archangel Michael wrote he was a Vietnam War veteran who attempted suicide when, he explains, he suffered from depression and paranoia; and later became a "a volunteer Secret Agent for the Central Intelligence Agency without pay." A former janitor, he is a self-employed "writer" these days. As for politics, he describes himself as a "Reagan Republican" -- but adds he has also briefly drifted in and out of the Libertarian Party twice over the years. Michael the Archangel says he is a "radical conservative Republican" who recognizes "the fact that America is an official Theocracy." I'll just let him explain it in his own words: "The cultural/educational struggle going on between liberals and conservatives ... will decide whether the liberals are allowed to take this nation further and further down the road to socialist destruction or whether the conservatives will take our country back for God and the people. As a 2008 election Republican Presidential candidate, I hope all you Libertarians become Christians. Your support for the pro-choice position vis-a-vis abortion is just as destructive as the Communazis' position on that subject. The Democrats are complete Socialists, that is, Communazis." He also wants tougher enforcement of narcotics laws, a total ban on tobacco sales, opposes any gay rights laws, supports a total ban on abortion, etc. You can find lots and lots of very long pages of writing like this -- all of which proclaim this candidate to be God -- on his official website: ArchangelMichael.info (you've got to scroll down very far on the homepage to find the link to his Presidential campaign and his goofy autobiography).
Posted by Ron Gunzburger - 12.20.05 | Permalink |
SITE OF THE DAY: Our site of the day winner is PoliticsVT.
Posted by Ron Gunzburger - 12.20.05 | Permalink |
FREE SPEECH ZONE. Your turn ... your daily open thread.
Posted by Ron Gunzburger - 12.20.05 | Permalink |
GUBERNATORIAL RACE UPDATES. MAINE -

According to the Bangor Daily News, Governor John Baldacci (D) could soon be a facing a more complex race for re-election next year. First-term State Representative Barbara Merrill -- a longtime Democratic activist, attorney, and wife of a former Democratic State Chair -- appears to be edging towards challenging Baldacci. The only question seems to be whether she will run as a Democrat or as an Independent. So far, Merrill is following the course set in 1994 by wealthy political outsider Angus King, who was elected Maine Governor as an Independent in a mutli-candidate contest. Like King, Merrill has just written a campaign book detailing her plans for improving the state. Unlike King, Merrill lacks the name ID and personal money he had available for the race. Democratic leaders are obviously not happy. "There is overwhelming support within the party for Governor Baldacci," said State Democratic Chair Pat Colwell. However, polls show Baldacci is vulnerable as his approval rating sagged into the 40s in recent months. Republicans may also face a similar split in the general election. Former Portland Police Chief Mike Chitwood (R) is considering making an Independent run, as is wealthy bank president James Dowe. Four candidates are already competing for the GOP nomination. Five others have already announced as independent or third party candidates, including 2004 Green Party VP nominee Pat LaMarche. COLORADO -

Remember when popular brewpub owner and Denver Mayor John Hickenlooper (D) said repeatedly a few months ago he was not interested in running for Governor next year? Well, never mind that ... because now he's seriously looking at entering the race. According to the Denver Post, Hick on Friday "told his Cabinet officers that he has not ruled out running for Governor, but said that so far he has not found a compelling reason to enter the race. The Mayor told his top appointees that perhaps he should listen to the political activists and supporters who are pressuring him to run." Recent polls show Hickenlooper holds wide bipartisan support statewide and would currently lead either of the likely GOP nominees in the open seat contest. According to the newspaper, five attendees at the Friday meeting confirmed Hickenlooper made the statement. All of this news has revved the Draft Hick campaign back into action this weekend as they attempt to increase pressure on the Mayor to jump into the gubernatorial contest. Many Dem activists are unhappy with current frontrunner Bill Ritter (D) -- the former Denver D.A. -- because of his vocal pro-life views. Congressman Bob Beauprez and former university president Marc Holtzman are competing for the GOP nomination in what is already a very costly, nasty and personal contest. Retired US Senator Ben Nighthorse Campbell and former Congressman Scott McInnis also toyed with entering the GOP race for much of 2005, but neither appears likely to jump in.
Posted by Ron Gunzburger - 12.19.05 | Permalink |
P2008 #1: As had widely been expected for months, Massachusetts Governor Mitt Romney (R) announced he will not seek re-election to a second term next year. While the new chair of the Republican Governors Association played coy about his future plans, his announcement and recent travels make it very clear Romney is readying a run for President in 2008. He's already launched a leadership PAC -- The Commonwealth PAC -- so as to have a fundraising vehicle, although the group's website is rather incomplete. Romney is supporting Lieutenant Governor Kerry Healey (R) as his successor. Norwood Selectman Gary Lee and former State Turnpike Authority Board Member Christy Mihos have both announced GOP primary challenges to her, although Healey is heavily favored to win the nomination. Recent independent polls show Healey trailing either of the likely Democratic candidates -- Attorney General Tom Reilly and former US Assistant Attorney General Deval Patrick -- by double-digit margins.
Posted by Ron Gunzburger - 12.19.05 | Permalink |
P2008 #2 (and #3): Two P2008 White House hopefuls were big winners last week: US Senators John McCain (R-AZ) and Russ Feingold (D-WI). The two men --

friends who co-sponsored the McCain-Feingold campaign finance reform law that bears their names -- won separate battles this time. For McCain, his victory came in the form of President Bush posing with the Arizonan and agreeing to sign into law McCain's broadly written amendment to ban on torture. The McCain amendment -- attached to a Defense Department appropriations bill -- prohibits the US (including both the military and CIA) -- from using "cruel, inhumane and degrading" treatment on any captured POWs, detainees, insurgents, enemy combatants, terrorists, or whatever else you want to call them. The Bush Administration, with the backing of the House Republican leadership, worked unsuccessfully over the past two months to weaken or kill the amendment. In November, Vice President Dick Cheney personally addressed the GOP Senators at a closed door meeting, pleading with them to carve out an exception allowing the CIA to use torture in certain limited circumstances. The Senate responded that same afternoon by a unanimous voice vote reaffirming their support of the McCain amendment by attaching it to another bill.

The Bush Administration capitulation came last week, however, after an overwhelming bipartisan majority approved identical language in a House vote on the McCain amendment. As for Feingold, his victory came on Friday in the fight against renewing the controversial Patriot Act. The act, passed into law as part of a sweeping anti-terrorist package in the days following the 9/11 attack, is either an essential law enforcement tool to fight terrorism or an unconstitutional attack on the privacy and civil liberties of Americans (depending upon your perspective). In 2001, Feingold was the lone Senator who voted against the Patriot Act -- an act of political courage that sets him apart from all his likely Presidential primary rivals. On Friday, Feingold led the successful charge that killed the renewal sought by the White House before the end of the month sunset date. The unexpected news on Thursday that President Bush personally authorized domestic wiretapping and surveillance of alleged security threats without court authority helped give Feingold's group momentum to the argument that the White House and Justice Department would be tempted to abuse discretion if the act was renewed. Feingold rallied Democrats and a handful of Republicans -- including Senators John Sununu (R-NH), Larry Craig (R-ID) and Lisa Murkowski (R-AK) -- and blocked the GOP leadership move to end the filibuster. Supporters of the act fell eight votes short of the 60 required to end debate, and no further votes are scheduled before the Act's expiration date. Feingold scored major media attention and earned big points from the Democratic Party's anti-war base. As for the President's authorized use of domestic surveillance without court-issued warrants, Republican and Democratic US Senators alike -- including Judiciary Committee Chair Arlen Specter (R-PA) -- are calling for hearings on this apparently illegal conduct when Congress reconvenes in January.
Posted by Ron Gunzburger - 12.19.05 | Permalink |
UTAH: A divisive cultural war is flaring up within the Utah Republican Party. State Senator Chris Buttars (R) announced last week he will introduce a bill to outlaw gay-straight student clubs in Utah high schools.

After several years of lawsuits over allowing the clubs at one high school, the Salt Lake School Board settled all the related cases in 2000 by allowing students to form extracurricular clubs focused on gay issues. The clubs -- called the Gay-Straight Alliance -- now exist in 40 Utah high schools. Buttars told the Salt Lake Tribune the clubs violate state law by promoting a sexuality that most Utahns find "perverted." State law already allows a school board to deny access to clubs that encourage criminal or delinquent conduct, promote bigotry or involve human sexuality. The federal Equal Access Act, however, requires any public secondary school accepting federal funds to allow all student clubs equal access to its facilities. "I just don't believe members of sexual-orientation clubs should be sanctioned by the public schools ... They should not be allowed to have that on school property at all," Buttars told the Deseret News. Leaders involved with the GSA group say they are very careful to never discuss sexuality, noting they do so in the same way as Utah biology and health teachers when sex education questions are raised in the classroom. Governor Jon Huntsman (R) was quick to note his opposition to Buttars' proposal, telling the Tribune "the appropriateness of gay-straight clubs is best decided between parents, students and their school boards, not by state officials ... If parents do not like the idea of such clubs they should take it up with their school board." Huntsman, who has two of his children attending a high school that hosts one of the GSA clubs, added: "I've not gone in to talk to the school board about it."
Posted by Ron Gunzburger - 12.19.05 | Permalink |
SITE OF THE DAY: Our site of the day winner is Progressive Punch. Create your own ratings for every member of Congress based on their voting records. Will even work for conservative activists -- just flip the outcome and view a low score as a good thing. The site also features a very detailed and searchable database of Congressional voting records.
Posted by Ron Gunzburger - 12.19.05 | Permalink |
FREE SPEECH ZONE. (1) Obviously, I'm back from skiing in Utah. Deer Valley is a really nice mountain resort, if you've never been there -- especially if you like to ski long, nicely groomed blue cruisers. We picked a perfect week to go as there were zero crowds and no lift-line waits -- and we also saw three Olympic skiing medallists and golf great Tiger Woods out on the slopes. Two great dinner recommendations for when you're in the Park City/Deer Valley area: Shabu and Mariposa. (2) Be sure to check out the revamped format for the media listings on our Texas and Utah pages. I've sub-divided the print media, broadcast media, and blogs into different groupings. It allows me to add more political blog links from across the spectrum. Let me know if you like that format before I do more of it. (3) I still haven't decided on whether to keep the multiple daily threads versus going back to one daily thread -- but I'm strongly leaning towards multiple threads. It seems to keep the postings more on-topic and the debates more civil, while still allowing the free-flowing exchange in the open thread.
Posted by Ron Gunzburger - 12.19.05 | Permalink |
---
RON'S VACATION (DECEMBER 10-17) - OPEN THREADS.

I'm trying something here so that you folks can keep the news coming for the week when I'm away in Utah on vacation. That means I won't be online nor posting anything until December 17. I'll post an open thread for each day and -- if y'all play along -- this should work out well. Please try to show some restraint and stick to the current daily thread.
OPEN THREAD FOR THE WEEKEND OF DECEMBER 10-11:
Posted by Ron Gunzburger - 12.10.05 |
OPEN THREAD FOR MONDAY, DECEMBER 12.
Posted by Ron Gunzburger - 12.12.05 |
OPEN THREAD FOR TUESDAY, DECEMBER 13.
Posted by Ron Gunzburger - 12.13.05 |
OPEN THREAD FOR WEDNESDAY, DECEMBER 14.
Posted by Ron Gunzburger - 12.14.05 |
OPEN THREAD FOR THURSDAY, DECEMBER 15.
Posted by Ron Gunzburger - 12.15.05 |
OPEN THREAD FOR FRIDAY, DECEMBER 16.
Posted by Ron Gunzburger - 12.16.05 |
---
P2008: Change is definitely in the air for the 2008 campaign calendar ... and the folks in New Hampshire are not happy. The DNC's committee studying possible reforms to the current primary schedule appear to be responding to Dem leaders who argue that more than just Iowa and New Hampshire should play an early role in winnowing down the field of hopefuls. Complicating the matter, however, is that Iowa and NH politicos are intent upon protecting their first-in-the-nation status and White House wannabes don't want to risk alienating voters in those two states. NH state law requires that it always remain the first primary in the nation, even if that causes the state to move their Presidential primary to absurdly early dates each time. According to ABC News, the DNC's proposed new plan would insert several state caucuses between the Iowa and New Hampshire contests. Michigan and Nevada are among the states pushing to get into the early voting process, although the proposed changes reportedly do not suggest which states will get to move forward. New Hampshire Secretary of State William Gardner and NH Democratic Chair Kathleen Sullivan both vowed to do whatever it takes to fight the proposed changes.
Posted by Ron Gunzburger - 12.09.05 | Permalink |
TEXAS: If some polling going on in Texas these days is a

precursor to a party change, the gubernatorial contest could soon get rather interesting. According to the Dallas Morning News, a polling company is asking state voters "whether they would support Comptroller Carole Keeton Strayhorn for governor if she ran as an independent rather than as a Republican." Governor Rick Perry's (R) campaign denied they were behind the calls. However, when contacted by the newspaper, Strayhorn's campaign gave a rather vague response: "We don't discuss our polls. We are regularly in the field testing voter attitudes." The newspaper further noted that Strayhorn "has gotten a large number of campaign contributions from typically Democratic sources, such as trial lawyers." Perry's campaign spokesman said they would not be surprised if Strayhorn -- the mother of Bush White House spokesman Scott McClellan -- bolts from the Republican Party. "After spending the last six months becoming very cozy with trial lawyers, people who have tried to defeat President Bush and people close to the Clintons, it doesn't surprise me that Carole Strayhorn would be looking for someplace to run other than the Republicans' primary," he said. Recent polling shows Perry holding a commanding lead over Strayhorn in primary match-ups. Filing for the primaries closes January 2, although independents have until May 11 to collect 45,000 voter signatures to qualify for the general election ballot.
Posted by Ron Gunzburger - 12.09.05 | Permalink |
ABRAMOFF-GATE: Two new developments in the ever-growning scandal that is threatening to end the political careers of former House Majority Leader Tom DeLay (R-TX), House Administration Committee Chair Bob Ney (R-OH), US Senator Conrad Burns (R-MT), Congressman John Doolittle (R-CA), former Christian Coalition Executive Director Ralph Reed (R-GA) and others. The National Republican Senate Committee has a strategy to defend against the damage from the scandal centered around the prominent former Republican lobbyist, political operative, and DeLay insider. The strategy: go on the offensive with a PR effort to tie Abramoff and his tainted money to US Senate Minority Leader Harry Reid (D-NV), US Senators Carl Levin (D-MI), Debbie Stabenow (D-MI), Byron Dorgan (D-ND) and more. The theory is the damage from the scandal could be somewhat neutralized if both parties are linked to the corruption. The second major development in the case -- potentially devastating news for the Republicans -- is that former Abramoff business partner, lifelong friend, murder conspiracy suspect, and criminal co-defendant Adam Kidan will plead guilty next week to federal conspiracy and wire fraud charges in Florida. In exchange for his guilty plea and cooperation with prosecutors, Kidan will face no more than 10 years in prison -- instead of the 30 years he is currently facing. According to the South Florida Sun-Sentinel, "under the plea deal, Kidan would testify against Abramoff." This move would increase the heavy pressure from the feds on Abramoff to likewise cut a plea bargain for sentencing leniency in exchange for his testimony against Members of Congress relating to bribes, kickbacks and other corruption. Kidan also agreed to testify against the three mob-connected men charged with the 2001 murder of businessman Gus Boulis, whom Kidan and Abramoff were accused of defrauding during the messy takeover of Boulis' gambling ship empire -- resulting in the legal fight that ultimately led to the Boulis murder.
Posted by Ron Gunzburger - 12.09.05 | Permalink |

MERRY CHRISTMAS: Yesterday I added the name of Jonathon Sharkey to the lengthy list of candidates running for Minnesota Governor in 2006. Sharkey -- the candidate of the Vampyres, Witches and Pagans Party -- previously was a political activist and GOP congressional candidate for office in New Jersey and elsewhere under his former semi-pro wrestling name of Rocky "Hurricane" Flash. Anyways, I had mistakenly described Sharkey on the Minnesota page as a "Wiccan Dark Priest." Because of this I quickly received the following email from Sharkey's campaign: "Thank you very much for placing Jonathon's name for the race for Governor. However, he is a Satanic Dark Priest, not a Wiccan. Wiccan's do not believe in Christianity at all. Satanist are against the Christian God ... Can you please update this as soon as your time allows, to avoid the Wiccan Communities becoming angry at Jonathon." We certainly don't want to offend the Wiccans, do we. FYI: Sharkey has also filed paperwork with the FEC to run for President in 2008 as the VWP nominee.
Posted by Ron Gunzburger - 12.09.05 | Permalink |
SITE OF THE DAY: Our site of the day winner is Bus Project . And, no, it's not about promoting mass-transit ridership.
Posted by Ron Gunzburger - 12.09.05 | Permalink |
FREE SPEECH ZONE. Our daily open thread ...so, have at it.
Posted by Ron Gunzburger - 12.09.05 | Permalink |

NEW JERSEY: Told 'ya so. CNN reported that Governor-elect Jon Corzine (D) will announce on Thursday his selection of Congressman Bob Menendez (D) for the upcoming US Senate vacancy. Corzine and Menendez both declined to confirm the story on Wednesday. As the House Democratic Caucus Chair since 2003, the Cuban-American legislator is the highest-ranking Hispanic in Congressional history. Menendez will defend the seat on the ballot next year against centrist State Senator Tom Kean Jr. (R). The appointment will also necessitate a congressional special election in the spring for Menendez's safely Democratic CD-13 seat. State Assembly Speaker Albio Sires (D) and Perth Amboy Mayor Joe Vas (D) will start as the two initial favorites for the open CD-13 seat.
Posted by Ron Gunzburger - 12.08.05 | Permalink |
CALIFORNIA: Minuteman Project founder Jim Gilchrist (AIP) spent over $500,000 in Tuesday's special election -- several times more than the amount spent by the Democrat in the race -- but finished third with 25%. In comments to the Newport Beach Daily Pilot, Gilchrist is undaunted. He said Wednesday he is thinking of jumping into the race next year against US Senator Dianne Feinstein (D) in order to continue his efforts to force the strict US to crackdown on illegal immigration. In other California news, some conservative Republicans are growing increasingly angry with Governor Arnold Schwarzenegger's (R) recent shift to the left since his special election setback last month and his subsequent selection of the Cabinet Secretary of former Governor Gray Davis (D) as his new Chief of Staff. They're trying to organize an effort to draft actor Mel Gibson for Governor. They've even launched a campaign website -- set up by some GOP campaign consultant -- to convince the producer of The Passion of the Christ to run. And in yet more related news, you can forget about a "Meathead vs. Terminator" gubernatorial race next year. Movie director and actor Rob Reiner told the AP on Wednesday: "I've made a definite decision that [running for Governor in 2006] is not something I'm going to do."
Posted by Ron Gunzburger - 12.08.05 | Permalink |
MONTANA: The Helena Independent Record reported on the close ties between US Senator Conrad Burns (R-MT) and indicted Republican lobbyist Jack Abramoff. Abramoff's business partner,
former DeLay aide Michael Scanlon, pled guilty last month and is now providing federal prosecutors with testimony and evidence of bribes and kickbacks paid to Congressmen and US Senators. Congressman Bob Ney (R-OH) has already admitted accepting some gifts from Scanlon and Abramoff. According to the Independent Record, "[Burns] and his staff met Abramoff's lobbying team on at least eight occasions and collected $12,000 in donations around the time that Burns took legislative action favorable to Abramoff's clients in the Northern Mariana Islands [in 2001] ... Abramoff's billing records, which the AP obtained from the U.S. territorial islands under an open records request, show that in the three months before the vote, the lobbyist's team met twice with Burns and several more times with his Senate aides ... Burns received about $150,000 in donations from Abramoff, his firm and his clients between 2001 and 2004." However, here is what Burns told the Bozeman Daily Chronicle this week: "I wouldn't know Jack Abramoff if he walked in the room." Burns also sent a letter Tuesday to US Attorney General Alberto Gonzales asking the Department of Justice to immediate review his conduct regarding Abramoff. "I welcome your thorough and expeditious review of this matter so that it may be disposed of officially once and for all and these outrageous and wrongful allegations may be put to rest before we get into the 2006 re-election cycle," wrote Burns.
Posted by Ron Gunzburger - 12.08.05 | Permalink |
SITE OF THE DAY: Our site of the day winner is Lefty Blogs.
Posted by Ron Gunzburger - 12.08.05 | Permalink |

ADVANCE WARNING: I'm going on a one-week vacation starting on Saturday, December 10. I'll be off skiing again in Utah (far too conservative in politics, but really stoking skiing conditions) and will not be back with any updates until Saturday, December 17. As it is a vacation, I won't be checking emails, updating state pages, etc. However, I'll post a few pre-dated open threads on Friday night, before I leave, in the hope y'all use them to post news until my return.
FREE SPEECH ZONE. Our daily open thread ...so, what ya wanna talk about?
Posted by Ron Gunzburger - 12.08.05 | Permalink |
TEXAS: Governor Rick Perry (R) continues to solidify his lead in his 2006 race for re-election. According to the latest Scripps-Howard poll conducted for state newspapers,

Perry now leads State Comptroller Carole Keeton Strayhorn in the GOP primary contest by a vote of 55% to 24%. In a general election match-up, Perry led former Congressman Chris Bell (D) by a vote of 46% to 25%, with colorful country music singer Kinky Friedman (Independent) at 13%. The poll showed Strayhorn would also defeat Bell and Friedman by a nearly identical margin. The poll did not test former Congressman and former State Supreme Court Justice Bob Gammage (D), who only announced last week he intended to enter the race.
Posted by Ron Gunzburger - 12.07.05 | Permalink |
NEW JERSEY: Governor-elect Jon Corzine (D) will announce this week the identity of the person he plans to appoint to his soon-to-be-vacant US Senate seat. Most pundits predict Congressman Bob Menendez (D) is the likely choice. Stay tuned.
Posted by Ron Gunzburger - 12.07.05 | Permalink |
CALIFORNIA: There was no surprise in the outcome of Tuesday's special election for the open CD-48 seat left vacant when Congressman Chris Cox (R) was appointed SEC Chair four months ago. As expected, State Senator John Campbell (R) -- the frontrunner from the start -- won the contest. The results: Campbell-45%, attorney Steve Young (D)-28%, Minuteman Project founder Jim Gilchrist (AIP)-25%, teacher Béa Tiritilli (Green)-1%, realtor Bruce Cohen (Libertarian)-1%. Gilchrist, who tapped into voter anger over illegal immigration, made an impressive showing for a third party candidate in a contested race. "We've got a huge victory tonight because we've issued a wake-up call to America ... Our cause is not over, nor is my aspiration for my political career," said Gilchrist on Tuesday night.
Posted by Ron Gunzburger - 12.07.05 | Permalink |
NEW YORK: Westchester County D.A. Jeanine Pirro (R) emerged from her meeting last week with Governor George Pataki to announce she would not be forced into the open Attorney General's contest. Instead, Pirro noted Pataki is strongly supporting her longshot '06 campaign against US Senator Hillary Clinton (D). Several leading Republicans -- including State Senate Majority Leader Joe Bruno and Congressman John Sweeney -- have openly urged Pirro to switch into a race the Republicans could possibly win. Where the story takes an odd twist is a New York Post report that Pirro's own husband met had secretly met with Bruno last week in an attempt to get his wife to switch out of the US Senate contest. Al Pirro confirmed the story in a written statement to the Post, but said his actions "were solely intended to support Jeanine's political aspirations." In somewhat related news, State Assemblyman Pat Manning -- a GOP candidate for Governor -- said he doesn't care that the state's Republican leaders are trying to work a deal for them to anoint statewide nominees. Manning said he will run in the GOP primary regardless of whatever the bosses do in his race. Former Massachusetts Governor Bill Weld, former Secretary of State Randy Daniels, former State Assembly Minority Leader John Faso and billionare businessman Tom Golisano are all expected to compete for the GOP gubernatorial nomination. The winner will face (and be the underdog against) Attorney General Eliot Spitzer (D).
Posted by Ron Gunzburger - 12.07.05 | Permalink |
SITE OF THE DAY: Our site of the day winner is Casey Cagle for Georgia Lt. Governor (R).
Posted by Ron Gunzburger - 12.07.05 | Permalink |
FREE SPEECH ZONE. Our daily open thread ...so, what ya wanna talk about?
Posted by Ron Gunzburger - 12.07.05 | Permalink |
DELAY RETURN DELAYED: Former US House Majority Leader Tom

DeLay (R-TX) got some good and bad news on Monday. A trial court judge dismissed the felony criminal conspiracy charges against DeLay, but ruled there was sufficient evidence to have DeLay go to trial next spring on the two felony money laundering counts. The ruling means DeLay will not be able to resume his leadership position in January. The House Republican leadership previously said that if DeLay was not able to return to his former position in January, they would hold new leadership elections. Acting House Majority Leader Roy Blunt (R-MO) is clearly interested in holding onto the position permanently, but he appears to be losing support for holding the position permanently. Blunt, who has also held onto his position as Majority Whip, did not impress his GOP colleagues during these past few months. Congressman John Boehner (R-OH) -- the ambitious former House Republican Conference Chair and current House Education & Workforce Committee Chair -- is rumored to be actively seeking votes for the Majority Leader post. Congressman Zach Wamp (R-TN) already announced he wants to be the next Majority Whip. NRCC Chair Tom Reynolds (R-NY) also wants to be Whip, but the timing is not good for him and he may pass on a race to fulfill his NRCC commitments. Congressman Mike Pence (R-IN) -- Republican Study Committee Chair -- is ambitious, but is not ready to make a move. Pence said he opposes new leadership elections in January. The House Republicans need to decide if if they are willing to risk restoring DeLay to leadership versus the threat of DeLay's wrath if they conspire against him and fail versus possible political gain from from plotting with potential new GOP leadership if they succeed.
Posted by Ron Gunzburger - 12.06.05 | Permalink |
WEST VIRGINIA: State GOP Chair Rob Capehart became the latest -- and probably the last -- of the potential first tier candidates to announce he would not run next year against US Senator Robert C. Byrd (D). With Congresswoman Shelley Moore Capito, Secretary of State Betty Ireland, Capehart and others out of the running, it seems to the GOP will likely turn to attorney and Army veteran Hiram Lewis (R) -- a frequent candidate -- as their candidate against Byrd.
Posted by Ron Gunzburger - 12.06.05 | Permalink |
CALIFORNIA: Tuesday is

special election day for the open CD-48 left vacant when Congressman Chris Cox (R) was appointed SEC Chair four months ago. Conservative State Senator John Campbell (R) is expected to romp to a landslide victory in this safe GOP district. Heavily backed by the Republican political establishment, Campbell captured 46% and ran 29-points ahead of his nearest opponent in the 17-candidate, all-parties open primary in October. Attorney Steve Young is the Democratic nominee, although much of the attention here has been drawn to a colorful third party hopeful. Anti-illegal immigration activist Jim Gilchrist (AIP), who founded the controversial Minuteman Project of border patrol vigilantes, will finish at best in the low-double digits. Congressman Tom Tancredo (R-CO) -- a likely 2008 White House candidate -- has actively campaigned for Gilchrist. However, Campbell -- with the support of Cox, Governor Schwarzenegger, and others -- should have no problem easily winning this seat.
Posted by Ron Gunzburger - 12.06.05 | Permalink |
TORTURE: CIA SECRET PRISONS NOW CLOSED. ABC News reported that the CIA quickly shut their secret interrogation centers hidden in Romania and Poland after the facilities were alluded to in European news reports. According to ABC, the CIA scrambled to close the secret prisons and transfer the purportedly high-value enemy combatants before US Secretary of State Condi Rice arrived Monday in Europe for meetings with her allied counterparts. ABC cited "current and former CIA officers speaking to ABC News on the condition of confidentiality" as the sources of this report.
Posted by Ron Gunzburger - 12.06.05 | Permalink |
SITE OF THE DAY. A few folks are critical of certain choices I've made for site of the day. Sometimes they don't like the ideology. Sometimes they think the sites aren't pretty or slick enough. Well, as is explains on the Site of the Day page, some of the sites are chosen purely because of valuable content (even if it isn't the prettiest site in the world). Got it? Now that we've got that out of the way, here's today's Site of the Day: 513 Green PAC, the PAC of the Cincinnati Greens.
Posted by Ron Gunzburger - 12.06.05 | Permalink |
FREE SPEECH ZONE. Our daily open thread ... have at it!
Posted by Ron Gunzburger - 12.06.05 | Permalink |
TORTURE: The torture debate and controversy is continuing in DC and Europe regarding US policies. In Washington, the Bush Administation indicated they are now interested in reaching a compromise with
US Senator John McCain (R-AZ) on his legislative amendment that would prohibit the US -- including the military and CIA -- from using "cruel, inhumane and degrading" treatment on any captured POWs, detainees, insurgents, enemy combatants, or whatever you want to call them. "We are working hard in good faith on both sides to come up with an approach that can be supported by the president and the Congress, to both find a way to be aggressive in the war on terror and still comply with US law," said National Security Advisor Stephen Hadley to Fox News. Speaking on NBC's Meet the Press, McCain quickly responded that he has had "frank and open discussions" with the White House but added "I won't -- we won't" compromise on banning torture. In related news, the European Union is still demanding that US Secretary of State Condi Rice answer EU concerns that the CIA has been secretly hiding and torturing captured enemy combatants in former Soviet bases in Eastern Europe. While continuing to answer that the US doesn't torture, the official US line has been a vague statement sorta sounds like a denial without actually answering the EU inquiry. News reports are mixed as to what Rice will say this week. Some accounts claim she will refuse to elaborate on previous answers and essentially tell the EU to mind their own business. Reuters claims her message will essentially be "back off ... Europe has already begun to get the message to ease up on the controversy." Other reports say Rice will try to offer a more detailed denial regarding torture itself -- but will not confirm or deny whether the US operates secret prisons in Europe with the quiet cooperation of certain governments.
Posted by Ron Gunzburger - 12.05.05 | Permalink |
LOUISIANA: Freshman Congressman Charles Boustany Jr. (R) got some good news within the past few days. Former Congressman Chris John (D) -- who lost a 2004 race for US Senate -- announced he would not make a run for his old CD-7 seat. With John out of the race, attorney and '96 congressional run-off candidate Hunter Lundy (D) appears likely to be the Democratic candidate next year against Boustany.
Posted by Ron Gunzburger - 12.05.05 | Permalink |
CONGRESSIONAL SCANDAL WATCH: The New York Times had an intriguing line in a news article Friday about the growing scandal involving indicted GOP lobbyist Jack Abramoff. "Many forces are bearing down on Mr. Abramoff. Last week, his closest business partner, Michael Scanlon, pleaded guilty to conspiracy in exchange for cooperating in the inquiry ... Mr. Abramoff has told friends that he is running out of money. In a new approach that could contribute to the pressures, prosecutors are sifting through evidence related to the hiring of several former Congressional aides by a lobbying firm, Greenberg Traurig, where Mr. Abramoff worked from 2000 to last year, according to people who know about the inquiry ... Several people involved in the case, insisting on anonymity because of the plea negotiations, said they anticipated that Mr. Abramoff would try to reach an agreement with the prosecutors in a rapidly closing window of time before he is scheduled to stand trial in a separate federal case in Florida [in January] ... A lawyer for Mr. Abramoff in the case, Neal R. Sonnett, declined to comment on whether his client is conferring with prosecutors," reported the newspaper. If Abramoff flips, this case will blow wide open.
Posted by Ron Gunzburger - 12.05.05 | Permalink |
SITE OF THE DAY: Our site of the day winner is Ballot Access News.
Posted by Ron Gunzburger - 12.05.05 | Permalink |
FREE SPEECH ZONE: The daily open thread ... anything and everything ... hang out and chat ... whatever.
Posted by Ron Gunzburger - 12.05.05 | Permalink |
AVOIDING PRIMARIES? Republicans leaders in three key states -- Ohio, Illinois and New York -- are trying to narrow gubernatorial primary fields to improve chances of victories in general elections next year. In Ohio, the AP reported that longtime State GOP Chair Bob Bennett and other leaders know their party is already gravely wounded by term-limited Governor Bob Taft's (R) dismal performance. That's why they want to avoid a three-way primary next year

May between a trio of the state's top Republican officials. Secretary of State Ken Blackwell, Attorney General Jim Petro and State Auditor Betty Montgomery are announced candidates for Governor, and Republicans would love it if two of them would exit the contest in favor of other races. Ohio Democrats this week largely rallied behind the gubernatorial campaign of Congressman Ted Strickland (D) when Columbus Mayor Michael Coleman dropped out. In Illinois, former Governor Jim Edgar and other state GOP leaders there are trying to narrow the gubernatorial field in favor of State Treasurer Judy Topinka. According to the Chicago Tribune, State GOP Chair Andrew McKenna "wants the five current candidates for governor to meet with him Friday and review results of new polling that could raise questions about the viability of some of their campaigns." Topinka's two leading primary rivals, wealthy businessman Ron Gidwitz and State Senator Steve Rauschenberger, vow they will not be forced from the race. Illinois Governor Rod Blagojevich still may face minor primary opposition, but is assured of being his party's nominee. Meanwhile, in New York, Republican county chairs are already set to meet December 12 to endorse candidates for Governor and US Senate.
Governor George Pataki (R) and his allies were behind the move in an effort to endorse former Massachusetts Governor Bill Weld as the candidate for Governor and Westchester County D.A. Jeanine Pirro as the candidate for US Senate. Attorney General Eliot Spitzer and incumbent US Senator Hillary Clinton are assured of being the Dem nominees for Governor and US Senate next year. Those plans seem to be unraveling as State Senate Majority Leader Joseph Bruno, Congressman John Sweeney and others are attempting to derail the meeting in order to advance the odds of billionaire businessman Tom Golisano for the Governor race and former Yonkers Mayor John Spencer in the US Senate contest. This anti-Pataki faction would also like to steer Pirro into the open Attorney General's race. This "avoid primaries" strategy isn't unique to Republicans. Florida Democrats, for example, would like to find a way to avoid a Jim Davis-Rod Smith gubernatorial primary by steering the two men into running together as a team for Gov and Lt Gov.
Posted by Ron Gunzburger - 12.02.05 | Permalink |
OREGON: It looks like Governor Ted Kulongoski (D) may quickly turn from favorite to underdog in next year's primary. Liberal State Senator Rick Metsger (D) quit the primary race last week. Now comes word that liberal State Senator Vicki Walker has postponed the scheduled announcement of her candidacy this week against Kulongoski. So far, all of this is good news for Kulongoski. But here's where it all goes bad for the incumbent: Walker told the Eugene Register-Guard she is waiting for popular former Governor Jon Kitzhaber (D) to decide what he's going to do. Walker said she spoke with Kitzhaber last week, who told her he's "seriously thinking about running" for his old job and plans to make a formal decision soon. If Kitzhaber enters the race, he'd instantly become the favorite to win both the primary and general election. FYI: Walker says she'll challenge Kulongoski if Kitzhaber passes on the race.
Posted by Ron Gunzburger - 12.02.05 | Permalink |
EDITORIAL: ABOLISH THE DEATH PENALTY. On this eve of the 1,000 government-sanctioned execution in the US since the US Supreme Court reinstated the death penalty in

1976, it's time for the US to join the ranks of civilized nations by abolishing the death penalty. The US stands alone among industrialized "first world" nations in continuing to execute prisoners. Yes, they're violent bad guys. Yes, they did terrible things to innocent victims. Yes, many of them would kill again if released. However, a life sentence in prison -- a true life sentence -- is adequate punishment for all of those crimes. Further, we can correct a wrongful conviction with a life sentence. We cannot do so with innocent persons who are wrongfully executed. And, don't fool yourself, innocent persons have certainly been executed over the years in various states. We diminish our humanity as a nation by resorting to state-sanctioned murder. In the 1970s, the late US Supreme Court Justice William Brennan wrote that "evolving standards of decency" required focusing upon the essence of the death penalty itself and not primarily upon the procedure under which the determination to inflict the penalty upon a particular person was made. Additionally, Justice Brennan pointed out the death penalty did not serve any penal purpose more effectively than a less severe punishment, and that our civilization and the law had indeed advanced to where the Supreme Court should hold that the punishment of death -- for any crime and under all circumstances -- was cruel and unusual in violation of the Eighth and Fourteenth Amendments. Standards of decency in the United States may never evolve to where the death penalty will be abolished as it has been in practically every other country we think of as civilized. But they should. Learn more about the death penalty by visiting these sites: Death Penalty Information Center, The Innocence Project, Amnesty International, Abolitionist Action Committee, Catholics Against Capital Punishment, Death Penalty Focus, Hands Off Cain and the National Coalition to Abolish the Death Penalty. (And, since we're speaking about having the United States join the ranks of civilized nations, it would also be a good idea for the US to adopt the McCain Amendment as law and formally renounce the use of torture against our enemy combatant prisoners.)
Posted by Ron Gunzburger - 12.02.05 | Permalink |
SITE OF THE DAY: Our Site of the Day Award winner: ActBlue.com.
Posted by Ron Gunzburger - 12.02.05 | Permalink |
FREE SPEECH ZONE: The daily open thread ... anything and everything ... hang out and chat ... whatever.
Posted by Ron Gunzburger - 12.02.05 | Permalink |
CALIFORNIA:

Republican odds of defeating US Senator Dianne Feinstein (D) next year dropped from slim to none this week when they lost the only potential challenger who had the ability to run a viable campaign. Multimillionaire software executive Bill Mundell (R) -- who spent the past several months laying the groundwork to make a serious run -- announced he will not enter the race. Mundell is a close ally of Governor Arnold Schwarzenegger (R). While Mundell told the Los Angeles Times he was willing to spend millions from his own pocket on the run, he said the large GOP donors he contacted made it clear they would not kick in the bucks needed to challenge an incumbent they viewed as unbeatable. Without their matching money, Mundell said his run would have merely been a "vanity campaign" and he had no interest in running one of those. With Mundell out, the California Republicans are left without any prospective challengers looking at the race. Fienstein's only announced opponents to date are right-wing chiropractor Don Grundmann (AIP) and socialist activist Marsha Feinland (PFP). Filing closes March 10.
Posted by Ron Gunzburger - 12.01.05 | Permalink |
LOUISIANA: In the aftermath of her inept handling of the Hurricane Katrina relief efforts in New Orleans, Governor Kathleen Blanco (D) appears to be in trouble when she faces re-election in 2007. The new Southern Media & Opinion Research poll contrasted numbers for various Bayou State politicos taken before Katrina against numbers recorded in November. As for Blanco, the number of voters who said they would definitely vote to re-elect her dropped 23%. President Bush and US Senator Mary Landrieu (D) recorded numbers virtually unchanged between before Katrina and now. US Senator David Vitter (R) saw his approval rating skyrocket to 70%.
Posted by Ron Gunzburger - 12.01.05 | Permalink |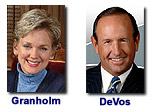 MICHIGAN: A new EPIC/MRA poll shows Governor Jennifer Granholm (D) continues to be strong, with her approval rating rising and her lead growing against her likely GOP opponent. Granholm -- who previously scored lackluster numbers in previous EPIC/MRS polls -- recorded an approval rating of 57% and a disapproval rating of 43%. Those numbers translate to a 20-point increase since the previous poll. When Granholm is pitted against billionaire businessman Dick DeVos (R), Granholm led by a vote of 58% to 35%. Inexplicably, despite these rosy numbers, a whopping 61% of respondents in this same poll said Michigan is headed in the wrong direction. and 64% said the US was likewise headed the wrong way. Analysis seems to indicate voters blame President Bush and Congress more for the state's economic woes than they blame Granholm.
Posted by Ron Gunzburger - 12.01.05 | Permalink |
COMEBACK TRAIL: Dems may have found a way to place two more GOP House seats into play for 2006. In Pennsylvania, National Journal's Hotline reported former Congressman Ron Klink (D) -- the 2000 nominee for US Senate -- is considering making a run to regain his former CD-4 seat from Congresswoman Melissa Hart (R). Hotline opined that "Klink would represent her most serious competition to date." Klink's pro-life views hurt him with the more liberal statewide Democratic base in his 2000 run, but should not hinder him in this district. In Kentucky, freshman Congressman Geoff Davis (R) appears likely to face an even bigger threat. Former Congressman Ken Lucas (D) -- who defeated Davis in 2002, before retiring in 2004 -- is "seriously considering" challenging Davis next year. DCCC Executive Director John Lapp said "Ken Lucas is clearly disappointed in Geoff Davis ... The culture of corruption in the Capitol that has gotten worse by the day since he left has clearly made Congressman Lucas angry. Northern Kentucky needs someone who will fight for them, not the Washington crowd." Dems also feel energized by Davis' recent comments, in which he called Iraq War opponents "despicable, dishonorable, uninformed, unhistorical, anti-intellectual and, frankly, un-American." They're equating the Davis comment with Congresswoman Jean Schmidt's (R-OH) repudiated personal attack on Congressman John Murtha (D-PA) for cowardice.
Posted by Ron Gunzburger - 12.01.05 | Permalink |
SITE OF THE DAY: Our Site of the Day Award winner: Bill Brenner for US Senate (New York).
Posted by Ron Gunzburger - 12.01.05 | Permalink |
FREE SPEECH ZONE: The daily open thread ... anything and everything ... hang out and chat ... whatever.
Posted by Ron Gunzburger - 12.01.05 | Permalink |