BLOG ARCHIVE: DECEMBER 2004
NEW BLOG STORIES ARE POSTED EVERY MONDAY AND THURSDAY. OUR "STATE PAGES" OF CANDIDATE LISTINGS ARE UPDATED AS NEEDED.
THE ELECTION THAT WON'T EVER END. It's official: The
2004 election cycle will continue on into 2005. The North Carolina State Board of Elections voted this week to call an unprecedented "re-vote" election in 2005 in the race for State Agriculture Commissioner. The final vote total showed GOP challenger Steve Troxler defeated incumbent Brit Cobb (D) by a statewide margin of 2,287 votes. However, during the recount it was discovered that an electronic voting machine in Carteret County "dropped" -- or lost -- 4,438 ballots. That prompted the unprecedented decision to order a re-vote. The board is evenly split, however, on whether to call for a statewide re-vote or whether to simply allow only the 4,438 Carteret County residents whose votes were dropped to cast new ballots. The State Elections Board wants the NC Supreme Court to decide which re-vote approach is most appropriate, so this mater is clearly heading back to the courts. Troxler vows to fight in court to block any re-vote, maintaining that he is the legitimate winner. The NC Supreme Court has also entered an order barring the declared winner in the State Education Commissioner race -- the Dem nominee -- from taking office until the State Board of Elections can decide on January 18 what should be done with that equally close race.

Contrast that with what is still going on in Washington State. Attorney General Chris Gregoire (D) was formally certified the winner this week in the gubernatorial race. She won by a margin of 130 votes -- after two recounts -- out of 2.9 million cast statewide. State Senator Dino Rossi (R) -- her challenger -- is calling on Gregoire and state officials to allow a re-vote. Gregoire -- like Troxler in NC -- is opposed to any electoral "do-overs." In other more election follow-up, the Montana Supreme Court voted 6-1 this week to invalidate seven contested "double marked" ballots that were awarded in a State House race recount to Constitution Party nominee Rick Jore. By removing those votes, Jeanne Windham (D) became the winner by a 7 vote margin -- and gave Democrats control of the State House. Before the November elections, the Montana GOP controlled the Governorship, State Senate and State House. Now, the Montana Dems will control all three.
Posted by Ron Gunzburger - 12.31.04 |
NYC 2005 MAYOR RACE UPDATE.

New York City Mayor Mike Bloomberg (R) looks like he may be rather vulnerable in his upcoming re-election race. Of course, considering the heavy Democratic tilt of NYC, that fact is not surprising. A new Marist College poll shows that while the centrist Bloomberg has a solid base and a decent 46% approval vs. 18% disapproval rating, he cannot climb above the mid-40s against any of his likely challengers. When matched against his most likely Democratic opponent -- former Bronx Borough President Fernando Ferrer -- Bloomberg has actually lost ground in recent months. The new numbers: Ferrer-51%, Bloomberg-39%. Since September, Ferrer has widened his lead by 8-points. Of the other potential Dems, Bloomberg is tied at 44% apiece against Manhattan Borough President Virginia Fields, and he leads three other Dems by margins of 2-6 points. As for the Democratic primary, Ferrer is the solid frontrunner with 38%. Fields was second with 13%, followed by NYC Council Speaker Gifford Miller at 11%, Congressman Anthony Wiener at 10%, and NYC Councilman Charles Barron at 4%. The primary is set for September 2005, with the general election in November. Considering that Bloomberg is a billionaire publishing mogul, his campaign will certainly have the financial resources to do whatever is needed to keep this race highly competitive.
Posted by Ron Gunzburger - 12.31.04 |
REPORT FROM IRAQ: A NEW YEAR'S MESSAGE FROM THE 1/23 MARINES. Our special correspondent Lt. James Crabtree of the 1/23 Marines gives us some final thoughts for 2004.
Dear Politics1.com Friends,

Hello for the last time this year from the Haditha Dam in Iraq. The New Year is almost here and weíve had a very busy week so Iíll do what I can to try to fit all the happenings into this update. To start with, I mentioned in my last report that I would be profiling the Motor-T Marines. I havenít been able to complete that yet, so Iíll have to push that to next time hopefully. Sorry about that. Well, while those of you in the continental US will be celebrating New Yearís Eve those of us here in Iraq will already be 8, 9, 10, or even 11 hours ahead of you. No champagne or parties for us, though. Weíll have a simple talent show on New Yearís Eve and perhaps sing Auld Lang Syne, but thatíll be about it. For those of us that are Longhorn fans, weíll certainly try to watch the Rose Bowl on New Yearís Day.

We had a nice candlelight Christmas Eve service with Sgt. Danceís Marines serving as the choir. Everyone enjoyed the Bible readings and the hymns. The feeling of Christmas was certainly present. The next day everyone was treated to some turkey and ham and the usual other Christmas Day foods. The officers served the enlisted Marines and everyone got one bottle of Budweiser and a small bottle of Bacardi Rum (like the ones you get on an airplane). For the Marines that drink this was the best gift anyone could have given them, though it was probably just enough to whet their appetite.

Our first embedded reporter, Mr. Joe Sacco, has now been with us for over a week and has been all over the area with our Marines. Heís a very professional and friendly journalist and we certainly enjoy having him here with us. Our Marines have taken him out with them on many of their missions and he lives with them in their quarters. He is a very accomplished artist as well and actually writes his stories in a comic book fashion. The story he is doing on 1/23 will be around eight pages in a Sunday magazine of The Guardian, a large London newspaper. The piece should come out sometime in February and the Marines are already looking forward to seeing it. Iíve had a chance to look through a book Mr. Sacco gave us that he wrote on Bosnia and itís very captivating. His style of illustration in his stories is unique and catches your attention. Itís a real thrill for us to have him here, especially in light of all the praise his past books have received from folks like Christopher Hitchens and The Economist magazine.

In other big news, the Marines of the Small Craft Company recently discovered a sizable weapons cache during one of their raids. They found many mortar rounds, ammo, machine guns, explosives, and other accoutrements of the insurgents. Their hard work has brought them a lot of well deserved praise. Finding a cache like they did is not easy and it further serves to weaken our enemy around here.

Weíve also had some individuals that deserve mention here, too. RP2 Rumsey was just named the "Religious Program Specialist of the Year" for all of the Naval Reserves. This is a high honor and everyone in the battalion is proud of his success. Iím also happy to announce that my right-hand man, GySgt Sepeda, just became a father again yesterday when his wife gave birth in Austin to their son Carlos Sepeda Jr. Congratulations!

The last bit of news to pass this week is the return home for many of our Azerbaijani soldiers that have guarded the dam. I was able to watch them leave yesterday as the Marine Corps CH-53 helicopters landed on top of the dam to take them on the first leg of their journey home.

Most of these soldiers had been on this dam for 18 months and they were thrilled to finally be heading home! There is a great deal of mutual admiration between the Marines and the Azerbaijanis. The "AZs" were constantly professional, friendly, and extremely hard working. I got to know Lt Javid Abasov (below) quite well and it was exciting to see how ebullient he was about his homecoming.

Javid (he had us call him David) is returning home to be married to his fiancťe. She is a doctor and he jokes that she is always telling him that she will take care of him when he gets home. They have been together for two years -- even though he has not left the dam for the last 18 months! Javid is very smart and extremely driven, and his goal is to one day be a general. I feel pretty certain he will succeed in that dream of his. He is a big fan of the United States and we enjoyed talking about American history and the US Constitution. In turn he would tell me about his home country and its history. Azerbaijan might not be a place that the media covers very much, but their soldiers have made some life long friends in the US Marine Corps. Our battalion commander presented Certificates of Commendation to the AZ company commander, and to their company as a whole, the morning that they left. Upon receiving the awards their commander spoke through Lt Abasov as the translator and said, ďIt has been an honor to serve with you. Years ago I saw the US Marines on television, but never thought I would serve with them. You have taught us much and we will take these lessons home to teach to our soldiers.Ē Our battalion commander was effusive in his praise for the AZs and made sure to tell them how grateful we are for their service. I truly feel that the Azerbaijanis are great allies and that they are the types of allies that many Americans probably donít even know that we have. I told Javid that when he gets promoted to general I want to be there for the ceremony. He smiled and said that would be great. Weíve exchanged email and postal addresses and he says he will send me some wedding photos when he gets them. Once I receive them Iíll be sure to put them in an update.


A group of AZ's eagerly watching their helicopter as it lands.
There was lots of waving and many smiling faces as the AZs finally boarded for the trip home.

Thank you, as always, for reading this update and for all of your support. 2004 has been a wild and adventurous year for us, and for most of us we will never have another one like it again. I hope and pray that the New Year finds you and your loved ones well. Until next year, take care.

Semper Fi,
James

P.S. Hookíem Horns! Beat Michigan!

P.P.S. Our own LCpl Hudgens is in the year-end issue of Time Magazine (the one with the President Bush-Man of the Year cover). There is an article on the President meeting with wounded servicemen and giving them their Purple Hearts. The half-page black/white pic is of President Bush hugging LCpl Hudgens' mom while he looks on. LCpl Hudgens came very close to being killed a while back when his vehicle struck by an IED. Heís getting better now, and seeing his photo in Time was surreal. My mom just recently mailed it to me and I was flipping through it this morning when I noticed the photo.
If you'd like to send the 1/23d any care packages, please address the packages to Lt Crabtree, 1/23 H&S Co, Unit 41900, FPO, AP 96426-1900 ... and James will ensure that whatever you ship gets distributed to the Marines in the 1/23. The 1/23 Marines are scheduled to remain in Iraq until March 2005. If you'd like to read more about our adopted 1/23 Marine battalion in Iraq, please click here.
Posted by Ron Gunzburger - 12.31.04 |
FRIDAY

OPEN THREAD (AND RON'S LAST INCENDIARY LIBERAL COMMENTARY OF 2004). Contrast these two news stories: (1) The US has pledged $35 million in cash relief for the tsunami ravaged nations. (2) The AP reported this item. "Planned are nine official [inaugural] balls, a youth concert, a parade, a fireworks display and, of course, Bush's second swearing-in ceremony at noon on Jan. 20. The cost will be between $30 million and $40 million, an amount that does not include expenses for security." Do the math: $35 million for humanitarian assistance to a catastrophe that killed over 130,000 people and left over one million people homeless ... and $40 million for a party for rich folks in DC. Good thing to see we've got our priorities right as a "compassionate conservative" nation. If you're incensed by this, please help the victims of this terrible tragedy by clicking here.
Posted by Ron Gunzburger - 12.31.04 |
THURSDAY OPEN THREAD. Amazing concept to ponder: NASA's Jet Propulsion Laboratory has theorized that "a shift of mass toward the Earth's center during the quake Sunday [that caused the tsunami] caused the planet to spin 3 microseconds ... faster and to tilt about an inch on its axis." Less than amazing concept to ponder: Ron will post the new stories this week on Thursday night.
Posted by Ron Gunzburger - 12.30.04 |
WEDNESDAY OPEN THREAD. Headlines spotted Tuesday night on CNN.com: "Tsunami death toll soars"and "Swimsuit model survives tsunami" ... at least 33,000 dead ... possibly 60,000 or more ... and CNN/SI is reporting on an injured swimsuit model??!!
Posted by Ron Gunzburger - 12.29.04 |
DNC CHAIR RACE UPDATE. The election for DNC Chair -- normally a rather dull affair -- is evolving into a rather hotly contested race. Former Vermont Governor Howard Dean currently appears to be the frontrunner against whom all others are jockeying. Dean is running a very low key, reform campaign to be Chair -- despite a vocal "Draft Dean" movement by liberal activists boosting his candidacy --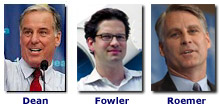 by conducting most of his activities behind the scenes. Dean's strength -- and the dislike for Dean by the inside the Beltway crowd -- prompted US Senate Minority Leader Harry Reid and US House Minority Leader Nancy Pelosi to both endorse conservative "Blue Dog Democrat" and former Congressman Tim Roemer (D-IN) for Chair this week. In fact, the move showed that the liberal Pelosi was apparently willing to back a pro-life candidate like Roemer for DNC Chair in a rather blatant bid to keep DC leaders in control of the DNC (and, likely, to see more DNC funds allocated towards helping House and Senate candidates). Pelosi's endosement of Roemer also seemed to be a slap at former DCCC Chair Martin Frost (D-TX), who lost his re-election bid last month in the wake of US House Majority Leader Tom DeLay's redistricting plan. Former Denver Mayor and current DNC Vice Chair Wellington Webb formally announced his candidacy for Chair last week, but he is viewed mainly as a simply another one of the anti-Dean, safe, status quo candidates. Former Dallas Mayor Ron Kirk's candidacy also is failing to catch fire -- but this is easily explained as he, Forst and Webb are all eating into the same centrist base. Ditto for former Texas State Democratic Chair Mary Beth Malcolm, who also is actively seeking the post. Harold Ickes -- a Clinton insider who appeared to be the initial favorite of the "Hillarry in 2008" crowd -- seems to have garnered little support. Former Michigan Governor Jim Blanchard -- currently DC lobbyist -- also has been unable to peel away key DGA leaders for Dean from among their former mutual colleagues. Two other reform candidates in the race, however, are worth watching: Donnie Fowler Jr. and Simon Rosenberg. Both would signify a shift in power to a new generation of leaders tied more closely with blogosphere activists than with politics-as-usual -- although both have long been involved in traditional Dem politics, too. Some pundits think Fowler -- who organized the online Draft Wes Clark for President campaign and is the son of former DNC Chair Don Fowler -- could eventually emerge as the leading alternative to Dean. Others have even suggested a hybrid pairing of Dean for DNC General Chair and Rosenberg for National Chair -- which would allow Dean to be the party's voice while Rosenberg would steer day-to-day operations. FYI: Dean has promised that, if elected Chair, he will not run for President in 2008.
Posted by Ron Gunzburger - 12.28.04 |
FBI AGENTS RAID HOME OF CALIFORNIA DEM LEADER. Ten days ago, FBI agents armed with search warrants reportedly raided the homes of California Senate President Pro Tem Don Perata (D) and Perata's son. According to the AP, "[FBI] agents sought tax records and copies of other documents related to Lily Hu, a ... lobbyist who once worked for Perata." Perata's office sought to downplay the raid. "It was a low-key, professional, straightforward process. They asked for information and Sen. Perata provided it," said Perata's spokesman. The AP also wrote that the federal grand jury investigation is focused on "the business activities of some of [Perata's] family members and associates."
Posted by Ron Gunzburger - 12.28.04 |
TUESDAY OPEN THREAD. Washington State Republicans vow a court challenge to block Christine Gregoire (D) from being inaugurated as Governor next week in the aftermath of the hotly contested race and three recounts.
Posted by Ron Gunzburger - 12.28.04 |
MONDAY OPEN THREAD. It's the holiday season, so cut me some slack if I don't post new stories until Tuesday this week. Also: I've just started using using the new Firefox web browser and Thunderbird email program, both based on Mozilla open source coding. My Initial take: they're both great!
Posted by Ron Gunzburger - 12.27.04 |
FINAL RECOUNTS PRODUCE TWO NEW WINNERS IN WASHINGTON, P.R. GOVERNOR RACES. The votes are in -- well, actually they've been "in" since November 2 -- but now they've been counted for one last time. Because of two unrelated court rulings, the final recounts produced different winners from those previously declared on election night and in the earlier recounts. In Washington State,

Attorney General Chris Gregoire (D) appears to have won by just 130 votes out of 2.9 million total ballots cast. State Senator Dino Rossi (R) initially appeared on election night to have won by 261 votes, but saw his lead drop the just 42 votes after the first recount. The new result came about after the Washington Supreme Court ordered heavily-Democratic King County to tally the 735 absentee ballots that were initially rejected by a computer error. However, even before the court ruled, Gregoire had moved out to a 10 vote lead. The Washington State Republican Party vows to fight on by asking the Secretary of State to delay certifying the results so that they can attempt to convince other counties to reexamine previously rejected votes. If the Gregoire victory is upheld, look for Rossi to be a likely candidate for US Senate in 2006 against incumbent Maria Cantwell (D). Meanwhile, in Puerto Rico, the second recount was conducted under the guidance of several island and federal court rulings. Pro-statehood former Governor Pedro Rosello (PNP) was initially declared the winner after a local elections board in a PNP-controlled municipality unlawfully refused to count thousands of ballots that supported Congressional Resident Commissioner Anibal Acevedo-Vila (PPD). Acevedo-Vila -- who supports maintaining the island's territorial status -- won by a 48.4% to 48.2% vote in the final certified recount completed Thursday.
Posted by Ron Gunzburger - 12.24.04 |
ROMNEY ENDS RETIREMENT RUMORS. Massachusetts Governor
Mitt Romney (R) ended weeks of speculation about his political future by announcing Thursday that he will seek re-election to a second term in 2006. Many pundits predicted that Romney -- who was said to be bored with the job and readying a likely 2008 Presidential run -- would retire. The Democrats "say: 'Oh he's not going to run again. He's not going to run again.' 'Well, I've got some news for them: I am going to run again," said Romney. However, when reporters asked Romney if he would promise to serve a full four-year term if re-elected, Romney dodged the question. "I'm taking everything just as I've described it. 'I've got no additions, no subtractions" to my statement, he explained to the Boston Globe. Romney -- who was President of the successful 2002 Salt Lake City Winter Olympics -- is viewed as a favorite to win another term over any of the likely Dems who are considering making the race. However, if Romney stepped aside, the Dems would instantly become heavily favored to recapture the office. Democrats looking to challenge Romney include Congressman Mike Capuano, Attorney General Tom Reilly, Secretary of State Bill Galvin and venture capitalist Chris Gabrielli.
Posted by Ron Gunzburger - 12.24.04 |

EX-CT GOV ROWLAND PLEADS GUILTY, HEADING TO PRISON. Former Connecticut Governor John Rowland (R) -- who resigned in July amid a growing corruption probe -- pled guilty in federal court Thursday under a plea deal that will send him to prison. Rowland said that "mistakes have been made throughout the last few years, and I accept responsibility for those." Under the plea deal, Rowland admitted he accepted at least $107,000 of unreported gifts from state contractors. He will receive a prison term in the range of of 15-21 months when he is sentenced in March 2005. Governor Jodi Rell (R), who succeeded to office when Rowland resigned, issued this statement: "Today the State of Connecticut was humiliated, and I, as John Rowland's former running mate and colleague, feel personally betrayed." Recent polls show Rell well positioned to win a full-term as Governor in her own right in 2006, with her drawing among the highest approval ratings ever of any Governor in Connecticut history. Democrats who already announced their candidacies against Rell include Secretary of State Susan Bysiewicz, New Haven Mayor John DeStefano Jr., and Stamford Mayor Dan Malloy. All three, however, say they will quit the race if US Senator Chris Dodd decides to run against Rell.
Posted by Ron Gunzburger - 12.24.04 |
REPORT FROM IRAQ: SHOWERS, FIELD KITCHENS, THE DUNGEON, AND HOLIDAY GREETINGS FROM THE HADITHA DAM. Our special correspondent Lt. James Crabtree of the 1/23 Marines sends a few more pix and Christmas thoughts from our adopted Marines.
Dear Politics1.com Friends,

This is my last posting before Christmas and I felt compelled to give you one last look at our battalion before the big Christmas turkey is eaten. Weíve got a few exciting things happening here that are worth sharing. First off, the phone call to "The Sam Malone Morning Show" went very well Tuesday. We werenít able to round up as many Marines as before, but most of the ones who got on the air this time had never done so before. In the case of LCpl Westmoreland, heíd desperately wanted to be on the air the two previous times but was unable to make it. Every day that heíd see me for th past two weeks heíd mention that upcoming show -- so I made sure to have him at the front of the line this time. The folks at KRBE were great, as always.

Another thing we are looking forward to is finally getting our first embedded media reporter. Newspaper reporter Joe Sacco writes for The Guardian in London. He will be with us for a week or so. Hopefully heíll get a chance to ride along with the Marines on their patrols and get a great feel for what this area is like and how well the Marines handle themselves. As soon as I find a link to the stories he writes on the battalion .Iíll be sure to pass it along.

To give you a glimpse into our daily life here at Haditha Dam, here are a few more pictures. They're just of run-of-the-mill things -- nothing special -- but then you'll better understand what our home away from home looks like out here. Below is our field kitchen where are all meals are prepared -- including the "special" meal we'll eat on Christmas day.

This next one is of the only shower we have on the 5th deck of the dam. It has no hot water and some pretty crazy looking plumbing. We need Bob Villa over here!

Finally, here is our battalion conference room in "The Dungeon" area of the dam (named for the feeling one gets in the darkened area). During General Natonski's recent visit, he joked with us that our table had clearly seen better days.

Now, on to other matters. My next update will center on the Marines of the Motor Transport section. Iíve not written about them yet and they deserve to be mentioned. They do a fine job keeping the battalionís vehicles on the road and have seen more than their share of road time driving in convoys. Look for those profiles in the next update on Monday.

One final note before I close this brief column Ė last spring before the Marines were activated there was a family orientation at the headquarters in Houston. One of the guest speakers joked that USMC stood for "U Suckers Miss Christmas." Those of us there laughed, but then realized that the joke perhaps hit a little too close to home. Well, we may not be home for Christmas this year, but I assure you that every member of this battalion longs to be there. When we are home next year, we will have a far greater appreciation of our time spent with family and loved ones than we have probably ever felt before. I know thatís the way I feel about it.

Until next time, thank you for reading and for all of your continued prayers and support. Have a great holiday season!

Semper Fi,
James
If you'd like to send the 1/23d any care packages, please address the packages to Lt Crabtree, 1/23 H&S Co, Unit 41900, FPO, AP 96426-1900 ... and James will ensure that whatever you ship gets distributed to the Marines in the 1/23. The 1/23 Marines are scheduled to remain in Iraq until March 2005. If you'd like to read more about our adopted 1/23 Marine battalion in Iraq, please click here.
Posted by Ron Gunzburger - 12.24.04 |
FRIDAY OPEN THREAD. Merry Christmas to all.
Posted by Ron Gunzburger - 12.24.04 |
THURSDAY OPEN THREAD. Yeah, yeah, I know I'm supposed to post updates on Thursdays ... but we're heading into the holiday weekend and I'm going to post to updates on Thursday night instead 'cuz I've got a bunch of other stuff I've got to take care of first. We'll have news from the Washington and Puerto Rico gubernatorial recounts, other stuff, even a new update from the 1/23 Marines. Check back tomorrow.
Posted by Ron Gunzburger - 12.23.04 |
WEDNESDAY OPEN THREAD. Whatever.
Posted by Ron Gunzburger - 12.22.04 |
TUESDAY OPEN THREAD. What do you want to argue about today?
Posted by Ron Gunzburger - 12.21.04 |
DEM NET GURU SAYS NET FAILED AS POLITICAL TOOL. Zach Exley was frequently profiled in news articles during the 2004 campaign as the Dem's hot Internet whiz kid.
Exley was the techie strategist who developed the liberal MoveOn.org's online muscle, consulted for a period of time with the Dean campaign, and later became the online communications chief for the Kerry-Edwards campaign. Yet, speaking at a post-election conference last week at Harvard, Exley now looks back at dismay at his party's -- and his own -- reliance on the Internet as an effective campaign organizing tool. While he agreed the net proved itself as an amazing fundraising tool and as a means for rapidly spreading a message, it failed to meet most other political needs. "The difference between the approach of the left in general, and the Republicans, is that the left was more interested in just putting cool software up. The idea was to put up the tools and let people use them ... The belief was 'let's get 5,000 people out there and they'll talk to each other. But, to put a President in office, we need to get people organized and trained." Instead, he rejected the "from the ground up" mass movement theory that he and Joe Trippi had espoused. Instead, Exley now praises the GOP strategy of a top-driven campaign that relied on building a traditional field organization of volunteers tightly directed by political professionals. "There wasn't a shortage of [volunteers], but we didn't have a [professional] organization ... Republicans are beating us at what used to be our game: the grassroots approach. That's real politics," he explained. FYI: This GOP approach to campaigns is nothing new, as you can see from the above GOP campaign button from 1958. The "YCERSOYA" tag that appeared on a lot of the official GOP organizing materials from the 1950s was an acronym for "You Can't Elect Republicans Sitting On Your Ass."
Posted by Ron Gunzburger - 12.20.04 |
KEY SENATORS DEFEND RUMSFELD. After being hammered in the media by some prominent Republicans for the past two weeks, Defense Secretary Don Rumsfeld finally received some crucial support this past weekend. White House Chief of Staff Andy Card praised Rumseld as doing a "spectacular" job. More importantly, Senate Armed Services Committee Chair John Warner (R-VA) and Senator Foreign Relations Committee Chair Dick Lugar (R-IN) both offered words of support for Rumseld during TV appearances. Both men said it would be unwise for Rumseld to leave office right now -- and that under no circumstances should he leave office before the upcoming Iraqi elections are held. Some of the Republicans who have been highly critical of Rumsfeld in recent days include US Senators Trent Lott, Norm Coleman, Chuck Hagel, John McCain and Susan Collins. The Warner and Lugar coments alone are probably enough to secure Rumsfeld at least six months more in his post.
Posted by Ron Gunzburger - 12.20.04 |
WASHINGTON GOVERNOR RECOUNT HEADS BACK TO STATE SUPREME COURT. A Pierce County Superior Court handed the Republicans a key legal victory on Friday in the gubernatorial recount by ordering

King County election officials to not count 735 disputed ballots that the County now acknowledges were mistakenly rejected by election workers because of a computer glitch. "It's clear to me that it's not appropriate to revisit the decision whether ballots should or should not be considered," ruled the judge. Those 735 absentee ballots were initially rejected when local election officials were unable to verify the voter signatures on the absentee ballot envelopes with signature images on their computer system -- as those signatures were apparently missing entirely from the computer database. Further, the officials at the time failed to pull any of the original hard copies of the voter registration cards that would have contained the voters' signatures. Dems said they would appeal. "Local canvass boards have the ability to make sure every legitimate vote is counted. Hundreds of people have had their rights to vote set aside," said State Democratic Chair Paul Berendt. State Senator Dino Rossi (R) is clinging to a 50 vote lead over Attorney General Chris Gregoire (D) with nearly all votes statewide recounted -- except for King County. The decision to count (or not count) the 735 ballots from heavily-Democratic King County -- the Seattle area -- will certainly determine the winner. The State Supreme Court is expected to hear this latest appeal early this week.
Posted by Ron Gunzburger - 12.20.04 |
REPORT FROM IRAQ: HOLIDAY SEASON AT THE HADITHA DAM. Our special correspondent Lt. James Crabtree of the 1/23 Marines sends a few pix and words from the Marines as the holiday season approaches.
Dear Politics1.com Friends,

Seasonís greetings from the 1st Battalion, 23d Marines in Iraq. We hope that you and your loved ones are well. Our Marines and Sailors are as fine as can be expected. The Battalionís chaplain (LT David Dinkins) and his aide (RP2 Rumsey) have gone out of their way to make everyone feel the Christmas spirit this holiday season. They have even scheduled a midnight mass for Christmas Eve. We're also continued to receive a heavy volume of care packages and the Christmas items are ubiquitous. It makes home feel a little bit closer. We are supposed to have some sort of special meal for Christmas and I know the Battalion Commander and Sergeant Major will be visiting all of our Marines in the outlying areas. When the Commanding General of the 1st Marine Division flew in to see our staff members last week, he said: "Obviously everyone would rather be home for the holidays with loved ones, but if you have to spend them in a faraway place you could do a lot worse then to spend them with your brother Marines." I believe everyone here would agree with that sentiment.

Many of the Marines here comment on how the days are starting to fly by. Each day blends with the next, and each has a "same-ness" to them, so I would guess that half of the Marines here are in the dark when it comes to what day of the week it is. For many this is probably a good thing. This being in the dark can be quite a literal thing at times, too. For some reason this dam -- a source of electrical power -- is plague by power outages. You can hear the turbines stop and the lights start to flicker as if they were in some cheesy WWII movie, and then they go out and everything becomes very dark and very quiet. Flashlights and chem lights are used to get around and eventually, somehow, the power gets restored. This dam provides power for about a third of Iraq, so when we lose power here we can look down the river and see that the city of Haditha has no lights as well. The irony of living in a hydro-electric dam and losing power is one that grows stronger and stronger every time an outage occurs. As I type this email right now there are huge turbines spinning and generating power that are about twelve stories beneath me and yet the walls and floors still vibrate and the sound of a low rumble is everywhere. You donít even notice it unless it stops.

Iím sorry I havenít been able write another profile on any of our Marines this week. I guess Iíve just been staying busy. Instead, I'll just share two pictures with you.

This first one is of Lt Kleinman (left) being recently promoted from 2nd Lieutenant to 1st Lieutenant. Lt Colonel Stevens, above, administered the oath of office. This was taken in the conference room area known as "the dungeon."

This second photo is my way of acknowledging the support I get from these two Marines. SSgt Tom Watson (left) of Warner Robbins, Georgia, and Sgt Reginald Pinkney, of Chicago, Illinois, both work for me and do a stellar job. They are both reservists from the 3d Force Recon Company based out of Mobile, Alabama. (Also: Note the UT Longhorns banner hanging -- along with Christmas lights -- in the hallway.)

I know many of you want to see updates on the Marines in some of the other areas, but thus far I havenít been able to get out there. We know they are doing well from everything they tell us -- and we make sure to push care packages out to them, too.

One thing to look forward to is another live phone call-in for the Houston area Marines to The Sam Malone Morning Show on KRBE 104 FM in Houston at around 6:10 am on Tuesday, December 21st. This show has also been very generous to us and we hope to get as many Houston area Marines and Sailors on the air as possible. It truly boosts everyone's morale to take part in something like that.

Well, that is all the time I have for this update. One final note: we received word that Cpl Jake Schick has actually taken his first steps on his new foot -- and also that several of our 1/23 Marines recovering at the Bethesda Naval Hospital were personally awarded their Purple Hearts there by the President. Our thoughts and prayers are with them.

Thank you as always for reading this update and for all of your continued prayers and support.

Semper Fi,
James

PS - Here is a photo of the dam with itís spillways open. The gate is only raised about 6 inches, but it produces a ton of water! This is the first time they opened it since the whole battalion moved up here.
If you'd like to send the 1/23d any care packages, please address the packages to Lt Crabtree, 1/23 H&S Co, Unit 41900, FPO, AP 96426-1900 ... and James will ensure that whatever you ship gets distributed to the Marines in the 1/23. The 1/23 Marines are scheduled to remain in Iraq until March 2005. If you'd like to read more about our adopted 1/23 Marine battalion in Iraq, please click here.
Posted by Ron Gunzburger - 12.20.04 |
MONDAY OPEN THREAD. Only five blogging days left until Christmas.
Posted by Ron Gunzburger - 12.20.04 |
SUNDAY OPEN THREAD. Only six shopping days left until Christmas.
Posted by Ron Gunzburger - 12.19.04 |
SATURDAY OPEN THREAD. The Washington gubernatorial contest isn't the only unresolved election from last month. While almost nobody disputes that write-in reform candidate and surf shop owner Donna Frye (D) clearly won the most votes in the race for San Diego Mayor, it isn't clear that she will win. Court fights are ongoing in attempts by the two Republican candidates (who were listed on the ballot in this non-partisan race) to disqualify many write-in votes cast for Frye or invalidate her write-in candidacy entirely.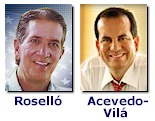 Another race to keep watching is the open Montana House District 12 race, where the race between Rick Jore (Constitution) and Jeanne Windham (D) apparently ended in an exact tie with 1,559 votes apiece (the GOP candidate placed a distant third). A state district court formally declared a tie this week, which enabled outgoing Governor Judy Martz (R) to appoint Jore to the seat. That appointment gives the GOP control of the State House by a 50-49-1 margin -- with Jore being the "1" in that division. If Windham wins, the House would be a 50-50 tie. Dems are appealing to the State Supreme Court to disqualify seven votes awarded to Jore in the recount. Finally there's the open race for Puerto Rico Governor between former Governor Pedro Roselló (PNP) and Congressman Aníbal Acevedo-Vilá (PPD). While the island's political parties differ from those on the US mainland, Roselló is more aligned with the Republicans these days while Acevedo-Vilá is aligned with the Democrats. After a fight that ended in the US Court of Appeals, island officials were required to perform a new and more complete recount. That recount is expected to be completed by Christmas. The first recount gave Roselló a narrow win -- but only after a local (and pro-PNP) elections board apparently unlawfully invalidated a large number of votes cast for Acevedo-Vilá. On those ballots, voters marked the box at the top of the ballot to vote a straight party ticket for the PNP, but also marked the box for Acevedo-Vilá in the gubernatorial race. The federal court found that Puerto Rican law has permitted those split votes to be counted in the past. If those votes are counted this time, Acevedo-Vilá will likely be declared the winner. More legal challenges may follow.
Posted by Ron Gunzburger - 12.18.04 |
FRIDAY OPEN THREAD. Depressing news (well, at least for those folks like me who are Dems): A new Gallup poll claims there is a surge of support for the GOP with 37% of the public identifying themselves as Republicans and 32% identifying them as Democrats. "These shifts are not uncommon in intensely political times, such as in an election year," explained Gallup.
Posted by Ron Gunzburger - 12.17.04 |
RUMSFELD CRITICISM GETS LOUDER.

On Monday we reported that Senator Chuck Hagel (R-NE) sharply criticized Defense Secretary Don Rumsfeld's handling of the Iraq War. Since then, Senator John McCain (R-AZ) -- another potential P2008 candidate -- has jumped on the growing anti-Rumsfeld bandwagon. McCain told the AP that he has "no confidence" in Rumsfeld. Senator Susan Collins (R-ME), a member of the Armed Services Committee, said this week that she has "increasing concerns about the Secretary's leadership of the war." Retired General Norman Schwarzkopf, who campaigned actively for both Presidents Bush, said this week that he was "disappointed" and "angry" with Rumsfeld for his recent comments about the Army and the war. Even Bill Kristol, publisher of the neo-con and normally pro-Rumself news magazine The Weekly Standard, joined the chorus this week. "Surely Don Rumsfeld is not the Defense Secretary Bush should want to have for the remainder of his second term," wrote Kristol. How much longer will it be before Rumsfeld quits or is fired? [FYI: The button, at right, is from Rumsfeld's 1966 re-election campaign for Congress in Illinois.]
Posted by Ron Gunzburger - 12.16.04 |
2006 RACE NEWS. MAINE: US Senator Olympia Snowe (R) announced this week that she will seek re-election in 2006. Snowe -- a GOP centrist -- told reporters she decided to announce early because of the election last month of several new conservative Repubicans to the US Senate. It is "important to maintain the independent-minded voice of moderate Republicanism," she explained. Snowe is a heavy favorite to win another term.

TEXAS: Governor Rick Perry looks almost certain these days to draw a serious GOP primary challenge in 2006 from US Senator Kay Bailey Hutchison. The embattled Perry has looked vulnerable for months, and KBH is clearly interested in the job. Perry is a staunch conservative and feisty campaigner -- but who is also viewed as aloof, self-promoting, somewhat inept, and a lightweight. On top of that, the political rumor mill in the state is constantly abuzz with wild speculation about his partying private life. Perry's campaign, in turn, likes to portray Hutchison as having a record that is "closer to John Kerry's than to [Texas Senator] John Cornyn's on some key issues will have a difficult time in a GOP primary." A new poll shows KBH holding a 60-32 lead. Perry's spinmeisters say they disbelieve those numbers because their own recent polling showed Perry leading KBH by a fairly tight 47-43 vote. Outgoing Democratic Congressmen Chris Bell and Jim Turner -- both victims of House Majority Leader Tom DeLay's redistricting effort -- are each looking at the gubernatorial race. The Rick Perry vs. The World blog site tracks all the latest on the potential Perry-KBH primary. If Hutchison runs for Governor, Congressman Henry Bonilla and Lieutenant Governor David Dewhurst are likely to face-off in the GOP primary for her seat. The Democrats are still searching for a strong candidate for the open seat. MISSOURI: The Kansas City Star reported this week that popular KC Mayor Kay Barnes (D) is considering making a run in 2006 against Congressman Sam Graves (R). While the race would be rather competitive, Graves would start as the frontrunner in this former swing district that appears to be growing increasingly stronger for the Republicans. MONTANA: Dems are trying to entice Attorney General Mike McGrath to challenge US Senator Conrad Burns (R) in 2006. So far, McGrath -- who won re-election unopposed this year -- isn't taking the bait. Burns won a surprisingly close race for re-election in 2000, and the Dems are also encouraged because they captured the open governorship in the state this year.
Posted by Ron Gunzburger - 12.16.04 |
REPORT FROM IRAQ: HOLIDAY SEASON AT THE HADITHA DAM. Our special correspondent Lt. James Crabtree of the 1/23 Marines sends a few pix and words from the Marines as the holiday season approaches.
Dear Politics1.com Friends,

I didn't have the time to write up another full update, but I had some pictures I wanted to share with you about our life here in the Haditha Dam. This first shot is of our newly reorganized battalion library.

We have had many books sent to us by folks back in the states and the battalion that preceded us also left some books, so we have taken a small closet room area on our main deck and put in some shelves and made it into a min-library. One of my favorite films is The Shawshank Redemption and the main character -- named Andy Dufresne (played by Tim Robbins) -- starts a library in the prison out of donated books. Well, since our source of books is through donations as well -- and the Dam sometimes resembles a prison -- I have named our library the "1/23 Andy Dufresne Library." Hopefully, when we leave (and not via a tunnel), we will have added to the book collection.

The second photo today is of the battalionís improvised Christmas tree in our chow hall.

The tree is made of a camouflage net and a long pole. Weíve taken various ornaments and decorations that we have been sent and decked the tree out as best we could. In the photo you see some of the Azerbaijani soldiers eating dinner next to the tree. It always amazes me how the Marines here can continuously make improvements to our surroundings.

One final note: we have still not received any embedded reporters out here. Our higher headquarters keep telling me that some may come out here. Iíve seen everything from the NY Times and USA Today to the foreign TV networks and newspapers, but they never pan out. I think they must believe the action is in the Fallujah area and/or they prefer to stay in the nice relative comfort of the International Zone in Baghdad. Iíll keep plugging away at this, as it would create more opportunities for the 1/23 families to read about what we do each day. So, if you know any reporters, please send them our way. Weíve got some great stories to tell. Until next time, thank you for all of your prayers and support!

Semper Fi,
James
If you'd like to send the 1/23d any care packages, please address the packages to Lt Crabtree, 1/23 H&S Co, Unit 41900, FPO, AP 96426-1900 ... and James will ensure that whatever you ship gets distributed to the Marines in the 1/23. The 1/23 Marines are scheduled to remain in Iraq until March 2005. If you'd like to read more about our adopted 1/23 Marine battalion in Iraq, please click here.
Posted by Ron Gunzburger - 12.16.04 |

THURSDAY OPEN THREAD. The NHL/NHLPA talks break down -- with no more offers or counter-offers expected and no more talks scheduled -- so it looks like this hockey season is dead. As a hockey fan, that really sucks!
Posted by Ron Gunzburger - 12.16.04 |
WEDNESDAY OPEN THREAD. An election official

once told me that she dreaded ever having a close election in her jurisdiction because the dirty little secret of all elections everywhere in the US was that the official vote totals were "more or less" the total of actual votes cast. That said -- and not getting into who ultimately wins or loses the Washington gubernatorial race -- if an honest recount results in having all votes counted that should have been counted (had the first count been conducted more accurately), then how is that "stealing" an election?
Posted by Ron Gunzburger - 12.15.04 |
TUESDAY OPEN THREAD. Talk about a poor vetting process. It turns out that Homeland Sec nominee Bernie Kerik was derailed by much more than a mere "nanny problem." How about background problems ranging from unreported cash gifts and unpaid debts to an active arrest warrant and two extramarital affairs.
Posted by Ron Gunzburger - 12.14.04 |
BUSH HASN'T EVEN BEEN SWORN-IN AGAIN YET, BUT ... In a sign that US Senator George Allen Jr. (R-VA) is planning a 2008 White House run, he just hired Dick Wadhams to be his new Chief of Staff. Wadhams, who ran the campaign that just ousted

Senate Minority Leader Tom Daschle (D-SD), is viewed as one of today's hottest GOP political strategists. The conservative NewsMax.com site reported that Senator John McCain (R-AZ) is telling potential supporters that he doesn't believe that his age in four years -- 72 -- would be an insurmountable obstacle. McCain also said that, had he accepted Kerry's invitation to be his VP runningmate, the Kerry-McCain ticket would have won. However, McCain says he rejected the offer because he is a lifelong Republican and thought the split-party ticket concept was a bad idea for the nation. Another likely 2008 prospect, Senator Chuck Hagel (R-NE), said on CNN Sunday that he has now "lost all confidence" in Defense Secretary Don Rumsfeld. He said he was dismayed over Rumsfeld's flippant remarks last week on the need for more armored vehicles for soldiers in Iraq and Kuwait. Hagel, a Vietnam War veteran, also questioned Rumsfeld's outlook on Iraq: "I don't know if we are winning this war ... What we didn't plan for was an occupation. We failed. We are in a mess."
Posted by Ron Gunzburger - 12.13.04 |
2006 RACE NEWS. ARIZONA: Former Congressman Matt Salmon (R) has quit his looming primary challenge against Congressman Jeff Flake (R), who is breaking his term limits promise in two years. Instead, Salmon is running for State Republican Chair. TENNESSEE: Speaking of breaking term-limit promises, Congressman Zach Wamp (R) has begun formally raising money for a 2006 re-election race for a seventh term. Wamp, who was first elected on a six-term limit promise, said "I've received a tremendous amount of encouragement to run again in 2006, and I'm headed in that direction." CALIFORNIA: Term limits are causing lots of musical chairs here for the 2006 statewide races. State Insurance Commissioner John Garamendi (D) is running for Lieutenant Governor, as incumbent Cruz Bustamante (D) is term-limited. Bustamante, in turn, is leaning towards running for Garamendi's open job. So is former State Assembly Speaker and former San Francisco Mayor Willie Brown (D), who was previously term-limited out of both of those posts. Former Governor and three-time Presidential candidate

Jerry Brown (D), who is currently the Mayor of Oakland, is running for Attorney General. Incumbent Attorney General Bill Lockyer (D) and State Treasurer Phil Angelides (D) are both term-limited and are each considering runs for Governor. Secretary of State Kevin Shelley (D) isn't term limited, but most pundits expect this controversial incumbent likely to lose his primary. Retiring Congressman Doug Ose (R) is also contemplating a run against Shelley. MICHIGAN: State Rep. Jack Hoogendyk has become the first Republican to start actively organizing a campaign against Governor Jennifer Granholm (D). Hoogendyk told local reporters this week that he has begun raising money for the race. Expect some other GOP'ers to also jump in, but Granholm starts off as the favorite. In the US Senate race, the Detroit News reported that President Bush is trying to recruit Congresswoman Candice Miller (R) to challenge freshman Senator Debbie Stabenow (D). In her winning 1998 run for Secretary of State, Miller carried all 83 counties and won more total votes than any statewide candidate in Michigan history. NEBRASKA: Congressman Tom Osborne (R) officially announced he will not run for the US Senate. He also said he is reassessing his possible run for Governor in light of Lieutenant Governor Dave Heineman's (R) pending ascension to the top job in a month or so. "I think there is some possibility of staying in the House another term ... [Heineman] and I are friends, and that does add a dimension that wasn't there before ... I'm going to wait and think about it a little bit more," said Osborne to the Lincoln Journal Star. KENTUCKY:

Here's some very early 2010 campaign news. US Senator Jim Bunning (R) -- who barely won re-election after a self-destructive campaign marked by personal conduct that called his mental state into question -- has already filed paperwork to run again in six years when he will be 79 years old. "I am at the top of my game right now," he explained. WISCONSIN: Departing HHS Secretary and former Governor Tommy Thompson (R) is already working hard to keep folks guessing about his future. One moment he says he's looking forward to making lots of money in the private sector now after 38 years in government. Don't be fooled, as a moment later Thompson lobbed out this comment: "[A return to politics] is entirely possible. I happen to love politics. Why would I say no? There's a Senate seat open." Thompson is apparently referring to Senator Herb Kohl (D), who turns 70 in February and had yet to announce his re-election plans for 2006. Thompson is also a potential candidate against Governor Jim Doyle (D). No word if Thompson's brother -- Libertarian State Chairman and former Tomah Mayor Ed Thompson -- would jump into one of those races to garner some more attention for his party's platform.
Posted by Ron Gunzburger - 12.13.04 |
REPORT FROM IRAQ: REPORT FROM IRAQ: MEET THE FUTURE SWIFT BOAT VETS. Our special correspondent Lt. James Crabtree of the 1/23 Marines spent some time this week with the Marines who patrol the waters around the Haditha Dam.
Dear Politics1.com Friends,

Hello once again from the Haditha Dam in Iraq -- where Soviet bloc architecture, Iraqi engineering, and US firepower fuse together for a surreal environment.

I want to start off this update by strongly thanking everyone that extended their prayers and condolences to the Kolda family. We are forever grateful for that. Cpl Zak Kolda was laid to rest yesterday in Corpus Christi and every member of this battalion wishes they could have been there. I also want to thank everyone for the large volume of mail and care packages that we continue to receive. We only get mail every third day here on the dam and every time our convoy returns with mail the amount increases. I believe this trend will continue until Christmas. We also were very lucky to have The Weekly Standard run a thank you note I sent them in their December 6th issue. I had mentioned to them that they could see these updates here on Politics1 and it also contained our mailing address. I have already received about a dozen letters from people that say they saw the reproduced postcard in the magazine. Each was well written and from the heart and they made my day.

In other news, the battalion continues to do a stellar job and our light at the end of the tunnel is growing nearer. In fact, the battalion commander of the unit that will replace us here in March visited for several days last week and he said he was highly impressed by our Marines. He also stated that he is now confident that our turn-over with his battalion will go well. In addition, we had the Commanding General of the 2nd Marine Division fly in to visit since his division will be taking over in the Al-Anbar Province sometime in the Spring. It's a great thing to know that the wheels are already in motion for our return home.


A Marine out running on the dam at sunset.

Speaking of being in motion, the other day while running on the dam with Capt Kuniholm (the Engineer's platoon commander), we were discussing the fact that the Euphrates is the southern border of the ancient land of Mesopotamia. With the Tigris River on the north, Mesopotamia meant "the land between two rivers." As the Captain and I were doing our normal run back and forth across the long length of the dam it occurred to me that we were running in and out of Mesopotamia every time we crossed the river. We've decided that as a humorous note we should create a sign and place it atop the dam that would say in English and Arabic "Now entering Mesopotamia" on one side and "Now leaving Mesopotamia" on the other side. For some reason this seemed really funny to me. Perhaps I've been in Iraq too long, but I think it might just be from my warped sense of humor.


Larger boats of the Small Craft Company on patrol at sunset.

The focus of this week's report is on the active duty Marines from the Small Craft Company out of Camp Lejeune that patrol our river and lake areas -- and thus keep the dam safe. I had the chance to speak with several of these Marines today and all of them were eager to share their stories. The Small Craft Company is the only one like it in the whole Marine Corps (and quite possibly the entire US Military). They run boats on the lake that closely resemble the Swift Boats that John Kerry piloted in Vietnam, and much smaller boats on the Euphrates River that look like the type you could buy at a Bass Master dealership. These Marines speak about patrolling through the reeds and muck of the river in the cold of the night, about navigating choppy waves on the lake, dealing with fishermen that get too close to the restricted areas around the dam, and of receiving small arms fire from people taking shots at them from the banks of the river. All of these Marines seem young, and for some reason most of them are from Ohio, Michigan, and Pennsylvania. Each of them is an infantryman and most had no experience with boats before they joined the Marines. They even joke that some of their members don't even know how to swim well. When they were first assigned to the company, none of them knew where they were going. Corporal Jimmy Taulbee, 25, of Hershey, Pennsylvania, said, "I heard 'Small Craft Company' and I though 'What am I going to do? Make pottery?" Lance Corporal Mike Malionek, 21 (next week) and hailing from Beverly, Massachusetts, added: "My instructors at the School of Infantry didn't know what it was and they told me I must have gotten into trouble or something at boot camp."


Some of the Small Craft Company Marines.
Front row (L to R): LCpl Malionek, LCpl Keeney, LCpl Ryan, PFC Walker,
LCpl DeBord, LCpl Pass, LCpl Kittleson, and LCpl Milczewski.
Second row (L to R): PFC Yates, Cpl Taulbee, and 1stLt Kruse.

All joking aside, these Marines are very skilled at what they do and they take pride in their service. The river is surprisingly shallow at points and hitting the bottom is a routine occurrence. Lance Corporal Kevin Kittleson -- a 21-year-old from Three Oaks, Michigan (near Benton Harbor) -- claims that the river and its weeds eat up the boats engines and bang up their hulls. He should know because, as one of the platoon's mechanics, he has to keep the boats up and running. Like all Marines here in Iraq, they like to talk about what they will do when they return home. Kittleson is scheduled to leave the Marine Corps on New Year's Eve next year and looks forward to the celebration of his return home.

The platoon is led by First Lieutenant Eric Kruse, 25, a native of Thorndale, PA. Like the 1/23, Kruse and his Marines have been in Iraq since August and will rotate home in the Spring. It's obvious he is proud of his Marines and the fact that they truly are a unique unit in the Marine Corps. "These guys are asked to do a lot and they always come through it well. Motoring down a river at night armed and looking for terrorists is not easy, but in a weird way my Marines live for that sort of thing." A good example of that type of Marine is Lance Corporal Tim Milczewski of Northfield, Ohio. The 19-year-old boat coxswain is called "Ski" by his fellow Marines and he jokes about coming back to Iraq one day as a Sergeant Major for "OIF 13" (note: right now we are on OIF 2). FYI: a coxswain drives the boat. He also serves as a gunner and as part of the ground combat element for his platoon. Almost to a man, none of them ever expected to be running a boat up and down the Euphrates River in Iraq. It is certainly not like fishing back home, but that doesn't keep them from thinking about that. In fact, Kruse even says he wants to buy a boat like the one the Marines have because he's come to know well the intricacies of the little riverboats and because "these things don't sink."

Well, that's all the time and space I have for this time. Thanks as always for reading, and for your support.

Semper Fi,
James

PS - Oh, and we got another huge box of stuff from Congressman Gene Green (D-TX) again. He sent a really nice personal Christmas card, DC ornaments, food, candy, hygiene items, magazines, books, etc. It was great!
If you'd like to send the 1/23d any care packages, please address the packages to Lt Crabtree, 1/23 H&S Co, Unit 41900, FPO, AP 96426-1900 ... and James will ensure that whatever you ship gets distributed to the Marines in the 1/23. The 1/23 Marines are scheduled to remain in Iraq until March 2005. If you'd like to read more about our adopted 1/23 Marine battalion in Iraq, please click here.
Posted by Ron Gunzburger - 12.13.04 |
MONDAY OPEN THREAD. Talk amongst yourselves.
Posted by Ron Gunzburger - 12.13.04 |
SATURDAY OPEN THREAD. Kerik withdraws his nomination to be Homeland Security Secretary (does this mean Asa Hutchinson may get a second chance for the top job he wants?) ... and the NHL/NHLPA have started talking again, so maybe we'll still get some hockey this season.
Posted by Ron Gunzburger - 12.11.04 |
THE LAST BUSH CABINET DEPARTURE (AT LEAST, FOR NOW). Conservatives pressed President Bush to dump Treasury Secretary John Snow, as they thought he was inadequately aggressive in promoting their economic agenda. To the surprise of pundits, Snow was invited this week by the

President to continue serving in the second term. Instead, it was Veterans Affairs Secretary Tony Principi who was a surprise departure -- bringing the total of departing Department leaders to nine. US Ambassador to the Vatican Jim Nicholson -- a former Republican National Chairman -- was immediately tapped to replace Principi. The President still has two unfilled Cabinet spots: Energy and Health & Human Services. Excluding those who resigned, all other members of the Cabinet have accepted invitations to remain in their posts -- although Snow and Rumsfeld are still widely expected to depart sometime later in 2005. The new Cabinet picks also caused two other resignations. Former US Senator Jack Danforth (R-MO) resigned as the US Ambassador to the United Nations after less than a year in the post after he was passed over the for Secretary of State position he coveted. Likewise for former Congressman Asa Hutchinson, who decided to resign from his post as Undersecretary of Homeland Security when the President selected a Department outsider to replace Homeland Security Secretary Tom Ridge. Instead, Hutchinson intends to return home and prepare a run for Arkansas Governor in 2006. Hutchinson will likely face off against Lieutenant Governor Win Rockefeller III in the GOP primary for the open seat. Former Presidential candidate Wesley Clark (D) is also reportedly interested in the Arkansas Governor race.
Posted by Ron Gunzburger - 12.10.04 |
BIDEN JUMPS INTO P2008 RACE. US Senator Joe Biden (D-DE) -- the ranking Dem on the Senate Foreign Relations Committee -- essentially announced his candidacy for President in 2008 during a Thursday appearance on

MSNBC's Imus in the Morning show. When asked if he planned to enter the 2008 White House race, Biden quickly answered: "I'm going to proceed as if I'm going to run ... Here's the bottom line for me: Two years from now I've got to make a hard decision. I don't want to do this for the exercise. I'm pretty certain about what I think needs to be done. I'm not sure the country's where I am ... I'm not in any position at this stage in the game to compromise what I think needs to be done." Biden's first bid for President -- a disastrous run in 1988 -- ended before the first primary under the weight of allegations that he plagiarized some material in his campaign speeches (including biographical segments) from other politicians. First elected to the Senate in 1972 as a challenger at the age of 29, Biden matured and became a respected Senate leader. In the post-9/11 period, Biden was a frequent face on television discussing foreign policy. In general, he has built a fairly centrist voting record in the Senate -- and won his re-election races by wide margins.
Biden also is a strong advocate in Washington on behalf of credit card giant MBNA, which is based in his home state -- taking positions are often to the detriment of consumers. Senator John Kerry and John Edwards also appear to be making moves towards running again in 2008. Former Vermont Governor Howard Dean is also clearly interested in remaining on the national stage -- but it is not yet clear whether he is planning another Presidential run or seeking to be Democratic National Chairman. "Here in Washington, it seems that after every losing election there's a consensus reached among decision makers in the Democratic Party that the way to win is to be more like Republicans. If we accept that philosophy this time around, another Democrat will be standing here in four years giving this same speech. We cannot win by being Republican-lite," said Dean this week in his DC announcement speech -- although for which of the two jobs he was announcing is unclear. Dean told reporters that if he is elected DNC Chair in February, then he will not run for President in 2008.
Posted by Ron Gunzburger - 12.10.04 |
2006 STATE UPDATES. PENNSYLVANIA: Pro Football Hall of Famer Lynn Swann (R) -- Chair of the President's Council on Physical Fitness -- confirmed this week that he is planning to challenge Pennsylvania Governor Ed Rendell (D). Other likely GOP primary candidates include former Lieutenant Governor Bill Scranton III, State Senator Jeffrey Piccola and retired USAF pilot Mac McCawley. NEW YORK: Attorney General Eliot Spitzer (D) announced his candidacy for Governor this week. Spitzer is not expected to face any serious primary opposition. Governor George Pataki (R) has yet to decide whether he will seek a fourth term in 2006, but new polls seem to give Pataki few options. A new Quinnipiac College poll shows that Spitzer currently holds a comfortable 12-point lead over Pataki. Even worse, the Q poll showed that Pataki trails US Senator Hillary Clinton (D) by 22-points if he jumps into that race. With numbers like these, Pataki may simply decide to retire in 2006 and concentrate instead on his expected 2008 White House run.

FLORIDA: A new Strategic Vision poll showsthat Congresswoman Kathryn Harris would start the US Senate race as a heavy favorite to capture the GOP nomination. However, the same poll also has her trailing incumbent US Senator Bill Nelson (D) by 11-points in a general election match-up. Nelson also led every other potential GOP candidate, but by narrower margins than his lead over Harris. The same poll also shows that each of the three most likely GOP candidates for Governor would hold wide leads over any of the current Democratic hopefuls for this open seat. NEBRASKA: Nothing official yet, but National Journal's Hotline is reporting that Congressman Tom Osborne (R) is letting state reporters know he has already decided against challenging US Senator Ben Nelson (D) in 2006. Instead, he still is focused on the gubernatorial contest. There is some speculation that Lieutenant Governor Dave Heineman (R) -- who will soon succeed to the Governor post -- may seek to avoid a primary against Osborne by jumping into the US Senate race. PENNSYLVANIA: Outgoing Congressman Joe Hoeffel (D) -- who was defeated this year by centrist US Senator Arlen Specter (R) -- is now thinking of opposing conservative US Senator Rick Santorum (R) in 2006. "I'm concerned about the course that the country's taking, and I think Sen. Santorum is too extreme in his views, and is out of the mainstream of Pennsylvania's political thought," said Hoeffel. State Treasurer Barbara Hafer (D) and others are also looking at the Santorum seat. SOUTH CAROLINA: State Education Commissioner Inez Tenenbaum (D), who lost a race for US Senate last month, announced this week she would seek re-election in 2006. Some Dems had been pressing her to run against Governor Mark Sanford (R).
Posted by Ron Gunzburger - 12.10.04 |
FRIDAY OPEN THREAD. Everything and anything else.
Posted by Ron Gunzburger - 12.10.04 |
THURSDAY OPEN THREAD. Hmmm: US Treasury Secretary John Snow is staying, but Veterans Affairs Secretary Tony Principi is resigning.
Posted by Ron Gunzburger - 12.09.04 |
WEDNESDAY OPEN THREAD. The Washington Governor race recount ... US Treasury Secretary John Snow: staying or going ... Congressman Dick Pombo apparently diverting a quarter of all his campaign money to his wife and brother ... anything at all.
Posted by Ron Gunzburger - 12.08.04 |
TUESDAY OPEN THREAD. That book burning story here on Monday got folks worked up. So, what's on your mind?
Posted by Ron Gunzburger - 12.07.04 |
BUSH CABINET RESHUFFLE HELPS DEM SENATOR. President Bush's selection of

Nebraska Governor Mike Johanns (R) to be the next US Agriculture Secretary will boost the 2006 re-election odds for conservative US Senator Ben Nelson (D-NE). Nelson and Johanns were expected to face-off for the seat in what was expected to be a very close race. Now, with the departure of Johanns, Republicans are scrambling to find a strong US Senate challenger. Congressman Tom Osborne (R) -- the legendary former University of Nebraska football coach -- is expected to run for Governor in 2006. Some would like him to look instead at the Senate seat. No matter which race Osborne enters, he will start as a frontrunner. If Osborne stays in the gubernatorial contest -- as is expected -- party leaders mentioned Congressman Lee Terry (R) as a fall-back option. In response, Terry quickly announced Friday that he would not challenge Nelson. Other speculative GOP names in play for the Senate race include Attorney General Jon Bruning, State Senator Kermit Brashear, State Republican Chair David Kramer and businessman Dave Nabity. Nabity is already an announced candidate for Governor, and Bruning was also leaning towards entering the gubernatorial contest. Lieutenant Governor Dave Heineman (R) will soon become Governor, and join Osborne in the top tier of gubernatorial hopefuls in that crowded race. Unless Osborne opts to run against Nelson, we can already upgrade Nelson from the "toss-up" category into the "Leans Dem" category.
Posted by Ron Gunzburger - 12.06.04 |
ELECTION 2004 FINALLY DRAWS TO A CLOSE. The last two Congressional races of the 2004 political cycle were decided on Saturday run-off elections in Louisiana. In an interesting twist, both open seats switched hands in terms of political partisanship. Former State Representative and sugar industry lobbyist

Charlie Melancon (D) narrowly defeated 31-year-old telecommunications industry lobbyist Billy Tauzin III (R) for the seat being vacated by Tauzin's father. Melancon frequently attacked "Little Billy" Tauzin as an immature fratboy with no real qualifications beyond his name. Tauzin returned the fire, frequently accusing Melancon of being "a tap dancing liberal." Both blanketed the CD-3 district with extensive negative TV spots. Retiring US Senator John Breaux (D) crossed party lines to endorse Tauzin -- his godson -- but it wasn't enough to change the outcome. Melancon countered with endorsements from US Senator Mary Landreau and Governor Kathleen Blanco. Tauzin also had to contend with last minute ads run by State Senator Craig Romero (R) -- who narrowly was edged out of the CD-3 run-off in the primary -- that attacked Tauzin for being inexperienced and for having run a dirty campaign. Romero never formally endorsed Melancon, but his message was clear. "It was an ugly campaign, and I wish it was more about the issues," said Tauzin, after the votes were counted. The final count: Melancon-50.2%, Tauzin-49.8% -- a difference of just over 500 votes. Tauzin said he would not request a recount. In CD-7, wealthy surgeon Charles Boustany Jr. (R) defeated State Senator Willie Mount (D) by a 55% to 45% vote for the Congressional seat vacated by unsuccessful US Senate candidate Chris John (D). Mount was not able to unify her party after the divisive primary contest. State Senator Don Cravins (D) -- the primary opponent who finished slightly behind Mount -- bad-mouthed her repeatedly over the past month. The Mount-Boustany contest, by contrast, was a very polite contest. After the votes were counted, Mount and Boustany said they planned to work together in their respective positions to help the district.
Posted by Ron Gunzburger - 12.06.04 |
KEEPING TRACK OF ALL THOSE TERM LIMITS PLEDGES. Congressman Jeff Flake (R-AZ) -- who promised when first elected in 2000 that he would voluntarily term-limit himself to three terms -- announced instead that he now intends to seek re-election to a fourth term in 2006. Former Congressman Matt Salmon (R), who vacated the seat in 2000 under his own voluntarily three-term pledge, planned to challenge Flake in the GOP primary. However, it now appears that Salmon will instead run for GOP State Chairman. Former State Senator Stan Barnes (R) gave Flake a competitive challenge in the 2004 primary -- arguing that Flake's uncompromising libertarian opposition to anything that he believed was "pork" was denying the district much of its "fair share" of needed federal tax dollars. Barnes will likely seek a rematch in 2006. In Pennsylvania, Congressman Phil English (R) made a 6-term voluntarily pledge in 1994 but -- and here's where you can see he's already looking to break the pledge -- he recently noted that the actual six-term pledge he signed ten years ago didn't exactly specify that his announced support for the cap would voluntarily apply to himself. US Senator Conrad Burns (R-MT) -- who broke his term limits pledge in 2000 -- appears likely to run yet again in 2006. Ditto for Congressman Marty Meehan (D-MA), who broke his pledge in 2002.
Posted by Ron Gunzburger - 12.06.04 |
"HEY, IT'S TIME FOR A GOOD OL' FASHIONED BOOK BURNING!" Alabama State Representative Gerald Allen (R) -- emboldened by the recent spate of ballot victories for state bans on gay marriage -- has a new idea.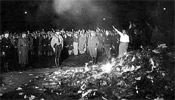 He announced last week he will introduce a bill in the next legislative session to ban novels with gay characters from all public libraries, schools and state universities. The proposed law would prohibit books and materials "that recognize or promote homosexuality as an acceptable lifestyle." Allen told the Birmingham News that -- as he envisions his own bill -- all novels with gay protagonists and college textbooks that suggest homosexuality is natural would have to be removed from library shelves and destroyed. "I guess we dig a big hole and dump them in and bury them," boasted Allen. When asked about works of fiction like Tennessee Williams' classic Cat On A Hot Tin Roof, Allen told the newspaper that universities would not be allowed to perform productions of the play, use the book in classrooms, or carry copies of the book in libraries under his law. Allen also agreed that the ban could extend to works of fiction like The Color Purple, Brideshead Revisted and The Portrait of Dorian Gray, as they all have gay characters. Wait, folks, 'cuz that's not all! According to the newspaper, the bill would also "ban materials that recognize or promote a lifestyle or actions prohibited by the sodomy and sexual misconduct laws of Alabama." Allen explained that books with heterosexual couples committing those acts -- things like adultery or engaging in oral sex -- also likely would be banned. "Our culture, how we know it today, is under attack from every angle," said Allen.
Posted by Ron Gunzburger - 12.06.04 |
REPORT FROM IRAQ: THE 1/23 RELOCATES TO A DAM ... AND THE BATTALION'S FIRST COMBAT DEATH. Our special correspondent Lt. James Crabtree of the 1/23 Marines lost email access for a week when they were moved from their former airfield location to a dam on the Euphrates River. James is now back online, so here is his latest report.
Dear Politics1.com Friends,

Hello once again from 1/23 in Iraq. It has been a long time since I was able to write an update. Over the Thanksgiving weekend a large part of the battalion relocated to the Haditha Dam. The dam is the largest hydroelectric dam in Iraq and spans the Euphrates River. Everyone is settled in now and things are up and running well. It was a difficult move not only because of the distance and new surroundings, but also because we had to continue our regular operations while making the many convoys involved with the move. The Marines did great as always. It was a classic case of "Semper Gumby" ... Always Flexible.


A view of the dam from James' room.

We now literally live inside the dam, but our battalion still carries out its same missions as before. In many ways I personally prefer the dam to Al-Asad. While the Al-Asad base had better communications and the mail was quicker, the dam is in a much prettier location. The dam itself has a great many levels with some above ground and many below. A good form of exercise here is to run the stairs or to run along the roads on top of the dam. The dam is also very wide -- perhaps several miles long -- and it provides electricity to roughly a third of Iraq. Needless to say, none of us ever thought we'd be living in a dam on the Euphrates!


Cpl. Zak Kolda

Well, in much more somber and important news, our battalion lost a true hero on December 1st. Corporal Zak Kolda was a 23-year-old student at the University of Texas and was also recently married. He is the first member our battalion has lost over here. Just typing these words are very difficult for me. I have no way of expressing what a good man he was and how much he meant to his fellow Marines. We all feel a tremendous amount of grief over the pain his family is going through and we pray that they may one day find peace. Zak was actually one of my Marines in the Heavy Guns Platoon in Austin before I was made the battalion adjutant. I remember talking with him that first weekend that I was with the unit and he struck me as a man with a lot going for him. He was smart, squared away, and cared about the Marines under his charge. I want everyone to know that Zak was a hero and that this battalion will always honor his memory. The other night several of his closest friends were able to speak with a reporter from the Austin American-Statesman via satellite phone. They spoke deeply and movingly about who Zak was and what he meant to them. I wish all of you could have heard what they said. It was dark, cold, and windy on the top of the dam as the Marines had just returned from one of their many patrols, and yet they thought nothing of standing outside for over an hour so that the phone could get a signal and they could tell the reporter about their brother Marine. The reporter, Laura Heinauer, did a fine job capturing many of their comments and putting them into her article. I encourage you to read it at www.statesman.com. It first ran on December 3rd, so you may have to look in the archives. Below is the picture that newspaper originally ran with the article.


Cpl. Kolda's Memorial Service at the Haditha Dam.

Our battalion held a memorial service for Cpl Kolda on Friday morning just as the sun was rising over the river. Everyone that was not on duty or on a patrol was there. His best friends spoke about their feelings for him and the Chaplain led the battalion in a very emotional service.


I really like this photo (above). It was taken from the top deck (level 10) of the dam and is looking down on the memorial service on Level 7 as the Marines are bowing their heads in prayer. The sun rise was beautiful and the Euphrates flowed in the background.

Finally, I want to close with an email that Zak's mom, Paula Kolda, sent to me today. It moved me very deeply. It says far more than I or anyone else could ever say about her son. She wanted me to share this email with his fellow Marines and all the other the friends of 1/23:

On Thanksgiving Day, your Cpl. Kolda, my Zak, told his family that he was thankful to, among other things, serve with the finest Marines ever. I just want you all to know that Zak saw you as brothers and as such, we will continue to pray for your safety and your success. We thank each of you for the personal sacrifice that you are making for your country.

If anyone who knew Zak would care to contact us, please give them my address.

Sadly but sincerely,
Zak's mom
Paula Kolda

If anyone wishes to write to the Kolda family to express their condolences they may do so by contacting our rear party at Camp Mabry in Austin. The address is:

The Kolda Family
c/o Capt Schumacher
Weapons Company 1/23
4601 Fairview Drive
Austin, TX 78731

Thank you as always for reading this update and for all of your support -- not just for the members of this battalion, but more importantly, for their families and loved ones back home.

Semper Fi,
James
If you'd like to send the 1/23d any care packages, please address the packages to Lt Crabtree, 1/23 H&S Co, Unit 41900, FPO, AP 96426-1900 ... and James will ensure that whatever you ship gets distributed to the Marines in the 1/23. The 1/23 Marines are scheduled to remain in Iraq until March 2005. If you'd like to read more about our adopted 1/23 Marine battalion in Iraq, please click here.
Posted by Ron Gunzburger - 12.06.04 |
MONDAY OPEN THREAD. FYI: One of our blog regulars, Sean Wisnieski -- a conservative who posts under the name "Sean W" -- will be appearing live on Fox News' Hannity & Colmes show on Tuesday, December 7, at 9:00 PM. Sean will be discussing his new GOP effort to Draft South Carolina Governor Mark Sanford for President in 2008.
Posted by Ron Gunzburger - 12.06.04 |
A HOLIDAY SEASON GIFT. We've slashed our BlogAd prices for this post-election holiday season. Advertise in our BlogAd column at left: $75 for one week, $120 for two weeks ... or $200 for a whole month. What a bargain! Click here to get your ad online now.