12.11.03
A SHORT VACATION. We're taking our holiday vacation a little early this year -- in fact, just in time to get in a little early skiing out West. We'll be back with new page updates and news starting again on December 18th. Until then, enjoy some laughs by reading our very amusing account of this month's "news-free" Florida Democratic Convention: Storming La Fiesta. It's a bit long ... but it's also pretty funny!
B.O.L.O. Here are three things to

look out for while we're away these next few days. On December 13, Kentucky Republicans will meet to select a nominee for the special election to fill the CD-6 congressional seat recently vacated by Governor Ernie Fletcher (R). State Senator Alice Forgy Kerr is heavily favored to win the GOP nod over her four main rivals. District Dems will meet on December 15 to pick their candidate, who is almost certain to be former Attorney General and '03 Governor nominee Ben Chandler. The district is a swing seat and the race is expected to be very competitive. The special election is set for February 17. Also, US Senator John Breaux (D-LA) has promised to announce by December 15 whether or not he will seek re-election next year. If Breaux runs, he's a safe bet to win. If he retires, expect a highly competitive race between Congressmen David Vitter (R) and Chris John (D).
MORE THAN JUST GORE. While Al Gore's endorsement of Howard Dean is getting much press this week -- and deservedly so -- there weree also other endorsements of note this week. Dean also picked up the support of Congresswoman Loretta Sanchez (D-CA), a member of the centrist Blue Dog Caucus. In South Carolina, influential Congressman Jim Clyburn endorsed Dick Gephardt. Clyburn also serves as the #4 Dem in the Congressional leadership as Vice Chair of the House Democratic Caucus. Former United Nations Ambassador Andrew Young (D-GA) -- also a former Congressman -- endorsed Wesley Clark. Clark, meanwhile, is reportedly on track for a huge fundraising quarter -- and may possibly even outraise frontrunner Dean during this reporting period.
DEAN LEADS IN PA; SPECTER LOOKS STRONG FOR SEN PRIMARY. An independent poll of Pennsylvania primary voters released Wednesday shows Dean leading there with 19%, followed by Joe Lieberman second with 12%, and John Kerry and Wes Clark tied for third with 10%. The state's April 27 primary, however, is so late in the process that the race is likely to be decided at least a month in advance of that vote. A related poll of state GOP voters showed moderate US Senator Arlen Specter holds a comfortable lead over his conservative primary opponent. The numbers: Specter-52%, Congressman Pat Toomey-25%. On the Democratic side, Congressman Joe Hoeffel now has clear sailing for the Senate nomination, as wealthy businessman Charlie Crystle withdrew from the primary contest this week.
12.10.03
STORMING THE CONVENTION. Just because this weekend's Florida Democratic Convention was largely a "news-free" event didn't mean we couldn't come up with LOTS of stuff to write about. We've got Dean, Gephardt, Lieberman, Clark, Kucinich, Kerry, one of guys from *NSYNC, Ralph Reed, lots of alcohol, lousy food, aging hippies, joyous liberals, dismayed centrists, a skater named Storm, Kucinich zombies, drunken college girls, a bunch of photos, and much more. Be sure to check out Storming La Fiesta, our very amusing account of the convo. It's long ... 6,700 words ... but it's pretty funny!
DEM WINS SAN FRAN MAYOR RACE.

Supervisor Gavin Newsom (D) -- the candidate favored by the term-limited Mayor Willie Brown and the city's business community -- was elected San Francisco Mayor on Tuesday. Board of Supervisors President Matt Gonzalez (Green) ran an incredibly strong race for a third party candidate, but lost by a 53% to 47% vote. Democrats -- worried that the centrist Newsom could possibly have lost to the liberal Green Party candidate -- pulled out all the stops. In the final days, even former President Bill Clinton stumped for Newsom. In related news, long-time SF District Attorney Terence "Kayo" Hallinan (D) was ousted by Deputy City Attorney Kamala Harris (D) by a 14-point margin.
12.9.03
GORE ENDORSES DEAN. Former Vice President Al Gore endorsed
Howard Dean for President on Tuesday morning in New York City. Later in the day, Gore will accompany Dean on a campaign swing through Iowa. Gore's move is certainly a blow to the campaign of his former runningmate -- Joe Lieberman -- who speaks of the 2000 election and recount at nearly every opportunity. The move is also a blow to Wes Clark, as Clark's staff is filled with former Gore staffers. Finally, the endorsement further weakens Dick Gephardt and John Kerry, as it is a big sign that veteran Democratic insiders are finally starting to embrace Dean. Sources close to Gore say that he likes what Dean is saying but -- more importantly -- believes Dean is the Democrat with the best chance of winning in November. In related news, Dean plans to rev up his efforts in the Southern primary states with a media spending boost. Dean wants to end the nomination process early, with a quick knockout of all his opponents. "Howard's strategy is to knock me out in Iowa and knock Kerry out in New Hampshire. If that happens, it's over," said Gephardt, in a new Time magazine story this week.
12.8.03
CONGRESSMAN

JANKLOW CONVICTED; RESIGNS. A jury in South Dakota on Monday convicted Congressman Bill Janklow (R-SD) of felony manslaughter in relation to a traffic accident that left a motocyclist dead. In addition to the manslaughter charge, he was also convicted of reckless driving, speeding, and other charges. Two hours later, Janklow resigned his House seat effective January 20 -- the day of his scheduled sentencing. Janklow -- a one-term Congressman and former four-term Governor -- faces up to ten years in prison. With his lengthy history of speeding violations, Janklow is likely to be sentenced to at least some period of imprisonment. The resignation will necessitate a special election sometime early in the year. Attorney and 2002 nominee Stephanie Herseth (D) -- who lost a close race to Janklow -- is certain to run. Former Congressman John Thune and others are being floated as possible names for the GOP nomination.
PLEDGE MONTH UPDATE. Politics1 is largely reader supported by generous contributions. Thank you to today's donor: Fletcher & Rowley, Abraham O, Sweet November Inc., Anonymous, and Brian M. Pledge Drive Total: 140 donors.
12.7.03
US HOUSING
SECRETARY TO ENTER US SENATE RACE. A second member of the Bush Cabinet is leaving to run for office in 2004. H.U.D. Secretary Mel Martinez (R-FL) will resign his post this upcoming week and formally enter the race for the open US Senate seat in Florida. Some Republican strategists are hopeful that Martinez' entry will block Congresswoman Katherine Harris (R) from jumping into the contest. They fear that Harris -- if she would win the GOP nomination -- would become a constant reminder to Florida voters about the 2000 Presidential recount, and also energize the Democratic base. Before serving in the Cabinet, Martinez served as the elected Orange County Commission Chair. Martinez is viewed as "more centrist" than the other GOP candidates already in the race.

WHITE WINS HOUSTON MAYOR RACE. Wealthy businessman and former Texas Democratic Party Chair Bill White cruised to a landslide victory Saturday in the open runoff race for Houston Mayor. White defeated former City Councilman Orlando Sanchez (R) by a vote of 63% to 37%.
WE'RE WORKING ON IT. It's Sunday night and we just got back this evening from the Florida Democratic Convention ... so give us a day to finish writing our amusing report from this telegenic but kinda un-newsworthy event. Look for it here on Poltics1.
12.4.03
DEAN WIDENS N.H. LEAD TO LANDSLIDE AMOUNT. If the latest independent
tracking polls from New Hampshire are accurate, Howard Dean is poised to win one of the most lopsided victories ever recorded for a truly contested Presidential primary there. The latest numbers from the American Research Group poll: Dean-45%, John Kerry-13%, Wesley Clark-11%, Joe Lieberman and Dick Gephardt were tied with 5% apiece, John Edwards-3%, Dennis Kucinich-2%, Al Sharpton-1%, and Carol Braun-0%. Since the last ARG poll two weeks ago, Dean has widened his lead over Kerry by another 11 points. Here are the new numbers from the latest Zogby tracking poll: Dean-42%, Kerry-12%, Clark-9%, Lieberman-7%, Edwards-4%, Gephardt-3%, and Kucninch-2%. Now here is where it gets really interesting: a new University of Wisconsin study on advertising by the Presidential hopefuls shows that Kerry has spent more than twice as much as Dean on TV spots in NH. Even Edwards has spent more than Dean on TV in the Granite State.
MARK YOUR CALENDARS. Here's what's coming up on the political calendar over the next few days. On Friday, congressional candidate filing in California for 2004 closes. On Saturday, voters in Houston will decide the open run-off for Mayor between wealthy former State Democratic Chairman Bill White and GOP former City Councilman Orlando Sanchez. Also this weekend, the nine Democratic Presidential candidates will all be making appearances in Orlando at the Florida Democratic Convention. Politics1 even hits the road this weekend, as publisher Ron Gunzburger will be at Disney -- because that's where it really is being held -- to cover the event.
IS THE FIGHT SO BITTER BECAUSE THE STAKES ARE SO SMALL? The historic -- but politically insignificant --

Prohibition Party appears to be torn in a bitter power struggle. America's oldest third party -- which hit its peak nearly a century ago with its move to make alcohol illegal -- has been reduced to just a handful of aging morality activists. The two opposing leaders: five-time party Presidential nominee Earl Dodge and new National Chair Don Webb. Dodge spent 28 years as Prohibition National Chairman before being dumped in September. "[We] fired him as Chairman and repudiated his selection as [our 2004] Presidential candidate," explained Prohibition Party Executive Secretary James Hedges. Dodge only earned 208 votes in the 2000 race -- the worst ever in Prohibition history. Dodge was nominated for President at a July "convention" -- which consisted of eight people (mainly Dodge relatives) meeting in the living room of Dodge's home. The Webb "reform faction" have now demoted the Dodge-Lydick ticket to that status of being the party's "provisional" nominees. Dodge doesn't recognize the change and maintains he is the 2004 nominee. All of these amusing fights are largely a matter of semantics, as Dodge will continue to run as the party's nominee and the party will back him if he secures ballot status in some states. If Dodge doesn't gain ballot status, the party vows to hold a new nominating convention in Spring 2004 to possibly pick a new nominee. However, all of this in-fighting could result in the party being without a Presidential nominee on the ballot for the first time since 1872.
SHE'S NEVER HEARD OF YOU, EITHER. Today we continue our series on the more obscure Presidential candidates with our profile of Christina Rosetti, one of several candidates seeking the Green Party's nomination. An educator and New Age author, Rosetti is

waging a campaign with strong New Age spiritual overtones. As President, she promises to "promote the Spirituality of the individual and their place in society." Openly lesbian, Rosetti describes herself as "a survivor of a hate-crime perpetrated by campus police at one school where she taught" -- and is now active in rape prevention programs and supports tough hate crimes legislation. As for other issues, she is pro-gun control, anti-smoking and pro-campaign finance reform. Rosetti was a candidate for the Reform Party's Presidential nomination in 2000 and a Green Party candidate for State Assembly in New York in 2002. "Since the likelihood of my being elected is not high, my primary goals are more in line with affecting certain issues in the presidential contest," explained Rosetti. In an email to Politics1, Rosetti wrote: "What separates my candidacy from others seeking the Green Party nomination is this: I intend to reform the Green Party if nominated. The Green Party has been headed in the wrong direction for some time now. Too many of its leaders or icons are either espousing what sounds to some like anti-Semitic and anti-American propaganda or they are complacent about others who exhibit anti-Semitism. A number of these Green Party leaders or icons also hypocritically exhibit the very same avarice they say that they detest in our present government. Moreover, while some of these Green Party leaders or icons say that they are for equality and peace -- they will act as propagandists for people who would take away peoples' freedom and practice war and inequality. The Green Party, in my opinion, is starting to look more and more to some people as the party of bigotry, hypocrisy and hatred and not the party of progressive reform." Not exactly words to endear herself to Green Party activists.
12.3.03
NEBRASKA TREASURER QUITS IN SCANDAL. State Treasurer Lorelee

Byrd (R-NE) resigned from office Tuesday after a four-month investigation into financial irregularities. Last week, Byrd pled guilty to a misdemeanor charge of official misconduct. According to the charges, Byrd allegedly wrote $300,000 in department checks in February 2003 and kept them locked in her safe before voiding them in June 2003, immediately after the State Legislature ended its budget-cutting work. The move was seemingly done to make it appear is if the money had already been spent, and thus shelter the money from any budget cuts. It is against the law for a state agency to knowingly write a check without a valid bill, purchase order or contract. Byrd then tried to withdraw her plea this week in a deal that would have brokered her resignation -- but Attorney General Jon Bruning (R) refused the offer. "The law was broken. The record needs to reflect that," said Bruning. With hopes for a deal dead -- and legislators talking impeachment -- Byrd went ahead and quit from the job she was initially appointed to in 2001. She was elected to a full term in 2002. Governor Mike Johanns (R) will now appoint a replacement ... for his previous replacement.
NEW IOWA NUMBERS. According to a new independent tracking poll released Tuesday, Howard Dean is still retaining his narrow lead over Dick Gephardt in Iowa. The numbers from the Zogby Poll: Dean-26%, Gephardt-22%, John Kerry-9%, John Edwards-5%, and all others trailing behind.
HE'S NEVER HEARD OF YOU, EITHER. Today we continue our series on the more obscure Presidential candidates with our profile of aging movie actor Tom Laughlin. Who? He's the actor best known

for playing the justice-seeking grassroots fighting star of the Billy Jack series of B-movies for the past 30 years. Like something sprung from a 1970s time capsule, Laughlin is making a second run for President. He previously ran in 1992 NH Democratic Primary (2% - 3,251 votes). Well, bad guys of politics, take heed because Billy Jack is back ... he's ready to go beserk ... and he's running as a Republican in the 2004 NH GOP Primary. Note: Laughlin uses the Billy Jackcharacter's trademark line of "I just go beserk" as the homepage title and footer for his campaign site. He says his campaign is seeking to "create an immediate and fundamental change in the 2004 primaries and general election." He equates his 2004 campaign to Gene McCarthy's peace campaign against LBJ in the 1968 NH primary. "A primary reason I run is to make the American people aware there is a window of opportunity to stop the war in Iraq immediately," explains Laughlin. He says he has "an 'Exit Plan' that strengthens our military and achieves every single goal those who argue to stay and escalate want achieved." He also vows to "stop the Totalitarian Takeover of America ... make Americans aware of the frightening anti-American Bush Doctrine of world domination & pre-emptive strikes ... stop the exporting of American jobs ... [and] restore America to her moral purpose as our most powerful weapon in the war against terror." He doesn't think much of the Congressional Democrats, either -- whom he calls "Demo-Cowards" -- for supporting Bush's Iraq War plans. He also supports universal health insurance. Oh yeah, his site also touts the great investment opportunities you could have in financing a future Billy Jack movie ... and don't forget to visit the Billy Jack store where you can buy Billy Jack t-shirts and The Music of Billy Jack CD.
PAGES UPDATED TODAY: California, Florida, Indiana, Kentucky, Louisiana, Maryland, Minnesota, Missouri, Nevada, New Jersey, North Carolina, Texas, Washington, West Virginia, P2004: Bush, P2004: Kerry, P2004: Gephardt, P2004: Clark, and Jobs.
12.2.03
HE'S BAAAACK! - A POLITICS1 EXCLUSIVE - If anyone has doubts about Ralph Nader's plans for 2004, his new website should erase those doubts.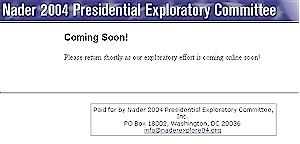 Yup, it appears Nader will make a fourth run for President in 2004. The site -- which was registered October 24 by the folks at VoteNader.org (his official 2000 campaign site) -- went online this week in a very nascent form. The site also carries a disclaimer stating it was paid for by the "Nader 2004 Presidential Exploratory Committee, Inc." of Washington, DC. The committee is so new that it is not yet registered with the FEC. However, the committee does not need to register until it raises or spends at least $5,000. One Naderite reader -- who received a mailed notice from the committee last week -- said the note implied Nader planned to run again. Interestingly, the note gave the impression Nader was possibly looking to run this time as an Independent instead of a Green. Nader -- the former two-time Green Party nominee -- as a registered Independent. If he wants it, Nader remains the perceived frontrunner for the Green nomination next year.
ANOTHER CONGRESSIONAL OPEN SEAT.

Congressman Cass Ballenger (R-NC) announced his retirement Tuesday. The 76-year-old legislator -- who was first elected to Congress in 1986 -- has spent more than three decades in elective office at local, state and federal levels. While he has never lost an election, Ballenger was expected to face stiff opposition in the GOP primary next year from wealthy textile executive George Moretz and others. Moretz -- a former Ballenger supporter and contributor -- split with Ballenger because of the incumbent's support for President Bush's free trade policies. Ballenger's district has lost nearly 40,000 manufacturing jobs in the past few years, which Moretz attributed to US jobs being relocated to other nations with cheaper labor costs because of free trade treaties. Ballenger insisted that the jobs situation in his state was finally improving and that free trade policies will lead to a stronger US economy in the long run. Ballenger's district is heavily Republican, so the only real fight for this seat will take place in the GOP primary.
PAGES UPDATED TODAY: California, Colorado, Georgia, Kentucky, Maryland, Michigan, Minnesota, Nebraska, New Jersey, North Carolina, North Dakota, Ohio, South Dakota, Texas, Washington, P2004: Greens, P2004: Independents and Jobs.
PLEDGE MONTH UPDATE. Politics1 is largely reader supported by generous contributions. Thank you to today's donor: John P. Pledge Drive Total: 135 donors.
12.1.03
JANKLOW TRIALS BEGINS IN S.D. Jury selection began Monday in the felony manslaughter and reckless driving trial of freshman Congressman Bill Janklow (R-SD). According to the criminal charges and police reports, Janklow was speeding and ran a stop sign immediately before he struck and killed a motorcyclist at a rural intersection in South Dakota on August 16. Janklow has a long history of speeding tickets, including a bunch that were issued to him while he was Governor. It is not yet known what defense Janklow intends to offer, but some court documents from his attorney appear to indicate he may argue that the effects of low blood sugar and a heart medication possibly contributed to his actions. If convicted, Janklow could be sentenced to up to ten years in prison. Elected in a highly competitive race last year, Janklow has yet to announce whether or not he will seek re-election next year. Attorney Stephanie Herseth (D) -- who was Janklow's opponent in 2002 -- has already announced she will seek a rematch next year. Some GOP leaders are reportedly urging Janklow to retire and allow them to field a stronger candidate against Herseth. Opening arguments in the trial are expected late Monday or early Tuesday.
COURT STRIKES DOWN COLORADO REMAP. The 2004 congressional races in Colorado were thrown somewhat into disarray on Monday when the state Supreme Court there rejected the congressional remap approved earlier this year by the GOP-led legislature. The justices ruled by a 5-2 majority that the redistricting plan was unconstitutional because Colorado's congressional districts had already been redrawn in 2002 by a judge after lawmakers could not agree and that the state constitution only permits redistricting to take place once a decade. Unless overturned by a higher federal court -- and the GOP is vowing to continue the legal fight -- this will return to the state to the much more competitive districts used in the 2002 elections.
PAGES UPDATED TODAY: California, Illinois, Kentucky, New Jersey, New York, P2004: Dean, P2004: Lieberman and P2004: Edwards.
PLEDGE MONTH UPDATE. Politics1 is largely reader supported by generous contributions. Thank you to today's donors: Bill B, Deran L, Alex B, Peter F, Bart S, and Tim O. Pledge Month Total: 134 donors.