BLOG ARCHIVE: NOVEMBER 16-30, 2008.
Vin's First Posting ... Franken Gets Major Setback in Recount; New Obama Transition Announcements; House Freshman GOP and DSCC Select Chairs; McCain to Seek Re-Election; Lonegan Enters NJ Guv Race.
VIN'S FIRST
POST: Greetings Politics1.com readers! Happy Thanksgiving and hope your holiday is going great. I look forward to the posts ahead in convering the political happenings of our time. I plan to keep the posts similar to Ron's style and to basically report the news and let you discuss. Shoot me an email or Facebook Me to let me know your ideas and thoughts. I look forward to our discussions.
PARDONS: One of President Bush's strongest allies has some harsh words for his Commander-in-Chief. Congressman Dana Rohrabacher (R-CA) criticized President George W. Bush Monday for not including ex-US Border Patrol agents Jose Compean and Ignacio Ramos in last week's round of pardons and commutations. "President Bush still has time to do the right thing and commute wrongly imprisoned Border Agents Ramos and Compean," Rohrabacher said in a statement. "If he doesn't, while at the same time pardoning blatant criminals, then he will be remembered for the personal persecution and values that decision reflects."
MINNESOTA: CNN reported that Minnesota's Canvassing Board voted unanimously to reject U.S. Senate Candidate Al Franken's (D) request to include thousands of absentee ballots that are not included in the recount in the Ssenate race between the Democratic challenger and Republican incumbent Norm Coleman. The ballots were previously rejected due to technical defects. Vin's Note: This is a huge setback for Franken, which all but assures that Coleman will be re-elected to a second term and eliminates the Democrats' shot at 60 seats. Franken's only remaining option is to seek court review of the rejected absentee ballots.
TRANSITION: President-elect Barack Obama has named former Federal Reserve chairman Paul Volcker to lead a new economic recovery board. Austan Goolsbee, a University of Chicago economist who has been one of Obama's top economic advisors, will serve as Staff Director and Chief Economist of the board. Politicker and Politico are both reporting that Melody Barnes, a former top aide to U.S. Senator Ted Kennedy, will serve as the next Director of the White House Domestic Policy Council. Barnes served as Kennedy's Chief Counsel for several years. Also, Maryland Lieutenant Governor, Anthony Brown (D), a very fierce Hillary Clinton ally, is the reported frontrunner to be the next Secretary of Veterans Affairs for the Obama Administration. Brown was a surrogate and major supporter of Clinton during the primary season. Secretary of Defense Robert Gates is expected to stay on as Defense Secretary for at least the first six months of the new Administration.

ARIZONA: U.S. Senator John McCain (R) is informing party leaders that he will seek re-election to a fifth term in 2010. McCain only won Arizona with 54% in the 2008 Presidential election -- compared to Barack Obama, who won his homestate of Illinois with 62%. McCain could face a very competitive challenge from popular Arizona Governor Janet Naploitano, if she does not wind up in the Obama Administration. Vin's History: The last major party nominee to lose their seat in the U.S. Senate after losing a general election for President was South Dakota's George McGovern. The 1972 Democratic Nominee for President was defeated for re-election to the U.S. Senate in 1980 admist the Regan Revolution. Another tidbit: Although not an incumbent at the time ... 1984 Democratic Nominee Walter Mondale lost a bid for U.S. Senate in Minnesota, losing to Norm Coleman in 2002.
HOUSE GOP: Congressman-elect Steve Austria of Ohio has been chosen to serve as the Freshman Class President for the House Republican Caucus. Republicans will have at least 19 fresh faces in the next Congress, compared to 32 for Democrats.
SENATE DEMS: Senate Majority Leader Harry Reid has announced that U.S. Senator Bob Menendez of New Jersey will be the next Chairman of the Democratic Senate Campaign Committee. Menendez will succeed U.S. Senator Chuck Schumer of New York. The 2010 U.S. Senate races currently look favorable for Democrats. One of Menendez's biggest challenges will be to defend Reid's seat in Nevada.

NEW JERSEY: Conservative activist Steve Lonegan is informing party leaders that he will seek the Republican Nomination for Governor in 2009. Lonegan is the former Mayor of Bogota and a hero of the right-wing base of the party. He was an unsuccessful candidate for the nomination in 2005, losing to businessman Doug Forrester, who eventually lost to then-U.S. Senator Jon Corzine (D). The race for Governor in 2009 is expected to be very competitive, with Gov. Jon Corzine at low approval ratings. Popular U.S. Attorney Chris Christie is also expected to enter the race for the GOP nomination. The primaries will be held in June of 2009.
Daily Report by Vin Gopal - Email Vin - Facebook Vin - 11.27.08 | Permalink |
FREE SPEECH ZONE. I'm taking a night off, so just an open thread. Enjoy.
Posted by Ron Gunzburger - 11.26.08 | Permalink |
VILSACK OUT AS AG SECY; BIDEN ALLY NAMED AS DELAWARE INTERIM US SEN; LATEST CHAMBLISS-MARTIN POLL.
OBAMA CABINET. Former Iowa Governor Tom Vilsack (D) told Congressional Quarterly that he is not in running for Agriculture Secretary -- despite buzz to the contrary -- and says he was never interviewed for any position by the Obama transition team. ABC News reports that Susan Rice, who served on the NSC during the Clinton Administration, is the purported frontrunner for UN Ambassador.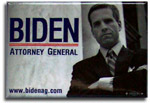 DELAWARE. Retiring Governor Ruth Ann Minner (D) announced on Monday that she will appoint Ted Kaufman (D) to US Senator Joe Biden's soon to be vacant seat. Kaufman is Biden's former chief of staff and one of his most trusted friends. Kaufman, 69, would only serve as a placeholder until the 2010 special election. The appointment was clearly coordinated with Biden, who has made it clear he would like to ensure his son -- Attorney General Beau Biden (D) -- wins the open seat in two years. Beau Biden is currently serving in the Army in Iraq for the next year, so he withdrew his name from consideration for the interim appointment. Outgoing Lieutenant Governor John Carney (D) -- who lost the gubernatorial primary this year -- openly expressed an interest in the appointment, but was passed over. Senator Biden plans to resign his seat sometime after being sworn-in for a seventh Senate term on January 5 and before taking office as Vice President on January 20.
GEORGIA. The latest PPP-D poll on the US Senate run-off shows incumbent Saxby Chambliss (R) leading former State Representative Jim Martin (D) by a vote of 52% to 46%. The run-off is December 2.
Posted by Ron Gunzburger - 11.25.08 | Permalink |
OBAMA TO ANNOUNCE FIRST CABINET PICKS; MN SENATE RACE IN HANDS OF STATE CANVAS BOARD; GOP APPEALS OHIO CD-14 FED CT RULING; McCLINTOCK APPEARS TO BE WINNER IN CA-4.
OBAMA CABINET. President-elect Barack Obama will officially announce his Administration's new economic team on Monday. It is anticipated the Monday announcements will include Tim Geithner for Treasury Secretary and Larry Summers for National Economic Council Director, and possibly Bill Richardson for Commerce Secretary and a few others. Hillary Clinton for Secretary of State is also apparently a done deal, although it isn't expected to be be announced on Monday. The New York Times reports the two came to an agreement when Obama promised Clinton that she would have direct access to him in the Oval Office and be able to select her own staff.
MINNESOTA. With most of the statewide recount completed, the Minneapolis Star-Tribune reports that US Senator Norm Coleman's (R) leads humorist Al Franken (D) by 180 votes. The two campaigns have challenged roughly 1,900 votes -- with almost equal numbers challenged by each of the two campaigns. The State Canvassing Board will meet on Wednesday to decide these disputed ballots. According to the newspaper, the board rulings on those 1,900 votes are not likely to result in anything more than a "modest" shift in the totals. More significantly, the panel will also hear arguments on whether to count thousands of absentee ballots that were originally invalidated due to clerical errors and other problems. The ruling as to whether or not to examine these absentee ballots will likely decide the outcome of the race.

OHIO CD-15: Democrats scored a victory in court last week, as a federal judge ruled that provisional ballots must be counted in the extremely close House race between Frankling County Commissioner Mary Jo Kilroy (D) and State Senator Steve Stivers (R). Here is what the AP reported: "The decision by US District Judge Algenon Marbley could affect the outcome of the race … Stivers leads Kilroy by 149 votes in the race to succeed retiring Republican Deborah Pryce. An estimated 1,000 ballots are in dispute in that race because of defects such as voters failing to both print and sign their names. Marbley's ruling applies to a total of about 27,000 provisional ballots in Franklin County, which also are holding up the results of two state House races." The ruling is expected to greatly favor Kilroy, as nearly all of the contested ballots come from her political base. Stivers, as expected, has already filed an appeal.
CALIFORNIA - CD-4. State Senator Tom McClintock (R) declared victory on Friday, when his lead grew to 1,793 votes -- and there are only 4,600 provisional and absentee ballots remaining to be counted. Retired USAF veteran Charlie Brown (D) said he's not yet ready to concede, as the 4,600 votes could still change the outcome of the race.
Posted by Ron Gunzburger - 11.24.08 | Permalink |
COLEMAN LEADS BY 115; MORE CABINET NAMES; RNC EARMARKS $2 MILLION FOR CHAMBLISS RUN-OFF.
SHORT TAKES. The gap narrowed further In Minnesota. With 61% of the statewide recount completed, US Senator Norm Coleman (R) now leads humorist Al Franken (D) by just 115 votes ... New York Federal Reserve Board President Timothy Geithner is to be named the new Treasury Secretary. Media reports also say New Mexico Governor Bill Richardson, who served as Energy Secretary and UN Ambassador during the Clinton Administation, appears likely to be the next Commerce Secretary. The Washington Post reports Congressman Raul Grijalva (D-AZ) is a frontrunner for Interior Secretary ... The RNC transferred $2 million to the NRSC, earmarked for use in support of Senator Saxby Chambliss (R-GA) in next month's run-off. The NRSC is $4 million in debt from the recent election cycle. NRSC Chair John Ensign (R-NV) told Politico that Chambliss "should win" but he expects the race "to be close" because the Dems currently have superior financial resources.
Posted by Ron Gunzburger - 11.22.08 | Permalink |
DEMS DUMP DINGELL; COLEMAN LEAD DROPS TO 136; TWO SAY "NO THANKS" TO CABINET POSTS.
SHORT TAKES. Congressman
John Dingell (D-MI) -- the Democratic dean of the House -- lost his battle to retain his House Energy & Commerce Committee Chairmanship on Thursday. Congressman Henry Waxman (D-CA) defeated Dingell by a 137-122 vote in a vote of the House Democratic Caucus. This was the first significant defeat in decades for the seniority system for the House Democrats. Dingell's defeat is also a setback for the beleaguered auto industry and the UAW, as he was their powerful key point man in the House ... In Minnesota, US Senator Norm Coleman (R) saw his lead over humorist Al Franken (D) shrink further during the statewide recount on Thursday. With 42% of the statewide ballots recounted, Coleman now leads by just 136 votes. Click here to view actual contested ballots involved in the recount ... Citing personal business obligations, billionaire hotel heiress Penny Pritzker declined the offer to become Commerce Secretary in the Obama Administration. Likewise, despite inquiries by the Obama transition team, House Majority Whip Jim Clyburn (D-SC) sent back a message that he was not interested in leaving Congress to become Housing Secretary.
Posted by Ron Gunzburger - 11.21.08 | Permalink |
OBAMA CABINET TAKES SHAPE WITH CLINTON, HOLDER, DASCHLE, NAPOLITANO, GATES; BOEHNER, CANTOR, PENCE ELECTED; SENIOR DEM MAY LOSE HOUSE CHAIRMANSHIP; FRANKEN GAINS IN RECOUNT.
OBAMA CABINET.

According to various media sources, the Obama transition team has settled on several people for specific Cabinet posts and are now going through the final vetting steps. Former Clinton Administration Deputy Attorney General Eric Holder is to be named the new Attorney General. Former US Senate Majority Leader Tom Daschle (D-SD) is to be the Secretary of Health & Human Services. The Daschle selection signals that Obama intends to make a major push to overhaul health care -- possibly with some universal health care proposal -- as the former Senate leader is respected on Capitol Hill and has friends he can call on for help in managing legislation to passage. Senator Hillary Clinton (D-NY) has also apparently decided to accept the Secretary of State position, as CNN reports that former President Bill Clinton has agreed to have his financial dealings fully vetted. President Clinton has also reportedly agreed to abide by restrictions that will limit his income from foreign sources which could cause potential conflicts for his wife' during her new diplomatic assignment. It is also believed that current Defense Secretary Robert Gates will be retained. Gates has served as Defense Secretary since December 2006, and would not require any reconfirmation hearings. Arizona Governor Janet Napolitano (D) will be named Homeland Security Secretary. The first official Cabinet announcements are expected to be made early next week in Chicago.
US HOUSE. House Minority Leader John Boehner (R-OH) easily won re-election on Wednesday, defeating Congressman Dan Lungren (R-CA). Congressman Eric Cantor (R-VA) was elected Minority Whip without opposition. Congressman Mike Pence (R-IN) -- who ran for House Republican Conference Chair at the urging of Boehner -- also won by acclamation. Congressman Pete Sessions (R-TX) -- another Boehner ally -- ousted Congressman Tom Cole (R-OK) as NRCC Chair. Cole withdrew from the contest shortly before the vote total was to be announced. In the House Democratic Caucus, an upset appears to be in the works. The House Democratic Steering Committee voted 25-22 to dump current House Energy & Commerce Committee Chair John Dingell (D-MI) and replace him with Congressman Henry Waxman (D-CA). The full House Democratic Caucus must ratify or reject the decision on Thursday. Dingell is closely aligned with the auto industry, while Waxman is a strong supporter of legislative action to force a reduction in greenhouse gas emissions. Dingell has the most seniority in the House Democratic Caucus, having first been elected to Congress in a 1955 special election.

NEW JERSEY. A new Quinnipiac University poll shows Governor Jon Corzine (D) will face a tough fight for re-election next year. Corzine leads US Attorney Christopher Christie (R) by a vote of 42% to 37%. However, 51% say Corzine should not be re-elected. While Republicans are trying to convince Christie to run -- and he clearly has future political ambitions -- he refuses to make any comment on the race until he steps down from his federal post in three weeks.
MINNESOTA. With 18% of the statewide recount completed, the Minneapolis Star-Tribune reports that US Senator Norm Coleman's (R) lead over humorist Al Franken (D) has dropped to just 174 votes. Franken also won a key court battle, giving his team access rights to view absentee ballots from heavily-Democratic Ramsey County which were originally rejected for defects during the initial count.
Posted by Ron Gunzburger - 11.20.08 | Permalink |
BEGICH DEFEATS STEVENS; LIEBERMAN GETS WRIST SLAP; McCAIN TO SEEK RE-ELECTION; AND A "VICTORY LAP" ROAD MAP FOR THE LEFT.

ALASKA. State officials finally completed the initial vote count on Tuesday in the hotly contested US Senate race. With nearly all votes tallied, Anchorage Mayor Mark Begich (D) has defeated US Senator Ted Stevens (R) by a margin of 3,724 votes. As less than 2,500 votes remain to be counted later this week, Stevens has no chance of catching his challenger. Stevens -- the longest serving Republican in US Senate history -- was convicted of seven felony political corruption charges in federal court just a week before the election. In related news, the Senate Republican Caucus postponed taking action on US Senator Jim DeMint's (R-SC) motion to expel Stevens from the caucus. DeMint said he was willing to delay any action until the final results were announced Tuesday evening. With Stevens now apparently going down to re-election defeat, his GOP colleagues have decided to allow him to finish out his current term on January 4 without being kicked-out of the caucus.
LIEBERMAN. All is forgiven -- more or less -- for US Senator Joe Lieberman (I-CT). The Senate Democratic Caucus voted for only the mildest punishment option for Lieberman for the active role he played in the McCain campaign and at this summer's Republican National Convention. Before the vote, Lieberman didn't apologize for supporting McCain but did offer an apology for the anti-Obama comments he made during the campaign. Senators Chris Dodd (D-CT), Tom Carper (D-DE) and Ken Salazar (D-CO) introduced the compromise resolution -- which passed 42-12 -- which allowed Lieberman to retain his prized Homeland Security Committee chairmanship but stripped him of his seat on the Environment & Public Works Committee. Lieberman was very appreciative, calling the compromise "a resolution of reconciliation and not retribution ... I appreciate it." Others who argued in favor of the compromise included Dick Durbin (D-IL), John Kerry (D-MA), Ben Cardin (D-MD), Jeff Merkley (D-OR) and Tom Udall (D-NM). Senate Majority Leader Harry Reid (D-NV) wanted tougher punishment, but reportedly was willing to go along with the compromise due to the behind-the-scenes intervention of Barack Obama. The most vocal opponents of the compromise were Vermonters Pat Leahy (D) and Bernie Sanders (I), who both said they will willing to strip Lieberman of his gavel even if it meant he would quit the Democratic Caucus.
ARIZONA. Senator John McCain (R-AZ) has decided to seek re-election in 2010, according to Roll Call. He is letting party leaders this week know of his plans.
NEW YORK. A new Siena Research poll shows Governor David Paterson (D) winning renomination in 2010 over Attorney General Andrew Cuomo by a vote of 53% to 25%. The poll also shows Paterson would defeat Rudy Giuliani (R) by a 49% to 43% in a general election match-up. By contrast, Cuomo would lose to Giuliani by a 2-point margin.

BOOK REVIEW. Okay, you're a progressive and are thrilled at the Democrats winning the White House, holding 58+ US Senate seats, and scoring a 20+ seat gain in the US House. So, what comes next? Our suggestion: a victory lap road trip of the US. That's why you need to check out Progressive Nation: A Travel Guide with 400+ Inspiring Landmarks and Left Turns. As you would expect, this new paperback is guide to progressive political landmarks and historic sites covering all 50 states. Written by radio journalist Jerome Pohlen -- an '08 Green Party congressional nominee in Illinois -- this book not only tells you where to look but also fills you in on what you're looking at. All aspects of the progressive movement are represented here from the black civil rights struggle, GLBT equality fights, women's suffrage, organized labor battles, the peace movement, and more. The Audubon Ballroom, Lorraine Motel, the Jeannette Rankin Peace Center, the orginal and defunct Ben & Jerry's store, the original National Women's Party HQ, Alice's Restaurant, Johnny Appleseed's first nursery, the Harvest of Shame, the Triangle Shirtwaist Factory fire, Juneteenth, Harvey Milk's defunct camera shop location, and more. All with great little explanations of the historical significance of the sites. An enjoyable read ... well, at least for those of us on the left.
Posted by Ron Gunzburger - 11.19.08 | Permalink |
VIRGINIA GOP ALREADY HAS '09 GOV NOMINEE; UPDATES ON CA-4 AND OH-15 RACES.
VIRGINIA. Attorney General Bob McDonnell became the 2009 GOP nominee for Governor on Friday. That was the state party's deadline to file paperwork to seek the nomination at next year's convention. Nobody filed to oppose McDonnell. Lieutenant Governor Bill Bolling (R) may be unopposed for renomination. One GOP candidate filed initial paperwork to run against Bolling, but must now submit the qualifying petitions by December 1. Three Republicans filed for McDonnell's open AG spot. The Dem deadline to run is not until next year. Incumbent Governor Tim Kaine (D) is term-limited. Former Democratic National Chairman Terry McAuliffe, State Senator Creigh Deeds and State House Democratic Caucus Chair Brian Moran are all actively seeking the Dem gubernatorial nomination.

CALIFORNIA - CD-4. State Senator Tom McClintock (R) saw his lead grow to 622 votes on Monday. With the race still undecided and thousands of ballots yet to be counted, both McClintock and retired USAF veteran Charlie Brown (D) are both attending the new member congressional orientation in DC this week.
OHIO - CD-15. The federal judge will rule by Thursday on whether to count over roughly 1,600 questionable absentee ballots. The judge said on Monday he needs more time to consider and research the issues before making a ruling.
Posted by Ron Gunzburger - 11.18.08 | Permalink |
LUNGREN CHALLENGES BOEHNER; SENATE DEMS TO CAST SECRET BALLOTS ON LIEBERMAN; SENATE GOP CAUCUS LIKELY TO DEFER ACTION ON STEVENS.
US HOUSE. In an

unexpected move, Congressman Dan Lungren (R-CA) announced Friday he will run against House Minority Leader John Boehner (R-OH) in this week's House Republican Caucus meeting. Some conservatives are upset that the party lost a significant number of House seats since Boehner assumed the leadership in 2006. Lungren said he is afraid the GOP will become a permanent minority party in the House under they can "rediscover conservative principles." He also explained that "we must not revert to business-as-usual in the selection of our House Republican leadership. The selection of our leadership will reflect the initial reaction of House Republicans to the recent verdict of the American people." Congressman Jeff Flake (R-AZ) said he supports ousting Boehner, but told the Los Angeles Times that Lungren's candidacy is "a longshot." Responded Boehner: "I'm equally committed to building a lasting majority on the reform principles that define us and inspire our citizens."
US SENATE: Senate

Democrats will decide the fate of US Senator Joe Lieberman (I-CT) on a secret ballot vote behind closed doors. The Dem Senators will be asked to vote on whether to strip Lieberman of his chairmanship of the Homeland Security and Government Affairs Committee. Party members want to punish Lieberman for his aggressive support on the Presidential campaign trail for GOP nominee John McCain. Lieberman has asked to speak to the Dem Caucus before the vote. Senators will write their verdicts on slips, and then Lieberman will be told the outcome of the vote. Another option may be to strip Lieberman of his two subcommittee chairmanships. However, US Senator Byron Dorgan (D-ND) made clear on Fox News Sunday that there will be no move to expel Lieberman from the Democratic Caucus. In the Senate Republican Caucus meeting --- also behind closed doors -- Senator Jim DeMint (R-SC) will press forward with his motion to expel Senator Ted Stevens (R-AK) from the caucus. The move appears likely to fail, as several GOP Senators said don't want to expel him until they know the outcome of his re-election race. Right now, it appears Stevens will lose his bid for another term. If that outcome holds, a majority of the GOP Caucus appears likely to simply let Stevens' term run out in January without taking action to expel him.
OHIO - CD-15. The federal judge on the case will hear additional arguments and issue a ruling on Monday as to whether he will keep the case or send it back to state court. See Saturday's update for more details.
Posted by Ron Gunzburger - 11.17.08 | Permalink |