BLOG ARCHIVE: NOVEMBER 1-15, 2007.
KLEEB PONDERS; SC SEN PRIMARY; CARSON'S REPLACEMENT; ... MSNBC TO DUMP TUCKER?
NEBRASKA - First it was

former US Senator Bob Kerrey (D) who bailed on the open US Senate race. On Tuesday, Omaha Mayor Mike Fahey (D) likewise announced he would not run for the seat being vacated by maverick Senator Chuck Hagel (R). Thus -- with both Kerrey and Fahey out of the picture -- Dems look likely to encourage rancher and college instructor Scott Kleeb to be their candidate. Kleeb was the Congressional nominee last year in CD-3 and ran a very competitive race in one of the most Republican districts in the nation. Kleeb won 45% of the vote in a district that gave President Bush 75% in 2004. However, Kleeb is also considering a rematch for the CD-3 seat. On the GOP side, former Governor Mike Johanns and Attorney General Jon Bruning are waging an expensive battle for the nomination. Overall, Johanns is viewed as the favorite for the seat.
SOUTH CAROLINA - Republican National Committeeman Buddy Witherspoon on Tuesday launched his primary challenge to US Senator Lindsey Graham (R). A longtime GOP activist and arch-conservative, Witherspoon said he will make fighting illegal immigration the central issue in his campaign. Graham was a supporter of the John McCain's failed immigration reform plan earlier this year. Fortunately for Graham, he's already raised over $4 million for next year's race.
INDIANA - Rumor has it that Indianapolis Mayor Bart Peterson (D) -- narrowly defeated for re-election last week in a major upset -- is being widely discussed as a possible candidate next year for Congresswoman Julia Carson's (D) CD-7 seat. Carson is expected to retire due to serious health problems.
TUCKER - Is MSNBC looking to cancel Tucker Carlson's show? Sources tell Politics1 that executives at MSNBC are considering whether to cancel conservative commentator

Tucker Carlson's daily political talk show as the cable channel ponders a move to the left to possibly reposition itself as a "FOX for the liberals." The move would be aimed at a younger and what they believe is a more liberal audience. While FOX's cantankerous Bill O'Reilly still holds a significant audience size advantage over MSNBC's Keith Olberman, it is among older viewers that O'Reilly swamps Olberman. [Editorial Comment: Count me among Olberman's audience, as I never watch O'Reilly.] Yet, among the younger 18-25 demographic, the two men are virtually tied. Carlson, by contrast with some conservative show hosts on FOX, is a more easy-going pundit well-liked for his civlity (and his previous penchant for jaunty bow-ties). "Tucker is a conservative with a sense of humor," said the Rev. Al Sharpton (D), a frequent guest on Carlson's show. Carlson has also given substantial exposure to the long-shot Presidential bid of Congressman Ron Paul (R). Like the Houston libertarian, Carlson opposes the Iraq War. Carlson is particularly popular with Paul's blogging army because he covered Paul when other major media outlets were ignoring him. Carlson also famously appeared on Dancing with the Stars to show a different side of the preppy pundit. Carlson is know for his quirky Libertarian streak. DC was shocked when Jon Stewart attacked Carlson's former show -- Crossfire -- which he hosted with liberal Paul Begala, as Carlson is among the least caustic of the rightwing talking heads. In related news, we also hear rumors from a reliable New York source that Carlson has sold a game show concept to a major network and inked a deal to host it. In response to the early buzz, Florida insurance salesman John Bertran is vowing to mount a grassroots effort to save Carlson's show. "Tucker is the only reason I tune in the MSNBC," Bertran told Politics1.
Posted by Ron Gunzburger - 11.14.07 | Permalink |
FREE SPEECH ZONE.
I'm flying to France on Wednesday so no updates for a few days. I'll arrive there just in time for the coordinated nationwide anti-Sarkozy strikes by the transit workers, gas and electric workers, civil service employees and college students. Click here to read the latest on the nationwide strikes (yes, it's in English).
Posted by Ron Gunzburger - 11.14.07 | Permalink |
RIGHT TO LIFE BACK THOMPSON; NH POLL; NM DOMINOES.
THOMPSON - Just a week

after saying he did not support a constitution amendment to ban abortion, former US Senator Fred Thompson (R) scored the endorsement of the National Right to Life organization. Thompson supports overturning the Roe v. Wade decision which declared access to safe and legal abortions a constitutionally protected right. However, he believes the question of allowing legal abortions should be decided on a state-by-state basis as it was in the pre-Roe days. While not as politically strong as it was in the 1980s and 1990s, the group still has more than 3,000 local chapters nationwide. The move should also be a major boost for Thompson, who has been lagging in the polls. The decision is a disappointment to pro-life candidate Mike Huckabee (R), who likes to note that over the course of his career he is the most consistent social conservative candidate in the GOP race. The Thompson endorsement is a "mistake ... It just goes to show that even a great organization isn't perfect. They make mistakes from time to time. And I think this is one of them," said former Governor David Beasley (R-SC), speaking for the Huckabee campaign. Mitt Romney (R) was not seen as a viable candidate for the group's backing because of his pro-choice record before switching to a pro-life stance before entering the Presidential race.
NEW HAMPSHIRE - A new Boston Globe/University of New Hampshire poll of likely primary voters shows Hillary Clinton and Mitt Romney still holding leads in the Granite State. The DEM numbers: Hillary Clinton - 35%, Barack Obama - 21%, John Edwards - 15%, Bill Richardson - 10%, and Others - 8%. The GOP numbers: Mitt Romney - 32%, Rudy Giuliani - 20%, John McCain - 17%, Ron Paul - 7%, Mike Huckabee - 5%, Others - 6%.
NEW MEXICO - Just one day after Congressman Tom Udall (D) put out the word that he would run for US Senate next year, the dominoes are starting to fall. Wealthy developer Don Wiviott (D) quit the US Senate race, endorsed Udall, and jumped into the race for Udall's open House seat. Pressure continues to mount on Albuquerque Mayor Martin Chavez (D) to quit the Senate race in favor of the open CD-1 seat.
Posted by Ron Gunzburger - 11.13.07 | Permalink |
FREE SPEECH ZONE.
Just a head's up but ... after my posting for Wednesday ... there will not be any updates for a few days. Yup, I'm heading back to France again on Wednesday for Dana's graduation from Le Cordon Bleu. And here's an added bonus: I'll be there just in time for the coordinated nationwide anti-Sarkozy strikes by the transit workers, gas and electric workers, civil service employees and college students scheduled to start on Wednesday. That should be both interesting and inconvenient.
Posted by Ron Gunzburger - 11.13.07 | Permalink |
UDALL RUNS IN NM; 2 REPS RETIRE; McCONNELL MAY FACE GOP'ER AS INDY; NH, FL POLLS; AND AN OBIT.
NEW MEXICO - In response to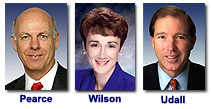 strong polling numbers and reportedly the encouragement of Governor Bill Richardson and the DSCC, Congressman Tom Udall (D) has decided to run for the open US Senate seat next year. Albuquerque Mayor Martin Chavez (D) met this week with DSCC Chair Chuck Schumer to give him a message: stop trying to push me out of the primary. "There was nothing resolved. The Mayor told Senator Schumer he believes it is best that New Mexicans decide this race," said Chavez's campaign manager to NM political journalist Joe Monahan. Congressman Steve Pearce (R), Congresswoman Heather Wilson (R) and several others are also announced candidates for the Senate seat. A Research 2000/Daily Kos poll last week showed Chavez narrowly trailing Pearce and Wilson -- but showed Udall holding double-digit leads over both top Republicans. Udall's open CD-3 House seat is a safe Democratic district. Interestingly, Udall's decision also means all of the state's three US House seats will be open next year.
NEW JERSEY - Congressman Jim Saxton (R) -- facing what was possibly the toughest re-election race of his career -- unexpectedly decided on Friday to instead retire. He had been extensively fundraising and has roughly $1.4 million campaign cash on hand. "Although I had intended to run in 2008 and was planning a strong campaign, developments ... regarding my health have prompted me to make this decision," explained Saxton, who was diagnosed earlier this year with prostate cancer. State Senator John Adler (D) was Saxton's challenger. In response to the incumbent's decision, the NRCC quickly telephoned State Senator Dianne Allen (R) to discuss the race. Allen, a former local TV news anchorwoman and 2002 US Senate primary candidate, said "I'm honored to have them consider me, and I'm giving serious consideration to it." Allen, a staunch opponent of the death penalty, was hammered in the 2002 GOP primary by negative ads stating she would even oppose the execution of Osama bin Laden. Other Republicans are also reportedly interested in the seat. If Allen jumps in, rate the race as Leans GOP.
WYOMING - Congresswoman Barbara Cubin (R) announced her retirement Friday, a move which many predicted was coming. Cubin has one of the worst attendance records in Congress for the past five years, which she attributed to her husband's ill health. Cubin faced competitive primaries in 2004 and 2006, and also struggled to win the general election in 2006. State House Majority Leader Colin Simpson (R), retired Navy officer/'06 candidate Bill Winney (R), businessman Kenn Gilchrist (R) and Teton County School Board Chair/'06 nominee Gary Trauner (D) were already announced congressional candidates before Cubin's made her decision. Former State Treasurer Cynthia Lummis (R) is also reportedly looking at the seat. Cubin's announcement is likely good news for Republicans, as she was viewed as a particularly weak incumbent. Race Rating: Leans GOP.

KENTUCKY - Friends of Governor Ernie Fletcher (R) are looking to get revenge against US Senate Minority Leader Mitch McConnell (R) for having allegedly undermined Fletcher's re-election campaign. Fletcher and McConnell were longtime rivals for control of the Kentucky Republican Party, and McConnell's machine worked to help former Congresswoman Anne Northup's primary challenge to Fletcher earlier this year. The Hill reports wealthy attorney Larry Forgy -- a close Fletcher ally and the '95 GOP nominee for Governor -- is considering making an Independent run against McConnell. Forgy told the newspaper he is "pretty sore" at McConnell for his "betrayal of Fletcher ... The only difference between that and cannibals is that cannibals normally don't eat their friends." Forgy said he doesn't want to be a spoiler, but that he is "furious" at McConnell. In related news, the Dems appear to be working to clear the Senate primary field for State Auditor Crit Luallen. "I think everybody believes that she would be an exceptionally strong candidate. Having one of our stars who also happens to be a woman, I imagine would be a pretty formidable opponent," said State Democratic Chair Jonathan Miller.
VIRGINIA - District nominating conventions selected candidates on Saturday for the Decembet 11 special election to fill the CD-1 seat left vacant by the death last month of Congresswoman Jo Ann Davis (R). In a major upset, State Delegate Rob Wittman defeated ten others to win the GOP nomination on the sixth ballot. Chuck Davis (R) -- the Congresswoman's widower -- dropped out after the early ballots and endorsed Wittman, as did several of the more moderate candidates. They did so to block a victory by anti-tax activist Paul Jost, who had previously opposed Jo Ann Davis in the 2000 primary. After Wittman won the nomination, Jost's campaign manager attributed it to Wittman being well positioned as "everybody's second choice" to emerge as the anti-Jost candidate. On the Democratic side, teacher and Iraq War veteran Philip Forgit won the nomination on the first ballot. The seat is heavily Republican, so Wittman is a safe bet to win next month.
NEW HAMPSHIRE: A new Marist College poll shows Hillary Clinton's lead shrinking and and Mitt Romney's lead growing in the Granite State. The DEM numbers: Hillary Clinton - 36%, Barack Obama - 25%, John Edwards - 14%, Bill Richardson - 6%, and all others trailed further down. The GOP numbers: Mitt Romney - 33%, Rudy Giuliani - 22%, John McCain - 13%, Mike Huckabee and Ron Paul tied with 7% each, Fred Thompson - 5%, with the rest trailing behind.
FLORIDA: A new Miami Herald poll shows Hillary Clintona and Rudy Giuliani holding big leads in the Sunshine State. The DEM numbers: Hillary Clinton - 48%, Barack Obama - 24%, John Edwards - 8%, Joe Biden - 4%, Dennis Kucinich and Bill Richardson tied with 3% each, and all others at less than 1%. The GOP numbers: Rudy Giuliani - 36%, Mitt Romney - 19%, John McCain - 12%, Mike Huckabee - 9%, Fred Thompson - 8%, Alan Keyes and Ron Paul tied with 2% each, and Duncan Hunter and Tom Tancredo tied with 1% each. One question asked of Dems concerned the DNC sanctions against party (i.e., no convention delegates) and the Dem candidates boycotting Florida during the primary season. When asked about these actions, only 7% of Democrats said it made them less likely to vote in the January primary, 29% said the sanctions made them more likely to vote in the primary, and the rest said the sanctions would make no difference to them..
EARL DODGE, R.I.P. Longtime Prohibition Party leader Earl Dodge died of a heart attack on November 7 at age 74. Dodge -- who I had known for many years -- was a true-believer for an unpopular cause that had clearly been relegated to the political fringes long before he took over leadership of the declining party in 1958. In 1976 and 1980,

Dodge was the party's VP nominee. Following that, Dodge was the Prohibition nominee for President in 1984, 1988, 1992, 1996, 2000 and 2004 -- and he was already running again for 2008. On top of that, Dodge also made five runs for Colorado Governor and a run for US Senate. Dodge once told me several years ago he kept running because the party still had a Christian social conservative message he believed was relevant, and he could care less about how many votes he drew. He just wanted an audience for the message. Over the weekend, I asked Dodge's family if they had any insight into what motivated him to keep making quixotic runs when the tiny party had no resources to mount a campaign and produced fewer votes each time. "I often wondered the same thing about Daddy. Why did he put so much into what seemed to be a losing cause. I tried to get him to retire 7 years ago after his seven heart bypasses ... I thought the Prohibition work was a nice ideal but not practical. I already knew how Daddy felt, but he made it very clear to me at that time. Daddy used to tell me to not just have opinions, but to have convictions. He believed that if something was right or true, it was irrelevant how many people agreed with you ... I can't tell you how many times I watched him be the only person to stand up in a room full of people and, very eloquently, state his case even though he was a lone voice ... That is how i think he continued on in the face of apparent failure," explained Dodge's daughter Barbara Thiessen to Politics1. Dodge could be colorful, charming, stubborn or cantankerous -- depending upon his mood and the topic -- but he always remained passionate about his cause.
Posted by Ron Gunzburger - 11.12.07 | Permalink |
FREE SPEECH ZONE.
Your Veteran's Day open thread. Ron's free speech thoughts on the topic: Support our troops. Bring them home now!!
Posted by Ron Gunzburger - 11.12.07 | Permalink |
TWO CONGRESSIONAL GOP RETIREMENTS ON FRIDAY.
Just a brief mention -- more on Monday -- that Congressman Jim Saxton (R-NJ) and Congresswoman Barbara Cubin (R-WY) both announced Friday they will not seek re-election next year. The GOP exodus from Congress continues.
Posted by Ron Gunzburger - 11.10.07 | Permalink |
THE POWARS REPORT: N.Y. POST GETS BLOOMBERG RUN WRONG .
The New York Post jumped out with a frontpage headline saying

NYC Mayor Mike Bloomberg (Independent) would challenge Governor Eliot Spitzer (D) in 2010. The newspaper's Frederick Dicker claimed Bloomberg's Chief of Staff had contacted former State GOP State Chair Bill Powers to discuss a gubernatorial run by the billionaire mayor. Within hours, both Bloomberg and top political advisor Kevin Sheekey denied the call was ever made -- and Bloomberg went on to say he was not challenging the Governor. Incensed by Bloomberg's denial, Dicker wrote a second story claiming he was right but then ludicrously had an unattributed "state political leader you would know: purportedly "confirming" the original version of claimed events. Looks like Dicker got burned by his source: Republican Senate Communications Director John McArdle, who was in NYC when State Senate GOP Leader Joe Bruno traveled to meet Bloomberg. Interestingly, Dicker also had a on-the-record quote from Bruno saying the Mayor would run for Governor -- even though Bruno was not party to any of the alleged discussions. A growing number of GOP Senators are unhappy with McArdle's poor handling of the illegal immigrant driver license issue, as it allowed State Assembly Republicans to take the lead in stopping Spitzer's license plan. McArdle hates any distraction from the so-called "Troopergate" probe, even though the State Senate investigation of Spitzer by the Senate is stuck as the Gov is claiming executive privilege and playing rope-a-dope with the investigative committee. The Senate Republicans were planning to to hire former US Attorney Joe DiGenova as their lead counsel, but Senate Democrats have blocked the investigation. That -- coupled with McArdle's leak of the fictional "Bloomberg for Governor" candidacy story, and getting his boss Bruno to back it up -- made for a bad week for NY Republicans.
By: ADAM POWARSs, New York correspondent for Politics1 - 11.10.07 | Permalink |
ANGRY VOTERS; MUKASEY CONFIRMED; WATER VETO OVERRIDE; CARSON PONDERS.


JOIN OUR NEW POLITICS1 FACEBOOK GROUP! Day One of our new Politics1 Facebook group was a great success, thanks to your help! More than 325 of you joined on Thursday. Feel free to use the group page as you wish: start your own discussion boards, post pix, make suggestions for what we can do with the networking group, whatever you'd like. While you're at it, feel free to add me to your Friends list.
TRENDS. MSNBC's Chuck Todd reported on current polling trends he's seeing in surveys prepared for NBC/Wall Street Journal. Here are some excerpts: "General distrust of government is not a new phenomenon; it has been the fuel for electoral upheaval for decades. But it's important to note that there may be evidence of a much angrier and anxious electorate than either party is preparing for in 2008. At our most recent briefing, one of the NBC/Wall Street Journal pollsters said 'this is the most angry and unstable of an electorate as Iíve seen in my career.' And thatís from Republican pollster Bill McInturff, who was around for 1992 and 1994, the last two times an angry electorate wreaked havoc in an election year. Remember it was 1992 when the strongest independent candidate in two generations -- Ross Perot -- got 19% of the vote, even after he proved less-than-stable on the question of readiness to be president. And 1994 was the year Democrats lost control of Congress for the first time in 50 years. Neither was an insignificant feat. So if the 2008 electorate is shaping up as more volatile than either of those two years, we may be in for a wild ride of historical proportions."
CABINET: Retired federal judge Michael Mukasey wouldn't commit as to whether waterboarding was legally a form of "torture" (editorial comment: it is). That, however, did not derail his nomination. On Thursday evening, the Senate confirmed Mukasey to be the next Attorney General by a 53-40 vote.
WATER. From waterboarding to just plain water. Congress on Thursday successfully overrode one of President Bush's veto for the first time ever. The bill funded numerous water-related projects around the nation, including Gulf Coast recovery efforts and Everglades restoration.
INDIANA: Ailing Congresswoman Julia Carson (D) gave an interview to WTLC-AM 1310 radio -- a station in her district -- to discuss her health problems. Carson has been too ill to attend Congress since September, but said she hopes to return to work in mid-December. As for running again next year, Carson seemed to back away somewhat from her previous re-election announcement. "When I get to the point where I come to the end of the road and talk to the Lord about what I'm going to do now, I think He'll show me the answers," said the 69-year-old Carson. She typically faces competitive races, so expect the same in this district whether she runs or retires.
Posted by Ron Gunzburger - 11.09.07 | Permalink |
FREE SPEECH ZONE.
Our daily open thread.
Posted by Ron Gunzburger - 11.09.07 | Permalink |
OUR NEW P1 FACEBOOK GROUP ... plus ROBERTSON FOR RUDY; BROWNBACK FOR McCAIN; ENDA PASSES HOUSE; NC GOV POLL.


JOIN OUR NEW POLITICS1 FACEBOOK GROUP! Since this whole internet "thing" looks like it might stick around for a while, I decided to create a Politics1 Facebook group. What are we (i.e., you and me) going to do with it? I have no idea yet, but it's yet another way for all of us to network. While you're at it, feel free to add me to your Friends list so I don't develop self-esteem issues.
GIULIANI. In a major coup, former NYC Mayor

Rudy Giuliani (R) scored the endorsement Wednesday of influential televangelist Pat Robertson. A 1988 White House hopeful, Robertson runs the Christian Broadcasting Network and is the former national president of the Christian Coalition. The endorsement of Giuliani came as a surprise to leaders in the Religious Right movement, who warned for months that many Evangelical conservatives would back a pro-life third party candidate or stay home in November if the pro-choice Giuliani is the Republican nominee. Robertson explained that he ultimately decided to endorse Giuliani due to foreign policy grounds, as Robertson explained he thought Giuliani was the candidate best able to respond to the "overriding issue" of Islamic terrorism. "I thought it was important for me to make it clear that Rudy Giuliani is more than acceptable to people of faith. Given the fractured nature of the process, I thought it was time to solidify around one candidate," he also explained, adding that only those on the "fringe" would have problems voting for Giuliani because Giuliani has "proven time and time again that he is a social conservative." Responded a clearly disappointed Mitt Romney (R): "I don't think the Republican Party will choose a pro-choice, pro-gay civil union candidate to lead our party." Paul Weyrich and Tony Perkins were among the chorus of key Religious Right leaders who were quick to criticize Robertson's endorsement as sharply inconsistent with the movement's social conservative agenda.
McCAIN: US Senator Sam Brownback (R) also flirted with endorsing Giuliani since quitting the race two weeks ago -- but he ultimately endorsed John McCain (R) on Wednesday.

"John McCain is a true American hero and ... is the only candidate who can rally the Reagan coalition of conservatives, Independents, and conservative Democrats needed to defeat Hillary Clinton or any other Democrat in the general election next year," said Brownback.
GAY RIGHTS. The US House on Wednesday approved the Employment Non-Discrimination Act (ENDA) by a 235-184 vote. The law would prohibit workplace discrimination based on sexual orientation. Gay rights supporters have tried to enact ENDA for the past 30 years. This was the first time the bill passed. However, as President Bush has vowed to veto ENDA, his veto will certainly be sustained as supporters fell far short of the two-thirds vote needed to override a veto.
NORTH CAROLINA: A new WTVD-TV/SurveyUSA poll gives us an early snapshot of next year's gubernatorial primaries. The Democrats: Lieutenant Governor Bev Perdue - 47%, State Treasurer Richard Moore - 38%. The Republicans: attorney Bill Graham - 26%, State Senator Fred Smith - 24%, former Supreme Court Justice Bob Orr - 15%.
Posted by Ron Gunzburger - 11.08.07 | Permalink |
FREE SPEECH ZONE.
Your daily place to kill some more time online ... but only after you've joined Politics1's new Facebook group.
Posted by Ron Gunzburger - 11.08.07 | Permalink |
BESHEAR, BARBOUR WIN GUV RACES; LATTA WINS CD-5 PRIMARY; BLOOMBERG RETURNS; PAUL'S BIG DAY.
KENTUCKY:

As expected, former Lieutenant Governor Steve Beshear (D) scored a landslide 18-point comeback win over ethically-challenged Governor Ernie Fletcher (R). The results: Beshear - 59%, Fletcher - 41%. Fletcher tried several gay-bashing tactics in the final days -- everything from claiming Beshear would "work for every homosexual cause" and turn Kentucky into "another San Francisco" to bogus robocalls on Tuesday pretending to be from a Kentucky gay organization asking voters to support "the homosexual lobby" by backing Beshear. Several reports claimed the bogus calls displayed the same phone caller ID as the authorized anti-gay Fletcher robocalls. Fletcher pled guilty to a criminal ethics violation as Governor, and was also forced to pardon several top aides during a political corruption investigation two years ago. The Democrats also won three of the five statewide constitutional races, including both open-seat contests.
MISSISSIPPI. Again, no major surprises. Governor Haley Barbour (R) won a comfortable victory over attorney John Arthur Eaves Jr. (D). Both men had positioned themselves as social conservatives espousing nearly identical stances. Barbour's campaign described the incumbent as a good Governor, with his post-storm recovery leadership as one of the only success stories from the Hurricane Katrina tragedy. Eaves portrayed himself as an reformer fighting the special interests. Barbour won by a 58% to 42% vote. The Republican nominees also appeared to be winning six of the seven other statewide constitutional officer races. However, the Democrats apparently captured majority control of the State Senate.
OHIO: Due to an emergency order by the Ohio Secretary of State that kept polls open in one county until 9 pm -- to compensate for a glitch with voting machines earlier in the day -- results were very slow to be reported in the CD-5 special election primary. While it took well into the early morning hours for all the votes to get counted, the numbers showed State Representative Bob Latta defeated State Senator Steve Buehrer for the GOP nomination by a 44% to 40% vote. The Club for Growth spent heavily in the contest, pouring almost $275,000 into TV attack spots which repeatedly blasted Latta. Latta is the son of retired Congressman Del Latta (R). Think tank official and '04/'06 nominee Robin Weirauch easily won the Democratic primary. The very nasty tenor of the GOP primary is the only thing giving Dems a glimmer of hope in this otherwise safe GOP seat.
MAYORAL CONTESTS. Houston Mayor Bill White (D) cruised to an easy re-election, as did San Francisco Mayor Gavin Newsom (D) and Pittsburgh Mayor Luke Ravenstahl (D). Former Philadelphia City Councilman Michael Nutter (D) won a lopsided victory to become the next Philadelphia Mayor. Baltimore Mayor Sheila Dixon (D) -- who succeeded to office in January -- was easily elected to her first full-term as Mayor. One of the few upsets of the day was in Indianapolis, where retired USMC office Greg Ballard (R) defeated Mayor Bart Peterson (D) by a 51% to 47% vote.
BLOOMBERG: Billionaire New York City Mayor Mike Bloomberg (Independent) started to again sound like a likely indy Presidential candidate during a

Tuesday appearance on MSNBC. Here's what he said: "I'm not a candidate for President. But I will say that I'm tired, and I think the American public is tired of Congress being split down the middle. And this partisanship that's just frozen them. And it keeps them from going after the big issues and coming up with concrete solutions. You know, cities around this country have shown you can bring down crime. That's one of the major things -- and I don't hear any of the candidates talking about they can really do it. History shows that we have to do something about our environment. Cities are doing things about our environment. Public education -- perhaps the most important thing for the future of this country -- cities and some state governors are working on these problems. And Washington, both sides of the aisle, both ends of Pennsylvania Avenue, seem to be afraid to go and attack the real problems. And we have this politics of money where people are making campaign donations in order to get influence and to have the laws shaped to what's best for their business. I think the laws should be shaped for what's best for the country." After first answering -- note: only in the present tense -- that he is not currently a candidate for President, Bloomberg said the major problems with this country are grounded in DC partisan politics, and that only real solutions to our national problems are coming from the leaders of our cities. Hmmm ... who could Bloomberg be describing as a our possible national political savior for 2008?
RON PAUL. Congressman Ron Paul (R) raised $4.2 million online for his Presidential campaign on Monday, breaking Mitt Romney's previous single-day GOP record. The amount -- while impressive -- still falls far short of record set by Democrats Hillary Clinton and Barack Obama, who raised over $6 million apiece online during single-day fundraising drives earlier this year. The fundraising success also raises the likelihood of the maverick Paul making an independent run in the general election, as he is still mired in the low single-digits for the GOP primaries in all early contest states. Paul is continuing his fundraising push for 4Q-07 beyond the one-day tally, and has already raised over $7.4 million in this current period.
Posted by Ron Gunzburger - 11.07.07 | Permalink |
FREE SPEECH ZONE.
Your daily open thread.
Posted by Ron Gunzburger - 11.07.07 | Permalink |
IT'S ELECTION DAY 2007 (... PLUS ILLINOIS PRIMARY FILING CLOSES).
KENTUCKY:

Every independent poll agrees: former Lieutenant Governor Steve Beshear (D) will smash scandal-tinged Governor Ernie Fletcher (R) by a landslide margin. In a last minute attempt to rally conservatives, Fletcher's campaign sponsored recorded robocalls to voters featuring entertainer Pat Boone. In the message, Boone warned that "as a Christian" he is concerned Beshear will "work for every homosexual cause. Now do you want a Governor who'd like Kentucky to be another San Francisco? Please re-elect Ernie Fletcher." Fletcher's runningmate, Robbie Rudolph, also said this weekend that Kentucky voters must chose between "a couple of San Francisco treats or ... a Governor," reported the Lexington Herald-Leader. Despite the gay-bashing tactic, look for Fletcher to lose by around a 20-point margin. Five other statewide constitutional officer races are also on Tuesday's ballot.
MISSISSIPPI. The only question here is whether Governor Haley Barbour (R) will win by a wider victory margin than Beshear's margin in Kentucky. Barbour will cruise to an easy, lopsided win over John Arthur Eaves Jr. (D), in what has largely been a fairly sedate race. Seven other statewide constitutional officer races are also on Tuesday's ballot.
OHIO: The special election primary is Tuesday for the CD-5 seat left open by the death of Congressman Paul Gillmor (R). The seat is solidly Republican, so the winner of the GOP primary is heavily favored to win the December 11 general election to fill the remainder of the term. State Representative Bob Latta and State Senator Steve Buehrer are the frontrunners for the GOP nomination. Three other Republicans are also running. Latta is the son of retired Congressman Del Latta, Gillmor's predecessor. Buehrer is strongly backed by the conservative Club for Growth. The Latta-Buehrer race has been so nasty in tone that some GOP insiders fear it could help think tank official Robin Weirauch (D) in the general. In fact, the Ohio Republican Party felt compelled to send a written rebuke to both men: "The direction this campaign is headed will tarnish your reputations and those of your campaign consultants and supporters. But more important than the reputation of any individual, the tenor of the race is poised to harm our party." In response, Latta and Buehrer each said they thought they'd still be able to win next month as the nominee.
MAYORAL CONTESTS. Various mayoral races are also on the ballot Tuesday. Among the top races are in San Francisco, Houston, Pittsburgh and Philadelphia. No surprises or upsets are expected in any of those contests.
ILLINOIS. Candidate filing closed

Tuesday for Illinois' February 5 primary. Congressman Dan Lipinski (D) -- a fairly conservative Democrat -- is facing aggressive challenges from three credible opponents. The GOP primaries for the open CD-11, CD-14 and CD-18 seats are also significant, as Republican incumbents are retiring in all three districts. The CD-11 filings were unusual in that the leading GOP candidates -- New Lenox Mayor Tim Baldermann and former Bush White House aide Jimmy Lee -- could both be fairly described as "second tier" candidates. State Senate Majority Leader Debbie Halvorson is unopposed for the CD-11 Dem nomination. Also, based on the filings, US Senate Majority Whip Dick Durbin (D) looks headed to a fairly easy re-election race next November. Click here to see all of the Illinois congressional candidate filings. In other related news, controversial former Georgia Congresswoman Cynthia McKinney -- who has since quit the Democratic Party and moved to California -- was one of four candidates to file for Green Party's Presidential primary.
Posted by Ron Gunzburger - 11.06.07 | Permalink |
CHANGE OF STRATEGY: IS MURPHY RUNNING RICHARDSON FOR VEEP?
New Mexico Governor Bill Richardson (D) should make for an interesting candidate for President because his experience in Congress, diplomacy and as Governor shows real leadership. Sadly,

Richardson seems to have recently retooled himself into running hard for a spot on Hillary Clinton's ticket. In the recent debates, when others aggressively attacked Clinton, Richardson praised her and seemingly tried to fend off those candidates who did challenger her. One New York-based Richardson donor complained after a recent Park Avenue fundraiser for Richardson that "Bill is our best candidate, so why doesn't he fight for the nomination instead of acting like a Hillary shill." I also interviewed by phone a long-time New Mexico Democratic consultant. "The way to get on the ticket is to show you can pull votes. You pull votes by fighting for your ideals, not brown-nosing the front runner," he griped. The "Suck up to Hillary" strategy appears to be the brain-child of Richardson media consultant Steve Murphy. Murphy, responsible for Richardson's clever early humorous résumé spots (which almost nobody saw), would like to be picked-up for the Hillary entourage by her consultant Mark Penn once Richardson is either crushed or The VP candidate. Whether it should be attributed to Murphy or others in the Richardson camp, Richardson is not acting these days like a real challenger for the nomination. "Richardson has a great tax-cutting record but he never talks about it when he visits Manchester" said one New Hampshire Democratic activist, who recently switched to backing Joe Biden after the Delaware US Senator visited her home and made her a grilled cheese-and-tomato sandwich. Murphy was the campaign manager who led Dick Gephardt's ill-fated 2004 Iowa strategy centered upon nasty attack ads against Howard Dean that derailed both the Dean and Gephardt campaigns.
by ADAM POWARS, New York correspondent for Politics1 - 11.06.07 | Permalink |
FREE SPEECH ZONE.
Your daily open thread.
Posted by Ron Gunzburger - 11.06.07 | Permalink |
REID ASKS SENS "PLEASE SHOW UP"; FRED IS PRO-IRAN WAR, KINDA PRO-CHOICE; ME & KY POLLS; MUKASEY LOCKS IT UP; MONDALE FOR HILLARY.
US SENATE:

Senate Majority Leader Harry Reid (D) has a request for the four Dem Senators running for President: you need to show up this week for work. "I'm going to leave here and go call [Clinton, Obama, Biden and Dodd] and let them know that they better look at their schedules because these are not votes you can miss," Reid told The Hill. The votes are all related to key fights with the Republicans and Bush Administration on some hot-button federal budget issues.
THOMPSON. Former US Senator Fred Thompson (R) said Sunday on Meet the Press that he supports a preemptive war against Iran but opposes a constitutional amendment banning abortion. On Iran, Thompson explained "I don't see how we can afford to let these people go nuclear." As for abortion, made a state's rights argument against an amendment, saying "I think people ought to be free at state and local levels to make decisions that even Fred Thompson disagrees with." This abortion stance is consistent with Thompson's opposition to a constitutional amendment banning gay marriage.
MAINE: The latest independent Critical Insights poll shows US Senator Susan Collins (R) continuing to hold a wide lead over Congressman Tom Allen (D): 54% to 34%. As for the open CD-1 congressional race, the poll found none of the seven announced candidates have a name recognition factor above the paltry 4% mark.
CABINET. No votes have yet taken place, but retired federal judge Michael Mukasey now appears on his way to being confirmed as Attorney General. A group of US Senators who appeared to be wavering over Mukasey's inability to declare waterboarding a form of torture -- Dianne Feinstein (D-CA), Chuck Schumer (D-NY), John McCain (R-AZ), Arlen Specter (R-PA) and Lindsey Graham (R-SC) -- all announced they will vote to confirm. The only question now is by how many voted will Mukasey be confirmed?
KENTUCKY. A new Rasmussen Reports poll shows former Lieutenant Governor Steve Beshear (D) cruising to a wide victory over Governor Ernie Fletcher (R) in Tuesday's election. The numbers: Beshear - 54%, Fletcher - 39%.


SOUTH DAKOTA: Despite some media and blog reports to the contrary, Governor Mike Rounds' (R) press secretary told Rapid City Journal that Rounds did not visit the NRSC headquarters during his DC visit on Friday. Rounds visited the National Academy of Sciences in DC to discuss the state's Deep Underground Science & Engineering Laboratory. His office insists Rounds will stick to his earlier decision and not run against US Senator Tim Johnson (D) next year. Johnson -- who suffered a near-fatal brain hemorrhage in December 2006 -- last month announced his candidacy for re-election.
CLINTON. Former Vice President Walter Mondale (D-MN) -- the 1984 nominee for President -- endorsed Hillary Clinton for President at an appearance in Iowa on Sunday. "America is ready for change, and Hillary Clinton has the strength and experience to deliver it," said Mondale. "I cannot tell you how totally honored I am to be here with someone whom I have admired all my adult life," responded Clinton. The most memorable moment in Mondale's disastrous Presidential run was announcing in his nomination acceptance that he planned to raise taxes if elected. Reagan swept 49 states in the general election.
Posted by Ron Gunzburger - 11.05.07 | Permalink |
FREE SPEECH ZONE.
Your daily open thread.
Posted by Ron Gunzburger - 11.05.07 | Permalink |
WEEKEND NEWS UPDATE.
I'm trying something different here by adding a few folks who are interested in being regular contributors from time-to-time. Besides, it gives Politics1 more content without my having to write it all. First up is Adam Powars of New York (right), a one-time Democratic activist and former pro bodybuilder turned Green Party member. With my recent chance encounter with infamous Nixonite consultant Roger Stone -- and coupled with the Stone cover story in the current Weekly Standard and his appearance Friday evening on MSNBC's Tucker -- Adam's first piece seemed relevant for this weekend.
GOP DIRTY TRICKSTER HAD PREDICTED HIT ON HILLARY OVER SPITZER'S DRIVER'S LICENSE PLAN.
Republican guru Roger Stone outlined a strategy a week ago on his quirky and unpredictable StoneZone website for Republicans to put Senator Hillary Clinton on the spot over New York Governor

Eliot Spitzer's (D) controversial plan to give state driver's licenses to illegal immigrants. In the article, Stone wrote: "Voters in Iowa and New Hampshire are no more likely to view the Spitzer plan favorably than New York voters are. 72% of New Yorkers oppose the Spitzer plan in a recent Siena poll. Hillary Clinton should be badgered for an answer." But before Republicans could pounce on Clinton, Democrats John Edwards and Barack Obama made the first move to pounce on the US Senator from New York. In what some Democrats think was a major gaffe, Clinton first said she "sympathized" with Governor Spitzer but then seemingly switched stances and declined to specifically support his plan. It reminded many of John Kerry's "I was for it before I was against it" line on the war. Waffling, a desire to have it both ways, could become the major chink in Clinton's political armor. It reminds some Democrats of her early support for the war and her efforts to distance herself from that support, reinventing herself to sound like an anti-war candidate. Meanwhile, Democratic Party officials in Iowa and New Hampshire say a Spitzer-style plan that gives driver's licenses to unidentifiable illegal immigrants is DOA in those early contest states. It is no secret that the Clintons are reportedly peeved with Spitzer over his delay in endorsing the Empire State's favorite daughter. Attorney General Andrew Cuomo and most New York Democrats got on board with Clinton very early in the race. Maybe Spitzer was doing Senator Clinton a favor. After Spitzer recently campaigned in Buffalo for the Erie County Democratic ticket, the entire slate's poll numbers slumped. The Democratic candidate for Erie County Executive now trails by 7-points and the Democratic County Clerk, who initially endorsed the Spitzer plan, had to reverse herself to stop a free-fall in the polls. And this happening in heavily Democratic Buffalo.
by Adam Powars, New York correspondent for Politics1 - 11.03.07 | Permalink |
UDALL RECONSIDERS IN NM; COLBERT BOUNCED; FRED'S BAD SCRIPT; SCHIP RETURNS; OK GOP SAYS DEM SEN HOPEFUL IS "ITALIAN COMMUNIST"
NEW MEXICO: The Albuquerque Journal reported Thursday that Congressman Tom Udall (D) is "reconsidering" the open US Senate race. "Udall's people are calling the party's heavy hitters in the state this morning to inform them he is reconsidering a run for the U.S. Senate," wrote the newspaper. The Journal said a big part of the reason Udall is reconsidering the contest is because "Governor Bill Richardson called Udall [Wednesday] to tell him he does not plan to run for the Senate and would stay out of Udall's way if the Congressman decides to jump in." US Senator Pete Domenici (R) is retiring.


THOMPSON. A high-powered GOP campaign consultant -- a former top Reagan consultant currently unaffiliated with any of the GOP candidates -- told Politics1 why Fred Thompson (R) has appeared so un-Reaganesque on the campaign trail. "An actor is only as good as the script you give them. If you give them bad lines, they will come off as uninspiring. They're not giving Thompson good material and it shows," he explained.
COLBERT. TV humorist Stephen Colbert missed the South Carolina Republican Presidential primary filing deadline on Thursday -- in order to avoid the $35,000 filing fee (and FEC filing requirements) -- and instead gambled on seeking a spot in the Democratic primary. He lost that bet as the SC Democratic Party rejected Colbert's candidacy filing. Under party rules, they State Executive Committee must reject any candidate who is not a bona fide and active candidate for the nomination. Based upon that rule, the committee voted 13-3 to remove Colbert from the primary ballot. Now foreclosed from the SC primary, Colbert's only option if he wishes to run exclusively in his birthplace of South Carolina is to collect 10,000 signatures to appear on the general election ballot as an Independent.
SCHIP. Paving the way for another showdown with the White House, the US Senate on Thursday again approved the $35 billion SCHIP program to enhance health care coverage for middle class children. President Bush previously vetoed an identical bill less than two weeks ago. The bill was approved by a 64-30 vote -- a veto-proof, bipartisan majority. The real fight will take place in the House, where are clearly enough votes to pass the bill. However, the House fell a handful of votes shy of the number needed to override the President's veto last time. With polling numbers running strongly in favor of the program, a small number of vulnerable GOP incumbents and conservative swing-seat Dems are under increasing pressure to support the program in this new round of voting.


OKLAHOMA. While Republicans initially chuckled about State Senator Andrew Rice's (D) challenge to US Senator Jim Inhofe (R), they are now seemingly taking his challenge more seriously. How else to explain the rather desperate attack site launched by the Oklahoma Republican Party: andrewricesweb.com. The heavy-handed GOP site accuses Rice of being everything from an ACLU'er, to a Sierra Club supporter, to being "supported by ... Jeanine Garofalo", to Rice possibly even being an "Italian Communist" (trust me, I'm not making this up!). In circa 1950 style, the site also features a communist hammer-and-sickle flag flying above Rice's head. So, why are they viciously attacking someone they've spent months saying is "no threat" to Inhofe?
Posted by Ron Gunzburger - 11.02.07 | Permalink |
FREE SPEECH ZONE.
Your daily open thread.
Posted by Ron Gunzburger - 11.02.07 | Permalink |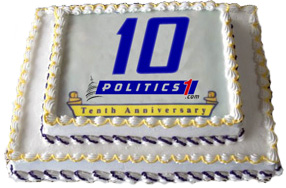 POLITICS1 IS 10 YEARS OLD!
Politics1 first went live online on November 1, 1997. Today, we hit our ten year mark ... and we've come a long way from how we looked and the limited content we provided back then ... so happy anniversary to us.
Posted by Ron Gunzburger - 11.01.07 | Permalink |
COLBERT RUNS AS DEM; AFSCME FOR HILLARY; BESHEAR LANDSLIDE LOOMS; COCHRAN TO QUIT?
COLBERT.

The $35,000 filing fee to compete in the South Carolina Republican Presidential primary was apparently too high for humorist Stephen Colbert's faux campaign. "They priced us out of range," a Colbert spokesperson told CNN. Thus, Colbert has decided he will file this week only for the state's Democratic primary -- because the Dems do not have a filing fee is the candidate files a sufficient number of valid signatures.
CLINTON. After a dismal debate performance Tuesday night, Hillary Clinton got some great news on Wednesday. AFSCME -- one of the nation's largest labor unions -- endorsed her candidacy. "This is no time to take chances. We need someone who knows how to fight and indeed knows how to win," said AFSCME President Gerald McEntee.


KENTUCKY. A new WHAS-TV/SurveyUSA poll shows Governor Ernie Fletcher (R) continuing to lose more ground in these final days before next week's election. The numbers: former Lieutenant Governor Steve Beshear (D) - 60%, Fletcher - 36%.
MISSISSIPPI. The Hill reports US Senator Thad Cochran (R) may again be considering retirement. Cochran, 70, has a campaign announcement scheduled for November 6. When asked Tuesday "if he would definitely run for reelection," Cochran told the newspaper: "No, I didn't say that. I'm preparing to run for reelection, but I haven't made an official announcement." While most still expect Cochran to run again next year, pundits are wondering why Cochran would open the door with those kind of remarks. The newspaper further noted "two sources ... close to Cochran ... say the Senator may be leaning towards retirement because he has grown weary of the ongoing partisan battles on Capitol Hill."
Posted by Ron Gunzburger - 11.01.07 | Permalink |
FREE SPEECH ZONE.
Your daily open thread.
Posted by Ron Gunzburger - 11.01.07 | Permalink |
JOIN THE POLITICS1
FACEBOOK GROUP:



BLOG ARCHIVE:

November 16-30, 2007
November 1-15, 2007
October 16-31, 2007
October 1-15, 2007
September 1-30, 2007
August 16-31, 2007
August 1-15, 2007
July 1-31, 2007
June 1-30, 2007
May 16-31, 2007
May 1-15, 2007
April 16-30, 2007
April 1-15, 2007
March 16-31, 2007
March 1-15, 2007
February 16-28, 2007
February 1-15, 2007
January 16-31, 2007
January 1-15, 2007
December 16-31, 2006
December 1-15, 2006
November 16-30, 2006
November 1-15, 2006
October 16-31, 2006
October 1-15, 2006
September 16-30, 2006
September 1-15, 2006
August 16-31, 2006
August 1-15, 2006
July 16-31, 2006
July 1-15, 2006
June 16-30, 2006
June 1-15, 2006
May 15-31, 2006
May 1-15, 2006
April 16-30, 2006
April 1-15, 2006
March 16-31, 2006
March 1-15, 2006
February 17-28, 2006
February 1-16, 2006
January 16-31, 2006
January 1-15, 2006
December 2005
November 2005
October 2005
September 2005
August 2005
July 2005
June 2005
May 2005
April 2005
March 2005
Jan-Feb 2005
December 2004
November 16-30, 2004
November 1-15, 2004
October 16-31, 2004
October 1-15, 2004
September 16-30, 2004
September 1-15, 2004
August 16-31, 2004
August 1-15, 2004
July 16-31, 2004
July 1-15, 2004
June 16-30, 2004
June 1-15, 2004
May 16-31, 2004
May 1-15, 2004
April 16-30, 2004
April 1-15, 2004
March 15-31, 2004
March 1-14, 2004
February 15-29, 2004
February 1-14, 2004
January 17-31, 2004
January 1-16, 2004
December 16-31, 2003
December 1-15, 2003
November 17-30, 2003
---
POLITICAL BLOG ROLL:
KINDA NEUTRAL:
ABC News: The Note
CNN: Morning Grind
CQ Politics
Political Wire
MSNBC: First Read
CJR Daily
Rothenberg Pol. Report
LexisNexis: US Politics
Stateline.org
Governing.com
Political State Report
Hotline On Call
Hotline's Blogometer
Beltway Blog
WatchBlog
Lawmakers Blog
Centerfield Aggregator
Command Post
FactCheck.org
WSJ: Best of the Web
WSJ: Washington Wire
D.C.'s Political Report
2008 Political Perspective
Media Bistro
Larry Sabato: Crystal Ball
PressThink
Politics-Line
TheCapitol.Net: Blog
MyElectionAnalysis.com
DEM/LEFT:
DNC Blog
DCCC Blog
DailyKos
Lefty Blogs
Howard Dean/DFA
OurSenate.com
Frameshop
The Washington Note
Emerging Dem Majority
Think Progress
AmericaBlog.com
Amer Prospect: Tapped
Arianna Huffington
Al Franken
BAG News Notes
Eric Alterman
Senate Majority Project
FishBowl DC
Fired Up! America
TalkLeft
TNR: The Plank
The Raw Story
Blogging of the President
Joe Trippi
Swing State Project
Media Matters
Josh Marshall
Wonkette
MyDD
Working for Change
Crooks & Liars
Mathew Gross
Penndit
Progressive Dems: Blog
Atrios/Eschaton
Off the Kuff
Tom Tomorrow
Mother Jones
Jerry Springer
TruthOut
Dem Bloggers
Liberal Oasis
Penndit
Firedoglake
Good As You
AtariDemocrat
Henry Lewis
BuzzFlash
Brad Blog
Dean Nation
Louise Slaughter
TruthDig
Dem Underground
Jared Hall
Bad Attitudes
The American Street
District Blogs
GOP/RIGHT:
RNC (GOP.com)
Club for Growth
National Review: Corner
C-Log
Real Clear Politics
Andrew Sullivan
John Ellis
StoneZone
Mickey Kaus
Virginia Postrel
RedState.org
WSJ Opinion Journal
Free Republic
Instapundit
Drudge Report
Pajamas Media
Hugh Hewitt
Daniel Drezner
Daily Pundit
Bully Pulpit
Outside the Beltway
Little Green Footballs
World Mag Blog
Right Wing News
Volokh Conspiracy
Brothers Judd
David Frum
Mister Politics
Enter Stage Right
Right Wing News
PoliPundit
Power Line
Hedgehog Report
Right Voices
Booker Rising
Don Singleton
Save the GOP
OTHER:
ThirdPartyWatch.com
Centrist Coalition
Kn@ppster
Green Commons
News for Greens
---
For those who would like to track Politics1 with a newsreader, we publish a RSS feed:
---

---