BLOG ARCHIVE: NOVEMBER 1-15, 2004
NEW BLOG STORIES ARE POSTED EVERY MONDAY AND THURSDAY (WE'LL RETURN TO DAILY POSTINGS BY JAN 2006). OUR "STATE PAGES" OF CANDIDATE LISTINGS ARE UPDATED AS NEEDED TO KEEP THEM CURRENT.
FOUR MORE CABINET DEPARTURES. Secretary of State Colin Powell, Energy Secretary Spence Abraham, Education Secretary Rod Paige and Agriculture Secretary Ann Veneman on

Monday joined Attorney General John Ashcroft and Commerce Secretary Don Evans in announcing their resignations from President Bush's Cabinet. Transportation Secretary Norm Mineta and HHS Secretary Tommy Thompson are expected to soon join the list of departing Bush Cabinet members. The departure of Veneman is unexpected, as she just let it be known last week that she was hoping to stay on for Bush's second term. It is unknown what she did to run afoul of White House insiders -- or whether they simply had someone else in mind who wanted her job -- but she went from "staying on" to "resigning" in a matter of just five days. Ashcroft was reportedly another Cabinet member who was involuntarily pushed out. Had Powell not have indicated long ago that he was planning to leave at the end of the first term, he would certainly have been at the head of Karl Rove's hit list of targets. Powell reportedly opposed the decision to go to war with Iraq, was viewed as a frequent leaker to the media of anti-Bush criticisms, and was locked in a bitter power struggle with the neocon hawks lead by Vice President Dick Cheney, Defense Secretary Don Rumsfeld, and Deputy Defense Secretary Paul Wolfowitz. National Security Advisor Condi Rice is expected to be named as Powell's replacement. Rumsfeld himself may become a victim of these latest purges, possibly stepping aside to become a scapegoat for planning problems related to the Iraq War.
Posted by Ron Gunzburger - 11.15.04 |
SOME CHANGES AT POLITICS1. On Friday, I explained how I wanted to make some changes to the publishing schedule in the period between now and the start of the major 2006 election cycle activities. I read and considered all your comments in the blog -- and appreciated the nice comments. I also chuckled over the amusing negative comments from a handful of folks who seem to really dislike me, yet seem to keep coming back each day. Well, as you can tell from the text posted at the top of the homepage, I've decided to shift to a lighter publishing schedule: new updates on Monday and Thursday mornings (and when otherwise warranted for major stories that can't wait). I'll also try to post new open threads every day or two, so you can also help with posting political news updates. As for updating the state pages to reflect the 2004 winners and get an early start on listing the 2006 hopefuls ... the following 18 states are already updated: Alabama to California, Florida, and Minnesota to North Dakota. I'm still working on the rest of 'em.
Posted by Ron Gunzburger - 11.15.04 |
FRIST DECLINES TO ENDORSE SPECTER. There are some signs that

US Senator Arlen Specter (R-PA) may have some serious problems winning election among his colleagues to be the next Senate Judiciary Committee Chair. Over the weekend, Senator Majority Leader Bill Frist (R-TN) clearly declined to endorse Specter for the post. Specter is in hot water for comments he made two weeks ago -- comments repeatedly rescinded in the face of a sharp conservative backlash -- that President Bush should not put forward a Supreme Court nominee who is pro-life or rigidly conservative. Frist said he was "troubled" by Specter's comments and thought that Specter should use this week's lame-duck session of Congress to convince his GOP colleagues that he is the best choice for the post.
Posted by Ron Gunzburger - 11.15.04 |
WASHINGTON GOV RACE UPDATE. As the counting of absentee ballots nears the Wednesday certification deadline, the margin continues to narrow. By early Friday, State Senator Dino Rossi (R) moved out to a 3,600 vote lead over Attorney General Christine Gregoire (D). Over the weekend, Rossi's lead had dwindled to just 1,920 votes -- with lots more ballots still to be counted. While it is clear this race will go to a recount, the location of the remaining absentee would seem to favor Rossi. In related news, the state's Republican and Democratic parties were both given the names of the voters who cast rejected provisional ballots and were attempting over the weekend to contact those people in an attempt to gather enough additional supporting documentation to get more of these ballots validated. All this means that we will not likely know the real winner for another 2-3 weeks.
Posted by Ron Gunzburger - 11.15.04 |
MONDAY OPEN THREAD. You know what to do.
Posted by Ron Gunzburger - 11.15.04 |
LEAD FLIPS AGAIN IN WASHINGTON GOV RACE. The counting of absentee ballots continues onward in Washington State's undecided gubernatorial contest. For most of the count, Attorney General

Chris Gregoire (D) held a slim lead -- a lead which she actually saw increase as of just a few days ago. However, over the past two days, State Senator Dino Rossi (R) unexpectedly slipped past Gregoire to grab a narrow advantage. Rossi also had held a narrow lead election night before the absentee count began. Traditionally, absentee ballots in Washington have heavily favored the Democrats. This time, Rossi is proving surprisingly strong with the absentee voters even in usually reliable Dem areas. With 2.7 million ballots counted thus far -- including Election Day regular ballots plus absentees -- Rossi holds a 3,600 vote lead. An estimated 85,000 absentee and provisional ballots remain to be counted before the State's deadline next Wednesday for certifying a winner. Democrats are already threatening a court battle over 900 rejected provisional ballots from King County (Seattle), a Dem stronghold. State Democratic Chair Paul Berendt said his party is considering a lawsuit because King County has refused to release the names of provisional voters whose votes were rejected. By contrast, the State Republican Party was able to obtain similar lists from some other counties in the state so that they could contact voters and get them to provide additional documentation to establish the validity of their right to have cast those ballots. Roughly a quarter of all the remaining uncounted ballots are from King County. No Republican has won a gubernatorial contest in Washington since 1980.
Posted by Ron Gunzburger - 11.12.04 |
AUGUSTINE MAKES HISTORY ... IN A BAD WAY. Nevada State Controller Kathy Augustine (R) was impeached by the State Assembly on Thursday for having essentially used her governmental office and staff as a campaign headquarters during her 2002 re-election race. By a 42-0 vote, Augustine became the first official in Nevada's 140 year history to ever be impeached. She will next have to defend herself in a trial before the State Senate on the three articles of impeachment. Augustine already admitted in September to the three ethics violations and was fined $15,000 by the Nevada Ethics Commission. The impeachment arose from those admissions. Augustine's lawyers -- who complained she did not have a fair chance to present her evidence at the impeachment hearing -- are threatening to file a lawsuit to block the removal trial. In related news, she is also defending a sexual harrassment lawsuit from a former top male aide who said he was pushed aside when he refused Augustine's frequent sexual advances. Augustine, who is term-limited in 2006, was once viewed as a likely future candidate for US Senate or higher state office.
Posted by Ron Gunzburger - 11.12.04 |
WHAT'S NEXT FOR POLITICS1? I've been publishing this site -- with

updates made somewhere or other on the site virtually daily -- since 1998. Frankly, I'm getting a bit burned out from it right now. No, this isn't related to the election outcome -- as this is something I ruminated about here on the homepage a few months ago. Frankly, all of you have been great in your support of this site. I love writing and publishing the site, but sometimes this one-person operation can get a rather overwhelming and make it impossible for me to also do all of the things I also like to do off-line in the real world. I'm not able to get out and skate, play hockey, get to the beach, get to the gym, go bike riding, catch-up on the huge stack of books piled up here, nearly as much as I used to. Remember, publishing Politics1 is something I do in addition to my full-time "real job." So, what does all of this mean? First, I'm NOT thinking of pulling the plug on the site. Second, what I may do for much for 2005 is continue to regularly update the interior pages -- which is much less time consuming -- but cut back the frequency of frontpage blog news updates to twice weekly (probably Monday and Thursday mornings). I also may post open threads for the in-between days so that the debates could keep going. Third, another option -- not that I'm seeking it -- would be to sell the site (as my father years ago explained to me about business: almost anything is always for sale if the right price is offered) to others who would want to keep running it. So, all of this now said, what are your thoughts?
Posted by Ron Gunzburger - 11.12.04 |
FRIDAY OPEN THREAD. You know what to do.
Posted by Ron Gunzburger - 11.12.04 |
REPORT FROM IRAQ: VETERANS DAY UPDATE. The fighting continues in the Anbar province around Fallujah, but our special correspondent Lt. James Crabtree of the 1/23 Marines found time to send us another report.
Dear Politics1.com Friends,

Greetings once more from the cynosure (a fancy word for "center of attention") of all the world's eyes. The actions in our province continue to be all over the news and in some respects you may know things more quickly than we do thanks to embedded reporters and the global communications networks. Our Marines and sailors are as busy as ever, but morale is high and our missions continue to be accomplished with a great deal of skill and daring. Yesterday I was able to take part in a mission in which we actually captured a couple of suspected anti-coalition members. I'll now attempt to tell that story with all the details that I can (while not giving away any restricted information).

Whenever the Battalion Commander moves about the area he takes his own personnel security detachment (PSD) with him. These Marines are the best the battalion has to offer and together they form a "God Squad" that is more than capable of dealing with any issues that might arise. Yesterday this element was sent to visit some of our Marines at one of our outlying posts in the area.


Members of the lead vehicle team - Cpl Woodruff, HM2 Cox, me, LCpl Roberts, and LCpl Dill.

The lead vehicle of the patrol consisted of Lance Corporal Dill as the driver, Corporal Woodruff as the vehicle commander, HM2 Cox as the element's corpsman, Lance Corporal Roberts as the gunner in the ring mount, and yours truly. Before our departure Cpl Woodruff made sure that everyone was aware that the road we would be traveling had been averaging two land mines and one IED (Improvised Explosive Device) per day. The entire patrol then gathered and were led in a prayer by LCpl Bills. With that completed the Marines mounted up and rolled out. Leaving the base is like rolling out into the unknown. Every passing vehicle is a potential threat and everyone must be constantly ready to react. Upon reaching the first bridge Cpl Woodruff, HM2 Cox, and myself got out of the HMMWV and walked underneath and across the bridge in order to make sure it was not rigged with explosives. Once it was secure the rest of the patrol rumbled across.


Here is where we first saw the two ski-masked suspects on a motorcycle.
We chased them across this area for seven miles.

It was not too much later that Cpl Woodruff and LCpl Roberts simultaneously spotted a couple of suspicious men on a motorcycle that had taken off at a high rate of speed when they saw us. The fact that these men were on a route that is restricted to only military vehicles drew our immediate interest. They were also in the middle of nowhere and one of them was dressed in black (including a black ski mask), and they ran like crazy. These facts led us to immediately decide to chase them down and capture them. The motorcyclist had a good jump on us and was easily 600 meters ahead when we saw them. The skillful and aggressive driving by our Marines allowed us to chase them at high speeds across some very unforgiving desert land, up a highway, and then through some rural roads before they were finally nabbed. In fact, it was the battalion commander and SgtMaj's vehicle that actually was the first to catch them. The pursuit went for over seven miles and those sitting in the rear of the HMMWV had to be ready to pull the gunner down in the event that the vehicle began to roll over. Catching the suspects was a rewarding feeling. Our interpreter was able to speak with them and it was quickly decided that their stories did not seem to add up. The suspects were then detained and brought back to our base for further questioning. Hopefully they will provide information that will prove valuable to us.

With the new prisoners in our possession we now had to abandon our plan to visit the outlying area and began our return back to the base. Along the way we conducted several "snap vcps." A VCP is a vehicle checkpoint and basically if we saw a vehicle that looked suspicious the lead and rear vehicles would stop all on-coming traffic while the Marines closely and quickly inspected the suspects and their car. This is dangerous work, but never once did the Marines display anything but bravery and skill. It was most impressive.


Here we are halted in order to check out a section of road that appeared to be mined.

Once we had finally concluded the patrol I had a chance to speak with the Marines in more detail about their experiences with the PSD and what exactly is going through their minds during a mission like the one that had just been completed. For LCpl Eddy Roberts, a 20 year old native of Tulsa, Oklahoma, he couldn't think of a more rewarding experience than to be the gunner on the lead vehicle for the PSD. "I like it a lot. I like knowing that I'm providing security for my Bbattalion Commander and fellow Marines. I wouldn't trade my job with anyone," says Eddy. LCpl John Dill, 26, is originally from Harlingen, Texas. When it comes to his exemplary driving skills, John said: "You can never slack off for a minute, and its always pretty exciting." Cpl Kevin Woodruff, 22 and from Austin, Texas, explained that the PSD duty has some benefits: "We get to see more of the area than any other element in the battalion, and we have a very tight knit group. Every Marine here does his job well -- we keep each other alive and accomplish the mission." Perhaps the one member of the patrol that hopes he doesn't have to perform his main task is the corpsman, HM2 Larry Cox, 36, from Houston, Texas. "If I don't have to do anything medically, that means everything is going well. A slow day for the medical personnel is a good day for everyone," says Larry.

Well, that's all the time I have for this edition. Thank you once more for all of the wonderful emails, letters, and packages that you continue to send us. They are truly appreciated. In fact, today we even received a big box of items for the Iraqi children. Our Marines will hand out those items during future patrols and I know they will be well received. Finally, yesterday was the 229th birthday of the United States Marine Corps. We were founded by an act of the Continental Congress and every year, even way out here in the desert, Marines make sure to stop and recognize the occasion, if only for a few moments. Next year's birthday will be even better for us though since the Marines will be able to get all decked out in their dress blues and medals and bring their wives, girlfriends, or dates to a very enjoyable and festive party. I can't wait! To all the Marines out there -- both past and present -- Happy Birthday Devil Dog!

Semper Fi,
James
If you'd like to send the 1/23d any care packages, please address the packages to Lt Crabtree, 1/23 H&S Co, Unit 41900, FPO, AP 96426-1900 ... and James will ensure that whatever you ship gets distributed to the Marines in the 1/23. If you'd like to read more about our adopted 1/23 Marine battalion in Iraq, please click here.
Posted by Ron Gunzburger - 11.11.04 |
THURSDAY OPEN THREAD. Happy Veterans Day. Like most of you, we're also taking a vacation day.
Posted by Ron Gunzburger - 11.11.04 |
CABINET RESHUFFLING BEGINS. As was widely expected, Attorney General John Ashcroft and Commerce Secretary Don Evans both announced Tuesday that they were resigning from President Bush's Cabinet. Ashcroft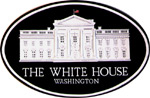 was apparently exhausted from the stress of holding the high-profile position. "I believe that the Department of Justice would be well served by new leadership and fresh inspiration," said Ashcroft. DC insiders also claim that top Bush staffers were encouraging Ashcroft's departure. Evans -- who was the Bush campaign chair in 2000 -- is leaving to return to Texas and pursue options in the private sector (translation: make lots more money lobbying and arranging business deals). Former Ashcroft Deputy AG Larry Thompson and current White House Counsel Al Gonzales are reportedly the two frontrunners to replace Ashcroft. Others under consideration may include former Montana Governor and former Republican National Chair Marc Racicot and former US Attorney and former NYC Mayor Rudy Giuliani -- although both men are viewed as long-shots because they hold fairly centrist views on abortion and gay rights issues. Mercer Reynolds -- the 2004 Bush campaign finance chair who helped raise over $260 million for the President -- is likely to be named as the new Commerce Secretary. In other Cabinet news, EPA Chief Mike Leavitt, Agriculture Secretary Ann Veneman, and Interior Secretary Gale Norton each informed President Bush this week that they want to stay on in their current posts for the second term. Transportation Secretary Norm Mineta -- a former Democratic Congressman -- has been in poor health and is expected to retire. HHS Secretary Tommy Thompson and Secretary of State Colin Powell are both expected to step down, but it is not clear whether they will do so in the coming weeks or wait until mid-2005. The fate of Defense Secretary Don Rumsfeld also remains unclear. Rumsfeld would clearly like to stay on, but he may be facing back channel pressure from the White House to voluntarily step aside. Postscript: President Bush named Al Gonzales on Wednesday morning to be the new Attorney General.
Posted by Ron Gunzburger - 11.10.04 |
"I'M STILL NOT RUNNING FOR PREZ IN 2008," SAYS JEB. Florida Governor Jeb Bush on Tuesday repeated his earlier comments to the media that he does not plan to run for US Senate in 2006 or President in 2008. When reporters asked if he could change his mind, Governor Bush snapped: "No. Why am I not believable on this subject? This is driving me nuts!" Reporters -- apparently seeking further ways to imply he still could possibly jump into the White House race -- asked Bush if he might "eventually" run for President. "Eventually -- what's that [mean]," he asked, before turning and walking back into his office. In other Jeb-related news, the Florida Baptist Convention voted unanimously Tuesday to seek to place a constitutional amendment on the ballot in the state in 2006 ban gay marriage. Governor Bush told reporters later that he didn't believe there was any need for that amendment in Florida. "I'm not sure it's necessary to do this in a pre-emptive fashion. I think we're safe," said Bush, who said Florida's 1997 Defense of Marriage Act already sufficiently addresses the issue.
Posted by Ron Gunzburger - 11.10.04 |
"HOMO-NAUSIC" POLITICIAN ARRESTED. Regular viewers of Comedy Central's The Daily Show may remember a profile this past summer of Florida State House candidate Ed Heeney (R). In his interview,

Heeney explained how lesbians were ruining his love life and his ability to shoot games of pool. Heeney complained that lesbians had taken over all the good bars in the Fort Lauderdale area with pool tables and that he no longer had any good places to play. He even cited one incident when "a gang of lesbians" confronted him. One lesbian bar owner joked that Heeney was only upset because some lesbians "kicked his ass" in pool. The candidate also explained how "homosexual culture" ruined South Florida and that he could no longer find any single women to date who were not lesbians (Editor's Note: or who were simply telling Heeney they were lesbians in order to not go out with him). Heeney's signature line was that he was not homophobic but "'homo-nausic' ... I'm not afraid of them, I'm sick of the bastards." Heeney lost his run for State House last week by a 40-point margin. Yesterday, Heeney and his former campaign manager were arrested in a bizarre incident. The campaign manager was apparently being evicted from his apartment for non-payment of rent. When a Sheriff's deputy went to enforce the eviction, he found the lock changed. He sawed off the lock, only to find the door was reinforced from the inside by wood and steel. The campaign manager had a past criminal history involving gun violence, so the deputy called for backup. That led to a ten hour stand-off that ended peacefully when the man and Heeney -- who was inside the apartment helping the guy keep the door locked -- were both arrested for trespass and resisting arrest without violence. Heeney didn't post the $100 bond but instead spent the night in jail. That's Heeney's booking photo on the right -- and ladies, yes, amazingly he's still single and available!
Posted by Ron Gunzburger - 11.10.04 |
WEDNESDAY OPEN THREAD. FYI: I'm in the process of updating our various state pages to reflect the 2004 winners and begin the posting of the potential 2006 candidates ... but it will take a few more days for me to finish the job. And, no, there is not going to be any P2008 page yet. We deserve a little break from the Presidential politics.
Posted by Ron Gunzburger - 11.10.04 |
DEAN FOR DNC CHAIR. According to various published reports, former Vermont Governor
Howard Dean is considering making a bid in January for Democratic National Chair. He'll make up his mind about the race shortly, but Dean apparently told former DNC Chair Steve Grossman that he was interested in the post. Keep in mind, however, that this race is mainly a contest for Dem insiders. There are less than 250 voters (the DNC members) who decide the winner. The current chair -- Clintonista mega-fundraiser Terry McAuliffe -- is not seeking another term. I'd note that the Dean for DNC Chair was an idea I floated here on the blog as far back as February 27, 2004. (And, as all of y'all know by now, I am an unabashed Howard Dean supporter.) Others in the mix for chair include Clinton loyalists Harold Ickes and Donna Brazile. Dean, however, is the best choice for the job. Why? Because Dean has proven he can do the two things most required of a good party chairman: he's great at raising money and he's an unabashed spokesman for Democratic values. Last night -- when I was finally putting away some campaign stuff that had been piling up in my home office -- I came across a Dean campaign DVD. I watched a few minutes of it and was reminded of the energy he brought to the Democratic Party. What message does he have for the Dems in the aftermath of last week's defeat? Click here to read Dean's prescription for the Democratic Party.
Posted by Ron Gunzburger - 11.09.04 |
"I WAS HAVING THE WORST NIGHTMARE ..." The Boston Globe is reporting that Senator John Kerry -- while "profoundly disappointed" that he lost his race for President last week -- is already thinking of
making another run for President in 2008. Cam Kerry, the Senator's brother and close political confidant, said it was "conceivable" Kerry could run again in four year. One top aide told the newspaper that he "could not envision" Kerry running again in 2008. However, other campaign aides noted that at a DC party this past weekend to thank campaign staffers, Kerry told the cheering crowd: "There's always another four years." The Los Angeles Times seemed to confirm this interest in the next White House race. They reported that Kerry is "calling key Democratic donors to lay the groundwork for a political organization that would give him a voice in national politics and position him for another White House run in 2008." Former President Bill Clinton thinks he can explain why Bush beat Kerry: "The Republicans had a clear message, a good messenger, great organization and great strategy." By contrast -- and without quite saying it directly -- Clinton implies that Kerry's campaign was the opposite of that. Speaking of the Clintons, US News & World Report wrote this week that Senator Hillary Clinton is already retaining key political operatives for a 2008 White House run. However, she is doing all of it in the guise of being for the 2006 re-election race. The magazine reported that her "Presidential effort will run in tandem with Clinton's 2006 Senatorial re-election bid."
Posted by Ron Gunzburger - 11.09.04 |
CONSERVATIVES ON THE HUNT FOR RINOs. In the face of a possible move by his conservative colleagues to deny him the Senate Judiciary Committee chairmanship, US Senator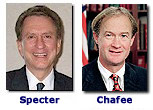 Arlen Specter (R-PA) has now backed away completely from his comments last week that he would block a pro-life Supreme Court nominee. Late last week, Specter started to back down from his remarks. He said that he was misunderstood and that he would not apply any litmus test on the abortion issue. By Monday, he was saying that he expected to support any judicial nominee the President brings forward. In 1987, Specter was the leading Republican in the Senate responsible for helping the Dems block the nomination of Judge Robert Bork to the US Supreme Court. Bork, who was pro-life, also stated in his confirmation hearings that he was a strict constuctionist who did not recognize a constitutional "right to privacy" nor the concept of "penumbral" rights. The other GOP Senator who is in the hot seat along with Specter is Lincoln Chafee (R-RI). Chafee said he understands his fellow Republicans are upset that he told reporters he did not vote for President Bush and was contemplating a party switch. Chafee said Monday he will "work hard to regain the support" of his GOP colleagues and that he rejected the invitation of Senate Democrats last week that he cross the aisle to their side. Chafee isn't hopeful of having good relations with the White House: "I wouldn't blame [the President] if he were angry at me." Chafee is up for re-election in two years.
Posted by Ron Gunzburger - 11.09.04 |
McGREEVEY'S SECRET LIFE. New Jersey Governor

Jim McGreevey -- who is resigning from office next week -- was once viewed as a potential rising national star on the Democratic scene. The Newark Star-Ledger did some extensive investigative reporting to learn more about what happened to McGreevey's career and why. In a detailed report published Monday, they wrote of a highly flawed politician who was constantly being protected by his staffers from his own self-inflicted problems. "Despite his clean-living image -- and confounding those who believed he was a closeted homosexual -- McGreevey visited traditional, female-staffed go-go bars so frequently before he became governor that his advisers admonished him to stop, warning that he risked political immolation," reported the Star-Ledger. Even back to when McGreevey was running for Woodbridge Mayor, the guy was constantly visiting female strip clubs during the weekdays, at night, and on the weekends. His visits to one particular strip club in Sayreville became so common that his staffers had a nickname for it: they'd joke that "McGreevey is out knocking on doors in Sayreville." The report also details McGreevey's problems with a female prostitute, his visits to gay nightclubs during his campaign for Governor, his hidden relationship with then-boyfriend Golan Cipel, his potentially illegal attempt to funnel hush money to Cipel as the scandal was breaking, and the ongoing corruption investigation of his adminstration. It makes for a fascinating (and prurient) read.
Posted by Ron Gunzburger - 11.09.04 |
TUESDAY OPEN THREAD. "What the hell is wrong with Ron? He's entirely ignoring all those internet rumors about how Bush stole the election by hidden electronic voting machine fraud." So ... any good black helicopter stories from your neck of the woods?
Posted by Ron Gunzburger - 11.09.04 |
GOING HOME? The New York Times reported this weekend that three sitting US Senators from the NY region are now contemplating making races for Governor in the next election cycle. US Senator Jon Corzine (D-NJ) -- a wealthy retired Wall Street Executive -- is expected to shortly announce his candidacy for Governor in the 2005 election to replace outgoing Governor Jim McGreevey (D).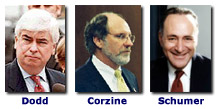 State Senate President Richard Codey (D) will become the new Governor on November 15 -- when McGreevey's resignation takes effect -- but whether or not Codey runs next year will likely have little impact on Corzine's decision. McGreevey, who outed himself as gay in his resignation announcement, quit amid a growing corruption investigation. Congressman Rob Andrews (D), former Jersey City Mayor Bret Schundler (R), former West Windsor Mayor Doug Forrester (R), former State Assembly Minority Leader Paul DiGaetano (R) and others are also looking at the crowded NJ race. In Connecticut, US Senator Chris Dodd (D) is discussing a possible run for Governor in 2006. Governor Jodi Rell (R) -- who moved up from Lieutenant Governor earlier this year when Governor John Rowland (R) resigned during state impeachment proceedings after being named the target of a federal bribery scandal -- is expected to be the GOP candidate. If he runs, Dodd may face primary opposition from Lieutenant Governor Kevin Sullivan, Secretary of State Susan Bysiewicz, former State Comptroller Bill Curry, Stamford Mayor Dan Malloy, New Haven Mayor John DeStefano, and others. Dodd, however, would be the heavy favorite to win the contest. Dodd is also being mentioned as a possible candidate for President in 2008. In New York, US Senator Chuck Schumer is looking at making a late entry into the open 2006 gubernatorial contest. Attorney General Eliot Spitzer has been viewed as the Dem frontrunner for the past two years -- but a Schumer entry could make for a hotly contested primary. Governor George Pataki (R) -- who is preparing for a 2008 run for President -- is not expected to seek re-election. The newspaper reported that the three Senators are apparently "dispirited over their continued minority status -- as well as the reality that their party does not appear to have a shot at winning the majority any time soon." Also, all three could run without giving up their Senate seats.
Posted by Ron Gunzburger - 11.08.04 |
WHAT ABOUT RALPH (... AND MIKE, AND ALL THE REST)? Yes, everyone knows that President Bush defeated Senator Kerry by a 51% to 48% vote. In terms of raw numbers, that translates to Bush-59.6 million votes, Kerry-56.1 million votes. What is not really being reported are how all of the third party Presidential hopefuls performed. With nearly all votes counted, here are how the "best of the rest" did (totals are rounded; totals do not include write-in votes, which most states will not report until next month):


Ralph Nader (Independent/Reform) - 404,000
Michael Badnarik (Libertarian) - 382,000
Michael Peroutka (Constitution) - 131,000
David Cobb (Green) - 106,000
Leonard Peltier (Peace & Freedom) - 22,000
Roger Calero/Surrogate Ticket (Socialist Workers) - 12,000
Walt Brown (Socialist) - 10,000
Tom Harens (Christian Freedom) - 2,400
Bill Van Auken (Socialist Equality) - 2,200


Gene Amondson (Concerns of People/Prohibition) - 1,900
John Parker (Workers World) - 1,400
Charles Jay (Personal Choice) - 880
Andy Andress (Independent) - 760
Earl Dodge (Prohibition) - 135
Some random observations ... First, the Personal Choice Party learned that even the presence of retired porn star Marilyn Chambers on their ticket as the VP nominee did not translate into much attention or votes. Of course, the real problem for the PCP may have been that the only state they achieved ballot status was in Utah, a conservative Mormon bastion not likely to embrace a philosophy of porn, gambling, drugs and guns (well, maybe guns -- but not the other stuff). ... Second, and at the other end of the spectrum, around 2,000 people essentially voted to return us to the alcohol prohibition era. ... Third, these totals must be quite embarrassing for the nine active candidates who finished behind Leonard Peltier, considering the fact that Peltier is a convicted cop-killer serving a double life sentence in prison and was not exactly able to get out and campaign much. ... Fourth, the three candidates who essentially advocated a communist revolution to overthrow our capitalist system -- Calero, Van Auken and Parker -- only got a combined total of 15,600 votes, so I guess we don't need to start brushing up on Das Kapital anytime soon. ... Lastly, as a Dem I was personally hoping to see the Libertarians knock Nader into fourth place -- just to finally get rid of the guy -- but it didn't quite happen.
Posted by Ron Gunzburger - 11.08.04 |

SENATE LINE-UP CHANGES. With the re-election defeat of US Senate Minority Leader Tom Daschle (D-SD), the Democrats will see a new leadership line-up in upper body during the next Congress. Senate Minority Whip Harry Reid (D-NV) -- who is substantially more centrist than was the liberal Daschle -- is expected to climb up to the Minority Leader job without opposition. The fight to replace Reid initially looked like it would generate a competitive race, but that now seems highly unlikely. US Senator Dick Durbin (D-IL) announced Friday that he has gathered enough commitments from his colleagues to win the Whip post. US Senator Byron Dorgan (D-ND) acknowledged that Durbin has the votes and has aborted his candidacy for the job. Durbin -- an attorney who was first elected to the US House in 1982 -- moved up the US Senate in 1996.
Posted by Ron Gunzburger - 11.08.04 |
REPORT FROM IRAQ: WHEN YOU CAN'T WRITE ABOUT THE COMBAT, WRITE ABOUT THE FOOD. With the fighting increasing in Al-Anbar province around Fallujah, our special correspondent Lt. James Crabtree of the 1/23 Marines has a lot he is not allowed to write about these days for security reasons. That doesn't mean, however, that James couldn't come up with something this week for the families and friends back home...
Dear Politics1.com Friends,

Hello once more from Al-Asad, Iraq. Like I mentioned last time, our AO (Area of Operations) is very active and is receiving a good deal of the world's media attention. I wish I could share the details with you, but I can't. We might even have an embedded reporter or two with us soon, which could be interesting. I'll let you know if that happens. Our Marines and sailors continue to excel in their tasks in every manner. It is truly inspiring to see the way they conduct themselves each and every day.

I haven't had a chance to really do a profile this week, but I figured now would be as good of a time as any to share with you some info about one of the most popular places in our camp: the 1/23 Chow Hall. Led by Gunnery Sergeant P.C. Smith, a jailer for the Harris County Jail in his civilian life, the Marines and foreign national contractors run a great operation. They serve thousands of meals three times daily in a timely and efficient manner -- and even managed to get a couple of big screen televisions hooked up to a satellite dish so that we can watch sports or the news while we eat. The most common item served is chicken and nothing is that fancy, but for a non-picky eater like me, the food is great. They also often have a good supply of ice cream from the Kuwaiti Danish Dairy Company. It is unknown how many Danes actually live in Kuwait, but their ice cream is fairly popular with our guys. Of course, you can't get Ben and Jerry's here -- so it may only be popular by default.


"The Corral" ... our chow hall here at Camp Lone Star.

I've included some photos from inside of the chow hall. As you can see, it is fairly large and Spartan. The chow hall is actually a series of portable structures linked together to form a building. There are two serving lines and a small section in the center that sometimes contains salad, fruit, and desserts.

There are also some convenience store-type coolers that contain bottled water and Middle Eastern versions of Coke that actually have the old removable pull tabs like those that used to exist in the US until the mid-1980s. I personally eat here twice a day (I'm not a breakfast person) and I'll move around where I sit from meal-to-meal simply to add some variety to my dining experience. Our neighbors from the Air Wing, as well as the occasional civilian contractor, also use the chow hall. It may never make it into the Zagat's Guide -- trust me, it doesn't deserve a place there -- but it is still a great place to get a quick meal and share some stories with fellow Marines. So, if you ever happen to just be driving through the desert of the Anbar Province and come past Al-Asad, stop into the 1/23 chow hall for some good Marine Corps home cooking and tell them Lt Crabtree sent 'ya. Oh, and the food is free ... so you can't complain.

Thanks as always for all of your support. The care packages are arriving more and more every day. It means the world to our guys!

Semper Fi,
James
If you'd like to send the 1/23d any care packages, please address the packages to Lt Crabtree, 1/23 H&S Co, Unit 41900, FPO, AP 96426-1900 ... and James will ensure that whatever you ship gets distributed to the Marines in the 1/23. If you'd like to read more about our adopted 1/23 Marine battalion in Iraq, please click here.
Posted by Ron Gunzburger - 11.08.04 |
MONDAY OPEN THREAD. [Insert your own insipid lead-in comment here.]
Posted by Ron Gunzburger - 11.08.04 |
SUNDAY OPEN THREAD. Enjoy.
Posted by Ron Gunzburger - 11.07.04 |
SATURDAY OPEN THREAD. Have at it.
Posted by Ron Gunzburger - 11.06.04 |

GOP SENATE TOTAL AT 55. The last US Senate race -- Alaska -- is now resolved. US Senator Lisa Murkowski (R) defeated former Governor Tony Knowles (D) by a 49% to 45% vote. Knowles called Murkowski to congratulate her and said he did not believe the 40,000 uncounted absentee ballots or a recount would change the result. State officials said the complete official vote total will not be known for "several weeks." Murkowski's victory means that the next US Senate will have 55 Republicans, 44 Democrats, and 1 Independent aligned with the Dems. At this point, the only major race left undecided is the contest for Washington Governor (plus the two Louisiana Congressional races that are advancing to December run-offs).
Posted by Ron Gunzburger - 11.05.04 |
A FIRST LOOK AT 2008. President Bush has yet to be inaugurated for a second term and already the speculation is swirling as to who will run for President when he retires in 2008.

For the first time since 1952, neither a sitting
President nor an incumbent VP will be running to hold the White House. Instead, both sides will see wide open contests. On the Republican side, names floating include Senate Majority Leader Bill Frist (R-TN), Senators John McCain (R-AZ), Rick Santorum (R-PA) and Chuck Hagel (R-NE), former NYC Mayor Rudy Giuliani (R-NY), Colorado Governor Bill Owens, Massachusetts Governor Mitt Romney, and -- despite his official protestations of disinterest -- Florida Governor Jeb Bush. Homeland Security Secretary Tom Ridge's (R-PA) name was formerly in play, but his star power has greatly declined over the past two years. To increase his national strength within the party, Giuliani may decide to first challenge former First Lady Hillary Clinton (D) for her US Senate seat in 2006. Another consideration: Presuming Jeb stays out of the race, will President Bush openly or tacitly support anyone as a successor ... or will he stay above the nomination fight? On the Democratic side, the speculative names in play include Senators Hillary Clinton (D-NY), John Edwards (D-NC), Chris Dodd (D-CT), Evan Bayh (D-IN) and Russ Feingold (D-WI), former Vice President Al Gore (D-TN), former Vermont Governor Howard Dean, retired Army General Wes Clark (D-AR), Illinois Governor Rod Blagojevich, Iowa Governor Tom Vilsack, and Virginia Governor Mark Warner.
Posted by Ron Gunzburger - 11.05.04 |
"SEGREGATION TODAY, SEGREGATION TOMORROW, SEGREGATION FOREVER." Just when you think voters in some states couldn't do anything to make themselves look more foolish, they go out and surprise you.

George Wallace -- who uttered the line I used in the title of this entry -- recanted his segregationist views long before he died. Formal segregation itself was finally done away with under federal law in the 1960s. But, it sadly appears that some Alabama voters -- actually, a majority of them -- still wistfully pine for the days when blacks and white went to separate schools, rode on separate ends of the bus, and drank from separate water fountains. Amendment 2 on Tuesday's ballot proposed cleaning up the state constitution by removing some long-unenforced segregationist provisions that mandated separate-but-equal segregated schools, authorized unconstitutional poll taxes to bar blacks from voting, and specified that Alabamians have no constitutional right to public education (giving the state the power to deny funding to any integrated schools). Governor Bob Riley (R) supported the amendment. On the other side was Riley's likely 2006 primary opponent: ousted Supreme Court Chief Justice Roy Moore. Moore -- who touts himself as "The Ten Commandments Judge" -- led the opposition to the repeal, arguing it could open the door to tax hikes in order to improve the state's public school system. The Alabama Christian Coalition also opposed the amendment, explaining that the group wanted "to ensure that reckless trial lawyers and activist judges will not be able to open the floodgates to increase taxes and that private, Christian, parochial and home-school families will be protected." The "tax hike" argument appears to be a red herring, however, as the Alabama Supreme Court already ruled in 1993 that the "no constitutional right to public education" provision was unconstitutional under the US Constitution. Out of 1.4 million votes cast statewide, Amendment 2 appears to have lost by 2,500 votes. However, the state will conduct an automatic recount.
Posted by Ron Gunzburger - 11.05.04 |
FRIDAY OPEN THREAD. TGIF!!
Posted by Ron Gunzburger - 11.05.04 |
GOP

GAINS HOUSE SEAT IN INDIANA; WASHINGTON GUV STILL UNDECIDED. It took until Wednesday afternoon, but trucking executive Mike Sodrel (R) was declared the winner over Congressman Baron Hill (D) in Indiana's CD-9. Hill -- a perennial GOP target -- survived close brushes with defeat several times in the past, including two years ago from Sodrel. This time the numbers went the other way, with Sodrel winning by a margin of just over 1,400 votes. Meanwhile, the race for Washington Governor remains too close to call. State Senator Dino Rossi (R) held a slim lead all of election night, but Attorney General Chris Gregoire (D) moved into the lead Wednesday as the state began counting the 800,000+ absentee ballots. With just under 2 million total ballots cast, Gregoire currently holds a lead of just 14,300 votes. Rossi won 31 of the state's 39 counties, including two of the larger counties -- Snohomish and Pierce -- that the Dems had counted on winning. Gregoire, however, won the largest county -- King (Seattle) -- by a wide margin. Of the 800,000 absentee ballots, nearly 300,000 come from King County. A Rossi campaign spokesperson told the Seattle Times that Rossi must win 40% of King County's absentee ballots in order to win the race. Because of the large volume of absentee ballots in the state in 2000, it took 24 days to declare a winner four years ago in a hotly contested US Senate race.
Posted by Ron Gunzburger - 11.04.04 |
NON-PARTISAN GOOD NEWS FROM ELECTION DAY. Regardless of which candidate you supported for President, there was quite a bit of positive news from our national elections. First, voter participation was at a higher percentage than any Presidential election since 1992. Second, the winner of the Presidential race captured a majority of the total vote for the first time since 1988. Third, the Presidential election was resolved by voters and not by courts. Fourth, there were no significant Election Day meltdowns with either the new voting machines or with the use of the new provisional ballots. Fifth, unlike in many parts of the world, it was a free and fair election with the ballots honestly counted.
Posted by Ron Gunzburger - 11.04.04 |
BUSH'S SECOND TERM. While some pundits are already predicting a more centrist second term for President Bush -- a time when a President no longer worries about re-election and instead thinks of "legacy" -- I don't

see that happening. Why? Because it was Bush's conservative base that re-elected him. The New Republic already did some quick analysis of Tuesday's numbers and here is what they showed: Kerry won "self-described liberals" by a 86-13 margin, Kerry won "self-described moderates" by a 55-45 margin, and Bush won "self-described conservatives" by an 85-15 margin. The reason that this did not translate into a Kerry victory is because the Republicans were able to dramatically increase the turnout of conservatives (29% of the total voting electorate in 2000, but 34% in 2004 -- which translated into millions of additional raw votes). Thus, it was an energized base -- not moderates or independents -- that sent Bush back to the White House. The President greatly values loyalty, so look for him to "dance with the one who brung him" over the next four years. Bush is already telling people that he would like to focus on brokering Middle East peace -- particularly between the Israelis and Palestinians -- as a goal for the next term. Also on the agenda will be the traditional Cabinet and top advisor changes. Secretary of State Colin Powell and Security Advisor Condi Rice have previously announced their plans to leave in January. Rumsfeld , Wolfowitz and other neo-cons could be dumped at Defense -- despite having Cheney on their side -- if Bush looks to make some dramatic changes in how he handles the Iraq War. Look for others to jump -- including some close Bush loyalists -- as the second term is always the traditional time to switch over from a meager government salary to a lucrative lobbyist salary while your guy is still in the Oval Office. That prediction isn't to denigrate Bush -- as it also happened under Reagan and Clinton during their second terms.
Posted by Ron Gunzburger - 11.04.04 |
BUSH VS. SPECTER: COURT CONFIRMATION BATTLES

AHEAD. One guy who doesn't seem to get that the second Bush Administration is likely to remain on a conservative course is newly re-elected US Senator Arlen Specter (R-PA). Specter, who is the incoming Chair of the Senate Judiciary Committee, warned the President on Wednesday to not nominate any hardcore pro-life candidates for the US Supreme Court. "When you talk about judges who would change the right of a woman to choose, overturn Roe v. Wade, I think that is unlikely ... The President is well aware of what happened, when a bunch of his nominees were sent up, with the filibuster ... and I would expect the president to be mindful of the considerations which I am mentioning," Specter told the AP. He also complained that -- unlike in the past -- the Supreme Court currently has no legal "giants" on the bench and is in need of one (i.e., late Justices such as Holmes, Frankfurter, Douglas, Brandeis, Warren, Black, etc.). As Chair, Specter would have the power to delay confirmation hearing and otherwise make them rather hard for a court nominee to overcome. The comments are consistent with Specter's past conduct, despite that fact that it was the personal intervention of President Bush in this year's primary that helped the Senator narrowly win renomination over a conservative challenger. Specter, 74, is unlikely to seek re-election in six years so he is now free to act as he wishes without concern for future political repercussions. A compromise candidate could be someone like current White House Counsel Alberto Gonzales -- a centrist former Texas Supreme Court Justice -- who is both a Bush loyalist and pro-choice.
Posted by Ron Gunzburger - 11.04.04 |
"RON IS BIASED."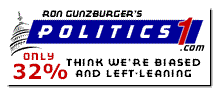 My op-eds yesterday got flamed big-time by some folks as proof that I "am biased" -- even though they were labeled "Liberal Rants" (emphasis on the word "Rants") and clearly identified as editorials. Let me remind everyone what it says on the About Us page of Politics1: "Despite whatever personal political views Ron holds, he's worked rather hard to keep this site as non-partisan, unbiased and fair to all as possible. In fact -- except in Ron's blog -- it's hard to find any expressions of Ron's personal opinions anywhere on the site. His opinions do creep into the blog from time to time, but he provides the comments section so folks who disagree can freely post counter-arguments to his views." At the end of the day, I think I do pretty decent job of drawing a well-defined demarcation line between my opinions and the items styled as news reports. I think that is why Politics1 remains one of the few websites that still has an audience of bloggers from the across the political spectrum -- which makes the debates here fun and lively (okay, and sometimes simply juvenile name-calling). Just my two cents.
Posted by Ron Gunzburger - 11.04.04 |
GAY RIGHTS: REASONABLE VS. RADICAL. Speaking of yesterday's op-eds, the one I wrote on the brilliant use of the gay marriage issue by the Bush campaign strategists drew the sharpest debate. Many conservatives posted comments that they supported same-sex civil unions but not gay marriage (which, frankly, was my personal position from the start), and would support other "reasonable" rights for gay people and same-sex couples --

but would not support "radical" parts of the so-called "gay agenda." That got me curious as to what items people -- particularly conservatives -- thought were "reasonable" rights to seek and what ones were "radical" rights. Below are some of the political items that gay people are seeking; simple cut-and-paste the list into the blog and answer one by one whether you think the item is reasonable or radical. And, by "reasonable," I'm asking if it is a reasonable item to seek and obtain today. (Note: This is NOT a debate today on the origins/causes of homosexuality.)

1. Same-sex civil unions (with nearly all legal rights and responsibilities largely similar to marriage):
Reasonable or Radical?
2a. Same-sex marriage (with legal rights and responsibilities identical to traditional marriage):
Reasonable or Radical?
2b. Allow homosexuals to serve openly in the military?
Reasonable or Radical?
3. Allow homosexual couples to adopt children (subject to the same background checks/concerns applied to all other potential adoptive parents)?
Reasonable or Radical?
4. Allow openly gay people to teach in the public schools?
Reasonable or Radical?
5. Allow some form of governmental domestic partner registry to protect the rights of same-sex partners?
Reasonable or Radical?
6. Require that same-sex partners be automatically included for spousal coverage under any insurance policies that otherwise provide that for married spouses?
Reasonable or Radical?
7. Allow a surviving same-sex partner to inherit -- with the same tax protections as a married spouse -- when a partner dies intestate (without a will)?
Reasonable or Radical?
8. Allow a surviving same-sex partner to collect the same pension or Social Security spousal survivor benefits as would be provided to a married spouse?
Reasonable or Radical?
9. Authorize the FBI and state law enforcement authorities to keep statistics of anti-gay "hate crimes" as they do for race and religion based crimes?
Reasonable or Radical?
10. Adopt federal protections (similar to the Civil Rights Act) that would prohibit discrimination in employment and housing that was based solely on sexual orientation?
Reasonable or Radical?

Yeah, there are more facets to the debate than just these ... but this list is already long enough as is. And, when you answer, feel free to identify your age, gender, sexual orientation, religion, region of the country, and party affiliation. If this goes the way I hope, it should actually lend itself to a lively and rather thought provoking civil discussion.
Posted by Ron Gunzburger - 11.04.04 |
THURSDAY OPEN THREAD. Okay, I vented yesterday (and feel much better today for having done so). I am reminded today of the humorous line from the late Arizona Congressman Mo Udall, when he ended his 1976 Presidential run: "The voters have spoken -- the bastards!"
Posted by Ron Gunzburger - 11.04.04 |

BUSH WINS RE-ELECTION; KERRY CONCEDES DEFEAT. President George W. Bush won re-election on Tuesday by a 51%-48% vote and comfortable margin of at least 3.5 million votes. A few key battleground states still appeared very close, but Senator John Kerry reportedly telephoned President Bush mid-morning on Wednesday to congratulate him. Bush will make his victory statement later on Wednesday in Washington, but will defer to Kerry to make a concession speech first in Boston in the early afternoon. When all votes are counted, Bush will have 280+ Electoral Votes, and will govern a very polarized nation. Independent Ralph Nader, unlike in 2000, was not really a significant factor in any of the key contest states. For the sake of our nation, at least we won't go through a month of legal wrangling to decide the outcome of this race.
Posted by Ron Gunzburger - 11.03.04 |
US

SENATE RACES. The Republicans won enough races on Tuesday to hold at least 54 seats in the next US Senate -- and possibly as many as 55 seats when a winner is declared in Alaska (note: the GOP candidate was leading as of Wednesday morning). Open seat winners: Attorney General Ken Salazar (D-CO), former US Housing Secretary Mel Martinez (R-FL), Congressman Johnny Isakson (R-GA), State Senator Barack Obama (D-IL), Congressman David Vitter (R-LA), Congressman Richard Burr (R-NC), former Congressman Tom Coburn (R-OK), Congressman Jim DeMint (D-SC), and former Congressman John Thune (R-SD). The big news, obviously, was Thune's 51%-49% defeat of US Senate Minority Leader Tom Daschle (D-SD). With Daschle ousted, look for US Senate Minority Whip Harry Reid (D-NV) to move up the ladder to the top Dem leadership position. Daschle is the first sitting US Senate party leader to lose for re-election in over 50 years. Reid is substantially more centrist than was the liberal Daschle. In Kentucky, US Senator Jim Bunning's (R) bizarre antics and questions about his mental health in the final weeks of the campaign almost snatched defeat out of the jaws of victory, but he held on by a 51%-49% vote against a vastly underfunded challenger.
Posted by Ron Gunzburger - 11.03.04 |
US HOUSE RACES. While -- as usual -- nearly all incumbents were re-elected, there were some prominent incumbents defeated. Some lost because of Presidential coattails, while a few lost because they viewed as out of touch or out of step with their districts. In Texas, the defeats came largely as a result of a 2003 redistricting plan masterminded by

US House Majority Leader Tom DeLay (R-TX). DeLay's plan was intended to ensure the defeat of five incumbents by carving them into new, heavily GOP districts. Overall, the GOP will add to their House majority, with an apparent net gain of two seats -- with a few seats still undecided. Tuesday's casualties: Congressmen Max Burns (R-GA), Phil Crane (R-IL), Max Sandlin (D-TX), Nick Lampson (D-TX), Charlie Stenholm (D-TX), and Martin Frost (D-TX). The challengers who defeated these folks are Athens-Clarke County Commissioner John Barrow (D-GA), business consultant Melissa Bean (D-IL), former District Judge Louie Gohmert (R-TX), and former District Judge Ted Poe (R-TX). Open seat winners: former Congressman Dan Lungren (R-CA), former State Senator Jim Costa (D-CA), State Rep. John Salazar (D-CO), former State Rep. Connie Mack IV (R-FL), State Senator Debbie Wasserman Schultz (D-FL), former Congresswoman Cynthia McKinney (D-GA), former State Senate Majority Leader Tom Price (R-GA), State House Minority Leader Lynn Westmoreland (R-GA), manufacturing consultant Geoff Davis (R-KY), former State Senator Joe Schwarz (R-MI), State Rep. Russ Carnahan (D-MO), former Kansas City Mayor Emanuel Cleaver (D-MO), former Lincoln City Councilman Jeff Fortenberry (R-NE), State Assemblyman Brian Higgins (D-NY), State Senator Randy Kuhl (R-NY), State Senator Virginia Foxx (R-NC), State Rep. Patrick McHenry (R-NC), State Rep. Dan Boren (D-OK), Bucks County Commissioner Mike Fitzpatrick (R-PA), State Senator Allyson Schwartz (D-PA), former Congressman Bob Inglis (R-SC), Justice of the Peace Al Green (D-TX), attorney Mike McCaul (R-TX), accountant Mike Conaway (R-TX), State Rep. Kenny Marchant (R-TX), former Secretary of State Henry Cuellar (D-TX), State Delegate Thelma Drake (R-VA), State Rep. Cathy McMorris (R-WA), King County Sheriff Dave Reichert (R-WA), and State Senator Gwen Moore (D-WI). Still too close to call: Indiana CD-9 race with Congressman Baron Hill (D) trailing trucking executive Mike Sodrel (R) by just 1,456 votes, with most of the votes counted. Also, the Louisiana CD-3 and CD-7 races will be decided in run-offs on December 4.
Posted by Ron Gunzburger - 11.03.04 |
GUBERNATORIAL RACES. Lots of hot gubernatorial races but -- at the end of the day -- the balance of power in the Governors' Mansions remained unchanged (with one seat still undecided). Republicans scored a pickup in Missouri, where Secretary of State Matt Blunt (R) defeated State Auditor Claire McCaskill (D). Democrats did likewise in Montana, where farmer Brian Schweitzer (D) won the open seat. In Indiana, former US Budget Director Mitch Daniels (R) ousted Governor Joe Kernan (D). Democrats came right back in New Hampshire, where former UNH Trustee John Lynch (D) defeated Governor Craig Benson (R). In Washington State, Attorney General Chris Gregoire (D) was trailing State Senator Dino Rossi (R) by 1,100 votes with nearly all precincts reporting -- but with tons of absentee ballots still to be counted. It could be days until we know who won.
Posted by Ron Gunzburger - 11.03.04 |
RON'S LIBERAL RANT #1. These next two items are purely editorial, so conservatives can feel free to skip them (or, alternatively, flame me in the blogs). That said, here it goes. I was very disappointed and appalled to wake up today in an America that is more concerned about so-called "moral values" than it is about jobs, the economy, security, or Iraq. Of course, "moral values" is a code phrase for opposing gay rights. Somehow, at some point after the end of the Cold War, the Republicans decided they needed a new enemy to use for electoral polarization purposes. The threat of communism faded, so the new fear became "the homosexual agenda" (which, as best as I can tell, means giving gay folks the same legal rights as others in property, tax, job, discrimination protections, family rights, parenting, adopting, military service, insurance coverage, etc., as every other taxpayer). This year, the George Bush/Ralph Reed strategy was to whip up a fear of gay marriage as a threat to traditional marriage. If these politicians really wanted to "protect the sanctity" of traditional marriage, they would be pushing a constitutional amendment to ban divorce. Now, that would really "protect" marriage -- but it would certainly lose them votes! Further, these sanctimonious "Christians" (who seem to think the Bible justifies their anti-gay views) generally seem to ignore all the parts of the Bible -- like 90% of the New Testament -- that is concerned with how we treat the poorest among us. Jesus didn't give his sermon on the mount to encourage tax cuts for the rich, to cut medical coverage for working families, children and seniors, to eliminate the "death tax," to curtail unemployment or job retraining benefits, to give tax breaks to businesses that export US jobs overseas, to despoil the earth, to promote a culture of greed, and so forth. Yet, these Christian Coalition folks push all these things because they think the poor are "lazy" or "irresponsible" or what not -- or are simply indifferent to their plight -- because "our values" are "under assault" by "radical homosexuals." Like I said, I don't like waking up in America today to realize that as a gay man I'm the apparently one of the new villains -- the new "communists" -- who threaten "our values."
Posted by Ron Gunzburger - 11.03.04 |
RON'S LIBERAL RANT #2. Okay, this is a screed aimed at all you Democrats in Iowa and New Hampshire. Remember Howard Dean, the guy who gave the Democratic Party a backbone implant in 2002-03 when everyone else in the party was rolling over and embracing the GOP agenda of tax cuts for the rich and an unprovoked war in Iraq? Remember back to this past January? Remember how you bought into the Kerry line ("Dated Dean. Married Kerry") that Dean was exciting but "unelectable" versus good, old, safe, "electable" John Kerry? Guess what. You sold out principles again for the hope of winning to a candidate who wanted to be all things to all people. I mean, c'mon, Kerry went through so many contortions on the Iraq War that he couldn't even get himself to admit that his use of force authorization vote was a mistake. Well, we tried it your way. We went with Dean-Lite ("Real Deal" = much of the Dean agenda attached to a good resume, but sucked dry of any passion or belief). So, here's my suggestion ...

And, next time, when you have a choice between a straight-talking but rough-around-the-edges candidate who shares our core progressive values and energizes you ... versus another haughty, blow-dried, DC insider ... go with your gut instinct. As Doctor Dean wrote just a few weeks ago in his great new book: "When you trade your values for the hope of winning, you end up losing and having no values -- so you keep losing." Want to do something to start our party in the right direction? Then click here!
Posted by Ron Gunzburger - 11.03.04 |
TUESDAY IS ELECTION DAY!! Politics1 is still largely a one-person operation (although we have lots of readers who send news tips, etc.). Still, we know our limits and we cannot exactly compete with the huge corporate news entities for providing real-time election night coverage. So, instead, we've posted open threads for the P2004, Gov, US Sen and House races ... plus our latest update from the 1/23 Marines. Plus, here are the links to the websites that will be posting live results from across the country ...

PRESIDENTIAL RACE - OPEN THREAD. Bush vs. Kerry ... and Nader, Badnarik, Peroutka, Cobb, and all the other hopefuls.
Posted by Ron Gunzburger - 11.02.04 |
GUBERNATORIAL RACES - OPEN THREAD. Blunt vs. McCaskill ... Kernan vs. Daniels ... Benson vs.Lynch ... Gregoire vs. Rossi ... and all the rest.
Posted by Ron Gunzburger - 11.02.04 |
US SENATE RACES - OPEN THREAD. Castor vs. Martinez ... Coburn vs. Carson ... Murkowski vs. Knowles ... Salazar vs. Coors ... and more.
Posted by Ron Gunzburger - 11.02.04 |
US HOUSE RACES - OPEN THREAD. Crane vs. Bean ... Salazar vs. Walcher ... Naples vs. Higgins ... Sessions vs. Frost ... and any other House contest you'd like to discuss.
Posted by Ron Gunzburger - 11.02.04 |
REPORT FROM IRAQ: AN ELECTION DAY MESSAGE. With all the fighting going on in Al-Anbar province around Fallujah, our "adopted" 1/23 Marines are rather busy these days. Fortunately, our friend and special correspondent Lt. James Crabtree of 1/23 took a few minutes to send a brief Election Day message to those of us back here in the United States.
Dear Readers of Politics1.com,

Greetings again from 1/23 in the Anbar Province of Iraq. Things are busy here, as I'm sure everyone is aware of from all the news reports. Our battalion is certainly doing it's share around here, like we have done since the day we got here. I'll be able to hopefully write a more detailed report for you in a few more days. For now, I simply wanted to share some pictures with you that I really like.


Sgt Gamez on the satellite phone with KISS-FM in San Antonio.

The first two are of Cpl Cruz and Sgt Gamez using one of our satellite phones to speak live with "Lisle and Hahn" on KISS 99.5 FM in San Antonio last Friday morning.


Corporal Cruz talking with the San Antonio radio station.

The call went well and I think these photos show you just how remote our area can be at times, as well as how amazing it is that we were able to call in live like we did. On Thursday we did another call in to the "Sammy and Bob Show" on KVET radio in Austin. It was wonderful to be able to talk with them again and we've really seen an increase in letters and care packages because of their efforts. You can go to www.kvet.com to hear some of the audio clips from the program.

I've also enclosed a photo that one of our Marines has out here that he wanted everyone to see:

This is a picture of (left to right) Lance Corporal Jimmy Bills, Sergeant Patrick Foreman, Future Baseball Hall of Famer Roger Clemens, Corporal Javier Quezadavazon, and Staff Sergeant Benjamin Clede at a Houston Texans football game last fall. These Marines were at the game to collect toys in the Marine Corps Reserve's Toys For Tots campaign and Clemens stopped by to say "thank you" for their service and have his photo taken with them.

Finally, I wanted to add a personal note since I know today is Election Day in America. Last night at our weekly chapel service we said a prayer to ask that our nation be brought together again after what has been a very acrimonious and divisive election. Whether our own candidate wins or loses, we are all still Americans -- and we asked that whoever is elected be given the strength and courage to lead our country during a very trying time in our history. I hope that people can realize that because someone disagrees with them politically, that it does not make them evil or stupid or so forth. Rather, they simply have a different view of life. Perhaps being able to disagree without being disagreeable is something more Americans can learn. I use as an example myself and our Chaplain. Navy LT David Dinkins is a great man and a good spiritual leader and while we don't agree necessarily on a lot of issues politically, we are united by things far greater than who wins or loses an election. Well, that's my two cents.

Thank you as always for your thoughts, well wishes, and prayers for our battalion and all of our men and women here in Iraq -- and for their families back home that worry each day about their loved ones.

Semper Fi,
James
If you'd like to send the 1/23d any care packages, please address the packages to Lt Crabtree, 1/23 H&S Co, Unit 41900, FPO, AP 96426-1900 ... and James will ensure that whatever you ship gets distributed to the Marines in the 1/23. If you'd like to read more about our adopted 1/23 Marine battalion in Iraq, please click here.
Posted by Ron Gunzburger - 11.02.04 |
SEND A PIN = GET A FREE PLUG HERE. Here's my open offer for every campaign (and campaign supporter): send me a button or pin from the Governor, US Senate, Congressional, Statewide Office, etc., campaign you are involved in -- feel free to add a sticker and brochure -- and I'll place a link to official campaign site here on our homepage blog in a daily "thank you" note. (FYI: Presidential coattails items always appreciated!) My address: Ron Gunzburger, 409 NE 17 Avenue, Fort Lauderdale, FL 33301. Today's thanks go out to: Howard Mills, Republican for US Senate in New York.
Posted by Ron Gunzburger -11.02.04
TRACKING THE BATTLEGROUND STATES ... FOR THE FINAL TIME!! With only a few exceptions from some numbers released late Monday night, these will be the final polls for this election cycle:
ARIZONA - SurveyUSA: Bush-56%, Kerry-41%.
COLORADO - Zogby: Bush-48%, Kerry-47%, Others-2%. SurveyUSA: Bush-52%, Kerry-46%.
FLORIDA - Zogby: Kerry-48%, Bush-47%, Others-2%. CNN/Gallup: Kerry-49%, Bush-46% with LVs ... or Kerry-49%, Bush-45% with RVs. The CNN/Gallup survey also found that Florida early and absentee voters statewide were split Kerry-54%, Bush-46%. Fox News: Kerry-49%, Bush-44%, Nader-1%.
IOWA - Zogby: Kerry-50%, Bush-44%, Others-2%. SurveyUSA: Bush and Kerry tied with 49% apiece. CNN/Gallup: Bush-48%, Kerry-46%, Nader-2% with LVs ... or Bush-47%, Kerry-46%, Nader-2% with RVs. Fox News: Bush-48%, Kerry-44%.
MAINE - SurveyUSA: Kerry-51%, Bush-44%.
MICHIGAN - Zogby: Kerry-52%, Bush-45%, Others-2%. SurveyUSA: Kerry-50%, Bush-47%.
MINNESOTA - Zogby: Kerry-49%, Bush-47%, Others-2%. CNN/Gallup: Kerry-52%, Bush-44%, Nader-1% among LVs ... or Kerry-51%, Bush-43%, Nader-2% among RVs.
NEVADA - Zogby: Bush-50%, Kerry-45%, Others-2%.
NEW MEXICO - Zogby: Bush and Kerry tied with 49% each, Others-0.5%.
OHIO - Zogby: Bush-48%, Kerry-44%, Others-4%. CNN/Gallup: Kerry-50%, Bush-46% with LVs ... or Kerry-51%, Bush-44% with RVs. Fox News: Bush-50%, Kerry-47%.
PENNSYLVANIA - Zogby: Kerry-50%, Bush-45%, Others-2%. CNN/Gallup: Bush-50%, Kerry-46% among LVs ... or Kerry-49%, Bush-47% among RVs.
WISCONSIN - Zogby: Kerry-51%, Bush-44%, Others-3%. CNN/Gallup: Bush-52%, Kerry-44%, Nader-1% with LVs ... or Bush-49%, Kerry-46%, Nader-1% with RVs. Fox News: Bush-48%, Kerry-45%.
The trend in recent days in these key states doesn't look good for President Bush. Do the math.
Posted by Ron Gunzburger - 11.01.04 |
US SENATE RACE UPDATES. COLORADO (Zogby): Attorney General Ken Salazar (D) - 52%, brewery magnate Pete Coors (R) - 44%. (SurveyUSA): Salazar-49%, Coors-47%.

FLORIDA (Zogby): Former Education Commissioner Betty Castor (D) and former US Housing Secretary Mel Martinez (R) tied with 46% each, Others-2%. (CNN/Gallup): Castor-48%, Martinez-46%. (Quinnipiac Univ): Martinez-49%, Castor-44%. (Insider Advantage): Castor-47%, Martinez-46%. GEORGIA (SurveyUSA): Congressman Johnny Isakson (R) - 56%, Congresswoman Denise Majette (D) - 40%. IOWA (Zogby): US Senator Chuck Grassley (R) - 68%, former State Senator Art Small (D) - 22%, Others - 2%. KENTUCKY (SurveyUSA): US Senator Jim Bunning (R) - 51%, State Senator Dan Mongiardo (D) - 42%. NEVADA (Zogby): US Senator Harry Reid (D) - 58%, anti-gay activist Richard Ziser (R) - 34%, Others - 1%. OKLAHOMA (SurveyUSA): Former Congressman Tom Coburn (R) - 47%, Congressman Brad Carson (D) - 39%, frequent candidate Sheila Bilyeu (Indep) - 8%. OHIO (Zogby): US Senator George Voinovich (R) - 57%, State Senator Eric Fingerhut (D) - 33%, Others-1%. PENNSYLVANIA (Zogby): US Senator Arlen Specter (R) - 53%, Congressman Joe Hoeffel (D) - 32%, Others - 5%. WISCONSIN (Zogby): US Senator Russ Feingold (D) - 59%, construction executive Tim Michels (R) - 36%, Others-1%.
Posted by Ron Gunzburger - 11.01.04 |
MADAME BUTTERFLY MORPHS INTO FREE SPEECH FOE. Do you remember Palm Beach County Supervisor of Election Theresa LePore -- the one down in Florida who approved the controversial

"butterfly ballot" in 2000? Well, she's back in the news again today. It seems that last week LePore quietly issued new guidelines on how elections are to be run at polling places in her county. Among her new rules: journalists are not allowed to interview or photograph voters who are lined up to vote at polling places. Even if the voters consent to be photographed and are willing to be interviewed. Even if the line is on a public sidewalk. However, she never bothered to tell the media about this even when she held a press conference this past Friday. Today, the Palm Beach Post reported that investigative journalist James Henry "was tackled, punched and arrested Sunday afternoon by a Palm Beach County Sheriff's Deputy who tried to confiscate his camera" after he photographed the line of voters. A Sheriff's spokesman and a county attorney later told the newspaper that "the deputy was enforcing a newly enacted rule" from LePore. Dozens of voters and numerous other reporters observed the incident. LePore refused to comment on the arrest or her new rules. Leon County Elections Supervisor Ion Sancho called LePore's new rule "an outrage." An ACLU attorney added: "Where did Theresa LePore get the authority to criminalize activities protected by the First Amendment?" A spokesman for LePore initially said that Henry was "a so-called investigative reporter who gave people phony credentials." When the Post told LePore's office that the journalist in question is a published author who has written for the New York Times, the Washington Post, and others over the years, the spokesman testily replied that the credentials had "looked phony and were not accepted." Henry was charged with disorderly conduct and resisting arrest without violence. The good news here: LePore narrowly lost her own race for re-election back in the August 31 non-partisan primary, so this will be the last election she supervises.
Posted by Ron Gunzburger - 11.01.04 |
A LITTLE EXTREME. We've obtained a copy of a full-color card that some GOP activists are distributing among the Cuban-American community in Miami's Little Havana neighborhood.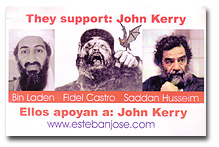 Talk about heavy-handed propaganda. So, what do you think of it ... and what's the story with the the superimposed bat on Fidel's hand?
Posted by Ron Gunzburger - 11.01.04 |
MONDAY OPEN THREAD. The clock is ticking down.
Posted by Ron Gunzburger - 11.01.04 |