11.29.03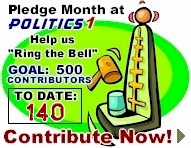 YOUR HELP NEEDED NOW. We're in the home stretch of Pledge Month here at Politics1. One donation this week was from David, a young soldier from Iowa -- currently away on active duty -- who dropped us this note: "I have enclosed a check for $20. I have bills too, and I wish I could do more." Thanks so much to him and the 127 others who have made generous donations. We still would appreciate help from some of the other 350,000 users who visit our site each month. Help us hit our goal: Just 483 pledges to go! Pledge anything -- $100, $50. $20, $10 or whatever you can afford -- to help keep Politics1 online. Please click the banner at right ... or, if you want to pay by check, click here. Reader contributions make a real difference for small, independent sites like ours!
CONFLICTING S.C. POLL NUMBERS. Depending upon which independent poll you believe, either John Edwards ... or perhaps Wesley Clark ... is the
frontrunner for South Carolina's February 3rd primary. The Greenville Magazine poll of 400 likely Dem primary voters -- conducted by the Feldman Group -- released Wednesday produced the following numbers: Edwards-17%, Al Sharpton-12%, Howard Dean-11%, Clark-10%, Joe Lieberman-9%, Dick Gephardt-8%, Carol Braun-6%, John Kerry-5%, and Dennis Kucinich-1%. Political pundits estimate that half of all likely primary voters here will be black -- and the 49% of the poll's respondents were black. The poll was taken within the past week, while Edwards was running a new TV spot in the state. By contrast, a new American Research Group monthly tracking poll of 600 registered SC Dem voters released Friday showed these numbers: Clark in first with 15%, Edwards was second at 12%, and Dean, Sharpton and Lieberman locked in a three-way tie for third with 9% apiece. Gephardt was next with 7%, and the remaining candidates each finished with 3% or less. South Carolina appears to be the key "make-or-break" state for the Edwards campaign.
PAGES UPDATED TODAY: Florida, Maryland, Michigan, Ohio, Texas, P2004, P2004: Green Party and P2004: Other Republicans.
PLEDGE MONTH UPDATE. Politics1 is largely reader supported by generous contributions. Thank you to today's donors: Kevin L, Tyler R, Arie vW, Andrew A, Daniel E, Brad P, Bill W, Gary I, Emi & Phil, Tim, and Marc W. Pledge Month Total: 128 donors.
11.27.03
HAPPY THANKSGIVING from Politics1.
PLEDGE MONTH UPDATE. Politics1 is largely reader supported by generous contributions. Thank you to today's donors: Joe C, Chris C, and Mark K. Pledge Month Total: 117 donors.
11.26.03
BUSH LOOKS STRONG IN FLORIDA.

Under most scenarios, Democrats need to win Florida in 2004 if they want a real shot at capturing the White House. New independent poll numbers from the state show the state currently favors President Bush by a wide margin -- unlike the 500 vote margin that swept him into office in 2000. According to the Orlando Sentinel poll, Bush would handily defeat any of his Dem rivals in the Sunshine State. The numbers: Bush-59%, Dean-36%; Bush-58%, Gephardt-36%; Bush-56%, Clark-33%; Bush-57%, Kerry-34%; and Bush-56%, Lieberman-36%. Pollster Brad Coker said Bush's 54% "approval on conduct of the war" and 52% "confidence on the economy" mean "it will be very difficult for the Democrats to win in Florida" next year. In a separate poll the newspaper conducted of likely Democratic primary voters, Joe Lieberman currently leads in the state. The Dem numbers: Lieberman-21%, Dean-17%, Clark-14%, Gephardt-11%, Kerry-6%, Sharpton-4%, Edwards-3%, Kucinich-1%, Braun-0%. Unfortunately more any Dems on that list, Florida's primary is March 9 -- meaning that many of them will already have quit the race by that mid-season primary date.
HE'S NEVER HEARD OF YOU, EITHER - THANKSGIVING EDITION. Thanksgiving is upon us and you wanna know what we're thankful for here at Politics1? We're thankful for the wide array of colorful, eccentric and bizarre obscure candidates who make it fun to follow US politics! Today we've decided to continue our series on the obscure Presidential candidates with a profile of Sterling Allan of Utah -- a candidate who

has played a political party version of musical chairs since announcing his candidacy nearly two months ago. Allan first jumped into the Libertarian Presidential contest in early October 2003. One month later, he exited the LP contest (saying that he disagreed with their stance on many issues) and then entered the race for the Constitution Party nomination. Then -- realizing that the CP had more or less already settled on a nominee already -- Allan announced last week that he would be the nominee of a new party he was founding named the New Awakening Party. Then again, he doesn't seem entirely settled on the party's ultimate name, as the header of the current web page for that entity reads: "New Awakening Party (or whatever name we end up choosing for it)." Allan -- a former activist in the Independent American Party of Utah (and an IAP nominee for State House in 1990) -- could essentially be described as a theocratic candidate. Of course, that would be within his own vision of what God is mandating as a self-described "Davidic Servant." From his various campaign websites (linked from his P2004 profile here), Allan is dedicated to establishing "Zion", which he defines as "the gospel and government of God working in harmony for the improvement and sanctification of all things. The kingdom of heaven on earth." As for his political views, he explains: "I agree with most of the Republican platform, to which the party gives but lip service, while their actions bespeak more of a move toward a cradle-to-grave socialist state." Where he gets a bit ... umm ... different is when he wrote that his own 2004 candidacy was "foretold in Alphabetics Bible Code." Born and raised as a Mormon, the LDS Church excommunicated Allan for "apostasy" (extremist beliefs related to his religious writings) in 1993. Since then, he has devoted nearly all his time to working to create his vision of God's Kingdom on Earth (and he also sells survivalist emergency supplies online). He also maintains that his election is essential to avoid the coming of World War III (if the US continues down what he sees as our current path). Allan also intends to seek the Presidential "endorsement" of the the US Independent American Party, the Constitutional Party, and other conservative parties in order to run as a "fusion" candidate. Amusingly, Allan's campaign chairman sent us an email this week explaining that we should recognize Allan as a real party nominee and not as an Independent candidate: "Please don't treat his campaign like the campaign of Joe Bellis, Da Vid, and Bob Dorn (independents who make-up a party) and group him with those weirdos. Please give him and his VP (who will be announced by Jan 15) the same treatment" as other nominees of established parties. We'll respond to that note with a polite: "No comment." Postscript: If you believe the various candidates, God may be hedging his bets on the P2004 race. In addition to Allan, don't forget about Presidential candidate Randy Crow (D), who we previously profiled earlier this month . We just noticed on his site that he wrote about "my hunch that I feel I may be The Returning Christ ... I do believe firmly that in a way whether or not I am The Returning Christ is a non event and do not worry about it at all, except I do pray that if I am The Returning Christ I would like to be the coolest, greatest, most fantastic Returning Christ in the history of the Universes." See ... that's why were thankful this year!
PLEDGE MONTH UPDATE. Politics1 is largely reader supported by generous contributions. Thank you to today's donors: Ben D, Anthony A, Jason H, Pete K, John H, Marcus vG, and David D. Pledge Month Total: 114 donors.
PAGES UPDATED TODAY: New Jersey, North Carolina, Vermont, P2004, P2004: Independents, P2004: Constitution Party, P2004: Prohibition Party, and P2004: Dean.
11.25.03
eBAY PRESIDENTIAL PRIMARY. Dean still leads in polls ... Dems debate yet again ... yawn ... more of the same old "Francisco Franco is still

dead" kind of political news today ... so we decided to come up with something a little different. Welcome to our "eBay Primary." Not a scientific measure of support, but it seems to be a good measure of the passion supporters demonstrate for their candidates (to wit: the amount of money will they pay to buy a cool campaign button touting their candidate). We went onto eBay this morning and checked out the items offered for each of the Dem candidates -- and we excluded the asking prices for items without any bids. Today's leader -- as in real life -- is Howard Dean. The top selling item was an official "Happy Birthday Howard" button (pictured at left), with a high bid currently at $6.05. Second was a Dick Gephardt union endorsement pin, with a bid of $4.25. Third was John Kerry at $3.33 (actually, it was $9.99 for three pins ... so this is the per-pin price). A lot of ten Wes Clark pins were selling for $5.01 (yup, that's 50 cents apiece) ... but an anti-Clark/pro-Bush pin was selling for $4. There were also pins on eBay for Kucinich, Braun, Lieberman, Sharpton and Edwards ... but there were no bids yet placed on any of them. For the truly passionate Dean supporters, one artist was selling his Warhol-esque pop art portraits of Dean (but it never got the opening required minimum bid of $65). Postscript: It turns out a small Howard Dean button from his 1992 race for Governor sold for $78 last night.
LOUISIANA SENATE PRESIDENT CONSIDERS ANOTHER PARTY SWITCH. Louisiana State Senate President John Hainkel (R) enjoys his leadership job and wants to have a good working relationship with incoming Governor Kathleen Blanco (D). Blanco -- who is replacing a term-limited GOP incumbent -- let it be known she'd like the next House Speaker and Senate President to be Democrats, according to CQ Politics Today. Hainkel told the New Orleans Times-Picayune that the most important thing to him is retaining his leadership post: "Maybe I'll be [a] Democrat ... If that is the biggest freakin' thing ... to [Blanco], I'd change my party affiliation. It doesn't make any difference to me. I could be an independent or a Libertarian or a Tory." Hainkel, a conservative, served as House Speaker as a Democrat in the late 1980s, before switching to the GOP in the 1990s when the tide shifted in his state. Hainkel also briefly flirted with making a GOP run for Governor earlier this year. In Lousiana, the House and Senate pick their own leaders -- but traditionally with the blessing of the Governor as to the choices. Blanco is believed to favor Senator Don Hines (D) for Senate President, as he was an early supporter of her candidacy. Hainkel, by contrast, endorsed one of the GOP candidates who lost to Blanco in the open primary.
HE'S NEVER HEARD OF YOU, EITHER. Today we continue our series on the more obscure Presidential candidates with our profile of Jim Taylor (D-MN), who recently qualified for a spot on the NH Primary ballot.

Taylor -- a young screenwriter, filmmaker and massage therapist -- claims that he first ran for President at age 16. With degrees in liberal arts, massage therapy and screenwriting, Taylor jokingly boasts that he has "the showbiz and holistic health background America is looking for in a President." After directing an independent film about some of the lesser-known Presidential candidates in 1996, Taylor decided to run in 2000 and made his own Presidential campaign the topic of his film entitled Run Some Idiot: One Schmuck's Presidential Odyssey. Taylor competed in the 2000 New Hampshire primary (87 votes -12th place) -- and completed his film (with cameos from President Bush, Al Gore, Mary Matalin and others). To raise money for his 2000 campaign/film, Taylor jokingly "sold" future ambassadorships. Contributors even get a certificate commemorating their future diplomatic posting (and could even be out-bid by future, bigger donors). He even cleaned toilets in voter homes to win support -- or, more likely, to mock how far some candidates will go with their "man of the people" stunts (like milking cows, flipping pancakes, etc.) to win votes. His 2000 slogan -- "Everything is crappy!" -- was intended just to grab attention for his humorous run. "It's sheer spectacle. Once I have your attention, I can talk about the issues I'm concerned about," he explained. One of his real issues: a 30 hour work week with no cut in pay. Taylor is back for a second run in 2004 ... and maybe he'll even produce a second "mockumentary" film about it.
PLEDGE MONTH UPDATE. Politics1 is largely reader supported by generous contributions. Thank you to today's donors: Camelia W, Jake H, Dale J, Eric Z, Tony O, Tom DeG, Anthony A, John Mark H, Glenn C, Pledge Month Total: 107 donors.
PAGES UPDATED TODAY: California, Kentucky, Pennsylvania, Virginia, Washington, and Calendar.
11.24.03
SURPRISE CONGRESSIONAL RETIREMENT.

Congressman Ken Lucas (D-KY), who earlier this year announced his plans to seek re-election in 2004 to a fourth term, announced Monday he changed his mind. Instead, Lucas said he would honor his voluntary term-limits pledge and retire in 2004. Lucas -- a conservative "Blue Dog Democrat" -- was able to regularly score victories for his party in this highly competitive district. The Kentucky Congressional delegation was once heavily dominated by Democrats. Today, the 70-year-old Lucas is the only remaining Democrat in the delegation. Lucas endorsed retired TV news anchorman Nick Clooney, 69, as his replacement. Clooney is also the father of actor George Clooney. "I have always considered myself a citizen legislator. In my three previous elective positions, I have voluntarily stepped down each time ... I determined that if there was a quality Democratic candidate, I would step aside," explained Lucas, of his decision and endorsement. Republicans already have a few strong candidates in the race -- including businessman Geoff Davis, the '02 nominee who ran strong against Lucas. Candidate filing in Kentucky closes January 27.
KERRY PROBLEMS GROWING.
Most observers have already relegated Senator John Kerry (D-MA) back to the ranks of the "also-rans" in the P2004 contest. The latest news from his homestate, however, must be truly demoralizing for his campaign. According to a new Boston Globe/WBZ-TV poll out Sunday, the man who was once viewed as the frontrunner in the Democratic Presidential race now trails Howard Dean even in Massachusetts. The numbers: Dean-27%, Kerry-24%, Wesley Clark-6%, and all others trailing further behind. A Boston Herald poll released Monday also shows Dean defeating Kerry in Massachusetts by nine points (33% to 24%). These numbers confirm a University of Massachusetts poll last week that also showed Dean leading Kerry by six points in the state. Add to that the latest NH poll numbers (American Research Group): Dean-38%, Kerry-17%, Clark-7%, Joe Lieberman-5%, and all others with 4% or less. Those numbers reflect a 7% drop for Kerry in just the past two weeks since the last ARG tracking poll. In related news, Dean picked up the endorsements this weekend of two more "super-delegates": Congressman Joe Crowley (D-NY) and Congresswoman Nydia Velazquez (D-NY). And, according to a new WHO-TV poll in Iowa, Dean has recaptured the lead there from rival Dick Gephardt. The new numbers: Dean-32%, Gephardt-22%, Kerry-19%, John Edwards-11%, and all others at 3% or less.
WHITE HOUSE HOPEFUL ARRESTED. On Friday we profiled gadfly Presidential candidate Bob Haines (R) -- the first candidate who qualified for a spot on the NH primary ballot. Haines, it seems, will not be running as active a campaign as he had anticipated. That's because he was arrested last week on a violation of parole charge for failing to keep his parole officer notified of his phone number and whereabouts. Haines spent time in prison for pulling a gun on a man while campaigning for President in the 1996 NH primary. Here's the really amusing part of the story: when arrested, Haines was given his standard "one phone call" to make before being locked away. Did he call a lawyer? Nope. He instead called the Associated Press office to let them know that he intended to keep his campaign going despite the arrest.
PLEDGE MONTH UPDATE. Politics1 is largely reader supported by generous contributions. Thank you to today's donors: Alon B, Fred R, William C, Richard M, William D, and Jeff B. Pledge Month Total: 98 donors.
PAGES UPDATED TODAY: Connecticut, Illinois, Kentucky, Maryland, Missouri, Ohio, Texas, Washington, P2004: Other Democrats, P2004: Other Republicans, P2004: Dean, and Jobs.
11.21.03
IL DEMS THREATEN CONGRESSIONAL REMAPPING. State Senate President Emil Jones (D-IL) this week filed a bill to have Illinois redraw congressional districts in the state for the 2004 elections to create more Democratic seats. The bill has no specifics yet -- and Jones conceded to the Chicago Sun-Times that he filed it "in case we want to do something." He said the move would be in direct response to the recent Texas redistricting plan adopted at the request of US House Majority Leader Tom Delay (R-TX). Congressman Luis Gutierrez (D-IL) joked to the newspaper that the bill should be entitled "The Tom DeLay Retribution Act." A mirror opposite of Texas, in Illinois the Democrats control the governorship and both houses of the state legislature. The current Illinois Congressional delegation is 10 Republicans and 9 Democrats. Experts believe a plan could be crafted that could possible shift the state to as much as 11 Democrats and 8 Republicans under redrawn lines. The new Texas map is designed to give the GOP 5-7 additional seats in that state. The new Illinois plan could be presented as early as January 2004.
EX-NH US SENATOR CONSIDERS COMEBACK ... IN FLORIDA. After US Senator Bob Smith (R-NH) lost his race for re-election in the GOP primary last year, he moved to Florida and went to work as a realtor. The political problems began when Smith ran for President in 2000.

During that run, he briefly left the Republican Party to seek the nomination of the Constitution Party -- and gave a fiery Senate floor speech blasting the party for betraying conservative values. Shortly after leaving the Republicans, he quit the Presidential race and rejoined the GOP. Those moves contributed in large part to his 2002 defeat in the Senate race. Apparently, selling beachfront real estate is not as enticing to Smith as a return to politics. According to the Charlotte Sun-Herald, Smith said he's been looking at the open US Senate seat race in the state ever since Bob Graham announced his retirement plans. "My wife and I certainly had no intention of re-entering politics when we moved here, but ever since Senator Graham retired, a lot of people have been asking me to run," said Smith. "I'll probably officially announce next month," he added. Is he worried about being called a carpetbagger? Not at all, he explains: "Florida is a state that has a lot of people in transition, a lot of people move here. I think the key for voters of Florida is ... an electable candidate who cares about the issues that they care about."
HE'S NEVER HEARD OF YOU, EITHER. Yet another in our profile series on the colorful but unknown P2004 contenders. Today's candidate:

Robert "Bob" Haines (R-NH). Haines -- a former Texan who campaigns in his trademark cowboy hat -- was the very first person who qualified for a spot on the 2004 New Hampshire primary ballot. In the past, he's run President in 1992 and 1996. He's also sought other offices in Colorado and elsewhere in past years. In the mid-1990s, Haines moved to DC and began writing a small political newsletter. He believes most voters remember that he was the man on the sidewalk in front of the White House who first tackled the gunman (Francisco Duran) who wanted to kill President Clinton by firing shots at the mansion and at Secret Service agents in 1994. Haines himself later spent time in jail for pulling a gun on a man while campaigning for the 1996 NH primary. Haines maintains he was defending himself after one man choked him and another threatened him outside a bar. "When elected, I will do my best to bring Saddam Hussein and Osama bin Laden to final justice. I will not grant amnesty to eight million illegal immigrants. I will not sacrifice national security for political gain. I will protect our borders ... I will have a strong economy and plan for budget surpluses so that we can pay off the national debt," said Haines, about his platform. Haines -- who says he's already campaigned in 36 states in recent years -- refuses to accept that he is unknown to most voters. He argues -- somewhat delusionally -- that he is much "like John McCain in 2000" and has "a real chance" of defeating Bush in New Hampshire. Haines has even taken up residency in the state just so he can campaign more effectively there.
AN EMBARRASSING OUSTER. In a highly unprecedented move, Florida Governor Jeb Bush (R) Thursday removed an elected official from office Thursday for gross incompetence, mismanagement and neglect of duty. Traditionally, elected officials are only removed from office for criminal wrongdoing or a health incapacity. However, in the case of Broward County Supervisor of Elections Miriam Oliphant (D),

Bush still seemed left with little other choice. Interestingly, nearly all local leaders from both major parties applauded his move. Oliphant -- you may recall -- was the inept elections official who failed to open some of her polls on time in the September 2002 primary, failed to staff the polls with people who even knew how to boot up the electronic voting machines, closed some of her polls hours early, and hid hundreds of mistakenly uncounted absentee ballots for months after the election. The county government was forced to step in for the November 2002 election with over 800 employees and entirely run the election for her. Since then, Oliphant fired most of the few remaining individuals in her office with any election management experience, gave pay raises to cronies, massively overspent her annual budget, failed to update her voter rolls, and this month conducted an election by mail which saw more total ballots returned to her office for bad addresses than the total amount of voted ballots returned by mail. Here are some excerpts from the very painful report by Secretary of State Glenda Hood's Assessment Team Report to the Governor: "A mature democratic society does not accept the sophistry that an incompetent elected official should not be removed because his or her election demonstrates that he or she is what the people want ... The [2002 primary] was an abysmal failure. Supervisor Oliphant's gross mismanagement of that election is undisputed ... dereliction of her statutory duties and unacceptable performance ... a fundamental lack of understanding of how to successfully run [her] office ... gross carelessness in the discharge of the Supervisor's duties [and a] known historical inability to conduct a successful election on her own ... a sobering example of what the dereliction of duty and incompetence exhibited by a single public official can produce ... Oliphant has shown little remorse for the conduct ... and a complete lack of understanding or concern for the consequences of her failure to meet even the minimum standards of care and practice for a Supervisor of Elections ... It is unconscionable to continue to expend state resources to bail this Supervisor out of one failed election after another." Just brutal. Bush replaced Oliphant with another black female Democrat -- a respected school system administrator -- which muted just about any criticism of the ouster. Here's the kicker: Oliphant plans to fight her removal in the State Senate ... and the former fashion model has told friends she may even seek re-election next year to a second term. One final thought to ponder: if we start removing elected officials all over the nation for gross incompetence, just think about the huge number of vacancies we would see!
PLEDGE MONTH UPDATE. Politics1 is largely reader supported by generous contributions. Thank you to today's donors: Anna K, John W, and Jeffrey C. Pledge Month Total: 92 donors.
PAGES UPDATED TODAY: Alaska, Kentucky, Maryland, Oregon, Pennsylvania, P2004, P2004: Other Democrats, P2004: Other Republicans, P2004: Dean, 2004: Gephardt, P2004: Bush, P2004: Edwards, P2004: Green Party, Issues: Military & Defense, Issues: Free Speech and Jobs.
11.20.03
JEB CHILLS WHITE HOUSE MEDDLING IN FL SENATE RACE. Governor Jeb Bush (R-FL) let it be clearly known in recent days that he was not pleased with the purported efforts by his brother's White House insiders to recruit US Housing Secretary Mel Martinez to run for the open US Senate seat in Florida next year.

Several GOP candidates are already in the race, and have been running for several months. Jeb -- in a less than subtle message to his brother -- told reporters that there was no vacuum in the GOP field, and that the party should be loyal to those Republicans who were brave enough to step forward and run when it appeared incumbent Bob Graham (D) was going to seek re-election. Jeb also made a point of praising several of those candidates by name and describing them strong candidates. Those comments apparently have caused the President's folks to back off their effort to pressure Martinez into the race. The "Draft Martinez" effort began in DC, apparently, in an effort to thwart Congresswoman Katherine Harris (R) from entering the Senate race as a more centrist alternative to what is currently a very conservative field of hopefuls. Some GOP strategists are worried that a Harris candidacy will energize Dems and constantly dredge up images of the divisive 2000 recount. Harris reportedly is very interested in the race and will only agree to take a pass on it if she can be shown empirical data that she is either unelectable or that her candidacy would seriously hurt the President in Florida. Harris supporters believe her candidacy would also energize the GOP base and give Harris an opportunity to tell her side that the outcome of the recount was an accurate measure of the real Florida vote.
SHE'S NEVER HEARD OF YOU, EITHER. Here's another in our profile series on the colorful but

unknown P2004 contenders. Meet Caroline Killeen (D-PA) -- a frequent marijuana legalization and peace candidate -- who recently qualified for a spot on the 2004 New Hampshire primary ballot. Previously, she ran for President in the NH primary in 1992 (96 votes) and 1996 (393 votes), and for US Senate and Arizona Governor in the 1980s and 1990s. She wasn't on the 2000 NH ballot because she was unable to come up with the $1,000 filing fee that year. At age 77, the self-styled "Hemp Lady" and a sometimes homeless former Catholic nun is back for another White House run. Killeen campaigns by bicycle, accompanied by her dog Lulu (who is also back for yet another NH campaign). To raise attention over the years for her legalization fight, she has pedaled cross-country at least ten times to date. If elected, she promises to personally lobby the Pope to have him endorse marijuana use. She calls her campaign platform "Killeen up America" (pronounced to kinda sound like "Clean-up America"). She supports converting the US to the metric system, environmental protection laws, abolishing the electoral college, and protecting smokers' rights. She opposes gay rights laws, women's rights laws, sanctions against Cuba, and war. "I don't mind the connotation that I'm homeless, because I am a bohemian and a Franciscan who believes in living close to nature," explained Killeen. "America Needs Trees, Not Bushes," reads the hand-lettered campaign sign she now carries.
PLEDGE MONTH UPDATE. Politics1 is largely reader supported by generous contributions. Thank you to today's donors: Adam T, David B, Amy L (her second contribution!), Michael M, Brian G, Phillip B, and Christopher S. Pledge Month Total: 89 donors.
PAGES UPDATED TODAY: Arizona, Florida, Georgia, Iowa, New Hampshire, Oklahoma, P2004: Other Democrats, P2004: Other Republicans, P2004: Dean, and P2004: Gephardt.
11.19.03
LOUISIANA RETIREMENT WATCH.

Retirement speculation continues to grow regarding both US Senator John Breaux (D-LA) and Congressman Billy Tauzin (R-LA). Breaux, 59, confirmed this week that he is trying to decide his future plans. He said he will discuss his options with his family over that Thanksgiving holiday, then make a public announcement of his decision sometime before December 15th. Breaux -- a conservative Dem who has served in Washington for over three decades -- is not currently facing any serious opposition for re-election next year. If Breaux decides to retire, Congressmen Chris John (D) and David Vitter (R) are seen as the likely frontrunners for the Senate seat. Meanwhile, Congressman Tauzin tried in recent days to squelch reports that he would resign his seat immediately if he was offered the lucrative post of chief lobbyist for the recording industry (RIAA). Instead of stopping the speculation, his spokesman actually did the opposite when he explained that Tauzin planned to complete his current term no matter what he decides to do in 2004 ... but added that Tauzin was interested in the RIAA position if it would be offered.
SUPER-DELEGATE UPDATE. Presidential candidates have picked up some Congressional endorsements this week. These endorsements are significant because all Democratic members of Congress are also automatically so-called "super-delegates" to the national convention next year. Howard Dean was endorsed this week by Congressmen Elijah Cummings (D-MD), Jim Moran (D-VA) and David Wu (D-OR) and Congresswoman Sheila Jackson-Lee (D-TX). Wesley Clark just picked up the support of US Senator Max Baucus (D-MT) and Congressman Anthony Weiner (D-NY). Joe Lieberman scored the endorsement of Congressman Alcee Hastings (D-FL). The Congressional super-delegate total to date (including, when applicable, the candidate himself): Gephardt-30, Dean-16, Lieberman-15, Clark-14, Kerry-11, Edwards-9, Kucinich-3, Braun-2, and Sharpton-2. See our P2004 pages for the names of these various endorsers.

SHE'S NEVER HEARD OF YOU, EITHER. We continue our profile series on the colorful but unknown P2004 contenders. Meet Millie Howard (R-OH), who ran previously ran for President in 1992, 1996 and 2000. She's back to make a fourth bid in 2004. In fact, her rather durable slogan of "Millie Howard for President USA 1992 and Beyond" is easily adaptable to as many more runs as Howard desires to make. A medical office receptionist and 66-year-old mother of four grown children, she earned her B.S. degree in Finance in 2003 from Northern Kentucky University. Arguing that politics in America is "corrupt" and our current system is "socialistic," Howard calls for smaller government. In a very libertarian vein, she also demands the elimination of any laws that codify immorality (which Howard defines as "abortion, bankruptcy, divorce"). "Government needs to be moral and the rest will fall in place," Howard explains. Her central theme is creation of a "$10,000 Birth Right Stipend" program to eliminate all current entitlement programs. She also advocates adoption of a constitutional amendment declaring that life begins at conception. Howard has already qualified for the New Hampshire primary ballot.
MY TWO CENTS. Is there anyone left in America who is surprised by the arrest warrant issued today for Michael Jackson? The question I have is for the parents of kids whom they allowed to "sleep-over" with Jackson. They need to ask themselves this: If there was any other forty-something year old guy who acted as weird as Jackson, dressed liked him, looked like him (the nose, the masks, etc.), and he knocked on your door one evening and asked you if little Billy could sleep over at his place tonight ... wouldn't your first reaction be to call the cops!!
PLEDGE MONTH UPDATE. Politics1 is largely reader supported by generous contributions. Thank you to today's donors: Peter M, Joseph C, Ken H, Joshua I, George P, Pete H, Terry H, McLane Co., William B, and Rick B. Pledge Month Total: 82 donors.
PAGES UPDATED TODAY: Colorado, Florida, Kentucky, Louisiana, New Hampshire, North Carolina, Oregon, Texas, Virginia, P2004, P2004: Other Democrats, P2004: Other Republicans, P2004: Dean, P2004: Lieberman and Calendar.
11.18.03
DEAN WIDENS N.H. LEAD.
The latest Marist College tracking poll of New Hampshire voters shows that Howard Dean is again widening his lead in the Granite State. Dean now holds a nearly insurmountable lead over the rest of the field. The numbers: Dean-44%, John Kerry-23%, and the rest of the pack all way behind in the single digits. In related news, Dean took to the television airwaves in Iowa with an attack spot against Dick Gephardt for supporting the Iraq War. Gephardt is Dean's main rival in the Iowa -- and the lead has see-sawed back and forth between the two men. Kerry is still making a serious effort in the state, but has yet to gain traction. The Dems also got some good news from the latest Gallup Poll, which show that President Bush's job approval rating "is sagging, and in several other categories he is at or near the lowest point of his Presidency."

CONFLICTING HISTORICAL LESSONS. Here are two interesting factoids to consider. #1 - Since the current Presidential primary system became influential in 1952, an incumbent President has never lost a re-election bid if he did not face significant opposition in the primaries (Source: Washington Post). #2 - A President who was elected to office by electoral votes while losing the popular vote has never won re-election to a second consecutive term (Source: Political Wire). We'll have to wait until November 2004 to see which lesson trumps the other one.
NO PRIMARY FOR KENTUCKY CD-6 SPECIAL. According to CQ Politics Daily, there will be no party primaries to decide nominees for the special election to fill the congressional seat soon to be vacated by Kentucky Governor-elect Ernie Fletcher (R). Instead, party leaders will select their respective nominees for this competitive seat. The special election will likely be held in mid-January.
PLEDGE MONTH UPDATE. Politics1 is largely reader supported by generous contributions. Thank you to today's donors: Joseph F, John A, Luqman S, John P, David T, Zachary H, Robert N, Zack W, and Richard S. Pledge Month Total: 72 donors.
PAGES UPDATED TODAY: Kentucky, Texas, West Virginia, P2004: Dean, P2004: Lieberman, P2004: Kucinich, Political Parties, News Links and Jobs.
11.17.03
FLORIDA DEMS CANCEL PREZ STRAW BALLOT. The Florida Democratic Party's leadership met Sunday and voted against holding a Presidential Straw Ballot at next month's State Convention. The DNC and many of the Presidential campaigns had lobbied strongly against holding a straw ballot -- arguing that the beauty contest for the 3,000 delegates would have forced them to divert valuable resources away from Iowa, New Hampshire and elsewhere for a state convention vote unrelated to the awarding of any convention delegates. Several campaigns also feared that Howard Dean would have scored a win here, giving him more momentum going into the early races. Jimmy Carter in the 1976 race and Bill Clinton in the 1992 race both won straw ballots contests in Florida, helping to establish their credibility as viable candidates. In exchange for cancelling the straw ballot, all nine Presidential candidates have agreed to attend the convention and help the party raise money. According to two party insiders, the DNC and at least two of the Presidential candidates also pledged to contribute to -- or raise for -- the Florida party a combined total of at least $1 million in exchange for scrapping the vote. Florida's primary is March 9 -- which may come one week too late to make any difference in the outcome of the Presidential nomination fight.
HE'S NEVER HEARD OF YOU, EITHER. Here's our latest profile of another one of the Presidential hopefuls you've likely never heard of -- and, quite possibly -- never will again. Today's candidate: Randy Crow (D-NC), as he's already qualified for the

New Hampshire primary ballot. Crow -- a small businessman and former realtor -- was an unsuccessful candidate for the Wilmington City Council in 1997. Then he ran for Congress in the 1998 primary (spending $200 and losing by a lopsided vote of 94% to 6%) ... then he ran for President in the 2000 primaries (he got on the ballot in New Hampshire and Louisiana) ... then he ran another losing primary for Congress later in 2000 (losing by a 93% to 7% vote) .. then he lost for Council again ... and most recently finished last place (9th - 1%) in the 2002 US Senate primary. Undaunted, he's running for President again in 2004. In an email to Politics1 in 2000, Crow explained his motives: "I am involved in politics to get rid of filthy communists and lots of others." He also believes the FBI blew up TWA Flight 800 with a laser and was somehow involved in the downing of Missouri Governor Mel Carnahan's 2000 campaign plane. On his website, Crow repeatedly expresses open hatred towards Jews (Example: "Vietnam was a zioni$t manipulated War designed to kill our Christian kids and install na$i communi$t zioni$m in the Vietnam region"). Most of the contents of Crow's site, however, appear to be rambling conspiracy tirades against various envisioned enemies: "It has been 13 years since the FBI fessed up to the fact they were investigating me. All my files are classified ... In 1994 the Federal Force manipulated a bunch of mess which questioned my sanity ... I think the Force had some weird blood work done on me or possibly put a computer chip in me." Crow was upset that we quoted these various passages in his P2004 profile so he printed a rather long, rambling screed on his site denouncing Politics1 as a "zioni$t" tool out to destroy him (he even attacked us for referring to him above as -- gasp -- a "former realtor" because, he notes, he only dabbled in real estate in the past). Be sure to read his articles on why he says Louie Freeh and the FBI killed Princess Di ... how President Bush Sr. ordered the 1963 hit on JFK ... and how the CIA and zioni$ts "framed" two black men as the suspects in the DC sniper shootings as part of an elaborate plot to ban gun ownership. He actually has nice stuff to say about a few folks: Milosevic, Gaddafi, Castro, the Chinese government, Gary Condit, Jim Jeffords, and others. Note: I'm not making any of this up! Visit www.randycrow.com and see for yourself.
PLEDGE MONTH UPDATE. Politics1 is largely reader supported by generous contributions. Thank you to today's donors: Bill C, Cheryl P, Stephen W, and Joseph F. Pledge Month Total: 63 donors.
PAGES UPDATED TODAY: Alaska, Arkansas, California, Colorado, Florida, Illinois, Iowa, Maryland, New Jersey, New York, Ohio, Pennsylvania, Texas, P2004: Dean, P2004: Green Party, Calendar, and Issues: Labor.