BLOG ARCHIVE: OCTOBER 16-31, 2007.
ROMNEY "NOT CHRISTIAN"; NEO-NAZIS FOR RON PAUL; ARG POLLS; WARNER CRUISES IN VA.
ROMNEY: Bloomberg News Service highlights a real example of the serious problems Mitt Romney will face in the South over his religious beliefs. Here is what Congressman Bob Inglis (R) advised Romney: "I told him, you cannot equate Mormonism with Christianity. You cannot say 'I am a Christian just like you.' If he does that, every Baptist preacher in the South is going to have to go to the pulpit on Sunday and explain the differences." Yet another Evangelical leader -- trying to say something nice about Romney -- also came off as patronizing and offensive towards LDS'ers. Focus on the Family Political Director Tom Minnery noted that Romney "allayed some fears'' about his religion by showing he didn't turn "the Governor's Mansion in Massachusetts into a Mormon temple."


PAUL. Nothing here directly connects the dots ... but it seems rather curious how excited neo-Nazis, skinheads and white supremacists are in support of Congressman Ron Paul's (R) Presidential candidacy. Stormfront -- the web's leading Neo-Nazi/Skinhead website, run by white supremacist leader Don Black -- displays a "Ron Paul Revolution" banner ads on the footer of each page. Also check out David Duke's WhiteCivilRights.com site, which prominently publishes articles authored by Ron Paul on the homepage -- along with Paul campaign updates and pictures of Paul campaign events. Why no denunciation of these hate groups by Paul? Pretty scary stuff. (Note: Thanks to our blog posters, as I found these links in yesterday's blog thread.)
IOWA. A new American Research Group (ARG) poll shows
Hillary Clinton and Mitt Romney holding solid leads in their respective contests. The DEM numbers: Hillary Clinton - 32%, Barack Obama - 22%, John Edwards - 15%, Bill Richardson - 7%, Joe Biden - 5%, Chris Dodd - 2%, and Dennis Kucinich - 1%. The GOP numbers: Mitt Romney - 27%, Mike Huckabee - 19%, Rudy Giuliani - 16%, John McCain - 14%, Fred Thompson - 8%, Tom Tancredo - 2%, Ron Paul - 1%.
NEW HAMPSHIRE. A new ARG poll shows Hillary Clinton and Mitt Romney also holding solid leads in the Granite State. The DEM numbers: Hillary Clinton - 40%, Barack Obama - 22%, John Edwards - 10%, Bill Richardson - 5%, Joe Biden - 4%, and Chris Dodd and Dennis Kucinich tied with 3% each. The GOP numbers: Mitt Romney - 30%, Rudy Giuliani - 23%, John McCain - 17%, Mike Huckabee - 7%, Fred Thompson - 5%, and all others at 1% or less apiece.
SOUTH CAROLINA. ARG also has a new SC primary poll. The DEM numbers: Hillary Clinton - 41%, Barack Obama - 19%, John Edwards - 18%, Joe Biden - 6%, and all others at 1% or less each. The GOP numbers: Mitt Romney - 29%, Rudy Giuliani - 23%, John McCain - 13%, Fred Thompson - 10%, Mike Huckabee - 5%, Ron Paul - 4%, Duncan Hunter - 2%, and all others at 1% or less apiece.
VIRGINIA. A new Rasmussen Reports poll on the US Senate race: Mark Warner (D) - 53%, Jim Gilmore (R) - 37%.
Posted by Ron Gunzburger - 10.31.07 | Permalink |
FREE SPEECH ZONE.
SATIRICAL EDITORIAL: (Spain - 1492) - Tomás de Torquemada, Queen Isabella's nominee to be the new Inquisitor General of Spain, today said he found the rack, strappado, and toca (also called tortura del agua) to all be "repugnant" practices. However, he stopped short of saying whether those "harsh interrogation" methods violated Spanish laws banning "torture." Torquemada explained that Spanish true believers are at war with heretics who are seeking to destroy our Godly kingdom and spread the violent, evil beliefs out to destroy our culture. "As repugnant as those harsh practicities are, the evil we are threatened with is an even greater threat to our security. I'm simply not prepared at this time to declare these methods to be 'torture,'" he explained, but promised to look further into the issue.
Posted by Ron Gunzburger - 10.31.07 | Permalink |
TANCREDO RETIRES; NEW IOWA POLL; NADER, McKINNEY WEIGH GREEN RUNS; NH ENDORSEMENTS.
COLORADO.

Congressman Tom Tancredo (R) -- a 2008 Presidential hopeful -- announced Monday he will not see re-election next year. "It's the fact that I really believe I have done all I can do in the House, especially about the issue [immigration] about which I care greatly," Tancredo explained to the Rocky Mountain News. Tancredo also said that if his White House bid fails, he's thinking of running against US Senator Ken Salazar (D) in 2010. No word as to whether Tancredo would also consider continuing his Prez run as a third party candidate under the Constitution Party banner -- but his decision not to seek re-election gives Tancredo the third party option without negative repercussions in a messy House renomination fight. Iraq War veteran and Secretary of State Mike Coffman (R) is quickly laying the groundwork for a likely run, and is viewed as the prohibitive favorite for both the primary and general if he jumps in. Several other Republican office holders are also looking at the race. While Dems will make a run at this open seat, the GOP should be able to hold this seat by a comfortable margin.
IOWA. A new University of Iowa poll shows a close Democratic Presidential contest, but a clear frontrunner for the GOP primary. The DEM numbers: Hillary Clinton - 29%, Barack Obama - 26%, John Edwards - 20%, Bill Richardson - 7%, Joe Biden - 5%, and all others at 1% or less. The GOP numbers: Mitt Romney - 36%, Rudy Giuliani and Mike Huckabee tied at 13% apiece, Fred Thompson - 11%, John McCain - 6%, Tom Tancredo - 2%, and all others at 1% or less. Interestingly, 55% of Democrats and 63% of Republicans said they were somewhat likely or very likely to change their minds about the candidate they were supporting before the January 3 caucuses. One disclaimer: UIowa apparently doesn't screen as tightly for likely caucus goers as do some other leading polls.


P2008. Ralph Nader and Cynthia McKinney continue to keep their third party options open for the 2008 Presidential race. Both are taking steps the maximize their options. The latest proof: Nader and McKinney each allowed their names to be placed on the California Presidential primary ballot for both the Green Party and Peace & Freedom Party contests, according to Ballot Access News. Socialist Party nominee Brian Moore will also compete in the PFP primary. The PFP primary is a beauty contest, as the party's ballot line on the November ballot in the state is decided at a summer convention. McKinney has also allowed her name to be placed on the Green primary ballot for the Illinois primary. Nader and McKinney have both expressed an interest in the Green nomination, but each also claims to have not yet made any decision on running next year.
NEW HAMPSHIRE. Two significant Presidential endorsements in the Granite State on Monday. US Senator Judd Gregg (R) -- the key prize among NH GOP leaders -- endorsed Mitt Romney. Portsmouth Mayor Steve Marchard (D) -- a favorite of NH progressives -- endorsed Bill Richardson.
Posted by Ron Gunzburger - 10.30.07 | Permalink |
FREE SPEECH ZONE.
Two days. Yup, it's a countdown to a big birthday. Whose? Politics1, of course! We celebrate 10 -- count 'em T-E-N -- years online as of November 1.
Posted by Ron Gunzburger - 10.30.07 | Permalink |
McCONNELL BELOW 50%; EDWARDS HITS 99; GHOSTS FOR RUDY; McCAIN PRESSES MUKASEY TO ANSWER TORTURE QUESTIONS.
KENTUCKY. US Senate Minority Leader

Mitch McConnell (R) may be in trouble as he faces reelection next year. A new independent poll shows him unable to crack the 50% mark against any of the possible Dems. According to the new Lexington Herald Leader/Research 2000 poll, McConnell leads State Auditor Crit Luallen (D) by a 45% to 40% vote. McConnell leads outgoing Attorney General Greg Stumbo (D) by a 46% to 37% vote. Congressman Ben Chandler (D) trailed McConnell by a 46% to 41% vote. Even a little known hopeful -- retired USMC officer and attorney Andrew Horne (D), who lost a '06 congressional primary -- kept McConnell under to 50% (45% to 34%). The poll also showed 47% of voters have a favorable view of McConnell, versus 46% who expressed an unfavorable view of him. Stumbo has already launched a Senate exploratory committee. Chandler told the newspaper he will not run for Senate in 2008 because he plans to stay in the House "for a while longer" (hint: he's going to run for US Senator Jim Bunning's seat in 2010). Luallen and Horne both confirmed they were looking at the McConnell race.


IOWA. Presidential hopeful John Edwards (D) this weekend visited his 99th county in the state -- meaning he has now visited every Iowa county. In the caucus process, this very thorough outreach effort usually gives candidates a major boost. Underdog Edwards finished a surprisingly close second place in the 2004 Iowa caucuses, after visiting all 99 counties. By contrast, Hillary Clinton has only visited 39 of the counties and Barack Obama has so far visited 59 Iowa counties.
GIULIANI. Call it an endorsement from beyond the grave, a seemingly timely event for the Halloween season. The late President Gerald Ford has apparently thrown his support behind Rudy Giuliani's Presidential bid. According to New York Daily News reporter Thomas DeFrank -- a close Ford confidant -- Ford told him last year that Rudy Giuliani should be the GOP nominee for 2008 "if [the Republicans] want to win ... He's really good, he's articulate -- he's just a leader." DeFrank and Ford engaged in an ongoing, off-the-record conversation for 32 years. Ford had a deal with DeFrank that he could publish everything he said, but only after his death. Thus the title of DeFrank's new book about Ford's private thoughts: Write It When I'm Gone.
CABINET. John McCain (R) is the latest US Senator to voice serious concerns over retired federal judge Michael Mukasey's nomination to be Attorney General.

Mukasey initially looked like a safe bet to win an easy confirmation -- but that was before he declined to give clear answers last week on his views on the legality of the US government torturing suspected terrorism suspects. McCain -- who was brutally tortured for years as a prisoner of war in North Vietnam and cannot raise his hands above his shoulder because of the lingering damage -- is one of the sharpest opponents to the US torturing captured combatants. He's repeatedly called for the US to honor in good faith the Geneva Convention protections for prisoners. Speaking last week before the Senate Judiciary Committee, Mukasey refused to say whether he considered the Bush Administration's "harsh interrogation" techniques such as waterboarding to be unlawful "torture." Waterboarding is a torture interrogation technique that was widely used by the Khmer Rouge in Cambodia in the 1970s and by the French military in Algeria in the late 1950s. It simulates drowning to the extent that the victim is totally unable to breathe until the waterboarding session is stopped -- and can actually result in death in some circumstances. "I can't be that absolute [as to how I will vote on confirmation] but I want to know his answer ... This is a very important issue to me," McCain told ABC News on Sunday. The two top members of the Judiciary Committee -- Chair Pat Leahy (D-VT) and ranking minority member Arlen Specter (R-PA) -- both insist Mukasey must give clear answers on the torture questions if he wants to be confirmed. As for McCain, he clearly considers waterboarding to be a form of torture. "Anyone who says they don't know if waterboarding is torture ... has no experience in the conduct of warfare and national security," said McCain, in a direct slam at Rudy Giuliani's comment last week that he was "not sure it is [torture] either, it depends on how it is done, it depends on the circumstances, it depends on who does it."
Posted by Ron Gunzburger - 10.29.07 | Permalink |
FREE SPEECH ZONE.
Last month I wrote a short article on my surprise encounter with colorful Nixonian dirty trickster, Roy Cohn pal and Trump advisor Roger Stone. If you think the guy is a colorful character, check out the cover story that the conservative Weekly Standard just wrote about Stone. Reading the piece, I've gotta say he is one seriously weird dude.
Posted by Ron Gunzburger - 10.29.07 | Permalink |
FREE SPEECH ZONE.
Have at it.
Posted by Ron Gunzburger - 10.27.07 | Permalink |
WA GOV REMATCH SET; McNULTY RETIRING; SAM & RUDY, CONT'D; RON PAUL HINTS; DAVIS VENTS.


WASHINGTON. Voters will see a rematch of the hotly contested 2004 open gubernatorial contest between Christine Gregoire (D) and Dino Rossi (R). Gregoire was the declared the 129-vote winner (out of 2.7 million votes) weeks after the election ended, following a lengthy statewide recount. Gregoire has already raised $3 million for the 2008 race, as a rematch had been anticipated. Classify this race as a toss-up.
NEW YORK. Congressman Mike McNulty (D) will announce his retirement on Monday, according to the Albany Times-Union. McNulty, 60, was first elected in 1988. From the start, McNulty has regularly won re-election by landslide margins. When veteran Congressman Sam Stratton (D) retired in 1988, McNulty was his anointed successor. Now that McNulty is retiring, Schenectady Mayor Brian Stratton (D) -- Sam's son -- is already being mentioned as a possible candidate for the seat. Stay tuned to see if McNulty attempts to pass the CD-21 baton back to the Stratton family.
CALIFORNIA. A new federal subpoena was issued this week in the ongoing FBI corruption probe of Congressman John Doolittle (R-CA). This subpoena, directed at the Chief Administrative Officer of the US House, requests all copies of Doolittle office emails. Copies of all emails sent to/from House offices are apparently saved to central email backup tapes. The CAO oversees all electronic communications for Members of Congress and their staff that pass through the official house.gov servers.
GIULIANI. US Senator

Sam Brownback (R-KS) met Thursday with former NYC Mayor Rudy Giuliani, then made a point of spending time posing with Giuliani for media photographers. Brownback also lavished praise on Giuliani, saying he was "much more comfortable now that I understand the Mayor's position [on abortion] ... and I think that's a very, very different future for this country [with Giuliani as President] than Hillary Clinton, who would appoint judges who I think would be liberal activist judges." According to The Hill, sources close to Brownback said he plans to make an official endorsement in the Presidential race within a month. Brownback also met with John McCain this week, and spoke with three other White House hopefuls by phone. However, most now believe Brownback is strongly leaning towards a Giuliani endorsement. Pundits expect there is very little chance Brownback would endorse either Mitt Romney or Mike Huckabee due to personal reasons which arose during the campaign. A Brownback endorsement would be seen as a major coup for Giuliani, as it would help show Religious Right leaders are becoming more willing to support him, and Giuliani could try to absorb Brownback's extensive grassroots network in Iowa.
PAUL: In an interview this week with MSNBC,

Congressman Ron Paul (R) pushed open the door for a possible third-party run a bit wider. "No, I don't plan to run in a third party. That's not my goal. But if we have a [Republican] candidate that loves the war and loves the neocon position of promoting --," said Paul, who did not complete his answer.
VIRGINIA: Congressman Tom Davis (R) on Thursday said rumors of his looming retirement were "greatly exaggerated." However, Davis said he had not decided yet whether to seek re-election next year and will actively continue fundraising for his re-election in order to keep his 2008 options open. Davis also used his remarks to bash his own party. He attacked the Virginia GOP leaders for deciding to select a US Senate nominee next year with a convention instead of a primary, calling that a process "behind closed doors." He then went on to attack the national Republican Party as being "at a fork in the road right now, and we're standing still. In my opinion, if the Republicans want to be a national party, we're going to have to change the way we do some things. To date, that isn't happening." He called on his party to abandon the current "issue matrix" that emphasized cultural and social issues. Instead, Davis said the GOP must return to its roots as a more centrist party that focuses on economic issues. As for the open US Senate race, Davis said he plans to be "disengaged" from everything political except his own race decision -- but promised he would quietly support the GOP Senate nominee next year.
Posted by Ron Gunzburger - 10.26.07 | Permalink |
FREE SPEECH ZONE.
Your daily open thread.
Posted by Ron Gunzburger - 10.26.07 | Permalink |
MICHIGAN TO CRASH NH'S PARTY; KERREY OUT; DAVIS MAY QUIT; SAM CONSIDERS RUDY ENDORSEMENT.
MICHIGAN. US Senator Carl Levin (D) vowed to The Politico he will do whatever he needs to do to ensure the Michigan contest is on the same day as the New Hampshire primary. The newspaper said Levin is trying to force New Hampshire into holding a December 2007 primary, a move which will likely end the protected first-in-the-nation status for New Hampshire and Iowa as of 2012. Levin explained that Michigan Dems are willing to hold a caucus instead of a primary to ensure it takes place on whatever date NH Secretary of State Bill Gardner select's for NH's primary.


NEBRASKA. Former US Senator Bob Kerrey (D) announced Wednesday he will not be a candidate for the open US Senate seat next year. Kerrey will instead remain in New York City as a university president. With Kerrey out -- the DSCC's top recruitment target -- former Governor Mike Johanns (R) becomes a heavy favorite to win the open seat (presuming, of course, he survives the primary challenge from Attorney General Jon Bruning).
VIRGINIA: According to several published sources, Congressman Tom Davis (R) -- who has decided to pass on the open US Senate race -- now appears instead to be on the verge of announcing his retirement from the House. Roll Call reports a retirement announcement could come as soon as this week. With Davis out, the swing seat would move into the Leans Dem category.
GIULIANI. US Senator Sam Brownback (R-KS), who quit the Presidential race last week, is considering endorsing former NYC Mayor Rudy Giuliani for President. Brownback confirmed to The Hill he will meet with Giuliani on Thursday to discuss various issues. "I'm going to meet with him and I'm going to talk to him and hear what he is specifically saying now because he's changed on a number of the abortion issues ... I haven't decided who or if and I haven't decided when [I will endorse someone]," said Brownback. Brownback also spoke with John McCain in recent days about a possible endorsement. "I think a lot of people would be open to [the] Giuliani endorsement because they don't want to lose to a Democrat," explained Jay Heine, who was Brownback's Iowa Political Director. By contrast, Iowa Right to Life President Kim Lehman said she would be "stunned" if Brownback endorsed Giuliani and that it would be "hypocritical" for Brownback because of Giuliani's views views on abortion.
Posted by Ron Gunzburger - 10.25.07 | Permalink |
FREE SPEECH ZONE.
Your daily open thread.
Posted by Ron Gunzburger - 10.25.07 | Permalink |
BESHEAR, COLLINS LEAD IN POLLS; VA & LA SPECIALS; NO BIG DEM LIKELY VERSUS LINDSEY GRAHAM.
KENTUCKY. A new WHAS-TV/SurveyUSA poll yet again confirms Governor Ernie Fletcher (R) is headed towards a landslide re-election defeat next month. The new numbers: former Lieutenant Governor Steve Beshear (D) - 58%, Fletcher - 38%.


MAINE: A new Research 2000 poll shows incumbent US Senator Susan Collins (R) holding a giant lead over Congressman Tom Allen (D). The numbers: Collins - 56%, Allen - 33%. Considering the poll was conducted for the liberal DailyKos.com website, the Collins-Allen fight thus far is not living up to the media hype as being "a competitive race."
CONGRESS. The looming Congressional special elections in Virginia and Louisiana are rapidly getting crowded. For the Virginia CD-1 seat, left vacant by the death of Congresswoman Jo Ann Davis (R), Governor Tim Kaine on Tuesday set December 11 as the special election date. The parties will select nominees by convention, but five Republicans have already announced. At least 13 others are reportedly looking at the race. Click here to view the list if possible Virginia candidates. For the Louisiana CD-1 race for the seat being vacated by Governor-elect Bobby Jindal (R), no election date is yet set as Jindal has not submitted his resignation. A February 2008 election date seems most likely. So far, there are three announced candidates -- and as many as a dozen more could jump in. Click here to view the list if possible Louisiana candidates. The Louisiana race is also expected to be a very costly primary contest.


SOUTH CAROLINA. Former Democratic State Chairman Joe Erwin announced this week he will not challenge US Senator Lindsey Graham (R) next year. With Erwin out, the Dems have no viable hopefuls even looking at the race. That doesn't mean Graham is in the clear for re-election, as he is likely to face a very bruising renomination battle. Conservatives are upset with Graham's vocal support for Senator John McCain's immigration reform legislation earlier this year, which they label as an "amnesty" bill for illegal immigrants. They also denounce Graham for his opposition to the use of torture on suspected terrorists, as Graham -- a military reserve officer -- insists the US must follow the Geneva Convention protections for prisoners of war. While two minor GOP challengers are already announced candidates, others rumored to be looking at the primary contest include State GOP Chairman Katon Dawson, State Representative Jeff Duncan, former Congressman Tommy Hartnett, and Ambassador and former State House Speaker David Wilkins.
Posted by Ron Gunzburger - 10.24.07 | Permalink |
HE'S NEVER HEARD OF YOU, EITHER: ROBERT HAINES (R-NH).
Here's another installment in our ongoing, irregular series of profiles on the Presidential candidates you've never heard of. Meet Robert "Bob" Haines (R-NH). A self-proclaimed "adopted Texan" who campaigns in a ten-gallon cowboy hat, Haines

previously ran for President in the 1992, 1996 and 2004 primaries. He also sought other offices in Colorado and elsewhere in years past. In the mid-1990s, Haines moved to DC and began writing a political newsletter. He believes most voters still remember today he was the man on the sidewalk in front of the White House who tackled the gunman (Francisco Duran) who tried to kill President Clinton by firing shots at the building and at Secret Service agents in 1994. Haines himself later spent time in jail for a felony charge related to his pulling a gun on a man while campaigning for the 1996 NH primary (and again in 2003-04 for violating his probation from the '96 case). Haines maintained he was defending himself after one man choked him and another threatened him outside a bar. One of the funniest moments came when Haines was arrested in 2003 for the VOP charge and, from jail, used his post-arrrest "one phone call" to telephone the AP to declare his jailing would not stop his campaign for President. As for his views, Haines describes himself as "a fiscal and social conservative" who "advocates longer sentences for drugs and violent crimes and advocates fighting drugs and terrorists at their sources in Columbia [sic.] and Afghanistan ... [and] advocates that the war in Afghanistan should have been originally been aggressively pursued into Pakistan to get Bin Laden and his army with the help of Pakistan's army." Haines -- who claims he's campaigned in 36 states in recent years -- refuses to accept the reality that he remains an unknown to most voters. As in 2004, Haines has established residency in the state just so he could campaign more effectively there. In 2004, he finished tenth in the NH primary with 579 votes. Haines hopes to improve his showing in 2008, and has already qualified for the NH primary ballot. No website yet.
Posted by Ron Gunzburger - 10.24.07 | Permalink |
FREE SPEECH ZONE.
Just a one sentence editorial today: Shame on Congressman Pete Stark (D-CA) ... for apologizing for his comments about President Bush (especially after the pathetic censure move failed).
Posted by Ron Gunzburger - 10.24.07 | Permalink |
RNC PENALIZES 5 STATE PARTIES; GILCHREST FACES PRIMARY; GOP PRESSURES DOOLITTLE.
P2008. Republican National Chair Mike Duncan has decided to recommend imposing convention sanctions against the Republican Party organizations in New Hampshire, South Carolina, Florida, Michigan and Wyoming to strip them of half their delegates. The sanctions are in response to moves in each of those states which advanced

Presidential primary contests ahead of those officially sanctioned by the RNC. Iowa and Nevada would not reportedly be sanctioned for similar moves because those caucuses "technically .. are not binding on convention delegates," reported the AP. "It's very important that our party uphold and enforce the rules that we unanimously voted into place at the Republican National Convention in 2004 ... We spent most of this past year educating [state parties] on what the rules are. This should come as no surprise to them," said Duncan. The RNC's executive committee voted unanimously on Monday to recommend the sanctions, which must also be ratified by the full RNC. The full RNC is expected to overwhelmingly support Duncan's request. South Carolina GOP Chair Katon Dawson vowed to sue in federal court, if needed, if the RNC strips the state of any delegates. "We are certainly going to put up a fight," said Dawson. "I'm very confident of our legal footing," replied Duncan. By contrast, New Hampshire GOP Chair Fergus Cullen said he was willing to accept the punishment if it preserves the state's first-in-the-nation status. Florida GOP Chair Jim Greer described the squabble as "a disagreement among friends" -- but vowed the Florida party will send the full contingent of delegates to the convention and demand they all be seated. Mitt Romney has already agreed to Florida's demands, telling party leaders over the weekend that he "guarantees" the whole Florida delegation will be seated at next year's convention if he is the nominee, according to The Hill. Romney's pledge will certainly set off protests from Iowa and NH party leaders. The DNC recently imposed sanctions against Florida -- stripping it of all convention delegates -- prompting a federal lawsuit by Florida Dems to overturn the DNC's penalty as an unlawful violation of the federal Voting Rights Act. Michigan Dems are likely to face a similar penalty by the DNC, and mount a similar legal challenge.
MARYLAND. Primary challenger and State Senator Andy Harris (R) outraised

Congressman Wayne Gilchrest (R) by a 4-to-1 margin in the most recent quarter, according to FEC reports. Former Governor Bob Ehrlich (R) last week added to the incumbent's woes by endorsing Harris. Ehrlich and Gilchrest have been political foes ever since Gilchrest actively opposed Ehrlich's failed move in 2004 to legalize slot machine gambling in the state. "When I talk about a team player, I'm talking about a Congressman who would support a sitting Republican Governor doing difficult things in the minority in Annapolis ... I didn't get that. Andy will deliver that because he understands what it means to be a team player," said Ehrlich. "This is about Bob Ehrlich making a political comeback and wanting politicians in office who he can influence," replied Gilchrest's spokesman. Four other Republicans are also running. All the GOP challengers tout themselves as conservative alternatives to the centrist Gilchrest. The incumbent, a decorated Vietnam War veteran, has also turned from an Iraq War proponent into a frequent critic of the war. NRCC Chair Tom Cole (R-OK) rallied to Gilchrest's defense. "I think he's an exceptional Member [of Congress] ... He does a good job and I think he'll be a very effective candidate, because he always is," said Cole to the Baltimore Sun. Gilchrest has fended off aggressive conservative primary challenges nearly every time he's faced re-election. Three Dems are also running for the CD-1 seat.
CALIFORNIA. Republicans are turning up the heat on Congressman

John Doolittle (R) -- a main federal target of the ongoing Abramoff corruption probe -- to convince him to retire. Congressman John Campbell (R-CA) became the first GOP incumbent to publicly call on Doolittle to quit his race for re-election. "I am very concerned about the situation in that district and our ability to comfortably hold what is a safe Republican district ... I do think it would be best if he didn't seek re-election," Campbell told the AP. An angry Doolittle quickly lashed out at Campbell: "I hope John Campbell never has to experience what [my wife] and I have been going through the past three and a quarter years. If he ever does, he will truly understand how frustrating it can be for people to attack your honor and integrity." More ominous were comments by NRCC Chair Tom Cole (R-OK), who declined to say he wanted Doolittle to be the GOP nominee next year. "I don't make that decision. The voters in the fourth district make that ... [The NRCC doesn't] have enough money to be generous and I'm going to put money where I think we can win," said Cole. Doolittle is facing a serious primary challenge. Likewise, independent polls show Doolittle trailing his likely Democratic foe by a double-digit margin.
Posted by Ron Gunzburger - 10.23.07 | Permalink |
HE'S NEVER HEARD OF YOU, EITHER: FRANK LYNCH (D-FL).
Here's another installment in our ongoing, irregular series of profiles on the Presidential candidates you've never heard of. Meet Frank Lynch (D-FL).

This unknown has already qualified for the Utah primary ballot and vows he will appear on the primary ballots in every state. However, it was the approach he used in his first contact with Politics1 that grabbed our attention. "My campaign has so much more credibility than most of the people you have listed as other Democratic candidates," emailed Lynch. With amusingly grandiose narcissism, Lynch touts himself on his main website as "The New Ideological Leader of the Democratic Party: Presidential Candidate, Futurist, Educator, Philanthropist, Author, and Publisher." In fact, let's let Lynch describe himself some more. Lynch is "a lifelong Republican who converted to become the new ideological leader of the Democratic Party and the most exciting and important Democratic Candidate for President, leading a grassroots revolution for energy independence, free healthcare, free daycare, free college, healing the planet, anti-globalization and abolishing the income tax!" And -- just in case you haven't yet gotten the idea that this guy loves himself -- Frank wants to tell you about his other really, really important projects: Frank Lynch University™ ("Frank Lynch, Chancellor and President" ... currently in the "developmental stage"), the Frank Lynch Foundation™ ("for Abused Children and Abused Women & America's Forgotten Poor"), FranksHeroes™ ("Where people peacefully but firmly re-take control of the nation"), Frankskids™ ("Frank Lynch proposes to construct a nationwide system of Frank's Children's Villages"), and -- I'm not making this up -- Hot4Frank.com ("Submit links to your own Videos, Songs and Pics about Frank Lynch"). Keep in mind that "Frank Lynch University™, FLUNI™ and Frankskids™ are Trademarks of Frank Lynch University™ Inc. Franksheros™ and Frank Lynch USA™ are Trademarks of Frank Lynch USA™ LLC." Perhaps if he wins, he'll rename the United States into "Frank Lynch USA™". An aside: Hot4Frank??!! You've got to be kidding me! "Hot4Brad" Pitt or "Hot4Jeremy" Bloom, I could understand ... but "Hot4Frank" Lynch? WTF! Not even in a most drunken condition during last call could ever I imagine something as horrid as that. By the way, don't blame me for the unflattering Lynch picture in this story. The cut-off-at-the-neck photo I'm using is the only pic of Lynch you'll find on all his sites. So, did this profile inspire you to pen your musical ode and/or video to Frank Lynch™? Then get writing, 'cuz The New Ideological Leader of the Democratic Party is waiting to hear from you. One can only hope that a hysterical Chris Crocker uses his remaining 48 seconds of fame to make a supportive "Leave Frank Lynch Alone" video for YouTube.
Posted by Ron Gunzburger - 10.23.07 | Permalink |
FREE SPEECH ZONE.
Your daily open thread.
Posted by Ron Gunzburger - 10.23.07 | Permalink |
JINDAL WINS; VALUES VOTERS CONVO; SEN JOHNSON TO RUN AGAIN; SOCIALISTS PICK TICKET.
LOUISIANA: Congressman

Bobby Jindal (R) cruised to a comfortable victory on Saturday, scoring a gubernatorial pickup for the GOP in the open seat contest. Jindal began the race as the frontrunner and never lost his early momentum. It was big turnaround for Jindal, who narrowly lost for Governor four years ago. In winning, Jindal becomes the youngest Governor in the nation at age 36. As a first generation American son of immigrants from India, he also becomes Louisiana's first non-white Governor. "My mom and dad came to this country in pursuit of the American dream. And guess what happened. They found the American dream to be alive and well right here in Louisiana," said Jindal in his victory remarks. Jindal scored 54%, State Senator Walter Boasso (D) had 17%, wealthy businessman John Georges (Independent) had 14%, state PSC Commissioner Foster Campbell captured 13%, and eight others trailed distantly behind. Lieutenant Governor Mitch Landrieu (D) won re-election without a run-off. Attorney General Charles Foti (D) finished third in his race, failing to qualify for the November 17 run-off. Seven-term State Agriculture Commissioner Bob Odom (D) finished in a virtual tie with State Representative Mike Strain (R), and both will meet in the run-off. Odom was acquitted of 21-counts of corruption by a trial court judge earlier this year -- but Strain is making corruption an issue in the race. A special election to replace Jindal in Congress will need to be set, likely in January or February.
P2008: Participants at the

Values Voters Summit in DC this weekend gave Mitt Romney a narrow victory over Mike Huckabee. The overall vote total (which included online ballots): Romney - 1,595 votes, Huckabee - 1,565 votes, Ron Paul - 865 votes, Fred Thompson - 564 votes, Duncan Hunter - 140 votes; Tom Tancredo - 133 votes; Rudy Giuliani - 107 votes; John McCain - 81 votes; and 32 votes scattered among the various Democratic candidates. However, when the vote totals were limited to those who attended the gathering and heard the candidate speeches, the results were very different: Huckabee - 488, Romney - 99, Thompson - 77, Tancredo - 65, Giuliani - 60, Hunter - 54, McCain - 30, Paul - 25. Rudy Giuliani made a point of attending the event without pandering on their key issues of abortion and gay rights. "I'm not going to pretend to you that I can be all things to all people. Iím just not like that. You know we have some areas of disagreement. Please know this, you have nothing to fear from me," he told the crowd.
SOUTH DAKOTA: US Senator Tim Johnson (D) announced Friday he will seek re-election next year. Johnson suffered a near-fatal brain hemorrhage last December. "After months of rehabilitation and recovery, more than a month on the job in Washington and after my recent trips back to South Dakota, it is clear, to my family, my doctors and me, that I am able to do the hard work required of a United States Senator," said Johnson in his written statement. State Representative Joel Dykstra -- a second-tier quality candidate -- is currently the leading GOP hopeful in the race.
SOCIALIST PARTY: The Socialist Party-USA held its Presidential nominating convention this weekend. Executive recruiter and peace activist Brian Moore of Florida -- a former Democratic congressional hopeful -- was nominated for President. Auto salesman and community activist Stewart Alexander of California was nominated for VP. As Alexander has long-time ties to California's Peace & Freedom Party, the SP-USA hopes the Moore-Alexander ticket has a decent shot of capturing PFP's valuable line on the California Presidential ballot in November 2008.
Posted by Ron Gunzburger - 10.22.07 | Permalink |
FREE SPEECH ZONE.
The daily open thread.
Posted by Ron Gunzburger - 10.22.07 | Permalink |
LOUISIANA PRIMARY DAY.
Saturday is primary day in Louisiana, and nearly all the attention is on the race to replace retiring Governor Kathleen Blanco (D). Congressman Bobby Jindal (R) -- who narrowly lost to Blanco four years ago -- is the heavy favorite this time to win. Without doubt, he'll finish first in the primary by a wide margin. Polling shows Jindal hovering just below the 50% mark, so it still remains unclear whether or not Jindal will win outright on Saturday. The Louisiana Republican Party was concerned enough about multimillionaire businessman John Georges (Independent), a former Republican, that they launched attack spots ads against him this week. Not from fear that Georges -- seemingly still in the 10-15% range -- would win the primary, but that his recent rise in the polls may be enough to deprive Jindal of a majority win and force a November 17 run-off.
Posted by Ron Gunzburger - 10.20.07 | Permalink |
FREE SPEECH ZONE.
Question of the Day: Now that Brownback is out, will anyone else quit the Republican or Democratic Presidential race before the first votes are cast in Iowa?
Posted by Ron Gunzburger - 10.20.07 | Permalink |
BROWNBACK TO QUIT; SCHIP OVERRIDE FAILS; BLOOMBERG'S PLAN; HASTERT, CUBIN EXITS?
BROWNBACK: US Senator

Sam Brownback (R-KS) will end his Presidential campaign in a scheduled announcement Friday in Topeka. Brownback -- who hoped to emerge as the leading social conservative for the nomination -- was crippled in the race by a distant third-place showing in the Ames Straw Poll in August and by weak fundraising results. Brownback raised only $926,000 in 3Q-07 and reportedly has less than $100,000 remaining in his campaign account. While Brownback would be eligible for $2.1 million in matching funds in January, his campaign is carrying no debt. He reportedly believes his lack of money makes it impossible to become a viable enough candidate to break into the first tier, so he will end his campaign. While Brownback will likely endorse another candidate eventually, don't expect any endorsement on Friday. Brownback has previously announced he will honor his voluntary term-limits pledge and not seek re-election in 2010 -- although he may instead be a candidate for Governor that year.
CONGRESS: By a vote of 273-156, the House failed by just 13 votes to get the 2/3 vote required to override President Bush's veto of the SCHIP legislation to increase funding by $35 billion for a national children's health insurance program aimed at helping middle-class families. The SCHIP program covers about six million children whose parents earn too much to qualify for federally-funded Medicaid for the poor, but don't earn enough to afford private health insurance. President Bush said he was "pleased" with the vote and called the legislation "misguided." Congressman Rahm Emanuel (D-IL) told CNN the fight would continue: "There will be no compromise on 10 million children's health care ... The American people support this issue because kids do not need to suffer for what is basically a broken health care system, and this provides those children with that health care." The bill previously passed in the Senate with a veto-proof bipartisan majority supporting it. Among the many Republicans supporting the vetoed SCHIP bill were Senators Orrin Hatch and Chuck Grassley. Speaker Nancy Pelosi (D-CA) is vowing to send a nearly identical SCHIP bill to President Bush's desk in two weeks.


BLOOMBERG: Manhattan Media's political site City Hall has an interesting article about billionaire NYC Mayor Mike Bloomberg (Independent), who may yet become a 2008 Presidential candidate despite his repeated denials to the contrary. In fact, Bloomberg's repeated denials of interest actually appear to be part of a very calculating marketing strategy. Read the story here -- amusingly entitled "If He Did it ..." -- especially because it features thoughts on the topic from Bloomberg political guru Kevin Sheekey, US Senator Chuck Hagel, political consultant Ed Rollins, former Maine Governor Angus King and others. That fact that Sheekey is quoted so prominently makes it worth a read. Sheekey is the Bloomberg strategist who keeps floating all those the "Bloomberg for President" stories to the media -- yet Bloomberg has kept Sheekey on his City Hall payroll and (according to Sheekey) never instructed him to stop promoting a possible White House candidacy.
HASTERT: Former House Speaker Denny Hastert (R-IL) flatly denied the widespread media reports Thursday he was planning to imminently resign his House seat. However, Hastert also refused to say he intended to complete his current House term. Explaining to MSNBC that he still has a lot of work to do, Hastert said he has no plans to resign "at this time." Instead, according to MSNBC, Hastert will likely wait until early 2008 to resign so that his special election will not fall on the February 5 Presidential primary day in Illinois. Republicans fear a large primary turnout that day for homestate favorite Barack Obama would hurt GOP chances of holding Hastert's seat if February 5 was also the day of the special general election. By waiting to resign, the special election will be set for a

later date.
WYOMING: Place Congresswoman Barbara Cubin (R) on the retirement watch list. After winning a surprisingly tough re-election battle in 2006 and surviving aggressive primary challenges in her last two races, Cubin does not seem to be acting like an endangered incumbent facing re-election in 2008. New financial reports showed Cubin raised just $11,000 in 3Q-07 and now has less than $10,000 cash-on-hand remaining in the bank. Cubin also has one of the worst attendance records in the US House. State House Majority Leader Colin Simpson (R), motivational speaker Swede Nelson (R), and Teton County School Board Chair/'06 nominee Gary Trauner (D) are already planning to challenge Cubin in next year's race.
Posted by Ron Gunzburger - 10.19.07 | Permalink |
FREE SPEECH ZONE.
Your daily open thread.
Posted by Ron Gunzburger - 10.19.07 | Permalink |
COLBERT FOR PREZ; SC DEMS; TAYLOR PASSES; McKINNEY GOES LEFT COAST; KEYES' MONEY.
COLBERT NATION: Comedy Central's faux conservative

TV show host Stephen Colbert announced on his show Tuesday night he will run for President in the South Carolina primary as a favorite son candidate. Although Colbert now resides in New Jersey, he is originally a South Carolina native. Colbert says he plans to compete in both the Dem and GOP primaries, although ballot access is apparently easier for the GOP primary. ABC News reports Colbert's attorneys have already started working on the ballot access issues. To appear on the Democratic ballot, Colbert must pay a $2,500 filing fee and have the State Democratic Party's Executive Committee certify Colbert is "actively campaigning" for the Democratic primary. To appear on the GOP ballot, Colbert must simply pay a $35,000 filing fee. Colbert is currently on a national tour promoting his new book. The SC GOP primary is January 19 and the SC DEM primary is January 26. State law allows him to file for both primaries. The filing deadline is the end of this month. If Colbert pursues this, he will be following in the amusing footsteps of the late satirist Pat Paulsen, who made several humorous runs for President between 1968 and 1996 -- qualifying for D and R primary ballots in several states along the years.
SOUTH CAROLINA: The South Carolina Democratic Party is seeking DNC approval to advance their primary from Tuesday, January 29 to Saturday, January 26. The DNC appears likely to approve the request. The move is intended to advance the primary to three days ahead of the party-crashing Florida primary. The SC Republicans will hold their primary on January 19. The SC Dem Chair said she did not believe the DNC would approve a request to hold their primary on January 19, so they have no plans to ask for it.
BUSH CABINET: US Senate Judiciary Chair Pat Leahy (D-VT) told the AP that Attorney General nominee Michael Mukasey "is headed for swift approval with scant objections."
GEORGIA (OR CALIFORNIA): Former Congressman Cynthia McKinney is definitely not going to be seeking to regain her former US House seat next year. Nor will she be seeking any other office in Georgia next year. The reason: the AP reports McKinney has now registered to vote in Marin County, California. Since moving to Northern California, McKinney has appeared frequently at local Green Party events around the state. A Draft McKinney group placed her name on the Green Party's Presidential primary ballot in California. To date, McKinney has not filed paperwork with the Secretary of State requesting her name to be removed from the ballot. "She's got us all guessing, but she hasn't removed her name, and that's a good sign. I talked to her last week and she said she's very interested but not ready to make an announcement," said one of the draft organizers to the AP.


KEYES: The prominent libertarian website LewRockwell.com reported an interesting story on recent Presidential entrant Alan Keyes (R). "In his latest report to the Federal Elections Commission, Keyes has filed five previous committees alongside his current [new] one. These five committees go back to 1994 and cover his 1996 and 2000 runs for President and his 2004 Illinois Senate campaign. Among these five committees, he owes a total of (drumroll please) $521,943! Keyes is well-known for paying his personal bills with campaign coffers, and he has defended his making a living off running for office. I wonder if his current contributors know that they are paying off Keyes' bills from over a decade ago," the site claimed.
NORTH CAROLINA: Former Congressman Charles Taylor (R) -- defeated for re-election last year by former pro football player Heath Shuler (D) -- closed his federal campaign account, indicating he will not seek a rematch next year. With Taylor finally out of the way, other Republicans are now free to explore the race. Most had been deferring to Taylor, but hoping the scandal-tinged politico would pass on the race. Shuler is currently favored over any of the likely GOP candidates.
Posted by Ron Gunzburger - 10.18.07 | Permalink |
FREE SPEECH ZONE.
Your daily open thread.
Posted by Ron Gunzburger - 10.18.07 | Permalink |
TSONGAS WINS; NM SEN RACE GETS CROWDED; DAVIS OUT; MO GOV POLL; KBH TO RETIRE (OR RESIGN).
MASSACHUSETTS: Voters on Tuesday elected community college dean Niki Tsongas (D) to fill the CD-5 seat left vacant by the summer resignation of Congressman Martin Meehan (D). Tsongas defeated retired USAF officer Jim Ogonowski (R) by a vote of 51% to 45%, masonry worker Patrick Murphy (Independent) was third with 2%, and two others split the remaining 2%. Tsongas is the widow of the late US Senator Paul Tsongas (D-MA). Ogonowski ran a very aggressive outsider race, but it was not enough to fully close the gap in this heavily Democratic district. Tsongas also outspent Ogonowski by a 4-to-1 margin. Tsongas is expected to be sworn-in on Wednesday.
NEW MEXICO: Congressman

Steve Pearce (R) will announce his candidacy for US Senator Pete Domenici's (R) open seat on Wednesday via a letter sent to supporters. This sets up a hotly contested GOP primary between the conservative Pearce and centrist Congresswoman Heather Wilson (R). Both start with well-funded campaigns, as Wilson has $756,000 in the bank versus Pearce's cash-on-hand of $582,000. Wilson appears to be Domenici's preferred heir. State Public Lands Commissioner Pat Lyons (R) is also considering the race. Pearce's announcement also means that all three federal seats in the state held by Republicans will be open seat contests on the 2008 ballot. Also on Tuesday, former Attorney General Patricia Madrid (D) said she would not seek the Senate seat. Albuquerque Mayor Martin Chavez (D) is currently the leading announced candidate for the Democratic nomination, although the DSCC is reportedly strongly urging Lieutenant Governor Diane Denish to jump in. Denish acknowledges she is looking at the race, but said she has no timetable for making a decision. That primary, if it develops, would also be an ideological contest: Dem centrist (Chavez) versus Dem liberal (Denish).
P2008: The Iowa Republican Party on Tuesday officially selected January 3, 2008, as the date for the state's GOP Presidential caucus. The Iowa Democrats are currently deciding whether to hold their caucuses on either January 3 or 5 -- but look for them to go with the same date chosen the GOP. In related P2008 news, Congressman Tom Tancredo on Tuesday became the first candidate to formally qualify for the New Hampshire Presidential primary on the first day of filing. Two minor GOP hopefuls also qualified for the ballot after Tancredo. And, FYI, there is no date yet for the New Hampshire primary.
VIRGINIA: Congressman Tom Davis (R) hasn't officially yet bailed on the open US Senate race next year -- but his remarks on Tuesday at a National Press Club breakfast made his intentions very clear. "There are other races, this isn't the only shot. You've got a very vulnerable guy [Jim Webb] sitting there in the other Senate seat right now who may or may not run in four years. And you know what? If you don't go to the Senate, so what? I've been a committee chairman in the House. I've got my portrait hanging on a wall. I've been pretty productive legislatively ... If I have to spend eight months slogging through a party [nominating] convention, talking to 15,000 Republicans around the state where they're going to ask you how conservative you are, that does not set you up very well for a general election ... [and Democratic candidate Mark Warner] has a good reputation and he's riding high ... I'm reluctant to take people's money for a Senate race that I'm not going to run," said Davis.


MISSOURI: A new Rasmussen Reports poll shows Governor Matt Blunt (R) locked in a tight re-election battle with Attorney General Jay Nixon (D). The numbers: Blunt - 44%, Nixon - 43%. Blunt may also face a tough GOP primary challenge from State Treasurer Sarah Steelman, who is still weighing the contest.
TEXAS: In a new interview, US Senator Kay Bailey Hutchison (R) told Texas Monthly magazine this week that she will not seek re-election in 2012. In fact, Hutchison went so far as to say she was unsure she would finish her current term of office. "Is it better for Texas for me to leave early and give someone else a chance to start building seniority before the class of 2013? I think it probably is," she explained. When asked if it was possible she'd resign as soon as 2009, Hutchison answered: "I think that has to be considered. But there's been no decision." Hutchison also signalled her clear intent to run for Governor in 2010. "It's too early to be gearing up. I don't want to peak in 2007 for a 2010 race. Would I like to do it? Yes ... There's not anyone who could really make a case to me that this would be divisive for the Republican Party in a way that would make me step back" from challenging Governor Rick Perry in the primary, said Hutchison.
NORTH CAROLINA: US Senator Elizabeth Dole (R) got some good news Tuesday when State Representative Grier Martin (D) announced he would not challenge the incumbent. The DSCC tried to recruit Martin to make the race, as recent polling showed the telegenic Afghan War veteran would have been be a strong candidate.
Posted by Ron Gunzburger - 10.17.07 | Permalink |
FREE SPEECH ZONE.
Your daily open thread.
Posted by Ron Gunzburger - 10.17.07 | Permalink |
MASS CD-5 SPECIAL; McCAIN DEFENDS IMMIGRATION; WIDOWER RUNS IN VA; JONES SNUBBED AGAIN FOR ANTI-WAR VIEWS.
MASSACHUSETTS: Voters go to the polls on Tuesday to select a successor to Congressman Martin Meehan (D), who resigned this summer to accept a position in academia. The CD-5 special election contest features community college dean Niki Tsongas (D) facing off against retired USAF officer Jim Ogonowski (R). Tsongas is the widow of the late US Senator Paul Tsongas (D-MA), while Ogonowski is the brother of an airline pilot killed in the 9-11 terrorist attacks. While Ogonowski has run a strong campaign versus a somewhat lackluster effort by Tsongas, the demographics of the district favor the Dem. Although Ogonowski has received significant funding from Congressional Republicans, he positioned himself as the more anti-war candidate in the race. Ogonowski supports a complete withdrawal of US forces from Iraq and attacks Tsongas for her support of keeping a residual force there. Tsongas claims Ogonowski really backs President Bush's war plans and would not begin withdrawals until the White House is satisfied we have "achieved victory" in Iraq. Look for Tsongas to win, but by a closer than expected margin.


McCAIN: US Senator John McCain (R), campaigning this week in New Hampshire, fended off hostile questions from a town hall audience member upset with McCain's immigration stance. "Do the people in Washington — the politicians and the lobbyists and the rich people writing the checks — do they understand the amount of anger the average European Christian, native-born American feels when they see their country turning into a multicultural chaos Tower of Babel," asked an angry man, according to CNN. When McCain tried to answer, the man interrupted McCain. Finally -- after expressing support for "first securing our borders" -- McCain fired back: "I believe the greatest strength of America is the lady who holds her lamp behind the golden door that says send me your tired, your poor, your huddled masses. And I am grateful to live in a nation that has been enriched by people coming to our nation from around the world. I will do everything in my power to secure the borders, but I love this nation and I love the people who have come from around the world." The NH audience gave McCain a loud round of applause for his answer.
VIRGINIA: Retired firefighter Chuck Davis (R) -- the widower of the the late Congresswoman Jo Ann Davis (R) -- announced via email he will be a candidate in the special election to fill the CD-1 seat left vacant by his wife's death. District GOP Chair James Bowden told the Newport News Daily Press the party would likely use a convention process to select a nominee for the December election. With Davis running, some leading GOP hopefuls seemed to leaning against challenging the widower. Davis, however, stated in his announcement that he plans to seek a full-term next year: "Nobody will ever fill Jo Ann's shoes. Nobody. But I'm going to try ... In seeking this office, I am running for the long term and not simply to finish out this cycle. Jo Ann was committed to this district, and so am I."


CONGRESS: The Hill reported that Congressman Walter Jones Jr. (R-NC) -- a vocal supporter-turned-opponent of the Iraq War -- will likely be passed over for the ranking member spot on a House Armed Services Committee. Jones, who has more seniority that any other Republican interested in the spot, was hoping to succeed the late Congresswoman Jo Ann Davis (R-VA) as ranking member of the Readiness Subcommittee. The House GOP Leadership has assigned Armed Services Committee ranking minority member Duncan Hunter (R-CA) with the task of making the decision. Leadership, however, is opposed to Jones being given the slot. This will be the second time Jones is passed over for a ranking member subcommittee slot, again due to his Iraq War opposition. "I have a lot of respect for you, but I don't agree with you on Iraq and I feel that I must not recommend you for ranking member," Hunter reportedly told Jones the last time he passed him over. Jones is also facing a tough GOP primary challenge next year from Onslow County Commissioner Joe McLaughlin, an Iraq War supporter. Jones' CD-3 seat is dominated by the giant Camp Lejeune military base.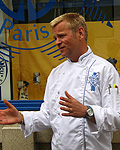 Posted by Ron Gunzburger - 10.16.07 | Permalink |
FREE SPEECH ZONE.
Congrats to my partner Dana on winning a highly-coveted stage (apprenticeship) at Le Grand Vefour in the historic Palais Royal in Paris. The 3-star (Michelin) restaurant -- under the leadership of innovative Chef Guy Martin -- is widely viewed as arguably the best restaurant in the world today. It is also the world's oldest gourmet restaurant still in operation (note: future Emperor Napolean took the future Empress Josephine on their first date to Le Grand Vefour, and it was also US TV Chef Julia Child's favorite restaurant). Read more about the place here and here. Dana graduates from Le Codon Bleu (Paris) in November, but this will keep him in Paris until around March 2008. Dana is the first Le Cordon Bleu student ever successfully placed in a stage in Martin's kitchen.
Posted by Ron Gunzburger - 10.16.07 | Permalink |
BLOG ARCHIVE:

November 1-15, 2007
October 16-31, 2007
October 1-15, 2007
September 1-30, 2007
August 16-31, 2007
August 1-15, 2007
July 1-31, 2007
June 1-30, 2007
May 16-31, 2007
May 1-15, 2007
April 16-30, 2007
April 1-15, 2007
March 16-31, 2007
March 1-15, 2007
February 16-28, 2007
February 1-15, 2007
January 16-31, 2007
January 1-15, 2007
December 16-31, 2006
December 1-15, 2006
November 16-30, 2006
November 1-15, 2006
October 16-31, 2006
October 1-15, 2006
September 16-30, 2006
September 1-15, 2006
August 16-31, 2006
August 1-15, 2006
July 16-31, 2006
July 1-15, 2006
June 16-30, 2006
June 1-15, 2006
May 15-31, 2006
May 1-15, 2006
April 16-30, 2006
April 1-15, 2006
March 16-31, 2006
March 1-15, 2006
February 17-28, 2006
February 1-16, 2006
January 16-31, 2006
January 1-15, 2006
December 2005
November 2005
October 2005
September 2005
August 2005
July 2005
June 2005
May 2005
April 2005
March 2005
Jan-Feb 2005
December 2004
November 16-30, 2004
November 1-15, 2004
October 16-31, 2004
October 1-15, 2004
September 16-30, 2004
September 1-15, 2004
August 16-31, 2004
August 1-15, 2004
July 16-31, 2004
July 1-15, 2004
June 16-30, 2004
June 1-15, 2004
May 16-31, 2004
May 1-15, 2004
April 16-30, 2004
April 1-15, 2004
March 15-31, 2004
March 1-14, 2004
February 15-29, 2004
February 1-14, 2004
January 17-31, 2004
January 1-16, 2004
December 16-31, 2003
December 1-15, 2003
November 17-30, 2003
---
POLITICAL BLOG ROLL:
KINDA NEUTRAL:
ABC News: The Note
CNN: Morning Grind
CQ Politics
Political Wire
MSNBC: First Read
CJR Daily
Rothenberg Pol. Report
LexisNexis: US Politics
Stateline.org
Governing.com
Political State Report
Hotline On Call
Hotline's Blogometer
Beltway Blog
WatchBlog
Lawmakers Blog
Centerfield Aggregator
Command Post
FactCheck.org
WSJ: Best of the Web
WSJ: Washington Wire
D.C.'s Political Report
2008 Political Perspective
Media Bistro
Larry Sabato: Crystal Ball
PressThink
Politics-Line
TheCapitol.Net: Blog
MyElectionAnalysis.com
DEM/LEFT:
DNC Blog
DCCC Blog
DailyKos
Lefty Blogs
Howard Dean/DFA
OurSenate.com
Frameshop
The Washington Note
Emerging Dem Majority
Think Progress
AmericaBlog.com
Amer Prospect: Tapped
Arianna Huffington
Al Franken
BAG News Notes
Eric Alterman
Senate Majority Project
FishBowl DC
Fired Up! America
TalkLeft
TNR: The Plank
The Raw Story
Blogging of the President
Joe Trippi
Swing State Project
Media Matters
Josh Marshall
Wonkette
MyDD
Working for Change
Crooks & Liars
Mathew Gross
Penndit
Progressive Dems: Blog
Atrios/Eschaton
Off the Kuff
Tom Tomorrow
Mother Jones
Jerry Springer
TruthOut
Dem Bloggers
Liberal Oasis
Penndit
Firedoglake
Good As You
AtariDemocrat
Henry Lewis
BuzzFlash
Brad Blog
Dean Nation
Louise Slaughter
TruthDig
Dem Underground
Jared Hall
Bad Attitudes
The American Street
District Blogs
GOP/RIGHT:
RNC (GOP.com)
Club for Growth
National Review: Corner
C-Log
Real Clear Politics
Andrew Sullivan
John Ellis
Mickey Kaus
Virginia Postrel
RedState.org
WSJ Opinion Journal
Free Republic
Instapundit
Drudge Report
Pajamas Media
Hugh Hewitt
Daniel Drezner
Daily Pundit
Bully Pulpit
Outside the Beltway
Little Green Footballs
World Mag Blog
Right Wing News
Volokh Conspiracy
Brothers Judd
David Frum
Mister Politics
Enter Stage Right
Right Wing News
PoliPundit
Power Line
Hedgehog Report
Right Voices
Booker Rising
Don Singleton
Save the GOP
OTHER:
ThirdPartyWatch.com
Centrist Coalition
Kn@ppster
Green Commons
News for Greens
---
For those who would like to track Politics1 with a newsreader, we publish a RSS feed:
---

---