BLOG ARCHIVE: OCTOBER 2005


Premier Ad. Click here to learn about premier ad placements on Politics1.
MINNESOTA (AND P2008). In a surprisingly candid interview with Minnesota Public Radio,

Governor Tim Pawlenty (R) said that the Republican Party is "on the ropes" nationally and that he doesn't plan to run for President in 2008. "I'll be lucky to get re-elected Governor in Minnesota next year ... My only political plans are to get re-elected next year, and I hope that I do," said an unusually pessimistic Pawlenty. A recent independent poll showed Pawlenty with a 48% approval rating and a 45% disapproval rating with Minnesota voters. He acknowledged being a Republican and Bush supporter in Minnesota could be very damaging next year. "Things aren't going well for the President or the Republican Party nationally. That's fairly obvious ... But politics is smarmy enough without people bailing out on friends just because times are tough. That's a weenie move. I'm not going to run away like a little chicken from President Bush because he's unpopular," explained Pawlenty. He has frequently been mentioned as a dark horse White House hopeful in the '08 contest. Pawlenty's comments came the same day Attorney General Mike Hatch (D) announced his candidacy for Governor. In response to Hatch's entry and immediate SEIU labor endorsement, former State Representative Bud Philbrook (D) -- the first Dem to jump into the contest several months ago -- immediately ended his campaign.
MICHIGAN. Oakland County Sheriff Mike Bouchard (R) is scheduled to announce his candidacy against US Senator Debbie Stabenow (D) in Monday. Bouchard briefly explored a bid against Stabenow earlier this year, but abandoned it in February

because of undisclosed health problems (well, that, and the fact he was trailing the incumbent by double-digits in early polls). Bouchard is also the former State Senate Majority Leader. Social conservative candidate and current GOP frontrunner Keith Butler -- an evangelical minister and former Detroit City Councilman -- is livid that Bouchard is coming back into the race. Butler told the Detroit News that "a small but very powerful cabal" within the party -- which he said included US Senate Republican Campaign Chair Elizabeth Dole (R-NC) -- was responsible for recruiting the more moderate Bouchard into the contest. RNC Member Chuck Yob -- a Butler supporter -- confirmed Dole's involvement to the newspaper. "Dole is begging him every week" to run, said Yob. Polls show Stabenow easily leading any of her current GOP foes by more than 25 points. In related news, the latest EPIC/MRA poll of the gubernatorial contest shows Governor Jennifer Granholm (D) holding a large lead over billionaire businessman Dick DeVos (R). The numbers: Granholm-53%, DeVos-30%. What is amazing about these landslide numbers is that the poll showed Granholm with a 46%-approve, 52%-disapprove rating -- but the same poll also showed substantially more respondents blamed President Bush for the state's economic problems than those who blamed Granholm.
MAINE. US Senator Olympia Snowe (R) suddenly finds herself facing several Democratic opponents. Liberal activist Jean Hay Bright (D) has been in the race -- and alone -- for months. Within the past week, two more jumped in. The first was civil rights attorney Eric Mehnert (D) who, like Bright, is not a major threat to Snowe and her $1.8 million campaign bankroll. The surprise was when State Senator Majority Leader Michael Brennan (D) filed paperwork to seek an unspecified federal office. Brennan said he would either run against Snowe or -- if Snowe retires and Congressman Tom Allen (D) runs for her open Senate seat -- he would run for Allen's open House seat. Snowe's spokeswoman called the retirement rumors "bizarre" and added that Snowe is "planning on running for re-election. Sometimes I think we need to set ourselves on fire to make that clear." That means Brennan is in the Senate race. Snowe would start as a prohibitive favorite over Brennan, but he would be a credible candidate for the Dems. And speaking of an equally bizarre unlikelihood, check out the Draft Snowe for President group. Snowe has expressed zero interest in running for President in 2008.
VIRGINIA. With just over a week to go, a new Washington Post poll shows former Attorney General Jerry Kilgore (R) now unexpectedly trails Lieutenant Governor Tim Kaine (D) by a 47% to 44% vote, with State Senator Russ Potts (Independent) at 4%. Voters appear to be turned-off by Kilgore's hard attack ads. Kaine, by contrast, is portraying himself in the closing days as the logical heir to term-limited, popular Governor Mark Warner (D). This race is going down to the wire.
NEVADA. It doesn't appear US Senator John Ensign (R) will have much to worry about from the challenge next year by Presidential scion Jack Carter (D). At least, not yet. According to a new Las Vegas Sun/Mason-Dixon poll, Ensign currently leads Carter by a 59% to 25% vote. A whopping 61% of voters said they were unfamiliar with Carter.
HURRICANE UPDATE. I'm writing this update Sunday night -- powered by our new 5,500 watt generator (but it can only run 13 hours max at half load, before being rested for a few hours) -- as we are still without electricity. The power company is giving us a vague restoration date: "Your area should be fully restored by November 22, but many people will see their electrical power return well before that date." More good news: the gas lines have substantially eased. Also, I'm starting to get to all those emails that piled up over the past week, but it will take some time because I'm not able to devote as much time to Politics1 during these post-hurricane days until life here returns to normal.
Posted by Ron Gunzburger - 10.31.05 | Permalink |
HURRICANE UPDATE. Still no electricity, but the phones are working again. I had the pleasure yesterday of standing in the pedestrian line for 5½ hours at one of the only open gas station to buy a few gallons of gas to power the generator for a day. People are still rather friendly and neighborly, and this will hopefully last for the few weeks until power is restored and life returns to normal. We're still under a curfew order -- and with no moon in the sky and no electricity it is very dark on the streets at night -- but instead of the 7pm-7am curfew of the past several days, it is now eased to 11pm-7am. Police are constantly patrolling the major streets, with lights flashing at all times. No significant reports of looting, although there has been a rise of gas siphoning and gas can thefts. Here are two pix I took in the aftermath of the storm. They give you a good idea of what our neighborhood is like these days. My house is the yellow and blue one in the top photo.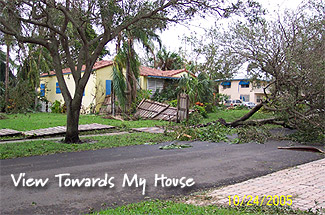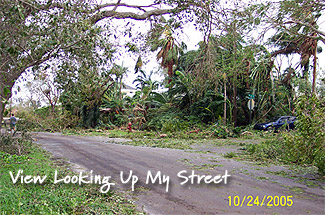 POLITICAL QUICK TAKES . In the world of politics, VP Chief of Staff Scooter Libby was indicted by a federal grand jury on Friday on one count of obstruction of justice, two counts of perjury and two counts of making false statements. The case arose from the matter related to the leaking by Bush Administration officials of the identity of covert CIA spy Valerie Plame in 2003 in retaliation for her husband being an outspoken critic of the Iraq War. In response to the indictment, Libby immediately resigned. Presidential political advisor Karl Rove was not indicted, but Rove's lawyer indicated his client remains under federal investigation. This caps off a rather bad week for the President, in which his Supreme Court nominee and friend -- Harriet Miers -- withdrew her nomination for the court in the face of stiff opposition from both the left and right ... In Vermont, Lieutenant Governor Brian Dubie (R) ended his exploratory bid for the state's open US Senate seat by announcing he will instead seek re-election next year ... In West Virginia, Secretary of State Betty Ireland (R) told the Charleston Gazette that, after much consideration, she will not run against US Senator Robert C. Byrd (D) next year. Congresswoman Shelley Moore Capito (R) also recently declined to challenge Byrd ... In Alabama, former Governor Don Siegelman (D) was indicted in a case involving federal charges of bribery, extortion and racketeering. A candidate for Guv again next year, Siegelman claims the charges are politically motivated by a GOP prosecutor. Siegelman was acquitted of other political corruption charges just last year ... Finally, in new polls out this past week, US Senator Jon Corzine (D) continues to hold a healthy lead in the 2005 race for New Jersey Governor, while New York City Mayor Mike Bloomberg (R) appears likely to score a landslide victory next month.
Posted by Ron Gunzburger - 10.28.05 | Permalink |
WEDNESDAY (October 26) - Thanks to a friend with a nearby office with electricity and Internet access, I'm able to post this brief update. Right up front, I'm grateful that Dana and I, along with all of our local family and friends, came through the storm without injury. That said ... Hurricane Wilma proved much worse than anyone here expected -- the worst hurricane damage to Broward County since 1950. As you may have seen in the news, Broward -- and my hometown of Fort Lauderdale in particular -- oddly suffered among the most extensive property damage in Florida from this storm. I wrote "oddly" because we were on the Atlantic side and the storm first had to traverse the state starting from the Gulf of Mexico coast before it reached us. Broward recorded winds during the storm in 100-120 mph range -- although fortunately it was a fast moving storm and I'm not aware of any serious storm injuries in my immediate area. My neighborhood, however, took a solid hit. Large trees, power lines, power and phone poles, etc., were downed. Some homes had extensive roof damage. A few houses away, a giant oak fell across and flattened two cars. The two pix below at left are of my Victoria Park neighborhood in Fort Lauderdale; the damaged School Board office building at upper right is about a mile from my house; and lower right shows a toppled ficus tree (much like the larger one in my yard).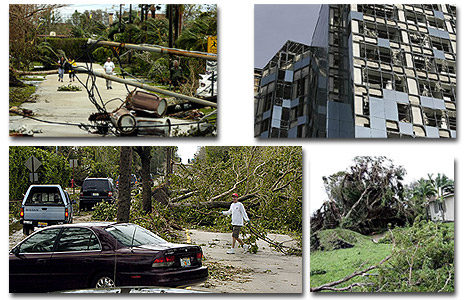 We had a few roof tiles torn off, but no leaks and no extensive damage. Our fence was entirely destroyed, with the winds snapping the fence posts at ground level. We lost our three largest trees: the 50-foot avocado tree fell in our back yard; a great Florida Live Oak tree on the swale crashed across the street, blocking it entirely; and a towering 60-foot high ficus next the house is leaning precariously at a seventy-degree angle towards the house (a work crew is trying to cut it down right now to avoid it falling onto the house). We are without power -- but water service was restored late Tuesday (albeit with a "boil water" order in effect because it is contaminated -- but at least we don't need to haul any more buckets of water from the pool into the house just to flush the toilets). As for the electric, here is what Florida Power & Light estimates on their website:
Power should be restored to the majority of customers within two weeks (by November 8). Some 95% of customers in these areas should have power restored within three weeks -- by November 15. Many customers will have power restored well before these estimated dates; the announced dates represent when the very last customers will get their electric service back.
Thus, I'm not exactly sure when I'll be back posting regular updates or answering my emails. Trust me, it will be as soon as I am able to do so. That, however, is more in the hands of FPL than it is in mine. The good news: Politics1 will stay online (thanks to my ISP host Softec, as they are located far enough up the Florida coast to have avoided storm damage). So, until I'm able to post updates again -- maybe in a few days, or maybe 2-3 weeks (see above) -- I'd invite you to have some fun exploring the content on the rest of the site.
Posted by Ron Gunzburger - 10.26.05 | Permalink |

A HURRICANE WARNING FOR POLITICS1 READERS - Hurricane Wilma is going to directly pass over the area where I live beginning in the early morning hours on Monday, so I needed to start today's postings with this brief note asking in advance for your patience. I'm not worried about this being a deadly storm for us -- it will only be a Category 1 or 2 when we get hit -- but it will still be rather disruptive and expected to cause some property damage. If this hurricane is like all the others, I expect to again lose electricity (like most South Floridians). Sometimes we get power back in a few hours, but more often it has taken as many as several days. Even if I lose power, Politics1 will likely stay online because it is hosted by an ISP far enough upstate to hopefully be well outside the intended hurricane path. Thus, I'll be back with updates tomorrow if all goes really well ... or the next day ... or maybe a day or two or three after that (depending on how quickly Florida Power & Light restores our power).
VIRGINIA - The new Richmond Times-Dispatch/Mason-Dixon poll confirms what every other poll is showing: the gubernatorial contest remains amazingly close. The numbers: Former Attorney General Jerry Kilgore (R) - 44%, Lieutenant Governor Tim Kaine (D) - 42%, and State Senator Russ Potts (Independent) - 5%. Mason-Dixon described the 2-point difference as "statistically insignificant."
NEW YORK - Prominent anti-war activist Cindy Sheehan said last week she could not bring herself to vote for the re-election next year of US Senator Hillary Clinton (D-NY) unless HRC first publicly admits her vote for the Iraq war was a mistake. That subsequently prompted NY Libertarian Party State Chair John Clifton to issue a statement inviting Sheehan to seek the party's US Senate nomination next year as a peace candidate. The Libertarian Party has already called for the withdrawal of US forces from Iraq. Clifton was the LP's US Senate nominee against Clinton in 2000.
TREASON-GATE - Special Prosecutor Patrick Fitzgerald is expected to announce indictments this week in the matter related to the leaking by Bush Administration officials of the identity of covert CIA spy Valerie Plame in 2003 in retaliation for her husband being an outspoken critic of the Iraq War. Fitzgerald is expected to convene the grand jury this week to lay out a final summary of the case and ask for possible indictments. Amusingly, US Senator Kay Bailey Hutchison (R-TX) said Sunday on NBC that she hoped Fitzgerald would bring charges -- if at all -- for "a [real] crime and not some perjury technicality." Hmm ... I recall Congressional Republicans thought perjury was a real crime back in the late 1990s when the alleged culprit was President Clinton.
GEORGIA - Influential GOP political consultant and lobbyist Ralph Reed -- the former executive director of the Christian Coalition and now a candidate for Georgia Lieutenant Governor -- has now been ensnared in the Jack Abramoff/Tom DeLay scandals. Some of Reed's Religious Right backers were already upset with him when they read a few months ago that Reed secretly fronted for Indian gaming interests in his political campaign activities. Now Time magazine is reporting that is was Reed who helped Abramoff get access to top Bush Administration officials, including Karl Rove. Abramoff and a business partner were recently indicted on federal corruption charges.
Posted by Ron Gunzburger - 10.24.05 | Permalink |
OPEN THREAD - As usual, here's a weekend open thread to play with. Meanwhile, we're under a declared "Hurricane Warning" for the fifth time this year. Wilma should only be a Category 1 hurricane when it arrives here on Monday on the Atlantic coast side of Florida -- so we'll probably just lose a few more trees at my house and maybe lose electricity again for some time -- but getting hit by three friggin' hurricanes and two tropical storms in one season is tremendously annoying. On the plus side, these storms are the only time we get any head-high and double-overhead surfing waves (although I envy a paradise like Hawaii that gets the good waves even on normal, sunny days).
Posted by Ron Gunzburger - 10.23.05 | Permalink |
ALASKA - It looks like the race against Governor Frank Murkowski (R) is going to get very crowded and very competitive. Murkowski earned the ire of his own party's leaders when -- immediately after being elected Governor in 2002 --

he passed over lots of elected officials and community leaders to appoint his daughter Lisa to his vacant US Senate seat. Since then, he recorded what most perceive as a mediocre performance as Governor. His 2002 runningmate -- conservative Lieutenant Governor Loren Leman (R) -- is set to officially enter the primary race against the incumbent within the next month. Leman is substantially more to the right of the 72-year-old Murkowski. Former Wasilla Mayor and former Alaska Oil & Gas Commission Chair Sarah Palin (R) announced her primary challenge Murkowski this week. Palin is viewed as a maverick who successfully filed ethics complaints that brought the downfall of some of her fellow state GOP leaders. Former Republican State Representative Andrew Halcro is yet another announced candidate -- although he's running as an Independent. "For far too long, our Governors [have] been elected on personality instead of on competence, and there are a lot of people like myself who want to see a change," said Halcro to the Fairbanks Daily News-Miner. On the Democratic side, both State House Minority Leader Ethan Berkowitz and State Representative Eric Croft are active candidates. Popular former Governor Tony Knowles (D) -- who lost a competitive race last year against US Senator Lisa Murkowski (R) -- acknowledged he may attempt a run for his old job next year. "It's really too early to make that kind of decision," said Knowles. And what about Governor Murkowski's plans? He has yet to indicate if he will even seek re-election next year.
NEW JERSEY - The latest Rasmussen Reports poll shows US Senator Jon Corzine (D) widening his lead once again over businessman Doug Forrester (R). The numbers: Corzine-49%, Forrester-40%. A new Quinnipiac University poll showed very similar numbers: Corzine-50%, Forrester-43%.

NICE PIC - Suspended US House Majority Leader Tom DeLay (R-TX) obviously got some good political advice about how to handle his dreaded criminal booking photo. Rather than the mussed hair, downward gazing eyes, and embarrassed look of other busted politicos -- DeLay looked like he was posing for a new set of campaign pix. Big smile, great suit, and a nice gold Member of Congress lapel pin. Smart move. Too bad they Sheriff's Office didn't use the old-fashioned height stripes in the back ground or make him hold a sign with his name and booking number, as it would have made for a more dramatic photo.
"IT WASN'T ME ... IT WAS HIM!" According to the Washington Post, White House Deputy Chief of Staff Karl Rove reportedly told the federal grand jury last week that VP Chief of Staff Scooter Libby told him that ambassadorial wife Valerie Plame was a covert CIA agent before the info was leaked to the media. The testimony could help Rove stave off indictment -- but at the cost of directly implicating White House involvement in the leak. Other media reports indicate a second Cheney staffer is also now cooperating with federal investigators.
Posted by Ron Gunzburger - 10.21.05 | Permalink |
COLORADO - The Democrats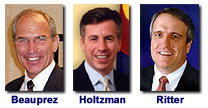 seem to be gaining a significant advantage from the very bitter, personal contest for the GOP gubernatorial nomination fight between Congressman Bob Beauprez and wealthy former university president Marc Holtzman. The two Republicans have already exchanged assorted allegations, including of stealing rival mailing lists, faking implied endorsements, and so on. Term-limited Governor Bill Owens is backing Beauprez, as are many other state GOP leaders, but the damage is taking a toll. According to a new Denver Post/Mason-Dixon poll, former Denver District Attorney Bill Ritter (D) holds leads over both Republicans. The numbers: Ritter-42%, Beauprez-36% ... and Ritter-41%, Holtzman-30%. The three men are the only announced candidates in the race. All of this is prompting former US Senator Ben Nighthorse Campbell (R), term-limited Senate President Joan Fitz-Gerald (D), and State House Speaker Andrew Romanoff (D) to consider jumping into the open seat race. Meanwhile, Congressman John Salazar (D) shot down a news report on Tuesday that floated his name, saying he absolutely would not enter the race.
PLAME-GATE - Yes, I know that nobody outside of the Special Prosecutor's office and grand jury room actually know who -- if anyone -- will be indicted for leaking the identity of covert CIA spy Valerie Plame in 2003 in retaliation for her husband being an outspoken critic of the Iraq War. That hasn't stopped journalist and Beltway insiders from buzzing with rumors and speculation about who is in hot water. Depending on which reports you believe, Vice President Dick Cheney himself may be indicted and forced to resign (I'm skeptical of this one) ... or the New York Daily News report that a member of Cheney's staff (purportedly National Security staffer John Hannah) has flipped and is cooperating with the prosecutors ... or that Presidential Deputy Chief of Staff Karl Rove, VP Chief of Staff Scooter Libby, and National Security Advisor Stephen Hadley all expect to be indicted. The AP reported Karl Rove has canceled his upcoming campaign fundraiser appearances as he awaits the conclusion of the grand jury investigation by the end of this month. US News & World Report claims the "Cheney will resign" rumors are so rampant in DC that some prominent GOP insiders are already trying to "block" Condi Rice from replacing Cheney as Vice President -- and getting a leg up on the 2008 Presidential nomination -- because they fear she is too moderate on social issues. Pure speculation? You betcha ... but isn't it still a lot of fun!
SUPREME COURT - It turns out US Supreme Court nominee Harriet Miers does have a paper trail on abortion, after all. Miers implied in recent meetings with US Senators and in papers filed this week with the Senate Judiciary Committee that she had never made any statements indicating how she would rule on Roe v. Wade related cases. It turns out this isn't true. According to Reuters, Miers as a 1989 candidate for Dallas City Council answered a questionnaire from Texans United For Life in which she supported the proposed Human Life Amendment to the US Constitution that would have prohibited all abortions except when necessary to prevent the death of the mother. Look for Senate Dems -- and possibly some pro-choice Senate Republicans -- to start announcing their opposition to Miers for a variety of purported reasons.
VIRGINIA - Yet another gubernatorial poll out. According to the new Hotline/Financial Dynamics poll of registered voters, Lieutenant Governor Tim Kaine (D) leads former Attorney General Jerry Kilgore (R) by a vote of 40% to 38%, with 5% backing State Senator Russ Potts (Independent). When the survey pool is limited to just likely voters, Kaine leads by just 1%. And, when the survey is further narrowed to "extremely likely voters," Kilgore slipped ahead by a 42% to 41% vote. Anyway you try to spin it, this one is going down to the wire.
U.S.S.R. - While most Americans are unlikely to recognize his name, the intellectual Marxist visionary who helped bring about the end of Communist Party's iron fisted rule in the former Soviet Union has died. Alexander

Yakovlev, 81, passed away at his Moscow home. An unlikely reformer, he rose through the ranks as a Communist Party (CPSU) aparatchnik for much of his career. Badly wounded as a Soviet soldier in World War II, Yakovlev later attended college and embarked on a career as a CPSU economist. He served as the Soviet Ambassador to Canada for a decade, before being elevated to the powerful Politburo as a Gorbachev ally in the 1980s. By 1987, Yakovlev was promoted to the position of chief ideologue of the party. In that capacity, he emerged as the leading architect of the glasnost and perestroika democratic reforms. Yakovlev also worked to expose the historical crimes of the party under Stalin and other previous Soviet leaders -- earning the eternal ire of the the old guard CPSU neo-Stalinists (who also distrusted Yakovlev because of his Jewish heritage). In time, the reactionary forces were able to pressure Gorbachev -- who tried unsuccessfully to hold power by a series of Faustian bargains with the reactionaries who eventually overthrew him in a failed 1991 coup -- to force Yakovlev out of his governing circle and expel him from the party. But, before being forced out, Yakovlev succeeded in allowing independent, liberal political parties to form and run candidates. Yakovlev eventually founded his own reformist Social Democratic Party of Russia. Within the last few years, he established and ran the International Democracy Foundation. Yakovlev has earned with place -- alongside Boris Yeltsin, Alexander Dubček and others -- in the pantheon of those who personally risked everything to fight for real freedoms by working to place a democratic and human face on Marxism.
Posted by Ron Gunzburger - 10.19.05 | Permalink |
THIS AND THAT - The Wall Street Journal and the

Bloomberg wire are both reporting the purported role of Vice President Dick Cheney appears to be the current focus of the federal grand jury investigating into who leaked the identity of covert CIA spy Valerie Plame in 2003 in retaliation for her husband being an outspoken critic of the Iraq War ... GOP State Senator Russ Potts (Independent-VA) denies the rumors that he is planning to exit the gubernatorial race and endorse Lieutenant Governor Tim Kaine (D). According to the latest SurveyUSA poll, Kaine now leads former Attorney General Jerry Kilgore (R) by a 47% to 45% vote. Kaine trailed Kilgore by 3 points in the same poll last month ... US Senator George Allen (R-VA) is heading to New Hampshire, US Senator Chuck Hagel (R-NE) is visiting Iowa, and US Secretary of State Condi Rice (R-CA) again denies she has any interest in running for President next time, in the latest P2008 news ... .A new Mobile Register-University of South Alabama shows Governor Bob Riley (R) in good shape to win re-election next year. According to the poll, Riley leads Lieutenant Governor Lucy Baxley (D) by a vote of 44% to 33%, and leads former Governor Don Siegelman (D) by a vote of 46% to 31%. By contrast, Baxley led former State Supreme Court Chief Justice Roy Moore (R) by a vote of 44% to 37%. Siegelman and Moore were tied with 40% apiece ... Former Congressman Dennis Eckart (D-OH) announced he will run for State Democratic Chair when the office next comes open. Also in Ohio, attorney and Iraq War veteran Paul Hackett says he will not back down from a Dem primary battle against Congressman Sherrod Brown in the US Senate race -- no matter how competitive or bitter the race gets.
Posted by Ron Gunzburger - 10.18.05 | Permalink |

OREGON - Potential primary opponents continue to pile up for Governor Ted Kulongoski (D). Two state senators and a county commissioner are already announced challengers against the incumbent in the primary -- popular former Governor John Kitzhaber (D) is still toying with a come-back run -- and now former State Treasurer Jim Hill (D) says he wants to oppose Kulongoski next year. Hill faced off against him in 2002, finishing second in that six-candidate primary. Hill told KATU TV-2 that Kulongoski is weak on economic development, and he would like to enter the race depending on "what kind of support I can drum up." A spokesperson for Kulongoski said it is merely a healthy "part of democracy" for an incumbent to have a broad field of opponents.

RHODE ISLAND - Talk about embarrassing, but vulnerable US Senator Linc Chafee (R-RI) recorded the lowest fundraising numbers in the most recent quarter of any major contender in his race. Former Attorney General Sheldon Whitehouse (D), Secretary of State Matt Brown (D) and Cranston Mayor Steve Laffey (R) each raised more than Chafee in 3Q-2005, according to FEC records. The incumbent raised just $287,000 in the quarter -- versus $383,000 for primary rival Laffey. In cash-on-hand, Chafee has $1.28 million, Whitehouse has $1.4 million, Brown has $600,000 and Laffey has $598,000. A spokesperson for Chafee indicated the Senator was not concerned, as he'll spend whatever it takes out of his own pocket to ensure he has enough money to run a competitive race. Chafee has a family net worth of over $60 million. Interestingly, the liberal Brown is the only non-multimillionaire in the race.
VERMONT- Businessman Rich Tarrant (R) delayed his official entry into the US Senate race last month -- even though he already launched his exploratory committee -- because he needed time to complete the sale of his IDX Systems software company to General Electric. According to the AP, GE purchased IDX for $1.2 billion. Of that amount, Tarrant will reportedly get about $108 million from the sale. Tarrant, who clearly states he is in the race, has already said he'd spend at least a $550,000 from his pocket on the contest. Tarrant faces Lieutenant Governor Brian Dubie, State Senator Mark Shepard and frequent candidate Greg Parke in the GOP primary. The winner will face socialist Congressman Bernie Sanders (Independent) -- who is also supported by the Democratic and the Progressive parties -- in the general election.
RECRUITING SUCCESSES - In New Mexico, the Democrats scored another recruiting success. Attorney General Patricia Madrid (D-NM) confirmed she will file federal paperword this week to challenge Congresswoman Heather Wilson (R) next year. The CD-1 seat is a swing district, and Madrid will be the most viable candidate the Dems have thrown at Wilson to date. In South Carolina, Republicans succeeded in recruiting State Representative Ralph Norman (R) to challenge Congressman John Spratt (D) next year. Spratt has not faced a viable opponent in at least a decade.
Posted by Ron Gunzburger - 10.17.05 | Permalink |
NEW YORK - In an unexpected political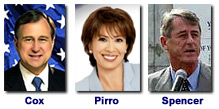 development, wealthy attorney Ed Cox (R) quit the US Senate race on Friday. Cox -- the son-in-law of President Richard Nixon -- exited the contest just hours after retiring Governor George Pataki (R) endorsed Westchester County District Attorney Jeanine Pirro to be the GOP candidate next year against US Senator Hillary Clinton (D). "I have been truly honored by the confidence members of both the Republican and Conservative Parties have placed in my ability to not only wage an aggressive campaign, but effectively represent New York State in the Senate. The Governor is the leader of the Republican Party. Out of respect for his position and his decision, I have decided to stop my campaign for the United States Senate," explained Cox. Pirro is now strongly favored to win the GOP nomination next year over former Yonkers Mayor John Spencer and attorney Bill Brenner. Despite solidifying her position with Republicans, polls show Pirro trailing Clinton by huge margins. In related news, the latest FEC filings show that HRC raised $5.4 million for her re-election race in the most recent quarter and has $13.8 million in cash on hand. At her current pace, the incumbent is on track to raise as much as $70 million -- with lots likely to be leftover for kicking-off a 2008 Presidential race.
HAWAII - After an agonizingly lengthy period in which it appeared Island Dems would fail to find any significant candidate to oppose Governor Linda Lingle (R) next year, things are starting to look up. State Dem leaders recently approached Congressman Neil Abercrombie about making the race. The ponytailed Abercrombie -- a liberal former State Senator, State Representative and Honolulu City Commissioner -- was apparently flattered but non-committal. "It is very kind of someone to think that my hard work over these years might induce them to think that [I should run for Governor], but I will just keep doing the best I can and see what results from [the State Democratic Chairman's recruitment] work," said Abercrombie to the Honolulu Star-Bulletin.

NORTH CAROLINA - Former Congressman Frank Ballance (D) -- who abruptly quit his re-election race in mid-2004 and immediately resigned from Congress in the days before he was indicted on federal corruption charges -- was sentenced this week to four years in prison. He pled guilty to charges he diverted charity funds to his own pocket. "I'm sorry that my mother -- those principles that she instilled in me -- I violated some of them," Ballance told the judge at the sentencing.
OHIO - US Senator Sam Brownback (R-KS) became the second '08 GOP Presidential hopeful to weigh into the Ohio gubernatorial contest with a pre-primary endorsement. Brownback endorsed Secretary of State Ken Blackwell (R) -- just as did US Senator John McCain (R-AZ) one week ago. While McCain focused on Blackwell's independence from the state's ethically-challenged GOP establishment, Brownback instead singled out Blackwell's social conservative views for praise.
Posted by Ron Gunzburger - 10.15.05 | Permalink |
WHITE HOUSE - No matter which poll you look at these days, the Bush Administration is rapidly losing support with the American people. In the latest NBC/Wall Street Journal poll this week, only 39% of Americans approve of the job the President is doing. By contrast, 54% disapprove of his performance. This is the first time Bush's approval has dropped below the 40% mark since NBC/WSJ has been tracking this Administration. Even worse, the same poll showed only 28% of respondents thought the US was on "the right track." On Thursday, a new Fox News poll showed very similar numbers: 40% approve, 51% disapprove. For those seeking to spin all of this as a positive, Bush's numbers are certainly much better than the current 18% approval rating -- an all-time record low -- for Ohio Governor Bob Taft (R). On top of all the other problems, the President is apparently rather annoyed with conservative leaders who are calling for Harriet Miers to withdraw as a Supreme Court nominee because they believe she is insufficiently proven as a social conservative and has "unimpressive" credentials. The White House says there is no discussion of even the possibility of withdrawing the Miers nomination.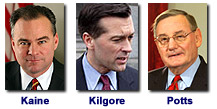 VIRGINIA - In the open race for Governor, former Attorney General Jerry Kilgore (R) continues to hold a very narrow lead over Lieutenant Governor Tim Kaine (D). According to the latest Rasmussen Reports poll, Kilgore leads Kaine by a vote of 46% to 44%, with State Senator Russ Potts (Independent) at just 1%. Kilgore this week started running an attack spot on Kaine that claims Kaine's moral opposition to the death penalty would even make him reluctant "to execute Hitler." Kaine -- who says he morally opposes the death penalty as a Catholic on religious grounds but would follow the law as Governor -- called the Kilgore spot "outrageous."
NEW JERSEY - A new poll by a GOP consulting firm -- Strategic Vision -- shows US Senator Jon Corzine (D) holding onto his lead over businessman Doug Forrester (R) by a vote of 46% to 40%.
NEW YORK CITY - Mayor Mike Bloomberg (R) is heading to a landslide re-election victory next month, according to the latest Quinnipiac University poll. The Q-poll numbers: Bloomberg - 60%, former Bronx Borough President Freddy Ferrer (D) - 32%, former NYC Commissioner Tom Ognibene (Conservative) - 1%. The polling director described the race as now being "an absolute blowout."
MASSACHUSETTS - According to the Boston Globe, Bay State Republican leaders are attempting to recruit Essex County Sheriff Frank Cousins (R) to challenge US Senator Ted Kennedy (D) next year. While Cousins would have just about a zero-percent chance of ousting Kennedy, some GOP activists believe Cousins would run an "effective" campaign that won't embarrass the party. Others within the party disagree with fielding anyone against Kennedy -- who is sitting on an $8 million campaign treasury -- believing the party should instead focus on other races in the state it has a better chance of winning.
Posted by Ron Gunzburger - 10.14.05 | Permalink |
THURSDAY NEWS UPDATE.
MID-WEEK OPEN THREAD - Being that it is Yom Kippur and all, y'all will have the settle for an open thread today. Use it to post the new political stories until I'm back with updates on Friday morning.
Posted by Ron Gunzburger - 10.13.05 | Permalink |
CONNECTICUT - It was the "same old, same old" once again from Attorney General Dick Blumenthal (D). He announced he would not be a candidate against Governor Jodi Rell (R) next year, although polls showed he was the strongest Dem candidate. "I love this job ... My children are still at ages where they are counting on me to be there," he gave as his explanation this for 2006. He previously talked of running for Gov -- then passed on the race -- in 1994, 1998 and 2002. To save time in the future, let's already presume he won't run for Governor in 2010.

WISCONSIN - Governor Jim Doyle's (D) poll numbers are looking better these days, according to a new poll conducted by the Wisconsin Policy Research Institute/Diversified Research. Doyle led Congressman Mark Green (R) by a 46% to 33% vote. Likewise, Doyle also led Milwaukee County Executive Scott Walker (R) by an even wider vote of 50% to 31%.
FLORIDA - Speaking at a GOP gathering, State Senator Mike Bennett (R) lashed out at Governor Jeb Bush and President George W. Bush for their apparent efforts to undermine the US Senate campaign of Congresswoman Katherine Harris by attempting to recruit potential primary opponents. "What the Republican Party is doing to Katherine Harris borders on treason ... That's not how we repay loyalty in the Republican Party," said Bennett, according to the Bradenton Herald.

NEBRASKA - Congressman Tom Osborne (R) named State Auditor Kate Witek as his runningmate for Lieutenant Governor. The legendary former college football coach is challenging Governor Dave Heineman in next year's very competitive GOP primary.
OHIO - The Columbus Dispatch is out with new polls in the open gubernatorial contest. On the Dem side, Congressman Ted Strickland led with 22%, followed closely by Columbus Mayor Michael Coleman at 19%, and former State Representative Bryan Flannery at 4%. On the GOP side, Secretary of State Ken Blackwell was first with 32%, Attorney General Jim Petro has 18%, and State Auditor Betty Montgomery was third with 16%.
MICHIGAN - Controversial trial attorney Geoffrey Feiger (D) announced his candidacy for Attorney General. Best known as the former attorney for "Doctor Death" Jack Kevorkian, Feiger ran an abysmal campaign as the Dem nominee for Governor in 1998. During that campaign, he once commented that Jesus was "just some goofball that got nailed to the cross." Dem leaders are unlikely to permit Feiger to win the AG nomination at the tightly controlled convention next summer.
Posted by Ron Gunzburger - 10.12.05 | Permalink |
ALABAMA: Governor Bob Riley

(R) kicked-off his re-election campaign with a broadside blast against ousted Supreme Court Chief Justice Roy Moore (R). "I have never, and I never will use my faith or belief in almighty God for political purposes," said Riley, who boasted that he "added 50,000 new jobs and more than 500 companies have located or expanded in Alabama" during his first three years in office. A spokesman for Moore quickly responded that "we'll leave the slings and arrows to someone else in this campaign" -- and added that everyone knows Moore was removed as Chief Justice over the Ten Commandments monument fight in 2003 "because of his acknowledgment of God." In this battle between the pro-business fiscal conservative wing of the GOP led by Riley and the religious-right evangelical wing led by Moore, the Riley faction is clearly winning. According to a new Mobile Register poll, Riley leads Moore by a 44% to 25% vote. Moore had led Riley in some speculative primary polls last year. The winner will likely face Lieutenant Governor Lucy Baxley (D) in the general election.
NEW JERSEY: Another day, another poll showing the gubernatorial race narrowing. The latest WNBC/Marist College poll shows US Senator Jon Corzine (D) at 44% and businessman Doug Forrester (R) at 43%.
NEW YORK: A bitter fight for control of a local Republican Party organization may produce a competitive congressional primary challenge next year for Congressman John Sweeney (R). Former State GOP Chairman Bill Powers and Sweeney -- who once served as Powers' Executive Director of the party -- last week tried to select the next chair of the Columbia County Republican Party. However, GOP activists backed by former State GOP Chair Sandy Treadwell won a decisive victory as they overwhelmingly rejected the Powers/Sweeney candidate. The Albany Times-Union described the outcome as "a resounding defeat" for Sweeney. "If they can't take out the Columbia County chairman after years of prodding and scheming, that's not a good sign," said an aide to Governor George Pataki. Sweeney once served as State Labor Commissioner under Pataki. Now, in yet another escalation of the fight, it appears the wealthy Treadwell -- a Pataki ally -- is preparing to challenge Sweeney in next year's GOP primary in CD-20.
Posted by Ron Gunzburger - 10.11.05 | Permalink |
QUICK TAKES: Time magazine reports that White House Chief of Staff Andy Card was the driving force behind the selection of White House Counsel Harriet Miers -- to the exclusion of Deputy Chief of

Staff Karl Rove, who traditionally played a leading role in key selections. Card may have taken advantage of Rove's current distractions because of the ongoing CIA leak grand jury probe. The two men have had differences before -- as each vied for influence with the President -- and Time reports the Miers move "has reignited the tension" between Rove and Card ... OHIO: State Representative Joe Koziura (D) and Lorain Mayor Craig Foltin (R) are the leading candidates being mentioned for the CD-13 seat being vacated next year by Congressman Sherrod Brown (D). Koziura is a former Lorain Mayor and Vietnam War veteran. Foltin joked he was getting lots of calls from Republican leaders to consider the race because "there aren't too many Republicans in the area to consider" for the solidly Dem seat -- and said he was strongly inclined against running for Congress ... NEW JERSEY: The race for Governor is rapidly tightening with less than a month to go. According to the latest Newarl Star-Ledger/Rutgers poll, US Senator Jon Corzine (D) now leads businessman Doug Forrester (R) by a vote of 44% to 37%. Corzine held a 20-point lead in the same poll last month. Other polls also show a similar narrowing of this race.
Posted by Ron Gunzburger - 10.10.05 | Permalink |
QUICK TAKES: In Florida, former State Democratic Chair Scott Maddox quit the race for Governor and immediately endorsed Congressman Jim Davis for Gov ... In New York, billionaire businessman Tom Golisano changed his registration from the Independence Party to Republican, in anticipation of his likely fourth run for NY Governor ...

Here's another sign that US Senator John McCain (R-AZ) is definitely positioning himself to run for President in 2008: He endorsed Secretary of State Ken Blackwell (R) for Ohio Governor. Blackwell is the most conservative of the Republicans already in the race. McCain praised him, without directly saying it, for staying clear of the state's scandals that have sullied the reputation of most other Ohio GOP leaders ... In Georgia, Congressman John Lewis (D) told the AP that state Dems are unlikely to file a lawsuit to challenge to new, GOP-led congressional redistricting that solidifies the current Republican's advantage. The only significant change is to CD-12, which was modified to be slightly more GOP-friendly ... In Iowa, former State Economic Development Director and former Congressman Mike Blouin (D) is quickly locking-up support in his race for Governor. He just scored the endorsements of 18 of the 25 Dem State Senator and 32 out of the 49 Dem State Representatives. Other Dems in the race include Secretary of State Chet Culver, State Agriculture Commissioner Patty Judge and State Rep. Ed Fallon. Fallon, an outspoken progressive, asserts the pro-life Blouin is out of step with mainstream Democratic views.
Posted by Ron Gunzburger - 10.08.05 | Permalink |

PENNSYLVANIA: Another day, another new Quinnipiac University poll. Today's Q-poll is on the Keystone State's hot US Senate race. The numbers: State Treasurer Bob Casey Jr. (D) - 52%, US Senator Rick Santorum (R) - 34%. These results indicate a 7-point rise for Casey since July. The key numbers to note: Dems back Casey by an 81% to 8% vote, while 22% of Republicans said they were also voting for Casey.
ROVE/LIBBY-GATE. The White House is now clearly bracing for an indictment -- or indictments -- later this month of top Administration officials in the case related to leaking the identity of covert CIA agent Valerie Plame in 2003. Despite the prosecutor's Republican credentials, most now agree indictments are coming. The two most likely targets appear to be Presidential political guru Karl Rove and VP Chief of Staff Scooter Libby. It is not known yet whether or not the men have received formal "target letters" from the Justice Department. In an unexpected -- and bold, risky move -- Rove has apparently asked to testify again at the eleventh-hour before the grand jury without being granted any immunity. The US Attorney's Office sent a formal letter accepting Rove's offer to testify but warned in writing that his testimony could be used against him and there is no longer a prosecutorial guarantee he won't be indicted. This will be Rove's fourth appearance before the grand jury -- and may put him into a position of having to explain what not may appear to be contradictions or deceptions in his earlier testimony.
OHIO:

The Wall Street Journal/Zogby are teamed up again for 2006 to track battleground state polls in US Senate and Governor races. One of the most interesting set of numbers in the new round of polls -- as questionable as these Zogby polls are -- are those from Ohio. Taken before Congressman Sherrod Brown (D) jumped into the race this week, the polls show US Senator Mike DeWine (R) is highly vulnerable. Iraq War veteran and attorney Paul Hackett (D) led DeWine by a vote of 44% to 36%. Interestingly, former Congressman Bob McEwen (R) -- who has never before run statewide -- polled better against Hackett than did the incumbent. The numbers: Hackett-42%, McEwen-37%. McEwen, a favorite of Religious Right conservatives, is making calls to test support these for what appears a likely primary challenge to DeWine. McEwen -- who carries some baggage from the 1990's House Bank check bouncing scandal -- could likely expect primary support from the Club for Growth and the NRA in a primary race against DeWine. (Note: There's a major "red flag" to note about all these WSJ/Zogby polls -- Zogby's unusual methodology uses survey sent to voters' email addresses of those who volunteered to take part in these polls, rather than the more traditional method based on random telephone sampling. Just my professional opinion, but all these online Zogby polls should carry the disclaimer of "For Entertainment Purposes Only.")
ALABAMA: Former Governor Don Siegelman (D) told the AP he expects to soon be indicted by the feds on new corruption charges. He was acquitted last year on fraud charges in state court last year. The likely new charges relate to corruption allegations involving state road contracts and liquor sales legislation. Siegelman says none of this will force him to quit his run next year for Governor, adding that the charges are politically motivated by Republican prosecutors seeking to derail his comeback bid. He also believes he'll do well in the primary as the only pro-lottery candidate in the race. Polls show Lieutenant Governor Lucy Baxley remains the frontrunner for the Dem nomination.
Posted by Ron Gunzburger - 10.07.05 | Permalink |

OHIO: Democrats nationally can clearly smell GOP blood in the water as the 2006 elections are drawing near, as they are having no trouble recruiting candidates these days. According to The Hotline, Congressman Sherrod Brown (D-OH) has reversed himself and is now preparing to announce his candidacy against US Senator Mike DeWine (D). Brown had previously announced a few months ago he would not seek the DeWine seat next year. Iraq War veteran and attorney Paul Hackett announced his candidacy for the seat earlier in the week -- but look for state Dem leaders to now work quickly to steer Hackett into either a rematch against freshman Congresswoman Jean Schmidt (R), a run for the open Attorney General's post, or the Lieutenant Governor spot on the state ticket. With Brown in the race, downgrade DeWine into the "Leans GOP" category.
NEVADA. In New York, President Nixon's son-in-law Ed Cox is running for US Senate. Now, in Nevada, it appears another Presidential family member is readying a run for political office. Jack Carter -- an investment consultant and son of President Jimmy Carter -- says he's planning to challenge US Senator John Ensign (R) next year. "I'm more concerned than ever with the way that the country is headed ... I'm very seriously exploring it. I had not planned to run for office. I have no infrastructure and this is new to me," he said. Carter moved to the state in 2003. He describes himself as a "social liberal with conservative Southern roots and a business background." Despite the high-recognition name, Carter would still be an underdog against Ensign.
PENNSYLVANIA: A new Quinnipiac University poll shows that Governor Ed Rendell (D) is well positioned to win re-election next year, despite unimpressive approval ratings. Rendell holds a 13% lead over either of the top two GOP frontrunners (former Lieutenant Governor Bill Scranton III and retired pro football star Lynn Swann). He holds landslide leads of around 30 points over the other GOP hopefuls.

OUR "ADOPTED" USMC BATALLION: During 2004, Lt. James Crabtree of the 1/23 Marines was our special correspondent in Iraq. Whether we individually opposed or supported the war, James' once-to-twice weekly updates made the war real to each of us by giving us folks over there that we personally knew. Since returning home to Texas, James was promoted to Captain, became engaged, and went to work in Austin for the State Veterans Land Board. We got an email from James this week announcing his GOP candidacy next year for Travis County Clerk. "This campaign will be fun and exciting and will be run for the right reasons. It will be a good first race learning experience and it will be run not for political expediency (which the Dist 50 race would have been) but because of heart felt convictions. [The incumbent] will learn that nothing she throws my way would compare to insurgent mortar attacks or road side IEDs," wrote James, who acknowledged he is a major underdog in his heavily-Dem county.
Posted by Ron Gunzburger - 10.06.05 | Permalink |

NEW YORK. The proverbial Fat Lady can already start singing in the 2006 race for NY Governor. A new Quinnipiac University poll confirms what every other poll has been saying for months: Attorney General Eliot Spitzer (D) will be the next Governor. According to the Q-poll, Spitzer leads his nearest potential GOP opponent -- billionaire businessman and perennial Indy candidate Tom Golisano -- by 34 points. All the other GOP hopefuls trail by margins exceeding 40-points. In a GOP primary match-up, here are the numbers: Golisano - 33%, former State Assembly Minority Leader John Faso - 8%, former Secretary of State Randy Daniels - 7%, and former Massachusetts Governor Bill Weld - 6%. In the US Senate race, the Q-poll found incumbent Hillary Clinton (D) leading either Westchester County District Attorney Jeanine Pirro (R) or President Nixon son-in-law Ed Cox by margins of more than 30 points. In a GOP primary, Pirro leads Cox by a vote of 40% to 25%.
CALIFORNIA: Voters went to the polls on Tuesday in the CD-48 special primary election to fill the seat left vacant by the resignation of Congressman Chris Cox (R), who resigned during the summer to become the SEC Chairman. Amid light turnout, seventeen candidates competed in the open primary and -- as no single candidate captured a majority of the vote -- the top vote-getters from each party will next compete in a run-off election on December 6. State Senator John Campbell (R) -- the frontrunner from the start -- finished far ahead of the field with 46%. Former Assemblywoman Marilyn Brewer (R) was second with 17%, followed by Minuteman Project civilian border patrol founder Jim Gilchrist (American Independent) with 14%, and attorney Steve Young (D) with 9%. Campbell, Gilchrist, Young, teacher Bea Tiritilli (Green) and realtor Bruce Cohen (Libertarian) will advance to the run-off. The CD-48 district is very heavily Republican in registration, so Campbell is virtually assured of victory in that contest.
MASSACHUSETTS: A new University of Massachusetts poll shows Governor Mitt Romney (R) trailing any of his potential 2006 re-election opponents. Romney trails Attorney General Tom Reilly -- the Dem frontrunner -- by 15%. Secretary of State Bill Galvin and former USDOJ official Deval Patrick (D), by contrast, only leads Romney by single-digits. However, if Romney passes on the race to focus on a likely 2008 Presidential campaign, GOP chances of holding the Governor's Mansion fade even further. The poll showed Lieutenant Governor Kerry Healey (R) trails any of the Dems by wider margins than Romney. Healey trails Reilly by 25%, trails Galvin by 13%, and trails Patrick by 4%.

NEBRASKA: US Senator Ben Nelson (D-NE) is probably to most conservative Dem currently serving in the Senate. How "Republican-lite" is Nelson? So much so that prominent Republicans feel comfortable showing up at his campaign events and writing him contributions for his 2006 re-election race. Congressman Lee Terry (R-NE) made a point of visiting the Nelson fundraiser in DC -- but joked he didn't bring a check. Conservative former Congressman Jon Christensen (R-NE) also organized a fundraiser for Nelson, according to the Omaha World-Herald Tribune.
RHODE ISLAND. The NRSC quickly waded into US Senator Linc Chafee's 2006 re-election race. The party organization is already running harsh TV spots in the state attacking investment banker and Cranston Mayor Steve Laffey, Chafee's conservative GOP primary opponent. The commercials try to tie Laffey to the unpopular oil industry and high gas prices, blasting Laffey for having previously run "a company selling oil industry stocks on Wall Street. Profiting from offshore oil drilling. The oil companies made a fortune. Steve Laffey made a fortune."
Posted by Ron Gunzburger - 10.05.05 | Permalink |
A
FIRST TAKE ON HARRIET MIERS. Unlike those partisans on both sides rushing to praise or attack Monday's US Supreme Court nomination of White House Counsel Harriet Miers, I'm not yet ready to stake out a definitive position. I don't buy the "She's a moderate because she gave to Al Gore 17 years ago when he first ran for President" argument. Hell, wacko homophobe Fred "Gods Hates Fags" Phelps also backed Gore back then -- and Phelps is not moderate on anything. I'm concerned by conservative Marvin Olasky's reporting on Meirs having been active in her fundamentalist church, noting her "views are consistent with that of evangelical Christians ... you can tell a lot about her from her decade of service in a conservative church." As for Meirs' resume, it seems okay -- even pretty good in and of itself -- but it appears to be far less than we should expect for a US Supreme Court nominee. The fact that she's a Bush loyalist with an okay resume leaves me underwhelmed. I'd note that Michael Brown could've claimed the same when he was selected to run FEMA -- and just look at the job he did there. So, for now, I'd say this: Give her fair hearings, let all the research on her views and experience come out, and then I'll weigh in with my opinion. Maybe Senators Harry Reid, Ben Nelson, and the rest of the Dems should follow this same course.
ALABAMA: Republicans will see one of the hottest and highest profiles in the nation next year in Alabama, when ousted State Supreme Court Chief Justice

Roy Moore challenges the renomination of Governor Bill Riley. Moore -- the self-proclaimed "Ten Commandments Judge" -- announced Monday he is running for Governor. A favorite of hardcore Religious Right activists, Moore will have no problem raising money from his nationwide pool of admirers. In the past, Moore has gone so far as to suggest the death penalty could be appropriate for homosexuals. Here is what Moore said in 2002: "Homosexuality is an act so heinous that it defies one's ability to describe it. The State carries the power of the sword, that is, the power to prohibit conduct with physical penalties, such as confinement and even execution." Moore later said he didn't mean to necessarily imply he supported those severe penalties for gay conduct -- as sodomy was only then a criminal misdemeanor in Alabama in 2002 -- and "what the law is is what I must go by." Riley, a far more mainstream Southern conservative, drew the ire of some within his party when he pushed for a $1.3 billion tax hike in his first year in office to improve the quality of the state's poorly performing school system. Riley is scheduled to kick-off his campaign later this week. Lieutenant Governor Lucy Baxley is a solid frontrunner for the Democratic nomination, but will face a contested primary. However, Baxley will likely emerge from her primary much less bloodied that the eventual GOP nominee.
OUT, OUT, OUT: Monday continued the recent spate of candidate recruitment bad news for the Republicans as more major prospects bailed out. In West Virginia, Congresswoman Shelley Moore Capito (R) announced she would seek re-election next year instead of challenging US Senator Robert C. Byrd (D). The White House had tried to recruit Capito into the race. In Maine, RNC Member and former State Representative Peter Cianchette -- the 2002 GOP nominee for Governor -- unexpectedly abandoned his previously announced candidacy against Governor John Baldacci (D) for "personal reasons." He was viewed as the frontrunner for the GOP nomination in 2006. In North Dakota, the weekend decision by Governor John Hoeven (R) to not challenge US Senator Kent Conrad (D) next year did not prompt others to jump into the contest. Actually, it caused just about every top Republican in the state -- including former Governor Ed Schafer, Attorney General Wayne Stenehjem, State State PSC Chair Tony Clark, Insurance Commissioner Jim Poolman, State House Majority Leader Rick Berg, State Senate Majority Leader Bob Stenehjem and US Attorney Drew Wrigley -- to all announce they would also not run against Conrad. With that news, move the popular Conrad into the "Safe Dem" column.

OHIO: Telegenic Iraq War veteran and attorney Paul Hackett (D) jumped into the '06 race against US Senator Mike DeWine (R) on Monday. Not a surprise, as Hackett's name has been floating for weeks ever since he impressed party leaders with his surprisingly strong 48% finish in a Congressional special election this past summer in a safe GOP district. What is surprising are various new reports that Congressman Sherrod Brown (D) -- a former Ohio Secretary of State -- is suddenly reconsidering his earlier decision to pass on the Senate race.
TOM DELAY UPDATE. Temporarily ousted US House Majority Leader Tom DeLay (R-TX) was indicted a second time in a week -- or re-indicted (depending on how you view it) -- by a Travis County grand jury. According to the Austin American-Statesman, the new indictment came about in an attempt by prosecutor Ronnie Earle to quickly fix serious problems from last week's indictment. Instead of the original charge of conspiracy to violate campaign finance laws, DeLay is now charged with money laundering. The new indictment is based on the same set of factual allegations. For more details, check out the American-Statesman article.
MINNESOTA: State Senator Becky Lourey is unabashedly one of the most liberal Dems in the state legislature. She was further thrust into headlines when her son was killed in Iraq in June while serving in the Army. In August, Lourey substituted for Cindy Sheehan on that dusty road outside of the Bush ranch in Crawford, Texas, when Sheehan had to leave to family reasons. While she views herself as a Paul Wellstone-style populist, this folksy mother (of 11 surviving children) and grandmother defies stereotypes. "I'm pro-choice, but I adopted eight children. I support our current gun laws, but I have a close relationship with my .30-06 Model 70 Winchester [rifle] with a Dot Weaver scope that my father gave me in 1958. I'm a citizen volunteer. I've farmed ... I'm a business owner. I support transit and I'm from rural Minnesota," she said in her past campaign. Look for Lourey -- who said Monday she will run for Governor next year -- to make the DFL nomination contest interesting. Other Dems in the race against GOP Governor Tim Pawlenty include State Senator Steve Kelley, wealthy developer Kelly Doran, and non-profit group exec Bud Philbrook. Attorney General Mike Hatch (DFL) is also leaning towards entering the race.
OKLAHOMA. Let the musical chairs begin. Congressman Ernest Istook (R) announced his candidacy for Governor on Monday. That immediately prompted Lieutenant Governor Mary Fallin (R) and State Corporation Commissioner Denise Bode (R) to both jump into the CD-5 race for Istook's open seat. More potential hopefuls are buzzing around the CD-5 race and the Lieutenant Gov race. See our Oklahoma page for the list of all the names in play.
Posted by Ron Gunzburger - 10.04.05 | Permalink |
P2008. Speaking in Europe on Sunday, former New York City Mayor Rudy Giuliani (R) said he will decide on making a 2008 White House run sometime next year. "I will be considering it next year," he said, but added he has no idea if he'll end up running. "Sometime you warm up and get ready and you don't get in and pitch."
ROVE-GATE ( ... OR "LIBBY-GATE" ... OR "CHENEY-GATE"). Was it

White House political guru Karl Rove who leaked to the media that Valerie Plame was an undercover CIA agent ... or was it Vice Presidential Chief of Staff Scooter Libby ... or does the trail of potential criminality go all the way to the top? The Washington Post reported on Sunday that the White House is bracing for possible indictments in the case. However, ABC's George Stephanopoulos reported Sunday a "source close to this [reported] that President Bush and Vice President Cheney were actually involved in some of these discussions" planning the leak of damaging info on the wife of Ambassador Joe Wilson, an Administration critic. The New York Times reported evidence now appears to indicate that Vice President Cheney may have directed Libby to leak the info about Plame's undercover role. Plame had no known association with the CIA prior to the 2003 leaks. Because of the complexities of proving the leaking charge, the federal prosecutor is believed to be focusing instead on criminal conspiracy charges.
TOM DELAY UPDATE #1: In the movie Casino, Robert DeNiro played Lefty, the mob-controlled boss of the Tangiers casino in Vegas. When state casino licensing problems appeared for Lefty, he stepped aside as General Manager and was given the new title of "Catering Manager" -- but still went ahead and told a local TV news crew that it didn't matter what his official title was because he was still the

boss of the Tangiers. Appearing on Fox News Sunday, former US House Majority Leader Tom DeLay (R-TX) displayed the same hubris as DeNiro's character. "I can do my job with or without the title. That doesn't concern me," said DeLay, who defiantly implied he will remain part of the GOP House leadership despite last week's criminal indictment. DeLay also called the charges "sleavy." DeLay said he only is guilty of raising lots of money to defeat Dems -- "but that's not illegal." Congressman Chris Shays (R-CT) -- a GOP moderate -- told CNN he has never been comfortable with DeLay's leadership style. Shays said DeLay engages in "continual acts that border and go sometimes beyond the ethical edge. They may not be illegal, but he's always pushing that ethical edge to the limit." And, if you thought the news for DeLay couldn't get worse, check out what Time magazine will report on Monday: "A federal investigation into the spreading scandal around disgraced lobbyist Jack Abramoff, accused with Michael Scanlon (a former press secretary of DeLay's) of bilking their Indian-tribe clients out of $66 million, has begun lapping at the edges of the former Majority Leader's operation."
TOM DELAY UPDATE #2: To date, two House members -- Jeb Bradley (R-NH) and Heather Wilson (R-NM) -- announced they are returning contributions received in the past from DeLay's PAC. Congressman Kenny Hulshof (R-MO) said he would donate all of the $14,500 he received from DeLay's PAC to the Bush-Clinton hurricane relief group. "It's time [for me] to sever any and all ties with the gentleman from Texas," explained Hulshof to the Columbia Daily Tribune, who added Sunday he does not want DeLay returning to the leadership regardless of the outcome of the charges. "If you're afraid of keeping Tom DeLay's PAC money, you're probably afraid of your own shadow," responded Congressman Henry Bonilla (R-TX), a DeLay ally. Congressmen Sherwood Boehlert (R-NY) and Clay Shaw (R-FL) -- as just two examples -- willingly told reporters they would keep the DeLay money. By contrast, Congressman Mark Green (R-WI) -- a 2006 candidate for Governor -- is trying to weasel out of the whole mess while keeping the money. His campaign spokesman told the Milwaukee Journal Sentinel that Green "legally could not return the donations ... We'd be in violation of federal law, which sets limits on the size of gifts to federal campaign committees ... [and, besides] that money has been since spent, so there is no contribution to return." Yet others are taking the silent approach, refusing to answer any media questions about the DeLay money.
TOM DELAY UPDATE #3: Apparently some people believe there is a nexus between these two proven maxims: "Timing is everything" and "There's no such thing as bad publicity." Otherwise, how else could you explain this item. Former State Senator Gunner DeLay (R-AR) -- Tom's second cousin -- decided the timing was right to announce his candidacy over the weekend for Arkansas Attorney General. He is unlikely to face serious opposition for the GOP nomination. The seat is open because Attorney General Mike Beebe (D) is running for Governor.
NIXON ENEMIES LIST REDUX. Over

the weekend we reported former US Senator Lowell Weicker of Connecticut was contemplating a comeback bid for office next year against Joe Lieberman. The liberal Weicker earned his spot as a Nixon enemy by being one of the first Republicans who supported Nixon's impeachment in 1974. Since then, Weicker left the GOP and moved to the left -- going as far as to endorse Howard Dean for President in 2004. Now we're hearing of another Nixon foe -- 78-year-old former California Congressman Pete McCloskey (R) -- thinking of running for Congress again next year. McCloskey made a quixotic bid against President Nixon in the 1972 primaries as an anti-Vietnam War peace candidate, then gave the first speech of any House member calling for Nixon's impeachment. He remained in Congress until losing a bid for US Senate in 1982. Since then, McCloskey has spent his time as an ardent environmental activist (and a vocal Israel critic). The co-founder of Earth Day in 1970 and an original co-sponsor of the Endangered Species Act, McCloskey is "outraged" that Congressman Dick Pombo (R-CA) wants to substantially scale back the Act. McCloskey was attempting to recruit an environmentalist Republican to run against Pombo, but now says he himself will run if he cannot find a viable primary candidate against Pombo. In a primary, McCloskey -- an Iraq War opponent -- would also have to answer for his endorsement of John Kerry last year. A spokesman for the incumbent said "Republicans are happy with Pombo and don't see a need for change."
Posted by Ron Gunzburger - 10.03.05 | Permalink |
QUICK TAKES: In the wake of former Illinois Governor Jim Edgar (R) announcing Friday that he will not run for against Governor Rod Blagojevich (D) next year, the GOP may now lose the candidate who polled best after Edgar. State Treasurer Judy

Baar Topinka (R) -- who also served as State GOP Chair -- now says she is considering withdrawing from the gubernatorial contest. Topinka had deferred making a formal entry into the race to allow Edgar time to make a decision -- but now says the time Edgar spent contemplating the race also caused her to rethink her interest in the contest ... In North Dakota, Dems got even more good news. Governor John Hoeven (R) announced Friday that he will not challenge US Senator Kent Conrad (D). "The outpouring of support and encouragement I have received to run for the United States Senate is truly humbling, but as I have said, repeatedly, I am focused squarely on the job of Governor," he said. The White House had strongly pressed Hoeven to run. With Hoeven out of the race, the popular Conrad is a safe bet to win re-election ... The Virginia gubernatorial race is further narrowing. The latest Rasmussen Reports poll shows Lieutenant Governor Tim Kaine and former Attorney General Jerry Kilgore (R) tied with 45% apiece -- and Kaine hasn't even started running the TV spots (reportedly already filmed) with popular outgoing incumbent Mark Warner (D) endorsing Kaine ... In Connecticut, former US Senator and former Governor Lowell Weicker is sounding like a possible Indy candidate against US Senator Joe Lieberman (D) next year. Weicker, a liberal, served three terms in the US Senate as a Republican before being elected Governor as a progressive Independent in 1990. Lieberman ousted then-incumbent Weicker from the Senate seat in 1988.
Posted by Ron Gunzburger - 10.01.05 | Permalink |