10.31.03
MAKING SENSE OF THE NEW TEXAS MAPS. It

took some extensive research, a bunch of emails ... and even a bit of guesswork ... but we were finally able to sort out who is running where under the new Texas Congressional redistricting plan. Some -- like Congressman Jim Turner (D) -- aren't sure they'll even run for re-election next year under new lines certain to ensure their defeat. Turner, for his part, says he may pass on re-election and instead run for Governor or US Senate in 2006. Others -- like Congressmen Lloyd Doggett (D) and Charlie Stenholm (D) plan to run in districts other than those in which they currently live. Democrats are suing to block the maps, alleging that the new plan violates civil rights laws by reducing by one the total number of minority districts. Obviously, if the courts or DOJ strike down the maps as unlawful, we'll likely return to the old 2002 lines for the 2004 vote. But, until then, you can see who is now running where on our Texas page. [Note: The Allan Shivers button is from the 1954 gubernatorial race.]

GEPHARDT, DEAN TIED IN NEW IOWA POLL. Dick Gephardt and Howard Dean continue to exchange the leader position in the see-sawing Democratic contest to win the Iowa Presidential caucuses in January. The latest independent poll now has the two men tied at 26% apiece. John Kerry was third with 15%, followed by John Edwards at 8%. Joe Lieberman and Wesley Clark -- who both announced earlier this month that they would not actively compete in Iowa -- were tied for fifth place with 3% each. Dennis Kucinich, Al Sharpton and Carol Braun trailed behind. In related news, the poll also showed that President Bush would currently defeat either Gephardt, Dean or Kerry in the state in the general election. The poll was conducted for KCCI TV-8 in Des Moines.
HE'S NEVER HEARD OF YOU, EITHER. This is the first installment of a new (but sporadic) feature that will profile a bunch of the Presidential contenders
you've never heard of ... and, in many cases, likely will never hear of again. Some are serious, some are funny, and a few seem completely insane. Today we'll introduce you to Bill Wyatt of California -- a rather unorthodox candidate opposing President Bush for the GOP nomination. Wyatt -- a peace candidate -- has already qualified for the Missouri primary ballot, and is now seeking ballot status in additional states. If Howard Dean is the political Internet pioneer, then Wyatt is clearly trying to be the pioneer of using t-shirts in campaigns. "I plan to get my message out using t-shirts. I would rather distribute editorial based t-shirts than to spend money on inane, self-promoting advertisements," he explained to Politics1. Wyatt's website promises to send you a free campaign t-shirt -- lots of different messages to select from -- if you'll pay for the postage. Wyatt vows "No new wars." He also wants to create an online "Alternative Government Network" by using a message board to encourage the public to help build his administration. Wyatt was recently a candidate for California Governor in the the October 7th recall election, but his t-shirt strategy didn't seem to work very well. He finished 131st place with 264 votes. You can find out more about Wyatt -- and lots of other Presidential hopefuls -- on our Presidency 2004 page.
PAGES UPDATED TODAY: Iowa, Minnesota, North Carolina, Texas, P2004: Dean, P2004: Edwards, and Calendar.
10.30.03

DEM SEN ENDORSES BUSH. US Senator Zell Miller (D-GA) is crossing party lines to endorse the re-election of President Bush. Miller -- a conservative Democrat who has frequently broken with his party to support the President in key votes -- told the Weekly Standard that Bush is "the right man at the right time" to govern the country. The two men have been friends for nearly a decade. Miller earned much scorn from Dem leaders last month for his new book -- A National Party No More -- in which Miller criticized the party for being too liberal, too elitist, and too subservient to special interest groups to win any more Presidential elections. As an aside, Democratic leaders have also been frustrated by their inability over the past ten months to recruit a viable candidate for Miller's open Senate seat.
NEWSOM LEADS,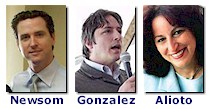 LIBERALS SPLIT IN SAN FRAN MAYOR RACE. In the open non-partisan race for Mayor, Supervisor Gavin Newsom (D) continues to hold a commanding lead with 36%, followed by Supervisor Matt Gonzalez (Green) at 15%, former Supervisor Angela Alioto (D) at 13%, Supervisor Tom Ammiano (D) at 10%, City Treasurer Susan Leal (D) at 7%, and all others -- including former Police Chief Tony Ribera (R) -- trailing far behind. Newsom -- a moderate Democrat with heavy financial backing from the business community -- recently won the endorsements of the San Francisco Chronicle, US House Minority Leader Nancy Pelosi, and US Senator Dianne Feinstein. Gonzalez, Alioto, Ammiano and Leal are vocal liberals who are splitting that sizable base. Gonzalez seems to have momentum in these final days, recently pulling ahead of the others for the coveted run-off spot against Newsom. If no candidate in the ten person field wins a majority on Tuesday, the top two will meet in a December run-off.

OUCH! CONGRESSIONAL DIVORCE GOES PUBLIC. The wife of Congressman Steve LaTourette (R-OH) went to reporters with news about their plans to divorce after 21 years of marriage. Accordingo to The Hill, the Congressman told his wife he wants a divorce because he is involved with another woman. Susan LaTourette told the newspaper: "He called me on Friday and said he wants a divorce ... I think Washington corrupts people ... He was a wonderful husband and father, the best I ever saw, until he went there. I told him I was trying to get him out of the dark side, all that power and greed and people kissing up to them all time. Now he's one of them. All they care about is getting reelected. I hate them all." She explained she went public with the story in an attempt to win her husband back. LaTourette's office declined to comment, calling it "a private matter." To finish off a bad few days for the Congressman, State Rep. Ed Jerse (D) announced he would run against LaTourette next year because the Congressman broke his term limits promise.
PAGES UPDATED TODAY: California, Illinois, Michigan, Texas, Washington, Virginia, West Virginia, Wisconsin, P2004: Bush, P2004: Dean, P2004: Kerry, and Jobs.
10.29.03
SOMETHING NEW. We know we've been writing stories in blog news format on our homepage since late 2001 ... but we finally decided to preserve the stories in a dedicated blog section on Politics1. Thus, today's entries begin the stories we'll be permanently archiving online.
SHARPTON SLAMS DEAN. Democratic frontrunner Howard Dean clearly rattled Rev. Al

Sharpton's Presidential campaign this week by winning the endorsement of Congressman Jesse Jackson Jr. (D-IL). Jackson is the son of civil rights leader Rev. Jesse Jackson, a 1984 and 1988 Presidential candidate. Rev. Jackson is also viewed as a longtime rival of Sharpton within the civil rights movement. On Tuesday, Sharpton attacked Dean for promoting an "anti-black agenda." In support of that allegation, Sharpton noted a 1995 Dean comment saying that Affirmative Action should look at class and not race so as to help all underprivileged people. Sharpton further noted Dean's support for the death penalty and his pro-gun rights record. Sharpton also attacked Congressman Jackson: "Any so-called African American leader that would endorse Dean despite his anti-black record is mortgaging the future of our struggle for civil rights and social justice." A Dean spokesman refused to directly engage Sharpton, and instead merely noted Dean "has always been a strong supporter of affirmative action." Jackson's spokesman responded by saying the Congressman supported Dean because Dean ''doesn't put his finger in the air to test the wind before he takes a stand."
TO RUN OR NOT TO RUN, THAT IS THE QUESTION.

US Senator Bob Graham -- who earlier this month ended his Presidential bid -- told reporters Tuesday that he has largely made his decision on whether or not he will seek re-election next year. The catch: he won't announce what that decision is until sometime soon, possibly as soon as this weekend. Graham said his staff is making arrangements for him to make the public announcement. According to people who spoke with Graham this week -- including Dems urging him to seek re-election to ensure the party holds his seat in 2004 -- Graham was highly ambivalent. He described how much he enjoyed serving in the Senate and how he understood the importance of the decision from a party perspective, but that it was a "very personal decision" and he was still not yet sure what he wants to do with the rest of his life. Some who spoke with him came away with the view he would run again. Others hold the opposite view. Perhaps the problem is that Graham himself is still somewhat uncertain what he wants to do.
PAGES UPDATED TODAY: California, Florida, Illinois, Kansas, Montana, Nebraska, North Carolina, Ohio, Oregon, Tennessee, Washington, P2004: Clark, P2004: Dean, P2004: Kucinich, Bookstore, Calendar, and Jobs.