BLOG ARCHIVE: SEPTEMBER - DECEMBER 2009.
NEWS UPDATE & OPEN THREAD FOR THE WEEK OF DECEMBER 21, 2009. HEALTH CARE: It appears as if the US Senate Democrats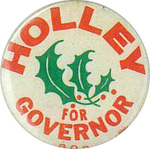 will meet their self-imposed timetable of passing health care reform legislation by Christmas Eve. It came at the cost of jettisoning the public option, the public option trigger and the early Medicare buy-in option, but the compromise was able to secure the 60 votes needed to block any GOP efforts to stall the bill. US Senator Ben Nelson (D-NE), the most conservative Democrat in the Senate, announced his support of the plan, giving the bill the 60 committed votes needed. The pro-life Nelson was also agreed to a compromise which will strip out the staunchly anti-abortion Stupak amendment from the House and replace it with much milder pro-life language consistent with current law (i.e., the Hyde Amendment). Progressive Democrats were largely unhappy with the compromise, believing it betrayed the promise of a real public option. GOP Conservatives opposed it as a further expansion of the federal government. However, some in the media noted the final plan almost completely mirrors the proposal advanced by President Obama during his 2008 campaign ... ALABAMA: Freshman Congressman Parker Griffith, a conservative Blue Dog Democrat who has voted against the White House this year on most key legislation, announced Tuesday his switch to the Republican Party.

Griffith was facing a tough reelection contect for the GOP-leaning CD-5 district, which voted 61% for McCain last year. The unexpected switch did not deter his two GOP opponents, as both men vowed to remain in the race against Griffith in the GOP primary. Griffith's leading GOP rival is Madison County Commissioner Mo Brooks, a former state legislator and former District Attorney. While some state GOP leaders embraced the move, the conservative Club for Growth was tepid in the brief statement it released: "This party switch signals Griffith's nervousness, but it doesn't signal that his incumbency is safe." The Dems also vow to field a strong candidate for the seat, and several prominent names are already being floated ... NEW YORK: Former New York City Mayor Rudy Giuliani (R) announced he will not run for either Governor or US Senate next year, ending GOP efforts to recruit him into those races. In the gubernatorial contest, Republicans seem to be reluctantly coalescing behind the candidacy of former Congressman Rick Lazio. Recent polls, however, have surprisingly shown Lazio trailing unpopular incumbent Governor David Paterson (D). In the US Senate race, no Republicans have announced to date against US Senator Kristen Gillibrand (D).
12.23.09 >>
NEWS UPDATE & OPEN THREAD FOR THE WEEK OF DECEMBER 14, 2009. RHODE ISLAND: Wealthy businessman Rory Smith --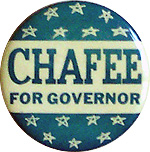 the lone GOP candidate in the race to replace term-limited Governor Don Carcieri (R) -- quit the race over the weekend. He said he became convinced he could not run a competitive race for the seat. With Smith out, the only Republican name floating is that of Cranston Mayor Steve Laffey, a conservative who challenged then-US Senator Lincoln Chafee in the 2006 GOP primary. (Note: the button at left is from his father John Chafee's 1962 winning run for Governor.) Laffey previously announced he would not run, but with no candidate in sight, he's reportedly reconsidering. Chafee is running as an Independent, and is currently leading in general election polls. Attorney General Patrick Lynch and State Treasurer Frank Caprio are the leading Democrats in the race ... TEXAS: City Comptroller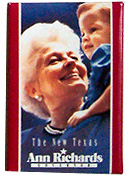 Annise Parker (D) was elected Houston Mayor on Saturday by a 53-47 vote. Parker, who is openly gay, acknowledged the historical nature of her win, making Houston the largest city in the nation to ever elect an out gay mayor. Parker -- who has a spouse of 19 years and three childen they adopted -- saw her sexuality made into almost the only issue discussed in the run-off campaign ... HAWAII: Congressman Neil Abercrombie (D) announced he will resign his CD-1 seat soon in order to focus all his efforts on his gubernatorial bid. The move, when it occurs, will trigger a special election. Hawaiian special elections always are incredibly crowded contests, but the three frontrunners will be former Congressman Ed Case (D), State Senate Colleen Hanabusa (D) and Honolulu City Councilman Charles Djou (R) ... WASHINGTON: Congressman Brian Baird (D) announced he will retire next year. While Baird regularly scored easy reelection victories, the seat will likely be competitive now that it is an open contest in 2010. Several state legislators are looking at the contest.
12.14.09 >>
NEWS UPDATE & OPEN THREAD FOR THE WEEK OF DECEMBER 7, 2009. MASSACHUSETTS: Voters will cast primary ballots Tuesday in the special election the fill the seat of the late US Senator Ted Kennedy. Turnout is expected to be very low. Attorney General Martha Coakley continues to be the strong frontrunner for the Dem nomination in all independent polls. The only primary contender of the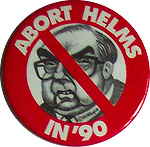 other three hopefuls who appears to even remotely be within striking range of Coakley is Congressman Mike Capuano. The winner of the Democratic primary is a safe bet to win the special general election on January 19 ... TENNESSEE: Congressman John Tanner (D), a leading Blue Dog Democrat in the House, announced last week he will not seek reelection next year. Based upon voting trends in CD-8, the open seat moves to the toss-up category. Farmer Stephen Fincher is the GOP frontrunner, having raised over $300,000 to date for his campaign. Just hours after Tanner announced his retirement, State Senate Minority Leader Roy Herron (D) quit the gubernatorial race and jumped into the CD-8 race. Several other Democratic state legislators also expressed an interest in the seat, each promising to make a decision shortly ... MINNESOTA: Minneapolis Mayor R.T. Rybak (D) became the latest candidate to jump into the open gubernatorial contest. Eight Republicans, eleven Democrats, six others are now officially in the race to replace retiring Governor Tim Pawlenty (R). Last week, news reports indicated former US Senator Norm Coleman (R) is showing renewed interest in the race. Coleman downplays any focus on the race, but vaguely hints he'll focus on "the political horizon" sometime later ... FLORIDA: State legislative leaders announced a snap special session for this
week to find the $1.2 billion needed to finance the so-called SunRail high-speed train line in central Florida. If approved, the funding could qualify the state for $2.5 billion in additional federal stimulus funding. All of this funding -- for what critics are mockingly calling an unneeded "Train to Nowhere" -- would benefit for-profit CSX railroad company. Governor Charlie Crist (R), State House Speaker Larry Cretul (R) and State Senate President Jeff Atwater (R) all support the train project, as do US Senators George LeMieux (R) and Bill Nelson (D). Backers claim the train would generate "create or save 14,000 jobs." Gubernatorial candidate State Senator Paula Dockery (R) and US Senate candidate/former Florida House Speaker Marco Rubio are outspoken critics of the project, as are several leading Democrats and the state's Tea Party group. Dockery calls the project "a billion-dollar boondoggle ... [that] will lead to higher taxes and can take away funds from education." OBITUARY: Former US Senator Paula Hawkins (R-FL) died on December 4 at age 82. She set a women's "first" in Senate history in 1980, as the first woman ever elected to a full US Senate term in her own right without being a surviving spouse or relative of the previous incumbent. She was defeated for reelection in 1986 when the popular Hawkins was challenged by the even more popular Governor Bob Graham (D).
12.07.09 >>
NEWS UPDATE & OPEN THREAD FOR THE WEEK OF NOVEMBER 30, 2009. CONNECTICUT:

Frequent Presidential candidate and consumer advocate Ralph Nader (Green) acknowledged he is contemplating running against US Senator Chris Dodd (D) next year. The Connecticut Green Party has offered the 75-year-old Nader their nomination if he wishes to run. In other related news, State Senator Sam Caligiuri (R) exited the US Senate race and jumped into the CD-5 contest. Former Ambassador Tom Foley (R) also said they he is leaning towards quitting the Senate race and instead running for Governor. The NRSC appears to be clearing the Senate primary field for former Congressman Rob Simmons (R). Former World Wrestling Entertainment CEO and state Board of Education Member Linda McMahon and anti-tax activist Peter Schiff are the other announced GOP candidates for Senate. Just speculation on our part, but look for Schiff to eventually exit the GOP contest in favor of running as the Libertarian nominee ... P2012: Former CNN news show host Lou Dobbs (R/Independent) openly acknowledged he is considering making a run for President in 2012. However, Dobbs last
week said he may instead run against US Senator Bob Menendez (D-NJ) in 2012 to build his credentials for a delayed White House run in 2016 ... MASSACHUSETTS: With a week to go until the special election primary, Attorney General Martha Coakley (D) continues to look like the clear frontrunner for the vacant US Senate seat. US House Speaker Nancy Pelosi, former Governor Mike Dukakis and current Massachusetts First Lady Diane Patrick all endorsed Congressman Mike Capuano in the Dem primary. The Boston Globe endorsed philanthropist Alan Khazei. But look for Coakley to score a comfortable victory next week ... ARIZONA: A new Arizona State University poll shows Attorney General Terry Goddard (D) leading Governor Jan Brewer (R) by a 47-28 vote ... KANSAS: Congressman Dennis Moore (D) last week became the first House member to announce his retirement for 2010. Five Republicans have already announced for the seat, and several Dems are also looking at it. As an open seat, CD-3 must be rated Leans GOP ... P2012: Former Arkansas Governor Mike Huckabee (R) told Fox News on Sunday that it is "less than likely" he will make a second run for President next time. Meanwhile, a Draft Cheney 2012 group has formed to encourage the former Vice President to run for President. Daughter Liz Cheney is among those encouraging her father to run. To date, however, the former Veep says there is no way he is going to run.
11.30.09 >>
NEWS UPDATE & OPEN THREAD FOR THE WEEK OF NOVEMBER 23, 2009. By a 60-39 vote, US Senate Democrats blocked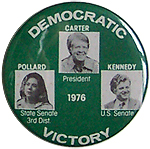 GOP filibuster plans and now advance the Dem's health care reform legislation to the floor for debate. In response to critics who claimed nobody knew what was really in the bill, the Democratic leadership posted the 2,074-page bill on the Senate's website (note: it's about the same length as Sarah Palin's book). The real fight will come after floor debate is finished, when Senator Joe Lieberman has vowed he will switch sides and vote with the GOP to block cloture if the final bill contains a public option ... A new Boston Globe poll shows Attorney General Martha Coakley holds a wide lead in the Dem primary for the open US Senate seat. The numbers: Coakley - 43%, Congressman Mike Capuano - 22%, venture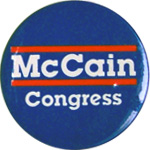 capitalist Steve Pagliuca - 15%, philanthropist Alan Khazei - 6%. The winner of the Dem primary on December 8 is all but certain to defeat State Senator Scott Brown (R) in the January general election ... In North Dakota, a new Zogby poll shows Governor John Hoeven (R) would defeat US Senator Byron Dorgan (D) by a lopsided 55-36 vote. Hoeven has not yet decided on whether he will challenge Dorgan next year ... Former NYC Mayor Rudy Giuliani (R) is now apparently leaning towards running against interim US Senator Kristen Gillibrand (D) in 2010, instead of running for Governor, according to conversations Giualiani had with close associates last week ... In California, a new Rasmussen poll shows US Senator Barbara Boxer (D) leading centrist former Hewlett Packard CEO Carly Fiorina (R) by a 46-37 vote. Boxer also leads conservative State Assemblyman Chuck DeVore (R) by a nearly identical 46-36 vote ... US Senator John McCain (R) may have trouble with his party's conservative base, if conservative former Congressman J.D. Hayworth challenges him in the GOP primary. The latest Rasmussen poll shows McCain leading Hayworth 45-43 vote, with anti-immigration activist Chris Simcox at 4% ... Finally, my best wishes to all for a happy thanksgiving.
11.23.09 >>
NEWS UPDATE & OPEN THREAD FOR THE WEEK OF NOVEMBER 16, 2009. The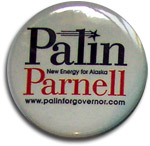 big news this week will be the release of former Alaska Governor Sarah Palin's autobiography 'Going Rogue.' In the book she hits back at various foes including her Alaska opponents and the media in general (and Katie Couric and Charlie Gibson in particular). However, her strongest hits are squarely aimed at various people involved with the 2008 McCain campaign. As for Levi Johnston, he reportedly is not even mentioned in Palin's book ... A federal judge sentenced former Congressman Bill Jefferson (D-LA) to 13-years in prison. Jefferson was convicted in August on bribery, racketeering and other corruption charges. The sentence is the longest incarceration ever given to a former member of Congress ...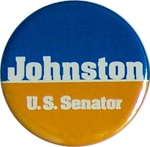 US Senator Kay Bailey Hutchison (R-TX) has changed plans again from her previously announced decision to resign her seat in order to focus full-time on her 2010 GOP primary challenge against Governor Rick Perry. Hutchison on Friday says she now expects to resign after the primary in March 2010, but left lots of wiggle room to stay until the end of her term. "She will always do what's right for Texas," explained Hutchison's campaign spokesperson. The resignation -- if Hutchison follows through on her latest statement -- will force a special election next year. At least ten candidates have already announced their candidacies in the date-uncertain Senate special election ... Milwaukee Mayor and former Congressman Tom Barrett (D) announced his candidacy for Wisconsin Governor. The White House had enouraged Barrett to run for weeks, believing he is the strongest Dem for the open seat contest ... Former Congressman Tom Tancredo (R) said this weekend that he "expects" to soon enter the race for Colorado Governor.
11.16.09 >>
NEWS UPDATE & OPEN THREAD FOR THE WEEK OF NOVEMBER 9, 2009. On Capitol Hill, House Speaker Nancy Pelosi handed President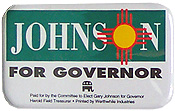 Obama a small victory on Saturday when the House approved universal health care legislation by a 220-215 vote. Only one Republican -- endangered freshman Congressman Joseph Cao (R-LA) -- joined with the Democrats to approve the bill. The fight for national health care now moves to the US Senate. Senate Democrats acknowledge it will be a tough fight, but believe they can have a bill on the President's desk for signature by the end of next month ... All signs are now pointing to former New Mexico Governor Gary Johnson (R) running as the "Ron Paul movement" candidate for President in 2012. Johnson, who is launching his Our America PAC and has a book coming out in December, is seemingly encouraging the "Draft Johnson" movement to continue. Johnson, who backed Ron Paul in 2008, shares Paul's libertarian foreign policy, anti-tax and drug legalization views. However, unlike Paul, Johnson is generally pro-choice and pro-gay equality (but believes both issues are largely states' rights issues). Several sources indicate there is a strong change Paul will pass on making another run in 2012 iin favor of Johnson, if the colorful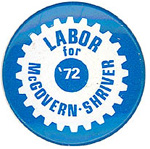 Johnson decides to make the race ... US unemployment rate his 10.2% on Friday, the highest since 1983 (btw, what happened to that incumbent President in 1984?) ... According to published media reports, non-profit group founder/CEO Anthony Shriver (D) is considering jumping into the race for Florida Governor. Shriver is the nephew of the late Senator Ted Kennedy, the son of 1972 Democratic VP nominee Sargent Shriver, and the brother of California First Lady Maria Shriver ... Arkansas Lieutenant Governor Bill Halter is openly contemplating making a Democratic primary challenge next year against US Senator Blanche Lincoln. Halter, who served as the Social Security Administrator during the Clinton Administration, is reportedly upset about Lincoln's failute to embrace Obama's call for universal health care ... The fiscal conservative Club for Growth is running TV spots in Florida which mock Governor Charlie Crist (R) for falsely claiming last week on CNN that he "never endorsed" Obama's stimulus package earlier this year. The group is backing former State House Speaker Marco Rubio against Crist in the GOP primary for US Senate.
11.09.09 >>
ELECTION RESULTS OPEN THREAD - NOVEMBER 5, 2009. Tuesday was election day in gubernatorial contests in NJ and VA, congressional special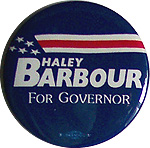 elections in NY CD-23 and CA CD-10, and mayoral contest in NYC, Boston, Miami, Houston, Boston, Atlanta, and elsewhere ... NEW JERSEY: Former US Attorney Chris Christie (R) defeated Governor Jon Corzine (D) by a 49% to 45% vote, with former State EPA Director Chris Daggett (Independent) third with 6% ... VIRGINIA: As expected, former Attorney General Bob McDonnell (R) defeated State Senator Creigh Deeds (D) by a lopsided 59-41 vote. This continues Virginia's odd tradition, started in 1977, that whichever party holds the White House has lost the last nine consecutive gubernatorial contests in the state ... NY-23: This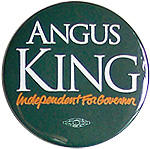 was the big upset of the 2009, aided largely by GOP infigting. Center-right attorney Bill Owens (D) captured this seat with 49%, marking the first time the Dems have won this seat since before the Civil War. Accountant Doug Hoffman (Conservative) -- who was backed by Sarah Palin, Tim Pawlenty, and Rush Limbaugh -- was second with 45%. GOP nominee Dede Scazzafava -- a liberal Republican -- withdrew from the race days before the vote and endorsed the Democratic nominee after she faced such hostile opposition from leaders of the conservative wing of her own party ... CA-10: No surprise. Lieutenant Governor John Garamendi (D) defeated attorney David Harmer (R) by a 53-43 vote, with third party candidates splitting the remaining 4% ... NEW YORK CITY: Incumbent Mayor Mike Bloomberg (R) spent $100 million from his own pocket, a national record for candidate personal spending, to defeat City Controller Bill Thompson (D) by an unexpectedly close 51-46 vote ... GAY RIGHTS: Maine voters repealed by the state's same-sex marriage law by a 53-47 margin. By a 51-49 vote, Washington State voters approved the so-called "everything but marriage" R-71 ballot question. It grants same-sex couples the right to enter in domestic partnerships with virtually all the same state rights of marriage except being legally able to call the relationship a marriage. In Houston, out gay City Controller Annise Parker placed first with 31%, followed by former City Attorney Gene Locke at 26%. They head to a December runoff. If elected, Parker would become the first openly gay person elected Mayor of a major US city.
11.05.09 >>
OPEN THREAD FOR THE WEEK OF NOVEMBER 2, 2009. Tuesday is election day in the gubernatorial contests in NJ and VA,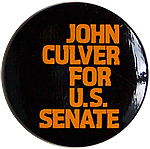 congressional special elections in NY CD-23 and CA CD-10, and mayoral contest in NYC, Boston and elsewhere ... In New Jersey, the race between Governor Jon Corzine (D) and former US Attorney Chris Christie (R) remains too close to call. By contrast, in Virginia, former Attorney General Bob McDonnell (R) appears headed to a landslide win over State Senator Creigh Deeds (D) ... The wild three-way NY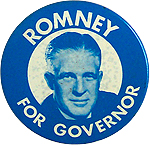 CD-23 race got wilder over the weekend as the GOP nominee -- pro-choice/pro-gay marriage State Assemblywoman Dede Scozzafava -- quit the race and endorsed pro-life attorney Bill Owens (D). Accountant Doug Hoffman (Conservative), who is now backed by the RNC and NRCC, is a slight favorite now over Owens. Scazzafava's name will remain on the ballot on Tuesday ... In California CD-10, Lieutenant Governor John Garamendi (D) is expected to score a comfortable win over a Republican and three other opponents ... New York City Mayor Mike Bloomberg (R) is cruising to a very big win over City Controller Bill Thompson (D), who ran a highly dysfunctional campaign ... In California, San Francisco Mayor Gavin Newsom (D) quit the gubernatorial race, citing his poor fundraising. Polls had routinely placed him in a distant second place behind Attorney General Jerry Brown in the Democratic primary ... Infamous GOP consulant Roger Stone predicted to Politics1 that NYC Mayor Mike Bloomberg will run for President as an Independent in 2012. "That's why he ran for reelection this year," explained Stone. He also said "the name of the Republican Presidential nominee [in 2012] isn't yet known. The person who will be nominated is not any of the major names floating right now" ... Here's a very early prediction from me on the 2010 US Senate race in Florida: Barring the unexpected (and this is not the outcome I want), former State House Speaker Marco Rubio -- closely aligned for the past few years with the Religious Right wing of Republican Party -- will defeat Governor Charlie Crist in the GOP primary for US Senate, and go on to win the seat in the general election.
11.02.09 >>
OPEN THREAD FOR THE WEEK OF OCTOBER 26, 2009. The latest independent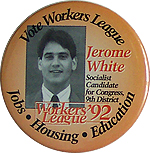 New Jersey polls show a toss-up in the gubernatorial contest. Polls differ on which man -- Governor Jon Corzine (D) or former US Attorney Chris Christie (R) is leading, but the polls always show the leads as being within the margin of error. Some polls show third-place Independent Chris Daggett now reaching near the 20% mark ... Another fascinating race to watch is the NY-23 congressional special election. A GOP rift may hand the Democrats this GOP open seat. When the Republicans nominated pro-choice/pro-gay marriage State Assemblywoman Dede Scozzafava, the Conservative Party nominated accountant Doug Hoffman. Meanwhile, the Dems nominated pro-life attorney Bill Owens. The latest Research 2000 poll shows Owens at 35%, Scozzafava at 30%, and Hoffman at 23% ... Two of the November races -- at least based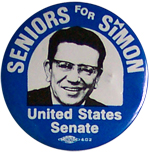 upon the polls -- appear to already be largely decided. In Virginia, former Attorney General Bob McDonnell (R) leads State Senator Creigh Deeds (D) by a double-digit margin that appears to be growing. In New York City, incumbent Mayor Mike Bloomberg (R) is headed to a landslide win over City Controller Bill Thompson (D) ... In other polling news, a series of Research 2000 polls last week shows US Senate Majority Leader Harry Reid (D) continuing to trail for reelection next year against the leading announced GOP challengers . Expect Reid to run a scorched earth strategy which spends millions to drive up the negative ratings of the Republican rivals ... The health care debate on Capitol Hill is seemingly heading towards resolution in the Democratic Caucus, where it will largely be decided. While the White House appears to prefer the public option "trigger" so as to keep Senator Olympia Snowe's (R-ME) support, Senator Reid and Speaker Nancy Pelosi both reportedly are trying to secure enough votes for including a plan which includes a public option from the outset. One top Democratic House member involved in the talks told Politics over the weekend: "We are close to having enough votes for the 'robust public option' -- but we're not there yet. I think they're closer to having enough votes in the Senate right now than we are in the House."
10.26.09 >>
OPEN THREAD FOR THE WEEK OF OCTOBER 19, 2009. In New Jersey, embattled Governor Jon Corzine (D) and former US Attorney Chris Christie (R) are now neck-and-neck in the hot gubernatorial race.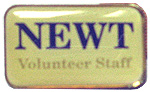 Polls within the past few days show the two men within a point or so of each other. Independent Chris Daggett is third, polling in the mid-teens ... A Rasmussen poll on the P2012 GOP contest shows Mike Huckabee is now leading the field with 29%. Mitt Romney was second with 24%, Sarah Palin had 18%, Newt Gingrich scored 14%, and Tim Pawlenty captured 4% ... In Oregon, former Governor John Kitzhaber narrowly edged former Secretary of State Bill Bradbury in a non-binding

straw vote at a state Democratic Party conference. The result was a surprise, as the more moderate Kitzhaber was presumed to be a solid frontrunner for nomination over progressive Bradbury and former Hewlett-Packard executive Steve Shields (who barely registered in the straw poll) ... In Iowa, US Senator Chuck Grassley (R) is leading for reelection over former First Lady and attorney Christine Vilsack (D) by a 51-40 vote, according to a new Research 2000 poll. The poll also showed Governor Chet Culver (D) holding a wide lead for reelection over his two announced GOP challengers. However, Culver trails former four-term Governor Terry Branstad (R) by a 48-43 vote. Branstad recently filed paperwork to form an exploratory committee ... US Senator Arlen Specter (D) is continuing to face major problems in his 2010 reelection contest in Pennsylvania. A new Rasmussen poll shows Specter trailing former Congressman Pat Toomey (R) by a 45-40 vote. Specter holds a surprisingly close 46-42 advantage in his Democratic primary race against Congressman Joe Sestak. By contrast, a Susquehanna Polling survey last week showed Specter holding a 44-16 lead over Sestak.
10.19.09 >>
OPEN THREAD FOR THE WEEK OF OCTOBER 5, 2009. Chicago

lost out to Rio for host city of the 2016 Olympic, despite a last minute personal pitch to the IOC from President Obama ... The President and Congress struggle with the question of what to do militarily with the future of Afghanistan ... Senate Majority Leader Harry Reid (D) cancelled the Senate's scheduled Columbus Holiday recess to keep the press on for passage of health care reform legislation ... More troubling details emerged about US Senator John Ensign's (R) sex scandal, the latest causing Senate Republican Leader Mitch McConnell (R) to back away from his previous statements of support for Ensign's stated plans to seek reelection in 2012 ... The DNC donated $1 million to Creigh Deeds' gubernatorial campaign in Virginia, although polls continue to show him trailing by a noteworthy margin ... In New Jersey, embattled Governor Jon Corzine's (D) negative TV spots seem to be working, as several polls show he has closed the gap and now trails former US Attorney Chris Christie (R) by roughly 4 points ... In Minnesota, former State House Speaker Marty Seifert won the straw poll for Governor at this weekend's GOP State Convention. Seifert was first in the delegate vote with 37%, followed by State Representative Tom Emmer at 23%, former State Auditor Pat Anderson at 14%, State Senator David Hann at 12%, and five others finished in the low single-digits. This was purely a non-binding straw vote, versus the official party endorsement vote at the next state convention in April 2010. Ten Democrats, two Greens, and one candidate from the Constitution Party are also running in the open gubernatorial race ... In South Dakota, term-limited Secretary of State Chris Nelson (R) announced his candidacy next year against Congresswoman Stephanie Herseth Sandlin (D), setting up a potentially competitive race.
10.05.09 >>
OPEN THREAD FOR THE WEEK OF SEPTEMBER 28, 2009. Serious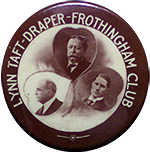 questions emerged over the past week, from various polling professionals, that suggests that Strategic Vision may have been faking polling results for several years. Considering how many political sites reported on the Strategic Vision polls since 2006, this story merits attention ... Massachusetts Governor Deval Patrick (D) named lobbyist and former Democratic National Chairman Paul Kirk (D) to be the Interim US Senator filling Ted Kennedy's vacant seat. The Kennedy family openly expressed strong support for having Kirk selected, which clearly swayed Patrick ... In an upset, wealthy venture capitalist Rick Snyder won the Michigan Republican Party's straw poll at the annual Mackinac Republican Leadership Conference. Roughly 1,200 people took part in the straw poll. The results: Snyder - 31%, Attorney General Mike Cox - 24%, Oakland County Sheriff Mike Bouchard - 24% (2 votes behind Cox), Congressman Pete Hoekstra - 18%, and State Senator Tom George - 3% ... John McCain and Mitt Romney were bitter rivals for the 2008 GOP Presidential nomination, and the two men clearly disliked each other at the time. Since then, Romney campaigned aggressively in the general election on behalf of McCain. Now, McCain is repaying the favor by hosting a fundraiser in Arizona this week for Romney.
09.28.09 >>
OPEN THREAD FOR THE WEEK OF SEPTEMBER 21, 2009. Congressman Stephen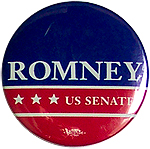 Lynch (D) has withdrawn from the January special election in Massachusetts for US Senator. However, wealthy venture capitalist Steve Pagliuca (D), co-owner of the Boston Celtics basketball team, has jumped into the contest. Independent polling last week indicates Attorney General Martha Coakley (D) is the solid frontrunner to win the special election. Congressman Mike Capuano (D) is already on the air with TV spots. In related news, the state legislature is expected to approve a change in state law later this week allowing Governor Deval Patrick (D) to appoint an interim US Senator to serve until the special election is held. Former Governor and '88 Presidential nominee Mike Dukakis (D) -- a supporter of single-payer health care and who has already said he would not run in the special election -- is expected to be named the interim Senator ... The New York Post reports that President Obama last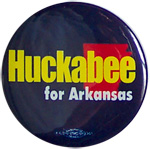 week private urged New York Governor David Paterson (D) to end his 2010 campaign to hold the job. Polls show Paterson hovering around the 20% mark, making him virtually unelectable. Paterson, however, appears intent upon running next year. Attorney General Andrew Cuomo (D) is expected to be challenge him in the primary -- despite previous denials to the contrary. Former Congressman Rick Lazio and former NYC Mayor Rudy Giuliani are expected to battle each other for the GOP gubernatorial nomination ... Activists at the weekend's Values Voters Summit, a national gathering of religious right activists, cast votes in a straw ballot for the 2012 GOP Presidential contest. Mike Huckabee won with 29%, followed by Mitt Romney, Tim Pawlenty and Sarah Palin tied with 12% apiece, Mike Pence captured 11%, and Newt Gingrich, Bobby Jindal, Rick Santorum and Ron Paul lagged far behind. Romney narrowly edged Huckabee in this same straw poll four year ago. Huckabee, Romney, Pence and Pawlenty spoke at the event before the vote ... Finally, in the federal health care debate, US Senator Max Baucus (D-MT) unveiled his long awaited proposal last week, only to find it drew endorsements from only a few Democratic Senators and zero Republicans.
09.21.09 >>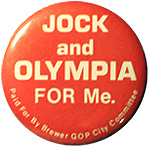 OPEN THREAD FOR THE WEEK OF SEPTEMBER 14, 2009. The health care debate continues to heat-up as the US Senate prepares to take up the issue. US Senators Susan Collins (R-ME) and Olympia Snowe (R-ME) both announced Sunday they will oppose any reform legislation which includes a public option. With those two GOP centrists now clearly out of the mix, it makes it much more likely the Senate Dems will resort to the reconciliation rules to allow the legislation to advance with only 51 votes (instead of the 60 usually required to invoke cloture to block a filibuster) ... Now that former White House Chief of Staff Andy Card (R) and Congressman Ed Markey (D) have taken themselves out of the US Senate special election in Massachusetts, the list of those who will run is taking shape. On the Democratic side, the major candidates will be Attorney General Martha Coakley and Congressmen Mike Capuano and Stephen Lynch. Capuano is believed to be the candidate backed by the Kennedy family. On the GOP side, party leaders appeal to be rallying behind State Senator Scott Brown -- as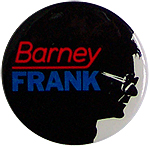 retired pro baseball pitcher Curt Schilling now appears unlikely to run ... Congressman Joe Wilson (R-SC) said over the weekend that he will refuse to make an apology this week on the House floor for having shouted "you lie" at President Obama during last week's Joint Session of Congress. Wilson said he already apologized to the President in a phone call to the White House and will not apologize again. House GOP Leaders John Boehner and Eric Cantor have reportedly been among those privately pushing Wilson to make a brief, formal apology on the House floor to avoid an all-but-certain reprimand vote for his rude outburst. House Speaker Nancy Pelosi was willing to block any formal reprimand action against Wilson if he was simply willing to offer a formal apology on the floor. House Rules prohibit members from calling colleagues "liar" and other disparaging terms during floor debates and speeches ... Congressman Barney Frank (D-MA), the most senior out gay member of Congress, torpedoed Congressman Jerry Nadler's (D-NY) effort to repeal DOMA. Frank said that Nadler was seeking too much, as it was more realistic to advance gay rights in this session by limiting the agenda to passing the Employment Non-Discrimination Act, repealing the "Don't Ask, Don't Tell" policy in the military, and providing domestic partner benefits to spouses of federal employees.
09.14.09 >>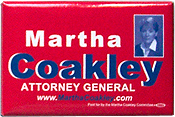 OPEN THREAD FOR THE WEEK OF SEPTEMBER 7, 2009. Labor Day is now behind us, so Congress returns to work on Tuesday ... President Obama will turn up the heat on health care reform in a speech before a joint session of Congress. The President will finally definine the specifics of the plan he wants adopted ... The President will also give his unexpectedly controversial "welcome back to school" speech this week aimed at America's grade school students. Conservative school boards in several counties around the nation have banned the airing of the speech as a feared leftist "indoctrination," even though it is seemingly a benign message emphasizing staying in school and working hard to get good grades (much like similar televised speeches given in the past by President Reagan and Bush-41) ... Former Congressman Joe Kennedy (D) and former Lieutenant Governor Kerry Healey (R) -- the perceived frontrunners for each party's primary contest for the open US Senate seat in Massachusetts -- each announced they will skip the race. Attorney General Martha Coakley (D) has announced her candidacy, and many others continue to look at the contest ... Newly appointed US Senator George LeMieux (R-FL) takes office on Thursday.
09.07.09 >>
SECOND OPEN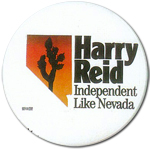 THREAD FOR THE WEEK OF AUGUST 31, 2009. I'm trying something new here on Politics1's homepage, as I previously mentioned I was now using Twitter to post what comments on news, politics and personal asides that I had to offer. With my BlackBerry and the great UberTwitter cell phone app, I can update my Twitter postings anytime and from anywhere on the fly. So, let me know what you think about my blending of my Twitter updates (at left) with the Politics1 homepage. And, as they represent my personal views, they are unabashedly much more leftist (okay, sometimes admitedly, defiantly FAR leftist and rather anti-bipartisan in tone). But, let me know what you think of this design option ... In Massachusetts, Attorney General Martha Coakley (D) became the first candidate to officially jump into the special election to fill the late US Senator Ted Kennedy's seat ... More independent polls show US Senate Majority Leader Harry Reid (D-NV) embarrassingly trailing several potential GOP challengers who would normally be described as "second tier" quality ... New polls continue to show former US Attorney Chris Christie (R) leading for NJ Governor and former Attorney General Bob McDonnell (R) leading for Virginia Governor in the only two gubernatorial contests of 2009.
09.03.09 >>
KEEP UP WITH THE LATEST POLITICS1 UPDATES:
Twitter.com/Politics1com

BLOG ARCHIVE:

Jan-March 2010
Sept-Dec 2009
August 2009
July 2009
June 2009
May 2009
April 2009
March 16-31, 2009
March 1-15, 2009
February 16-28, 2009
February 1-15, 2009
January 2009
December 2008
November 16-30, 2008
November 1-15, 2008
October 16-31, 2008
October 1-15, 2008
September 16-30, 2008
September 1-15, 2008
August 1-31, 2008
July 16-31, 2008
July 1-15, 2008
June 16-30, 2008
June 1-15, 2008
May 16-31, 2008
May 1-15, 2008
April 16-30, 2008
April 1-15, 2008
March 16-31, 2008
March 1-15, 2008
February 16-29, 2008
February 1-15, 2008
January 16-31, 2008
January 1-15, 2008
December 16-31, 2007
December 1-15, 2007
MORE BLOG ARCHIVES
---
POLITICAL BLOG ROLL:
KINDA NEUTRAL:
ABC News: The Note
CNN: Political Ticker
CQ Politics
MSNBC: First Read
Pollster.com
PolitiFact.com
The Hill
Rothenberg Pol. Report
Stateline.org
Governing.com
Hotline On Call
Hotline's Blogometer
The Politico
WatchBlog
Jake Tapper
FactCheck.org
Marc Ambinder
WSJ: Best of the Web
D.C.'s Political Report
Political Wire
Larry Sabato
James Kotecki
PressThink
US News & World Report
Time Magazine
Newsweek
Politics-Line
Vot3r.com
memeorandum
Campaign Circus
Politizine.com
Foreign Policy Watch
Media Bistro
DEM/LEFT:
DNC Blog
DCCC Blog
DSCC Blog
DailyKos
Lefty Blogs
Talking Points Memo
TPM Cafe
The Raw Story
DownWithTyranny!
Democracy for America
Senate Guru
Swing State Project
Campaign Diaries
Fishbowl America
Mother Jones
Frameshop
Democratic Strategist
Think Progress
AmericaBlog.com
Amer Prospect: Tapped
Huffington Post
BAG News Notes
Eric Alterman
FishBowl DC
Fired Up! America
TalkLeft
TNR: The Plank
ZNet
Joe Trippi
Media Matters
Juan Cole
Wonkette
MyDD
Credo Action
Crooks & Liars
Mathew Gross
Progressive Dems: Blog
Eschaton
Off the Kuff
Tom Tomorrow
The Washington Note
Agonist
TruthOut
Liberal Oasis
Firedoglake
The Homo Politico
Good As You
Down With Tyranny
BuzzFlash
Taylor Marsh
Brad Blog
Nation-Building
TruthDig
Dem Underground
Open Left
Rod 2.0
Pam's House Blend
Bad Attitudes
GoLeft.tv
at-Largely
The American Street
BlogActive
GOP/RIGHT:
RNC (GOP.com)
NRCC Blog
NRSC Blog
Club for Growth
TownHall.com
Real Clear Politics
SayfieNews.com
Mickey Kaus
Virginia Postrel
RedState
WSJ Opinion Journal
Free Republic
Instapundit
Drudge Report
Pajamas Media
Hugh Hewitt
Daniel Drezner
News Busters
Daily Pundit
Extreme Mortman
NRO: The Corner
NRO: Campaign Spot
Reason: Hit & Run
Outside the Beltway
Little Green Footballs
World Mag Blog
Right Wing News
Right Pundits
Volokh Conspiracy
Brothers Judd
David Frum
Save the GOP
Enter Stage Right
PoliPundit
Power Line
The Next Right
Hedgehog Report
Right Voices
Right Bias
Booker Rising
Conservative Grapevine
Don Singleton
StoneZone
Diggers Realm
OTHER:
Ballot Access News
Indep. Political Report
ThirdPartyWatch.com
Kn@ppster
Green Party Watch
News for Greens
Infoshop News
---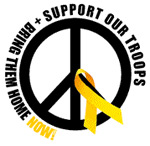 ---