BLOG ARCHIVE: SEPTEMBER 1-30, 2007.
CHATTING WITH GOVERNOR BILL RICHARDSON ... AND WITH NIXONITE ROGER STONE.
BILL RICHARDSON: New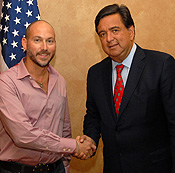 Mexico Governor Bill Richardson (D) was in Fort Lauderdale on Friday evening, so I had an nice opportunity to briefly chat with him. He described the DNC-Florida fight about the state's early primary date and the threatened loss of delegates as "sad" and "a lack of leadership" by all involved. He said he would probably be hurt more than some of the others by the resulting fight "because I should do well here with the large number of Hispanic voters." Richardson also claimed he was truly surprised by some of the long term Iraq plans he heard from Hillary Clinton, Barack Obama and John Edwards at this past week's debate in New Hampshire. "That was the first time I heard they planned to keep troops there for five years. I would remove all of our troops in the first year and leave none. They're all talking about five more years," said Richardson. As for the intangibles you notice around candidates, Richardson projects a more laid back and less intense and energetic demeanor than other Presidential candidates. But, as a veteran staffer of many past campaigns, I appreciate that Richardson appears to have a much less haughty relationship towards his staffers than I've frequently observed in other candidates. Richardson's supporters also seem rather practical -- acknowledging current political reality that their candidate is struggling for money and is on the cusp of double-digits in some of the key early contest states -- by readily discussing "what a great runningmate" Richardson would be for any of the current Dem frontrunners.
ROGER STONE: Amusingly, the Richardson fundraiser was held in the same law offices where colorful GOP political veteran Roger Stone is based. Stone is a former Nixon and Reagan advisor, who also once served as the Young Republicans national president. Obviously, Stone wasn't involved in the Richardson event as it was hosted by some of the Democrats at the firm. Still, I had a chance to meet afterwards with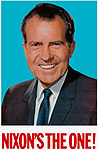 Stone in his office -- a virtual Nixon shrine covered from floor to ceiling and filling display cabinets with Nixon memorabilia. It's an impressive collection. In fact, Stone has so many Nixon posters that they spill out of his office and cover the walls around the large secretarial area outside his door. It gives visitors the impression of stepping back in time into the 1968 Nixon campaign headquarters. Stone only ceded one small section of wall space to his Democratic colleagues, who cover their patch of wall space -- maybe one-tenth the area used by Stone -- with a selection of JFK, Humphrey and McGovern posters (i.e., the three Dem nominees who ran against Nixon). A quick chat with Stone and it's clear he lives and breathes politics. Besides the huge amount of Nixon stuff everyone and several Reagan items, you find other quirky things squeezed into the mix on his walls. Included in that latter category are two signed photos of the late and rather odious attorney Roy Cohn ("Roy was a great friend -- he helped us lock up a lot of union support for Reagan in 1980"), a photo of the late colorful Congressman Adam Clayton Powell Jr. of New York ("He was great," exclaimed Stone, who pulled out a small "Keep the Faith, Baby" Powell campaign pin from the 1960s he had recently acquired), a small campaign pin of 1950s Connecticut Governor John Davis Lodge ("He got me started in politics"), and a 2004 John Kerry/Arlen Specter coattails poster ("I've got a fundraiser coming up here for Specter"). Stone even joked he'd like to buy a home in Fort Lauderdale -- he currently lives in Miami-Dade County -- because he'd like to run for Mayor. "The incumbent is too liberal," joked Stone, as the Pat Buchanan-like incumbent has been under siege in recent months for his ongoing tirade bashing the gay community. Despite the quip, Stone is much more libertarian than he is conservative. For proof, just look at the past articles about Stone's personal life, his support for a GOP centrist Arlen Specter, and his gushing admiration of the pragmatic Nixon ("He started the Environmental Protection Agency and OSHA ... and he desegregated the schools"). Chatting with him, you can tell Stone is clearly a hyper-competitive type who simply wants to win every time. I've always liked the colorful characters of politics, and Roger Stone is clearly one of them.
Posted by Ron Gunzburger - 09.29.07 | Permalink |
FREE SPEECH ZONE.
Have at it.
Posted by Ron Gunzburger - 09.29.07 | Permalink |
BESHEAR HAS BIG LEAD; DOOLITTLE SUBPOENAED; DAUB TO QUIT NEBRASKA US SENATE RACE.
KENTUCKY: Two new polls continue to show former Lieutenant Governor Steve Beshear (D) cruising to a wide victory over embattled Governor Ernie Fletcher (R). A new Louisville Courier-Journal poll shows Beshear leading by a 55% to 35% vote. An Insider Advantage-R poll shows Beshear leading 45% to 35%.
CONGRESS: Congressman

John Doolittle (R-CA) -- a central target in the federal Jack Abramoff corruption probe -- was hit with a grand jury investigative subpoena for his office records on Thursday. Six Doolittle aides were also hit with subpoenas. Doolittle's subpoena seeks eleven years of Doolittle's legislative records. Doolittle's attorney quickly announced he planned to fight the Justice Department demand, saying it is unconstitutional for an executive branch agency (the FBI) to request these records from a member of the legislative branch. "These efforts raise serious constitutional issues going to the very core of our separation of powers created by the Founding Fathers," said the attorney. Indicted Congressman Bill Jefferson (D-LA) successfully used this argument in federal court to block FBI agents from gaining access to records seized in a controversial search of Jefferson's office. Doolittle is facing serious primary and general election challenges.
NEBRASKA: Ten days after formally entering the race to replace retiring US Senator Chuck Hagel (R), former Congressman and former Omaha Mayor Hal Daub (R) is planning to exit the contest. Daub, who just finished a week-long run of TV ads, has an announcement set for Friday morning. Daub reportedly decided to exit after seeing an NRSC-sponsored poll that shows former US Agriculture Secretary Mike Johanns leading the GOP primary field with 58%, followed by Attorney General Jon Bruning at 16% and Daub at 12%. No word on whether Duab plans to make any endorsement in the primary. Former US Senator and former Governor Bob Kerrey (D) -- currently a university president in NYC -- promises to make a decision on the race soon, but most pundits now expect he will pass on the race.
Posted by Ron Gunzburger - 09.28.07 | Permalink |
FREE SPEECH ZONE: POLITICS1 SCORES VICTORY OVER JACKASS IN FEDERAL COURT.
Politics1 is celebrating a slam dunk victory today.
Last December I was sued for $5 million by a frequent New York political candidate. This week -- six months after filing my motion to dismiss -- the court granted it. The court went so far as the write that the "Plaintiff's libel claim is meritless ... plaintiff's claims against Gunzburger are so completely without merit as to border on the vexatious." Thank goodness that's behind me. And, FYI, I promised the plaintiff early in the lawsuit his name will never appear on this site again as a candidate. So instead I'll come up with a new name for this bozo public figure: Lying Jackass Clown. Interestingly, the court went so far as to tell the plaintiff he was not imposing Rule 11 financial sanctions against him "at this time" because he had not previously been warned about what could happen in he pursued a frivolous lawsuit. The message: if Mr. Clown appeals the dismissal to pursue his claim against me, the court will impose sanctions. So, Lying Jackass Clown, you've been warned. (FYI: If you're interested in reading the complete court ruling of our victory over Mr. Lying Jackass Clown, click here.)
Posted by Ron Gunzburger - 09.28.07 | Permalink |
P2008: RUDY CATCHES MITT IN NH; BIDEN BANKS ALL ON IOWA; FRED FAILS TO UNIFY EVANGELICAL LEADERS.
NEW HAMPSHIRE: A new CNN/WMUR-TV/University of New Hampshire poll shows

Rudy Giuliani has virtually eliminated Mitt Romney's once commanding lead in the state. The numbers: Romney - 23%, Giuliani - 22%, John McCain - 17%, Fred Thompson - 12%, Newt Gingrich - 7%, Ron Paul - 4%, Sam Brownback and Mike Huckabee tied at 2% each, and Duncan Hunter and Tom Tancredo tied at 1% each. If Gingrich is out of the picture, Romney leads Giuliani by a 25% to 24% vote. These poll numbers reflect a 10-point drop for Romney, a 4-point rise for Giuliani, and 5-point rise for McCain since this same poll two months ago. A recent Rasmussen Reports poll confirmed a similar drop in NH for Romney. With McCain's numbers on the rise again, he announced Wednesday his campaign will begin airing his first TV spots in the Granite State this week.
BIDEN:

In an effort to save his lackluster Presidential campaign, Senator Joe Biden (D) is taking a page out of John Kerry's winning 2004 nomination campaign plan. Biden is withdrawing nearly all of his senior campaign staff from the early primary states and sending all of them to work full-time in Iowa. In so doing, Biden is making the Iowa caucuses a make-or-break contest for his single-digit campaign. In other significant Biden news, the Senate Foreign Relations Committee Chair successfully inserted his Iraq amendment into the Defense Authorization Bill in the Senate on Wednesday. It passed by a 75-23 vote. Biden's plan endorses a policy to stabilize Iraq through establishing a decentralized, federal system in Iraq which would give Iraqis local control over many areas, including police, jobs, education and government services. Under the Biden plan, the limited Iraqi central government would be responsible for protecting Iraq's borders and distributing its oil revenues. Senators Hillary Clinton (D), Chris Dodd (D) and Sam Brownback (R) supported the Biden plan -- and Brownback was even a co-sponsor. Barack Obama (D) and John McCain (R) were the only two Senators who didn't vote on the amendment.
THOMPSON: A coalition of Religious Right leaders have decided they will not make any group endorsement of former Senator Fred Thompson (R) for President. The informally named "Arlington Coalition" -- organized in 2002 by Free Congress Foundation Chair Paul Weyrich -- told The Politico that a Thompson endorsement from the group was originally "a real possibility" because

they initially viewed him as their best hope to elect a social conservative. However, doubts about Thompson's commitment to their cause and what they view as his wavering on some key social issues helped them decide they would not intervene as a group in support of Thompson. "It's just not going to happen now ... a lot of people who had intended to support him pulled back," explained Weyrich, who was dissatisfied with Thompson's stance on a constitutional amendment to ban gay marriage. Family Rights Council President Tony Perkins explained the coalition had not initially known of Thompson's 1990s lobbying efforts on behalf of a pro-choice group. "Let the marketplace choose which one ends up being the best candidate ... It may very well be that, in this cycle, there isn't a coalescing," said Gary Bauer, who said he could support any of the Republicans "except Giuliani" in a general election. Some leaders tied to the group still hold out hope Evangelical conservatives will unite behind a single primary candidate -- be it Thompson or anyone else -- as the only way to derail Giualiani. "When confronted with two liberal New Yorkers [Giuliani and Clinton], both pro-abortion and pro-gay rights, [Christian conservatives] are going to vote for a third-party candidate" in the general election, said John Stemberger, a Religious Right leader based in Florida.
Posted by Ron Gunzburger - 09.27.07 | Permalink |
CONGRESS: REP. EVERETT RETIRES; SEN. CRAIG NOT YET READY TO QUIT OVER SEX CASE.
ALABAMA: Congressman Terry Everett (R), 71, announced Wednesday he will not seek re-election next year. "It's been a great ride, but there comes a time, especially when you get older, you need to lean back and smell the roses ... At some point, you have to decide to either die up here or retire, and I decided it's probably time to pass it on to a younger generation," he told the Dothan Eagle. Everett said he decided to retire just this past weekend while relaxing on his Alabama farm, explaining he realized he'd rather spend his days simply tending to his fruit trees instead of returning to Congress. Although the CD-2 seat is heavily Republican,

it has the potential to become a somewhat competitive race only if Montgomery Mayor Bobby Bright (D) decides to run. However, one rumor has it that Bright may run -- but would switch and run as a Republican. Two GOP state legislators already jumped into the race on Wednesday.
CRAIG: US Senator Larry Craig (R-ID) has backed away from his previous announcement he would resign on September 30. Instead, Craig has decided to postpone any resignation decision until after his legal appeal to withdraw his guilty plea in a Minnesota court has run its course. Craig plead guilty to a disorderly conduct charge related to a purported attempt to solicit an undercover male police officer to engage in sex acts with him in an airport bathroom. The trial judge heard arguments from Craig's attorney on Wednesday. "Today was a major step in the legal effort to clear my name. The court has not issued a ruling on my motion to withdraw my guilty plea. For now, I will continue my work in the United States Senate for Idaho," said Craig, in a written statement. The judge said he expected to issue a ruling no sooner than the end of next week.
Posted by Ron Gunzburger - 09.27.07 | Permalink |
FREE SPEECH ZONE.
The daily open thread.
Posted by Ron Gunzburger - 09.27.07 | Permalink |
NH POLL; BOEHNER-COLE MAKE PEACE; McHUGH RUNS AGAIN; SUP CT TO HEAR TWO BIG CASES.
NEW HAMPSHIRE: A new CNN/WMUR-TV/University of New Hampshire poll shows Hillary Clinton moving out to a wide lead in New Hampshire. The numbers: Clinton - 43%, Barack Obama - 20%, John Edwards - 12%, Bill Richardson - 6%, Joe Biden and Dennis Kucinich tied with 3% each, Chris Dodd - 1%, Mike Gravel - 0%.
NRCC: National Republican Congressional Committee Chair

Tom Cole (R-OK) has apparently won his rather public battle with House Minority Leader John Boehner (R-OH) over controlling the campaign committee. Last week Boehner and Cole were observed in a yelling argument in which Boehner was unhappy with the state of the NRCC and demanded Cole fire the NRCC's top two staffers. Cole refused, saying he would resign as chair before he fired the two men. In a meeting Tuesday with GOP House members, The Politco reported Boehner tried to make peace with Cole. "I respect Tom Cole. He's a valued member of this team. My goal is to help us earn back our majority. I've had the same kind of frank and candid conversation about the goals we all need to meet," said Boehner, explaining he and Cole had united goals. Boehner was reportedly unhappy with the NRCC's anemic cash-on-hand tally and what he perceived as a poor political competency for the 2008 elections. Much of Cole's fundraising efforts are not reflected in the totals, as Cole has been working to eliminate the NRCC's large deficit. "The majority of members of the Republican Conference have great confidence in both John Boehner and Tom Cole," said Congressman John Kline (R-MN).
NEW YORK: Congressman John McHugh (R) debunked rumors he was planning to retire. Instead, McHugh announced he plans to seek re-election next year. "I have never at any time told anyone I was thinking of retiring ... My campaign is going forward on those matters necessary to wage another successful effort and when the time comes, we will be ready," said McHugh.
THE SUPREMES: The US Supreme Court agreed on Tuesday to review Indiana's new voter identification law, setting up the first high-profile test of dozens of GOP-backed state laws enacted to prevent supposed polling-place fraud. Those challenging the law allege voter-identification requirement unfairly keep poor people and minority groups from going to the polls. The high court on Tuesday also agreed to hear a case questioning whether the lethal injection method of execution for death row inmates violates the constitutional ban on cruel and unusual punishment.
Posted by Ron Gunzburger - 09.26.07 | Permalink |
FREE SPEECH ZONE.
The daily open thread.
Posted by Ron Gunzburger - 09.26.07 | Permalink |
BAYH ENDORSES CLINTON; PALIN CALLS ON SEN. STEVENS TO EXPLAIN ALLEGATIONS.
CLINTON: US Senator Evan Bayh (D-IN) -- a Dem centrist and former Chair of the Democratic Leadership Council -- endorsed Hillary Clinton on Monday. Bayh previously explored making an '08 White House run, but bowed out last December.
ALASKA: Governor

Sarah Palin (R) has joined those calling on US Senator Ted Stevens (R) to provide Alaskans with a "more thorough explanation" of his involvement in the unfolding federal corruption probe of which he seems a central target. "Not hearing anything in terms of information that can be shared regarding the Senator's innocence is kind of frustrating for Alaskan. Alaskans are getting more anxious to hear any information that he can provide regarding his innocence," said Palin. She told the Anchorage Daily News that a lot of Alaskans still support Stevens but want him to give a clear explanation answering all of the corruption allegations that have been reported in recent months. In response to Palin's comments, a Stevens spokesman said the Senator would offer no new comment other than his frequent statement of "I continue to believe this investigation should proceed to its conclusion without any appearance that I have attempted to influence its outcome." Palin said her concern with the ongoing corruption trials and investigations is that Alaskans are starting to think the state's politicians can be purchased by special interests.
Posted by Ron Gunzburger - 09.25.07 | Permalink |
FREE SPEECH ZONE.
I'm going to try multiple daily blog comment threads for a few more days .. but not today. I just don't have that much I feel like writing on tonight.
Posted by Ron Gunzburger - 09.25.07 | Permalink |
FLORIDA DEMS BOLDLY DEFY DNC, DECIDE TO STICK WITH JAN 29 PRIMARY.
Less than two weeks ago, it looked as if the Florida Democratic Party and the Democratic National Committee had reached a deal in which the Florida Presidential primary would go forward as planned on January 29 -- in violation of both DNC and RNC rules -- and the Florida Dems would simply select convention delegates in a method to be decided after January 29. Those who tried to broker a truce were unable to sell it to the FDP Executive Committee. After

State Democratic Chair Karen Thurman twice polled the members, but more than 75% of the state committee members polled opposed any compromise on the January 29 primary date. Thus, a defiant Thurman announced Sunday that the FDP leadership has "chosen overwhelmingly to reaffirm our strong commitment to fully participating in the state-run Democratic Presidential Primary on January 29, 2008, despite the penalties from the Democratic National Committee. There will be no other primary. Florida Democrats absolutely must vote on January 29th. We make this election matter. Not the DNC, not the delegates, not the candidates, but Florida Democrats like you and me voting together. We make it count. Don't let anybody call this vote a 'beauty contest' or a 'straw poll.' On January 29, 2008, there will be a fair and open election in Florida, which will provide for maximum voter participation. The nation will be paying attention, and Florida Democrats will have a major impact in determining who the next President of the United States of America will be." The FDP even launched a website -- MakeItCountFlorida.com -- which draws a line in a sand. The DNC is expected, at least for now, to go forward with plans to punish Florida by stripping it of all national convention delegates and barring Presidential candidates from campaigning in the state. The Dem frontrunners say they will honor the ban on campaigning in Florida for the primary. State Senate Democratic Leader Steve Geller went so far as to dare the DNC to go forward on the threat. "We will have an election on January 29. The votes will count, and our delegates will be seated at the national convention," said Geller. He also hinted of a possible US Justice Department civil rights complaint or federal lawsuit to block sanctions because the DNC and the state party leadership in Iowa, New Hampshire, South Carolina and Nevada "are conspiring to prevent a minority voter in a Voting Rights [Act] state from having the opportunity to hear from any presidential candidate unless they are willing to pay for that privilege. That's an intentional violation of the Voting Rights Act." US Senator Bill Nelson (D) made similar comments two weeks ago. The RNC is likewise sanctioning Florida Republicans for breaking the schedule, but the punishment imposed on them is the loss of half the state's convention delegates. State GOP Chair Jim Greer announced last month that the Florida Republicans will send the full number of delegates to the national convention -- not just half -- and will demand a convention floor vote to seat the entire delegation. Governor Charlie Crist (R) said he supported Greer's move.
Posted by Ron Gunzburger - 09.24.07 | Permalink |
MORE GOP HOUSE RETIREMENTS IN '08?
The Washington Post on Sunday

ruminated on the possibility of additional House Republicans calling it quits over the coming weeks. Among the additional retirement possibilities mentioned: Barbara Cubin (R-WY), Dave Hobson (R-OH), John McHugh (R-NY), Ralph Regula (R-OH) and Bill Young (R-FL). The newspaper also suggested John Doolittle (R-CA), but Doolittle insists he's running again despite being the target of a federal corruption probe and facing serious primary and general election challengers. Besides the general view among House members that the Republicans will not regain majority status in 2008, another concern pushing some to retirement is the serious financial imbalance between the DCCC and the NRCC campaign accounts. The DCCC has over $22 million cash-on-hand, while the NRCC has just $1.6 million according to the latest 2Q-07 FEC reports. House Minority Leader John Boehner (R-OH) is likewise unhappy with the state of the NRCC and is pressuring NRCC Chair Tom Cole (R-OK) to fire the campaign committee's executive director and political director, according to The Politico. The newspaper reported Cole's response: "I will resign before I fire those two." A September 10 meeting between Boehner and Cole to discuss the problems at the NRCC degenerated into "a lot of yelling back-and-forth."
Posted by Ron Gunzburger - 09.24.07 | Permalink |
NEWT STILL TOYING WITH WHITE HOUSE RUN.
Former

US House Speaker Newt Gingrich (R-GA) said on Fox News Sunday he is still very interested in jumping into the Presidential race. In fact, Gingrich sounded very much like someone who will run if he can just get pledges for enough money to be viable. His biggest concern: rival Mitt Romney's sizable personal wealth. "[Romney] can write a $100 million check. I mean, there's no point in getting into a fight with a guy who can drown you unless you at least have enough resources for a vote. And so if we have enough resources, then close to that we'll face a very big decision in late October. If there aren't enough resources, I'm not for doing unrealistic things," explained Gingrich. He said he needs to have around $30 million in pledges to be able to run, and plans to spend the next several weeks criss-crossing the nation seeking them. However, Gingrich's PAC has only collected $3.5 since it was launched last year, so the $30 million goal seems highly unrealistic.
Posted by Ron Gunzburger - 09.24.07 | Permalink |
US GOVERNMENT SPIES ON TRAVELERS (ABOUT MUCH MORE THAN YOU THINK).
You may be amazed by the scope of the surveillance the US government does on international travelers. The US government is gathering much more info on you than you think -- and they plan to keep your info on file for many years. They have much more than just where you went, what airline you flew, and who you visited. They also have travel agency computerized inquiries of trips you thought about taking. They even make permanent records about the books you read on the flights. Keep in mind that this applies even if the government is convinced you have nothing to do with terrorism. Check out the details in this report from Wired magazine ... and click here to visit the Identity Project to view copies of the actual documents maintained by our government (note: redacted records obtained through the FOIA). How much freedom are we willing to surrender to the government for the cause of "security"?
Posted by Ron Gunzburger - 09.24.07 | Permalink |
FREE SPEECH ZONE.
I'm back to trying multiple daily blog comment threads. Do you like or dislike it? Does it help focus debates topically ... or does it overly dilute the daily debates? Leave your comments and let me know what you think.
Posted by Ron Gunzburger - 09.24.07 | Permalink |
DOBSON BLASTS THOMPSON; DEMS CLEAR FIELD FOR SHAHEEN; RICHARDSON GAFFES AGAIN.
Thank you to all of you who emailed me notes for my speedy recovery. Who knew something so tiny (4 mm) could be so debilitating and painful. Well, my kidney stone problem is history and my doctor now pronounced me back at 100%.
THOMPSON: In a private email obtained by the AP, prominent Religious Right leader James Dobson of Focus on the Family this week slammed former US Senator Fred Thompson (R). Despite

Thompson's overt efforts to sway the party's social conservative base, Dobson has announced his opposition to Thompson in very sharp terms. "Isn't Thompson the candidate who is opposed to a Constitutional amendment to protect marriage, believes there should be 50 different definitions of marriage in the U.S., favors McCain-Feingold, won't talk at all about what he believes, and can't speak his way out of a paper bag on the campaign trail? He has no passion, no zeal and no apparent 'want to.' And yet he is apparently the Great Hope that burns in the breasts of many conservative Christians? Well, not for me, my brothers. Not for me!," wrote Dobson. A spokesman for Dobson confirmed the email was real, but declined to elaborate on the comments. Dobson's national radio show has a regular audience of millions of listeners. "We're confident as voters get to know Fred, they'll appreciate his conservative principles," responded Thompson's campaign spokesperson. In related news, the group Faith2Action -- a spin-off of the late Dr. James Kennedy's now defunct Center for Reclaiming America -- issued a statement Thursday blasting the four GOP frontrunners for skipping their Voters Values Debate earlier this week. "Because they [Romney, McCain, Thompson and Giuliani] snubbed us, they will not win, because we will not follow their lead," said Faith2Action President Janet Folger.
NEW HAMPSHIRE: Dems are clearing the primary field for former Governor Jeanne Shaheen (D) in the race against US Senator John Sununu (R). Portsmouth Mayor Steve Marchand (D) withdrew from the race and endorsed Shaheen last weekend. On Friday, Democratic activist

Katrina Swett will likewise quit the race and endorse Shaheen. Swett's exit leaves former astronaut Jay Buckey (D) as Shaheen's only primary foe. Buckey has vowed to remain in the race, but Shaheen is expected to easily trounce him in the primary. Recent polls show Shaheen holding a slim lead over Sununu.
RICHARDSON: New Mexico Governor Bill Richardson (D) flubbed his appearance this week at the SEIU labor union gathering with an embarrassing gaffe. At the end of his speech, Richardson loudly exclaimed: "Thank you, AFSCME!" Apparently Richardson didn't know that AFSCME is the SEIU's leading political rival union. Richardson likewise botched the gay issues debate last month with a gaffe for which he later had to recant and apologize. Now Richardson has found another way stand apart from the Dem field: he is the only Democratic hopeful who has agreed to speak to the upcoming National Rifle Association convention. However -- as Richardson will appear at the NRA event via a prepared videotape -- he probably won't botch that one up.
Posted by Ron Gunzburger - 09.21.07 | Permalink |
FREE SPEECH ZONE.
Just pathetic. Yup, I'm ranting against the 72 US Senators -- and particularly the 22 emasculated Democratic Senators who voted with the majority --
who backed a shameful resolution on Thursday condemning a MoveOn.org newspaper ad that criticized General Petraeus and President Bush's never-ending war in Iraq. The only thing "disgusting" is the carnage of the Iraqi civil war, which squanders the lives of so many promising young Americans in uniform for cheap, short-term political points for the Bush Administration. Shame on the 72 US Senators, and an extra dose of shame for the 22 Dems. Maybe the day is coming when we need to ditch our current two party system in favor of a three party system like in Canada. I can only hope we soon have a day when our choices are between a principled conservative party, a principled moderate party and a principled liberal party so we will finally have meaningful elections. The Democrats can eject the DINOs and the Republicans can dump the RINOs. It is the only good solution to the spinelessness infecting our political leaders in the Capitol. And, if we do so, our political debate will become enriched and more honest. Finally, please click here to give MoveOn.org a donation so they can run even more great ads against the war.
Posted by Ron Gunzburger - 09.21.07 | Permalink |
THURSDAY NEWS UPDATE.
JOHANNS JUMPS IN; REP. WELLER TO RETIRE; IN GOV POLL; JEALOUS JESSE.
NEBRASKA: US Agriculture Secretary Mike Johanns (R) -- a former two-term Governor -- let it be known Wednesday he will resign from the Cabinet to become a candidate for the seat being vacated by US Senator Chuck Hagel (R). Johanns plans to make a formal announcement next week. The move is good news for Republicans, as he is viewed as the GOP's strongest candidate against university president and former US Senator Bob Kerrey (D). Kerrey has not yet announced his candidacy, but conservative

columnist Bob Novak reported this week that Kerrey recently told friends he will soon jump into the race. Kerrey met last week with the DSCC to discuss the race. The Johanns-Kerrey contest will likely be one of the most competitive Senate races in the nation. However, before Johanns gets the right to face Kerrey, he will have to defeat social conservative Attorney General Jon Bruning in the primary. A poll last week sponsored by Bruning's campaign showed Johanns leading Bruning by a 39% to 30% vote in a GOP primary match-up. Interesting aside: Nebraska newspapers report both Johanns and Kerrey are currently looking for homes in the state, as neither man currently resides there.
ILLINOIS: It appears Congressman Jerry Weller (R) will become the ninth Republican Congressional incumbent in a row to announce he will not seek re-election next year. Not a single Dem has announced '08 retirement plans since this wave of GOP retirements began. According to The Politico, the scandal-plagued Weller will make the announcement within the next few days. The newspaper noted Weller is making no effort to collect petition signatures to seek re-election for the November 5 filing deadline. Further, when the newspaper contacted Weller's office, a spokesman said Weller had no announcement planned "for Thursday" but declined to otherwise debunk the rumor. Note: The Chicago Tribune is reporting an identical story Wednesday evening that Weller has begun to let people know he is planning a retirement announcement. CD-11 is a swing district, so expect a very competitive race for this open seat.
INDIANA: A new Research 2000 poll shows Governor Mitch Daniels (R) leading former Congresswoman Jill Long Thompson (D) by a vote of 46% to 38%. The poll also shows Thompson likely to win the Dem primary, as she scored 41% in the Democratic primary and the nearest of her two opponents was at just 16%.
OBAMA: Civil rights activist Jesse Jackson, a former 1984 and 1988 Presidential candidate, clearly dislikes no longer being viewed as America's leading political voice of the African-American community.

This week Jackson blasted US Senator Barack Obama (D). According the The State, a leading South Carolina newspaper, Jackson blasted Obama for "acting like he's white" by failing to be sufficiently vocal on a court case involving the arrest in Jena, Louisiana, of six black juveniles. "Jena is a defining moment, just like Selma was a defining moment," said Jackson, who complained Obama has barely discussed the case. Obama soon after issued another statement criticizing the Jena case. After the "acting white" comments were widely reported, Jackson backed off them. "I reaffirm my commitment to vote for Sen. Barack Obama. He has remarkably transcended race ... I think Jena is another defining moment of the issue of race and the criminal justice system. This issue requires direct and bold leadership. I commend Sen. Obama for speaking out and demanding fairness on this defining issue. Any attempt to dilute my support for Sen. Obama will not succeed," said Jackson in a written statement released late Wednesday.
Posted by Ron Gunzburger - 09.20.07 | Permalink |
FREE SPEECH ZONE.
Your daily open thread.
Posted by Ron Gunzburger - 09.20.07 | Permalink |
WEDNESDAY NEWS UPDATE.
FREE SPEECH ZONE.
Taking a night off, so have at it in the daily open thread.
Posted by Ron Gunzburger - 09.19.07 | Permalink |
RAMSTAD RETIRES; WARNER DOMINATES.
MINNESOTA: Nine-term Congressman Jim Ramstad (R) unexpectedly announced Monday he will not seek re-election in 2008. "It's time for me to do something else ... I'm burned out. I'm tired. I want to be back in Minnesota,"

he explained at his press conference. Ramstad -- a GOP centrist -- was well-liked and respected on both sides of the aisle. A recovering alcholic for 26 years, Ramstad said he hope to continue helping individuals dealing with chemical addiction issues even after he leaves Congress. However, Ramstad said he has no specific plans for his future. As President Bush carried the CD-3 seat by just 3-points in 2004, this swing seat could become a truly competitive race if the Dems can find a viable candidate. State GOP Chair Ron Carey told the ECM Post-Review he believes his party will need to work hard to hold the seat -- and he expects nearly a dozen GOP candidates to jump in -- but says the GOP can win it if they nominate "another moderate Republican." Several Dems, including a few state legislators, are also seen as potential candidates.
VIRGINIA: A new WTVR-TV/SurveyUSA poll shows former Governor Mark Warner (D) is a near lock to win the open US Senate seat against any of the potential GOP hopefuls. The poll shows Warner leading former Governor Jim Gilmore (R) by a 60% to 32% vote. Warner also bests Congressman Tom Davis (R) by a 62-27 landslide. Even former US Senator George Allen (R) -- who said he doesn't plan to run -- trailed Warner: 56% to 37%. Davis said this weekend he "intends" to run for Senate, but will not make a final decision on the race until November.
Posted by Ron Gunzburger - 09.18.07 | Permalink |
FREE SPEECH ZONE.
Your daily open thread.
Posted by Ron Gunzburger - 09.18.07 | Permalink |
MUKASEY TO BE A.G.; KEYES ANNOUNCES; 3-HOUR "VALUES DEBATE"; CHAFEE GOES INDY; FLORIDA BLINKS.
The kidney stone problem isn't done yet ... but I'm feeling much better tonight.
BUSH ADMINISTRATION: President Bush on Monday will nominate former US District Court Judge Michael Mukasey to be the next Attorney General. If confirmed by the US Senate, Mukasey will replace controversial former Attorney General Al Gonzales. It is believed that Mukasey has the potential to become a quick consensus choice, cruising to relatively easy confirmation. Originally appointed to the federal bench by President Reagan, he retired from his position last year at age 65 to return to the private sector. US Senator Chuck Schumer (D-NY) was quick to indicate Mukasey seemed an acceptable selection to the Democrats. Mukasey is "a lot better than some of the other names mentioned ... While he is certainly conservative, Judge Mukasey seems to be the kind of nominee who would put rule of law first and show independence from the White House, our most important criteria," said Schumer to CNN. In accepting the AG post, Mukasey will step down from his position as a top-level advisor to Rudy Giuliani's Presidential campaign.
KEYES:

Told 'ya so. Just a few months after bombastic former Ambassador and former TV talk show host Alan Keyes (R-MD) launched a campaign to draft himself for President -- to wit: the draft campaign was "organized" by Keyes' friends and employees and the draft website was hosted on a server owned by Keyes -- he finally convinced himself to jump into the race. Keyes made it official on Friday, and will already participate in the second-tier GOP candidates' debate on Monday evening. "The one thing I've always been called to do is to raise the standard ... of our allegiance to God and His authority that has been the foundation stone of our nation's life ... [The other Republican candidates have failed to make a] forthright, clear, and clarion declaration ... concerning this issue," said Keyes. A perennial candidate, Keyes has previously lost two runs for the GOP Presidential nomination (1996 and 2000) and three runs for US Senator (twice in Maryland and once in Illinois). Keyes emphasizes he is only seeking the GOP nomination at this time, even though his office acknowledges that some within the Constitution Party are reportedly interested in Keyes seeking the CP nomination if he fails to win the GOP nomination.
VALUES DEBATE: All of the leading GOP candidates were invited to participate in the so-called three-hour "Values Voter Presidential Debate" on Monday evening in Fort Lauderdale sponsored by a coalition of Religious Right groups. However, the four frontrunners -- Mitt Romney, Rudy Giuliani, John McCain

and Fred Thompson -- are all skipping the event. "There seems to be a concerted effort to dodge the agenda of the pro-family movement," said WorldNetDaily publisher Joseph Farah. While the event will be broadcast live on satellite TV, radio and online, no broadcast or cable TV channel will broadcast it live. Some cable networks (Trinity Broadcasting Network, INSP, and GOD TV) say they will rebroadcast the debate at a later time and/or date. Although the topics covered will touch a broad range of issues -- likely including gay marriage, immigration, gay marriage, abortion, gay marriage and "homosexual special rights" -- at three hours the event seems quite a bit long. However, to make it different, the sponsors are rolling out some high tech features to keep interest high during the debate. Attendees will use hand-held devices to vote before and after the debate on who they support for President, and use the devices throughout the debate to indicate their levels of approval with the answers being by each candidate to every question. Thus, if a candidate isn't sufficiently pandering to the crowd, he would instantly see the results and be able to ratchet-up his response. Debate organizer Janet Folger also promised "other surprises" to keep it "exciting." Like what? Will the floor open up, dropping insufficiently conservative candidates into a below-stage pit with red/orange crepe paper "flames of hell" billowing up? Will audience members get to gong bad responses, cutting off a candidate in mid-sentence? Just some suggestions.
RHODE ISLAND: Former

US Senator Lincoln Chafee -- who was defeated last year for re-election -- revealed Sunday to the Providence Journal that he had quietly "disaffiliated" in his voter registration from the Republican Party two months ago. Chafee said he hadn't mentioned it until now simply because nobody had asked before. The NRSC spent a significant amount of money on advertising that helped Chafee narrowly survive a conservative primary challenege. Chafee emphasized he still feels close to many in the Rhode Island Republican Party, but his objections were entirely focused upon the national party. "It's not my party any more," he explained. Chafee's criticism was mainly focused upon three areas: "abandoning fiscal conservatism" by passing tax cuts without spending cuts and thus creating a "permanent deficit"; the Iraq War; and the lack of GOP support for environmental protection. Chafee says he very much enjoys his current job as a distinguished visiting fellow at Brown University.
FLORIDA: The Florida Democratic Party buckled this weekend in the face of threats from the DNC, agreeing the January 29 Presidential primary will now be a beauty contest untied to the awarding of delegates. Delegates will be selected at a later date with either district caucuses or a state convention. Under this move, the primary can go forward on January 29, Democratic candidates will all be allowed to campaign in Florida for votes, and the state will have the full complement of convention delegates. Based upon the way the media covers the early contests, the Florida primary -- with or without delegates, or, now, with (GOP) and without (Dem) -- will still get extensive national media coverage because it would be too complex to explain this hybrid primary in a 14-second sound bite.
Posted by Ron Gunzburger - 09.17.07 | Permalink |
FREE SPEECH ZONE.
Your daily open thread.
Posted by Ron Gunzburger - 09.17.07 | Permalink |
SHAHEEN TO CHALLENGE SUNUNU; UNLAWFUL GIFTS TO TED STEVENS REVEALED IN COURT.
Yup, another day dealing with the kidney stone problem. I went to the office and worked a few hours on lighter painkillers until the pain forced me to go back home during the afternoon.
NEW HAMPSHIRE: Former Governor Jeanne Shaheen (D) announced Friday she was leaving her position at Harvard University to seek a rematch next year against US Senator John Sununu (R). Several recent independent

polls show Sununu trailing Shaheen by a wide margin of 20+ points. Three other Dems were already campaigning for the seat, but it was unclear if any would exit the contest due to Shaheen's entry.
ALASKA: According to the Anchorage Daily News, former oil services corporation executive Bill Allen testified in court Friday that his company -- a state and federal contractor -- spent over $400,000 on bribes and unlawful gifts for various state legislators and US Senator Ted Stevens (R). Allen, who previously pled guilty to federal extortion, conspiracy and bribery charges, was testifying on behalf of the prosecution in a case against a former state legislator. During his testimony, Allen testified under oath "he had company employees work several months on a remodeling project" at Stevens' Alaska home -- without any cost to Stevens. Stevens is up for re-election next year, and may face serious opposition in both his primary and general election contests.
Posted by Ron Gunzburger - 09.15.07 | Permalink |
FREE SPEECH ZONE: ONE FISH, TWO FISH, RED FISH, GEFILTE FISH.
On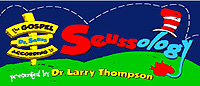 my way to work, I drive past First Baptist Church of Fort Lauderdale. I noticed a banner across the front of the church today announcing the pastor there was planning to give a series of sermons with the theme: "Seussology: The Gospel According to Dr. Seuss." Giving it some thought, here are my suggestions to help the pastor re-tool many of the favorites to serve his message:
* The Messiah in the Hat - Allegorical story of the lovable and puckish Messiah, who shows up to play with the kids while Mom is away. His two troublemaking friends -- Jew One and Jew Two -- make a mess of the whole house. In the end, the Messiah in the Hat offers to take on the responsibility for cleaning everything up before Mom comes home so the children will not be punished.
* The Messiah in the Hat Comes Back. Self explanatory, but set in Jerusalem.
* Horton Hears A Jew - A discussion of the Torah.
* New Testament and Ham - Sam I Am converts away from Old Testament Judaism and the Levitical restrictions on eating pork when he discovers -- after first insisting he "does not like it here or there" and "does not like it anywhere" -- he surprisingly likes both the New Testament and Ham.
I'm sure you can come up with more, but I just sensed an amusing line of thought here.
Posted by Ron Gunzburger - 09.15.07 | Permalink |
WARNER JUMPS IN; OREGON INDY CANDIDACY MAY BOOST GORDON SMITH.
Still dealing with the f***ing kidney stone problem, but I'm just so bored at home I needed to write something just to be keep busy.
VIRGINIA: As expected, former Governor Mark
Warner (D) launched his US Senate campaign on Thursday via and email message and a video on his new campaign website. Warner is planning a formal kickoff event in November after the state's legislative elections are completed. With Warner in, he now becomes the heavy favorite to win the seat next year due to his massive name recognition and approval rating throughout the state. In a direct response, the National Republican Senatorial Committee immediately launched an anti-Warner attack site. Congressman Tom Davis (R) and former Governor Jim Gilmore (R) are both weighing possible runs for the seat. Retiring US Senator John Warner (R) is known to favor Davis for the GOP nod. Ditto for former state Attorney General Jerry Kilgore (R) and a large group of Virginia conservatives, who released a letter Thursday backing Davis over Gilmore -- even though Gilmore is far more conservative -- because they believe the more moderate Davis is the most electable GOP candidate.
OREGON: College professor John Frohnmayer (Independent) -- who served as Chair of the National Endowment for the Arts during the Bush 41 Administration -- announced his candidacy against US Senator Gordon Smith (R). Frohnmayer -- who is part of the new Independent Party -- told Oregon Public Radio he wants to spark a "voter's revolution." He says partisan politics are "toxic" to America. Frohnmayer says he differs from the announced Dems because he supports impeaching President Bush because the President "has shredded the constitution and created lawlessness." He attacked Smith for supporting the Iraq War for over four years, then shifting to opposition. Smith's style "does not ... suggest leadership." Frohmayer's brother Dave is the former Oregon Attorney General and long-time University of Oregon President. Although a former Republican, Frohnmayer's leftist views appear likely to splinter votes away from the eventual Democratic nominee.
Posted by Ron Gunzburger - 09.14.07 | Permalink |
FREE SPEECH ZONE.
Your daily open thread.
Posted by Ron Gunzburger - 09.14.07 | Permalink |
FREE SPEECH ZONE.
Sorry, but I'm still in really bad shape with the kidney stones. Between the pain when I'm not on the Vicodin -- and the completely zonked out state the Vicodin puts me in when I'm on it -- I just cannot focus enough to post tonight. I really do apologize -- as, trust me, I'd like to be back to feeling good again and publishing on a regular schedule as soon as possible -- but I can't do it right now. Maybe in a day or two.
Posted by Ron Gunzburger - 09.13.07 | Permalink |
McKINNEY WITHDRAWS; FLETCHER TRAILS; COLEMAN SAGS; WARNER TO ANNOUNCE.
I'm on painkillers again tonight -- but a lesser dosage so I can write this semi-lucidly -- hoping this kidney stone situation quickly resolves itself.
McKINNEY:

Controversial former Congresswoman Cynthia McKinney spent months attending Green Party events around the nation designed to help raise money to pay off her 2006 campaign debt. And -- after months of flirting with making a run for Green Presidential nomination -- McKinney formally withdrew from the Green nomination contest. In a letter dated Monday and addressed to the Steering Committee of the Green Party of the United States, McKinney wrote: "After careful consideration about the political conditions facing our nation, the level of development within the [Green] Party, my own readiness to take on such a daunting task and my own long postponed personal priorities, I write to inform the Party that I must at this time withdraw my name from consideration for the Party's 2008 Presidential Nominating contest." The move leaves McKinney free to make yet another attempt to recapture her former House seat next year.
KENTUCKY: Governor Ernie Fletcher (R) continues to trail in his 2007 race for re-election. A new SurveyUSA poll shows former Lieutenant Governor Steve Beshear (D) holding a wide 58% to 39% advantage over Fletcher.
MINNESOTA: A new Rasmussen Reports poll shows US Senator Norm Coleman (R) losing some ground against his Democratic rivals. Coleman leads humorist and radio talk show host
Al Franken (D) by a vote of 46% to 41%. Coleman leads wealthy trial attorney Mike Ciresi (D) by a vote of 46% to 42%.
VIRGINIA: Former Governor Mark Warner (D) will announce his plans for 2008 in a formal event on Thursday. Most expect it will be an announcement of his candidacy for the open US Senate seat next year.
Posted by Ron Gunzburger - 09.12.07 | Permalink |
FREE SPEECH ZONE.
Happy New Year to all of our Jewish readers..
Posted by Ron Gunzburger - 09.12.07 | Permalink |
FREE SPEECH ZONE.
I wanted to write something, but -- my apologies -- I'm just not healthy enough tonight to focus on this. I was in the hospital emergency room a day ago and am dealing with kidney stones. Very unpleasant and painful -- but I've been prescribed two types of painkillers (for pain ... and for sharper pain). Blame it on the hydrocodone, by I'm not in shape to write anything sensible tonight.
Posted by Ron Gunzburger - 09.11.07 | Permalink |
HAGEL RETIRES; DOOLITTLE & LEWIS RUN AGAIN; McKINNEY LOOKS TOWARD GREENS.
NEBRASKA: US Senator Chuck Hagel (R) is scheduled to announce Monday he will not seek re-election next year to a third term. Further, Hagel also says he will not be a candidate for any other office in 2008 -- ending speculation of a possible GOP run for President or Indy run for President or VP. With

Hagel out, the race to fill his seat is expected to be hotly contested. Attorney General Jon Bruning and financial analyst Pat Flynn were already announced Hagel challengers in the GOP primary. Wealthy businessman Tony Raimondo and former Congressman and former Omaha Mayor Hal Daub both previously announced they would seek the seat if Hagel retired. However, the Omaha World-Herald reported Sunday that GOP leaders are worried the Dems could capture the open seat over any of these four candidates if former US Senator and former Governor Bob Kerrey (D) jumps in. Respected political pundit Larry Sabato agreed, calling Hagel's decision "good news for Democrats." According to the newspaper, Nebraska Republican Party leaders and the White House were expected to start pressuring former Governor and current US Agriculture Secretary Mike Johanns to run. These same forces unsuccessfully pushed two years ago for Johanns to run against US Senator Ben Nelson (D), but he passed on that challenger race. They now believe the popular Johanns would be the strongest candidate against Kerrey in this open seat race. However, the World-Herald said Bruning was unlikely to defer to Johanns, possibly setting up a primary race of "intense competition." Johanns, who is currently on a visit to the state, declined to respond to inquiries from the newspaper. As for Kerrey, he has yet to make a decision about whether he wants to give up his university presidency in New York and return to Nebraska. Kerrey said he will make some public comment on Monday about his friend Hagel -- but will hold off announcing his own plans until a separate day. Polling data shows Kerrey remains both well known and well liked in the state. If Kerrey runs, he would start with $430,000 in the bank unspent from his old US Senate campaign committee.
CALIFORNIA: Congressional Democrats looking to increase their majority next year got more good news in recent days in California. Congressmen Jerry Lewis (R) and

John Doolittle (R) -- both targets of separate federal corruption probes -- announced last week they would each seek re-election next year. National GOP leaders were reportedly pressuring both men to retire, as they fear indictments during the campaign season would potentially hand these otherwise safe Republican CD-4 and CD-41 seats over to Democratic candidates.

Lewis, the former House Appropriations Committee chair and an unapologetic supporter of the many budget earmarks he placed over the years, has been reported to be the target of an FBI corruption probe for months. The feds are reportedly looking into whether Lewis received any personal favors or gifts in exchange for the spending earmarks he inserted into appropriation bills. Doolittle is deeply mired in the Jack Abramoff lobbying and bribery scandal that has already brought down other House members. In a sign that the federal investigation of Doolittle is intensifying, three Doolittle aides were subpoenaed before the federal grand jury last week. "I will not step aside. I am running again. Period," said a defiant Doolittle at his Friday announcement. He also faces a serious fight for renomination from three GOP challengers, with State Assemblyman Ted Gaines (R) being the leading primary rival. Doolittle blasted his three Republican primary opponents "weasels" during his remarks to the media on Friday. The Sacramento Bee reported Saturday that internal GOP polls show Doolittle is already trailing retired USAF officer Charlie Brown (D) by "double-digit numbers."
GREEN PARTY:

Controversial former Congresswoman Cynthia McKinney "is increasingly interested in being the Green Party Presidential nominee" in 2008, according to the Ballot Access News newsletter. McKinney compiled a solid progressive voting record during her two separate tenures in the US House -- both of which ended in upset renomination defeats. She garnered bad media coverage from her suggestions that the US government knew of the 9-11 attacks in advance but allowed them to occur, for her overtly antagonistic relationship with the Jewish community over the Israeli-Palestinian conflict, and her 2006 arrest for striking a police officer. According to the newsletter, McKinney "has said she won't decide [on a White House run] until she finishes paying off her 2006 campaign debt. However, the Green Party has been helping her pay off that debt ... at events in Connecticut, Maine, Massachusetts, New Hampshire and Vermont." McKinney was also a featured speaker at the Green Party's national conference in Pennsylvania in July. The Green's Presidential Nominating Convention will be held in Chicago in July 2008.
Posted by Ron Gunzburger - 09.10.07 | Permalink |
FREE SPEECH ZONE.
Your daily open thread.
Posted by Ron Gunzburger - 09.10.07 | Permalink |
RON'S RECAP OF WHAT WENT ON WHILE HE WAS AWAY.
How was I supposed to know that so much would happen while I was away in France again? Let's see, on my first day away embattled Attorney General Al Gonzales resigned. Just my two cents, but someone like US Senator Orrin Hatch (R-UT) would be a

quality pick for the vacancy ... Louisiana State Treasurer John Kennedy bolted from the Dems to become a Republican, giving him the option of challenging US Senator Mary Landrieu (D) next year ... Then there was the US Senator Larry Craig's (R-ID) news of his summer arrest in a Minnesota airport bathroom for allegedly propositioning an undercover cop for sex. It was the third gay scandal during Craig's career, although he still denies he's gay. Then Craig announced his "intent" to resign September 30, but apparently he didn't say "Simon sez" (or had his fingers crossed or whatever) because his staff later confirmed Craig wanted to fight the allegations and not resign. Now, Craig's spokesman again says he "expects" it is "most likely" Craig will resign. Well, that seems to keep the stall door slightly open for Craig to go either way ... Congressman Paul Gillmor (R-OH) died unexpectedly this week at age 68 of natural causes ... Community college dean Niki Tsongas (D) and retired USAF officer Jim Ogonowski (R) won their respective primaries on September 4 for the open CD-5 seat in Massachusetts ... US Senator John Warner (R-VA) announced his plan to retire next year ... Finally, former US Senator, lobbyist and character actor Fred Thompson (R) officially entered the White House race this week.
Posted by Ron Gunzburger - 09.07.07 | Permalink |
FREE SPEECH ZONE.
Your daily open thread.
Posted by Ron Gunzburger - 09.07.07 | Permalink |
BLOG ARCHIVE:

October 1-15, 2007
September 1-30, 2007
August 16-31, 2007
August 1-15, 2007
July 1-31, 2007
June 1-30, 2007
May 16-31, 2007
May 1-15, 2007
April 16-30, 2007
April 1-15, 2007
March 16-31, 2007
March 1-15, 2007
February 16-28, 2007
February 1-15, 2007
January 16-31, 2007
January 1-15, 2007
December 16-31, 2006
December 1-15, 2006
November 16-30, 2006
November 1-15, 2006
October 16-31, 2006
October 1-15, 2006
September 16-30, 2006
September 1-15, 2006
August 16-31, 2006
August 1-15, 2006
July 16-31, 2006
July 1-15, 2006
June 16-30, 2006
June 1-15, 2006
May 15-31, 2006
May 1-15, 2006
April 16-30, 2006
April 1-15, 2006
March 16-31, 2006
March 1-15, 2006
February 17-28, 2006
February 1-16, 2006
January 16-31, 2006
January 1-15, 2006
December 2005
November 2005
October 2005
September 2005
August 2005
July 2005
June 2005
May 2005
April 2005
March 2005
Jan-Feb 2005
December 2004
November 16-30, 2004
November 1-15, 2004
October 16-31, 2004
October 1-15, 2004
September 16-30, 2004
September 1-15, 2004
August 16-31, 2004
August 1-15, 2004
July 16-31, 2004
July 1-15, 2004
June 16-30, 2004
June 1-15, 2004
May 16-31, 2004
May 1-15, 2004
April 16-30, 2004
April 1-15, 2004
March 15-31, 2004
March 1-14, 2004
February 15-29, 2004
February 1-14, 2004
January 17-31, 2004
January 1-16, 2004
December 16-31, 2003
December 1-15, 2003
November 17-30, 2003
---
POLITICAL BLOG ROLL:
KINDA NEUTRAL:
ABC News: The Note
CNN: Morning Grind
CQ Politics
Political Wire
MSNBC: First Read
CJR Daily
Rothenberg Pol. Report
LexisNexis: US Politics
Stateline.org
Governing.com
Political State Report
Hotline On Call
Hotline's Blogometer
Beltway Blog
WatchBlog
Lawmakers Blog
Centerfield Aggregator
Command Post
FactCheck.org
WSJ: Best of the Web
WSJ: Washington Wire
D.C.'s Political Report
2008 Political Perspective
Media Bistro
Larry Sabato: Crystal Ball
PressThink
Politics-Line
TheCapitol.Net: Blog
MyElectionAnalysis.com
DEM/LEFT:
DNC Blog
DCCC Blog
DailyKos
Lefty Blogs
Howard Dean/DFA
OurSenate.com
Frameshop
The Washington Note
Emerging Dem Majority
Think Progress
AmericaBlog.com
Amer Prospect: Tapped
Arianna Huffington
Al Franken
BAG News Notes
Eric Alterman
Senate Majority Project
FishBowl DC
Fired Up! America
TalkLeft
TNR: The Plank
The Raw Story
Blogging of the President
Joe Trippi
Swing State Project
Media Matters
Josh Marshall
Wonkette
MyDD
Working for Change
Crooks & Liars
Mathew Gross
Penndit
Progressive Dems: Blog
Atrios/Eschaton
Off the Kuff
Tom Tomorrow
Mother Jones
Jerry Springer
TruthOut
Dem Bloggers
Liberal Oasis
Penndit
Firedoglake
Good As You
AtariDemocrat
Henry Lewis
BuzzFlash
Brad Blog
Dean Nation
Louise Slaughter
TruthDig
Dem Underground
Jared Hall
Bad Attitudes
The American Street
District Blogs
GOP/RIGHT:
RNC (GOP.com)
Club for Growth
National Review: Corner
C-Log
Real Clear Politics
Andrew Sullivan
John Ellis
Mickey Kaus
Virginia Postrel
RedState.org
WSJ Opinion Journal
Free Republic
Instapundit
Drudge Report
Pajamas Media
Hugh Hewitt
Daniel Drezner
Daily Pundit
Bully Pulpit
Outside the Beltway
Little Green Footballs
World Mag Blog
Right Wing News
Volokh Conspiracy
Brothers Judd
David Frum
Mister Politics
Enter Stage Right
Right Wing News
PoliPundit
Power Line
Hedgehog Report
Right Voices
Booker Rising
Don Singleton
Save the GOP
OTHER:
ThirdPartyWatch.com
Centrist Coalition
Kn@ppster
Green Commons
News for Greens
---
For those who would like to track Politics1 with a newsreader, we publish a RSS feed:
---

---