BLOG ARCHIVE:

September 16-30, 2004
September 1-15, 2004
August 16-31, 2004
August 1-15, 2004
July 16-31, 2004
July 1-15, 2004
June 16-30, 2004
June 1-15, 2004
May 16-31, 2004
May 1-15, 2004
April 16-30, 2004
April 1-15, 2004
March 15-31, 2004
March 1-14, 2004
February 15-29, 2004
February 1-14, 2004
January 17-31, 2004
January 1-16, 2004
December 16-31, 2003
December 1-15, 2003
November 17-30, 2003
November 1-16, 2003
October 29-31, 2003
---
POLITICAL BLOG ROLL:
KINDA NEUTRAL:
ABC News: The Note
CNN: Morning Grind
Political Wire
MSNBC: First Read
CJR: Campaign Desk
Political State Report
WatchBlog
Command Post
Coming Up Daisies
FactCheck.org
WSJ: Best of the Web
D.C.'s Political Report
PressThink
DEM/LEFT:
DNC: Kicking Ass
DCCC Blog
DailyKos
John Kerry
Howard Dean/DFA
Emerging Dem Majority
Amer Prospect: Tapped
Arianna Huffington
Al Franken
Eric Alterman
ElectaBlog
TNR: &c
TNR: Campaign Journal
Blogging of the President
Joe Trippi
Swing State Project
Battlegrounds & Ballot Boxes
David Brock/Media Matters
Josh Marshall
Wonkette
MyDD
Mathew Gross
Matthew Yglesias
ACT Blog for Victory
Off the Kuff
GOP/RIGHT:
RNC (GOP.com)
George W. Bush Blog
Bush Blog (Unofficial)
National Review: Corner
C-Log
Real Clear Politics
Andrew Sullivan
John Ellis
Mickey Kaus
Virginia Postrel
Instapundit
Hugh Hewitt
Daniel Drezner
Daily Pundit
Bully Pulpit
World Mag Blog
Right Wing News
Volokh Conspiracy
Brothers Judd
Right Wing News
Power Line


Premier Ad. Click here to learn about premier ad placements on Politics1.
TUESDAY PRIMARY RESULTS: DC'S BARRY IS BACK, BUT NO OTHER SUPRISES. Primary voters went to the polls in nine states and DC on Tuesday. Here are some of the highlights. NEW YORK: In CD-11, Congressman Major Owens (D) won 45% to surive a primary challenge in his final run for re-election from two New York City Councilwomen. His nearest opponent scord 28%. In CD-24, moderate Congressman Sherry Boehlert (R) comfortably fended off a spirited challenge from conservative Cayuga County Legislator David Walrath by a 16-point margin.

In CD-27, Democrats picked State Assemblyman Brian Higgins as their nominee to face Erie County Comptroller Nancy Naples (R) in November for one of the Dem's best chances in the nation for an open seat pickup. In CD-29, Republican voters selected State Senator Randy Kuhl to replace retiring Congressman Amo Houghton (R). Non-profit executive Samara Barand is the Dem nominee. DC: Disgraced former Mayor Marion Barry, 68, easily scored yet another comeback by ousting an incumbent in the Dem primary for a seat on the DC City Commission. NEW HAMPSHIRE: Governor Craig Benson (R) easily won renomination, while former UNH Trustee John Lynch (D) won the right to face Benson in November. WISCONSIN: In a surprise, GOP voters selected underdog businessman Tim Michels (R) as their nominee to face US Senator Russ Feingold (D). In the heavily Dem CD-4 open seat race, State Senator Gwen Moore won the primary and now seems assured of victory in November. WASHINGTON: As expected, Attorney General Christine Gregoire (D) and State Senator Dino Rossi (R) each won landslide victories in their crowded gubernatorial primaries, setting the stage for the first truly competitive gubernatorial race in the state in many years. US Senator Patty Murray (D) and challenger Congressman George Nethercutt (R) likewise had no problems winning their respective primaries. In CD-5, Republicans selected State Rep. Cathy McMorris as the nominee for Nethercutt's open seat. McMorris is a heavy favorite to hold the seat in November. In the open CD-8 race, King County Sheriff Dave Reichert (R) will face off against radio talk show host Dave Ross (D) in this swing district. Interestingly, until last year, neither Reichert nor Ross had ever declared themselves to be members of any political party. CONNECTICUT, MASSACHUSETTS, MINNESOTA, RHODE ISLAND, VERMONT These states all held primaries, but they were all yawners.
Posted by Ron Gunzburger - 09.15.04 |
NADER SORTA BACK ON

FLORIDA BALLOT ... FOR NOW. Ralph Nader will again be on the ballot in Florida if Secretary of State Glenda Hood -- a Jeb Bush appointee -- has her way. Despite a lower court ruling last week striking Nader from the ballot (the court found that the virtually bankrupt Reform Party of the US was no longer entitled to the status of being considered a real national party), Hood decided to ignore the order and place Nader back on the ballot for all of the overseas absentee ballots that must be mailed out starting within the next few days. While Hood is appealing the court ruling, she admits her self-help action is also intended to draw a quicker ruling from the Florida Supreme Court. The Supreme Court quickly certified that the matter is one of great public concern, thus allowing the case to bypass the intermediate appeals court and head straight to the Florida Supremes. State Democratic Chairman Scott Maddox denounced Hood's move as partisan politics intended to thwart the lower court's order. The Republicans counter that they are just trying to protect the rights of voters to have a meaningful choice. Stay tuned. Will Nader be on the ballot in your state? See our new P2004: Ballot Access page to find out the answer.
Posted by Ron Gunzburger - 09.15.04 |
TRACKING THE BATTLEGROUND STATES ... AND THE FL & OK SENATE RACES.

In Nevada, the new KVBC-TV/SurveyUSA poll shows Bush leading Kerry by a 51% to 47% vote in the state. In Florida, the new WFOR-TV/SurveyUSA poll shows President Bush moving out to a lead over Senator Kerry by a 51% to 45% vote. However, in the open US Senate race, that same poll shows that former State Education Commissioner Betty Castor (D) is leading former HUD Secretary Mel Martinez (R) by a 49% to 45% vote -- indicating that Castor is drawing some cross-over votes in the aftermath of the nasty GOP primary contest. Speaking of open US Senate race, In Oklahoma that new KWTV/Wilson Research poll shows Congressman Brad Carson (D) unexpectedly moving into the lead over maverick former Congressman Tom Coburn (R) by a 39% to 37% vote, with an independent candidate polling at 6%. Carson was trailing Coburn by six points in the last KWTV tracking poll. By contrast, the same new poll shows Bush beating Kerry by a landslide 59% to 29% in the state, indicating that Carson is drawing a significant numbers of swing voters.
Posted by Ron Gunzburger - 09.15.04 |

OUTING TARGETS: MUCH SMOKE ... BUT ANY FIRE? Radical gay outing advocate Michael Rogers is drawing attention to his attempts at outing closeted conservative Republicans who fail to adequate support pro-gay issues. His current target -- with Hustler magazine joining Rogers for the hunt -- is US House Rules Committee Chairman Dave Dreier (R-CA). When asked if he was gay, Dreier declined to answer. But, when asked if he was straight, Dreier also refused to answer. Even if he says he is gay, Dreier should still remain pretty safe with the voters in his current district. So far Rogers has produced much smoke about Dreier -- but no fire. It's also pretty clear from reading Rogers' site that his next target (after Dreier) is going to be a very conservative southern US Senator. Some GOP gay activists quickly countered by outing Art Torres, Chair of the California Democratic Party. This is degenerating into a real nasty blood sport.
Posted by Ron Gunzburger - 09.15.04 |
WEDNESDAY OPEN THREAD. So as to avoid controversies close to home in my "real life," I've decided on a new policy: I'll gladly offer articles and opinions on races at the congressional,
state and national levels -- but no more writing about Broward County, Florida politics. But, when it comes to that one topic, consider me Sergeant Shultz from Hogan's Heroes: "I see nothing ... I know nothing!" Of course, all of you can comment on whatever you'd like. In other news, congrats to Canada for winning hockey's 2004 World Cup on Tuesday night ... but I'm going to be really pissed off if -- as it looks right now -- this entire NHL season gets cancelled later this week if/when the CBA talks break down between the NHL team owners and the players' union. C'mon guys -- do it for the fans -- accept the salary cap (note: caps haven't hurt skyrocketing NFL or NBA salaries).
Posted by Ron Gunzburger - 09.15.04 |
TUESDAY IS THE "SUPER TUESDAY" OF STATE PRIMARIES. Primary voters go to the polls in nine states and DC tomorrow to select nominees in several hotly contested races. Here are some of the key races to watch. NEW YORK: In CD-11, Congressman Major Owens (D) must fend off a feisty primary challenge from two New York City Councilwomen -- but, with the opposition split, Owens looks well-positioned to hold on for what he has promised will be his final run. In CD-24, moderate Congressman Sherry Boehlert (R) is facing an aggressive rematch from conservative Cayuga County Legislator David Walrath. The pro-life Walrath nearly defeated the pro-choice Boehlert two years ago. In CD-27, Democrats will select a nominee for this competitive open swing seat.

West Seneca Supervisor Paul Clark and State Assemblyman Brian Higgins are the frontrunners. The winner will face Erie County Comptroller Nancy Naples (R) in November in one of the Dem's best chances in the nation for a seat pickup. In CD-29, Republican voters will decide if either State Senator Randy Kuhl or Monroe County Legislator Mark Assini will become the heavy favorite to hold this open GOP seat. Non-profit executive Samara Barand is the likely Dem nominee. NEW HAMPSHIRE: Dems are selecting a nominee to oppose Governor Craig Benson (R). Former UNH Trustee John Lynch -- who has been the victim of a dirty tricks campaign in the closing days -- appears to be the favorite over State Rep. Paul McEachern, who previously lost three runs for Governor in the 1980s. NH also has three federal primaries. WASHINGTON: Attorney General Christine Gregoire (D) and State Senator Dino Rossi (R) are certain to win their respective and crowded gubernatorial primaries by wide margins, setting the state for a hot November race. US Senator Patty Murray (D) and challenger Congressman George Nethercutt (R) are likewise guaranteed landslide primary wins in their race. In CD-5, Republicans will select a nominee for Nethercutt's open seat. There is no clear favorite among the three hopefuls with each of them having a real chance of winning. The picture is much clearer in the open CD-8 race, where the next Congressman will certainly be named Dave. Polls show King County Sheriff Dave Reichert (R) and radio talk show host Dave Ross (D) holding commanding leads in their respective primaries. WISCONSIN: GOP voters will pick a nominee to face liberal US Senator Russ Feingold (D) -- but Feingold still looks very safe. In the heavily Democratic CD-4 race, three Dems are facing off. State Senator Gwen Moore seems to have the momentum in the final days, but anyone could win this competitive primary. CONNECTICUT, MINNESOTA, RHODE ISLAND, VERMONT, DC: Sure, these states are holding some primary races on Tuesday ... but none are worth watching.
Posted by Ron Gunzburger - 09.14.04 |

TRACKING THE BATTLEGROUND STATES. In Wisconsin, the new USA Today/CNN/Gallup poll shows President Bush moving into a comfortable lead over Senator Kerry. The numbers: Bush-52%, Kerry-44%, Nader-1%. Bush's lead has widened in the state by 5 points since last month, while Nader has dropped 3 points. While we usually don't cover national polls -- and don't cover Zogby's polls that they conduct "online-only" (but we do cover their normal-style polls) -- we'll make an exception for this Zogby poll simply because it is one of the first surveys we know of by any pollster that included many of the candidates in the Presidential race. The numbers: Bush (R) - 46%, Kerry (D) - 42%, Nader (I) - 2.4%, Michael Badnarik (Libt) - 0.9%, Michael Peroutka (Const) - 0.3%, David Cobb (Green) - 0%, "Other" - 0.6%, Undecided - 8%. Will you have all those choices (or more ... or less) in your state? See our new P2004: Ballot Access page to find out the answer.
Posted by Ron Gunzburger - 09.14.04 |
WOULD YOU CALL THAT AN ENDORSEMENT? In

Florida, former HUD Secretary Mel Martinez and former Congressman Bill McCollum faced off last month in what descended into one of the nastiest primary contests in the nation. Martinez -- who went on to win that GOP contest for US Senate -- ran TV spots that accused the conservative McCollum of advancing the "homosexual agenda" and held a press conference that outed a key McCollum consultant as gay (an ironic move, as several Martinez staffers had also been outed as gay by some radical gay activists). It got so bad that one of the state's top newspapers un-endorsed Martinez one day before the primary. After a two week cooling off period, McCollum grudgingly endorsed Martinez. Over one-third of the nine-sentence official endorsement statement read as follows: "I remain deeply disturbed by the last minute negative Martinez campaign tactics that grossly misrepresented my views on social issues and appealed to the worst in people. Clearly, it should have never happened. Mel has apologized to me. I accept that, and I hope this never happens again. It is now time to unite for the good of the President, Florida and our nation." Don't look for those words to appear on a TV spot anytime soon. Martinez, who was drafted into the race by the White House, faces off against former State Education Commissioner Betty Castor (D) in November in one of the hottest open seat races anywhere.
Posted by Ron Gunzburger - 09.14.04 |
COLORFUL STATE CANDIDATES. Washington State's easy ballot access laws produces crowded ballots, and also draws out the gadflies and eccentrics that make races fun to watch. Perennial candidate Mike The Mover (D) -- a moving company owner who actually changed his name to that of his company -- is yet again running for Governor to generate publicity for his business. Will Baker is the GOP nominee for State Auditor. The state party accepted his offer to run and filed the paperwork after the close of filing, when no one else ran. Since then, they've sadly learned Baker has more than a dozen past arrests for disrupting Tacoma City Council meetings and talks about child porn and murder/suicide conspiracy theories. Once party leaders learned his history, they tried to dump Baker from the ballot -- but it was too late to withdraw his candidacy. Yet another one talks about starting to colonize space by placing lots of humans into earth orbit on satellite bases. You get the idea.
Posted by Ron Gunzburger - 09.14.04 |
TUESDAY OPEN THREAD. Expiration of the assault weapons ban ... real or fake Vietnam-era service records ... the multiple-count felony indictment a few days ago of recently resigned Congressman Frank Ballance (D-NC) on corruption charges ... or anything else. So, what's on your mind?
Posted by Ron Gunzburger - 09.14.04 |
NADER

TO DEMS: F*** YOU! Independent Presidential candidate Ralph Nader is apparently so annoyed with the Democratic Party's organized legal efforts nationwide to keep him off state ballots that he plans to get even by increasing his political efforts in the key battleground states. On Friday, Nader announced he will formally kick-off his general election campaign this coming week with stops in Michigan, Ohio, Pennsylvania and Wisconsin. At a campaign breakfast Friday, Nader spent nearly the entire hour criticizing the Democrats for their ballot access challenges to his candidacy -- actions that he described as "harassment." According to the Hartford Courant, he said his campaign is "exposing all the pus and the bile" of the Democratic Party and is "flushing the system out." Apparently it was the Democratic success at knocking him off the Florida ballot last Thursday that set off Nader's latest tirade. A campaign spokesman also said that his campaign would now move their focus from obtaining ballot spots and move to the "the business of campaigning." Nader also added that he doesn't believe his campaign will cost Kerry the Presidency even if he focuses on swing states because Kerry is already "headed for defeat" in November. "He's lost the clarity of being an alternative to Bush and Cheney. The Democrats are probably going to lose this election for reasons unrelated to my candidacy," said Nader. And, speaking of ballot access matters, we've added something new to Politics1. Check out our new P2004: Ballot Access page to see who will appear on which state ballots at a glance.
Posted by Ron Gunzburger - 09.13.04 |
TRACKING THE BATTLEGROUND STATES. In Missouri, the new KSDK-TV/SurveyUSA poll shows the state remains close. The numbers: Bush-48%, Kerry-46%. In Pennsylvania, the latest WCAU-TV/SurveyUSA tracking poll shows Kerry leading Bush by a 49% to 47% vote. In Maine, the new Portland Press Herald/Zogby poll showed Bush moved into a tie with Kerry. The numbers: Kerry and Bush tied at 43% each, Nader-3%. In Ohio, the new Columbus Dispatch/WBNS-TV poll also revealed a tied race in that state. The stats: Bush and Kerry tied at 46% apiece, Nader-2%.
Posted by Ron Gunzburger - 09.13.04 |
DE, IN & MO GUBERNATORIAL CONTEST UPDATES. In Delaware's primary on Saturday, retired Judge Bill Lee cruised to an easy victory in the GOP race for Governor. He scored 70% against his two opponents. Lee is still a decided underdog in November against incumbent Governor Ruth Ann Minner (D). In Indiana, a new WXIN-TV/SurveyUSA poll shows former Bush Administration Budget Director Mitch Daniels (R) moving to a comfortable lead over Governor Joe Kernan (D). Daniels now leads by a 53% to 41% vote. Consider Daniels the favorite to score a GOP pickup in November for the gubernatorial office that the Republicans last won in 1984. In Missouri, the open gubernatorial contest is rapidly narrowing. Secretary of State Matt Blunt (R) now leads State Auditor Claire McCaskill (D) by a 48% to 47% vote, according to the new KSDK-TV/SurveyUSA poll. Those numbers indicate a 4-point narrowing since last month's poll. McCaskill defeated incumbent Governor Bob Holden (D) in the August 3rd primary.
Posted by Ron Gunzburger - 09.13.04 |
IN, KY, MO, PA & SC SENATE CONTEST
UPDATES. With less than two months to go until the general election, it appears that the US Senate incumbents in Indiana, Kentucky, Missouri and Pennsylvania can all be moved in the "safe" category. In Indiana, US Senator Evan Bayh (D) leads college professor and frequent candidate Marvin Scott (R) by a landslide margin of 64% to 28% -- even though President Bush holds a 24-point lead over Kerry in the state according to the same poll (WXIN-TV/SurveyUSA). In Kentucky, Baseball Hall of Famer and US Senator Jim Bunning (R) is pitching a perfect game against surgeon and State Senator Dan Mongiardo (D), according to the new WHAS-TV/SurveyUSA poll. The numbers: Bunning-54%, Mongiardo-35%. In Missouri, US Senator Kit Bond (R) leads State Treasurer Nancy Farmer (D) by a 57% to 37% vote (KSDK-TV/SurveyUSA). Bond has widened his lead by 3% over the past month. In Pennsylvania, US Senator Arlen Specter (R) widened his lead by three more points over Congressman Joe Hoeffel (D). The WCAU-TV/SurveyUSA now pegs the race as Specter-51%, Hoeffel-33%. In South Carolina, State Superintendent of Education Inez Tenenbaum (D) made changes in the top levels of her campaign staff. The shake-up came in the wake of weak poll numbers in recent weeks in her open seat US Senate race against Congressman Jim DeMint (R). In related news, State Insurance Commissioner Carroll Fisher (D) lost the primary for US Senate in Oklahoma earlier this summer by a wide margin. On Friday, the Oklahoma House voted 95-0 to impeach him on five counts related to corruption, gross negligence and gross incompetence. Fisher was previously reprimanded twice by the State Ethics Commission and was recently indicted by a criminal grand jury for two counts of embezzlement and one count of operating an illegal charity. The matter now moves to the State Senate for a removal trial. Governor Brad Henry (D) has called on Fisher to resign -- but Fisher says he has no plans to leave office.
Posted by Ron Gunzburger - 09.13.04 |
THE 1/23 MARINES TAKE CHARGE. Special correspondent Lt. James Crabtree of our "adopted" 1/23 Marines in Iraq updates us on their transfer ceremony, visiting dignitaries, local customs, and a reminder of the dangers faced:
Dear Politics1 Readers,

Greetings once more from our humble home in the desert where all of the unemployed teachers have no class. Just kidding -- I'm sure the Iraqi teachers' unions wouldn't appreciate that joke. Well, everything continues to go fairly well for the battalion. Operations continue at a busy pace and the Marines and sailors continue to excel.

Last week one of our trucks hit a landmine while on a road convoy, but the biggest damage to any of the people involved was a bruised thumb. This demonstrates that the area in which we serve is a dangerous one, but that the training and the equipment we have over here is doing its job. I share this information because I want to paint as accurate a picture as possible about our lives over here without violating operational security. After all, the last thing I would ever want to be is a "Baghdad Bob" enemy propagandist. However, as we have yet to see a reporter or news organization in our battalion's area, perhaps these report will be the only news the world is going to get about the 1/23 Marines.

The big event over here this week was that we had our transfer of authority ceremony with the departing 2/7 Marines on the 9th of September. I've included the "press release" like article below that I wrote up to send into the USMC and Marine Corps Reserve web pages. Its pretty matter of fact and not very colorful, but when was the last time you saw a colorful or entertaining press release out of the Department of Defense? I wish all of you could have seen the ceremony. The assorted groups of Iraqis that showed up for the ceremony wore everything from modern western style clothing to traditional Arabic robes and head coverings. They all seemed to enjoy themselves, too. They arrived at the ceremony 45 minutes late and the food for their feast afterwards was over an hour and half late, but they were all delighted. Iraqis run on their own sense of time. The phrase "Insha' Allah" which means "God willing" covers virtually everything for most Iraqis. Whether or not they get up in the morning and go to work could be covered by it. For some, everything is "Insha' Allah" in the sense that things will happen when they happen or will arrive when they arrive. Needless to say, this is very different for Marines who are used to the idea that if you aren't 15 minutes early for something you are late. Here is the "press release":

In a simple and solemn ceremony held here today in front of a former Iraqi Air Force building that now serves as the command post for a Marine infantry battalion, the Marines of 2/7 transferred authority to the Marines from 1/23. This was a day in which the Marines of 1/23 had been working towards for over six months. As an infantry battalion of reservists based out of Texas and Louisiana, the activation notice had been issued in March and lives and careers had been placed on hold. Now finally months of training and preparation had all come down to this one symbolic moment.

With local Iraqi dignitaries, officers and soldiers of the Iraqi National Guard, and members of the Iraqi Police Force looking on, LtCol P.C. Skuta bade farewell to those Iraqis he had served with for the past seven months and wished them well. He referred to the Iraqis as "brothers" and it was apparent that his departure from this area is one filled with optimism for the young nation's future. 2/7, an infantry battalion from Twentynine Palms, California, had many notable accomplishments during their seven month tour in this area of operations. They thus established the region as a quintessential example of how mutual respect and cooperation with the Iraqi government will help the process of Iraq becoming the only democratic Arab nation in the Middle East.


LtCol Skuta of 2/7 and Col Fahad of the Iraqi National Guard

LtCol Skuta's remarks were followed by those of Col Fahad of the local Iraqi National Guard Battalion. The tall and lanky Iraqi spoke of the efforts that the Marines from 2/7 had made over the past seven months to improve his country and he offered his heartfelt gratitude. Upon the completion of his comments, Col Fahad hugged LtCol Skuta and kissed him on each cheek as a customary Arab showing of respect. LtCol G.D. Stevens, the battalion commander of 1/23, then spoke of stepping humbly into 2/7's shoes and of his strong determination to continue the tasks and missions that 2/7 had undertaken.

A Marine color guard from 2/7 then retired their colors, and was followed by the marching on of the colors from 1/23. With SgtMaj David Miller's uncasing of the 1/23 colors (pictured above), the transfer was complete.

The rest of the event was spent with Iraqis snapping photos with Marines and showing off their new police squad car. There was later a traditional Iraqi meal served in the battalion conference area for all of the Iraqis present. LtCol Stevens also met with one of the prominent local Iraqi sheiks. The operations officers from each battalion quickly returned to the Command Operations Center once the ceremony was completed in order to radio to higher headquarters that 1/23's call sign of "Lonestar" was now in effect.

The other notable event that took place on the 9th was that the battalion raised the Lone Star flag over our headquarters building. This was the idea of the battalion commander even though he was born in Connecticut and now resides in California. We aren't allowed to fly the Stars and Stripes and I'm sure you can guess how the Marines feel about that, but no one said anything about state flags! 1/23 has also fully moved into all of the office spaces and we have the Texas flag up in the S-1 office as well.

Well, that about covers it for this update. We've gotten some great feedback on the profile of Cpl Garcia-Ovando from the last update and I've had a lot of Marines want to volunteer for future profiles. The next "Marine of the Week" will be SSgt Wagner of our battalion's communications section. Thank you as always for all of the great letters, packages, and emails. With 2/7 finally heading home soon hopefully the lines to the phone center will not be as long and the Marines and sailors will be able to call home. It also means that the members of 1/23 will all be living in the cans. I know they are looking forward to that.

Semper Fi,
James
If you'd like to send the 1/23d any care packages (food items that won't melt, batteries, books, magazine, baby wipes, etc.), please address the packages to Lt Crabtree, 1/23 H&S Co, Unit 41900, FPO, AP 96426-1900 ... and James will ensure that whatever you ship gets distributed to the Marines in the 1/23. If you'd like to read more about our adopted 1/23 Marine battalion in Iraq, please click here. FYI: I found another site that has a good history (with a few pix) of the Al-Asad Airbase where the 1/23 are stationed.
Posted by Ron Gunzburger - 09.13.04 |
MONDAY OPEN THREAD. Hurricane Ivan took a wide swing to the west over the past three days so, thankfully, we're still here and happily online. That said, have at it on anything you'd like to discuss.
Posted by Ron Gunzburger - 09.13.04 |
WEEKEND OPEN THREAD. Couldn't find any new movies to go see this weekend (at least, not any that appeared worth going to see) ... so no movie review this weekend. As for politics, you pick the topics.
Posted by Ron Gunzburger - 09.11.04 |
TRACKING THE BATTLEGROUND STATES ... AND NADER NEWS. Ohio is still a tight contest, according to the new WCPO-TV/SurveyUSA poll of likely voters. The numbers: Bush-50%, Kerry-47%. In North Carolina, the latest WTVD-TV/SurveyUSA poll shows the Tarheel State equally competitive.

The numbers: Bush-50%, Kerry-46%. California is not usually viewed as a battleground state, but the new KABC-TV/SurveyUSA poll shows Bush pulling to within ten-points of Kerry in the state. The numbers: Kerry-52%, Bush-42%. In New Jersey, the Newark Star-Ledger/Rutgers University poll also shows the state remains close: Kerry-43%, Bush-39%, Nader/Others-5%. Based upon the latest round of heavy TV ad buys by the Kerry campaign in 14 key states, the Dems have demoted -- at least, for now -- Colorado, Arizona, Missouri, Arkansas, North Carolina, Virginia and Tennessee to "second tier" battleground states. In other P2004 news, a Florida judge issued an order that appears to knock Ralph Nader off the ballot in the state on Thursday. Florida Secretary of State Glenda Hood, in response, did not include Nader on the list of certified Presidential candidates sent to the various county election officials later that day. The Florida Democratic Party sued to disqualify Nader and the judge said in court that there were "at least 15 reasons as to why [Nader] won't qualify" for the Florida ballot. By contrast, David Cobb (Green), Michael Badnarik (Libertarian), Walt Brown (Socialist), Michael Peroutka (Constitution) and the stand-in slate for the constitutionally ineligible Socialist Workers Party nominees all qualified for the ballot without controversy in the Sunshine State. Nader vows to appeal. In recent days, Nader qualified for the ballot in Oregon and New Mexico -- although Dems vow a court fight in NM to disqualify him -- and was knocked off the ballot in Virginia. It appears Nader is now on track to appear on at least 20 state ballots ... which is an total substantially less than Badnarik, Cobb or Peroutka.
Posted by Ron Gunzburger - 09.10.04 |

SATURDAY IS PRIMARY DAY IN DELAWARE. There isn't much to watch on Saturday in Delaware but, hey, an election is an election. Governor Ruth Ann Minner (D) doesn't face any primary, but there is a contest on the GOP side. Former Judge Bill Lee is heavily favored in the GOP contest over airline pilot Mike Protack. Four years ago, the maverick Lee lost the GOP primary by just 46 votes to the establishment candidate with the official endorsement of the state party. This year, Lee has the endorsement -- but he'll still be an underdog in November against Minner. She's generally popular and has outraised Lee by a wide margin. Dems will also see a primary for State Insurance Commissioner. No contested federal primary races, and Congressman Mike Castle (R) is a safe bet to win another term in November.
Posted by Ron Gunzburger - 09.10.04 |
NC, OH & CA CONTEST UPDATES. In

North Carolina, the latest WTVD-TV/SurveyUSA tracking poll shows that the Dems are well positioned to win the gubernatorial and open US Senate contests in the state. Govenor Mike Easley (D) leads former State Senate Minority Leader Patrick Ballantine (R) by a 54% to a 39% vote. In the US Senate contest to replace VP nominee John Edwards, former White House Chief of Staff Erskine Bowles (D) continues to hold his steady lead over Congressman Richard Burr (R). The numbers: Bowles-50%, Burr-40%. In Ohio, US Senator George Voinovich (R) appears to be cruising to an easy re-election over State Senator Eric Fingerhut (D). The WCPO-TV/SurveyUSA poll shows Voinovich leading by a 53% to 35% vote. In California, the latest KABC-TV/SurveyUSA tracking poll shows US Senator Barbara Boxer (D) leading former Secretary of State Bill Jones (R) by an identical 53%-35% vote.
Posted by Ron Gunzburger - 09.10.04 |
NEW

BUSH GUARD RECORDS: MAJOR PROBLEMS FOR PREZ ... OR FAKES? The media continues to buzz about the newly found documents from the personal files of the late Colonel Jerry Killian, who was President Bush's commanding officer in the Texas Air National Guard. According to the Boston Globe and CBS's 60 Minutes, Bush pulled political strings to land a spot in the National Guard to avoid being drafted during the Vietnam War and possibly shirked his service obligation while in the Guard. "I ordered that 1st Lt. Bush be suspended not just for failing to take a physical ... but for failing to perform to US Air Force/Texas Air National Guard standards," wrote Killian in a 1972 memo. US News & World Report asked former Reagan Administration Assistant Secretary of Defense for Manpower and Reserve Affairs Lawrence Korb to review all of the Bush records found to date. Korb said Bush "had not fulfilled his obligation ... When I look at his records it is clear he didn't do what he was supposed to do. Since he didn't do these those things, he should have been called to active duty." Some Bush partisans are trying to raise questions about whether or not the purported Killian documents are authentic. Stay tuned. Postscript: ABC News reports there are questions about the authenticity of the documents based upon the typeface and spacing used in the document. Killian's widow told ABC she thought the documents were "very suspect." Killian's son, who served in the Guard with his father, told the AP that some of the documents appeared to be genuine, while others were questionable.
Posted by Ron Gunzburger - 09.10.04 |
FRIDAY OPEN THREAD. News tip: The same gay activist who last week successfully outed two-term Congressman Ed Schrock (R-VA) as gay is apparently on the verge of outing a high-ranking member of the US House GOP Leadership as gay next week. Other news: Hurricane Ivan is a very, very scary storm and -- while this comment is selfish -- I hope it heads anywhere except here in South Florida (which is currently a likely target). If a "Doomsday Storm" like that Category 5 one is still pointed at us later this weekend, it may be the first time I will ever leave Florida to a avoid a hurricane. But, if that happens, I'll bring my laptop on the road trip so I can stay connected with you folks.
Posted by Ron Gunzburger - 09.10.04 |
TRACKING THE BATTLEGROUND STATES.

A whole bunch of new -- post GOP convention -- polls out for several key battleground states. In Arizona, the new Arizona Republic/Market Solutions Group poll shows Bush now holding a huge lead in the state. The numbers: Bush-54%, Kerry-38%. In Missouri, the new CNN/USA Today/Gallup poll gives Bush the lead by a 55% to 41% vote among likely voters ... or 53% to 42% among registered voters. In Ohio, however, the CNN/USA Today/Gallup poll continues to show the state competitive, but that depends on what pool of voters are polled. The numbers: Bush-52%, Kerry-43%, Nader-2% with likely voters ... or Bush-47%, Kerry-46%, Nader-2% among registered voters. In Oregon, a new Riley Research poll of "very likely" voters shows Bush-46%, Kerry-45%, Nader-1%, Others/Refused-2%. Riley -- a company that usually polls for business or medical industry clients -- said they conducted this poll on their own. In Pennsylvania, the new CNN/USA Today/Gallup poll shows a dead heat in the state. Likely voters: Bush-48%, Kerry-47%. Registered voters: Both men tied with 47% apiece. In Washington State, the new CNN/USA Today/Gallup poll gives the lead there to Kerry. Likely voters: Kerry-52%, Bush-44%, Nader-1%. Registered voters: Kerry-51%, Bush-43%, Nader-2%.
Posted by Ron Gunzburger - 09.9.04 |
WILL THE ENTIRE PRESIDENTIAL ELECTION COME DOWN TO THIS ONE GUY'S VOTE? An act of party unity and magnanimity is coming back to haunt the West Virginia Republican Party.

In the immediate aftermath of the crowded 10-person GOP primary for Governor back in May, the party selected the five top runner-ups from the gubernatorial contest to be the official slate of GOP Electors for the upcoming Presidential race. Those names were subsequently filed by the state's deadline and are now locked into place. That's where the problem begins. South Charleston Mayor Richie Robb (R) -- who placed fourth in the primary with 10% -- was thus awarded one of the coveted Presidential Elector slots. This week Robb told the AP that he does not think he will cast his electoral vote for President Bush. Under WV state law, apparently, there is nothing that forces him to do so. Robb said he will not cast his ballot for Kerry, but would most likely cast his electoral vote -- if Bush wins the state -- for "No Candidate." A Gore elector from DC, who apparently had some ties to the LaRouche organization, did likewise in 2000. Robb, a Vietnam War veteran who was awarded the Bronze Star for heroism in combat, said he opposed the Iraq War and was also upset with the Swift Boat Vets ads that attacked Kerry's record in Vietnam. "When their candidate [Bush] dodged Vietnam, to me that type of conduct is going over the line," said Robb to the AP. "I think President Bush needs to get the message from people across this country, including Republicans, that his strategy in national security and his economic policies needs to be revisited ... I see an erosion of the middle class in this country and a disparity in income levels I think is unhealthy for this country and its future," he added. "He's going to do the will of the people ... he knows what it is like to be a part of a team," said State GOP Chairman Kris Warner, who said he expects Robb will cast his electoral ballot for Bush. Robb disagreed, notes that he was not present when they selected the electors and did not seek the honor. "My job is to exercise my best judgment. That's how I've always done it. That's how I intend to do it," countered Robb.
Posted by Ron Gunzburger - 09.9.04 |
THURSDAY OPEN THREAD. Hurricane Frances is gone and we've got electricity again ... but now it appears we are again within the projected track of yet another very dangerous hurricane. Hurricane Ivan appears to be about five days away, so there is still plenty of time to have it go in some other (ANY other) direction.
Posted by Ron Gunzburger - 09.9.04 |
INCUMBENTS CRUISE TO SOLID WINS IN ARIZONA PRIMARY. My electricity is finally on again after four days of darkness, thanks to Hurricane Frances. That said, let's get on with the latest political news. Despite several high profile and well-financed challenges, Arizona's incumbents scored strong primary wins yesterday.

In CD-2, wealthy broadcasting executive Rick Murphy dumped $500,000 from his own pocket into his GOP primary challenge to conservative freshman Congressman Trent Franks, but still lost by a 2-to-1 margin. In CD-5, Congressman J.D. Hayworth (R) destroyed National Women's Political Caucus President Roselyn O'Connell by a landslide vote of 82% to 18%. In CD-6, former State Senator and lobbyist Stan Barnes attacked maverick Congressman Jeff Flake (R) for being so rigidly fiscal conservative that he was depriving his own district of much needed federal dollars -- but Flake still won by an 18-point margin. In CD-8, State House Majority Whip Randy Graf (R) challenged Congressman Jim Kolbe from the right, attacking Kolbe as being insufficiently conservative on abortion and gun issues. Unspoken in the race was festering social conservative discomfort with Kolbe for also being openly gay. Kolbe, however, scored a comfortable 57%-43% win in the primary. In November, US Senator John McCain (R) faces only nominal opposition from teacher Stu Starky (D) and radio talk show host Ernest Hancock (Libertarian). Freshman Congressman Rick Renzi (R) is expected to face a competitive challenge in the general election from Coconino County Supervisor Paul Babbitt (D), the brother of former Arizona Governor Bruce Babbitt. Renzi is favored, but both men are well financed for this top-targeted contest. Meanwhile, the rest of the Arizona Congressional delegation all appear to be fairly safe in their November races.
Posted by Ron Gunzburger - 09.8.04 |

ALASKA SENATE RACE UPDATE. The first post-primary independent poll numbers are in for the hotly contested Alaska US Senate race. Former Governor Tony Knowles (D) continues to lead incumbent US Senator Lisa Murkowski (R), although the new KTUU poll shows that the margin continues to narrow. Also, it is becoming clear that the third party candidates may determine the outcome in this race. The numbers: Knowles-45.6%, Murkowski-44.5%, State Green Party Co-Founder Jim Sykes-2.4%, former GOP state legislator Jerry Sanders (Alaskan Independence)-1.3%, Others-1.9%. Sanders is a former GOP state legislator. Former State Senator Jerry Ward (R) -- who had earlier considered making a primary challenge to Murkowski because he was upset with the way Governor Frank Murkowski selected his own daughter for the seat over Ward and the other finalists -- this past week agreed to become Sanders' campaign manager.
Posted by Ron Gunzburger - 09.8.04 |
NEVADA PRIMARY RESULTS. Tuesday

was also primary day in Nevada, although -- unlike in Arizona -- there were no hotly contested primaries. The federal incumbents who faced challenges swept to easy victories. In CD-3, wealthy former casino executive Tom Gallagher (D) easily won his congressional primary over five minor opponents. Gallagher will face-off in November against potentially vulnerable Congressman Jon Porter (R) -- making it the only big race in the state (other than Bush-Kerry) worth watching in November. The most colorful contest of the day -- albeit meaningless -- was the GOP contest for US Senator. Real estate investor and anti-gay activist Richard Ziser (R) won the 6-person contest. Conservative activist Ken Wegner, who proposed posting the US military along the entire length of the US border to keep out smugglers and immigrants, finished second. Rancher Bob Brown Jr. finished third, even though it was reported that he actually resided in Florida. US Senate Minority Whip Harry Reid (D) is expected to easily win re-election in November. Reid has raised nearly $8 million to date, and has the open support of the state's GOP Governor and several other Republican elected officials. Ziser, by contrast, has raised a little over $400,000.
Posted by Ron Gunzburger - 09.8.04 |
KEYES

ANNOUNCES BIG ENDORSEMENT: JESUS. Controversial, fiery and colorful US Senate candidate Alan Keyes (R-IL) seems to have no problem attracting media attention to his long-shot candidacy. He first accused his African-American opponent -- State Senator Barack Obama (D) -- of espousing "the slaveholder's" view of social issues like abortion. Then, a recent TV interview with Keyes nearly descended into fisticuffs. Last week in a media interview, Keyes denounced the lesbian daughter of Vice President Dick Cheney as a "selfish hedonist." On Tuesday Keyes did it again, this time by essentially announcing that Jesus would be supporting him (if Jesus, of course, was an Illinois voter). "Christ would not vote for Barack Obama because Barack Obama has voted to behave in a way that it is inconceivable for Christ to have behaved," declared Keyes. Republican leaders in the state have all been distancing themselves from Keyes in recent weeks so as to not be hurt in their own races by the massive voter backlash they are expecting to befall Keyes.
Posted by Ron Gunzburger - 09.8.04 |
GREETINGS FROM "THE LONESTAR RANCH" IN IRAQ. Here's the latest report from our friend and special correspondent Lt. James Crabtree of our "adopted" 1/23 Marines in Iraq:
Dear Politics1 Readers,

Greeting once more from the lovely Al-Asad, Iraq, where the time flies like an arrow, but the fruit flies like a banana (actually I think that's an old Groucho Marx line). Anyhow, the election results are in from the first free and democratic election in the Al-Anbar province of Iraq. After all the precincts have reported in, here are the winners:

The Command Post will now be named "The Hacienda."
The chow hall is now known as "The Corral."
The camp name winner was "The Lonestar Ranch."
The Gym will be called "The Sweatbox."

At first the media called the mascot race for Gore, then for Bush, then it was a toss-up, but ultimately the winner was the soon to be infamous ... COMBAT ARMADILLO! He'll be giving a victory speech later this evening.

In other news, all remains well here. The Marines and sailors of our battalion continue to do an awesome job. In fact, every day they become more familiar with our AO (Area of Operations) and more proficient with their tasks.

Well, enough about that. It's time to turn to a new feature I hope to do each week entitled "Get To Know Us." The weekly GTKU feature will focus on the individual Marines and sailors in our battalion -- introducing you to a different one each week -- to provide you with a small glimpse into their lives both at home in America and here in Iraq. This week -- our inaugural issues -- we profile Cpl Jorge Garcia-Ovando ...

The days begin early in Al-Asad, Iraq for 28 year-old Marine Corporal Jorge Garcia-Ovando of H&S Company 1/23. By 0500 (or 5 a.m. to civilians) he has already begun to make his rounds to ensure that the 14 Marines that are under his charge as the assistant squad leader are taken care of. This involves everything from making sure the Marines' weapons are clean and their ammo ready, to checking on how much sleep they had and how much food they were able to eat. They stand post for 24 hours at a time, are then part of a reaction force the next day, and on the third day they provide security for convoys. On the fourth day the Marines start the cycle all over again. It's not an easy task by any means, but it is one that Cpl Garcia-Ovando volunteered for -- and he couldn't be prouder of his Marines or the role he carries out. Originally an administration Marine in the battalion's S-1 section, he was forced into the rotating guard force out of necessity of numbers. In fact, his duties on the guard force are the very essence of the Marine Corps and the backbone of the battalion. Without the security provided by the Marines on post and patrol its doubtful much of what the battalion does would be successful.

Back in March 2004, Cpl Garcia-Ovando was an accounting major at North Harris College in Houston, Texas and was enjoying the life any regular civilian might. Born in Guatemala to a family of accountants and raised in the San Fernando Valley of California, he was happily engaged to Marie Corral (herself a student at the University of Houston). Cpl Garcia-Ovando had served for four years on active duty with a Marine aviation unit (MAG-11) at Marine Corps Air Station Miramar, CA from 1995-99 and had been a part of the basketball team that won the base basketball championship at Miramar in 1996. One day his friend Sgt Elias Herrera told him that 1/23 was being activated and sent to Iraq in support of Operation Iraqi Freedom II. Something inside of Cpl Garcia-Ovando told him that he wanted to go to Iraq, as well. He says he quickly made up his mind to rejoin the Marines because "I love the Marine Corps and I felt it was my duty to come here with my brothers." Shortly thereafter he showed up at the battalion's headquarters and was made a member of the unit. Since that time he has undergone two weeks of training at Ft Polk, LA and a couple of months in the desert of Twentynine Palms, CA. Today, he is enjoying a free, all expense-paid trip to the sunny sands of Iraq.

The most challenging aspect of his days here is dealing with the heat during the hottest part of the day with temperatures often reaching upwards of 120 degrees. When wearing a Kevlar helmet, a flak jacket with a collar protector and SAPI (Small Arms Protective Inserts) plates, while carrying a weapon and ammo and standing on the hot desert ground, it is easy to see why that aspect would be the worst. That challenge however, is easily out weighed he claims by the esprit-de-corps that comes from being here with his fellow Marines.

Upon the successful completion of this tour Cpl Garcia-Ovando looks forward to returning home to Houston and to his fiancée. He plans to transfer to the University of Houston and complete his degree and will be able to one day look back with a great sense of satisfaction on his service to his nation. More satisfaction, he believes, than an accountant could ever add up.

Thank you as always for all of the great mail and thanks especially to Ron Gunzburger for all he continues to do for our battalion. We're glad to see he made it through the hurricane and hope that all is well with his friends and family.

Semper Fi,
James
If you'd like to send the 1/23d any care packages (food items that won't melt, batteries, books, magazine, baby wipes, etc.), please address the packages to Lt Crabtree, 1/23 H&S Co, Unit 41900, FPO, AP 96426-1900 ... and James will ensure that whatever you ship gets distributed to the Marines in the 1/23. If you'd like to read more about our adopted 1/23 Marine battalion in Iraq, please click here.
Posted by Ron Gunzburger - 09.8.04 |
WEDNESDAY OPEN THREAD. Competing Bush and Kerry military records (or lack thereof), claims, dodges, charges, medals earned (or not), unfit for service or reporting for duty (or not), and more.
Posted by Ron Gunzburger - 09.8.04 |

DAY FOUR ... AND STILL IN THE DARK. I'm using a friend's computer just so I can post a brief update to let you know all is well, although this is now "Day Four" for me without any electricity. The utility company says I should have power back by Friday. But, beyond that (and a few snapped fence posts and broken tree branches), no major problems. Needless to say, I haven't been able to check any emails or post updates as I'm literally still in the dark as to any news happening anywhere else. Now we have Hurricane Ivan aiming at southern Florida for this upcoming weekend. Hopefully, it will turn in any other direction -- as I've had enough of a sweltering house, cold showers, canned food, and darkness. Soon ... as soon as I have power again ... I'll get back to posting daily updates. Thanks, again, for your patience.
Posted by Ron Gunzburger - 09.7.04 |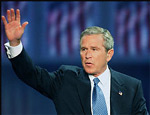 FRIDAY OPEN THREAD. Wanted to create a new open thread so you can debate everything from President Bush's convention speech ... to Kerry's hard-hitting response to the attacks on his fitness to serve ... to Zell Miller ... to the Tuesday's upcoming state primaries in Arizona and Nevada ... to Hurricane Frances. Be sure to read my note below in the "Thursday Open Thread" to read why we may get knocked offline for a few days by the hurricane. But, be assured -- in the words of Arnold -- "I'll be baaack!"
Posted by Ron Gunzburger - 09.3.04 |
VOTING, PHONING HOME, GETTING MAIL. Lt. James Crabtree of our adopted 1/23 Marines gives us the inside scoop on the first democratic election to be held in Iraq:
Dear Readers of Politics1.com,

Howdy once again from the blazing sands of Al-Asad, Iraq. We are proud to announce that our battalion is conducting one of the first free and democratic elections in this nation. Actually, the election is amongst the 1/23 Marines for what we'll call our camp, as well as our chow hall, gym, mascot, and command post ... so don't get too excited. Hopefully we won't have any pregnant, dimpled, or hanging chads.

The 2/7 battalion that we are replacing was known as the War Dawgs and thus they named everything around here like a Cleveland Browns fan might have done. They called their camp the Dawg House and so forth. Well, since our battalion is approximately 89% Texan or Louisianan, our Headquarters and Service Company Commanding Officer (Maj Hayward) has come up with the idea of having an election to rename everything in a manner closer to our roots and heritage. Every Marine here gets a vote and the results will be announced within the next week. I guarantee we won't have a "Saddam Hussein - 100% of the vote"-like results since several of the "candidates" are pretty good. For your amusement here is our list. I'd be curious as to what the readers would vote for (I'll check out the blog comments y'all post here).

Command Post - Vote for one: a. Mission Control, b. Lonestar, c. The Ponderosa (wasn't that set in NV?), d. The Hacienda, and e. The Astrodome

Chow Hall - Vote for one: a. Texas Pete's, b. The Corral, c. Cajun Kitchen, d. The Trough, e. Cookie's Chuckwagon.

Gym - Vote for one: a. Hammerhead's, b. The Sweatbox, c. The Iron House, d. House of Fury, and e. Hans and Franz's (bet you didn't know they were from the German Hill Country of TX?)

Camp - Vote for one: a. San Jacinto, b. Junction, c. Lukenbach, d. Shiner, e. Tejas, and f. Lonestar Ranch

Mascot - Vote for one: a. Rattlesnake, b. Combat Armadillo, c. Javelina, d. Jackalope, e. Horned Frogs, and f. Yosemite Sam (no word on if Warner Bros would allow it. Ha!)

I've also enclosed some more pictures to give you a better feel for our little corner of the world.

As you can see, the phone center is small and cramped, and is made out of used wood and other assorted items -- but it works and we're glad to have it.

Today was also the day we finally got a ton of mail. It filled up an entire 7-ton truck and it took a working party to unload and sort it all.

Thanks to all of the families and friends of the battalion that sent letters and care packages. It's a good problem to have when there is so much mail that you need extra Marines to help handle it. Keep the mail coming!

Before and after of the Iraqi Air Force. This was a pre-war Iraqi mural boasting about the power of Saddam's air power. Next you'll see the reality ...

Finally, here is a photo of one of the typical bombed out old Iraqi jets that litter this base. I guess in some weird way they ad a certain element of character to our surroundings. They also make good navigational items. I've actually heard a Marine tell another Marine that he could reach a certain area by "taking a right at the first destroyed jet...."

Later this week I plan to start my "Get to know us" effort of profiling a different Marine each week from 1/23. My first volunteer is Cpl Jorge Garcia-Ovando of Houston, Texas, and I will hopefully have his picture and profile into the webpage soon.

Thanks again for everything!

Semper Fi,
James
If you'd like to send the 1/23d any care packages, please address the packages to Lt Crabtree, 1/23 H&S Co, Unit 41900, FPO, AP 96426-1900 ... and James will ensure that whatever you ship gets distributed to the Marines in the 1/23. If you'd like to read more about our adopted 1/23 Marine battalion in Iraq, please click here.
Posted by Ron Gunzburger - 09.2.04 |


Premier Ad. Click here to learn about premier ad placements on Politics1.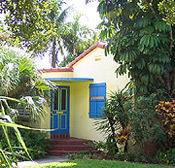 THURSDAY OPEN THREAD. Hurricane Frances is nearing the Florida coast, with landfall expected late Friday night or early Saturday morning. Right now, it is forecast to come ashore somewhere in Martin County (which is two counties north of my home in Broward County). Under that scenario, we'll get 60 mph tropical storm force winds and rain squals. However, hurricanes are unpredictable and Broward is still well within the area covered by the declared "hurricane warning" area. I spent today shuttering all the windows -- as you can see from the pic of my home this afternoon with the old wooden shutters hammered closed -- and moving everything inside from the backyard. Also went to fill up the gas tank in my car, but that took almost an hour: part of the time just looking for a station that still had gas left, then waiting in a long line to get the gas. And, as I live in an evacuation zone, we're going to be heading inland to stay with friends early tomorrow morning. Also: The folks at Softec Internet -- who host the Politics1 site -- are located in Cocoa Beach, so they may take a harder hit. If that's the case, we could be off-line for a few days depending on the availability of electricity, damage to internet backbone cables, destruction to the area, etc. If that happens, keep checking back each day as we'll return online as soon as I can connect and as soon as my server folks have power again. Thanks for your patience ... and pray for the safety of everyone living here on Florida's Atlantic coast.
Posted by Ron Gunzburger - 09.2.04 |

WEDNESDAY OPEN THREAD #2. As the National Hurricane Center keeps doing their Hurricane Frances updates every three hours, it appears more and more likely that this huge Category 4 storm (right) will come ashore late Friday or early Saturday somewhere between Miami and Cocoa Beach. Well, I live and work in the lower half of that range, and Politics1's server is located at the northern edge of the range. The government center where I work is being locked-down later today, with no one allowed in the building as of tomorrow morning -- so I guess this is serious. Based on all this, I'll do my best to do updates tomorrow ... but I may have to be outside hammering up the storm shutters, moving yard stuff inside, and preparing to evacuate inland (my home is in a "Category 3 and Up" evacuation zone). If it comes ashore further north, there is a realistic chance that downed electrical lines could knock the site offline by Saturday. If that happens, keep checking back each day as we'll return online as soon as I can connect and as soon as my server folks have power again. Thanks for your understanding. Stay tuned.
Posted by Ron Gunzburger - 09.1.04 |
WEDNESDAY OPEN THREAD. Sorry for the very late posting today, but I'm resting up a bit after having been serving as a campaign manager (unpaid!!) -- in what little free time I had outside of my real job and outside of Politics1 -- for a hotly contested Dem primary campaign here in Broward County, Florida. We were hit with anonymous 527-group attacks and a very well-funded opponent ... we started with a huge deficit in our early polling two months ago ... but we won by a comfortable margin! So ... I'm taking today off from work, and from Politics1, to enjoy the day. I'll be back tomorrow with updates. That said, feel free to debate about Arnold, the Bush twins, George P, Michael Moore, the Florida primary results (and the Castor-Martinez US Senate contest), the looming Kerry campaign team shake-up ... anything at all. Also, FYI, Thursday's postings won't come online until around 9 AM Thursday morning (instead of late tonight).
Posted by Ron Gunzburger - 09.1.04 |
IS YOUR CAMPAIGN HIRING? If so, then let us know. We'll post the ad for free for any paid campaign staff positions. See our Jobs page for more details.