BLOG ARCHIVE: AUGUST 16-31, 2007.
RON'S OPEN THREADS TO KEEP YOU BUSY UNTIL HE'S BACK FROM HOLIDAY.
Next Update: September 7 (... maybe sooner).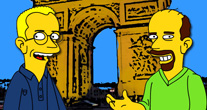 Yup ...again ... I'm heading back today to visit Dana in France. While we'll use our Paris apartment as a base, we're hoping to take a side trip or two (maybe back down to the Cote d'Azur or up to a mountain lake village) since Dana has a few days off between semesters. Thus, I don't know if I'll have easy Internet access during some of those days. If something big happens and I have access, I'll try to post something before I return. Otherwise, the next update will be on Friday, September 7. Enjoy the Labor Day holiday! (FYI: The pic is a composite courtesy of help from the SimpsonizeMe.com site).
Posted by Ron Gunzburger - 08.27.07 | Permalink |
TOPIC: PRESIDENT BUSH & THE ADMINISTRATION.
Bush, Cheney, the Cabinet ... and the whole White House crew.
Posted by Ron Gunzburger - 08.27.07 | Permalink |
TOPIC: CONGRESS.
Pelosi, Reid ... Boehner, McConnell ... the 2008 campaigns ... retirements ... candidacy announcements.

Posted by Ron Gunzburger - 08.27.07 | Permalink |
TOPIC: THE P2008 DEMS - HILLARY, OBAMA, EDWARDS, RICHARDSON & ALL THE REST.
Clinton, Obama, Edwards, Richardson, Dodd, Biden, Kucinich and Gravel ... anyone and anything.
Posted by Ron Gunzburger - 08.27.07 | Permalink |

TOPIC: THE P2008 GOP - FIRST TIER, SECOND TIER & ALL THE REST.
Rudy, Mitt, Fred (with his planned online announcement of his candidacy -- just like Hillary did a few months ago), Mike, Ron ... and all the other guys.
Posted by Ron Gunzburger - 08.27.07 | Permalink |
TOPIC: THE P2008 - INDEPENDENTS, GREENS, LIBERTARIANS & MORE.
Sam Nunn, Mike Bloomberg, Ralph Nader, Ron Paul, Alan Keyes, Tom Tancredo ... "Jonathan the Impaler" ... "Average Joe" ... and everyone else.
Posted by Ron Gunzburger - 08.27.07 | Permalink |
TOPIC: IRAQ, AFGHANISTAN, IRAN, CUBA, NORTH KOREA, ETC.
The release date of the White House's "Petraeus Report" on Iraq grows closer ... Castro death rumors constantly surface (and one of these days its actually going to be true) ... plus anything and everything going on elswhere around the globe.
Posted by Ron Gunzburger - 08.27.07 | Permalink |
TOPIC: POLITICAL SCANDAL & CORRUPTION.
This topic is here because something juicy on the scandal front always breaks when I'm on vacation.
Posted by Ron Gunzburger - 08.27.07 | Permalink |

TOPIC: STATE & LOCAL POLITICS.
Governors, state legislatures, candidates and local stuff.
Posted by Ron Gunzburger - 08.27.07 | Permalink |
TOPIC: EVERYTHING ELSE.
Your free speech zone for everything else under the sun.
Posted by Ron Gunzburger - 08.27.07 | Permalink |
FRIDAY NEWS UPDATE.
RENZI RETIRES; WARNER SUGGESTS; COACH EXPLORES; FLA DEMS THREATEN.
ARIZONA: Embattled Congressman

Rick Renzi (R) -- the target of multiple ongoing federal corruption probes -- announced Thursday he will not seek reelection to a fourth term in 2008. GOP leaders had reportedly heavily pressured Renzi to retire, fearing he would be unable to hold the swing seat. Ever since the FBI raided his wife's office in April, Renzi has experienced serious political problems. According to the Arizona Republic, Renzi had just $20,000 remaining in his campaign account and already owes more than $450,000 in legal defense fees. A long list of Republicans and Democrats are now reportedly looking at the open seat contest. NRCC Chair Tom Cole said defending the CD-1 open seat will be a top Republican priority next year.
IRAQ: US Senator John Warner (R-VA) on Thursday called on President Bush to begin the withdrawal of US troops from Iraq next month. Warner said the drastic move is needed to give Iraqi Prime Minister Nuri Al-Maliki a wake-up call that the US role in Iraq will not be permanent. "I really, firmly believe the Iraqi government, under the leadership of Prime Minister Al-Maliki, let our troops down," said Warner. Al-Maliki announced this week that he feels no obligation to meet -- nor even to try to meet -- US-set benchmarks for Iraq. A spokesman for President Bush said the White House "appreciated" Warner's suggestion but said the President wanted to wait until the White House progress report on Iraq is written and issued on behalf of General Petraeus next month before making any new plans. Further, the spokesman said the President was not inclined to set any formal withdrawal dates. Warner is the former Armed Services Committee Chair, a World War II and Korean War veteran, and served as US Navy Secretary in the early 1970s.
ILLINOIS: The Peoria Journal Star reports former Indiana Pacers basketball team coach Dick Versace (D) is weighing a run next year for the CD-18 seat left open by the retirement of Congressman Ray LaHood (R). "This is an exploratory thing ... What drives me is the opportunity to do something I feel is important," said Versace. State Representative Aaron Schock is the early frontrunner for the GOP nomination.
FLORIDA: Some key Florida Democrats dared the DNC to sanction the state for advancing the Presidential primary to January 29. US Senator Bill Nelson and US Representatives Alcee Hastings, Kendrick Meek,

Debbie Wasserman Schultz, and Kathy Castor issued an open letter to the DNC on Thursday, demanding that the DNC drop any threat of sanctions. In case the message was missed, the group threatened possible US Justice Department complaints or court challenges if the DNC moves forward with sanctions. "If the DNC strips Florida of all or some of its delegates to the national convention, we would ask the appropriate legal officials to determine whether this could violate any state or federal laws governing and protecting individual voting rights," stated the letter. They raise an interesting question of whether the DNC and RNC can legally conspire to preserve the protected first-in-the-nation status of the Iowa and New Hampshire contests without violating the Voting Rights Act and other constitutional protection against racial discrimination in voting. US Census data shows Iowa's population is 92% non-Hispanic White. New Hampshire's population is 94% non-Hispanic White. Neither even remotely represents any racial or ethnic diversity. Florida's population, by contrast, is 15.7% Black, 2% Asian, and 19.5% Hispanic. While parties are entitled to largely control the nomination process' rules, they cannot do so in any manner that would violate federal voting and civil rights laws by depriving minority voters of having their votes count because they sought the same early voting rights as the white voting population of Iowa and New Hampshire. As Governor Jennifer Granholm, US Senator Carl Levin and other prominent Michigan Dem leaders likewise support their state's move to break the official schedule with a January 15 primary, look for them to soon make threaten similar actions if Michigan is threatened with DNC sanctions. The RNC is also threatening sanctions against both states.
Posted by Ron Gunzburger - 08.24.07 | Permalink |
FREE SPEECH ZONE.
Your daily open thread.
Posted by Ron Gunzburger - 08.24.07 | Permalink |
MICHIGAN BEGINS MOVE FORWARD TO JAN 15; NEW S.C. POLL.
MICHIGAN: As had been threatened in recent days by the leaders of the Michigan Republican Party and Michigan Democratic Party, the Michigan Senate on Wednesday voted to move the state's Presidential delegate selection contests -- either by caucus or primary -- to January 15, 2008. The move comes in the face of severe threatened sanctions by both the DNC and RNC. The Politico reported State GOP Chair Saul Anuzis' response to the threats: "We don't care." Across the aisle, US Senator Carl Levin (D-MI) is also a vocal proponent of the switch to an early primary date. The DNC Rules Committee will meet Saturday to discuss punishments against the two states which plan to violate the officially sanctioned schedule. However, even if the DNC (and, later, the RNC) vote to sanction Florida and Michigan, the states may seek to override the sanctions by challenging the sanctions with a floor vote at the national conventions. State party leaders in Florida have already said they plan to challenge any threatened sanctions with a convention floor fight.
SOUTH CAROLINA: A new Rasmussen Reports poll of likely South Carolina primary voters place Hillary Clinton (D) and Fred Thompson (R) in the lead. The Dem numbers: Hillary Clinton - 38%, Barack Obama - 30%, John Edwards - 13%, Joe Biden - 3%, Bill Richardson - 2%. The GOP numbers: Fred Thompson - 23%, Rudy Giuliani - 21%, John McCain - 14%, Mitt Romney - 10%, Mike Huckabee - 6%, Others - 3%.
Posted by Ron Gunzburger - 08.23.07 | Permalink |
FREE SPEECH ZONE.
Remember when President Bush and White House officials indignantly said in 2004 (and 2005 and 2006 and 2007) that the Iraq War was nothing like the Vietnam War and any comparisons were ridiculous? Apparently the White House has forgotten all those remarks because the President on Wednesday equated the two wars. Speaking to the Veterans of Foreign Wars national convention, Bush said: "Three decades later, there is a legitimate debate about how we got into the Vietnam War and how we left. Whatever your position in that debate, one unmistakable legacy of Vietnam is that the price of America's withdrawal was paid by millions of innocent citizens, whose agonies would add to our vocabulary new terms like 'boat people,' 're-education camps' and 'killing fields.'"
First - An important correction: The infamous killing fields with the millions of deaths occurred at the hands of Pol Pot's murderous Khmer Rouge regime in Cambodia -- not in neighboring Vietnam. In fact, the Stalinist Khmer Rouge regime largely rose to power only after the US inadvertently destabilized the Cambodian monarchy with a CIA-organized military coup that installed an unpopular right-wing dictatorship, followed by a series of unauthorized bombings and illegal incursions into Cambodia in a failed attempt to find and destroy secret Viet Cong camps. In fact, the Khmer Rouge were finally ousted from power in 1979 when the communist Vietnamese forces invaded -- with the encouragement of China -- and ousted Pol Pot's blood-stained government. If our leaders want to discuss the lessons of history, it would help if they actually discussed the correct country.
That said, I would agree that the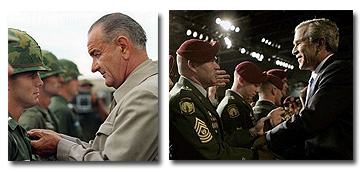 Vietnam and Iraq quagmires wars have much in common. If you want to find some real similarities, read these Vietnam War quotes by President Lyndon B. Johnson:
"If we allow Vietnam to fall, tomorrow we'll be fighting in Hawaii, and next week in San Francisco."

The US and South Vietnamese forces are succeeding in "reducing the terrorism and armed attacks … to levels where they can be successfully controlled by the regular South Vietnamese security forces."

"Our purpose in Vietnam is to prevent the success of aggression. It is not conquest, it is not empire, it is not foreign bases, it is not domination. It is, simply put, just to prevent the forceful conquest of South Vietnam by North Vietnam"

"This is not a jungle war, but a struggle for freedom on every front of human activity".

The Viet Cong is "a stubborn adversary who is committed to the use of force and terror to settle political questions."
With a minimal effort, one could match each of these 1964-68 quotes to recent Iraq War statements by President Bush. Those who cannot remember the past are condemned to repeat it.
Posted by Ron Gunzburger - 08.23.07 | Permalink |
FREE SPEECH ZONE.
I'm taking an easy evening (i.e., no writing) ... so here's your daily open thread.
Posted by Ron Gunzburger - 08.22.07 | Permalink |
NUNN LOOKS AT INDY RUN; DEM TO WIN CALIFORNIA CD-37 SPECIAL; FILNER CHARGED.
NUNN: Retired US Senator Sam Nunn (D-GA) told the Atlanta Journal-Constitution he is considering making an independent run for President. "It's a possibility, not a probability. My own thinking is, it may be a time for the country to say, 'Timeout. The two-party system has served us well, historically, but it's not serving us now,'" he explained. During his career, Nunn was viewed a very hawkish member of the conservative wing of the Democrats -- the type of Southern White Dems who migrated to the GOP in the 1980s and 1990s.
CALIFORNIA #1: State Assemblywoman Laura Richardson (D) is a safe bet to win the open CD-37 seat in a landslide on Tuesday. The seat -- overwhelmingly Democratic -- was left vacant by the April 22 death of Congresswoman Juanita Millender-McDonald (D).
CALIFORNIA #2: US House Veterans Affairs Committee Chair Bob Filner (D) was charged with misdemeanor assauly and battery charges related to an incident Sunday night at Dulles Airport in Virginia. Filner was reportedly enraged because of a delay in receiving his baggage. Filner allegedly pushed a United Airlines baggage claim worker. The Congressman was "on his way to Iraq, visiting our troops, and will have a full statement when he returns ... the charges are ridiculous," said Filner's spokeswoman.
Posted by Ron Gunzburger - 08.21.07 | Permalink |
HE'S NEVER HEARD OF YOU, EITHER: LEE MERCER JR.
It's time to revive our popular, semi-regular feature profiling some of the more ... ummm ... colorful candidates for President you've never heard of. In the past I've introduced you to gadfly White House hopefuls like Randy "The Coolest, Greatest, Most Fantastic Returning Christ" Crow (D-NC) and Saint Michael Jesus the Archangel (R-MI). Well, I've found lots more who give those to a run for their money. First up is...
LEE MERCER JR (D-TEXAS). Lee Mercer Jr. is a two-time veteran with an "unusual" story to tell. He first served in Navy during the Vietnam War, leaving the service in 1972. After working as a dental assistant, he earned his BS degree in business at Texas Southern University and then became a mortgage broker. Then he rejoined the military, entering the Texas National Guard in 1989 and served in the first Gulf War (which he calls "the Saudi Arabia War"). Then
Mercer's story becomes truly bizarre. He states: "On August 22, 1992, The State of Texas installed an intelligence hotwire in me at the United States Army Military Intelligence Academy ... The continuation of my biography background experience, graduate education and political experience is being held because of a Lack of authorities debriefing funds and interest for their liability to me. I am in a stalled police debriefing with the Houston Police Department waiting for me to sue to complete my debriefing for my background biography with them in the United States Army Military Intelligence Academy ... I have a doctor degree Phd. as a doctor of laws, medicine, theology, management, engineering and other subjects that are guaranteed by the United States Army in ROTC to be presented to me in a court of Law only. I will receive my doctor degrees in a court of law only ... The United States Federal Congress has encouraged me to want to become President of the United States so that I can do what the President of the United States of America is supposed to do and complete the federal and military government biography and autobiography." Mercer's reasons for running are just as colorful. They include: "To prove The Klu Klux Klan and the Communist Party are gangsters and organize crime in Business and Commerce through Eye Spy Community-Military Intelligence ... To prove that every person in the United States and world is hooked up on an Eye Spy Community-Military Intelligence (All Three) Electronic surveillance hot-wires approved by the United States Congress for the U.S. Government Electronic Surveillance of every citizen in America ... To Prove I will be the 2nd Negro President of the United States of America in 2008 ... To Prove President George Walker Bush, Jr. and other Public Officials have been Impeached by the United States Congress in 2004 for torture of me and my family, capital murder in my family, Espionage and other crimes against the state and humanity ... To Prove the government owes me Zillions of Dollars in money and is refraining to pay me and my business ... To Prove Jeb Bush is all in my house with disease ... To Prove My only Guardian Former Governor of Texas Ann Richards has just joined my MERCER FOR PRESIDENT CAMPAIGN ... [To Prove] I have solved every crime in America and the world for the last 15 years dating back to before Christ." Wait a second: Jeb Bush gave him a sexually transmitted disease (if I'm understanding that correctly) and Ann Richards has endorsed him from the grave? WTF! There's lots more, but you'll have to visit his campaign website to read the rest of it.
Posted by Ron Gunzburger - 08.21.07 | Permalink |
FREE SPEECH ZONE.
Many of you may be pierced, tattooed and latte sipping liberals ... but you definitely don't drive Volvos. I've now got a pretty good idea what the readership of Politics1 looks like, thanks to your help. Based upon 538 responses -- more than a typical survey size in a political poll -- the results are interesting. You're more politically bipartisan than most blog audiences: 51% Democrat, 26% Republican, 13% Independent, 4% Libertarian, 3% Green. You're 98% male (as are most blog audiences) and 86% non-Latino White. We reach the prime age demographic wanted by TV networks: 60% are in the 21-35 age range. As for education, 64% of you hold college or graduate school degrees. While 64% of you attend religious services, your religious affiliations cover the gamut of more than 20 different beliefs. Only 1.5% of you drive a Volvo. And -- here's the really colorful part -- 71% of you have tattoos, 52% have at least one piercing, and at least 6% say they drink alcohol nightly. Click here for the complete results.
Posted by Ron Gunzburger - 08.21.07 | Permalink |
FRED MOVES FORWARD; DEMS DEBATE; COCHRAN RUNS AGAIN; GUTIERREZ AVOIDS FIGHT.
THOMPSON: Former US Senator Fred Thompson (R) told CNN he will "shortly" enter the Presidential race. To strengthen his bona fides as a social conservative, Thompson tried to clarify his abortion stance by calling Roe v. Wade "bad law and bad medicine."

On the issue of same-sex marriages, Thompson stopped short of calling for a constitutional amendment to ban gay marriage. Instead, he advocated a states' rights stance by calling for a constitutional amendment to end the concept of full faith and credit in the marriage realm. "I don't think that one state ought to be able to pass a law requiring gay marriage or allowing gay marriage and have another state be required to follow along," said Thompson of the amendment he'd support. Although his September entry is relatively late, Thompson said he plans to compete in the Iowa caucuses in January.
P2008: The Democratic White House hopefuls debated yet again on Sunday morning, this time an Iowa forum sponsored by ABC News. It was a relatively low-key affair that from beginning to end treated the race as largely a Clinton-versus-Obama contest -- short-changing the others in the process. Obama, even before this debate started, announced Saturday he would not participate in any more debates until December. Not surprisingly, Obama was the target of mild attacks from the others on the experience issue -- likely fearing they would not have another direct encounter with him for several months. Clinton, as always, was strong in the debate.
MISSISSIPPI: US Senator Thad Cochran (R) has decided to seek re-election next year, according to his spokeswoman. "He's planning to run, right now he's making preparations and doing fund-raisings," said Cochran press secretary Margaret McPhillips to the Meridian Star. She said Cochran will make his formal campaign announcement in November. With Cochran seeking re-election, the Dems are unlikely to field any significant challenger next year against this safe incumbent..
ILLINOIS: It only took one day, but all four Dems who had been running to succeed Congressman Luis Gutierrez (D) quit the race after the incumbent reversed course and announce his intent to seek re-election next year.
Posted by Ron Gunzburger - 08.20.07 | Permalink |
FREE SPEECH ZONE.
While the US continues to be squeamish about same-sex

marriage, let me yet again point to the example of our northern neighbors. This weekend, Member of Parliament Scott Brison (Liberal-Nova Scotia) married his same-sex partner in a formal marriage ceremony in the church of his small hometown. Brison -- who was a candidate last year for Leader of the centrist Liberal Party -- is the first sitting MP to take part in a same-sex marriage. While in the US the leading Dem Presidential candidates would likely have shied away from attending a same-sex marriage ceremony (note: they'd probably attend if it was "just a civil union" ceremony), the Liberal Party's candidate for Prime Minister in the next election proudly attended the nuptials. "It's something we need to celebrate and we must be proud that Canada is showing the way. I came first to celebrate love and happiness between two friends of mine, but if by my presence it helps a bit to reinforce a newly recognized right and to encourage other countries to do the same, I am pleased," said Liberal Party Leader Stephane Dion. Also attending were former Prime Ministers Paul Martin (Liberal) and Joe Clark (Progressive Conservative), plus other political dignitaries. Brison became Canada's first openly gay federal cabinet minister in 2004. "I'm looking forward to the day when the idea of a gay or lesbian politician getting married is not a story at all," said Brison when he announced his engagement two years ago.
Posted by Ron Gunzburger - 08.20.07 | Permalink |
FREE SPEECH ZONE.
Your daily open thread.
Posted by Ron Gunzburger - 08.18.07 | Permalink |
PICKERING TO RETIRE; TSONGAS LEADS IN MASS CD-5 SPECIAL; GUTIERREZ UNRETIRES.
MISSISSIPPI: In an unexpected move, Congressman Chip Pickering (R-MS) will not be a candidate for re-election in 2008. Pickering is planning to become a DC lobbyist, according to MSNBC. Pickering had been interested in running for US Senator Thad Cochran's (R) seat next year if Cochran chose to retire. Pickering's Thursday announcement seems to indicate Cochran has recently informed Pickering he plans to seek re-election next year. "I will not seek re-election in 2008 ... I have a window of opportunity to maximize my time, influence and participation in the lives of my five sons now ages 8 to 17. Time is the one element I can never recover or regain. Being a father is one of life's greatest callings," said Pickering to the Biloxi Sun-Herald.
MASSACHUSETTS: A new WBZ-TV/SurveyUSA poll of likely Democratic primary voters in the shows community college dean Niki Tsongas holding a wide lead in the September 5 special election primary. The numbers: Tsongas - 38%, Lowell City Councilor Eileen Donoghue - 16%, State Rep. Barry Finegold - 14%, State Rep. Jamie Eldridge - 13%, State Rep. Jim Miceli - 4%. The special election will replace former CD-5 Congressman Martin Meehan (D), who resigned to become a university president.
ILLINOIS: Congressman Luis Gutierrez (D) announced his un-retirement on Thursday. Gutierrez had previously said he would retire next year, setting off a crowded race to succeed him. He said he changed his mind after receiving a letter from ten key elected officials in the district urging him to run again. "President Barack Obama and I are going to work to get it done. We really feel we have a responsibility to getting this work done," said Gutierrez at a speech before the Illinois Hispanic Chamber of Commerce. Chicago Alderman Ricardo Munoz and Cook County Commissioner Roberto Maldonado both immediately withdrew from the race and endorsed Gutierrez. Chicago Alderman Manny Flores (D), who has raised over $500,000 for his campaign, said he had not decided whether he would continue his congressional campaign or exit in favor or Gutierrez. Chicago Alderman George Cardenas (D) indicated he was leaning towards continuing his primary campaign for the seat.
Posted by Ron Gunzburger - 08.17.07 | Permalink |
FREE SPEECH ZONE.
Your daily open thread.
Posted by Ron Gunzburger - 08.16.07 | Permalink |
PRYCE TO RETIRE; NEW NH & SC POLLS; THE FAUX-PETRAEUS REPORT.
OHIO: Congresswoman

Deborah Pryce (R) -- who narrowly survived a tough re-election race last year -- will announce her retirement on Thursday. Franklin County Commissioner Mary Jo Kilroy (D), Pryce's 2006 challenger, was already an announced candidate in the expected rematch. The Columbus Dispatch reported Pryce, 56, wants to spend more time with her daughter -- but was also demoralized by the brutal contest she faced during the 2006 campaign. The newspaper also said that Steve Stivers (R) -- an Iraq War veteran and former financial industry lobbyist appointed to the State Senate in 2003 by former Governor Bob Taft -- is a top GOP prospect for the open seat. Another name being floated is former Attorney General and former State Auditor Jim Petro (R), who lost the GOP primary for Governor in 2006. Some news reports already indicate Petro and Stivers told GOP leaders on Wednesday they were both unwilling to run against Kilroy. With Pryce out of the race, this swing seat moves from the Toss-Up category to Leans Dem.
NEW HAMPSHIRE: The latest Rasmussen Reports poll shows Hillary Clinton (D) and Mitt Romney (R) holding comfortable leads in New Hampshire. The Dem numbers: Hillary Clinton - 37%, Barack Obama - 22%, John Edwards - 14%, Bill Richardson - 9%. The GOP numbers: Mitt Romney - 32%, Rudy Giuliani - 20%, and John McCain and Fred Thompson tied with 11% each.
SOUTH CAROLINA: A new Public Policy Polling survey shows competitive contests in both primaries in the Palmetto State. The Dem numbers: Hillary Clinton - 36%, Barack Obama - 33%, John Edwards - 12%. The GOP numbers: Fred Thompson - 22%, Rudy Giuliani - 18%, Mitt Romney - 17%, John McCain - 11%, Mike Huckabee - 7%.
THE SEPTEMBER REPORT: The Los Angeles Times reports the Bush Administration's much heralded Iraq status report by General David Petraeus is not actually being authored by Petraeus. In reality, the newspaper said the White House political staff will be writing the September report on progress in Iraq.
Posted by Ron Gunzburger - 08.16.07 | Permalink |
FREE SPEECH ZONE.
Your daily open thread.
Posted by Ron Gunzburger - 08.16.07 | Permalink |
BLOG ARCHIVE:

September 1-15, 2007
August 16-31, 2007
August 1-15, 2007
July 1-31, 2007
June 1-30, 2007
May 16-31, 2007
May 1-15, 2007
April 16-30, 2007
April 1-15, 2007
March 16-31, 2007
March 1-15, 2007
February 16-28, 2007
February 1-15, 2007
January 16-31, 2007
January 1-15, 2007
December 16-31, 2006
December 1-15, 2006
November 16-30, 2006
November 1-15, 2006
October 16-31, 2006
October 1-15, 2006
September 16-30, 2006
September 1-15, 2006
August 16-31, 2006
August 1-15, 2006
July 16-31, 2006
July 1-15, 2006
June 16-30, 2006
June 1-15, 2006
May 15-31, 2006
May 1-15, 2006
April 16-30, 2006
April 1-15, 2006
March 16-31, 2006
March 1-15, 2006
February 17-28, 2006
February 1-16, 2006
January 16-31, 2006
January 1-15, 2006
December 2005
November 2005
October 2005
September 2005
August 2005
July 2005
June 2005
May 2005
April 2005
March 2005
Jan-Feb 2005
December 2004
November 16-30, 2004
November 1-15, 2004
October 16-31, 2004
October 1-15, 2004
September 16-30, 2004
September 1-15, 2004
August 16-31, 2004
August 1-15, 2004
July 16-31, 2004
July 1-15, 2004
June 16-30, 2004
June 1-15, 2004
May 16-31, 2004
May 1-15, 2004
April 16-30, 2004
April 1-15, 2004
March 15-31, 2004
March 1-14, 2004
February 15-29, 2004
February 1-14, 2004
January 17-31, 2004
January 1-16, 2004
December 16-31, 2003
December 1-15, 2003
November 17-30, 2003
---
POLITICAL BLOG ROLL:
KINDA NEUTRAL:
ABC News: The Note
CNN: Morning Grind
CQ Politics
Political Wire
MSNBC: First Read
CJR Daily
Rothenberg Pol. Report
LexisNexis: US Politics
Stateline.org
Governing.com
Political State Report
Hotline On Call
Hotline's Blogometer
Beltway Blog
WatchBlog
Lawmakers Blog
Centerfield Aggregator
Command Post
FactCheck.org
WSJ: Best of the Web
WSJ: Washington Wire
D.C.'s Political Report
2008 Political Perspective
Media Bistro
Larry Sabato: Crystal Ball
PressThink
Politics-Line
TheCapitol.Net: Blog
MyElectionAnalysis.com
DEM/LEFT:
DNC Blog
DCCC Blog
DailyKos
Lefty Blogs
Howard Dean/DFA
OurSenate.com
Frameshop
The Washington Note
Emerging Dem Majority
Think Progress
AmericaBlog.com
Amer Prospect: Tapped
Arianna Huffington
Al Franken
BAG News Notes
Eric Alterman
Senate Majority Project
FishBowl DC
Fired Up! America
TalkLeft
TNR: The Plank
The Raw Story
Blogging of the President
Joe Trippi
Swing State Project
Media Matters
Josh Marshall
Wonkette
MyDD
Working for Change
Crooks & Liars
Mathew Gross
Penndit
Progressive Dems: Blog
Atrios/Eschaton
Off the Kuff
Tom Tomorrow
Mother Jones
Jerry Springer
TruthOut
Dem Bloggers
Liberal Oasis
Penndit
Firedoglake
Good As You
AtariDemocrat
Henry Lewis
BuzzFlash
Brad Blog
Dean Nation
Louise Slaughter
TruthDig
Dem Underground
Jared Hall
Bad Attitudes
The American Street
District Blogs
GOP/RIGHT:
RNC (GOP.com)
Club for Growth
National Review: Corner
C-Log
Real Clear Politics
Andrew Sullivan
John Ellis
Mickey Kaus
Virginia Postrel
RedState.org
WSJ Opinion Journal
Free Republic
Instapundit
Drudge Report
Pajamas Media
Hugh Hewitt
Daniel Drezner
Daily Pundit
Bully Pulpit
Outside the Beltway
Little Green Footballs
World Mag Blog
Right Wing News
Volokh Conspiracy
Brothers Judd
David Frum
Mister Politics
Enter Stage Right
Right Wing News
PoliPundit
Power Line
Hedgehog Report
Right Voices
Booker Rising
Don Singleton
Save the GOP
OTHER:
ThirdPartyWatch.com
Centrist Coalition
Kn@ppster
Green Commons
News for Greens
---
For those who would like to track Politics1 with a newsreader, we publish a RSS feed:
---

---