BLOG ARCHIVE: AUGUST 1-15, 2007.
SC DEMS WON'T MOVE; UNRETIRING IN IL; BLOOMBERG DEFENDS IMMIGRANTS; FOOD ON STICKS.
SOUTH CAROLINA: While South Carolina Republicans have moved up their Presidential primary to January 19, the SC Dems don't plan to follow suit. SC Democratic Chair Carol Fowler told the AP she has "no plans" to change the January 29 primary date the Dems now share with Florida's party-crashing Presidential primary. Fowler said she believed the SC Dems would lose all their convention delegates if they advanced to any date ahead of the DNC's officially sanctioned 1/29 date.
ILLINOIS: Congressman Luis Gutierrez (D) is apparently "rethinking his decision" to retire next year, according to the Chicago Sun-Times. "I'm not going to lie to you ... [I'm] thinking about it," said Gutierrez. Ten Chicago elected officials last week signed a letter to Gutierrez urging him to run again for the CD-4 seat.

Four elected officials are already announced candidates in the Dem primary, including "Draft Gutierrez" letter co-signer Chicago Alderman Ricardo Munoz.
BLOOMBERG: Billionaire NYC Mayor Mike Bloomberg (Independent) jumped into the immigration fray this week as he continues to slowly edge towards an Indy White House run. A few days ago, Mitt Romney attacked Rudy Giuliani for purportedly making NYC a "sanctuary city" for illegal immigrants. This week, Bloomberg shot back with a strong defense of liberal immigration laws. "I can't think of any laboratory that shows better why you need a stream of immigrants than New York City ... [NYC's] low crime rate and its thriving economy is evidence the city is doing something right ... If that isn't example enough as to why you need immigrants coming in, I don't know what to tell anybody ... If they don't believe that immigrants add a heck of a lot more than they cost they just aren't looking at the numbers," said Bloomberg.
FAVORITE REPORT OF THE DAY: The Sioux City Journal wrote an account of US Senator Chris Dodd's (D) first visit this week to the Iowa State Fair. Our favorite part of the article was that Dodd "marveled at the number of food offerings on a stick."
Posted by Ron Gunzburger - 08.15.07 | Permalink |
FREE

SPEECH ZONE.
Just thinking out loud here ... but I think actor and former US Senator Fred Thompson's opportunity to grab the GOP Presidential nomination has come and gone. Thompson's exceedingly drawn-out "I'm still thinking about it" act and lackadaisical stump style has gotten very old very fast. Worse for Thompson, Mike Huckabee emerged this past weekend as the leading social conservative in the race. And, like Thompson, Huckabee is also a fellow Southerner. Think of the coverage of this weekend's Ames Straw Poll: there was no public or media cry of "If only Fred had competed...." or "... the real winner here was Fred Thompson." Call Thompson the Wes Clark of 2008, as I think his window has closed on a successful run. Thompson may still jump in, but he missed his great opportunity to vault into the first tier before a viable non-Rudy McRomney emerged.
Posted by Ron Gunzburger - 08.15.07 | Permalink |
ROVE DEPARTS; HASTERT TO ANNOUNCE; ROWLAND RETURNS; BUSH VOWS NO RECESS PICKS.
WHITE HOUSE: Presidential political advisor

Karl Rove announced Monday he will leave his Senior Advisor position in the Bush Administration at the end of the month to return home to Texas. Count me among those who thinks this story -- getting lots of media play -- is fairly insignificant. First, President Bush and Rove remain very close, so he'll certainly still give Bush regular political advice by phone instead of face-to-face. Second, the President will continue to insist that everything Rove did in the White House through the end of this month remains protected from Congress and investigators by a sweeping claim of Presidential immunity. Third, he'll certainly write a tell-no-secrets book lauding the Bush years. Beyond that, his departure doesn't seem to herald much beyond the loss of his White House title and his physical situs. Rove -- who was always much more loyal to President Bush than he was to the Republican Party as an entity -- was best known as the architect of Bush's two successful Presidential campaigns.
ILLINOIS: Former US House Speaker Dennis Hastert (R) has scheduled a "major announcement" for this Friday on the courthouse steps in his hometown. Hastert's office says he will announce his "re-election plans" for 2008. The Politico reports it is expected to be a retirement announcement. The seat is solidly Republican, so expect a crowded and competitive GOP primary. Three Dems are already announced candidates for the CD-14 seat.
CONNECTICUT:

Ever wonder what happened to former Connecticut Governor and convicted felon John Rowland (R) after his 2004 resignation and federal prison term? Well, he's now touting himself as a for-hire "motivational inspirational speaker." Click here to see. "John Rowland's insight into the challenges of true leadership can inspire and motivate those who attend your leadership forums, corporate meetings, and educational roundtables," says his website. The only significant change I see between the Governor Rowland of 2002 and the former Governor Rowland of 2007 is that now it is legal for him to be for-hire by corporations, contractors and others.
CONGRESS: Roll Call reports that US Senate Majority Leader Harry Reid (D) and President Bush reached a quiet deal to avert a heated fight over the President's history of making recess appointments of controversial people to key federal positions. A recess appointee can serve until the next Congress convenes -- often a year or more later -- before requiring a confirmation vote to continue. Reid had previously announced he would keep the Senate operating by convening pro forma sessions every few days so as to legally block Bush from making the recess appointments. To avoid the public fight, Reid agreed to allow the Senate summer recess to go forward without the frequent interruptions and President Bush agreed he would make no recess appointments during the break. Former United National Ambassador John Bolton was the most controversial of these recent recess picks.
Posted by Ron Gunzburger - 08.14.07 | Permalink |
FREE SPEECH ZONE.
Your daily open thread.
Posted by Ron Gunzburger - 08.14.07 | Permalink |
TOMMY QUITS; CRAIG PONDERS; NEW KY POLL; GOOD NEWS FOR LANDRIEU; GILMORE TESTS.
IOWA (R): After a dismal sixth-place showing in Saturday's Ames GOP Straw Poll in Iowa, former Wisconsin Governor Tommy Thompson withdrew from the Presidential race on Sunday evening. "I have no regrets about running," said Thompson, who said he plans to return to the private sector. Retiring Congressman Duncan Hunter -- who appears to largely be auditioning for a Cabinet post in a future

Republican White House -- plans to keep going despite finishing behind two candidates who didn't even participate in the event. "This is just a start for us ... We look at this as a good start," Hunter told CNN of his 9th place (1.2%) finish. One sorta-loser from the event is Senator Sam Brownback, who The Atlantic reported spent "about $325,000" on the straw poll -- but still placed third behind vastly outspent social conservative rival Mike Huckabee. "We had two fish and five loaves and it fed 5,000," joked Huckabee of his respectable second place finish. Huckabee's campaign lacked enough money to rent any buses or air even a single TV spot in Iowa before the vote. Brownback, meanwhile, said his showing was sufficient enough to continue his campaign to the Iowa caucuses in January 2008. Mitt Romney spent between $2-3 million in Iowa this year and outstaffed all the other campaigns -- even renting an estimated 500 buses to bring his Iowa supporters to the event -- and easily won first place. Romney used his much anticipated first place finish to take a shot at his three main rivals who skipped the event. "If you can't compete in the heartland, if you can't compete in Iowa in August, how are you going to compete in January when the caucuses are held, and how are you going to compete in November of '08," Romney told Fox News.
IDAHO: US Senator Larry Craig (R) told the Idaho Statesman he will decide by mid-September whether he will retire next year or seek another term. Craig has sounded like a possible retiree with his vague remarks in recent months. Speaking with the newspaper, Craig said he's tempted by the opportunity to earn at least a $500,000 salary as a DC lobbyist and spend more time with his family. "I haven't the foggiest idea" what Craig will do, said State GOP Chair Kirk Sullivan. One group of Idaho Republicans are concerned enough that they've launched a "Draft Craig" group encouraging people to write the Senator and urge him to run for re-elction. Those who know Craig say they believe the postcards could help tip the balance in favor of running again. Former Congressman Larry LaRocco (D) is already an announced candidate for the seat. In related news, Congressman Mike Simpson (R) told the newspaper he would not run for the US Senate seat if Craig retired. Like Craig, he holds a seat on the powerful Appropriations Committee, and Simpson explained he would not want to give up his clout there for Idaho to seek the Senate seat. If Craig retires, Lieutenant Governor Jim Risch appears to be the favorite to win the GOP nomination for the seat.
KENTUCKY: Yet another independent polls shows former Lieutenant Governor Steve Beshear (D) leading Governor Ernie Fletcher (R) by a wide margin. A new Lane Report/Preston-Osborne poll shows Beshear leading Fletcher by a 49% to 31% vote. The Lane Report is a Kentucky business magazine.

LOUISIANA: Congressman Richard Baker (R) confirmed he will not run against US Senator Mary Landrieu (D) next year. "The Republicans ... see the Landrieu race as a competitive one and, at the moment, I'm not so sure there's a candidate out there. But I can tell you it is nothing I intend to take on," Baker told PoliticsLA.com. Some believe State Treasurer John Kennedy (D) left enough wiggle room in his re-election announcement last week to enable him to switch parties and oppose Landrieu next year if he decides to run. But Kennedy would not be able to begin to fundraise for the contest or act like a US Senate candidate -- if he decides to challenge Landrieu -- until after he wins his likely re-election race this fall.
VIRGINIA: Former Governor Jim Gilmore (R) -- who last month exited the GOP Presidential race -- has already started criss-crossing Virginia and contacting key party leaders to line up support for a US Senate primary run next year against Congressman Tom Davis (R). Most state leaders are expecting US Senator John Warner (R) to announce his retirement next month. Gilmore -- a former Republican National Chairman -- is significantly more conservative than Davis. The more centrist Davis is viewed as Warner's preferred replacement. Former Governor Mark Warner -- who exited the Presidential race last year -- appears to be the likely Democratic nominee for the seat if Senator Warner retires.
Posted by Ron Gunzburger - 08.13.07 | Permalink |
FREE SPEECH ZONE.
Your daily open thread.
Posted by Ron Gunzburger - 08.13.07 | Permalink |
ROMNEY WINS AMES STRAW POLL, HUCKABEE SECOND, FULL RESULTS.
IOWA: As expected, former Massachusetts

Governor Mitt Romney won Saturday's influential Ames Straw Poll of GOP Presidential candidates. The number of participants, however, was much lighter than in past years. The results: Romney - 31.6%, Mike Huckabee - 18.1%, Sam Brownback - 15.3%, Tom Tancredo - 13.7%, Ron Paul - 9.1%, Tommy Thompson - 7.3%, Fred Thompson - 1.4%, Rudy Giuliani - 1.3%, Duncan Hunter - 1.2%, John McCain - 0.7%, John Cox - 0.3%. Huckabee and Brownback were each hoping to record finishes significantly higher than each other, as both men are essentially campaigning for the same block of social conservative voters. These numbers ensure both men will continue forward. Tancredo and Paul both scored decent tallies, and both were expected to continue their campaigns regardless of outcome. For Tommy Thompson, this vote was the end of the line for his campaign. He vowed to quit the race if he placed worse than second -- and a sixth place finish certainly qualifies as his reason for exiting. Fred Thompson, McCain and Giuliani did not participate so their totals will have no impact on their campaigns. However, Congressman Duncan Hunter may be another candidate knocked from the race by this straw poll. Finishing behind two non-participants should be sufficient reason for Hunter to "reevaluate" his campaign. Wealthy attorney John Cox spent extensively in the state but he remains a non-factor in the big picture.
Posted by Ron Gunzburger - 08.12.07 | Permalink |
NEW IOWA POLL ON EVE OF STRAW POLL; TOMMY RAISES BAR; TOP LANDRIEU CHALLENGER WON'T RUN.
IOWA (R): A new University of Iowa poll of likely Iowa GOP caucus participants shows Mitt Romney continues to hold a commanding lead in the state. By contrast, the Democratic race remains a virtual three-way tie. The GOP numbers: Romney - 27%, Rudy Giuliani - 11%, Fred Thompson - 7%, Sam Brownback and Tom Tancredo tied with 4% each, Mike Huckabee and John McCain tied with 3% each,Others - 10%. Talk about a total collapse, but did anyone ever think we'd see the day McCain was polling at a negligible 3%. The Dem numbers: Hillary Clinton - 27%, Barack Obama and John Edwards tied with 22% each, Bill Richardson - 9%, Others - 4%. When the respondents are limited to "most likely" caucus

participants, Edwards moves into a narrow first over Clinton, with Obama slipping a few points back to third place.
TOMMY THOMPSON: Former Wisconsin Governor Tommy Thompson (R) has raised the bar even higher on his requirements to continue his campaign beyond this Saturday's Ames GOP Straw Poll. In an email to Iowa supporters on Thursday, Thompson's campaign manager wrote that "Tommy Thompson has made it clear that if he doesn't finish first or second this week in Ames, Iowa at the straw poll, he will not go on in this race." First or second place ... or out? Well, if that's the case, then Thompson is a "dead man walking." That's why we posted Tommy's picture today, as this may be your last time seeing him featured here.
LOUISIANA: State Treasurer John Kennedy (D) announced Thursday he will seek re-election this year and not run for US Senate in 2008. "I have decided that I can serve the State of Louisiana best by offering myself for another term as State Treasurer this fall ... In the end, it was a personal and family decision," explained Kennedy. White House political advisor Karl Rove had openly worked to recruit Kennedy to switch parties and challenge US Senator Mary Landrieu (D). With Kennedy out, it looks unlikely the GOP will field any first-tier candidate against Landrieu. Some have mentioned Congressman Richard Baker (R) as a possible challenger, but he appears unlikely to run.
Posted by Ron Gunzburger - 08.10.07 | Permalink |
FREE SPEECH ZONE.
Seeing the first

debate Thursday night sponsored by LOGO and HRC and devoted entirely to LGBT issues was a great thing. On the LGBT issues -- particularly gay marriage -- I remain underwhelmed with the frontrunners. Kudos to Mike Gravel and Dennis Kucinich for being willing to openly say what most of the other likely believe but lack the courage to express. I'm simply no longer willing to compromise or bargain away my demand for equal rights. Nearly equal rights are simply NOT equal rights. Why is it Americans continue to be so squeamish on this issue while Canadians -- our neighbors to the north who share very similar cultural and political histories -- have been able to easily embrace true equality for all? And, for those of you who disagree with me, I'm very willing to listen to your arguments about the need to defend "the sanctity of marriage" ... right after you endorse a constitutional amendment to ban all divorces. While you're at it, see if you can get Rudy Giuliani, Fred Thompson, John McCain, and Newt Gingrich to help promote that cause.
Posted by Ron Gunzburger - 08.10.07 | Permalink |
NO EARLY AFL-CIO ENDORSEMENT; SC, NH, IA TO SHIFT DATES; FLETCHER FACES BLOW-OUT LOSS.
AFL-CIO: One day after the Democratic candidates

debated in Chicago before a large crowd of AFL-CIO members, the national labor federation announced it would not endorse any candidate for President at this time. "There is not a consensus candidate," explained AFL-CIO Political Director Karen Ackerman. Instead, the group will make an endorsement at some later, unspecified date. Each of the 55 national unions which comprise the AFL-CIO are now free to individually endorse Presidential candidates.
SOUTH CAROLINA (AND IA, NH and FL): The South Carolina Republican Party has decided to advance the state's primary to January 19. The move came in direct response to Florida's recent advancement of their primary date to January 29 -- which had previously been reserved exclusively for South Carolina. New Hampshire is certain to now select a date at least one week in advance of the South Carolina date. In a sign the SC move is being directly coordinated with NH officials, SC GOP Chair Katon Dawson will make the official announcement on Thursday in New Hampshire -- and he'll be joined by NH Secretary of State Bill Gardner. In the chain reaction, Iowa will ultimately select a caucus date ahead of NH's primary date -- a date which may possibly fall as early as a week before Christmas. Meanwhile, it is starting to appear the two major national parties are backing away from their vocal threats to punish Florida with a cut in delegates for breaking the officially sanctioned primary schedule by moving the primary of January 29. The DNC will later this month vote on a proposal to grant a one-state exemption for Florida to allow it to retain it's full

complement of convention delegates. On the GOP side, State Republican Chair Jim Greer said he plans to call the RNC's sanctions bluff to cut the delegate tally in half. "I intend to take our full slate of delegates to the convention, and I will let the Republican National Committee tell them they can't be seated," said Greer.
KENTUCKY: Former Lieutenant Governor Steve Beshear (D) continues to lead embattled Governor Ernie Fletcher (R) by a lopsided margin, according to the latest independent polling. A new WHAS-TV/SurveyUSA poll shows Beshear leading Fletcher by a 58% to 37% vote.
Posted by Ron Gunzburger - 08.09.07 | Permalink |
FREE SPEECH ZONE.
Your daily open thread.
Posted by Ron Gunzburger - 08.09.07 | Permalink |
NEWT TALKS AND TALKS AND TALKS; RICHARDSON'S HEALTH PLAN; MS PRIMARY RESULTS.
GINGRICH: Former House Speaker Newt Gingrich (R-GA) promises to make an official announcement on whether he will run for President by October at the latest. As we previously mentioned, the

countdown clock on bottom of his leadership PAC website shows Gingrich plans to make his announcement of -- well, whatever -- on September 27. More interestingly, Gingrich and former journalist Marvin Kalb -- speaking Tuesday at the National Press Club -- are asking all of the Presidential candidates to agree to participate in nine 90-minute Lincoln-Douglas style debates during the Sundays between Labor Day and Election Day 2008 if they win their party's nomination. Gingrich also said the GOP now has "four very serious Republican candidates who could be very formidable next year: Mayor Giuliani, Governor Romney, Senator Thompson, and Governor Huckabee." Gingrich went on to single out Huckabee for extra praise, saying he will emerge as the major dark horse candidate for the nomination because of his "authenticity and sincerity and candor." Gingrich also prognosticated on the Democratic race, saying Hillary Clinton is "a very formidable professional." Any Republican who believes Clinton will be weak in the general election "is just wrong," he said. As for himself, Gingrich says it is not too late to enter the race as "I think it is proven I'm candidate material" and most Iowa and New Hampshire voters won't commit to a candidate until after Christmas. Gingrich took a direct shot at billionaire NYC Mayor Mike Bloomberg's potential Indy run, saying that "third party candidates who purchase the election violate the entire spirit of the United States." Finally, in separate comments to the Atlanta Journal-Constitution, Gingrich predicted the Dems will ultimately win in 2008. "The odds are fairly significant that that the left will win next year. My personal bet is that it'll be a Clinton-Obama ticket. I think they have a very high likelihood of winning," he prognosticated, because President Bush on Iraq "cannot ... master the art that Reagan had and that Lincoln had, of talking to the American people in a form in which they are comfortable."
RICHARDSON: Governor Bill

Richardson (D) unveiled his universal health care plan on Tuesday that he says will make health care "affordable" to all, preserve quality of care, and preserve patient choice. Richardson's plan creates five different options to cover people based on age and economic status. Families and businesses will share the costs of the plan. You can read more about it here.
MISSISSIPPI: Primary voters cast ballots on Tuesday, setting up a general election gubernatorial contest between Governor Haley Barbour (R) and wealthy attorney John Arthur Eaves Jr. (D). Barbour easily won his GOP primary by a lopsided 92%-8% vote over political unknown Fred Thomas. Eaves easily defeated three rivals, capturing 72% of the primary vote. Barbour said the general election will be a choice between a choice "between conservative Republicans versus liberal Democrats." By contract, Eaves said he plans to keep talking about "the money changers -- big tobacco, insurance and oil companies" who he claims own Barbour. The incumbent is a fairly safe bet to win reelection in November.
Posted by Ron Gunzburger - 08.08.07 | Permalink |
FREE SPEECH ZONE.
Your daily open thread.
Posted by Ron Gunzburger - 08.08.07 | Permalink |
DEMS SCORE US SEN CHALLENGERS IN OK & KY; FL PRIMARY NEWS; JOHN WARNER RETIREMENT?
OKLAHOMA: The

Democrats finally have a candidate against US Senator Jim Inhofe (R) for next year. State Senator Andrew Rice (D) announced his candidacy this week against the ultra-conservative incumbent. Rice, a Harvard Divinty School graduate and former Third World NGO staffer, is a vocal progressive activist. Based upon Oklahoma's conservative voting history, Inhofe starts the race as a heavy favorite. However, the Dems swept 8 of the 9 statewide offices on the Oklahoma ballot in 2006.
KENTUCKY: The Dems apparently have also recruited a viable candidate against US Senate Minority Leader Mitch McConnell (R) next year. Attorney General Greg Stumbo (D) this weekend launched an exploratory committee for the Senate seat. Spoofing McConnell's 1984 TV spots of hounds searching for the Democratic junketeering then-incumbent, Stumbo attended with two bloodhounds of his own. Stumbo's campaign banners pictured the two dogs and the slogan "Hunting for a Real U.S. Senator." Supporters of embattled Governor Ernie Fletcher (R) are also looking to field a GOP primary opponent to McConnell, who encouraged the unsuccessful gubernatorial primary challenge earlier this year to Fletcher.
FLORIDA: The Florida Democratic Party is now requesting the Florida Legislature push the state's Presidential primary from January 29 back to February 5. This move is in direct response to the DNC's announced plan to strip Florida of nearly all convention delegates for breaking the DNC/RNC officially sanctioned primary schedule.

The chances of the GOP-controlled Legislature taking this issue up in the fall special session is zero. What could change the dynamics of the DNC threat is if Ohio moves forward to January 29 and likewise breaks the schedule. When faced with rebellion by two key swing states, it would then be a question of finding a compromise everyone could live with.
VIRGINIA: Conservative columnist Robert Novak reported that top Virginia Republican Party leaders are preparing for what they believe will be 80-year-old US Senator John Warner's (R) retirement announcement next month. Novak said GOP leaders have resigned themselves to former Governor Mark Warner (D) winning the seat. Senator Warner is thought to be helping Congressman Tom Davis (R) prepare to seek the Senate seat. Some conservatives are unhappy with Davis, fearing he is "too moderate." They are trying to encourage a conservative to challenge Davis in the GOP primary.
Posted by Ron Gunzburger - 08.07.07 | Permalink |
FREE SPEECH ZONE.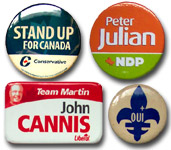 Your daily open thread.
Posted by Ron Gunzburger - 08.07.07 | Permalink |
WANNA TRADE?
I'm interested in building up my collection of Canadian campaign buttons. If you've got Canadian political buttons to trade, I'm interesting in swapping with you for some great US pins. Please drop me a note!
ROMNEY LEADS IN IOWA, DEMS IN 3-WAY TIE; NUNN-BLOOMBERG; MORE STEVENS PROBLEMS.
IOWA (R): A new Washington Post/ABC News poll of likely

Iowa GOP caucus participants finds Mitt Romney continuing to hold onto a solid lead in the state. The numbers: Romney - 25%, Rudy Giuliani - 14%, Fred Thompson - 13%, Mike Huckabee and John McCain tied with 8% each, Sam Brownback and Tom Tancredo tied with 5% each, Newt Gingrich and Tommy Thompson tied with 4% each, Ron Paul - 2%, Duncan Hunter - 1%, Others - 1%. If these numbers are any reflection of the likely attendees at the Ames Straw Poll on Saturday, we're probably seeing the final days of Tommy Thompson's campaign. The former Wisconsin Governor has promised to quit the race if he does not finish at least third in the straw poll. In related news, the GOP hopefuls debated on ABC Sunday, with most of the real fire being exchanged between frontrunner Romney and his various rivals.
IOWA (D): The Washington Post/ABC News poll of likely Iowa Democratic shows a three-way tie for first place -- with both Barack Obama and Hillary Clinton erasing John Edwards' lead in the state. The numbers: Obama - 27%, Clinton and Edwards tied with 26% apiece, Bill Richardson - 11%, Joe Biden and Dennis Kucinich tied at 2% each, and Chris Dodd - 1%. Also worth noting is the slow but steady rise of Richardson in recent Iowa polling.


BLOOMBERG: Former US Senator Sam Nunn (D-GA), 68, told the AP he recently spoke to NYC Mayor Mike Bloomberg about the need for a viable Independent Presidential candidate next year. "I've told [Bloomberg] ... it may be time for some serious people to look at what I call a time-out and having people of good faith in the Democratic and Republican parties to come together and address the issues that the parties don't seem to want to address ... We have not discussed any kind of joint strategy. I have just had conversations with him," said Nunn. He implied the discussion was to encourage a Bloomberg run, but said he would consider an Indy running for President himself next year if Bloomberg doesn't run. Nunn is not, however, interested in being Bloomberg's runningmate. "The only thing I would consider would be running for the big office," he explained. Nunn, who retired in 1996, was a favorite of President Reagan because of his strong support for increased military spending and willingness to help assemble bipartisan coalitions in Congress.
ALASKA: Roll Call reported that federal prosecutors have found more corruption issues involving US Senator Ted Stevens (R). According to the newspaper, Stevens used a Senate employee as his personal bookkeeper but did not appear to pay her for any of those services out of his own pocket -- although the aide collected more than a quarter-million dollars in federal pay. The aide has been subpoenaed before the grand jury. Former State Senate President Mike Miller (R) recently acknowledged he was considering making a primary challenge against Stevens next year, and said he believes other Republicans were also looking at the race.
Posted by Ron Gunzburger - 08.06.07 | Permalink |
FREE SPEECH ZONE.
Your daily open thread ... Also: Please take our Blog Reader Project Survey. Beyond the first page of the survey -- which we need you to answer -- after than just answer the questions you'd like and skip the ones to want to skip. It will give us the first chance to get an accurate, detailed profile of our readers. Once we get a good amount of results, I'll post a link here so you can view the results too. Thanks for your help!
Posted by Ron Gunzburger - 08.06.07 | Permalink |
HUCK & SAM BRAWL HEATS UP; RENZI MAY RETIRE; COLEMAN LOSES GROUND; OREGON US SEN RACE.
P2008: The conservative Club for Growth

made an $85,000 Iowa TV ad buy in Des Moines/Ames market for an attack spot against former Arkansas Governor Mike Huckabee (R). The spot -- named "Bill Clinton or Mike Huckabee" -- trashes Huckabee as tax-and-spend liberal. The spot is clearly seeking to knock Huckabee out of the P2008 race, as he's vowed to quit if he finishes worse than fourth place in the Ames Straw Poll on August 11. In related news, the religious spat between Huckabee and US Senator Sam Brownback (R) is heating up. Brownback was angered earlier this week for a mass email a prominent Huckabee supporters sent to Iowa GOP evangelicals attacking Brownback for his conversation to Catholicism. Huckabee is a Baptist minister and former President of the Arkansas Baptist State Convention. The evangelical Huckabee supporter later apologized, and Huckabee told the media he was "glad" the pastor apologized. That wasn't good enough for Brownback, who loudly demanded that Huckabee issue a personal apology disavowing the remarks. On Thursday, Huckabee fired back. Huckabee's campaign spokesman said Brownback should "stop whining" and start showing some "Christian character." He further said the call for a direct apology was "silly" and that Brownback's reaction raises questions about whether the Kansan is "tough enough to be President."
ARIZONA: Congressman Rick Renzi (R-AZ), the target of an ongoing federal corruption probe, will announce this month if he plans to seek re-election next year, according to Roll Call. The newspaper reported Renzi "appears to be leaning toward the exit door rather than seeking a fourth term."

An open seat contest would be highly competitive next year in this swing district.
OREGON: The DSCC struck out attempting to recruit their first, second and third choice challengers against US Senator Gordon Smith (R) next year, but at least the Dems finally have a viable candidate. State House Speaker Jeff Merkley (D) this week announced his candidacy for the Senate seat. "I'm running for US Senate because I believe ... George Bush and Gordon Smith are leading us in the wrong direction," said Merkley. Other announced Democratic candidates include progressive attorney Steve Novick, businessman Ty Pettit and perennial gadfly candidate Pavel Goberman. Smith starts the contest as a healthy favorite over Merkley, but the state's strong Dem tilt could turn this into a competitive race.
MINNESOTA: A new KSTP-TV/SurveyUSA poll this week shows US Senator Norm Coleman (R) leading his various Democratic challengers, but by significantly closer margins than those in this same poll just a few months ago. While Coleman led comic and radio talk show host Al Franken (D) by 22 points in the previous poll, Coleman now leads Franken by a much closer vote of 49% to 42%. Coleman leads wealthy trial attorney Mike Ciresi (D) by a 48% to 42% vote. Coleman was unable to break the 50% mark even against a low name-ID candidate like environmental activist Jim Cohen (D). The numbers: Coleman - 49%, Cohen - 37% vote.
Posted by Ron Gunzburger - 08.03.07 | Permalink |
FREE SPEECH ZONE.
Your daily open thread.
Posted by Ron Gunzburger - 08.03.07 | Permalink |
RUDE RELIGIOUS FIGHT; FRED'S MONEY; PLAN TO FEDERALIZE FUTURE PREZ PRIMARIES.
IOWA STRAW POLL: With less than two weeks until the influential Ames Straw Poll in Iowa, the GOP Presidential contest is getting nasty. Pastor Tim Rude, an activist with the Mike Huckabee

campaign, sent an email to evangelical leaders in Iowa attacking Sam Brownback for his conversion to Catholicism. While Rude later apologized for the comments, and Huckabee said he was pleased that Rude apologized, Huckabee has resisted Brownback's demand to take responsibility for the attack and directly apologize for it. "Our question is -- Governor Huckabee himself -- does he think what Pastor Rude himself says was wrong? Do they agree that the substance of his remarks were prejudiced, anti-Catholic or inappropriate," asked a Brownback spokesman.
THOMPSON: USA Today reported that Fred Thompson's fundraising numbers are finally out. His committee reported to the IRS -- not the FEC, as Thompson is not yet officially a political candidate -- that it raised $3.4 million in June. More than one third of the money came from Thompson's former homestate of Tennessee. The total fell short of the announced $5 million goal for the month, but was not bad when compared to several of the rival campaigns.
P2012: Three US Senators are out with an innovative plan to change the Presidential primary process in future years. The bipartisan trio want to end the frontloaded primary calendar. US Senators Joe Lieberman (I-CT), Amy Klobuchar (D-MN) and Lamar Alexander (R-TN) are the sponsors of the proposal to mandate a federally regulated Presidential primary calendar starting in 2012. The plan would preserve the first-in-the-nation status of the Iowa caucuses and New Hampshire primary. Following IA and NH would be four regional contests -- South, Northeast, Midwest and West -- being held once a month and determined by a random drawing. Expect much opposition to the idea, but I think it's worth a look.
Posted by Ron Gunzburger - 08.02.07 | Permalink |
FREE SPEECH ZONE.
Your daily open thread.
Posted by Ron Gunzburger - 08.02.07 | Permalink |
SHORT TAKES.
I'm home -- after spending nearly all of Tuesday traveling back -- but I'm just giving you some quick takes on the news ... Congressional Dems are openly talking about the possibility of holding impeachment hearings for

Attorney General Al Gonzales over the political firing of several US Attorneys and the subsequent purported cover-up and perjury before Congress ... FBI and IRS agents raided the Alaska home of US Senator Ted Stevens (R), searching for evidence he accepted gifts and other unlawful favors from federal contractors. Stevens, as former Chair of the Senate Appropriations Committee, reportedly helped steer lucrative contracts to the companies. Some individuals targeted in the federal probe have already pled guilty and are cooperating with the investigators. News reports indicate the FBI believe the alleged bribes and kickbacks were given in the form of very expensive bottles of vintage wine and home improvements ... Congressman Ray LaHood (R-IL) announced his retirement. The news had been expected for a few months. While the CD-18 seat has the potential to be competitive, the GOP would be favored to hold the seat based upon the district's recent voting history.
Posted by Ron Gunzburger - 08.01.07 | Permalink |
FREE SPEECH ZONE.
Your daily open thread.
Posted by Ron Gunzburger - 08.01.07 | Permalink |
BLOG ARCHIVE:

August 16-31, 2007
August 1-15, 2007
July 1-31, 2007
June 1-30, 2007
May 16-31, 2007
May 1-15, 2007
April 16-30, 2007
April 1-15, 2007
March 16-31, 2007
March 1-15, 2007
February 16-28, 2007
February 1-15, 2007
January 16-31, 2007
January 1-15, 2007
December 16-31, 2006
December 1-15, 2006
November 16-30, 2006
November 1-15, 2006
October 16-31, 2006
October 1-15, 2006
September 16-30, 2006
September 1-15, 2006
August 16-31, 2006
August 1-15, 2006
July 16-31, 2006
July 1-15, 2006
June 16-30, 2006
June 1-15, 2006
May 15-31, 2006
May 1-15, 2006
April 16-30, 2006
April 1-15, 2006
March 16-31, 2006
March 1-15, 2006
February 17-28, 2006
February 1-16, 2006
January 16-31, 2006
January 1-15, 2006
December 2005
November 2005
October 2005
September 2005
August 2005
July 2005
June 2005
May 2005
April 2005
March 2005
Jan-Feb 2005
December 2004
November 16-30, 2004
November 1-15, 2004
October 16-31, 2004
October 1-15, 2004
September 16-30, 2004
September 1-15, 2004
August 16-31, 2004
August 1-15, 2004
July 16-31, 2004
July 1-15, 2004
June 16-30, 2004
June 1-15, 2004
May 16-31, 2004
May 1-15, 2004
April 16-30, 2004
April 1-15, 2004
March 15-31, 2004
March 1-14, 2004
February 15-29, 2004
February 1-14, 2004
January 17-31, 2004
January 1-16, 2004
December 16-31, 2003
December 1-15, 2003
November 17-30, 2003
---
POLITICAL BLOG ROLL:
KINDA NEUTRAL:
ABC News: The Note
CNN: Morning Grind
CQ Politics
Political Wire
MSNBC: First Read
CJR Daily
Rothenberg Pol. Report
LexisNexis: US Politics
Stateline.org
Governing.com
Political State Report
Hotline On Call
Hotline's Blogometer
Beltway Blog
WatchBlog
Lawmakers Blog
Centerfield Aggregator
Command Post
FactCheck.org
WSJ: Best of the Web
WSJ: Washington Wire
D.C.'s Political Report
2008 Political Perspective
Media Bistro
Larry Sabato: Crystal Ball
PressThink
Politics-Line
TheCapitol.Net: Blog
MyElectionAnalysis.com
DEM/LEFT:
DNC Blog
DCCC Blog
DailyKos
Lefty Blogs
Howard Dean/DFA
OurSenate.com
Frameshop
The Washington Note
Emerging Dem Majority
Think Progress
AmericaBlog.com
Amer Prospect: Tapped
Arianna Huffington
Al Franken
BAG News Notes
Eric Alterman
Senate Majority Project
FishBowl DC
Fired Up! America
TalkLeft
TNR: The Plank
The Raw Story
Blogging of the President
Joe Trippi
Swing State Project
Media Matters
Josh Marshall
Wonkette
MyDD
Working for Change
Crooks & Liars
Mathew Gross
Penndit
Progressive Dems: Blog
Atrios/Eschaton
Off the Kuff
Tom Tomorrow
Mother Jones
Jerry Springer
TruthOut
Dem Bloggers
Liberal Oasis
Penndit
Firedoglake
Good As You
AtariDemocrat
Henry Lewis
BuzzFlash
Brad Blog
Dean Nation
Louise Slaughter
TruthDig
Dem Underground
Jared Hall
Bad Attitudes
The American Street
District Blogs
GOP/RIGHT:
RNC (GOP.com)
Club for Growth
National Review: Corner
C-Log
Real Clear Politics
Andrew Sullivan
John Ellis
Mickey Kaus
Virginia Postrel
RedState.org
WSJ Opinion Journal
Free Republic
Instapundit
Drudge Report
Pajamas Media
Hugh Hewitt
Daniel Drezner
Daily Pundit
Bully Pulpit
Outside the Beltway
Little Green Footballs
World Mag Blog
Right Wing News
Volokh Conspiracy
Brothers Judd
David Frum
Mister Politics
Enter Stage Right
Right Wing News
PoliPundit
Power Line
Hedgehog Report
Right Voices
Booker Rising
Don Singleton
Save the GOP
OTHER:
ThirdPartyWatch.com
Centrist Coalition
Kn@ppster
Green Commons
News for Greens
---
For those who would like to track Politics1 with a newsreader, we publish a RSS feed:
---

---