BLOG ARCHIVE: JULY 1-31, 2007.
RON'S OPEN THREADS TO KEEP YOU BUSY UNTIL HE'S BACK FROM VACATION.
Next Update: August 1
I'm on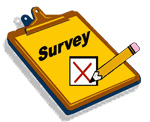 vacation for a few days ... in Paris to visit Dana and also watch the le Tour de France finish on Sunday on the Champs-Elysées ... so maybe this will help keep you guys busy until I'm back. One other thing to fill some time (about 10 minutes) until I return is is to take our Blog Reader Project Survey. Beyond the first page of the survey (which we need you to answer), just answer the questions you'd like and skip the ones to want to skip. It will give us the first chance to get an accurate, detailed profile of our readers. Once we get a good amount of results, I'll post a link here so you can view the results too. Thanks for your help!
TOPIC: PRESIDENT BUSH & THE ADMINISTRATION.
Bush, Cheney, Rove, the Cabinet ... and the President's dropping approval ratings.
Posted by Ron Gunzburger - 07.24.07 | Permalink |
TOPIC: CONGRESS.


Pelosi, Reid ... Boehner, McConnell ... the 2008 campaigns ... committee hearings ... and Congress' plunging approval ratings.
Posted by Ron Gunzburger - 07.24.07 | Permalink |
TOPIC: THE P2008 DEMS - HILLARY, OBAMA, EDWARDS, RICHARDSON & ALL THE REST.
Clinton, Obama, Edwards, Richardson, Dodd, Biden, Kucinich and Gravel ... anything and everything.
Posted by Ron Gunzburger - 07.24.07 | Permalink |
TOPIC: THE P2008 GOP - RUDY, JOHN, NEWT, MITT, SAM, CHUCK & ALL THE REST.


Rudy, Mitt, Fred ... and all the other guys.
Posted by Ron Gunzburger - 07.24.07 | Permalink |
TOPIC: IRAQ, AFGHANISTAN, IRAN, CUBA, NORTH KOREA, ETC.
Anything and everything going on around the globe.
Posted by Ron Gunzburger - 07.24.07 | Permalink |
TOPIC: POLITICAL SCANDAL & CORRUPTION.
This topic is here because something juicy on the scandal front always breaks when I'm on vacation.
Posted by Ron Gunzburger - 07.24.07 | Permalink |

TOPIC: STATE & LOCAL POLITICS.
Governors, state legislatures, candidates and local stuff.
Posted by Ron Gunzburger - 07.24.07 | Permalink |
TOPIC: EVERYTHING ELSE.
Your free speech zone for everything else under the sun.
Posted by Ron Gunzburger - 07.24.07 | Permalink |
HILLARY, RUDY LEAD IN SC; RUSS REVIVES CENSURE IDEA; GONZALES WON'T QUIT; HASTERT PLANNING DEPARTURE.
SOUTH CAROLINA: A new CNN/Opinion Research
Corporation poll of likely Presidential primary voters shows Rudy Giuliani (R) and Hillary Clinton (D) leading in South Carolina. The GOP: Giuliani - 30%, John McCain - 21%, Fred Thompson - 18%, Mitt Romney - 6%. The DEMS: Clinton - 43%, Barack Obama - 27%, John Edwards - 17%.
CENSURE: US Senator Russ Feingold (D-WI) has revived his proposal to censure President Bush, saying "we need to do something serious in terms of accountability." Appearing on Meet the Press, Feingold said his resolution would condemn the President for allegedly misleading Congress in the lead up to the war and how it has been carried out, for failing to properly train and equip the US military, and for the Administration's "outrageous attack" on the rule of law. Senate Majority Leader Harry Reid (D-NV) was quit to reject the censure option. "The President already has the mark of the American people that he is the worst president we've ever had. I don't think we need a censure resolution to prove that," said Reid during a Sunday appearance on CBS. Only a handful of Senators backed Feingold's proposal when he brought it to the floor for a vote last year.
GONZALES: Attorney General Al Gonzales said Friday that he's not going anywhere. In remarks made during an internal DOJ videoconference, Gonzales explained: "From my perspective, there are two options available in light of these allegations [related to the political firing of eight US Attorneys and the subsequent cover-up before Congress]. I could walk away, as some have demanded, or I could devote my time, effort, and energy to fix the problems. Since I've never been one to quit, I've decided that the best course of action was to remain here and fix the problems. That is exactly what I'm doing." Hey, who knows better how to fix the problems at Justice than the guy who caused all of them.
ILLINOIS: Conservative columnist Robert Novak reported this weekend that former House Speaker Denny Hastert (R-IL) is trying to decide whether he will retire next year or resign mid-term to cause a special election. The reason: Novak says Hastert wants to help pave the way for his Chief of Staff Mike Stokke to succeed him. State Senator Chris Lauzen and Geneva Mayor Kevin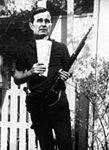 Burns are also both interested in seeking the GOP nomination if Hastert vacates the seat. Four Democrats -- including State Representative Linda LaVia -- are already announced candidates for the CD-14 seat.
LEE H.W. BUSH, LBJ, WATERGATE, THE CIA, DUBYA, AND IRAN: I stumbled across the website for Paul Kangas, a gadfly candidate for the Green Party's Presidential nomination. I'll just let Kangas' words speak for themselves: "Powerful new evidence proves George Bush, Sr., assassinated President John Kennedy on Nov. 22, 1963. The whole Watergate coverup was to ban the audio tape evidence of Bush's role in Dallas. The media, CBS, NBC, and ABC is controlled by the CIA, but now with the internet, we can hold a trial of Bush and allow the jury to see all the evidence. LBJ, Nixon, and most of the leadership of the Democratic Party and Republican party were involved in the coverup. The same way the Democrats cow-towed to the theft of the 2004 election. We the People have broken free from the CIA media. If we do not pursue murder charges against Bush, the Democrats will start a new war on Iran. To prevent the war on Iran we must prosecute Bush." Have fun trying to connect all those disjointed dots. Disclaimer: Kangas has a zero chance of winning the Green nomination -- but he ranks right up there near the top of our "crazy list" with 2008 White House hopefuls Randy "Returned Messiah" Crow (D), Michael Jesus Archangel (R), Jack "Fascist Dictator" Grimes (Independent) and few of the other more goofy White House hopefuls.
Posted by Ron Gunzburger - 07.23.07 | Permalink |
FREE SPEECH ZONE.
Here is my scary

adventure story from this weekend. I was at the beach inline skating (8 miles Saturday and 10 miles Sunday) and swimming this weekend. On Saturday, it was scorching sunny day, no waves, and clear water with high underwater visibility. I grabbed my dive mask and snorkel -- but didn't use my fins (a mistake!) -- and went leisurely swimming out alone. For the first 25 yards, I saw a school of very small mullet, then a few small yellowtails ... and then no fish at all for several minutes as I snorkeled further out. I was hoping to see a string ray, as they always look beautiful swimming along the ocean floor. As I approached the "boat exclusion zone" buoy maybe 100 yards from the beach, an area with maybe 20 feet of water depth and well before the reef starts, I sensed movement. I looked to my right ... did a quick double-take (even had a split-second moment of awe when I said "wow" to myself) ... and saw a bull shark slowly cruising 20 feet away. It pretty much looked just like the one pictured at left (nearly same view, same lighting conditions). The shark was maybe 9-10 feet in length, and bull sharks are known to be very dangerous, deadly and unpredictable. I was without a dive knife, without the fins for speed, and without anyone else swimming nearby -- so I swam away breast stroke (i.e., less splashing) as quickly as possible until I got back to the shallows of the submerged sand bar. And I didn't go back in the ocean again ... well, until Sunday morning. This was my third close shark encounter over the past 25 years and -- being candid here -- this one was freakin' scary! But, hey ... carpe diem ... I lived to skate, swim and blog another day. So, how was your weekend?
Posted by Ron Gunzburger - 07.23.07 | Permalink |
PAUL SIGNS DEM IRAQ DE-FUNDING LETTER; NH SEN POLL; BROUN LEAD HOLDS IN GA.
PAUL: Congressman

Ron Paul (R) -- who is apparently planning to make a major push for a strong showing in next month's Ames, Iowa, Straw Poll -- has found another way to grab some attention. Paul is the lone GOP co-signer of the letter from 70 US House members addressed to President Bush. "We are writing to inform you that we will only support appropriating additional funds for U.S. military operations in Iraq during Fiscal Year 2008 and beyond for the protection and safe redeployment of all our troops out of Iraq before you leave office," demands the letter. Translation: We will only support further military funding for operations in Iraq if it is pegged to a total US withdrawal from Iraq by January 2009. The letter also focuses on more than just US casualties in Iraq, noting that "hundreds of thousands of Iraqis have [also] been killed or injured in the hostilities and more than 4 million have been displaced from their homes."
NEW HAMPSHIRE: A new WMUR-TV/CNN/University of New Hampshire poll confirms US Senator John Sununu (R) is in big trouble is former Governor Jeanne Shaheen (D) jumps into the race. Much like three recent independent polls, Shaheen holds a lopsided advantage. The new numbers: Shaheen - 54%, Sununu - 38%. Sununu holds leads of varying amounts over the field of announced Dems. The numbers: Sununu (R) - 43%, '02 congressional nominee Katrina Swett (D) - 39% ... Sununu (R) - 42%, Portsmouth Mayor Steve Marchand (D) - 38% ... Sununu (R) - 44%, former astronaut Jay Buckey (D) - 28%.
GEORGIA: Physician

Paul Broun Jr. (R) continues to cling to a 373-vote lead from Tuesday's CD-10 special election. State Senator Jim Whitehead (R), who was heavy favorite to win, was hoping roughly 1,700 absentee ballots were still outstanding from his home base of Columbia County. According to the Atlanta Journal-Constitution, Columbia County Elections Director Debbie Marshall said all outstanding absentee ballots in the county were already counted and included in the earlier totals. If Whitehead is likewise hoping for a large number of late military ballots to arrive, Marshall says only 66 such ballots were ever requested from her office. Whitehead has since issued a statement to the Augusta Chronicle saying he expects Broun will be the eventual winner by around 100 votes once the recount is completed. Broun told the AJC he attributes his upset victory to "a coalition of Christian conservatives, disaffected Republicans, and Democrats." From other comments Broun recently made to district residents, Broun sounds like he intends to closely ally with Congressman Ron Paul (R) -- a fellow physician -- as a second conservative-libertarian "Doctor No" in the House.
ROMNEY: Mitt Romney (R) started running a new TV spot this week in key early contest states. The commercial -- which many believe is a veiled attack on the moderate social views of rival Rudy Giuliani (R) -- refers to the need to elect a true social conservative next year. The spot uses children-on-the-beach images to suggest that American children are being raised in a moral cesspool awash with pornography and "perversion." Someone needs to pin Romney down by making him explain exactly what "perversion" he believes is assaulting the US, as nearly any answer he gives is likely to alienate independents and would st\and in sharp contrast to Romney's centrist 1994 and 2002 campaign speeches in Massachusetts.
Posted by Ron Gunzburger - 07.20.07 | Permalink |
FREE SPEECH ZONE.
The American Prospect ruminates on paid vacation in the US versus the other western industrialized nations. "The United States is the only advanced economy in the world that does not guarantee its workers paid vacation," said a recent Center for Economic and Policy Research report. So, how much minimum paid vacation are full-time workers granted in other nations? The UK "assures its workforce of 20 days of guaranteed, compensated leave. Germany gives 24. And France gives, yes, 30. [The US] guarantee zero. Absolutely none. That's why one out of 10 full-time American employees, and more than six out of 10 part-time employees, get no vacation. And even among workers with paid vacation benefits, the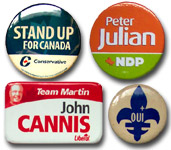 average number of days enjoyed is a mere 12," says the American Prospect. With that segue way, let me give y'all a heads-up that I'm heading back to France for another week of vacation starting on Wednesday, so there will be no updates between July 25-31.
Posted by Ron Gunzburger - 07.20.07 | Permalink |
WANNA TRADE?
I'm interested in building up my collection of Canadian campaign buttons. If you've got Canadian political buttons to trade, I'm interesting in swapping with you for some great US pins. Please drop me a note!
FREE SPEECH ZONE.
There just wasn't much of substance to report on today ... and I don't feel like posting just "filler" ... so only an open thread.
Posted by Ron Gunzburger - 07.19.07 | Permalink |
BROUN WINS UPSET IN GA CD-10 SPECIAL; BESHEAR LEADS IN KY GUV RACE; MORE NH NUMBERS.
GEORGIA: Voters went to the polls on Tuesday in the CD-10 special election run-off to select a successor to the late Congressman Charlie Norwood (R). Both initial frontrunner State Senator Jim Whitehead (R) and physician and frequent candidate Paul Broun Jr. (R) are conservatives. Most of the run-off bickering related to beliefs, with both men claiming the mantle of "most conservative." Whitehead -- heavily backed by the GOP leaders in the district -- finished the April 26 open primary with a significant 23-point lead over the second-place Broun. To counter that advantage, Broun made an open appeal for Democratic run-off votes by arguing he was admittedly a conservative but was wholly independent of Republican Party leaders and would be free to vote his conscience in the House. The message seemingly worked in Clarke County (Athens) -- the lone Democratic bastion in this conservative GOP district -- which voted overwhelmingly in support of Broun. Whitehead performed solidly in the Republican parts of the district. However, Broun's lopsided advantage in Clarke County helped him even the overall vote tally in the low turnout run-off. With all but one precinct counted, Broun led by 394 votes.

With more than 46,600 votes cast on Tuesday, Broun's victory margin is close enough to trigger an automatic recount.
KENTUCKY: It seems last week's Insider Advantage poll showing a rapidly closing contest was an outlier, as a new WHAS-TV/SurveyUSA poll mirrors the numbers of all other recent polls in the gubernatorial contest. The numbers: former Lieutenant Governor Steve Beshear (D) - 59%, Governor Ernie Fletcher (R) - 36%.
NEW HAMPSHIRE: A new CNN/WMUR-TV/University of New Hampshire poll confirms Mitt Romney (R) and Hillary Clinton (D) remains the Presidential favorites in the Granite State. The GOP numbers: Romney - 33%, Rudy Giuliani - 18%, Fred Thompson - 13%, John McCain - 12%, Newt Gingrich - 3%, Ron Paul and Mike Huckabee tied with 2% each, and all others at 1% or less. The Dem numbers: Clinton - 36%, Barack Obama - 27%, Bill Richardson - 11%, John Edwards - 9%, Joe Biden - 4%, Dennis Kucinich - 3%, and none of the others even cracked the 1% mark.
PENNSYLVANIA: Former Congresswoman Melissa Hart (R) announced this week she will seek a rematch next year against Congressman Jason Altmire (D) in CD-4. Altmire ousted Hart in an upset last year. Hart must face former Allegheny County Commissioner Ron Francis in the primary. The Pittsburg Post-Gazette reports the NRCC is still attempting to recruit former pro football star and '06 gubernatorial nominee Lynn Swann (R) to enter the CD-4 race. Update: Subsequent Pittsburg Post-Gazette story says Swann has now told the NRCC he will not run aganist Hart.
Posted by Ron Gunzburger - 07.18.07 | Permalink |
FREE SPEECH ZONE.
Your daily open thread.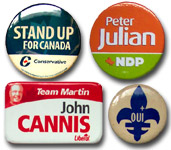 Posted by Ron Gunzburger - 07.18.07 | Permalink |
WANNA TRADE?
I'm interested in building up my collection of Canadian campaign buttons. If you've got Canadian political buttons to trade, I'm interesting in swapping with you for some great US pins. Please drop me a note!
MITT, HILLARY LEAD IN NH; RON PAUL'S MONEY; CONGRESSIONAL MONEY ANALYSIS.
NEW HAMPSHIRE: A new Concord Monitor/Research 2000 poll shows Mitt Romney (R) and Hillary Clinton (D) leading in their respective Presidential primaries in the Granite State. The GOP numbers: Romney - 27%, Rudy Giuliani - 20%, John McCain - 16%, Fred Thompson - 15%, and none of the other candidates scored more than 1% apiece. The Dem numbers: Clinton - 33%, Barack Obama - 25%, John Edwards - 15%, Bill Richardson - 7%, Chris Dodd - 3%, Joe Biden and Dennis Kucinich tied with 2% each, and Mike Gravel - 1%.
McCAIN: There was surprising news out of the John McCain campaign on

Monday, in that his three-person press office team resigned. The surprise was not that more staffers abandoned ship, but that there were still some McCain staffers left who hadn't resigned last week.
PAUL: The Hotline noted that Congressman Ron Paul's (R) cash-on-hand tally is not only more than that of US Senator John McCain (R) -- but Paul's total is also more than the combined cash-on-hand total of Sam Brownback (R), Mike Huckabee (R), Duncan Hunter (R), Tom Tancredo (R), Tommy Thompson (R), Dennis Kucinich (D) and Mike Gravel (D).
CONGRESS: Kudos to Swing State Project for this great analysis of the most recent quarter's fundraising totals for Congressional candidates. Republican challengers who outraised Democratic incumbents: Jim Ryun (KS-02) and Andrew Saul (NY-19). Democratic challengers who outraised Republican incumbents: Charlie Brown (CA-04), Russ Warner (CA-26), Jim Himes (CT-04), Michael Montagano (IN-03), Frank Kratovil (MD-01), Andrew Duck (MD-06), David Nacht (MI-07), Kay Barnes (MO-06), Eric Massa (NY-29), Vic Wulsin & Steve Black (OH-02), John Boccieri (OH-16), Darcy Burner (WA-08). Republican incumbents who were out-raised by other Republicans: Wayne Gilchrest (MD-01), Jean Schmidt (OH-02) and Ralph Regula (OH-16). Democratic incumbents who were out-raised by other Democrats: Steve Cohen (TN-09).
Posted by Ron Gunzburger - 07.17.07 | Permalink |
FREE SPEECH ZONE.
Your daily open thread.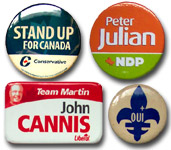 Posted by Ron Gunzburger - 07.17.07 | Permalink |
WANNA TRADE?
I'm interested in building up my collection of Canadian campaign buttons. If you've got Canadian political buttons to trade, I'm interesting in swapping with you for some great US pins. Please drop me a note!
P2008 NEWS: HUCKABEE NEEDS FOURTH PLACE; GILMORE QUITS; FRED ADMITS PRO-CHOICE LOBBYING; OHIO LOOKS TO JANUARY.
IOWA: Former Arkansas Governor Mike Huckabee (R) told the Des Moines Register this weekend that he

will need at least a fourth place finish or better in the Ames Straw Poll next month in Iowa to keep his campaign Presidential afloat. Failing that, Huckabee said he would "have to seriously ask 'Do we keep going?'" Former Wisconsin Governor Tommy Thompson (R) previously said he needs a third place or better finish in the straw poll to remain in the race. Former Massachusetts Governir Mitt Romney (R) is currently viewed as most likely to place first in Iowa. The funniest Iowa quote in recent days comes from newly promoted John McCain campaign manager Rick Davis -- who is seemingly the last remaining McCain staffer to not quit or be fired over the past week. With the McCain campaign organization in shambles and nearly out of money, Davis joked with reporters that McCain has "successfully lowered expectations in Iowa." The McCain campaign is essentially finished, but McCain must continue acting like a real candidate until January to qualify for the federal matching funds he needs to pay off the campaign debt and operating costs for the next few months.
GILMORE: Former Virginia Governor and former Republican National Chairman Jim Gilmore quit the Presidential race on Saturday, citing a late start and the front-loaded primary calendar. "I have come to believe that it takes more than a positive vision for our nation's future to successfully compete for the Presidency. I believe that it takes years of preparation to put in place both the political and financial infrastructure to contest what now amounts to a one-day national primary in February, " explained Gilmore in his exit statement. His brief campaign effort was lackluster at best, never breaking above the 1% mark in any polls. Gilmore said he will "be actively looking for other opportunities to continue in public service in the Commonwealth of Virginia." Translation: he's looking to either run for US Senate next year if John Warner (R) retires or for the open governorship in 2009.


THOMPSON: Former US Senator Fred Thompson (R) withdrew his campaign's previous categorical denial about his past lobbying activities in 1991. According to The Politico, Thompson now admits the truth of the Los Angeles Times article from a week ago which reported Thompson lobbied for a national pro-choice organization in 1991 in an effort to convince the Bush 41 White House to gut proposed abortion restrictions. Thompson told the newspaper on Friday that he now "doesn't remember" doing the lobbying work but does "not dispute evidence to the contrary" that he lobbied for the pro-choice group.
OHIO: Potentially joining Florida in breaking the official early Presidential primary schedule set by the two major parties, Ohio is now considering advancing its primary to January 29, 2008. That is the same day as the Florida and South Carolina primaries -- although South Carolina plans to move to an earlier date if New Hampshire's first primary in the nation likewise moves from January 22 to an earlier date. According to the Cincinnati Enquirer, State Senator Eric Kearney (D) introduced legislation Friday to move the primary from March 4 to January 29. "As the key battleground state that decided the 2004 election, it just makes sense for Ohio to be a part of the process alongside Florida, which decided the 2000 election," said State Senator Shirley Smith (D), who announced her support for the bill. If the bill is approved, the state's filing deadline would advance to November 2007. If the Ohio bill is approved, the DNC would likely strip Ohio of nearly all the state's convention delegates. The RNC would be expected to halve the state's delegate total, based upon the sanction already imposed on Florida.
Posted by Ron Gunzburger - 07.16.07 | Permalink |
CONGRESS: NH SENATE POLL; VITTER RESIGNATION PUSH SUBSIDES; DCCC OUTRAISES NRCC.
NEW HAMPSHIRE: A new Concord Monitor/Research 2000 poll shows US Senator John Sununu (R) would lose for re-election next year against former Governor Jeanne Shaheen (D) by a lopsided margin. Shaheen would currently defeat

Sununu by a 56% to 34% vote. These lopsided numbers are consistent with two other independent polls over the past month. Shaheen appears lately to be leaning towards entering the Senate race. If Shaheen doesn't run, Sununu currently leads the field of announced Dems, all of whom are much lesser-known statewide than Shaheen. The numbers: Sununu (R) - 46%, '02 congressional nominee Katrina Swett (D) - 32% ... Sununu (R) - 46%, Portsmouth Mayor Steve Marchand (D) - 29% ... Sununu (R) - 46%, former astronaut Jay Buckey (D) - 24%. The same poll also showed 43% of all NH voters support impeaching President Bush and 52% support impeaching Vice President Cheney. As for the Iraq War, 23% said they thought the war in Iraq was "worth launching" versus 70% who said it was not.
LOUISIANA: Despite US Senator David Vitter's (R) acknowledged prostitution scandal, the resignation push last week by Lousiana Republican Party leaders has subsided. After using several top Republicans to float the resign/replace trial balloon last week, the response clearly was not good. "The consensus is they don't want him to resign ... [Vitter] deserves our forgiveness," said State GOP Chair Roger Villere on Friday. "He is an effective senator for Louisiana, and I look forward to continuing to work with him," said Congressman Jim McCrery (R-LA). According to various reports, Vitter was a client of prostitutes in both New Orleans and DC starting in the mid-1990s and continuing through 2001. Vitter told some of his GOP Senate colleagues he will emerge from his hiding place and return to DC sometime this week.
CONGRESS: Here are the 2Q-07 fundraising totals for the two major party congressional campaign committees. In the quarter, the NRCC raised $13 million versus the DCCC raising $17 million. According to Roll Call, the Republicans said they have approximately "a couple" million dollars in cash-on-hand. By contrast, the Dems have $19 million cash-on-hand.
Posted by Ron Gunzburger - 07.16.07 | Permalink |
FREE SPEECH ZONE.
FYI: I saw the new Harry Potter film this weekend ... in 3-D IMAX format. Very cool!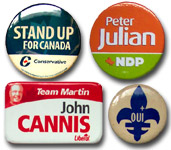 Posted by Ron Gunzburger - 07.16.07 | Permalink |
WANNA TRADE?
I'm interested in building up my collection of Canadian campaign buttons. If you've got Canadian political buttons to trade, I'm interesting in swapping with you for some great US pins. Please drop me a note!
FRIDAY NEWS UPDATE.
FREE SPEECH ZONE.
Call me a slacker ... whatever ... but I decided to have a leisurely evening at home without working online ... so no new stories today. Instead, feel free to have at it in the open thread.
Posted by Ron Gunzburger - 07.13.07 | Permalink |
VITTER PRESSED TO QUIT; FLYNT TARGETS 20; McCAIN STAFF ABANDONS SHIP; KY GOV POLL.
LOUISIANA: The Shreveport Times reported Wednesday that some "top" Louisiana Republican Party leaders are trying to cut a deal with Governor Kathleen Blanco (D) that would pressure US Senator
David Vitter (R) into quickly resigning his seat over his oblique admission Monday that he repeatedly patronized prostitutes in past years. These GOP leaders -- several of whom seem to have ties to Congressman Bobby Jindal's (R) gubernatorial campaign -- "are packaging a deal with ... Blanco to appoint a Republican to take [Vitter's] place." According to the newspaper, the GOP leaders are seeking to have Blanco appoint 79-year-old former Congressman and former Governor Dave Treen (R) to Vitter's Senate seat. Treen has been openly discussing a primary challenge to Jindal in recent weeks. Treen is viewed as an interim replacement who would not seek to run for the remaining two years of the term in a speculative 2008 special election. Besides eliminating Treen as a Jindal primary foe, the move could convince multimillionaire businessman John Georges (R) to exit the gubernatorial race and instead run for the open Senate seat next year. These two moves would clear the gubernatorial primary field of any significant Republican opponents to

Jindal, making an outright gubernatorial win a possibility in the first round of voting on October 20. Before you think this is just idle speculation, the newspaper article quoted influential GOP political consultant Roy Fletcher, who is responsible for the Louisiana Republican Party's advertising campaign on behalf of Jindal this year. Fletcher said this Vitter problem could be good news for Jindal, as it "opens a new door in this Governor's race" for his possible GOP primary foes to exit. Fletcher also said he believes Vitter will quickly be pressured by party leader into resigning. "I don't think Vitter will last a week," said Fletcher. State Representative Don Trahan (R) also hinted he would like Vitter to resign because the scandal "could have a dribble down effect" on GOP candidates in this year's state elections. "It's no longer about the scandal. It's about credibility. It's not so much what he did but the stuff that's coming out. If more comes out, he may have to resign not totally for what he did … but how it affects his family and others," added Trahan. State GOP Chair Roger Villere declined to offer any statement on Vitter -- pro or con -- telling the newspaper he first wanted to speak directly with Vitter. Nothing, however, can legally force Vitter to resign if he won't voluntarily agree to it. Vitter remains in hiding, unavailable to anyone for direct comments. His office released a statement late Wednesday which simply read: "Senator Vitter is with his wife Wendy and with his children and is looking forward to returning to work soon." If Vitter simply choses to ignore the pressure to resign, even if party leaders become privately hostile towards him, he can still serve out the remaining half of his term.
FLYNT: Flamboyant porn

publishing mogul Larry Flynt -- a 2003 California Governor candidate and a 1984 White House hopeful -- announced Wednesday in DC that Vitter is only the tip of the political hypocracy iceberg he is targeting. Flynt claims his efforts uncovered the dirt about Vitter which prompted the Senator's confession, a claim which appears unrebutted. Flynt recently published ads offering a $1 million award for verifiable evidence of corruption or sexual hypocracy involving members of Congress. Flynt announced that the thousands of juicy tips he received since publishing the ad has led to active investigations involving 20 more sitting federal legislators. Flynt said he is not "conducting a witch hunt" against Republicans. Rather, he explained, "I'm not exposing anyone's sex life, that's not what I'm about. I'm only exposing the hypocrisy ... I don't want a man like [Vitter] legislating for me, especially in the areas of morality."
McCAIN: Media reports Wednesday grew worse yet again for US Senator John McCain (R). His national finance director, deputy campaign manager, political director, and as many as ten more senior staffers resigned from his Presidential campaign. According to the Manchester Union-Leader, McCain's position is so precarious he has decided to focus his entire campaign efforts in just two states: New Hampshire and South Carolina. Various news reports indicate McCain's Michigan campaign office telephone number is already disconnected, his Michigan director quit, and his Iowa campaign director plans to resign by the end of this week. McCain again insisted Wednesday he is not quitting the race.
KENTUCKY: A new Insider Advantage poll shows the gubernatorial contest is narrowing. The latest numbers: former Lieutenant Governor Steve Beshear (D) - 41%, Governor Ernie Fletcher (R) - 38%.
Posted by Ron Gunzburger - 07.11.07 | Permalink |
FREE SPEECH ZONE.
Your daily open thread.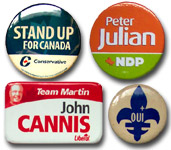 Posted by Ron Gunzburger - 07.11.07 | Permalink |
WANNA TRADE?
I'm interested in building up my collection of Canadian campaign buttons. If you've got Canadian political buttons to trade, I'm interesting in swapping with you for some great US pins. Please drop me a note!
VITTER WAS FREQUENT BROTHEL CLIENT; McCAIN SHAKE-UP; DEMS AGREE TO GAY DEBATE.

LOUISIANA: US Senator David Vitter (R) on Monday night admitted his phone number was on the client list of alleged "DC Madam" Deborah Palfrey's escort service. On Tuesday, the New Orlean Times-Picayune reported that Vitter -- who is married and who ran as a self-styled "family values" social conservative -- was a regular client at the Mid-City brothel in New Orleans starting in the 1990s. The newspaper reported Vitter paid $300 per hour for the sex services of prostitutes, but that he stopped visiting Mid-City before the FBI raided the operation in 2001. "I believe that marriage is a sacred union between a man and a woman," said Vitter in a 2006 Senate floor speech in support of the failed constitutional amendment to ban same-sex marriage. Perhaps Vitter misspoke and meant instead to say "between a man, a woman, and a series of talented prostitutes." Louisiana Republican State Central Committeeman Vincent Bruno called on Vitter to resign "for his own good, the good of the party and the good of his family." If Vitter doesn't resign, Bruno said the Senator should "join the Democratic Party where they think that kind of behavior is OK ... If [we're] not going to enforce family values, they ought to take it out of [our] vocabulary. We're the party of hypocrites. 'Vote for us and we'll lie to you, we'll engage prostitutes and we'll cheat on our wives.'" Vitter does not face re-election again until 2010.
McCAIN: For the second time this year, US Senator John McCain (R) has shaken-up the leadership of his distressed campaign. After laying off over fifty staffers last week due to poor fundaising in the most recent quarter, McCain dumped campaign manager Terry Nelson on Tuesday. Within hours, McCain's top political consultant John Weaver and his chief of staff Mark Salter both resigned. Salter, who co-authored several books with McCain, says he plans to remain an "adviser" for the campaign. The new campaign manager is Rick Davis, a longtime McCain insider. "We've had ups and downs in other campaigns and we'll have ups and downs with this campaign," spun McCain. At this point, I'm officially downgrading McCain to second-tier status.

GAY RIGHTS: In a first-ever event, the Democratic Presidential candidates have agreed to participate in a one-hour televised debate next month devoted entirely to the topic of gay rights. Hillary Clinton, Barack Obama, John Edwards and Chris Dodd have confirmed their participation, and Bill Richardson's campaign is trying to juggle his schedule so he can attend. The debate is sponsored by the GLBT cable channel LOGO and the Human Rights Campaign gay rights advocacy group. The debate will be televised live on LOGO on August 9 and webcast on the channel's site. Candidates in the past -- including in the current cycle -- have participated in targeted debates devoted to African-American community issues and Hispanic community issues.
Posted by Ron Gunzburger - 07.10.07 | Permalink |
FREE SPEECH ZONE.
So ... how's that surge thing working out? Is it September yet? Will Congress finally find the backbone needed to pull the plug on this terrible and pointless military occupation of Iraq?
Posted by Ron Gunzburger - 07.10.07 | Permalink |
STEVENS ADMITS "TROUBLE"; FRED SPINS; VITTER CONFESSES; TAMMY DUCKS; SHEEHAN THREATENS PELOSI.
ALASKA: US Senator Ted Stevens (R) now openly concedes he is worried about apparently being the target of two federal corruption probes in Alaska and DC. The

83-year-old incumbent told the AP he is worried the ongoing US Justice Department investigations could impact his 2008 re-election race. "The worst thing about this investigation is that it does change your life in terms of employment potential ... If this is still hanging around a year from November, it could cause me some trouble," said Stevens. Bill Allen -- an oil field contractor who received tens of millions in federal dollars in federal contracts -- has pled guilty to bribing several Alaska state legislators and is now cooperating with the Feds in an attempt to get a reduced prison sentence. The incident that drew FBI interest is that Allen apparently arranged for the $85,000 renovation project in 2000 that more than doubled the size of Stevens' vacation home in an Alaska. A carpentry contractor who worked on the renovation said he was told to submit all of his bills directly to Allen. Stevens said Allen oversaw the project, but Stevens made the payments for the work. Stevens' son -- former State Senate President Ben Stevens -- is also a central figure in the corruption probe. The FBI raided Ben's office last summer, seizing box loads of records.


THOMPSON: Fred Thompson continues trying to explain whether or not in 1991 he was a paid lobbyist for a national pro-choice group seeking to derail a conservative abortion rule change proposed by the Bush 41 White House. Former Congressman Michael Barnes (D-MD) -- who was one of Thompson's law partners at the time in the lobbying firm -- said Thompson definitely worked on the pro-choice assignment by lobbying White House officials. While Thompson's campaign spokesman adamantly said Thompson "did not lobby for this group, period" -- he later waffled a bit on the answer. "He may have been consulted by one of the firm's partners [Barnes] who represented this group in 1991. As any lawyer would know, such consultations take place within law firms every day," said Thompson's spokesman to the New York Times. When directly asked by reporters about his role, if any, in trying to kill the proposed "gag rule" in 1991, Thompson gave a very vague response. "I'd just say the flies get bigger in the summertime. I guess the flies are buzzing," he told the AP. Huh?
LOUSIANA: US Senator David Vitter (R) on Monday night publicly apologized for "very serious sin in my past for which I am, of course, completely responsible." He made the comment a few hours after alleged "DC Madam" Deborah Palfrey published online her entire 13 year telephone history of calls to her escort service. Vitter's phone number appeared on the list. "Several years ago, I asked for and received forgiveness from God and my wife in confession and marriage counseling," added Vitter.
ILLINOIS: Freshman Congressman Peter Roskam (R) got some great news this week as his '06 opponent -- disabled Iraq War veteran Tammy Duckworth (D) -- announced she would not seek a rematch next year. Duckworth was appointed the Illinois Veterans Affairs Director earlier this year. Duckworth narrowly lost a hotly contested race to Roskam last year. She says the Dems can win the seat if they nominate a "more moderate, fiscal conservative" against Roskam. The DCCC had tried to

convince Duckworth to make a second run. With her out of the picture, the Democrats currently have no others currently interested in the seat.
CALIFORNIA: Speaking of good news, House Speaker Nancy Pelosi (D) must be quietly celebrating the news that prominent anti-war activist Cindy Sheehan (Independent) is threatening a 2008 challenge. Sheehan vows to run against Pelosi next year for the CD-8 seat is Pelosi does not file articles of impeachment against President Bush by July 23. Call it Pelosi's "Sister Souljah" moment, but a re-election challenge by hardcore leftist Sheehan -- who has openly embraced Venezuelan leader Hugo Chavez -- enables Pelosi to triangulate herself as a centrist on the national stage.
Posted by Ron Gunzburger - 07.10.07 | Permalink |
FREE SPEECH ZONE.
Your daily open thread.
Posted by Ron Gunzburger - 07.10.07 | Permalink |
HAGEL'S '08 PLANS STILL MURKY; THOMPSON DENIES ABORTION LOBBYING STORY.
HAGEL: US Senator Chuck Hagel (R-NE)

sort of, kinda -- but certainly not definitively -- said on Meet The Press that he doesn't plan to run for President next year as an Independent. Well, maybe. Here are Hagel's own words: "For right now I am [ruling out an Independent run for President]. And what the world looks like next year, I don't know. But I have no plans to change parties or run for President as an independent." But, moments later, he hedged some more: "You try to keep as many options open for yourself in life as you can. And you try to be in a position where you've got some opportunities ... And then if there might be a place for me along the presidential road somewhere to try to have some influence and change the course of this country, then I'll look at that. But the decision needs to be made soon and I'll make it soon." He also said waffled again on his re-election plans for next year, explaining that "two terms may be enough ... [but running for re-election] is another option."
THOMPSON: On Saturday, the Los Angeles Times reported that former US Senator Fred Thompson (R) was hired in 1991 by a "family-planning group to lobby the first Bush White House to ease a controversial abortion restriction." If true, the story would debunk Thompson's claims to have an unblemished pro-life record -- and it also reminds voters Thompson worked as a high-powered DC lobbyist before and after serving in the US Senate. On Sunday, Thompson's campaign quickly shot down the allegations, offering The Politico "an outright denial that [Thompson] ever worked for the organization."
Posted by Ron Gunzburger - 07.09.07 | Permalink |
FREE SPEECH ZONE.
Your daily open thread.
Posted by Ron Gunzburger - 07.09.07 | Permalink |
DOMENICI'S IRAQ SHIFT; TANCREDO'S REAL '08 PLAN; GILMORE SUSPENDS; ILLINOIS ABSURDITIES.
IRAQ: US Senator

Pete Domenici (R) -- who may potentially face a competitive re-election contest next year in the swing state of New Mexico -- on Thursday became the latest Republican to abandon his support for continuing the Iraq War. "I am unwilling to continue our current strategy ... [The US needs to adopt a new strategy to ] move our troops out of combat operations and on the path to coming home," said Domenici in an Albuquerque speech. The blame for the failure in Iraq should be placed almost entirely on the Iraqi government because it failed "to make even modest progress to help Iraq itself or to merit the sacrifices being made by our [US] men and women in uniform." Domenici said, however, he doesn't support an immediate withdrawal. Instead, he wants to see the 79 recommendations of the Baker-Hamilton Iraq Study Group quickly adopted. US Senators George Voinovich (R-OH) and Dick Lugar (R-IN) both announced within the past week they each now support a prompt withdrawal of US forces from Iraq.


TANCREDO: Congressman Tom Tancredo (R) said this week that "it's not impossible" for the US to deport the estimated twelve million immigrants living in the United States illegally. While that kind of incendiary comment is not unusual for Tancredo, his other comments this week to a crowd back in his Colorado district were more telling of his real 2008 plans. "If I'm re-elected, when I'm re-elected to Congress, and by the grace of God [and] the people in my district, I end up back there ...," reported the Rocky Mountain News. No real surprise, as Tancredo just wants a national forum for his hardcore anti-immigration platform.
GILMORE: Former Virginia Governor Jim Gilmore (R) has "temporarily suspended" his Presidential campaign as he recovers from emergency eye surgery to repair a partially detached retina. Gilmore's campaign issued the statement this week to debunk rumors he was exiting the race. In any event, how would anyone be able to tell?
ILLINOIS #1: Two Illinois congressmen provided some amusing news copy this week, although the stories are definitely absurdist "laughing at" -- not "laughing with" -- situations. The Springfield State Journal-Register reported Thursday that Bradley University's presidential search committee has selected the finalists to interview for the open position. Congressman Ray LaHood (R) was not one of the finalists, according to the report. Now, here is where it gets odd. When contacted by the newspaper, LaHood responded "he still hasn't decided whether to apply for the position." LaHood last month announced he was

interested in the appointment and suspended his congressional fundraising as he pursued the appointment. "I'm still considering" the job, said LaHood again on Thursday. The reporter then repeated that the search committee had already cut him from the list of finalists. "I just told you where I'm at with it ... I've pretty much said what I want to say about it. I'm just going to leave it at that," snapped LaHood, clearly ignoring the reality of the situation.
ILLINOIS #2: Here's the second Illinois story we promised. It seems Congressman John Shimkus (R) is apparently a closet monarchist. Speaking Tuesday with the Journal-Register editorial board, Shimkus described himself as "a democracy guy" who recognizes democracy may not be the best form of government for Iraq. Instead, he said it would be "better to have a constitutional monarchy [in Iraq], with a very strong, powerful king, and maybe a dictator who is trying to move a little bit to democratic principles, versus just throwing the door open and pushing full-blown democratic principles, which could destabilize the country?" He said the Morocco monarchy could be a good model for a future Iraq. Then -- not quite knowing when to stop talking -- Shimkus continued: "When I taught government and history, by definition, [and was asked] what is the best form of government, the most simple [answer] is a compassionate monarchy -- a monarchy that loves and respects its citizens and … is able to make easy decisions without the weight of a bureaucracy."
Posted by Ron Gunzburger - 07.06.07 | Permalink |
FREE SPEECH ZONE.
Watch Al Gore's Live Earth global concert event on NBC, MSNBC, Telemundo, Bravo, Sundance and other stations on Saturday. Help support the cause of combating global warming.
Posted by Ron Gunzburger - 07.06.07 | Permalink |

McCAIN'S MONEY WOES, CUTS 50+ STAFFERS; PREZ COMMUTES LIBBY PRISON TIME.
McCAIN: In yet another sign that

US Senator John McCain's GOP Presidential campaign is on the ropes, his campaign acknowledged some very bad news on Monday. McCain Campaign Manager Terry Nelson told the media McCain raised $11.2 million in 2Q-07 -- far short of the campaign's goal -- and had only $2 million cash-on-hand remaining in the bank. Nelson conceded the campaign will fall far short of the $100 fundraising million goal for 2007, and said the campaign declined the reveal the newly revised fundraising goals. Further, the AP reports McCain's campaign eliminated 50+ staff positions due to the financial woes. "We confronted reality and we dealt with it in the best way that we could so that we could move forward," said Nelson. He also says he agreed to work as manager without salary for the next few months, and other surviving staffers agreed to pay cuts as part of the campaign shake-up. While McCain's campaign originally intended to forego federal matching funds, Nelson said the campaign was now considering accepting the matching funds. To date, McCain would be eligible for around $6 million in matching funds. McCain has also retooled his message within the past week: he is now the courageous candidate disliked by insiders because he is willing to take tough stands (i.e., his Iraq War and immigration stances) and won't pander to polls and the special interests.
LIBBY: President Bush on Monday commuted the prison sentence of former VP Cheney Chief of Staff Lewis "Scooter" Libby on his federal perjury conviction.

Bush said he "respects" the jury decision to convict, declining to pardon Libby or waive the $250,000 fine or probation. "My decision to commute his prison sentence leaves in place a harsh punishment for Mr. Libby. The reputation he gained through his years of public service and professional work in the legal community is forever damaged ... The consequences of his felony conviction on his former life as a lawyer, public servant, and private citizen will be long-lasting," said the President's statement. He also praised Special Prosecutor Patrick Fitzgerald as "a highly qualified, professional prosecutor who carried out his responsibilities as charged." However, he wiped away the 30 month prison sentence because it found it to be "excessive." The decision came the day an appellate court refused to stay Libby's imposition of sentence, meaning he would soon have to report to federal prison as an inmate. As expected, Dems were highly critical of the move and Republicans generally praised the sentence commutation. "Today's decision is yet another example that this Administration simply considers itself above the law ... This commutation sends the clear signal that in this Administration, cronyism and ideology trump competence and justice," said Hillary Clinton (D). "I am very happy for Scooter Libby ... While for a long time I have urged a pardon for Scooter, I respect the President's decision," said Fred Thompson (R). [Brief Editorial: Since the President is generously and graciously commuting excessive federal prison sentences, perhaps he needs to look at the excessive amount of prison time imposed under federal guidelines on crack rock cocaine distribution convictions compared to the much lower sentences imposed under the guidelines for distribution convictions of much larger amounts of cocaine in powder form.]
SHAQ FOR SHERIFF?: Pro basketball star and volunteer Miami Beach reserve police officer Shaquille O'Neill on Monday confirmed political rumors that have been floating around Broward County, Florida -- my home -- for the past few months. Appearing on Live With Regis & Kelly, O'Neill was asked if he plans to go into law enforcement full-time once he retires from the Miami Heat. O'Neill confirmed the rumors were true and that he was planning to run for either Broward County Sheriff or Orange County (Orlando) Sheriff. Both offices are on the ballot in 2008. As O'Neill has been openly shopping for multimillion dollar waterfront digs here in Fort Lauderdale for the past few months, it looks like he's considering a run against incumbent Broward Sheriff Ken Jenne (D). O'Neill is also believed to be a Democrat. South Florida newspaper have reported Jenne has been the target of a federal grand jury corruption probe for the past two years related to his private business deals and some personal loans, although it is unclear if anything will come of the probe. Jenne has vehemently denied any wrongdoing and said he plans to seek re-election next year.

Posted by Ron Gunzburger - 07.03.07 | Permalink |
FREE SPEECH ZONE.
Happy Independence Day ... one day early ... as I don't plan on posting anything new for July 4th (which is also my birthday). Don't know yet about posting anything on July 5 (as I'd have to write it on the evening of July 4).
Posted by Ron Gunzburger - 07.03.07 | Permalink |
OBAMA SETS RECORD; MITT & McCAIN SPIN; TOMMY DECLARES "MUST WIN"; LUGAR CALLS FOR IRAQ WITHDRAWAL.
DEM MONEY HUNT: Barack Obama will raised in

excess of $32.5 million in 2Q-07, according to a statement released by Obama's campaign on Sunday. That amount is an all-time record high for a Democratic Presidential primary hopeful during a fundraising quarter. Obama also reports having over 250,000 individual donors to date. Hillary Clinton will report she raised "in the range of $27 million" in the fundraising quarter which ended June 30, according to comments a spokesman made to CNN. John Edwards' campaign spokesman said Sunday that their campaign had raised "over $9 million" during the period. Bill Richardson will report he raised more than $7 million, placing him ahead of all of the other "second tier" Dem hopefuls.
GOP MONEY HUNT: Details on the GOP side are much spottier. Romney's campaign spokesmen have been issuing vague comments that simply say he won't report having raised as much in 2Q-07 as he did in 1Q-07 -- and that Romney gave some more of his own money to pump up his total. Everyone knows John McCain's numbers are reportedly dismal for a first tier hopeful -- but no details are yet available. The McCain news appears so dire that he was forced to tell the AP the rumors he will soon exit the race are false. "That's ridiculous. Why in the world would I want to do that? It would be nuts. I don't know why I would even remotely consider such a thing in the month of June, or July," said McCain. Not a very definitive denial, as it sounds much more like a "not yet" answer. As for Fred Thompson, he just recently formed his exploratory committee. He apparently is not required to disclose any fundraising numbers to the FEC for the quarter.


IRAQ: US Senator Richard Lugar (R-IN) -- the ranking Republican on the Senate Foreign Relations Committee -- told CBS on Sunday he now supports the "withdrawal of a majority of American troops [from Iraq] in a calm, orderly way over the next few months." Lugar said the US force in Iraq is endangering the US military's ability to respond to other crises elsewhere in the world. "I think we are too much stretched," he explained. Lugar is the immediate past Chair of the committee. He said Congress and the White House need to start discussing a planned withdrawal "now, not punting the ball down to September." While conservatives note nearly all of the Senate Republicans who have become critical of the Iraq War are facing re-election next year, Lugar is not up for re-election again until 2012.
TOMMY THOMPSON: Former

Wisconsin Governor Tommy Thompson (R) said next month's Ames GOP Straw Poll is a "must win" for his struggling campaign. Thompson said he's spent more time in Iowa to date than any other candidate. Of course, having Rudy Giuliani, John McCain and Fred Thompson not competing in the straw poll should also help. If the former Bush Cabinet member cannot win even with that very favorable handicap, look for him to exit the race soon after.
GEORGIA: Former Congressman Max Burns (R) -- who narrowly lost a rematch last year to reclaim his old seat from then-freshman Congressman John Barrow (D) -- has decided against making another run for the CD-12 seat next year. Instead, Burns last week accepted a new job as a college professor and Chair of the Business Administration Department at North Georgia College & State University.
Posted by Ron Gunzburger - 07.02.07 | Permalink |
FREE SPEECH ZONE.
EDITORIAL: I appreciate the underlying message of Michael Moore's new film Sicko -- and this doesn't reflect any new stance for me. I've openly editorialized here for several years in support of a

universal national health care system for the US. Here's an excerpt from my July 2004 editorial on the topic: "Why do critics always deride it as 'socialized medicine'? And why, when people call it socialized medicine, do moderates quickly shy away from any meaningful discussion on the merits of the topic? We have universal public education through the high school level (to wit: everyone pays taxes regardless of whether or not they will have a kid in school in order to ensure that every child has the opportunity to attend public schools for free) ... but no mainstream politician ever calls it 'socialized education.' The same universal method of tax payments coupled with full public access -- usually without user fees -- applies to all of our public roads, parks, police, and fire/rescue. Despite this, I've never once heard anyone decry 'socialized streets' or 'socialized parks' or 'socialized law enforcement' or 'socialized public safety.' When do we set aside the rhetorical war -- and some of this political polarization of the nation -- and start having calm, serious, thoughtful discussions about real solutions to real problems facing real people?" I don't care what you want to call it -- including the feared "S-word" -- but our nation desperately needs universal health care coverage. And I could care less if we put all of the private health insurance companies out of business. While we're on the topic of fixing our nation's problems, adopting the living wage wouldn't be a bad idea either ... but I'll save that one for another day.
Posted by Ron Gunzburger - 07.02.07 | Permalink |
BLOG ARCHIVE:

August 1-15, 2007
July 1-31, 2007
June 1-30, 2007
May 16-31, 2007
May 1-15, 2007
April 16-30, 2007
April 1-15, 2007
March 16-31, 2007
March 1-15, 2007
February 16-28, 2007
February 1-15, 2007
January 16-31, 2007
January 1-15, 2007
December 16-31, 2006
December 1-15, 2006
November 16-30, 2006
November 1-15, 2006
October 16-31, 2006
October 1-15, 2006
September 16-30, 2006
September 1-15, 2006
August 16-31, 2006
August 1-15, 2006
July 16-31, 2006
July 1-15, 2006
June 16-30, 2006
June 1-15, 2006
May 15-31, 2006
May 1-15, 2006
April 16-30, 2006
April 1-15, 2006
March 16-31, 2006
March 1-15, 2006
February 17-28, 2006
February 1-16, 2006
January 16-31, 2006
January 1-15, 2006
December 2005
November 2005
October 2005
September 2005
August 2005
July 2005
June 2005
May 2005
April 2005
March 2005
Jan-Feb 2005
December 2004
November 16-30, 2004
November 1-15, 2004
October 16-31, 2004
October 1-15, 2004
September 16-30, 2004
September 1-15, 2004
August 16-31, 2004
August 1-15, 2004
July 16-31, 2004
July 1-15, 2004
June 16-30, 2004
June 1-15, 2004
May 16-31, 2004
May 1-15, 2004
April 16-30, 2004
April 1-15, 2004
March 15-31, 2004
March 1-14, 2004
February 15-29, 2004
February 1-14, 2004
January 17-31, 2004
January 1-16, 2004
December 16-31, 2003
December 1-15, 2003
November 17-30, 2003
---
POLITICAL BLOG ROLL:
KINDA NEUTRAL:
ABC News: The Note
CNN: Morning Grind
CQ Politics
Political Wire
MSNBC: First Read
CJR Daily
Rothenberg Pol. Report
LexisNexis: US Politics
Stateline.org
Governing.com
Political State Report
Hotline On Call
Hotline's Blogometer
Beltway Blog
WatchBlog
Lawmakers Blog
Centerfield Aggregator
Command Post
FactCheck.org
WSJ: Best of the Web
WSJ: Washington Wire
D.C.'s Political Report
2008 Political Perspective
Media Bistro
Larry Sabato: Crystal Ball
PressThink
Politics-Line
TheCapitol.Net: Blog
MyElectionAnalysis.com
DEM/LEFT:
DNC Blog
DCCC Blog
DailyKos
Lefty Blogs
Howard Dean/DFA
OurSenate.com
Frameshop
The Washington Note
Emerging Dem Majority
Think Progress
AmericaBlog.com
Amer Prospect: Tapped
Arianna Huffington
Al Franken
BAG News Notes
Eric Alterman
Senate Majority Project
FishBowl DC
Fired Up! America
TalkLeft
TNR: The Plank
The Raw Story
Blogging of the President
Joe Trippi
Swing State Project
Media Matters
Josh Marshall
Wonkette
MyDD
Working for Change
Crooks & Liars
Mathew Gross
Penndit
Progressive Dems: Blog
Atrios/Eschaton
Off the Kuff
Tom Tomorrow
Mother Jones
Jerry Springer
TruthOut
Dem Bloggers
Liberal Oasis
Penndit
Firedoglake
Good As You
AtariDemocrat
Henry Lewis
BuzzFlash
Brad Blog
Dean Nation
Louise Slaughter
TruthDig
Dem Underground
Jared Hall
Bad Attitudes
The American Street
District Blogs
GOP/RIGHT:
RNC (GOP.com)
Club for Growth
National Review: Corner
C-Log
Real Clear Politics
Andrew Sullivan
John Ellis
Mickey Kaus
Virginia Postrel
RedState.org
WSJ Opinion Journal
Free Republic
Instapundit
Drudge Report
Pajamas Media
Hugh Hewitt
Daniel Drezner
Daily Pundit
Bully Pulpit
Outside the Beltway
Little Green Footballs
World Mag Blog
Right Wing News
Volokh Conspiracy
Brothers Judd
David Frum
Mister Politics
Enter Stage Right
Right Wing News
PoliPundit
Power Line
Hedgehog Report
Right Voices
Booker Rising
Don Singleton
Save the GOP
OTHER:
ThirdPartyWatch.com
Centrist Coalition
Kn@ppster
Green Commons
News for Greens
---
For those who would like to track Politics1 with a newsreader, we publish a RSS feed:
---

---