BLOG ARCHIVE:

August 2005
July 2005
June 2005
May 2005
April 2005
March 2005
Jan-Feb 2005
December 2004
November 16-30, 2004
November 1-15, 2004
October 16-31, 2004
October 1-15, 2004
September 16-30, 2004
September 1-15, 2004
August 16-31, 2004
August 1-15, 2004
July 16-31, 2004
July 1-15, 2004
June 16-30, 2004
June 1-15, 2004
May 16-31, 2004
May 1-15, 2004
April 16-30, 2004
April 1-15, 2004
March 15-31, 2004
March 1-14, 2004
February 15-29, 2004
February 1-14, 2004
January 17-31, 2004
January 1-16, 2004
December 16-31, 2003
December 1-15, 2003
November 17-30, 2003
---
POLITICAL BLOG ROLL:
KINDA NEUTRAL:
ABC News: The Note
CNN: Morning Grind
Political Wire
MSNBC: First Read
CJR Daily
Stateline.org
Political State Report
Hotline's Blogometer
WatchBlog
Command Post
Coming Up Daisies
FactCheck.org
WSJ: Best of the Web
D.C.'s Political Report
2008 Political Perspective
Media Bistro
PressThink
DEM/LEFT:
DNC Blog
DCCC Blog
DailyKos
Howard Dean/DFA
OurSenate.com
Frameshop
Emerging Dem Majority
Think Progress
AmericaBlog.com
Amer Prospect: Tapped
Arianna Huffington
Al Franken
Eric Alterman
ElectaBlog
TNR: &c
FishBowl DC
TNR: &c.
The Raw Story
Blogging of the President
Joe Trippi
Swing State Project
Media Matters
Josh Marshall
Wonkette
MyDD
Working for Change
Crooks & Liars
Mathew Gross
ACT Blog for Victory
Penndit
Atrios/Eschaton
Off the Kuff
Tom Tomorrow
Mother Jones
Jerry Springer
TruthOut
Dem Bloggers
Liberal Oasis
Henry Lewis
BuzzFlash
Brad Blog
Dem Underground
GOP/RIGHT:
RNC (GOP.com)
Club for Growth
National Review: Corner
C-Log
Real Clear Politics
Andrew Sullivan
John Ellis
Mickey Kaus
Virginia Postrel
RedState.org
WSJ Opinion Journal
Free Republic
Instapundit
Drudge Report
Hugh Hewitt
Daniel Drezner
Daily Pundit
Bully Pulpit
Outside the Beltway
Little Green Footballs
World Mag Blog
Right Wing News
Volokh Conspiracy
Brothers Judd
David Frum
Right Wing News
PoliPundit
Power Line
Right Voices
OTHER:
ThirdPartyWatch.com
Centrist Coalition
---
For those who would like to track Politics1 with a newsreader, we publish a RSS feed:
BLOG ARCHIVE: JULY 2005


Premier Ad. Click here to learn about premier ad placements on Politics1.
SATURDAY NEWS UPDATE.
OPEN THREAD: Your turn to chat while I keep busy writing. I'm digging up the dirt on a major gubernatorial candidate with some bizarre friends and connections he'd rather not have you read about. Fortunately, you'll read it right here in a Politics1 exclusive on Monday. Meditate and speculate on that teaser until Monday.
Posted by Ron Gunzburger - 7.30.05 |
P2008: It didn't take US Senator Rick Santorum (R-PA) more than a day or two to kinda, sorta un-quit the Presidential race. On Monday he told the Washington Post: "I can't speak for other politicians but I can speak for me, and my intention is not to run in 2008." Instead, he said he planned to focus on his tough '06 re-election contest. But, as soon as Senator Sam Brownback (R-KS) publicly staked a claim on Santorum's former supporters in the Prez race and commentators mentioned Santorum was out of the P2008 race, he changed his mind. Santorum told reporters mid-week that he wanted to leave a "little window open" on running in '08. "It would be easier for me to say no, absolutely, positively, under no circumstances [would I run for President] but in my mind that wouldn't be honest," Santorum said.

KENTUCKY: Governor Ernie Fletcher (R) says he may take the fifth and refuse to testify if called before the grand jury investigating hiring corruption in his administration. "I will have to assess that at the time and see what conditions it's under and everything else," he said to the Louisville Courier-Journal. The Fifth Amendment protects witnesses from being forced to give self-incriminating testimony in criminal cases. Through his attorney, Fletcher has offered to testify if he does not have to do so under oath. Republicans accuse Attorney General Greg Stumbo (D) of using the grand jury to advance a partisan agenda. Eight current or former Fletcher Administration officials have already been charged with illegal hiring practices and official misconduct -- and one was also charged with felony witness tampering. According to the newspaper, Fletcher was willing to vaguely admit -- not under oath -- that his administration made "mistakes" and "exercised less than good judgment" in the state job hiring process -- in exchange for the grand jury being dissolved and having no further charges filed. Fletcher, a physician and former Congressman, faces re-election in 2007.
ARIZONA: Conservative State Representative Russell Pearce (R) said this week he will either run for Governor or make a primary challenge to Congressman Jeff Flake (R) next year -- but he hadn't decided yet what direction he will go. According to the Phoenix Business Journal, Pearce -- like Congressman Tom Tancredo (R) -- is a supporter of "tougher border and immigration controls ... and using federal troops and state police to secure the U.S./Mexican border." Pearce appears to be leaning towards a Congressional run, as he disagrees with Flake's co-sponsorship of the McCain-Kennedy guest worker bill that would make it easier to current illegal immigrants to obtain legal status. Pearce views that bill as a "backdoor amnesty" for illegals. However, Pearce also notes he has issues with Governor Janet Napolitano (D) for purportedly failing to deal with an "illegal alien invasion" of the state.
CAFTA ANTICS:

Congressman Charles Taylor (R-NC) claimed he was opposed to the Central America Free Trade Agreement (CAFTA) -- and he even claimed he tried to vote "no" Wednesday night -- although the official House record doesn't show Taylor casting any floor vote at all. With a lot of arm-twisting, the Bush Administration won CAFTA a narrow 217-215 passage in the House. For his part, Taylor claims he inserted his voting card and pushed the "no" button but it oddly didn't work for him. Here is his story: "I informed the Majority Leader and the Appropriations Chairman I was voting no, as I had informed my constituents I was voting no ... Due to an error, my 'no' vote did not record on the voting machine. The Clerk's computer logs verified that I had attempted to vote, but it did not show my 'nay." Huh? Somehow, Taylor wants us to believe his voting card alone failed to work -- even though 432 colleagues were able to successfully insert their cards and push the buttons and even though his card worked correctly every other time until now -- yet he didn't think to try another of the many voting machines? Even more embarrassing was Congressman Robin Hayes (R-NC), who represents a district that lost many textile jobs due to NAFTA. "There needs to be a clear-cut case that [CAFTA] is going to bring jobs and grow the economy. CAFTA does not make that case," said Hayes on Monday. On Tuesday, Hayes again told reporters he would vote against CAFTA. When the floor vote began, Hayes initially voted no -- causing a 216-216 tie (i.e., CAFTA failed for lack of a majority) -- but after 40 minutes of pressure from GOP leaders and holding the vote open, Hayes folded and switched his vote to "yes." Charles Taylor and Robin Hayes: Two Congressional profiles in courage.
FLORIDA: Suspended Miami City Commissioner Art Teele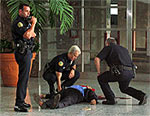 shockingly committed suicide in the lobby of the Miami Herald early Wednesday evening, shooting himself in the head. Teele began his political career as young lawyer who in 1980 served as national chair of Blacks for Reagan-Bush. The next year, he was appointed chair of the Federal Transit Administration. In '84, Teele was the Reagan-Bush op research staffer who found the dirt on Dem VP nominee Geraldine Ferraro's husband. Afterwards, he returned to South Florida to become a lobbyist. Since 1990, Teele served on the Miami Commission -- briefly leaving the commission in '96 to run a failed race for Miami-Dade County Mayor. Governor Jeb Bush suspended the once powerful Teele after he was charged last year assaulting a police officer who had been following Teele as part of a corruption investigation. Earlier this year, he was convicted of the assault charges and placed on probation. Five days ago the deeply indebted Teele was arrested and charged with 26 charges of federal fraud -- and more corruption indictments were expected. The suicide came just hours after the alternative weekly Miami New Times printed a lurid cover story giving new details of Teele's purported corruption -- including new details from police reports involving prostitutes, mistresses, drug use, drug money, bribery, and extortion schemes. "I really feel bad. I would never want anyone to harm themselves over something I wrote, but at the end of the day, I was just doing my job," said the reporter who wrote the New Times piece. "Who did I piss off in this town," a distraught Teele asked a Herald columnist and friend shortly before he killed himself. Teele's last words were "Tell my wife that I love her." The Herald printed at the top of their front page a large, graphic photo (right) of Teele sprawled in a pool of blood on their lobby floor -- but with a condolence note from the Herald management to the Teele family tastelessly running down the side column right next to it. I only met Teele once in the early 1990s -- and found him rather haughty -- but still it's a sad end to a once promising political career that went very far astray.
Posted by Ron Gunzburger - 7.29.05 |
NEW YORK: Governor George Pataki (R) finally ended his long, drawn-out Hamlet "to run, or not to run" act on Wednesday, announcing he will not seek a fourth term next year. "Today, with pride in our accomplishments, enduring enthusiasm for New York's future and heartfelt gratitude to its people, I am announcing that I will not seek another term as your Governor," he explained. Polls showed Pataki was likely to lose to aggressive Attorney General Eliot Spitzer (D). While Pataki previously said he would not run for US Senate against Hillary Clinton (D) next year, he did not give any indication of his '08 plans. Based upon his recent actions, however, he appears to be readying an exploratory effort for the Presidential contest. With Pataki out of the Guv race, billonaire perennial candidate Tom Golisano, and Secretary of State Randy Daniels appear most likely to enter the GOP contest. NYC Mayor Mike Bloomberg (R) said a few days ago that he will "never" run for Governor. Former NYC Mayor Rudy Giuliani (R) also says he won't run -- likely in an attempt to keep his P2008 options open. Pataki said he would support Golisano if he decides to make a fourth gubernatorial run.

P2008: Congressman Tom Tancredo (R-CO) is still spinning -- but not retracting nor apologizing for -- his comments a week ago that the US may want to threaten to "take out" Islam's holiest sites (like Mecca) if Islamic terrorists commit devastating acts of terrorism within the US borders. A few days ago, Tancredo said the firestorm created by his remarks proved his concept was thought-provoking and may cause terrorists to think twice before hitting the US. Tancredo explained further on Tuesday that he doesn't really understand the uproar. "I didn't say nuke anything. I just said 'take out their holy sites,'" he explained to Fox News. Apparently this Is Tancredo's idea of damage control. In other P2008 news, US Senator Sam Brownback (R-KS) says he believes he will probably gain the most -- in terms of support from Religious Right activists -- now that Senator Rick Santorum (R-PA) has announced he will not run for President in 2008.
MASSACHUSETTS: There could soon be two members of the Kerry family in elective office in Massachusetts. Cam Kerry -- attorney and brother of US Senator John Kerry -- has filed paperwork to run next year for Massachusetts Secretary of State (note: don't email me corrections -- I know it's actually called Secretary of the Commonwealth, but nobody outside the state would call it that). Kerry was very active in his brother's Presidential campaign, assisting with fundraising and organizing the legal teams for election day. Senator Kerry says he'll encourage and support his brother in anything he wants to do. Cam Kerry says he'll only seek the office if incumbent Bill Galvin (D) runs for Governor, as is expected.

CONNECTICUT: Incumbent Govenor Jodi Rell (R) looks almost unbeatable next year. Rell -- a longtime Lieutenant Govenor -- succeeded to office last year when incumbent Governor John Rowland (R) resigned amid a bribery investigation. Rowland subsequently pled guilt to federal charges and was sentenced to prison. Rell was not tainted by the scandal. In fact, she scored a 79% approval rating in a Quinnipiac University poll. "She scores sky-high on a series of personal traits -- leadership, honesty likability, you name it," said the pollster. In her first year in office, Rell has pushed for same-sex civil unions, the death penalty, expanded stem cell research, and public campaign financing. Rell also easily defeats any of her likely Democratic opponents, according to the poll. She led Attorney General Richard Blumenthal (D) -- who has yet to decide on making the race -- by a 49% to 37% vote. Rell did even better against the Dems was are actively running, leading each of them by margins of nearly 40-points. The poll also showed Blumenthal would easily defeat the pack of Dems currently in the primary field by a landslide margin. As for President Bush, 59% of poll respondents disapproved of his perfomance -- which indicates how many cross-over Democrats are backing Rell.
Posted by Ron Gunzburger - 7.28.05 |
ARIZONA: Congressman J.D. Hayworth (R-AZ) denies that he is soon going to announce he is retiring to take a position with Fox News. Hayworth was a local TV anchorman before being elected to Congress. Hayworth's press secretary said all the talk is simply rumor -- and that the rumor is "approaching the status of urban legend" inside the Beltway. A spokesman for Fox News told the Phoenix Business Journal he was "not aware of any pending deal." Even if the rumors prove true, Hayworth's CD-5 is a safe Republican district.

P2008: Remember back to a month or so ago when I opined that outgoing Iowa Governor Tom Vilsack must have quietly agreed to forgo any Presidential ambitions for 2008 when he agreed to become the new Chairman of the Democratic Leadership Conference. My thinking was that the Clintonista group was not about to hand over control of the DLC to anyone who planned to use it as a platform to promote their own national candidacy (particularly against a Clinton ... unless he's posturing to be HRC's runningmate). Well, I'm now retracting that statement. Why? Because Vilsack is getting ready to launch his own leadership PAC. From an early sneak peek at the Heartland PAC website, it appears the PAC exists primarily to raise Vilsack's political profile. Count Vilsack back in as another active P2008 hopeful.
FLORIDA: A review of the 2Q '05 FEC reports quickly highlights the Florida CD-22 race as the most hotly contested challenger race in the nation. Fortunately for me, that district is located right next door to where I live -- and shares the same TV market -- so I'll have a front row seat. According to the numbers, Congressman Clay Shaw (R) has a cash-on-hand of $1.03 million and challenger State Senate Minority Leader Ron Klein (D) has $560,000 cash-on-hand. Klein actually outraised the incumbent in the most recent quarter. While the CD-22 seat surprisingly went for Kerry over Bush last year -- and this will likely be the most competitive re-election race of Shaw's entire career -- the contest still should be classified as "Leans GOP" for now because Shaw been able to regularly draw crossover votes in his past runs.

NEW YORK: Governor George Pataki (R) continues to stymie any attempts by Empire State Republicans to recruit a successor to him in '06. Pataki had promised to announce by June whether he would seek a fourth term next year. Instead, he stalled and trekked to Iowa this month to promote his possible Presidential candidacy. Pataki "can win anything he goes for," boasted NY State Parks Commissioner Bernadette Castro, a longtime Pataki loyalist. This week Pataki told WINS Radio that he'll announce his re-election "when we're ready to do that" -- but that it should be before the end of September. Pataki trails Attorney General Eliot Spitzer (D) by significant margins in the gubernatorial race in all polls this year. Postscript: Within hours after giving this WINS interview, NY1 News reported that sources close to Pataki say he will announce his retirement on Wednesday. Stay tuned to see whether he goes ahead with his announcement plans or delays it again.
ROVE-GATE: For those of you who remain perplexed as to why any of this "Rove-gate" stuff is even remotely a criminal matter, then check out the DCCC's Wartime Betrayal Timeline.
Posted by Ron Gunzburger - 7.27.05 |

P2008: You can cross the name of US Senator Rick Santorum (R-PA) off the list of potential 2008 Presidential hopefuls. Santorum told the Washington Post on Monday he will not be a candidate for President in 2008. "I have six children ages 4-14, and the idea of coming off a [2006 re-election] race of the intensity that I am engaged in at this point and turning around and running another two-year campaign for President is not something that I believe is in the best interest of my family ... I can't speak for other politicians but I can speak for me, and my intention is not to run in 2008," he explained. Polls show Santorum trailing State Treasurer Bob Casey Jr. (D) in his '06 re-election contest.
LABOR PAINS: In a split that was looming for months, several key unions took steps Monday towards breaking away from the giant AFL-CIO labor union umbrella organization. President Andrew Stern of the 1.8 million member Service Employees International Union (SEIU) -- the organizer of the breakaway movement -- made the announcement that SEIU would "disaffiliate" from the AFL-CIO. Stern cited his concern that labor has been steadily losing membership, losing pension security, losing job security, and that salaries are no longer keeping pace with living expenses. Stern was joined in his move by President James Hoffa and his powerful Teamsters. Other smaller unions also joined the breakaway group. In total, the breakaway equals roughly one-third of the AFL-CIO's membership. The move is not about political differences -- as Stern and the SEIU were strong Howard Dean supporters during the 2004 Presidential primaries -- so much as it is about significant difference in strategies. The SEIU complains the AFL-CIO is focused largely on political campaigns, while the breakaway Change to Win Coalition wants to focus on growing union membership, and winning more benefits and protections for workers. "We must have more union members in order to change the political climate that is undermining workers rights in this country ... We have partnered with seven strong and progressive unions in the Change to Win coalition to organize the unorganized and create real power for the working families of America," said Hoffa. Other members of the Coalition include the Carpenters, the UFCW, and the Farm Workers. In total, the new splinter group represents approximately seven million American workers. In related news, the New Orleans Times-Picayune reported that the SEIU will announce later this week that the group is "offering unspecified financial assistance to the Third Way New South Project, an effort by some moderate Democrats to turn around growing voter disenchantment with their party." The leaders of the project are US Senators Mary Landrieu (D-LA) and Mark Pryor (D-AR), Virginia Governor Mark Warner (D-VA) and Georgia Attorney General Thurbert Baker (D).

FLORIDA: Attorney General Charlie Crist -- the current frontrunner in the hotly contested '06 race for the GOP gubernatorial nomination -- made a point of openly distancing himself from the actions of Governor Jeb Bush during the recent legal battle over ending medical life support for the late Terry Schiavo. While Bush and State CFO Tom Gallagher -- Crist's primary opponent -- both aggressively advocated state intervention against Schiavo's husband to keep the comatose Schiavo alive in her vegetative state, Crist remained silent during the highly publicized court fight. According to the Daily Business Review, Crist was the keynote speaker this month at the annual dinner of the Florida chapter of the American Board of Trial Advocates. At the dinner, Florida Circuit Judge George Greer and US District Judge James Whittemore -- the two judges who blocked state intervention to keep Schiavo on life support -- were both honored as the group's "Jurists of the Year." Crist then spoke in favor of judicial independence. "It is important we protect the judicial branch," said Crist, who went on to say he was "proud" of Greer and Whittemore. "You are heroes to all of us, and your defense of the judiciary and what is right is beyond admirable," he added. Watch Gallagher try to use this stuff against Crist -- even though published polling data indicates most Florida Republicans quietly agreed with Crist.
PENNSYLVANIA: If the new Rasmusson Reports poll is accurate, Governor Ed Rendell (D) is in a tougher re-election fight than had been anticipated. According to the poll, Rendell led former pro football player Lynn Swann (R) by a 47% to 41% vote. The poll also showed that Rendell led former Lieutenant Governor Bill Scranton III (R) by an even closer vote of 46% to 42%. Scranton, however, may have problems getting out of the GOP primary because of his ties to purported cult leader Maharishi Mahesh Yogi and his 2000 endorsement of the Presidential candidacy of Maharishi acolyte John Hagelin (Natural Law Party) over then-Governor George W. Bush. As with yesterday's Virginia poll, we'll need to wait and see whether other polls confirm these numbers.
P2008 & STEM CELL RESEARCH: StemPAC -- leading group advocating authorization of expanded stem cell research -- is now targeting US Senate Majority Leader Bill Frist (R-TN) for delaying consideration of HR 810, the key stem cell research bill currently being debated in DC. Here's the interesting twist: the group is only seeking to air the TV spots in New Hampshire, as Frist is a likely 2008 White House candidate.

NEW YORK CITY: NYC Mayor Mike Bloomberg (R) does not want to face any primary opposition in September. According to the New York Times, Bloomberg's campaign is carefully combing the ballot petitions filed by conservative former New York City Councilman Tom Ognibene (R) in an attempt to disqualify him from the ballot. This represents a major reversal for Bloomberg, who just last year told the New York Sun: "I think it's time to end this 'gotcha' kind of technique where lawyers comb petitions to find some technical violation." But that was last year. Here is what a Bloomberg spokesman told the Times: "I don't think it's a game of 'gotcha' to make sure the minimum number of signatures is valid." Under the state's arcane ballot laws, an entire page of petition signatures can be ruled invalid if any signature on the page is bad. The Bloomberg camp is apparently worried about the possibility of a repeat of the 1969 GOP primary, when a conservative challenger defeated liberal incumbent Mayor John Lindsay -- forcing Lindsay to seek re-election in the general election as a third party nominee. Lindsay won the '69 general as the Liberal Party nominee, but soon after bolted to the Democrats. The billionaire Bloomberg is favored over Ognibene in the primary and backed by the GOP organization in the four other counties that comprise New York City, although the Queens County Republican organization has endorsed Ognibene. FYI: We've added links to the various NYC mayoral campaigns on our New York page.
ROVE-GATE: Okay ... nothing new to report here today, but I couldn't help but mention this again.
Posted by Ron Gunzburger - 7.26.05 |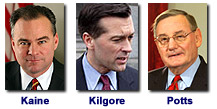 VIRGINIA: A new Mason-Dixon poll conducted for the Richmond Times-Dispatch shows that Lieutenant Governor Tim Kaine (D) has apparently eliminated the lead held since the start of the open gubernatorial race by former Attorney General Jerry Kilgore (R). The new numbers: Kaine-38%, Kilgore-37%, and State Senator Russ Potts (Independent) - 9%. Pollster Brad Coker described the race on Sunday as "very competitive." According to the pollster's analysis, Kaine is helped by "the broad popularity" of outgoing Governor Mark Warner (D) and by Kaine's focus on education, transportation and jobs (versus Kilgore's focus on guns, gay rights, abortion and the death penalty). Potts -- a GOP State Senator who has positioned himself as the most socially liberal of the three candidates -- is mainly drawing moderate GOP and Independent voters away from Kilgore, according to Coker. However, unless subsequent polls confirm these numbers, this poll may simply be an anomaly.
TOUR DE LANCE:

Congrats to American cyclist Lance Armstrong on scoring his record-setting seventh Tour de France win on Sunday. No other man has ever one more than five of the grueling, three-week bike race circle around France and over steep mountains in the Pyrenees and Alps. On Saturday, US Senator John Kerry was the honored guest riding in the Discovery Channel team car immediately behind Armstrong. Kerry is an amateur cyclist and -- like Armstrong -- a cancer survivor. Kerry has been wearing one of Armstrong's ubiquitous "Livestrong" yellow bracelets for over a year. After the race, Kerry told the AP that Armstrong "would make a terrific politician" if he chooses to pursue that when he returns to Texas. "I think he'd be awesome, he'd be a force. I just hope it's for the right party," said Kerry. During his racing career -- and particularly during the 2004 elections -- Armstrong was very careful to never express support for any candidate or political party, or even define his political views beyond some rather vague comments implying he is moderately liberal on a few social issues. Armstrong has also known President Bush for many years, going back to Armstrong's first Tour wins while Bush was Texas Governor.
A BLATANT PITCH FOR ADS: Politics1 records over 160,000 page views weekly. Have your Blogad seen by all those political eyes for just $85 for one week. Click here for to learn more about our Blogads opportunities. Here's another special offer (but you gotta order this one directly through us) ... Campaigns and candidates: Place your ads on the one state page you want to target for only $50 per month. Email us for more info. (And, despite my personal politics, I'm a good businessman and believer in freedom of speech ... so I'll sell the space to just about anyone who wants to pay for it.)
GREEN PARTY: The

Green Party held its national convention this weekend in Oklahoma and -- thanks to the blog of GP activist/journalist Ken Sain -- we know what took place. Nader '04 runningmate Peter Camejo apologized to '04 Green Presidential nominee David Cobb for disparaging comments he and other Nader supporters made about Cobb last year. Afterwards, both Camejo and Cobb said that neither would run for President in 2008. Instead, Camejo -- who captured nearly 400,000 votes as a candidate for California Governor in '02 -- said he is leaning towards making a third run for Governor next year. Delegates also expressed the general view that the party should nominate a woman for President next time. Among the many names floated by delegates were actress Susan Sarandon, former VP nominee Winona LaDuke, progressive activist Medea Benjamin, and Congresswoman Cynthia McKinney (D-GA) -- though none of these four have expressed any desire to run for President. So far, the only three women openly expressing interest in seeking the Green Presidential nomination are newly elected party national co-chair and New Paltz Deputy Mayor Rebecca Rotzler (NY), attorney and drug decriminalization activist Nan Garrett (GA), and young Green activist Kat Swift (TX).
PENNSYLVANIA: Democrats succeeded earlier this month in recruiting a top tier candidate -- former State Treasurer Barbara Hafer (D) -- to oppose Congressman Tim Murphy (R) in CD-18. The Republicans, in turn, are now trying to do likewise against an incumbent Dem. NRCC leaders have approached Montgomery County District Attorney Bruce Castor (R) about challenging Congresswoman Allyson Schwartz (D) for the CD-13 swing seat. Explained Castor: "I don't doubt that I could put on a good showing -- but I'm unsure if that's what I want to do." Castor -- a '04 candidate for Attorney General -- has also seen his name floated in recent weeks as either a possible draft candidate for Governor or as a possible Lieutenant Governor runningmate for former pro-football player Lynn Swann (R).
ROVE-GATE: Here's the latest in the federal grand jury investigation.

According to various published news reports, White House Deputy Chief of Staff Karl Rove and VP Chief of Staff Scooter Libby both gave sworn testimony before the grand jury that was contradicted by all relevant media witnesses. Apparently, even conservative columnist Robert Novak -- a friend of the Bush Administration -- gave testimony that contradicted Libby's testimony. Time magazine reporter Matt Cooper and MSNBC's Chris Matthews' likewise contradicted the testimony of Rove and Libby. While the Special Prosecutor may not charge Libby or Rove with violating the complex law involving leaking identities of covert CIA agents, felony indictments for perjury or obstruction of justice are looking more likely as the case moves forward. In related news, the Democrats on Saturday allowed retired CIA officer Larry Johnson -- a Republican -- to give their radio response to the President. "We must put to bed the lie that she was not undercover. For starters, if she had not been undercover then the CIA would not have referred the matter to the Justice Department," said Johnson. He noted he once attended a CIA training program with Valerie Plame -- identified even there to CIA co-workers only as "Val P" -- and other agents. Johnson made the comments because he believes the President should fire Rove. It is time for Republicans to "call the ugly dog the ugly dog. Where are these men and women with any integrity to speak out against this? I expect better behavior out of Republicans," he said.
P2008: We've added a few more profile pages of potential 2008 White House candidates: Joe Biden (D-DE), Sam Brownback (R-KS) and John Edwards (D-NC).
Posted by Ron Gunzburger - 7.25.05 |
SATURDAY NEWS UPDATE.
OPEN THREAD: Have at it.
Posted by Ron Gunzburger - 7.23.05 |
P2008:

Despite a bunch of good press and a burgeoning draft campaign, Montana Governor Brian Schweitzer (D) said he thinks people "are kooky" to promote the idea of him running for President in 2008. At age 49 and in only his first year in elective office, Schweitzer clearly thinks the attention now isn't appropriate. "I'm not that smart and I ain't pretty, so I don't know what they're talking about," joked the rancher/scientist-turned-politician. Besides, Schweitzer added, "If I stay in Washington for more than 72 hours, I have to bathe myself in the same stuff I use when my dog gets into a fight with a skunk." The Montana GOP Chair doesn't believe Schweitzer's claim of disinterest in running for President, noting that Schweitzer is increasing his profile in the national media. "There has to be someone, somewhere opening those [media] doors" for Schweitzer, said GOP Chair Karl Ohs. Schweitzer can, however, offer his take on why people seem interested in him: "Maybe it's because I'm kind of a straight-talker and tend to say it the way it is. A lot of politicians are scared of their own shadows so they parse their words."
NEW JERSEY: A new Fairleigh Dickinson University poll shows US Senator Jon Corzine (D) continuing to hold a solid lead over former West Windsor Mayor Doug Forrester (R) in the open race for Governor. The new numbers: Corzine-47%, Forrester-34%. Just for fun, the poll also asked respondents who they would vote for in a hypothetical contest between Forrester and former Governor Jim McGreevey (D), who resigned in disgrace amid a gay sex scandal. The result: Forrester-60%, McGreevey-40%. Good thing for the Dems that Corzine is their candidate instead of McGreevey.
A BLATANT PITCH FOR ADS: Politics1 records over 160,000 page views weekly. Have your Blogad seen by all those political eyes for just $85 for one week. Click here for to learn more about our Blogads opportunities. Here's another special offer (but you gotta order this one directly through us) ... Campaigns and candidates: Place your ads on the one state page you want to target for only $50 per month. Email us for more info. (And, despite my personal politics, I'm a good businessman and believer in freedom of speech ... so I'll sell the space to just about anyone who wants to pay for it.)

UTAH: US Senator Orrin Hatch (R-UT) has drawn a credible primary opponent. First elected in 1976, Hatch has held his seat by relatively easy electoral margins over the years -- although a conservative challenger at the '00 GOP State Convention nearly drew the 40% delegate vote required to force a primary contest. State House Majority Whip Steve Urquhart (R) told newspapers Thursday he will oppose Hatch because the incumbent has lost touch with Utah. Particularly, the conservative Urquhart opposes the No Child Left Behind program and thinks Hatch should have helped blocked radioactive waste from being trucked to Utah for disposal. A Hatch spokesman said the Senator would "prefer" to not have a GOP opponent for the nomination -- but also added that Hatch would "rather not have any Democratic opposition, either. But we kind of expected both. We'll win in both arenas." Wealthy internet executive Pete Ashdown (D) previously announced his candidacy for the seat. A new Salt Lake City Desert News poll released Thursday shows Hatch currently holding a very impressive 74% approval rating.
HAWAII: Former CNN-Asia anchorman Dalton Tanonaka (R-HI) pled guilty Thursday to several felony campaign counts in federal court pursuant to a plea agreement. The charges stem from Tanonaka admitting he accepted $84,000 in illegal contributions during his failed '04 Congressional race and '02 Lieutenant Governor race. "This pattern of deceptive conduct by Tanonaka resulted in significant sums of money being illegally passed into his campaign accounts," said an FBI spokesman. The candidate's former campaign manager was the person who reported the illegal activity. Tanonaka faces up to 66 years in prison when he is sentenced in November.
ROVE-GATE: Let's see: there was a White House memo marked as classified that identified Ambassador Joe Wilson's wife as a CIA covert agent -- but Karl Rove denied seeing it. Did Rove lie to the grand jury when he said he wasn't familiar with the memo ... or did Scooter Libby leak it ... or did they both play a role in the media leak? Remember, it is a federal crime punishable by up to 10 years in prison for a federal official to knowingly divulge the identity of a covert CIA agent if the person knows the government is trying to keep it secret. Check out the IsItTreason.com website. (See: the Roberts nomination didn't distract us. FYI: We also wrote about Sandy Berger )
Posted by Ron Gunzburger - 7.22.05 |

US SENATE CHALLENGERS: In Washington State, wealthy insurance executive Mike McGavick (R) -- a former congressional aide -- launched his campaign Wednesday against US Senator Maria Cantwell (D). In a quick sign that most Republicans wanted to unify to avoid a bloody primary fight, State GOP Chair Chris Vance and former Congressman Rick White both announced in response that they would not run. Former US Senator Slade Gorton, former Congresswoman Jennifer Dunn and Attorney General Rob McKenna also quickly threw their support behind McGavick. Former US Attorney and current RNC Member Diane Tebelius (R) said she would not be pushed out of the race and was "seriously considering" entering the contest. In Arizona, State Democratic Chairman Jim Pederson resigned to prepare his entry into the race against US Senator Jon Kyl (R). As Chairman, wealthy developer Pederson dumped almost $7 million from his own pocket into the party to help grow the Dems. Party activists appear united behind Pederson and he is unlikely to face serious primary opposition. Both McGavick and Pederson both start their respective races as underdogs for the general election.
A BLATANT PITCH FOR ADS: Politics1 records over 160,000 page views weekly. Have your Blogad seen by all those political eyes for just $85 for one week. Click here for to learn more about our Blogads opportunities. Here's another special offer (but you gotta order this one directly through us) ... Campaigns and candidates: Place your ads on the one state page you want to target for only $50 per month. Email us for more info. (And, despite my personal politics, I'm a good businessman and believer in freedom of speech ... so I'll sell the space to just about anyone who wants to pay for it.)
THE ROBERTS NOMINATION: Unless something shocking emerges about Supreme Court nominee John Roberts Jr., I'd expect him to ultimately win an easy confirmation in time to take a seat on the Court in October. I find him far too conservative for my tastes, and his real views would likely lead him to become a conservative activist judge ... but he's still going to be confirmed.
A WARNING: We have a handful of bloggers who decide to act rather boorishly and inappropriately on a daily basis. The thing is, I've been monitoring the IP addresses of the posters and can finally identify the real person who is behind some of our most offensive postings in the blog. In fact, it appears to be someone from JHU we've confronted once before so -- unless he wants his names posted here (again) -- it's going to stop now! Okay?
Posted by Ron Gunzburger - 7.21.05 |
SUPREME COURT:

For a few weeks folks speculated on who would replace Justice Sandra O'Connor. The debate centered around those saying the choice would be another woman versus those who said it would the Court's first Hispanic. To solve the woman-versus-Hispanic divide, President Bush solved it with a unique compromise by picking a someone from an entirely different and underrepresented group: wealthy, conservative, white Republican guys. The President on Tuesday night announced his nomination of US Court of Appeals Judge John Roberts Jr. to the vacancy on the US Supreme Court. Roberts, 50, is a former Rehnquist legal clerk, a former Reagan White House lawyer, a Federalist Society legal conservative, a former partner in a top national law firm, and federal appellate judge for just two years. Roberts is also reportedly a brilliant legal mind, exceedingly polite, and purported to be one of the best oral advocates to argue cases before the Supreme Court in the past decade. Another plus for Roberts: he has almost no paper trail of opinions because of his brief tenure on the bench. According to the Legal Times newspaper, "those who know Roberts say he, unlike Souter, is a reliable conservative who can be counted on to undermine if not immediately overturn liberal landmarks like abortion rights and affirmative action ... 'He is as conservative as you can get,' one friend puts it." What is the reaction to the Roberts nomination from the left and right? "The President ... promised to nominate someone along the lines of a Scalia or a Thomas, and that is exactly what he has done," said Tony Perkins, the President of the evangelical conservative Family Research Council. Said DNC Chair Howard Dean: "It is disappointing that when President Bush had the chance to bring the country together, he instead turned to a nominee who may have impressive legal credentials, but also has sharp partisan credentials that cannot be ignored."
ROVE-GATE: According to Reuters, "the timing of a [Supreme Court nominee] announcement had been moved up [by the White House] in part to deflect attention away from a CIA leak controversy that has engulfed Bush's top political adviser Karl Rove." That said, just so you don't forget that Rove lied (and potentially committed a federal felony by divulging the name of a super-secret CIA agent), I printed this reminder right here again as a public service for those ADD folks with short attention spans.
A BLATANT PITCH FOR ADS: Politics1 records over 160,000 page views weekly. Have your Blogad seen by all those political eyes for just $85 for one week. Click here for to learn more about our Blogads opportunities. Here's another special offer (but you gotta order this one directly through us) ... Campaigns and candidates: Place your ads on the one state page you want to target for only $50 per month. Email us for more info. (And, despite my personal politics, I'm a good businessman and believer in freedom of speech ... so I'll sell the space to just about anyone who wants to pay for it.)
ARKANSAS: In a shockingly unexpected move, Lieutenant Governor Win Rockefeller (R) announced Tuesday his withdrawal from the open gubernatorial race for health reasons. Rockefeller, 56, said he was just diagnosed with a blood disease likely to lead to leukemia. "Effective immediately I am retiring from this campaign. We're doing a bone marrow transplant and getting this under control," he explained. With a net worth of $1.2 billion and extensive ties to the state's GOP establishment, Rockefeller was the frontrunner in the race at the time of his withdrawal. With Rockefeller out, former Congressman and former US Homeland Security Undersecretary Asa Hutchinson now appears likely to capture the Republican nomination without major opposition. Attorney General Mike Beebe is the presumptive Democratic nominee. The Beebe-Hutchinson race is expected to be a very competitive and spirited contest.

NORTH CAROLINA: It's still early, but you should probably place the NC CD-11 race on your radar screen for '06. In 2004, Congressman Charles Taylor (R) got hit with lots of questions about potential ethics problems -- and scored a 55%-45% victory over retired teacher and County Commissioner Patsy Keever. Believing that Taylor is vulnerable with the right challenger, the Dems succeeded in recruiting retired pro-football quarterback and wealthy real estate executive Heath Shuler to oppose Taylor next year. The DCCC is already running some early anti-Taylor TV spots to drive up the incumbent's negatives. The NRCC previously attempted to recruit Shuler as a GOP candidate in a nearby district in Tennessee, where he was a college football star. "This is not about Democrats versus Republicans. It's about good ideas versus bad ideas ... It's about protecting the traditions and values of the people," said Shuler.
AN EDITORIAL: My liberal political views are well known these days. Has the blog overtly shifted a bit to the left over the past two years? Yes. When I came back from my recent hiatus, I decided I could no longer report on politics in an entirely neutral manner. You see, I've evolved as from a paid campaign consultant of many years into a "true believer" these days. Does that make me wear my politics on my sleeve? Yes. But at least I divulge my politics right up front so you can read my postings with that disclaimer in mind. But I still try to be inclusive of all parties, candidates and events -- staying pretty respectful to all -- and provide the blog comment feature so y'all can complain on my dime about how biased I am. I will continue to welcome all here. And if that doesn't work for 'ya, it's a big blogosphere out there so go build yourself a political site.
Posted by Ron Gunzburger - 7.20.05 |
TUESDAY NEWS UPDATE.
P2008: You can now call Senator Hillary Clinton (D-NY) "The Six-Million Dollar Woman." In a truly amazing move, Clinton reported raising $6 million during the 2Q '05 period -- with $4 million more in cash-on-hand just from this quarter alone. That number is a record for a US Senate candidate in any off-year quarter -- and sets on her on pace, if she were to later flip her money to a Presidential campaign, for raising a record-shattering amount. National Journal's The Hotline predicts HRC could easily have $50 million in the bank by January 2007.

P2008: I'm starting to suspect the Democratic Party must be secretly paying Congressman Tom Tancredo (R-CO) to run for President in 2008 (and if they're not, they ought to be) -- because the GOP certainly doesn't want this kind of bad press. Appearing Friday on a Florida radio talk show on WFLA-AM, Tancredo was asked how our government should respond if terrorists detonated a nuclear device in the US, Tancredo said "if ... we determine that it is the result of extremist, fundamentalist Muslims, you know, you could take out their holy sites." The show's host asked: "You're talking about bombing Mecca?" Responded Tancredo: "Yeah." By Sunday, Tancredo's office was already in spin mode. A spokesperson said Tancredo was speaking hypothetically, was "just throwing out some ideas" and was only thinking about "the pressure point that would deter them from their murderous impulses." In other P2008 news, lots of stuff going on in Iowa at the National Governors Association annual meeting. New York Governor George Pataki (R) looked like a Presidential candidate this weekend, visiting local county fairs and introducing himself to voters. Governors Mark Warner (D-VA) and Mitt Romney (R-MA) met with key Iowa political strategists. Governor Bill Richardson (D-NM) spoke to the Iowa Trial Lawyers Association. Also, US Senator Sam Brownback (R-KS) made a weekend political swing through South Carolina.
MISSOURI: Our third party sources come through for us again! A Politics1 Exclusive - Missouri Secretary of State Judith Moriarty (D) was impeached and removed from office in 1994 for misconduct. Related to that, she was also convicted of a misdemeanor for her role in tampering with a state legislative race in order to improperly slip her son onto the ballot after the filing deadline. Since her embarrassing demise, Moriarty flirted with a comeback in '96 and then seemed to vanish from the political scene. Sources inside the Missouri Libertarian Party inform us Moriarty recently joined the LP and told leaders she plans to run for Governor in 2008 as a Libertarian. According to one top LP state officer, the "[Missouri Libertarian Party] is -- rightfully -- highly skeptical of her, but she will be a [LP] candidate nonetheless."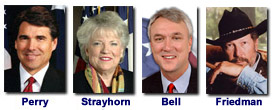 TEXAS: Everything's big in Texas, especially the GOP money. Governor Rick Perry (R) reported raising $2.3 million in the recent quarter and has a $8.8 million cash-on-hand. Primary challenger State Controller Carole Strayhorn (R) reported $7 million cash-on-hand. On the Dem side, former Congressman Chris Bell collected just over $150,000 and has a cash-on-hand of only $25,000. Interestingly, colorful musician and author Kinky Friedman (Independent) reported raising roughly $300,000, but has already spent all but $17,000 of it. For any Indy candidate, that's pretty good fundraising. But for a "serious" Dem to be trailing a gadfly Indy ... well, it looks pretty bad.
A CORRECTION: Two days ago we wrote that no Pennsylvania Governor has ever been defeated for re-election. It turns out we were wrong. Two sharp readers noticed that Governor William Bigler lost for re-election in 1854 and Governor George Wolf lost in 1835. I stand corrected ... as it should have merely read "no Pennsylvania Governor has lost for re-election in 152 years."
Posted by Ron Gunzburger - 7.19.05 |
MONDAY NEWS UPDATE.
US SENATE UPDATES: In Washington State, former State Senator Dino Rossi (R-WA) -- who narrowly lost the '04 gubernatorial race by just a few hundred votes -- definitively said Friday what he had hinted for months: he will not be a candidate for US Senate next year. Instead, it appears he plans to run again for Governor in '08. The NRSC had attempted to recruit Rossi into the race, after recent polling showed he was the only GOP candidate who had a shot against US Senator Maria Cantwell (D). Cantwell already polls at or above the 50% mark in match-ups against the various other GOP names being floated. In Missouri, it appears much more likely these days that State Auditor Claire McCaskell (D) -- the '04 Dem nominee for Governor -- will challenge US Senator Jim Talent (R) next year. According to the St. Louis Post-Dispatch, McCaskill has put her '06 re-election fundraising activities on hold because of her exploring entry into the Senate race. State and federal finance rules are different, so money raised for her state re-election bid could not be used for a Senate run. McCaskill said she'll make her decision on the race known by Labor Day.

SUPREME COURT: US Senate Judiciary Chair Arlen Specter (R-PA) said on Fox News Sunday that he hopes President Bush ignores pressure from social conservatives and instead nominates as moderate to replace retiring Justice Sandra O'Connor. Specter said he believes it is "in the national interest" for the President to nominate a centrist with broader experience than just having served on a federal bench. Specter said. "It's helpful to the country to have somebody who is a swing vote, which maintains the [current] balance," he said. Specter also suggested the court would be enriched by selecting a nominee who has also served in other political offices -- as did former Arizona State Senator O'Connor and many former Justices including former Governor Earl Warren, former City Commissioner Potter Stewart, former Governor Charles Evans Hughes, former President William Howard Taft, former Attorney General Tom Clark, former US Senator Hugo Black, former Governor Frank Murphy, former US Senator Fred Vinson, former Labor Secretary Arthur Goldberg, former US Senator Harold Burton, former SEC Chair William O. Douglas, and others.
ROVE-GATE: Despite White House Deputy Chief of Staff Karl Rove's public protestations to the contrary, Time magazine reporter Matt Cooper wrote in an article Sunday that Rove was the first person to tell him Valerie Plame, the wife of an outspoken critic of the Bush administration, was a CIA agent. Cooper also said Vice President Cheney's Chief of Staff -- Lewis Libby -- was another source for his story on Plame's identity. "So did Rove leak Plame's name to me, or tell me she was covert? No. Was it through my conversation with Rove that I learned for the first time that Wilson's wife worked at the CIA and may have been responsible for sending him [to Nigeria]? Yes. Did Rove say that she worked at the 'agency' on 'WMD'? Yes. ... Is any of this a crime? Beats me," wrote Cooper. The reporter also said that -- at the time Rove initially spoke with him about Plame -- Rove said the information he was telling Cooper "would be declassified soon." Does that mean Rove acknowledged it was classified at the time he told Cooper the info?
LOUISIANA: Secretary of State W. Fox McKeithen (R), 58, passed away Saturday of complications from a paralyzing accident earlier this year. Prior to his demise, he appointed his former top aide Al Ater (D) to be First Deputy Secretary of State and then resigned on Friday -- a move that promoted Ater to the Secretary of State's office. Under Louisiana law, Ater will serve until a special election can be held in Fall 2006 (the next scheduled statewide elections). McKeithen -- a 1990 US Senate candidate -- was the son of Louisiana Governor "Big John" McKeithen (D). He had served as Secretary of State since his initial election in 1987.

"I'M READY FOR MY CLOSEUP, MISTER DeMILLE": Some folks -- mainly conservative Republicans -- are taking potshots at Senator John McCain for doing a cameo in the new movie Wedding Crashers. The brief cameo is not without precedent. In recent years, Senator Rick Santorum and others did cameos as themselves in a short-lived 2003 HBO comedy series. There were also numerous political cameos in Traffic (cameos: Senators Orrin Hatch, Don Nickles, Barbara Boxer and Harry Reid), and the comedy Dave (cameos: Senators Alan Simpson, Paul Simon, Chris Dodd and others), to cite two recent movie examples. In the realm of television, Al Gore, Steve Forbes, Rudy Giuliani and others have hosted Saturday Night Live in past years.
Posted by Ron Gunzburger - 7.18.05 |
WEEKEND NEWS UPDATE.
OHIO: We wrote a few weeks ago about a move by some Ohio Republicans to draft former Congressman

John Kasich to run for Governor next year. As nearly all the current GOP contenders appear linked to the central villain in the state government's rapidly growing (and complex-to-explain) and disastrous investment coin scandal, the move is gaining steam. On top of that, term-limited Governor Bob Taft (R) has the lowest approval rating of any governor in the nation -- just 17% in a poll earlier this week. These GOP folks figure that Kasich -- not tied to the scandal -- could give the GOP a chance to regain their footing in the race. Kasich told the Columbus Dispatch "no comment" when they asked about the race. However, Kasich backers filled in more details for the newspaper: the former 2000 Presidential candidate said he would enter the race "only if the field is partially cleared for him, enough campaign money is available and the party commits to ending pay-to-play politics." Kasich is reportedly willing to run in the primary against Secretary of State Ken Blackwell -- but would not run if either Auditor Betty Montgomery or Attorney General Jim Petro stayed in the race, as he considers both to be friends. The Dispatch also reported that former Congressman Bob McEwen (R) -- in a sign of the growing split in the Ohio Republican Party between centrists and conservatives -- is weighing a primary challenge to US Senator Mike DeWine. Religious Right activists are encouraging McEwen -- a close friends of Dr. James Dobson, leader of the Focus on the Family group -- to make the race. A costly, bitter DeWine-McEwen primary may give Democrats a shot in a race that until now was viewed as fairly safe for the GOP.
PENNSYLVANIA: A new Quinnipiac University poll shows Governor Ed Rendell (D) remains ahead of all his likely GOP opponents. Rendell led former Lieutenant Governor Bill Scranton III (R) by a 47% to 37% vote. He also led former pro football player Lynn Swann by a 48% to 36% vote -- and led State Senator Jeff Piccola by an even wider margin. In a GOP primary contest, Swann easily leads the field. The numbers: Swann - 32%, Scranton - 21%, Piccola - 6%. History also favors Rendell as no Pennsylvania Governor has ever lost for re-election. Think about that: not once, ever.

NEW JERSEY: A new Rasmussen Reports poll shows US Senator Jon Corzine (D) continuing to lead former West Windsor Mayor Doug Forrester (R) by a comfortable margin. In this open seat battle between two multimillionaire former investment executives, Corzine currently leads Forrester by a 50% to 38% vote..
NEVADA: Tennis star Andre Agassi said he is "flattered" by a move to draft him as the Democratic candidate for Congress in CD-3 against incumbent Jon Porter (R). However, he added, "I presently have no plans to enter the political arena. I will continue to focus my efforts on tennis, my foundation and my family." While Agassi has mainly (but not exclusively) contributed to Democratic candidates, the AP reported he actually is a registered Independent. Porter is currently without '06 opposition.
HALOSCAN: Yeah, I know it's acting a bit weird lately -- and is sometimes rather annoying -- but there's not much I can do about it. Besides, most the time it works fine.
Posted by Ron Gunzburger - 7.16.05 |
FRIDAY NEWS UPDATE.
CALIFORNIA #1: Embattled Congressman
Randy "Duke" Cunningham (R) -- the target of an FBI bribery investigation and a federal grand jury corruption probe -- announced Thursday he will not seek re-election in 2006 to a ninth term. "The time has come for me to conclude the public chapter in my life. Quite simply, right now I may not be the strongest candidate," he said. The announcement came less than two weeks after FBI agents raided Cunningham's home in search of incriminating evidence. The allegations concern the purchase of the Congressman's former California home by a defense contractor at a highly inflated price. Cunningham purportedly later helped the contractor win some lucrative military deals, and enjoyed other perks from the contractor in DC (including living on the contractor's yacht while in DC). GOP sources report that conservative former State Assemblyman Howard Kaloogian -- a '04 US Senate candidate -- is poised to soon enter the race. Others Republicans looking at the open race for the safe GOP seat include State Senator Bill Morrow, San Diego County Supervisors Bill Horn and Pam Slater-Price, and State Assemblyman George Plescia. College professor and '04 nominee Francine Busby is the only announced Democrat in the race.
US SUPREME COURT: Chief Justice William Rehnquist directly debunked reports he will step down, despite failing health and rumors of his imminent resignation. "I'm not about to announce my retirement. I want to put to rest the speculation and unfounded rumors of my imminent retirement. I will continue to perform my duties as Chief Justice as long as my health permits," he told the AP on Thursday.
CALIFORNIA #2: Governor Arnold Schwarzenegger (R) was already suffering from nearly the lowest gubernatorial approval ratings ever recorded in California history -- but now he has to deal with scandalous new personal allegations. According to the Los Angeles Times,

Schwarzenegger signed a potential $8 million consulting contract after being elected Governor (and two days before taking office) to "further the business objectives" of a the publisher of Flex, Muscle & Fitness, and other bodybuilding magazines. Under the eight-year contract, Schwarzenegger is earning 1% of the magazines' advertising revenue -- but in no instance less than $1 million per year -- "much of which comes from makers of nutritional supplements." While state law allows a California Governor to earn outside income, there's more to the story. You see, Schwarzenegger last year vetoed legislation that would have placed substantial government regulations on the supplement industry -- a move that would have potentially cut the revenues for those advertisers and cut the Guv's ad commissions. Schwarzenegger was apparently concerned the contract could make him look bad, so he even went so far as to have the contract refer to him simply as "Mr. S." Schwarzenegger's spokeswoman said the contract caused "no conflict of interest" because he "did not direct sales or marketing activities of American Media and did not have personal contact with any advertisers to generate the advertising revenue." The contract was quietly disclosed last week by the publishing company in annual SEC filings. "I'm troubled by the revelation that Governor Schwarzenegger has made millions of dollars on the side from a company whose advertisers have business before the state," said State Controller Steve Westly (D). Westly is one of several Dems challenging the incumbent next year.
MICHIGAN:

Marketing consultant and former campaign manager Jane Abraham (R) -- the wife of former US Senator Spence Abraham -- announced Thursday she would not be a candidate against US Senator Debbie Stabenow (D). The incumbent ousted Abraham's husband from the seat in 2000. "It is not the right time from a family standpoint for me to do this," explained the mother of three young children. With Abraham out, evangelical bishop Keith Butler -- a former Detroit City Councilman and vocal anti-gay activist -- appears to be the frontrunner for the GOP nomination. Butler raised an impressive $800,000 as of the most recent reporting period, but is still a decided underdog against Stabenow. Butler has $403,000 cash-on-hand, versus nearly $3.9 million for Stabenow. In related Michigan news, Congresswoman Candice Miller (R) told WKAR Radio on Thursday she believes Governor Jennifer Granholm (D) is "vulnerable" because of the state's high unemployment rate -- and that she's still looking at the race. Former rock star Ted Nugent (R) -- an outspoken gun-rights activist -- also says he is weighing a run for Guv next year.
VIRGINIA: A new Rasmussen Reports telephonic poll shows the gubernatorial race tightening. According to the new poll, former Attorney General Jerry Kilgore (R) now leads Lieutenant Governor Tim Kaine (D) by a vote of 47% to 41%, with State Senator Russ Potts (Independent) at 4%.
OREGON: No surprise, but one of the more outrageous political gadflies is back again for yet another masochistic run for office. Fitness instructor Pavel "Get Energized" Goberman has been running losing races for years -- making failed bids every two years as a Democrat, Republican, Libertarian, Constitution and Independent candidate. This week he announced he's going to run as a Democrat in the '06 primary against Congressman David Wu (D). In the opening line of his press release, the colorful Goberman said he is running "against idiot, political prostitute David Wu." He also complains that "many members of [Congress] ... are without morality ... are ignoring, violating, raping and criminal contempting the Constitution of the USA."
TUNES: Not politics ... well, actually the lyrics are very political ... but I finally got around this week to picking up Green Day's American Idiot album from last year. This album is awesome, a great mix of the band's best punk and hard rock sounds that merge to form a great concept album. Highly recommended!
Posted by Ron Gunzburger - 7.15.05 |
BASTILLE DAY UPDATE.
PENNSYLVANIA: A new Quinnipiac University poll shows

State Treasurer Bob Casey Jr. (D) holding a commanding lead in his race against incumbent US Senator Rick Santorum (R). The numbers: Casey-50%, Santorum-39%. Casey has held the lead in all independent polls since he entered the contest several months ago..
NEW JERSEY: Outgoing and popular Governor Dick Codey (D) is openly fishing for an appointment to the US Senate if incumbent Jon Corzine (D) is elected -- as expected -- in November to replace him. Codey succeeded to office upon the resignation last year of Governor Jim McGreevey (D). "I think about it. People have raised the issue. They say to me, 'Dick, how can any politician pass up the opportunity to cap off a career in the United States Senate,'" he said to the Newark Star-Ledger. If Corzine wins, he would get to name his own replacement. Conventional wisdom is that Corzine would pick a caretaker to finish the last year of his term without influencing the outcome of the open US Senate seat race. In additiont to Codey, another name being floated as a possible caretaker is retired Congressman and former US Ambassador Bill Hughes (D). At least four Democratic Congressman are weighing runs for the seat: Rob Andrews, Bob Menendez, Frank Pallone and Bill Pascrell. Moderate State Senator Tom Kean Jr. (R) -- son of the former Governor -- is expected to be the GOP nominee for the Senate seat.
VERMONT: Alternative weekly newspaper Seven Days is reporting that attorney and former Dean campaign blogger Zephyr Teachout (D) is weighing a possible run next year for the state's open Congressional seat. With her frequent posts about the Dean campaign -- and often traveling at Dr. Dean's side -- she acquired near cult status with the legion of Deaniacs. Even though state Dem leaders are not encouraging her to run, she says she'll make a decision on the race in a few months. (Oh yeah, Zephyr's dad Peter was my faculty adviser back at Vermont Law School).
Posted by Ron Gunzburger - 7.14.05 |
WEDNESDAY NEWS UPDATE.
POPULAR GOVERNORS: SurveyUSA just released the results of their individual polls from each of the 50 states in which voters were asked about their respective Governors. Interestingly, the three most popular and three least popular Governors were all Republicans.

Governor John Hoeven (R-ND) placed at the top, with an impressive 74% approval rating. Second was a tie between Governors Jodi Rell (R-CT) and Mike Rounds (R-SD), both with 73% approval ratings. At the opposite end of the spectrum was Governor Bob Taft (R-OH) -- mired in scandal and state economic problems -- who registered a devastatingly bad 17% approval rating. Second worst was Frank Murkowski (R-AK) at a 31% approval score, and third was Ernie Fletcher (R-KY) at 34%. Twelve Guvs scored disapproval ratings in excess of the potentially fatal 50% mark, including seven who are expected to seek re-election next year: John Baldacci (D-ME), Ted Kulongoski (D-OR), Rick Perry (R-TX), Rod Blagojevich (D-IL), Jennifer Granholm (D-MI), Arnold Schwarzenegger (R-CA) and Murkowski. All of this could make for a tumultuous election year for many incumbents. In related news, Texas State Comptroller Carole Strayhorn (R) announced she raised $1.5 million in the final ten days of June after launching her candidacy against Governor Perry, pushing her cash-on-hand to over $7 million.
P2008: Roll Call reports that some Democrats are starting to tout Montana Governor Brian Schweitzer -- a wealthy rancher and research scientist -- as a possible White House candidate in 2008. They reportedly like Schweitzer's populist message, consensus building skills, and ability to criticize the GOP in a plainspoken way that doesn't appear to alienate swing voters. There's also a Draft Schweitzer for President group.
MARYLAND: Congressman Chris Van Hollen (D) announced Tuesday he will not be a candidate for the US Senate seat next year. With Van Hollen out, the race is essentially finalized (at least as to major players). In the Dem primary, former State House Speaker and Congressman Ben Cardin is a heavy favorite over former Congressman and former NAACP national leader Kweisi Mfume. Cardin has locked up tons of endorsements -- including in the black community -- and raised a lots of money. By contrast, Mfume can show few endorsements and raised only a paltry sum of contributions. On the GOP side, Lieutenant Govenor Michael Steele is assured of the nomination over nominal opposition. Controversial White House political guru Karl Rove is scheduled to keynote a Steele fundraiser, which is expected to raise a substantial amount of cash. Attorney Kevin Zeese (Green), the '04 Nader campaign press secretary, is also likely to enter the contest. We'd peg Cardin as a slight favorite today over Steele, but there's a long time between now and November 2006.
US SENATE RACES '06: DSCC Chair Chuck Schumer (D-NY) is recording an impressive year in fundraising for Dem Senate candidates. According Roll Call, the new fundraising reports for the latest quarter will show Democratic candidates with "roughly twice the available campaign cash their GOP counterparts." Pretty impressive for the minority party in DC. In related news, Missouri State Auditor Claire McCaskill (D) is being recruited by the DSCC to challenge US Senator Jim Talent (R). Unlike in the past, when she disclaimed much interest, McCaskill now says she's giving the race serious thought. McCaskill ran a very competitive race for Governor last year, defeating the incumbent in the primary but losing the general election.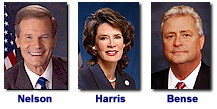 FLORIDA: Politics1 received a unexpected phone call today from a GOP Congressman from Florida who was ... well ... less than happy with some of our recent reporting. He also didn't want to be named here. What was interesting, however, was when the conversation turned to the '06 US Senate race. "We've got to get [Katherine] Harris out of the Senate race -- she's killing our chances in the race [against incumbent Democrat Bill Nelson]," he said. "She draws flies -- some Democrats are still very upset with her from the 2000 Presidential race -- and she could cause problems for other Republicans on the ballot." Don't you think that Harris is such a Republican folk hero that she'll defeat State House Speaker Allan Bense -- the White House's preferred candidate -- in the primary if the party leaders cannot convince her to quit the race? "I'd agree with that. Harris will win the primary if she stays in, and she's very stubborn, but we've got to get her to quit the race," he answered. If she stays in, he explained, the gubernatorial nominee would be the focal point of the statewide GOP campaign. Interesting.
Posted by Ron Gunzburger - 7.13.05 |
TUESDAY NEWS UPDATE.
P2008: US Senator Evan Bayh (D-IN) is making a swing through New Hampshire. Meanwhile, Arkansas Governor Mike Huckabee (R) becomes the new Chair of National Governors Association this week. And, where is the NGA holding it's annual meeting? Iowa! That will give Huckabee and Governors Mitt Romney (R-MA), Bill Richardson (D-NM),

Mark Warner (D-VA), Tim Pawlenty (R-MN), Ed Rendell (D-PA) and others interested in the Presidential race a bit of exposure in the Iowa media market. Iowa Governor Tom Vilsack (D) looked for a while to be a possible P2008 contender, but his elevation last month to become the new Democratic Leadership Conference Chair makes it look much less likely Vilsack will be a '08 candidate.
ROVE-GATE: This was White House spokesman Scott McClellan on September 29, 2003, about the possibility that a member of the White House staff was involved in the illegal leak to reporters that the wife of Iraq War critic Joe Wilson was a covert CIA operative: "That is not the way this White House operates. The President expects everyone in his administration to adhere to the highest standards of conduct. No would be authorized to do such a thing ... Well, I've made it very clear that it was a ridiculous suggestion [that political advisor Karl Rove was involved] ... and I have spoken with Karl Rove ... If anyone in this Administration was involved in [the leak], they would no longer be in this Administration." And here is McClellan today when peppered with questions about Rove now that Rove's attorney admitted he was the secret source who spoke with Time magazine about Wilson's wife: "We're not going to get into commenting on an ongoing criminal investigation." NBC tried to pin McClellan down, since McClellan had no problem talking about the matter in '03 when it was also an ongoing criminal investigation. NBC asked is Rove was guilty of a crime. "This is a question relating to an ongoing investigation, and you have my response related to that investigation," McClellan answered. Well, he was asked, if he still stood by his 2003 denials. "There will be a time to talk about this, but now is not the time." Even when the usually pro-Bush FOX News asked if the President still had "confidence" in Rove, McClellan responded: "These are all questions coming up in the context of an ongoing criminal investigation, and you've heard my response on this."
DETROIT: Embattled Detroit Mayor Kwame Kilpatrick (D) looks to be in trouble in the city's nonpartisan mayoral primary on August 2. According to the new EPIC/MRA poll, Kilpatrick badly trails former Deputy Mayor Freman Hendrix (D). The numbers: Hendrix - 34%, Kilpatrick - 23%, City Councilwoman Sharon McPhail - 16%, and State Senator Hansen Clarke - 7%. Kilpatrick -- the son of Congresswoman Carolyn Cheeks Kilpatrick (D-MI) -- has suffered from extensive bad press from both the city's financial deficit and embarrassing personal revelations. The top two vote-getters will meet in a November general election. In a head-to-head contest, the poll showed Hendrix defeating Kilpatrick by a vote of 53% to 39% -- but these numbers represent a 13-point improvement for Kilpatrick since the previous poll two months ago.
NORTH CAROLINA '08: While the open seat race is three years away, state GOP leaders are already trying to persuade Congresswoman Sue Myrick to run for Governor. According to the Raleigh News & Observer, these party activists believe Myrick would "be the strongest candidate against Lt. Gov. Beverly Perdue, whom they consider the most likely Democratic nominee." In fact, 2008 could be the "Year of the Woman" in the Tarheel State, with Myrick and Perdue as the candidates for Governor, US Senator Elizabeth Dole (R) seeking re-election, and Hillary Clinton as a possible Dem Presidential nominee. Other Republicans already looking at the gubernatorial contest include State Senators Fred Smith and Robert Pittenger, and '04 nominee Patrick Ballantine.
Posted by Ron Gunzburger - 7.12.05 |
MONDAY NEWS UPDATE.
SOMETHING NEW FROM POLITICS1: For those who would like to track Politics1 with a newsreader (of your choice), we've now added a RSS feed. You can get it here:
(or at the bottom of the gray-colored column at left).
MICHIGAN: Governor Jennifer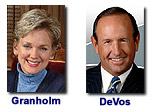 Granholm (D) looks in decent shape to win re-election next year against her most likely GOP opponent. According to the new EPIC/MRA poll for state newspapers, Granholm leads billionaire former Amway President Dick DeVos (R) by a 51% to 33% vote. Those numbers reflect a nominal 3% gain for Granholm since the last EPIC/MRA poll four months ago. DeVos, meanwhile, got a major boost in recent days in his run for the GOP nomination. GOP moderates are openly talking about their concern that the pro-life DeVos is too staunchly conservative to win a statewide race. They also have concerns because DeVos' wife Betsy -- while serving recently as Republican State Chair -- targeted state legislative GOP incumbents for primary defeat because she thought they were too moderate and pragmatically bipartisan. In a surprise move, centrist Congressman Joe Schwarz (R) has thrown his well-respected moderate reputation behind DeVos. Schwarz, a former State Senate President and John McCain ally, said DeVos will "be a good candidate. He's a reasonable fellow. He's got political moxie and he is nobly motivated. He wants the best for Michigan." DeVos still faces opposition in the primary from several Republicans, ranging from center-right to hardcore conservative in ideology.
VIRGINIA (AND ROE V. WADE): State Senator Russ Potts (Independent) may serve as a Republican in the State Senate, but he's definitely positioning himself as the most liberal candidate in the gubernatorial contest. First he told the AP on Friday that he unequivocally supported allowing gays to adopt children. Now he's weighing in as the most liberal candidate on abortion, too. State Delegate Robert Marshall (R) -- the Virginia Legislature's leading pro-life advocate -- told the Washington Post he views US Supreme Court Justice Sandra O'Connor's retirement as "the opportunity" to restrict and ultimately outlaw the procedure. That instantly made abortion a hot-button issue in the Guv race. Former Attorney General Jerry Kilgore (R) says he only supports allowing abortions to be performed in cases of rape, incest, and to save the mother's life. Lieutenant Governor Tim Kaine (D) said he generally supports a women's right of choice, but added he supports adding "reasonable restrictions" on abortion. Potts, however, says he is uncompromisingly pro-choice and knows what he would do if anti-Roe legislation is presented to him: "I would veto it. It would cause chaos in this country if [Roe] is overturned." Potts views himself as a Theodore Roosevelt-style Republican.
SURF'S UP: Yeah, I know this is a kinda light day for news stories ... but we had double overhead waves this weekend (courtesy of Hurricane Dennis being in the general vicinity) so I was out playing on my board instead of working.
Posted by Ron Gunzburger - 7.11.05 |
SATURDAY NEWS UPDATE.

OKLAHOMA: Governor Brad Henry (D) looks well positioned to score a blue re-election victory next year in this heavily red state. Last week, Lieutenant Governor Mary Fallin -- the GOP's top prospect to oppose Henry -- announced she would pass on the race and instead seek re-election. While some would like to entice former Congressman J.C. Watts (R) into the race, he still appears disinclined. As of now, the GOP is stuck with two relative unknowns: State Senator Jim Williamson and oil executive Bob Sullivan. Other good news for Henry is that wealthy former US Attorney Gary Richardson (Independent) -- the conservative third party candidate who scored in the double-digits and split the opposition to Henry in '02 -- confirmed to the AP he is considering making another run next year, but uncertain if he would run as an Indy or a Republican. An independent poll conducted for the Tulsa World/KOTV-TV shows Henry currently holding a 72% approval rating. The poll also shows Henry would defeat Watts by an unexpectedly wide vote of 49% to 34%. In related news, former Congressman Brad Carson (D) has just returned to Oklahoma after completing a visiting professorship at Harvard and is being mentioned as a possible candidate for Lieutenant Governor next year. Carson lost a hotly contested and bitter US Senate race last year.
INDIANA: Former Congressman Tim Roemer (D) announced he would not run against US Senator Dick Lugar (R) next year. The DSCC had courted Roemer to make the race, and released polling data that purported to show it would be a close contest. Another poll shortly afterwards showed Lugar holding a wide lead. Citing the traditional excuse of a candidate looking for a graceful exit, Roemer said "I should be running on a soccer field with my kids, or running after school buses with peanut butter sandwiches in tow. Therefore, this is not the right time for me to run for the Senate." With Roemer out, Lugar -- the longest serving US Senator in Indiana history -- is unlikely to face any serious Dem opposition in '06.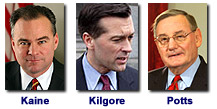 VIRGINIA: State Senator Russ Potts (Independent) has found a way to distinguish himself from his two major party opponents in the gubernatorial contest. Potts -- a church-going Methodist, grandfather and registered Republican -- told the AP he unequivocally supported allowing gays and lesbians to adopt children. "We're all God's children. I don't think that they ought to be precluded from adopting a child ... I know of several situations in which a gay person adopted a child and [was] just a very loving, caring parent," he said. Potts does not support same-sex marriage, but added "I can't imagine that a gay person gets to the pearly gates of heaven and this loving, benevolent God is going to deny that person a place in his kingdom because he or she is gay." Former Attorney General Jerry Kilgore (R) and Lieutenant Governor Tim Kaine (D) both quickly distanced themselves from Potts. "I've said that I don't support same-sex adoption or same-sex couple adoption and I don't favor gay adoption," said Kilgore. "I very much believe that the law in Virginia right now is the right law ... The only couple that can adopt is a married couple," explained Kaine.
CALIFORNIA: More on B-1 Bob. In a Politics1 exclusive, we've learned that even the leaders of the Constitution Party do not want bombastic former GOP Congressman Bob Dornan as their nominee in the special election for Congressman Chris Cox's CD-48 seat. Anti-immigration activist Jim Gilchrist -- founder of the high-profile civilian border patrol Minuteman Project -- has informed American Independent Party officials (the state affiliate of the Constitution Party) he is interested in being the party's nominee in the contest. Constitution Party National Chair Jim Clymer sent an email Friday evening to several prominent activists in the party, expressing support for Gilchrist over Dornan. "It is vital [to determine if] Dornan is eligible to switch parties and run on the AIP at this point. Jim Gilchrist of national fame from his border patrol activities is also running and he has been an AIP member for years. I would advise being very careful not to hitch your wagon to Dornan without some sort of commitment that he will STAY CP if elected and ascertaining that he is not just an opportunist because he lost his last couple of elections as a Republican. You especially don't want to be supporting him to the exclusion of Gilchrist unless you know with absolute certainty that he is eligible for the ballot. You have two potential candidates with national name recognition. Choose carefully and wisely. Despite my personal preferences for Gilchrist ... I will support whatever the California Party decides," wrote Clymer.
Posted by Ron Gunzburger - 7.09.05 |
FRIDAY NEWS UPDATE.
CALIFORNIA: The return of "B-1 Bob."

Bombastic radio talk show host and former Congressman Bob Dornan (R) appears poised to enter the special election contest this fall for the seat being vacated when Congressman Chris Cox (R) leaves office to become the next SEC Chairman. Dornan previously served in Congress from 1977-83 (gave up his seat to make a primary bid for US Senate), and 1985-97 (defeated for re-election in 1996), made a quixotic bid for President in 1996, and lost bids to return to Congress in 1998 and 2004. During his DC days, Dornan was known to engage in red-faced screaming matches with opponents and occasionally challenge liberal colleagues to fistfights. These days Dornan, 72, lives in Virginia but keeps his voter registration in California. According to the Los Angeles Times, Dornan plans to jump into the race for Cox's seat as the candidate of the ultra-conservative American Independent Party (the state affiliate of the Constitution Party). The CD-48 seat is heavily Republican, but Dornan is looking to take advantage of a quirk in the state's election laws. In the special election, all of the candidates from all parties appear on the same primary ballot and -- if no candidate takes a majority -- the top voter-getters from each party advance to the run-off. Dornan is criticizing the two announced GOP candidates -- State Senator John Campbell and former Assemblywoman Marilyn Brewer -- as too centrist. Cambell and Brewer "are a metastasizing cancer on the Republican party to turn us into Democrats," said Dornan. "I'm a mainstream conservative and I don't think Mr. Dornan is anywhere near the mainstream," responded Campbell. The Orange County GOP Chair scoffed at Dornan, calling him a perennial candidate who won't win himself GOP votes by leaving the Republican Party.
NEW MEXICO: Saying you think you're gonna lose a race is probably not the best way to enter it. Santa Fe City Councilman David Pfeffer (R) announced this week he was forming an exploratory committee to run against US Senator Jeff Bingaman (D) next year. Pfeffer concedes he probably cannot win, but says he thinks he'd have a shot against the popular incumbent if he raises enough money to run a smart, grassroots-oriented race.
COLORADO: Term-limited Governor Bill Owens (R) this week endorsed Congressman Bob Beauprez as his successor, even though former Owens cabinet member Marc Holtzman is also running for the GOP nomination. Venture capitalist Rutt Bridges and former Denver District Attorney Bill Ritter are seeking the Democratic nomination -- but a draft movement remains active on behalf of populist Denver Mayor John Hickenlooper.
TENNESSEE: Republicans are having trouble finding anyone to run against Governor Phil Bredesen (D) next year. State Senate Majority Leader Ron Ramsey (R) this week said he was not ready to make any commitment about entering the race against Bredesen -- and will take until the end of the year to make a decision. Some are hoping to convince former State GOP Chair and current State Representative Beth Harwell to exit the US Senate primary in favor of the gubernatorial contest. Others are still trying to talk retired US Senator Fred Thompson (R) to give up his TV acting career and return to politics by opposing Bredesen. For now, the GOP doesn't have a single announced candidate against the incumbent.
FLORIDA: If

the election for Florida Governor was decided on money alone, the Republicans definitely are doing well here. The campaign of State CFO Tom Gallagher (R) was crowing for days about having raised an impressive $3 million in his first 43 days of fundraising. On Thursday, Attorney General Charlie Crist (R) revealed he raised even more during just six weeks as a candidate: $3.8 million -- including $1.1 million collected at a single fundraising dinner. In addition to the being a big dollar race, the Crist-Gallagher primary is expected to be very dirty. Crist strategists are already complaining about Gallagher's campaign attempting to spread lots of personal rumors to hurt Crist. Both Republicans broke the previous Florida gubernatorial fundraising record for a quarter, set by Jeb Bush (R) in 1998. By contrast, the Democratic fundraising numbers were rather anemic. Here are the Dems: Congressman Jim Davis raised $800,000, State Senator Rod Smith raised nearly the same, and embattled former State Democratic Chair Scott Maddox raised around $300,000. The Dem spin: Big party donors are sitting back right now until it becomes clear which man will emerge as the likely nominee, and then they'll pour in all the money need to be viable in a general election.
Posted by Ron Gunzburger - 7.08.05 |
THURSDAY NEWS UPDATE.
SHORT TAKES: Not lots of time to do today's updates, so here are two quick news blurbs. SUPREME COURT: President Bush continued to blast away at those who are criticizing his friend, Attorney General Al Gonzales, as a possible Supreme Court nominee. Bush also said he will not apply any litmus test on hot button issues to potential nominees. "I'll pick people who, one, can do the job, people who are honest, people who are bright, and people who will strictly interpret the Constitution and not use the bench to legislate from," he explained. In related news, the White House named retired US Senator, attorney and actor Fred Thompson (R-TN) to "guide" the still unnamed nominee through the Senate confirmation process. Thompson currently stars on NBC's Law & Order. ALABAMA: Some GOP leaders are growing concerned that Governor Bob Riley (R) has yet to indicate whether he plans to seek a second term next year. Meanwhile, ousted State Supreme Court Justice Roy "Ten Commandments Judge" Moore (R) acknowledges he's inching closer towards entering the race. .
Posted by Ron Gunzburger - 7.07.05 |
WEDNESDAY NEWS UPDATE.
CALIFORNIA: The legal problems are rapidly multiplying for veteran Congressman Randy "Duke" Cunningham (R). On Friday, the FBI agents raided Cunningham's California home in search of incriminating evidence. Cunningham appears to also be the target of a related federal grand jury corruption probe. The allegations concern the purchase of the Congressman's former California home by a defense contractor at a highly inflated price. Cunningham purportedly later helped the contractor win some lucrative military deals, and enjoyed other perks from the contractor in DC. Newly released details indicate that Cunningham is living on the contractor's yacht while in DC. The former Navy "top gun" pilot skipped all July 4th events in his district on Monday -- including the one he was scheduled to keynote -- in order to avoid the reporters who are seeking to question him. If Cunningham seeks re-election next year, he is likely to face serious primary opposition. Politics1 is aware of one prominent Republican who has already met with consultants about making a run for this heavily GOP seat next year -- regardless of what Cunningham decides to do. Update: On Wednesday, the Washington Post reported "a New York developer convicted in a bid-rigging scheme reportedly bought ... Cunningham's boat, then later arranged financing for the congressman's $2.55 million mansion" in exchange for Cunningham attempting to win the man a Presidential pardon.
P2008: The state budget stalemate in Minnesota -- which led to the ongoing partial government shutdown in the state and furloughing of over 9,000 state employees -- isn't likely to help the Presidential ambitions of Governor Tim Pawlenty (R). The Governor personally became involved in trying to head off the shutdown, making major concessions to the Democrats. Despite that, Dems embarrassed him by walking away from the negotiations just hours before the shutdown. Republicans control the State House. Democrats control the State Senate. Both sides complain the atmosphere is sharply partisan and bitter these days, causing the breakdown in communications. Pawlenty and the Legislature cannot agree on how much to spend on schools and health insurance and whether to raise taxes or expand casino gambling to pay for it. A bipartisan group of centrist legislators are trying to bridge the gap, attempting to craft their own budget compromise without the backing of the more hardcore liberals and conservatives in the Legislature. Everyone -- including Pawlenty -- looks bad in this mess. Tuesday was the fifth day of the shutdown.
TOUR DE

FRANCE: After the Stage 4 team time trial (the fastest TTT in Tour history), Lance Armstrong is back in the yellow leader's jersey again. Short of Armstrong falling ill or crashing -- Lance looks like a near "sure thing" to take a record-setting seventh Tour victory on the Champs Élysées on July 24. Poor Dave Zabriskie of Utah. Racing for Team CSC, DZ was in yellow for three days -- pretty amazing for someone who doctors thought would never race again after he was struck by an SUV a few years ago. Today, on the verge of denying Armstrong the maillot jaune, DZ crashed. He quickly got up, switched bikes, and -- although injured and bleeding -- finished the race and slipped to 9th place overall (out of 189). FYI: Zabriskie writes his own website (with a few postings now and then by friends) with lots of very irreverent comments about everything from Team Liquigas and comic books to Mormons and "taint" maintenance. A rather refreshing site in this era of corporate athletes. Then again, his brief post-race interviews each day were equally candid -- his self-effacing dry humor really cracked me up. [And, in case you missed it, French cyclist Thomas Voeckler -- I'm co-editeur of his website officiel -- won the King of Mountain jersey for a day in Stage Two.]
Posted by Ron Gunzburger - 7.06.05 |
TUESDAY NEWS UPDATE.

P2008: Has anyone noticed Congressman Tom Tancredo's 2008 Presidential campaign message sounds a lot like the old Buchanan for President message of 1992, 1996 and 2000? That may not be a coincidence. According to KUSA-TV in Denver, Tancredo's political activities these days are "being coordinated" by Bay Buchanan, sister and former campaign manager of former Presidential candidate Pat Buchanan. Tancredo visited New Hampshire last month, and travels this week to Iowa to discuss a possible campaign for the GOP nomination. "I'm not so naive to think I'd be a huge threat to the nominee [but] I am in a position to be influential in the process ... I am intent on making this immigration issue part of the national debate during that Presidential election ... and I will do that any way I can," he told the TV station. Tancredo's one-issue campaign would center on his anti-immigration views. While Tancredo notes he is only against "illegal" immigration, he supports an indefinite "moratorium" to the current US immigration policy that would virtually close the door on all immigration -- legal and illegal -- into the US for the foreseeable future. Tancredo believes immigration is el más importante domestic policy matter facing the US.
THE FARM VOTE: In a surprising move which could have an negative impact on future GOP votes -- particularly in key farming states -- President Bush said Monday he was willing to permanently end all subsidies to American farmers if the European Union did likewise with their own farmers. "Let's join hands as wealthy industrialized nations and say to the world, we are going to get rid of all our agricultural subsidies together," he told the British ITV network in a Monday interview. Bush is in Europe this week for a meeting the leaders of the G8 nations. The leader of the EU Farm Commission said he welcomed Bush's position, but wanted it also linked to a mutual phase-out of all export credits and export subsidies.
NEVADA: While
Congressman Jim Gibbons is the current frontrunner for the GOP gubernatorial nomination, it is clear some top Republicans are openly working to block him. For the past several months, polls have showed Gibbons holding a wide lead over Lieutenant Governor Lorraine Hunt and State Senator Bob Beers. That prompted the search for a stronger anti-Gibbons candidate -- a search that now seems focused on former 1980s Lieutenant Governor and current Reno Mayor Bob Cashell (R). A wealthy former gaming executive with an engaging personality, some think he has the resources to stop Gibbons. Term-limited Governor Kenny Guinn (R) is among those openly encouraging Cashell. Guinn visited Cashell in Reno to urge him to run. The Governor later told the Reno Gazette-Journal that Cashell would be "an excellent candidate" for Governor. Cashell would also be guaranteed the support of University of Nevada football coach Chris Ault -- a close Cashell friend of over 30 years. However, Cashell also has bipartisan ties that could help him in a general election but hurt him in a primary: he was chair of "Republicans for Harry Reid" in 2004. According to the newspaper, history is against Cashell. No sitting mayor of any Nevada city has ever been elected governor, said State Archivist Guy Rocha. Gibbons -- the GOP nominee for Governor in 1994 -- has strong name ID and would be hard to stop, even with Cashell's money and friends. Secretary of State Dean Heller (R) and others are also attempting to stop a Gibbons "two-fer" as they are running in the GOP primary for Gibbons' open CD-2 seat against State Assemblywoman Dawn Gibbons. Yup, she's the Congressman's wife.
US SUPREME COURT: Conservative groups are mobilizing to block a possible US Supreme Court nomination of Attorney General Al Gonzales. They worry that Bush wants to make his close friend -- a longtime Bush supporter who is pro-choice and appears to share many of Justice O'Connor's views -- the first Hispanic to serve on the Court. Bush previously appointed Gonzales first to the Texas Supreme Court, next to the post of White House Counsel, and finally to his current position as US Attorney General. Liberals, meanwhile, are also mobilizing to block potential nominees who would likely share Justice Scalia's very conservative views.
PENNSYLVANIA: The

DCCC seems to be having some recruiting success in several targeted Congressional districts in the Keystone State. According to reports Sunday in the Pittsburgh Post-Gazette, former State Treasurer Barbara Hafer appears close to entering the race against freshman Congressman Tim Murphy (R). Hafer, who also previously served as State Auditor, was term-limited in 2004. She was the GOP nominee for Governor in '90, and switched parties in 2003. A social liberal and fiscal conservative, Hafer quit the '06 race against US Senator Rick Santorum (R) in the interest of party unity after popular State Treasurer Bob Casey Jr. (D) agreed to run. Even though the two differ on abortion, Hafer was an early endorser of Casey. Hafer told the newspaper a Murphy challenge would be "a tough race," her family wants her to run, but that she first needs to talk with Governor Ed Rendell before making a decision on it. In CD-4, the DCCC recruited manufacturing executive Georgia Berner to take on conservative Congresswoman Melissa Hart (R). Hart has won a serious of easy wins in this swing district against underfunded Dems -- a problem that millionaire Berner won't have to face. In CD-6, Dems convinced attorney Lois Murphy to make a second run next year against freshman Congressman Jim Gerlach (R). Gerlach won a surprisingly tight race over Murphy in 2004. In CD-10, Congressman Don Sherwood (R) is seen as vulnerable after news of an extramarital affair and allegations of domestic violence hit newspapers earlier this year. The district certainly favors the GOP, but Sherwood -- who previously touted himself as a "family values" candidate -- could be vulnerable if he survives a primary challenge. Lucerne County Commissioner and former pro football player Greg Skrepenak (D) is being actively recruited to challenge Sherwood.
Posted by Ron Gunzburger - 7.05.05 |
JULY 4th
UPDATE.
OPEN THREAD: July 4th is my birthday, so I'm taking the day off from writing. Thus, another open thread (but don't worry, we'll be back with more news on Tuesday)..
Posted by Ron Gunzburger - 7.04.05 |
SUNDAY NEWS UPDATE.
OPEN THREAD: I spent Saturday at the beach -- and will be back there Sunday if the weather permits -- so no political news today. Just an open thread for you blog-addicted political junkies.
Posted by Ron Gunzburger - 7.03.05 |
SATURDAY NEWS UPDATE.

THE ONLY REAL STORY OF THE DAY: The unexpected retirement of US Supreme Court Justice Sandra O'Connor on Friday was the penultimate political story of the day. O'Connor, 75, submitted her written resignation -- which become effective once her successor is confirmed by the US Senate -- to the President. After 24 years on the Court, the Justice said she was stepping down to spend more time with ailing husband. A center-conservative and former Republican State Senator from Arizona, O'Connor was a key swing vote on the Court. In a move that disappointed conservatives, she wrote the important Casey v. Planned Parenthood decision in 1992, which -- rather than repeal Roe v. Wade -- elevated a women's right to have an abortion to a fundamental right. And yet, in siding with the 5-4 majority in the 2000 Bush v. Gore case, she earned the bitter ire of liberals. O'Connor, appointed by President Reagan in 1981, was the first woman to sit on the US Supreme Court. Speculation now turns to possible successors, as liberal and conservative groups prepare to square off in what is likely to be a bitter and important fight. A White House spokesman said the President would make a quick selection, but it will be at least a week until the choice is announced.
Posted by Ron Gunzburger - 7.02.05 |
FRIDAY NEWS UPDATE.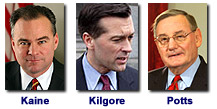 VIRGINIA: Former Attorney General Jerry Kilgore (R) continues to hold a lead over Lieutenant Governor Tim Kaine (D) in the open race for Governor, according to the latest WSLS-TV/SurveyUSA poll. The results: Kilgore-49%, Kaine-39%, and centrist GOP State Senator Russ Potts (Independent) - 5%.
RHODE ISLAND: A new Brown University poll indicates centrist US Senator Linc Chafee (R) is currently leading both of his likely Democratic challengers in his '06 re-election contest. Chafee led former Attorney General Sheldon Whitehouse (D) by a fairly competitive vote of 41% to 36%. However, Chafee held a wide 44%-29% lead over Secretary of State Matt Brown (D). Interestingly, the poll also showed conservative Cranston Mayor Stephen Laffey -- who is considering a GOP primary challenge to Chafee -- would trail either Brown or Whitehouse by margins of 10% and 13%, respectively. The poll did not ask about primary match-ups. In the gubernatorial race, Governor Don Carcieri (R) led likely opponent Lieutenant Governor Charlie Fogarty (D) by a 48% to 39% vote.

CYCLISME: Not that many Americans (beyond your publisher and some others) care, but the grueling Tour de France bike race starts on Saturday. With 21 days of riding -- and some climbs up incredibly steep mountains -- It is one of the most amazing, sustained physical tests an athlete may face. American Lance Armstrong goes for his seventh (and final) TDF victory -- a record that will stand for years. Also check out the site of French cyclist Thomas Voeckler (because I'm the co-webmaster), who wore the yellow leader's jersey for ten days during last year's race. Thomas admits he has zero chance of winning the TDF, but he's hoping for a few stage wins. Americans can watch the action daily on cable's OLN-TV.
Posted by Ron Gunzburger - 7.01.05 |