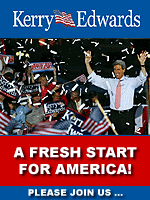 BLOG ARCHIVE:

July 16-31, 2004
July 1-15, 2004
June 16-30, 2004
June 1-15, 2004
May 16-31, 2004
May 1-15, 2004
April 16-30, 2004
April 1-15, 2004
March 15-31, 2004
March 1-14, 2004
February 15-29, 2004
February 1-14, 2004
January 17-31, 2004
January 1-16, 2004
December 16-31, 2003
December 1-15, 2003
November 17-30, 2003
November 1-16, 2003
October 29-31, 2003
---
POLITICAL BLOG ROLL:
KINDA NEUTRAL:
ABC News: The Note
CNN: Morning Grind
Political Wire
MSNBC: First Read
CJR: Campaign Desk
Political State Report
WatchBlog
Command Post
Coming Up Daisies
FactCheck.org
WSJ: Best of the Web
D.C.'s Political Report
PressThink
DEM/LEFT:
DNC: Kicking Ass
DCCC Blog
DailyKos
John Kerry
Howard Dean/DFA
Emerging Dem Majority
Amer Prospect: Tapped
Arianna Huffington
Al Franken
Eric Alterman
ElectaBlog
TNR: &c
TNR: Campaign Journal
Blogging of the President
Joe Trippi
Swing State Project
Battlegrounds & Ballot Boxes
David Brock/Media Matters
Josh Marshall
Wonkette
MyDD
Mathew Gross
Matthew Yglesias
ACT Blog for Victory
Off the Kuff
GOP/RIGHT:
RNC (GOP.com)
George W. Bush Blog
Bush Blog (Unofficial)
National Review: Corner
C-Log
Real Clear Politics
Andrew Sullivan
John Ellis
Mickey Kaus
Virginia Postrel
Instapundit
Hugh Hewitt
Daniel Drezner
Daily Pundit
Bully Pulpit
World Mag Blog
Right Wing News
Volokh Conspiracy
Brothers Judd
Right Wing News
Power Line
TRACKING THE BATTLEGROUND STATES. The new Quinnipiac College poll of Pennsylvania voters shows that Senator Kerry has moved into the lead here. The numbers: Kerry-46%, Bush-41%, Nader-5%. If Nader is not on the ballot, the Q-poll showed Kerry-49%, Bush-42%. In related news, the same poll shows US Senator Arlen Specter (R) holding a lead 51% to 36% over challenger Congressman Joe Hoeffel (D).
Posted by Ron Gunzburger - 07.15.04 |
GEORGIA, UTAH UPDATES.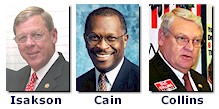 We finally have a new independent poll on the July 20 GOP US Senate primary in Georgia. According to the Insider Advantage poll, Congressman Johnny Isakson is inching closer to the magic majority mark needed to avoid an August 10 run-off. The numbers: Isakson-46%, former pizza restaurant chain CEO Herman Cain-20%, Congressman Mac Collins-16%. "Isakson has picked up substantial support ... This would suggest the possibility of Isakson potentially doing as well as a mid-50 percentile victory," said the pollster. Cain and Collins have both repeatedly attacked Isakson as being a centrist and insufficiently conservative. No poll on the Democratic primary, but Congresswoman Denise Majette, State Senator Mary Squires and wealthy businessman Cliff Oxford are viewed as leading candidates in that crowded contest. Meanwhile, we have several independent poll results from Utah conducted for the Deseret Morning News. The polls show that US Senator Bob Bennett (R) holds a 37% lead in his re-election race. Likewise, Congressmen Rob Bishop (R) and Chris Cannon (R) are cruising to safe re-election victories. Bishop leads his opponent by 31%, while Cannon has a 34% lead. In what was thought to be a hotly contested race, Congressman Jim Matheson (D) -- a top national NRCC target -- leads challenger John Swallow (R) by a 58% to 29% vote. If accurate, it really seems like it's time to take Matheson off the "endangered" list.
Posted by Ron Gunzburger - 07.15.04 |
TOLD 'YA SO! Just as we predicted yesterday, the proposed constitutional amendment to ban same-sex marriage died in Congress when the

GOP leadership could not even muster a majority vote in support of their position on a preliminary procedural vote. While several Republicans crossed-over to vote with the Democrats in the 48-50 defeat for President Bush's position, the clear surprise was conservative Senator John Sununu (R-NH) unexpectedly voting against the GOP position on the initial cloture vote (and Arlen Specter on the opposite side, surprisingly voting with his leadership). Even US Senator Mike DeWine (R-OH) -- a solid GOP loyalist -- expressed opposition to his leaders desire to call this vote. DeWine said the vote was "unnecessarily divisive [and called] in the heat of a political campaign." Conservative US Senator Rick Santorum (R-PA) was unapologetic for his support of the amendment: "You can say I'm a hater, but I would argue I'm a lover -- I'm a lover of traditional families and children who deserve the right to have a mother and father." Most observers believe the dismal defeat means the end of any viable move to pass the amendment. Supporters vow it will return, but chances for passage would seem to diminish as time passes. The situation is not unusual. Senator Minority Leader Tom Daschle (D-SD) pointed out that -- since the Constitution and Bill of Rights were ratified -- only 17 amendments have passed the stringent requirements for adoption, even though more than 11,000 amendments have been proposed over the past 200+ years.
Posted by Ron Gunzburger - 07.15.04 |
THE RADICAL CENTER. As "values" emerge as top campaign issue for President Bush and Senator Kerry -- and as Republicans vow to push forward the gay marriage amendment again in the future -- it's easy to assume that we're entering another stage in the culture wars. Some pundits, however, say otherwise. Today's Wall Street Journal featured an editorial by Morris Fiorino, a Stanford political science professor. Fiorino rejects the "new consensus around the proposition that old disagreements about economics now pale in comparison to new divisions based on sexuality, morality, and religion." For Fiorino, the culture war is a theme that's been exaggerated by journalists and politicos to excite readers and voters. He points to research data, like a CBS poll that showed that 76% of Republicans, 87% of Democrats, and 86% of Independents "would like to see elected officials compromise more rather than stick to their principles," to prove that voters' positions have not become polarized. Rather, the Republican and Democrat elites that represent them have taken more radical positions. Fiorino's piece echoes much of what Robert Samuelson wrote in his column for the Washington Post two weeks ago. Samuelson looked at a study done by Princeton University sociologist that concluded "the public actually has become more unified in attitudes toward race, gender and crime since the 1970s." Samuelson argued that the politics of the elected officials, party activists, advocates, highly engaged voters and commentators have become more radicalized -- and centrist voters, "who do not see the world in such uncompromising absolutes" have been turned off by that rhetoric.
Posted by Alec Oveis - 07.15.04 |

POLITICS, PROSTITUTES, AND VIDEOTAPES. The biggest campaign contributor of New Jersey Governor Jim McGreevey (D) was indicted Tuesday with trying to obstruct a federal fraud investigation by videotaping a witness having sex with a prostitute. Developer Charles Kushner hired a prostitute to have sex with his former employee, had the encounter videotaped, and then mailed a copy of the tape to he man's wife. According to published reports, Kushner targeted a second former employee, but that witness declined to have sex with the prostitute. Kushner was charged with conspiracy, obstructing a federal investigation and promoting prostitution. McGreevey -- who is a candidate for re-election in 2005 -- is likely to face competitive primary opposition from Congressman Rob Andrews and a still general election challenge from the winner of the crowded GOP primary field.
Posted by Ron Gunzburger - 07.15.04 |
THURSDAY OPEN THREAD. Coach Ditka announced that he will NOT run for the US Senate in Illinois. "I'll be darned if I want my past and my present and my future dragged out in the media," said Ditka -- who also said he'd never be able to control his mouth. Gay marriage amendment loses badly yesterday in US Senate. Cuellar finally, definitively declared the upset winner and Dem nominee in the Texas CD-28 Democratic primary over Congressman Ciro Rodriguez. Anything else?
Posted by Ron Gunzburger - 07.15.04 |
THE BIG PICTURE.

The Research 2000 polling firm has been tracking the Presidential race with an eye on the overall Electoral College picture. Here's how they peg the race as of this week, based upon their polling data:
SOLID KERRY (172): CA, CT, DC, DE, HI, IL, MA, ME, MD, NJ, NY, RI, VT. LEANS KERRY (78): IA, MI, MN, NM, OR, PA, WA. TOTAL KERRY: 250.
SOLID BUSH (176): AL, AK, AZ, GA, ID, IN, KS, KY, LA, MS, MT, ND, NE, OK, SC, SD, TN, TX, UT, VA, WY. LEANS BUSH (46): AR, CO, MO, NC, NV. TOTAL BUSH: 222.
TOO CLOSE TO CALL (66): FL, NH, OH, WV, WI.
How do others peg the race? Zogby Interactive -- using their questionable survey methodology (exclusively online polling) for WSJ.com -- scores it: Kerry-322, Bush-205, Tied-11. Fox News isn't keeping any running overall tally on their website but -- to be "fair and balanced" -- I presume they'd score it something like Bush-523, Kerry-15 ("MA, DC, France"). (Note to those who accuse me of Dem bias in reporting results: I just expressed strong doubt about the validity of the numbers that show Kerry further ahead -- although I did temper that by making fun of Fox.)
Posted by Ron Gunzburger - 07.14.04 |
GAY MARRIAGE AMENDMENT VOTE HURTING SENATE LEADERSHIP. Last week -- sensing a solid victory in their attempt to kill the proposed constitutional amendment to ban same-sex marriage -- Senate Democrats leaders announced they would not fight GOP plans to bring the proposed amendment to a straight up-or-down floor vote on Wednesday. John Kerry and John Edwards even announced they would fly back to vote against it.

Apparently, that wasn't what GOP leaders were counting on to take place, as they now have GOP Senators who support the amendment filibustering it on the Senate floor in order to block the up-or-down vote. Why? According to the AP, it's because they now fear that an absolute majority of the Senate will vote against the amendment (including Republican Senators Hagel, McCain, Lugar, Grassley, Campbell, Collins, Warner, Snowe, Chafee, and others). Now, it looks like the leadership will -- rather bizarrely -- call a vote to invoke cloture (i.e., "force" an end to the fake filibuster they are coordinating) so that they could then claim a mini-victory if 60 Senators voted to hold a vote on the amendment itself. Some Republicans want to hold votes on two versions of the amendment, even though no hearings were even held on one of the versions. Senator Rick Santorum (R-PA) says the vote this week is essential because same-sex marriage would be "the death knell of our society." Other GOP Senators want the vote cancelled entirely, feeling they should instead be working on issues relating to the economy and international matters. GOP leaders are reportedly worried they will even fall short of the 60 votes needed for cloture -- even though they are pressing amendment opponents to cast a party-line vote on the cloture question to avoid embarrassing President Bush. Regardless of how the vote goes down, everyone agrees the amendment will fall far short of passage. Amendment sponsor Wayne Allard (R-CO) said "I don't expect it to pass ... It's likely we will have to work on this amendment [in Congress] for several years." Senate Majority Leader Bill Frist (R-TN) also predicted the amendment would certainly fail, but vowed that it "absolutely" will "be back" again for another vote someday.
Posted by Ron Gunzburger - 07.14.04 |
NEWS FROM THE

CAROLINAS. The bitter North Carolina GOP primary for Governor is less than one week away. The candidates are continuing to take shots at each other, questioning each others' respective conservative credentials and accusing rivals of being liars. Former Charlotte Mayor Richard Vinroot -- making his third consecutive run for Governor -- still leads the pack according to the latest WTVD-TV/SurveyUSA poll. The numbers: Vinroot-35%, former State Senate Minority Leader Patrick Ballantine-24%, former Congressman Bill Cobey-20%, Three Others-12%. If no candidate captures 40%, a run-off will be held in August. The GOP winner will face Governor Mike Easley (D) in November. Also, a new CNN/USA Today/Gallup poll of North Carolina voters shows that Bush would defeat Kerry there by a 56% to 41% vote, despite the presence of favorite son John Edwards on the ticket. In South Carolina, a new WCSC-TV/SurveyUSA poll shows that the Republicans appear well positioned to score a pickup in the state's open US Senate race. Congressman Jim DeMint (R) leads State Superintendent of Education Inez Tenenbaum (D) by a vote of 48% to 41%. The same poll also shows Bush leading Kerry by a 51% to 44% vote in the state.
Posted by Ron Gunzburger - 07.14.04 |
IS THAT A THREAT? "If [Ron Reagan] appears at that Convention -- and they politicize it through the Democratic Party Convention -- I think stem cell research is not only dead for the year, but maybe for a long time to come. I hope he reconsiders." - US Senate Judiciary Committee Chair Orrin Hatch (R-UT), speaking Monday on MSNBC's Hardball.
Posted by Ron Gunzburger - 07.14.04 |

BADNARIK x2. At the Libertarian National Convention, 70-year-old retired secretary Elaine Badnarik gave the introductory speech for her son Michael Badnarik immediately after he won the party's nomination for President. "I gave you the candidate -- now you get him to Washington," she told the delegates. Badnarik -- unlike Ralph Nader, who we frequently mention here -- will likely secure spots on all 50 state ballots (and will do so without having to have either of the major parties collect signatures for him). Party activists were so enamored of Mom's speech that they have now convinced her to become the party's candidate for Indiana Lieutenant Governor this year. Michael even returned the favor by introducing his Mom -- who switched to the Libertarian Party a year ago when Michael launched his Presidential bid -- at the event designating her as the new LG nominee. Michael's top issue is an emphasis on protecting the rights of gun owners, plus he wants to use his candidacy to educate Americans about their constitutional rights. Mom's top concern is to stop rising property taxes from forcing Indiana families to sell their homes. "We have been in our house for 48 years. I don't want to be taxed out of it," she said.
Posted by Ron Gunzburger - 07.14.04 |
WEDNESDAY OPEN THREAD. Hey ... for those griping folks who complain we don't ever have any conservative Blogads here on Politics1, I count three online right now (two for Peroutka for President, and one for a conservative online store).
Posted by Ron Gunzburger - 07.14.04 |
IMPORTANT POLITICAL LESSON FOR ALL CANDIDATES: BE SURE TO PAY YOUR CONSULTANT! Congressman John Sullivan (R-OK) is learning what can happen when a candidate has a bitter falling out with a campaign consultant --

especially when that consultant knows a lot more about you than you'd ever want the public to know. GOP communications consultant Dave Pearson claims that Sullivan never paid him the money he was owed for work on Sullivan's successful primary upset victory in the 2002 special election. "I plead guilty to being a disgruntled former consultant. I think you would be disgruntled too if he refused to pay you nearly $20,000 ... Since I helped elect a dishonest crook and liar, I feel like I must repent for my sins," wrote Pearson in a press release this week. Pearson was so upset that Sullivan has failed to resolve the dispute -- even after Pearson filed an FEC complaint against Sullivan last year -- that he sent a letter to all of Sullivan's campaign contributors. In the letter, Pearson wrote that "Sullivan is the most dishonest, disingenuous and crooked politician I have ever known ... He is a liar because he repeatedly lied to me and others about his business background, his arrest records and many other things. He is a liar because he and his treasurer knowingly filed false financial reports in order to defraud the voters as to his debt ... My only goal at this point is to let as many people as possible know what I know ... that Mr. Sullivan is dishonest, a crook and a liar. I hope you will take this letter into consideration when you receive his next letter begging for more money." No response yet from Sullivan. Then, again, silence may be the best response.
Posted by Ron Gunzburger - 07.13.04 |
TRACKING THE BATTLEGROUND STATES. Independent polls from four states to report today. In Florida, the new WKMG-TV/SurveyUSA tracking poll shows Senator Kerry-47%, President Bush-44%. Bush won Florida by 0.01% in 2000. In Arkansas, Bush holds a lead over Kerry by a 49% to 47% vote, according to the new KTHV-TV/SurveyUSA poll. Bush won Arkansas by 6% in 2000. In Missouri, the latest KSDK-TV/SurveyUSA shows the gap between Bush and Kerry narrowing. The numbers: Bush-48%, Kerry-46%. Bush won MO by 4% in 2000. Finally, it seems like Virginia needs to be added into the list of battleground states according to the new WSLS-TV/SurveyUSA poll, as Bush's formerly overwhelming lead appears to have dwindled. The new numbers: Bush-50%, Kerry-45%. Bush won VA by 8-points in 2000.
Posted by Ron Gunzburger - 07.13.04 |
ORGANIZED REPUBLICAN DRIVE GOT NADER ON NEVADA BALLOT. When Nader had a falling out with a group of Nevada Independents he didn't control -- and then they refused lst week to give him the petition signatures they had collected on their own on his behalf -- it was a well-connected GOP consultant who stepped in and helped Nader at the last minute. According to the Las Vegas Review-Journal,

Republican political consultant Steve Wark was "largely responsible for Ralph Nader's successful petition drive in Nevada." Wark, the son-in-law of the current Nevada GOP Chair, founded a group called Choices for America in order to collect the signatures. He solicited nearly $30,000 from GOP contributors to fund the group, then collected the signatures Nader needed. Wark told the newspaper he organized the Nader ballot drive as a "gallant effort to give our President the best chance possible of winning in November." Wark added that he's sure it wasn't just a Republican petition effort -- as he "insisted Nader had a representative in Nevada" who helped with his petition drive. The GOP effort seems to be producing the desired results. The latest Zogby/WSJ.com Nevada tracking poll released Monday shows Bush at 45%, Kerry at 43% and Nader at 6%. Meanwhile, in Michigan, a nearly identical situation is developing. The Secretary of State reversed herself and has now ruled Nader cannot use the Reform Party line in the state because the two warring Reform factions cannot agree on whether or not Nader is their nominee. Instead, Nader must submit signatures to qualify for the ballot. The Detroit Free Press reports that shouldn't be a problem, as the Michigan Republican Party has spent the last week gathering Nader's signatures. The Republican Party was unapologetic for helping Nader get on the ballot, claiming they are only countering Democratic efforts to block Nader from obtaining ballot status. "They should call themselves the disenfranchisement party," said the Michigan Republican Party's spokesman. Nader must submit 30,000 valid signatures by this Thursday's deadline. Thanks to his new GOP friends, that seems like a near certainty for Nader.
Posted by Ron Gunzburger - 07.13.04 |
MEDIA BIAS IN THE P2004 RACE. A new study from the Project for Excellence in Journalism,

Pew Research Center, and University of Missouri journalism school found that President Bush received most of the media's campaign coverage in recent months, though the tone of coverage has been largely negative by a margin of three to one. The media's assessment of Kerry has been negative by a margin of 5-to-1. The study also found that "journalists were almost as likely as the campaigns to be the source asserting these character traits about the candidates" and that "more than four in ten character assertions were made with no evidence cited to back them up." According to the study, Bush was attached to traits like "lacks credibility" and "stubborn and arrogant," whereas Kerry was seen as a candidate who "flip-flops" and who is "very liberal." More positive assessments portrayed Bush as a "strong and decisive leader" and Kerry as "a tough guy who won't back down from a fight." Overall, 56% of characterizations were negative toward Bush, and 16% positive; for Kerry, 23% were negative, and 4% positive.
Posted by Alec Oveis - 07.13.04 |

ONE REASON WHY FLORIDA MAY BE SO CLOSE. According to a new poll from the William C. Velasquez Institute, President Bush is losing support among Cuban-Americans in Florida. "Sixty-six percent of respondents said they would support Bush if the election was held today, down from 82% who voted for him in 2000," Reuters reported. The study attributed the fall in popularity to the President's new travel restrictions to the island. Hispanic voters in Florida are considered to among the most important constituent groups in America. Presidential candidates for decades have made the pilgrimage to southern Florida to court the Hispanic vote. What makes them such a valuable prize? Their high voter-turnout rate and strong political beliefs make them a reliable voter base. Historically, they've voted in favor of Republicans. Democrats who've won Florida, such as Clinton, have done so partly because they've won over enough Hispanic voters to hold back Republican gains.
Posted by Alec Oveis - 07.13.04 |
TUESDAY OPEN THREAD. Ditka says he's "excited" about the effort to draft him as a US Senate candidate in Illinois ... but, for now, he added he's "just thinking about it." Hmmm. Also, we welcome Alec Oveis as a new writer (and, yes, were still reviewing the other submissions). I've been impressed by Alec's articles -- but I shouldn't be surprised, as he's a real journalist in his day job!
Posted by Ron Gunzburger - 07.13.04 |

TRACKING THE BATTLEGROUND STATES. We've got two new independent polls from Michigan. The latest American Research Group tracking poll shows Kerry leading in Michigan with 50%, followed by Bush at 43% and Nader at 2%. In the new EPIC/MRA poll conducted for a consortium of state newspaper, Kerry had 47%, Bush had 44%, and Nader had 3%. Bush lost MI by 5% in 2000. In New Mexico, the new American Research Group poll there also shows Kerry leading. The numbers: Kerry-49%, Bush-42%, Nader-3%. Bush lost NM by 0.6% in 2000.
Posted by Ron Gunzburger - 07.12.04 |
LOOMING GAY MARRIAGE VOTE IN SENATE PROMPTS NEW 'OUTING' WAVE ON CAPITOL HILL. As the US Senate vote on the proposed constitutional amendment to ban gay marriages approaches, a handful of gay activists have upped the stakes in the fight. DC Attorney/internet consultant John Aravosis -- who was also a Congressional aide on Capitol Hill for more than five years -- is threatening to "out" closeted gay/lesbian federal elected officials who support the amendment or top aides to those federal officials. Aravosis, who publishes the liberal AmericaBlog site, has run ads in the gay Washington Blade newspaper announcing his plans. Another DC gay activist -- Mike Rogers -- has announced similar plans. In furtherance of this outing campaign, Aravosis identified a top aide to US Senator Jim Inhofe (R-OK) as a closeted gay man. While Inhofe has long had an announced office policy that he will not allow any known gay people to work on his staff, he explained that he will not fire the aide because that senior environmental advisor technically works as Inhofe's staffer on a Senate committee instead of working directly on Inhofe's personal staff. Since then, Aravosis has outed the finance director of a Florida US Senate candidate who is running a pro-amendment TV spot. Aravosis has not yet outed any elected officials in this campaign -- but he's vowed on the site that he will do so if he gets sufficient info.
Posted by Ron Gunzburger - 07.12.04 |
REAGAN TO SPEAK AT

DEMOCRAT -- REPEAT, DEMOCRAT -- CONVENTION. Ron Reagan, son of the late President Ronald Reagan, has accepted an invitation from the Kerry campaign to speak at the Democratic National Convention. Reagan has been given a 10-minute speaking slot on the second night (Tuesday). Reagan -- a registered Independent and avowed liberal -- has repeatedly said he will vote for Kerry in November. Reagan explained to Knight-Ridder, however, that the only reason he agreed to speak at the convention is because the Democrats support lifting President Bush's restrictions on research using stem cells from human embryos. "This gives me a platform to educate people about stem-cell research," said Reagan. If he is asked to also speak at the GOP convention, Reagan said he would decline. "I don't think, in good conscience, I could take the chance that somebody could read that as an endorsement of this administration. I'll support any viable candidate who can defeat Bush," explained Reagan. Instead, he suggested that his conservative half-brother Mike should speak for the family there. "Then we could have dueling Reagan sons," he joked. Ron Reagan will still be attending both conventions, however, as a commentator for MSNBC's Hardball show.
Posted by Ron Gunzburger - 07.12.04 |
WHO WOULD

WIN IN A FIGHT IF IT WAS DITKA VERSUS A HURRICANE? For those who remember the old Saturday Night Live skits involving "Da Bears," the answer is Mike Ditka! Now, here's a tougher one: Who would win in a fight between Ditka and Illinois GOP activists? Answer: Mrs. Ditka! The wife of the former Chicago Bears football coach effectively shot down the "Draft Ditka for US Senate" effort in comments she made Friday to a newspaper. She said that her husband was not prepared to run for the US Senate and added "I'd divorce him if he did." So, with Ditka out, it looks like Republicans may now be turning to Dr. Andrea Grubb Barthwell as their new candidate against State Senator Barack Obama (D). Barthwell -- an African-American physician who just resigned Friday as the Bush Administration's deputy drug czar -- announced she was looking at the race. "I'm interested, I want to be considered and I will make myself available to those who make that decision," she said. When asked about the possibility of Barthwell becoming the party's replacement nominee for US Senate, House Speaker Dennis Hastert (R-IL) told reporters: "Who? Don't know her." If the GOP goes with Barthwell and her credible resume/zero name-ID candidacy, it will be a face-saving way for the party to pragmatically write-off the contest by not wasting a future viable candidate on a likely loss. A Barthwell-versus-Obama race would also be the first time in US history that two black nominees have faced-off in a US Senate race.
Posted by Ron Gunzburger - 07.12.04 |
MONDAY OPEN THREAD. Remember last week's open memo by top Bush strategist Matt Dowd predicting that Kerry will soon hold a 55%-40% advantage by the end of the month? Well, veteran GOP pollster Tony Fabrizio savaged Dowd and his memo in the National Review -- saying that Dowd is either playing fast and loose with facts/projections to mislead ... or that it means Bush will actually lose the race. And -- Fabrizio asks -- besides preparing Bush supporters for the worst, why didn't Dowd propose to do anything to avert the impending slide? Your thoughts?
Posted by Ron Gunzburger - 07.12.04 |
SUNDAY OPEN THREAD. A fresh thread for the day.
Posted by Ron Gunzburger - 07.11.04 |
SATURDAY OPEN THREAD. Celebrity Bush-bashing? Patriot Act? Whatever.
Posted by Ron Gunzburger - 07.10.04 |
PRESIDENTIAL RACE UPDATES.

BUSH NEWS - At the White House, an annoyed President Bush walked out in the middle of his own scheduled media briefing when reporters tried to ask him question about his once close relationship with indicted Enron executive Kenneth Lay. Bush refused to acknowledge questions about his friendship with Lay -- who was a large "Bush Pioneer" contributor in the past -- and simply took a quick hike out of the briefing room when reporters persisted. NADER NEWS - In Nevada, Ralph Nader overcame a very late start in the state and was apparently able to apparently gather enough signatures on his own within the past few days to qualify there for the ballot. Nader previously spurned the help of a self-motivated group named "Nevada Independents" that had already collected more than enough signatures for Nader -- but refused to give them to his campaign after some hurt feelings caused by disparaging comments in news articles from Nader's chief spokesman. KERRY NEWS - No real news from the Kerry campaign, but lots of pretty pictures. The John Kerry-John Edwards debut tour continues their flying roadshow for a third day on Friday with stops in New York, West Virginia and New Mexico. If you want to know when the Kerry-Edwards team will be making a campaign stop in your area, sign-up for the Kerry campaign email list. (If you support Bush -- or someone else -- be sure to sign up for their email lists, too, so you can get involved.)
Posted by Ron Gunzburger - 07.09.04 |
NEVADA STATE CONTROLLER MAY FACE IMPEACHMENT. The Nevada Attorney General's office filed formal State Ethics Commission charges against State Controller Kathy Augustine (R) for having used several state workers while on the job to work on her 2002 re-election campaign. Augustine's attorney told the Las Vegas Sun that his client will formally admit "to willful violation of the Code of Ethics." In exchange, Attorney General Brian Sandoval (R) will likely not file criminal charges against Augustine. Through her spokesman, Augustine also acknowledges that her admission may cause her to become the first elected official in Nevada history to be impeached. The impeachment proceedings -- if they move forward -- would take place sometime between October 2004 and February 2005. Augustine is a former state legislator and former Congressional aide who was viewed as a rising star in state GOP politics.
Posted by Ron Gunzburger - 07.09.04 |
NEWS FROM OUR ADOPTED

MARINE CORPS BATTALION. Thank you to everyone who has offered to help with our "adoption" of the 1st Battalion/23d Marines as they get ready to deploy to Iraq next month. Lt. James Crabtree -- our Politics1 friend and special correspondent -- likewise expressed his thanks to everyone for their enthusiasm for the project (which, interestingly, included messages of support from as many anti-Iraq War folks as pro-war folks). Here's what he wrote: "Even though I've got strong personal beliefs, all my emails to you will be non-partisan and will focus on what our unit is up to (as much as I can tell you that is not confidential that is). The BN is really excited about being adopted by your site. Any little bit helps the morale around here. We're heading to the field for two weeks tomorrow mid-morning and I won't be able to get to my emails until we get back. I'll take some pictures there and will email some when we get back. Thanks again. Semper Fi, James." If you'd like to financially contribute to the project, feel free to use the "Help Support Politics1" button on our homepage to make a contribution through PayPal (just be sure to reference "MARINES" in your donation message), or send a check payable to "Ron Gunzburger" at the below address (with "MARINES" in the memo section). Be assured: 100% of the money we receive that is earmarked for this will go to paying postage and buying items to go in the care packages.
Posted by Ron Gunzburger - 07.09.04 |
"DA CANDIDATE?" Illinois House Republicans are so desperate that they have apparently thrown their support behind the effort to draft former Chicago Bears football coach Mike Ditka as their replacement US Senate candidate.

The party has been trying to find a new candidate since wealthy former investment banker Jack Ryan quit two weeks ago in the wake of a rather mild sex scandal. To date, nearly every big name GOP prospect has asked that they not be considered for the vacancy. The latest to bow out is State Senator Steve Rauschenberger, who lost to Ryan in the March GOP primary. Congressman Mark Kirk endorsed the concept of a Ditka candidacy, and a top aide to Speaker Denny Hastert also expressed support for Ditka. Supporters have even launched a "Draft Ditka" group and already collected over 5,000 online signatures of support. The one problem: Illinois Republican Party Executive Director John Hoffman says that nobody has yet to ask Ditka if he's even remotely interested in being a candidate. Ditka currently owns a restaurant, works as a part-time TV sports commentator, runs a charity group, and gives motivational speeches for an appearance fee starting at $20,000. Ditka has spoken at a few GOP events in the past and has made personal contributions over the years to the campaigns of President Bush, John McCain and Rudy Giuliani. Whoever the GOP eventually selects as their nominee -- and they still have more than a month to make a decision -- will face a daunting race against State Senator Barack Obama (D). Obama announced Thursday that his campaign had raised over $4 million -- a state fundraising record for a single fundraising period -- for the quarter that ended June 30.
Posted by Ron Gunzburger - 07.09.04 |
OP-ED ON POLITICAL SEMANTICS.

Just food for thought here -- and not saying anything pro or con here on the topic of universal health care (or whatever you want to call it) -- but why do critics always deride it as "socialized medicine"? And why, when people call it socialized medicine, do moderates quickly shy away from any meaningful discussion on the merits of the topic? We have universal public education through the high school level (to wit: everyone pays taxes regardless of whether or not they will have a kid in school in order to ensure that every child has the opportunity to attend public schools for free) ... but no mainstream politician ever calls it "socialized education." The same universal method of tax payments coupled with full public access -- usually without user fees -- applies to all of our public roads, parks, police, and fire/rescue. Despite this, I've never once heard anyone decry "socialized streets" or "socialized parks" or "socialized law enforcement" or "socialized public safety." When do we set aside the rhetorical war -- and some of this political polarization of the nation -- and start having calm, serious, thoughtful discussions about real solutions to real problems facing real people?
Posted by Ron Gunzburger - 07.09.04 |
FRIDAY OPEN THREAD. What's on your mind today?
Posted by Ron Gunzburger - 07.09.04 |
NADER ROLLS SNAKE EYES IN BIG NEVADA GAMBLE. A group named Nevada Independents -- on their own initiative -- in May collected about 4,800 signatures on petitions to place Ralph

Nader on the state's Presidential ballot. As Nader had yet to name a runningmate when they began their efforts, they didn't list any runningmate. That voided all those petitions under Nevada law. Organizer Stan Vaughan then began again in early June with a surrogate candidate for VP on the new petitions, in order to meet the legal requirements. According to Vaughan, they collected over 14,000 signatures -- far more than the 5,000 required by the July 9 filing deadline. Yet, when Nader's national campaign learned of the group's efforts in mid-June, they explicitly disavowed them. "They're acting on their own ... They're collecting signatures for somebody who's not really running [for VP]. We disavow that activity," said Nader spokesman Kevin Zeese. The comments were especially odd as Nader's campaign had itself been using a surrogate VP candidate in other states. What explains the strangely arrogant conduct from the Nader camp? Answer: Nader apparently thought he would get on the Nevada ballot as the Green nominee -- so he figured he didn't need Vaughan's group -- but then Nader failed to win the Green nomination. In the interim, Nader also picked financial executive Peter Camejo (Green-CA) as his official VP runningmate last month. That move angered the Nevada Independents, who explicitly reject Camejo as "unacceptable" and "a commie." Vaughan told Politics1 that the Nader campaign desperately contacted the group a few days ago to see if they could now use the petitions that Nader had previously disavowed. "Nevada Independents disavow Ralph Nader after his selection of Peter Camejo as a Vice Presidential choice ... Nader with Camejo now seems too radical even for the diverse radicals in the US ... Nader will not be on the Nevada ballot ... The treatment of Nevada Independents by the Nader campaign may spell a possible victory for Kerry in the state," explained Vaughan.
Posted by Ron Gunzburger - 07.08.04 |
TRACKING THE BATTLEGROUND STATES. In Florida, the latest monthly Rasmussen tracking poll shows John Kerry for the first time holding a lead in the state beyond the poll's margin of error. The numbers: Kerry-48%, Bush-43%. The Kerry-Edwards team visited Central Florida on Wednesday evening for a rally -- and begin Thursday with another rally in South Florida. In Michigan, we have a postscript to yesterday's article. Secretary of State Terry Lynn Land (R-MI) decided that Ralph Nader has qualified for the Reform Party ballot spot in the key battleground state.
Posted by Ron Gunzburger - 07.08.04 |
MURKOWSKI

NARROWS GAP IN ALASKA US SENATE RACE. The new KTUU-TV monthly tracking poll shows that embattled US Senator Lisa Murkowski (R-AK) still looks likely to win her GOP primary on August 24 by a comfortable margin -- and has narrowed her deficit for the impending November contest. In the GOP primary, Murkowski had 68%, former State Senate President Mike Miller trailed with 23%, and two others had a combined total of less than 5%. Miller is a conservative who argues that Murkowski is too much of a centrist. He has attacked her pro-choice views and her purported waffling on the proposed constitutional amendment to ban gay marriage (Murkowski says she supports "a constitutional amendment" to ban gay marriage -- but not the one scheduled for a vote later this month because it restricts states' rights). Some Republicans are also upset that Murkowski's father -- Alaska Governor Frank Murkowski (R) -- appointed her to his vacant Senate seat in January 2003. In the November match-up, former Governor Tony Knowles (D) leads Murkowski by a 46% to 44% vote. Knowles held a 5-point lead last month. However, if Miller scores an upset in the primary, the poll showed that Knowles would currently defeat him by a 17% margin.
Posted by Ron Gunzburger - 07.08.04 |
POLITICS1 GOES TO WAR. One of our regular visitors -- James Crabtree of Texas -- is a US Marine Corps Reservist. Here's what he wrote us:
I've emailed you before and I'm a huge fan of your site. Currently I am a Marine Reservist that has been mobilized in support of Operation Iraqi Freedom II. We're a Marine infantry battalion from TX of over 800 Marines and Sailors and right now we are in 29 Palms, CA training for our seven month deployment to Iraq in August.

We'd love to have someone 'adopt' our battalion. If you know anyone that wants to send care packages to us in Iraq (which could include copies of political magazines and newspapers) please let me know ... I'll get a new email address over there, but I don't know what it is yet; same with our physical mailing address over there.

As a side note, we're going to be dying for election information. I have the collateral duty as Battalion Adjutant of being the battalion's Voting Officer. That means I have to ensure that every Marine and Sailor in our unit gets a federal absentee ballot request form and understands how to fill it out to request an absentee ballot from their local county. It's a big job, but I think I'll be able to get about 98% turnout. The Commander in Chief means a little more to these young Marines when it effects their everyday lives in a place like Iraq.

Take care and thanks.

Semper Fi,
1stLt James Crabtree
1st BN, 23d Marines
I propose we do just that. Regardless of whether or not you support the war, we should all show our support for the brave men and women who serve in our US Armed Forces (note to the anti-war folks: even Michael Moore directly said this in F 9/11). While James happens to be a Republican, many of his fellow soldiers are also Dems and Independents. This is not a project about partisanship. In fact, I'd suggest our care packages -- to help James do his best non-partisan duty as Voting Officer -- contain a good assortment of Bush, Kerry, and other materials highlighting their respective military records and political views -- along with the batteries, candy and other goodies they'd appreciate even more. In return: James, when possible, will send us back some pix and notes to let us know what is happening -- and I'll post them here. Would any of you be willing to contribute money to help defray the costs for the contents and shipping costs for the packages(we'll help by collecting money here on the site)? Any volunteers to help put the packages together? So, what do y'all think of this? Let me know. (See, just when you think I've become too predictable ... I go off an doing something totally unexpected like this.)
Posted by Ron Gunzburger - 07.08.04 |
THURSDAY OPEN THREAD. "Tag ... you're it!"
Posted by Ron Gunzburger - 07.08.04 |
KERRY-EDWARDS:

THE DAY AFTER. As expected, Democrats offered up loud encouraging words of support for the new John Kerry-John Edwards ticket. The team also offered up their new campaign theme: "A Stronger America." President Bush told reporters he wished his opponents well and looked forward to a competitive race. Vice President Cheney called Senator Edwards to congratulate him. Despite the nice words, Republicans were quick to launch a new TV spot featuring John McCain in an effort to remind voters that McCain was Kerry's first choice. The RNC also launched the KerryPicksEdwards.com site to bash the new ticket. The Kerry campaign launched a new ad featuring Edwards ... and other Dems quickly responded with a TV spot featuring McCain clips of his various anti-Bush quotes from the past four years. GOP pollster Frank Luntz said on Tuesday night on MSNBC that Edwards scored among the best with Independent and swing voters of any person he's ever tested. However -- except in the case of really terrible choice -- VP choices rarely make any real long-term difference on voter decisions. So ... let the race begin!
Posted by Ron Gunzburger - 07.07.04 |
TRACKING THE BATTLEGROUND STATES (PRE-EDWARDS POLLS). Keep in mind that all of these polls were completed before the Edwards VP pick was announced. In Michigan, the latest Detroit News tracking poll shows the race still virtually tied. The numbers: Bush-44%, Kerry-43%, Nader-5%. However, the old Buchanan Brigade folks hold control of the Michigan Reform Party -- an entity unaffiliated with the Reform Party USA -- so it is still uncertain if Nader will appear on the Michigan ballot. Bush lost Michigan by 5% in 2000. In North Carolina, Bush holds a 49% to 42% lead over Kerry, according to the latest Rasmussen poll. Bush won NC by 13% in 2000.
Posted by Ron Gunzburger - 07.07.04 |
UPSET WATCH? Is Congressman Phil Crane (R-IL) -- the most senior GOP member of the US House and a Presidential hopeful 24 years ago -- in trouble?
Congressman Ray LaHood (R-IL) already told reporters that he thinks Crane could be the "surprise upset" of 2004. Then again, LaHood is a loose cannon who frequently makes comments that upset his GOP colleagues. However, the latest Republican to express concern for Crane is House Speaker Dennis Hastert (R-IL). Hastert told the Arlington Heights Daily Herald that Crane must spend more time in his district if he wants "to remain effective" -- although Hastert said Crane "should be fine" in November. Even Crane conceded that he is now "somewhat worried" about the challenge from business consultant and '02 nominee Melissa Bean (D). Crane outspent Bean by a 2.6-to-1 margin and defeated her by a 14% margin in 2002. Dems are trying to pump more money in Bean's campaign this time. LaHood said "the problem is he has not really worked [his district] that well, and he hasn't paid attention to it." Crane disagrees, saying he returns frequently and "our [district] offices are available constantly." Bean criticizes Crane's "lack of performance" and likes to say that "the least he could do is bring back more to the district than a tan." Crane has faced competitive races in the past -- most often in GOP primaries in the early 1990s. He also admitted and overcame a long-time alcohol abuse problem in 2000. Crane has long desired to be the powerful Ways & Means Committee chair but -- despite his seniority -- his GOP colleagues passed him over when the spot came open in 2001. Despite all of this, Crane still remains favored to hold his heavily Republican CD-8 seat and win a 18th term in November.


Posted by Ron Gunzburger - 07.07.04 |
WEDNESDAY OPEN THREAD. Go. (FYI: We're still reading all the writer submissions, and we'll get back to all of y'all soon.)
Posted by Ron Gunzburger - 07.07.04 |
KERRY PICKS EDWARDS FOR V.P. Senator John Kerry selected Senator John Edwards -- his former rival for the nomination -- as his Vice Presidential runningmate. While the media leaked the news a few hours early, Kerry made the pick official during a Tuesday morning announcement speech at a rally in Pittsburgh. Edwards is expected to join Kerry on the campaign trail later in the day, at some point after Kerry speaks to a church in Indianapolis.
Posted by Ron Gunzburger - 07.06.04 |
NBC: "KERRY WILL ANNOUNCE VP CHOICE" TUESDAY. Many mainstream media organizations and high visibility political websites all seem fairly confident that Kerry will name his Vice Presidential runningmate on Tuesday in Pittsburgh. NBC reported Monday night that the logos on the exterior of the Kerry campaign plane were -- as they reported the story -- being repainted in an airport hangar in Pittsburgh to include the name of Kerry's VP choice. Despite rumors to the contrary, Joe Biden said he was not vetted and is not under consideration. Sources indicate that Kerry's definitive "Final Four" short list are: Dick Gephardt, John Edwards, Bob Graham, and Tom Vilsack. DC insiders say Gephardt is the most likely choice, but Graham's odds have been quietly and steadily rising in recent days. However, it is not believed that Kerry has actually tendered the offer to any man yet, so anything could happen until that call is made.
Posted by Ron Gunzburger - 07.06.04 |
KERRY SOON TO HAVE BIG LEAD, SAYS BUSH CAMPAIGN.

In a mass emailing to supporters, the Bush campaign on Monday sent a warning that they should expect Kerry to move out to a wide lead in national polls by the end of the month. The email -- entitled "Campaign Memo: Expected Kerry Bounce" -- was issued in the name of Bush campaign strategist Matthew Dowd. "An examination of Gallup polls in presidential elections since 1976 reveals that a challenger's Vice Presidential selection and nominating convention can have a dramatic (if often short-lived) effect on the head-to-head poll numbers. In fact, historical analysis suggests John Kerry should have a lead of more than 15 points coming out of his convention," wrote Dowd. The email even contained a set of charts that showed the two men tied at 47% apiece right now but projected Kerry to grab a 55% to 40% lead by the first week of August. While those numbers seen a bit exaggerated -- likely in a move to claim a victory by "surpassing expectations" -- the Bush campaign is sending a message that the race dynamics are shifting. To help blunt the impact of Kerry's short-term momentum, the Bush campaign is expected to launch a new TV spot this week featuring Senator John McCain -- which is also intended to subtly remind voters that whomever Kerry selects for VP this week was really his second choice.
Posted by Ron Gunzburger - 07.06.04 |
TUESDAY OPEN THREAD. A few folks have found themselves blocked (by me) from posting in the blog. Why? Because incredible and repeated incivility that crossed the "I'll know it when I see it" line ... especially when they do so in the guise of being other bloggers they are trying to embarrass. Have the guts to say what you've got to say using the same ID you always post under -- and please try to keep the discourse respectful. Okay, end of lecture. Your turn.
Posted by Ron Gunzburger - 07.06.04 |
SECOND OPEN THREAD. Just my prediction on the Kerry VP ... but my hunch is that it is going to be Dick Gephardt (who was my boss on Capitol Hill over 20 years ago).
Posted by Ron Gunzburger - 07.04.04 |
INDEPENDENCE DAY OPEN THREAD.
Sunday, July 4th, is the 228th anniversary of America's Declaration of Independence. July 4th is also my birthday ... which seems appropriate for someone involved in politics. Thus, I'm taking a day off to celebrate and relax ... so look for new updates on Tuesday.
Posted by Ron Gunzburger - 07.04.04 |
SATURDAY OPEN THREAD (AND MOVIE REVIEW). I saw Spider-Man 2 last night and could not believe how terrible it was. I usually enjoy the mindless summer action flix, but not this one. Long and boring -- and with really hokey dialogue -- it was so bad that audience members were loudly interjecting their own more humorous lines to make up for the bad writing. Oh yeah, and the villain here has the physique of a slightly slimmer version of Michael Moore (only with a bad rug instead of Moore's baseball cap). And the last few scenes -- think of the discovery of Frankenstein's hidden laboratory in Young Frankenstein ... which segues into Runaway Bride ... which segues into the Julia Roberts-at-the-door speech scene from Notting Hill -- were laughably bad. I'm not giving the ending away by revealing that, as you'll either be asleep, counting kernals in your popcorn bag, or have already walked out when these flicker across the screen. I rarely review a non-political movie here, but this was REALLY bad. Now that I got that out of my system, feel free to discuss anything you'd like. Kerry Veepstakes ... Bush's request for church membership lists ... or this weekend's movies.
Posted by Ron Gunzburger - 07.03.04 |
POLITICS1: WE HAVE PROVEN PSYCHIC ABILITIES (OR: RICHARDSON IS JUST TOO PREDICTABLE). In our posting yesterday morning about the Kerry Veepstakes, we wrote: "According to my calendar, it's about time for NM Governor Bill Richardson to issue another of his bi-weekly 'I'm still not interested in being Vice President (but if John Kerry wanted to talk to me about it, my phone number is ...)' statements." Amusingly, hours later Richardson released a letter to the media. In it, he wrote: "I am both honored and flattered that you are seriously considering me for your running mate - as the Democratic vice presidential nominee - in the coming election. I must tell you I respectfully remove myself from the selection process and withdraw my name from consideration for the Vice Presidential nomination." I've lost count ... how many times has Richardson now issued (either spoken or in writing) this same statement over the past three months?
Posted by Ron Gunzburger - 07.02.04 |
SLOW MOON RISE. I found much more than I had planned on additional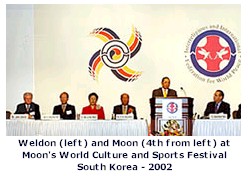 Moon-related activities involving Congressmen Danny Davis, Charlie Rangel, Curt Weldon, Phil Crane, Roscoe Bartlett and others over the past few years. The bottom line: this is going to take a little longer than we planned to digest it all and write it up. Did you know that Congressman Davis has participated in lots of Moonie events (including another "crown" event just one month before the DC messianic coronation) ... or that Davis and Phil Crane co-sponsored a Congressional resolution in 2001 that was intended to promote one of Moon's messages? That Senator Trent Lott and Congressman Dan Burton have both introduced resolutions to establish a special US holiday requested by Moon? That Congressman Weldon has repeatedly been a featured speaker at various Moonie events in the US and South Korea over the past three years? That Congressman Rangel gave the welcoming remarks at Moon's "Mr. & Miss University Pageant" held in NYC? That Senator Dick Lugar spoke at a 2002 Moonie event in DC? That John Ashcroft -- while giving a speech -- unexpectedly sang one his own sangs at a 2001 Moonie event? That State Senator Mark Boitano (R-NM) -- the brother of famed figure skater Brian Boitano -- was a co-host of DC coronation event and is just about the only US elected official willing to admit he is a member of Moon's Unification Church cult? But, until then, enjoy this pic I just found of Weldon as a conference panelist at Moon's 2002 World Culture and Sports Festival in South Korea. Be sure to read John Gorenfeld's new article about Weldon.
Posted by Ron Gunzburger - 07.02.04 |
TRACKING THE BATTLEGROUND STATES. In Michigan, the latest WDIV-TV/SurveyUSA tracking poll shows John Kerry has moved out to a comfortable lead in the state. The numbers: Kerry-51%, Bush-41%. Previously polls had showed a closer contest.
Posted by Ron Gunzburger - 07.02.04 |
SENATE
AND GOV RACES. In Oklahoma, Congressman Ernest Istook (R-OK) commissioned a poll on the state's open US Senate race. His poll showed that Congressman Brad Carson (D) would defeat former Oklahoma City Mayor Kirk Humphreys (R) by a 41% to 34% vote ... but Carson narrowly trails former Congressman Tom Coburn (R) by a 37% to 35% vote. In Pennsylvania, US Senator Arlen Specter (R) got a nice boost on Thursday when he was endorsed by former Congressman Ron Klink (D). Klink -- who is pro-life -- was the Dem nominee for US Senate in 2000. "He told me he was doing this because of his [lobbying] business relationships and business considerations," said Specter opponent Joe Hoeffel (D). In Missouri, a new KSDK-TV/SurveyUSA poll shows Governor Bob Holden's lead is holding against State Auditor Claire McCaskill in the nasty August 3 Dem primary race. The numbers: Holden-51%, McCaskill-39%.
Posted by Ron Gunzburger - 07.02.04 |
KERRY DIVORCE FILE SECRETS? BORING STUFF! In the wake of the Jack Ryan political destruction following the release of embarrassing documents from his divorce file, Republicans thought that maybe ... just maybe ... they should push for the release of John Kerry's divorce file. In fact, even Kerry himself denounced calls that he unseal his file. Perhaps there would be dirty secrets still sealed in a dusty file somewhere. Nope. The AP reports that -- except for just some financial records and an order relating to alimony payments -- all of his file is already available to public review. The problems that ended the 18-year marriage? "Irretrievable breakdown of the marriage," say the pleadings in the court file. Actually, Kerry and his then-wife had already been separated for six years by the time they filed for the "no-fault" divorce. Move along, folks, there's nothing to look at here.
Posted by Ron Gunzburger - 07.02.04 |
FRIDAY OPEN THREAD. Weekend plans. Politics. F 9/11. Whatever.
Posted by Ron Gunzburger - 07.02.04 |
BLUE

MOON. Our incessant stream of critical investigative articles keeping the spotlight on Congressional legislators for participating in the bizarre messianic coronation ceremony on Capitol Hill for convicted felon and self-proclaimed "Returning Lord" Sun Myung Moon must be causing problems for all involved. In fact, Moon seems downright depressed with the recent spate of bad press we helped generate. Yesterday, a group of Moon-associated religious leaders called a press conference at the National Press Club to fire back. The group singled out reporter John Gorenfeld and me by name as the two who have caused all this bad press. You'd think that -- in response -- I'd want to point out the Moonie ties of all the so-called independent religious leaders who took part in the press conference ... or the additional and repeated Moon-related activities involving Congressmen Danny Davis, Charlie Rangel, Curt Weldon, Phil Crane, Roscoe Bartlett and others over the past few years. Come to think of it, that's a pretty good idea ... so check back later today as we debunk the false claims they made yesterday and further embarrass all those who have been taking part in this foolishness.
Posted by Ron Gunzburger - 07.01.04 |
KERRY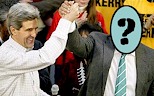 VP CHOICE SAID TO BE IMMINENT. Who will it be for the VP spot? Gephardt, Edwards ... or a newer name in the mix like Biden ... or a total surprise? John Kerry is said to be spending this weekend working on his convention speech and making his final decision on a runningmate. Sources close to the Kerry campaign say the announcement of a runningmate could be as soon as this coming Tuesday. The Kerry staff is said to be working on details for the announcement event. According to my calendar, it's about time for NM Governor Bill Richardson to issue another of his bi-weekly "I'm still not interested in being Vice President (but if John Kerry wanted to talk to me about it, my phone number is ...)" statements.
Posted by Ron Gunzburger - 07.01.04 |
TRACKING THE BATTLEGROUND STATES. In Arizona, the latest KAET-TV tracking poll shows that President Bush has moved into a wide lead in the state. The numbers: Bush-47%, Kerry-35%. In Maine, the Portland Press-Herald reported on a new poll by Strategic Marketing that shows the race in the state has significantly tightened. The numbers: Kerry-43.5%, Bush-41%, Nader-4.5%. The same poll also tested the state's two US House races and found both incumbents fairly safe. In CD-1, Congressman Tom Allen (D) holds a 32% lead. In CD-2, Congressman Mike Michaud (D) led his GOP opponent by 25-points.
Posted by Ron Gunzburger - 07.01.04 |
GREEN PARTY VP

NOMINEE SAYS SHE MAY VOTE FOR KERRY. Radio country music show host Pat LaMarche of Maine -- who just last weekend won the Green Party nomination for Vice President -- told a newspaper in her homestate that she may vote for Kerry in November if the race in Maine is close. LaMarche told the Portland Press-Herald that her top priority is not winning votes for her ticket, but ensuring that President Bush is defeated. "If Bush has got 11% of the vote in Maine come November 2, I can vote for whoever I want," she said. But, if it is close, she said she would likely vote for Kerry. "I love my country ... [my top priority is] making sure that George Bush is no longer President of the United States," she explained. Maine is considered to be a battleground state. LaMarche also explained she wants to grow the Green Party at the state level. Her comments -- while surprisingly direct -- do not contradict the message previously expressed by Green Presidential nominee David Cobb, who has vowed to largely run a "safe states" strategy so as to not hurt Kerry. Postscript: LaMarche's comments createda mini-firestorm within the Green Party. In response, LaMarche issued a statement the next day in which she said she would vote for Cobb for President in November.
Posted by Ron Gunzburger - 07.01.04 |
THURSDAY OPEN THREAD. Ready, set, go.
Posted by Ron Gunzburger - 07.01.04 |
PLACE YOUR BLOGAD ON POLITICS1 RIGHT NOW!! Great prices: $75 for one week, $120 for two weeks, and $200 for a month. Click here to learn more!
IS YOUR CAMPAIGN HIRING? If so, then let us know. We'll post the ad for free for any paid campaign staff positions. See our Jobs page for more details.