BLOG ARCHIVE: JUNE 1-15, 2008.
"RON PAUL REVOLUTION" CONTINUES; OBAMA LAUNCHES ANTI-SMEAR SITE; INDY QUITS ORE SENATE RACE; JERSEY US SEN RACE IS COMPETITIVE.
PREFACE. My laptop problems continue to worsen (it maybe works 5-15 minutes each time before going to blue screen crash or black), so I've ordered a new laptop. My daily updates may be brief posts until the new laptop arrives (note: this current laptop is my second -- and final -- Sony Vaio). So, in advance, my apologies if my writing is spotty for the next week or so.
P2008 - GOP. Congressman

Ron Paul finally ended his maverick libertarian run for the GOP Presidential nomination. Instead, Paul announced Thursday he is launching a new national organization: Ron Paul's Campaign for Liberty. "With the primary season now over, the presidential campaign is at an end. But the larger campaign for freedom is just getting started. Therefore, I am happy to announce the official launch of the Ron Paul Campaign for Liberty ... We will be a permanent presence on the American political landscape," said Paul. With millions still remaining unspent in his prez campaign coffers, Paul has the resources to build a new group. Under the banner of "The Revolution Continues," Paul announced a goal of 100,000 members by September 2 -- the day he plans to open his alternative Republican convention in Minneapolis-St. Paul, just across town from the official GOP convo going on there at the same time.
P2008 - DEM. Senator Barack Obama launched an official website -- www.fightthesmears.com -- which will serve as his quick response to any false rumors about him and his family. The first falsehood to be debunked is the so-called buzz of a Michelle Obama video in which she railed against "whitey." GOP dirty trickster Roger Stone, who was actively spreading the rumor during TV and radio interviews, now admitted on a subsequent broadcast interview that the story may be "a hoax."
OREGON. Former National Endowment for the Arts Chair John Frohnmayer (Independent) -- a staunch critic of the Bush Administration -- ended his US Senate run this week. He explained he was unable to attract the money and support needed to be a viable candidate. Frohnmayer's exit is likely to benefit State House Speaker Jeff Merkley (D) in his challenge to US Senator Gordon Smith (R).
NEW JERSEY. Two new polls this week in US Senate race. The Quinnipiac University poll shows incumbent Frank Lautenberg (D) leading former Congressman Dick Zimmer (R) by a 47% to 38% vote. A Rasmussen Reports poll has Lautenberg ahead by a much closer vote of 45% to 44%.
Posted by Ron Gunzburger - 06.13.08 | Permalink |
FREE SPEECH ZONE. Only an open thread today -- sorry -- due a combination of a very long work day, feeling under the weather, and serious computer problems (my laptop is probably days from being totally dead, with frequent total system crashes, so I'm rapidly backing up everything). So, have at it.
Posted by Ron Gunzburger - 06.12.08 | Permalink |
CONGRESSIONAL PRIMARY RESULTS FRO MAINE, S.C. AND VIRGINIA.
P2008 - DEMS. Ohio

Governor Ted Strickland (D) has ruled out being considered for the VP spot. On Tuesday, Strickland told the Washington Post: "If drafted I will not run, nominated I will not accept, and if elected I will not serve. So, I don't know how more crystal clear I can be."
MAINE. Congressman Tom Allen (D) won a lopsided primary win, capturing roughly 85% of the primary vote. Allen will face US Senator Susan Collins (R) in November. Polls give the incumbent the advantange. Incomplete results in CD-1 show former State Senate Majority Leader Chellie Pingree leading Iraq War veteran Adam Cote by a comfortable margin. On the GOP side, former Small Business Administration official Charlie Summers held a narrow lead over businessman Dean Scontras with very incomplete results.
SOUTH CAROLINA. US Senator Lindsay Graham (R) won a landslide 2-to-1 primary victory over Republican National Committeeman Buddy Witherspoon. On the Dem side, engineer Bob Conley held a narrow two-point advantage with most votes counted. All three GOP congressional incumbents easily survived their primary contests.
VIRGINIA. Former Governor Mark Warner (D) easily won the US Senate primary, and is now heavily favored over former Governor Jim Gilmore (R) in November. In the hot race CD-11 Dem primary, Fairfax County Council Chair Gerry Connolly won a comfortable victory over former Congresswoman Leslie Byrne and two others. Connolly is favored over businessman Keith Fimian (R) for the swing seat being vacated by retiring Congressman Tom Davis (R).
Posted by Ron Gunzburger - 06.11.08 | Permalink |
MAINE, S.C. AND VIRGINIA PRIMARY PREVIEW; FILINGS CLOSE IN 4 STATES; YARMUTH HOLDS BIG LEAD IN KY CD-3.
MAINE. Congressman Tom Allen (D) will easily trounce his minor primary opponent, and then be on his way to face US Senator Susan Collins (R) in November. The key races of the day are the two primaries fo Allen's open CD-1 seat. Six Democrats and two Republicans are competing. While nearly all of the candidates are "viable" hopefuls, the two Dem frontrunners appear to be former State Senate Majority Leader Chellie Pingree and Iraq War veteran Adam Cote. State Senator Ethan Strimling is probably running a close third. Of the three leaders, Cote appears to be rapidly closing on frontrunner Pingree in these final days. On the GOP side, centrist former Small Business Administration official Charlie Summers seemingly leads conservative businessman Dean Scontras.
SOUTH CAROLINA. US Senator Lindsay Graham (R) will cruise to an easy primary victory over Republican National Committeeman Buddy Witherspoon, who is challenging Graham from the right. Both Dems in the US Senate race are third-tier candidates, so it doesn't much matter which man wins the primary. Congressmen Henry Brown (R), Joe Wilson (R) and Bob Inglis (R) shouldn't have problems against their respective GOP primary foes. Brown may face a competitive race in CD-1 in November from wealthy philanthropist Linda Ketner (D).
VIRGINIA. Former Governor Mark Warner (D) faces nominal primary opposition in the US Senate race. Warner will face former Governor Jim Gilmore (R) in November. Bombastic Congressman Jim Moran (D) again faces a primary challenge, but he should win by a comfortable margin. The hot race to watch is the Dem primary for the CD-11 swing seat, where Congressman Tom Davis (R) is retiring. Fairfax County Council Chair Gerry Connolly and former Congresswoman Leslie Byrne are locked in a tough fight, and they are far ahead of the other two hopefuls. The winner will face businessman Keith Fimian (R).
PRIMARY FILING DEADLINES. Primary filing closed in several states in recent days. Check out the state pages -- Alaska, Arizona, Oklahoma, and Washington -- to see who filed for congress, etc.
KENTUCKY. A new WHAS-TV/SurveyUSA poll shows CD-3 Congressman John Yarmuth (D) leading former Congresswoman Anne Northup (R) by a vote of 57% to 40%.
Posted by Ron Gunzburger - 06.10.08 | Permalink |
CLINTON ENDORSES OBAMA; FRANKEN WINS DFL ENDORSEMENT; SEN GRAHAM FACES PRIMARY FROM RIGHT.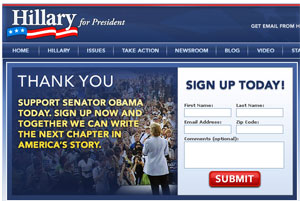 P2008. Hillary Clinton formally ended her Presidential run on Saturday, with gracious and repeated endorsements of former rival Barack Obama. Clinton pledged to work tirelessly for Obama for the November election. "The way to continue our fight now, to accomplish the goals for which we stand is to take our energy, our passion, our strength and do all we can to help elect Barack Obama the next president of the United States ... Today, I am standing with Senator Obama to say, 'Yes we can.' ... We may have started on separate journeys, but today our paths have merged," said Clinton. Critics -- even those who had been seeminly hostile to her during the campaign -- praised her speech as among the best of her political career. Within a short time after her speech, she changed her HillaryClinton.com website (right) to display a prominent homepage message urging her supporters to volunteer for the Obama campaign. In return, the Obama campaign site carries a homepage message praising Clinton and urging his supporters to send her a message of thanks. And -- just in case all those false Muslim rumors about Obama don't work -- some Republicans have a new smear tactic. According to US News, here is what former House Majority Leader Tom DeLay (R-TX) said on a radio show this week: "I have said publicly, and I will again, that unless he proves me wrong, [Obama] is a Marxist." Also, Congressman Tim Mahoney (D-FL) said he will not endorse Obama for the nomination -- despite Clinton's withdrawal -- because his district overwhelmingly voted for Clinton in the primary.
MINNESOTA. Humorist and liberal radio talk show host Al Franken won the Democratic endorsement for US Senate at this weekend's convention. Once Franken crossed the 60% mark during the roll call, college professor and peace activist Jack Nelson-Pallmeyer announced he was withdrawing his rival candidacy and moved that Franken's DFL endorsement be unanimous.
SOUTH CAROLINA. US Senator Lindsay Graham (R) faces a primary challenge on Tuesday from Republican National Committeeman Buddy Witherspoon. According to the AP, the challenger attacks Graham for being "joined at the hip" with John McCain on the immigration issue -- a position Witherspoon describes as "Grahamnesty." The incumbent is expected to easily win his primary.
Posted by Ron Gunzburger - 06.09.08 | Permalink |
CLINTON, OBAMA MEET; CLINTON'S SUPERS SWITCH TO OBAMA; SON SEEKS TO SABOTAGE DAD'S GOP CONGRESS RUN FOR FOSSELLA SEAT.
Hillary Clinton and Barack Obama met privately on Thursday evening at Clinton's DC home.

She had asked for a private meeting with Obama before making her endorsement on Saturday ... The entire NY Democratic Congressional delegation, along with Ohio Governor Ted Strickland and other key Clinton superdelegates, officially announced their endorsements of Obama on Thursday ... The Obama campaign said it intends to pursue a 50-state strategy for November, and will keep Howard Dean as DNC Chair for the fall election season ... Venture capitalist Francis M. "Frank" Powers is the GOP endorsed candidate to replace retiring Congressman Vito Fossella (R). Now the Staten Island Advance reports that Francis H. Powers -- the 47-year-old son of the GOP candidate -- plans to run for the same seat as the Libertarian nominee. "This is not about my dad ... [but[ we can't have the Republicans take this seat again," explained the son. He said he hopes to peel away enough votes from his father in the general to elect a Democrat to the seat. The father said the differences arise over concerns he has about his son's "carefree" lifestyle ... Retiring US Senator John Warner (R-VA) made it clear to The Hill he will not endorse GOP nominee Jim Gilmore as his successor. When pressed, Warner told the newspaper to stop asking and said his staff would issue a written statement reaffirming his no-endorsement stance.
Posted by Ron Gunzburger - 06.06.08 | Permalink |
CLINTON TO QUIT FRIDAY, ENDORSE OBAMA; McCAIN WANTS WEEKLY DEBATES WITH OBAMA.
P2008. Senator Hillary Clinton bowed on Wednesday to heavy pressure from her strongest congressional backers. Senators Chuck Schumer and Barbara Mikulski,
Congressman Charlie Rangel and several others reportedly expressed displeasure with the ungracious tone of her election night remarks on Tuesday -- particularly her failure to openly recognize and endorse Senator Barack Obama as the nominee. In response, Clinton agreed to end her campaign by Friday and openly endorse Obama either Friday or Saturday. In a press release Wednesday evening, Clinton's campaign confirmed she will quit and endorse Obama this week. Various other media reports now indicate that Clinton is unlikely to push for the VP spot, as her husband does not want to release the detailed financial records about his business interests and foundation that Obama's VP Screening Committee needs to properly vet all potential runningmates and spouses. In related news, Senator John McCain -- a day after what was universally viewed as having delivered a dismal nationally televised speech -- challenged Obama to participate in a series of weekly town hall-style forums, starting in New York in two weeks. Obama's campaign expressed general support for the concept, but they aren't sure the two men need to start weekly forums five months before the election. McCain wants the events to have local moderators and take a few audience questions. Obama prefers to Lincoln-Douglas style of forum in which there would be no moderator, and the two men would directly engage each other in a a series of debates on various issues.
CONGRESSIONAL PRIMARIES. We've updated our Alabama, California, Iowa, Montana, New Jersey, New Mexico, and South Dakota pages to reflect all the primary winners from Tuesday. The highlights: Congressman Duncan Hunter's son cruised to an easy GOP primary victory in California to replace his father ... US Senator Frank Lautenberg (D-NJ) and Congressman Leonard Boswell (D-IA) easily staved off primary challengers ... Congressman Steve Pearce defeated Congresswoman Heather Wilson by a 51% to 49% vote in the GOP primary to replace retiring US Senator Pete Domenici (R) ... and gadfly frequent candidate Bob Kelleher (R-MT), who previously ran for office as a Green and a Democrat, defeated a conservative state legislator in the primary for US Senate. "He's run a number of times, and he has a degree of name recognition. At some time, that name I.D. begins to pay off for him, and that may be tonight," said an embarrassed State GOP Chair Erik Iverson to the Billings Gazette.
Posted by Ron Gunzburger - 06.05.08 | Permalink |
EDITORIAL: DRAFT AL GORE FOR VICE PRESIDENT. AMERICA WINS WITH OBAMA-GORE.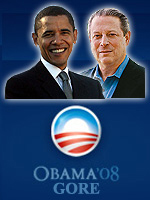 Senator Barack Obama needs a Vice Presidential runningmate who will calm older, union, Jewish, blue collar and white voters who voted for Hillary Clinton ... voters who still admire the Clintons ... voters concerned about Obama's experience in foreign policy. Yet a runningmate who shares Obama's progressive agenda. Picking Hillary Clinton for VP, for example, is simply a terrible choice. She entirely undercuts the message of change, canceling out the change message by adding a runningmate who is a leading practitioner of the dark and destructive political art of triangulation. Yet there is someone else out there who has a solid past association with the Clintons ... who is untainted by the most unsavory moments of the Clinton White House years ... who is a Vietnam War veteran ... who has extensive government credentials on environmental protection and national security ... who has won both the Nobel Peace Prize and an Oscar ... and yet who remains a believable agent for change and health care and peace and for healing our planet. History shows us a former Vice President can return to political office and serve with honor and distinction. VP Hubert Humphrey, after a very narrow loss for President in 1968, returned to the US Senate in 1970 and served there for the remainder of his life. So I say "Draft Gore." Draft Gore because he believes in the concept of a higher calling, of service to nation and planet, who would appreciate the unique opportunity to return to public service to advance his causes ... and maybe even be given the opportunity to become President in 2016. While associated with the "old," Gore is clearly a proven agent of real change who can unify our party, and unify our nation. Obama-Gore '08. Show your support by downloading one of these banners and placing them on your websites and blogs. Email the Obama campaign: Let them know you support Al Gore for VP. For our party. To strengthen our nation. To heal our world.
Posted by Ron Gunzburger - 06.05.08 | Permalink |
OBAMA WINS DEMOCRATIC NOMINATION, PASSES 2118 DELEGATE MARK.
P2008 - DEMS. Senator Barack Obama
secured the endorsements of enough superdelegates that -- combined with a majority of all of the pledged delegates elected nationwide during the five month primary season -- he now has more than the 2,118 delegates needed to win the Democratic Presidential nomination. When Obama started his run in January 2007, many thought he would make a respectable run but few thought he had any real shot at catching presumptive frontrunner Hillary Clinton. Obama built a solid netroots organization, coupled with field organizations deployed in every state and a key understanding of the party's arcane delegate selection rules. Clinton, by contrast, relied upon her family's political organization, expectations of inevitability, and a belief the front-loaded primary schedule would prove more favorable to her. Obama's Iowa caucus victory threw off Clinton's strategy and, by the time she truly regained her political footing starting with the Pennsylvania primary, it was simply too late for her to realistically catch Obama. Despite failing to win the nomination, Clinton broke the perceived "glass ceiling" for female Presidential candidates in that she was treated throughout as a viable, forceful frontrunner. If anything, it was the miscalculation in her 2002 vote to authorize the Iraq War -- not her gender -- that compromised her bid. Most interestingly, it was "the white guys" -- Biden, Dodd, Edwards, etc. -- who were knocked out of the race early. In her remarks Tuesday night, Clinton acknowledged Obama's success -- without directly calling him the presumptive nominee -- and pledged to work for the Democratic ticket in November. Most Clinton insiders now seem to agree that Clinton very much is interested in being Obama's VP runningmate -- although the Obama camp appears to be cool to the option. By the way, Clinton won the South Dakota primary and Obama won the Montana primary on Tuesday.
Posted by Ron Gunzburger - 06.04.08 | Permalink |
"SUPER TUESDAY" RESULTS FOR CONGRESSIONAL RACES IN AL, CA, IA, MT, NJ, NM & SD.
NEW JERSEY. US Senator

Frank Lautenberg (D) rolled to a landslide primary renomination victory over Congressman Rob Andrews. The 84-year-old incumbent portrayed himself as the more progressive choice. Andrews was hit repeatedly for being a disloyal opportunist and the leading House Democratic co-sponsor of President Bush's Iraq War resolution in 2002. Former Congressman Dick Zimmer won a comfortable victory in the GOP primary for US Senate, but he remains a decided underdog against Lautenberg in November. In the open CD-1 race, Andrews' wife Camille easily won the Democratic nomination to replace her husband. However, she appears likely to step aside so that local party leaders can replace her on the general election ballot with her husband. In CD-3, Medford Town Councilman Chris Myers won the GOP primary. He will face State Senator John Adler (D) in November for the swing seat being vacated by retiring Congressman Jim Saxton (R). In the open CD-7 race, State Senator Minority Leader Leonard Lance won the crowded GOP primary. Lance is favored in November over State Assemblywoman Linda Stender (D).
ALABAMA. Two open seats were on Tuesday's ballot. In CD-2, Congressman Terry Everett (R) is retiring. State Representative Jay Love finished first in the six-way GOP primary with 37%. Love faces a run-off against State Senator Harri Anne Smith, who was second with 21%. Montgomery Mayor Bobby Bright rolled to a landslide victory on the Dem side, capturing 71% against two opponents. In CD-5, Congressman Bud Cramer (D) is retiring. State Senator Parker Griffith -- a Blue Dog Dem much like Cramer -- won his primary with 90%. Businessman Wayne Parker was first in the six-way Republican primary with 49%, so he will likely face a run-off against attorney Cheryl Guthrie, who trailed Parker by 31-points.
CALIFORNIA. We'll report on these primaries tomorrow, due to the late poll closing times (as Politics1 is based in the Eastern time zone).
IOWA. In CD-3, Congressman Leonard Boswell (D) defeated progressive former State Representative Ed Fallon by a 60% to 40% vote. The GOP contest for US Senate was a near three-way tie between the little-known hopefuls, so it may be a day or two before a winner is declared.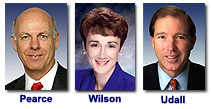 NEW MEXICO. With a little over half the votes counted, centrist Congresswoman Heather Wilson trailed conservative Congressman Steve Pearce by a 52% to 48% vote. The GOP winner will face Congressman Tom Udall (D) in November. All three of the state's congressional seats are also open. In CD-1, Bernalillo County Sheriff Darren White (R) easily won his primary. On the Dem side, Albuquerque City Councilor Martin Heinrich was leading his nearest opponent by over 20-points. The Dem and GOP races in CD-2 and CD-3 remained too close to call, as votes were slow to be reported during the evening.
SOUTH DAKOTA. State Representative Joel Dykstra won the three-way GOP primary for US Senate. Dykstra, a second-tier candidate, is an major longshot against US Senator Tim Johnson (D) in November.
Posted by Ron Gunzburger - 06.04.08 | Permalink |
PRESIDENTIAL PRIMARY SEASON COMES TO AN END ... AND IT'S "SUPER TUESDAY" FOR CONGRESSIONAL PRIMARIES IN AL, CA, IA, MT, NJ, NM & SD.
P2008 - DEMS. The long Presidential primary season finally draws to a close with the final two primaries -- South Dakota and Montana -- on Tuesday. A new ARG poll shows
Hillary Clinton leading Barack Obama in South Dakota by a 60% to 34% vote. Most other polls show the SD contest as being rather close. Another ARG poll out Monday shows Obama leading Clinton by a 48% to 44% vote. Campaigning in South Dakota on Monday, former President Bill Clinton signaled the end of his wife's campaign this week. NBC reported he told the crowd: "This may be the last day I'm ever involved in a campaign of this kind ... it has been, one of the greatest honors of my life to go around and campaign for [Hillary] for President." Obama's campaign is trying to secure endorsements from a sufficient number of superdelegates by the end of the day Tuesday so as to enable him to proclaim himself the nominee in his Minnesota speech that evening. As of Monday evening -- with the new endorsements of Congressmen Jim Clyburn (D-SC) and John Spratt (D-SC) -- Obama is just 38.5 votes shy of the nomination. MSNBC reported "over 30" supers will endorse Obama during the day on Tuesday. Clinton, by contrast, is returning to NYC to give her final rally speech of the season. She has reportedly invited key backers and big donors to attend, implying she will end her campaign in the Tuesday night remarks -- and possibly even endorse Obama. Seemingly confirming this, the Clinton campaign advance/field staff have already been notified via email that their jobs will end after Tuesday and that all staffers should submit their final expense reports by the end of the week.
ALABAMA. Two open seat contests on Tuesday's ballot. In CD-2, Congressman Terry Everett (R) is retiring. State Senator Harri Anne Smith, State Representatives Jay Love and David Grimes, and three others are seeking the GOP nomination. Montgomery Mayor Bobby Bright is favored to win the Dem nod over state NOW president Cheryl Sabel and one other. In CD-5, Congressman Bud Cramer (D) is retiring. State Senator Parker Griffith -- a Blue Dog Dem much like Cramer -- will easily win his primary. Six Republicans -- two attorneys, two businessmen, a surgeon, and a symphony musician -- are fighting for the right to face Griffith in November.
CALIFORNIA. Lots of congressional and state legislative races on Tuesday's ballot. CD-4: Congressman John Doolittle (R), a target of the ongoing Abramoff lobbying scandal, is retiring. The two leading GOP candidates are centrist former Congressman Doug Ose and conservative State Senator Tom McClintock. Ose retired a few years ago, but now wants to return to DC. McClintock, a favorite of party activists on the right and with high name ID from his frequent runs for statewide office, moved half-way across the state to run for this open seat. The winner will face retired USAF officer and '06 nominee Charlie Brown (D) in November. CD-52: Congressman Duncan Hunter (R) is retiring and hopes to hand his seat to his son Duncan D. Hunter, a businessman and Iraq War veteran. High identical name ID and overt help from his father make Hunter a frontrunner, but San Diego County Board of Education President Bob Watson and Santee City Councilman Brian Jones are making spirited runs.
IOWA. In CD-3, Congressman Leonard Boswell (D) faces an aggressive primary challenge from progressive former State Representative Ed Fallon, but polls show Boswell leading by a comfortable margin.
MONTANA (AND SOUTH DAKOTA). Montana has a gubernatorial, a US Senate and a congressional primary -- but the only races of note are the open seat primary contests for Attorney General and State Superintendent of Public Instruction. South Dakota is even more boring, with only an insignificant GOP primary for US Senate.
NEW JERSEY. US Senator

Frank Lautenberg appears well positioned to survive the Dem primary challenge from Congressman Rob Andrews. The state's congressional delegation and nearly all local Democratic organizations are aligned with Lautenberg, who has a more progressive record than does Andrews. Andrews' main thrust seems mainly to be a focus upon the 84-year-old incumbent's age. Former Congressman Dick Zimmer is the likely GOP nominee. In CD-1, Andrews appears to be playing a game by having his wife run for his open House seat as a placeholder should he lose the primary. Camille Andrews will not commit to remaining in the race as the November nominee if she wins the Dem primary. Other Tuesday contests of note include the GOP primaries for the open CD-3 and CD-7 seats.
NEW MEXICO. Retiring US Senator Pete Domenici (R) finally threw his primary support this weekend behind centrist Congresswoman Heather Wilson, but it may be too late. A new Albuquerque Journal poll shows conservative Congressman Steve Pearce leading Wilson by a 45% to 39% vote in the GOP primary. The new SurveyUSA poll shows Pearce leading by a 48% to 47% vote. Recent polls show both Wilson and Pearce trailing Congressman Tom Udall (D) by landslide margins in the general election.
NORTH CAROLINA. A new PPP poll shows US Senator Elizabeth Dole (R) leading State Senator Kay Hagan (D) by a vote of 47% to 39%.
Posted by Ron Gunzburger - 06.03.08 | Permalink |
DNC RESOLVES FL, MI DELEGATE FIGHT; CLINTON WINS BIG IN PUERTO RICO; GILMORE BARELY WINS VA GOP US SEN CONVO; WYO FILING CLOSES.
P2008 - DNC. The DNC Rules
Committee on Saturday voted to seat entire Florida and Michigan delegations to the national convention -- but each delegate will only get a half-vote apiece as a sanction for the two states breaking with the DNC's official schedule. Both the Clinton and Obama campaigns -- along with the Florida Democratic Party -- expressed satisfaction with the outcome as to Florida. The Florida delegates were awarded based upon the actual primary vote. Michigan, however, proved a tougher matter to decide as Clinton was the only candidate who appeared on the state's otherwise boycotted primary ballot. The DNC decided to throw out the January primary result -- where Clinton "competed" against "Uncommitted" -- and instead awarded Clinton 69 delegates and Obama 59 delegates. The Clinton campaign strongly objected to the Michigan outcome, saying the DNC ruling cheated Clinton out of eight delegates (four votes). However, Clinton spokespersons Harold Ickes and Terry McAuliffe on Sunday news shows both carefully phrased that Clinton was "reserving the right" to challenge the decision at the convention (but did not say Clinton would actually challenge it at the convention). The clever wording allows Clinton to keep this issue in play through the final two primary contests on Tuesday. The new number needed to win the nomination: 2,118 delegates. The total as of Sunday evening (including Puerto Rico): Obama - 2,071.5, Clinton - 1,918.5. A total of only 31 delegates are at stake in the Montana and South Dakota primaries on Tuesday. Approximately 200 superdelegates also remain uncommitted.
P2008 - PUERTO RICO. Hillary Clinton romped to a giant landslide in Puerto Rico on Sunday, defeating Barack Obama by a vote of 68% to 32%. She spent extensive time in the state over the past week, which paid off in the results. However, the island did not provide Clinton with the real results she needed in popular vote. She was counting on a turnout of roughly two million voters -- along with her landslide win -- to push her past Obama in total primary popular vote nationwide. Instead, the total turnout was less than 400,000. Island pundits said the low turnout was reflective of a lack of excitement for the primary because island voters do not get to vote in the Presidential general election. The low turnout in Puerto Rico means Obama is now assured of finishing the primary season on Tuesday night with more total popular votes than Clinton, along with a majority of the pledged delegates.
VIRGINIA. In a surprise,

former Governor and former Republican National Chair Jim Gilmore was barely able to win the GOP nomination for the open US Senate seat at Saturday's state convention. Party leaders had picked the convention format -- over a primary -- to help Gilmore avoid a challenge from centrist Congressman Tom Davis, as Virginia GOP conventions are routinely dominated by Religious Right activists. State Delegate Bob Marshall challenged Gilmore for the nomination, arguing the pro-life Gilmore was insufficiently conservative on abortion and immigration issues. The convention vote: Gilmore - 5,222, Marshall - 5,167. Polling shows Gilmore trailing former Governor Mark Warner (D) by double-digit margins. The most recent financial reports show Warner with a cash-on-hand of $5.2 million versus just $205,000 for Gilmore. Race rating: DEM Favored.
WYOMING. Primary candidate filing closed in Wyoming on Friday. US Senator Mike Enzi (R) and interim US Senator John Barrasso (R) both face opposition, but each appear safe for November. The lone competitive race in November will be the race to replace retiring Congresswoman Barbara Cubin (R). The incumbent barely won re-election two years ago by just over 1,000 votes against businessman Gary Trauner (D). Trauner is unopposed for the Dem nod this year. By contrast, four Republicans are competing in the August 19 primary. Former State Treasurer Cynthia Lummis is expected to win the GOP contest. House race rating: Leans GOP.
Posted by Ron Gunzburger - 06.02.08 | Permalink |
JOIN THE POLITICS1
FACEBOOK GROUP:



BLOG ARCHIVE:

June 16-30, 2008
June 1-15, 2008
May 16-31, 2008
May 1-15, 2008
April 16-30, 2008
April 1-15, 2008
March 16-31, 2008
March 1-15, 2008
February 16-29, 2008
February 1-15, 2008
January 16-31, 2008
January 1-15, 2008
December 16-31, 2007
December 1-15, 2007
November 16-30, 2007
November 1-15, 2007
October 16-31, 2007
October 1-15, 2007
September 1-30, 2007
August 16-31, 2007
August 1-15, 2007
July 1-31, 2007
June 1-30, 2007
May 16-31, 2007
May 1-15, 2007
April 16-30, 2007
April 1-15, 2007
March 16-31, 2007
March 1-15, 2007
February 16-28, 2007
February 1-15, 2007
January 16-31, 2007
January 1-15, 2007
December 16-31, 2006
December 1-15, 2006
November 16-30, 2006
November 1-15, 2006
October 16-31, 2006
October 1-15, 2006
September 16-30, 2006
September 1-15, 2006
August 16-31, 2006
August 1-15, 2006
July 16-31, 2006
July 1-15, 2006
June 16-30, 2006
June 1-15, 2006
May 15-31, 2006
May 1-15, 2006
April 16-30, 2006
April 1-15, 2006
March 16-31, 2006
March 1-15, 2006
February 17-28, 2006
February 1-16, 2006
January 16-31, 2006
January 1-15, 2006
December 2005
November 2005
October 2005
September 2005
August 2005
July 2005
June 2005
May 2005
April 2005
March 2005
Jan-Feb 2005
December 2004
November 16-30, 2004
November 1-15, 2004
October 16-31, 2004
October 1-15, 2004
September 16-30, 2004
September 1-15, 2004
August 16-31, 2004
August 1-15, 2004
July 16-31, 2004
July 1-15, 2004
June 16-30, 2004
June 1-15, 2004
May 16-31, 2004
May 1-15, 2004
April 16-30, 2004
April 1-15, 2004
March 15-31, 2004
March 1-14, 2004
February 15-29, 2004
February 1-14, 2004
January 17-31, 2004
January 1-16, 2004
December 16-31, 2003
December 1-15, 2003
November 17-30, 2003
---
POLITICAL BLOG ROLL:
KINDA NEUTRAL:
ABC News: The Note
CNN: Political Ticker
CQ Politics
MSNBC: First Read
Pollster.com
PolitiFact.com
Politics.Wikia
CJR Daily
The Hill
Rothenberg Pol. Report
LexisNexis: US Politics
Stateline.org
Governing.com
Political State Report
Hotline On Call
National Journal: The Gate
Hotline's Blogometer
The Politico
Beltway Blog
WatchBlog
Lawmakers Blog
Centerfield
GoLeft.tv
FactCheck.org
Marc Ambinder
WSJ: Best of the Web
WSJ: Washington Wire
D.C.'s Political Report
Media Bistro
Political Wire
Larry Sabato: Crystal Ball
James Kotecki
PressThink
Politics-Line
TheCapitol.Net: Blog
Vot3r.com
memeorandum
Campaign Circus
Politizine.com
MyElectionAnalysis.com
Foreign Policy Watch
DEM/LEFT:
DNC Blog
DCCC Blog
DailyKos
Lefty Blogs
TPM Cafe
The Raw Story
DownWithTyranny!
Democracy for America
Senate Guru
Campaign Diaries
Frameshop
The Washington Note
Emerging Dem Majority
Think Progress
AmericaBlog.com
Amer Prospect: Tapped
Arianna Huffington
Talking Points Memo
BAG News Notes
Eric Alterman
FishBowl DC
Fired Up! America
TalkLeft
TNR: The Plank
ZNet
Blogging of the President
Joe Trippi
Swing State Project
Media Matters
Juan Cole
Wonkette
MyDD
Working for Change
Crooks & Liars
Mathew Gross
Penndit
Politics & Technology
Progressive Dems: Blog
Atrios/Eschaton
Off the Kuff
Tom Tomorrow
Mother Jones
Agonist
Jerry Springer
TruthOut
Dem Bloggers
Liberal Oasis
Penndit
Firedoglake
The Homo Politico
Good As You
BigHead DC
AtariDemocrat
Henry Lewis
BuzzFlash
Taylor Marsh
Brad Blog
Dean Nation
Louise Slaughter
TruthDig
Dem Underground
Open Left
Jared Hall
Rod 2.0
Pam's House Blend
Bad Attitudes
at-Largely
The American Street
BlogActive
District Blogs
GOP/RIGHT:
RNC (GOP.com)
Club for Growth
National Review: Corner
C-Log
Real Clear Politics
SayfieNews.com
John Ellis
Mickey Kaus
StoneZone
Virginia Postrel
RedState
WSJ Opinion Journal
Free Republic
Instapundit
Drudge Report
Pajamas Media
Hugh Hewitt
Daniel Drezner
News Busters
Daily Pundit
Extreme Mortman
Bully Pulpit
NRO: Campaign Spot
Reason: Hit & Run
Outside the Beltway
Little Green Footballs
World Mag Blog
Right Wing News
Right Pundits
Volokh Conspiracy
Brothers Judd
David Frum
Mister Politics
Enter Stage Right
Right Wing News
PoliPundit
Power Line
Hedgehog Report
Right Voices
Right Bias
Booker Rising
Conservative Grapevine
Don Singleton
Diggers Realm
Save the GOP
OTHER:
Ballot Access News
ThirdPartyWatch.com
Kn@ppster
Green Commons
News for Greens
Infoshop News
---
For those who would like to track Politics1 with a newsreader, we publish a RSS feed:
---