BLOG ARCHIVE:

July 2005
June 2005
May 2005
April 2005
March 2005
Jan./Feb. 2005
December 2004
November 16-30, 2004
November 1-15, 2004
October 16-31, 2004
October 1-15, 2004
September 16-30, 2004
September 1-15, 2004
August 16-31, 2004
August 1-15, 2004
July 16-31, 2004
July 1-15, 2004
June 16-30, 2004
June 1-15, 2004
May 16-31, 2004
May 1-15, 2004
April 16-30, 2004
April 1-15, 2004
March 15-31, 2004
March 1-14, 2004
February 15-29, 2004
February 1-14, 2004
January 17-31, 2004
January 1-16, 2004
---
POLITICAL BLOG ROLL:
KINDA NEUTRAL:
ABC News: The Note
CNN: Morning Grind
Political Wire
MSNBC: First Read
CJR: Campaign Desk
Political State Report
WatchBlog
Command Post
Coming Up Daisies
FactCheck.org
WSJ: Best of the Web
D.C.'s Political Report
Media Bistro
PressThink
DEM/LEFT:
DNC: Kicking Ass
DCCC Blog
DailyKos
Howard Dean/DFA
Emerging Dem Majority
Amer Prospect: Tapped
Arianna Huffington
Al Franken
Eric Alterman
ElectaBlog
TNR: &c
FishBowl DC
TNR: Campaign Journal
Blogging of the President
Joe Trippi
Swing State Project
Battlegrounds & Ballot Boxes
David Brock/Media Matters
Josh Marshall
Wonkette
MyDD
Mathew Gross
Matthew Yglesias
ACT Blog for Victory
Off the Kuff
GOP/RIGHT:
RNC (GOP.com)
George W. Bush Blog
Bush Blog (Unofficial)
National Review: Corner
C-Log
Real Clear Politics
Andrew Sullivan
John Ellis
Mickey Kaus
Virginia Postrel
Instapundit
Hugh Hewitt
Daniel Drezner
Daily Pundit
Bully Pulpit
World Mag Blog
Right Wing News
Volokh Conspiracy
Brothers Judd
Right Wing News
Power Line
BLOG ARCHIVE: JUNE 2005


Premier Ad. Click here to learn about premier ad placements on Politics1.
THURSDAY NEWS UPDATE.

P2008: Congressman Tom Tancredo (R-CO) is continuing to advance his Bush-bashing, anti-immigration message. This week he told the Rocky Mountain News the Bush Administration is hiding documents that show the President's proposed guest worker program "sparked a surge in illegal immigration last year." According to Tancredo, "the Administration is playing politics with border security data." In other P2008 news, we've added our profile page on potential GOP Presidential candidate Mitt Romney of Massachusetts.
FLORIDA: New independent poll numbers released on the '06 US Senate and open gubernatorial contests. In the US Senate race, incumbent US Senator Bill Nelson (D) led Congresswoman Katherine Harris (R) by a 50% to 38% vote in the Quinnipiac University poll. Nelson also led State House Speaker Allan Bense (R) -- the White House's favored candidate who has yet to enter the race and remains largely unknown -- by a vote of 55% to 26%. A GOP primary poll shows Harris led Bense by a 54% to 6% vote. "I started out on the bottom. Remember, 35 years ago I was a janitor in an office building cleaning toilets. I've seen a lot of people rise from great depths and be successful," said Bense. In the race to replace term-limited Governor Jeb Bush (R), Attorney General Charlie Crist continues to lead for the GOP nomination. The numbers: Crist-43%, State CFO Tom Gallagher-31%. On the Democratic side, bad press for former State Democratic Chair Scott Maddox has taken a toll. The results: Congressman Jim Davis-24%, Maddox-16%, and conservative State Senator Rod Smith-7%. The anemic Democratic numbers make the field ripe for another candidate to jump in -- not that anyone else is really looking at it.
It's a light news day but, hey, we're approaching a slow holiday weekend..
Posted by Ron Gunzburger - 6.30.05 |
WEDNESDAY NEWS UPDATE.
SUPREME SENATORS: US Senate Minority Leader

Harry Reid (D-NV) has some suggestions for President Bush if he wants easy confirmation of his future nominee for an expected US Supreme Court vacancy. Reid said the key to winning an easy confirmation fight is select a conservative Republican US Senator who would draw broad consensus support. Specifically, Reid said that US Senators Mel Martinez (R-FL), Lindsey Graham (R-SC), Mike DeWine (R-OH) and Mike Crapo (R-ID) were all "bright" and "would be outstanding Supreme Court members." All four come from states with GOP Governors, meaning that anyone selected to replace them in the Senate would also be Republican. Reid said he's met with US Senate Majority Leader Bill Frist (R-TN) to discuss possible Supreme Court candidates -- but was also pitching the names to "anyone who would listen." Frist, meanwhile, confirmed he met with White House officials to discuss possible Supreme Court nominees -- but he declined to name any of the candidates he suggested. In past years, US Senate Judiciary Committee Chair Orrin Hatch (R-UT) expressed an interest in serving on the Supreme Court, but his name does not appear to be in play these days.

PENNSYLVANIA (AND DC): This is really an inside-the-beltway story, but it is also a Pennsylvania campaign item. According to The Hill, US Senator Trent Lott (R-MS) -- the former US Senate Majority Leader -- is planning to run for the Senate Republican Whip position at the end of next year. Current US Senate Majority Whip Mitch McConnell (R-KY) is expected to move up to the top spot without opposition after Bill Frist (R-TN) retires from the Senate in 2006. When that happens, Senate Republican Conference Chair Rick Santorum (R-PA) -- the #3 Republican in the US Senate -- is expected to run unopposed for the #2 job of Whip. Lott's very open lusting -- and strategizing -- for the Whip job implies he doesn't believe Santorum will be returning to DC after the '06 elections. In a further sign that Lott is serious on his prospective return to leadership, it appears he pulled the plug on his promised "tell all" book on DC politics. Lott will have to return the $200,000 advance he was paid, but he'll also get to bury all of the bad stuff he was going to publish about his Senate colleagues. Santorum is facing a highly competitive re-election challenge from State Treasurer Bob Casey Jr. (D). Current independent polls show Casey holding a narrow lead over the incumbent.
MEDICAL MARIJUANA: Despite a recent US Supreme Court ruling that the federal government has a right to ignore state medical marijuana laws and enforce federal drug prohibitions, the Rhode Island Legislature overwhelmingly decided to send a message this week. By a veto-proof majority, the RI Leg became the 11th state to approve the decriminalization of medical marijuana. Governor Don Carcieri (R) said he will likely veto the bill, but the votes are clearly there to override the expected veto. State Representative Thomas Slater is the sponsor of the bill. Slater is also 64 years old and has undergone treatment for lung and prostate cancer. "Would I really take marijuana? I don't know. I just want the option out there for people. If they feel it would help them and a doctor feels it would help them, then I want them to have the option to use it without fear of state prosecution," he explained. Since the high court ruling last month, federal agents conducted high profile raids on medical marijuana clubs in California. "The DEA has said they would not go after the sick and dying, and we don't think they will in Rhode Island," said Slater.
NEW YORK: State Senate Majority Leader Joseph Bruno (R) told the Hudson Valley News he now believes Governor George Pataki (R) will seek a fourth term next year. "I think he has had three good terms and I frankly believe that he would continue his good work over the next five years," said Bruno. Polls repeatedly show Pataki trailing Attorney General Eliot Spitzer (D) by a wide margin. In related news, a radio talk show producer is organizing a GOP gubernatorial draft campaign for billionaire businessman, perennial candidate, and political independent Tom Golisano.

P2008: Iowa Governor Tom Vilsack (D) bowed out of the DNC Chair race earlier this year against Howard Dean -- despite being urged to run by John Kerry and others -- because Vilsack said he needed to concentrate on the remainder of his term as Governor. This month, Vilsack is singing a different tune. Vilsack was just named to be the next Chair of the centrist Democratic Leadership Council. Current DLC Chair Evan Bayh (D-IN), who served in the post since 2001, is not seeking another term in order to concentrate on a possible '08 White House run. The move doesn't mean Vilsack is out of the P2008 contest -- as Bill Clinton used the DLC as his Presidential launching pad in '92 -- but it seems he's less likely to focus on running for President and more likely to position himself as an influential kingmaker in the race.
Posted by Ron Gunzburger - 6.29.05 |
TUESDAY NEWS UPDATE.

P2008 NEWS: US Senator George Allen (R-VA) is on a swing through New Hampshire. Tennessee Governor Phil Bredesen (D) gave a speech at the National Press Club in DC on Friday, calling for the overhaul of Medicaid. Bredesen's remarks didn't win Dem support inside the Beltway, as a spokesman for US Senate Minority Leader Harry Reid denounced Bredesen for "essentially calling for the dismantling of the Medicaid system." Speaking of politicians displeasing their own party, US Senator Chuck Hagel (R-NE) told the Nebraska American Legion that the US is losing the Iraq War for several reasons. According to the Omaha World-Herald, Hagel said the Bush Administration sent in "too few troops" to fight the war, terrorists are "pouring into" Iraq, "basic living standards are worse than a year ago in Iraq ... Allies aren't helping much .... [and] it will all plunge into another Vietnam debacle ... The point is, we're going to have to make some changes or we will lose, we will lose in Iraq." Virginia Governor Mark Warner (D) is making a speaking trip to Maine, followed in two weeks by a speech in Arizona.
THE SUPREMES: In the final day of the US Supreme Court term, the sharply split justices issued a confusing pair of "Ten Commandments" rulings -- and the day did not produce the anticipated Court retirement. In two 5-4 rulings, the Supreme Court held that a six-foot granite monument of the Ten Commandments on the grounds of the Texas Capitol was permissible but that framed copies of the Ten Commandments displayed inside of some Kentucky courthouses violated the separation of church versus state. Justice Stephen Breyer was the swing vote, upholding the Texas display but rejecting the Kentucky one. Essentially, the Court held these must be decided on a case-by-case basis. But framed copies in two Kentucky courthouses went too far in endorsing religion, the court held. The courthouse displays are unconstitutional because the religious content was overemphasized. By contrast, the Texas display was one of 17 historical displays on the Capitol grounds and was determined to be a legitimate tribute to the nation's legal and religious traditions. "Simply having religious content or promoting a message consistent with a religious doctrine does not run afoul of the Establishment clause," wrote Rehnquist in the Texas case. Justice Antonin Scalia -- who supported the displays in both instances and is seemingly auditioning daily for the role of Chief Justice -- blasted his colleagues in the Kentucky case. Scalia warned that "the dictatorship of a shifting Supreme Court majority" threatened the rule of law. While some Court observers expected ailing Chief Justice William Rehnquist to announce his retirement on Monday -- as closing day announcements of retirements are a Supreme Court tradition -- Rehnquist made no announcement. Some still predict he will retire in coming days via a written statements, but this seems a 50/50 prospect now. He may, instead, opt for what some others have done: stay on the Court until his death. If Rehnquist doesn't resign within the next ten days, don't count on it happening this year.
NEW YORK: Governor George Pataki (R) has a change of plans for his announced timetable. Originally, Pataki said he would make a decision on seeking a fourth term when the state legislature adjourns. Now, he says he's in no rush to make any decision -- crippling his party's planning for the '06 elections. "I'll make it when I'm ready," says Pataki now. Some Republicans are upset: "If the Governor intends to run, he has to say it now ... Actually he should have done it a while ago," complained Congressman John Sweeney (R).
CONSTITUTIONAL CHANGES: Call it the "Bring Back Bill Clinton" amendment or the "Dubya '08" amendment ... but US House Minority Whip Steny Hoyer (D-MD), Congressman Howard Berman (D-CA) and House Judiciary Chair Jim Sensenbrenner (R-WI) are proposing a constitutional amendment to repeal the 22nd Amendment's lifetime two-term limit for US Presidents.
Posted by Ron Gunzburger - 6.28.05 |
MONDAY NEWS UPDATE. THE "THIRD WAR" BECOMES THE GOP WAY: Wasn't British Prime Minister Tony Blair once President Clinton's close friend, so much so that many Brits joked that Blair hired many Clinton political advisors for his own race because he actually wanted to be Clinton? Then came Blair's alliance with President Bush since 2002 on the Iraq War and -- to drive the nail in the coffin of Blair faded friendship with the Dems -- now comes the news that Blair's son Euan, 21, will spend three months working on Capitol Hill on the US House Rules Committee majority staff of Chairman David Dreier (R-CA). In P2008 news, we've added the new John Kerry page with updated links ... and added a profile on the P2008: Democrats page of our most inadvertently entertaining (and seriously delusional) candidate: Randy Crow. Yup, that's right! The self-proclaimed "Returning Christ" -- who loves denouncing Politics1 (and this writer) as an evil "Zioni$t" tool -- is back with more conspiracy theories to bolster his third White House run. Beyond these two items -- as not much significant in politics happened Sunday -- feel free to treat today as an open thread.
Posted by Ron Gunzburger - 6.27.05 |
SATURDAY NEWS UPDATE:
NEW YORK: Former Yonkers Mayor and decorated Vietnam War veteran John Spencer (R) announced Friday that he plans to challenge US Senator Hillary Clinton (D) next year. The mercurial Spencer served as Mayor from 1995 until he was term-limited out in 2003. Since leaving office, the recovering alcoholic has worked as a consultant for businesses dealing with substance abuse issues. "She's beatable. She's liberal, and she is on the wrong side of many issues," said Spencer. Clinton's spokesman said she's more than willing to take on whatever Republican is put forward. Spencer also lashed out at state GOP leaders for attempting to recruit Westchester County District Attorney Jeanine Pirro into the contest while ignoring Spencer and others. The current recruitment effort "looks like a very dictatorial style. I don't know how you choose a candidate for such a position without even talking to the Mayor of the fourth-largest city in the state," complained Spencer. He suggested Pirro -- who some conservatives oppose for her 100% pro-choice rating from NARAL-NY -- should instead be steered into the open Attorney General contest, as he plans to stay in the Senate race.

ALABAMA: The open seat contest for Lieutenant Governor could be a hot race between scions of two charismatic, larger-than-life Alabama Governors. On the Republican side, Public Service Commissioner and former State Treasurer George Wallace Jr. entered the race this week. On the Democratic side, it appears that former Governor and Lieutenant Governor Jim Folsom Jr. is getting ready to jump in. Wallace is the son of populist former four-term Governor George Wallace (1919-1998), who was also a four-time Presidential candidate. Folsom is the son of two-term Governor "Big Jim" Folsom (1908-1987). Others are looking at the contest in both parties, but Wallace Jr. and Folsom Jr. would be the respective primary favorites.

P2008. New Jersey legislators are tired of the Garden State being irrelevant in the Presidential primary process every four years. This week they approved legislation to move NJ's Presidential primary from June to the last Tuesday in February. "For too long our state has been relegated to the sidelines of the presidential primary season. That ends today," said Governor Dick Codey (D), who signed the bill into law.
This week's mini-movie review: Bewitched. Despite the cute early premise of a unique storyline -- not a remake of the original series, but something different (shades of the wonderful Adaptation) -- director Nora Ephron sucks the life out of more than half of the movie by evolving the story into yet another of her formulaic (and totally predictable) love story. Adding to the problems is the pairing of Will Ferrell and Nicole Kidman as the couple is pretty unbelievable. Some cute moments -- and Shirley MacLaine and Steve Carell are the most fun to watch, despite their small roles -- but wait for this one to come out on cable.
Posted by Ron Gunzburger - 6.25.05 |
FRIDAY NEWS UPDATE:
ARIZONA: Republicans finally have a real candidate in the race against Governor Janet Napolitano (D). Former State Senate President John Greene (R) stepped into the vacuum, after nearly every recruited candidate passed on the race. The latest blow to the Arizona GOP came yesterday when it was revealed their latest recruitment target -- US Surgeon General Carmona -- wasn't even a Republican. Not only is Carmona a registered Independent, but he has a very sparse voting history. The Arizona Republic reported that Carmona skipped voting entirely in 1990, 1992 and 2002 -- and that 2000 was the only year he ever voted in a primary. He also told the New York Times this week that he has tried marijuana and supports expanded stem cell research. On the heels of that news, Greene jumped into the contest. He's not a top tier contender -- he lost a primary for Attorney General in '02 -- but he's unlikely to embarrass the party.

ALABAMA: Former Democratic State Representative Nathan Mathis announced this week he will run for Governor next year as an Independent. Mathis, who lost the '02 primary for State Agriculture Commissioner, plans to run mainly on a pro-casino gambling platform. Mathis says the tax revenue from casinos could fund health care, prisons and more state trooper positions.

WISCONSIN. And speaking of Indy candidates, State Representative Spencer Black (D) says he is considering challenging Wisconsin Govenor Jim Doyle (D) next year as an Independent candidate. Black -- the former Democratic Leader of the State House -- is a vocal liberal and environmental advocate. Black says he knows many Dems are disappointed that Doyle has been much more centrist and pro-business than anticipated. Union leaders, in particular, are disappointed with Doyle. Black says he was approached about running and is neither giving it much thought yet nor rejecting the idea. "Spencer's a good Democrat. I don't think he thinks he's going to be Governor, so the real issue is: Does he really want to have a Republican governor or not [by splitting the Democratic vote]," said Doyle to the Madison Capital Times.
Let me clarify one thing from yesterday's postings: as much as I like Florida Attorney General Charlie Crist on a personal basis, I don't agree with his politics. They are simply much more conservative than are mine. We disagree on issues ranging from the death penalty to gay rights to taxes. That's why I'll still campaign for a Democratic candidate next year for Governor.
Posted by Ron Gunzburger - 6.24.05 |
THURSDAY NEWS UPDATE:
FLORIDA #1 : Republicans look strong in the race next year to succeed term-limited Governor Jeb Bush (R). According to new independent Mason-Dixon poll, Attorney General Charlie Crist is heavily favored to win both the GOP nomination for Governor and the general election. In the Republican primary, Crist had 41%, State CFO Tom Gallagher was at 23% and Lieutenant Governor Toni Jennings had 7%. Crist -- who was the GOP nominee for US Senate in 1998 -- is a solid campaigner with a warm demeanor and a populist style. Gallagher -- a GOP centrist-turned-conservative who formerly held two other statewide constitutional offices -- lost primary races for Governor in 1986 and 1994. Crist is likely to be backed by the state's police officers, while Gallagher is expected to win the endorsement of the state's firefighters. Both men are strong fundraisers. Jennings, who has yet to announce her plans for '06, is Bush's hand-picked choice to be his successor. On the Democratic side, Congressman Jim Davis led the field with 23%, followed by former State Democratic Chair Scott Maddox with 12% and State Senator Rod Smith at 4%. In a general election match-up, the poll showed Crist would currently defeat Davis by a 41% to 28% vote. [Note: On a purely personal level, I really like Charlie very much as he's a nice guy and earnest pro-consumer Attorney General -- and I've found Gallagher to be an arrogant, vain, insincere politico in my encounters with him -- but, be assured, I'll still actively support the eventual Dem nominee. Thus, to help damage the man who is clearly the GOP's strongest candidate, I'm publishing this incriminating '04 picture of Charlie and me so that he can be tarred in what should be a very nasty primary by his connection to this liberal Dem blogger.]

FLORIDA #2: Wednesday was a very bad news day for gubernatorial candidate and former State Democratic Chair Scott Maddox. Maddox -- a charismatic favorite of the Deaniac activists -- is under heavy fire from the new leadership of the Florida Democrats. The IRS placed a lien on the state party's bank account, based upon allegations the party did not collect and submit the full amount owed for payroll taxes during Maddox's tenure. Maddox says he takes responsibilities for everything that happened during his chairmanship, says this can all be explained as a simple misunderstanding between the IRS and the party's former bookkeeper. Equally troubling are concerns that roughly $900,000 cannot be accounted for during Maddox's tenure. Maddox says this should prove to be a bookkeeping matter rather than actual missing funds. The state party ordered a full audit of all financial records covering the past few years. Maddox stepped down as State Chair a month ago when he jumped into the race for Governor. [Full disclosure: I've already pledged my support to Maddox -- but these stories will be fatal to Maddox's campaign if he cannot quickly be exonerated by the audit.]

NEW YORK CITY. Billionaire NYC Mayor Mike Bloomberg (R) is looking stronger these days in his race for re-election. Earlier this year, Bloomberg looked somewhat endangered. However, according to a new Quinnipiac University poll, Bloomberg leads likely Dem nominee Fernando Ferrer by a 50% to 37% vote. Bloomberg led Manhattan Borough President C. Virginia Fields (D) by a vote of 49% to 38% -- and led other Democratic hopefuls by even wider margins. In the Dem primary, Ferrer still leads the field. The numbers: Ferrer-31%, Fields-19%, NYC Council Speaker Gifford Miller-12%, and Congressman Anthony Weiner-12%.
ALABAMA. Ousted State Supreme Court Chief Justice Roy Moore (R) -- the self-described "Ten Commandments Judge" -- acknowledged he's weighing a possible primary challenge to Governor Bob Riley (R). Moore is a favorite of Religious Right activists. Riley's support for a massive failed tax hike plan in 2003 left him rather unpopular with voters. Lieutenant Governor Lucy Baxley and embattled former Governor Don Siegelman both intend to seek the Democratic nomination. Speaking at the Southern Baptist Pastors' Conference, Moore said: "I'm seriously considering it ... I wouldn't want to run unless it was God's will." No official word from God yet on what he wants Moore to do.
CALIFORNIA #1. A new independent Field poll of California voters show the approval rating for Governor Arnold Schwarzenegger (R) has slipped to just 31% -- among the lowest numbers ever recorded for a California Governor. In related news, State Controller Steve Westly (D) formally jumped into the gubernatorial race this week. Westly is a wealthy former internet executive who was one of the original top officials in eBay before he entered politics four years ago. State Treasurer Phil Angelides (D) is also running.
CALIFORNIA #2. Veteran Congressman Randy "Duke" Cunningham (R) -- a former Navy "top gun" pilot -- is the target of an investigation into the purchase of his home by a defense contractor at a highly inflated price. Cunningham purportedly later helped the contractor win some lucrative military deals, and enjoyed other perks from the contractor in DC. Even Republicans now believe that Cunningham is damaged goods and may opt for retirement. Former Assemblyman and '04 US Senate candidate Howard Kaloogian and other GOP politicians are already making phone calls to gauge support for a possible open seat primary contest next year in CD-50.
Posted by Ron Gunzburger - 6.23.05 |
WEDNESDAY NEWS UPDATE:
MARYLAND: Baltimore Mayor Martin O'Malley (D) raised an impressive $2 million at a fundraising dinner this week on behalf of his gubernatorial campaign. O'Malley -- the leading candidate for the Democratic nomination -- is expected to be a very aggressive challenger to Governor Bob Ehrlich (R). Montgomery County Executive Doug Duncan (D) is also running.

FLORIDA: A new independent Mason-Dixon poll of Florida voters shows US Senator Bill Nelson (D) holding a comfortable lead over challenger Congresswoman Katherine Harris (R). The results: Nelson-53%, Harris-36%. The poll was taken shortly after Harris announced her candidacy, but before word leaked that Governor Jeb Bush and White House political guru Karl Rove are attempting to recruit State House Speaker Allan Bense into the GOP primary against Harris. Now we can all see why the Bush crowd are intent on derailing a Harris candidacy. In other Florida news, well placed GOP sources tell Politics1 that Lieutenant Governor Toni Jennings (R) will soon announce she will not be a candidate for Governor or US Senator next year. Jennings was Governor Bush's hand-picked choice to succeed him as Guv next year. Polls show Jennings lagging far behind Attorney General Charlie Crist and State CFO Tom Gallagher in next year's GOP gubernatorial primary.

ARIZONA. Arizona Republicans are desperate for a challenger for Governor Janet Napolitano (D). Former Congressman Frank Riggs (R) -- who had represented a US House district from California -- was already busy rounding up support and assembling a campaign team. Then Riggs discovered he didn't meet Arizona's five-year residency requirement. That put the Arizona GOP back -- once again -- to square one in their search for a candidate. Some still hold out hope that either former Vice Presidential spouse Marilyn Quayle or US Surgeon General Richard Carmona will enter the race, but that seems less likely as time passes. Others in the party believe lobbyist and former gubernatorial chief of staff Jay Heiler may be a more realistic option. The only announced GOP candidate to date is a college student.
TEXAS. President Bush plans to stay out of next year's GOP gubernatorial primary between Governor Rick Perry and State Comptroller Carole Keeton Strayhorn. Perry was Bush's successor and Strayhorn is the mother of White House Press Secretary Scott McClellan. "The President will not be getting involved in the primary ... he considers both friends," said McClellan. US Senator John Cornyn (R-TX) quickly weighed into the contest, however, with an early endorsement of Perry.
Posted by Ron Gunzburger - 6.22.05 |
TUESDAY NEWS UPDATE:
NEW YORK: According to new reports in the Rochester Democrat & Chronicle, Empire State Republicans are actively working to recruit billionaire businessman and NHL hockey team owner Tom Golisano into the gubernatorial contest next year. Golisano has lost three consecutive runs for Governor as the nominee of the Independence Party, the former NY state affiliate of Ross Perot's now more-or-less defunct Reform Party. In his last run, Golisano made medical marijuana legalization one of his most prominent issues and featured it heavily in TV spots. If Golisano runs, he is likely to largely self-finance his campaign as he did in his past runs. According to the newspaper, State GOP Chairman Stephen Minarik, State Senate Majority Leader Joseph Bruno and Congressman Tom Reynolds are among those who have met several times with Golisano to encourage his candidacy. Their actions are also the latest sign that incumbent Governor George Pataki (R) does not plan to seek re-election to a fourth term next year ... or that his fellow Republicans simply no longer care what Pataki plans to do since he's dragged the decision out for so long. Golisano's spokesperson said he will weigh all his options and "when the time comes, he'll make a decision."

PENNSYLVANIA: Governor Ed Rendell (D) -- a former Democratic National Chairman and a possible 2008 Presidential candidate -- is off to an amazing fundraising start for his '06 re-election race. As of the latest filing reports, Rendell has raised $7.2 million -- far more than any of his likely GOP opponents. According to the Pittsburgh Post-Gazette, Rendell wants to raise at least $40 million for his re-election coffers. Former pro football player Lynn Swann, former Lieutenant Governor Bill Scranton III and State Senator Jeff Picola are the three announced Republican candidates thus far. Rendell outraised his GOP opponent by almost a 3-to-1 margin in the '02 race.

BLOCKED AGAIN. US Senate Democrats again succeeded Monday in blocking a floor vote on the controversial nomination of John Bolton to be the next US Ambassador to the United Nations. Some Republicans have suggested -- or hinted -- that President Bush could appoint Bolton to the post during an upcoming congressional recess, enabling Bolton to serve as UN Ambassador until January 2007 (when the next Congress convenes). White House spokesman Scott McClellan declined to speculate on the chances of that happening. Democrats say a recess appointment of the embattled nominee would further weaken the US standing in the international community by having a UN Ambassador that most other nations would view as marginalized or illegitimate.
As many of you know (or have figured out), I typically write these updates in the evening once I get home from my "real job." Well, Dana and I celebrated our 18th anniversary on Monday ... so I've spent more time on family and less on writing today. Thus, the shorter daily entry.
Posted by Ron Gunzburger - 6.21.05 |
MONDAY NEWS UPDATE:
P2008: No surprise, but US Senator Joe Biden (D-DE) told CBS News on Sunday that he will run for President in 2008. His first White House bid -- a disastrous run in 1988 -- ended before the first primary under the weight of allegations he had plagiarized extensive portions of his campaign speeches (including purported autobiographical segments) from other US and UK politicians. Biden also flirted with an '04 White House run, but decided instead in 2003 to focus his energies on serving as the ranking Dem on the Senate Foreign Relations Committee.

IRAQ: Over the weekend, US Senator John McCain (R-AZ) said he expects American troops to remain in Iraq to last at least another two years. Speaking more ambiguously on a weekend TV appearance, US Secretary of State Condi Rice said that the Bush Administration noted early on that Iraq involved "a generational commitment." Does that mean twenty years? "Things aren't getting better [in Iraq], they're getting worse. The White House is completely disconnected from reality ... The reality is that we're losing in Iraq," adds US Senator Chuck Hagel (R-NE) in a new interview with US News. Hagel, a Vietnam War veteran, is a likely P2008 candidate. Meanwhile, Congressmen Walter Jones Jr. (R-NC) and Ron Paul (R-TX) are joining with a group of anti-war House Dems in calling for setting a formal withdrawal timetable from Iraq. US Senators Linc Chafee (R-RI) and Lindsey Graham (R-SC) are among those also saying that a timetable needs to be at least discussed. That discussion may not lead to any easy answers, as even the left is sharply torn into two camps on an Iraqi withdrawal timetable. One faction favors the "get out right now" view ... while the other camp (including me) falls into the "If you break it, you buy it" philosophy that it would be irresponsible to immediately withdraw until after we repair at least some of the serious infrastructure damage we inflicted on the Iraqi civilians (but it would help if we were replaced by a truly multinational force that includes US armed forces, but under true multinational command).

1/23 MARINES REDUX: Three months after returning home to the US, I've received an update from USMC Captain James Crabtree -- our former special war correspondent in the Anbar Province of Iraq. Well, James is doing well, he's back living in Austin, Texas, and engaged in politics again. He's gotten engaged to Meredith (our congrats to both of them!). And he's trying to start his own blog. Not much there on the site yet, but bookmark it to keep in touch with James.

FEELING DRY AND CONFIDENT. Minister, artist and temperance lecturer Gene Amondson (Prohibition-AK) fell just a few votes short -- well, about 62 million or so votes short -- of winning the Presidency last year. But still, he was encouraged enough by the 1,900 votes he captured that he told party activists at their recent national convention that he'll be back for a second White House run in 2008. Party activists were so pleased with Amondson -- not that there was a wide pool of options -- that they also elected him to be the party's new National Chairman. While the total was rather paltry, Amondson's 2004 vote total was still the party's best showing since 1988.

STILL SEEKING SOME MORE SOUTHERN, JEWISH LIBS! If you're Jewish, hold either center-left or liberal political views, are generally active or well-connected in your community (Jewish community, political community, business community, etc), and you live in Alabama, Georgia, Louisiana, Mississippi, Tennessee, North or Central Florida, South Carolina or North Carolina, I want to hear from you. Please drop me an email if you'd possibly be interested in serving on the US Regional Board of Directors of a prominent, well-established, non-partisan, progressive Jewish organization (and please write "AJC" in the subject line). Thanks!!
Posted by Ron Gunzburger - 6.20.05 |
SATURDAY NEWS UPDATE:
TEXAS: US Senator Kay Bailey Hutchison has decided against challenging Governor Rick Perry in next year's GOP primary, according to her campaign manager. Instead, KBH will formally kick-off her re-election campaign at a rally on on June 27. Polls showed that Hutchison -- the most popular politician in the state -- had a good chance of ousting Perry. With Hutchison out of the race, State Comptroller Carole Keeton Strayhorn appears to be Perry's only major opponent for the GOP nomination. Former Congressman Chris Bell (D) and country music singer/author Kinky Friedman (Independent) are also announced candidates against Perry. Friedman is using the same campaign manager and media consultant who combined to direct Jesse Ventura's successful indy campaign for Minnesota Governor in '98.

FLORIDA: More on the apparent move by GOP leaders to undermine Congressman Katherine Harris's challenge to US Senator Bill Nelson (D) next year. Yesterday I reported that unnamed Republican leaders implicated White House political strategist Karl Rove in the now-open attempt to recruit State House Speaker Allan Bense into the GOP primary against Harris. Confirmation came later when Bense himself told reporters Rove recently met with him to encourage him to seek the Senate seat.

P2008: Yet another sign that Massachusetts Governor Mitt Romney (R) is preparing to run for President in '08 instead of re-election in '06: he's moving sharply to the right. Romney on Friday abandoned his previous position of opposing gay marriage but would not object to same-sex civil unions. Now Romney is touting a proposed constitutional amendment for the Massachusetts ballot that would completely ban both gay marriage -- but without permitting civil unions. And last week, in case you missed it, Romney said he would support Lieutenant Governor Kerry Healey (R) as his successor if he decides to bail on the race.

REMAKING THE DEMOCRATIC PARTY (CONT.): Based on some comments in yesterday's blog, I want to further elaborate on the need for the Democratic Party to develop and proudly embrace a truly progressive agenda. Be assured, progressives do not want to kick conservatives out of the party -- but we do want to win them over to our views. The best way I know to do this is to reframe the national debate. Senator Russ Feingold suggests the best way to do this is go into all 50 states and talk about the real problems facing America and the best way to address them. In a debate on our problems -- the lack of affordable health care and housing, an unfair tax structure that gives big breaks to the wealthy, Iraq and the US role in world affairs, improving education, ensuring justice and equal opportunity, and so forth -- we need to abandon the labels of liberal/conservative or left/right and talk about the specific proposals. Whether we are talking about working class Republicans in Wyoming, a struggling middle class family trying to make ends meet in Alabama, or the Hollywood and East Coast liberals, most Americans struggle to pay medical bills when a family member becomes seriously ill. They worry about jobs lost as US companies ship them off-shore. They worry about personal safety and domestic security. Progressive Democrats have ideas to address these problems -- good ideas -- if we can just get people to listen again. It isn't about lecturing folks in Red States to vote for economic self-interest over so-called moral issues. We won't win by talking down to people or treating Middle America with disdain. We, too, believe in moral values -- and should be willing to talk about "moral values: -- only I believe we more profoundly believe in the Biblical values of caring for the poor, protecting the environment, and doing justice than do the current conservatives. And we won't rebuild as a truly strong party until we have a progressive agenda that advances ideas. The culture war" wedge that harshly divides us today will fade within a few years -- just as the insane fear of women's equality faded after the 1970s. It's been nearly 30 years since we;ve heard a conservative Member of Congress openly denounce women as "bra burners" and warn of all the terrible things that would happen if women were protected by equal rights laws. We may not reach total agreement on everything -- probably never will -- but as two-thirds of all Americans indicate in polls they support either same-sex civil union laws or legalized gay marriage, I'd suggest that "gay issues" in campaigns will fade into the realm of the non-controversial. So, how do we win back Middle America? Here's one example of just how we can do that consistant with progressive principles of fair taxes (and steal the "tax cut" message away from the Republicans at the same time): Democrats should propose a change in the federal tax code that TOTALLY exempts from income taxes the first $25,000 or $30,000 that every American earns each year. That will give massive tax relief -- real tax relief -- to millions of Americans, while ensuring that the wealthy pay their fair share (think of it as the "fair dues of responsible citizenship" for those who are most enriched by our nation's economic opportunities). That's just one idea of how "we" will re-take control of the party: by winning Americans (including many DLC and conservative Dems) to our better ideas. We need to make them buy into our ideas -- because our ideas are better. Republicans can often succinctly describe their agenda as "Lower Taxes, Less Government, More Freedom" (and, in the case of the Religious Right, tack on the "Family Values" label). In reality, the GOP record is "Higher Deficits, Less Freedom, America Hated Around the Globe" -- but the Republicans do a much better job of marketing than do we. If you don't believe me, I defy you to describe what the current Democratic Party stands for in six or eight or ten words. I have a suggestion to start the debate: "Fiscal Responsibility, Economic Justice, Individual Freedom, A Stronger America." Yeah, I know it needs work ... but it could be used to encompass everything from health care to taxes to equal rights to foreign policy. Just some more food for thought to keep the debate going. It's good for our party, and good for America.

MOVIE REVIEW. I saw the new Batman Begins film on Friday night and recommend it highly. Good action, decent story, and easily the best of the Batman series by far (even better than the Tim Burton original one). The first 30 minutes move a bit too slow, but after that it really picks up well.

"LIBERAL (SOUTHERN) JEWS!" If you're Jewish, hold either center-left or liberal political views, are generally active or well-connected in your community (Jewish community, political community, business community, etc), and you live in Alabama, Georgia, Louisiana, Mississippi, Tennessee, North or Central Florida, South Carolina or North Carolina, I want to hear from you. Please drop me an email if you'd possibly be interested in serving on the US Regional Board of Directors of a prominent, well-established, non-partisan, progressive Jewish organization (and please write "AJC" in the subject line). Thanks!!
Posted by Ron Gunzburger - 6.18.05 |
GOP LEADERS TORPEDOING KATHERINE HARRIS SENATE RUN. It appears the Bush White House, Florida Governor Jeb Bush and the NRSC are combining their efforts in an attempt to cripple the US Senate run by Congresswoman Katherine Harris (R-FL).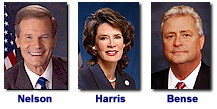 Harris last week told reporters she planned to challenge US Senator Bill Nelson (D) next year. Harris remains a highly polarizing figure because of her controversial role as Florida Secretary of State in the 2000 Presidential recount. That was the reason top national Republican leaders -- reportedly with the involvement of Bush strategist Karl Rove -- allegedly cut a deal with Harris two years ago to keep her out of the open 2004 US Senate race. They worried that having Harris on the ticket last year could have hurt President Bush's re-election efforts -- both in Florida and nationwide -- by repeatedly creating photos ops of Bush and Harris on stage together every time the President campaigned in the state. In exchange for Harris bowing out of the hotly contested '04 GOP primary, party leaders assured her they would give her a clear shot for the '06 nomination against Nelson. Well ... now that '04 is history, the so-called "deal" itself also seems to be history. Numerous news reports today quote Governor Jeb Bush as one of those encouraging Florida House Speaker Allan Bense to oppose Harris in the Republican primary. Compare Jeb's quotes last week and this week. Last week, here was what the non-committal Jeb said when directly asked about Harris' newly announced Senate candidacy: "I don't know if there will be a primary or not ... the Republican Party will support" whomever wins the primary. Here is Jeb glowing about Bense just one week later: "I have enormous respect for Speaker Bense. He is a statesman and we share a common philosophy ... I encouraged him to consider running for the US Senate at least a month ago ... If he decides to run, he'd be an awesome candidate." Let's add the new comments from the NRSC's official spokesman. When Harris announced last week, the NRSC released a vague written statement saying they expect the race will "continue to attract the attention of a lot of candidates." Here are the comments today from the NRSC's spokesman: "We've certainly been talking to Mr. Bense for some time now. We think he'd make a great Senate candidate." Additionally, the South Florida Sun-Sentinel obtained confirmation from top Republicans that political guru Rove is directly involved in the effort to recruit Bense into the GOP primary. Harris -- who is a member of one of Florida's wealthiest families -- seems unconcerned by a possible Bense candidacy. "I'm in the race, and am looking forward to a spirited campaign," she said. Bense jokes that he has a long way to go before he can beat Harris in a primary. "I've always loved competition and I always love being the underdog, and boy, those two would sure be in play in this race ... Outside of Panama City and a four-block radius around the State Capitol, I'm an unknown person," joked Bense. So much, I guess, for any agreement Rove made with Harris two years ago.
Posted by Ron Gunzburger - 6.17.05 |
FRIDAY NEWS UPDATE:
TEXAS: Governor Rick Perry's re-election plans are getting more complicated these days. He had already been expected a GOP primary challenge from US Senator Kay Bailey Hutchison. Now it appears that State Comptroller Carole Keeton Strayhorn -- the mother of Bush White House spokesman Scott McClellan -- will announce her primary challenge to Perry this weekend. A three-way primary -- and the certain run-off that will follow -- would be a wild free-for-all contest. Polling seems to indicate Hutchison would be the slight favorite in this race. Perry is swiftly moving further to the right, trying to lock up more support from Christian evangelicals as he tries to portray KBH as a DC "moderate." Strayhorn has been openly fighting with Perry for two years, so her challenge isn't a surprise.

GUV WATCH: In Maine, former Congressman Dave Emery (R) became the first Republican to enter the race against Governor John Baldacci (D). In Iowa, State Senate Minority Leader Mike Gronstal (D) amended his state paperwork to now become the latest candidate for Governor. In Alaska, State House Minority Leader Ethan Berkowitz is the first Dem to announce a challenge to Governor Frank Murkowski (R).

A BOOK REVIEW (FOR PROGRESSIVES): Let's face it, progressives and traditional liberals (they're not exactly the same thing) have been a bit depressed since we lost the '04 election. Since then, the Democratic Party is divided among camps who each believe different directions will bring future victory. Some want to move the party left to re-energize our base and return to core liberal values. Others believe the key is either a Clinton/Kerry-style of muffled, apologetic liberalism that masks itself as "centrist" ... or the Dem center-conservative wing who believe our "only" way to "win" again is to move right and become "Republican-lite." I happen to be from the camp who believe we need to move leftward (towards a "Dean/Feingold/Wellstone" ideology) and find our soul again as a party -- truly stand for something meaningful again -- and even be willing to lose some Dem conservatives and some elections to hone a more disciplined, principled party and message (much like the right-wing of the GOP gleefully declared war on RINOs since the 1980s and urged the old "Rockefeller Republicans" to leave because it watered down their conservative agenda). Here's one key lesson from 2004: We need to acknowledge our anger is not a substitute for new ideas. That the New Deal liberal era is over, and it isn't ever coming back. Progressives need to rightly reclaim the mantle of being the champions of working families and Middle America values -- only that we need to be the ones to define those values. "Moral values" are progressive values, because caring for the poor, providing health care, educating children, demanding equality and fairness, ensuring equal opportunity, paying our fair share, and protecting the environment are moral causes. Unfortunately, maybe we need some "years in the wilderness" -- just like the GOP had following the Goldwater debacle in 1964 -- to truly redefine ourselves, sharpen our message, set a long-term plan for victory, and energize our base. It means we stop running to the center in general elections (because we sell-out our values every time for the hope of winning and then we still lose). But we also need to understand that voters want to be romanced, to feel good or noble or fulfilled about the choices they make in elections. The choice is not simply "morals versus economic self-interest." All of these themes are covered very well in the great new paperback Start Making Sense. A collection of very short articles and interviews from the editors of AlterNet, authors and subjects include Howard Dean, George Lakoff, Adam Werbach, Wes Boyd, Barbara Ehrenreich, Jim Wallis, and many others. The book doesn't provide the answers to this much needed debate about our party's future: but it points the way to start the debate. I thought the contributions by Werbach, Lakoff, and Vivian Dent, and the Don Hazen essay on lessons of 2004 and Lakshmi Chaudhry's essays on the Iraq War and the Culture War were the best parts of this thought provoking book. Highly recommended.

GREAT SOUNDBITE. I'll admit to readily stealing this line from one of yesterday's bloggers on our site, but it is a great line: "This Administration has an exit strategy from Social Security -- but not from Iraq."

"LIBERAL (SOUTHERN) JEWS!" If you're Jewish, hold either center-left or liberal political views, are generally active or well-connected in your community (Jewish community, political community, business community, etc), and you live in Alabama, Georgia, Louisiana, Mississippi, Tennessee, North or Central Florida, South Carolina or North Carolina, I want to hear from you. Please drop me an email if you'd possibly be interested in serving on the US Regional Board of Directors of a prominent, well-established, non-partisan, progressive Jewish organization (and please write "AJC" in the subject line). Thanks!!
Posted by Ron Gunzburger - 6.17.05 |
THURSDAY NEWS UPDATE:
ARKANSAS: As was long expected, Attorney General Mike Beebe (D) this week formally entered the open race for Arkansas Governor. Beebe looks to have a clear shot at the Dem nomination. Retired Army General Wes Clark (D) -- who once was viewed as a possible candidate -- appears to instead to focused on preparing for a second White House run in '08. While Beebe is unlikely to face serious primary opposition, the opposite is true on the GOP side. Lieutenant Governor Win Rockefeller Jr. and former Congressman/former DEA Administrator Asa Hutchinson are locked in a competitive contest. Hutchinson got a setback this week from the State Ethics Commission, when the board ruled that Hutchinson is limited in how much money he can transfer from his former federal campaign account into his new gubernatorial campaign. Rockefeller -- the son of Arkansas' first GOP Governor -- is viewed as the current frontrunner in the Republican contest. Governor Mike Huckabee (R) is term-limited and preparing to enter the 2008 Presidential race.

VERMONT: Congressman Bernie Sanders (Independent) seems well on his way to becoming the Green Mountain State's next US Senator. The self-avowed socialist unveiled an endorsement list containing the names of 25-top Democrats in the state. Among those expressing support for Sanders were former Governor Phil Hoff; Senate President Pro Tempore Peter Welch, House Speaker Gaye Symington, and '04 Gubernatorial nominee Peter Clavelle. Few believe Sanders will face any heavyweight Democratic foe next year. On the GOP side, NRSC leaders are reportedly focusing on recruiting Lieutenant Governor Brian Dubie into the race. Dubie must feel like "Mister Popularity" these days, because US House Speaker Denny Hastert is purportedly trying to convince Dubie to instead run for Sanders' open House seat.

P2008: US Senator Sam Brownback (R-KS) told the Topeka Capitol-Journal that he will honor his previous term limits pledge and not seek re-election in 2010 to the Senate. "That's what I said when I first ran, and I intend to stick to that," said Brownback. The Kansan confirmed to the newspaper he is getting an early start exploring a White House run. He's already made several visits to early contest states and is strengthening his contacts with the Religious Right political community. "This is one of those things where I have to have a longer lead time and do more tilling of the field than several other candidates would have to do," he explained, because potential GOP rivals like John McCain and some others are already well known.

MARYLAND: The NRSC's courting of Lieutenant Governor Michael Steele (R) appears to be paying off for the party. On Wednesday, Steele announced the formation of an exploratory committee for the seat being vacated by US Senator Paul Sarbanes (D). Republicans believe that Steele -- as an African-American -- could help them gain the key Democratic votes needed for Republicans to win statewide races in this blue state. It is still not clear how much appeal Steele can attract from black Dems, as he was unsuccessful when he last ran in his own right as a '98 GOP candidate for State Comptroller. Congressman Ben Cardin and former Congressman Kweisi Mfume are the leading Dems to announce their candidacies for the seat -- with Cardin currently polling as the frontrunner. Congressman Chris Van Hollen (D) is also looking at the race, raising large amounts of money, and expects to make a decision soon. Republican insiders believe Steele could have a decent chance at defeating the flawed Mfume in a general election, but would almost certainly lose to either Cardin or Van Hollen.

"LIBERAL (SOUTHERN) JEWS!" If you're Jewish, hold either center-left or liberal political views, are generally active or well-connected in your community (Jewish community, political community, business community, etc), and you live in Alabama, Georgia, Louisiana, Mississippi, Tennessee, North or Central Florida, South Carolina or North Carolina, I want to hear from you. Please drop me an email if you'd possibly be interested in serving on the US Regional Board of Directors of a prominent, well-established, non-partisan, progressive Jewish organization (and please write "AJC" in the subject line). Thanks!!

AN UNSOLICITED PLUG. If you're interested in learning more about the important issue of global warming and climate change, be sure to check out What Works? Strategies for a New Climate Movement. (FYI: The Prof who publishes the site is a fellow Deaniac.)
Posted by Ron Gunzburger - 6.16.05 |
WEDNESDAY NEWS UPDATE:
VIRGINIA: As expected, former Attorney General Jerry Kilgore (R) scored a landslide victory in the GOP primary for Governor on Tuesday. He defeated populist Warrenton Mayor George Fitch by a massive 82%-18% vote -- but the victory was so anticlimactic that Kilgore celebrated his win merely by sharing pizzas with his staff and a few supporters. The real fight will be the general election race against Lieutenant Governor Tim Kaine (D). Former Congresswoman Leslie Byrne (D) and State Senator Bill Bolling (R) won their respective primaries for Lieutenant Governor.

US SENATE: Not that political campaigns are just popularity contests ... well, umm, many races actually do devolve into 'em ... but SurveyUSA just conducted an interesting project: concurrent polls in each of the fifty states to measure the popularity of all 100 US Senators in their home states. Top on the list was Barack Obama (D-IL) with a 72% approval rating. The next four on the popularity scale -- with 71% approval ratings -- were Kent Conrad (D-ND), Pat Leahy (D-VT), Susan Collins (R-ME) and Olympia Snowe (R-ME). Three more also broke the 70% approval mark: Dan Inouye (D-HI), Byron Dorgan (D-ND) and Jay Rockefeller (D-WV). At the bottom of the scale -- the US Senator who is singularly least popular with his own constituents -- was John Cornyn (R-TX), with a paltry 40% approval rating. The others with approval ratings of 45% or less were Rick Santorum (R-PA), Jim Inhofe (R-OK), Mike DeWine (R-OH), Mel Martinez (R-FL), Tom Coburn (R-OK), Frank Lautenberg (D-NJ) and Richard Burr (R-NC). Santorum and DeWine -- at 44% and 43%, respectively -- also recorded the highest disapproval scores. While much of this is only of value for fun debates, it is significant to note two of the "Top Ten" (Conrad, Snowe) and two of the "Ten Worst" (Santorum, DeWine) face re-election next year. Click here to view the entire poll results.

P2008: Term-limited Virginia Governor Mark Warner (D) told the Richmond Times-Dispatch that he "wouldn't take formal steps to begin a Presidential bid until after he leaves office" next January. Most importantly, the newspaper reported Warner does not plan to challenge US Senator George Allen (R) next year. Instead, Warner said he is very interested in a White House run -- but may ultimately decide to run again for Governor in 2009. While Warner last week filed paperwork to create a federal PAC, he said he does not plan to launch a Presidential exploratory committee until after he leaves office in seven months.

FLORIDA: Congressman Clay Shaw (R) is currently #2 in seniority on the powerful House Ways & Means Committee -- and he wants to become Chair when Bill Thomas is forced in January 2007 to relinquish the gavel due to term limits. Shaw is already facing a spirited re-election contest next year from State Senate Minority Leader Ron Klein in a district that voted for Kerry, and is also facing a likely challenge for committee chair from Congressman Jim McCrery (R-LA). But Shaw's recent decision to forgo lung cancer surgery in favor of taking an newly approved cancer drug has local political activists buzzing that Shaw's cancer is so advanced that surgery would not help. Those rumors, even if entirely false, could inflict serious damage on both of his ongoing campaigns. Postscript (7/12/05): Congressman Shaw called Politics1 today to jokingly let us know "I didn't like reading my obituary" in this article. "I'm doing well and am in good shape -- I'm healthy -- but if my doctor thinks I can take this medicine and avoid having to get cut open again, I'll follow his advice."

NEW YORK: New independent polls conducted by Siena College show that NY Dems are poised to score comfortable wins next year in two key races. US Senator Hillary Clinton (D) holds 30-point leads over both of her potential challengers: Westchester County District Attorney Jeanine Pirro (R) and President Nixon son-in-law Ed Cox. In the gubernatorial contest, Attorney General Eliot Spitzer (D) leads incumbent Governor George Pataki (R) by a vote of 50% to 37%. Spitzer also leads Pirro by a vote of 54% to 21%, and leads a third possible opponent by an even wider margin.

OHIO: There was a real upset Tuesday in the Republican primary for the open CD-2 seat. Former State Representative and pro-life activist Jean Schmidt scored a narrow, 700-vote victory over former Congressman Bob McEwen. Hamilton County Commissioner Pat DeWine -- the son of US Senator Mike DeWine -- started the race a few weeks ago as the prohibitive favorite and raised nearly $1 million, but finished a distant fourth place in the GOP contest. Schmidt benefited from a nasty media campaign in which McEwen and DeWine exchanged frequent attacks, ultimately inflicting severe damage on both men. Attorney and Iraq War veteran Paul Hackett won easily won the Democratic primary. The CD-2 seat is very heavily Republican, so Schmidt should soon be able to call herself "Congresswoman."
Posted by Ron Gunzburger - 6.15.05 |
TUESDAY NEWS UPDATE. First,

I've got something very important to ask of you folks. Do any of you have any significant connections to Middlebury College in Vermont? Professors or Admin? Distinguished alumns? Big bucks donors? Connected with with any of the above? If the answer is yes, PLEASE drop me an email, as I could use your help for something. Now, on to the political news ... VIRGINIA: Voters in Virginia cast primary ballots Tuesday in several statewide primaries. In the GOP gubernatorial race, former Attorney General Jerry Kilgore -- backed by the Bush Administration -- is expected to steamroll over Warrenton Mayor George Fitch. Kilgore has entirely ignored Fitch during the primary, acting as if he's already the nominee and not even acknowledging Fitch's candidacy. Fitch will ultimately be remembered as the US businessman who created and promoted the famed Jamaican bobsled team in the 1988 Calgary Winter Olympics -- and not as the guy who got destroyed by Kilgore. The Republican primary winner will face Lieutenant Governor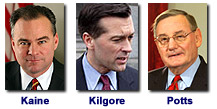 Tim Kaine (D) and centrist GOP State Senator Russ Potts (Independent) in November in what is expected to be a very hotly contested race. Potts qualified this week for the November ballot, while former Richmond City Councilwoman Shirley Harvey (Independent Green) failed to secure anywhere near enough signatures for the ballot. Governor Mark Warner (D) is term-limited. There are also contested primaries for Lieutenant Governor and Attorney General. Click here for links to all of the Virginia statewide campaigns. Voters also cast primary ballots Tuesday in the Ohio CD-2 special election. UTAH: The Salt Lake Tribune reports that GOP conservatives in the state are trying to recruit a primary challenger next year against 71-year-old US Senator Orrin Hatch (R). Hatch -- first elected in 1976 -- was nearly forced into a primary by opposition at the 2000 GOP State Convention. According to the newspaper, GOP opposition to Hatch comes from two camps. One group thinks the incumbent has "gone DC" and lost touch with Utah interests. The other camp is comprised of hardcore conservatives upset with Hatch's support of stem cell research and the Patriot Act. The foes haven't convinced anyone to jump into the race yet, although a wealthy developer and some state legislators are looking at it. Even if they recruit one of them, recent polls show Hatch would be a heavy favorite to win renomination and re-election. On the Dem side, wealthy Internet executive Pete Ashdown is the only candidate against Hatch. NEW JERSEY: A new Newark Star Ledger poll shows US Senator Jon Corzine (D) leading wealthy businessman Doug Forrester (R) by a 43%-33% vote in this year's open gubernatorial race.
Posted by Ron Gunzburger - 6.14.05 |
MONDAY NEWS UPDATE. Why is today's news entry so brief? You see, I used to wonder -- when watching local TV news reports in years past -- who are those lunatics out surfing when a major storm kicked up the waves and the red "dangerous conditions" flags went up on the lifeguard stands. Well, now I know ... I'm one of them. OHIO: Voters cast primary ballots Tuesday in the special election for the CD-2 seat that was vacated when Congressman Rob Portman (R) resigned to become the new US Trade Representative. There are 12 Republicans and 6 Democrats competing in the primary (click here to find links to their campaign sites). On the GOP side, US Senate scion and Hamilton County Commissioner Pat DeWine started the race as the frontrunner. However, DeWine saw his lead erode in recent weeks as he came under attack for messy details involving his personal life -- and as some conservatives seem to be exacting revenge on DeWine for his father being one of the US Senators who helped the Democrats stop Bill Frist's so-called "nuclear option" on judicial nominees. The main beneficiary of DeWine's slide is former Congressman Bob McEwen, who previously represented about 40% of the current district but spent the last decade as a DC lobbyist. McEwen has picked up a slew of endorsements from former top Reagan Administration officials to Religious Right leader Dr. James Dobson and former VP nominee Jack Kemp. DeWine hit back at McEwen, attacking him for having bounced numerous checks at the now-defunct House Bank before himself being bounced from Congress in the early 1990s. Former State Representative and pro-life activist Jean Schimdt would likely gain most if conservative voters shift support away from both DeWine and McEwen. On the Democratic side, attorney and Iraq War veteran Paul Hackett is the favorite -- but it probably doesn't matter much who wins the Dem primary in this fairly safe Republican district. GITMO: The Bush Administration doesn't care if US Senate Foreign Relations Committee members

Joe Biden (D-DE) and Mel Martinez (R-FL) are both calling for the closure of the detention camp at Guantanamo. Vice President Dick Cheney said Sunday that the Administration is not considering any plans to close the prison. P2008 - #1: US Senator Ben Nelson (D-NE) is cozying up these days with Religious Right leader Dr. James Dobson of Focus on the Family. According to an email alert message sent out by Dobson to supporters, Nelson spoke with him by phone and "assured" him that he now supports the proposed US Constitutional amendment to ban same-sex marriage. Nelson reportedly says a May federal court ruling that voided Nebraska's Defense of Marriage law is the reason he changed his position. According to Dobson, Nelson will also help the Republicans by supporting "up-or-down votes on all but one of President Bush's embattled judicial nominees." Nelson is up for re-election in '06, and told his state's largest newspaper late last year he was even considering a run for President in '08. A bit of editorializing here: I wouldn't be the least bit surprised if Nelson switches parties sometime over the next two years (either before or after he wins re-election) -- not that he's much of a Democrat anymore. P2008 - #2: Check out samples of the new P2008 pages I'm creating. The ones for Senators Evan Bayh (D) and George Allen (R) are already online (the first ones, alphabetically, for the two major parties).
Posted by Ron Gunzburger - 6.13.05 |
WEEKEND NEWS UPDATE. FLORIDA #1: The Florida Republican

Chair may have told reporters earlier this week that the party will clear the US Senate primary field for Congresswoman Katherine Harris (R) -- but other top Republicans seem cool to the idea. Governor Jeb Bush told reporters "I don't know if there will be a primary or not" and repeatedly declined to describe Harris as "the best candidate" for the GOP against US Senator Bill Nelson (D). "It's not a question of [if Harris is best]. It's a question of who's got the guts to run ...She's running, and the Republican Party will support" whomever ultimately wins the primary, explained Jeb. The National Republican Senate Committee appears equally cool to a polarizing figure like Harris. In response to her decision to enter the Senate race, the NRSC released a written statement saying they expect the race will "continue to attract the attention of a lot of candidates." Congressman Mark Foley (R) added that he was still looking at the Senate seat, and his decision would not be impacted by Harris' entry into the race. Sounds like Harris is not Karl Rove's preferred candidate -- but they'll reluctantly rally behind her if she appears to be the strongest candidate after filing closes next May. P2008: In a sign that outgoing Virginia Governor Mark Warner (D) is considering a 2008 White House race, he just filed paperwork to open a federal fundraising PAC. He's also hiring staffers who formerly worked on Presidential races. These moves don't lock Warner into a Presidential run, as Warner may instead decide to challenge US Senator George Allen (R) next year. Warner's term as Governor ends at the end of this year. FLORIDA #2: US Senate Foreign Relations Committee member Mel Martinez (R-FL) broke with the White House Friday on some key foreign policy matters, in comments before a group of newspaper editors.
Martinez -- a former Bush Cabinet member who was elected last year with the strong support of the President -- called for the closing of the detention camp at Guantanamo. Martinez said he did not agree with Amnesty International's recent report that prisoners were being mistreated. Despite that, the Miami Herald reported, Martinez called the Guantanamo prison "an icon for bad news ... and at some point you wonder the cost-benefit ratio" Martinez broke with the White House on this issue by going further and endorsing Senator Joe Biden's (D-DE) proposal that US leaders publicly debate the "enemy-combatant" policy and close the prison in Cuba. While Martinez likened the US prisoners to POWs and noted POWs are typically confined until the end of a war, he added: "It's not very American, by the way, to be holding people indefinitely." The Cuban-born Republican also criticized the Bush Administration's poor handling of Latin American policy. "For the last four years ... we have not paid much attention and the region is really in trouble. Our esteem and our influence in the region is lower than it has ever been," he explained, significantly contributing to the instability in the region. A Martinez spokesperson later told reporters that there are "plenty of issues where he might not walk lock-step with the Administration" but that the freshman Senator certainly remains "supportive of the Administration."
Posted by Ron Gunzburger - 6.11.05 |
FRIDAY NEWS UPDATE. VERMONT: Former Lieutenant Governor Doug Racine (D) may spoil any chance of reaching an informal peace accord between the Democrats and the Progressive Party allies of socialist Congressman Bernie Sanders (Independent). Racine -- the failed Dem nominee for Governor in 2002 -- said Thursday he's thinking of running for the US Senate. Most Dems, including DNC Chair Howard Dean, have tried to clear the field for Sanders by ensuring he won't face serious Democratic opposition for the seat being vacated by US Senator Jim Jeffords (Independent). Sanders -- like Jeffords -- would caucus with the Democrats if he won. In exchange, the Democrats want a deal that the Progressives won't run a serious nominee for Sanders' open House seat -- helping to ensure a Democratic win. A Dem/Prog split in races could divide the liberal vote, helping to elect GOP candidates with narrow pluralities.

Lieutenant Governor Brian Dubie (R) and State Adjutant General Martha Rainville are, respectively, the leading GOP hopefuls for the open US Senate and US House seats. CALIFORNIA: Porn star Mary Carey (real name: Mary Cook) is back for another run for political office in 2006. As an Independent candidate for Governor in the '03 special election, Carey finished in the top ten -- out of more than 150 candidates on the ballot -- garnering 11,000 votes. Carey now plans to run as an Indy candidate in the open race for Lieutenant Governor next year. DC: US Senator Sam Brownback (R-KS) has placed a hold on President Bush's nominaton of Julie Finley to be the US Ambassador to the Organization for Security and Cooperation in Europe. Brownback -- a likely '08 Presidential candidate who is closely aligned with the Religious RIght -- opposed Finley because she is an ardent pro-choice advocate. According to ABC News, Finley is also "a longtime Bush supporter and Republican fundraiser." By placing a hold on her nomination, Brownback's actions will indefinitely deny President Bush an up-or-down floor vote on Finley's nomination. Perhaps I'm getting a bit confused these days, but weren't Senate Republicans recently hot to ensure Senate floor votes for all the President's nominees?
Posted by Ron Gunzburger - 6.10.05 |
THURSDAY NEWS UPDATE. INDIANA: Democrats are buzzing with speculation that former Congressman Tim Roemer (D) will be their challenger next year against US Senator Dick Lugar (R). Lugar was first elected to the Senate in 1976, when he defeated an 18-year incumbent. Now a five-term incumbent, Lugar has cruised to easy wins in recent years against relatively benign opponents. Roemer -- a pro-life Dem who found himself pegged as "too conservative" when he ran for DNC Chair against Howard Dean earlier this year -- may be well positioned to give Lugar a feisty challenge. The DSCC is touting a poll that claims Roemer is within striking range, but take it with a grain of salt. Lugar would start as a favorite, but Roemer may be the type of Dem who could have a real shot at an upset win in the Hoosier State. KANSAS: This past weekend,

Secretary of State Ron Thornburgh (R) and State Treasurer Lynn Jenkins (R) both announced they would not challenge Governor Kathleen Sebelius (D) next year. That move seemingly left State House Speaker Doug Mays as the GOP's only likely gubernatorial hopeful. But then along comes Congressman Jerry Moran (R) -- who was the early favorite of party activists to oppose Sebelius until he bowed out last month -- to say he may run for Governor after all. Moran says people "have encouraged me to make a different decision. All I've done at this point is tell those folks that I'll take a look, I'll consider the option of running for governor," Congressman Ted Strickland (D) did likewise in Ohio recently: first announcing he would not run, then doing a 180 and jumping into the contest a short time later. P2008: New Mexico Governor Bill Richardson (D) is on a two-day swing through New Hampshire. When asked, Richardson will only officially say he is focused on his '06 re-election race and not yet thinking about what comes after that. So, how many New Mexico voters do you think he's finding in NH? PENNSYLVANIA: A new Keystone Poll on the hotly contested US Senate race shows that incumbent Rick Santorum (R) is trailing State Bob Casey Jr. (D) by a vote of 37% to 43%. That reflects a six-point drop for Santorum since the same independent poll three months ago. In the gubernatorial contest, the poll shows that Governor Ed Rendell (D) continues to lead any of his potential GOP rivals. The strongest GOP hopeful is retired football player Lynn Swann, who trails Rendell by eight-points. The other Republicans trailed Rendell by margins ranging from 10% to 28%.
Posted by Ron Gunzburger - 6.09.05 |
WEDNESDAY NEWS UPDATE. FLORIDA:

Hero or villain are terms frequently used to describe her, depending on your partisan perspective ... but nearly every political person in the US knows of Congresswoman Katherine Harris (R) and her prominent role as Florida Secretary of State during the 2000 Presidential recount. On Tuesday, Harris announced she would challenge US Senator Bill Nelson (D) next year. State GOP Chair Carole Jean Jordan said that Harris "will have a clear zone [in the primary] to run ... Katherine does have star power." Nelson is a somewhat lackluster campaigner who doesn't generate passion from crowds -- but he can count of his opponent to motivate the Dem base for him. Early polling shows Nelson holding a small lead, but this will likely be one of the costliest, nastiest, and most competitive Senate races in the nation. My early take: Others may call this "Leans Dem," but I'm moving this one into the toss-up category. Harris' CD-13 seat is viewed as competitive, but it leans GOP. NEW JERSEY:

US Senator Jon Corzine coasted to an easy landslide victory in the Democratic primary for Governor on Tuesday, winning with 88% of the vote over two minor foes. Corzine -- the former Goldman Sachs chairman -- spent a record $63 million of his own money to win his Senate seat in 2000. He's made it clear he's willing to again spend whatever it takes to win the governorship this year. On the GOP side, wealthy investment executive Doug Forrester appears to have defeated former Jersey City Mayor Bret Schundler by a vote of 36% to 31% in the hotly contested race -- but low turnout -- race. Corzine has made it clear he's willing to again spend whatever it takes, if needed, to win the governorship this year. Forrester is also a mega-millionaire, but not quite as wealthy as Corzine. Still, it appears the only prize Forrester won on Tuesday is the right to lose to Corzine in November. P2008: Bush media guru Mark McKinnon -- who masterminded Dubya's TV strategy in the '00 and '04 races -- has signed on to do John McCain's Presidential campaign in 2008. The Dallas Morning News reported this is the most concrete sign to date that McCain has already decided on making a second White House run.
Posted by Ron Gunzburger - 6.08.05 |
A LOOMING COURT VACANCY: AN EDITORIAL: With the current US Supreme Court term winding down, it appears fairly apparent that ailing Chief Justice William Rehnquist's retirement announcement is just days away. If that comes to pass, conservative Associate Justices

Antonin Scalia and Clarence Thomas appear to be the frontrunners for the Chief Justice spot. While there are many, many others I would much prefer to see as the Chief -- including Justices Breyer or Souter -- I'm resigned to the reality that it will be either Scalia or Thomas. That being my Hobson's Choice, I'd rather have Thomas as the next Chief Justice . While both are ardent conservatives and purported opponents of so-called judicial activism, Scalia is intellectually dishonest and mean-spirited. Here's why I write that. In the Lawrence v. Texas case in 2003, the Court invalidated state anti-sodomy laws by a 6-3 vote. Yet, two years ago, Scalia sided with the right of states to ban consensual sex acts. In fact, Scalia went so far as to write that the Court "has taken sides in the culture war ... largely signed on to the so-called homosexual agenda." He continued: "The Texas statute undeniably seeks to further the belief of its citizens that certain forms of sexual behavior are 'immoral and unacceptable' -- the same interest furthered by criminal laws against fornication, bigamy, adultery, adult incest, bestiality, and obscenity." Thomas, by contrast, agreed with Scalia that it was a states' rights issue and he could not find constitutional ground to invalidate it -- but Thomas went so far as to call anti-sodomy laws "uncommonly silly." He continued: "If I were a member of the Texas Legislature, I would vote to repeal it." Now let's leap two years forward to this week's 6-3 Court decision to invalidate state medical marijuana laws. Thomas, once again, sided with states' rights and voted to uphold medical marijuana laws. "If Congress can regulate this under the Commerce Clause, then it can regulate virtually anything, and the federal government is no longer one of limited and enumerated powers," wrote Thomas. While Scalia backed states' rights in '03 when it served to oppose gay rights, he now embraced a federalism approach when it served his right-wing agenda's desire to strike down the medical marijuana initiatives that "further the belief of its citizens" (to quote the '03 Scalia) in the 11 states that overwhelmingly approved them. As for being "mean-spirited," a review of Scalia's snide and heavy-handed manner during Court oral arguments more than establishes this fact. Thomas, for his part, sits largely silent during open court sessions. Maybe its just a kinder, gentler form of the same ideology -- or maybe its because Thomas viscerally appears to simply be a more decent human being than the seemingly malevolent and vicious Scalia -- but, if that's the choice, I'd much rather have Clarence Thomas as Chief Justice.
Posted by Ron Gunzburger - 6.08.05 |
WEDNESDAY OPEN THREAD. A place for you to comment on everything else that's off-topic.
Posted by Ron Gunzburger - 6.08.05 |
TUESDAY NEWS UPDATE. P2008 #1: Conservative maverick Congressman Tom Tancredo (R-CO) is preparing to take his rabidly anti-immigrant message nationwide in the form of a Presidential run. Tancredo warns audiences that mass-immigration is destroying the US with the "cult of multiculturalism" and demands a "militarization of the border" to fight it. According to the Denver Post, Tancredo is planning a series of visits to early Presidential primary states. "If there is no other person [making tougher immigraton controls their central issue] ... then we have no choice" but to enter the '08 Presidential contest, he told the newspaper. NEW JERSEY: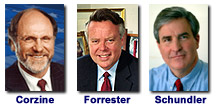 Last minute polls are widely divergent in the hotly contested GOP gubernatorial contest between wealthy investment executive Doug Forrester, former Jersey City Mayor Bret Schundler, and five others. While several polls showed Forrester moving out to a double-digit lead, a final Quinnipiac University poll purports to show Schundler has bounced back and trails by just two points -- with 31% still undecided. Both Republican leaders have carried the party's mantle in the past: Forrester was the GOP nominee for US Senate in 2002, while Schundler was the GOP nominee for Governor in 2001. The winner will face US Senator Jon Corzine in November. Corzine and Forrester are both mega-millionaire former financial executives, so the general election contest could be rather costly. WASHINGTON: As expected, a state court trial judge ruled Monday against invalidating the narrow election last year of Governor Christine Gregoire (D). The State Republican Party sought to invalidate her victory, based on allegations of fraud and errors. Despite being urged to run for US Senate next year, State Senator Dino Rossi (R) is expected instead to pass on the '06 race in favor of a likely '08 rematch against Gregoire.

SUPREME COURT: The US Supreme Court ruled 6-3 that the federal government may validly enforce federal drug laws in order to block state efforts to legalize medical marijuana -- even when state voters and the state legislature have approved legalizing the medical use of pot. The eleven states that allow the use of marijuana for medical purposes are Alaska, Arizona, California, Colorado, Hawaii, Maine, Montana, Nevada, Oregon, Washington and Vermont. The ruling was a setback for both drug decriminalization proponents and states' rights advocates. In an interesting twist, it was liberal Justice John Paul Stevens who wrote the majority opinion, joined by fellow liberals Stephen Breyer, Douglas Souter and Ruth Bader Ginsburg. Two traditional states' rights advocates -- Justices Anthony Kennedy and Antonin Scalia -- also joined those who sided with Stevens in support of federal authority over states on these issues. Stevens upheld the right of Congress, acting under the Commerce Clause of the Constitution, to regulate this issue. However, Stevens said any change on this issue should come from a change in laws at the Congressional level. "Where necessary to make a regulation of interstate commerce effective, Congress may regulate even those intrastate activities that do not themselves substantially affect interstate commerce," wrote Scalia, citing New Deal-era cases to support his new federalist stance. Center-conservative Justice Sandra O'Connor wrote the dissenting opinion in support of the states' rights on the drug issue, joined by two conservatives: Chief Justice William Rehnquist and Justice Clarence Thomas. O'Connor noted that while she did not personally support the medical marijuana concept, she believed it was the kind of "experiment" the Constitution explicitly granted to the states. "If Congress can regulate this under the Commerce Clause, then it can regulate virtually anything, and the federal government is no longer one of limited and enumerated powers," wrote Thomas in his separate dissent. P2008 #2: Ever since the '92 Clinton campaign, Presidential candidates have looked for their "Sister Souljah moment" to demonstrate their so-called "courage" independence from some of those in their perceived base. This weekend it was potential '08 White House candidates John Edwards and Joe Biden who took their shots at DNC Chair Howard Dean -- trying to find that "moment" -- by indignantly claiming Dean's feisty populist rhetoric against Tom DeLay and the Republicans does not speak for them. A brief bit of overt editorializing here, Senator Biden, but I find it much more offensive for one to have carried the water in Congress for the greedy credit card companies like MBNA (to the detriment of poor, indebted working folks on the brink of bankruptcy). As for Edwards, his canvassers in Iowa last year deviously savaged Dean in the closing days before the caucuses by repeatedly claiming Dean espoused "liberal New York values" -- so this is nothing new. WEST VIRGINIA: Yesterday we referred to some NRSC and DSCC polls on a possible Byrd-Capito US Senate race next year. It turns out there is a new independent poll, conducted by a state polling firm, that shows Capito just three-points behind Byrd in a potential matchup. However, two-thirds of the same respondents said they viewed Byrd favorably. This race could get interesting.
Posted by Ron Gunzburger - 6.07.05 |
TUESDAY OPEN THREAD. A place for you to comment on everything else that's off-topic.
Posted by Ron Gunzburger - 6.07.05 |
MONDAY NEWS UPDATE. NEVADA: A new independent poll conducted for the Reno Gazette-Journal shows Congressman Jim Gibbons holding a solid lead in next year's GOP primary contest for Governor. The numbers: Gibbons-37%, Lieutenant Governor Lorraine Hunt (R) - 21%, State Senator Bob Beers - 3%, and the rest were undecided. Some prominent Republican leaders who dislike Gibbons are trying to convince either wealthy Reno Mayor Bob Cashell or University of Nevada Chancellor Jim Rogers to jump into the race. The contest is even more wide open on the Democratic side, where State Senate Minority Leader Dina Titus leads State Assembly Speaker Richard Perkins by a vote of 17% to 15%. Many believe colorful Las Vegas Mayor Oscar Goodman (D) will be a last-minute entrant into the race next year, making him the new frontrunner for the post being vacated by term-limited Governor Kenny Guinn (R).

WEST VIRGINIA: A Republican-sponsored poll claims eight-term US Senator Robert C. Byrd (D) could be vulnerable next year if Congresswoman Shelley Moore Capito (R) challenges him. However, no independent polls yet back this up. The last time the GOP seriously tried this was approach was in 1982 -- when the NRSC convinced the state's only GOP Member of Congress (Cleve Benedict) to give up his seat to challenge the "vulnerable" Byrd. Byrd walloped Benedict 68%-31%, even though Benedict raised issues likes Byrd's former role as a "Kleagle" (recruiter) in the KKK in the 1940s. Not only did Byrd win, but the GOP was unable to regain a Congressional seat in the state for 18 years until Capito was elected in 2000. Will history repeat itself again? WASHINGTON: The trial judge will rule Monday in the Republican Party's lawsuit seeking to invalidate the narrow election victory last year of Governor Christine Gregoire (D) based upon allegations of fraud and errors. Based upon the testimony, most observers expect the judge will uphold Gregoire's defeat of State Senator Dino Rossi (R). Stay tuned. NEW JERSEY: Voters go the to polls on Tuesday in the hotly contested GOP gubernatorial contest between wealthy investment executive Doug Forrester, former Jersey City Mayor Bret Schundler, and five others. Polls in recent days show Forrester substantially widening his lead. US Senator Jon Corzine is expected to easily win the Democratic nomination over minor opposition. Corzine will start the general election contest a heavy favorite over Forrester (or Schundler). Visit our New Jersey page to find links to all of the campaign sites. ALASKA: State Senator Ralph Seekins (R) filed paperwork to run for Governor in 2006, although he said he only plans to stay in the race if Governor Frank Murkowski (R) doesn't seek a second term. Murkowski -- who has yet to indicate his plans -- alienated many in his own party when he appointed his daughter Lisa to his vacant US Senate seat in January 2003. Former State Representative Andrew Halcro already announced his plans to challenge Murkowski in the primary, accusing the incumbent of arrogance and ignoring public input. Former Wasilla Mayor Sarah Palin, an '02 candidate for Lieutenant Governor, said she may also challenge Murkowski in the primary. Lieutenant Governor Loren Leman (R) -- who supported Lisa Murkowski's primary opponent last year -- would also be a likely candidate if Murkowski retires. Two Democratic state legislators -- Ethen Berkowitz and Eric Croft -- are also looking at the race. P2008 AND OTHER WEBSITE CHANGES: Message recieved. If you click the new P2008 link above, you'll see we're starting to get ready for the 2008 Presidential race. Right now, the only this there is just a barebones list. But, within days, we should have full bios and links up for all the likely candidates. Also, if you've recently visited our Florida or Colorado or Alabama pages, you'll see that we're making some slight design changes to our state pages. In addition to updating the info, we ditched the centered justification we've used since 1997 in favor of a left margin justification. I think it displays and prints more cleanly.
Posted by Ron Gunzburger - 6.06.05 |
FRIDAY NEWS UPDATE. MICHIGAN: New independent polling indicates that US Senator

Debbie Stabenow (D) is a safe bet to win re-election, while Governor Jennifer Granholm (D) may be facing a much tougher fight. According to the EPIC/MRA poll, Stabenow holds a nearly 30-point margin in head-to-head match-ups against any of her likely GOP opponents. Stabenow led conservative minister and former Detroit Councilman Keith Butler (R) by a 57%-30% vote. She led businesswoman Jane Abraham -- the wife of the GOP incumbent Stabenow ousted in 2000 -- by a vote of 59% to 30%. Abraham, who is still exploring the race, told the Detroit News she is "in no rush" to make a final decision on the race. Stabenow's other GOP challengers trailed by even wider margins. While Stabenow had an approval rating of 54% positive - 33% negative, Granholm scored an anemic 52%-47% approval rating. These numbers may not help her GOP opponents, however, if President Bush's approval rating is any indicator: 44% approve versus 55% disapprove. The poll did not match Granholm against of her GOP opponents, although 62% said Michigan is "on the wrong track." CALIFORNIA #1: As expected, President Bush on Thursday nominated conservative Congressman

Chris Cox (R) to become the new chair of the powerful regulatory Securities & Exchange Commission. A Harvard-educated attorney, Cox is also a former Reagan White House aide. Cox is expected to easily win US Senate confirmation, necessitating a special election in the early fall. The CD-48 seat is safely Republican. CALIFORNIA #2: Supporters of gay marriage suffered a minor setback Thursday during the final day the state legislative session. The State Assembly voted 37-36 to support legalizing gay marriage in the state -- but the bill still failed because it fell four votes short of the requisite 41 majority needed in the 80-member body. That result came about when nearly a quarter of the majority Democrats either joined with Republicans in opposing the bill, abstained, or did not vote. Had it passed the House, it was expected to win support in the Senate. Governor Arnold Schwarzenegger (R) is a generally viewed as gay rights supporter, but had not indicated what he would do had it been approved by the legislature. In the past and in sharp contrast with Congressional Republicans, Schwarzenegger has said he believes that judges or voters -- but not legislators -- should be the ones deciding these controversial social issues. In related news, the legislature last month solidly rejected bills that would have explicitly banned gay marriages. As the legalization bill has the strong support of the Assembly Speaker, proponents vow to return in the future with the additional votes needed for passage. DC: According to analysis by MyDD.com of new first quarter FEC financial reports, DNC Chair Howard Dean has "raised more money in an off year than any DNC Chair in history" and is "on pace to break the midyear fundraising" record set in 2001. Likewise, the RNC -- assisted by the political muscle that comes from controlling the White House and Congress -- is also breaking fundraising records and easily outpacing DNC fundraising.
Posted by Ron Gunzburger - 6.03.05 |
THURSDAY NEWS UPDATE. KANSAS: Conservative State Senator Kay O'Connor (R) on Wednesday announced her candidacy for Secretary of State. Incumbent Ron Thornburgh (R) has yet to announce his plans for 2006, although he is mentioned as a possible candidate for Governor. O'Connor made national headlines in 2001 when she criticized the 19th Amendment to the U.S. Constitution, which gave women the right to vote. "I think the 19th Amendment, while it's not an evil in and of itself, is a symptom of something I don't approve of ... I believe the man should be the head of the family. The woman should be the heart of the family," said O'Connor four years ago. She told the AP yesterday the whole controversy that followed was a "silliness" and voters won't consider her old comments "significant" these days. Yeah, right ... as Secretary of State is Kansas' chief elections official. P2008: Or maybe P2012 or P2016. President George H.W. Bush -- "Bush 41" to DC insiders -- told Larry King that he thinks his son Jeb should run for President "someday ... when the timing is right." He further explained that the Florida Governor won't run in '08 because "the timing's wrong." Does that mean "41" thinks the Dems will win in '08? Jeb will only be 59 in 2012 (or 63 in 2016), so he'll certainly be viable age-wise in either of those years. DEEP THROAT (AGAIN): Former Nixon aide Pat Buchanan has got to win the award for the most laughably outrageous slam at Mark Felt. Appearing on MSNBC's Hardball -- and delivering the lines with a straight face and in tones implying righteous indignation -- Buchanan attempted to single-handedly blame Felt for the "loss of the Vietnam War" and the deaths of "millions in Cambodia." In Buchanan's world, leaker Felt caused Nixon's downfall, which was the falling domino that directly led to the Khmer Rouge's bloody terror campaign of mass-murder. Show host Chris Matthews was quick to cut Buchanan off, noting that Nixon and his aides were to blame for Watergate -- not Felt -- because they ordered the break-in and cover-up.
Posted by Ron Gunzburger - 6.02.05 |
WEDNESDAY NEWS UPDATE. WATERGATE REDUX: Our lead story should come as no surprise. After more than three decades of anonymity, the identity of the confidential Washington Post source known as "Deep Throat" is finally revealed. The identity: W. Mark Felt, who was the #2 man in the FBI at the time of the Watergate break-in and had been one of FBI Director J. Edgar Hoover's preferred choices -- passed over by President Nixon -- as his successor.

Felt, 91, admitted his role as DT in an exclusive interview with Vanity Fair. All three individuals at the Post who knew DT's real identity -- then-reporters Bob Woodward and Carl Bernstein, and editor Ben Bradlee -- each issues statements within hours of the release of the story, confirming that Felt was Deep Throat. Felt, in past years, denied to reporters he was the source -- even though he usually placed as a leading suspect in the endless speculations over the years -- because he had much ambivalence for his role. Former Nixon aides Pat Buchanan and Gordon Liddy quickly denounced Felt as "a snake" and unethical, while most others praised him as being courageous for placing his constitutional concerns ahead of the potential consequences to his career. GEORGIA: Former Congressman Max Burns (R) announced that he will challenge freshman Congressman John Barrow (D) next year. The gaffe-prone Burns served just one term before Barrow ousted him in 2004. Barrow may face a double-pronged assault in the newly reconfigured CD-12, as former one-term Congresswoman Denise Majette (D) is weighing making a primary challenge next year against either Barrow or Congresswoman Cynthia McKinney in CD-4. CALIFORNIA: Roll Call reported that former Congressman Jim Rogan (R), who served for a time in the Bush Administration's Commerce Department, has returned to California and purchased a new home in Congressman Gary Miller's (R) district. Since Miller isn't going anywhere anytime soon -- at least not that we know of -- we expect that the former Clinton Impeachment Floor Mananger is looking to make a run for some statewide office. MONTANA: A new Mason-Dixon poll shows that US Senator Conrad Burns (R) starts his re-election race in decent shape -- and that State Auditor John Morrison (D) is his strongest potential foe. Burns led Morrison by a 49% to 34% vote. In a matchup with State Senate President Jon Tester (D), Burns led by a 50% to 26% vote. P2008: In a sign that US Senator Russ Feingold (D-WI) is moving towards a 2008 White House run, he just launched his own leadership PAC: Progressive Patriots Fund. The group is like Howard Dean's DFA group, in that it will endorse and raise money for progressive candidates. Oddly (and unlike DFA), certainly in this internet savvy day, Feingold doesn't provide any blog section on the PPF website.
Posted by Ron Gunzburger - 6.01.05 |