BLOG ARCHIVE:

June 16-30, 2004
June 1-15, 2004
May 16-31, 2004
May 1-15, 2004
April 16-30, 2004
April 1-15, 2004
March 15-31, 2004
March 1-14, 2004
February 15-29, 2004
February 1-14, 2004
January 17-31, 2004
January 1-16, 2004
December 16-31, 2003
December 1-15, 2003
November 17-30, 2003
November 1-16, 2003
October 29-31, 2003
---
POLITICAL BLOG ROLL:
KINDA NEUTRAL:
ABC News: The Note
CNN: Morning Grind
Political Wire
MSNBC: First Read
CJR: Campaign Desk
Political State Report
WatchBlog
Command Post
Real Clear Politics
WSJ: Best of the Web
D.C.'s Political Report
PressThink
DEM/LEFT:
DNC: Kicking Ass
DCCC Blog
DailyKos
John Kerry
Howard Dean/DFA
Emerging Dem Majority
Amer Prospect: Tapped
Arianna Huffington
Al Franken
Eric Alterman
ElectaBlog
TNR: &c
TNR: Campaign Journal
Blogging of the President
Joe Trippi
Swing State Project
Battlegrounds & Ballot Boxes
David Brock/Media Matters
Josh Marshall
Wonkette
Karl Frisch (Carl with a K)
Matthew Yglesias
GOP/RIGHT:
RNC (GOP.com)
George W. Bush Blog
Bush Blog (Unofficial)
National Review: Corner
C-Log
Andrew Sullivan
John Ellis
Mickey Kaus
Virginia Postrel
Instapundit
Hugh Hewitt
Daniel Drezner
Daily Pundit
Bully Pulpit
World Mag Blog
Right Wing News
Volokh Conspiracy
Brothers Judd
Right Wing News
Power Line

PERCEPTION VERSUS REALITY. Despite recent US Labor Department reports showing that nearly 1.2 million new jobs were created so far this year -- indicating a likely economic recovery -- American voters seem disbelieving of the news. According to a new AP/Ipsos-Public Affairs poll, 57% of Americans believe that "more jobs have been lost" during the most recent six months -- while only 36% correctly said that more jobs were created. Democrats -- FYI -- agree that more jobs were created, but counter the reports with claims that these are largely low-paying jobs and that the number of unemployed has also increased during the same period. Other interesting numbers: 46% said they would be "less comfortable" to make a major purchase now versus six months ago (38% answered "more comfortable"); and a 56%-to-40% majority say the US is on the "wrong track." This seemingly indicates the frequent bad news from Iraq, high gas prices, and other pessimistic stories are outweighing the perception of economic "good news" for the President. Bush will have his hands full -- not by changing course -- but by trying to change perceptions.
Posted by Ron Gunzburger - 06.15.04 |
CONGRESSIONAL RACE UPDATES. In North Carolina,

the July 20 special election is set for the CD-1 seat vacated last week by the resignation of freshman Congressman Frank Ballance (D). Party leaders selected former Supreme Court Justice G.K. Butterfield (D) and security consultant Greg Dority (R) as the respective nominees to fill the remaining balance of Ballance's term. A Libertarian nominee -- not yet designated -- will also be eligible to compete in the special election.

Butterfield is heavily favored to win in this safe Democratic seat. Butterfield, Dority, and four others will also compete in primaries on July 20 to select CD-1 nominees for the November ballot. Meanwhile, in Florida, State Senator Debbie Wasserman-Schultz (D) is so confident that she will win the open CD-20 seat -- the safe Democratic seat being vacated by US Senate hopeful Peter Deutsch (D) -- that she just gave $100,000 of her campaign money to the DCCC. According to The Hill, her generous contribution is the "first ever six-digit donation to that organization" from a non-incumbent Democratic candidate. Wasserman-Schultz already raised over $800,000 to date, versus the $6,000 raised by anti-gay activist Margaret Hostetter (R). The CD-20 seat is so heavily Democratic that Al Gore carried the district by a 38-point margin in 2000. Sounds like Wasserman-Schultz is well on her way to landing a plumb committee assignment next January.
Posted by Ron Gunzburger - 06.15.04 |
COORS

BEER VERSUS CANDIDATE COORS. The Coors Brewing Company distanced itself last week from the political views expressed by US Senate candidate and former company chairman Pete Coors (R-CO). The company issued a formal -- and very "politically correct" -- written statement expressing sharp disagreement with candidate Coors' recent endorsement of the proposed constitutional amendment to ban gay marriage. "We do not support discrimination against the gay-lesbian-bisexual-transgender community, via legislation or otherwise," said Coors Brewing CEO Leo Kiely. While candidate Coors no longer serves as the company chairman, he and his family still own controlling interest in the company. Pete Coors is locked in a competitive GOP primary against former Congressman Bob Schaffer, who espouses nearly identical conservative views. Schaffer frequently implies that Coors only talks conservative, while his record in business shows he steered a less-than-conservative course for his company in recent years.
Posted by Ron Gunzburger - 06.15.04 |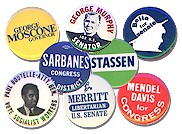 "AMERICANS, PLEASE SEND US YOUR USED FONDUE SETS." For those of you old enough to remember the line, it was from a famous SNL skit portraying flamboyant Ugandan dictator Idi Amin begging us to send fondue sets to his needy nation. Well, I have a request to make, but it isn't for fondue sets -- it's for campaign buttons. Anyone who cruises around Politics1 can see some of the historic buttons from my collection. Since we're in the middle of campaign slow season, I wanted make a pitch to all of you who work or volunteer on campaign staffs to send me a few campaign buttons. I collect Governor, US Senate, Congressional, and Presidential items -- all parties, all fifty states. Anything and everything is appreciated. Please send 'em to: Ron Gunzburger, 409 NE 17 Avenue, Fort Lauderdale, Florida 33301. Not asking for cash -- just for a few buttons and pins (plus a brochure, sticker, etc.). Thanks so much!!
Posted by Ron Gunzburger - 06.15.04 |
TUESDAY OPEN THREAD. The ball is in your court.
Posted by Ron Gunzburger - 06.15.04 |
POOR BURT COHEN. Literally. The reason for the surprise, last-minute withdrawal of State Senator Burt Cohen (D-NH)

from the race against US Senator Judd Gregg (R) was explained over the weekend. While Cohen was unlikely to win -- or possibly even come close -- he was a credible candidate who had raised around $700,000 to date and would have given NH voters a thoughtful ideological choice. From various published reports in the state, it appears that Cohen's campaign manager Jesse Burchfield has skipped town and -- with him -- nearly all the money that remained in Cohen's campaign account is also allegedly missing. The amount: reported to be around $200,000. There were some vague red flags: the FEC recently warned the Cohen campaign that the numbers in at least two of their financial reports were not adding up correctly, and that the formulas used to make the calculations appeared unusual. The campaign Friday brought in an accountant and attorney to go over all the financial records. Sources also indicate the campaign has taken steps to trigger a formal criminal investigation of the matter. FYI: Other victims of similar embezzlements in recent years include US Senator Joe Biden ($400,000 stolen), US Senator Elizabeth Dole ($174,000 stolen), Congressman John Boehner ($617,000 stolen), Congresswoman Anne Northup ($40,000 stolen), Congressman Doc Hastings ($28,000 stolen), and Congressman Ernest Istook ($32,000 stolen). Three Dems filed for the race in place of Cohen in the hours before filing closed Friday: 94-year-old campaign reform activist Doris "Granny D" Haddock, perennial candidate Dick Bosa, and political unknown Katherine Houston. Bosa and Houston may be disqualified, as both only switched their registration from GOP to Democrat that same morning (and Bosa also recently switched his voter registration to Texas). Houston oddly showed up at the filing in the State Capitol carrying a suitcase, although she wouldn't explain why she did so. Governor Craig Benson (R) and Congressmen Jeb Bradley (R) and Charlie Bass (R) all drew both primary and general election opponents -- but all three appear fairly safe. Postscript: Haddock is now the Dem nominee, as Bosa and Houston were disqualified from the ballot on Monday as neither was a validly registered Democrat at the time they filed for the race last Friday.
Posted by Ron Gunzburger - 06.14.04 |
GROUP OF FORMER DIPLOMATS AND MILITARY LEADERS ANNOUNCE OPPOSITION TO BUSH. A bipartisan group of 20 retired US diplomats and six retired military commanders will hold a press conference in DC on Wednesday to announce their opposition to President Bush's re-election.

Calling themselves "Diplomats and Commanders for Change," they will stop short of endorsing Senator Kerry. However, the group's press announcement said they are "deeply concerned by the damage the Bush Administration has caused to our national and international interests." Members of the group include retired Admiral William Crowe (Joint Chiefs of Staff Chairman under President Reagan), retired USMC General Joseph Hoar (US Middle East Commander under President GHW Bush), retired Ambassador Jack Matlock (US Ambassador to the Soviet Union under President Reagan), retired Ambassador William Harrop (US Ambassador to the Israel under President GHW Bush), and retired Ambassador Phyllis Oakley (Asst. Secretary of State for Intelligence under President Reagan, and State Department spokesman for Secretary George Schultz). "We're all career [public] servants who have never taken a political stand. What we want to get on record is our profound concern about the future security of the US," explained Oakley. "We agreed that we had just lost confidence in the ability of the Bush administration to advocate for American interests or to provide the kind of leadership that we think is essential," said Harrop, who identifies himself as an Independent who usually votes Republican. The Bush campaign said they would withhold making any formal response until the group releases the full statement and identifies all the signers on Wednesday.
Posted by Ron Gunzburger - 06.14.04 |
IL, PA, WA RACE UPDATES. If current numbers hold, State Senator Barrack Obama (D-IL) looks likely to score a Democratic pickup

in this open seat US Senate race against retired investment banker Jack Ryan (R). According to the latest WBBM-TV/SurveyUSA tracking poll, Obama now leads Ryan by a 50% to 39% vote. Freshman US Senator Peter Fitzgerald (R-IL) is retiring. However, in Pennsylvania, US Senator Arlen Specter (R) looks very strong in his re-election race against Congressman Joe Hoeffel (D). The new KDKA-TV/SurveyUSA numbers: Specter-58%, Hoeffel-33%. In the Presidential race in Pennsylvania, the same poll showed Kerry leading Bush by a 47% to 46% vote -- indicating that the centrist Specter, as usual, is grabbing a good share of Democratic swing voters. We also have some new KING-TV poll numbers from the open Washington State CD-8 congressional race for the seat being vacated by Jennifer Dunn (R). On the GOP side, King County Sheriff Dave Reichert appears to have a lock on the nomination -- as he scored 58% and his nearest opponent was at 8%. The Democratic contest is more competitive: radio talk show host Dave Ross-45%, frequent candidate Heidi Behrens-Benedict-25%, and wealthy Internet executive Alex Alben-8%. Dems will need to score a pickup in a swing district like this CD-8 seat -- a district that usually votes Dem for President but GOP for Congress -- if they hope to have any chance of retaking the US House in November.
Posted by Ron Gunzburger - 06.14.04 |
A DIFFERENT WAY TO HANDLE THE MEDIA. "Reporters Take Notice: Some of you are among the most obnoxious jerks I have ever met. You need to be taught a lesson in manners. Let me make it clear that I will not tolerate reporters showing up at my door without an appointment, nor phoning me, or any relatives of mine.

You, and the news company you represent, will be blacklisted until further notice, and that can be a long time. You might regret that. I might be famous someday and you might wish you could get an interview," read a section of US Senate candidate Tom Alciere's (R-NH) website. Yes, the comments are rather bizarre, but so is the man posting them. Alciere -- a day laborer -- was forced to resign from the NH State House during his first first few months in office in 2001 when some of his postings justifying the shooting of cops was found on a personal website. He still calls cops "liars" and "Tyranny's mercenaries." In fact, this is a guy so far out on the fringes that even the Libertarian Party expelled him years ago (although Alciere still praises them and their candidates). Alciere was unapologetic then --- and remains so now. His new campaign site contains similar postings. Example: "If voters don't want their beloved law enforcement officers to get themselves killed..., they need to elect a state legislature, a governor, a Congress and a President willing to comply with our demands for Liberty and Justice for All." In fact, Alciere has turned even his hatred of the legal authorities into a proposed new religion he calls the Libertarian Church -- and declared himself the "First Rabbi." Here's one of the Church's edicts: "Resistance to tyrants [i.e., cops] is obedience to God." Fortunately, Alciere has a zero chance of toppling incumbent US Senator Judd Gregg in the primary. So, now that I've made fun of Alciere, I presume he'll "blacklist" me for life -- and then I'll really regret it when he's "famous someday." I guess that just a risk I'm going to have to take.
Posted by Ron Gunzburger - 06.14.04 |
MONDAY (AND SUNDAY NIGHT) OPEN THREAD. Any topic at all. You decide.
Posted by Ron Gunzburger - 06.14.04 |
ARIZONA, OKLAHOMA FILING CLOSES. Candidate filing closed mid-week in Arizona and Oklahoma. US Senator John McCain (R-AZ) is a safe bet to win an easy victory, as he faces opposition only from teacher Stu Starkey (D) and radio talk show host Ernest Hancock (Libertarian).

While this would seemingly indicate that McCain is really REALLY serious about not being interested in the VP spot on John Kerry's ticket -- it still won't really close the door on McCain's option. Congressional Quarterly reported that "technically, state law would allow McCain to run for Vice President in either party and still run for the Senate as the Republican nominee." If McCain "were elected both as Vice President and Senator, his Senate seat would be treated as a vacancy and the governor -- Democrat Janet Napolitano -- would appoint a replacement," according to a spokesperson for the Arizona Republican Party. If McCain withdrew between now and primary day, the GOP could run a write-in candidate who would need to collect near 5,000 votes on primary day to qualify for the November ballot. The point is moot, however, said the GOP spokesperson: "Senator McCain has made it known that he has no interest in running for Vice President, and we are taking him at his word." Also in Arizona, tough House races are set for November in CD-1 (Renzi) and CD-2 (Franks) ... while Congressmen Jeff Flake (R), J.D. Hayworth (R) and Jim Kolbe (R) are each favored, but will all face competitive GOP primaries. In Oklahoma, five Democrats and four Republicans filed for the open US Senate seat. Freshman Congressman Brad Carson is the frontrunner for the Democratic nomination -- and polls also show him slightly leading for November. On the GOP side, former Oklahoma City Mayor Kirk Humphreys and former Congressman Tom Coburn are the leading candidates. State Rep. Dan Boren (D) and former District Attorney Kalyn Free (D) are the two frontrunners for Carson's open House seat. Otherwise, all of the other Congressional incumbents in the state look safe.
Posted by Ron Gunzburger - 06.11.04 |
NADER MAKES AZ BALLOT AS INDY; DEMS CRY FOUL. Ralph Nader qualified this week for his first state ballot as an Independent candidate: Arizona.

The Nader campaign turned in over 18,000 signatures -- more than 14,694 required by state law. "It begins to build our credibility that we are a significant campaign," said Nader's campaign spokesperson. State Democratic Party Chair Jim Pederson said the GOP was responsible for Nader's success in the state. Pederson alleges that Republican political consultant Nathan Sproul -- former State GOP Executive Director -- personally financed part of Nader's petition drive, paying a fee for each valid signature collected. Republicans denied any involvement, although many pages of Nader petition forms were stamped with the required notice that the were collected by paid petitioners. "I'm not being paid by anybody to do petitions [for Nader], and I've not paid anybody to do petitions ... [but] I do think Ralph Nader has a right to be on the ballot," said Sproul. Nader wasn't so lucky, however, next door in Nevada. His campaign apparently had collected nearly enough signatures to qualify for the ballot there as an Independent, but now they will have to start again from zero. The Nader petitions did not contain the name of a VP runningmate, as required by Nevada law. Nader has used retired union organizer Jan Pierce of Ohio as a stand-in VP candidate in some states, but did not do so in Nevada.
Posted by Ron Gunzburger - 06.11.04 |

NEW HAMPSHIRE NEWS. Here's the new American Research Group tracking poll from New Hampshire: Bush-46%, Kerry-46%, Nader-2%. The ARG tracking poll from April had given Bush a 5-point lead in the state. The other big news from NH is that on Thursday -- with just one day to go until the close of candidate filing in the state -- the lone Democrat in the US Senate race dropped out. State Senator Burt Cohen unexpectedly aborted his challenge to incumbent US Senator Judd Gregg (R). "There is a situation with the campaign and we thought that it would be unfair to the [Democratic] Party to continue," said Cohen's spokesperson. PoliticsNH.com was able to reach Cohen and, while not learning the details of the "situation" that knocked him out of the race, described Cohen as "emotionally devastated." NH Democratic Chair Kathy Sullivan was scrambling to find a candidate by the close of filing on Friday. "We are working very hard to make sure that Judd Gregg is held accountable this fall," said a Dem spokesperson. Cohen had raised $645,000 as of the most recent FEC filing period (versus $2 million for the incumbent). While Gregg was considered a fairly safe winner for November, Cohen's abrupt and unexplained departure is very strange.
Posted by Ron Gunzburger - 06.11.04 |
OPEN THREAD. Suggested topics: Ronald Reagan and Ray Charles memorials ... The Stepford Wives remake ... your weekend plans ... "assclowns" (regular bloggers will know what I'm referring to) ... talk amongst yourselves.
Posted by Ron Gunzburger - 06.11.04 |
HOUSE UPDATE #1: CONGRESSMAN BALLANCE RESIGNS. In North Carolina,

freshman Congressman Frank Ballance (D) resigned from his seat this week effective Friday. Ballance -- who was already under investigation for possible illegal financial activities related to a charity he established -- had already announced he would not seek re-election this year due to serious health problems caused by myasthenia gravis. "I made this decision because I am no longer able to carry out the responsibilities of this office due to my current health condition," explained Ballance in his brief resignation statement. The 62-year-old legislator made the decision last week when he was again hospitalized. In comments to the AP, Ballance also conceded that the ongoing criminal probe was also adding to the stress he was experiencing. Because candidate filing in the state has already closed, the Governor is likely to call a special general election to coincide with the July 20 primary. Under that scenario, there would be no primary -- as the local party leaders would simply select the nominees who would compete in that election for the remaining months of Ballance's term. The seat is safely Democratic. Former State Supreme Court Justice G.K. Butterfield (D) is currently the frontrunner in the open seat race.
Posted by Ron Gunzburger - 06.10.04 |
HOUSE UPDATE #2: CONGRESSMAN LIPINSKI CONSIDERS QUITTING. Congressman Bill Lipinski (D-IL) -- who is currently cruising to an easy re-election for a 12th term -- is considering withdrawing his candidacy upon two conditions. The conditions:

(1) that he make progress on the massive transportation bill he is pushing; and (2) that he be replaced on the ballot by his son. The Illinois primary was March 16, so the 66-year-old Lipinski is already the Democratic nominee. Lipinski -- a low-key legislator and "Daley Machine" leader from Chicago's southside -- also holds the important party post of 23rd Ward Democratic Committeeman, meaning that he will also be able to greatly influence the process that selects a replacement nominee. That seems to give the green light to Dan Lipinski, who is currently a political science professor at the University of Tennessee. One obstacle appeared to be Chicago 23rd Ward Alderman Mike Zalewski (D), who wanted the job for himself. However, Zalewski understands that loyalty to senior party leaders counts for much in Cook County. That's why Zalewski told the Daily Southtown that he would defer to the Congressman's wishes: "If [Lipinski] is trying to help his son ... I will not be an obstacle." Because Lipinski's district also contains part of Chicago's 11th Ward, the Committeeman there is reportedly interested in having 11th Ward Alderman Jim Balcer be selected as the replacement nominee. However, as Lipinski will not drop out unless he is assured of his son's nomination, it appears that he has the ability to guarantee the selection of his son. The seat is safely Democratic, so whoever the nominee is will score a landslide victory in November.
Posted by Ron Gunzburger - 06.10.04 |
TRACKING

THE BATTLEGROUND STATES. We've got a dizzying amount of new polls to report. The latest Los Angeles Times tracking polls from three key states -- Ohio, Wisconsin and Missouri -- were released Wednesday. In Wisconsin, the Times Poll showed Bush leading with 44%, followed closely by Kerry at 42%, and Nader at 4%. The Times Poll showed Ohio similarly close: Kerry-45%, Bush-42%, Nader-4%. Missouri, however, was not close: Bush-48%, Kerry-37%, Nader-5%. Meanwhile, there were several new Zogby Interactive polls conducted for the Wall Street Journal that were released this week. Florida: Kerry-49.5%, Bush-47.9%, Nader-0.6%. Arkansas: Bush-51%, Kerry-44%, Nader-2%. Iowa: Kerry-49%, Bush-48%, Nader-1%. Michigan: Kerry-49%, Bush-45%, Nader-1%. Minnesota: Kerry-51%, Bush-44%, Nader-2%. Nevada: Kerry-47%, Bush-44%, Nader-2%. New Mexico: Bush-48.1%, Kerry-47.8%, Nader-2.1%. Ohio: Bush-49%, Kerry-46%, Nader-1%. Pennsylvania: Kerry-52%, Bush-45%, Nader-1%. Oregon: Kerry-51%, Bush-45%, Nader-1%. Wisconsin: Kerry-50%, Bush-45%, Nader-1%. West Virginia: Kerry-47%, Bush-44%, Nader-2%. Washington: Kerry-52%, Bush-44%, Nader-2%.
Posted by Ron Gunzburger - 06.10.04 |
OPEN THREAD. What will you discuss on today's open thread? The ongoing Reagan funeral coverage ... the fight for House and Senate control ... throwing partisan barbs back and forth at each other (as usual) ... whatever.
Posted by Ron Gunzburger - 06.10.04 |
TUESDAY'S PRIMARY WINNERS AND LOSERS. In Virginia, controversial Congressman Jim Moran won a solid Democratic primary victory over attorney and former Ted Kennedy aide Andy Rosenberg. The hot-tempered Moran -- who had to apologize for purported anti-Semitic statements -- scored a 59%-41% victory. Moran should have no trouble winning in November in this safe Dem district.

In South Carolina, former Governor David Beasley scored a first place finish in the open US Senate race, but with a weaker-than-anticipated showing. Although recent polls had projected Beasley was closing in on a possible primary win with a large enough margin to avoid a run-off, he only captured 37%. Congressman Jim DeMint was second with 26% -- just 4,500 votes and one-point ahead of wealthy developer Thomas Ravenel. While Beasley placed first, many pundits say he should now be viewed as the underdog in the June 22 run-off against DeMint in the run-off because Beasley is viewed as such a polarizing figure. As the final votes were being counted, Ravenel quickly threw his support behind DeMint. Ravenel described DeMint as "a man who like myself ran on ideas. He's a fabulous individual." The eventual GOP winner will face State Superintendent of Education Inez Tenenbaum -- the state's top Democratic vote-getter -- in November. In CD-4, former Congressman Bob Inglis won the GOP primary for DeMint's open seat with 85% of the vote -- ensuring that Inglis will once again represent this very safe Republican district. In Montana, wealthy farmer Brian Schweitzer easily won the Democratic nomination for Governor by nearly a 3-to-1 margin. Secretary of State Bob Brown -- a GOP moderate -- won the primary for Governor as his three conservative opponents split their shared base. With incomplete totals, Brown had around 36%, followed by businessman Pat Davison in second at 24%. There were also primaries held yesterday in Iowa, Maine, New Jersey and North Dakota -- but no races worth noting.
Posted by Ron Gunzburger - 06.09.04 |
TRACKING

THE BATTLEGROUND STATES. Senator Kerry continues to hold a surprisingly narrow lead over President Bush in Michigan -- a number unchanged since March -- according to the latest EPIC/MRA tracking poll. The numbers: Kerry-47%, Bush-45%. If Ralph Nader is on the ballot, the race becomes Kerry-45%, Bush-43%, Nader-3%. Bush lost Michigan by 5% in 2000. Meanwhile, there is some important news from the Sunshine State. Florida Secretary of State Glenda Hood's office has determined that the Reform Party's leadership telephone conference call last month that bestowed its Presidential nomination upon Nader was sufficient to meet the statutory requirements of being a "national nominating convention." Accordingly, Nader now has ballot status guaranteed in Florida. According to election law expert Richard Winger of Ballot Access News, the Workers World Party -- a Stalinist entity that pines for a global revolutionary uprising -- is also assured of Florida ballot status under the existing rules. FYI: Hood is a Jeb Bush appointee.
Posted by Ron Gunzburger - 06.09.04 |

ROWLAND IMPEACHMENT HEARINGS START. On Tuesday, the Connecticut House Impeachment Committee began the formal hearings on purported ethics violations by Governor John Rowland (R). Rowland admitted in a televised address a few months ago that he had previously lied about and hidden expensive gifts and renovations to his vacation home that he received from state contractors. The committee is supposed to present their recommendations on impeaching Rowland to the full House by June 30. If Rowland is impeached, the Senate removal trial would take place this fall. Rowland -- a three-term Governor and former Congressman -- is also the target of federal and state corruption probes.
Posted by Ron Gunzburger - 06.09.04 |
OPEN THREAD. Enjoy the Wednesday open thread. What are today's hot topics? Tuesday's primaries ... Kerry's visit on Tuesday to the Reagan Library to pay his respects ... Bush turning his campaign site into a Reagan tribute site ... well, it's your turn to spout off.
Posted by Ron Gunzburger - 06.09.04 |
ALLIES LOSING WAR ON TERROR, SAYS

RUMSFELD. In a surprising admission, US Defense Secretary Don Rumsfeld told an international security conference in Singapore that the allies are winning the short-term battles but losing the long-term fight against militant Islamic terrorism. According to the AP, Rumsfeld said that "zealots and despots" are recruiting and training new terrorists faster than the US can capture or kill them. "It's quite clear to me that we do not have a coherent approach to this," he acknowledged. Rumsfeld attributed the root cause of the problem to "a civil war" in the Islamic faith "where a small minority are trying to hijack it" for extremist goals -- but said there is no clear way to confront the problem. Very unexpected and downbeat remarks from an individual who normally only has positive words to say about the War on Terrorism.
Posted by Ron Gunzburger - 06.08.04 |
SCHAFFER BEATS COORS IN GOP TASTE TEST.

Former Congressman Bob Schaffer won a big victory in the US Senate race this past weekend over brewery magnate Pete Coors at the Colorado Republican State Convention. The 3,333 delegates gave Schaffer a 61%-39% victory, guaranteeing him the top ballot spot for the August 10 primary. Coors -- the candidate endorsed by both Governor Bill Owens and retiring US Senator Ben Nighthorse Campbell -- said he was pleased that he secured more than the requisite 30% needed to guarantee himself a primary ballot spot. "I was very nervous about going the caucus route because most of these delegates are party loyalists who have worked with Bob for 15 years," explained Coors. The Schaffer delegates also wore stickers reading "Pledges Count: I'm for Bob" -- stickers that playfully tweaked Owens for publicly pledging his support for Schaffer, but then recruiting Coors into the race just days later. Despite the lopsided results at the convention, the primary is expected to be a much closer race. Both men are social conservatives who differ little on the issues -- although Schaffer regularly chides Coors for running a corporation that gave contributions to Democrats and centrist causes in recent years versus candidate Coors' current conservative rhetoric. The GOP winner will face the winner of the Democratic primary between Attorney General Ken Salazar and retired foreign service officer Mike Miles.
Posted by Ron Gunzburger - 06.08.04 |
OPEN THREAD. We're going to make this a regular daily feature ... so here's Tuesday's open thread. Today's primaries ... Budweiser versus Miller for "President of Beer" ... Reagan ... whatever ... have at it.
Posted by Ron Gunzburger - 06.08.04 |
GORE BASHES DEM SENATE CANDIDATE IN POISON PEN NOTE. Former Vice President Al Gore waded into the open US Senate race in Florida in a big way this weekend with a scathing note to the Miami Herald. For months, Congressman Peter Deutsch (D-FL) has frequently

accused a rival candidate -- Miami-Dade County Mayor Alex Penelas (D) -- of having betrayed Gore during the 2000 election by going on a lengthy vacation instead of helping with Hispanic GOTV efforts in the final weeks and by not pushing for his county to conduct a hand recount. Penelas has regularly brushed off the charges, claiming that he "was by Gore's side from the very beginning," that he raised a lot of money for the Gore campaign, and that Gore carried Miami-Dade County by a comfortable margin. In a written statement, however, Gore described Penelas as "the single most treacherous and dishonest person I dealt with during the campaign anywhere in America." He went on, by contrast, to praise Deutsch as "a good and dear friend who has been a stand-up leader for our party in difficult times such as the 2000 election recount in Florida." Gore isn't done with Penelas, as he vowed to inject himself into the primary again: "As the campaign moves forward and when appropriate, I will have more to say about this." Penelas quickly shot back that Gore himself was the disloyal person. "I can't help but think of Joe Lieberman and how he must have felt when he found out through the press that Al Gore was endorsing Howard Dean instead of him," said Penelas. He nastily added that if Gore had just won his homestate of Tennessee, the 527-vote loss in Florida wouldn't have decided the Presidency. Some Florida Dems quickly came to Penelas' defense, including retiring US Senator Bob Graham. "[Penelas has] been very helpful to many Democrats ... in the past, and I am proud to call him a friend and supporter," said Graham. Both Deutsch and Penelas trail former State Education Commissioner Betty Castor (D) in the polls, but Deutsch has raised such an overwhelming amount of money that the he is viewed as Castor's main rival for the nomination.
Posted by Ron Gunzburger - 06.07.04 |
TRACKING

THE BATTLEGROUND STATES. In Washington State, the latest KING-TV/SurveyUSA poll shows John Kerry leading President Bush by a 49% to 44% vote, with Ralph Nader at 3%. Bush lost WA by 5.5% in 2000. Surprisingly, it may also be time to add Louisiana to the list of battleground states. Bush won LA by 7.5% in 2000, and most pundits had declared it a safe state for Bush this year. A new poll conducted by the Marketing Research Institute for a group of state business leaders shows Bush leading Kerry by a surprisingly competitive 48% to 42% vote. Kerry has run TV spots in the state in recent weeks, although it is not clear whether he was doing so to make a real run at winning the state or whether he did it simply to force the Bush campaign to spend a large sum of money just to lock it back into their column. Both of Louisiana's US Senators and 6 of the 7 statewide elected constitutional officers are Democrats -- albeit all of a much more conservative outlook than Kerry.
Posted by Ron Gunzburger - 06.07.04 |
TUESDAY PRIMARY PREVIEW. Iowa, Maine, Montana, New Jersey, North Dakota, South Carolina and Virginia all hold state and/or congressional primaries on Tuesday. There are several hot races to watch. In Montana, the key contest is the open race for Governor. Wealthy farmer and '00 US Senate nominee Brian Schweitzer is expected to handily defeat former State House Speaker John Vincent by a wide margin in the Democratic primary. On the GOP side, Secretary of State Bob Brown is locked in a surprisingly close contest with millionaire businessman

Pat Davison. Brown -- who started with a wide, early lead in the polls -- is the only moderate facing off against three conservatives in the primary. The latest polls show Schweitzer still holding a comfortable lead over all of the GOP hopefuls. In Virginia, controversial and mercurial Congressman Jim Moran is facing a high-profile Democratic primary challenge from attorney and former Ted Kennedy aide Andy Rosenberg. Moran has been beset with allegations that he made anti-Semitic statements in public (Moran implied in a speech last year that Jewish interests in the US pushed this country into the Iraq War) and private (Moran denies these new allegations, made public last week by his recently-resigned pollster), and that he is often unable to control his hot temper. Moran -- a seven-term incumbent -- has outraised the 36-year-old Rosenberg by nearly a 3-to-1 margin, although the Washington Post has helped level the playing field by running a steady stream of anti-Moran articles. Moran is slightly favored, although an upset is possible. The seat is safely Dem, so the primary winner is assured of victory in November. In South Carolina's open US Senate race, six Republicans are competing for the right to face State Superintendent of Education Inez Tenenbaum (D) in November. Former Governor David Beasley is expected to place first by a wide margin, but most believe he will fall slightly short of the bare majority required to avoid a run-off. Congressman Jim DeMint, developer Thomas Ravenel and former Attorney General Charlie Condon are battling for the distant second place spot (and, with it, a possible run-off berth). In CD-4, former Congressman Bob Inglis (R) is expected to win the primary for DeMint's open seat -- and ultimately reclaim his old seat in November. No primaries of great interest to watch in the other states.
Posted by Ron Gunzburger - 06.07.04 |
US SENATE RACE UPDATES. LOUISIANA - Congressman

David Vitter (R-LA) -- currently the lone GOP candidate in the "jungle primary" race against three major Democratic hopefuls for the open US Senate seat -- has been holding the lead in early polls. The latest numbers (MRI): Vitter-35%, State Treasurer John Kennedy (D)-22%, Congressman Chris John (D)-18%, and State Rep. Art Morrell (D)-5%. Vitter may, however, be about to get some big-time bad news. Former KKK national leader and former State Rep. David Duke (R-LA), just out of federal prison on fraud charges, appears to be getting ready to enter the Senate race. FYI: Duke went to prison for using supporters' donations intended for his white supremacist group to instead finance his lavish gambling junkets and vacations. Duke won't win the race, but he clearly dislikes Vitter -- as Vitter defeated Duke in a 1999 House special election -- and would enjoy throwing mud at him. Besides, a statewide run would give Duke a bigger platform for promoting his new book and reestablishing his network of donors. Duke traditionally polls low, as voters rarely want to admit they are supporting him, but usually scores in the double-digits. If Duke jumps in, former Governor Buddy Roemer (R-LA) last week said he may also enter the race. If that happens, all bets are off. Under the state's unique voting system, the top two vote-getters in the primary (regardless of party) advance to the run-off if no candidate wins a majority. WASHINGTON STATE - The new KING-TV/SurveyUSA poll shows US Senator Patty Murray (D) holding a wide lead for re-election over Congressman George Nethercutt (R). The numbers: Murray-49%, Nethercutt-34%. Nethercutt will need to narrow that gap quickly if he hopes to remain a top NRSC national target race.
Posted by Ron Gunzburger - 06.07.04 |
OPEN THREAD. Want to discuss something else ... like the Reagan legacy ... Iraq ... Clinton ... or who is the most obnoxious blogger? Use this thread for that, as the ball is in your court.
Posted by Ron Gunzburger - 06.07.04 |
PRESIDENT RONALD REAGAN, 1911-2004. Former

President Ronald Reagan (R-CA) died Saturday in California, ten years after revealing that he was afflicted with Alzheimer's disease. At a time when the American spirit seemed at an all-time low because of the Iranian hostage crisis, fear of nuclear war with the Soviets, double-digit unemployment, double-digit inflation, etc., Reagan's 1980 candidacy restored the promise that we could be a great nation again. With charm, eloquence and determined leadership, Reagan repeatedly appealed directly to the American people on many issues -- winning over public support time and again. Agree or disagree with his policies (and I disagreed with much of his domestic social and economic policies), Reagan defined Presidential leadership and greatness.

Disparaged by opponents at the time as a mental lightweight who was "acting" the role, release of the Reagan White House papers to historians in the late 1990s revealed he was in actuality hands-on involved in making all the key decisions of his Administration. At a great financial price, Reagan rejected the failed foreign policy of détente and led a massive arms build-up that essentially bankrupted the Soviet Union (and their global network of satellite nations). Those actions forced the Soviets to the bargaining table and resulted in Reagan signing the first-ever treaty to reduce to the total Soviet and US stockpiles of nuclear weapons. Reagan appointed the first woman to the US Supreme Court and the first Hispanic to the Cabinet (and -- a little-known aside -- also hosted the first White House sleep-over of guests that included a gay couple). He also pushed through massive tax cuts. Seeking re-election in 1984, he won the largest landslide election in US history. I was privileged to have met President Reagan, was a guest at his 1981 Inauguration and in 1984 for the White House South Lawn welcoming ceremony for French President Mitterand (I was thrilled to be placed right next to Reagan's Hollywood friends Jimmy Stewart and Olivia deHavilland), and attended at least a half-dozen Reagan speeches. Maybe that is why my lasting memory of him will be of Reagan as a truly stirring, uplifting orator. The best summary of Reagan's vision (and his Presidency) were the closing words of his farewell address to the nation he delivered in January 1989:
The past few days when I've been at that window upstairs, I've thought a bit of the 'shining city upon a hill.' The phrase comes from John Winthrop, who wrote it to describe the America he imagined. What he imagined was important because he was an early Pilgrim, an early freedom man. He journeyed here on what today we'd call a little wooden boat; and like the other Pilgrims, he was looking for a home that would be free. I've spoken of the shining city all my political life, but I don't know if I ever quite communicated what I saw when I said it. But in my mind it was a tall, proud city built on rocks stronger than oceans, windswept, God-blessed, and teeming with people of all kinds living in harmony and peace; a city with free ports that hummed with commerce and creativity. And if there had to be city walls, the walls had doors and the doors were open to anyone with the will and the heart to get here. That's how I saw it, and see it still.

And how stands the city on this winter night? More prosperous, more secure, and happier than it was 8 years ago. But more than that: After 200 years, two centuries, she still stands strong and true on the granite ridge, and her glow has held steady no matter what storm. And she's still a beacon, still a magnet for all who must have freedom, for all the pilgrims from all the lost places who are hurtling through the darkness, toward home.

We've done our part. And as I walk off into the city streets, a final word to the men and women of the Reagan revolution, the men and women across America who for 8 years did the work that brought America back. My friends: We did it. We weren't just marking time. We made a difference. We made the city stronger, we made the city freer, and we left her in good hands. All in all, not bad, not bad at all.

And so, goodbye, God bless you, and God bless the United States of America.
Goodbye and God bless you, President Reagan ... and my condolences to Mrs. Reagan and the Reagan family. [Many of my usual readers -- who know I'm a Democrat -- are probably surprised by this posting. But I lived through the 1980s and carry with me the memories of what Reagan did to restore hope to the American people.]
Posted by Ron Gunzburger - 06.05.04 |

GENERAL ZINNI: VEEP FLAVOR OF THE WEEK. For those bored with the repetitive "Draft McCain for VP" boomlets, the latest flavor-of-the-week speculation on an unconventional Kerry VP pick is focusing on retired 4-star Marine Corps General Tony Zinni. Some facts:

Zinni is a registered Republican, he voted for Bush in 2000, is a decorated Vietnam combat veteran, was Bush's US Mid-East Peace Envoy, is the former commander of US Central Command, and says he may vote for Bush again this year. Some more facts: Zinni says his 2000 vote for Bush was in hindsight "a mistake," he opposed going to war with Iraq as far back as 2002, and says he will only vote for Bush again if Bush first fires Rumsfeld and his Pentagon neo-con allies. "In the lead-up to the Iraq war and its later conduct, I saw, at a minimum, true dereliction, negligence, and irresponsibility; at worst, lying, incompetence, and corruption. False rationales, presented as a justification; a flawed strategy; lack of planning; the unnecessary alienation of our allies; the underestimation of the task; the unnecessary distraction from real threats; and the unbearable strain dumped on our overstretched military," explained Zinni, in the new book he co-wrote with Tom Clancy. Speaking Tuesday night at the Council on Foreign Relations, former CNN President Walter Isaacson suggested to Zinni that he run for VP on "a ticket of national unity" with Kerry. The audience broke into loud applause. "I'm not interested in any political office in either party," answered Zinni. When Isaacson pressed again, Zinni joked "Do you have trouble with the 'N' or the 'O'?" Retired USMC General Paul Van Riper -- a Zinni friend -- told Slate.com that Zinni isn't "actively seeking any position, but there are probably positions that he would take." Another unnamed General, described by Slate.com as a Zinni colleague of several decades, said that Zinni is "in full campaign mode" these days. Interestingly, Zinni even has his own website. But, unlike the site Wes Clark operated shortly before jumping into the White House race, Zinni's site avoids offering policy opinions and is purely autobiographical. More likely than VP is the possibility that Zinni could be tapped for Defense Secretary (or possibly Secretary of State) in a Kerry Administration. For now, however, he is this week's leading outside-the-box name in play for VP.
Posted by Ron Gunzburger - 06.04.04 |

TRACKING THE BATTLEGROUND STATES. The latest WDIV-TV/SurveyUSA tracking poll of Michigan voters shows John Kerry's lead there is still holding. The numbers: Kerry-47%, Bush-43%. Bush lost Michigan by 5% in 2000. Rasmussen is also out with a ton of new state "polls" -- but I'm not going to report on them. Why? Because I think the methodology for this batch -- not collected in Rasmussen's normal style -- is highly bizarre. Rasmussen culled the various individual state results by extracting the numbers from a national telephone survey of 15,000 likely voters that they conducted over very lengthy period (May 1-31). But, if you want to see 'em, visit the Rasmussen site.
Posted by Ron Gunzburger - 06.04.04 |
NRCC CHAIR LOWERS THE BAR. Congressman Tom Reynolds (R-NY) --

Chair of the National Republican Congressional Committee -- on Thursday lowered GOP expectations for US House races this year. Late last year -- especially in the aftermath of the Tom DeLay-orchestrated redistricting in Texas -- GOP leaders were boasting that they expected to handily increase their 229-206 majority in Congress. After the loss of two special elections, the GOP today holds 227-208 majority. Recent polls out of Texas surprisingly show Dems leading in some of the gerrymandered House races they were supposed to handily lose. And, with those developments, all the talk of increasing the majority has vanished. "My goal is to bring back 228 ... House Republicans next year," Reynolds told the New York Times -- referencing the number of GOP seats he had before Stephanie Herseth's (D-SD) win on Tuesday. But what about possible gains in Texas and elsewhere, the reporter asked. "My goal is to bring back 228 -- I don't predict seats," added Reynolds. The NRCC leader also made it clear he was concerned about the possibility of more unexpected GOP House retirements this year in swing districts, but joked that he had no power to stop them from happening. Questions of the Day: As candidate filing has already closed in the vast majority of states, which other GOP legislator is quietly contemplating retirement this year ... or could it be someone in a state where filing has already closed, but where the local party could file a replacement nominee?
Posted by Ron Gunzburger - 06.04.04 |
ALASKA SENATE UPDATE. Candidate filing closed in Alaska this week, leaving a crowded field of hopefuls running against US Senator Lisa Murkowski (R-AK). Murkowski was appointed to the job last year by her father -- Frank Murkowski (R) -- to fill the seat he vacated when he was elected Governor in 2002. The complaints of nepotism prompted several of those to enter the race.

To survive the GOP primary, Murkowski must first defeat former State Senate President Mike Miller and former US Attorney Wev Shea. Lieutenant Governor Loren Leman (R) -- who was Murkowski's runningmate in 2002 -- broke ranks with his boss and endorsed Miller last month. If Murkowski wins the primary, as is expected, she will face a very tough November race against former Governor Tony Knowles (D). The latest KTUU-TV monthly tracking poll released Wednesday shows that Knowles has regained the lead from Murkowski by a 46% to 41% vote. Even worse news for Murkowski is that two former GOP state legislators -- running as third party candidates -- also filed to appear on the November ballot and siphon away some Republican votes. Former State Rep. Ray Metcalfe is unopposed for the US Senate nomination of the Republican Moderate Party he founded, while former State Rep. Jerry Sanders is favored to win the Alaska Independence Party primary over paralegal Donald DeNardo. The poll also showed perennial candidate Jim Sykes (Green) in last place with just 1%. Combine all these factors and this seat looks to be one of the most promising Democratic prospects to score a pickup in the Senate this year.
Posted by Ron Gunzburger - 06.03.04 |
TRACKING THE BATTLEGROUND STATES. In Ohio, the latest Rasmussen tracking poll showed President Bush continuing to cling to a lead over Senator Kerry. Bush visited the state last month, and has spent heavily in recent weeks on strong TV buys here. The numbers: Bush-46%, Kerry-44%. Bush won Ohio by 4% in 2000.
Posted by Ron Gunzburger - 06.03.04 |
"COMMENT DITES-VOUS L'EXPRESSION 'FLIP-FLOP' EN FRANÇAIS?"

Remember last year ... you know, that time just before the start of the Iraq War and the French were opposing U.S. attempts to get a war resolution passed in the United Nations? Remember all the anti-French jabs from Bush Administration officials ... or when the US House renamed "french fries" into "liberty fries" in their cafeteria ... or when Rumsfeld denigrated France as part of that fading power known as "Old Europe" ... or when Bush uninvited French President Jacques Chirac from making a planned visit to the Bush ranch in Texas ... or when one top Bush political official snidely joked that Kerry would be easy to beat because he "looked French"? Apparently we must have entirely misunderstood all that stuff. "I was never angry with the French. France is a long-term ally," said Bush in a new interview he gave this week to France's Paris Match magazine. Actually, Bush claims he and Chirac never had problems and they remain close. "Listen, I made a difficult decision and not everybody agreed with that decision. But I understand that," added Bush. Chirac agreed: "I was never angry with him and I never had the feeling that he was angry with me." Bush even re-invited Chirac to the ranch: "If he wants to come and see some cows, he is welcome. He can come and see some cows."
Posted by Ron Gunzburger - 06.03.04 |
DEM SCORES NARROW VICTORY IN S.D.

CONGRESSIONAL RACE. The second time was the charm for attorney Stephanie Herseth, who scored a Democratic pickup in the South Dakota special election for the seat left vacant by the resignation of Congressman Bill Janklow (R). Janklow -- who defeated Herseth in 2002 by a 6-point margin -- resigned earlier this year following his conviction on vehicular manslaughter charges. Former State Sen. Larry Diedrich (R) ran a spirited race and steadily narrowed the gap -- accusing Herseth of being "too liberal" to represent the state -- but he fell short of victory. Herseth defeated Diedrich by a 51% to 49% vote in a hot race that generated a heavy turnout. Herseth will immediately take office, but the two will face-off again in November for a full two-year term. Congressional primaries were also held on Tuesday in Alabama in New Mexico. Congressmen Spencer Bachus (R-AL) and Artur Davis (D-AL) both easily swatted aside challengers who failed to live up to competitive expectations -- as both incumbents won 88% apiece in their respective races.
Posted by Ron Gunzburger - 06.02.04 |
CHENEY UNDER FIRE FOR NO-BID HALIBURTON DEAL ... The conservative watchdog group Judicial Watch obtained a March 2003 Army Corps of

Engineers email that raises questions about whether or not Vice President Dick Cheney was honest when he claimed he played no role in the Pentagon's awarding of a multi-billion no-bid contract to Haliburton. Cheney served as CEO of Haliburton during 1995-2000. According to Time magazine, who broke the story, "the email says 'action' on a multibillion-dollar Halliburton contract was 'coordinated' with Cheney's office" and that high-ranking Pentagon neo-con Douglas Feith "got the 'authority'" from Deputy Secretary of Defense Paul Wolfowitz to "'execute' ... one of several large contracts the U.S. awarded to Halliburton last year." A White House spokesperson described the email as merely a customary "heads-up" memo that one government office would give to another. Cheney political advisor Mary Matalin said that Cheney "had no operational involvement with the letting of any contracts ... [Cheney] because of his previous association with Halliburton, has no association with any of the writing of contracts." US Senator Pat Leahy (D-VT) is calling for a formal Congressional investigation of the matter. US Senator Majority Leader Bill Frist (R-TN) said it "would be premature for me to say we need hearings on it" until he learns more of the specifics raised in the Time report.
Posted by Ron Gunzburger - 06.02.04 |
... AND KERRY UNDER FIRE FROM VETS FOR TV SPOT. An anti-Kerry group of Vietnam veterans is demanding that Senator Kerry immediately "cease and desist" from using a 1969 photo of Kerry and 19 fellow Navy officers in Vietnam.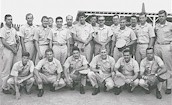 Swift Boat Veterans for Truth demanded that Kerry stop using the photo in his 60-second bio spot on TV. Note: Kerry is the guy at the center of the top row. Only a portion of the photo even appears in the spot, and that portion is only on the screen for two seconds. According to the group, 11 of the 20 men in the photo object to it being used by the Kerry campaign. "The use of the 11 images in this political campaign wrongfully and incorrectly suggests their present endorsement of his candidacy for President," wrote the group's attorney. The group was formed just a month ago, and is comprised of more than 220 veterans from the Naval units in which Kerry served in Vietnam. During a four-month period in Vietnam, Kerry earned three Purple Hearts, a Bronze Star and a Silver Star for his actions in combat as a swift boat commander. However, he earned the anger of some veterans when he returned to the US and became an anti-war activist. A Kerry spokesperson said the charges were frivolous and partisan, noting that the group had no problem using a poster-sized enlargement of the same photo at a recent press conference -- but never bothered to ask Kerry for permission to use his image for their own publicity purposes. It should be noted the 1969 photo at issue is also displayed right on the group's website.
Posted by Ron Gunzburger - 06.02.04 |
¿ES ESTO LEGAL? A radio station was so concerned about the legality of a congressional candidate's spot blasting Spanish-speaking illegal immigrants that they yanked all spots by all candidates in the race for several days until they could seek a clarification of federal rules. The possible problem with the spot: the ad is in English

but the disclaimer was only delivered in Spanish. Winston-Salem City Councilman Vernon Robinson's (R-NC) ad complains that the large number of Spanish speakers in the US can make US citizens "feel like they are in The Twilight Zone" -- as the show's old theme music plays in the background. The disclaimer -- spoken just in Spanish -- translated to: "Yo, Gringo! This episode of The Twilight Zone was paid for by Robinson for Congress." Robinson told the Winston-Salem Journal that nothing in FEC rules required the disclaimer to be in English. An FEC spokesman said a foreign language disclaimer is okay in a foreign language spot, but that Robinson's version was "possibly a violation" of FEC rules because it could be construed as failing to make a good-faith judgment of the plain meaning of the regulations. Robinson agreed late Tuesday to let the station re-record the disclaimer in English and return the spot onto the air -- but says he may file a complaint later against the radio station with the FCC. Robinson -- one of eight GOP candidates in the open CD-5 race -- has been courting controversy for months. In January he placed a one-ton Ten Commandments monument outside of City Hall -- but the City quickly trucked it away. He also frequently uses this tag line in his campaign materials: "Jesse Helms is back! And this time he's black." The only problem with the slogan -- for Robinson -- is that Helms has already endorsed one of his primary opponents.
Posted by Ron Gunzburger - 06.02.04 |
ISN'T THAT SPECIAL! Tuesday is Election Day in South Dakota's Congressional special election. Of course, that means we have another opportunity to put attorney Stephanie Herseth's (D) photo on our homepage again ... along with that of her opponent, former State Sen. Larry Diedrich (R). Final polls show Herseth continuing to hold a modest but narrowing lead, so this one could go either way. Both the national Dems and Reps have dumped a bunch of money into this battleground race. The GOP wants to hold this US House seat, which was vacated by the resignation of Congressman Bill Janklow (R). The Dems want to score their second straight pickup this year in a congressional special (KY-6 was the first).
Posted by Ron Gunzburger - 06.01.04 |

TRACKING THE BATTLEGROUND STATES. In Ohio, a new Cleveland Plain Dealer/Mason-Dixon poll shows President Bush leading Senator Kerry by a 47% to 41% vote, with Ralph Nader third at 3%. Nader has yet to qualify for the ballot in Ohio. Bush won Ohio by 3.5% in 2000. In Minnesota, a new St. Paul Pioneer Press poll shows Kerry continuing to hold a narrow lead. The numbers: Kerry-44%, Bush-41%, Nader-2%. Bush lost Minnesota by 2.4% in 2000. In Illinois, the latest Chicago Tribune/WGN-TV tracking poll has Kerry leading by a 54% to 38% vote (or 53% to 37% -- with Nader at 4% -- if Nader is on the ballot here). Bush lost Illinois by 12% in 2000. In related polling news -- but not a battleground state -- we have some new numbers from Montana: Bush-53%, Kerry-33%, Nader-6% (Helena Independent Record/Mason-Dixon). Bush carried Montana by 25% in 2000.
Posted by Ron Gunzburger - 06.01.04 |
DARKHORSE

WINS LIBERTARIAN NOMINATION. Computer programmer and gun rights activist Michael Badnarik of Texas -- who was viewed as the third-place contender for the Libertarian Party's Presidential nomination -- scored an upset victory on the third ballot at this weekend's LP National Convention in Atlanta. After a spirited and impressive performance in the pre-vote debate, Badnarik finished just two votes behind wealthy movie producer Aaron Russo on the first ballot. Radio talk show host Gary Nolan placed third. After the order of finish remained unchanged on the second ballot, Nolan withdrew and endorsed Badnarik. That tipped the balance in favor of the underdog, who went on to score a 423-344 victory over Russo. Delegates next selected Richard Campagna of Iowa -- who holds four graduate degrees and is fluent in six languages -- as the VP nominee. Click here to read more on the LP's Badnarik-Campagna ticket. The LP slipped to fifth place in the 1996 and 2000 Presidential elections. However -- with the implosion of Ross Perot's former Reform Party -- Badnarik is likely to return the LP to at least a fourth place finish (and possibly third, depending on what happens with ballot access matters involving Ralph Nader and the Greens). The LP nominees traditionally qualify for the ballot in all fifty states.
Posted by Ron Gunzburger - 06.01.04 |
POLITICS, GAMBLING AND PORN. We couldn't resist this story. Boxing publicist and gambling promoter Charles Jay of Indiana has already managed to do what most third

party Presidential hopefuls fail to do: qualify for ballot status for November. Jay will appear on the Utah ballot as the Presidential nominee of the new Personal Choice Party (PCP) -- and hopes to qualify for the ballot in several other states, while running as a write-in elsewhere. Jay defeated gadfly perennial candidate and self-declared "Acting Utah Governor" Lawrence Topham with 88% of the vote at last week's PCP convention. The PCP appears to espouse a quasi-libertarian philosophy with pro-choice, pro-gun, pro-gambling and pro-privacy rights platform planks. Jay, for his part, has declared that nationwide legalized gambling is going to be his campaign's top issue, because "any person who supports legalized gambling would also logically support other individual freedoms." As for a VP runningmate, Jay selected his friend and former Ivory Soap model-turned-1970s porn star Marilyn Chambers. She made her name starring in such X-rated 1970s and 1980s classics as Behind the Green Door and Insatiable. In the late 1990s, Chambers made a successful return to porn, and she continues to appear in porn flicks today -- making her one of the oldest stars to regularly appear these days in mainstream porn. This 2004 VP run is Chambers' first foray into politics. Jay told Politics1 that he selected Chambers as his VP runningmate to "help close the publicity gap" that plagues third parties in the media. He also thought Chambers -- on behalf of the adult entertainment industry and its customers -- is a "symbol" of the first amendment fight currently waging in the US. An amusing aside: considering the conservative, religious nature of Mormon-dominated Utah, I'm not sure if the state is fertile ground for growing a pro-gambling, pro-porn political party.
Posted by Ron Gunzburger - 06.01.04 |
LANDMARK GOV PLANS COMEBACK BID.

Former Virginia Governor Doug Wilder (D) -- who in 1989 became the first African-American in US history to be elected to a governorship -- is poised this year to make a return to politics. In 1992, Wilder briefly made a run for President. Wilder left office in January 1994 with his popularity greatly diminished, in part because he presided over a period of economic recession (with tough budget cuts) and because he pushed through legislation that restricted the frequency of handgun sales. Later that same year, Wilder made an Independent run for US Senate against incumbent and longtime personal rival Chuck Robb (D) -- but Wilder withdrew a month before the election when it was clear his candidacy would likely have caused the GOP candidate to win. Well, now he's back. Wilder, 73, announced his candidacy this weekend to run for Richmond Mayor in November. It will be the first time the city's voters directly elect their Mayor. Under the old city charter, the City Council selected the Mayor from among their ranks. "We can't build a new city on the old divisiveness ... All of those who have talked with me and urged me to run for Mayor have underscored the unique opportunity we have to bring the city together." Wilder was born in Richmond and lived there for more than six decade -- but he currently lives elsewhere in the state. Wilder plans to immediately reestablish his residency in Richmond and then formally launch his campaign.
Posted by Ron Gunzburger - 06.01.04 |
PLACE YOUR BLOGAD ON POLITICS1 RIGHT NOW!! Great prices: $60 for one week, $90 for two weeks, and $150 for a month. Click here to learn more!
IS YOUR CAMPAIGN HIRING? If so, then let us know. We'll post the ad for free for any paid campaign staff positions. See our Jobs page for more details.