BLOG ARCHIVE: MAY 1-15, 2009.
STEELE SAYS SOTOMAYOR IS A "TRAP" FOR GOP; REP VISCLOSKY TARGET OF FBI PROBE; MURTHA GETS PRIMARIED; POLL SHOWS AMERICANS WANT HEALTH CARE REFORM.
US SUPREME COURT. In a move that may surprise some, RNC Chairman Michael Steele called on Republicans to hold-off attacking US Supreme Court nominee Sonia Sotomayor. "The trap here for the GOP I think is enormous," Steele said. "And I know that a lot of folks want to do the knee-jerk, you know, let's start slammin' and rammin', but I think we really need to take a step back from this and deal with two things, one, the historic aspect of it, acknowledge it, but then move on to the substance of the conversation about what this woman believes." A new Gallup poll shows a majority of Americans support Sotomayor's nomination: 54% supporting her confirmation, 24% oppose it.

INDIANA. Congressman Pete Visclosky (D) has confirmed that he is under investigation by the FBI in an investigation relating to a defense lobbying firm tied to his former chief of staff. Federal agents also subpoenaed records from Visclosky's campaign and congressional offices. Visclosky said he expects to be cleared of all charges by the end of the investigation.
PENNSYLVANIA. Veteran Congressman John Murtha (D) drew a primary challenger this week. Ryan Bucchianeri, a Harvard-educated former Naval officer, jumped into the race. Bucchianeri, 34, will likely make age an issue against the 76-year-old incumbent and USMC combat veteran. Retired Army officer and '08 nominee William Russell (R) and businessman Tim Burns (R) are also running against Murtha. Russell gave Murtha an unexpectedly close re-election challenge last year.
HEALTH CARE. A new CNN/Opinion Research Poll indicates that most Americans want more government intervention in their health care in order to attain lower costs and more coverage. The poll showed 63% support the it, versus 36% who oppose more government involvement.
Daily Report by Vin Gopal - 05.30.09 | Permalink |
GOV PATERSON THINKS CUOMO WON'T RUN; SPECTER LEADS ALL CHALLENGERS; DURBIN TRASHES BURRIS (AGAIN); ANOTHER PALIN CHALLENGER; BILL CLINTON STILL SULKING.
NEW YORK. EXCLUSIVE.

A well-placed NY political consultant tells Politics1 he spoke directly with Governor David Paterson (D) last week about the 2010 elections. Paterson "absolutely plans to run again" and "is convinced [Attorney General Andrew] Cuomo will not challenge him in the primary" due to racism concerns. Cuomo was involved in a divisive 2002 gubernatorial nomination fight against State Comptroller Carl McCall, who is black. The contest left lingering feels against Cuomo in the black community. "When Cuomo realizes Paterson isn't going to walk away, and that Paterson will also likely be on the November ballot on a third-party line, Cuomo will walk away from the race," said the consultant. A series of recent independent polls show Cuomo leading the vulnerable Paterson by lopsider margins of 40-50 points in a Democratic primary. Paterson would also struggle in a general election against any of the likely GOP nominees.
PENNSYLVANIA. A new Quinnipiac poll shows US Senator Arlen Specter (D) leading conservative challenger former Congressman Pat Toomey (R) by a 46% to 37% vote. This margin is down 20-points since the last poll. Specter also leads Congressman Joe Sestak (D) by a 50% to 21% vote in a Democratic primary. The poll was taken before news broke about Sestak's decision that he would run. In a GOP primary, Toomey leads with 38%, centrist Congressman Jim Gerlach was at 10%, and conservative activist Peg Luksik had 3%.
ILLINOIS. As expected, US Senate Majority Whip Dick Durbin (D-IL) announced he will not support embattled interim US Senator Roland Burris (D) in next year's primary. "We stuck our neck out for him and said if you do this thing, you'll do it in a proper, professional way, then we can stand behind you being sworn into the Senate. And I just don't think his testimony [to the Illinois Legislature's Blagojevich impeachment panel] was complete and accurate," said Durbin to NBCChicago.com.
ALASKA. Former State House Minority Leader Ethan Berkowitz (D) is considering a gubernatorial bid next year against incumbent Governor Sarah Palin (R). Berkowitz came within 5-points of toppling veteran Congressman Don Young (R) last year, and also lost a run for Lieutenant Governor in 2006. A recent Hays Research Poll shows Palin at a 53% approval rating.
CLINTON. A revealing story in this upcoming Sunday's New York Times Magazine will report that former President Bill Clinton has gotten over any resentment towards President Obama for defeating Hillary Clinton last year. However, the story says he still harbors strong ill-feelings towards Senator Ted Kennedy, attorney Carolyn Kennedy, and New Mexico Governor Bill Richardson for endorsing Obama over his wife. From his White House years, Clinton thought of Ted Kennedy as being like family. He also feels betrayed by Richardson -- who also made a run for President last year -- as Richardson held several posts in the Clinton Administration.
Daily Report by Ron Gunzburger and Vin Gopal - 05.29.09 | Permalink |
ROY BARNES WEIGHS GA GOV COMEBACK; BURRIS CAUGHT ON FBI TAPES; SESTAK TO CHALLENGE SPECTER; REP McINTYRE RECONSIDERS SENATE RUN; PLUS ARKANSAS SEN AND ARIZONA CD-8 NEWS.
GEORGIA. Sounding more and

more like a 2010 gubernatorial candidate, former Governor Roy Barnes (D) blasted the entire field of GOP candidate for Governor for endorsing a resolution in the state legislature reaffirming Georgia's "right" to secede from the United States. "Have we absolutely gotten down in the politics of Georgia that leading candidates say we ought to secede from the Union? How dare them," said Barnes to WSB Radio. Barnes is planning to announce next Monday whether or not he'll enter next year's race. If you think you're good at reading the tea leaves, here is how Barnes answered as to what he is planning to do: "Having said that, I'm very concerned about where the state is. There's a saying in the Old Testament that says, 'The people perish where there is no vision.' What we have here, to a large extent, is a lack of vision and just looking towards petty, political gains." Major announced candidates for Governor to date include Attorney General Thurbert Baker (D), State House Minority Leader DuBose Porter (D), former State Labor Commissioner David Poythress (D), Congressman Nathan Deal (R), Secretary of State Karen Handel (R), State Senate President Eric Johnson (R), State Insurance Commissioner John Oxendine (R) and State Representative Austin Scott (R). Governor Sonny Perdue (R) is term-limited -- and is believed to be tacitly supporting Handel as his successor.
ILLINOIS. FBI tape recordings of phone conversations released publicly on Wednesday inflicted substantial political (and possibly criminal) damage on US Senator Roland Burris (D). The recordings detail Burris subtly negotiating with ousted Governor Rod Blagojevich's brother to raise money for Blagojevich's re-election campaign in exchange for being appointed to the Barack Obama's vacant US Senate seat. Answering questions on MSNBC's Hardball, Burris offered the somewhat lame defense that he was lying to Blagojevich's brother about being willing to follow through on his fundraising promises if he received the appointment -- as he never really intended to pay them for the seat.
PENNSYLVANIA. Congressman Joe Sestak (D) plans to ignore White House and DSCC pressure and will shortly announce his primary challenge to US Senator Arlen Specter (D). TalkingPointsMemo.com reports "is privately telling supporters that he intends to run for Senate." In support of the report, TPM quoted Sestak's sister and campaign employee: "He intends to get in the race." TPM also produced a scan of handwritten note from Sestak to a supporter in which the Congressman wrote: "I am writing you as especially dear supporters to let you know I intend to run for the US Senate." Meanwhile, State Representative Bill Kortz (D) -- a retired steelworker -- says he plans to also continue his primary run against Specter. While Sestak is positioning himself to the left of the incumbent former Republican, the pro-life and pro-gun rights Kortz is positioning himself to the right of Specter.
NORTH CAROLINA. Congressman Mike McIntyre (D) acknowledged he is reconsidering his earlier decision to not run against US Senator Richard Burr (R). "We have had several people encourage me to consider running for the US Senate, and make very positive comments about that possibility. So we'll take a look at it. You never say never to those kinds of possibilities," said McIntyre to the Fayetteville Observer. McIntyre's shift comes in the wake of Attorney General Roy Cooper's announcement last week that he won't enter the race. If McIntyre runs, he'd be the solid fronturnner for the Dem nomination.
ARKANSAS. Former US Attorney Tim Griffin (R) -- a former White House aide -- announced he would not challenge US Senator Blanche Lincoln (D) next year. He said "the timing" was not right for him.
ARIZONA. Republicans had hoped to recruit former US Surgeon General Richard Carmona to challenge Congresswoman Gabrielle Giffords (D). However, the Arizona Daily Star reports that Giffords is featuring Carmona as a speaker at Giffords' upcoming town hall forum on health care reform. "So much for the rumor that Carmona will run against Giffords next year," reported the newspaper.
Daily Report by Ron Gunzburger - 05.28.09 | Permalink |
SOTOMAYOR TAPPED FOR SUPREME COURT; MORE BAD NUMBERS FOR GOV PATERSON; OBAMA TO RAISE $$ FOR REID; BURR LEADS, BUT NOT OUT OF WOODS.
US SUPREME COURT. President Barack Obama nominated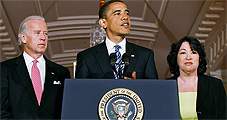 US Court of Appeals Judge Sonia Sotomayor of New York to become an Associate Justice on the US Supreme Court. If confirmed, Sotomayor will become the first Hispanic and third woman to serve on the nation's highest court. Obama's pick would also place a sixth Catholic on the bench out of the nine justices. Sotomayor's nomination received praise from top Democrats and several Republican Senators. Justice David Souter is retiring, which created the vacancy. Meanwhile, right-wing radio host Rush Limbaugh blasted President Barack Obama on Tuesday for picking a "reverse racist" and "hack" in Sotomayor. Her nomination is expected to easily received Senate ratification due to the Democrats' strong majority. [Ron's note: Here's a comment from my friend Alvin Entin (R-FL), a former GOP nominee for Congress and former legal counsel for the Broward County Republican Party: "I am enthusiastic about Obama's pick for the Supreme Court. I have appeared before [Sotomayor] when she sat on the SDNY bench. Super bright, knew the law, ruled decisively. Loved her style and she ruled against my client! Great pick."]
NEW YORK. A new Siena College poll shows Governor David Paterson (D) continuing to face major trouble next year. Only 27% have a favorable view of Paterson versus 63% with an unfavorable view. The poll -- yet again -- shows Paterson badly losing in a Democratic primary to Attorney General Andrew Cuomo (D) by a 70% to 19% vote.
NEVADA. President Barack Obama will host a fundraiser for US Senate Majority Leader Harry Reid (D-NV) on Thursday – an event expected to raise over a million dollars for Reid's 2010 re-election campaign. Recent polls show Reid is vulnerable. This is Obama's first major fundraising effort for a Democratic Senator.
P2012. FOX News talk show host Mike Huckabee -- a former Arkansas Governor and 2008 GOP Presidential candidate -- said he believes that RNC Chairman Michael Steele is doing a good job partly because of his skin color. "I'm not sure anyone else could be as effective in challenging the Obama policies any more so than Michael ... [because] I believe that no one is gonna be able to use the racism charge [against Steele when he criticizes Obama]," declared Huckabee. Former Huckabee campaign manager and a CNN analyst Ed Rollins distanced himself from Huckabee's comments. "I think the bottom line here is, Michael Steele is Chairman of our party not because he an African-American ... Whatever Mike [Huckabee] was trying to say was not thought out." Huckabee is a likely 2012 White House candidate.
NORTH CAROLINA. US Senator Richard Burr (R) appears to be the current favorite for re-election next year according to a new survey conducted by Public Policy Polling (D). National Dems have yet to recruit a strong candidate to run against Burr. Attorney General Roy Cooper (D) announced earlier this month that he would not run. In several prospective matchups, Burr defeats all his opponents by at least 8 points. However, Burr does not break the 50% against any potential rival. Several Democrats, including two sitting member of Congress, recently acknowledged they are looking at the race.
Daily Report by Vin Gopal - 05.27.09 | Permalink |
SUPREME COURT PICK EXPECTED THIS WEEK; SERRANO TOYS; SEN REID LOOKS WEAK; GOP STRONG IN VA GOV RACE.
US SUPREME COURT. Leading Colorado Democrats -- including Governor Bill Ritter and US Senator Mark Udall and Michael Bennet -- signed a letter to President Barack Obama urging him to appoint US Secretary of Interior Ken Salazar to the US Supreme Court vacancy. Salazar was a US Senator from Colorado prior to his elevation to the Cabinet. While Salazar is not believed to be on any short-lists for Justice David Souter's vacancy, the President is expected to announce his selection this week.
NEW YORK. Congressman Jose Serrano (D) announced he is strongly considering a primary run next year against interim US Senator Kirsten Gillibrand (D). Serrano, an ardent liberal, has strong ties in the Hispanic and progressive political communities. Serrano's announcement comes just after US Senator Chuck Schumer (D-NY) predicted that in the end Gillibrand won't face any serious primary opponents.

NEVADA. A new Mason-Dixon poll shows US Senate Majority Leader Harry Reid (D) continuing to look vulnerable. The poll reported that 45% say they will vote to replace Reid next year. Most importantly: 50% had an unfavorable view of Reid versus just 38% with a favorable view. Running in Reid's favor is the old adage: "You can't beat someone with no one." To date Reid's announced GOP challengers include Lieutenant Governor Brian Krolicki and politically-unknown physician Robin Titus. Krolicki is facing an upcoming criminal trial for alleged wrong-doing during his previous service as State Treasurer -- but proclaims his innocence and says he will stay in the Senate race.
VIRGINIA. New polls from SurveyUSA and Research 2000 both show former Attorney General Bob McDonnell (R) leading any of the three Democratic hopefuls. Depending on the poll and matchup, McDonnell holds leads any rival by margins of 6 to 13 points. Three new independent polls also show former Democratic National Chairman Terry McAuliffe leading his gubernatorial primary opponents by comfortable margins of 9-14 points.
Daily Report by Vin Gopal - 05.26.09 | Permalink |
BARBOUR ACTING LIKE PREZ CANDIDATE; LAZIO, LYNCH, McINNIS IN; WATTS OUT OF GUV RACES.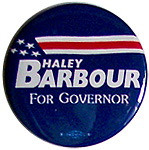 P2012. Wondering if Mississippi Governor Haley Barbour (R) -- a former Republican National Chairman and former top DC lobbyist -- is planning to run for President in 2012? Then check out his upcoming travel plans. Barbour is making political visits in June to both Iowa and New Hampshire to help state GOP groups raise money.
NEW YORK. As expected, former Congressman Rick Lazio (R) formally entered the race for Governor. A new Marist University poll shows Lazio leading vulnerable Governor David Paterson (D) by a 40-37 vote. The poll shows Paterson also trailing former New York City Mayor Rudy Guiliani (R) by a wider margin of 53-38 vote. Guiliani is no longer expected to enter the gubernatorial race -- although the poll shows he'd defeat Lazio by 75-14 vote in the GOP primary. Attorney Ed Cox (R), son-in-law of President Nixon, is also exploring the race. The poll also shows Paterson getting crushed by Attorney General Andrew Cuomo in a prospective Democratic primary by a 70-21 margin.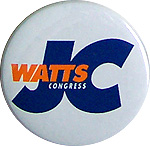 OKLAHOMA. Former Congressman JC Watts Jr. (R) announced he will not be a candidate for the state's highest office next year. With Watts out, Congresswoman Mary Fallin, a former Lieutenant Governor, is the solid GOP frontrunner for Governor.
RHODE ISLAND. Attorney General Patrick Lynch (D) announced he will be a candidate for Governor next year. Several other Dems are also looking at the race. Former US Senator Linc Chafee -- who quit the GOP and became an Independent after his 2006 reelection defeat -- is running. State Representative Joe Trillo is the only announced GOP hopeful. Governor Dan Carcieri (R) is term-limited.
COLORADO. Former Congressman Scott McInnis (R) filed paperwork this week to officially enter the 2010 race against Governor Bill Ritter (D).
Daily Report by Vin Gopal and Ron Gunzburger - 05.23.09 | Permalink |
THREE BAIL ON GOP GUV RACES, NY DEM BAILS ON GILLIBRAND PRIMARY CHALLENGE; CHRISTIE LEADING FOR NJ GOV GOP NOMINATION; SPECTER LEADS SESTAK BY WIDE MARGIN.
GOVERNOR 2010. Three prominent Republican elected officials announced they would not be making gubernatorial runs in their respective states. Florida Agriculture Commissioner Charles Bronson announced Thursday he will not run for Governor -- and he declined, for now, to endorse Attorney General Bill McCollum (R) for Governor. State Auditor Dave Vaudt -- one of only three Republicans who hold statewide office in Iowa -- said he will seek re-election next year rather than run for Governor. In Alabama, Hoover Mayor Tony Petelos said he won't make a run for Governor.

NEW YORK. Manhattan Borough President Scott Stringer (D), who has previously launched an exploratory committee to run against US Senator Kirsten Gillibrand (D) next year, announced he will not be a candidate. "In light of President Obama's clear desire to avoid a Democratic primary in New York State, I have decided to focus on my re-election race for Manhattan Borough President and to suspend my exploratory committee and fund-raising efforts for the 2010 Senate race," stated Stringer. Several other high profile Democrats, including three members of Congress, are still considering entering the race. Last week, Congressman Steve Israel announced he would not run after being persuaded so by Obama.
NEW JERSEY. Former

US Attorney Chis Christie has a strong 56%-33% lead over former Bogota Mayor Steve Lonegan for the GOP nomination for Governor, according to a new Quinnipiac University Poll. Christie is a centrist, while Lonegan is a conservative. Both candidates lead Democratic Governnor Jon Corzine in the polls.
PENNSYLVANIA. Vice President Joe Biden reiterated his support for Republican-turned-Democrat US Senator Arlen Specter's re-election campaign next year. "Over the years, we've certainly had our disagreements," Biden writes in a note sent to 500,000 Pennsylvanians on the Democratic National Committee/Organizing for America email list. "During that time, however, Arlen has been my friend, my confidant, and my partner in enacting many pieces of significant legislation." Specter may face a primary challenge from Congressman Joe Sestak. A new Garin-Hart-Yang Research Group poll conducted for the DSCC shows Specter leading Sestak by a 56-16 vote in a Democratic primary contest.
Daily Report by Vin Gopal - 05.22.09 | Permalink |
"ALL ABOARD" FOR THE CHU-CHU RUN-OFF; McAULIFFE STILL LEADS; RUDY LIKELY OUT, LAZIO IN FOR NY GOV; COBURN TO ANNOUNCE PLANS ON JUNE 1; GARMIN IS MY CO-PILOT.
CALIFORNIA. State Board of Equalization Vice Chair Judy Chu (D) placed first in Tuesday's open primary special election to fill US Labor Secretary Hilda Solis' vacant CD-32 seat. Chu finished first with 32%, followed by State Senator Gil Cedillo (D) at 23%, political activist Emanuel Pleitez (D) at 14%, and Monterey Park City Councilwoman Betty Chu (R) at 10%. Chu's first-place finish was particularly impressive as she is an Asian-American candidate in a district in which a majority of the voters are Hispanic. Judy Chu is a safe bet to win the July 14 run-off against Betty Chu and businessman Christopher Agrella (Libertarian).

VIRGINIA. A new SurveyUSA poll shows former Democratic National Chairman Terry McAuliffe continuing to lead in the gubernatorial primary contest. The numbers: McAuliffe - 37%, State Senator Creigh Deeds - 26%, former State House Democratic Caucus Chair Brian Moran - 22%. The primary is June 9.
NEW YORK. With former New York City Mayor Rudy Giuliani (R) dropping hints that he has decided not to run for Governor next year, former

Congressman Rick Lazio (R) appears likely to announce his candidacy next week. Lazio was the unsuccessful GOP nominee for US Senate against Hillary Clinton in 2000.
OKLAHOMA. US Senator Tom Coburn (R) will announced on June 1 whether he will seek reelection next year or retire. Although Coburn has less than $20,000 cash-on-hand and has made no fundraising effort for 2010, Republicans believe the conservative incumbent has changed his plans and will now announce he plans to run again. If Coburn runs, he is unlikely to face serious opposition.
FLORIDA. Our political quote of the day, showing some real self-deprecating humor, comes from long-shot US Senate candidate Marco Rubio (R). The conservative former State House Speaker posted this comment on Twitter about his low-budget effort: "On the road again today with my campaign aides Mr. Garmin and Mr. [Florida Turnpike] Sunpass."
Daily Report by Ron Gunzburger - 05.21.09 | Permalink |
QUICK TAKES. A new Mason-Dixon poll shows Florida Governor Charlie Crist leading former House Speaker Marco Rubio by a 53-18 vote in next year's GOP primary for US Senate. On the Dem side, the same poll shows Congressman Kendrick Meek leading State Senator Dan Gelber by a 26-16 vote. In a general election for Governor, Attorney General Bill McCollum (R) leads State CFO Alex Sink (D) by a 40-34 vote ...

US Senator Ted Kennedy's (D-MA) brain cancer is apparently in remission. He plans to return to work in June ... The US Senate passed the credit card reform legislation on Tuesday, which imposes strict new regulations on the industry. The House previously approved it ... Republican National Chairman Michael Steele said he is against the proposed RNC resolution to symbolically brand the Democratic Party as the "Democrat Socialist Party." Steele told FOX News: "I am not for that at all ... We need to be smart and strategic ... without the name calling and without the noise making." Florida GOP Chair Jim Greer, in an interview with the AP, also announced his opposition to the resolution: "I think it's stupid ... We need to be serious." New Jersey Republican National Committeeman David Norcross supports the resolution, and told CNN the resolution was being reworded to satisfy the concerns raised by Steele. Instead of "re-naming" the Democratic Party, the revised resolution will simply "condemn the Democrats' march to socialism."
Daily Report by Ron Gunzburger - 05.20.09 | Permalink |
KS DEMS STILL WITHOUT GOV CANDIDATE; DODD DRAWS DEM FOE; TUESDAY IS CALIFORNIA CD-32 PRIMARY DAY.
KANSAS. Democrats still cannot find a candidate to run for Governor -- even though they've held the big office since 2002. Governor Mark Parkinson (D), who succeeded to office a month ago when Governor Kathleen Sebelius was confirmed as US Health Secretary, has repeatedly said he won't run. Now newly sworn-in Lieutenant Governor Troy Findlay (D) announced during his first week in office that he won't run. State Treasurer Dennis McKinney (D) and Attorney General Stephen Six (D) said they intend to seek re-election next year. Dems are running out of viable options. On the GOP side, by contrast, US Senator Sam Brownback and Secretary of State Ron Thornburgh are both announced gubernatorial candidates.

CONNECTICUT. Embattled US Senator Chris Dodd (D) has drawn a seemingly significant primary challenger for 2010. Multimillionaire businessman Merrick Alpert has jumped into the race and launched his campaign website. Alpert -- a Dem activist who previously worked in the White House as an aide to Vice President Al Gore -- is also an attorney and Air Force veteran. Polls continue to show Dodd is highly vulnerable in general election matchups against either of the two top GOP hopefuls.
CALIFORNIA. Tuesday is election day in the CD-32 special election to fill US Labor Secretary Hilda Solis' vacant congressional seat. The district is solidly Democratic. Eight Dems, three Republicans and a Libertarian are competing on the ballot. If no candidate wins a majority of the vote in the all-party primary, the top finishers from each party will meet in a July 14 run-off. State Board of Equalization Vice Chair Judy Chu (D) is the solid frontrunner to ultimately win the seat, but most pundits expect she will be unable to to score an outright win Tuesday because of the crowded field -- and the last-name confusion caused by distant cousin and Monterey Park City Councilwoman Betty Chu (R) also running. State Senator Gil Cedillo is Chu's main Democratic rival. A very low turnout is expected.
Daily Report by Ron Gunzburger - 05.19.09 | Permalink |
TOP DEM RECRUIT PASSES ON NC SENATE RACE; REP ISRAEL REVERSES COURSE, WON'T CHALLENGE GILLIBRAND.
NORTH CAROLINA. Attorney General Roy Cooper (D) announced he will not be a candidate for the US Senate next year, instead opting to seek re-election. Cooper had been heavily courted by the DSCC to challenge vulnerable incumbent Richard Burr (R). Several other Democratic elected officials -- including some US House members -- are looking at the race.
NEW YORK. Congressman Steve Israel (D) reversed course and now announced that he will not challenge US Senator Kirsten Gillibrand in next year's Democratic primary. The news came just a week after Israel told his colleagues he had decided to run. Israel said he was persuaded not to run by President Barack Obama. "The President asked me to continue my leadership in Congress ... [and] not run for the US Senate," explained the Long Island Congressman in his written statement.
Daily Report by Vin Gopal - 05.18.09 | Permalink |
GOV HUNTSMAN JOINS OBAMA ADMINISTRATION; NJ GOV CORZINE STILL TRAILING; KENNEDY ENDORSES MORAN; PAGING DR. PAUL #2; REFLECTING FLORIDA'S DIVERSITY.
WHITE HOUSE. In a

major surprise, President Obama will announce Saturday that he has selected two-term Utah Governor Jon Huntsman Jr. (R) to be the next US Ambassador to China. Huntsman, who previously served as US Ambassador to Singapore during the Bush-43 Administration, speaks fluent Mandarin Chinese, serbed as a Mormon missionairy in Taiwan, and has an adopted daughter from China. The billionaire business scion and father of seven -- has also become an outspoken leader of the centrist faction of the Republican Party in recent months, as Huntsman was seemingly preparing to make a 2012 run for President. Huntsman is pro-life but supports same-sex civil unions and has criticized the Obama stimulus package ... for not being big enough. He has asserted that the Republican Party must significantly change on gay and environmental issues to win the support of voters under age 40 -- or the party will have no political future. Click here to read more about Huntsman's vision for the saving the GOP. Lieutenant Governor Gary Herbert (R) was apparently surprised that Huntsman was planning to imminently resign, telling the Salt Lake Tribune he hadn't known anything about the move.
NEW JERSEY. Former US Attorney Chris Christie (R) now leads Governor Jon Corzine (D) by a 47%-38% vote, according to the latest Rasmussen poll. Corzine narrowly trails former Bogota Mayor Steve Lonegan (R) by a 42-41 vote. Christie is a GOP centrist, while Lonegan is a staunch conservative.
VIRGINIA. Congressman Patrick Kennedy (D-RI) -- the son of US Senator Ted Kennedy (D-MA) -- announced his endorsement of former State House Democratic Caucus Chair Brian Moran in the June 9 primary. Kennedy is also trying to raise Moran money. Another Kennedy -- Ethel, widow of the late US Senator Robert F. Kennedy -- is hosting a fundraiser for Moran on May 27 at her home.
KENTUCKY. Dr. Rand Paul, son of Congressman Ron Paul (R-TX), announced his candidacy against US Senator Jim Bunning in next year's Republican primary. Rand Paul says his libertarian political views mirror those of his father.
A PHOTO EDITORIAL FROM RON: Florida has one of the most diverse populations in the nation. Pictures speak louder than words, so check out this amazingly diverse crew ...


Talk about diversity, these white guys run the skin-tone gamut from dark tan (Crist) to pasty pale (Putnam), plus one wears glasses, and another even has a mustache. Wow! Meet the Republican Party of Florida "establishment" slate of statewide candidates for 2010. Good work, guys ... and, obviously, I just mean white Christian guys.
Daily Report by Vin Gopal and Ron Gunzburger - 05.16.09 | Permalink |
SPECTER PRIMARY FOE QUITS; ARK GOP US SEN CANDIDATE CALLS SCHUMER "THAT JEW"; NRCC TRYING TO ENTICE EX-FOOTBALL PLAYER TO RUN IN NC; GOV SANFORD'S CHOICE; NEW KS LT GOV; NH ON BRINK OF GAY MARRIAGE.
PENNSYLVANIA. US Senator Arlen Specter's (D) leading opponent in the Democratic primary next year has dropped out. Joe Torsella, the former head of the National Constitution Center and a close ally of Governor Ed Rendell (D), is exiting the contest. Congressman Joe Sestak (D) -- a former Navy Admiral -- is still seriously considering the race, although many pundits believe Sestak is just pushing Specter to vote more with the Democrats while at the same time serving to raise Sestak's national profile.

ARKANSAS. State Senator Kim Hendren ( R), the current frontrunner to challenge US Senator Blanche Lincoln (D) next year, is drawing heat for referring to US Senator Chuck Schumer (D-NY) as "that Jew." The speech was given to Pulaski County Republican Party activists. Hendren quickly apologized: "At the meeting I was attempting to explain that unlike Senator Schumer, I believe in traditional values ... I made the mistake of referring to Senator Schumer as 'that Jew' and I should not have put it that way as this took away from what I was trying to say." State Senator Gilbert Baker and former US Attorney Tim Griffin are both considering running against Hendren in the GOP primary. Arkansas, a state which Barack Obama lost by over 20 points, is expected to be targeted by the NRSC.
NORTH CAROLINA. Former Carolina Panthers football star safety Mike Minter (R) is considering running for Congress next year against freshman Congressman Larry Kissell (D). Obama narrowly carried Kissell's district with 52% and a high African-American turnout. However, Minter is African-American. Republicans believe he could be the candidate to take back the seat for them.
SOUTH CAROLINA. State Representative Nikki Haley (R) -- a staunch anti-tax activist -- announced her candidacy for Governor on Thursday. Governor Mark Sanford (R), who is term-limited, is purportedly tacitly backing the dynamic and young Haley as his successor. Congressman Gresham Barrett, State Senator Larry Grooms previously announced their GOP candidacies for Governor, and Attorney General Henry McMaster and Lieutenant Governor Andre Bauer are expected to enter the race soon. Announced Democratic candidates to date include State Senators Robert Ford and Vincent Sheheen and wealthy attorney Mullins McLeod.
KANSAS. Governor Mark Parkinson (D), who rose the governorship recently with the elevation of Governor Kathleen Sebelius (D) into President Barack Obama's Cabinet, appointed his Chief of Staff Troy Findley (D) to replace him as the new Lieutenant Governor. Findley will also continue to serve as Parkinson's Chief of Staff

GAY MARRIAGE. New Hampshire Governor John Lynch (D) announced he will sign into law a bill allowing same-sex couples to marry -- but only if the state legislature agrees to adding some key terms to protect religious groups. The suggested changes would only give further legal protection to individuals working directly for a religious organization or an entity that a religious group owns or controls. "This morning, I met with House and Senate leaders, and the sponsors of this legislation, and gave them language that will provide additional protections to religious institutions. This new language will provide the strongest and clearest protections for religious institutions and associations, and for the individuals working with such institutions," said Lynch. The requested changes are fairly non-controversial, so New Hampshire is certain to become the sixth state to recognize same-sex civil marriages.
Daily Report by Vin Gopal - 05.15.09 | Permalink |
FLA DEMS RALLY BEHIND SINK; HODES NARROWLY LEADS IN NH; CUOMO HAS LADNSLIDE LEAD OVER PATERSON ; KIRK WAFFLES ON IL SEN RACE.
FLORIDA. State CFO Adelaide "Alex" Sink (D) jumped into the open race for Governor on Wednesday. Sink is unlikely to face serious opposition for the nomination, as Dems were quickly to rally behind her. Sink is also a retired bank president and the wife of 2002 Dem gubernatorial nominee Bill McBride. Attorney General Bill McCollum and State Agriculture Commissioner Charles Bronson are expected to jump into the race by the end of next week.
NEW HAMPSHIRE. A new

Dartmouth College poll shows Congressman Paul Hodes (D) narrowly leading in the open seat race for US Senator. Hodes leads former US Senator John Sununu Jr (R) by a 38-35 vote. Hodes leads former Congressman Charlie Bass (R) by a 31-30 vote.
NEW YORK. The latest Quinnipiac University poll shows Governor David Paterson (D) continuing to trail badly in his bid next year to keep his job. The poll shows Attorney General Andrew Cuomo leading Paterson by a lopsided 62-17 vote in next year's gubernatorial primary.
ILLINOIS. Congressman Mark Kirk (R) has again delayed his announced date for making a decision on the 2010 US Senate race. He had promised to make a decision by the end of April. Now he says he's still pondering the race. According to The Hill, GOP strategists who have spoken with Kirk say he is "highly risk-averse" and "very cautious." They now say the odds of Kirk running are only 50-50. Kirk is apparently waiting to see what happens on the Democratic side of the race. While it is clear incumbent US Senator Roland Burris will lose badly in a primary if he decides to run, it is unclear is announce candidate State Treasurer Alex Giannoulias will be the Democratic nominee. Kirk believes he can defeat Giannoulias. However, the DSCC is reportedly trying to entice Attorney General Lisa Madigan to jump in, as polls show she would easily defeat Kirk. If Madigan runs, Kirk is certain to instead seek reelection next year. Other Dems are also still looking at the race. Congressman Peter Roskam (R), who had openly explored the contest, now has made it clear that he will stay out and seek reelection to the House next year.
Daily Report by Ron Gunzburger - 05.14.09 | Permalink |
UTAH A.G. WILL PRIMARY SEN BENNETT; HUCKABEE MOCKS GOP "RE-BRANDING" GROUP; ONLY STATEWIDE GOP ELECTED OFFICIAL PASSES ON NM GOV RACE; GOP LEADERS RALLIES BEHIND CRIST.
UTAH. Attorney General Mark Shurtleff accidentally issued a statement on Twitter -- one he thought was just being privately sent in response to a friend's posting -- admitting he's planning to imminently announce his GOP primary challenge next week against US Senator Bob Bennett. Shurtleff is trying to position himself as a "conservative alternative" to Bennett. The incumbent has a 83% lifetime approval rating from the American Conservative Union. Former Juab County Prosecutor David Leavitt -- brother of former Governor Mike Leavitt -- is also running against Bennett in the 2010 primary. Polls show Bennett holding a solid lead over both men. State Alcoholic Beverage Control Commission Chair Sam Granato appears likely to be the sacrificial Democratic nominee for the Senate seat. Race rating: Safe GOP.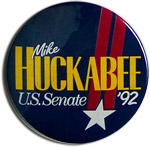 REPUBLICAN PARTY. Former Arkansas Governor Mike Huckabee -- a 2008 GOP Presidential candidate -- is openly mocking the new group National Council for a New America for its attempt to "re-brand" the Republican Party. The Baptist pastor and FOX TV show host wrote in his Tuesday column that it was "hard to keep from laughing out loud when people living in the bubble of the Beltway suddenly wake up one day and think they ought to have a listening tour." The conservative NCNA group was formed by US House Minority Whip Eric Cantor (R-VA). In addition to Cantor, other leaders of the group include US Senator John McCain (R-AZ.), Governors Bobby Jindal (R-LA), Sarah Palin (R-AK) and Haley Barbour (R-MS), and former Governors Mitt Romney (R-MA) and Jeb Bush (R-FL). "For those on the listening tour, listen to this. If the party elite want to abandon principled leadership to protect life, support traditional marriage while going along with deficit exploding spending, interference and micro-managing of private business and failing to police corruption and govern competently, then hearing aids or a panel of experts won't help," Huckabee wrote. The NCNA group is trying to develop a consensus opposition agenda that entirely avoids discussing the hot-button abortion, gay marriage, and immigration issues. Huckabee, Palin, Jindal, Romney, Barbour and Bush are all potential 2012 GOP Presidential candidates.
NEW MEXICO. State Land Commission Pat Lyons (R) had decided to pass on the open gubernatorial race, despite being term-limited and the only current GOP statewide elected official. Instead, Lyons announced he will run for an open seat on the state's Public Regulation Commission.
FLORIDA. That was quick. Just hours after Governor Charlie Crist (R) jumped into the open US Senate race, he scored the endorsements of the NRSC, the Florida Republican Party, US Senate Minority Leader Mitch McConnell. Retiring US Senator Mel Martinez (R) openly boasted he was the one who rounded up the DC endorsements for Crist. Former State House Speaker Marco Rubio (R) -- positioning himself as a conservative Club for Growth alternative to the centrist Crist -- quickly launched an online anti-Crist ad and blasted the NRSC. "It appears I won't win the Washington DC primary. Lucky for me I am running in the Florida GOP primary ... Disappointed [the NRSC] endorses Crist on Day 1. Remember that reform must always come from the outside. Status quo won't change itself," wrote Rubio on his Twitter page. In related news, former Governor Jeb Bush and Congressman Vern Buchanan immediately issued statements saying they will not be GOP candidates for Governor next year.
Daily Report by Ron Gunzburger - 05.13.09 | Permalink |
CRIST ENTERS FLA SENATE RACE; CONGRESSMAN ISRAEL TO CHALLENGE GILLIBRAND; BATMAN WON'T RUN FOR NM GOV; NRCC'S TOP CHOICE WON'T RUN IN IDAHO.
FLORIDA. Governor

Charlie Crist (R) will officially enter the open US Senate race on Tuesday. A low-key entrance is planned: the announcement will be made by the release of written statement. No formal kick-off tour is planned -- at least, not yet. Former State House Speaker Marco Rubio (R) is already an announced candidate, positioning himself as a Club for Growth conservative running against a pro-Obama stimulus package GOP centrist. Polls show Crist holding an almost insurmountable lead over Rubio. However, Rubio's strategy us unconventional. He's counting on scoring a narrow upset in a very low turnout race -- like the roughly 15% turnout Republicans have seen in some recent statewide primaries -- with the help of a motivated core GOP base of angry social/fiscal conservatives. Congressman Kendrick Meek and State Senator Dan Gelber are the leading announced Democratic candidates for US Senator. In related news, Tampa Mayor Pam Iorio (D) and St. Petersburg Mayor Rick Baker (R) both announced Monday they will not be candidates for any statewide offices in 2010. In the open gubernatorial race, State CFO Alex Sink (D), Attorney General Bill McCollum (R) and State Agriculture Commissioner Charles Bronson (R) are certain to jump in this week. Lieutenant Governor Jeff Kottkamp and Congressman Vern Buchanan are also potential GOP candidates for Governor.
NEW YORK. Congressman Steve Israel (D) told his Democratic colleagues this past weekend that he will soon announce his candidate against US Senator Kirsten Gillibrand (D) in next year's primary. Congresswomen Carolyn McCarthy and Carolyn Maloney and Manhattan Borough President Scott Stringer are also exploring primary challenges against the interim incumbent in the special election. US Senator Chuck Schumer (D), who is backing Gillibrand, has backed off his prior pledge to actively work to block a primary challenge. He now says he will not take any action to keep candidates off the primary ballot. Israel plans to make an official announcement this week. Two Republicans -- former Governor George Pataki and Congressman Pete King -- are also looking looking at the race.
NEW MEXICO. Not entirely a surprise, but actor and rancher Val Kilmer will not run for Governor next year. Asked by Politico if he plans to enter the race -- as he has openly discussed for month -- Kilmer responded: "No, probably not."
IDAHO. In a major surprise, State Treasurer Ron Crane (R) -- the NRCC's first choice to challenge freshman Congressman Walt Minnick (D) -- announced he will not run. Crane had just visited DC last week to meet with NRCC leaders. "I seriously explored it. I have come to the conclusion not to run," he told the Idaho Press-Tribune. The Republicans are still certain to find a strong candidate for this GOP-leading seat.
Daily Report by Ron Gunzburger - 05.12.09 | Permalink |
CHU FRONTRUNNER IN CAL CD-32 SPECIAL; CHENEY SAYS LIMBAUGH IS RIGHT, COLIN POWELL NO LONGER REPUBLICAN; CRIST TO ANNOUNCE PLANS TUESDAY; McAULIFFE LEADS FOR VA GOV PRIMARY; CASTLE LEADS BIDEN; BUNNING STAYS THE COURSE.
CALIFORNIA. State Board of Equalization Chair Judy Chu (D) leads all candidates in fundraising for the May 19th special election for Secretary of Labor Hilda Solis' former CD-32 seat in the US House. Chu has raised $993,000 -- leading her top opponent State Senator Gil Cedillo (D), who has raised $717,000 as of the most recent federal reports. Chu, a former state legislator, has endorsements from Los Angeles Mayor Antonio Villaraigosa, Congresswoman Loretta Sanchez, and several other prominent members of Congress from California. Cedillo enjoys the support of most of the Hispanic elected officials in a district dominated by Hispanic voters. Sanchez's sister, Congresswoman Linda Sanchez, is also backing Cedillo. The seat is considered safely Democratic.

REPUBLICAN PARTY. Former Vice President Dick Cheney told CBS this weekend that he wasn't sure if his former Secretary of State, Colin Powell, was still a Republican. Cheney told moderator Bob Schieffer: "My take on it was Colin had already left the party. I didn't know he was still a Republican." Powell served as National Security Advisor and Chairman of the Joint Chiefs of Staff to President George H.W. Bush and later was Secretary of State to President George W. Bush. Powell endorsed Barack Obama for President last year and recently said right-wing radio host Rush Limbaugh was doing more harm than good for the Republican Party. Cheney, by contrast, said he'd prefer a GOP led by someone like Limbaugh. "If I had to choose in terms of being a Republican, I'd choose Rush Limbaugh ... I don't think the Republican Party ought to move far to the left."
FLORIDA. Governor Charlie Crist (R) will announce his candidacy for the US Senate on Tuesday, according to several key sources. Florida Republican Chairman Jim Greer -- a close Crist ally -- says he believes Crist has "concluded that the problems and issues that Floridians are facing -- high unemployment and the economy -- can't be solved in Tallahassee, they need to be solved in Washington, and I believe that's what he's going to do."
VIRGINIA. A new Public Policy Poll (D) shows former DNC Chairman Terry McAuliffe leading in this year's primary for Governor. McAuliffe is at 30%, followed by former State Representative Brian Moran at 20%, and State Senator Creigh Deeds at 18%.
DELAWARE. A new Susquehanna Polling & Research survey shows Congressman Michael Castle (R) holding a strong lead over Attorney General Beau Biden (D) in the 2010 special election for the open US Senate seat. Castle leads Biden by a 55% to 34% vote. Castle openly says he has yet to decide if he will seek reelection, run for US Senate, or retire next year. Biden -- and Iraq War veteran and the son of Vice President Joe Biden -- has already made it clear he will seek the seat formerly held by his father.
KENTUCKY. Despite speculation to the contrary, vulnerable US Senator Jim Bunning (R) reiterated at the Republican Party of Kentucky's 2009 Lincoln Day Dinner that he plans to seek reelection next year. Many pundits believed Bunning was planning to announce his retirement, in response to weak poll numbers and poor fundraising to date. He is certain to face both a serious primary challenge and a tough general election race if he stays in the contest.

P2008 REDUX. ABC's George Stephanopoulos is reporting that several top campaign staffers to former US Senator John Edwards' 2008 Presidential campaign got together in late December of 2007 -- after they believed that the rumors of Edwards having an extramarital affair was accurate. These staffers devised a plan to sabotage Edwards chances of winning the nomination if it looked like he would get close, in order to protect the Democratic Party's chances of winning the 2008 election. Note from Ron: This seems very likely. When I published this story, I quickly received a call from Edwards' press secretary. He asked me what else I heard, inquired if I planned to write more about the "affair rumors," and questioned me as to whether I was "sitting on more" details about a purported sexual affair. My immediate reaction to this response was: "The allegations are true." Postscript: Former Edwards campaign manager Joe Trippi insists the story is false. "Complete BS - fantasyland - not true," posted Trippi on Twitter. Stephanopoulos says he stands by his story, and never said Trippi was part of the insider group plotting to sabotage Edwards.
Daily Report by Vin Gopal - 05.11.09 | Permalink |
RIDGE IS OUT; DEMS LEAD OHIO GOV, US SEN RACES; OREGON GOP RECRUITS CANDIDATE AGAINST DeFAZIO; PORN STAR ENTER RACE AGAINST VITTER; MD GOV MAY FACE DEM PRIMARY.
PENNSYLVANIA. Former Governor
Tom Ridge (R) announced he will not be a candidate for the US Senate next year. National Republican leaders had turned to the former US Homeland Security Secretary after US Senator Arlen Specter defected to the Democrats two weeks ago. Ridge was leading Specter in two recent polls. "Tom Ridge didn't run for Senate because he is pro-choice and cannot beat Toomey in a primary. Sad commentary when a two-term Governor can't win a party primary," said GOP political consultant Roger Stone, who has advised Specter for years. A Research 2000 poll released Thursday backed Stone's analysis, showing [former Congressman Pat] Toomey leading Ridge by a 41-33 vote in a GOP primary. On MSNBC's Hardball, Ridge later declined to state who he would support in a general election contest between Specter and Toomey. Congressman Joe Sestak (D) also sounds increasingly likely to challenge Specter in next year's Democratic primary.
OHIO. A new Quinnipiac University poll shows the Democrats look strong in next year's races for Govenor and US Senate. In the Democratic primary for the open US Senate seat, Lieutenant Governor Lee Fisher has 20%, Secretary of State Jennifer Brunner has 16%, and State Representative Tyrone Yates has 4%. In the Republican primary, former Congressman Rob Portman has 29%, and State Auditor Mary Taylor and auto dealer Tom Granley are tied at 8% each. In general election matchups, Fisher leads either Portman and Taylor by double-digits. Brunner leads Portman by 8-points and leads Taylor by 9-points. US Senator George Voinovoich (R) is retiring. In the race for Governor, incumbent Ted Strickland (D) appears to be in good shape for re-election. Strickland leads former Congressman John Kasich (R) by a vote of 51% to 32%. Strickland also leads former US Senator Mike DeWine (R) by a vote of 48% to 36%. However, most insiders expect DeWine to run for Attorney General instead of seeking the Governorship
OREGON. Springfield Mayor Sid Leiken (R) announced he will challenge Congressman Peter DeFazio (D) next year. The NRCC worked to recruit Leiken into the race, believing him to a top-tier recruit -- but DeFazio would still be rated the frontrunner in the race. Some Oregon political believe DeFazio may make a run for Governor in 2010 instead of seeking re-election, which could make for a competitive open seat contest.
LOUISIANA. Porn star Stormy Daniels has announced her candidacy against US Senator David Vitter (R). Daniels acknowledges she won't defeat Vitter, but wants to make his hypocricy an issue. "He ran for the Senate on a family values, anti-sex education platform, and he's caught with prostitutes. That's hypocritical. Call me what you will, but you can't call me a hypocrite," said Daniels to the Times of London. She has not decided whether to run with a political party or as an independent. However, Daniels will certainly be just a colorful sideshow in the race. Vitter publicly confessed to "serious sins" after he was named as a client three years ago in a DC prostitution ring scandal. Secretary of State Jay Dardenne is still considering a GOP primary challenge, and several Dems are still looking at the race.
MARYLAND. Former State Veterans Affairs Secretary and former State House Majority Whip George Owings (D) is considering a Democratic primary challenge to Governor Martin O'Malley next year. Ownings is a conservative Democrat who served in the Cabinet of former GOP Governor Bob Ehrlich. Attorney Mike Pappas is already an announced GOP candidate, and Ehrlich and businessman Charles Lollar are also considering GOP runs against O'Malley.
Daily Report by Ron Gunzburger - 05.08.09 | Permalink |
ROMNEY MAKES NH HIS NEW HOMESTATE; GAY MARRIAGE WINS MAINE, DC VICTORIES; BACHMANN TO FACE TOUGH FIGHT AGAIN IN '10.
P2012. Former Massachusetts Governor Mitt Romney (R) has changed his permanent residency to New Hampshire. Romney had a second home in the Granite State for years, along with homes in Utah and Massachusetts. However, he reportedly sold his Utah and Massachusetts homes in recent months -- possibly related to the economic downturn. Just another sign Romney is already focusing on making a second Presidential run in 2012.

GAY MARRIAGE. A day after the Maine Legislature approved a bill legalizing same-sex marriage in the state, Governor John Baldacci (D) signed it into law on Wednesday. Republican National Chairman Michael Steele attacked the move in a written statement: "I believe that marriage should be between one man and one woman and strongly disagree with Maine's decision to legalize gay marriage." Next door in New Hampshire, Governor John Lynch (D) sounds like he plans to veto the same-sex marriage bill approved last week by the legislature -- but he has yet to make a final decision. Lynch says he supports the state's existing same-sex civil union law, but not gay marriage. In other related news, US House Speaker Nancy Pelosi (D-CA) said Congress will not repeal the DC City Council's legislative move which recognizes same-sex marriages performed in other states. "I don't think the Congress should intervene there in terms of their recognition of marriages in the states that allow them," explained Pelosi.
MINNESOTA. Controversial conservative Congresswoman Michelle Bachmann (R) appears likely to face another tough race next year. She nearly lost in an upset in 2008 to minister and former Blaine Mayor Elwyn Tinklenberg (DFL), after Bachmann said in a national television interview that she wanted an investigation into the "anti-American" members of Congress.. Tinklenberg announced this week he will seek a rematch in 2010. Former University of Minnesota Board of Regents Chair and physician Maureen Reed -- the Independence Party's 2006 nominee for Lieutenant Governor -- also filed paperwork this week to seek the Democratic nomination against Bachmann.
Daily Report by Ron Gunzburger - 05.07.09 | Permalink |
RUBIO ANNOUNCES AGAINST CRIST; SPECTER GAFFES, RIDGE RESIDES IN WRONG STATE, DEM LEADERS WON'T BACK SESTAK; NBA GREAT DAVE BING ELECTED DETROIT MAYOR.
FLORIDA. Former State House Speaker Marco Rubio made it official on Tuesday, saying he is running for the open US Senate seat. In fact, Rubio pointedly noted he plans to stay in the contest if Governor Charlie Crist (R) jumps in. Crist is expected to announce his Senate candidacy next week. He was also unruffled by Rubio's shot-across-the-bow announcement, politely responding to media inquiries that "Everybody has the right to run. It's a great part of our country and a great tradition."
PENNSYLVANIA. US Senator Arlen Specter (D) made a rather embarrassing gaffe on Tuesday. In an interview with the New York Times magazine, he said: "There's still time for the Minnesota courts to do justice and declare Norm Coleman the winner." In a subsequent interview with CQ Politics, Specter corrected himself: "In the swirl of moving from one caucus to another, I have to get used to my new teammates. I'm ordinarily pretty correct in what I say. I've made a career of being precise. I conclusively misspoke ... I'm looking for more Democratic members. Nothing personal," said Specter. Former Governor Tom Ridge (R) -- who promises to make a decision on the race within the next two weeks -- also had an embarrassing Tuesday. It seems that Ridge, in federal lobbying paperwork he filed in June 2008 disclosing himself as a paid agent for the Albanian government, listed Maryland as his home state of residence. Congressman Joe Sestak (D) also appears to be inching towards a primary challenge against Specter. Sestak notes that he campaigned for Obama last year, while Specter supported Bush. Sestak also will face opposition from the united DC and state Democratic leaders. President Obama, US Senate Majority Leader Harry Reid (D-NV), US Senator Bob Casey Jr. (D-PA) and Governor Ed Rendell (D) have all endorsed Specter for reelection next year.
DETROIT. Businessman Dave Bing -- a former pro basketball star and Hall of Fame member -- was elected Detroit Mayor in Tuesday's special election. Bing defeated City Council President and Acting Mayor Ken Cockrel Jr by a vote of 52% to 48%.
Daily Report by Ron Gunzburger and Vin Gopal - 05.06.09 | Permalink |
SUNUNU LEADS HODES; GILLIBRAND STILL WEAK; RUBIO SUGGESTS CRIST SWITCH PARTIES; A SECOND DR. PAUL LOOKS AT DC RUN; SPECTER HAS BIG LEAD OVER TOOMEY.
NEW HAMPSHIRE. A new Granite State/UNH poll shows former US Senator John Sununu Jr (R) leading Congressman Paul Hodes (D) by a 46% to 41% vote, with 2% supporting "Other." Sununu also has 88% name ID versus Hodes with 65% name ID. In other NH news, Manchester Mayor Frank Guinta (R) filed paperwork to run against Congresswoman Carol Shea-Porter (D) next year, setting up a competitive race in 2010.

NEW YORK. The latest Marist Poll shows interim US Senator Kirsten Gillibrand (D) will face a tough fight to keep her job next year. Gillibrand leads Congresswoman Carolyn Maloney by a narrow 36-31 vote in the Democratic primary. Former Governor George Paraki leads Congressman Pete King by a 48-36 vote in the GOP primary. In general election matchups, Gillibrand leads King by a 42-31 vote ... but trails Pataki by a 46-38 vote.

FLORIDA. Former State House Speaker Marco Rubio -- the likely conservative GOP primary opponent against Governor Charlie Crist in next year's open US Senate race -- seemingly told a newspaper that Crist is so moderate he should switch parties. "If you agree with [US Senators] Susan Collins or Olympia Snowe on some of these issues [like the Obama stimulus package], you might as well become a Democrat," said Rubio to the St. Petersburg Times. Former Governor Jeb Bush (R) has had a strained relationship with Crist and Bush's faction of the party appears to be tacitly backing Rubio. Polls, however, show Crist a near lock to win the Senate race if he jumps in.
KENTUCKY. Dr. Rand Paul (R) -- the son of 1988 & 2008 presidential candidate and Congressman Ron Paul (R-TX) -- is strongly considering a bid for the US Senate seat currently held by incumbent Jim Bunning (R). "I am very serious about running for Sen. Bunning's seat if he decides not to run," Paul told CNN. "Until he makes a final pronouncement, I'm trying not to do anything formally, but I'm very close to making a decision." Paul says he shares the libertarian views of his father
PENNSYLVANIA. US Senator Arlen Specter (D) made a wise move switching parties, according to a new Quinnipiac University poll. Specter now leads former Congressman Pat Toomey (R) by a 55-33 vote. Specter narrowly leads former Governor Tom Ridge (R) by a 46-43 vote.
Daily Report by Ron Gunzburger and Vin Gopal - 05.05.09 | Permalink |
RIDGE, GERLACH CONSIDER PENN SENATE RUNS; COBURN STILL UNDECIDED ON REELECTION BID; KASICH RUNS FOR OHIO GUV; JACK KEMP DIES.

PENNSYLVANIA. Congressman Jim Gerlach -- a GOP centrist who has already launched an exploratory committee to run for Governor next year -- is reportedly considering switching into the US Senate race against incumbent Arlen Specter (D). Gerlach and Specter have nearly identical stances on issues, but Specter's party switch last week motivated the reconsideration. The NRSC has concerns that former Congressman Pat Toomey (R) is simply too conservative to win the general election for the Senate seat. Other leading Republicans are trying to convince former Governor and former US Homeland Security Secretary Tom Ridge to jump into the Senate race. Media reports indicate the pro-choice Ridge is at least somewhat receptive to the idea.
OKLAHOMA. US Senator Tom Coburn (R) has again deferred announcing his reelection plans for next year. The incumbent had originally told reporters he would decide by February or March whether he would seek a second term in 2010. Coburn now says he's still undecided and hopes to make a decision by mid-June.
OHIO. Former Congressman John Kasich (R) -- who was briefly a candidate for President in 2000 -- announced his candidacy for Governor in Friday. Kasich is heavily favored to win the GOP primary over State Senator Kevin Coughlin. Governor Ted Strickland (D) is currently leading all potential GOP challengers in the polls.

OBITUARY. Former Congressman Jack Kemp (R-NY) died on Saturday of cancer at age 73. Kemp first gained the national spotlight as a pro football quarterback with the Buffalo Bills, and was the AFL's Most Valuable Player in 1965. He was an aide to Governor Ronald Reagan for two years in the last 1960s, before being elected to Congress in 1970. A supply-side conservative, Kemp was a vocal leader of the Goldwater-Reagan wing of the Republican Party -- but Kemp was also outspoken in his belief the GOP needed to make major efforts to be more inclusive of minorities and speak up on racial equality issues. He was also a strong supporter of liberal immigration laws and creating a path to citizenship for illegal aliens. Kemp gave up his House seat to make an unsuccessful run for President in 1988. Kemp later served as US Housing Secretary during President George H.W. Bush's Administration. President Obama praised Kemp in Sunday as someone who "understood that divisions involving race and class stood in the way of the country's common goals."
Daily Report by Ron Gunzburger - 05.04.09 | Permalink |
FRIDAY NEWS UPDATE (AND HAPPY MAY DAY).
SESTAK CONSIDERS SPECTER PRIMARY RUN; BUNNING BACKS GRAYSON ... IF HE RETIRES; JUSTICE SOUTER EXPECTED TO RETIRE IN JUNE.
PENNSYLVANIA. Congressman Joe Sestak (D) -- a retired Navy Admiral -- said he was still thinking of challenging US Senator Arlen Specter (D) next year. During a radio appearance on the Bill Press Show, Sestak said that Specter's party switch and open support from President Obama, Senate Majority Reader Harry Reid, Governor Ed Rendell and others wouldn't influence his decision on the race. "Pennsylvanians need to make this decision and not have it decided by [the] Washington, D.C., Democratic Party establishment ... I think this just comes down to what's best for Pennsylvanians," said Sestak.

KENTUCKY. Secretary of State Trey Grayson (R) filed paperwork to form an exploratory committee to run for US Senator Jim Bunning's (R) seat next year -- and he did so with Bunning's blessing. "I have no plans to run against Sen. Bunning. This exploratory committee will allow me to travel the commonwealth, meet with potential supporters and lay the foundation for a campaign" if Bunning retires, said Grayson in his written announcement statement. "Senator Bunning has every intention of running," said the Senator's spokesman to The Hill on Thursday. However, many think the news -- the way it was choreographed -- signals that Bunning is at least contemplating a possible retirement. Polls show Bunning badly trailing either the two leading announced Democratic candidates.
US SUPREME COURT. NPR is reporting that Justice David Souter plans to retire at the end of the current court session in June. Souter -- a Bush-41 appointee -- is part of the liberal wing on the court. It would present President Obama with his first opportunity to fill a seat on the court.
Daily Report by Ron Gunzburger - 05.01.09 | Permalink |