BLOG ARCHIVE: MAY 16-31, 2008.
FREE SPEECH ZONE. Saturday's DNC Rules Committee meeting will decide the fate of the Florida and Michigan delegations to the national convention ... and likely seal the end of the Clinton campaign after the final primaries next Tuesday.
Posted by Ron Gunzburger - 05.31.08 | Permalink |
PREZ CANDIDATES JOINTLY SPEAK OUT TO END DARFUR GENOCIDE; OBAMA GAINS 3 MORE SUPERS; MUSGROVE LEADS IN MS US SEN SPECIAL; SESSIONS SAFE IN ALABAMA..

DARFUR GENOCIDE. Barack Obama, Hillary Clinton and John McCain pointedly issued a joint statement this week aimed at the government of Sudan. The statement accused the Sudanese government of genocidal atrocities against civilians in Darfur and warned Sudan that trying to "run out the clock" on the current administration would not benefit them. "Today, we wish to make clear to the Sudanese government that on this moral issue of tremendous importance, there is no divide between us. If peace and security for the people of Sudan are not in place when one of us is inaugurated as president on January 20, 2009, we pledge that the next administration will pursue these goals with unstinting resolve," the three wrote. Click here to learn more about genocide in Darfur.
P2008 - DEMS. Barack Obama picked up another three superdelegates on Thursday: Congressman Alan Mollohan (D-WV), Texas State Democratic Chair Boyd Richie, plus one more Texas super.
MISSISSIPPI. A new Rasmussen Reports survey shows former Governor Ronnie Musgrove (D) leading interim US Senator Roger Wicker (R) by a 47% to 46% vote for November's special election. Race rating: Toss-Up. In the state's other US Senate contest, incumbent Thad Cochran (R) holds a comfortable lead of 58% to 35% over State Representative Erik Fleming (D). Race rating: Safe GOP.
ALABAMA. A new Rasmussen Reports poll shows US Senator Jeff Sessions (R) leading State Senator Vivian Davis Figures (D) by a lopsided 62% to 29% vote. Race rating: Safe GOP.
Posted by Ron Gunzburger - 05.30.08 | Permalink |
OBAMA STOCKPILES SUPERS; CLINTON LEADS IN P.R.; IDAHO PRIMARY RESULTS; NRSC CANDIDATE MISSES MASS. PRIMARY BALLOT; BARR APOLOGIZES FOR DOMA.

P2008 - DEMS. According to a numerous media sources, Barack Obama is stockpiling endorsements of superdelegates for a mass announcement next week. The move is expected to put him over either the 2025 or 2131 number --depending what the DNC decides on Saturday as to Florida and Michigan. Puerto Rico votes on Sunday, and the South Dakota and Montana end the primary season next Tuesday. A new El Vocero/Univision poll in Puerto Rico shows Hillary Clinton leading Obama by a 51% to 38% vote. The only unknown is whether Obama will unveil the superdelegate endorsements on Monday/Tuesday so as to be able to declare himself the nominee on Tuesday night, or if the supers will be unveiled later in the week. Our guess is the former.
IDAHO. Congressman Bill Sali won renomination on Tuesday over Iraq War veteran Matt Salisbury by a 60% to 40% vote. Sali is favored over wealthy former timber executive Walt Minnick (D), but the November contest is expected to be rather competitive because of the bombastic Sali's lengthy history of feuding with his state GOP leaders. In the open US Senate race, Lieutenant Governor Jim Risch (R) and former Congressman Larry LaRocco (D) easily won their respective primaries. Risch -- who easily defeated LaRocco for Lt Gov in 2006 -- is favored in the general election.
MASSACHUSETTS. Embarrassing news for the NRSC but their preferred candidate in Massachusetts against US Senator John Kerry (D) may have fallen short of the signatures required to qualify for the primary ballot. State election officials said this week that airline pilot, USAF veteran and '07 Congressional nominee Jim Ogonowski seemingly fell 82 signatures short of the 10,000 requirement. Ogonowski insists there are more signatures his campaign filed with various election offices around the state, which should push him over the mark. However, businessman and former CIA agent Jeff Beatty (R) -- who has already qualified for the primary ballot -- says he plans to challenge Ogonowski's signatures if he scrapes over the 10,000 mark. Beatty alleged many of Ogonowski's signatures are bad and will not survive a legal challenge.
LIBERTARIANS: Former GOP Congressman Bob Barr -- the LP's Prez nominee -- has changed his views on gay marriage and same-sex civil unions. When he served in Congress, Barr was the main sponsor of the so-called Defense of Marriage Act (DOMA). Barr now calls DOMA "a mistake" and apologized for having helped write it. Barr now says DOMA should be repealed because it "clubs down the rights of law abiding citizens." Barr also went so far as to tell LP delegates at last weekend's convention that he supports California's decision to recognize same-sex marriages, saying each state should have the constitutional right to go its own way on this issue.
Posted by Ron Gunzburger - 05.29.08 | Permalink |
McCONNELL TRAILS IN KY; MINNESOTA SENATE TOSS-UP; SWEITZER LEADS BIG IN MT; McKINNEY LOCKS UP GREEN PREZ NOMINATIONL; RENDELL UNLIKELY TO CHALLENGE SPECTER.
KENTUCKY. According to a new Rasmussen Reports poll, US Senate Minority Leader Mitch McConnell (R) is trailing wealthy health care executive Bruce Lunsford (D) by a vote of 49% to 44%. McConnell disputes the numbers, saying his internal polling shows him holding a double-digit lead.

MONTANA. Governor Brian Schweitzer (D) holds a wide lead in his re-election contest, according to a new Mason-Dixon poll. The numbers: Schweitzer - 55%, State Senator Roy Brown (R) -30%, businessman Stan Jones (Libertarian) - 2%. (Editorial Note: Although Schweitzer is up for re-election this year, Politics1 thinks Schweitzer -- or Russ Feingold or Mike Bloomberg -- would make a great VP runningmate with Senator Obama.)
MINNESOTA. US Senator Norm Coleman (R) leads humorist Al Franken (D) by a 47% to 45% vote, according to the latest Rasmussen Reports poll.

GREEN PARTY. Ballot Access News reports that former Georgia Congresswoman Cynthia McKinney is now a lock to win the party's Presidential nomination during the July national convention. Even though not all of the states have elected convention delegates, McKinney now has won a majority of all delegates who will be going to the convention. McKinney quit the Democrats, joined the Greens and moved to California last year. With Barack Obama as the presumptive Dem nominee, she will find it much harder to peel away disaffected votes from the African-American liberal community.
PENNSYLVANIA: Despite conservative columnist Robert Novak's column claiming term-limited Governor Ed Rendell (D) is looking at a possible 2010 run against his friend US Senator Arlen Specter (R), could us among the doubtful. We would remind people that Rendell already announced his 2006 run was the final campaign of his career. "This is my 14th election -- enough is enough," said Rendell in August 2006.
Posted by Ron Gunzburger - 05.28.08 | Permalink |
ROGER STONE'S "CHARLIE CRIST SEX TAPE" STORY; OBAMA LEADS IN MONTANA, GAINS SIX SUPERS; TROUBLE ON THE RIGHT FOR INDIANA'S GOP GOVERNOR; NRCC RECRUITING PROBLEMS IN NEW YORK.
McCAIN VEEPSTAKES. Politics1 Exclusive. How

interested is Florida Governor Charlie Crist in being John McCain's VP runningmate? So much so that veteran GOP dirty trickster Roger Stone -- who coordinated a few dirty stunts in support of Crist during the 2006 gubernatorial campaign -- is quietly peddling a so-called "Charlie Crist sex tape." That's what Stone called it during a telephone conversation. And no, it is not a tape of Crist having sex with a guy. In fact, it isn't even X-rated. The video was seemingly staged to kill the rumors that Crist is gay. Stone claims the tape -- which he discussed recently with Politics1, but didn't show to us ("I'm saving it for the national shows") -- "shows Charlie fooling around in a hotel elevator with his girlfriend ... They're making out." Adds Stone: "It was captured on a security camera in the elevator" last month. And Stone just conveniently happens to have a copy of the hotel's elevator surveillance tape, just when Crist's name is in play for the VP spot. Hmm. As for Crist's purported girlfriend -- presuming it is the same one he took as his date to the White House Correspondents Dinner in DC a few weeks ago -- she's still married (and not to Crist). Disclaimer: Always be skeptical of anything from Stone.
P2008 - DEMS. A new Mason-Dixon poll of Montana Democrats shows Barack Obama leading Hillary Clinton by a 52-35 vote for the state's June 3 primary. Over the holiday weekend, Obama also won the endorsements of six more superdelegates including Hawaii State Democratic Chair Brian Schatz and former Alaska Governor Tony Knowles.
INDIANA: Four-term State Senator John Waterman (R) filed paperwork to launch an Independent exploratory committee to challenge Governor Mitch Daniels (R) in November. Waterman, a former Sullivan County Sheriff, says he's running to give "disgruntled" voters a better conservative choice than the incumbent. He told the Evansville Courier he intends to select "a Christian conservative" as his Lieutenant Governor runningmate by this Wednesday. An independent statewide candidate must collect 33,000 valid petition signatures by June 30 to qualify for the general election ballot. Recent polling -- before Waterman further complicated the race -- showed the vulnerable Daniels already locked in a touch fight against former Congresswoman Jill Long Thompson (D).
NEW YORK. The NRCC's top recruitment choice for retiring GOP Congressman Vito Fossella's CD-13 seat announced he will pass on the race. Staten Island District Attorney Dan Donovan (R) released a written statement Friday explaining: "I am best able to serve the people of Staten Island in the position to which they re-elected me by such an overwhelming margin just six months ago, as their District Attorney." Richmond County Clerk Stephen Fiala (R) also announced last week he will not run. Physician Jamshad Wyne is the only announced GOP candidate to date.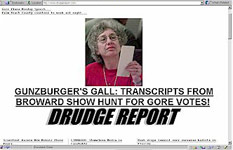 The announced Democrats for the seat are New York City Councilmen Dominic Recchia and Vincent Gentile, and attorney Stephen Harrison.
HBO'S RECOUNT. If you enjoyed the HBO movie Recount -- and are a reader who started visiting Politics1 after 2000 -- be sure to check out my insider account of the recount from an on-the-ground perspective in Broward County. As for the movie, it was rather entertaining (note: although HBO took my mom's quote I heard her give in several interviews -- "I don't mind if people thought I was a lesbian, but I think I could do better than Carol Roberts if I was" -- and had Carol instead make the comment in reverse about Mom).
Posted by Ron Gunzburger - 05.27.08 | Permalink |
MEMORIAL DAY HOLIDAY WEEKEND NEWS UPDATE.
OBAMA VISITS FLORIDA; BARR WINS LIBERTARIAN PREZ NOMINATION.

LIBERTARIANS. Former GOP Congressman Bob Barr of Georgia captured the Libertarian Party's Presidential nomination on Sunday . He defeated scientist and party stalwart Mary Ruwart by a 324-276 vote on the sixth ballot. Former Democratic US Senator Mike Gravel finished fourth and was eliminated after the fourth ballot. Wealthy sports handicapper Wayne Root of Nevada, who was eliminated from the Presidential race after the fifth ballot, won the VP nomination. Both Barr and Root were Republicans until switching to the LP within the past two years. The Barr-Root ticket is likely to appear on the ballot in at least 48 states in November.
Posted by Ron Gunzburger - 05.25.08 | Permalink |
P2008 - DEMS. Barack Obama wrapped up a three-day swing through Florida on Friday, with a rally in Broward County -- the largest Democratic base in the state. A crowd of 16,000 braved heavy afternoon rains outside as they lined-up to pass through security checkpoints to attend the rally. wait in line outside cheered Obama, as he praised rival Hillary Clinton for the race she ran for the nomination, frequently distinguished his views from those of John McCain ("a third Bush term"), and vowed to aggressively compete in Florida in the general election with frequent visits. Click here to view my photos of the Obama rally (and, if you're not yet on my Facebook friends list, feel free to add me to your list to get access to the pix). Obama also spoke earlier Friday in Miami to the conservative Cuban-American National Foundation -- a group that was closely aligned with President Reagan and other Republicans over the years -- to discuss Cuban policy. Obama said he was willing as President to meet with Cuban President Raul Castro to discuss improving relations between the two countries coupled with an improvement in human rights in Cuba. He also called for an immediate end to the restrictions on Cuban-Americans traveling to Cuba and sending money home to relatives still living on the island. Obama received several standing ovations from the CANF audience during his remarks. Fidel Castro's own estranged daughter -- a prominent anti-communist leader in Miami's exile community -- warmly praised Obama afterwards. "I believe he is the only candidate who has spoken sincerely about the intentions that he has toward Cuba," she said. CANF supports easing the travel and money restrictions imposed by the Bush Administration. McCain had visited South Florida and spoke to CANF earlier in the week, vowing to continue the current hard-line US policies towards Cuba. "We love Senator McCain and we have been friends with him for a very long period of time, but we think at this juncture of history of the Cuban process we need to try new approaches and new methods. There was nothing in [McCain's] speech that we have not heard before," said CANF President Pepe Hernandez to the Miami Herald. Clinton also spent a day in South Florida last week. In related news, Congressman Dennis Cardoza (D-CA) -- a previously announced Clinton supporter -- announced Friday he was switching his superdelegate vote to Obama.
LIBERTARIANS. The Libertarian Party is holding its Presidential nominating convention this weekend in Denver, Colorado. Leading candidates for the nomination include former GOP Congressman Bob Barr, college professor and party stalwart Mary Ruwart, wealthy sports handicapper Wayne Root, college professor George Phillies and former Democratic US Senator Mike Gravel. Barr is closely aligned with Congressman Ron Paul (R-TX), a LP favorite. Ruwart is a leader of the party's anarcho-libertarian wing. Phillies has been a leader of the more moderate "reform" movement within the party. ThirdPartyWatch.com -- which is providing detailed coverage of the convention -- reports convention attendance this year is significantly lower than it was for the party's 2004 convention.
Posted by Ron Gunzburger - 05.24.08 | Permalink |
CHATTING WITH AN UNCOMMITTED SUPER; McCAIN REBUKES HAGEE; NC SEN & GOV POLLS; MO GOV POLLS; KENNEDY WANTS WIFE TO SUCCEED HIM.
P2008 - DEMS. Politics1 had a chance to catch up in Florida on Thursday with one of the remaining uncommitted superdelegates. Broward County Democratic Chair, DNC member and former state party chair Mitch Ceasar was part of the small group of uncommitted Florida superdelegates who had an opportunity to meet privately with Hillary Clinton on Wednesday. Ceasar said he and -- he expects all of the remaining uncommitted superdelegates -- will announce Presidential endorsements within a few days following the final primaries on June 3. Ceasar said it was apparent Clinton "knows the race is over" and was "realistic" in her private comments about the nomination math. "We'll have a clear nominee, and be a unified party behind one candidate by early June," he said. Continuing the contest through June 3, he said, appears to be about "giving her leverage ... [pause] ... for something."
McCAIN. John McCain denounced controversial comments by evangelical pastor John Hagee and renounced Hagee's endorsement on Thursday, after a recording surfaces this week which the Jewish community found offensive. Hagee said Adolf Hitler was doing God's work in the Holocaust because it was intended to force Jews to create a state of Israel. Hagee had previously denounced the Catholic Church as a "whore." McCain had originally sought out Hagee's endorsement during the primary season.

NORTH CAROLINA: SurveyUSA polls from the Tarheel State show two competitive statewide races. In the open gubernatorial race, Lieutenant Governor Bev Perdue (D) leads Charlotte Mayor Pat McCrory (R) by a 52% to 45% vote. Meanwhile, US Senator Elizabeth Dole (R) leads State Senator Kay Hagan (D) by a vote of 50% to 46%.
MISSOURI. A new set of KSDK-TV/SurveyUSA polls shows the GOP primary in the open gubernatorial race remains very close -- but that either of the two leading Republicans trail Attorney General Jay Nixon (D) by wide margins. The GOP primary numbers: Congressman Kenny Hulshof - 29%, State Treasurer Sarah Steelman - 25%, teacher Scott Long - 10%, retiree Jen Sievers - 4%. In general election match-ups, Nixon leads Hulshof by a 57% to 33% vote ... and leads Steelman by a 58% to 33% vote. Governor Matt Blunt (R) is not seeking a second term. Another SurveyUSA poll of the CD-6 race shows Congressman Sam Graves (R) leading former Kansas City Mayor Kay Barnes (D) by a 49% to 39% vote.
MASSACHUSETTS. The New York Daily News reported that ailing US Senator Ted Kennedy (D-MA) is letting his political allies know he wants his wife Vicki to be appointed to fill his eventual vacancy in the Senate.
Posted by Ron Gunzburger - 05.23.08 | Permalink |

I'm having some internet connectivity problems, meaning I'm having trouble even visiting news sites to catch up on what's going on today in the world of politics ... I updated the two state pages to reflect the primary winners. Click here to see the Oregon congressional nominees and click here to see the Kentucky nominees ... John McCain, fresh off his 72% victory in Tuesday's Kentucky primary, is set to meet this weekend in Arizona with three VP prospects. The three: Louisiana Governor Bobby Jindal, Florida Governor Charlie Crist and former Massachusetts Governor Mitt Romney ... Also, I'm using a half-day personal leave from my "real job" on Friday so I can cover the giant Obama rally scheduled for here in Broward County. (Yup, despite my admittedly sometimes over-the-top enthusiasm for Obama, this will be the first time I've ever heard him speak in person.)
Posted by Ron Gunzburger - 05.22.08 | Permalink |
CLINTON WINS KENTUCKY, OBAMA WINS OREGON; FOSSELLA RETIRES; TED KENNEDY HAS BRAIN TUMOR.
Hillary

Clinton and Barack Obama split Tuesday's two contests. Clinton swept to a big win in Kentucky, defeating Barack Obama by a 65% to 30% vote. Obama defeated Clinton in Oregon by a 58% to 42% vote. Obama also scored enough pledged delegates Tuesday so as to now have an absolute majority out of all the pledged delegates going to the convention ... Also in Kentucky, wealthy health care executive Bruce Lunsford (D) easily won his primary and will face US Senator Mitch McConnell (R) in November ... In Oregon, State House Speaker Jeff Merkley defeated progressive attorney Steve Novick by a 45% to 41% vote to win the Democratic nomination to face US Senator Gordon Smith (R) in November. In the open CD-5 seat, State Senator Kurt Schrader (D) cruised to an easy primary win. On the GOP side, businessman Mike Erickson narrowly edged out former State GOP Chair Kevin Mannix in a very bitter and divisive race ... Congressman Vito Fossella (R-NY) announced Tuesday he will not seek re-election this year. The decision comes three weeks after his DUI arrest, and two weeks after he acknowledged fathering a three-year-old child during a long-term extramarital affair ... US Senator Ted Kennedy (D-MA) was diagnosed with a malignant brain tumor. He remains in the hospital, but is expected to be released later this week. Kennedy has not decided upon which treatment options, if any, he will pursue.
Posted by Ron Gunzburger - 05.21.08 | Permalink |
OREGON, KENTUCKY PRIMARY PREVIEWS; OBAMA COLLECTS SENATOR BYRD + MORE SUPERS.
P2008 - DEMS. US Senator Robert Byrd (D-WV) endorsed Barack Obama -- as did a few other superdelegates. This now brings Obama to just 109 delegates shy of the nomination. As for Tuesday's primary, it remains fairly obvious that Hillary Clinton will win big on Tuesday in Kentucky, while Obama will win Oregon by a comfortable margin. Here are some new polls for Tuesday's primary contests (note: keep in mind that approximately 75% of all likely Oregon voters cast early mail-in ballots for the primary):


KENTUCKY (Suffolk Univ.): Clinton - 51%, Obama - 25%.


OREGON (SurveyUSA): Obama - 55%, Clinton - 42%.


OREGON (Public Policy Polling): Obama - 56%, Clinton - 38%.


OREGON (Suffolk Univ.): Obama - 45%, Clinton - 41%.
OREGON. Besides the Presidential primary, there are several significant other races on Tuesday's primary ballot. US SENATE: State House Speaker Jeff Merkley and attorney

Steve Novick are locked in a tight battle for the Democratic nomination. Merkley is the DSCC's recruited candidate, but feisty progressive activist Novick has been leading Merkley in recent polls. Four other minor Dems are also running. The winner will face US Senator Gordon Smith (R) in November. Race rating: GOP Favored. CD-5: Both parties have competitive races for this open seat, as Congresswoman Darlene Hooley (D) is retiring. On the Democratic side, State Senator Kurt Schrader holds a sizable lead over former gubernatorial chief of staff Steve Marks and three others. On the GOP side, former State GOP Chair Kevin Mannix is locked in a virtual tie with businessman Mike Erickson. Mannix surprisingly appeared to be trailing until these closing days, when he blasted the pro-life Erickson for allegedly impregnating a woman a few years ago and then paying for her abortion. Mannix now holds a slight edge, but the early voting may favor Erickson. Also, playing this card may make Mannix less electable in the November election in this swing district as it seems to confirm public perception of him as a candidate focused mainly on a social conservative agenda. Mannix lost primary races for Governor in 2002 and 2006, and lost general election contests for Attorney General in 1996 and 2000. Race rating: Leans DEM.
KENTUCKY. There are three races worth watching on this state's primary ballot. US SENATE: Multimillionaire businessmen Bruce Lunsford and Greg Fisher lead the seven-candidate Democratic field. A new SurveyUSA poll shows Lunsford leading Fisher by a vote of 47% to 26%. Lunsford lost primary races for Governor in 2003 and 2007.

The winner will face US Senate Minority Leader Mitch McConnell (R). CD-2: State Senator Brett Guthrie (R) is unopposed for the GOP nomination to replace retiring Congressman Ron Lewis (R). On the Dem side, State Senator David Boswell and Daviess County Judge-Executive Reid Haire are competing. Boswell is also a former State Agriculture Commissioner. Race rating: GOP Favored. CD-3: Four Republicans are battling for the right to face freshman Congressman John Yarmuth (D) in November. Former Congresswoman Anne Northup -- who was ousted in 2006 by Yarmuth, then lost the GOP primary for Governor last year -- is the Republican frontrunner. Former pro football player and anti-tax activist Chris Thieneman is her leading opponent, but he has run a very erratic race. He filed for the seat, annouced he was quitting the race shortly after filing closed out of anger with Northup's last-minute entry at the urging of the NRCC, he then endorsed Yarmuth ... but then jumped back in the race (and un-endorsed Yarmuth) a month ago saying he never "officially" quit. Against that bizarre behavior, Northup should easily win the primary. Race rating: Leans DEM.
MINNESOTA. A new Minneapolis Star-Tribune poll shows US Senator Norm Coleman (R) leading challenger Al Franken (D) by a 51% to 44% vote. Previous polls had shown a closer race, but bad press involving unpaid taxes Franken owed to various states for speaking engagements over the years hurt him. In related news, former Governor Jesse Ventura (Independent) said he expects either he or former US Senator Dean Barkley (Independent) will jump into the race. Ventura said he will defer to Barkley -- his former campaign manager and a veteran third-party activist whom Ventura appointed to a Senate vacancy in 2002 -- if Barkley decides to run. Race rating: Toss-Up.
Posted by Ron Gunzburger - 05.20.08 | Permalink |
PREZ UPDATE; NEVADA FILING CLOSES; US SENATE POLLS FOR NEW MEXICO, MAINE, KANSAS, ALASKA & NEBRASKA.
P2008 - DEMS. For those keeping track, Barack Obama inched a bit closer to the 2,025 delegate total needed to secure the Presidential nomination. As of Sunday, Obama was just 116 delegates shy of the nomination. By contrast, Hillary Clinton is 306 short of the goal. That said, here are some new polls for Tuesday's primary contests:


KENTUCKY (ARG): Clinton - 65%, Obama - 29%.


OREGON (ARG): Obama - 50%, Clinton - 45%.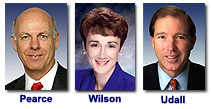 NEW MEXICO. A new KOB-TV/SurveyUSA poll shows the two GOP candidates for US Senate locked in a close contest for the June 3 primary. The primary numbers: conservative Congressman Steve Pearce - 49%, centrist Congresswoman Heather Wilson - 46%. However, it may not matter which Republican wins the primary as both trail Congressman Tom Udall (D) by landslide margins in general election match-ups. Udall leads Pearce by a vote of 60% to 36%. Udall leads Wilson by a nearly identical margin: 61% to 35%. US Senator Pete Domenici (R) is retiring. Race rating: DEM Favored.
NEVADA. Congressional candidate filing closed in Nevada on Friday. CD-1: Seven Republicans filed against Congresswoman Shelley Berkley (D), but she's safe for November. CD-2: Freshman Congressman Dean Heller (R) faces a rematch from State University System Regent Jill Derby (D). Race rating: GOP Favored. CD-3: This will be the most hotly contested race in the state. Congressman Jon Porter (R) is a top DCCC pickup target, based upon his poor performance in the last election against an underfunded challenger. Former State Senate Minority Leader and '06 Governor nominee Dina Titus (D) will give Porter a real race this year. Race rating: Leans GOP. Note: Third party candidates filed for all three House seats.
MAINE. US Senator Susan Collins (R) continues to lead challenger Congressman Tom Allen (D), according to the new Rasmussen Reports poll. The numbers: Collins - 52%, Allen - 42%.
KANSAS. According to the Rasmussen Reports poll, US Senator Pat Roberts (R) may not be quite as safe as was initially thought. The numbers: Roberts - 52%, former Congressman Jim Slattery (D) - 40%.

ALASKA. The latest Rasmussen Reports survey shows embattled US Senator Ted Stevens (R) now trails in his race for re-election against Anchorage Mayor Mark Begich (D). The numbers: Begich - 47%, Stevens - 45%. Stevens has been in electoral trouble ever since the FBI raided his home last year, when it was revealed the long-time Senator is the target of a federal corruption investigation. Stevens and Begich are both heavily favored to win their respective primaries on August 26.
NEBRASKA. Yet another Rasmussen Reports poll, this one on the open US Senate race to replace retiring incumbent Chuck Hagel (R). Former Governor Mike Johanns (R) - 55%, rancher Scott Kleeb (D) - 40%.
Posted by Ron Gunzburger - 05.19.08 | Permalink |
VIEW FROM ABROAD: SIMON HAMILTON, MLA, NORTHERN IRELAND ASSEMBLY.
NORTHERN IRELAND (UK):

SIMON HAMILTON, MLA, member of the Democratic Unionist Party (DUP) in the Northern Ireland Assembly. Simon, a regular Politics1 reader for 5+ years, generously volunteered to participate in our ongoing international feature. Born in 1977 into a Protestant family in North Ireland, he earned degrees in history/politics and law from the Queen's University Belfast. After first working as an auditor in an accounting firm, Simon went to work as the the DUP's Press Officer. In 2005, Simon was elected Councillor on the Ards Borough Council. In March 2007, Simon was elected to represent the Strangford constituency in the Northern Ireland Assembly -- and also retains his position on the Ards Borough Council.
The DUP -- for those of you unfamiliar with the decades of Northern Ireland's political turmoil -- is the staunchly unionist, Protestant, conservative party founded and led by evangelical clergyman Dr. Ian Paisley. For many decades, Paisley was the most vocal Protestant opponent of the IRA/Sinn Fein and Northern Ireland's Catholic community. The DUP is today the largest political party in Northern Ireland, the fourth largest party in the United Kingdom, and the self-proclaimed "undisputed voice of unionism." The DUP's top priority is to "secure, uphold and maintain Northern Ireland as an integral part of the United Kingdom."
Q. WHAT ARE YOUR THOUGHTS ON THE U.S. PRESIDENTIAL RACE TO DATE?

ANSWER: The campaign to date has been absolutely fascinating and bodes well for a thrilling general election too. It is extraordinary to think that our preconceived notions that we held about a year ago have been turned on their head. Hillary Clinton has not taken the Democratic nomination at a canter, and the Republicans haven't torn themselves apart. I have been struck by how, on one hand, Senator Obama has overcome his comparative inexperience to establish a political movement the likes of which my generation hasn't seen before and, on the other, Senator McCain has belied his critics.

Q. WHAT ARE YOUR HOPES FOR THE NEXT U.S. PRESIDENT?

ANSWER: I hope that the next President ensures that the US continues to take the fight to the terrorists who would destroy our way of life and also puts America at the forefront of tackling other threats to our civilisation like climate change and the security of our energy supply. From a Northern Ireland standpoint, as we seek to establish a long-term peace in our part of the world, we would like to see the sort of positive engagement carried out by the Bush Administration in Northern Ireland continue -- especially in respect towards assisting us in transforming our economy. Whichever of Senators Clinton, McCain and Obama is ultimately elected President, they will join 23 predecessor Presidents with Irish ancestry and I'm sure they will continue to take an active interest in Ulster.
Do you have a connection to a foreign political leader, elected official or prominent candidate you'd like to have answer these two questions? Please email Ron if you know someone you'd like featured here. Click here to view our other international profiles.
Posted by Ron Gunzburger - 05.17.08 | Permalink |
SAME-SEX MARRIAGE LEGAL IN CALIFORNIA; OBAMA SCORES 10 MORE DELEGATES; MICHIGAN PRIMARY FILING CLOSES.
GAY MARRIAGE. In a 4-3 decision, the California Supreme Court overturned the state's ban on same-sex marriage. Here is how the court explained their reasoning:

"Furthermore, in contrast to earlier times, our state now recognizes that an individualís capacity to establish a loving and long-term committed relationship with another person and responsibly to care for and raise children does not depend upon the individualís sexual orientation, and, more generally, that an individualís sexual orientation -- like a personís race or gender -- does not constitute a legitimate basis upon which to deny or withhold legal rights. We therefore conclude that in view of the substance and significance of the fundamental constitutional right to form a family relationship, the California Constitution properly must be interpreted to guarantee this basic civil right to all Californians, whether gay or heterosexual, and to same-sex couples as well as to opposite-sex couples. ... There can be no doubt that extending the designation of marriage to same-sex couples, rather than denying it to all couples, is the equal protection remedy that is most consistent with our state's general legislative policy and preference." Key proponents like San Francisco Mayor Gavin Newsom (D) and San Francisco City Attorney Dennis Herrera (D) -- who argued the case -- celebrated the ruling. Across the political aisle, Governor Arnold Schwarzenegger (R) immediately announced he would also honor the decision: "I will not support an amendment to the [state] constitution that would overturn this state Supreme Court ruling." The California Legislature had previously passed legislation approving same-sex marriage but Schwarzennegger had vetoed it. Bottom line: same-sex marriage is now legal in California. Ron's one-sentence editorial: Hooray for the California Supreme Court!
P2008 - DEMS. Just one day after John Edwards endorsed Barack Obama, six Edwards delegates followed suit and announced their support for Obama. On top of those six, Obama picked up four more superdelegates on Thursday: Congressmen Jim McDermott (D-WA), Henry Waxman (D-CA) and Howard Berman (D-CA) and Communications Workers of America President Larry Cohen. The United Steelworkers Union -- which previously backed Edwards -- also endorsed Obama on Thursday.
MICHIGAN: Major party primary filing closed this week in Michigan. US Senator Carl Levin (D) is safe against State Representative Jack Hoogendyk (R). Freshman Congressman Tim Walberg (R) will face a tough challenge from State Senate Minority Leader Mark Schauer (D) in CD-7. Congressman Joe Knollenberg (R) is a top Democratic target, and will face former State Lottery Commissioner Gary Peters (D) in November. The most interesting primary contest is in CD-13, where Congresswoman Carolyn Cheeks Kilpatrick (D) will face a tough battle against two well-known politicians. State Senator Martha Scott and former State Representative Mary Waters are the two challengers, and are likely running because they sense vulnerability due to the sex scandal involving her embattled son Detroit Mayor Kwame Kilpatrick. Waters also says she is running as a Barack Obama supporter who is upset with the incumbent for being so out of touch with the district's voters as to have endorsed Hillary Clinton.
Posted by Ron Gunzburger - 05.16.08 | Permalink |
JOIN THE POLITICS1
FACEBOOK GROUP:



BLOG ARCHIVE:

June 1-15, 2008
May 16-31, 2008
May 1-15, 2008
April 16-30, 2008
April 1-15, 2008
March 16-31, 2008
March 1-15, 2008
February 16-29, 2008
February 1-15, 2008
January 16-31, 2008
January 1-15, 2008
December 16-31, 2007
December 1-15, 2007
November 16-30, 2007
November 1-15, 2007
October 16-31, 2007
October 1-15, 2007
September 1-30, 2007
August 16-31, 2007
August 1-15, 2007
July 1-31, 2007
June 1-30, 2007
May 16-31, 2007
May 1-15, 2007
April 16-30, 2007
April 1-15, 2007
March 16-31, 2007
March 1-15, 2007
February 16-28, 2007
February 1-15, 2007
January 16-31, 2007
January 1-15, 2007
December 16-31, 2006
December 1-15, 2006
November 16-30, 2006
November 1-15, 2006
October 16-31, 2006
October 1-15, 2006
September 16-30, 2006
September 1-15, 2006
August 16-31, 2006
August 1-15, 2006
July 16-31, 2006
July 1-15, 2006
June 16-30, 2006
June 1-15, 2006
May 15-31, 2006
May 1-15, 2006
April 16-30, 2006
April 1-15, 2006
March 16-31, 2006
March 1-15, 2006
February 17-28, 2006
February 1-16, 2006
January 16-31, 2006
January 1-15, 2006
December 2005
November 2005
October 2005
September 2005
August 2005
July 2005
June 2005
May 2005
April 2005
March 2005
Jan-Feb 2005
December 2004
November 16-30, 2004
November 1-15, 2004
October 16-31, 2004
October 1-15, 2004
September 16-30, 2004
September 1-15, 2004
August 16-31, 2004
August 1-15, 2004
July 16-31, 2004
July 1-15, 2004
June 16-30, 2004
June 1-15, 2004
May 16-31, 2004
May 1-15, 2004
April 16-30, 2004
April 1-15, 2004
March 15-31, 2004
March 1-14, 2004
February 15-29, 2004
February 1-14, 2004
January 17-31, 2004
January 1-16, 2004
December 16-31, 2003
December 1-15, 2003
November 17-30, 2003
---
POLITICAL BLOG ROLL:
KINDA NEUTRAL:
ABC News: The Note
CNN: Political Ticker
CQ Politics
MSNBC: First Read
Pollster.com
PolitiFact.com
Politics.Wikia
CJR Daily
The Hill
Rothenberg Pol. Report
LexisNexis: US Politics
Stateline.org
Governing.com
Political State Report
Hotline On Call
National Journal: The Gate
Hotline's Blogometer
The Politico
Beltway Blog
WatchBlog
Lawmakers Blog
Centerfield
GoLeft.tv
FactCheck.org
Marc Ambinder
WSJ: Best of the Web
WSJ: Washington Wire
D.C.'s Political Report
Media Bistro
Political Wire
Larry Sabato: Crystal Ball
James Kotecki
PressThink
Politics-Line
TheCapitol.Net: Blog
Vot3r.com
memeorandum
Campaign Circus
Politizine.com
MyElectionAnalysis.com
Foreign Policy Watch
DEM/LEFT:
DNC Blog
DCCC Blog
DailyKos
Lefty Blogs
TPM Cafe
The Raw Story
DownWithTyranny!
Democracy for America
Senate Guru
Campaign Diaries
Frameshop
The Washington Note
Emerging Dem Majority
Think Progress
AmericaBlog.com
Amer Prospect: Tapped
Arianna Huffington
Talking Points Memo
BAG News Notes
Eric Alterman
FishBowl DC
Fired Up! America
TalkLeft
TNR: The Plank
ZNet
Blogging of the President
Joe Trippi
Swing State Project
Media Matters
Juan Cole
Wonkette
MyDD
Working for Change
Crooks & Liars
Mathew Gross
Penndit
Politics & Technology
Progressive Dems: Blog
Atrios/Eschaton
Off the Kuff
Tom Tomorrow
Mother Jones
Agonist
Jerry Springer
TruthOut
Dem Bloggers
Liberal Oasis
Penndit
Firedoglake
The Homo Politico
Good As You
BigHead DC
AtariDemocrat
Henry Lewis
BuzzFlash
Taylor Marsh
Brad Blog
Dean Nation
Louise Slaughter
TruthDig
Dem Underground
Open Left
Jared Hall
Rod 2.0
Pam's House Blend
Bad Attitudes
at-Largely
The American Street
BlogActive
District Blogs
GOP/RIGHT:
RNC (GOP.com)
Club for Growth
National Review: Corner
C-Log
Real Clear Politics
SayfieNews.com
John Ellis
Mickey Kaus
StoneZone
Virginia Postrel
RedState
WSJ Opinion Journal
Free Republic
Instapundit
Drudge Report
Pajamas Media
Hugh Hewitt
Daniel Drezner
News Busters
Daily Pundit
Extreme Mortman
Bully Pulpit
NRO: Campaign Spot
Reason: Hit & Run
Outside the Beltway
Little Green Footballs
World Mag Blog
Right Wing News
Right Pundits
Volokh Conspiracy
Brothers Judd
David Frum
Mister Politics
Enter Stage Right
Right Wing News
PoliPundit
Power Line
Hedgehog Report
Right Voices
Right Bias
Booker Rising
Conservative Grapevine
Don Singleton
Diggers Realm
Save the GOP
OTHER:
Ballot Access News
ThirdPartyWatch.com
Kn@ppster
Green Commons
News for Greens
Infoshop News
---
For those who would like to track Politics1 with a newsreader, we publish a RSS feed:
---