MEMORIAL DAY OPEN THREAD. On Memorial Day, we ask you to turn thoughts to the more than 800 US soldiers killed in Iraq and the more than 4,600 wounded fighting there. On Tuesday we'll return with stories about the SD Congressional special election, the Presidential race, and more. Use today's open to discuss anything you'd like.
Posted by Ron Gunzburger - 05.31.04 |

VILSACK APPARENTLY NO HELP TO KERRY IN IOWA. According to a new WHO-TV/SurveyUSA poll, John Kerry holds a narrow lead in Iowa over President Bush ... unless Iowa Governor Tom Vilsack is Kerry's VP runningmate. In a head-to-head contest, Kerry leads Bush by a 48% to 45% vote. However, when asked about a hypothetical contest between a Bush/Cheney ticket and a Kerry/Vilsack ticket, Bush jumps out to a 48% to 45% lead. This doesn't bode well for Vilsack's chances of being selected -- as he's reportedly one of those still under serious consideration. Of course, this poll could just be an anomaly.
Posted by Ron Gunzburger - 05.29.04 |
US SENATE UPDATES: PA, SC. In Pennsylvania, a new Quinnipiac University poll shows incumbent US Senator Arlen Specter (R) leading challenger Congressman Joe Hoeffel (D) by a 49% to 37% vote. The poll also showed that nearly 70% of voters don't know Hoeffel -- but that he may not be able to easily close the gap because nearly 30% of all Democrats are backing the centrist incumbent. The poll also found that John Kerry leads President Bush in the state by a narrow 44% to 41% vote. In South Carolina -- with the hotly contested GOP primary for US Senate just 11 days away -- former Governor David Beasley is holding a wide lead. The WCSC-TV/SurveyUSA poll numbers: Beasley-43%, Congressman Jim DeMint-21%, developer Thomas Ravenel-17%, former Attorney General Charlie Condon-16%, and Others-4%. If no candidate captures a majority in the June 8 primary, the top two will compete in a June 22 run-off. The winner will face State Superintendent of Education Inez Tenenbaum (D) in what is expected to be a very close open-seat race.
Posted by Ron Gunzburger - 05.28.04 |
GOOD GOV. An armed kidnapper ended

his stand-off with police officers yesterday after the direct intervention of Puerto Rican Governor Sila Calderón (PPD). Roberto Figueroa -- upset over the recent loss of his city job -- armed himself with a foot-long knife and entered the mailroom of La Fortaleza, the official gubernatorial compound that contains both the Governor's offices and Governor's Mansion. The mailroom is one of the offices that allows easy public access. Figueroa -- who appeared to be mentally unstable -- said he wanted to speak with the Governor to explain why it was unfair that he had been fired. When he was refused, the knife-wielding Figueroa took a mailroom clerk hostage and demanded an audience with Calderon. The Governor, who was across-town at the time at an event, immediately returned to La Fortaleza. Although police strongly advised against it, Calderon herself approached the mailroom and listened as the man's letter was read aloud to her. Figueroa then opened the door, saw the Governor standing immediately before him, dropped his knife and begged for her forgiveness. The hostage was released unharmed and the man was arrested. Calderón last year announced her decision to retire in 2004 rather than seek a second term.
Posted by Ron Gunzburger - 05.28.04 |
BAD GOV #1. Connecticut Governor John Rowland (R) filed suit in state court on Thursday to block the State House Impeachment Committee from

being able to call him as a witness. If forced to appear, Rowland would likely invoke his fifth amendment right against self-incrimination rather than make statements under oath involving the ongoing federal and state corruption probes. Rowland admitted in a televised address a few months ago that he had previously lied about and hidden expensive gifts and renovations to his vacation home that he received from state contractors. Rowland's suit maintains that the legislative branch cannot compel the testimony of anyone from the executive branch. "It is not only permissible for the committee to reach over the boundaries which normally separate the executive and the legislative, it is our duty. I am disappointed that the Governor has chosen not to testify, and I am disappointed that he is filing a lawsuit," said Impeachment Committee Co-Chair Arthur O'Neill (R). The committee is supposed to present their recommendations on impeachment Rowland to the full House by June 30. If Rowland is impeached -- as is expected -- a removal trial will take place before the State Senate this fall. President Bush's campaign removed Rowland as their State Chair earlier this month.
Posted by Ron Gunzburger - 05.28.04 |
BAD GOV #2.

Former Alabama Governor Don Siegelman (D), his former chief of staff, and a state contractor were indicted yesterday on felony corruption charges involving a bid-rigging scheme related to a $100 million state maternity-care program. The indictment alleges that Siegelmqn and his top aide moved $550,000 from the state education budget to a state college in Tuscaloosa so that the contractor could use that money to pay off a likely competitor. All three men were charged with conspiracy, health care fraud, and program fraud. The contractor was also charged with witness tampering, wire fraud, lying to the FBI and perjury. The indictment refers to numerous unindicted co-conspirators, including lobbyists and other state officials. Siegelman -- who narrowly lost for re-election in 2002 -- claims the charges are the result of partisan politics being played by the US Attorney's Office. "We don't ever look to see if there is an R or a D behind anyone's name," responded US Attorney Alice Martin, a Bush appointee.
Posted by Ron Gunzburger - 05.28.04 |

BAD GOV #3. The South Dakota Supreme Court ordered the disclosure of 214 sealed pardons issued by former Governor Bill Janklow (R). State newspapers sued to have the records opened. The records revealed that Janklow secretly pardoned his son-in-law for two drunk driving convictions and an unrelated drug offense. He also pardoned another close friend and former top state official for a DUI conviction. The issue of secret pardons first came to light when American Indian activist and sometimes Libertarian candidate Russell Means confirmed publicly that Janklow had previously pardoned him for a 1975 felony. When asked about the pardons, Janklow told an AP reporter: "I don't talk to the press." Janklow was elected to Congress in 2002, but resigned after his 2003 conviction for vehicular manslaughter. He was released from jail two weeks ago and placed on probation after serving his 100-day sentence. The special election to fill his vacant US House seat is set for Tuesday, June 1.
Posted by Ron Gunzburger - 05.28.04 |

TRACKING THE BATTLEGROUND STATES. In Iowa, the new KCCI-TV/Research 2000 poll shows that Senator Kerry has regained his lead in the state over President Bush. The numbers: Kerry-48%, Bush-43%. If Nader is on the ballot, Kerry's lead shrinks a bit: Kerry-46%, Bush-42%, Nader-3%. Bush lost Iowa by 0.3% in 2000. In Arizona, Bush still is holding onto his lead. The results of the KAET-TV/Arizona State University poll: Bush-43%, Kerry-38%, Nader-2%. The poll did not test what effect a Kerry-McCain ticket would have in the state. Bush won Arizona by 6% in 2000.
Posted by Ron Gunzburger - 05.27.04 |
HOW MANY TIMES DOES McCAIN HAVE TO SAY "NO"? The John Kerry-John McCain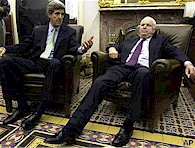 "dream ticket" stories just won't die. In fact, the rumors continue unabated by the fact that McCain has said "no" and "not interested" and "categorically no" numerous times over. Ten days ago, US Senator Joe Biden (D-DE) called on Kerry to select McCain for VP to heal the "vicious rift" in US politics. This week, Dick Gephardt and Hillary Clinton both added their names to the list of those who think McCain would make a good runningmate for Kerry. The comments were interesting coming from Gephardt, as most pundits believe he himself is one of the finalists on the Kerry short-list for VP. Gephardt told a California audience that McCain was a "very attractive figure in American politics" who -- despite some of his pro-life and free trade views -- "a lot of Democrats could get interested in" supporting for VP. Senator Clinton said that she, too, could support McCain for VP: "I'm a big admirer of John McCain's ... I've spoken with Senator McCain and he assures me he's not interested [in VP], but you know, we'll see what happens." Would McCain make a significant difference in the poll numbers? Apparently so. According to a new CBS News poll, Kerry holds a 49% to 41% lead over President Bush. If McCain was added to the ticket, the poll showed that Kerry moved out to a 14-point lead -- attracting 15% of GOP voters and 57% of independents, but without losing a single-point of his Democratic base.
Posted by Ron Gunzburger - 05.27.04 |
NOT YET. Despite published newspaper reports, Chris Heinz -- John Kerry's step-son -- is not planning to jump into a Pennsylvania Congressional race this year.

Heinz, 31, is the the son of the late US Senator John Heinz (R-PA). The Pittsburgh Tribune-Review reported that Dem leaders were allegedly pressuring CD-4 nominee Stevan Drobac (D) to withdraw from the race against conservative Congresswoman Melissa Hart (R), so that Heinz could then be named as the replacement nominee. Drobac says the story is false. He said he has "no intention of dropping out now. My intention is to run." Hart defeated Drobac by a landslide 65%-35% vote in 2002. The Kerry campaign also denied the newspaper's account. "Chris Heinz's main focus between now and November is to elect John Kerry President," said a campaign spokesperson. Most observers in the state believe Heinz is likely looking at a 2006 run against Hart. "I'm not planning on it [but] I wouldn't rule it out," Heinz coyly told the newspaper. Heinz also explained that he used to consider himself a centrist Republican -- like his father -- but that today's Republican Party is "a little radical" for him. Heinz -- who spoke "with admiration" of US Senator Arlen Specter and former US Treasurer Secretary Paul O'Neill, both Pennsylvania GOP centrists -- said his father would have had "a hard time" staying a Republican in today's political climate.
Posted by Ron Gunzburger - 05.27.04 |

GO BOLTS! Anyone who knows me knows that -- outside of politics -- my other big passion is hockey. Watching it. Playing it. While I'm just a crappy C-level roller hockey grinder, I love the game. NHL Stanley Cup Game One on Tuesday night was an exciting and fun contest to watch. There was speed, energy, scoring ... and no trap!! Tonight is Game Two. Although they are the cross-state rivals of my hometown Panthers, I gotta admit I'm rooting for the Tampa Bay Lightning (but I won't be crushed if Calgary wins, because it's pretty hard to dislike them). If you want to see hockey the way it was meant to be played, tune in tonight.
Posted by Ron Gunzburger - 05.27.04 |
DID IRAN DUPE U.S. INTO WAR WITH IRAQ? According to published reports, US intelligence officials are investigating whether Iran passed phony intelligence through Ahmad Chalabi's Iraqi National Congress to

Pentagon hawks in order to instigate the war against Iraq. The Iranian goal, according to The Guardian, was to eliminate Iran's greatest neighboring threat and impose a radical Islamic Republic in Iraq. US officials now suspect that Chalabi -- once the Bush Administration's handpicked choice to be the new leader of Iraq -- was actually a paid Iranian agent who purpotedly funneled disinformation to the US and gave US secrets to Iran. "When the story ultimately comes out we'll see that Iran has run one of the most masterful intelligence operations in history. They persuaded the US and Britain to dispose of its greatest enemy," said Larry Johnson, a former US State Department senior counter-terrorist official. Chalabi denies all the allegations -- calling them "a lie, a fib and silly" -- and says CIA Director George Tenet is the secret mastermind behind a campaign to destroy his reputation. "The suggestion that Chalabi is a victim of a smear campaign is outrageous. It's utter nonsense. He passed very sensitive and classified information to the Iranians. We have rock solid information that he did that," a senior US intelligence official told the newspaper. The CIA confirmed its suspicions about Chalabi when it discovered that "a piece of information from an electronic communications intercept by the National Security Agency had ended up in Iranian hands." Chalabi's INC intelligence chief -- Aras Karim Habib -- is also suspected as being Chalabi's accomplice in the Iranian spy operation. If proven, these charges could prove very damaging to the Bush Administration.
Posted by Ron Gunzburger - 05.26.04 |
LIBERTARIAN CONVENTION OPENS THURSDAY. The Libertarian Party -- the only third party that regularly qualifies their Presidential nominees for ballot status in all fifty states -- is set to nominate a Presidential candidate on Sunday. The Libertarian National Convention opens tomorrow in Atlanta. The frontrunners in the LP Presidential race are wealthy movie producer Aaron Russo (California), radio talk show host Gary Nolan (California), and gun rights activist Michael Badnarik (Texas). You can read more about each of them and find links to their respective campaign sites on our P2004: Libertarian Party page. Also, it is a tradition for LP Vice Presidential candidates to announce months early and actively seek the nomination. Unlike the major parties, the LP nominee for President rarely has a real say in who is selected as the VP nominee -- and five activists are seeking the second spot.
Posted by Ron Gunzburger - 05.26.04 |
A HISTORY LESSON. Lots of folks are getting worked up these days over the possible move by Democratic leaders to delay John Kerry's formal acceptance of the nomination until a few weeks after the close of the July national convention.

The move would allow Kerry to get around some major finance restrictions for a few extra weeks, thereby leveling playing field to ensure the trigger date for fall federal funding is roughly the same for both parties (as the GOP convention is being held in late August). Republican leaders -- as well as politicos from the host city of Boston -- are demanding that Kerry accept the nomination at the convention. To do otherwise, they argue, would be to make a mockery of Presidential campaign tradition. Is the move unheard of? Hardly. Just look at some campaign history from the pre-federal funding days. In 1932, FDR became the first major party nominee to ever appear at the national convention to give an acceptance speech. Even then, the old tradition continued into the early 1940s that the convention was held and concluded without ever hearing from the person who won the nomination. The big tradition back then was a huge "Notification Day" rally in the nominee's hometown with parades and marching bands. The party's national leaders would arrive for the event -- usually held a few weeks post-convention -- and "officially" notify the person that they won the nomination. Only then would the nominee give an acceptance speech. The vintage picture at right is from William Howard Taft's Notification Day festivities in his hometown of Cincinnati, Ohio in September 1908. Think of the Kerry move -- if it even happens -- as "a return to tradition."
Posted by Ron Gunzburger - 05.25.04 |
ZOGBY CLAIMS KERRY HOLDS LANDSLIDE ELECTORAL VOTE

MARGIN. According to the latest series of Zogby tracking polls in the battleground states, Zogby now claims that John Kerry would score a 320-218 electoral vote victory over President Bush if the election were held today. The polls were all conducted within the past week for the Wall Street Journal. Zogby now places the following swing states in the Kerry column: Florida*, Michigan, Minnesota, Missouri*, Nevada*, New Hampshire, New Mexico, Ohio, Oregon, Pennsylvania, Washington, and Wisconsin. Zogby gives these swing states to Bush: Arkansas, Iowa, Tennessee*, and West Virginia*. [Note: An asterisk indicates the lead is within the poll's margin of error.] Now, here's where it gets odd: These polls are being conducted entirely online but -- Zogby says -- are "controlled and weighted" to ensure that the "participants accurately reflects characteristics of the voting population including region, party, age, race, religion and gender." Zogby claims margins of error in the 3% to 4.2% range -- well within the range of traditional polls. Keep in mind that this is all new territory for polling, so it is WAY too soon to tell if there is any reliability in all of this. But still ... 320-218 ... I'm not sure I buy that wide of a margin. If the President's approval ratings continue to hover in the low 40s this fall -- as nearly all polls currently show -- even down-ballot Republicans around the nation could start feeling the painful consequences.
Posted by Ron Gunzburger - 05.25.04 |
NADER LIKES EDWARDS, GEPHARDT FOR KERRY VEEP. In recent days, Ralph Nader let it be openly known that he urged John Kerry at last week's meeting to select either John Edwards or Dick Gephardt as his Vice Presidential runningmate. He also told Kerry he opposed someone like Senator Evan Bayh on the ticket, because Bayh is "a soft Democrat." As for John McCain, Nader said he took McCain at his word that he wasn't interested. No word whether or not Nader made a pitch to Kerry from himself to be picked for the VP spot. Remember: Nader showed up unexpectedly at Dean HQ in Vermont last November -- when Dean was leading in all the polls -- and suggested himself for the job.
Posted by Ron Gunzburger - 05.25.04 |
IF AT FIRST YOU DON'T SECEDE ... In 1861, South Carolina became the first state to secede from the US -- setting in motion the chain of events that started the Civil War. Now, a group of fundamentalist Christian conservatives have the idea to do it again. Cory Burnell, President of Christian Exodus, explained that his group was founded to

coordinate the move of 50,000 or more "Bible-believing Christians" to South Carolina for the express purpose of peacefully breaking away and forming an explicitly Christian republic. The group considered Alabama and Mississippi, but finally settled on the Palmetto State. The US "has declined into a pagan democracy ... Christians have actively tried to return our entire land to its moral foundation for more than 20 years. We can categorically say that absolutely nothing has been achieved," he explained to the WorldNetDaily.com site. The group describes legalized abortion, same-sex marriage, and the court-ordered removal of Alabama's Ten Commandment's monument as "atrocities." The Christian Exodus plan is for folks to move to South Carolina over the next few years to push the state even further to the right in normal election. Then, by 2014, they want to complete their secessionist movement and call a constitutional convention to form the new independent nation of South Carolina (they plan to keep the name). In 2016, they plan to elect their first new President. For the plan to work, admits Burnell, the separation must be a "peaceful, brokered ... political divorce." Burnell says the group will halt their plans if the US government threatens them with military force to stop the secession. The concept is similar to the Free State Project, in which "20,000 or more liberty-oriented people will move to New Hampshire" and work to establish a libertarian state government that would resemble Ayn Rand's envisioned "Galt's Gulch." Message to folks in both groups: Buh-Bye.
Posted by Ron Gunzburger - 05.25.04 |
SALAZAR STILL HAS MILES TO GO ... In Colorado, underdog

US Senate candidate Mike Miles scored a surprise 52%-48% win over frontrunner Attorney General Ken Salazar at the State Democratic Convention. By placing first among the 2,800 delegates, Miles earned the top line on the upcoming primary ballot. Miles -- an educator, former Army Ranger and retired US Foreign Service Officer -- has been running a liberal grassroots effort reminiscent of the recent Howard Dean campaign. Salazar, by contrast, is a centrist strongly backed by the party's "establishment" leadership. Liberal activists were prominent at the convention. Miles said the win gives him "the momentum to build so that we can whittle away at the notion of 'electability.'" Salazar, by contrast, put the best face on his defeat: "I'm the Main Street, mainstream kind of Coloradan who can attract voters. I still know that we will win the August 10 primary." Polls still show Salazar leading either former Congressman Bob Schaefer (R) or beer magnate Pete Coors (R) in general election match-ups. An upset win by Miles -- while still unlikely -- would entirely change the dynamics of this open seat race yet again.
Posted by Ron Gunzburger - 05.25.04 |
CHENEY WAS ON THE EDGE, BUT THEN ... It happened again -- just as it did a month ago when our poll started to attract more passionate partisans. Yup, our Politics1 Survivor game poll was hacked. In the process of someone attempting to change the ongoing results mid-morning Monday (changed from Cheney-50%, Dean-23% and 1,600 votes cast ... to Dean-80%, Cheney-5%, and only 550 votes cast), the poll reset itself to a blank question. Until the folks at Freepolls.com can figure out a way to stop this from repeating again in the future, I'm going to pull the plug on the polls. Sorry folks.
Posted by Ron Gunzburger - 05.25.04 |
HOOSIER STATS: BUSH, DANIELS HOLD LEADS. According to a new Indianapolis Star/WTHR-TV poll, President Bush -- as expected -- holds a commanding lead in Indiana. The numbers: Bush-54%, Kerry-33%, Nader-6%. Bush won Indiana by 16% in 2000. The huge Bush lead here would seem to diminish the VP chances of US Senator Evan Bayh (D-IN), although Bayh may be able to help more in neighboring Midwestern states. More significant is that the same poll also shows former Bush Administration OMB Director Mitch Daniels (R) holding a slim lead over Governor Joe Kernan (D) by a 46% to 40% vote. By contrast, Kernan had held a 13-point lead over Daniels earlier this year. Kernan's campaign said the results only reflect all the attention Daniels received from his months of TV advertising leading up to the recent GOP primary. The Daniels campaign said the results show that their candidate is winning over voters to his message of change.
Posted by Ron Gunzburger - 05.24.04 |
IDAHO VOTERS CAST PRIMARY BALLOTS ON TUESDAY. Not that it has drawn much attention -- except to voters in a few local legislative contests -- but Tuesday is primary day in Idaho. Beyond those local races, Congressman Butch Otter (R) should easily fend off the GOP primary challenge from businessman Jim Pratt. Otter may be in the clear after the primary as his lone Democratic opponent quit the race last week citing her inability to raise money. In CD-2, neither Congressman Mike Simpson (R) nor his Dem challenger face any primary opposition.
Posted by Ron Gunzburger - 05.24.04 |

MESSAGE TO DENNIS: "YOU LOST, DUDE. GIVE IT A REST." John Kerry locked up the Democratic nomination for President two months ago, but that hasn't derailed Congressman Dennis Kucinich's White House campaign. Even Al Sharpton heard the fat lady singing and endorsed Kerry back in March. But not Kucinich. He spent six-weeks campaigning across Oregon for last week's primary, but still only polled 17%. This week, Kucinich will make a six-city swing through Montana for the June 8 primary. Umm ... at some point ... doesn't Kucinich have an obligation to the voters of Cleveland to represent them on the floor of the US House? Considering that Kucinich is also seeking re-election, perhaps the time has come for him to end his White House bid. To paraphrase Kucinich's favorite John Lennon song: "Imagine there's no Dennis, it isn't hard to do ... You may say I'm a dreamer, but I'm not the only one..."
Posted by Ron Gunzburger - 05.24.04 |
BELTWAY SEX SCANDAL DU JOUR

. In case you haven't heard about the latest sex scandal buzzing inside the Beltway, a low-level staffer to US Senator Mike DeWine (R-OH) was fired on Friday for publishing the salacious and gossipy Washingtonienne blog site. Former staffer Jennifer Cutler -- pictured at right -- used the personal blog to anonymously write about affairs she had with co-workers, an ongoing fling with a married Bush Administration cabinet department Chief of Staff, and being paid to have sex to supplement her low Congressional salary. Wonkette first broke the story, and Cutler gave her first post-firing interview to that site. "I'm not naming names. I'm not ashamed of anything I wrote in the blog. And people are sad if they're interested in such a low level sex scandal. I wrote that blog not to ruin people's lives. It was just for the amusement of me and my friends," Cutler told Wonkette. The former staffer added that she thinks she'll have no problem landing a job if she moves back to NYC: "In New York, they love this kind of thing. They'll ask what happened at my last job, and I'll say I was fired for a sex scandal!"
Posted by Ron Gunzburger - 05.24.04 |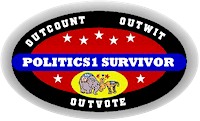 GOP SAVES CHENEY, BOOTS HILLARY ... IN ROUND THREE OF POLITICS1 SURVIVOR. Over 2,200 folks voted at Tribal Council by the close of voting at Friday midnight. For most of the voting, it looked like Cheney was a goner ... but, with Tom DeLay acting as a spoiler and siphoning 136 Dem votes away from Cheney ... they were able to narrowly boot Hillary Clinton off the island by a margin of just 24 votes. Complete Round Three results. Kudos to the Elephant tribe for a round well played! Will the Demo-Demo tribe rebound by dumping Cheney ... or will their wrath turn against DeLay. And, with Hillary gone, who will the Elephants now target? Sharpton? McCain? Dean? Nader? Cast your ballots now in ROUND FOUR ... and decide who you want to vote off the island. Voting for Round Four will end Monday night at midnight.
Posted by Ron Gunzburger - 05.22.04 |
HOLLINGS UNDER FIRE FOR COMMENTS ABOUT JEWS, ISRAEL. US Senator Ernest "Fritz" Hollings (D-SC) is under fire from Jewish leaders for comments he expressed about the role of Israel and Jewish voters in the US decision to go to war with Iraq.

In a column Hollings wrote for his state's leading newspapers, "[F]or years there has been a domino school of thought that the way to guarantee Israel's security is to spread democracy in the area ... [President Bush] came to office imbued with one thought: re-election. Bush felt tax cuts would hold his crowd together and spreading democracy in the Mideast to secure Israel would take the Jewish vote from the Democrats. You don't come to town and announce your Israel policy is to invade Iraq. But George W. Bush [...] started laying the groundwork to invade Iraq days after inauguration." Rabbi Philip Silverstein -- a leader of South Carolina's Jewish community -- denounced the remarks: "The whole foreign policy of the United States is based on Israel? What kind of ridiculous statement is that? ... It's anti-Semitic [and] dangerous." Anti-Defamation League National President Abe Foxman also called for Hollings to apologize: "This is reminiscent of age-old, anti-Semitic canards about a Jewish conspiracy to control and manipulate government." For his part, Hollings refuses to apologize or retract the statement. In a written statement, he said that he has a lengthy record of supporting Israel and any characterization of his column as "anti-Jewish stereotyping or scapegoating is ridiculous." In the past, Hollings has been forced to apologize for insensitive statements about African-Americans, Jews, Japanese, and other minorities. Hollings is retiring from his Senate seat this year.
Posted by Ron Gunzburger - 05.21.04 |
TRACKING THE BATTLEGROUND STATES. The latest American Research Group tracking poll of Florida voters shows the race there remains very tight in this "crown jewel" of battleground states. The numbers: Bush and Kerry tied at 47% apiece. If Nader is on the ballot -- and he may be able to qualify there as the Reform candidate -- the race becomes Bush-47%, Kerry-46%, Nader-3%.
Posted by Ron Gunzburger - 05.21.04 |

N.C.: BOWLES HOLDS LEAD IN US SENATE RACE. According to the latest WRAL-TV/Mason-Dixon poll of North Carolina voters, former Clinton White House Chief of Staff Erskine Bowles (D) has widened his lead over Congressman Richard Burr (R) for the state's open US Senate seat. The numbers: Bowles-45%, Burr-35%. Bowles held a slightly narrower lead in the last poll. However, before Dems start counting on Bowles to hold this seat, there is also another key factor to consider: name ID. Bowles had 86% name recognition, while Burr only had 55%. This seems to imply Burr has more room to gain ground as he becomes better known. Much of Bowles' high name recognition can be attributed to residual from his 2002 US Senate run against Elizabeth Dole. As of the most recent FEC reporting period, Bowles had raised $4.2 million and Burr had raised $5.4 million.
Posted by Ron Gunzburger - 05.21.04 |
I HADN'T PLANNED TO MAKE THIS "RIDICULE THE REFORM PARTY WEEK", BUT ... A few days ago we poked some good-natured fun at Iowa State Reform Party Chairman Theodore Webster for wearing that huge, goofy Uncle Sam hat on his party's welcome page. In response to that article, California State Reform Party Chairman Jeff Rainforth posted a crude, ranting response in our blog. In case you've never heard of him, Rainforth was the RP candidate for Governor in the 2003

recall election and was also one of the party leaders responsible for giving the Reform nomination to Ralph Nader this month. Now, if we wanted to expose Rainforth as the anti-Hispanic bigot and fool he apparently is, we'd just print his comments here ... so I think we're going to do just that! We first were going to clean-up his profanities, but then decided that they helped capture the true flavor of Rainforth's crass posting. That said, here are the complete and unedited words of wisdom from this leading member of the Reform Party: "Wow, is that the best story that poli-fucking-tics.com aka 'we're fuckingmorons.com' could come up with on the Reform Party. I'm simply fucking amazed at your fucking intelligence, and reporting fucking abilities. Try again dumbasses. The Reform Party has some of the most intelligent people involved in it, and, the best platform of any party bar fucking none. Now, of course, if half of America weren't populated with fucking dumbasses with IQ's lower than 98, they might realize that. But, of course, what can we expect from a bunch of fucking brainwashed, apathetic, political party over country dumbass mother fuckers. Not much, I can definitely say that. It's ok though. Keep shelling out thousands of dollars of your hard earned money every year just to pay for the interest on the national debt as middle class jobs fly out to 2nd/third world countries like India and China. Oh, and, I won't even mention the fact that half of Southwestern USA looks like a shithole third world country now because no one is checking the borders, and every Tom, Dick, and Hay-zeus is coming over for a welfare check and to vote illegally in the elections. It's all good baby! Just give me my American lame ass idol shows, prozac, and dick hardner pills, and, hey, it ain't a fuckin' thang! How fucking pathetic. Get a fucking life you pussy dumbass fucks. Nice site for a hack job too btw. LATER!" Yup, a real class act. I'm sure Nader is really, really proud to be associated with Rainforth and the Reform Party.
Posted by Ron Gunzburger - 05.21.04 |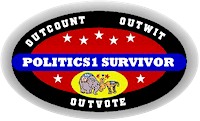 CHENEY VERSUS HILLARY ... IN ROUND THREE OF POLITICS1 SURVIVOR. Over a thousand folks voted at Tribal Council during the first day of Round Three. So far, it is a very close race to see if the Demo-Demo tribe is going to dump Dick Cheney or whether the Elephant tribe is going boot Hillary Clinton. Just some scattered votes for the six other politicos remaining. Voting for this round ends at midnight on Friday night. Click here to play Politics1 Survivor ... and decide who you want to vote off the island.
Posted by Ron Gunzburger - 05.21.04 |
LOOKING FOR CAMPAIGN JOBS? If you haven't looked at it lately, check out all the ads for paid campaign jobs around the nation on our Jobs page. Oddly, nearly all the ads right now are from Democratic campaigns (plus a few non-partisan or issue ones), as we haven't had a listing submitted by a GOP campaign in nearly six weeks. We don't discriminate in these postings so -- if your campaign is hiring (and that means paid campaign jobs ONLY) -- email us your ad.
Posted by Ron Gunzburger - 05.21.04 |

SOUTH DAKOTA SENATE UPDATE. US Senate Minority Leader Tom Daschle (D-SD) is locked in a very close race for re-election against former Congressman John Thune (R). According to the latest Sioux Falls Argus Leader/KELO-TV poll, the incumbent holds a precariously close lead. The numbers: Daschle-49%, Thune-47%. Daschle held a 7% lead in the same poll back in February. Thune lost a 2002 US Senate race against incumbent Tim Johnson (D) -- a Daschle protégé -- by just 524 votes. As of the most recent FEC reporting period, Daschle had raised $10.3 million ($5 million cash on hand) and Thune had raised $2.2 million ($1.9 million cash on hand).
Posted by Ron Gunzburger - 05.20.04 |
NADER NEWS. Two developments on the Nader front yesterday. First, Ralph Nader met with John Kerry for 70 minutes at Kerry's DC campaign office. The meeting was described as a cordial discussion of issues, and the two men both emphasized their common interest in seeing President Bush defeated.
When Nader told Kerry that he thought he was likely to pull as many votes from Bush as he would from the Massachusetts Senator, Kerry politely disagreed. Kerry also made a point of not directly asking Nader -- his friend of nearly 30 years -- to exit the race. The two men pledged to continue having meetings to keep the dialog ongoing in the months ahead. Immediately afterwards, Nader told reporters he would not quit the race -- but he also pointedly described Kerry as "very Presidential." The second development was the announcement that some well-connected Dems are launching a new 527 group -- the National Progress Fund -- the finance TV spots in key swing states to discourage progressive voters from backing Nader. The leaders of the group are former Dean campaign spokeswoman Tricia Enright, Gephardt campaign fundraiser David Jones, and "Draft Clark" campaign online organizer John Hlinko. The group plan to start running the spots, each featuring former Nader 2000 voters now backing Kerry, in FL, IA, NH, NM, OR and WI. The group's website also amusingly asks: "Slept with Nader and woke up with Bush in '00? Tell us your story" and they'll post it online. "We're not attacking Ralph Nader ... We are going to work hard to reach-out, to change minds, to create a real interactive community where a new wing of the Democratic party -- Nader Democrats -- can help change the direction of this country and the policies of our party," said Enright. "I would advise them to cease and desist ... [They'd be] better advised to spend their money to try to persuade the millions of Democratic voters who supported Bush in 2000 to vote for their ticket," responded Nader. You gotta know the Bush folks are loving this!
Posted by Ron Gunzburger - 05.20.04 |

TRACKING THE BATTLEGROUND STATES. A new Quinnipiac University poll shows that John Kerry is holding a surprisingly narrow lead over President Bush in New Jersey -- which is usually a solid Democratic state in Presidential races. The numbers: Kerry-45%, Bush-43%, Nader-5%. Bush lost NJ by 16-points in 2000.
Posted by Ron Gunzburger - 05.20.04 |
N.C. GOVERNOR

LOOKS STRONG. North Carolina Governor Mike Easley (D-NC) looks to be sailing towards a comfortable re-election win this year. According to the new WRAL-TV/Mason-Dixon poll, Easley would currently defeat any of his likely GOP rivals by wide margins. Easley led former Charlotte Mayor Richard Vinroot (R) by a vote of 52% to 34%. Likewise, Easley led former Congressman Bill Cobey (R) by a 52% to 25% vote. He also led former State Senate GOP Leader Patrick Ballantine by an even wider margin of 55% to 22%. As for the July 20 Republican primary for Governor, the poll showed that Vinroot led with 29%, followed by Cobey at 17%, Ballantine at 11%, businessman George Little at 6%, Davie County Commissioner Dan Barrett at 4%, and State Senator Fern Shubert last with 2%. Vinroot started the GOP race with higher name recognition than did his rivals because of his two previous runs for Governor in 1996 and 2000.
Posted by Ron Gunzburger - 05.20.04 |
WHO ARE YOU? WHO WHO? WHO WHO? I REALLY WANT TO KNOW ... Actually, I think we're starting to get the picture. Thanks to your participation over the past few days in that online survey of blog visitors -- which involved readers of the 25 or so most trafficked political blogs -- we learned some things about Politics1 visitors. This is only the preliminary info ... but you guys (and I say that because -- like nearly all the blog sites -- you were nearly 80% male) are substantially younger than the average (by nearly ten years!), quite a bit wealthier, less involved in "the blogosphere" in terms of hours spent (i.e., you also have real lives off-line), and more politically balanced than most blogs (which typically attract either left or right, but not both). Fascinating.
Posted by Ron Gunzburger - 05.20.04 |
MAYBE THAT TENT JUST ISN'T BIG ENOUGH. Republicans always like to use the late GOP strategist Lee Atwater's "Big Tent" description of their party. In Atwater's vision, there was always room enough in the tent for all

Republicans (pro-life, pro-choice, etc.), so long as they all remain loyal to the goal of electing GOP candidates. Apparently, the tent used by the North Carolina Republican Party must have shrunk just a bit the last time they washed it. NC State Republican Chairman Ferrell Blount decided this week that he would not allow the NC Log Cabin Republicans -- gay Republicans -- to purchase a booth at this weekend's upcoming GOP State Convention. Even though the group had reserved in time and sent in the fee, Blount returned the check to them this week. Blount explained: "I reviewed what the Log Cabin national Web site was advocating and promoting, and in my opinion, it is diametrically opposed to the values of the North Carolina Republican Party ... As state party chairman, I support the definition of marriage as being a union sanctioned by God between a man and a woman. That is what the Republican Party talks about in its platform and will talk about this weekend." Retired attorney Ed Farthing -- a GOP activist since the 1950s and an organizer of the new NC Log Cabin chapter -- responded: "I am extremely disappointed ... I would classify it as pandering to the radical right element."
Posted by Ron Gunzburger - 05.20.04 |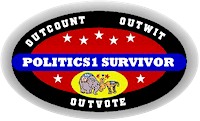 ROUND THREE: POLITICS1 SURVIVOR. President Bush was dumped in Round One. Senator Kerry was booted off the island in Round Two. The Demo-Demo tribe made a valiant effort to save Kerry by trying to boot off Dick Cheney, but it fell short. Amazingly, over 4,600 of you voted in the last round. Based on Round Two, the Demo-Demo tribe is going to target either Cheney or Tom DeLay ... while the Elephant tribe is going to target Hillary Clinton. So, who is next to go? You get to decide in Round Three of our political rip-off of CBS's Survivor. Click here to play Politics1 Survivor ... and decide who you want to vote off the island. Round Three closes Friday night.
Posted by Ron Gunzburger - 05.20.04 |
TUESDAY'S PRIMARY RESULTS. In Kentucky, US Senator Jim Bunning (R) won renomination in his primary by nearly a 6-to-1 margin. On the Democratic side of that race,

State Senator Dan Mongiardo won his primary by a 2-to-1 margin over a perennial candidate. Polls show that Bunning -- a Baseball Hall of Fame pitcher -- is likely to strike out surgeon "Dr. Dan" in November. In the open CD-4 race, manufacturing consultant and '02 nominee Geoff Davis won a competitive three-way primary with 58%. Davis should be considered a slight favorite over retired TV journalist Nick Clooney (D) in this conservative, swing district. In CD-6, State Senator Tom Buford easily overcame attacks from his two GOP primary foes that he helped raise money for the campaign of incumbent Congressman Ben Chandler (D) in the special election earlier this year. Now, instead of delivering contribution envelopes to Chandler, Buford will seek to oust him in November.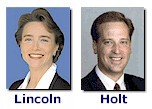 GOP Voters in Arkansas selected State Senator Jim Holt to challenge US Senator Blanche Lincoln (D). Lincoln won her primary with 83%. Lincoln leads Holt by a huge margin in both the polls and in the race for campaign funds. As of the last reporting date, Lincoln had raised over $5.1 million versus Holt's $18,000. In Oregon, rancher Al King won the six-way GOP primary for the right to lose to popular US Senator Ron Wyden (D) in November. In CD-1, telecommunications consultant Goli Ameri (R) spent over $750,000 to score a big victory in the primary. Ameri -- an Iranian immigrant who emphasizes she would be the first Iranian-American to serve in Congress -- says she would bring a unique perspective to Middle East issues. Congressman David Wu (D) is currently favored over Ameri, but expect a competitive and expensive race here. Wu -- who has over $1.3 million in the bank -- is the first person of full Chinese ancestry to serve in the US House. In CD-5, former Lake Oswego School Board Chair Jim Zupancic won the GOP primary. Zupancic is expected to give Congresswoman Darlene Hooley (D) an aggressive challenge in this swing district. Bush carried CD-5 by 2% in 2000, but Hooley held the seat by a margin of 10% in 2002.
Posted by Ron Gunzburger - 05.19.04 |
IS NORTH CAROLINA IN PLAY? A new independent Mason-Dixon poll out this week seems to indicate North Carolina may be moving into the swing-state category in the Presidential race. The numbers: Bush-48%, Kerry-41%, Nader-3%. However, if Kerry selects US Senator John Edwards as his runningmate, the dynamics shift even more. The score: Bush/Cheney-46%, Kerry/Edwards-45%, Nader-2%. Is this poll an anomaly, or is the race here really this close?
Posted by Ron Gunzburger - 05.19.04 |
WHAT ABOUT LaROUCHE? Every so often I get a flurry of nasty emails denouncing me for not giving coverage to the Presidential candidacy of Lyndon LaRouche (D). Usually, these notes start off with a cheery salutation like "Dear Scumbag!" and often accuse this site as being "an agent of the anti-LaRouche Conspiracy." Well, when I returned from my recent vacation, there was another fresh batch of them demanding that I "stop trying to hide" LaRouche's candidacy.
Thus, I decided to grant their request with this posting. LaRouche, 81, is making his eighth White House run this year -- an amazing achievement of defeats which ties the previous record set by the late Governor Harold Stassen (R-MN). LaRouche, a college drop-out and self-described "internationally known economist", weaves a dizzying web of conspiracy theories -- cloaked in a swirl of historic truths and mistruths -- usually implicating Queen Elizabeth, British bankers, the Pope and the Jesuits, the Trilateral Commission, drug cartels, Yale's Skull & Bones fraternity, environmentalists, Jane Fonda, Ted Kennedy, the Bush family, the CIA and FBI, Osama bin Laden, gays, Israel, the Clintons, Margaret Thatcher, the World Bank and IMF, and many others. He started his career as a Trotskyist political organizer in the Socialist Workers Party in the 1960s, formed the now-defunct and ultra right-wing US Labor Party in the early 1970s after a violent break from the SWP ... before finally shifting his entire neo-fascist network into the Democratic Party by 1979. LaRouche was convicted and imprisoned for five years on felony fraud charges in the late 1980s related to the fundraising activities of his political organization -- although his supporters maintain he was a political prisoner unfairly prosecuted by vindictive federal government agents. LaRouche's old nemesis, the Anti Defamation League (ADL), has published various booklets over the years that purport to identify LaRouche as anti-Semitic. LaRouche strongly denies he is anti-Semitic and notes that numerous Jewish individuals are leaders in his organization. He also denies the frequent "cult" allegations. In 2000,

LaRouche captured just 124 votes in the New Hampshire Democratic primary -- and blamed his poor showing on a conspiracy led by the New Hampshire Secretary of State. Although he passed the required 15% needed to win delegates in the late-season Arkansas primary (he won 22%), the DNC refused to award LaRouche any delegates because they ruled that he was "not a real Democrat." LaRouche sued the DNC -- but a federal court ruled that the Democratic Party had the legal right to deny awarding any delegates to LaRouche, as he was not an authentic Democratic candidate because of his extremist fringe views. The DNC also noted that LaRouche -- as a convicted felon -- is not a registered Democrat (nor even a registered voter) and was also not eligible under party rules to be the nominee for that reason. Again in 2004, party leaders excluded him from the debates -- even though he qualified for federal matching funds and raised over $5 million as of fall 2003 (which placed him ahead of Clark, Kucinich, Braun, and Sharpton in the money hunt at that time). However, of the vast sums he raises, little remains unspent as the money quickly goes out to finance his perpetual political network of offices, staffers, publications, and long-winded TV spots (typically it is paid programming of LaRouche droning into a camera for 30 minutes, spouting his usual gibberish of conspiracies and impending global doom). So, how did LaRouche do this year? He scored 90 votes in the NH primary ... entered a bunch of other primaries since then with low single-digit finishes ... and got 2% yesterday in Oregon, 5% in Arkansas, and 0.8% in Tennessee. Okay, LaRouchies: I'm now done with writing about your guy until he makes his record-shattering ninth run in 2008.
Posted by Ron Gunzburger - 05.19.04 |
CONFUSING TRIFECTAS. The first vote has yet to be cast -- and three candidates are running -- but I can guarantee you that Brown will win the Florida CD-3 seat. Why can I be so sure? Because the two candidates opposing incumbent Congresswoman Corrine Brown (D) are public health administrator Prince Brown (D) and general election write-in candidate Johnny Brown. Brown versus Brown versus Brown! Okay, I'll go a step further and boldly state that the Congresswoman will easily dispatch her two like-named foes. Meanwhile, in Michigan, voters in the Detroit area will see former State Rep. Lamar Lemmons III (D) seeking a return to the State House. His father Lamar Lemmons Jr. (D), and his son Lamar K. Lemmons (D) are also running for State House seats in two neighboring districts. The confusing part for voters -- but the economical part for printing purposes -- all three filed to appear on their respective ballots as simply "Lamar Lemmons." Hey, when life gives you Lemmons, print more campaign signs.
Posted by Ron Gunzburger - 05.19.04 |
FROM SEX TO SURVEYS. Now that I think everyone has gotten it out of their systems and, presumably, moved on from the fairly amusing threads over the last two days discussing my sex life, let me get y'all refocused on politics again. Just a second pitch for you folks to take two minutes to answer an anonymous survey on political blog readership. It will also help me get a good demographic snapshot of Politics1's readership. Be sure to write "Politics1" as the referring blog as your answer for the last question (#22), so they can prepare a customized report for me. Interesting fact: Numbers continue to show that blog readership is about 80% male. Also: voting closes tonight in Round Two of our Politics1 Survivor game. Still looks like Kerry is a goner this round ... or will the Demo-Demo tribe mount a last minute rescue operation?
Posted by Ron Gunzburger - 05.19.04 |
THREE STATE PRIMARIES TODAY. Voters in Arkansas, Kentucky and Oregon go to the polls today to cast ballots in numerous congressional contests. There are also three meaningless

Presidential primaries (meaningless unless you're a Kucinich or LaRouche supporter ... actually, nevermind, they're still meaningless contests). There are several races to watch today. In Arkansas, US Senator Blanche Lincoln (D) will easily dispatch feminist activist Lisa Burks in the Democratic primary. Meanwhile, a trio of little-known Republicans are fighting for the right to lose to Lincoln in November. GOP leaders unsuccessfully tried to recruit either Governor Mike Huckabee or DEA Director Asa Hutchison to oppose Lincoln, but both passed. In Kentucky,

US Senator Jim Bunning (R) will cruise to an easy primary win. On the Dem side, a recent poll showed State Senator Dan Mongiardo struggling to even defeat a perennial candidate (note: the poll also showed Bunning crushing Mongiardo by a lopsided 21-point margin in November). In the open CD-4 race, three Republicans are locked in a competitive fight. The winner will face retired TV journalist Nick Clooney (D) -- actor George's dad -- in November in this conservative, swing district. In CD-6, State Senator Tom Buford and two others are facing off. The winner will take on incumbent Ben Chandler (D), who won a special election for the seat earlier this year. Buford has admitted he personally delivered contributions to Chandler in that race, in an apparent effort to advance himself now by scuttling his likeliest GOP rival -- although Buford still claims he didn't know what was in the envelopes he gave to Chandler. In Oregon, six minor Republicans are battling for the nomination to face US Senator Ron Wyden (D) in November. Wyden should be able to easily defeat whoever wins the GOP primary. Other competitive races to watch in the state are the GOP primaries in CD-1 and CD-5.
Posted by Ron Gunzburger - 05.18.04 |
MORE STATE RACE UPDATES. With only two weeks to go until the June 1 special election for South Dakota's lone Congressional seat, the contest is
rapidly tightening. Attorney and '02 nominee Stephanie Herseth (D) is facing an aggressive challenge from former State Senator Larry Diedrich (R). Herseth -- hit with heavy barrage of critical TV spots trying to paint her as a liberal -- has seen her nearly 30-point lead of three months ago crumble. The latest KELO-TV poll: Herseth-47%, Diedrich-44%. Both campaigns appear financially strong for the final stretch. The seat was left vacant by the resignation late last year of Congressman Bill Janklow (R), following his vehicular manslaughter conviction. In related news, Janklow was released yesterday after serving his jail sentence. Meanwhile, in Utah, Congressman Jim Matheson (D) -- a top national GOP target -- appears well-positioned to win re-election. A new Deseret Morning News/KSL-TV poll shows the incumbent holding a commanding lead over either of his two Republican opponents. Matheson leads former State Rep. John Swallow (R) by a 55% to 29% vote. Likewise, he leads business consultant Tim Bridgewater (R) by a 58% to 24% vote. The same poll also found that former Ambassador and wealthy business heir Jon Huntsman Jr. (R) has a comfortable 15% lead in the gubernatorial race over law school dean Scott Matheson Jr. (D), who is Congressman Matheson's brother. Interestingly, the poll showed Scott Matherson leading in a possible match-up against University Regent Nolan Karras (R) by a 49% to 34% vote. Fortunately for the GOP, the poll showed Huntsman holding a 39-point lead over Karras for the June 22 primary. "I'm OK with the poll showing what it does. I know I don't have a lot of name identification right now," said Karras. Postscript: A correction on the Herseth-Diedrich poll numbers. The Hill's 47/44 "leaked" poll numbers from KELO were incorrect. The actual numbers released today directly by KELO-TV/Argus Leader were Herseth-49%, Diedrich-40%.
Posted by Ron Gunzburger - 05.18.04 |

EVER WONDER WHY THIRD PARTY FOLKS HAVE A HARD TIME BEING TAKEN SERIOUSLY? The guy in the goofy pic is Reform Party State Chairman Theodore Webster of Iowa. Don't think I grabbed this from some montage of July 4th celebration pix. Nope. This is the same picture that greets visitors on the official homepage of the Iowa Reform Party. Webster -- who has been active in the party since the Perot days -- is also the webmaster for one of the party's national sites. And, yup, this is the same party that is now backing Ralph Nader.
Posted by Ron Gunzburger - 05.18.04 |
AND SPEAKING OF VOTING... Two things. (1) A site we work with is conducting an online survey on political blog readership. It will also help me get a good demographic snapshot of Politics1's readership. Be sure to write "Politics1" as the referring blog as your answer for the last question (#22), so they can prepare a customized report for me. Interesting fact: initial responses -- for all the blog sites being polled -- indicates that blog readership is about 80% male. It's also anonymous, as they don't even ask for your email address. (2) Don't forget that voting is still open for Round Two of our Politics1 Survivor game. After a conservative radio talk show host mentioned it yesterday, it caused John Kerry to leap to the top of our endangered list. Do you want to help finish him off ... or do you want to save him from being voted off? Voting closes Wednesday evening.
Posted by Ron Gunzburger - 05.18.04 |

OLD MAN HAS TROUBLE UNDERSTANDING FAST FOOD CASHIER. Why is this political news? Because the 82-year-old man who publicly complained that the McDonald's cashier spoke with too heavily of a Hispanic accent to be easily understood is former Maryland Governor and current State Comptroller Don Schaefer (D). "I don't want to adjust to another language. This is the United States. I think they should adjust to us," said Schaefer. He also complained about the use of foreign languages on the chain's sandwich bag. Schaefer says he will no longer eat his daily breakfasts at that location and will not apologize for his comments. Governor Bob Ehrlich (R) came to Schaefer's defense, denouncing multiculturalism as "bunk" and "crap" in a radio interview. Ehrlich -- who came under fire for his remarks -- also says he will not apologize.
Posted by Ron Gunzburger - 05.18.04 |
HMMM. Talk about a queer twist (pun intended) ... but somehow yesterday's posting about my return from vacation (below) evolved into a lively blog discussion of whether or not I was gay. It even -- amusingly -- generated the first "You're really HOT!" fan email I've gotten since launching this site over six years ago. FYI: If you want to know the answer, you can find it here.
Posted by Ron Gunzburger - 05.18.04 |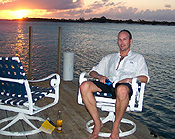 I'M BAAACK!! Not that I didn't miss y'all ... but taking a real, honest-to-goodness vacation from time to time can be greatly relaxing. I went the entire week on a small Caribbean island without my cell phone, laptop (and email), newspapers, or TV news. In fact, I took off my wristwatch when I arrived there and only put it back on during the return flight. Sunsets on the bay (right ... and note the beer), snorkeling daily, white sand beaches just steps from the house, sailing trips, spending time with friends, cooling ocean breezes. But -- alas -- that was then and this is now. So it's back to the daily grind of running Politics1. I've already made the page updates to the states that held primaries or where candidate filing closed last week ... but it will still take me a few more days before I can wade through the hundreds of emails and post those links and news updates.
Posted by Ron Gunzburger - 05.17.04 |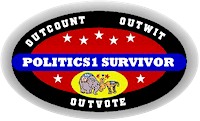 ROUND TWO: POLITICS1 SURVIVOR. In Round One last week, the Demo-Demo tribe clearly ganged up on President Bush. Thus, the first person voted off the island was Dubya. Will the Elephant tribe now get even? Will they gang up on Hillary, who garnered the second most votes? Or will the Demo-Demos unite against Cheney or DeLay ... or perhaps Nader or Ol' Zell ... and muscle their way to another victory? Yup, our Fun Poll is back with for Round Two of our rip-off of CBS's Survivor. We started with ten political folks and stranded them on a remote island. You get to vote them off the island ... round by round, one person at a time ... until we have our last survivor. Think strategically to help your person win. Round Two will stay open for voting until Wednesday evening. We'll keep holding elimination rounds every few days until we have our single champion P1 Survivor. Click here to play Politics1 Survivor ... and decide who you want to vote off the island.
Posted by Ron Gunzburger - 05.17.04 |
NADER'S PARTY RAIDERS. If at first you don't succeed (with ballot access), try, try again. Independent Presidential candidate Ralph Nader finally found a way to qualify for ballot status in his first states: by winning the nomination of the waning Reform Party. If

he accepts the Reform endorsement, Nader would certainly gain automatic ballot status in six safe GOP states (Colorado, Kansas, Mississippi, Montana and South Carolina) and at least one swing state (Michigan). There is also a possibility -- subject to a likely court challenge -- that the Reform Party may qualify Nader for automatic ballot status in Florida. However, as the party only held a telephone conference call to bestow their endorsement and not the statutory requisite national convention, the Reform candidate may not appear on Florida's ballot this year. The party was originally created by Ross Perot as a vehicle for his 1996 White House run. In 2000, the Reform Party was torn apart by warring factions loyal to conservative Pat Buchanan and the New Age followers of the Natural Law Party. Buchanan ultimately won the nomination fight -- and subsequent legal fight for control of the party -- but then walked away from the party just a few months after his poor 2000 showing. The shattered remnants of that party -- now largely controlled by a handful of colorful gadflies and frequent candidates -- is the entity that threw its weight behind Nader last week. "We'll decide state by state [on whether or not to accept the Reform endorsement].It depends on the local politics of the state and whether in some states we prefer the independent party line," said a Nader spokesperson to the New York Times. Translation: "If I can get on the ballot on my own in those states, I will ... but otherwise I'll gladly use your ballot line when needed."
Posted by Ron Gunzburger - 05.17.04 |

TRACKING THE BATTLEGROUND STATES. President Bush visited Michigan within the past two weeks and just spent some big bucks there on a new round of TV ads to bolster his support there. It already appears to have helped Bush regain his footing in the state. The results from this weekend's Detroit News poll: Bush-44%, Kerry-40%. Bush lost Michigan by 5% in 2000. Another hotly contested state is Oregon, where the new Portland Tribune/KOIN-TV poll showed: Kerry-50%, Bush-46%. With Nader on the ballot, the numbers changed to: Kerry-47%, Bush-45%, Nader-3%. Bush lost Oregon by 0.4% in 2000. In somewhat related news, Kentucky is not a battleground state -- as Bush won it by 15% in 2000 -- but we do have a new poll from there to report. The new Louisville Courier-Journal poll, released Saturday, showed: Bush-52%, Kerry-40%.
Posted by Ron Gunzburger - 05.17.04 |
PLACE YOUR BLOGAD ON POLITICS1 RIGHT NOW!! Special introductory prices: $60 for one week, $90 for two weeks, and $150 for a month. Click here to learn more!
IS YOUR CAMPAIGN HIRING? If so, then let us know. We'll post the ad for free for any paid campaign staff positions. See our Jobs page for more details.