VACATION TIME!! I'm outta here ... for a one-week vacation. That means I won't be posting any new blog articles or page updates online or reading any email until Monday morning on May 17. What am I going to be missing? Kerry and Bush will continue to do, well, whatever. In Utah, the Republican State Convention on Saturday will whittle the crowded gubernatorial race down to two candidates for the primary ballot. Will Governor Olene Walker (R-UT) survive the convention? Also, Nebraska and West Virginia voters cast primary ballots on Tuesday. Races to watch there are the hot CD-1 open seat GOP primary in Nebraska, plus the two WV gubernatorial contests. Also, will 89-year-old former Congressman and President Truman speechwriter Ken Hechler (D-WV) score a comeback in the Secretary of State race? Michigan candidate filing closes on May 11, and Nevada closes on May 14. On Saturday, May 15, the Delaware GOP State Convention will pick nominees for several statewide offices. So, until I'm back, use the blog comments sections below to keep other current on political developments.
Posted by Ron Gunzburger - 05.07.04 |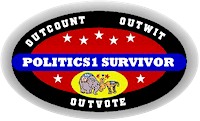 OUR NEW FUN POLL: POLITICS1 SURVIVOR. The Friday Fun Poll is back with our own rip-off version of CBS's Survivor. We selected ten political folks -- Bush, Kerry, Cheney, Nader, Hillary, etc. -- and stranded them on a remote island. You get to vote them off the island ... round by round, one person at a time ... until we have our last survivor. Think strategically to help your person win. Here's how we'll run it. We'll leave the Round One poll online until we get back from vacation. After that, we'll hold a new elimination round every few days until we have a single champion P1 Survivor. Click here to play Politics1 Survivor ... and decide who you want to vote off the island.
Posted by Ron Gunzburger - 05.07.04 |

OPEN THREAD #1 - THE PRESIDENTIAL RACE. I'm going to leave YOU in charge of posting news updates on Politics1 -- yup, you bloggers -- in charge here until I return from vacation. Use this thread to post new poll numbers, debate developments, new TV spots, etc., over the week that I'm gone. Bush, Kerry, Peroutka, Nader ... okay, even Russo. Post all those stories and comments all here.
Posted by Ron Gunzburger - 05.07.04 |

OPEN THREAD #2 - US SENATE RACES. Argue amongst yourselves over which party is going to control the US Senate after November. Florida? Colorado? Georgia? Illinois? Wherever! Post new Senate poll numbers, etc.
Posted by Ron Gunzburger - 05.07.04 |
OPEN THREAD #3 - GOVERNOR RACES. Ditto for the various gubernatorial contests. What party will gain? Who has the best shot of scoring an upset? Post 'em all here.
Posted by Ron Gunzburger - 05.07.04 |
OPEN THREAD #4 - EVERYTHING ELSE. Iraq and POW abuse ... gay marriage ... the Stanley Cup contest ... trade and globalization ... abortion ... the economy ... drug legalization ... jokes ... even just plain good old fashioned gossip. Like I said above, post your stuff here until I'm back on May 17.
Posted by Ron Gunzburger - 05.07.04 |
COMPETING MEDIA WATCHDOGS. Tired of

the media's obvious left-wing bias ... or blatant right-wing bias? I guess it all depends on your perspective. If so, then what you need are two diametrically opposed media watchdog groups to keep both sides straight. On the right is the Media Research Center, which is quick to decry examples of liberal bias by the media. The MRC was founded in 1987 by conservative activist L. Brent Bozell III, who still leads the group. According to the MRC website, the group seeks to "prove that liberal bias in the media does exist and undermines traditional American values, but also to neutralize its impact." The new kid on the block -- and in the opposing corner -- is Media Matters for America. MMA is a newly created group, founded by conservative-turned-liberal journalist and author David Brock. MMA uses its website to "document and correct conservative misinformation in each news cycle." Check out both sites regularly to see specific examples of lies, inaccuracies and perceived bias by journalists of all political stripes. Trust me, it's a lot of fun to contrast the daily complaints highlighted on the two competing sites.
Posted by Ron Gunzburger - 05.06.04 |

TRACKING THE BATTLEGROUND STATES. In New Hampshire, the latest Granite State/UNH poll shows John Kerry leading President Bush by a 49% to 45% vote. Bush won NH in 2000 by 1%. There's also a WKRG-TV/SurveyUSA poll out this week in Alabama (which is not a battleground state): Bush-55%, Kerry-36%. Bush won Alabama by 14% in 2000, and it is expected to remain safely in the GOP column.
Posted by Ron Gunzburger - 05.06.04 |
ODDS AND ENDS. In the highly competitive New York CD-27 race to replace retiring Congressman Jack Quinn (R), Republican quickly united this week behind a single candidate. Erie County Comptroller Nancy Naples (R) announced she's going to run -- and every one of the other leading GOP hopefuls quickly announced they would not challenge her. Throwing a wrench into the festivities is the district chair of the NY Conservative Party. He noted that they didn't endorse Naples the last time she ran for re-election, but they did endorse some of the Democratic hopefuls in the Congressional race the last time they sought local office. NY allows fusion nominations whereby candidates can appear on multiple party lines on the same November ballot ... In Virginia Beach, Virginia, this week, Mayor Meyera Oberndorff (D) won re-election with 51% in the non-partisan race. Robert Dean was second with 43%, followed by Al Wallace at 6%. The interesting aside: Dean is a Libertarian Party member and Wallace was a GOP candidate.
Posted by Ron Gunzburger - 05.06.04 |
HARD TO BEAT THE
GOLD STANDARD OF EVIL. Let's face it. As nearly every article denouncing some despot as evil uses the comparison "like Hitler," we probably should have known that Hitler would have easily won our survey as the "Most Evil Tyrant of the 20th Century." Hitler was first with 44%, followed by Stalin at 26%, and Pol Pot third at 7%. Oddly, current partisan politics clearly played into the poll as President George W. Bush captured 54 votes (4%), which placed him 4 votes ahead of Saddam Hussein. Ummm, people, the only office GWB held in the 20th Century was Texas Governor. People also cast write-ins for Ronald Reagan (24), Bill Clinton (5) and FDR (4). And, c'mon folks, no US President rose to any level of evil comparable to the despicable characters we had on our list. Tomorrow -- our last day before we take a week's vacation, we'll be up with a new Fun Poll (and, this time, it's rather amusing). Click here to see the full results of our Axis-of-Evil-A-Thon (note: 1,300 people voted in this poll).
Posted by Ron Gunzburger - 05.06.04 |
HOOSIER YAWNER. Tuesday's Indiana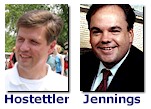 primary went as expected: no surprises, and nothing to really exciting. Former Bush Administration Budget Director Mitch Daniels won an easy 2-to-1 landslide over conservative activist Eric Miller. In his primary night victory speech, Daniels already began to lob some soft shots at Governor Joe Kernan (D). Recent polls show the two men virtually tied. While Indiana typically votes GOP in Presidential races, the Dems have won the last four gubernatorial contests. All six incumbent Members of Congress who faced primaries won easy victories, with many of the incumbents scoring percentages in 80s. As expected, former Boston Celtics basketball recruiter Jon Jennings (D) won a 3-to-1 win in his primary and will now challenge vulnerable CD-8 Congressman John Hostettler (R). Hostettler -- a perpetually weak fundraiser -- has never won re-election with better than 53%. Voters will also see competitive fall races in CD-2 (freshman GOP Congressman Chric Chocola vs. Dem attorney Joe Donnelly) and CD-9 (Dem Congressman Baron Hill vs. GOP trucking executive Mike Sodrel).
Posted by Ron Gunzburger - 05.05.04 |
PLACE YOUR BLOGAD ON POLITICS1 RIGHT NOW!! Special introductory prices: $50 for one week, $75 for two weeks, and $125 for a month. Click here to learn more!
GETTING THE SPECTER TREATMENT. The

conservative Club for Growth group is at it again. In the recent Pennsylvania primary, the group spent nearly $2 million to run nasty attack spots aimed at US Senator Arlen Specter (R). Specter narrowly won the contest, and the Club for Growth reluctantly endorsed him the next day. The Club for Growth is now running attack spots aimed at Nebraska Unicameral Legislature Speaker Curt Bromm (R). Bromm is a frontrunner in the crowded, open seat CD-1 Congressional primary. Club for Growth President Stephen Moore told CQ Politics Daily that Bromm is a "tax-and-spend liberal Republican ... who spearheaded the [state's] big tax increase last year." According to CQ, Bromm explained that his position "was fiscally prudent if not politically popular." Bromm is endorsed by retiring Congressman Doug Bereuter (R) and the state's two largest newspapers. The Club for Growth is supporting Nebraska Cattlemen's Association Executive VP Greg Ruehle (R). Former Lincoln City Councilman Jeff Fortenberry and five lesser known Republicans are also running in the May 11 primary. The winner of the GOP primary will be favored to hold this seat in November, although the Dems are expected to wage a lively race here.
Posted by Ron Gunzburger - 05.05.04 |
AMAZING, BUT TRUE. I got a phone call

yesterday from a Washington Post staff writer, who I kindly won't name for what will soon be an obvious reason. He told me he was doing a follow-up article on the 2000 Presidential recount and how partisan sentiments have changed in Florida over the past four years. He explained how he was one of the many reporters who covered the spectacle in 2000. And, before I go further, let me state that the caller was not Post reporter Terry Neal (because Neal knows politics). This guy -- who actually wrote much on the recount in 2000 -- showed an amazing lack of knowledge about ... well ... nearly everything related to his new story. When I suggested he call Congressman Kendrick Meek -- who is state chair of the Kerry campaign -- the guy said he'd never heard of him. At one point, he even asked "Whatever happened to Katherine, you know, the 'Dragon Lady' Secretary of State?" Umm ... well, that would be Katherine Harris, and she was elected to Congress in 2002. "Really," he responded with surprise, "You mean 'Congress' ... here in Washington?" Yup, that would be the place. Pretty sad.
Posted by Ron Gunzburger - 05.05.04 |
INDIANA PRIMARY PREVIEW. There are few races worth watching on Tuesday's primaries in Indiana. In the GOP race for Governor, former Bush Administration Budget Director Mitch Daniels is heavily favored over conservative activist Eric Miller. Daniels so attached himself to President Bush's coattails that his omnipresent "My Man Mitch" slogan comes directly from a comment Bush made praising Daniels at the start of the campaign. The winner of the GOP primary will face Governor Joe Kernan (D) in what is expected to be a very close November race. Kernan -- a Vietnam War P.O.W. and popular politician -- succeeded to the top job last year when Governor Frank O'Bannon (D) unexpectedly died of a stroke. Frequent candidate Marvin Scott saw his GOP primary foe disqualified last month, so he will directly advance to the general election against safe incumbent US Senator Evan Bayh (D). The six incumbent Members of Congress facing primaries should each be able to easily dispatch their various rivals. In CD-8, former Boston Celtics basketball recruiter Jon Jennings (D) should win his primary in a landslide, setting up a hot match-up against perpetually vulnerable Congressman John Hostettler (R).
Posted by Ron Gunzburger - 05.4.04 |
PLACE YOUR BLOGAD ON POLITICS1 RIGHT NOW!! Special introductory prices: $50 for one week, $75 for two weeks, and $125 for a month. Click here to learn more!
JUST PATHETIC. Imagine a scenario where you've spent months campaigning for

Governor, running TV spots and print ads, sending mailings, etc., and yet you're still mired in the single digits. Is it time to fire your media consultant? Well, what if you're also a frontrunner ... and the primary is one week away? Well, if you're a GOP candidate for West Virginia Governor, this sorry tale is fact. The new Charleston Gazette/WCHS-TV poll shows the following numbers for the GOP field: developer Monty Warner-7%, South Charleston Mayor Richard Robb-5%, former State Revenue Secretary Rob Capehart and auto dealer Dan Moore tied at 3% apiece, six others failed to even score a single percent, and 82% were still undecided. Let me repeat: the GOP primary is just ONE WEEK AWAY! By contrast, Secretary of State Joe Manchin seems a lock to win the Democratic primary over his seven opponents. The Dem numbers: Manchin-37%, former State Democratic Chairman Lloyd Jackson-13%, and all others at 5% or less. Governor Bob Wise (D) announced he would not seek re-election after he admitted an adulterous affair. Manchin is currently favored to win this open seat in November.
Posted by Ron Gunzburger - 05.4.04 |
TRACKING THE BATTLEGROUND STATES. The latest WDIV-TV/SurveyUSA poll shows John Kerry's advantage dropping in Michigan. The new numbers: Kerry-47%, Bush-43%. By contrast, Kerry led by 10-points in last month's poll. Bush lost Michigan by 5% in 2000. In Arkansas, the new Rasmussen track has the race tied: Kerry and Bush have 45% each. Bush won Arkansas by 5.5% in 2000.
Posted by Ron Gunzburger - 05.4.04 |
AXIS OF
EVIL-A-THON STILL OPEN FOR VOTING. Yup, you can still cast ballots for a few more days in this week's poll: Who was the most evil tyrant of the 20th Century? Some bloggers asked why we chose this oddly morbid topic. Here's the reason: Everyone knows I'm not a Bush fan, but I'm offended by the "BUSH = HITLER" signs I've seen at some demonstrations. Likewise, I dislike how often folks hurl invectives like "Nazi" or "Commie" or "Fascist" back and forth without keeping these terms in proper historical context. I figured this poll may bring some perspective back, while also teaching a bit a 20th Century History. So, yes, I had an underlying motive ... but I think most of you probably agree with me on this one.
Posted by Ron Gunzburger - 05.4.04 |
GEORGIA
FILING CLOSES. Candidate filings closed in Georgia on Friday, creating a long list of competitive races. In the open US Senate race, eight Democrats and three Republicans filed. Congressman Johnny Isakson (R) and Congresswoman Denise Majette (D) are the respective frontrunners, but both will face competitive nomination fights. Voters will see crowded open seat contests in CD-4 (Safe Dem), CD-6 (Safe GOP), and CD-8 (Safe GOP). In CD-4, controversial former Congresswoman Cynthia McKinney (D) is making a comeback bid. The stage was also set for Congressmen Jim Marshall (D), Phil Gingrey (R) and Max Burns (R) to face hot general election contests. Several Georgia congressional seats are so safe that the Dems failed to field candidates in three districts, and the GOP failed to run any candidates in two districts.
Posted by Ron Gunzburger - 05.3.04 |
KERRY CAMPAIGN BLACKOUT? Some Democratic political insiders are griping that the Kerry campaign purportedly lacks any real amount of
African-Americans in its inner circle. The buzz seemed to start with an article on CNN.com two weeks ago. Since then, others have picked up the baton. Congressman Jesse Jackson Jr. (D-IL) -- who was a Dean supporter -- complained to the AP last week that he was "concerned about diversity" in Kerry's senior policy people. Washington Post writer Terry Neal -- who is black -- also echoed Jackson's comments on Friday. It seems that Deputy Campaign Manager Marcus Jadotte is the only black who has served in the upper level of the Kerry campaign for any amount of time. Two more respected black leaders -- Art Collins and Janice Griffin -- were added to upper level spots within the past few weeks. Congressman Kendrick Meek, who also is black, is the Kerry State Chair in Florida. Kerry may have to address this matter further -- and fast -- or face criticism from the Republicans that the Bush Cabinet reflects more diversity than the Kerry campaign leadership.
Posted by Ron Gunzburger - 05.3.04 |

S.C. SENATE UPDATE. A new independent poll is out in the South Carolina open US Senate race. The WCSC-TV/SurveyUSA poll of GOP primary candidates shows that former Governor David Beasley appears heading for a possible comeback. Beasley lost for re-election in 1998 after he pushed for removal of the Confederate flag from over the State Capitol and strongly opposed creation of a state lottery. The numbers: Beasley-38%, Congressman Jim DeMint-27%, former Attorney General Charlie Condon-18%, developer Thomas Ravenel-11%. If no candidate captures a majority of the vote in the June 8 primary, the top two will meet in a June 33 run-off. The Republican winner will face State Superintendent of Education Inez Tenenbaum (D) in November.
Posted by Ron Gunzburger - 05.3.04 |
"WE WANT OUR POLLS!" Last Friday I asked for your input about continuing our fun polls, the possibility of adding blog comment sections to our state pages, etc.
The response to comments on state pages was very mixed, so I'm going to hold off on that idea for now. However, when it came to the polls -- and our problems with folks who hacked and sabotaged our past two polls -- you clearly expressed the view that you want to keep the polls coming. So ... we've brought back the polls. Our new poll is a thought-provoking one, as it concerns the concept of "evil." What prompted this was a Lexis search that found 300+ articles in which various folks said that Saddam Hussein was "like Hitler." Then we ran the same check for other tyrants. Milosevic? 100+ hits. Stalin? 600+ hits. Pol Pot? 100+ hits. Pinochet? 23 hits. So, is it the body count that defines which tyrant was most evil (Hitler, Stalin and Mao are the clear winners in this category) ... or is someone like Pol Pot who killed fewer people, but his body count equaled one-third of his nation's entire population? Pinochet -- who only killed a few thousand -- but allowed systematic torture? Verwoerd, the architect of apartheid (which he based upon the Nazi's anti-Jewish laws)? King Leopold, who enslaved much of the Congo for his own greed? You get the idea. Check out our poll and decide the winner in this week's Axis of Evil-A-Thon. Vote in this week's poll: Who was the most evil tyrant of the 20th Century?
Posted by Ron Gunzburger - 05.3.04 |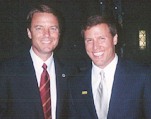 NUMBER ONE, MEET NUMBER THREE. Remember our recent polls about who is the most attractive man (and woman) in US politics. In the men's poll, Senator John Edwards (D-NC) placed first, Presidential nephew George P. Bush (R-FL) was second, and Congressional hopeful Jim Stork (D-FL) was third. In a cute postscript, Edwards and Stork crossed paths a week or so ago and joked about their respective placements. In fact, they were amused enough by the poll that they posed for this picture, which was emailed to Politics1. Points to both guys for being such good sports. On a related note, our Worst Hair in Congress poll amusingly received news coverage from Roll Call, Orlando Sentinel, Kansas City Star, and others.
Posted by Ron Gunzburger - 05.3.04 |
IS YOUR CAMPAIGN HIRING? If so, then let us know. We'll post the ad for free for any paid campaign staff positions. See our Jobs page for more details.