BLOG ARCHIVE: APRIL 1-15, 2009.
TIM RYAN WON'T RUN FOR OHIO LT GOV; BOEHNER GETS PRIMARY FOE; NH LEG APPROVES SAME-SEX MARRIAGE; DSCC RUNNING ANTI-CRIST ADS IN FLA; NC CONGRESSWOMAN CALLS MATTHEW SHEPARD MURDER "A HOAX."
OHIO #1. Congressman Tim Ryan (D) announced he will seek re-election next year and will not -- contrary to widely reported accounts -- be a candidate for Lieutenant Governor.

OHIO #2. Butler County Sheriff Richard Jones (R) filed paperwork to launch a run against US House Minority Leader John Boehner in next year's GOP primary. Butler is a vocal supporter of aggressive crackdowns on illegal immigrants, and would likely challenge Boehner from the right. State GOP Chair Kevin DeWine said the Ohio Republican Party will officially back Boehner in the primary.
SAME-SEX MARRIAGE. The New Hampshire Senate approved same-sex marriage legislation on Wednesday by a 13-11 vote. The NH House previously approved the bill by a 186-179 vote. Governor John Lynch (D) has not yet announced whether he will sign or veto the bill. If signed into law, the Granite State would become the fifth US state to sanction same-sex civil marriages.

FLORIDA. The DSCC is already running a TV spot in Florida attacking Governor Charlie Crist (R) for leaving the state an economic wreck and abandoning the unresolved state budget process in favor of a Senate candidacy. And Crist has not yet even announced his plans yet for 2010.
NORTH CAROLINA. Congresswoman Virginia Foxx (R) is under fire for remarks she made Wednesday during floor debate on the Local Law Enforcement Hate Crimes Prevention Act (more commonly known as the "Matthew Shepard Act"). The bill would authorize the US Department of Justice to investigate and prosecute certain bias-motivated crimes based on the victim's actual or perceived sexual orientation, gender, gender identity, or disability -- just as they currently can do for crimes motivated by the victim's race, color, religion, and national origin. During the debate, Foxx argued it was "a hoax" that Matthew Shepard 's murder was motivated by his sexual orientation. The House approved the bill later in the day by a 249-175 vote.
Daily Report by Ron Gunzburger - 04.30.09 | Permalink |
SPECTER BOLTS TO DEMS, GIVES DEMS SENATE SUPER-MAJORITY; CONGRESSMAN DEAL RUNS FOR GA GUV; VA DEM GOV PRIMARY POLL; SEBELIUS CONFIRMED FOR CABINET; KANSAS HAS NEW GOVERNOR.
PENNSYLVANIA. US Senator Arlen Specter (R-PA) announced Tuesday that he is changing parties and will seek reelection next year as a Democrat. "Since my election in 1980, as part of the Reagan Big Tent, the
Republican Party has moved far to the right. Last year, more than 200,000 Republicans in Pennsylvania changed their registration to become Democrats. I now find my political philosophy more in line with Democrats than Republicans," explained Specter in a written statement. Polls showed Specter would be crushed by conservative former Congressman Pat Toomey in next year's GOP primary, largely as a backlash for Specter's centrist views and support of the Obama stimulus package. However, the same polls show Specter would be strongly favored to win another term if he runs as the Democratic nominee. Vice President Joe Biden reportedly took the lead in courting the party switch, speaking 14 times with Specter over the past ten weeks. Conservative pundit Rush Limbaugh tried to put a positive spin on the party switch, calling it "ultimately good" and "weeding out people who aren't really Republicans." Centrist US Senator Olympia Snowe (R-ME), by contrast, told Politico the news made her feel rather uncomfortable in her own party: "We're heading to having the smallest political tent in history, the way things are unfolding." When Al Franken (D-MN) is ultimately seated -- likely in late June -- the Democrats will hold a 60-seat super-majority procedurally capable of blocking any GOP filibusters. State Representative Josh Shapiro (D) immediately ended his campaign for US Senate, calling Specter's announcement "a good day for the Democratic Party." However, State Board of Education Chair Joe Torsella (D) -- a long-time ally of Governor Ed Rendell (D) -- said he plans to continue his run against Specter: "I decided to run for the US Senate for one simple reason: I believe we need new leadership ... Nothing about today's news changes that or my intention to run." Torsella will find political conditions have immediately changed. "We are thrilled to welcome Senator Specter into the Democratic fold and he can count on our full support," said Democratic National Chair Tim Kaine. Even Rendell has abandoned Torsella. Rendell told the AP on Tuesday night that he now backs Specter because the Senator "has always acted in the best interest of Pennsylvanians ... [and] we think he'll be even better as a Democrat." It's only a matter of time, but Rendell's endorsement of Specter ensures Torsella will eventually be forced out of the race before next year's primary.
GEORGIA. Congressman Nathan Deal and State Senate President Eric Johnson both jumped into the GOP contest for Governor this week. Previously announced Republican candidates include Secretary of State Karen Handel, State Insurance Commissioner John Oxendine and State Representative Austin Scott. Governor Sonny Perdue (R) is term-limited and is tacitly backing Handel as his successor. Democratic candidates include Attorney General Thurbert Baker, State House Minority Leader DuBose Porter and former State Labor Commissioner David Poythress.
VIRGINIA. A new SurveyUSA poll shows former Democratic National Chairman Terry McAuliffe holding a wide lead in the June 9 Dem primary contest for Governor. The numbers: McAuliffe - 36%, State Senator Creigh Deeds - 22%, former State House Democratic Caucus Chair Brian Moran - 22%.
WHITE HOUSE. Kansas Governor Kathleen Sebelius (D) was confirmed Tuesday as the new US Health Secretary by a 65-31 vote. Her confirmation completes the US Senate approval process of President Obama's entire cabinet. Lieutenant Governor Mark Parkinson (D) was sworn in as the new Kansas Governor on Tuesday evening. Parkinson does not plan to be a candidate for the job next year -- but state Democratic leaders have already started lobbying him to change his mind.
Daily Report by Ron Gunzburger - 04.29.09 | Permalink |
FREE SPEECH ZONE. Still tied up with family stuff, so just an open thread today.
Daily Report by Ron Gunzburger - 04.28.09 | Permalink |
NEWS QUICK TAKES. Former Congressman Mark Neumann (R-WI) -- the '98 GOP nominee for US Senate -- told the Wisconsin State Journal he will be a candidate for Governor next year. Neuman will compete against Milwaukee County Executive Scott Walker in next year's GOP primary for the right to face Governor Jim Doyle (D) in the general election ... Foreign Policy magazine and The Hill reported that former Congressman Tim Roemer (D-IN) will soon be nominated to be the next US Ambassador to India ... Businessman Mike McWherter (D-TN) -- son of former Governor Ned McWherter -- announced his candidacy in next year's open gubernatorial contest.
Daily Report by Ron Gunzburger - 04.27.09 | Permalink |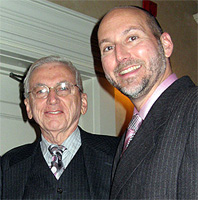 NEWS QUICK TAKES. After several weeks of counting the absentee ballots, venture capitalist Steve Murphy (D-NY) has been declared the winner of the congressional special election in CD-20. State Assembly Minority Leader Jim Tedisco (R) conceded the race on Friday ... A new Rasmussen poll of Pennsylvania GOP primary voters finds that conservative former Congressman Pat Toomey is leading centrist US Senator Arlen Specter by a lopsided 51-30 vote, with 9% backing other primary candidates ... The Minnesota Supreme Court has decided it will not hear arguments in the Norm Coleman-Al Franken US Senate election certification contest until June ... Congressman Mike Castle (R-DE) told Roll Call "there's probably a better chance I'll run for the Senate than the [re-election to the] House. [But] I said there's a chance I won't run at all" next year. The statement comes a week after the DCCC recruited former Lieutenant Governor John Carney (D) to challenge Castle for his House seat in 2010.
Daily Report by Ron Gunzburger - 04.25.09 | Permalink |
GERRY GUNZBURGER (1931-2009). My dad Gerry Gunzburger passed away on Thursday at home at age 77. He led a rather colorful life, which you can read about him here. That's a photo at right of Dad and me, taken just six weeks ago.
Daily Report by Ron Gunzburger - 04.24.09 | Permalink |
NEWS QUICK TAKES. Two separate threads tonight, for obvious reasons ... The Washington Post asked US Senator John Ensign (R-NV) if his upcoming visit to Iowa relates to a possible 2012 White House run. A Presidential run is "not something I would ever rule out," he told the newspaper ... Term-limited Memphis Mayor Willie Herenton (D-TN) has formed an exploratory committee to challenge Congressman Steve Cohen (D) in next year's Democratic primary. Cohen is the only white member of Congress representing a majority black congressional district.
Daily Report by Ron Gunzburger - 04.24.09 | Permalink |

FREE SPEECH ZONE. Murphy +365 over Tedisco in NY CD-20 ... Lieutenant Governor John Garamendi (D-CA) quit the gubernatorial race and jumped into the CD-10 special election contest ... Congressman Mike McIntyre (D-NC) opened the door to a possible run against US Senator Richard Burr (R) next year, telling WWAY-TV that "you never say never to anything" ... and US Senator Barbara Mikulski (D-MD) shot down rumors she will retire in 2010, instead telling the Baltimore Sun she has $1.2 million in her campaign account and is already setting an aggressive schedule of frequent stops in all corners of the state to deter possible GOP challengers. "I believe the best campaign is the one you don't have to have. I believe in what I call a deterrent strategy," she explained.
Daily Report by Ron Gunzburger - 04.23.09 | Permalink |
A PERSONAL NOTE FROM RON. I'm rather distracted with family matters as my father has been very ill for the past few weeks and I've been spending most of my time with my folks. Thus, I apologize that I just don't have the energy in the evening to edit Vin's daily news updates -- at least not for the next few days. I'll post open threads for the next few days until we return to our regular news coverage (i.e., sometime next week).
Daily Report by Ron Gunzburger - 04.22.09 | Permalink |
CUOMO STRONG FOR NY GOV; BURRIS POLITICALLY D.O.A.; POLITICAL PASSINGS; ARK & TENN GOV NEWS; FRANKEN STAFFS UP.
NEW YORK. A new Siena Research poll shows Governor David Patterson (D) still struggling, as he only has a 27% favorable rating -- and only 12% of those polled said they're prepared to vote for Paterson in 2010. In a Democratic primary match-up, Attorney General Andrew Cuomo (D) leads with 64%, followed by Paterson at 11% and Nassau County Executive Tom Suozzi ay 8%. In a general election, former New York City Mayor Rudy Guiliani (R) leads Paterson 56% to 29% -- but Giuliani loses to Cuomo by a lopsided 53-39 vote.
The poll also indicated problems for US Senator Kirsten Gilibrand (D), as 47% of voters said they'd prefer someone else over her in 2010, while 20% plan to support her.
ILLINOIS. A new Rasmussen poll shows US Senator Roland Burris (D) at a 19% approval rating with only 4% saying that they would definitely vote for Burris. "If Senator Burris were to win re-election, it would be one of the most stunning comebacks in the nation's history," pollster Scott Rasmussen said.
CONGRESS. Politico reports that House Minority Leader John Boehner (R-OH) has contributed $5,000 to a legal defense fund for former Congressman John Doolittle (R-CA), a target of the Abramoff lobbying bribery scandal.
OBITUARIES. Former three-term Congressman Bill Orton (D), who was the Democratic nominee for Governor in 2000, was killed in an ATV accident in the Utah salt flats over the weekend. Orton was 60. Former Congressman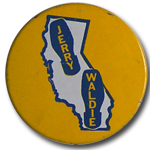 Jerry Waldie (D-CA), an outspoken liberal and opponent of the Vietnam War, died at age 84. Waldie, a former Majority Leader of the California State Assembly, earned national fame when he served on the House Judiciary Committee that voted to impeach President Richard Nixon. Waldie lost the 1974 primary for Governor to Jerry Brown.
ARKANSAS. State Senate Minority Leader Kim Hendren (R) announced Saturday he will run for the U.S. Senate seat now held by Democrat Blanche Lincoln. In 1982, Hendren was an unsuccessful Democratic candidate for Governor in the primary against a young Bill Clinton.
TENNESSEE. Former Congressman Harold Ford (D) and former State Democratic Chair Doug Horne both announced in recent days that they will not run for Governor in 2010. Governor Phil Bredesen (D) is term-limited.
MINNESOTA. Al Franken (D), humorist and the apparent winner of last year's US Senate race, has already selected a state director – and The Hotline reports he's now hiring additional staff members for his offices in DC and Minnesota. Defeated US Senator Norm Coleman (R) has filed a formal notice of appeal to the Minnesota Supreme Court, contesting a lower court's ruling that Franken was the legitimate winner of the race. The Supreme Court has agreed to hear the appeal on an accelerated schedule.
Daily Report by Vin Gopal - 04.21.09 | Permalink |
FREE SPEECH ZONE. Just an open thread tonight. Have at it.
Daily Report by Vin Gopal - 04.20.09 | Permalink |
NJ DEM MAYORS BACK BLOOMBERG; PALIN'S A.G. NOMINEE REJECTED; MURPHY +273 OVER TEDISCO; CANTOR RAISES BIG BUCKS; PLUS CALIFORNIA, NJ AND GAY RIGHTS NEWS.

NEW YORK CITY. New York City Mayor Mike Bloomberg (Independent) won the endorsements of the Democratic mayors of New Jersey's two largest cities. Newark Mayor Cory Booker and Jersey City Mayor Jerramiah Healy -- who were NJ State Co-Chairs of the Obama campaign last year -- endorsed Bloomberg for re-election this week. Bloomberg, who has also won the endorsement of NYC Republican Party and Independence Party, faces a likely challenge from City Comptroller Bill Thompson (D). "I respect [the NJ Mayors], but hard-working people who actually live in New York know that we need change and that Michael Bloomberg offers four more years of the same," said Thompson in a statement. Bloomberg recently hosted a fundraiser for Healy's reelection campaign in next month's nonpartisan election, so that endorsement seems to be reciprocation. "Anything that Mike asked me to do, I'd do, whether he's a Republican, Democrat or Independent," said Healy.
ALASKA. Governor Sarah

Palin's (R) choice for state Attorney General was rejected by the GOP controlled legislature. Wayne Anthony Ross was rejected in a 35-23 vote after a week of damaging confirmation hearings which revealed a history of controversial comments. Ross came under fire for his past defense of a Ku Klux Klan statue and a 1991 speech in which he purportedly joked about spousal rape.
NEW YORK. According to the official New York State Board of Elections website, venture capitalist Scott Murphy (D) now leads State Assembly Minority Leader Jim Tedisco (R) by 273 votes in the CD-20 special election. All ballots have now been counted except for the roughly 1,200 absentee ballots challenged by the campaigns due to purported defects. As the vast majority of the challenges were filed by Tedisco's campaign, observers say it is now nearly impossible for Tedisco to prevail when a winner is initially certified at the end of the counting on Monday.
CONGRESS. House Minority Whip Eric Cantor (R-VA) raised a lot of eyebrows this week when he reported collecting $723,000 during the 1st quarter of 2009. Cantor has never faced a significant reelection challenge and is not likely to have any serious opposition in 2010. As far as freshman fundraising, impressive numbers were posted by Congressman Aaron Schock (R-IL), who raised $298,000, and Congressman John Adler (D-NJ), who raised $464,000.
CALIFORNIA. Congressman Devin Nunes (R) is calling on Governor Arnold Schwarzenegger (R) to resign because of a water crisis in the state's San Joaquin Valley. "When a government can't provide the people access to a reliable supply of water, it has failed. This government has utterly failed and Governor Schwarzenegger should resign from office," stated Nunes, in a written statement. A Schwarzenegger spokesperson responded to CNN: "We encourage Congressman Nunes to be part of the solution as opposed to part of the problem."
GAY RIGHTS. Steve Schmidt -- the Karl Rove protégé who directed Senator John McCain's Presidential campaign in the general election -- will address the national meeting of the gay Log Cabin Republicans group this week. Schmidt plans to urge conservative Republicans to drop their opposition to same-sex marriage. Meghan McCain, the Senator's daughter and a prominent blogger, is also expected to address the group and speak in support of same-sex marriage equality.

NEW JERSEY. Former Bogota Mayor Steve Lonegan (R) succeeded this week in his legal challenge to disqualify three of his Republican gubernatorial opponents from the June primary ballot due to invalid petition signatures. The three disqualified candidates: Franklin Township Mayor Brian Levine, and political unknowns David Brown and Christian Keller . Lonegan must still face GOP frontrunner and former US Attorney Chris Christie and State Assemblyman Rick Merkt in the primary. Governor Jon Corzine (D) also faces primary opposition from three gadfly candidates. In related news, Levine's campaign manager -- Pastor Shannon Wright -- this week launched an independent campaign for Governor on the general election ballot.
Daily Report by Vin Gopal - 04.18.09 | Permalink |
PERRY SUGGESTS TEXAS SECESSION; SPECTER LOSING SUPPORT; BURRIS RAISES JUST $845 IN 1Q; GOP CANDIDATES JUMP INTO CO US SEN, AZ GOV AND NM GOV RACES.

TEXAS. Governor Rick Perry (R) thinks many Texans may want to see the state eventually secede from the union. "There's a lot of different scenarios," Perry said. "We've got a great union. There's absolutely no reason to dissolve it. But if Washington continues to thumb their nose at the American people, you know, who knows what might come out of that. But Texas is a very unique place, and we're a pretty independent lot to boot." Perry faces a significant GOP primary challenge from veteran US Senator Kay Bailey Hutchison. Polls show Perry currently trailing KBH in primary matchups.
PENNSYLVANIA. Former Congressman John Pederson (R), an ardent past supporter of US Senator Arlen Specter, told Roll Call that he will not be supporting Specter next year. The conservative Republican believes that Specter should retire and not seek re-election. Pederson represented a Penn State University-based district for six terms until his retirement in 2008.
COLORADO. Aurora City Councilman Ryan Frazier on Thursday became the first Republican to enter the 2010 race against interim US Senator Mike Bennet (D). Governor Bill Ritter (D) appointed Bennet to fill the vacancy left by US Senator Ken Salazar's elevation to the President's Cabinet.

ILLINOIS. Embattled US Senator Roland Burris (D) has only raised $845 during 1Q-09 for his potential re-election bid in 2010. If he runs for a full term, Burris will be facing off in a primary against State Treasurer Alexi Giannoulias and possibly others. By contrast, Giannoulias raised more than $1.1 million in his first four weeks since entering the race.
ARIZONA. Former State Senator Karen Johnson (R) filed paperwork this week to run against Governor Jan Brewer in next year's GOP primary. Johnson -- who espoused fringe conspiracy theories over the years about everything from water fluoridation to NAFTA to the 9/11 attacks -- said she is running mainly because of Brewer's recent call for a "temporary" tax increase to cover funding shortfalls. Johnson, who has also advocated Arizona seceding from the USA, told the Arizona Republic that she "has no illusions" she could actually defeat Brewer in a primary. Brewer has not yet announced whether she will seek a full term -- but pundits expect her to run.
NEX MEXICO. State Army National Guard Brigadier General Greg Zanetti announced he will be a GOP candidate for Governor in 2010. Former Congresswoman Heather Wilson and former Congressman Steve Pearce are also considering running on the GOP side. On the Democratic side, Lieutenant Governor Diane Denish is an announced candidate and actor Val Kilmer is considering the race. Governor Bill Richardson (D) is term-limited.
Daily Report by Vin Gopal - 04.17.09 | Permalink |
MURPHY +68 OVER TEDISCO; REP CASTLE DRAWS MAJOR CHALLENGER; CAGLE QUITS GA GOV RACE; CRIST MORE POPULAR WITH DEMS THAN GOP.
NEW YORK. According to the official

New York State Board of Elections website, venture capitalist Scott Murphy (D) has widened his lead over State Assembly Minority Leader Jim Tedisco (R) to a margin of 86 votes in the CD-20 special election. While the counting of absentee ballots is continuing, this total now includes all absentee ballots from Tedisco's GOP stronghold of Saratoga County. Only a small number of absentee ballots remain uncounted. As part of the GOP strategy here, Republican observers are objecting to absentee ballots filed by Democrats who own second homes outside the district. Republicans even challenged US Senator Kirsten Gillibrand's ballot in her old House district. Tedisco's campaign objected to Gillibrand's absentee ballot because the Senator was in the district on Election Day and should not have been allowed to vote by absentee ballot. "Their latest move to challenge my ballot is part of a much larger attempt to disenfranchise legal Democratic voters and delay Scott Murphy's inevitable victory in the 20th," wrote Gillibrand in an op-ed on The Huffington Post website.
DELAWARE. Former Lieutenant Governor John Carney (D) has announced his challenge to centrist Congressman Mike Castle (R) for the state's at-large seat. Carney narrowly lost the 2008 Democratic primary for Governor. Analysts say that will be a highly competitive race -- if Castle seeks reelection. With a recent history of serious health problems, Castle may be a possible retirement prospect for 2010.
GEORGIA. Lieutenant Governor Casey Cagle (R) quit the race for Governor on Wednesday. Cagle cited chronic shoulder and neck pain which limits his ability to actively campaign as the main reason he quit. Instead, Cagle said he plans to have surgery and then seek re-election next year. Governor Sonny Perdue (R) is term-limited.
FLORIDA. A new Quinnipiac University poll shows Governor Charlie Crist (R) enjoying a 68% approval rating. An interesting point of the poll is that 25% of Republicans have a negative opinion of him versus only 20% of Democrats share the same opinion. Crist is a vocal supporter of the Obama stimulus package.
MINNESOTA. A new Public Policy Poll-D shows that a strong majority of Minnesota residents wants former US Senator Norm Coleman (R) to quit contesting the race for US Senate against humorist Al Franken (D). The numbers: 63% believe Coleman end his legal challenge, 37% want Coleman to continue his court fight.
Daily Report by Vin Gopal - 04.16.09 | Permalink |
PATERSON PUSHES SAME-SEX MARRIAGE PLAN; NRSC BACKS SPECTER; MN GOV RACE GETTING CROWDED; MURPHY +47 OVER TEDISCO.
NEW YORK. Governor David Paterson (D) will announce plans on Thursday to introduce same-sex marriage legislation in the state assembly. A bold step for the unpopular governor – who pundits say is taking steps like this to win support from the progressive wing of the party in case he faces an expected primary challenge in 2010 from Attorney General Andrew Cuomo. "The Governor's office called me and asked if I would stand with the Governor," said State Assemblyman Micah Kellner, who is openly bisexual. "I said I will be thrilled to stand with the Governor when he makes this announcement."
PENNSYLVANIA. NRSC Chairman John Cornyn (R-TX) -- acting in his official capacity -- announced his endorsement of US Senator Arlen Specter (R-PA) for re-election in next year's primary. Cornyn's endorsement signals that national Republican leaders will support the moderate incumbent against his conservative primary challengers Pat Toomey and Peg Luksik. "It's clear we need more [GOP] candidates that fit their states. While I doubt Arlen could win an election in my home state of Texas, I am certain that I could not get elected in Pennsylvania. I believe that Senator Specter is our best bet to keep this Senate seat in the GOP column," explained Cornyn. Sources say that Senator John McCain (R-AZ) will also shortly announce his endorsement of Specter. Changing demographics in the state -- the dwindling of the GOP primary base due to the defection of moderates to the Democratic Party -- may doom Specter in the primary. With the backing of the NRSC and these same GOP leaders in 2004, Specter only managed to win a 51-49 victory over Toomey. This is sure to be a very competitive primary.
MINNESOTA. Progressive State Senator John Marty (D) -- the 1994 DFL nominee for Governor -- is the latest candidate to jump into the crowded 2010 gubernatorial contest. Other announced Dem candidates to date include former US Senator Mark Dayton, State Senator Tom Bakk, former State House Minority Leader Matt Entenza, Ramsey County Attorney Susan Gaertner, State Representative Paul Thissen, and former State Senator Steve Kelley. Governor Tim Pawlenty (R) has yet to announce his reelection plans, as he weighs the impact of a 2010 race on his potential White House bid in 2012.
NEW YORK. According to the official New York State Board of Elections website, venture capitalist Scott Murphy (D) now leads State Assembly Minority Leader Jim Tedisco (R) by 47 votes in the CD-20 special election. The counting of absentee ballots is continuing.
Daily Report by Vin Gopal - 04.15.09 | Permalink |
FRANKEN WINS; TOOMEY BRINGS IT; PALIN DECLARES "W.A.R."; PORN STAR-TURNED-VP CANDIDATE DIES.
MINNESOTA. The
Minnesota court panel overseeing Republican Norm Coleman's election recount dispute has officially declared Democrat Al Franken the winner of the US Senate race. The judicial panel ruled that "Franken is entitled to receive the certificate of election" with a win by 312 votes. Coleman is expected to appeal next to the Minnesota Supreme Court. The appeal, if filed within the ten-day deadline, will likely delay Franken's seating for several more weeks.
PENNSYLVANIA. As expected, conservative former Congressman Pat Toomey announced he will challenge US Senator Arlen Specter for the Republican nomination next year. Toomey lost to Specter by a 51-49 vote in the 2004 primary. Specter, who has expected the challenge from the right, has already gone up with television ads more than a year before the primary election.

ALASKA. Governor Sarah Palin's choice to be the next Alaska Attorney General is drawing fire for his controversial past remarks. Wayne Anthony Ross -- a bombastic attorney and former two-time gubernatorial candidate who refers to himself by his "W.A.R." initials -- has a history of incendiary comments. In 1993, he authored a newspaper op-ed piece which praised the "courage" of a college student who created a statue of a Ku Klux Klansman with a cross in one hand and a flag in the other. Ross added that it would have been "fun to see [the African-American student who complained about the statue] try to remove the display. Then she could have been arrested and her future as a student of the university could have been resolved through the university disciplinary proceeding." Ross also has called gays "degenerates" and vowed to undermine the sovereignty of Native American tribes. Most troubling, opponents found remarks purportedly Ross made to Dads Against Discrimination group: ""If a guy can't rape his wife, who's he gonna rape?" Child advocate lobbyist Leah Burton sent legislators a letter this week detailing comments Ross made when he debated her in the past, including this one: "If a woman would keep her mouth shut, there wouldn't be an issue with domestic violence." The outrage over the nomination -- even from Republicans -- has grown so intense that Palin may be forced to withdraw Ross' nomination before it comes up for a confirmation vote later this month.
OBITUARY. Retired 1970s porn star Marilyn Chambers -- the 2004 Vice Presidential nominee of the Personal Choice Party -- has died at age 56. CNN reports she died of natural causes at her California home. Why are we mentioning it? It's a good excuse to work porn into our news reports.
Daily Report by Ron Gunzburger and Vin Gopal - 04.14.09 | Permalink |
TEDISCO-MURPHY UPDATE; OHIO MONEY PRIMARY; NO TAKERS YET FOR CHINA POST; CAPITALISM VERSUS SOCIALISM.
NEW YORK. According to the official New York State Board of Elections website, the lead has switched yet again. State Assembly Minority Leader Jim Tedisco once again trails venture capitalist Scott Murphy (D) in the CD-20 special election. Murphy now leads by a margin of 35 votes.
OHIO. Former Congressman Rob Portman (R) reports raising $1.7 million in 1Q-09. Added to money he previously had in his old congressional campaign account, Portman now has $3 million cash-on-hand. By contrast, Lieutenant Governor Lee Fisher (D) said he raised over $1 million during the same time period. None of the other candidates have yet to release fundraising numbers for the first quarter.
OBAMA ADMINISTRATION. Politico reports that both former US Senator Chuck Hagel (R-NE) and former White House Chief of Staff John Podesta have turned down offers to be the next US Ambassador to China. Former Congressman Jim Leach (R-IA), who backed Obama for President last year, is now considered to be the frontrunner for the post.

CAPITALISM vs. SOCIALISM. A provocative new Rasmussen Reports poll has some surprising results. As GOP leaders have attempted to use the word "socialist" to describe many Obama Administration proposals, the pollster asked registered US voters whether they thought capitalism or socialism "is better." The poll did not define either capitalism or socialism. The results: Capitalism - 53%, Socialism - 20%, Not Sure - 27%. And -- if these numbers alone aren't enough to raise a future alarm for conservatives -- check out the response from voters under age 30: Capitalism - 37%, Socialism - 33%, Not Sure - 30%.
POPULARITY CONTEST. A new CBS poll shows President Barack Obama with a 66% approval rating, and a new Research 2000 poll finds him with a 68% approval rating. The CBS poll also shows that 57% of Americans are willing to pay higher taxes if that allows all Americans to have health care (73% of Democrats favor the idea while 29% of Republicans do). The Research 2000 poll shows Senate Republican Leader Mitch McConnell with a 23% approval rating and House Republican Leader John Boehner with an 18% approval rating. House Speaker Nancy Pelosi stands at a 36% approval rating, while Senate Majority Leader Harry Reid is at 34%. Congressional Democrats overall have a 41% approval rating and Congressional Republicans have an 18% approval rating. Americans give the Democratic Party as a whole a 51% approval rating, versus just 26% for the Republicans.
Daily Report by Vin Gopal - 04.13.09 | Permalink |
BUNNING DRAWS MAJOR FOE; BOB SMITH SEEKS SEN RETURN IN FLORIDA; NH GOP MAY FINALLY HAVE A SEN CANDIDATE; TEDISCO-MURPHY UPDATE; RENDELL WANTS SPORTS JOB; MONTEL LOOKS AT POLITICAL RUN.
KENTUCKY. Attorney General Jack Conway (D)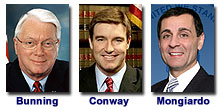 announced his candidacy against vulnerable US Senator Jim Bunning (R) on Thursday. Conway had a pact with Congressman Ben Chandler and State Auditor Crit Luallen that only one of them would run against Lieutenant Governor Dan Mongairdo in the Dem primary, so as to not split their shared base. Mongiardo -- an ally of Governor Steve Beshear -- was the 2004 nominee who narrowly lost to Bunning. The winner of the Conway-Mongiardo primary will be favored over Bunning in the general election ... presuming Bunning survives his own GOP primary.
FLORIDA. Former US Senator Bob Smith will seek the Republican nomination for US Senate in his new home state of Florida. Smith lost for renomination to the US Senate in New Hampshire in 2002. Smith briefly ran for this same Florida seat in 2004, but withdrew before filing citing fundraising trouble. He subsequently endorsed John Kerry for President in 2004, then briefly flirted with seeking the Constitution Party's Presidential nomination last year. Polling shows Smith has almost zero name recognition in Florida.
NEW HAMPSHIRE. Former State Board of Education Chairman and 1996 GOP gubernatorial nominee Ovide Lamontagne is strongly considering a bid for US Senate in 2010. While former US Senator John Sununu Jr. (R) is expected to run, no GOP candidate has yet to formally enter to open seat contest against Congressman Paul Hodes (D). US Senator Judd Gregg (R) is retiring.

NEW YORK. State Assembly Minority Leader Jim Tedisco has increased his lead to 27 votes against venture capitalist Scott Murphy (D) in the CD-20 special election, as this new number includes absentee ballots counted in Dutchess, Columbia and Greene counties. According to House Race Hotline, "If these numbers hold, it would be a bad early sign for Tedisco" as he needed to run up a much larger lead from the absentees in these counties if he is to capture enough votes to prevail when everything is finally counted. UPDATE: Murphy has now moved into a 34 vote lead over Tedisco, according to the Albany Times-Union.
PENNSYLVANIA. Term-limited Governor Ed Rendell (D) is interested in becoming either the next Commissioner of the National Football League or of Major League Baseball, according to various reports. Former Kentucky Governor A.B. "Happy" Chandler (D) resigned his US Senate seat in 1945 to become Major League Baseball Commissioner, serving in that capacity until 1951. Chandler -- grandfather of current Congressman Ben Chandler (D-KY) -- later returned to politics, being elected Governor again in 1955. Former US Senate Majority Leader George Mitchell (D-ME) was also interested in serving as the MLB Commissioner after he retired from elective office, but was not selected for the baseball job.
MONTEL. TV talk show host Montel Williams told Politico he will most likely run for political office sometime soon. Williams -- a Baltimore native and graduate of the US Naval Academy -- launches a new radio show on the liberal Air America network this week.
Daily Report by Vin Gopal - 04.10.09 | Permalink |
BUNNING GETS MORE BAD NUMBERS; QUIGLEY WINS IL CD-4; GINGRICH, CORKER IN P2012 NEWS; PALIN WON'T PRIMARY MURKOWSKI; TEDISCO LEADS BY 17.
KENTUCKY. A new Public Policy Polling-D survey shows incumbent US Senator

Jim Bunning (R) facing long odds to win another term next year. His overall approval rating now is just 28%. Even more troubling for the former pro baseball pitcher: only 42% of Republicans approve of the job he is doing. Bunning may face a GOP primary challenge from State Senate President David Williams, an ally of US Senate Minority Leader Mitch McConnell. Several strong Democrats are also looking at the race.
ILLINOIS. Cook County Commissioner Mike Quigley (D), as expected, easily won the special election for Rahm Emanuel's open CD-4 seat on Tuesday. Quigley captured 70%, versus 23% for anti-immigration activist Rosanna Pulido (R), and 7% for peace activist Matt Reichel (Green).

P2012: GINGRICH. Former US House Speaker Newt Gingrich (R-GA) is lashing out at President Barack Obama's appointment of Harry Knox to the White House Advisory Committee on Faith-Based Initiatives. "I think [the Obama Administration wants] to have a very secular America in which government dominates everything. Why wouldn't you put an anti-religious, left-wing zealot on a faith-based group? It's a perfect pattern for this Administration," said Gingrich. Since 2005, Knox -- a former pastor -- has served as National Director of the Human Rights Campaign gay rights advocacy group. Those in support of Knox's appointment have called Gingrich hypocritical for attacking the Obama Administration on family values, since Gingrich has been married several times and acknowledged extra-marital affairs in his past. Gingrich is also the half-brother of gay rights activist Candace Gingrich. Pundits say Gingrich is using his attacks to position himself for a prospective 2012 Presidential run.
P2012: CORKER. US Senator Bob Corker (R-TN) will be the featured keynote speaker at a prominent annual South Carolina Republican Party fundraising event in May. Corker's presence at this hot-spot Presidential contest state has some observers wondering if Corker is considering a 2012 run for the White House. Corker, a wealthy businessman and former Chattanooga Mayor, was elected to the US Senate in 2006.
ALASKA. Governor Sarah Palin (R) has announced she won't challenge US Senator Lisa Murkowski (R) in the 2010 primary. And, to prove through actions that she means what she is saying, Palin is now doing a fundraising event for Murkowski. Recent polls showed Murkowski leading Palin in a GOP primary.
NEW YORK. State Assembly Minority Leader Jim Tedisco now leads by 17 votes against ventura capitalist Scott Murphy (D) in the CD-20 special election. The primary was held last week. The Republican ended election night trailing by a handful of votes. Nearly 7,000 absentee and military ballots still remain to be counted.
FACEBOOK ME! If you're on Facebook, please consider adding me as a friend (or shoot me as a message). I would love to hear from you. Thanks! -Vin.
Daily Report by Vin Gopal - 04.09.09 | Permalink |
OBAMA VISITS IRAQ; VT LEGALIZES SAME-SEX MARRIAGE; FRANKEN WIDENS LEAD; CORZINE TRAILS CHRISTIE; GARAMENDI MAY END CAL GOV RACE, RUN FOR CONGRESS; HAROLD AND KUMAR GO TO THE WHITE HOUSE.
WHITE HOUSE. President Barack Obama made a surprise visit to Iraq, visiting US troops in Baghdad. "It is time for us to transition to the Iraqis. They need to take responsibility for their country," Obama said as an estimated 600 troops cheered and gave him a standing ovation. Meanwhile, a new CNN/Opinion Research poll shows Obama enjoying a 66% approval rating.
SAME-SEX MARRIAGE. The

Vermont Legislature overrode GOP Governor Jim Douglas's veto of a bill allowing same-sex couples to marry. Vermont becomes the first state to allow gay couples to marry through legislative action, and the fourth state overall to legalize same-sex marriage. In related news, the New Hampshire House of Representatives voted this week to approve a bill to legalize gay marriage. The bill now advances to the State Senate. Sources say that Governor John Lynch (D) would sign the bill if it is presented to him. Also, respected Evangelical conservative columnist Cal Thomas writes that the Iowa move this week largely sounded the death knell for opponents of same-sex marriage: "To those on the political and religious right who are intent on continuing the battle to preserve 'traditional marriage' in a nation that is rapidly discarding its traditions, I would ask this question: What poses a greater threat to our remaining moral underpinnings? Is it two homosexuals living together, or is it the number of heterosexuals who are divorcing and the increasing number of children born to unmarried women, now at nearly 40 percent, according to the Centers for Disease Control and Prevention? Most of those who are disturbed about same-sex marriage are not as exercised about preserving heterosexual marriage. Thatís because it doesnít raise money and wonít get them on TV. Some preachers would rather demonize gays than oppose heterosexuals who violate their vows by divorcing, often causing harm to their children. Thatís because so many in their congregations have been divorced and preaching against divorce might cause some to leave and take their contributions with them. The battle over same-sex marriage is on the way to being lost. For conservatives who still have faith in the political system to reverse the momentum, you are -- to recall Harold Hill [in The Music Man] --'closing your eyes to a situation you do not wish to acknowledge.'"
MINNESOTA. Democrat Al Franken's lead has widened to a 312 votes over Republican Norm Coleman, with the completion of counting all questionable absentee ballots in Coleman's lawsuit challenging Franken's victory. Coleman's lawyer said they will file appeals to the Minnesota Supreme Court and federal courts, if necessary, to pursue the action. Governor Tim Pawlenty (R) said on Tuesday he will not sign any election certification for Franken until Coleman exhausts all his appeals.
NEW JERSEY. A new Fairleigh Dickinson University poll shows former US Attorney Chris Christie (R) leading Governor Jon Corzine (D) by a vote of 42% to 33%. Former Bogota Mayor Steve Lonegan (R) also leads Corzine by a 37-36 vote. Corzine's approval rating stands at 40%. In the GOP primary, the poll shows Christie leading with 43%, Lonegan at 21%, and two other candidates each getting 2%. With the passing of the New Jersey primary filing deadline on Monday, ten candidates will compete in the gubernatorial primary. Corzine is expected to easily defeat former Glen Ridge Mayor Carl Bergmanson and two others in the Dem primary. On the Republican side, Christie remains the favorite over Lonegan and four others. Click here for the complete list of NJ primary candidates.
CALIFORNIA. Lieutenant Governor John Garamendi (D) -- who has had trouble gaining ground in his gubernatorial campaign -- is considering instead jumping into the special election for Congresswoman Ellen Tauscher's (D) soon-to-be vacant CD-10 congressional seat. State Senator Mark DeSaulnier (D) is currently the favorite, in what will likely be a crowded primary race. Garamendi issued a statement which seemingly verified the the rumors: "A number of people suggested I consider this seat. Of course, I will check it out. As a former Undersecretary of the Interior, there is a lot of exciting work going on in Washington. Much is possible with Barack Obama. But I am focused [now] on California and my campaign for Governor." Garamendi previously lost primary runs for Governor in 1982 and 1994, and recent polling has placed him at a very distant third in the current race. Tauscher was recently nominated to serve in the US Undersecretary of State responsible for arms limitations negotiations
ARTS. President Barack Obama has hired actor Kal Penn to serve as the new Associate Director in the White House Office of Public Liaison. In that capacity, Penn will serve as the White House's chief liaison to the arts community and the Asian-American community. Penn's character on the hit FOX-TV's House committed suicide on Monday night's show, so as to free Penn to accept the new job. "It's not like I'm retiring from acting. I certainly intend to come back at some point, but right now I just felt like my calling was in public service," said Penn.
Daily Report by Vin Gopal - 04.08.09 | Permalink |
YET ANOTHER POLL SHOWING GOV PATERSON WEAK; NYC MAYOR BLOOMBERG CLOSER TO NOV BALLOT LINE; RON PAUL FOLLOWER LOOKS AT NH GOV RACE; LINC CHAFEE MAKES IT OFFICIAL.
NEW YORK. A new Quinnipaic University Poll shows Governor David Paterson (D) continuing to face political problems. He has an upside-down approval rating of 28% to 60% -- and 63% of New Yorkers say he should not seek re-election. A general election matchup shows former New York City Mayor Rudy Guilliani leading Paterson 53% to 32%. However, if Attorney General Andrew Cuomo is the Democratic nominee, Cuomo leads Guilliani 53% to 36%. US Senator Kirsten Gillibrand (D) trails Congresswoman Carolyn McCarthy (D) in a primary contest by a 33-29 vote. While McCarthy has yet to take any action towards making the race, Gillibrand announced Monday that she has raised $2.3 million in the two months since she was appointed to the seat by Paterson.

NEW YORK CITY. NYC Mayor Mike Bloomberg has won the endorsement of the Independence Party in his bid for reelection this year to a third-term. The move guarantees him a spot on the November ballot. Bloomberg -- who was a Democrat before previously switching to the GOP to run for Mayor in 2001 -- quit the Republican Party in 2007. He recently announced he will also seek the Republican Party ballot line for the general election. The Independence Party ballot line will either provide Bloomberg with a multi-party fusion option for his supporters -- or will become his lifeline if he loses the GOP primary in a major upset (as happened to incumbent NYC Mayor John Lindsay in the low turnout 1969 GOP primary).
NEW HAMPSHIRE. As no major Republicans have stepped forward to express any interest in running against Governor John Lynch (D) next year, State Representative Dan Itse (R) says he'd be willing to run. Itse -- a staunch Ron Paul follower -- says he'd run if enough people express support for the idea. Lynch won with over 70% in each of his last two runs.
RHODE ISLAND. Former US Senator Lincoln Chafee (Independent) filed paperwork on Monday to launch his campaign for Governor.
Daily Report by Vin Gopal - 04.07.09 | Permalink |
MOST SENIOR GOP'ER IN CONGRESS FEELING YOUNG ENOUGH TO RUN AGAIN; "NO MEANS NO," SAYS GREGG.
FLORIDA. Congressman Bill Young (R) has quickly shot down the rumors he plans to retire next year. He told the St. Petersburg Times the rumors were "wishful thinking" on the part of others. "I'm feeling good, and doing interesting stuff," said Young, explaining why he plans to seek re-election next year. District demographics indicate the seat is likely to be a Democratic pickup when Young retires, but the voters' personal loyalty to the incumbent keeps him safely in office. Young is currently the longest-serving Republican in Congress.
NEW HAMPSHIRE. Despite pressure from the NRSC, US Senator Judd Gregg (R) said his mind "was 100% made up" that he will not change his mind and seek reelection next year. "Bottom line: I do not have any intention of running for reelection," Gregg told The Hill. NRSC Chair John Cornyn (R-TX) acknowledged he tried to persuade Gregg to seek another term in 2010. "I figured if you change your mind once, you can change it again. I think he's probably pretty firm," said Cornyn.
Daily Report by Vin Gopal - 04.06.09 | Permalink |
DON YOUNG WANTS STEVENS TO PRIMARY PALIN; IOWA LEGALIZES SAME-SEX MARRIAGE; TEDISCO-MURPHY TIED (MAYBE NOT); PLUS ALABAMA GOV & CT US SEN NEWS.
ALASKA. Congressman Don Young (R)

is calling on former US Senator Ted Stevens to challenge Governor Sarah Palin in the GOP primary next year. Young -- the second most senior House Republican -- faced a 2008 primary challenge from Palin's Lt. Governor, Sean Parnell. Palin endorsed Parnell over Young. Stevens narrowly lost to Democrat Mark Begich last year. Palin and the Alaska Republican Party this week called on Begich to resign so a new special election could be held. Young called Palin's resignation call "a lot of noise. Senator Begich, in all due respect, won the race. ... He has taken office, he is now the new Senator."
SAME-SEX MARRIAGE. A new CNN/Opinion Research Poll shows that 44% of Americans support marriage equality versus 55% who oppose it. These numbers are drastically different

than prior decades, when as much as 80-90% opposed same-sex marriage. "Women and young people are more in favor of same-sex marriage than men and senior citizens. Americans who attended college are also more likely to favor it," says CNN Polling Director Keating Holland. Polling also frequently shows a majority of Americans support government-recognized same-sex civil unions with legal rights largely identical with marriage. On Friday, the Iowa Supreme Court likely kicked off the latest national debate on the topic when they unanimously rejected a state law which had banned same-sex marriage. Relying upon the state constitution, the court ruled the law violated the state's equal protection amendment. Republican state legislators opposed to same-sex marriage are split on strategy. One faction of conservative GOP legislators are calling for a state constitutional amendment to ban same-sex marriage, while another more centrist group supports the same amendment but coupled with legalizing same-sex civil unions with nearly identical legal rights. "I firmly believe marriage should be between a man and a women but, at the same time, I believe we should address these [equal protection] issues. I would rather recognize a civil union than to have same-sex marriage," said State Representative Dave Heaton (R). Iowa will now become the third state in the nation to allow same-sex marriage, after Massachusetts and Connecticut. Governors Jon Corzine (D-NJ) and David Paterson (D-NY) both say they will sign marriage equality legislation if the state legislature passes the enacting legislation. Governor Jim Douglas (R-VT) says he will veto the same-sex marriage bill approved by broad margins in both houses of the Vermont Legislature -- although same-sex marriage supporters need to attract just a handful of additional votes in the House to ensure a veto-proof majority.
NEW YORK. The ongoing review of the election day votes cast in the various counties in Tuesday's CD-20 special election now officially has venture capitalist Scott Murphy (D) and State Assembly Minority Leader Jim Tedisco (R) tied with 77,225 votes apiece. However, Politico on Friday evening cited an observer "plugged into all the counties' election boards" who reported that Murphy now has a 198 vote lead in the informal count. Tedisco's campaign disagrees, claiming they believe the GOP candidate now leads by 30 votes.
FLORIDA. A new Mason-Dixon poll tests what would happen in next year's gubernatorial contest if Governor Charlie Crist (R) runs for the open US Senate seat, as is now expected. In a matchup between the two most likely Governor nominees, Attorney General Bill McCollum (R) leads State CFO Alex Sink (D) by a 36-35 vote.
ALABAMA. State Agriculture Commissioner Ron Sparks (D) officially jumped into the open gubernatorial race on Friday. He will face Congressman Artur Davis in the Democratic primary. State Senator Roger Bedford and former Mobile Mayor Mike Dow are also looking at the Democratic contest.
CONNECTICUT. Attorney and tennis sports agent Roger Pearson announced he will challenge US Senator Chris Dodd in next year's Democratic primary.
Daily Report by Vin Gopal - 04.04.09 | Permalink |
BLAGO INDICTED; ALASKA GOP WANTS DO-OVER; DODD SINKS IN POLLS; TEDISCO NOW LEADS BY 12 VOTES; MACK PASSES ON FL US SEN RACE.
ILLINOIS. Former Governor

Rod Blagojevich (D -- arrested in December on conspiracy and fraud charges -- was indicted on 16 additional felony counts by a federal grand jury on Thursday. Blagojevich was impeached and removed from office earlier this year by the state legislature. "I'm saddened and hurt but I am not surprised by the indictment. I am innocent. I now will fight in the courts to clear my name," said Blagojevich, in a written statement. "We can only hope the former Governor will not view this indictment as a green light for another publicity tour ... The people of Illinois deserve a break," responded US Senate Majority Whip Dick Durbin (D-IL).
ALASKA. Governor Sarah Palin (R) and the Alaska Republican Party called on freshman US Senator Mark Begich (D) to resign so a special election can take place. They maintain Begich would not have defeated former US Senator Ted Stevens (R) last year had Stevens not been convicted on felony corruption charges shortly before election day. US Attorney General Eric Holder dismissed all charges against Stevens on Wednesday, citing prosecutorial misconduct. Begich quickly responded by saying he will not resign and plans to serve his full six-year term.

CONNECTICUT. Embattled US Senator Chris Dodd (D) appears to be in serious political trouble next year, according to the latest Quinnipiac University poll. Dodd trails former Congressman Rob Simmons (R) by a 50-34 vote. He also trails State Senator Sam Caligiuri (R) by a 41-37 vote. Many DC insiders believe Democratic leaders will eventually find a face-saving way out for Dodd, possibly with an appointment to a high-profile ambassadorship. It would pave the way for Attorney General Dick Blumenthal (D) to jump into the race. Blumenthal recently stated he is interested in running for the US Senate if either Joe Lieberman or Chris Dodd retire.
NEW YORK. The continuing review of the election day votes cast in the various counties in Tuesday's CD-20 special election has further narrowed the margin, and switched the leaders. Venture capitalist Scott Murphy (D) now trails State Assembly Minority Leader Jim Tedisco (R) by 12 votes.
FLORIDA. Congressman Connie Mack IV (R) announced Thursday he will not be a candidate for US Senate next year. Mack was the top ranked GOP hopeful in primary polls if Governor Charlie Crist stays out of the contest. Many close Crist allies say they are now convinced the Governor will jump into the open US Senate race after the Florida Legislature adjourns for the year in May. Former State House Speaker Marco Rubio is already an announced GOP candidate for US Senator, and takes frequent shots at Crist for supporting an expansion of legal gambling in Florida and for openly backing the Obama stimulus plan. However, if Crist jumps in, look for Rubio to switch into the gubernatorial race. Congressman Kendrick Meek, State Senator Dan Gelber and North Miami Mayor Kevin Burns are announced candidates for the Democratic nomination for US Senate. Incumbent US Senator Mel Martinez (R) is retiring.
Daily Report by Vin Gopal - 04.03.09 | Permalink |
MURPHY LEADS TEDISCO BY 25 VOTES; FOLSOM SKIPS ALAB GUV RACE; A.G. BAKER JUMPS INTO GA GOV RACE; USDOJ DISMISSES ALL CHARGES AGAINST TED STEVENS.
NEW YORK. A review of the votes cast in Columbia County narrowed the CD-20 special election results, with both men losing some votes accidentally double-tabulated. After the correction, venture capitalist Scott Murphy (D) leads State Assembly Minority Leader Jim Tedisco (R) by just 25 votes -- out of over 152,000 cast. The race, however, will ultimately be decided by the thousands of still uncounted absentee and provisional ballots.
ALABAMA. In a somewhat surprising move, Lieutenant Governor Jim Folsom Jr. (D) announced Wednesday he will seek re-election next year. Most pundits had thought Folsom was leaning towards entering the open gubernatorial contest. Congressman Artur Davis is the only major announced Democrat in the race for Governor. Real estate developer Tim James, son of former Governor Fob James, is the only announced GOP candidate to date -- although a large crowd of prominent Republicans are looking at the race. Incumbent Governor Bob Riley (R) is term-limited.
GEORGIA. Attorney General Thurbert Baker (D) will run for Governor next year, acccording to the Atlanta Journal-Constitution. Baker, a former State House Democratic Leader, has served as Attorney General since his election in 1996. Former Secretary of State David Poythress, a retired USAF general, is also competing in in the Dem contest -- and former Governor Roy Barnes and State House Minority Leader DuBose Porter are also exploring the race. Lieutenant Governor Casey Cagle, Secretary of State Karen Handel, State Insurance Commissioner John Oxendine are the GOP frontrunners. Governor Sonny Perdue (R) is term-limited.
ALASKA. US Attorney General Eric Holder has dropped all federal corruption charges against former US Senator Ted Stevens (R-AK). Stevens was narrowly defeated for re-election in 2008, shortly after a Virginia jury convicted him on several corruption felonies. Holder acted -- not out of a belief that Stevens was not guilty -- but due to his agreement with the federal trial judge that the US Attorney's Office committed prosecutorial misconduct in hiding evidence and other actions which unfairly prejudiced Stevens' defense. Holder is hoping his action sends a message to federal prosecutors that they are expected to act fairly and ethically at all times.
Daily Report by Vin Gopal - 04.02.09 | Permalink |
NY CD-20 WINNER LIKELY UNCLEAR FOR WEEKS; EX-HP CEO FIORINA LOOKS AT US SEN RUN; CT US SEN UPDATE.
NEW YORK. Tuesday

was election day for the CD-20 special contest -- and the results were so close we will likely not have a declared winner until mid-April at the earliest. With all precincts counted, venture capitalist Scott Murphy (D) holds a 65 vote lead over State Assembly Minority Leader Jim Tedisco (R). However, there are as many as 6,000 absentee and provisional ballots to be counted over the next week, plus that election officials plan to count any absentee ballots mailed from overseas which arrive by April 13. Based upon when the pendulum of support shifted in the polls, Tedisco may ultimately prevail if most of the outstanding ballots are true absentee votes cast over the past few weeks. However, Murphy will be favored if the bulk of those uncounted votes are provisional ballots cast on election day. Tedisco started the contest with a double-digit lead in this district which traditionally skews GOP (although Kirsten Gillibrand captured it for the Democrats in an upset in 2006). Expect a recount and a possible legal challenge -- no matter which man is declared the winner.
CALIFORNIA. Former Hewlett Packard CEO Carly Fiorina told the San Jose Mercury News she is "seriously considering" a challenge to US Senator Barbara Boxer (D) next year. "Fiorina reportedly received more than $150 million during her time at HP -- including $21 million in severance pay after she left under fire -- while laying off more than 25,000 employees as CEO, none of whom received the kind of golden parachute she did. Now she has millions of her own dollars to pour into a possible campaign against Barbara Boxer," replied a Boxer campaign email on Tuesday.
CONNECTICUT. State Senator Sam Caligiuri (R) has entered the race against US Senator Chris Dodd (D) next year. He joins former Congressman Rob Simmons and anti-tax activist Peter Schiff in the GOP contest.
Daily Report by Vin Gopal - 04.01.09 | Permalink |