BLOG ARCHIVE: APRIL 16-30, 2008.
OBAMA SAYS WRIGHT IS WRONG; KY CONGRESSMAN ENDORSES OBAMA; NEW NC, IN, KY POLLS; INDIANA GOV & US REP RACES.
P2008 - DEMS. Barack Obama

fired back at self-aggrandizing retired pastor Jeremiah Wright, calling him "divisive and destructive." Obama went on to say he was "outraged" by Wright's latest comments this week, was "saddened by the spectacle" and that Wright was "giving comfort to those who prey on hate." Wright this week seemed intent upon creating further controversy -- even at Obama's expense -- if it helps promote himself for his upcoming book. In other news, Congressman Ben Chandler (D-KY) endorsed Obama on Tuesday. Chandler joins Congressman John Yarmuth -- the only other Kentucky Democrat in the US House -- in backing Obama. Obama also picked up another superdelegate Tuesday: a DNC member from Iowa. Meanwhile, here are the latest primary polls:


INDIANA (Howey Politics/Gauge Mkt Research): Obama - 47%, Clinton - 45%.


INDIANA (PPP): Clinton - 50%, Obama - 42%.


NORTH CAROLINA (WTVD-TV/SurveyUSA): Obama - 49%, Clinton - 44%.


NORTH CAROLINA (Rasmussen): Obama - 51%, Clinton - 37%.


KENTUCKY (WCPO-TV/SurveyUSA): Clinton - 63%, Obama - 27%.
INDIANA. Former Congresswoman Jill Long Thompson appears likely to win the Democratic primary for Governor next week. All polls for the past two weeks have shown Thompson leading. The latest poll -- Howey Politics/Gauge Mkt Research -- shows her widening her lead over wealthy businessman Jim Schellinger. The number: Thompson - 45%, Schellinger - 27%. The same poll also gave some insights into two of next week's congressional primaries. In CD-5, Congressman Dan Burton (R) leads former Marion County Coroner John McGoff by a 57% to 22% vote. In CD-7, freshman Congressman Andre Carson holds a comfortable lead in the eight-candidate Democratic primary. The numbers: Carson - 45%, former State Health Commissioner Woody Myers - 27%, State Representative David Orentlicher - 7%, State Representative Carolene Mays - 4%. Myers has already spent over $550,000 out of his own pocket on the contest.
Posted by Ron Gunzburger - 04.30.08 | Permalink |
NC GOV EASLEY ENDORSES CLINTON, OBAMA GETS ANOTHER US SEN; NEW INDIANA & N.C. POLLS; PAUL LIKELY WON'T BACK McCAIN.
P2008 - DEMS. Hillary Clinton and Barack Obama both landed significant super-delegate endorsements on Monday -- but Clinton's was definitely more significant, in light of the upcoming NC primary next week. North Carolina Governor Mike Easley threw his support behind Clinton, and US Senator Jeff Bingaman (D-NM) endorsed Obama. New Mexico already voted. Dr. Jeremiah Wright -- Obama's former pastor -- also is aggressively pushing himself back into the headlines via a series of speeches and press conferences. Wright, who sounded rather jealous of the positive attention lavished on Obama's recent race speech, seems intent on making incendiary comments intended to generate headlines. Obama, in response, seems to be further distancing himself from his controversial retired pastor. Here are the latest primary polls:


INDIANA (WCPO-TV/SurveyUSA): Clinton - 52%, Obama - 43%.


NORTH CAROLINA (PPP): Obama - 51%, Clinton - 39%.


NORTH CAROLINA (ARG): Obama - 52%, Clinton - 42%.

P2008 - GOP. Congressman Ron Paul (R-TX) told CNN he has no plans to campaign this fall in support of John McCain. "There's not much difference between the three [McCain, Clinton and Obama]," said Paul. When asked if he would campaign for McCain, Paul answered: "Probably not, not unless he changes his tune -- like bring the troops home." Despite these comments, Paul insists he is being a very loyal Republican: "Maybe you are a good Republican if you stand up for Republican principles. I would argue that leadership in the last few years has drifted from the Republican principles. More bureaucracy, more regulations, more entitlements, policing the world, but that is not what we stand for. I would say that our position is very much in tune with being a good Republican."
Posted by Ron Gunzburger - 04.29.08 | Permalink |
OBAMA SAYS "NO" TO MORE DEBATES; BOSWELL STRONG IN IOWA; NADER GETS N.M. BALLOT SPOT; KEYES LOSES FOR CONSTITUTION NOMINATION, RUNNING AS INDY NOW.
P2008. Despite Hillary Clinton's call for more debates with opponent Barack Obama, Obama made it clear he will not agree to any more debates before the Indiana and North Carolina primaries on May 6. Obama said they had already engaged in 21 debates, which was more than enough for now. Meanwhile, Obama and Clinton each picked up one superdelegate apiece over the weekend. Neither new super was an elected official, with Obama's coming from Arizona and Clinton's from New Hampshire.
IOWA. Congressman Leonard Boswell (D) appears well positioned to survive an aggressive primary challenge from the left by former State Representative Ed Fallon. According to the new KCCI-TV poll, Boswell leads by a 52% to 28% vote. The primary is June 3.

INDEPENDENTS. Consumer advocate Ralph Nader secured a spot on the November ballot in New Mexico on Friday, making it his first for the 2008 campaign. New Mexico is expected to be a key swing state. Nader and VP runningmate Matt Gonzalez will appear on the NM ballot under the Independent Party name -- an "alter-ego party" created solely to help with ballot access in some states.
CONSTITUTION PARTY. The Constitution Party overwhelmingly rejected former Ambassador and frequent GOP candidate Alan Keyes' bid for their Presidential nomination on Saturday. Baptist pastor and local radio talk show host Chuck Baldwin of Florida -- the party's 2004 VP nominee -- easily defeated Keyes by a delegate vote of 383.8 (74%) to 125.7 (24%). Tennessee attorney Darrell Castle won the VP spot. In a conference call Saturday evening with supporters, Keyes vowed to remain in the Presidential race as an Independent candidate.
Posted by Ron Gunzburger - 04.28.08 | Permalink |
INDIANA POLLS; ANOTHER SUPER-D FOR OBAMA; CONSTITUTION PARTY FOUNDER BLASTS KEYES.
P2008. Congressman Bob Brady (D-PA) -- who is also the Philadelphia Democratic Party Chair -- told reporters that he will cast his superdelegate vote in support of the candidate who overwhelmingly carried his district this past week (i.e., Barack Obama), as he doesn't believe it would be proper to go against the will of his district's voters. But, oddly, Brady said he'll make an official announcement "later." There were also a few new Indiana primary polls released Friday:


INDIANA (South Bend Tribune/Research 2000): Obama - 48%, Clinton - 47%.


INDIANA (Indianapolis Star/Selzer): Obama - 41%, Clinton - 38%.


INDIANA (ARG): Clinton - 50%, Obama - 45%.

CONSTITUTION PARTY: Constitution Party founder Howard Phillips -- the party's 1992, 1996 and 2000 Presidential nominee -- used his Friday speech at the conservative party's Presidential nominating convention to savagely blast former UNESCO Ambassador Alan Keyes. Keyes, who bolted to the CP recently after having made six failed runs for office as a Republican, is one of the two leading candidates for the CP nomination. Phillips attacked Keyes as an "ego-driven" candidate, an opportunist, and a "neo-con" who doesn't share the party's views on the Iraq War, the United Nations, foreign aid, and other international policies. He also said that Keyes' frequent attacks on libertarian Congressman Ron Paul (R-TX) proved Keyes was out of step with the CP's views. Phillips then urged the delegates to nominate pastor and Religious Right radio talk show host Chuck Baldwin for President in Saturday's vote. Phillips' remarks so unnerved the Keyes supporters that CP National Chairman Jim Clymer -- who is not a Keyes supporter -- took to the stage immediately after the speech to announce he disagreed with the personal nature of Phillips' attacks and urged party members to not attack each other.
Posted by Ron Gunzburger - 04.26.08 | Permalink |
OBAMA GETS ANOTHER SUPER-D; CONSTITUTION PARTY PREZ CONVO; LEADING LIBERTARIAN PREZ CANDIDATE DEFENDS CHILD PORN.
P2008. Barack Obama scored another superdelegate on Thursday: Congressman David Wu (D-OR). None for Hillary Clinton today.

CONSTITUTION PARTY: The Constitution Party Presidential Nominating Convention is taking place in Kansas City this weekend. The CP is a vocal Religious Right entity. The nominating speeches are set for Friday, and the delegates will vote on Saturday. The two leading candidates for the Presidential nomination appear to be former Ambassador Alan Keyes and pastor/radio talk show host Chuck Baldwin. Keyes is a former three-time GOP Presidential candidate and three-time GOP nominee for US Senate. Baldwin was the party's 2004 VP nominee. The party's ticket in 2004 achieved ballot status in 36 states.
LIBERTARIAN PARTY: Research scientist, medical professor and Libertarian activist Mary Ruwart -- a frontrunner for the LP Presidential nomination -- is in hot water over statements she previously wrote in her book Short Answers to the Tough Questions on the issue of child pornography. Ruwart has been a frequent LP candidate for US Senate and other offices in the past, and has been a popular speaker at LP gatherings nationwide for many years. This is what Ruwart wrote In response to the question "How can a libertarian argue against child pornography?":
"Children who willingly participate in sexual acts have the right to make that decision as well, even if it's distasteful to us personally. Some children will make poor choices just as some adults do in smoking and drinking to excess. When we outlaw child pornography, the prices paid for child performers rise, increasing the incentives for parents to use children against their will."
One of Ruwart's rival LP candidates -- wealthy sports handicapper Wayne Root -- is calling on her to quit the race. Don't expect Ruwart to exit, however. The bottom line: Ruwart's stumble probably locks-up the LP nomination for former GOP Congressman Bob Barr at next month's nominating convention.
Posted by Ron Gunzburger - 04.25.08 | Permalink |
DEMS HIT McCAIN ON EQUAL PAY LAW; OBAMA, CLINTON LAND NEW SUPERDELEGATES; GA CONGRESSMAN GETS PRIMARIED.
P2008. Dems are hitting

John McCain (R) for his opposition to the federal legislation to guarantee equal pay for women as men holding the same jobs. Hillary Clinton and Barack Obama are now battling for Indiana, which will be a competitive contest. In related news, Clinton's campaign expected to raise nearly $10 million online in the 24-hours since winning the Pennsylvania primary. Both sides also announced superdelegate endorsements on Wednesday. Oklahoma Governor Brad Henry and a Nebraska DNC member endorsed Obama. Congressman John Tanner (D-TN) endorsed Clinton. Also, Congressman Tim Ryan (D-OH) and Congresswoman Betty Sutton (D-OH) endorsed Clinton a few days ago.
GEORGIA: State Senator Regina Thomas announced she will challenge Congressman John Barrow in this year's Democratic primary. Thomas, known for her independent streak, told the Savannah Morning News her candidacy does not arise from any sharp disagreement with the incumbent: "This is not about John Barrow, but about what I can do for the people of the 12th Congressional District. I like John, but I think I can do a better job." Barrow has raised over $1.3 million to date, and Thomas starts with no funds in her account. However, Thomas is African-American and two demographic facts appear to help her: the district is 40% black and a majority of all primary participants will be black voters. Barrow said he wasn't particularly concerned with the challenge, feeling confident Dems approve of his performance.
Posted by Ron Gunzburger - 04.24.08 | Permalink |
CLINTON WINS PENNSYLVANIA; DEM LEADS AS MS CD-1 SPECIAL HEADS TO RUN-OFF; NC GOV & US SENATE PRIMARY POLLS.
P2008 - DEMS. Hillary Clinton rolled to victory in Pennsylvania on Tuesday. Clinton defeated Barack Obama by a vote of 55% to 45% (note: identical to our prediction of two days ago). While Obama ran strong in Philadelphia, Harrisburg and surrounding areas, Clinton swept nearly everywhere else in the state. While both sides are spinning this is a victory, the race played out almost exactly as most pundits had long expected. The race now moves on to Guam on May 3 and Indiana and North Carolina on May 6. Obama leads in Indiana and North Carolina according to recent polls, and holds a massive advantage in money according to FEC filings.
PENNSYLVANIA. Here are the congressional primary results from Tuesday. CD-3: Businesswoman Kathy Dahlkemper (D) won the four-way primary to face potentially vulnerable Congressman Phil English (R). He was re-elected with a surprisingly unimpressive vote two years ago. Race rating: GOP Favored. CD-5: Congressman John Peterson (R) is retiring and Dems see a longshot pickup opportunity here. Nine Republicans and three Democrats competed for the open seat. Centre County GOP Chair Glenn Thompson -- Peterson's endorsed candidate -- won the Republican primary with 19.5%. Wealthy developer Matt Shaner, the Club for Growth's candidate, finished third with 17%. On the Democratic side, Clearfield County Commissioner Mark McCracken won the three-way primary by edging favored Iraq War veteran Bill Cahir by a 5-point margin. Race rating: GOP Favored. CD-10: Republicans want to recapture this traditionally GOP seat, currently held by freshman Congressman Chris Carney (D). Two wealthy businessmen -- Chris Hackett and Dan Meuser -- engaged in a very nasty, expensive and close primary battle. Hackett won by a 52% to 48% vote. Race rating: Leans DEM. CD-18: Businessman Steve O'Donnell (D) defeated two others to win the right to face Congressman Tim Murphy (R) in November in this swing district. Race rating: Leans GOP.

MISSISSIPPI. The CD-1 special election contest appears heading towards a run-off on May 13, in what is a major embarrassment for the Republicans in this overwhelmingly GOP district. In an upset, Prentiss County Clerk Travis Childers (D) finished ahead of initial frontrunner Southaven Mayor Greg Davis (R). The numbers: Childers - 49%, Davis - 47%, Others - 4%. The folksy Childers fell just 700 votes shy of an outright win in his surprise first place finish. Both men are social and fiscal conservatives, but they differ sharply on the Iraq War. Davis strongly supports the war, while Childers advocates a swift withdrawal of US forces from Iraq. While the NRCC and DCCC both spent money here in the primary, look for both to dump even more money into this suprisingly close race.
NORTH CAROLINA: WTVD-TV/SurveyUSA are out with polling numbers on the upcoming primaries for US Senate and Governor. The Democratic primary US Senate: State Senator Kay Hagan - 38%, investment banker Jim Neal - 16%, attorney Marcus Williams - 6%, physician Howard Staley - 4%, truck driver Duskin Lassiter - 3%. The winner will face US Senator Elizabeth Dole (R) in November. In the gubernatorial contest, both parties have hotly contested races because Governor Mike Easley (D) is term-limited. The Democrats: Lieutenant Governor Bev Perdue - 43%, State Treasurer Richard Moore - 39%, retired USAF officer Dennis Nielsen - 2%. The Republicans: Charlotte Mayor Pat McCrory - 35%, State Senator Fred Smith - 24%, former State Supreme Court Justice Bob Orr - 9%, attorney Bill Graham - 8%.
Posted by Ron Gunzburger - 04.23.08 | Permalink |
PENNSYLVANIA VOTES; OBAMA'S BUCKS VERSUS CLINTON'S DEBTS; MS CD-1 SPECIAL.
P2008 - DEMS. On the eve of Pennsylvania's Presidential primary, polling numbers are all over the map. In nearly all polls, Hillary Clinton leads -- but the agreement ends there. Depending upon which pollster you trust, Clinton is leading by anywhere from 5-10 points. Here are the latest polls:


PENNSYLVANIA (Newsmax/Zogby): Clinton - 48%, Obama - 42%.


PENNSYLVANIA (Rasmussen): Clinton - 49%, Obama - 44%.


PENNSYLVANIA (Public Policy Polling): Obama - 49%, Clinton - 46%.


PENNSYLVANIA (Insider Advantage): Clinton - 49%, Obama - 39%.


PENNSYLVANIA (Quinnipiac University): Clinton - 51%, Obama - 44%.


PENNSYLVANIA (Suffolk University): Clinton - 52%, Obama - 42%.
In related news, the AP reports Obama started April with $42 million cash-on-hand -- while Clinton's campaign is essentially broke. Clinton eported $9.3 million cash-on-hand, but owed $10.3 million in unpaid debts to her pollster, phone bank firm, and advertising agency.
PENNSYLVANIA. Much overlooked because of the high-profile Clinton-Obama fight are other important races on Pennsylvania's primary ballot. The primaries worth noting are the Democratic contest for State Treasurer and several congressional races. CD-3: Four Dems believe Congressman Phil English (R) is vulnerable. Erie County Councilman Kyle Foust and attorney Tom Myers appear to be the Democratic frontrunners. Race

rating: GOP Favored. CD-5: Congressman John Peterson (R) is retiring and Dems see a longshot pickup opportunity here. Nine Republicans and three Democrats are seeking the open seat. Peterson has endorsed Centre County GOP Chair Glenn Thompson, but Thompson's fundraising has lagged far behind several other GOP hopefuls. Former Congressman Bill Clinger and several top GOP leaders are backing wealthy financial consultant Derek Walker -- although Walker was unexpectedly charged with two felonies and two misdemeanors last Thursday for an alleged incident which took place at his girlfriend's home last summer. Walker says the timing of the indictment was politically motivated. Hotel developer Matt Shaner loaned himself $1.2 million, and is also one of the top contenders. Shaner, a one-time aide to former US Senator Rick Santorum, is backed by the Club for Growth. Former Woodward Township Supervisor and wealthy businessman Jeff Stroehman rounds out the first-tier of GOP frontrunners. On the Dem side, Iraq War veteran Bill Cahir appears to be the likely primary winner over two local elected officials. Race rating: GOP Favored. CD-10: Republicans want to recapture this seat, which freshman Congressman Chris Carney (D) handily won in a 2006 upset. Two wealthy businessmen -- Chris Hackett and Dan Meuser -- have engaged in a very nasty, expensive and divisive primary battle. No matter which man wins, we'll rate this race: Leans DEM. CD-18: Three Dems are competing for the right to take on Congressman Tim Murphy (R) in November in this swing district. Race rating: Leans GOP.

MISSISSIPPI. Republicans find themselves in an unexpectedly competitive open seat race to defend the CD-1 seat left vacant by the elevation of US Senator Roger Wicker (R). The contest is hot enough that both the NRCC and DCCC are spending money here. Southaven Mayor Greg Davis (R) and Prentiss County Clerk Travis Childers (D) are facing off, although the names of two Republicans and one Democrats who lost in the regular election primary last month also remain on the ballot. The reason the race is so competitive is because of the unhealed wounds from the divisive GOP primary run-off. The Democrats, by comparison, are totally united behind Childers. Restaurant owner Wally Pang (Ind.) and college professor John Wages (Green) are also running. Davis enjoys a 4-to-1 spending advantage and is still likely to win this race. But, if Childers scores an upset win in this usually safe GOP district, it could be an ominous harbinger of a cataclysmically devastating year for the GOP on a par with 1932 or 1974.
Posted by Ron Gunzburger - 04.22.08 | Permalink |
McCAIN FINANCE CHAIR PLAYED MAJOR ROLE IN SPITZER'S DOWNFALL; CLINTON HOLDS PA LEAD.
NEW YORK. A Politics1 Exclusive. John McCain's National Finance Co-Chairman played a key role in the recent downfall of former New York Governor Eliot Spitzer (D). Reliable sources informed Politics1 that DC super-lobbyist

Wayne Berman -- a longtime confidant of insurance executive Maurice Hank Greenberg -- authorized a private Investigation that discovered the links between Spitzer and a Florida escort service ring. Operating under the alias code-name "Wallace C. Bernheim," Berman directed an 18-month effort that cost en estimated $2.2 million. The investigation was allegedly paid for by a highly-secretive shadow committee Berman directed, informally nicknamed "The Group." Sources tell Politics1 that The Group included Greenberg, Home Depot founder Ken Langone and former New York Stock Exchange Chairman Richard Grasso -- all high-profile targets of Spitzer when he was Attorney General. Key players in funding the anti-Spitzer effort also included wealthy New Jersey businessman Joseph Jingoli and Florida sugar mogul Pepe Fanjul Jr. Berman also retained veteran Republican dirty trickster Roger Stone to transmit the information to the FBI five months ago. The Group also funded an on-going effort by Stone to challenge Spitzer on the "Troopergate" and illegal immigrants drivers license issues. Berman and Stone were previously partners in the Black, Manafort, Stone & Kelly consulting firm, whose former clients included Philippine President Ferdinand Marcos, Angolan guerilla Jonas Savimbi , US Sugar, Phillip Morris Tobacco, and developer Donald Trump. Stone also had a very public sexual scandal in that past, as he was fired by Bob Dole's 1996 Presidential campaign when it was reported that Stone and his wife were advertising for other couples in sex magazines and participated in swingers sex parties. Stone also organized the so-called "Brooks Brothers Riot" in November 2000 that shut down the Miami-Dade Presidential recount. The funders decided against giving the money to the coffers of New York Senate Majority Leader Joe Bruno (R) -- a sharp Spitzer foe -- because of lack of confidence in Bruno strategist John McArdle.
P2008 - DEMS. For
both camps, Tuesday cannot come soon enough. After the millions of dollars spent on Pennsylvania TV spots, and weeks dedicated to campaigning in the state, the primary finally comes tomorrow. Here are the latest polls:


PENNSYLVANIA (Newsmax/Zogby): Clinton - 46%, Obama - 43%.


PENNSYLVANIA (MSNBC/McClatchy/Pittsburgh Post-Gazette): Clinton - 48%, Obama - 43%.
Clinton told ABC News on Sunday that "I have to win" the state. Editor's Prediction: Despite polls showing the race narrowing over the past two weeks, I don't buy it. I expect Clinton to win Pennsylvania by a margin of at least 10-points, maybe 55% to 45% (or better). But it won't much matter as, in terms of convention delegates, Clinton will win only a few more than Obama.
Posted by Ron Gunzburger - 04.21.08 | Permalink |
REICH, NUNN, BOREN ENDORSE OBAMA.
P2008 - DEMS. Former US Senators

Sam Nunn (D-GA) and David Boren (D-OK) -- both prominent Southern Democratic conservatives and national security "hawks" -- endorsed Barack Obama on Friday. "Based on my conversations with Senator Obama, reading his book and his speeches and seeing the kind of campaign he has run, I believe that he is our best choice to lead our nation," said Nunn. The two men issued a joint statement and will both serve as foreign policy advisors to the Obama campaign. Nunn and Boren were part of the now defunct Unity '08 movement, which wanted to organize a viable Independent Presidential ticket. The endorsement also puts to rest any of the rumors that Nunn was still planning to make an Independent run for President this year. In related news, Clinton family friend for 40+ years and former Clinton Cabinet member Robert Reich (D-MA) endorsed Obama. "Although Hillary Clinton has offered solid and sensible policy proposals, Obama's strike me as even more so ... He offers the best hope of transcending the boundaries of class, race, and nationality that have divided us. His life history exemplifies this, as do his writings and his record of public service. For these same reasons, he offers the best possibility of restoring America's moral authority in the world," explained Reich.
Posted by Ron Gunzburger - 04.19.08 | Permalink |
VIEW FROM ABROAD: DR. HANS-CHRISTIAN STRÖBELE, MdB, PARLIAMENTARY VICE CHAIR OF THE GREEN PARTY (GERMANY).

GERMANY: DR. HANS-CHRISTIAN STRÖBELE, MdB, Parliamentary Vice Chair of the BÜNDNIS 90/DIE GRÜNEN (Green Party). Born in 1939, Ströbele became active in the leftist German student movement of the 1960s. He began practicing law in 1969, after studying at Heidelberg and Freie Universität Berlin. A member of the Socialist Lawyers' Collective, Ströbele was an aggressive defender of those facing politically-related crimes. His past clients included notorious members of the Baader-Meinhof Group/Red Army Faction urban guerrillas. Originally active in the mainstream SPD -- the ruling Socialists in West German -- Ströbele co-founded the "Alternative List for Democracy and Environmental Protection." The ALDEP later became the Berlin chapter of the Greens. Ströbele was elected to the Bundestag (West German Parliament) in a 1985 by-election, and served until 1987. In 2002, Ströbele was returned to the Bundestag from Berlin's Friedrichshain-Kreuzberg district. He was reelected in 2005. Ströbele currently serves as a Vice Chair of the Green caucus in the Bundestag and is among the most prominent politicians belonging to the "Fundi" wing of the party.
Q. WHAT ARE YOUR THOUGHTS ON THE U.S. PRESIDENTIAL RACE TO DATE?

ANSWER: From across the Atlantic, the US Presidential race looks very democratic. Voter participation in the primaries so far has been very high. My great hopes are with the Democratic candidates, Mr. Obama and Mrs. Clinton, each for different reasons. Hopefully McCain will not be the beneficiary of their fight.

Q. WHAT ARE YOUR HOPES FOR THE NEXT U.S. PRESIDENT?

ANSWER: I hope that the next U.S. President will be more peaceful than Mr. Bush and end the war in Iraq immediately, along with the other armed U.S. military operations. The Iraq War not only increases the suffering of the population of that country, but is increasing the threat to Europe and the United States. The war has become a recruiting machine for international terrorism.

| | | |
| --- | --- | --- |
| Ströbele used some really cool, artistic posters in his last two campaigns (click to enlarge): | 2002 Campaign Poster | 2005 Campaign Poster |
Do you have a connection to a foreign political leader, elected official or prominent candidate you'd like to have answer these two questions? Please email Ron if you know someone you'd like featured here.
Posted by Ron Gunzburger - 04.19.08 | Permalink |
CLINTON, OBAMA CLOSE IN PA; WASH GOV POLL; BARNEY FRANK & RON PAUL PROPOSE MARIJUANA DECRIMINALIZATION.
P2008 - DEMS. Just one new Pennsylvania poll released on Thursday. Here are the numbers from the latest Newsmax/Zogby poll: Clinton - 45%, Obama - 44%.

WASHINGTON. A new KING-TV/SurveyUSA poll shows Governor Christine Gregoire (D) leading for re-election over former State Senator Dino Rossi (R) by a vote of 50% to 46%.
MARIJUANA. Congressman Barney Frank (D-MA) introduced a bill on Thursday to decriminalize the personal use of marijuana and legalize the use of marijuana when prescribed for medical purposes. ""I think it is poor law enforcement to keep on the books legislation that establishes as a crime something which in fact society does not seriously wish to prosecute," said Frank. The bill would remove all federal criminal sanctions for possession of up to 100 grams of marijuana. Congressman Ron Paul (R-TX) is an original co-sponsor of the bill.
Posted by Ron Gunzburger - 04.18.08 | Permalink |
NEW DEM POLLS, PLUS "DEM UNITY" DEBATE; SPECTER CANCER RETURNS; BAUCUS' BIG BUCKS LEAD; UTAH CONGRESSMAN DEFENDS POLYGAMY.
P2008 - DEMS. Another day,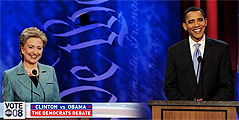 another round of primary polls ...


PENNSYLVANIA (Philadelphia Daily News/Franklin & Marshall Collge): Clinton - 46%, Obama - 40%.


PENNSYLVANIA (Public Policy Polling): Obama - 45%, Clinton - 42%.


NORTH CAROLINA (American Research Group): Obama - 52%, Clinton - 41%.


NORTH CAROLINA (Insider Advantage): Obama - 51%, Clinton - 36%.


SOUTH DAKOTA (Dakota Wesleyan University): Obama - 46%, Clinton - 34%.
In Pennsylvania on Wednesday, Clinton held a rally featuring 100 mayors from around the Keystone State who all endorsed her candidacy. While many had previously endorsed Clinton, it still was an impressive photo op with each standing behind the candidate and holding a signs bearing the names of the cities and towns they represent. In other related news, Obama picked up three more superdelegates this week: Congressmen Mel Watt (D-NC), David Price (D-NC) and Andre Carson (D-IN). Clinton picked up a superdelegate last week: new Congresswoman Jackie Speier (D-CA). Speier did not represent a numerical gain for Clinton, as she was elected to replace the late Congressman and Clinton superdelegate Tom Lantos. Finally, in Wednesday night's debate, Clinton and Obama both vowed they will ensure party unity behind the eventual nominee. "I will do everything to make sure that the people who supported me will support the nominee," said Clinton, who promised to campaign "anywhere" for the nominee. Likewise, Obama promised the party will "come together" once the nominee is designated. Neither, however, made any commitment to select the other as the VP runningmate.
PENNSYLVANIA. Despite being diagnosed this week with a recurrence of cancer, Senator Arlen Specter (R) vowed that he will still seek re-election in 2010. He said he was optimistic with the prognosis, and will begin 12-weeks of new chemotherapy treatment on April 25. "You deal with it as it comes. I have a good job, my faith, my family and questions from the news media to keep me on my toes," said Specter to The Politico. In related news, MSNBC talk show host Chris Matthews (D) last week -- when asked on his show -- made a point of not denying the rumors he was making inquiries of party leaders to gauge support for a possible run against Specter in two years.
MONTANA. New FEC filings out this week show US Senator Max Baucus (D) has raised over $10 million for his re-election bid -- and has $6.4 milliona cash-on-hand remaining. By contrast, The Missoulian reports Baucus' five GOP opponents have a combined cash-on-hand of just over $10,000.
MARRIAGE. The definition of marriage is becoming an issue in the Utah CD-3 congressional primary -- and the dispute isn't even centered around same-sex marriage. Congressman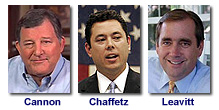 Chris Cannon (R) -- facing an aggressive primary challenge from former Juab County Prosecutor David Leavitt, former gubernatorial chief of staff Jason Chaffetz and two others -- expressed some support for radical Mormon polygamists. Cannon said the state should not prosecute polygamists for bigamy solely because they engage in consensual plural marriage. Further, Cannon said anti-polygamy laws were largely analogous to the anti-sodomy laws already declared unconstitutional by the US Supreme Court. Here is how Cannon explained it to the Salt Lake Tribune: There are "lots of women who choose to be in polygamous relationships and who are very articulate about the benefits they get. I don't think it's the place of society to prosecute people who choose to cohabitate responsibly and are responsible for their children as opposed to men who are licentious or women who are licentious who are producing children that don't have place or context or male authority in their lives." Cannon said his views also extended to same sex couples -- that the relationships should not be criminal, but the relationships do not get government recognition either. Leavitt told KNRS radio that the state must aggressively prosecute polygamists "or it will pave the road to same-sex marriage ... If we allow two consenting women and a consenting man to redefine what our society says is marriage, then we have opened the door for the redefinition of marriage for same-gender marriage. This is a broader scope than just polygamy." Leavitt lost for re-election by 22 votes in 2002, in what was largely viewed as a backlash against his successful bigamy prosecution of a vocal polygamist in 2000.
Posted by Ron Gunzburger - 04.17.08 | Permalink |
LIEBERMAN LIKELY TO SPEAK AT GOP CONVENTION; SEVEN NEW DEM PREZ PRIMARY POLLS; SECOND POLL SHOWS LANDRIEU LEAD IN LOUISIANA.
P2008 - GOP. Senator Joe

Lieberman (I-CT) -- the 2000 Dem nominee for VP -- says he is willing to be a pro-McCain speaker at this summer's Republican National Convention. "If Senator McCain, who I support so strongly, asked me to do it, if he thinks it will help him, I will," said Lieberman to The Hill. Lieberman said it is likely he will be asked to speak at the convention, but does not expect to be asked give the keynote address. Senate Majority Leader Harry Reid (D-NV), a close Lieberman friend, said the Dems would not strip Lieberman of his committee chairmanship if he speaks at the GOP convo. When directly asked by The Hill if Lieberman's chairmanship was "at risk" in the next Congress, Reid responded "No." Senate Majority Whip Dick Durbin (D-IL) seemed to echo Reid's stance. "We have one difference of opinion, maybe two with Senator Lieberman. As a Whip, I can tell you time and again, he's been there when we've needed him," said Durbin ... Just a prediction, but don't be surprised if Congressman Ron Paul (R-TX) also speaks at a rival party convention this summer. Expect to see Paul speaking at the Libertarian National Convention next month in support of former GOP Congressman Bob Barr's third party candidacy ... In other GOP news, Secretary of State Condi Rice gave a Shermanesque statement ruling out any interest in being the VP runningmate. "I don't want to be, don't intend to be, won't be on the ticket," Rice told the New York Times.
P2008 - DEMS. Another day, another round of primary polls ...


PENNSYLVANIA (Los Angeles Times/Bloomberg): Clinton - 46%, Obama - 41%.


PENNSYLVANIA (Strategic Vision): Clinton - 49%, Obama - 40%.


PENNSYLVANIA (SurveyUSA): Clinton - 54%, Obama - 40%.


PENNSYLVANIA (Quinnipiac University): Clinton - 50%, Obama - 44%.


INDIANA (Los Angeles Times/Bloomberg): Obama - 40%, Clinton - 35%.


NORTH CAROLINA (Los Angeles Times/Bloomberg): Obama - 47%, Clinton - 34%.


KENTUCKY (SurveyUSA): Clinton - 62%, Obama - 26%.
Congressional Quarterly performed an interesting analysis of recent Pennsylvania polls in which they are able to break down the vote by congressional district -- as convention delegates are awarded at that level. Based upon this analysis, Clinton appears likely to edge Obama by a narrow margin of 53 delegates to 50 delegates of those awarded at the district level. The state will also send 84 additional delegates to the convention. Of those remaining 84 slots, 55 pledged delegates will be distributed based on the statewide popular vote, and the remaining 29 seats go to "superdelegates."
LOUISIANA: A new Southern Media & Opinion Research poll essentially confirms yesterday's Rasmussen poll numbers. Here are the SMOR numbers: US Senator Mary Landrieu (D) - 50%, State Treasurer John Kennedy (R) - 38%.
Posted by Ron Gunzburger - 04.16.08 | Permalink |
JOIN THE POLITICS1
FACEBOOK GROUP:



BLOG ARCHIVE:

May 1-15, 2008
April 16-30, 2008
April 1-15, 2008
March 16-31, 2008
March 1-15, 2008
February 16-29, 2008
February 1-15, 2008
January 16-31, 2008
January 1-15, 2008
December 16-31, 2007
December 1-15, 2007
November 16-30, 2007
November 1-15, 2007
October 16-31, 2007
October 1-15, 2007
September 1-30, 2007
August 16-31, 2007
August 1-15, 2007
July 1-31, 2007
June 1-30, 2007
May 16-31, 2007
May 1-15, 2007
April 16-30, 2007
April 1-15, 2007
March 16-31, 2007
March 1-15, 2007
February 16-28, 2007
February 1-15, 2007
January 16-31, 2007
January 1-15, 2007
December 16-31, 2006
December 1-15, 2006
November 16-30, 2006
November 1-15, 2006
October 16-31, 2006
October 1-15, 2006
September 16-30, 2006
September 1-15, 2006
August 16-31, 2006
August 1-15, 2006
July 16-31, 2006
July 1-15, 2006
June 16-30, 2006
June 1-15, 2006
May 15-31, 2006
May 1-15, 2006
April 16-30, 2006
April 1-15, 2006
March 16-31, 2006
March 1-15, 2006
February 17-28, 2006
February 1-16, 2006
January 16-31, 2006
January 1-15, 2006
December 2005
November 2005
October 2005
September 2005
August 2005
July 2005
June 2005
May 2005
April 2005
March 2005
Jan-Feb 2005
December 2004
November 16-30, 2004
November 1-15, 2004
October 16-31, 2004
October 1-15, 2004
September 16-30, 2004
September 1-15, 2004
August 16-31, 2004
August 1-15, 2004
July 16-31, 2004
July 1-15, 2004
June 16-30, 2004
June 1-15, 2004
May 16-31, 2004
May 1-15, 2004
April 16-30, 2004
April 1-15, 2004
March 15-31, 2004
March 1-14, 2004
February 15-29, 2004
February 1-14, 2004
January 17-31, 2004
January 1-16, 2004
December 16-31, 2003
December 1-15, 2003
November 17-30, 2003
---
POLITICAL BLOG ROLL:
KINDA NEUTRAL:
ABC News: The Note
CNN: Morning Grind
CQ Politics
Political Wire
MSNBC: First Read
CJR Daily
Rothenberg Pol. Report
LexisNexis: US Politics
Stateline.org
Governing.com
Political State Report
Hotline On Call
Hotline's Blogometer
Beltway Blog
WatchBlog
Lawmakers Blog
Centerfield Aggregator
Command Post
FactCheck.org
WSJ: Best of the Web
WSJ: Washington Wire
D.C.'s Political Report
2008 Political Perspective
Media Bistro
Larry Sabato: Crystal Ball
PressThink
Politics-Line
TheCapitol.Net: Blog
MyElectionAnalysis.com
DEM/LEFT:
DNC Blog
DCCC Blog
DailyKos
Lefty Blogs
Howard Dean/DFA
OurSenate.com
Frameshop
The Washington Note
Emerging Dem Majority
Think Progress
AmericaBlog.com
Amer Prospect: Tapped
Arianna Huffington
Al Franken
BAG News Notes
Eric Alterman
Senate Majority Project
FishBowl DC
Fired Up! America
TalkLeft
TNR: The Plank
The Raw Story
Blogging of the President
Joe Trippi
Swing State Project
Media Matters
Josh Marshall
Wonkette
MyDD
Working for Change
Crooks & Liars
Mathew Gross
Penndit
Progressive Dems: Blog
Atrios/Eschaton
Off the Kuff
Tom Tomorrow
Mother Jones
Jerry Springer
TruthOut
Dem Bloggers
Liberal Oasis
Penndit
Firedoglake
Good As You
AtariDemocrat
Henry Lewis
BuzzFlash
Brad Blog
Dean Nation
Louise Slaughter
TruthDig
Dem Underground
Jared Hall
Bad Attitudes
The American Street
District Blogs
GOP/RIGHT:
RNC (GOP.com)
Club for Growth
National Review: Corner
C-Log
Real Clear Politics
Andrew Sullivan
John Ellis
StoneZone
Mickey Kaus
Virginia Postrel
RedState.org
WSJ Opinion Journal
Free Republic
Instapundit
Drudge Report
Pajamas Media
Hugh Hewitt
Daniel Drezner
Daily Pundit
Bully Pulpit
Outside the Beltway
Little Green Footballs
World Mag Blog
Right Wing News
Volokh Conspiracy
Brothers Judd
David Frum
Mister Politics
Enter Stage Right
Right Wing News
PoliPundit
Power Line
Hedgehog Report
Right Voices
Booker Rising
Don Singleton
Save the GOP
OTHER:
ThirdPartyWatch.com
Centrist Coalition
Kn@ppster
Green Commons
News for Greens
---
For those who would like to track Politics1 with a newsreader, we publish a RSS feed:
---

---