BLOG ARCHIVE: APRIL 16-30, 2007.
GOP FRONT THREE FLIP-FLOP; RETURN OF GALLEGLY & BLANCO; RENZI RUMORS GROW; HALL FACES TX PRIMARY.
CIVIL UNIONS: When it comes to state civil union legislation for same-sex couples, you could say Rudy Giuliani, John McCain and Mitt Romney were each for it before they were against it. For years

Giuliani was a vocal supporter of gay rights. He marched in gay pride parades each year, appointed out gay persons to prominent positions, supported hate crimes and domestic partner legislation, and even lived with a gay couple during his last divorce when his wife kicked him out of NYC's mayoral mansion. That didn't stop Giuliani from doing a total reversal, announcing his opposition this weekend to New Hampshire's new civil union law which will give same sex couples the same legal rights under state law as those accorded to married couples. "Mayor Giuliani believes marriage is between one man and one woman. Domestic partnerships are the appropriate way to ensure that people are treated fairly. In this specific case the law states same sex civil unions are the equivalent of marriage and recognizes same sex unions from outside states. This goes too far and Mayor Giuliani does not support it," said a written statement given to the New York Sun in response to questions. Compare this week's statement to what Giuliani told FOX News in February 2004: "I'm in favor of … civil unions ... That's why you have civil partnerships. So now you have a civil partnership, domestic partnership, civil union, whatever you want to call it, and that takes care of the imbalance, the discrimination, which we shouldn't have." And, FYI, McCain likewise flip-flopped on the civil union issue this weekend. In November 2006, McCain told ABC News he was not in general against civil union legislation. On Friday, McCain tried dodging the issue entirely, saying he was a "federalist ... [and] recognizes the right of the state of New Hampshire to regulate the institution of marriage and to pass civil union laws." By Sunday, in a conference call with political bloggers, McCain jettisoned his former position of support. "I am opposed to that legislation ... If I were a citizen of New Hampshire, I would oppose it. ... Anything that impinges or impacts the sanctity of the marriage between men and women, I'm opposed to it." Romney, as a candidate for Massachusetts Governor and US Senate, supported civil union legislation. He shifted his social positions sharply to the right as Governor, once he decided to run for President. "Governor Romney opposes the New Hampshire bill. He is a champion of traditional marriage. As Governor of Massachusetts, he has a clear record opposing same sex marriage and civil unions," explained Romney's campaign spokesperson to the Sun.


LOUISIANA: With former US Senator John Breaux (D) no longer looking at this year's gubernatorial race, rumors are afoot that Governor Kathleen Blanco (D) may jump back into the contest. It was believed she exited the race a month ago to pave the way for Breaux to run. But, since Breaux ran into legal obstacles which blocked him from running, the picture has changed. Congressman Bobby Jindal (R) remains the solid frontrunner. The overt support the Louisiana Republican Party gave to Jindal prompted State Senator Walter Boasso last week to switch parties to continue his run for Governor as a Democrat. State Public Service Commissioner Foster Campbell is also running, and is currently the leading Democratic candidate. When WAFB-TV asked Blanco about the rumors she was reconsidering her retirement decision, Blanco offered some very cryptic comments. "This is Louisiana and lots of exciting things can happen between now and the election. But, I'm certainly enjoying my current status and expect it to be the same ... This is Louisiana and there are no written scripts before play day," said Blanco. Candidate filing closes September 6.
TEXAS: Former Frisco Mayor Kathy Seei announced last week she will challenge Congressman Ralph Hall in next year's GOP primary. "I have a very strong sense this is the year I'm supposed to run ... This is more about me and my desire to serve than anything about Congressman Hall," she explained to the Dallas Morning News. "She's a nice lady, and she was a good mayor," responded Hall, who said he doesn't understand why Seei is challenging him as he believes she agrees with him on most issues. Hall, 83, says he intends to seek re-election to a 15th term in 2008. "I like what I'm doing. I want to go ahead and finish it," said Hall. A conservative Democrat, Hall switched to Republican on the last day of candidate filing in 2004. Some speculate that Hall was planning to retire and Seei wants to get a jump on what will likely be a crowded field. However, Seei's early start -- and stepping on Hall's toes in the process -- may just force Hall to seek one more term.


ARIZONA: Despite a tidal wave of rumors to the contrary, Congressman Rick Renzi (R) says he will not resign his seat. Renzi and his family are the target of an FBI corruption probe that raided his home two weeks ago in search of evidence. The probe is related to allegation Renzi accepted an unreported $200,000 payment from a business partner and political supporter, possibly because it related to other improper conduct required in exchange for the cash. The Phoenix Business Journal reported US Senator Jon Kyl (R) and other leading Arizona Republicans are holding regular meetings to plan for holding the seat in the special election they also believe will follow the rapidly approaching resignation. According to the newspaper, Kyl and others are also pressuring Renzi to resign sooner rather than later. A large number of Democrats and Republicans are already positioning themselves to run in the special election.
CALIFORNIA: Congressman
Elton Gallegly (R) totally botched his attempted retirement in 2006. In an effort to block GOP political rival Tony Strickland from jumping into his open seat race, Gallegly waited until just after filing closed to announce to the media he was going retire due to "health reasons" and quit the race immediately. Gallegly mistakenly thought he was unopposed in the primary and state law would allow the local party to pick an ally as his replacement on the ballot. Unfortunately, a little-known lawyer also filed in the GOP primary at the last minute, meaning the lawyer would have become the nominee if Gallegly quit. After several embarrassing days of attempting to stage the most inept retirement in Congressional history, Gallegly announced his doctors told him he had "recovered" and was now healthy enough to run again. Thus, Gallegly announced he'd run "one more time" before retiring -- and won an easy re-election victory. Miracle of miracles, the mystery illness must now be in completely gone as Gallegly announced last week he plans to seek re-election in 2008. Unless, of course, he's really planning to quit again at the last minute. Fortunately, Gallegly now knows the correct way to choreograph the surprise switch: withdraw his papers and file someone else's qualifying papers just before the filing deadline. Of course, it won't be so much of a surprise to his Republican rivals if he tries it again this time.
Posted by Ron Gunzburger - 04.30.07 | Permalink |
FREE SPEECH ZONE.
The daily open thread.
Posted by Ron Gunzburger - 04.30.07 | Permalink |
DEMS DEBATE; McCAIN DISSES GONZO; DEAN THREATENS FL DEMS; GEORGIA CD-10 SPECIAL.
P2008 DEM DEBATE: Talk about tame. The first

Democratic Presidential Debate in South Carolina on Thursday evening was an overly polite, friendly exchange that probably changed very few minds. Some observations: (1) Hillary Clinton and Barack Obama both easily held their places as the top tier candidates; (2) John Edwards' safe performance was fine, but won't do much to help keep him keep pace with Clinton and Obama; (3) Joe Biden sounded pretty good, pretty Presidential, but didn't do enough yet to break himself out of the second tier; (4) Bill Richardson and Chris Dodd failed to make themselves stand apart from their second tier rivals; and (5) Dennis Kucinich will face a real fight in the third tier with Mike Gravel for the votes of the more leftist party activists.
GONZALES: John McCain became the latest Republican Senator to call for embattled Attorney General Al Gonzales to resign. "I am very disappointed in his performance. I think loyalty to the President should enter into his calculations," he said to CNN. He is the first GOP Presidential hopeful to call for Gonzales to step down.
FLORIDA: RNC Chair Mel Martinez failed last month at pressuring his fellow Florida Republicans to back down from their support for the bipartisan legislation to bust the official Presidential primary schedule and move Florida forward to the whichever Tuesday follows the New Hampshire primary (January 29, based upon NH's current intended date). Now the DNC is attempting the same threats against the Florida Dems. DNC Chair
Howard Dean on Thursday told the Mortgage Bankers Association that it looks like Florida is the state most likely to break the official DNC/RNC sanctioned schedule. "If they do, our rules are so strict that not only will those states not collect any delegates, but anybody that campaigns in that state will be ineligible for any delegates from that state. We will reapportion their delegates to all the other candidates if they show up in a state that jumps ahead of February 5," threatened Dean. According to the AP, leaders of both the Florida Republican Party and Florida Democratic Party say "losing delegates is less important than having more influence in the nation's leadership" by holding a pre-February 5 primary. Governor Charlie Crist (R) has also endorsed the legislation.
GEORGIA: Candidate filing closed Thursday for the CD-10 special election to replace the late Congressman Charlie Norwood (R). Ten filed to run, including State Senator Jim Whitehead (R), physician Paul Broun Jr. (R), political consultant Bill Greene (R), wealthy former Yahoo executive Jim Marlow (D), psychotherapist Jim Sendelbach (Libertarian), plus three more Republicans and two more Democrats. Whitehead is the favorite to win, although Marlow has the personal financial resources to possibly the make the open primary race somewhat competitive. All ten candidates will appear on the June 19 primary ballot in alphabetical order. The election is a non-partisan contest, although each candidate's party affiliation will be listed on the ballot. If no candidate receives a majority of the vote, the top two will advance to a run-off election on July 17. Click here to view the Georgia page to see the entire list of candidates and links to their websites.
Posted by Ron Gunzburger - 04.27.07 | Permalink |
FREE SPEECH ZONE.
I got some complaints for not writing about McCain's candidacy "announcement" on Wednesday. Well, it wasn't really news. I'm tired of all these candidates -- D and R alike -- announcing and re-announcing their candidacies in these staged events devoid of real news ... Also, congrats to the New Hampshire Legislature for passing civil union legislation for same-sex couples. Governor John Lynch (D) has promised to sign the bill into law.
Posted by Ron Gunzburger - 04.27.07 | Permalink |
BLOOMBERG SORTA SAYS NO (YET AGAIN); NEW SC POLL NUMBERS.
BLOOMBERG: New York City Mayor Mike Bloomberg (R) gave yet another of non-denial denial of his interest in running for President as an Independent in 2008. "I do not anticipate being a candidate this time or any other time ... I plan to spend the next 984 days being mayor of what I think is the greatest city in the world. I have the best job in the world," said the billionaire to Reuters during a trip to Mexico. Doesn't "anticipate"? You see, every few months Bloomberg issues one of these statements that continues to leave the door open for a run.
SOUTH CAROLINA: New independent polls out for Presidential primary. This poll -- conducted for the League of Conservation Voters by Ayers McHenry & Associates (R) and Hamilton Beattie & Staff (D) -- places Hillary Clinton and John McCain in the lead. On the Dem side, Hillary Clinton was first with 31%, Barack Obama was next with 27%, followed by John Edwards at 16%. On the GOP side, John McCain led with 24%, Rudy Giuliani was second with 15%, Newt Gingrich was third with 12%, Fred Thompson was next with 11%, and Mitt Romney was fifth with 10%.
Posted by Ron Gunzburger - 04.26.07 | Permalink |
FREE SPEECH ZONE.
Why is today's posting so short? I was in hearings all afternoon, then went rollerblading and swimming at the beach after work ... so I'm just too tired to write more. Sorry.
Posted by Ron Gunzburger - 04.26.07 | Permalink |
WEDNESDAY NEWS UPDATE.
CULTURE OF CORRUPTION PROBES FOCUS ON FEENEY, RENZI, ROVE; DEMS SNUB KUCINICH IMPEACHMENT BILL.
ABRAMOFF CORRUPTION PROBE: Add Congressman Tom Feeney (R-FL) to the list of possibly corrupt federal legislators in the FBI's crosshairs. The St. Petersburg Times reported that the FBI this week requested further information from

Feeney about his ties to Abramoff. Former House committee staffer Mark Zachares -- who was a pampered guest on Abramoff's infamous luxury golf trips to Scotland (along with Bob Ney, Tom DeLay and Feeney) -- pled guilty Monday to felony corruption charges for accepting over $30,000 in gifts in exchange for inside information about legislative action and homeland security contracts. Zachares is reported to be cooperating with the FBI in exchange for a lighter sentence. Zachares' attorney told reporters his client is "fully cooperating" with the investigators in order to get a reduced sentence. Zachares is the 11th person to plead guilty in the Abramoff scandal. Feeney was identified as the previously unnamed "Representative #3" in Justice Department indictment documents filed this week in the Zachares case. For those of you who have already forgotten, imprisoned former Congressman Bob Ney (R-OH) was the unnamed "Representative #1" in other Abramoff case affidavits. Feeney told The Hill on Tuesday he is "not worried" and had "no relationship" with Abramoff. "The Scooter Libby case showed that you must be careful when dealing with the [Department of Justice, but] we're giving them everything they need and more," said Feeney. In news that may also be related, former Feeney Chief of Staff Jason Roe abruptly resigned Tuesday as Deputy Campaign Manager for Mitt Romney's Presidential campaign. Roe, who was responsible for day-to-day operation of the Romney campaign, claimed "family obligations" as the reason for his sudden departure. Hmm ... John Doolittle, Bill Jefferson, Jerry Lewis, Gary Miller, Rick Renzi, and now Tom Feeney. The list of House members under FBI investigation rapidly continues to grow.
CORRUPTION #2: In a sign of the seriousness of his growing FBI problems, Congressman Rick Renzi (R-AZ) on Tuesday resigned from all of his committee assignments. After the FBI raided his wife's insurance business last week -- reportedly seeking information related to Renzi and his wife's involvement in some questionable business deals -- Renzi quit his post on one committee. He quit the other two this week.
CORRUPTION #3:

The Los Angeles Times and MSNBC reported Tuesday evening that the US Office of Special Counsel (OSC) is launching a potentially explosive and broad criminal investigation into the White House's political operations. Presidential political strategist Karl Rove is believed to be the central target of the probe, with the initial focus being the allegedly improper role he may have played in the firing of US Attorney David Iglesias of New Mexico. The White House first tried to imply they initiated the probe in order to clear the air of all allegations of improper conduct. However, Iglesias quickly debunked the story and confirmed Tuesday evening for MSNBC that he was the person who filed a formal Hatch Act complaint with the OSC charging Karl Rove and others with possibly having violated federal law by firing him over his failure to initiate partisan-motivated prosecutions. Iglesias, who was appointed as US Attorney by President Bush in 2001, was the GOP nominee for NM Attorney General in 1998. The investigation could also cause electoral complications for US Senator Pete Domenici (R-NM) and Congresswoman Heather Wilson (R-NM), who Iglesias believes pressured the White House to fire him for failing to rush politically charged case to produce indictments just before the November 2006 elections. Both Domenici and Wilson are up for re-election next year.
KUCINICH: Congressman Dennis Kucinich (D) is trying to

garner some much-needed media attention for his underdog Presidential campaign. On Tuesday, Kucinich announced he was filing a bill of impeachment against Vice President Dick Cheney. The articles of impeachment include allegations of knowingly providing false intelligence information in public appearances before the Iraq War in order to mislead Congress, made false statements about ties between al-Qaeda and Saddam Hussein's Iraqi government, and is endangering national security by making his recent public threats of military action against Iran. House Majority Leader Steny Hoyer was immediately dismissive of Kucinich's impeachment resolution, telling the Washington Post that "I don't have any thought about it" and that he and Speaker Pelosi planned to keep the House "focus[ed] on the substance of the issues at hand, and that's what we're going to do." Translation: Kucinich will get no committee hearings and no House floor time to debate his resolution.
Posted by Ron Gunzburger - 04.25.07 | Permalink |
FREE SPEECH ZONE.
Just my two cents of editorializing here -- and everyone here certainly knows I think Vice President Cheney is a manipulative liar advancing a malevolent political agenda of greed and war -- but Kucinich's impeachment resolution is a joke (sincere, perhaps, but ridiculous all the same). It's a total waste of time, and a distraction from the real issues before Congress. Kucinich has filed it and held his press conference. Now it's time to move on. In the words beloved by many cops: "Move on folks, there's nothing to see here."
Posted by Ron Gunzburger - 04.25.07 | Permalink |
FORMER RUSSIAN PRESIDENT BORIS YELTSIN, DEAD AT AGE 76.
While not US politics, the death of former Russian President Boris Yeltsin deserves to be the lead story because of the pivotal role he played in the downfall of Soviet communism. A dedicated communist, he rose through the Communist Party ranks by showing a rare populist streak. The charismatic regional leader saw his career quickly skyrocket once he was brought to Moscow, winning a spot on the powerful Politburo. Although some of his initial patrons were hardliners like Yegor Ligachev, Yeltsin soon broke free and showed an independent streak that troubled his colleagues.
While once a key ally in Soviet President Mikhail Gorbachev's glasnost and perestroika reforms, the two men split when Gorbachev was pressured by hardliners to slow reforms and dump the troublesome Siberian. Yeltsin -- a flawed man who readily acknowledged he drank too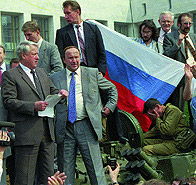 much and suffered from serious bouts of depression -- was rousted from a hospital bed after a breakdown to be publicly humiliated and expelled from all his party posts at an open meeting. While Gorbachev may have started a sincere drive to truly reform the moribund Soviet Union, Gorbachev always intended -- like the doomed Czech leader Dubcek in 1968 -- merely to fix the system and make Marxism work in a positive way for the people. Gorbachev's start-and-stop timidity, however, undermined his reformist drive to failure.
Yeltsin's expulsion from the CPSU leadership was the best thing that could have happened to his career, as it made him a people's hero. Despite active KGB and CPSU efforts to scuttle Yeltsin's comeback, he first won a seat in the newly created Congress of People's Deputies with his frequent anti-Gorbachev speeches. He was then named by the Congress to a seat on the Supreme Soviet, a position he used to be elected chairman of the Presidium of the Supreme Soviet of the Russian SFSR in 1990 over Gorbachev's open opposition. During this period, the George HW Bush Administration totally shunned Yeltsin, mistakenly tying US policy entirely to hopes for Gorbachev's survival. In June 1991, Yeltsin impressively won 57% of the vote over Gorbachev's endorsed candidate in Russia's first democratic Presidential election. Yeltsin took office in July 1991, right as Gorbachev's USSR was on the verge of a dangerous precipice.
Yeltsin, former Foreign Minister Eduard Shevardnadze, and former Gorbachev reform ally Alexander Yakovlev all openly and correctly warned in speeches of a coming "dictatorship," warning that Gorbachev had made too many concessions to hardliners in a Faustian bargain to maintain his shaky hold on power. In August 1991, the hardliners struck with an overnight coup that deposed Gorbachev and tried to reclaim control of the USSR. It was at this dark moment that Yeltsin rose to greatness, bravely using his personal popularity to resist the coup. At the risk of his life, Yeltsin drove in the early morning from his dacha outside the city to the government complex at the center of Moscow. Working to rally the pro-democracy demonstrators, he empowered them when he boldly climbed atop a Soviet tank and convinced the crew to turn their guns away from the building. He then addressed the crowds from atop the tank, rallying the democracy forces. From that moment forward, he guaranteed the strong resistance of the people and the swift collapse of the coup. That moment brought the collapse of not only the coup but of Soviet communism entirely. Within months, the Soviet Union itself was consigned to the dustbin of history, Gorbachev was out of power, the CPSU was outlawed, and Yeltsin was the most powerful man in the nation.
Yeltsin had to use military tanks to turn back a coup attempt against his government in 1993, led by his own Vice President and a key secret conspirator from the failed 1991 hardliner coup. This time, Yeltsin had the tanks open fire on the Congress, killing many rebels and arresting the surviving conspirators.
Yeltsin's Presidency was marked by ups and downs, including a rise of widespread corruption, a messy transition to a market economy, and the emergence of the Mafia-state. The economy languished, he was largely passive due to bad health in his second term, and he ultimately tapped the despotic former KGB leader Vladimir Putin as his successor. Putin today is turning Russia back into an authoritarian nation, albeit a capitalist one. Still, despite all his flaws, it was Yeltsin -- possibly even more than Gorbachev -- who ensured the collapse of the feared Soviet Union and freed millions of people from state tyranny. The cause of freedom owes Boris Yeltsin a debt of gratitude.
Posted by Ron Gunzburger - 04.24.07 | Permalink |
CLINTON, McCAIN LEAD IN S.C.; CALIFORNIA SPECIAL ELECTION CANDIDATES EMERGE.
SOUTH CAROLINA: A new WPDE-TV/Zogby poll of South Carolina voters shows Senators Hillary Clinton and John McCain leading their respective primary fields. On the Democratic side, Clinton had 33%, followed by
Barack Obama at 26%, John Edwards at 21%, and all others at less than 1% each. On the GOP side, McCain led with 22%, Rudy Giuliani was next with 19%, Fred Thompson was third with 11%, and Mitt Romney had 10%. South Carolina Governor Mark Sanford (R) -- who has said repeatedly he will not run -- was next with 8%, possibly as a sign of Republican dissatisfaction with the current field.
CALIFORNIA: Several names are already floating of candidates likely to run in the special election to replace the late Congresswoman Juanita Millender-McDonald (D), who died Sunday. The names (all Democrats): State Senators Jenny Oropeza and Alan Lowenthal, State Assemblywomen Karen Bass and Laura Richardson, Los Angeles City Councilwoman Janice Hahn, Carson Mayor Jim Dear, and Compton City Councilman Isadore Hall III. A big enough turnout by any single ethnic or racial group could determine the outcome of a traditionally low turnout race this like this one.
Posted by Ron Gunzburger - 04.24.07 | Permalink |
FREE SPEECH ZONE.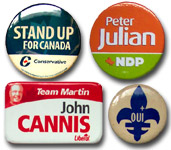 The daily open thread.
Posted by Ron Gunzburger - 04.24.07 | Permalink |
WANNA TRADE?
I'm interested in building up my collection of Canadian campaign buttons. If you've got Canadian political buttons to trade (both federal and provincial), I'm interesting in swapping with you (and will also trade your Canadian buttons for some of my great US pins). Please drop me a note! Also interested in buying Canadian pins, if you're not interested in trading.
GORE DENIES RUMORS; HOUSE ADMIN CHAIR DIES; OREGON SEN; FRANCE PRESIDENT PRIMARY.
GORE: Although the news article in London Sunday Telegraph was

entirely blind sourced, the British newspaper reported a group of Al Gore friends and former staffers are "assembling a campaign team in preparation for the former American vice-president to make a fresh bid for the White House ... a shadow team that could run his campaign at short notice." Former Gore aide Elaine Kamarck is mentioned as one of the individuals involved in the planning. The individuals behind the effort admit Gore did not directly ask them to do this: "they are not acting on formal instructions from Mr Gore, but have not been asked [by Gore] to stop." Former President Bill Clinton also stoked the speculation on Thursday, telling a reporter "you've got the prospect that Vice President Gore might run." The Hotline chimed in the Clinton comment: "We're told that Clinton really thinks that his former Vice President might actually run." Gore publishes a new book on his thoughts on the current state of US politics next month. Gore, however, was quick to yet again shoot down the speculation. "There is not a secret campaign operation in Nashville or any other part of the country to mobilize a campaign ... other than that which the former Vice President has stated: to mobilize the American people to address the climate crisis," emailed Gore's spokeswoman to the TPM Cafe website.
CALIFORNIA: Congresswoman Juanita Millender-McDonald (D) died Sunday of cancer at age 68. The Congresswoman -- who this year became House Administration Committee Chair -- only last week formally requested a 4-6 week leave of absence from the House to deal with her illness. Millender-McDonald was first elected to Congress in a 1996 special election. Governor Arnold Schwarzenegger must set a date later this year for a special election for her CD-37 seat. The seat is solidly Democratic, so the primary will essentially determine the next person to represent the largely minority district.
OREGON: No surprise, but Congressman Pete DeFazio (D) announced he will not be a candidate next year against US Senator Gordon Smith (R). The DSCC asked DeFazio two weeks to "consider" the race, but it didn't change his mind. With DeFazio out, the DSCC is now trying to convince Congressman Earl Blumenauer (D) to run. Blumenauer, through a spokesperson, said he's in no rush to make any decision on the race. Smith is viewed as vulnerable due to state political demographics if the Dems can recruit a quality challenger.
FRANCE: French voters cast ballots Sunday in the nation's first round of Presidential voting. Conservative Interior Minister

Nicolas Sarkozy and Socialist candidate Ségolène Royal advance to the run-off in two weeks, as they respectively finished with 29.5% and 26.3% in the crowded 12-candidate primary field. Centrist candidate François Bayrou placed third with 19% -- and both Sarkozy and Royal are expected to aggressively court these moderate voters over the next two weeks. Sarkozy is a Bush admirer described as an "Atlanticist," meaning he openly supports stronger, friendlier ties to the US. He also favors stronger support for Israel, vows to cut the income tax rate from 60% to 50%, and supports tougher crime and immigration laws. Royal supports a new leftist economic agenda to boost economic growth by increasing the minimum wage by 20%, raise retirement pensions, create 500,000 new subsidized jobs for recent graduates, and modernize the Socialist Party. Both candidates represent a sharp break from the past French political tradition: Sarkozy is the son of a Hungarian Jewish immigrant, and Royal would be the first women elected to lead France. Sarkozy is viewed as holding an sizable advantage over Royal heading into the May 6 run-off, based upon the division of votes between other left and right candidates eliminated in the primary. What is most amazing about the vote is that 84% of France's 44.5 million registered voters cast ballots. By contrast, here in the US we're pretty thrilled when Presidential turnout hits around the 56% mark.
Posted by Ron Gunzburger - 04.23.07 | Permalink |
FREE SPEECH ZONE.
The daily open thread.
Posted by Ron Gunzburger - 04.23.07 | Permalink |
WEEKEND OPEN THREAD.
FREE SPEECH ZONE.
Have at it.
Posted by Ron Gunzburger - 04.21.07 | Permalink |
HAGEL GETS "PRIMARIED"; DOOLITTLE (AGAIN); AL GONZALES' BAD DAY; RETURN OF JOE TRIPPI.
NEBRASKA: As anti-war US Senator Chuck

Hagel (R) continues to ponder a possible White House run, he suddenly finds himself in a serious primary contest for renomination next year with Attorney General Jon Bruning (R). A few months ago, Bruning said he would support Hagel for President and would only seek the seat if Hagel gives it up. In an interview Thursday with the Lincoln Journal-Star, Bruning made it clear he now plans to challenge Hagel in next year's GOP primary for the Senate seat. "Hagel has voted with Democrats on every major issue dealing with Iraq [during the past month] ... When he suggested impeachment [of President Bush] as a remedy, that crossed the line ... The only other person I've heard talking about that is Cindy Sheehan ... What Senator Hagel and the Democrats are trying to do is kill that [surge] plan in its infancy," said Bruning. He also bashed Hagel's proposed immigration reform plan as an amnesty plan for illegal aliens: "The Hagel plan rewards those who came here illegally. We need to be very careful about a plan that encourages people to break the law. We cannot have amnesty as part of the plan." Hagel plans to make a decision on seeking re-election by the end of this year.
ABRAMOFF SCANDAL: The heat is clearly increasing on Congressman John Doolittle (R-CA), in the wake of the FBI raid on his home last week. A much reported allegation is that Abramoff money was illegally funnelled through wife Jill Doolittle's consulting firm to influence the Congressman's official actions on the House Appropriations Committee. On Thursday, under heavy pressure from his own GOP colleagues, Doolittle voluntarily removed himself temporarily from the Appropriations Committee pending the outcome of the federal investigation. The race is on: Will it be Doolittle or Congressman Bill Jefferson (D-LA) who becomes the next sitting member indicted on felony corruption charges?
GONZALES: US Senator Tom Coburn (R-OK) on Thursday became the first Republican on the Senate Judiciary Committee to directly call for Attorney General Al Gonzales to resign over his handling of the political-related firing of

eight US Attorneys. US Senator Lindsay Graham (R-SC) complained -- in response to Gonzales' testimony Thursday -- that it "is a stretch" to believe his testimony because it appears Gonzales "made up reasons to fire them." Even the conservative National Review described Gonzales' performance before committee as "disastrous." A White House spokesperson, however, said President Bush was "pleased" with Gonzales' testimony and that "the Attorney General has the full confidence of the President."
EDWARDS: Former US Senator John Edwards (D) scored a recruitment that will help him with the netroots. Political guru Joe Trippi -- the man behind Howard Dean's phenomenal net presence during the 2004 primaries -- signed on as a consultant to Edwards. Nearly everyone in the business agrees Trippi is brilliant and original but with one major weakness: he's terribly manager of campaign staffers. That's why the Trippi hire is such an astute move for Edwards: because Trippi is going to provide strategic advice (including, presumably, internet strategy), but not be the campaign manager. Welcome back, Joe.
Posted by Ron Gunzburger - 04.20.07 | Permalink |
FREE SPEECH ZONE.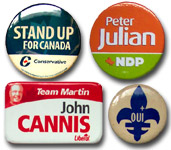 Being that Friday is 4/20 -- the high holiday of pot smokers -- today seems as good a day as any to discuss marijuana (and other drug legalization). No, not just so-called "medical marijuana" -- but legalizing marijuana for recreation use, too. Here are a few resouces to get the conversation rolling: NORML, Drug Policy Alliance, Marijuana Policy Project, and Drug Reform Coordination Network. You can pretty much get the idea which side of the debate I side with: Legalize It!
Posted by Ron Gunzburger - 04.20.07 | Permalink |
WANNA TRADE?
I'm interested in building up my collection of Canadian campaign buttons. If you've got Canadian political buttons to trade (both federal and provincial), I'm interesting in swapping with you (and will also trade your Canadian buttons for some of my great US pins). Please drop me a note! Also interested in buying Canadian pins, if you're not interested in trading.
SHORT TAKES.
I had a lot of writing to do Wednesday night for my real job (hey, gotta pay the bills), so today's posting is rather abbreviated ... FBI agents raided the suburban DC home of Congressman John Doolittle (R-CA).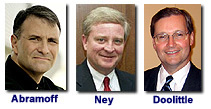 Doolittle and his lobbyist/consultant wife are key targets in the ongoing Jack Abramoff influence buying scandal on Capitol Hill. A much reported allegation is that money was funnelled through Jill Doolittle's firm to influence the Congressman's official actions. In an oddly creative spin, Doolittle claimed the raid was only about his wife and he loyally backs her. "I support my wife 100% and fully expect that the truth will prevail," said Doolittle in his written statement. Some speculation centers around a former top Doolittle's aide, Kevin Ring, who may now be cooperating with the Feds ... Congressman Zach Wamp (R-TN), a leading organizer of the "Draft Fred Thompson for President" effort, told ABC News on Wednesday that the actor and former US Senator is going to enter the White House race ... By a 5-4 vote, the US Supreme Court departed from recent rulings and upheld the congressional ban on so-called "partial birth abortion." The law bans a method of ending a pregnancy, rather than limiting when an abortion can be performed, and accounts for only a small percentage of the more than one million abortions performed in the US each year. Justice Anthony Kennedy was the swing vote and authored the majority opinion. The ruling provoked the expected reactions. Republican Presidential hopefuls praised it, while the Dems decried the ruling.
Posted by Ron Gunzburger - 04.19.07 | Permalink |
DEM FIELD FOR LA GOV THINS; HART-SWANN PRIMARY LOOMS; GRAVE(S) PROBLEM; UDALL VS ??
LOUISIANA: Another surprise in the Bayou State this week as Lieutenant Governor Mitch Landrieu (D) abruptly announced he will seek re-election this year instead of running for Governor. When retired US Senator John Breaux quit the contest over the weekend, everyone expected Landrieu to jump in. Landrieu was already being mentioned as

the new Dem frontrunner after Breaux exited. In his brief, formal statement, Landrieu simply said that after "much serious consideration and prayer" on the gubernatorial contest, "I believe I can best serve the people of Louisiana by finishing the job I started four years ago." He declined media requests for further explanation. PSC Commissioner Foster Campbell (D) is already an announced candidate and has already raised over $1 million. Although other Dems are reportedly still eyeing the race -- including former Congressman Chris John and former Attorney General Richard Ieyoub -- State Democratic Chair Chris Whittington told the New Orleans Times-Picayune that he expects they will both skip the race and "Foster Campbell will be our candidate." Based upon Congressman Bobby Jindal's (R) recent polling strength and the $5 million he's raised to date, Jindal is now the strong favorite to win the race to replace retiring Governor Kathleen Blanco (D).
PENNSYLVANIA: Former Congressman Melissa Hart (R) told Roll Call she "would not be deterred" from trying to regain her old House seat next year, even if former pro football player and '06 Governor nominee Lynn Swann (R) also decides to run. Freshman Congressman Jason Altmire (D) defeated Hart in an upset last year for the CD-4 seat.
MISSOURI: Kansas City Mayor Kay Barnes (D) is openly considering a challenge next year to Congressman Sam Graves (R). The DCCC is aggressively courting Barnes to run. Now, here is the unusual turn. With this much in the news, State House Speaker Rod Jetton (R) decided to present Barnes with an "Outstanding Missourian Award" at the State Capitol last week. Jetton even made sure the ceremony was videotaped for possible later use. According to The Hotline, Missouri Dems say Jetton was sending a loud message that "he's tired of [Graves'] ... 'divide-and-conquer ways' within the state GOP." Regardless of the reason, it was a clear sign Graves may have some problems within his own base.
COLORADO: Congressman Mark Udall (D) now has over $1.5 million cash-on-hand for next year's open US Senate race. By contrast, the Republicans still do not have a single announced candidate for the seat.
Posted by Ron Gunzburger - 04.18.07 | Permalink |
FREE SPEECH ZONE.
Feel free to keep debating gun control, in light of the senseless Virginia Tech shooting rampage.
Posted by Ron Gunzburger - 04.18.07 | Permalink |
VIRGINIA TECH RAMPAGE; DOOLITTLE'S BIG DEBT; KERRY SLIGHTLY RE-OPENS DOOR TO '08 RUN.
VIRGINIA TECH: Many of the major Presidential campaigns have cancelled campaign activities planned for Tuesday, out of respect for the Virginia Tech murders on Monday. The rampage is the largest single gun massacre in US history, with 32 victims killed.
CALIFORNIA: The Sacramento Bee has an interesting story on the brewing rematch between embattled Congressman John Doolittle (R) and retired US Air Force officer Charlie Brown (D).

Doolittle narrowly defeated Brown by a 49% to 46% vote last year in this usually safe GOP district. The closeness of the CD-4 race was due in large part to Doolittle being implicated as a key target in the ongoing Abramoff influence buying scandal on Capitol Hill. The two men never stopped running, but the incumbent is now clearly struggling. Doolittle raised about $128,000 in 1Q-07, and has a cash-on-hand of $91,000 in the bank -- but his campaign is still in debt for $172,000 from the 2006 race. A Doolittle campaign spokesperson told the newspaper the campaign is working to pay down the debt, and made some progress in the first quarter. Brown, by contrast, raised $89,000 in 1Q-07 and has $136,000 cash-on-hand (and a remaining debt of under $13,000 left from 2006). On a related note, the Wall Street Journal reported the Abramoff-related corruption probe remains very active in the Justice Department -- although the current focus is allegedly more aimed at individuals tied to the White House.
KERRY: US Senator John Kerry (D) -- who announced in January he will not be a candidate for President again in 2008 -- reopened the door a bit to making another 2008 White House run. Speaking in Colorado during a book signing tour, Kerry was asked by KUSA-TV why he decided to pass on the 2008 race. After giving his standard "the time wasn't right" line, Kerry surprised everyone with these comments: "Could that change? It might. It may change over years. It may change over months. I can't tell you, but I've said very clearly I don't consider myself out of it forever." When asked about it again later, Kerry again left the door just slightly ajar: "If suddenly the field changed or the dynamics of the nation shifted, who knows? You might look at it differently, but I don't see that. I don't foresee that. That's not where I am today and that's not what I'm doing."
Posted by Ron Gunzburger - 04.17.07 | Permalink |
FREE SPEECH ZONE.
Will the tragic Virginia Tech shooting rampage revive guns as an issue for 2008 Presidential campaign? My guess is no, in that the Iraq War and the economy will continue weigh heaviest in voter minds.
Posted by Ron Gunzburger - 04.17.07 | Permalink |
BREAUX QUITS LA GOV RACE; SUSAN COLLINS GETS JOE-MENTUM; POMBO WON'T RUN AGAIN.
LOUISIANA: Congressman Bobby Jindal (R) is now the clear frontrunner in the open race this year to succeed retiring Governor Kathleen Blanco (D). Former US Senator John Breaux (D) announced this weekend he will not run for Governor. Breaux had changed his voter registration to Maryland and obtained a homestead exemption on his residential property there in 2005. Louisiana Republicans had vowed to go to court to block Breaux from running, claiming he gave up his state residency and no longer met the legal eligibility requirements to run. Acting on behalf of Breaux, a state legislator asked Attorney General Charles Foti (D) to issue an opinion on Breaux's eligibility. On Friday, Foti said he would not issue an opinion on the matter because it needed to be decided in the courts. "A clear declaration of my status as a citizen greatly inhibits my ability to conduct a campaign based on the issues instead of the law. I said I would be guided by the Attorney General's opinion and, therefore, will not be a candidate," explained Breaux. With Breaux out, four Democrats are now looking at the race: Lieutenant Governor Mitch Landrieu, State Treasurer John Kennedy, former Congressman Chris John and former Attorney General Richard Ieyoub. Other previously announced candidates include State PSC Commissioner Foster Campbell (D), State Senator Walter Boasso (R) and wealthy businessman John Georges (R).


MAINE: US Senator Joe Lieberman (Indep.D-CT) reached across the aisle and endorsed US Senator Susan Collins (R-ME) for re-election. Lieberman says he plans to campaign in Maine next year on behalf of the GOP incumbent. A Collins spokesman welcomed the news, saying Collins was "extremely grateful" and that the Lieberman's endorsement will help her appeal as a centrist to Maine's large number of independent voters. A spokesman for Congressman Tom Allen (D) -- Collins' soon-to-announce opponent -- also welcomed the Lieberman endorsement of Collins. "I think the Lieberman endorsement is significant ... It paints a picture of Susan Collins with people like Lieberman and McCain, who support the war," he explained to The Hotline. Polling shows voter sentiment in the state runs sharply against the war.
CALIFORNIA: Sources tell us former Congressman Richard Pombo (R) -- a surprise upset defeat in 2006 -- will not seek a rematch in 2008. Pombo has reportedly let his supporters know in recent days that he does not intend to run against freshman Congressman Jerry McNerney (D) next year. Even with Pombo out, the GOP won't have any problem finding a nominee as several prominent Republicans are already looking at the CD-11 seat.
Posted by Ron Gunzburger - 04.16.07 | Permalink |
FREE SPEECH ZONE.
Yes, I know New Jersey Governor Jon Corzine (D) remains in the hospital in critical condition after breaking more than a dozen bones in a serious car crash Thursday night. What I want to know is if Corzine had already solved all of the woes facing NJ before last week -- which would be pretty amazing -- as to lease him so much free time on his hands he could volunteer to "mediate" to Don Imus-Rutgers Women Basketball Team matter. Maybe, once he recovers, Corzine can help mediate between the feuding, biker, love triangle guests on an episode of the Jerry Springer Show.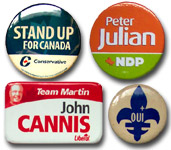 Posted by Ron Gunzburger - 04.16.07 | Permalink |
WANNA TRADE?
I'm interested in building up my collection of Canadian campaign buttons. If you've got Canadian political buttons to trade (both federal and provincial), I'm interesting in swapping with you (and will also trade your Canadian buttons for some of my great US pins). Please drop me a note! Also interested in buying Canadian pins, if you're not interested in trading.
BLOG ARCHIVE:

May 1-15, 2007
April 16-30, 2007
April 1-15, 2007
March 16-31, 2007
March 1-15, 2007
February 16-28, 2007
February 1-15, 2007
January 16-31, 2007
January 1-15, 2007
December 16-31, 2006
December 1-15, 2006
November 16-30, 2006
November 1-15, 2006
October 16-31, 2006
October 1-15, 2006
September 16-30, 2006
September 1-15, 2006
August 16-31, 2006
August 1-15, 2006
July 16-31, 2006
July 1-15, 2006
June 16-30, 2006
June 1-15, 2006
May 15-31, 2006
May 1-15, 2006
April 16-30, 2006
April 1-15, 2006
March 16-31, 2006
March 1-15, 2006
February 17-28, 2006
February 1-16, 2006
January 16-31, 2006
January 1-15, 2006
December 2005
November 2005
October 2005
September 2005
August 2005
July 2005
June 2005
May 2005
April 2005
March 2005
Jan-Feb 2005
December 2004
November 16-30, 2004
November 1-15, 2004
October 16-31, 2004
October 1-15, 2004
September 16-30, 2004
September 1-15, 2004
August 16-31, 2004
August 1-15, 2004
July 16-31, 2004
July 1-15, 2004
June 16-30, 2004
June 1-15, 2004
May 16-31, 2004
May 1-15, 2004
April 16-30, 2004
April 1-15, 2004
March 15-31, 2004
March 1-14, 2004
February 15-29, 2004
February 1-14, 2004
January 17-31, 2004
January 1-16, 2004
December 16-31, 2003
December 1-15, 2003
November 17-30, 2003
---
POLITICAL BLOG ROLL:
KINDA NEUTRAL:
ABC News: The Note
CNN: Morning Grind
CQ Politics
Political Wire
MSNBC: First Read
CJR Daily
Rothenberg Pol. Report
LexisNexis: US Politics
Stateline.org
Governing.com
Political State Report
Hotline On Call
Hotline's Blogometer
Beltway Blog
WatchBlog
Lawmakers Blog
Centerfield Aggregator
Command Post
FactCheck.org
WSJ: Best of the Web
WSJ: Washington Wire
D.C.'s Political Report
2008 Political Perspective
Media Bistro
Larry Sabato: Crystal Ball
PressThink
Politics-Line
TheCapitol.Net: Blog
MyElectionAnalysis.com
DEM/LEFT:
DNC Blog
DCCC Blog
DailyKos
Lefty Blogs
Howard Dean/DFA
OurSenate.com
Frameshop
The Washington Note
Emerging Dem Majority
Think Progress
AmericaBlog.com
Amer Prospect: Tapped
Arianna Huffington
Al Franken
BAG News Notes
Eric Alterman
Senate Majority Project
FishBowl DC
Fired Up! America
TalkLeft
TNR: The Plank
The Raw Story
Blogging of the President
Joe Trippi
Swing State Project
Media Matters
Josh Marshall
Wonkette
MyDD
Working for Change
Crooks & Liars
Mathew Gross
Penndit
Progressive Dems: Blog
Atrios/Eschaton
Off the Kuff
Tom Tomorrow
Mother Jones
Jerry Springer
TruthOut
Dem Bloggers
Liberal Oasis
Penndit
Firedoglake
Good As You
AtariDemocrat
Henry Lewis
BuzzFlash
Brad Blog
Dean Nation
Louise Slaughter
TruthDig
Dem Underground
Jared Hall
Bad Attitudes
The American Street
District Blogs
GOP/RIGHT:
RNC (GOP.com)
Club for Growth
National Review: Corner
C-Log
Real Clear Politics
Andrew Sullivan
John Ellis
Mickey Kaus
Virginia Postrel
RedState.org
WSJ Opinion Journal
Free Republic
Instapundit
Drudge Report
Pajamas Media
Hugh Hewitt
Daniel Drezner
Daily Pundit
Bully Pulpit
Outside the Beltway
Little Green Footballs
World Mag Blog
Right Wing News
Volokh Conspiracy
Brothers Judd
David Frum
Mister Politics
Enter Stage Right
Right Wing News
PoliPundit
Power Line
Hedgehog Report
Right Voices
Booker Rising
Don Singleton
Save the GOP
OTHER:
ThirdPartyWatch.com
Centrist Coalition
Kn@ppster
Green Commons
News for Greens
---
For those who would like to track Politics1 with a newsreader, we publish a RSS feed:
---

---