BLOG ARCHIVE: APRIL 16-30, 2006

FLORIDA: GOP GOV CONTEST GETS REALLY DIRTY.
A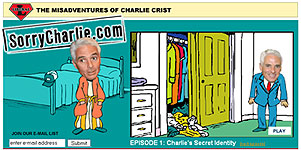 very nasty -- and anonymous -- SorryCharlie.com site went online this week blasting Attorney General Charlie Crist, a leading GOP gubernatorial candidate. This site is professionally produced, features animated graphics reminiscent of the humorous JibJab videos from the 2004 race, and carries no disclaimers of ownership. It is also hosted by an ISP in Arizona known for shielding the identity of site owners. In fact, "Your identity is nobody's business but ours" is the ISP's advertising slogan. The SorryCharlie.com site overtly attacks Crist as being a liberal, but contains repeated veiled references to the rumors that Crist is a closeted gay man. "Needless to say we had nothing to do with that. We are wondering who did it," said a spokesman for State CFO Tom Gallagher, Crist's rival for the GOP nomination. "Gallagher has previously denounced anonymous political attacks but isn't going to call for whoever owns the site to shut it down," reported the Tampa Tribune. The Crist campaign gave a dignified but surprisingly mute response: "It's the political season, and unfortunately these negative attacks are all too common." With the Republican primary fight turning this nasty this early, Democrats Jim Davis and Rod Smith must be gloating that this mudslinging only can help them in November.
Posted by Ron Gunzburger - 04.28.06 | Permalink |
CONGRESS: HAPPY ENDING FOR THE LOBBYING SCANDAL?
This one comes from the Wall Street Journal: "Federal prosecutors are investigating whether two contractors implicated in the bribery of former Rep. Randall 'Duke' Cunningham supplied him with prostitutes and free use of a limousine and hotel suites, pursuing evidence that could broaden their long-running inquiry. Besides scrutinizing the prostitution scheme for evidence that might implicate contractor Brent Wilkes, investigators are focusing on whether any other members of Congress, or their staffs, may also have used the same free services, though it isn't clear whether investigators have turned up anything to implicate others. In recent weeks, Federal Bureau of Investigation agents have fanned out across Washington, interviewing women from escort services, potential witnesses and others who may have been involved in the arrangement." Hmmm. This could get interesting. Stay tuned.
Posted by Ron Gunzburger - 04.28.06 | Permalink |
CALIFORNIA: BILBRAY LIKELY TO FACE TWO-FRONT CHALLENGE.
According to the House Race Hotline, wealthy businessman

Eric Roach (R) appears to ve preparing to continue his fight against former Congressman Brian Bilbray (R) in the CD-50 GOP primary. Roach finished a close second behind Bilbray in the CD-50 special election earlier this month, and has continued to run radio ads and send mailings since then. That means on June 6 Bilbray will face-off with college professor Francine Busby (D) in the CD-50 special general election and face Roach in the GOP primary for the full term. "If I don't run, [Bilbray] is going to for sure lose" in November, said Roach. In case you forgot, the primary results were: Busby-44%, Bilbray-15%, Roach-14.5%, former State Assemblyman Howard Kaloogian (R)-7.5%. However, the heavy GOP advantage in the district now favors Bilbray in the run-off. This week Kaloogian, a favorite among hardcore social conservatives, endorsed Roach in the June 6 contest. Conservatives deride Bilbray as a RINO. "If Roach runs, will the NRCC spend money to bolster Bilbray on an intraparty skirmish they thought was over? Will the DCCC, which slowed its financial support to Busby, now spend to exploit the GOP's internal divisions? And will the conservative interest groups (Club for Growth, NRA) that stayed on the sidelines in the special take sides," asks HRH.
Posted by Ron Gunzburger - 04.28.06 | Permalink |
MINNESOTA: FORMER US SENATOR WANTS COMEBACK.
Former US Senator Rod Grams (R) told the Duluth News-Tribune he is "seriously considering" running against 15-term Congressman Jim Oberstar (D). Grams served in the US House from 1993-95, and in the US Senate from his election in 1994 until his defeat in 2000. "I haven't decided completely yet, but I'm really considering it and will make up my mind in the next week or two ... I consider Jim a friend, and this would be nothing personal against him. Jim has done a great job, so this isn't really about Jim. Bottom line, I could do a better job in the majority [party]," said Grams. Grams and Oberstar are both pro-life and pro-gun rights. The district is reliably Democratic, and the incumbent is popular, so Oberstar would start as a heavy favorite. Yet, Grams is a credible candidate who could make a competitive run. Grams last year toyed with seeking his old Senate seat before bowing out in favor of Congressman Mark Kennedy (R).
Posted by Ron Gunzburger - 04.28.06 | Permalink |
RHODE ISLAND: CHAFEE HOLDS WIDE LEAD.
The latest Rhode Island College poll shows centrist US Senator Lincoln Chafee (R) holding solids leads in his primary and general election contests. Conservative Cranston Mayor Steve Laffey trails Chafee by a 50% to 27% vote in the GOP primary. Chafee also leads former Attorney General Sheldon Whitehouse (D) by a 51% to 32% vote.
Posted by Ron Gunzburger - 04.28.06 | Permalink |
SITE OF THE DAY.
Our Politics1 Site of the Day winner is Campaign for America's Future -- a progressive site that effectively uses the internet to both convey news and to mobilize the masses.
Posted by Ron Gunzburger - 04.28.06 | Permalink |
FREE SPEECH ZONE.
Just a reminder that April 30 is the Save Darfur: Rally to Stop Genocide in DC and other cities around the United States. The event demands international intervention to end the ongoing genocide campaign in the Sudan. As a child and grandchild of Holocaust survivors (and a great-grandchild of Holocaust victims), this is a cause I very much support.
Posted by Ron Gunzburger - 04.28.06 | Permalink |
RHODE ISLAND: DEMS UNITE IN US SENATE RACE.
Secretary of State Matt Brown (D) unexpectedly ended his run for US Senate on Wednesday. "These days, it takes an enormous amount of money to run a Senate campaign, and I simply will not have the resources in the final stretch to run successfully," explained Brown in his withdrawal message. Brown had jumped into the contest against US Senator Lincoln Chafee (R) first, and positioned himself as the more liberal of the leading Democrats. However, embarrassing and questionable fundraising methods in recent months crippled his effort. In withdrawing, Brown endorsed former Attorney General Sheldon Whitehouse (D) for the Senate seat: "Sheldon is a good man, who loves his family and his state, is deeply committed to public service and will do the right thing for Rhode Islanders. I will do everything I can to help elect him." Brown's statement also implied he will not jump back into the open seat contest for Secretary of State. With Brown out of the race, Whitehouse will cruise to an easy primary win. Meanwhile, Chafee will have to fend off a very aggressive GOP primary challenge from conservative Cranston Mayor Steve Laffey -- although recent independent polls show Chafee holding a comfortable lead.
Posted by Ron Gunzburger - 04.27.06 | Permalink |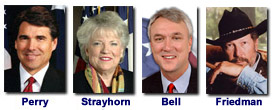 TEXAS: INDY CANDIDATES RUN STRONG FOR GOV.
A new SurveyUSA/KEYE-TV poll shows Governor Rick Perry (R) continuing to hold a strong lead in his race for Governor. The results: Perry-39%, State Comptroller Carole Keeton Strayhorne (Independent)-25%, singer/author Kinky Friedman (Independent)-16%, former Congressman Chris Bell (D)-15%. However, Perry could be in for some problems -- do the math here -- but only if the opposition united behind one main candidate. I don't see that happening, but Strayhorne + Friedman + Bell = 56% in this poll. With "no candidate polling over 40%, the race must be regarded as wide open. If one of the Independents, Strayhorn or Friedman, cannot maintain support through a long campaign, then Bell or the other Independent may pick up enough votes to threaten Perry," opined the pollster.
Posted by Ron Gunzburger - 04.27.06 | Permalink |
ARIZONA: PEDERSON STARTS TO NARROW GAP ON KYL.
Wealthy developer and former State Democratic Chair Jim Pederson has started to gain on US Senator Jon Kyl (R). While Pederson trailed Kyl by 22-points three months ago in the Arizona State University/KAET-TV poll, he already managed to cut the gap into half. Now, the same poll shows Kyl leading Pederson by a 42% to 31% vote.
Posted by Ron Gunzburger - 04.27.06 | Permalink |
A CYNICAL, SARDONIC EDITORIAL: GOOD TIMING ON LEAK AMENDMENT.
A press release today issued by House Majority Leader John Boehner (R-OH) was headlined "ILLEGAL LEAKS UNDERMINE NATIONAL SECURITY." The release went on to state: "Today the House is considering the FY 2007 Intelligence Authorization Act (H.R. 5020), part of House Republicans' ongoing effort to secure America's communities by strengthening our intelligence capabilities. During debate, the House will consider an amendment by Rep. Rick Renzi (R-AZ) expressing the sense of Congress that illegal leaks of classified information must not be tolerated." A short time after Boehner's office issued the statement, the slug for CNN.com's top story read: "Deputy White House Chief of Staff Karl Rove testified today before a grand jury investigating the leak of a CIA operative's identity, his attorney said. Testimony from reporters has implicated Rove, credited by President Bush as the architect of his 2004

election victory, in the leak." In light of for VP Chief of Staff Scooter Libby's recently raised Nixonian defense -- i.e., it wasn't an illegal leak of classified info if the President told me to leak it -- this Renzi amendment will likely need to be crafted in a manner to only prohibit leaks by Democrats and other Bush Administration critics.
Fortunately for the Republicans, I'm willing to put aside my partisan differences and help Congressman Renzi more finely tailor his amendment. Here are my suggested edits (in red)
1. The Supreme Court has unequivocally recognized that the Constitution vests the President with the authority to protect national security information as head of the Executive Branch and as Commander-in-Chief;
2. The Supreme Court has recognized a compelling government interest in withholding national security information from unauthorized persons (unless it could embarrass Ambassador Joe Wilson or his wife);
3. The Supreme Court has recognized that secrecy agreements for government employees are a reasonable means for protecting this vital interest;
4. The Supreme Court has noted that "It should be obvious that no one Administration critic has a 'right' to a security clearance";
5. Unauthorized disclosures (except those benefiting the President or undermining GOP critics) are most damaging when they have the potential to compromise intelligence sources (except for Ambassador Wilson's wife) and methods and ongoing intelligence operations;
6. Potential unauthorized disclosures of classified information that we apparently use secret prisons in Eastern Europe for torturing terrorism suspects have impeded relationships with foreign intelligence services who want to help us by torturing our prisoners and the effectiveness of the Global War on Terrorism;
7. Media Corporations and Journalists (except those great patriots at Fox News) have improperly profited financially from publishing purported unauthorized disclosures of classified information (note: but excluding those wonderful disclosures that could embarrass Ambassador Joe Wilson or his wife);
Therefore, it is the Sense of Congress that the President should utilize his constitutional authority to the fullest practicable extent, where appropriate, to classify and protect national security information, unless it undermines the Democrats, and to take effective action against persons Democrats who commit unauthorized disclosures of classified information contrary to law and voluntary secrecy agreements. It is further the sense of Congress that individuals who leak information damaging to Democrats, or who do so at the request of the President or Vice President, should be deemed true American patriots worthy of the Congressional Medal of Freedom..
See, wasn't that helpful!
Posted by Ron Gunzburger - 04.27.06 | Permalink |
SITE OF THE DAY.
Our Politics1 Site of the Day winner is WrongAgainKen.com (Jim Petro for Ohio Governor - R) -- a clever attack site against Petro's GOP primary rival.
Posted by Ron Gunzburger - 04.27.06 | Permalink |
FREE SPEECH ZONE.
Tony Snow. Gas prices. Whatever.
Posted by Ron Gunzburger - 04.27.06 | Permalink |
WEST VIRGINIA: MOLLOHAN ETHICS PROBLEMS GROW.
New ethics allegations against

Congressman Alan Mollohan (D) have the potential to take what was a safe race for re-election and turn it into a competitive contest. Already reportedly the target of a federal corruption investigation for allegedly providing legislative appropriation earmarks for companies and individuals who helped Mollohan's assets grow from $562,000 to at least $6.3 million during a four-year period. The new allegations are that Mollohan and defense contractor Dale McBride last year jointly purchased a 300-acre farm in West Virginia for $900,000 shortly after Mollohan inserted a $2.1M contract for McBride into a 2005 appropriations bill. "I know perception becomes reality at the end of the day, but it's not always fair," said McBride to the Wall Street Journal. McBride said the purchase was an honest, "50-50 deal" with the two men co-signing an $800,000 mortgage. Mollohan said the two are "childhood friends" State Delegate Chris Wakim (R) is challenging Mollohan, and he'll surely benefit from these on going news reports. Race rating: Dem Favored (but edging towards Leans Dem).
Posted by Ron Gunzburger - 04.26.06 | Permalink |
FLORIDA: HARRIS MAY DRAW A REAL PRIMARY CHALLENGE.
State House Speaker Allan Bense sounds like he's edging closer towards a making a GOP primary run at Congresswoman Katherine Harris in the US Senate race. He told the St. Petersburg Times the Senate race was interesting "because all my life I've loved a good challenge ... I'm thinking about it but I'm focused on what I'm doing now." The annual state legislative sessions ends May 5th and candidate filing in the state for federal races closes on May 12. However, Bense gave mixed signals to the Times: "She's currently the candidate and I'm a nobody. Beyond these four blocks [around the State Capitol], I'm a nobody. I understand that." Bense is also rumored to be a possible Lieutenant Governor contender this year.
Posted by Ron Gunzburger - 04.26.06 | Permalink |
OHIO: NEW NUMBERS AS PRIMARY NEARS.


With less than a week until the primary, SurveyUSA is out with new poll numbers on the gubernatorial primary. On the GOP side -- with the tenor of the rhetoric and TV spots growing nastier by the day -- Secretary of State Ken Blackwell leads Attorney General Jim Petro by a 46% to 34% vote. On the Democratic side, Congressman Ted Strickland is destroying former State Representative Bryan Flannery by a 61% to 18% vote. Those numbers indicate little change in either contest since the last poll. However, based upon the current primaries, it appears Strickland will head into the general election with nearly all his money still in the bank. By contrast, Blackwell and Petro have spent nearly everything they've each raised. The GOP nominee (likely Blackwell) will have to start fundraising from scratch.
Posted by Ron Gunzburger - 04.26.06 | Permalink |
SITE OF THE DAY.
Our Politics1 Site of the Day winner is Tom Kean for US Senate (R-NJ) -- a great multimedia site and (like the Bernie Sanders campaign blog we recently recognized) Kean's blog site isn't afraid to allow folks to post both pro and anti comments about Kean. Nice site.
Posted by Ron Gunzburger - 04.26.06 | Permalink |
FREE SPEECH ZONE.
Even though nearly all of y'all are unanimous that my Monday prediction of Ray Nagin winning re-election as New Orlean Mayor next month is wrong, I'm apparently not the only one who thinks Nagin can win this election. Click here for a story from a respected Louisiana political site that seems to reach the same conclusion as me.
Posted by Ron Gunzburger - 04.26.06 | Permalink |
QUICK-TAKES.
Another very long day at the office so, my apologies, it will be a short night of writing updates ... MONTANA: Yet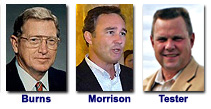 another scandal erupts in Montana newspapers concerning already-embattled US Senator Conrad Burns (R). Click here to read the story. Burns problems continue to generate a greater stream of bad press in the state than does the embarrassing sex scandal swirling around State Auditor John Morrison (D). State Senate President Jon Tester (D) is obviously the one gaining the most from these stories trashing both Burns and Morrison ... MINNESOTA: Retiring US Senator Mark Dayton (D-MN) told a group of high school students he was a failure as a Senator. He told the students he'd give himself a grade of "F" for his performance, said he was "definitely not" satisfied with his accomplishments, and said he was "frustrated" with his inability to bring about change. The country "is going in the wrong direction. I can't do anything about that and it bothers me," said Dayton, according to the AP ... MINNESOTA: Bar owner and "smokers rights" advocate Sue Jeffers (Libertarian-MN) announced plans to also challenge Governor Tim Pawlenty for the

GOP nomination. State GOP leaders say Jeffers is not a real Republican and they will not provide her with the contact list of 1,500 delegates. While Jeffers says she is making the Republican bid to highlight Pawlenty's failure to be a fiscal conservative, the more likely reason is that it is earning her free press in the state ... NEBRASKA: Governor Dave Heineman (R) scored the influential endorsement of the Nebraska Farm Bureau, while opponent Congressman Tom Osborne picked up the endorsements of the Carpenters and Fire Fighters unions ... OHIO: In the GOP gubernatorial primary, Secretary of State Ken Blackwell was endorsed by the Cincinnati Enquirer. However, Attorney General Jim Petro picked up the endorsements of the Akron Beacon Journal, Canton Repository, Cleveland Plain Dealer, Columbus Dispatch, Dayton Daily News and Youngstown Vindicator ... LOUISIANA: In New Orleans, third-place mayoral finisher Ron Forman endorsed Lieutenant Governor Mitch Landrieu in the run-off ... CIA LEAKS & SECRET PRISONS: The buzz about the firing of a senior CIA officer in the case related to the leak of info on secret CIA prisons hidden in Eastern Europe seems to me misplaced. Yes, the leak was significant -- but it seems much more significant to me that the US was operating super-secret prisons in nations that seemingly allow the use of some torture. C'mon, it's pretty apparent which of the two is a greater evil.
Posted by Ron Gunzburger - 04.25.06 | Permalink |
FREE SPEECH ZONE.
The place for your daily pontificating.
Posted by Ron Gunzburger - 04.25.06 | Permalink |
NEW ORLEANS: NAGIN, LANDRIEU HEAD TO RUN-OFF.
In a surprise that defied recent independent polls, embattled Mayor Ray Nagin (D) scored a strong first-place finish with 38% in Saturday's non-partisan mayoral primary.
Lieutenant Governor Mitch Landrieu (D) was second with 29%, Audubon Nature Institute President Ron Forman (D) was next with 17%, followed by businessman Rob Couhig (R) at 10%, and eighteen others trailed far behind. While many displaced voters cast absentee ballots or drove back to the city to cast ballots in person, city residents from the wards less damaged by the post-Katrina flooding turned out in much higher numbers. Overall, approximately 40% of Big Easy voters cast ballots. In addition to Nagin's first place win, the other surprises were Forman's poor performance and Couhig's surprisingly strong numbers. Forman -- a Republican who changed parties to make the race -- was initially seen as very viable, although he blew his opportunity by running a hyper-safe effort that merely made vague promises to do things like "dream big" if elected. Couhig, who was the most vocal conservative in the race, apparently scored his numbers at Forman's expense. Nagin is also a former Republican businessman who switched parties when he ran for Mayor in 2002. Landrieu is a lifelong Dem, brother of US Senator Mary Landrieu (D-LA), and son of former New Orleans Mayor Moon Landrieu. In a total reversal from his first election four years ago, Nagin ran strong with black voters but did poorly with whites. However, conservatives have traditionally disliked the Landrieu family -- but they also abandoned Nagin on Saturday. At this point, Nagin appears fairly well positioned to win a second term by a relatively competitive margin.
Posted by Ron Gunzburger - 04.24.06 | Permalink |
FLORIDA: HARRIS CAMPAIGN GETS EVEN MORE BIZARRE.
Former defense contractor Mitchell Wade -- who already pled guilty to bribing Congressman Duke Cunningham (R-CA) -- picked up the $2,800 tab for a dinner he had with Congresswoman Katherine Harris (R) at an exclusive DC restaurant last year. The value of the unreported dinner far exceeded the $50 congressional gift limits, and was intended to get Harris to help Wade land a $10 million contract.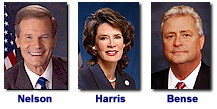 So, who spilled the beans about this to the Orlando Sentinel? The answer: veteran GOP political strategist Ed Rollins, who had worked on Harris' campaign until he and the rest of the staff quit two weeks ago. "Rollins said he and Harris discussed the meal and its cost early this year after Wade" pled guilty to corruption charges, reported the newspaper. The price of the dinner was "news to me," Harris told the newspaper. She also said "her campaign had, at some point, 'reimbursed' the restaurant. When asked how she could have reimbursed a business that was owed no money -- Wade paid the bill that evening -- she abruptly ended the interview and walked off." A Harris staffer later called the Sentinel and begged them to not quote anything Harris said in the phone interview. The next day, Harris changed her story: "I have donated to a local Florida charity $100 which will more than adequately compensate for the cost of my beverage and appetizer." Harris said she thought the bill was so high because Wade may have ordered expensive wines and also brought some bottles home uncorked. As was previously reported, Harris received over $32,000 in illegal campaigns contributions from Wade -- more than any other member of Congress. After Wade pled guilty, Harris later donated an equal amount of money to charities. With stories like this continuing to appear, it is only a matter of time before some other Republican steps forward to challenge Harris in the primary. A statewide poll conducted last week -- for which no one claimed responsibility -- reportedly tested House Speaker Allan Bense in a possible primary contest against Harris. If Harris is the GOP nominee, move incumbent Bill Nelson (D) to the safe column.
Posted by Ron Gunzburger - 04.24.06 | Permalink |
KENTUCKY:

FLETCHER ANNOUNCES FOR '07 RE-ELECTION.
Today's theme -- at least for these first three postings -- is apparently embattled politicians who charging forward into their next campaigns. Governor Ernie Fletcher (R) has faced an aggressive criminal investigation from rival Attorney General Greg Stumbo (D) for illegal patronage practices. Fletcher put an end to speculation about the demise of his political career. "Let me allay anybody's concern. We've come through some difficult times ... but please know that I have no intention of stepping out of the governor's office in 2007. We are running," said Fletcher to a state party fundraising event crowd at the Summit Hills Country Club. He blamed his problems on butting heads with the entrenched Democratic establishment who set "the culture and the values" in the state capitol for over three decades before his 2003 election. Fletcher is likely to face serious challenges from prominent Republicans and Democrats in the '07 contest.
Posted by Ron Gunzburger - 04.24.06 | Permalink |
SITE OF THE DAY.
Our Politics1 Site of the Day winner is SaveTheInternet.com -- a site for a very important cause. Just like the "Stop the FEC from regulating blogs out of existence" fight (which we won), this is another one equally important to everyone -- regardless of ideology -- if you value Internet freedom, open access and fairness. Please visit the site and send emails to protect "network neutrality" for the Internet.
Posted by Ron Gunzburger - 04.24.06 | Permalink |
FREE SPEECH ZONE.
Your turn.
Posted by Ron Gunzburger - 04.24.06 | Permalink |
NORTH CAROLINA: TAYLOR LINKED TO ABRAMOFF SCANDAL.
Congressman Charlie Taylor (R) --

who was already facing a competitive challenge from businessman and former pro football quarterback Heath Shuler (D) -- now must deal with news stories in his district linking him to the Jack Abramoff lobbying scandal. Taylor admits he met with Abramoff and his colleagues at a DC lunch in 2003 -- but doesn't recall what was discussed. However, the Asheville Citizen-Times reports Taylor received "thousands of dollars in contributions from Abramoff associates" at the lunch. "I had no knowledge that those people were going to give cash right there," said Taylor, who said he thinks they gave him the campaign donations at an evening fundraiser a few days later. However, just a month later, Taylor wrote "a letter that would potentially net more than $3 million for [Abramoff's] client." Taylor's response: "We did not accept any money for any type of action on my part. We have never done that." Editor's note: Why is Taylor now speaking of himself in the royal "we" form? Race rating: Leans GOP.
Posted by Ron Gunzburger - 04.21.06 | Permalink |
NEW ORLEANS: NAGIN TRAILS IN MAYORAL PRIMARY.
With voters set to cast primary ballots on Saturday, embattled incumbent New Orleans Mayor Ray Nagin is trailing in his race for re-election. The election, delayed once already because of the extensive damage the city weathered last year from deadly Hurricane Katrina, is already a controversial affair with so many city residents displaced to Texas and elsewhere. Civil rights activists unsuccessfully urged a further delay because many black residents are still unable to return to the poorer, uninhabitable neighborhoods and will not likely vote. A new Tulane University poll shows Lieutenant Governor Mitch Landrieu first with 26%, followed by Nagin at 21%, Audubon Nature Institute President Ron Forman at 18%, twenty other hopefuls had a combined total of 18%, and 17% were still undecided. All three frontrunners in the race are Democrats. Forman and Landrieu have also both substantially out-raised Nagin in campaign dollars. The top two finishers will meet in a May 20 runoff.
Posted by Ron Gunzburger - 04.21.06 | Permalink |
COLORADO: GOP GUV FIGHT GROWS NASTIER.
The growing rift among the two GOP gubernatorial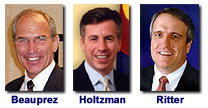 candidates widened this week, as wealthy former university president Marc Holtzman threatened to skip the convention process and petition his way onto the primary ballot. The Denver Post reported Holtzman "sent GOP party chair Bob Martinez a letter citing 'grave concerns' over the 'potential for widespread fraud and manipulation' at the state convention next month." Holtzman demanded ten election process conditions for him to participate at the GOP convention. "By law it is our option to petition on [the primary ballot[ and if we don't get a process that is fair to Marc Holtzman and fair to all the people that support us across the state, we are prepared to do that," said Holtzman's spokesman. Holtzman has repeatedly accused state GOP leaders of backing Congressman Bob Beauprez against him in the gubernatorial race. Beauprez's campaign quickly agreed to all ten of Holtzman's conditions -- and said they'll agree to whatever other terms Holtzman demands. "We'll meet in the street at high noon [if Holtzman wants]," joked Beauprez's spokesman. Beauprez obviously believes he will win the convention endorsement by a wide margin, and possible even deny Holtzman the percentage of delegate support needed to qualify for the primary ballot. Problems flared at the 2004 GOP convention in the US Senate fight between Pete Coors and Bob Schaffer, when there were more votes counted than there were delegates present. Former Denver District Attorney Bill Ritter is unopposed for the Democratic nomination.
Posted by Ron Gunzburger - 04.21.06 | Permalink |
NEVADA: GOODMAN OUT, SO CARTER IS LIKELY DEM NOMINEE.
Despite some heavy courting from the DSCC, Las Vegas Mayor Oscar Goodman (D) said this week he will not run against US Senator John Ensign (R). With Goodman's announcement, businessman and Presidential scion Jack Carter is certain to be the Democratic nominee. State Libertarian Party Chairman Brendan Trainor is also running. Race Rating: GOP Favored.
Posted by Ron Gunzburger - 04.21.06 | Permalink |
SITE OF THE DAY.
Our Politics1 Site of the Day winner is Ben Cardin for US Senate (D-MD) -- a really nicely-designed campaign site, rich in content.
Posted by Ron Gunzburger - 04.21.06 | Permalink |
FREE SPEECH ZONE.
I attended law school in Vermont, a state that entirely banned billboards because of the unpleasant "visual pollution" of boards blocking the scenic view of trees. Contrast that with what is going on right now here in the Florida legislature: a bill is rapidly speeding towards passage, with little opposition, that would prohibit state and local governments from planting any trees in right-of-ways within 500 feet of billboards if the trees would obstruct the view of the signs. WTF??
Posted by Ron Gunzburger - 04.21.06 | Permalink |
AN OPEN LETTER OF THANKS TO POLITICS1 READERS
We received this email from high school teacher Barry Bradford: "On Wednesday, Politics1 named clydekennard.org as the Site of the Day. Clyde Kennard was an African-American Korean War veteran who was framed for a crime and sent to prison in 1960 Mississippi because he attempted to integrate the University Of Southern Mississippi. Three of my high school students and I are spearheading a movement to convince Gov. Haley Barbour to pardon Kennard and expunge his record. Our website has a very fast way to send a prewritten email to Gov. Barbour advocating the pardon. Our site had been averaging about 30 hits per day. In 24 hours, we counted 429 hits as a direct result of Politics1. Mr. Kennard's surviving family members asked me to specifically thank the readers of Politics1 for their compassion and interest. They are a family without great wealth or influence, but the 'people power' of the Politics1 readers has given them renewed hope and demonstrated that a desire for justice is neither conservative nor liberal, Democratic nor Republican. Thank you all."
Posted by Ron Gunzburger - 04.21.06 | Permalink |

FREE SPEECH ZONE.
Just doing the quick-take thing today. Ascribe it to me being tired, lazy, uninspired, or whatever tonight ... The White House rumors proved true as Presidential Press Secretary Scott McClellan announced his resignation, and Karl Rove was demoted in authority (although not in title) ... For the rest, you guys can take the lead in today's thread.
Posted by Ron Gunzburger - 04.20.06 | Permalink |
P2008: GIULIANI FOLLOWS McCAIN'S EXAMPLE WITH RELIGIOUS RIGHT.


Senator John McCain (R-AZ) -- apparently in his desire to win the GOP Presidential nomination in 2008 -- ended his long-running, open feud with Jerry Falwell. The move dismayed many of his centrist supporters who were drawn to him during his 2000 White House campaign. McCain is the upcoming commencement speaker next month at Falwell's Liberty University. Now comes news that former NYC Mayor Rudy Giuliani -- staunchly pro-choice and pro-gay rights -- will be the featured speaker at a fundraiser on May 18 in Atlanta for former Christian Coalition Executive Director Ralph Reed's campaign for Georgia Lieutenant Governor.
Posted by Ron Gunzburger - 04.19.06 | Permalink |
CA-50: KALOOGIAN OUT, ROACH STILL PONDERING BILBRAY REMATCH IN JUNE.
God (or, for cynics, political reality) has apparently spoken to former State Assemblyman Howard Kaloogian (R). Last week after placing third among Republicans in the CD-50 special election, Kaloogian emailed supporters that he "will walk through the door God opens for me in the future." Less than a week later, Kaloogian announced he is withdrawing from the June 6 GOP primary -- although he stopped well short of endorsing GOP special election nominee Brian Bilbray for the June 6 primary for the full term. Kaloogian said he believes GOP social conservatives would like an alternative to the more centrist Bilbray in the primary. Wealthy businessman Eric Roach is still pondering whether he will continue his campaign against Bilbray into the June 6 contest -- but he continues to run his radio spots while he contemplates his next move. Roach promises a decision "within a few weeks." Several of the other minor GOP contenders from last week's special election primary have also withdrawn from the upcoming primary.
Posted by Ron Gunzburger - 04.19.06 | Permalink |

FLORIDA: MORE SIGNS THIS IS A TOP-TIER HOUSE CONTEST.
Congressman Clay Shaw (R-FL) brought Vice President Dick Cheney down for a fundraiser earlier this year and raised over $350,000 at the event. The Dems are countering by dispatching US Senator Barack Obama (D-IL) to a fundraiser this week in CD-22 for challenger State Senator Ron Klein (D). Not to be outdone, the Shaw campaign just announced President Bush will headline a fundraiser next month. Shaw has $2 million cash on hand and Klein has over $1.5 million cash on hand as of the FEC figures released this week. Also important to note: Shaw's CD-22 voted for Kerry over Bush in the last election. Race Rating: Leans GOP.
Posted by Ron Gunzburger - 04.19.06 | Permalink |
BUSH ADMINISTRATION: NEW BUDGET DIRECTOR & NEW TRADE REP.
President Bush filled two Cabinet-level vacancies in his Administration on Tuesday. US Trade Representative Rob Portman -- a former Congressman from Ohio and a trusted Bush loyalist -- was named as the new Director of the Office of Management & Budget. Portman was respected during his days on Capitol Hill for his knowledge of budget matters. President Bush also elevated Deputy US Trade Representative Susan Schwab to the lead post of US Trade Representative. Both are expected to have easy Senate confirmations. The Washington Post and other media sources report White House spokesman Scott McClellan is a likely target to be pushed out within the next few weeks as new Chief of Staff Josh Bolten makes personnel changes. "Two years in this position is a long time -- I'm very mindful of that," said McClellan on Tuesday.
Posted by Ron Gunzburger - 04.19.06 | Permalink |
BUSH

ADMINISTRATION: BUT NO NEW DEFENSE SECRETARY.
President Bush expressed his strong support this week to CNN for keeping Defense Secretary Don Rumsfeld on the job: "Don Rumsfeld is doing a fine job ... I have strong confidence in Don Rumsfeld ... and what's best is for Don Rumsfeld to remain as the Secretary of Defense." In a Tuesday press conference, Rumsfeld told reporters he understands "there are no indispensable men" -- but that he has no plans to resign. A growing group of retired Amry and Marine Corps generals -- including several who had been involved in the current wars in Iraq and Afghanistan -- have called for the President to fire Rumsfeld. He previously attempted to resign twice in 2004 -- over the Abu Ghraib prison abuse scandal -- but Bush rejected Rumsfeld's offers to quit.
Posted by Ron Gunzburger - 04.19.06 | Permalink |
SITE OF THE DAY.
Our Politics1 Site of the Day winner is ClydeKennard.org -- a high school class-created project seeking a posthumous pardon for this martyr of the civil rights movement. Worth a visit, as these folks understand how to effectively use the net for political purposes.
Posted by Ron Gunzburger - 04.19.06 | Permalink |
FREE SPEECH ZONE.
Latest round of 50-state polling by SurveyUSA shows President Bush now has a positive net approval rating in only four states: Utah, Idaho, Wyoming and Nebraska. In one state, the approval and disapproval numbers are equal. Voters in the remaining 45 states disapprove overall of the job the President is doing. The numbers also indicate a 7-point drop in approval nationwide since last month.
Posted by Ron Gunzburger - 04.19.06 | Permalink |
ALABAMA: GOVERNOR RILEY REMAINS STRONG.
The most recent round of independent polls confirms
Governor Bob Riley (R) remains in good shape in his race for re-election. The Mobile Register/University of South Alabama poll shows Riley leading ousted former State Supreme Court Chief Justice Roy Moore in the GOP primary by a landslide vote of 64% to 20%. "Moore's campaign has pretty well tanked," said the university's polling director. A new round of Rasmussen Reports polling also shows Riley leading either of the two Democratic frontrunners. Riley led Lieutenant Governor Lucy Baxley (D) by a 47% to 40% vote. Riley led former Governor Don Siegelman (D) by a more lopsided 55% to 38% vote.
Posted by Ron Gunzburger - 04.18.06 | Permalink |
NEW YORK: PRIMARY COULD BE EMBARRASSING FOR THE NYS GOP.
The leaders of the New York State Republican Party have all rallied behind the US Senate candidacy of former Yonkers Mayor John Spencer (R). Albeit, it was a delayed coupling -- coming after their first choice Jeanine Pirro quit the contest. That's why a new Sienna College poll on the race looks pretty bad for the party leaders. The poll shows former Defense Department official Kathleen Troia "K.T." McFarland leading Spencer by a 20% to 18% vote in the GOP primary. Spencer is already guaranteed the nomination of the Conservative Party. His campaign aides have alleged they believe McFarland is a Hillary Clinton plant in the GOP contest. Sienna also polled the gubernatorial primary contests. On the GOP side, former State Assembly Minority Leader John Faso leads former Massachusetts Governor Bill Weld by an 18% to 15% vote. On the Dem side, Attorney General Eliot Spitzer destroys Nassau County Executive Tom Suozzi in a 72% to 11% landslide.
Posted by Ron Gunzburger - 04.18.06 | Permalink |
VIRGINIA: CONGRESSMAN DAVIS WANTS '08 SENATE SEAT.
According to Congressional Quarterly, centrist Congressman Tom Davis (R) is preparing to run for US Senate in 2008. Davis, of course, is presuming five-term incumbent John Warner (R) will retire. CQ's proof of Davis' interest: he's aggressively raising funds, already has nearly $1.8 million cash-on-hand, and yet is facing relatively minor opposition this year. Davis is the former Chair of the NRCC.
Posted by Ron Gunzburger - 04.18.06 | Permalink |
KANSAS: HE MAYBE SHOULD HAVE ASKED HIS RUNNINGMATE ABOUT IT FIRST.
According to the Lawrence Journal-World, State Senator Jim Barnett (R) "blasted" his opponent -- Governor Kathleen Sebelius (D) -- for having supported a 2004 law that allows the children of illegal immigrants to qualify for in-state tuition at public universities. Bennett said the law promoted "an influx of more undocumented workers" into the state. Perhaps he should have discussed this issue first with his own Lieutenant Governor runningmate -- State Senator Susan Wagle -- because she also voted for the law. "I'm going to vote for this bill because I think this is the right thing to do. I think we're called to help other people," said Wagle during the '04 debate. When the newspaper told Bennett of Wagle's position, he tartly responded: "That doesn't change my position nor the position of the ticket." Polls continue to show Sebelius holding a comfortable lead over any of her rivals.
Posted by Ron Gunzburger - 04.18.06 | Permalink |
CALIFORNIA: AS IF THE ABRAMOFF TIES WEREN'T ENOUGH BAD PUBLICITY.
The Washington Post reported that Congressman John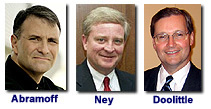 Doolittle's (R-CA) campaign committee and his leadership PAC have both retained Sierra Dominion Financial Services for fundraising services. The company continues to be paid 15% of everything Doolittle's two committees collect. Who owns Sierra Dominion? Doolittle's wife: Julie Doolittle. That's right: the Post reports Julie "gets 15 cents of every dollar raised by her husband's political committees." The grand jury investigating Abramoff's activities already subpoenaed extensive records from Julie Doolittle and her husband. Abramoff, his associates and clients gave over $140,000 to Doolittle's campaign and PAC -- and the Congressman consistently voted in support of Abramoff's clients. This also means at least $21,000 of Abramoff's money went directly into the Doolittles' personal bank account in the form of a fundraising commission. Auburn Vice Mayor and Navy veteran Mike Holmes is challenging Doolittle in the GOP primary.
Posted by Ron Gunzburger - 04.18.06 | Permalink |
SITE OF THE DAY.
Our Politics1 Site of the Day winner is ProgressiveAmerica.us (Official Blog of the Bernie Sanders for US Senate campaign). Yeah, I know I already named Bernie's official site as our Site of the Day a while back, but now I'm going with his blog site. Why? Because Bernie is one of the only candidates who has the guts to allow blog commenting without any real censorship. Even when supporters of his leading GOP rival flood his comments section with nasty, anti-Bernie remarks, the campaign leaves them all online for all to read. Bernie gets major points in my book for not being afraid of allowing a free exchange of ideas (and it makes him the only two-time winner of our award).
Posted by Ron Gunzburger - 04.18.06 | Permalink |
FREE SPEECH ZONE.
Former Illinois Governor George Ryan (R) was convicted Monday on racketeering and 21 other federal corruption charges. Expect the judge to impose a well-deserved and lengthy prison sentence.
Posted by Ron Gunzburger - 04.18.06 | Permalink |
P2008: AN INTERVIEW WITH PRESIDENTIAL CANDIDATE MIKE GRAVEL.
Former Alaska US Senator Mike Gravel (D) is set to officially launch his long-shot Presidential campaign at the National Press Club in DC on Monday. Gravel truly burst onto the national stage in 1971 when he read into the official record at a Senate sub-committee hearing the confidential "Pentagon Papers" detailing the secret history of US military involvement in Vietnam.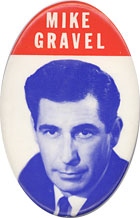 His one-man filibuster the same year was almost solely responsible for forcing the compromise with the White House that ended the military draft. However, Gravel's political career came to an abrupt, crashing end in 1980 when he lost his primary for renomination to the grandson of the incumbent he had defeated in 1970. Now, over 25 years after his defeat, the 75-year-old Gravel is seeking a return to elective politics. Politics1 had an opportunity to speak with Gravel on Friday evening.
A POLITICAL RETURN. Six Presidential elections have come and gone since Gravel left the US Senate, yet he waited until the 2008 elections to seek a political comeback. For many years after his 1980 defeat, Gravel said he was not even ready to consider another campaign. "I had lost my career. I lost my marriage. I was in the doldrums for ten years after my defeat," he explained. Gravel then settled in Virginia and aggressively threw himself into promoting his National Initiative for Democracy concept. "People should make the laws ... not the politicians in Washington. The people would certainly do a better job of it than the politicians have done ... I've impoverished myself for this [cause over the past 10 years]," he added. After many years of tirelessly promoting the concept but garnering very little attention, Gravel's organization was left nearly penniless. "We need to make sure we have enough money for me to travel and speak [about the National Initiative] and there wasn't a lot of money. As I said, I impoverished myself over this," said Gravel. "If I didn't do something unusual to bring attention to the National Initiative ... If I'm going to see it happen in my lifetime, I had to run for President."

AN "ANTI-HILLARY" AND ANTI-CONGRESS DEMOCRAT. Gravel quickly added his campaign will also focus on other issues like his opposition to the Iraq War and his support for a national sales "Fair Tax" instead of the current federal income tax system. "I'm running to win," insists Gravel. He pointedly notes his sharp differences with Hillary Clinton on the Iraq War and views himself as the best "alternative to Hillary." Gravel also doesn't think much of the other potential Democratic hopefuls: "I've listened to Bayh, Warner, Biden, Kerry and the rest and none of them are saying anything. Because of that, I believe I have a chance." When asked if he's listened to any of Senator Feingold's comments on Iraq and political reform, Gravel claimed Feingold's anti-war stance "isn't real." Gravel said that "if Feingold really opposed the war, he'd have voted against" the final budget reconciliation bill "because it contains the funding for the war." Besides, Gravel added, nearly everyone in Congress is fixated on getting expensive federal projects into their homestates. "They call it pork these days. When I was there we called them boondoggles. It's a bribery process," he railed, in that incumbents "bribe" the public with federal dollars in exchange for their votes. "I know what I'm talking about because I used to play that game, too." In another jab at Congressional incumbents, Gravel added: "The Republicans in Congress are screwing-up worse than the Democrats did -- but the Democrats have nothing to be proud of."

LIFE OR DEATH? At times, Gravel's comments were a bit overblown. "I'm putting my life on the line for this [Presidential campaign]. I've done it before with the Pentagon Papers and the [Alaska] oil pipeline ... and I'm doing it again now." While Gravel certainly risked criminal prosecution by the Nixon Administration's Justice Department for his bold involvement in getting the top-secret Pentagon Papers into print -- and earned the enmity of the oil companies over the pipeline fight -- it is hard to see what personal risk if any Gravel faces by waging a 2008 White House campaign. Gravel also makes other unconventional comments: "We need some degree of global governance if we want to see peace ... If I become President, there will be peace in the Middle East. It will require a peace for land deal ... I've been to Israel 3 or 4 times. Israel is a great country, but they've developed a bunker mentality. It's somewhat understandable with the suicide bombers and so on they deal with, but I'm serious: I can bring peace to the Middle East." Gravel added: "My voting record in the Senate [on Israel] was the same as [Jewish US Senators] Abe Ribicoff (D-CT) and Jack Javits (R-NY)."

NATIONAL SALES TAX. Gravel is very serious about his call to eliminate the current federal income tax system in favor of a 23% national sales tax. The plan, touted as the "Fair Tax" -- is supported by approximately 60 Republican congressmen. "An economic crash is coming," warns Gravel, "because Americans are spending too much and saving too little." The national sales tax, says Gravel, will force Americans to save money. It also links to an idea he's advocated since the early 1970s: a guaranteed national income for every American. Only, these days, he no longer calls it a "national income" payment. Now he calls the guaranteed payment a "pre-bate" -- as in a pre-paid rebate on the 23% sales tax to help defer costs of medicine, food, etc. "Everyone, from the poorest person up to Bill Gates will get a check [of the same amount] from the government every year," explained Gravel.

THE 2003 SPEECH TO A HOLOCAUST-DENIAL GROUP. In 2003, ultra-right newspaper publisher Willis Carto -- a leading Holocaust "revisionist" who publishes a combination of radical right and neo-nazi newspapers -- contacted Gravel. Carto is vocal in espousing the view that the Holocaust never took place. In fact, Carto founded the Institute for Historical Review to "prove" the Nazi murder of six million Jews was "a hoax" invented "by Zionists" to make people feel sorry for Jews -- and that the famous death camp liberation documentary films were merely "special effects" created by the Jews in Hollywood. Gravel said "I knew his history with the Liberty Lobby" -- the ultra-right group Carto led while Gravel served in the Senate -- "But, here he's trying to support the National Initiative. I wasn't supporting him. He was showing support for it." At one point, Gravel referred to Carto as "a charming guy" but "pretty extreme" in his views. Gravel also said that "kooks" -- like Carto and his followers -- should support the National Initiative because they, just like mainstream citizens, "are disgusted with our government" and feel it doesn't serve their interests. "Kooks feel even more disconnected" with the political process. "With the National Initiative, everyone gets a voice in government," he added.

At first, Carto simply wanted to interview Gravel about the National Initiative for Carto's radical American Free Press newspaper. "He liked the idea of the National Initiative ... I figured it was an opportunity to discuss it. Whether it is the far right, far left, whatever, I'll make my pitch to them," said Gravel. "They gave me a free subscription to American Free Press -- they still send it to me today -- and I flip through it sometimes. It has some extreme views -- and a lot of the ads in it are even more extreme and make me want to upchuck ... Anyways, sometime later, Carto contacted me to speak at that Barnes Review Conference. I had never heard of the Barnes Review, didn't know anything about it or what they stood for. I was just coming to give a presentation about the National Initiative. I was there maybe 30 minutes. I could tell from the people in the room -- mainly some very old men -- that they were pretty extreme. I gave my speech, answered some questions and left. I never saw the agenda for the day or listened to any of the other presentations." The Barnes Review Conference is an annual Holocaust denial gathering. At the 2003 event attended by Gravel, the later sessions included a "Holocaust Revisionism Panel" and a presentation on the glory days of the Nazi Luftwaffe. You can see more about the event here and here (note: both are links to Holocaust denial groups).

"You better believe I know that six million Jews were killed. I've been to the Holocaust Museum. I've seen the footage of General Eisenhower touring one of the camps ... They're nutty as loons if they [Carto's group] don't think it happened ... Anyone who denies the Holocaust is patently off their rocker -- it's a ridiculous position ... and the idea that the [documentary] films were a hoax is just bullshit," insisted Gravel. He said he never renounced the group after he learned of what it stood for simply because "I'm not in the business of denouncing anyone. I'm in the business of promoting the National Initiative." However, he quickly added that if he had to do it again, he doesn't know whether he would skip the event or attend and "speak on the National Initiative and how they're dead wrong on the Holocaust. Their views are just lunacy. But I don't think I'd bother to go."

ENDING GENOCIDE ... AND FAULTY MEMORIES. Gravel used the topic of the Holocaust to discuss the role the US should play in ending genocide anywhere in the world. He discussed the tragedies of the Armenian holocaust, the Jewish holocaust, Cambodia, Bosnia, Rwanda and Darfur. "We're not doing anything about Darfur [Sudan] and that's wrong," said Gravel. When asked if he has any regrets for the lack of US action during the genocide that happened while he was in the US Senate -- Pol Pot's murderous rule in which 21% of the entire population of Cambodia was murdered -- Gravel mistakenly said: "That didn't happen when I was there. That was later ... It was in the 1980s." Actually, Senator, Cambodia's genocide took place in 1977-79 and US Senator George McGovern (D-SD) was the lone voice then calling for the US to intervene to end the killing. "I don't know what George would have been talking about. I'm pretty sure it happened in the 1980s after I left the Senate," insisted Gravel.

A VERY UPHILL CAMPAIGN. Gravel is certain they'll let him participate in the primary debates. "They let former Senator Carol Moseley Braun and Al Sharpton in the debates last time, so they've got to let me in this time." As the interview was winding down, Gravel has a request: "If there are any groups down where you live that would like me to speak, just let me know. I'd welcome the opportunity to discuss my campaign," said Gravel. "Let them know that if they'll just pay the travel costs, I'll be there ... Remember, I impoverished myself for the National Initiative, so I'll need to raise some money. But I know it won't be as easy for me as it was back when I was in the Senate," and then he chuckled over the thought.
Sounds like Mike Gravel has a very lonely, quixotic fight ahead. Then again, his campaign seems more about generating a public debate on his beloved National Initiative proposal than winning the nomination.
Posted by Ron Gunzburger - 04.17.06 | Permalink |
CONGRESS: ABRAMOFF CORRUPTION SCANDAL.
US Senator Tom Coburn (R-OK) told a town hall meeting on Friday he expects at least seven current federal legislators will be sent to prison over the Abramoff lobbying scandal. According to the Tulsa World, Coburn said that six US House members and one US Senator will eventually be convicted of felonies arising from the scandal. "If you've been keeping up with things, you've got a pretty good idea" who the seven are, said Coburn. He also complained the lobbying reform bill passed in the Senate last month does not go far enough to cure the Abramoff-style problems. "Earmark abuse was at the center of the Jack Abramoff and Duke Cunningham scandals yet the Senate failed to clamp down on what Abramoff described as the 'earmark favor factory' in Congress. This bill will not change how members of Congress and lobbyists interact," said Coburn.
Posted by Ron Gunzburger - 04.17.06 | Permalink |

US SENATE: TIME MAGAZINE NAMES THE TEN BEST, FIVE WORST SENATORS.
The new issues of Time magazine names the ten best and five worst US Senators. The magazine contacted "dozens of academics, political scientists and current and former US Senators" to compile the rankings. The ten best: Senators John McCain (R-AZ), Jon Kyl (R-AZ), Dick Durbin (D-IL), Dick Lugar (R-IN), Olympia Snowe (R-ME), Ted Kennedy (D-MA), Carl Levin (D-MI), Thad Cochran (R-MS), Kent Conrad (D-ND), and Arlen Specter (R-PA). The five worst: Wayne Allard (R-CO), Dan Akaka (D-HI), Jim Bunning (R-KY), Mark Dayton (D-MN) and Conrad Burns (R-MT). Finally, the five "up-and-coming" freshmen: Mark Pryor (D-AR), Barack Obama (D-IL), John Sununu (R-NH), Hillary Clinton (D-NY), and Lindsey Graham (R-SC). As for those on the "five worst" list, you better believe that Akaka and Burns -- the two facing voters in November -- are going to have it thrown back at them in TV attack ads later this year. Click here to read Time's article.
Posted by Ron Gunzburger - 04.17.06 | Permalink |
SITE OF THE DAY.
Our Politics1 Site of the Day winner is Bob Fitrakis for Ohio Governor (Green). Informative, good use of online organizing tools, and a decent blog.
Posted by Ron Gunzburger - 04.17.06 | Permalink |
FREE SPEECH ZONE.
Anything else?
Posted by Ron Gunzburger - 04.17.06 | Permalink |
BLOG ARCHIVE:

May 1-15, 2006
April 16-30, 2006
April 1-15, 2006
March 16-31, 2006
March 1-15, 2006
February 17-28, 2006
February 1-16, 2006
January 16-31, 2006
January 1-15, 2006
December 2005
November 2005
October 2005
September 2005
August 2005
July 2005
June 2005
May 2005
April 2005
March 2005
Jan-Feb 2005
December 2004
November 16-30, 2004
November 1-15, 2004
October 16-31, 2004
October 1-15, 2004
September 16-30, 2004
September 1-15, 2004
August 16-31, 2004
August 1-15, 2004
July 16-31, 2004
July 1-15, 2004
June 16-30, 2004
June 1-15, 2004
May 16-31, 2004
May 1-15, 2004
April 16-30, 2004
April 1-15, 2004
March 15-31, 2004
March 1-14, 2004
February 15-29, 2004
February 1-14, 2004
January 17-31, 2004
January 1-16, 2004
December 16-31, 2003
December 1-15, 2003
November 17-30, 2003
---
POLITICAL BLOG ROLL:
KINDA NEUTRAL:
ABC News: The Note
CNN: Morning Grind
Political Wire
MSNBC: First Read
CJR Daily
LexisNexis: US Politics
Stateline.org
Governing.com
Political State Report
Hotline On Call
Hotline's Blogometer
WatchBlog
Lawmakers Blog
Centerfield Aggregator
Command Post
FactCheck.org
WSJ: Best of the Web
D.C.'s Political Report
2008 Political Perspective
Media Bistro
Larry Sabato: Crystal Ball
PressThink
Politics-Line
TheCapitol.Net: Blog
MyElectionAnalysis.com
DEM/LEFT:
DNC Blog
DCCC Blog
DailyKos
Lefty Blogs
Howard Dean/DFA
OurSenate.com
Frameshop
The Washington Note
Emerging Dem Majority
Think Progress
AmericaBlog.com
Amer Prospect: Tapped
Arianna Huffington
Al Franken
BAG News Notes
Eric Alterman
TNR: The Plank
FishBowl DC
TalkLeft
TNR: &c.
The Raw Story
Blogging of the President
Joe Trippi
Swing State Project
Media Matters
Josh Marshall
Wonkette
MyDD
Working for Change
Crooks & Liars
Mathew Gross
Penndit
Progressive Dems: Blog
Atrios/Eschaton
Off the Kuff
Tom Tomorrow
Mother Jones
Jerry Springer
TruthOut
Dem Bloggers
Liberal Oasis
Penndit
AtariDemocrat
Henry Lewis
BuzzFlash
Brad Blog
Louise Slaughter
Dem Underground
Jared Hall
Bad Attitudes
The American Street
District Blogs
GOP/RIGHT:
RNC (GOP.com)
Club for Growth
National Review: Corner
C-Log
Real Clear Politics
Andrew Sullivan
John Ellis
Mickey Kaus
Virginia Postrel
RedState.org
WSJ Opinion Journal
Free Republic
Instapundit
Drudge Report
Hugh Hewitt
Daniel Drezner
Daily Pundit
Bully Pulpit
Outside the Beltway
Little Green Footballs
World Mag Blog
Right Wing News
Volokh Conspiracy
Brothers Judd
David Frum
Mister Politics
Right Wing News
PoliPundit
Power Line
Hedgehog Report
Right Voices
Booker Rising
Save the GOP
OTHER:
ThirdPartyWatch.com
Centrist Coalition
Liberty for Sale
Green Commons
News for Greens
---
For those who would like to track Politics1 with a newsreader, we publish a RSS feed:
---

---