BLOG ARCHIVE: APRIL 1-15, 2006

FREE SPEECH ZONE.
In the face of growing public criticism of Secretary of Defense Don Rumsfeld from several retired US military generals -- including some who commanded troops in Iraq during the current war -- President Bush again came to Rumsfeld's defense. "Secretary Rumsfeld's energetic and steady leadership is exactly what is needed at this critical period. He has my full support and deepest appreciation," said the President ... US Senator Hillary Clinton (D-NY) raised $6 million in the first three months of this year, according to the new report she filed with the FEC. Clinton now has nearly $20 million cash-on-hand ... In California's CD-50 race, businessman Eric Roach (R) conceded defeat to former Congressman Brian Bilbray (R) in Tuesday's primary. However, Roach said he doesn't yet know whether or not he will continue to challenge Bilbray in the June 6 primary for the full-term. "There's a very large block of conservative votes that would help me win come June [if I run]," said Roach. Former State Assemblyman Howard Kaloogian likewise said he's made no decisions yet about continuing his campaign in the June 6 primary. "I will walk through the door God opens for me in the future," said Kaloogian ... Also: Politics1 scored an interview with retired US Senator Mike Gravel on Friday, in which he candidly answered tough questions about his 2003 speech to a Holocaust-denial group and other controversial parts of his career. Look for the article later this weekend.
Posted by Ron Gunzburger - 04.15.06 | Permalink |
P2008: FORMER US SENATOR GRAVEL ENTERS WHITE HOUSE RACE.
Talk about a blast from the past, but former Alaska US Senator Mike Gravel (D-VA) said Thursday he will run for President in 2008.

Gravel, 75, has not faced voters since he lost for reelection in 1980. His three main issues: opposition to the Iraq War, passage of a direct democracy constitutional amendment establishing national referendums on legislation (much like state ballot initiatives), and adoption of a "Fair Tax" plan that would replace all federal individual and corporate taxes with a 23% national sales tax on all new goods and services. "The American people are frustrated with the level of dysfunction of government," Gravel said. "The thought of getting out there early, right now, is really the big tactic for me. Once I'm out there and people see the issues I'm raising, it will resonate with people," he explained. Gravel's anger over the Iraq War and government secrecy -- which he views as very similar to the Vietnam War issues he dealt with in the Senate -- prompted him to run. Gravel, who was almost solely responsible for both ending the military draft and for getting the secret "Pentagon Papers" into the press in 1971, actively ran for Vice President in 1972 (and won a few hundred convention delegates). Gravel plans a formal announcement on Monday in DC.
Posted by Ron Gunzburger - 04.14.06 | Permalink |
FREE SPEECH ZONE: QUICK TAKES.
Good Friday, Happy Easter and Happy Passover greetings to all ... Businessman Russ Diamond (Independent) announced his candidacy for Pennsylvania Governor this week. Diamond helped organize the broad public opposition last year to the massive pay hikes the GOP legislature gave themselves ... The Denver Post reported that Congressman Tom Tancredo (R-CO) is now less inclined towards running for President in 2008, now that he succeeded in forcing a national debate on immigration issues. According to the newspaper, Tancredo "said that his work largely is done" on the issue. He didn't rule out the P2008 race, but Tancredo seems more focused these days in running for US Senator Wayne Allard's (R) seat if it comes open in two years ... In the California CD-50 special election, former Congressman Brian Bilbray (R) slightly widened his lead over businessman Eric Roach (R) to 1,053 votes. Election officials say only 1,000 absentee ballots remain uncounted, which means Bilbray is now officially the GOP nominee facing college professor Francine Busby (D) in the June 6 run-off ... Also, a bunch of new listings on our Jobs page.
Posted by Ron Gunzburger - 04.14.06 | Permalink |
TENNESSEE: FORD SENATE PRIMARY FOE EXITS.
Congressman Harold Ford Jr. got some great news on Wednesday, as his only real opponent in the Democratic primary for US Senate quit the contest. State Senator Rosalind Kurita had been positioning herself as the progressive candidate, asserting that Ford was too conservative for many Dem primary voters. Kurita's withdrawal comes less than one week after the close of candidate filing. "I've decided that this is just not the right time for me to continue this race," said Kurita, who was having fundraising problems. Her exit frees Ford to safely campaign as a centrist and save his money for the general election -- as Ford will have no problem steamrolling over his four minor primary foes who remain in the race. Race Rating: Leans GOP.
Posted by Ron Gunzburger - 04.13.06 | Permalink |
CALIFORNIA: CD-50 UPDATE.
As of Wednesday evening, former Congressman Brian Bilbray (R) was still not ready to declare victory as the GOP nominee going into the June 6 special election run-off. With all precincts counted, college professor Francine Busby (D) was solidly first with 43.9%, followed by Bilbray at 15.2%, and wealthy businessman Eric Roach (R) third with 14.5%. The reason for the uncertainty as to the GOP nomination: Bilbray leads Roach by 880 votes -- and there are approximately 10,000 absentee ballots that remain to be counted. The San Diego County Registrar of Voters expects to have all the ballots counted and a final tally released by late Thursday. After that, watch for the NRCC to start pressuring all of the unsuccessful GOP candidates to quit the June 6 primary for the full-term and unite behind the special election winner. While some may accede to this request, several are likely to continue forward against Bilbray (or Roach) for the regular primary on June 6.
Posted by Ron Gunzburger - 04.13.06 | Permalink |
KENTUCKY: A DIFFERENT KIND OF DIVERSITY DAY.
On Tuesday morning, Governor Ernie Fletcher (R) declared the day "Diversity Day" -- and then proceeded to immediately repeal a 2003 executive order signed by former Governor Paul Patten (D) that protected state workers from being discriminated against on the basis of sexual orientation. In addition to repealing the anti-discrimination provisions, Fletcher's new order also included a general call for the hiring of more minority workers -- but without imposing any affirmative action requirements. Fletcher made a point of signing his order before hundreds of school kids. "We have not discriminated against the gay community. We are recruiting affirmative action based on race, ethnicity and gender. I think that's very appropriate ... To make sexual preference the same as race I think is inappropriate. We're not going to create a new special class of individuals," explained Fletcher to the Lexington Herald-Leader. A Fletcher spokesman also later said he made the change because he was worried the existing rule "could lead to lawsuits or require the state to build additional restrooms" for transgendered people. "Apparently [Fletcher] has reached a new low ... There's only one message here: The Governor wants to discriminate against gay people in the state work force, and that's unacceptable," said State Senator Ernesto Scorsone (D), the only out gay member of the state legislature.
Posted by Ron Gunzburger - 04.13.06 | Permalink |
SITE OF THE DAY.
Our Politics1 Site of the Day winner is Democrats.org, the official site of the DNC. I particularly liked the Fighting Dems and Culture of Corruption components; decent blog, too.
Posted by Ron Gunzburger - 04.13.06 | Permalink |
FREE SPEECH ZONE.
Any suggestions for questions in our online polls?
Posted by Ron Gunzburger - 04.13.06 | Permalink |
CALIFORNIA: CD-50 SPECIAL PRIMARY RESULTS.
As expected, college professor Francine Busby (D) finished first in Tuesday's 18-candidate special election open primary for the seat left vacant by the resignation of former Congressman Duke Cunningham (R-Federal Prison). However, Busby fell several points short of the 50% mark required to avoid a June 6 run-off. Former Congressman

Brian Bilbray -- the most moderate Republican candidate in the contest -- narrowly won second over wealthy conservative businessman Eric Roach to earn the GOP nomination. The results: Busby-43.9%, Bilbray-15.2%, Roach-14.5%, former State Assemblyman Howard Kaloogian (R)-7.5%, State Senator Bill Morrow (R)-5.4%, and the rest trailed behind. Businessman Paul King (Libertarian) and teacher William Griffith (Independent) will also advance to the run-off. Busby had an advantage in the primary because of the crowded field of GOP opponents who split the sizable Republican base. She also benefited from the nasty, negative nature of the attacks the GOP candidates launched at each other. Bilbray, for example, was hit with attacks that he had ties to corrupt lobbyist Jack Abramoff, was a RINO, and had taken excessive junkets when he was in Congress. However, he countered with a solid local effort and support from San Diego Mayor Jerry Sanders and former Governor Pete Wilson. Bilbray previously served in Congress from 1994 until his 2000 re-election defeat. Roach spent over $2 million in the primary -- and is just as likely to continue spending more in the lead-up to June 6. Likewise, the attacks on Bilbray from Kaloogian and others will continue. Why? Because while Bilbray is the Republican nominee for the special election, Roach, Kaloogian, Morrow and eight other Republicans from the special primary are all still fighting Bilbray in the June 6 GOP primary for the regular election. Thus, there are not likely to be any "unity" events in which the failed candidates rally behind Bilbray as it would undercut their own messages for the June 6 primary. Still, the heavy GOP registration advantage in the district will favor Bilbray in the head-to-head special election. Busby, for her part, has momentum from her strong showing and her reform message. Race Rating: Leans Republican.
Posted by Ron Gunzburger - 04.12.06 | Permalink |
P2008: PEACE CANDIDATE NEWT? NOT EXACTLY.
Vietnam War veteran and

US Senator Chuck Hagel (R-NE) will not be the lone "peace candidate" in the contest for the 2008 GOP Presidential nomination. He'll now be joined by former US House Speaker Newt Gingrich (R-GA). Speaking to the Sioux Falls Argus Leader, Gingrich called for a US military withdrawal from Iraq. "It was an enormous mistake for us to try to occupy that country after June of 2003," said Gingrich. Then again, he proved he isn't exactly a peace candidate. In September 2004, Gingrich appeared on Fox's Hannity and Colmes and denounced those who opposed the war. "We have some of our friends here at home who want it both ways. They want to complain that we're not winning fast enough, and they want to complain if we take any casualties. You can't have it both ways," he said then, according to MyDD.com. Gingrich also added in his University of South Dakota lecture that the US must make clear to the Iranian government that the US is "prepared to replace their government" by the use of force to make them negotiate the nuclear issues. Gingrich explained the "best move would be to replace Iran's government by organizing opposition within Iran."
Posted by Ron Gunzburger - 04.12.06 | Permalink |
ALASKA: IS GOV. MURKOWSKI RETIRING?
The gubernatorial campaign season in well underway in Alaska ... the various announced Dems and GOPers already taking part in debates ... the filing closes on June 1 ... and yet Governor Frank Murkowski (R) still hasn't announced whether or not he'll seek reelection to a second term this year. The ongoing silence, however, leads most to speculate Murkowski will retire. Murkowski's approval ratings are among the lowest of any Governor in the nation, prompting many to see the incumbent as very vulnerable. Former State Senator John Binkley (R), former Wasilla Mayor Sarah Palin (R), State Senator Ralph Seekins (R), State House Minority Leader Ethan Berkowitz (D), State Representative Eric Croft (D), and former Republican State Representative Andrew Halcro (Independent) are already announced candidates for Governor. Lieutenant Governor Loren Leman (R) also appears to be readying his entrance into the gubernatorial race. Dems are trying to convince former Governor Tony Knowles (D) to seek a return to his old job. Murkowski owes it to those who supported him in the past to announce his plans in a timely manner.
Posted by Ron Gunzburger - 04.12.06 | Permalink |
SITE OF THE DAY.
Our Politics1 Site of the Day winner is US Senator John McCain's (R-AZ) Straight Talk America PAC. A great-looking site that is clearly a forerunner of McCain's 2008 White House run.
Posted by Ron Gunzburger - 04.12.06 | Permalink |
FREE SPEECH ZONE.
Whatever.
Posted by Ron Gunzburger - 04.12.06 | Permalink |
CALIFORNIA: THE BUZZ ON BUSBY IN CD-50 SPECIAL.
Tuesday is election day in the wild, mud-slinging, open primary for the seat left vacant by the resignation of imprisoned former Congressman Duke Cunningham (R). The district is solidly Republican, yet all of the independent polls show college professor

Francine Busby (D) leading the 18-candidate field by wide margins. In large part, Busby's advantage is due to the fact that 14 Republicans are badly dividing the GOP base vote -- while Busby only has to deal with only one little-known Dem diluting her base. Under California's special election rules, all 18 candidates compete on the same ballot. If no candidate wins an absolute majority on Tuesday, the top finisher from each party will advance to the special general election on June 6. Everyone agrees Busby will place first by a comfortable margin on Tuesday, but it seems very unlikely she can pass the 50% mark in the primary. The Republican frontrunners -- wealthy businessman Eric Roach, former Congressman Brian Bilbray and former State Assemblyman Howard Kaloogian -- have spent weeks largely bashing each other in nasty mailings and on TV. Roach and Kaloogian are social conservatives, while Bilbray positions himself as a GOP centrist. Politics1 Primary Prediction: Busby-43%, Bilbray-15%, Roach-14%, Kaloogian-12%, with the rest trailing behind.
Posted by Ron Gunzburger - 04.11.06 | Permalink |
NEW JERSEY: PRIMARY FILING CLOSES.
Several last-minute

candidates jumped into federal races just before the close of primary filing on Monday. In the US Senate race, incumbent Bob Menendez (D) faces nominal primary opposition from frequent candidate James Kelly Jr. On the GOP side, State Senator Tom Kean Jr. drew a minor primary challenge from financial analyst and conservative activist John Ginty. Very few Congressional races in the state will be worth watching. In CD-13 -- the House seat left vacant when Menendez was elevated to the US Senate in January -- State Assembly Speaker Albio Sires and State Assemblyman Joe Vas are facing off in the Democratic primary. Sires is favored, and the primary winner is a safe bet to will win in November. Dems are also fielding credible -- albeit long-shot -- challengers against GOP Congressmen Scott Garrett and Mike Ferguson. Congressmen Rob Andrews (D) and Don Payne (D) are so safe they didn't draw any major party opposition.
Posted by Ron Gunzburger - 04.11.06 | Permalink |
NEW YORK: GUV REDUX.
After yesterday's story on the NY gubernatorial contest, former Massachusetts Governor Bill Weld's campaign contacted me to dispute that Faso is the preferred candidate of the state GOP leaders. The Weld campaign emailed us to note "Weld has the backing of the NY State GOP Chairman, etc. [and he] is also the one on his way to the Republican endorsement, not Faso." They are correct, in that State GOP Chair Stephen Minarik -- a close Pataki ally -- is solidly behind Weld. Ditto for others in Pataki's circle, plus county organization loyal to the Pataki organization. Faso is backed the Congressman John Sweeney (a vocal Pataki critic), many county Republican organizations, and nearly all of the Conservative Party's leadership. Independent polls show a close contest, with Faso currently edging Weld. Of course, as I wrote yesterday, unless either Weld or Faso can draw to within 20-points of Attorney General Eliot Spitzer, those two guys are simply fighting for the right to be the Pierre Rinfret of the 2006 gubernatorial contest.
Posted by Ron Gunzburger - 04.11.06 | Permalink |
CONGRESS: MOST LIKELY TO BE THE NEXT HAMMER.


Not that any of these guys were seeking the title, but former House Majority Leader Tom DeLay (R-TX) told the Washington Times that he really sees just three current House members as possible candidates to be the "next Tom DeLay ... [the real] leader of conservatives in the House." The three: Mike Pence (R-IN), Adam Putnam (R-FL) and Patrick McHenry (R-NC). "I accept the compliment," responded Pence. "I'm blown away ... I'm so excited that Tom DeLay would say that about me," gushed McHenry. The newspaper didn't reach Putnam for a comment. The comment also seemed to slight -- by intentional omission -- the many ambitious, conservative rising stars in the House DeLay declined to name.
Posted by Ron Gunzburger - 04.11.06 | Permalink |
NEVADA: GOP HOLDS LEAD IN US SENATE, GOV RACES.
A new Las Vegas Review-Journal/Mason-Dixon poll shows the Republicans well positioned to hold onto the two top races in the state. In the open gubernatorial race, Congressman Jim Gibbons holds a massive lead over his GOP primary rivals. The numbers: Gibbons-51%, Lieutenant Governor Lorraine Hunt-15%, State Senator Bob Beers-11%. On the Democratic side, State Senate Minority Leader Dina Titus led Henderson Mayor Jim Gibson by a 41% to 31% vote. In general election match-ups, Gibbons leads both Dems: Gibbons-50%, Titus-33% ... and Gibbons-44%, Gibson-30%. Race Rating: GOP Favored. Republicans are even stronger in the US Senate race. Incumbent John Ensign (R) leads investment consultant Jack Carter (D) by a 60% to 27% vote. Race Rating: GOP Safe.
Posted by Ron Gunzburger - 04.11.06 | Permalink |
SITE OF THE DAY.
Down-ballot candidates -- those seeking offices below the statewide and congressional level -- rarely get much attention for their website (and some really do a great job of building quality websites). In that vein, our Politics1 Site of the Day winner is Andrew Rice for Oklahoma State Senate (D). Rich content, good design, and a compelling bio/message.
Posted by Ron Gunzburger - 04.11.06 | Permalink |
FREE SPEECH ZONE.
I enjoyed a bold-headlines press release emailed to us on Monday from State Senator Rod Smith's (D) campaign for Florida Governor: "Smith Endorsed by the Untied Auto Workers." So, who are the tied-up ones supporting?
Posted by Ron Gunzburger - 04.11.06 | Permalink |
NEW YORK: AND THEN THERE WERE TWO.
Yet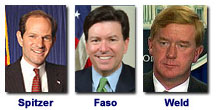 another Republican gubernatorial hopeful is exiting the contest. Former Secretary of State Randy Daniels -- a close ally of retiring Governor George Pataki (R) -- will end his campaign for Governor on Monday. In his exit remarks, Daniels will endorse former State Assembly Minority Leader John Faso for Governor. Former Massachusetts Governor Bill Weld is the only other remaining GOP candidate in the contest. Faso -- the unsuccessful GOP nominee for State Comptroller in 2002 -- already secured the endorsements of many of the top leaders of the state's Republican and Conservative parties. While anything can happen in the September 12 primary, Faso is certain to be the officially endorsed candidate of the New York State Republican Party heading into that primary. Weld -- touting his support for medical marijuana -- is also seeking the Libertarian nomination. Does any of this matter? Possibly not, as both Faso and Weld trail Attorney General Eliot Spitzer (D) by landslide margins in general election polling match-ups. Other candidates in the race for Governor include best-selling author Malachy McCourt (Green) and minister Jennifer Liese (Right-to-Life).
Posted by Ron Gunzburger - 04.10.06 | Permalink |
CONNECTICUT: LIEBERMAN INDY SENATE RUN POSSIBLE.
Speaking before the Windsor Democratic Town Committee on Sunday, US Senator Joe Lieberman (D) would not rule out making an independent or third party run for re-election if he loses the Democratic nomination to wealthy businessman and peace activist Ned Lamont. "Will I always be a member of the Democratic Party? I hope there's not a primary. I'm confident, if there is one, I'll win it -- but I'm not gonna rule out any other option for now because I feel so strongly that I can do better for the State of Connecticut for the next six years in the United States Senate that I want to give all the voters a chance to make that decision on Election Day in November ... But I want to do it as a Democrat because I believe in the Democratic Party, so really the choice is up to my fellow Democrats," said Lieberman. Sounds like Lieberman is issuing a warning to Dems: endorse me or else. Click here for the clip if you want to hear it for yourself. By contrast, Lamont pledged to support Lieberman if he wins renomination.
Posted by Ron Gunzburger - 04.10.06 | Permalink |
ALABAMA: PRIMARY FILING CLOSES.
There were no real surprises in the close of primary filing on Friday. Governor Bob Riley faces a GOP primary challenge from ousted former Supreme Court Chief Justice Roy
Moore. While earlier polls had initially pegged the primary as highly competitive, polls in recent months show Riley comfortably leading the self-proclaimed "Ten Commandments Judge." On the Democratic side, Lieutenant Governor Lucy Baxley and indicted former Governor Don Siegelman are the heavy frontrunners for the gubernatorial nomination. Siegelman, who was acquitted on other political corruption charges last year, claims the current charges are also politically motivated. Former State Representative and pro-casino activist Nathan Mathis is also running, as are four others. Former Governor Jim Folsom Jr. (D) was a last-day filer for Lieutenant Governor. On the GOP side in the open Lt Gov race, State PSC Commissioner George Wallace Jr. and three others are running. Both Folsom and Wallace are sons of legendary Alabama Governors. In the Congressional races, incumbents Bud Cramer (D), Spencer Bachus (R) and Artur Davis (D) will not face any major party opposition in November. The other incumbents are heavily favored to win again. Click here to view all of the Alabama filings.
Posted by Ron Gunzburger - 04.10.06 | Permalink |
TENNESSEE: FILING CLOSES, CROWDED RACES.
Tennessee has easy ballot access laws, which prompted the usual crowded fields of colorful candidates to come forward in most races. Governor Phil Bredesen (D) faces nominal primary opposition from three Dems. State Senator

Jim Bryson (R) must first get past nine minor opponents before advancing to the general election against Bredesen. One Green and five Independents also filed for Gov. Race rating: Dem Favored. In the US Senate race, Congressman Harold Ford Jr. is heavily favored in the Democratic primary over State Senator Rosalind Kurita and four others. The real fight is the GOP primary between centrist former Chattanooga Mayor Bob Corker and conservative former Congressmen Ed Bryant and Van Hilleary. Corker's primary strategy smartly appears to rely on Bryant and Hilleary splitting the conservative base -- which recent polling indicates is taking place. The two open Congressional seat contests are also worth watching. In CD-1 -- where Congressman Bill Jenkins (R) is retiring -- 12 Republicans are competing in the primary for this heavily GOP seat. Frontrunners for the CD-1 seat include Sullivan County Executive Richard Venable, State Senator David Davis, Sevier County Mayor Larry Waters, and former Johnson City Mayors Bill Breeding and Vance Cheek. In CD-9 -- Ford's open seat and a safe Dem district -- 15 Democrats filed to run. Candidates include former Ford aide Nikki Tinker, State Senator Steve Cohen, former Hillary Clinton aide Tyson Pratcher, State Representative Joe Towns Jr., former Memphis mayoral aide Ron Redwing, and Ford nephew Joe Ford Jr. The CD-9 primary will be a free-for-all in which nearly anyone could win. Click here to view all of the Tennessee filings.
Posted by Ron Gunzburger - 04.10.06 | Permalink |
SITE OF THE DAY.
Our Politics1 Site of the Day winner is Jesse Mortenson for Minnesota House (Green) -- sharp design, informative, and great use of podcast technology. It one of the best state leg candidate sites we've seen -- from any party.
Posted by Ron Gunzburger - 04.10.06 | Permalink |
FREE SPEECH ZONE.
Go.
Posted by Ron Gunzburger - 04.10.06 | Permalink |
FREE SPEECH ZONE.
Candidate filing closed in Tennessee and Alabama -- and these are some colorful, crowded races in both states ... and Congressman Alan Mollohan (D-WV) now appears to be the target of a federal corruption investigation. According to the Wall Street Journal, Mollohan is alleged to have "provided legislative [appropriations] earmarks benefiting companies and individuals who helped make him a millionaire." Prosecutors are curious as to how Mollohan's assets grew from $562,000 to at least $6.3 million during a four-year period.
Posted by Ron Gunzburger - 04.08.06 | Permalink |
PLAME-GATE: SO IT REALLY WAS BUSH AND CHENEY.
According to official court document released Thursday by federal prosecutors, indicted former Vice Presidential Chief of Staff Scooter Libby told the grand jury he leaked the identity of

CIA agent Valerie Plame to a newspaper reporter based upon instructions from President Bush, as passed to Libby through Vice President Cheney. The leak was intended to undermine the credibility of former Ambassador Joe Wilson -- Plame's husband -- who had become a vocal critic of the Bush Administration and the Iraq War. According to the court documents, Libby testified under oath that Cheney told him the President "specifically had authorized" Libby to "disclose certain information in the [classified documents]." This point is central to Libby's defense, as he maintains the President has the ultimate authority to declassify any information -- and, if instructed by the President to share the information, then the document became unclassified as soon as the President approved the release of it. This appears to establish what the Democrats had alleged during the 2004 Presidential campaign -- that the leak traced back to the highest White House officials -- but also provides a legal defense. So, when President Bush vowed to get to the bottom of the leak allegations in 2003, was he seeking help to discover that it was he himself who authorized the leak. Will the same Congressional Republicans who made such a big deal out of President Clinton dissembling the meaning of "is" display at least equal concern with this seemingly worse lapse in honesty?
Posted by Ron Gunzburger - 04.07.06 | Permalink |
POLITICS1 POLL: 2006 US HOUSE ELECTIONS.
Okay, we'll admit yesterday's poll on vulnerable US Senators was easy to predict the outcome. You could hear the loud shouts of "Dead Man Walking!" for US Senator Rick Santorum (R-PA). He won the dubious distinction of being the incumbent voted most likely to lose for re-election in 2006 -- and nobody else finished anywhere close. In fact, 68% of you pegged Santorum most likely to be defeated. Now, with that one behind us, here comes the much tougher question: Which one of the many vulnerable US House e incumbents do you think is most likely to be defeated? After repeated failed attempts, will the Dems finally succeed in ousting Clay Shaw, John Hostettler or Heather Wilson? The the GOP retake Melissa Bean's seat after her '04 upset win? Will the scandals of Bob Ney lead to him losing his primary or general? Will Cynthia McKinney lose her primary (again)? And what about the tough races facing Jim Gerlach, Chet Edwards, Rob Simmons or Mike Sodrel ... or are we missing your choice for #1 Target (as write-in votes are allowed). The only tough thing is that you can only vote for one incumbent in the poll. Click here to cast your ballot.
Posted by Ron Gunzburger - 04.07.06 | Permalink |
GEORGIA: McKINNEY REVERSES, APOLOGIZES FOR HITTING COP.
First Congresswoman Cynthia McKinney (D-GA) tried to play the race card: blaming a

Capitol Hill police officer for provoking the incident in which she punched a cop who stopped her as she tried to rush past a security checkpoint. The racism allegations -- that she was stopped and being harassed because she was African-American -- seemed to fall apart when numerous white House Members said they are likewise stopped from time-to-time by officers who do not recognize them. Next McKinney tried the "much ado about a new hair-do" excuse, in that the officer screwed-up by not recognizing her because of her new 'do. Dem leaders -- and even some of McKinney's African-American colleagues -- distanced themselves from that approach, too. Finally, in the face of this response from Dems, McKinney took to the House floor -- on the day the matter was being presented to a criminal grand jury -- and entirely reversed her story. On Thursday McKinney admitted she was wrong and apologized for striking the officer. "I am sorry that this misunderstanding happened at all and I regret its escalation, and I apologize. There should not have been any physical contact in this incident," said McKinney. It remains to be seen whether criminal charges will be filed against her. McKinney -- who lost her 2002 primary before recapturing the seat in 2004 -- faces a competitive primary from DeKalb County Commissioner Hank Johnson in this safe Dem district.
Posted by Ron Gunzburger - 04.07.06 | Permalink |
TEXAS CD-22: NOTHING SPECIAL.
Governor Rick Perry (R) on Thursday made the race to succeed resigning Congressman Tom DeLay (R) more complicated. Perry announced he would not call any special election before November 2006 to replace DeLay. Earlier in the week, it appeared DeLay was trying to maneuver an early special election contest -- with the GOP winner being named the replacement nominee for DeLay in the general election for the full-term. Former Congressman Nick Lampson is the Democratic nominee and ultra-conservative former GOP Congressman Steve Stockman is continuing his Independent campaign. With this development, and with the complexities of Texas election laws, it may be several months before the Texas Republicans are able to designate a DeLay replacement nominee from the large field of potential candidates already announcing an interest in the seat.
Posted by Ron Gunzburger - 04.07.06 | Permalink |
SITE OF THE DAY.
Our Politics1 Site of the Day winner is Patrick Murphy for Congress (D-PA) -- nice design, solid content.
Posted by Ron Gunzburger - 04.07.06 | Permalink |
FREE SPEECH ZONE.
Talk amongst yourselves.
Posted by Ron Gunzburger - 04.07.06 | Permalink |
P2008: FEINGOLD FIRST TO ENDORSE GAY MARRIAGE.
In a shift from even his own past

position -- i.e., pro-civil unions but anti-same sex marriage -- US Senator Russ Feingold (D-WI) this week became the first of the major 2008 White House hopefuls to endorse gay marriage. "I will be voting against the harsh amendment that's been proposed in Wisconsin, and I thought it was an appropriate occasion to indicate my feeling that if two people care enough about each other to get married, that it probably is a positive thing for society ... Gay and lesbian people in our country are fighting a mean-spirited movement to harm them and to discriminate against them. I stand with them against that movement, and I'm proud to stand with them," said Feingold. According to the National Gay and Lesbian Task Force, the only other US Senators to endorse same-sex marriage are Ted Kennedy (D-MA), Ron Wyden (D-OR) and Lincoln Chafee (R-RI). Even Democrats viewed as liberal -- like John Kerry, Howard Dean and Hillary Clinton -- take a pro-civil union/anti-gay marriage stance. This move places Feingold at odds with all of his other likely Dem rivals for the Presidential nomination. Feingold said he understands the position could have negative "national implications" -- but he took the position in response to the "mean-spirited" anti-gay marriage ballot campaign currently waging in his home state.
Posted by Ron Gunzburger - 04.06.06 | Permalink |
SOUTH DAKOTA FILING CLOSES.
The candidate filing period closed in South Dakota this week,

but not much to report. Governor Mike Rounds (R) -- who recently signed the controversial bill into law that bans all abortions in the state except when the life of the mother is endangered -- drew four challengers. Former State Representative Jack Billion (D), former State Farmers Union President Dennis Wiese (D), businessman/minister Steve Willis (Constitution) and Tom Gerber (Libertarian) all filed for Governor. In the state's lone US House race, GOP activist and graduate student Bruce Whalen (R) and farmer Larry Rudebusch (Libertarian) filed to run against Congresswoman Stephanie Herseth (D). Herseth has raised over $815,000 to date, while her opponents have yet to even start fundraising. Race Ratings: Rounds and Herseth are both favored -- very heavily favored. As for the other statewide constitutional officers, the state party conventions this summer will select nominees. Click here to view all of the South Dakota filings.
Posted by Ron Gunzburger - 04.06.06 | Permalink |
TENNESSEE: GOP FINALLY HAS REAL CANDIDATE FOR GOV.
Until this week, Tennessee Republicans only could show a lenghty list of prominent officials who had passed on challenging Governor Phil Bredesen (D). Yeah, they had three minor guys already running -- but the party wanted a real candidate. State Senator Jim Bryson (R) officially entered the contest on Tuesday. Bryson vowed to "enforce the constitutional cap on state spending" and oppose a state income tax. His criticism of Bredesen was very muted, only saying the "people of Tennessee know we can, and we must, do better." Bryson has little chance of upsetting Bredesen, but at least the Republicans now have a credible candidate.
Posted by Ron Gunzburger - 04.06.06 | Permalink |
P2008: DODD LOOKING AT WHITE HOUSE RUN.
US Senator Chris

Dodd (D-CT) is once again looking at making a run for President. He weighed a possible 2004 White House run, but ultimately passed on the race and supported his fellow Nutmeg State colleague Joe Lieberman. In 1994, Dodd ran for the Democratic Leader post in the US Senate as a last-minute candidate -- and lost to Tom Daschle by just one vote. As a consolation prize, President Clinton tapped Dodd to be Democratic National Chairman in 1995-97. A traditional Northeastern liberal, Dodd is passionate on his issues and well-liked by his colleagues. Since his 1980 election to the Senate, he's won four landslide re-elections. The 61-year-old Dodd told the AP that his desire to be President is "an itch. Could grow. Could disappear. It's an itch. It's not a bad word to use." Speaking like a candidate, he already is referring to himself in a second person voice: "If you have any thoughts of doing it, you ought to make up your mind pretty quickly because the window closes." If he switches to the third-person voice ("Chris Dodd has a record of working for ..."), we'll know he's getting ready to really enter the race.
Posted by Ron Gunzburger - 04.06.06 | Permalink |
POLITICS1 POLL: 2006 US SENATE ELECTIONS.
Which one of the many vulnerable US Senate incumbents do you think is most likely to be defeated? Will the Dems defeat Conrad Burns, Rick Santorum, Mike DeWine or Jim Talent? Will the GOP defeat Bob Menendez or the Nelsons? Will Dan Akaka, Joe Lieberman and Lincoln Chafee survive their primaries. Personally, I think several folks on this list are going down this year ... but you can only vote for one incumbent in the poll. Click here to cast your ballot.
Posted by Ron Gunzburger - 04.06.06 | Permalink |
SITE OF THE DAY.
Our Politics1 Site of the Day winner is David Pandori for San Jose Mayor -- a really well-done site by a local candidate in California.
Posted by Ron Gunzburger - 04.06.06 | Permalink |
FREE SPEECH ZONE.
Count me in with the Pelosi/Hoyer group of Dems who won't raise any voices in support of Congresswoman Cynthia McKinney (D-GA). I don't care whether the Capitol cop did or didn't recognize her when she charged past his security post. McKinney was simply wrong to punch him, even if she perceived the lack of recognition as some kind of intentional snub or slight.
Posted by Ron Gunzburger - 04.06.06 | Permalink |
ARKANSAS PRIMARY FILING CLOSES.
Primary candidate filing closed in Arkansas on Tuesday, with no real surprises.

Attorney General Mike Beebe (D) and former Congressman Asa Hutchinson (R) were unopposed for their respective gubernatorial nominations. Hutchinson became the GOP nominee by default when the favored Republican candidate -- Lieutenant Governor Win Rockefeller -- was forced to withdraw for health reasons last fall. Former State Representative Jim Lendall (Green) and musician Rod Bryan (Independent) are also running to succeed Governor Mike Huckabee (R). Polls currently give Beebe an edge. Gov Race Rating: Leans Dem. The most crowded race is the open contest for Lieutenant Governor, as seven candidates filed. By contrast, two other statewide incumbents drew no opponents. In the Congressional races, all four incumbents drew opposition. In CD-1, Cabot Mayor Stubby Stumbaugh (R) filed against Congressman Marion Barry (D). CD-1 Race Rating: Dem Favored. In CD-2, Congressman Vic Snyder (D) will race the winner of the GOP primary between wealthy health care executive Tom Formicola and former state economic development official Andy Mayberry. CD-2 Race Rating: Dem Favored. As for the other two races, we'd rate both Congressional incumbents as safe. Click here to view all of the Arkansas filings.
Posted by Ron Gunzburger - 04.05.06 | Permalink |
OHIO: BLACKWELL ADMITS DIEBOLD STOCK PURCHASE.
In a potentially embarrassing setback to his "conservative reformer" message, the Cleveland Plain-Dealer reported Secretary of State

Ken Blackwell claims he "accidentally" purchased Diebold stock prior to his decisions which benefited the maker of controversial electronic voting machines. "While I was unaware of this stock in my portfolio, its mere presence may be viewed as a conflict," wrote Blackwell, in a letter he submitted with his annual disclosure statement required by state law. Attorney General Jim Petro (R) -- a gubernatorial rival -- quickly attacked Blackwell for the revelation. A Petro spokesman said Blackwell's "pretty unique history with this company ... should be investigated." At the time Blackwell placed Diebold on the very small list of state-approved voting machines, a rival company had accused Blackwell of "improperly favoring" Diebold. Blackwell said his money managers made the purchases without his knowledge and against his instructions to "avoid conflicts of interest." Blackwell claims he only learned of the stock purchases this past weekend. "If Ken Blackwell didn't know how his own money was being spent, why would the people of Ohio think he would be a good steward of their checkbook," asked a spokesman for the Ohio Democratic Party. These revelations undercut Blackwell's positioning of himself in the primary as the anti-Taft/Petro, pro-integrity candidate -- but it remains to be seen if many primary voters will care about the news as it appears the first stock purchases were only in January 2005. In related news, a new SurveyUSA poll conducted for three network TV affiliates in the state shows Blackwell and Congressman Ted Strickland (D) favored to win their respective primaries. Blackwell leads Petro by a 46% to 32% vote in the GOP contest. On the Dem side, Strickland leads former State Representative Bryan Flannery by a landslide 60% to 15% vote.
Posted by Ron Gunzburger - 04.05.06 | Permalink |
NEBRASKA: GOP HOPEFULS BACKING AWAY FROM BUSH.
In a GOP gubernatorial debate over the weekend, the three candidates had widely differing views when asked to grade President Bush's job performance. Governor Dave Heineman said he'd give the President a failing "F" grade on budget matters and an overall grade of "C." Congressman Tom Osborne disagreed, giving Bush grade of "B" for his cutting taxes, supporting ethanol and his post-9/11 response. Conservative businessman Dave Nabity said Bush would only earn a "C+" grade, marking the President down for "not dealing with illegal immigration."
Posted by Ron Gunzburger - 04.05.06 | Permalink |
PENNSYLVANIA: CD-7 RACE GROWS HOTTER.


Congressman Curt Weldon (R) announced this week that former Congressman Ron Klink and former CIA Director James Woolsey will both serve on his "Democrats for Weldon" committee. However, retired Navy Admiral Joe Sestek (D) announced he raised over $420,000 in less than two months since he launched his campaign. Considering the combination of (1) Sestek's fundraising success, (2) that CD-7 went for Kerry in '04, and (3) Weldon's extensive ties to the Moonie cult, we're changing our competitive rating on this contest. This will be a race to watch. Race Rating: Leans GOP.
Posted by Ron Gunzburger - 04.05.06 | Permalink |
SITE OF THE DAY.
Our Politics1 Site of the Day winner is Bob's Baggage -- a clever attack site against US Senator Bob Menendez (D-NJ), sponsored by the NRSC.
Posted by Ron Gunzburger - 04.05.06 | Permalink |
FREE SPEECH ZONE.


Isn't it sad that apparently the Bush/Rove/Falwell crowd could apparently do the one thing the Viet Cong were unable to do over a period of years at the dreaded "Hanoi Hilton" prison: break John McCain's will to resist. I guess White House ambitions do strange things to the human mind. That's a shame, because I used to really respect the guy (even when I rarely agreed with him on issues) ... One more thing: Another day, another new look for the homepage stories. Still trying the bigger headline thing -- and not gonna try the dual-column look -- but reduced the headlines by one font size. So, compare today's look to the old look (see: April 2) or yesterday's look (April 3). So, which version do you like best
Posted by Ron Gunzburger - 04.05.06 | Permalink |
DeLAY QUITS RE-ELECTION RACE; TO RESIGN HOUSE SEAT.
The big story of the day clearly is the abrupt withdrawal of former House Majority Leader

Tom DeLay (R-TX) from his reelection contest. In an interview with Time magazine, DeLay said he will "announce [Tuesday] that I'm not running for reelection and that I'm going to leave Congress" within the next few months. DeLay blamed "the left" and the media for his political downfall -- although the most likely reason for the sudden announcement was the Friday guilty plea and testimony cooperation deal in the Abramoff corruption probe by Tony Rudy, DeLay's longtime Deputy Chief of Staff. Even before Rudy's guilty plea, polls showed DeLay struggling against former Congressman Nick Lampson (D) in his race for re-election. District Republicans leaders will now select a replacement nominee. DeLay says he feels "liberated" by his decision, and will spend the year campaigning for Republican candidates and working to build a closer connection between religion and government. Frankly, I'd be surprised to see many GOP candidates placing requests for DeLay to come stump for them. Then again, House Majority Leader John Boehner (R-OH) was surprisingly effusive in praise of his departing colleague. "Tom is one of the most effective and gifted leaders the Republican Party has ever known ... The country owes Tom a great debt of gratitude for helping lead America in a new direction ... He has served our nation with integrity and honor, and I'm honored to call him my colleague and friend," said Bohener.
Posted by Ron Gunzburger - 04.04.06 | Permalink |
REFORM PARTY: NOT YET DEAD.
The Reform Party -- created by billionaire Ross Perot during the height of his 1990s political activism -- appeared virtually dead by the 2004 election cycle. Nationally, the RP still appears to be flat-lining -- but they just scored a respectable Congressional candidate in Colorado that could cause problems in November for a GOP incumbent. Lifelong Republican Eric Eidsness -- a former Navy officer who served as Assistant EPA Administrator under President Reagan -- bolted to the Reform Party this week to continue his run against Congresswoman Marilyn Musgrave (R). Eidsness is a fiscal conservative who argues today's Republican Party is too dominated by religious social conservatives. He also disagrees with Musgrave's seemingly single-minded focus on anti-gay legislation. All this has to be music to the ears of the DCCC, as State Representative Angie Paccione is solid challenger. Colorado is skewing much more purple in recent years, and Musgrave seems to regularly win re-election by lackluster margins. Race rating: GOP Favored.
Posted by Ron Gunzburger - 04.04.06 | Permalink |
P2008: IS THE DOCTOR IN?


Former Howard Dean campaign manager and Internet political guru Joe Trippi is hooked-up again with another Democratic former Governor and physician. Former two-term Oregon Governor John Kitzhaber is online with his Trippi-inspired The Archimedes Movement website and the first Meet-Up groups spawned by the site. The basic premise of Kitzhaber's new national group is that "all of us must have timely access to at least a basic set of effective health services." Kitzhaber's name is prominent throughout the site -- even down to the "Kitzhaber Blog." Regardless of anything Trippi and Kitzhaber are downplaying these days, this appears to be planting the seeds of a "Draft Kitzhaber for President" campaign in 2008.
Posted by Ron Gunzburger - 04.04.06 | Permalink |
POLITICS1 POLL: ILLEGAL IMMIGRATION.
Over 1,000 folks voters in Day #1, so we're keeping it going for one more day. With all the debate in DC on the topic of illegal immigration -- the Tancredo/Frist crowd versus the Bush/McCain/Kennedy crowd -- it seemed like a good time to revive our online polls. Do illegal immigrants largely take jobs most Americans won't do ... or do they take jobs from American workers? Click here to cast your ballot.
Posted by Ron Gunzburger - 04.04.06 | Permalink |
SITE OF THE DAY.
Our Politics1 Site of the Day winner is VelvetRevolution.us -- a site by grassroots progressive activists seeking to motivate the base for the triad causes of anti-Bush, anti-Iraq War and pro-paper ballots (although they'd benefit by archiving some of the older articles on the homepage).
Posted by Ron Gunzburger - 04.04.06 | Permalink |
FREE SPEECH ZONE.
Not that it's radically different ... but what do you think about this slight re-tooling of the look of the daily stories? The idea was to improve quick readability. Another idea -- not yet sure about -- is trying a dual-column format for the news stories.
Posted by Ron Gunzburger - 04.04.06 | Permalink |
OHIO. A new Rasmussen Reports poll has the US Senate race rapidly narrowing. The new numbers: US Senator Mike DeWine (R)-45%, Congressman Sherrod Brown (D)-42%. DeWine held a 9-point lead in the February poll. The numbers show Brown has made his gain largely among Dems -- most likely from now-forgiving supporters of former Democratic rival Paul Hackett, who was pressured to exit the race just a week before the February poll. The same poll also shows Congressman Ted Strickland (D) holding a comfortable lead in the gubernatorial contest. Strickland leads Secretary of State Ken Blackwell (R) by a 50% to 40% vote ... and Strickland leads Attorney General Jim Petro (R) by a 47% to 34% vote.


Posted by Ron Gunzburger - 04.03.06 | Permalink |
POLITICS1 POLL: ILLEGAL IMMIGRATION. With all the debate in DC on the topic of illegal immigration -- the Tancredo/Frist crowd versus the Bush/McCain/Kennedy crowd -- it seemed like a good time to revive our online polls. Do illegal immigrants largely take jobs most Americans won't do ... or do they take jobs from American workers? Click here to cast your ballot.
Posted by Ron Gunzburger - 04.03.06 | Permalink |
FLORIDA. Sunshine State legislators are tired of the Florida Presidential primary coming too late in the primary season -- mid-March -- to have any real voice in the nomination decision. With the support of both the Florida Republican Party and the Florida Democratic Party, a bill by incoming Speaker Marco Rubio (R) is rapidly advancing that would leapfrog the state forward to being the earliest contest featuring a big, delegate-rich state. The proposed bill would preserve the first-in-the-nation status of the Iowa caucuses and New Hampshire primary. If approved -- and if the national parties don't block it -- the Florida primary would fall one week after the NH primary.
Posted by Ron Gunzburger - 04.03.06 | Permalink |
NORTH DAKOTA. Both major
parties held their nominating conventions over the weekend, setting the November contests. Anderson Town Councilman and farmer Dwight Grotberg was unopposed for the GOP nomination against popular US Senator Kent Conrad (D). Race rating: Safe Dem. In the US House race, a political newcomer scored a major victory over the candidate backed by Governor John Hoeven and nearly all of the state GOP leadership. Soybean farmer Matt Mechtel, 37, never ran for office before -- but he still managed to defeat State Representative Duane DeKrey for the Congressional nomination by a vote of 270-255. "He was much more dynamic and much more upbeat. I'm kind of the back room guy that gets the work done. I'm not the guy that's up front, charging everybody up, and he definitely is, and I think that's why he's going to make an excellent candidate," said DeKrey after the vote. Mechtel will face Congressman Earl Pomeroy (D) in the general election. Race rating: Dem Favored. The conventions also selected nominees for Attorney General, Secretary of State, State Agriculture Commissioner, and State Tax Commissioner. Click here to view all of the North Dakota candidates.
Posted by Ron Gunzburger - 04.03.06 | Permalink |
SOUTH DAKOTA. Governor Mike Rounds (R) kicked-off his re-election campaign last week. Rounds is a heavy favorite to win a second term. Reporters at the event pressed Rounds about rumors he may challenge US Senator Tim Johnson (D) in 2008. Interestingly, Rounds refused to close the door on the idea. "If you look at my history, I've never left an office early yet [but] I never look past an election in front of me. I don't see a reason why I should make any obligations beyond this election in front of me," said Rounds.
Posted by Ron Gunzburger - 04.03.06 | Permalink |
SITE OF THE DAY. Our Politics1 Site of the Day winner is Bill Harsch for Attorney General (R-RI) -- decent design, good interactivity, and the donation page concept is clever.
Posted by Ron Gunzburger - 04.03.06 | Permalink |
FREE SPEECH ZONE. Arkansas Lieutenant Governor Win Rockefeller (R) was forced to undergo a second bone marrow transplant procedure last week. A spokesman revealed Rockefeller's first procedure in October was unsuccessful ... Also, LOTS of new listings (both D/R) on our Jobs page.
Posted by Ron Gunzburger - 04.03.06 | Permalink |
FREE SPEECH ZONE. Retiring Congressman Lane Evans (D-IL) endorsed his district director, Phil Hare, as his successor and urged pary leaders to name Hare as the replacement nominee. Despite that, several other local elected Dems are making aggressive efforts to land the designation ... Capitol Police in have presented a case to DC prosecutors, purportedly asking them to charge Congresswoman Cynthia McKinney (D-GA) with battery on a police officer for a punching incident Thursday on Capitol Hill. It is not clear, however, if prosecutors will actually file any charges. McKinney claims she was "inappropriately" touched by the officer, who reportedly grabbed her arm to stop her ... The Orlando Sentinel reported that nearly every longtime staffer to Congresswoman Katherine Harris (R-FL) has now quit her floundering US Senate campaign. Among the recently departed include her pollster, fundraising consultant, media consultant, campaign manager, political strategist -- even the traveling aide who stood next to Harris and handed out her brochures.
Posted by Ron Gunzburger - 04.01.06 | Permalink |
BLOG ARCHIVE:

April 16-30, 2006
April 1-15, 2006
March 16-31, 2006
March 1-15, 2006
February 17-28, 2006
February 1-16, 2006
January 16-31, 2006
January 1-15, 2006
December 2005
November 2005
October 2005
September 2005
August 2005
July 2005
June 2005
May 2005
April 2005
March 2005
Jan-Feb 2005
December 2004
November 16-30, 2004
November 1-15, 2004
October 16-31, 2004
October 1-15, 2004
September 16-30, 2004
September 1-15, 2004
August 16-31, 2004
August 1-15, 2004
July 16-31, 2004
July 1-15, 2004
June 16-30, 2004
June 1-15, 2004
May 16-31, 2004
May 1-15, 2004
April 16-30, 2004
April 1-15, 2004
March 15-31, 2004
March 1-14, 2004
February 15-29, 2004
February 1-14, 2004
January 17-31, 2004
January 1-16, 2004
December 16-31, 2003
December 1-15, 2003
November 17-30, 2003
---
POLITICAL BLOG ROLL:
KINDA NEUTRAL:
ABC News: The Note
CNN: Morning Grind
Political Wire
MSNBC: First Read
CJR Daily
LexisNexis: US Politics
Stateline.org
Governing.com
Political State Report
Hotline On Call
Hotline's Blogometer
WatchBlog
Lawmakers Blog
Centerfield Aggregator
Command Post
FactCheck.org
WSJ: Best of the Web
D.C.'s Political Report
2008 Political Perspective
Media Bistro
Larry Sabato: Crystal Ball
PressThink
Politics-Line
TheCapitol.Net: Blog
MyElectionAnalysis.com
DEM/LEFT:
DNC Blog
DCCC Blog
DailyKos
Lefty Blogs
Howard Dean/DFA
OurSenate.com
Frameshop
The Washington Note
Emerging Dem Majority
Think Progress
AmericaBlog.com
Amer Prospect: Tapped
Arianna Huffington
Al Franken
BAG News Notes
Eric Alterman
TNR: The Plank
FishBowl DC
TalkLeft
TNR: &c.
The Raw Story
Blogging of the President
Joe Trippi
Swing State Project
Media Matters
Josh Marshall
Wonkette
MyDD
Working for Change
Crooks & Liars
Mathew Gross
Penndit
Progressive Dems: Blog
Atrios/Eschaton
Off the Kuff
Tom Tomorrow
Mother Jones
Jerry Springer
TruthOut
Dem Bloggers
Liberal Oasis
Penndit
AtariDemocrat
Henry Lewis
BuzzFlash
Brad Blog
Louise Slaughter
Dem Underground
Jared Hall
Bad Attitudes
The American Street
District Blogs
GOP/RIGHT:
RNC (GOP.com)
Club for Growth
National Review: Corner
C-Log
Real Clear Politics
Andrew Sullivan
John Ellis
Mickey Kaus
Virginia Postrel
RedState.org
WSJ Opinion Journal
Free Republic
Instapundit
Drudge Report
Hugh Hewitt
Daniel Drezner
Daily Pundit
Bully Pulpit
Outside the Beltway
Little Green Footballs
World Mag Blog
Right Wing News
Volokh Conspiracy
Brothers Judd
David Frum
Mister Politics
Right Wing News
PoliPundit
Power Line
Hedgehog Report
Right Voices
Booker Rising
Save the GOP
OTHER:
ThirdPartyWatch.com
Centrist Coalition
Liberty for Sale
Green Commons
News for Greens
---
For those who would like to track Politics1 with a newsreader, we publish a RSS feed:
---

---