J'ACCUSE ... WELL, SOMEONE.
Former US Ambassador Joe Wilson promised that he would reveal in his
new book
the name of the Bush Administration official who committed a federal felony and leaked to the media the fact that his wife was a deep-cover CIA spy.

This leak to conservative columnist Robert Novak was done in July 2003 in retaliation for Wilson openly debunking the false "Iraq had tried to buy nuclear weapons material in Niger" story last year. The leak inquiry remains pending before a federal grand jury but -- if Wilson's comments are any indication -- don't count on an indictment any time soon. On Thursday, Wilson finally revealed who he believes leaked his wife's secret identity to the media. According to Wilson, it was "quite possibly" VP Cheney Chief of Staff Lewis "Scooter" Libby ... or maybe Dick Cheney himself ... or possibly someone else on Cheney's staff ... most likely Libby ... but the leak definitely came from Cheney's office. In fact, other recent news reports also indicate federal investigators are focusing on Cheney's office as the source of the leak. Still, narrowing a big list of possible suspects (a list that once included Karl Rove and others) into a shorter list of suspects won't be nearly definitive enough to lead to charges being filed. Wilson's new book is out this week -- although we now spoiled his surprise revelation.
Posted by Ron Gunzburger - 04.30.04 |
PLACE YOUR BLOGAD ON POLITICS1 RIGHT NOW!! Special introductory prices: $50 for one week, $75 for two weeks, and $125 for a month. Click here to learn more!
TRACKING THE BATTLEGROUND STATES. New

polls this week out of Wisconsin indicate that President Bush ... or maybe John Kerry ... holds the lead there. It all depends of which poll you like. The latest Milwaukee Journal-Sentinel/Badger Poll track shows: Bush-50%, Kerry-38%, Nader-6%. By contrast, the new Wisconsin Public Radio/St. Norbert College poll has Kerry-49%, Bush-42%, Nader-7%. The latest Rasmussen poll seems back up the WPR poll, in that it also shows Kerry leading: Kerry-45%, Bush-41%, Nader-8% (but Kerry leads 50%-42% without Nader on the ballot). Meanwhile, Bush holds a narrow lead in Arizona -- but with both men recording lackluster totals. The results from the new KAET-TV/Arizona State University poll: Bush-41%, Kerry-38%, Nader-3%.
Posted by Ron Gunzburger - 04.30.04 |
RON'S CONTROVERSIAL COMMENTS OF THE DAY. Tonight, Ted Koppel is going to devote the entire broadcast of ABC's Nightline to reading the names and showing the photos of the US soldiers who died in combat in Iraq. Koppel doesn't have

enough time in the show to read all of the 736 names of soldiers who died in Iraq thus far, so he won't name those who died in related military activities in Iraq outside of direct combat. In response, Sinclair Broadcast Group has ordered its ABC affiliates to not air Friday's broadcast. That means roughly a quarter of the US population will not see this tribute to those who died. Why? A Sinclair spokesperson said the broadcast "is contrary to the public interest." No mention whether the fact that the top Sinclair executives are Bush contributors weighed into the decision. Koppel is trying to make a respectful memorial tribute to those brave Americans who have made the ultimate sacrifice for their nation. Shame on the Sinclair folks for trying to hide it. On a related -- and even more controversial note -- remember when Howard Dean was savagely flamed for saying last December how the capture of Saddam Hussein had not made us any safer? Yes, I strongly agree the world is a much better place without Saddam terrorizing Iraqi citizens. But, in retrospect, Dean was also correct. We've now lost more US soldiers in Iraq since we "won" the war than we did "during" the war. In fact, this past month -- with Saddam still securely locked behind bars -- has been our worst month to date for US losses in Iraq. Maybe Dean wasn't so wrong when made his unpopular comments five months ago.
Posted by Ron Gunzburger - 04.30.04 |
WHERE IS THE FRIDAY POLL? After two attempts at conducting our Friday Fun Poll were both apparently hacked -- with both poll questions and all results entirely erased -- I'm not even bothering to post one this week. Maybe the polls will just become a fond but fading memory for us. On a related note about possible changes on the site: I've been thinking of adding blog commenting options on each of our fifty state pages. Possibly either one Comments section per state, or maybe a separate one for each race. I'm not sure how that would work, especially as the Haloscan service we use has a weird -- but minor -- glitch in that the Comments counter drops back to a single digit (or even to "none") within 2-3 of the thread being posted. However, as all the comments remain online, I'm not sure this is a big deal. So, any interest in our adding this feature to the state pages?
Posted by Ron Gunzburger - 04.30.04 |
OUR FINAL SPECTER-TOOMEY STORY. It was a hotly contested and nasty GOP primary fight for US Senate in Pennsylvania, but conservative Congressman Pat Toomey was very gracious in defeat towards winner Arlen Specter. Toomey called for GOP unity and offered his unqualified support for
Specter in his upcoming fight against Congressman Joe Hoeffel (D). The Club for Growth -- a fiscal conservative group that spent over $1 million during the primary to air anti-Specter TV spots -- also endorsed Specter on Wednesday as being "far more likely to support tax cuts ... than Representative Hoeffel." Meanwhile, Specter told reporters that he believes President Bush's aggressive support of him was the "determinative" factor in his narrow victory. Despite that, Specter immediately began to reposition himself for the general election by ticking off a lengthy list of topics in which he disagrees with Bush. At a Wednesday press conference, Specter emphasized his support for abortion rights, stem-cell research, and a greater international role for the United Nations in Iraq, and his opposition to vouchers for private schools. Specter also said he wants to slash the President's previous tax cut by $250 million to pay for education and expressed opposition to Bush's proposal to reduce overtime pay for workers. "I don't give anybody a blank check, including the President," explained Specter. "The typical 'Specter Two-Step' is in full view today. Arlen is already shamelessly betraying the positions he held only 12 hours ago," responded Hoeffel. Some conservatives are clearly upset with Specter. "There's so little difference between Specter and Hoeffel, I don't think it should matter to most principled conservatives. In fact, Arlen Specter does more damage to the conservative movement than Joe Hoeffel," said Constitution Party National Chairman Jim Clymer, who now plans to enter the Senate race. In a close race, Clymer's candidacy could be a deciding factor. The Constitution Party's statewide candidates have typically drawn in the 3-7% range in Pennsylvania -- and even hit the double-digits in one gubernatorial race. At the moment, Specter remains the favorite to win another term.
Posted by Ron Gunzburger - 04.29.04 |
PLACE YOUR BLOGAD ON POLITICS1 RIGHT NOW!! Special introductory prices: $50 for one week, $75 for two weeks, and $125 for a month. Click here to learn more!
READING THE KEERY VEEP TEA LEAVES. Pundits and journalists are trying to connect the dots from the bits of info coming from the Kerry Vice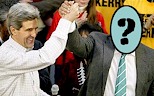 Presidential selection team. The process typically works something like this: (1) Large lists of names discussed and vetted; (2) Interviews begin will prospects; (3) Detailed background checks on names still in play; (4) Nominee has in-depth meetings with finalists; (5) VP choice is announced. Wednesday, it was learned that the team has requested formal background checks on Congressman Dick Gephardt (D-MO), Senator John Edwards (D-NC), Governor Tom Vilsack (D-IA) and some unspecified "others." Names reportedly still in play also include Governor Bill Richardson (D-NM), and US Senators Evan Bayh (D-IN) and Bob Graham (D-FL). Meanwhile, the New York Sun discovered this week that Congresswoman Jane Harman (D-CA) was recently interviewed about the VP spot by Kerry advisor Jim Johnson -- placing her name in play for the first time.
Posted by Ron Gunzburger - 04.29.04 |
FORMER

CONGRESSMAN CHARGED WITH MANSLAUGHTER. Retired Congressman Wes Watkins (R-OK) was charged this week with two counts of negligent homicide for the traffic deaths of an Oklahoma couple. Brian Cullen, 32, and Ardith Cullen, 34 --both college students and the parents of five young children -- were killed in the April 19 crash. Watkins was driving on a highway when his minivan struck the Cullen's car, that had stopped to make a left turn. The collision pushed the car into oncoming traffic and it was struck by a tanker truck and another car. Watkins, at the time, was cited for inattentive driving. The homicide charges are both misdemeanors punishable by up to one year in jail. Payne County District Attorney Rob Hudson said the facts and Watkins' remorse made it unlikely that he would seek any jail time -- which, he noted, is how he would handle any similar case. Watkins served in Congress from 1977-91 and then again from 1997 until his retirement in 2003.
Posted by Ron Gunzburger - 04.29.04 |
SPECTER NARROWLY SURVIVES CHALLENGE.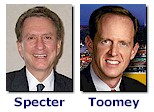 With nearly all the votes counted, it appears that US Senator Arlen Specter won the very tight GOP primary contest over conservative challenger Congressman Pat Toomey by a 51% to 49% vote (and 15,000 vote margin). Toomey frequently denounced Specter -- a moderate -- as a RINO (Republican In Name Only). Specter countered that he had the seniority to get the job done and was electable in this swing state. President Bush had also placed his political clout on the line for Specter, having intensely campaigned in support of the incumbent. At one point in the evening, Specter jumped out to a huge 18-point lead -- but then it was discovered that one county had incorrectly reported 95,000 extra votes for Specter. The error was corrected within minutes. Specter will next face Congressman Joe Hoeffel (D). Another close race was the GOP primary in CD-9 between Congressman Bill Shuster and conservative businessman Michael DelGrosso. The two men remained virtually tied for most of the night -- with the lead switching back and forth -- before Shuster locked up a 51% to 49% win. In the CD-13 race to replace Hoeffel, State Senator Allyson Schwartz won a very close race for the Democratic nomination and will face physician Melissa Brown (R). Schwartz is a small favorite over Brown, who has previously lost three consecutive runs for the seat. Meanwhile, in the open CD-15 race to replace Toomey in the House, State Senator Charlie Dent won the three-way GOP primary. While Dent is favored to win in November, he will face a spirited contest from wealthy developer Joe Driscoll (D). See our Pennsylvania page to view the list of all the general election nominees.
Posted by Ron Gunzburger - 04.28.04 |
PLACE YOUR BLOGAD ON POLITICS1 RIGHT NOW!! Special introductory prices: $50 for one week, $75 for two weeks, and $125 for a month. Click here to learn more!
DEM

LOOKS STRONG IN COLORADO SENATE RACE. Democratic prospects of scoring a US Senate pickup in the race to replace retiring incumbent Ben Nighthorse Campbell (R-CO) look pretty good these days. According to the new Rocky Mountain News/KCNC-TV poll, Attorney General Ken Salazar (D) is well positioned to defeat either beer magnate Pete Coors (R) or former Congressman Bob Schaffer (R). According to the poll, Salazar leads Coors by a wide 52% to 36% vote. The other possible match-up is a bit closer: Salazar-48%, Schaffer-37%. The numbers are interesting because the state's GOP establishment is largely backing Schaffer, but conventional wisdom implied that Coors would be a more popular electoral choice.
Posted by Ron Gunzburger - 04.28.04 |

CANDIDATE COMMITS SUICIDE ON PRIMARY DAY. While Pennsylvania voters were casting ballots on primary morning, State House candidate Sam Kovolenko (D-PA) apparently took a rifle and shot himself to death in his home. Kovolenko, 46, was a county government administrator and former state legislative aide. He was also competing in the primary for an open seat -- and had a realistic opportunity of winning the race. Kovolenko's wife discovered his body when she returned home in the early afternoon. One must presume there was something amiss with this tragic candidate besides the possibility that he may have faced electoral defeat. As for the vote, Kovolenko finished in second place out of five with 25%.
Posted by Ron Gunzburger - 04.28.04 |
TRACKING THE BATTLEGROUND STATES. Let's add yet another Pennsylvania story to today's news mix: the latest IssuesPA/Pew Poll of the Presidential race. The numbers: Kerry-42%, Bush-42%, Nader-5%. Bush lost the state by 4% in 2000.
Posted by Ron Gunzburger - 04.28.04 |
TOOMEY HAS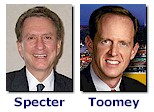 THE MOMENTUM. The only poll that counts is the poll on election day, which -- in the case of the hot Arlen Specter versus Pat Toomey GOP primary for US Senate -- is finally here. But, until the results roll in from Pennsylvania on Tuesday night, these two final polls will have to make do. Specter supporters will cite the final Quinnipiac College poll that shows: Specter-48%, Toomey-42%. Those Q-poll numbers reflect a one-point drop for Specter and a two-point drop for Toomey since last week's track. By contrast, Toomey supporters (and this writer) will point you to the final KDKA-TV/SurveyUSA tracking poll numbers: Specter-48%, Toomey-48%. That's a two-point drop by Specter and a four-point jump by Toomey since last week. Maybe it's just wishful thinking on my part (since I am a Dem), but my prediction is for a Toomey upset win over Specter. Toomey has momentum and a well-defined ideological message -- even if Toomey's message may be less palatable to swing voters in November than Specter's centrist record. A Toomey win will move the November race into the "No Clear Favorite" category, but Toomey will have energy and a decent shot of winning the general against lackluster Dem nominee Joe Hoeffel.
Posted by Ron Gunzburger - 04.27.04 |
SURPRISE

RETIREMENT IN NEW YORK. Six-term Congressman Jack Quinn (R-NY) surprised everyone Monday by announcing he would not seek re-election this year. Quinn, 53, said he was tired of making the frequent trips between Buffalo and DC and of the lengthy time spent away from his family. Quinn -- a former steelworker and teacher -- had built one of the most pro-labor union records of any Republican in Congress. Those close ties to organized labor help explain why Quinn regularly cruised to easy re-election wins -- even though Al Gore won his district by 12-points in 2000. In fact, he was expected to win big again this year. Quinn told the AP that he has not lined up any new job yet and would not rule out a future run for office. "You never say never. If I did, I'd still be teaching English," he joked. Quinn did not indicate a preferred successor, although several GOP prospects -- including Quinn's son -- are reportedly interested in the CD-27 seat. Meanwhile, the DCCC leaders said the Dems would make this open seat a top target race now that Quinn is retiring.
Posted by Ron Gunzburger - 04.27.04 |
DUBYA'S
GUARD SERVICE: "PROVE IT!" After weathering two weeks of sustained GOP potshots aimed at his Vietnam War record and later anti-war protests, John Kerry fired back sharply Monday at President Bush. Kerry seemed annoyed that -- even after he released his full military records last week -- the Vietnam-related attacks continued from the Bush camp. A typical example: Top Bush advisor Karen Hughes told CNN this past weekend that Kerry "only pretended to throw his" medals away at a 1971 anti-war rally -- when, in reality, Kerry threw away his medal ribbons, but not the actual medals. Doing his best Howard Beale act -- well, showing as much indignation as he can simulate -- Kerry told NBC: "If George Bush wants to ask me questions about that through his surrogates, he owes America an explanation about whether or not he showed up for duty in the [Alabama] National Guard. Prove it." Tough challenge. I can't wait to see the response.
Posted by Ron Gunzburger - 04.27.04 |
PENNSYLVANIA PRIMARY PREVIEW. Everyone -- at least, everyone who is political -- knows that the hot race on Tuesday is the GOP primary for US Senate between incumbent Arlen Specter and Congressman Pat Toomey. All the final polls show Specter holding a single-digit lead. With the low predicted turnout -- in the 10-12%

range -- Toomey is hoping to energize a conservative base that is excited about the chance to dump an entrenched moderate. That race should go down to the wire, and -- with low turnout -- anything can happen. On the Dem side, Congressman Joe Hoeffel is unopposed for the nomination and will be an underdog against Specter, but a slight favorite over Toomey. That's why President Bush and others have tried to mobilize efforts behind Specter. Other hot primary races to watch are the open Attorney General contest, and Congressional primaries in four districts. In CD-9, wealthy business consultant Michael DelGrosso is challenging two-term GOP Congressman Bill Shuster. DelGrosso is somewhat more conservative than Shuster. There are also exciting open-seat contests in CD-13 and CD-15. Finally, six Republicans are facing off in the swing CD-17 district for the right to face Congressman Tim Holden (D). You can find links to all the campaigns and key state media outlets on our Pennsylvania page.
Posted by Ron Gunzburger - 04.26.04 |
NEW YORK, NEW YORK. New York isn't a battleground contest -- NY is safely in the Dem column -- but we have a new poll from there to report. Here are the numbers from Sunday's Albany Times Union poll: Kerry-51%, Bush-32%. Here is my question: What in the world were Republicans thinking when they selected this as the place to host their national convention?
Posted by Ron Gunzburger - 04.26.04 |
LOUISIANA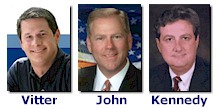 SENATE UPDATE. In the open US Senate race, it now appears that former Governor Buddy Roemer (R-LA) will not enter the contest. Roemer, who two weeks ago said he was planning to run, has now reversed course. Roemer -- the President of the Business Bank of Baton Rouge -- said he thought at the time that he was close to selling the bank and having the time to run. "I don't think the transaction will happen. If it doesn't, I'm not running for anything," he now tells LaPolitics.com. This must come as good news to Congressman David Vitter (R), who would likely have seen Roemer split the GOP vote in the state's unique open primary. The leading Democrats already in the Senate race are Congressman Chris John and State Treasurer John Kennedy. If no candidate wins a majority of the vote in the November 2 primary, the top two finishers -- regardless of party -- will advance to a December 4 run-off.
Posted by Ron Gunzburger - 04.26.04 |

STUPID IDEA OF THE MONTH. Louisiana state legislators will soon have an opportunity to get a grip on one of those really serious issues. Not health care. Not jobs. Not criminal justice. Not education. If freshman State Rep. Derrick Shepherd (D-LA) gets his way, the state will soon criminalize -- yup, criminalize -- the wearing of pants too low. Shepherd filed a bill this past week that would make it illegal for a person to wear "his pants below his waist and thereby exposing his skin or intimate clothing." If the bill is adopted, violators would face a fine of up to $500 and/or up to six months in jail. "I'm sick of seeing it ... The community's outraged. And if parents can't do their job, if parents can't regulate what their children wear, then there should be a law," explained Shepherd to the New Orleans Times-Picayune. From a fashion sense, I also dislike the style Shepherd wants to ban ... but this guy still should win a "Stupid Legislative Proposal of the Month" award. I agree with the old advice from former Minnesota Governor Jesse Ventura: "You can't outlaw stupidity." Shepherd's bill is unlikely to pass.
Posted by Ron Gunzburger - 04.26.04 |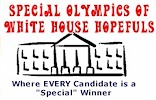 SPECIAL PRESIDENTIAL POLL - TAKE #2. I've been giving the Friday poll brouhaha some thought and decided to put up a new Presidential poll. Unlike Friday's aborted poll, this one is offered purely in the spirit of fun. In fact -- to level the playing field (and simultaneously render it purely frivolous) -- I've turned it into the "Special Olympics of Presidential Polls." Think about it: in the real Special Olympics, they always emphasize that every contestant is "special" and "a winner" just for participating. So, how did we level the field? By entirely eliminating Bush and Kerry from the poll! To make it even more fun, I've added in some of our favorite gadfly hopefuls like self-proclaimed Utah Acting-Governor Lawrence Topham, Tom "God told me to run" Wells, and wannabe world fascist dictator Jack Grimes. Now, if Aaron Russo's supporters want to vote for him early and often, that's okay by me. And -- to turn this fun poll into a good deed -- when you get to the results page, please consider clicking the link at the bottom to make a donation directly to the real Special Olympics. Click here to vote in our "Special" White House poll. IMPORTANT POSTSCRIPT: I don't know if the poll was hacked or the FreePolls.com service has a glitch but -- for the second time in three days -- one of my polls was entirely erased. FreePolls.com is looking into it and maybe we can figure out what happened.
Posted by Ron Gunzburger - 04.25.04 |

TRACKING THE BATTLEGROUND STATES. Since we excluded Bush and Kerry from our poll, I'll guess one of them will just have to settle now for the consolation prize of winning the real White House. In New Hampshire, the latest Rasmusson tracking poll shows Kerry-47%, Bush-45%. Bush won NH by 1.3% in 2000. Meanwhile, there's also a new Los Angeles Times poll out with California numbers -- although the state is not a battleground contest (CA is solidly in the Dem column). That said, here are the new California numbers anyways: Kerry-53%, Bush-41%. If Nader qualifies for the ballot, California becomes Kerry-49%, Bush-39% and Nader-6%.
Posted by Ron Gunzburger - 04.25.04 |

NADER FINDING MORE BALLOT ACCESS PROBLEMS. Two weeks ago, Ralph Nader stumbled and was unable to gather enough signatures to qualify for the easy access route to ballot status in Oregon. Now, Nader acknowledged his campaign is engaged in a "frantic" struggle to obtain a November ballot spot in Texas. He must collect 64,077 signatures in Texas by the May 10 deadline. Right now, it doesn't look good for him. He's hired full-time petitioners in four big cities and is now trying to hire more people. Nader does have a back-up plan if he misses. "We're going to file suit if we don't get the 64,000. It's totally arbitrary that an independent has to get that many signatures in 60 days while a third party only has to get 45,000 and has more days to do it," said Nader to the Fort Worth Star-Telegram.
Posted by Ron Gunzburger - 04.25.04 |
OUR NEW LOOK (CONTINUED) ... I'll admit I'm not entirely enamored with the new look. Actually, I liked the old look better from an aesthetic perspective. Yet, if these ads generate income (and we sold three Blogads on our very first day of offering them), then they'll achieve their purpose of providing a steady revenue stream. Don't worry about the content of the ads. Left, right, center ... or even a political dating service ... I can assure y'all that the content of the ads will never influence nor change my postings on Politics1.
Posted by Ron Gunzburger - 04.25.04 |
SOMETHING NEW. Yup, we joined the long list of sites using Blogads. Thus the new layout on our homepage. Are you interested in learning more about our very afforable rates? Click here for details ... and get your ad online ASAP! Hey -- no apologies here -- this commercialization helps pay the bills and keeps us online.
Posted by Ron Gunzburger - 04.23.04 |

WHO IS THIS GUY? If you've been watching all those news shows discussing John Kerry's Vietnam War record, you've likely seen his former combat unit member John O'Neill denouncing repeatedly Kerry. O'Neill questions Kerry's patriotism, his achievements, and his commitment to his fellow veterans. One sample quote: "I saw some war heroes ... John Kerry is not a war hero," said O'Neill on CNN. Daily Kos has the scoop on who is guy really is. Yes, he certainly served in Kerry's military unit -- but O'Neill didn't even join Kerry's unit until two months after Kerry finished his combat tour. When Kerry became an anti-war organizer after returning home in 1971, President Nixon personally cultivated O'Neill as the person he used to regularly attack Kerry on the national stage. O'Neill was soon rewarded for his GOP loyalty with a prestigious law clerkship to US Supreme Court Justice William Rehnquist in 1974-75. Now, O'Neill is back and again attacking Kerry all over the TV dial. And -- guess what -- O'Neill also has political ties to the current President Bush. It turns out O'Neill's own law partner is Margaret Wilson, who served as General Counsel to Texas Governor George W. Bush in 1998-2000. Hey, if folks can question Richard Clarke's motivations, then O'Neill's partisan background is also fair game.
Posted by Ron Gunzburger - 04.23.04 |
LATEST ON THE SPECTER-TOOMEY RACE. Another day, another close poll result. The latest Philadelphia Daily News/Keystone Poll shows Specter-46%, Toomey-40%. This explains why -- according to Roll Call -- National Republican Senatorial Committee Chair George Allen (R-VA) is urging his GOP colleagues to do whatever is needed to help save Specter. The NRSC is worried that the GOP could lose the seat in November if Toomey ousts Specter.
Posted by Ron Gunzburger - 04.23.04 |
TRACKING THE BATTLEGROUND STATES. In Iowa, the latest American Research Group poll shows Kerry-47%, Bush-45%, Nader-3%. Without Nader on the ballot, Iowa is Kerry-48%, Bush-47%. Bush lost Iowa by 0.3% in 2000. In Florida -- seemingly the crown jewel of the battleground states -- the race is Bush-46%, Kerry-45%, Nader-3%. In a two-man contest, Bush and Kerry were tied with 47% apiece. Now, isn't this exciting!
Posted by Ron Gunzburger - 04.23.04 |
NEVER MIND. Okay, I'll admit I'm rather annoyed right now ... but not with our regular visitors. We do our Friday Fun Polls each week -- no scientific value -- because, well, they're fun. So, we try doing a real poll (albeit for fun) this time on the Presidential race. I even wrote it would be a good way to get a measure of who our readership is. The Libertarian supports of candidate Aaron Russo, however, flooded the poll with what essentially were spam votes -- destroying it as a measure of anything (unless, of course, you believe that the Libertarian candidate will likely draw 45% of the vote, with Kerry around the 20% mark and Bush in the mid-teens). As for me, I was annoyed enough that I have now yanked this week's poll entirely. A note to all of you who are complaining about my decision to kill this week's poll (both the 10-way and 3-way Presidential contests): I try to keep Politics1 inclusive of all parties. All presidential nominees of ALL parties get full-length profiles on my site. Further, visitors to the site should note that we currently track the candidacies of hundreds of Libertarian (and Green, Constitution, etc.) candidates for Congress, Governor, etc., on each of our fifty individual state pages. They are given the same prominence as all other candidates. As I wrote in the original online posting announcing the poll, I wanted to use it to measure the sentiments and views of our site's regular readership. The spamming of the poll by hundreds of Russo supporters made that impossible. Further, it was also rather disrespectful of the fairness I've exhibited on Politics1 towards to the LP and its candidates for the past seven years. Is the solution to go back to the "fun" topics ... ditch the polls entirely ... or "other"? Comments?
Posted by Ron Gunzburger - 04.23.04 |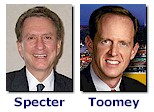 IS TOOMEY EDGING CLOSER TO MAJOR UPSET? Two new polls released Tuesday show that conservative Congressman Pat Toomey (R-PA) is rapidly narrowing the gap in his primary battle against incumbent US Senator Arlen Specter (R-PA). The KDKA-TV/SurveyUSA poll shows Specter-50%, Toomey-44%. The Quinnipiac University poll showed nearly identical numbers: Specter-49%, Toomey-44%. With just one week remaining until the hotly contested primary, it is never a good sign for an entrenched incumbent -- especially one with White House support and a fat campaign bank account -- to be holding a lead this narrow. Unless these polls are way off the mark, look for Toomey to defeat Specter next Tuesday. If Specter wins the primary, the seat is ranked as "Republican favored." However, if Specter loses the primary, most pundits would move the November contest to the "no clear favorite" category -- believing that a hardcore conservative like Toomey is less electable in this moderate Northeastern state. Then again, Rick Santorum (R-PA) -- who, like the White House, is supporting Specter -- is every bit as conservative as Toomey and was able to win two US Senate races in the state. Congressman Joe Hoeffel is unopposed for the Democratic nomination.
Posted by Ron Gunzburger - 04.21.04 |
KERRY WAFFLES ON RELEASING MILITARY RECORDS. Just one
day after promising to release his military records -- including his record of two tours in Vietnam -- John Kerry appeared to reverse course. Some Republicans have tried to raise claims that Kerry shouldn't have been awarded three purple hearts, the Silver Star and the Bronze Star in combat during the Vietnam War. Surprisingly, the Boston Globe reported Tuesday that "a [Kerry] spokesman said the Senator would not release any new documents, leaving undisclosed many of Kerry's evaluations by his Navy commanding officers, some medical records, and possibly other material." RNC Chairman Ed Gillespie subsequently called on Kerry to release his full military records to public scrutiny. We were pretty critical of President Bush a few months ago when he initially held back his controversial National Guard service records from full disclosure. And, candidly, we cannot understand why Kerry wouldn't want to do likewise (especially with all of his combat medals). Thus, add us to the chorus of those calling Kerry to release his full records. Fair is fair. Postscript: The Kerry campaign said Wednesday morning that they will now release all of Kerry's military records, and will do so by posting them on Kerry's campaign site by Wednesday evening.
Posted by Ron Gunzburger - 04.21.04 |

THE SUPREMES UPHOLD TX REDISTRICTING PLAN. The US Supreme Court on Monday rejected a Democratic appeal that challenged the procedures that the GOP-led Texas legislature followed when it passed the new Congressional redistricing maps late last year. The plan -- which was devised by US House Majority Leader Tom DeLay (R-TX) -- appears likely to cause a GOP gain of 4-5 congressional seats in the state. In a separate case, the Democrats have a second appeal pending before the Court challenging the legality of the reasoning behind the reapportionment plan. In a similar matter, the Court must also soon rule on the Pennsylvania case challenging weight given to political factors admittedly used in that state's GOP-led redistricting plan.
Posted by Ron Gunzburger - 04.21.04 |
DASCHLE

INDY OPPONENT BACKS DASCHLE. Native American activist and newspaper publisher Tim Giago (I-SD) -- a candidate against US Senate Minority Leader Tom Daschle (D-SD) -- was viewed as the Nader of the race. Supporters of challenger John Thune were gleeful when Giago announced his recent candidacy. You see, SD Native Americans comprise roughly 10% of the state's voters and have a history of voting Democratic. For the past two weeks, Democrats pressured Giago to exit the race, fearing he could be a spoiler in what is expected to be a close contest. This week Giago ended his run -- and endorsed Daschle in the process. Giago's exit moves the race back into the "leans Dem" category.
Posted by Ron Gunzburger - 04.21.04 |

TRACKING THE BATTLEGROUND STATES. In Arkansas, the new KTHV-TV/SurveyUSA poll shows a very tight race: Bush-47%, Kerry-45%. Bush carried Arkansas by 5.5% in 2000. In West Virginia, a new Rasmussen tracking poll shows Bush-46%, Kerry-41%. Bush won WV by 6-points in 2000.
Posted by Ron Gunzburger - 04.19.04 |

WANNA DATE A PRESIDENTIAL CANDIDATE? No, not Dubya or Kerry ... or even bachelors Dennis Kucinich or Ralph Nader. Actually, we're talking about a candidate far, far behind any of them: Prohibition Party Presidential nominee Gene Amondson. We found that he's currently listing himself as one of the available guys on the Seattle-Tacoma Christian Singles site. You'll note that Amondson -- a divorcé, artist and temperance lecturer -- plugs his availability in the "Meet Gene" featured profile box on the homepage, and with a separate Gene option on the homepage menu. The footer of the page seems to indicate Amondson is also the person who set up the page and runs the dating group too. Christian non-drinkers are encouraged to apply.
Posted by Ron Gunzburger - 04.19.04 |
KERRY/EDWARDS 2004 (OR MAYBE KERRY/RICHARDSON) ... On Friday, we asked you to make your best prediction as to who John Kerry will actually select as his Vice Presidential runningmate. The results were rather interesting -- and with no clear winner. Former Kerry rival John Edwards was first with 21.5%, followed by Bill Richardson with 17.5%, and Dick Gephardt at 11.4%. Here are the surprises from the poll: Tom Vilsack was fourth with 7.4% ... but likely short-list finalist Bob Graham was a distant seventh place. Click here to see the full poll results. We'll see how accurate you folks prove to be in -- I'd guess -- about a month or two from now.
Posted by Ron Gunzburger - 04.19.04 |
THE SILVER BULLET FOR COLORADO REPUBLICANS? Beer brewery magnate Pete Coors (R-CO) this week made it official when he announced his candidacy for the state's open US Senate seat. While Democratic leaders are already united behind the Senate candidacy of

Attorney General Ken Salazar, Republicans will still see a competitive nomination fight. Former Congressman Bob Schaffer (R) is also an announced Senate candidate and has the backing of nearly all of the state's GOP leaders. The prominent exception to that list is Governor Bill Owners (R), who earned the ire of some of his colleagues after he endorsed Schaffer last week ... and then one day later announced his success at recruiting Coors into the race. "The average Republican primary voter is going to connect with Bob Schaffer because of his background and his record. They understand that the Republican nomination is not for sale to the highest bidder," said State Treasurer Mike Coffman. Coors, however, appears to present the GOP with its best chance for holding onto the seat. A new Rasmussen poll released Thursday shows Salazar-47%, Coors-41%. By contrast, a Rocky Mountain News poll last week showed Salazar leading Schaffer by a 49% to 34% vote.
Posted by Ron Gunzburger - 04.16.04 |
ANOTHER

BROKEN TERM-LIMITS PLEDGE. Congressman Tom Tancredo (R-CO) announced Thursday that he will break his term limits pledge and seek re-election this year. After serving in Washington for three terms, Tancredo said he "concluded that term limits were a bad idea." Tancredo explained that he needs to remain in Washington so that he can continue his push to greatly restrict US immigration policies. He is one of the harshest critics of President Bush on immigration matters, claiming that Bush allows a virtually unrestricted "open door" border policy. Tancredo told that AP that he now plans to stay in Congress "for as long as he feels useful." Tancredo joins a list of politicos -- including US Senator Conrad Burns (R-MT), and Congressmen George Nethercutt (R-WA) and Marty Meehan (D-MA) -- who were initially elected to Congress on voluntary term-limits pledges that they later discarded. FYI: Tancredo holds a very safe Republican seat and appears unlikely to face any serious renomination challenge this year.
Posted by Ron Gunzburger - 04.16.04 |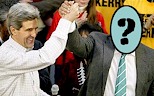 SO YOU THINK YOU'RE SO SMART? Lots of news stories these days center around the speculation as to who will be John Kerry's Vice Presidential runningmate. There was the month-long run of McCain stories -- until McCain finally and definitively shot them down last weekend. There are all those analytical "Midwest strategy"(Ohio-Iowa-Missouri) versus "Southern strategy" (Florida-Arkansas) stories. The Richardson stories about energizing Hispanic voters. The Lincoln/Landrieu speculation about a move to excite female voters. The Gephardt option for motivating labor and Midwest voters. The "add a second war hero" option to let the Dem ticket have total cover for attacking the President's Iraq actions. The speculation goes on and on. In the end, all those news stories are just guesses ... and your best guess is just as good as all those coming from all those celeb TV talking heads. Thus, we come to this week's Politics1 Poll: Who do you think John Kerry WILL actually select as his VP runningmate? Note: we are NOT asking who do you think he should pick or who you'd like to see picked. Rather, take you best guess at who will be facing off against Dick Cheney in this fall's VP debate.
Posted by Ron Gunzburger - 04.16.04 |