Paid Advetisement. Click here for more information and rates.
TRACKING THE BATTLEGROUND STATES. In Oregon, a new University of Oregon poll shows Bush-47%, Kerry-45%, Nader-1%. Bush lost Oregon by 0.5% in 2000. In Florida, a new Rasmussen poll shows Kerry-47%, Bush-46%. Bush carried FL by 0.01% in 2000.
Posted by Ron Gunzburger - 04.15.04 |
NEW JERSEY

CANDIDATE FILING CLOSES. Congressional candidate filing closed this week in New Jersey. At least, for now, none of the incumbents yet appear to be seriously at risk. However, there are some possibly competitive races worth watching. Congressman Mike Ferguson (R) faces a challenge in CD-7 from retired USMC officer Steve Brozak (D). Former College Republicans National Chair Bill Spadea is opposing Congressman Rush Holt (D) in CD-12. Congressman Jim Saxton (R) in CD-3 is facing a challenge from State Assemblyman Herb Conaway (D), who is also an attorney and physician. Freshman GOP Congressman Scott Garrett will likely face Bergen County Utilities Authority Chairwoman Anne Wolfe (D), the favorite to win the Democratic primary. Congressmen Steve Rothman (D) and Don Payne (D) are safe bets to return to DC, as both face only nominal primary challengers and no GOP opposition.
Posted by Ron Gunzburger - 04.15.04 |
SOMETIMES LIFE ISN'T FAIR. Life kinda sucks these days. Let me tell you a little bit about my longtime family friend Sue Katz. Sue was my mother's best friend for over 25 years.

Sue's husband Martin -- the kindest guy in the world -- died in a car crash in 1995. A realtor, Sue went into politics in 1998 (and I was always her campaign manager). Sue ran as a staunch environmentalist against an entrenched and pro-developer incumbent Pembroke Pines (Fla.) City Commissioner in a district in which the huge Century Village senior citizen condo community comprised 85% of all the voters. The incumbent was a senior citizen who lived in Century Village and Sue was a younger woman who lived in a nearby single-family home neighborhood. Surprising the experts, Sue was outspent but won by a 2-to-1 landslide margin. She won re-election without opposition in 2002. This year, Sue resigned from her safe seat to challenge the incumbent pro-developer Mayor. Sue refused all developer contributions -- even though it forced Sue to largely self-finance -- and ran a feisty reform campaign. Again nearly everyone predicted Sue would lose ... but on March 9, 2004, Sue scored a 53% to 47% upset win. For the final two weeks of the campaign, Sue felt fatigued and complained of having a stomach bug. She delayed going to the doctor until the day after she won. One day after winning, her doctor diagnosed she was suffering from ovarian cancer. She went into the hospital, came out to be sworn-in and presided over her first meeting on March 17. The next day, she went back in for surgery. Sue didn't call any of us because she never wanted people to see her as weak or sick. On the rare times her best friends heard from her, she told us everything was fine and she was recovering well. That was two weeks ago. Secondary illnesses then developed -- not that any of us knew about it -- and Sue, to our shock and surprise, passed away Wednesday morning at age 60. She is survived by her daughter and two grandchildren. Sue is the third person close to me that I've lost within the past few months. Like I said: life kinda sucks these days.
Posted by Ron Gunzburger - 04.15.04 |
TEXAS RUN-OFF RESULTS. Tuesday was primary run-off day in Texas. In CD-17, State Rep. Arlene Wohlgemuth (R) defeated former Waco School Board President Dot Snyder by a 54% to 46% vote.

Wohlgemuth will next face vulnerable Congressman Chet Edwards (D), in what is expected to be a top national GOP target race. In CD-1, former District Judge Louie Gohmert won the GOP nomination to face Congressman Max Sandlin (D) in what is likely to be another very competitive race. In a follow-up to another blog story we reported a few days ago, wealthy businessman Sam "I May Be A Cross-Dresser But At Least I'm Not a Homosexual" Walls lost his race for a State House seat by a 20-point margin. In related news, former Secretary of State Henry Cuellar was declared the narrow winner in the controversial Democratic primary recount over incumbent CD-28 Congressman Ciro Rodriguez. Rodriguez is now attempting to raise $100,000 to finance a legal fight to challenge the recount in which hundreds of additional uncounted Cuellar ballots were found in two counties that reversed the election day outcome.
Posted by Ron Gunzburger - 04.14.04 |

HERSETH
VS. DIEDRICH ... VERSUS KASS. We've been accused of giving excessive attention here to congressional candidate Stephanie Herseth (D-SD) in a purported conspiracy to feature good-looking people on this page. In fact, she easily won our "Best Looking Woman" in US Politics poll last month. Well, we think her real political rival is not former State Senator Larry Diedrich -- her GOP foe in the June special election (who, yes, has a real chance of winning the open seat contest). Instead, we're talking about supermodel Carmen Kass, 25, who is now a candidate in her homeland of Estonia for a seat in the European Parliament. Yup, we're thinking of a Herseth-versus-Kass contest in a "Miss Political Universe" contest. And, FYI, they're both unmarried.
Posted by Ron Gunzburger - 04.14.04 |

PROOF OF NEW RIGHT WING BIAS. I usually get accused -- as an admitted Dem -- of harboring a left-leaning bias here on the blog part of the site. In fact, some who Googled my background noted in the blog that "Ron works for a Democratic office." Well, since my old boss died in office last month, Florida Governor Jeb Bush just appointed a new person -- Rocky Rodriguez -- to be the Broward County Property Appraiser (and my new boss). Thus, for the record, I now officially work as "a top official in a Republican office." Rocky -- a Cuban immigrant and an American success story -- is a dedicated community activist and a good friend. And, FYI, he's already said he won't be a candidate in November for the office (after all, we are in Broward County -- the most heavily Democratic county in Florida). Okay, so feel free to now start flaming me and this site as a right-wing shills. Tuesday was his first day in the office -- and I was in meetings with Rocky or dealing with new matters all day long -- which explains why I had no free time to post any updates. Sorry about that.
Posted by Ron Gunzburger - 04.14.04 |
ALASKA SENATE RACE

UPDATE. US Senator Lisa Murkowski (R-AK) is facing a tight race this year to hold the seat she was appointed to fill five months ago. The seat was previously held by her father -- Alaska Governor Frank Murkowski (R) -- who made the controversial appointment when he resigned after his 2002 election as Governor. The latest KTUU-TV monthly tracking poll shows Murkowski narrowly trailing former Governor Tony Knowles (D) by a 47% to 45% vote, with State Green Party Co-Founder Jim Sykes at 2%. Murkowski is also expected to face primary opposition. In the poll, Murkowski led former State Senator Mike Miller (R) -- one potential challenger -- by a 74% to 22% vote. Murkowski led another potential primary foe -- former Wasilla Mayor Sarah Palin (R) -- by a slightly closer vote of 65% to 33%. Conventional wisdom is proving wrong here, as most pundits had predicted Murkowski would be more vulnerable in a primary contest than in the general election.
Posted by Ron Gunzburger - 04.12.04 |
McCAIN

GIVES ABSOLUTE "NO" TO KERRY VP SPOT. Appearing on NBC's Meet the Press on Sunday, rebellious Senator John McCain (R-AZ) appeared to finally reject any possibility that he would agree to be John Kerry's VP runningmate on the Democratic ticket. "No, no and no. I will not leave the Republican Party ... I will not be Vice President of the United States under any circumstances," said McCain. In an interview on ABC last month, McCain said then that he "would entertain" the Kerry veep spot if it was offered. Subsequent news articles reported the Kerry campaign was very interested in the prospects of McCain on the ticket. Last week, McCain was again highly critical of President Bush. That again prompted the Kerry-McCain chatter to grow. "I am not embarrassed to say that John Kerry is a friend of mine, but I want George Bush to be re-elected President," he explained. McCain is a candidate for re-election in 2004, and appears likely to face only nominal opposition.
Posted by Ron Gunzburger - 04.12.04 |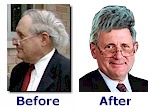 "THE JIM TRAFICANT AWARD FOR BAD HAIR GOES TO ..." In our Friday poll, we turned to the important matter of all the sad comb-overs, cheap hairpieces, and just bad hair styles of Capitol Hill. We asked: Who has the worst hair in Congress? You answered with a clear winner: US Senator Carl Levin (D-MI), who won in a 4-to-1 landslide. With his massive and messy comb-over, he placed first with 49% of the more than 1,200 votes cast. Accordingly, Levin has earned the right for the next year to wear Bad Hair Hall of Famer Jim Traficant's horrendous rug. To help you visualize it, we made an artist's rendering of what that would look like (and it doesn't look much worse than when it was formerly perched upon Traficant's head). Second place with 12% went to Senator Trent Lott's bulletproof 'do. Presidential candidate Dennis Kucinich was third with 11% -- giving him his best finish this year outside of the Hawaii caucuses. We'll try to get a comment from Levin's office and add it here as a postscript. Click here to view all the results -- and see all the contending bad hairstyles -- from this week's poll.
Posted by Ron Gunzburger - 04.12.04 |
FLORIDA SENATE RACE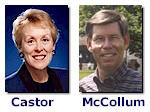 UPDATE. The fight for Florida's open US Senate seat appears to be heating up, according to a new Miami Herald/Mason-Dixon poll. The seat is currently held by retiring Senator Bob Graham (D). Here are the GOP primary numbers: former Congressman Bill McCollum-27%, former HUD Secretary Mel Martinez-18%, State Senator Dan Webster-8%, House Speaker Johnnie Byrd-6%, and businessman Doug Gallagher-6%. McCollum was previously the GOP nominee for US Senator in 2000. On the Democratic side, the race looks like this: former State Educator Commissioner Betty Castor-33%, Congressman Peter Deutsch-16%, and Miami-Dade County Mayor Alex Penelas-9%. Castor may lead in the polls, but Deutsch leads in the money hunt. Deutsch has $4.5 million in the bank, Penelas has $3 million and Castor has a little over $1 million. By contrast, all of the top five GOP contenders have between $1 million to $1.7 million apiece in their bank accounts. The likely general election match-ups look to be very competitive. Castor barely led McCollum by 1-point in a 39% to 38% vote. Castor did slightly better against Martinez, leading by a 39% to 36% vote.
Posted by Ron Gunzburger - 04.09.04 |
DICK CLARKE VS. CONDI RICE. Nope, we aren't going to wade in with an opinion on this important "he said"/"she said" news item that will certainly impact the Presidential race. Who is telling the truth? Are they both telling the truth (based upon their own perceptions) ... or is some big-time CYA going on? We have our opinion and you, we're certain, already have yours pretty much set. Use the Comments section to debate this story today.
Posted by Ron Gunzburger - 04.09.04 |

TONSORIAL TERRORS: THE JIM TRAFICANT AWARD. Our Friday Fun Poll back yet again, this time with another new theme: The sad comb-overs, cheap hairpieces, and just bad hair styles of Capitol Hill. With Jim Traficant (right) -- already inducted into the Congressional Bad Hair Hall of Fame (and it turned out to be a rug, too!) -- away in prison and no longer eligible to compete, other pols finally have a chance to win. Who will claim the crown of worst hair in Congress? Carl Levin's comb-over? John Mica's rug? Dennis Kucinich's mop? You'll decide after viewing the pix of our top ten contenders!! Click here to vote in this week's poll.
Posted by Ron Gunzburger - 04.09.04 |
OPEN THREAD. No updates today -- 04.08.04 -- so feel free to debate anything you'd like. Bush versus Kerry. Rice versus Clarke. Veepstakes. Whatever. We'll be back with more stories on Friday.
Posted by Ron Gunzburger - 04.08.04 |
A POLITICS1 EXCLUSIVE: MURDEROUS POLITICAL WEBSITE NAMES. As much as we may

dislike a candidate now and again, I cannot ever imagine urging people to murder a candidate. And, in fact, to do so involving a federal candidate -- even seemingly in jest -- can often lead to a criminal threat assessment (and possible arrest) by the US Secret Service. That's why we were shocked by four registered Internet domain names we came across while trying to find more sites for our Presidential listings. While doing a search for site names containing the name Nader, we discovered that someone had recently registered AssassinateNader2004.com (it was unclear from records who actually registered it). That prompted us to do a further search for registered domain names that feature the word "assassinate." Here are the others we found: AssassinateJohnAshcroft.com and AssassinateTomRidge.com (both purportedly registered by Avila Computer Corporation of Newbury Park, California), and AssassinateThePresident.com (not currently online, but purpotedly registered by Soylent Communications of Mountain View, California). I'm usually a pretty hardcore civil libertarian, but these domain names seem to cross the line of both taste and legality.
Posted by Ron Gunzburger - 04.07.04 |
SPECTER IN TROUBLE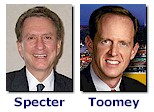 IN PENNSYLVANIA SENATE RACE. Supporters of US Senator Arlen Specter (R-PA) had better start treating the primary challenge from Congressman Pat Toomey as a very serious threat. Specter positions himself as a pro-choice GOP centrist who is a loyal Bush supporter, while Toomey portrays himself as a pro-life conservative trying to dump a RINO incumbent. For months, Specter appeared to be safely fending off Toomey. Polls in recent weeks showed the race closing -- but none showed the race as close as the newest KDKA-TV/SurveyUSA poll of "certain" primary voters. The numbers: Specter-46%, Toomey-40%. Supporters of Congressman Joe Hoeffel -- the Democratic candidate for the seat -- are clearly praying for a Toomey victory. Hoeffel is a decided underdog to Specter, but would likely be favored over Toomey. Dems believe they will pickup many of Specter's moderate supporters in November if Specter is dumped in the April 27 primary.
Posted by Ron Gunzburger - 04.07.04 |
TEXAS

RUN-OFFS ARE A DRAG FOR GOP CANDIDATE. Wealthy businessman and former county GOP chairman Sam Walls (R-TX) was favored to win the GOP run-off on April 13 for an open -- and safely Republican -- State House seat. That was, until old pictures of Walls started to surface in the news showing him dressed in women's clothes. A consultant for Walls' opponent said they were recently shown dozens of photos of Walls dressed in drag, but they claim their campaign was not the source that mailed the photos to reporters and GOP leaders. Some GOP leaders are now urging Walls to quit the race. Walls says he won't be "blackmailed" in exiting the contest over "very old, personal information" that was "a small part of my personal past." Walls -- a 64-year-old father and grandfather -- has been married for 38 years. "My opponent is using the private information in an attempt to intimate that I am a homosexual, which I am not," he added. Stay tuned to see if the "Okay, maybe I'm a cross-dresser -- or, at least, was one -- but at least I'm not a homo" argument flies in a Texas Republican contest.
Posted by Ron Gunzburger - 04.07.04 |

TRACKING THE BATTLEGROUND STATES. In Colorado, a new Rocky Mountain News poll shows Bush-49%, Kerry-40%. Bush won Colorado by 8% in 2000. In related news, the same poll shows Attorney General Ken Salazar (D) at 49% versus former Congressman Bob Schaffer (R) at 34% in the race for Colorado's open US Senate seat. In Florida, a new Orlando Sentinel/Mason-Dixon poll shows Bush-51%, Kerry-43%. Bush carried FL by 0.01% in 2000. In Ohio, a new Columbus Dispatch poll shows a razor-thin margin: Bush-46%, Kerry-45%. If Nader is on the ballot, Ohio becomes: Bush-45%, Kerry-43%, Nader-3%. Bush won Ohio by 3.5% in 2000. In Michigan, a new WDIV-TV/SurveyUSA poll shows Kerry-51%, Bush-41%. Bush lost Michigan by 5% in 2000. In Minnesota, a new Minneapolis Star-Tribune poll shows Kerry-50%, Bush-38%. Bush lost MN by 2.4% in 2000.
Posted by Ron Gunzburger - 04.06.04 |
NADER FAILS IN OREGON BALLOT DRIVE. Most

observers thought -- incorrectly, it turns out -- that Ralph Nader would have a pretty easy time securing a spot on the Oregon ballot this year. After all, Nader captured 77,000 votes here in 2000 and drew huge crowds each time he visited the state four years ago. By state law, all he needed was to collect a thousand signatures at a single gathering. At a Monday rally in Portland, Nader collected just 741 signatures at the event. The event was intended to make Oregon the first state to qualify Nader for a ballot spot. The result, however, forced Nader to announce he will instead attempt to gain ballot access in the state by collecting 15,000 signatures over a three month period. Nader blamed the bad turn-out on competition he faced with the televised NCAA basketball championship game. "Even the best basketball player doesn't get a slam-dunk every time ... Don't worry, we'll be on the ballot in Oregon," said Nader. Other factors may have also contributed to Nader's poor showing Monday. Howard Dean -- who had a strong following in the state's large progressive community -- Monday openly urged his supporters there to ignore Nader's candidacy and support Kerry. Also, a group of former Nader supporters also held a press confererence in Portland during the day to endorse Kerry. "This time the stakes are just too high to vote for Ralph Nader," said Jay Ward, conservation director for the Oregon Natural Resources Council.
Posted by Ron Gunzburger - 04.06.04 |
NY CONGRESSMAN ANNOUNCES

RETIREMENT. Veteran Congressman Amo Houghton (R-NY) announced Tuesday that he will not seek re-election this year. Houghton, 77, had flirted with retirement over the past four years. "I tell you, when you get to be 77 and you're looking at 78, that may be a good reason [to retire]. I don't want to be known as Strom Houghton," he joked. Houghton -- the former CEO of glassware manufacturer Corning Inc. -- is the wealthiest member of the US House, with an estimated net worth exceeding $300 million. Houghton -- a GOP centrist -- was also the founder of the Republican Main Street Partnership, a group that works to promote socially moderate views and candidates within the GOP. Houghton was first elected to Congress in 1986 and his CD-29 seat is safely Republican. State Senator John "Randy" Kuhl (R) is the early favorite to replace Houghton, although several other Republicans are also in the race.
Posted by Ron Gunzburger - 04.06.04 |
KERRY V.P. SEARCH UPDATE. Senator John Kerry hopes to have a VP runningmate selected by the end of May -- although the process may take longer than that.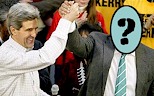 By doing so, according to the New York Times, AP and other news sources, Kerry could then have a second person on the campaign trail bashing the Bush record. Among those already interviewed by Kerry's selection panel are John Edwards, Dick Gephardt, Bill Richardson, and Tom Vilsack. Bob Graham hasn't been interviewed yet, but it appears the group plans to also speak with him. Most interestingly, the group also remains highly interested in John McCain as a possible runningmate. According to one source, McCain would prefer not to be placed in the position of having to decide on the VP spot -- but Kerry aides believe the GOP Senator could be convinced to do so if Kerry personally presses him. In comments to the Boston Globe on Friday, McCain said that the Republican Party "has gone astray" on environmental and minority issues. "I think the Democratic Party is a fine party, and I have no problems with it, in their views and their philosophy. But I also feel the Republican Party can be brought back to the principles I articulated before." Re-read that part: McCain said he "has no problem" with current Dem views -- but thinks the GOP needs to be "brought back" to views he can support. Next, McCain was particularly harsh with Bush on Iraq, which was an issue on which he previously supported the President. "You can't fly in on an aircraft carrier and declare victory and have the deaths continue. You can't do that," said McCain. "Many people ... question, legitimately, whether we should have gone in [to Iraq] or not," he added. Two questions: (1) Is this guy a "Dem tease" or what? (2) Is McCain running for re-election as a Democrat or Republican this year?
Posted by Ron Gunzburger - 04.05.04 |
ALABAMA, TENNESSEE FILING CLOSES. Candidate filing closed in two states on Friday. In Tennessee, while all congressional incumbents drew opponents, the only competitive race appears to be the rematch in CD-4 between freshman Congressman Lincoln Davis (D) and Tullahoma Alderman Janice Bowling (R). In Alabama, voters are likely to see several interesting contests. Freshman Congressman Artur Davis (D) faces a spirited primary challenge from Perry County Commissioner Albert Turner Jr. Similarly, Congressman Spencer Bachus (R) will face primary opposition from Phillip Jauregui, the attorney who represents ousted State Supreme Court Chief Justice Roy Moore. GOP incumbents also drew credible opponents in CD-1 and CD-3 -- but both incumbents remain favored. US Senator Richard Shelby (R-AL) faces only nominal opposition.
Posted by Ron Gunzburger - 04.05.04 |

FOUR MOORE YEARS? Ousted State Supreme Court Chief Justice Roy Moore (R-AL) -- the "Ten Commandments Judge" -- continues his flirtation with the Constitution Party. However, in recent days, he seems less likely to become a third party candidate for President in 2004. When asked directly by a potential supporter, Moore replied that he "probably" would not run this year and would instead concentrate on making a run for Alabama Governor in 2006. That has not deterred a group of Moore supporters in the Constitution Party from launching a formal Draft Moore for President committee. Maryland attorney Michael Peroutka -- the CP's likely Presidential nominee -- has repeatedly said he would step aside if Moore wanted the nomination.
Posted by Ron Gunzburger - 04.05.04 |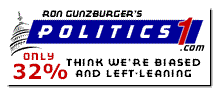 60% BALANCED AND FAIR! Last Friday we asked you to weigh-in whether or not you perceived any significant political bias here at Politics1. First, I certainly enjoyed reading your debate about my various purported history, views and motives. Second, your vote inspired me to play with possible new slogans for the site. How about "Politics1 ... Only 32% think we're biased and left-leaning!" as a hot slogan? I think that's much catchier than Fox's "Fair and Balanced. We Report and you decide." Anyways ... check out the results of our latest Politics1 Poll.
Posted by Ron Gunzburger - 04.05.04 |

SOUTH DAKOTA UPDATE. No, this is not just another excuse to run congressional candidate Stephanie Herseth's (D-SD) photo. In fact, we have new independent polling numbers on her race. The latest Rapid City Journal/Zogby poll of the June special election showed Herseth-53%, Larry Diedrich (R)-37%. Diedrich has cut the margin of Herseth's lead in half since the last poll on the race two months ago -- and amazingly did so even though nearly half of all poll respondents still were unfamiliary with who Diedrich was. That implies Diedrich still has the ability to narrow the gap by quite a bit more as more voters learn of him. In the hotly contested US Senate race, the same poll showed Senate Minority Leader Tom Daschle (D) at 48.2%, and former Congressman John Thune (R) at 42.6%.
Posted by Ron Gunzburger - 04.02.04 |
KERRY-KERREY? TOO CONTRARY! The chances of a John Kerry-Bob Kerrey ticket this year appear to be about zero, even though some have speculated on it. Kerrey -- who won the Congressional Medal of Honor for heroism in combat in Vietnam -- is a former US Senator and Nebraska Governor. These days, Kerrey lives in New York City with his wife and young child. "The only way I'm going to run is if I'm willing to tolerate the consequences of having two ex-wives. And I'm not," exclaimed Kerrey to the New York Daily News.
Posted by Ron Gunzburger - 04.02.04 |

TRACKING THE BATTLEGROUND STATES. In New Hampshire, the latest American Research Group poll shows Bush-48%, Kerry-43%, Nader-3%. Without Nader on the ballot in NH: Bush-48%, Kerry-45%. Overall, these numbers show a 3-point increase for Bush, a 4-point jump for Kerry, and a 5-point drop for Nader since last month's ARG poll. Bush won NH by 1.3% in 2000. In New Mexico, the latest ARG tracking poll shows Bush-46%, Kerry-45%, Nader-3%. Without Nader on the ballot, Kerry and Bush are tied with 47% apiece in NM. Bush lost NM by 0.06% in 2000. In Wisconsin, the latest Milwaukee Journal Sentinel/Univ of Wisconsin poll shows Bush-47%, Kerry-41%, Nader-5%. However, the race changes to Bush-49%, Kerry-45% without Nader in the mix. Bush lost Wisconsin by 0.2% in 2000.
Posted by Ron Gunzburger - 04.02.04 |
FRIDAY FUN POLL. It's Friday, so we're back with another one of our polls. This week we're asking about something you folks seem to spend lots of time debating in these comments (including yesterday's April Fool's Scooby/Howard Dean story). The question: "Is Politics1 unfairly biased?" Click here to register your thoughts in our latest POLITICS1 POLL.
Posted by Ron Gunzburger - 04.02.04 |
CLARKE UNMASKED BY BUSH TEAM INVESTIGATORS. Bush Administration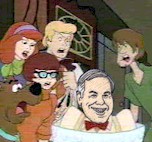 insiders always thought there was something strange about anti-terrorism expert Richard Clarke, but they just couldn't figure it out. After a week of having Clarke undermine Bush's reputation as an anti-terrorism leader, they hired a secretive -- and non-partisan -- squad of top political investigators known as "The Mystery Gang" to dig into Clarke's background. What they found confirmed Karl Rove's hunches about the guy. First, they uncovered that Clarke -- gasp! -- had voted for Al Gore in 2000. They next began conducting surveillance on Clarke and trailed him last night from a TV studio and down to the old abandoned amusement park. When they finally caught up with Clarke, they noticed something seemed amiss. Acting on their suspicions, they grabbed him and discovered that Clarke appeared to be wearing a very realistic, CIA-produced facial mask that vividly mimicked the look of real living skin. One member of the team tore away Clarke's mask ... revealing it was really Howard Dean. "Zoiks," exclaimed investigator Shaggy, the Green Party member of this multi-partisan team. "Look, it's old Doc Dean," said Chief Investigator Fred, the GOP member of the squad. "We always thought there was something odd about Clarke, and now it all makes sense," proclaimed Velma, a prominent gay rights activist and the Democratic member of the squad. "I would have gotten away with it, too, if it wasn't for you pesky kids," grumbled Dean. "We feel vindicated," said Bush campaign spokesperson April Fuwelz-Deigh, "In fact, this incident is yet another reason why Congress needs to adopt the new 'Patriot Act 2004' to ban domestic troublemakers like Dean and the politically subversive network known as the 'Democrat Party.'"
Posted by Ron Gunzburger - 04.01.04 |
CONGRESSMAN LOSING TEXAS RECOUNT. On the day after the March 9 primary in Texas, the final official vote tally in the sprawling CD-28 district showed that three-term Congressman Ciro Rodriguez (D) narrowly survived a primary challenge from former Secretary of State Henry Cuellar by a margin of just 126 votes. Several days ago,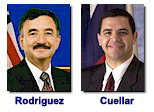 Cuellar met the deadline to request a hand recount and his campaign plunked down the hefty fee required to pay for it. Turns out it was a good investment. While the initial recount from one county first increased the Rodriguez lead up to 150 votes, the combined results from the nearly completed recount in the other counties have now pushed Cuellar into an overall lead by 201 votes. Three more counties are still conducting their recounts. More than 300 uncounted ballots turned up in a locked ballot box in Zapata County -- and 78% of them were for Cuellar. In Webb County, Cuellar gained another 177 votes in the recount -- while no new votes were found there for Rodriguez. In Bexar County, by contrast, the recount found only 4 additional votes for Cuellar. Texas Democratic Party officials said the recount vote total in Webb was 115 votes higher than the number of ballots tallied on primary night. A recount to determine the actual total number of ballots cast in the county is scheduled for Sunday. Webb and Zapata are both Cuellar political strongholds, prompting Rodriguez to suggest vote fraud in the recount. "Something is happening, and it's not correct and it's not appropriate. There's no logic, no explanation for what has occurred," said Rodriguez. "Mr. Rodriguez was gracious when he was ahead. I wish he would be gracious when he's behind," replied Cuellar. The two men differ on few issues, so the campaign was largely about their differing styles and claims of effectiveness. Whichever man wins the nomination is almost certain to win in November in this safely Democratic district.
Posted by Ron Gunzburger - 04.01.04 |
TRACKING THE BATTLEGROUND STATES. President Bush's attack spots against John Kerry in targeted states in recent weeks appear to be working. In Pennsylvania, the new Pittsburgh Tribune-Review/Keystone Poll shows Bush-46%, Kerry-40%, Nader-3%. These numbers reflect a 7% drop for Kerry over the past month. Bush lost Pennsylvania by 4-points in 2000.
Posted by Ron Gunzburger - 04.01.04 |
SEE 'YA IN

FOUR. It is our sad duty announce that one of our most amusing gadfly Presidential candidates -- Randy Crow (D-NC) -- has ended his 2004 run for the White House. Crow, for those who don't recall, is that guy who wrote on his campaign site that a secret and powerful "federal force" surreptitiously implanted a spying computer chip in his stomach, that he suspects he may be The Returning Christ, and that this Politics1 site is part of the world "zioni$t nazi communi$t" conspiracy. Crow finished 15th place in the New Hampshire primary (60 votes) and 10th place in the Texas primary (6,300 votes - 1%). Within the past few days, Crow posted online his notice of withdrawal, but added that he'll back in 2008 to seek the Presidency again. Question of the Day: If even a goof like Randy Crow can figure out that Kerry has locked up the Dem nomination and that further primary campaigning is futile, what will it take for Congressman Dennis Kucinich to realize the same?
Posted by Ron Gunzburger - 04.01.04 |
Return to
MAIN BLOG
PAGE
BLOG ARCHIVE:

April 1-15, 2004
March 15-31, 2004
March 1-14, 2004
February 15-29, 2004
February 1-14, 2004
January 17-31, 2004
January 1-16, 2004
December 16-31, 2003
December 1-15, 2003
November 17-30, 2003
November 1-16, 2003
October 29-31, 2003
---
OTHER WRITINGS:

Florida Presidential Recount (2000)

Defense Dept. JCOC Program (2001)

Storming La Fiesta (2003)

NHL All-Star Game (2003)
---
POLITICAL
BLOG ROLL:
KINDA NEUTRAL:
ABC News: The Note
CNN: Morning Grind
Political Wire
MSNBC: First Read
CJR: Campaign Desk
Political State Report
WatchBlog
Command Post
Real Clear Politics
WSJ: Best of the Web
OxBlog
PressThink
DEM/LEFT:
DNC: Kicking Ass
DCCC Blog
DailyKos
John Kerry
Howard Dean/DFA
Emerging Dem Majority
Amer Prospect: Tapped
Eric Alterman
ElectaBlog
TNR: &c
TNR: Campaign Journal
Blogging of the President
Joe Trippi
Swing State Project
Battlegrounds & Ballot Boxes
Josh Marshall
Wonkette
Karl Frisch (Carl with a K)
Matthew Yglesias
GOP/RIGHT:
RNC (GOP.com)
George W. Bush Blog
Bush Blog (Unofficial)
National Review: Corner
C-Log
Andrew Sullivan
John Ellis
Mickey Kaus
Virginia Postrel
Instapundit
Hugh Hewitt
Daniel Drezner
Daily Pundit
Bully Pulpit
World Mag Blog
Right Wing News
Volokh Conspiracy
Brothers Judd
Power Line