BLOG ARCHIVE: MARCH 1-15, 2009.
PATERSON SINKS LOWER; VITTER PRIMARY FIELD CLEARS; SC CONGRESSMAN BROWN FACES MAJOR PRIMARY CHALLENGE; EX-CONGRESSMAN GOODE SEEKS REMATCH.
NEW YORK. Governor David Paterson (D) has

seen his approval plummet since he took office a year ago. A new Manhattanville College poll shows Paterson has a 29% approval rating versus a 66% disapproval rating. Those numbers virtually ensure he will face stiff primary competition next year, likely from Attorney General Andrew Cuomo (D).
LOUISIANA. Social conservative activist Tony Perkins – President of the Family Research Council and a former state legislator – announced he will not be a primary candidate next year against US Senator David Vitter (R). Vitter lost support among his conservatives base two years back after getting caught in a prostitution scandal. With Secretary of State Jay Dardenne (R) previously expressed an interest in the seat, although his lack of activity in moving forward with a campaign seemingly indicates he will also pass on the race. Porn performer Stormy Daniels is exploring a GOP primary challenge to Vitter -- claiming she wants to expose his hypocrisy -- but it is essentially a publicity stunt for her own career.
SOUTH CAROLINA. Carroll "Tumpy" Campbell III (R) -- son of the late Governor Carroll Campbell -- announced this week he will challenge 73-year-old Congressman Henry Brown in next year's GOP primary. "Henry Brown's a nice guy, but the reality of it is, as much as I'd like to lay blame on the Democratic Party for putting this country in a direction I don't certainly support, I also have to look at my friends in the Republican Party," said Campbell in his announcement statement. Gulf War veteran and '08 candidate Katherine Jenerette (R) has also announced her intention to challenge Brown again in the primary. Brown won re-election last year by an unexpectedly close 52-48 vote, and has yet to announce his re-election plans for 2010.
VIRGINIA. Former Congressman Virgil Goode (R) filed paperwork this week to seek a rematch next year against freshman Congressman Tom Perriello (D). The Democrat narrowly ousted Goode in one of the major upsets of the 2008 cycle.
Daily Report by Vin Gopal - Email Vin - Facebook Vin - 03.14.09 | Permalink |
LIEBERMAN BACKS DODD; CORZINE FALLS FURTHER BEHIND; CONGRESS APPROVAL RATING GROWS; HOUSE GOP LEADER OPEN TO SECOND STIMULUS; NY CD-20 RACE NEARLY TIED.

CONNECTICUT. US Senator Joe Lieberman (I) said he is supporting US Senator Chris Dodd (D) for re-election next year. Dodd had chaired Lieberman's 2004 Presidential campaign and then supported Lieberman for re-election in the 2006 primary -- but switched his support to peace candidate Ned Lamont against Lieberman after defeating Lieberman in the 2006 primary. The Lieberman endorsement is a big boost for Dodd, who could possibly face a competitive re-election next year. Lieberman carries a lot of weight among independents and moderates in Connecticut. Former Congressman Rob Simmons (R) -- defeated for re-election in 2006 -- is expected to announce his candidacy against Dodd this weekend.
NEW JERSEY. A new Quinnipiac University poll shows that Governor Jon Corzine (D) continues to face a race this year. Former US Attorney Chris Christie -- the likely GOP nominee -- leads Corzine by a 46-37 vote. Corzine holds a 40% approval rating. The latest Rasmussen poll also confirms Corzine is badly trailing. The numbers: Christie - 49%, Corzine - 34%, Others - 7%.
CONGRESS. Gallup reports the approval rating for Congress now stands at 39%. This reflects a sharp 12-point jump since last month.
ECONOMY. House Minority Whip Eric Cantor (R-VA) told Politico that he wouldn't "rule out the the idea of a second stimulus package and said ... he would be willing to sit down with the White House and congressional Democrats to discuss any new emergency spending proposals. Cantor said he would only support a package that differed from the first stimulus and

includes additional tax cuts for small businesses. "It depends what it would include ... Number one request is: help small business people. Give them some tax relief," said Cantor.
NEW YORK. Wealthy venture capitalist Scott Murphy (D) is rapidly gaining on State Assembly Minority Leader Jim Tedisco (R), reducing Tedisco's lead by 8-points over the past two weeks. According to the latest Siena Research tracking poll, Tedisco now leads Murphy by a 45-41 vote in the CD-20 special election to fill US Senator Kirsten Gillibrand's open former House seat. In what is likely to cause a small setback to Tedisco in a close race, Libertarian Party State Chair Eric Sundwall has apparently submitted sufficient petitions to also qualify for the March 31 ballot.
Daily Report by Vin Gopal - Email Vin - Facebook Vin - 03.13.09 | Permalink |
MAN OF STEELE; TSA INVESTIGATES VITTER AIRPORT INCIDENT; CONSERVATIVE BASE SPLIT IN SPECTER PRIMARY.
REPUBLICANS.

Republican National Chairman Michael Steele is continuing to be highly controversial with his public remarks. On Wednesday, Steele told columnist Cal Thomas that he was unconcerned about Republican insiders sniping at him. "The mice who are scurrying about the Hill are upset because they no longer have access to the cheese [money], so they don't know what's going on," said Steele. Also, in remarks certain to inflame social conservatives, Steele told GQ magazine that he supports abortion rights. "I think that's an individual choice," he said. Steele also disputed the conservative view that being homosexual is a lifestyle choice. "I don't think I've ever really subscribed to that view that you can turn it on and off like a water tap. ... You just can't simply say, oh, like, 'Tomorrow morning I'm gonna stop being gay.' It's like saying 'Tomorrow morning I'm gonna stop being black,'" explained Steele. While Steele's words may seek to broaden the party's appeal, they are also likely to infuriate many party activists.
LOUISIANA. CNN reported that US Senator David Vitter (R-LA) went ballistic at Dulles Airport after -- running late -- he realized that the gate had closed boarding for his flight. Instead of accepting the situation, he pushed through an alarmed door and loudly demanded to be let onto the plane. He reportedly used the "do you know who you're dealing with" approach. When the gate agent refused and went for security assistance, Vitter backed down. "In a rush to make my flight home for town hall meetings the next day, I accidentally went through a wrong door at the gate. I did have a conversation with an airline employee, but it was certainly not like this silly gossip column made it out to be," Vitter said in a written statement. According to The Hotline, the Transportation Security Administration has opened an investigation of the incident. Vitter was ensnared as a client in the highly publicized "DC Madam" escort ring scandal two years ago.
WHITE HOUSE. President Barack Obama has tapped Assistant Secretary of State Christopher Hill to be the next US Ambassador to Iraq, and Army Lieutenant General Karl Eikenberry to become the new US Ambassador to Afghanistan.
PENNSYLVANIA. Conservative activist Peg Luksik will seek the Republication nomination for US Senate in 2010. Luksik, an anti-abortion activist, has run three times for Governor. In her announcement, Luksik said incumbent Arlen Specter (R) is insufficiently conservative. Former Congressman Pat Toomey -- who lost to Specter by a 51-49 vote in the 2004 primary -- is also expected to enter the race this month.. Luksik and Toomey will likely split the conservative base. She told the Star Tribune that Toomey told her last month that he wouldn't challenge Specter, and she expects him to honor his comments. However, since then, Toomey says Specter's vote in support of the stimulus plan was a "betrayal" of conservative values. Luksik called on Toomey to stay out of the race, saying his entrance now would help give Specter a primary win. She vowed to remain in the race if Toomey also runs.
Daily Report by Vin Gopal - Email Vin - Facebook Vin - 03.12.09 | Permalink |
DODD POSTS WEAK NUMBERS; REPUBLICANS ORGANIZING TO DUMP STEELE; CASTLE LEADS BEAU BIDEN.

CONNECTICUT. US Senator Chris Dodd (D) continues to see his support drop as he is ensnared in controversy related to purported sweetheart mortgage deals from companies his Senate committee regulated. A new Quinnipiac University poll shows former Congressman Rob Simmons (R) leading Dodd by a 43-42 vote. Simmons, who was defeated for re-election in 2006, is looking at the Senate race. Dodd leads State Senator Sam Caliguiri (R) -- another potential challenger -- by a 47-34 vote. Dodd also leads CNBC show host Larry Kudlow (R) by a 46-34 vote.
REPUBLICANS. According to Political Wire, well-placed GOP sources say a no confidence vote is being organized for the purpose of dumping recently elected RNC Chair Michael Steele. He stumbled in his brief public squabble with Rush Limbaugh (and quick apology after the backlash). Many RNC members are concerned that Steele seemingly lacks a focus for reviving the party. South Carolina Republican Chair Katon Dawson -- who finished a close second behind Steele in the January chairmanship election -- is reportedly one of those organizing the no confidence vote.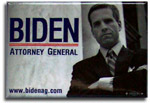 DELAWARE. Congressman Mike Castle (R) leads Attorney General Beau Biden (D) by a 44-36 vote for the 2010 special election to fill the US Senate seat vacated by Vice President Joe Biden (D). Interim US Senator Ted Kaufman (D) has already announced he will not run and supports Biden for the seat. Castle -- a former Governor and GOP centrist -- has expressed no interest to date in the Senate seat. In fact, Castle seems likely to seek reelection next year. However, as Castle is likely to face a tough reelection challenge next year from former Lieutenant Governor John Carney (D), he may instead jump into the Senate race. Biden, an Iraq War veteran, is all but certain to seek the Senate seat.
Daily Report by Ron Gunzburger - 03.11.09 | Permalink |
OBAMA LIFTS STEM CELL RESEARCH BAN; RUSH VS NEWT; HAWAII CONGRESSMAN RUNS FOR GOV; McCAIN DAUGHTER SLAMS ANN COULTER.
STEM CELL RESEARCH. As Congressional Republicans led a firestorm against President Barack Obama for his lifting President Bush's restrictions on stem cell research, Obama did get powerful Republican endorsement from former First Lady Nancy Reagan. "I'm very grateful that President Obama has lifted the restrictions on federal funding for embryonic stem cell research. These new rules will now make it possible for scientists to move forward. I urge researchers to make use of the opportunities that are available to them and to do all they can to fulfill the promise that stem cell research offers ... Countless people, suffering from many different diseases, stand to benefit from the answers stem cell research can provide. We owe it to ourselves and to our children to do everything in our power to find cures for these diseases -- and soon. As I've said before, time is short, and life is precious," she wrote in her written statement.

RUSH REPUBLICANS. More Rush Limbaugh news. The conservative commentator is lashing out at former US House Speaker Newt Gingrich (R-GA), a potential 2012 White House candidate. "I'm frankly getting tired of talking about Newt. I mean, it's a pointless exercise ... I'm surprised by nothing when I'm dealing with people in the media who think they're in politics. I mean, next week Newt could come out and profess his total admiration and love for me if it would serve his purposes," said Limbaugh. "They're running TV ads against me. Newt Gingrich wishes they were running TV ads against him." The comments came in response to some critical remarks Gingrich made over the weekend about Limbaugh, saying anyone wishing the President to "fail" was "irrational." Meanwhile, CNN show host D.L. Hughley criticized RNC Chair Michael Steele for backing down from the anti-Limbaugh remarks he made on Hughley's show. "Why is the name 'Steele'? You should call him aluminum -- he folded that fast. I don't understand. Does Rush Limbaugh run the GOP? It seems like it to me," said Hughley.
HAWAII. Congressman Neil Abercrombie (D) announced his candidacy for Governor, promising to run a change campaign modeled after the recent Obama campaign. Abercrombie is the first Democrat to announce for the open gubernatorial race. Several other Democrats are also looking at the race. Lieutenant Governor Duke Aiona (R) is also an announced candidate. Three Democrats -- former Congressman Ed Case, State Senate President Colleen Hanabusa, and Honolulu Mayor Mufi Hannemann -- are each trying to decide whether they will run for Governor or for Abercrombie's open CD-1 seat next year. Governor Linda Lingle (R) is term-limited.
McCAIN (FAMILY). Blogger Meghan McCain wrote a pretty interesting entry this weekend. The US Senator's daughter was one of his most visible campaign supporters on the trail last year, often stumping for him at college campuses across the country. She says that President Obama is "the hippest politician around" and says being a Republican is "about as edgy as Donny Osmond." Most interesting were her comments on right-wing pundit Ann Coulter. Meghan blasted Coulter for working to "perpetuate negative stereotypes" about Republican women. "I straight up don't understand this woman or her popularity. I find her offensive, radical, insulting, and confusing all at the same time," she said.
Daily Report by Vin Gopal - Email Vin - Facebook Vin - 03.10.09 | Permalink |
NETROOTS PUSH DR. DEAN FOR SURGEON GENERAL; D.A. TARGETS BURRIS; SPECTER PONDERS PARTY SWITCH.
OBAMA CABINET. Supporters of former Vermont Governor and former DNC Chair
Howard Dean pushed hard to get him appointed to the Cabinet as US Health Secretary. President Barack Obama passed over Dean and instead selected Kansas Governor Kathleen Sebelius last week. Now -- with the withdrawal of CNN Chief Medical Correspondent Dr. Sanjay Gupta from consideration as US Surgeon General -- Dean backers are once again lobbying for "Dr. Dean" to get the job. Dean has not expressed any interest in the post nor has the Obama Administration discussed it with him
ILLINOIS. The Chicago Sun-Times is reporting that Sangamon County State's Attorney John Schmidt is seeking FBI tapes of phone conversations between embattled US Senator Roland Burris (D) and former Governor Rod Blagojevich's brother. Robert Blagojevich chaired the former Governor's campaign fundraising arm and reportedly had secret conversations -- recorded by the FBI -- in which he asked Burris for campaign money in exchange for the Senate appointment. Schmidt seemingly believes the tapes may prove Burris committed perjury in his sworn testimony in January before the Illinois Legislature's impeachment panel.
PENNSYLVANIA. The Hill reported that US Senator Arlen Specter (R) is a potential party-switcher before the 2010 elections. Independent polling shows Specter would have a very hard time winning a contested GOP primary against a conservative challenger. Former Congressman Pat Toomey (R), who lost 51-49 to Specter in the 2004 primary, will announce his candidacy for the seat this month. Polls show Specter has significantly more support from Pennsylvania Democrats than he does from Republicans. Our own Ron Gunzburger spoke this weekend with a long-time Specter political consultant, who said a possible party switch to the Democrats is on the table -- along with other options. Pennsylvania law -- unlike Connecticut -- does not allow Specter to run as an Independent in the general election if he loses the GOP primary.
Daily Report by Vin Gopal - Email Vin - Facebook Vin - 03.09.09 | Permalink |
VITTER PRIMARY CHALLENGES FADE; MN COURT SAYS NO INTERIM CERTIFICATE FOR FRANKEN; ALABAMA GOV RACE NEWS; AND SPECTER-TOOMEY REMATCH IS ON.
LOUISIANA.
Former Congressman John Cooksey (R) announced this week he will not challenge US Senator David Vitter (R) in next year's primary. Vitter is viewed as potentially vulnerable after he was named as a regular client two years ago in the "DC Madam" prostitution ring scandal. Family Research Council President Tony Perkins -- a former State Representative and '02 candidate -- told The Rothenberg Political Report he is still considering the race but is leaning against running. Secretary of State Jay Dardenne (R) is also a potential GOP primary challenger, but he also appears to be leaning against running. Dems looking at the race include former Governor Kathleen Blanco, Congressman Charlie Melancon, former Congressmen Don Cazayoux and Chris John, businessman Jim Bernhard, and Lieutenant Governor Mitch Landrieu. A Research 2000 poll this week shows Vitter leading Dardenne by a 43-32 vote in a GOP primary matchup. In a general election contest, Vitter leads Melancon by a 48-41 vote. Vitter had a 49% approval rating versus a 42% disapproval rating.
MINNESOTA. The Minnesota Supreme Court on Friday denied humorist Al Franken (D) a provisional certificate of election. Instead, the court wants to fully adjudicate the issues from former US Senator Norm Coleman's (R) legal challenge to Franken's apparent 225 vote victory last year before issuing the certificate. A final ruling is expected in April.
ALABAMA. Political sources in Alabama say Lieutenant Governor Jim Folsom Jr. (D) has decided to run for Governor next year, and his friend State Agriculture Commissioner Ron Sparks (D) will announce his candidacy next week for Lieutenant Governor. No word on when Folsom plans to make his announcement, but Sparks has said repeatedly he would not run against Folsom.
Congressman Artur Davis (D) is already an announced candidate for Governor. Folsom previously served as Governor in 1993-95. At least a dozen prominent Republicans are also looking at the open gubernatorial contest but, to date, real estate developer and '02 candidate Tim James is the only announced GOP candidate.
PENNSYLVANIA. According to the Allentown Morning Call, former Congressman Pat Toomey (R) -- president of the fiscal conservative Club for Growth PAC -- has decided to seek a rematch next year against centrist US Senator Arlen Specter in the GOP primary. The newspaper said several close Toomey political allies -- who were named and confirmed the story -- said Toomey has directly informed them of his plans. Specter defeated Toomey by a 51-49 vote in the 2004 primary. Toomey is expected to make his official announcement within the next two weeks. Toomey was reportedly angered by Specter's recent vote in support of the Obama stimulus package. Specter has faced serious cancer-related health problems since the 2004 contest.
Daily Report by Ron Gunzburger - 03.07.09 | Permalink |
BILL DALEY TO CHALLENGE BURRIS; ED ROLLINS SAYS REPUBLICANS ARE "IRRELEVENT" AND WITHOUT IDEAS.
ILLINOIS. The Hill reports former US Commerce Secretary Bill Daley (D) -- brother of Chicago Mayor Rich Daley -- is expected to shortly jump into the 2010 race against embattled US Senator Roland Burris (D). State Treasurer
Alexi Giannoulias (D) already an announced challenger. Other media reports suggest Congresswoman Jan Schakowsky (D) and Congressmen Mark Kirk (R) and Peter Roskam (R) are all interested in the race if a special election is called as each could run without risking their current House seats . However, all three are reported to be leaning against running if the contest is a regular election in 2010, as would have to give up House seats to run. Daley would be viewed as the heavy frontrunner for the Democratic nomination.
REPUBLICANS. Former Reagan White House political director Ed Rollins -- who also served as Mike Huckabee's campaign manager in 2008 -- wrote a rather controversial column for CNN on Thursday. He called the debate over Rush Limbaugh's influence in the party as "idiotic" because it avoids solving the real problems facing his party. "Who represents the [Republican] Party or its values is not relevant when only 26% of voters have a positive impression of the party at all ... Republicans are not relevant. We just lost two back-to-back elections (2006 and 2008), and obviously, what we are selling, the voters aren't buying. In the midst of the most severe economic crisis in my lifetime, we have a President who is taking the country on a dramatic sea change. This is what he said he would do and he is doing it. And where are Republicans? Right now we don't have the alternative ideas, a message or, more important, the messenger ... For the foreseeable future, the Republican Party is in the position of being the minority party. Until it nominates a candidate who can attract new voters and expand the base vote of the party, it will stay there. We are a party that needs ideas, new leaders and an inroad into young people and their thinking. That doesn't mean we have to abandon our old ideas or quit fighting the president's policies when we don't believe in them. But we have a lot of work to do," opined Rollins.
Daily Report by Ron Gunzburger - 03.06.09 | Permalink |
CONGRESSMAN BARRETT RUNS FOR SC GOV; CORZINE TRAILING; JERRY BROWN REDUX; AND SOME HUMOR.
SOUTH CAROLINA. Congressman Gresham Barrett (R) announced his candidacy for Governor on Wednesday. While Barrett was safe within his CD-3 district, he is not well known statewide and will not begin as a frontrunner. Lieutenant Governor Andre Bauer and Attorney General Henry McMaster are both expected to enter the GOP contest shortly and are viewed as the early frontrunners. State Senator Vincent Sheheen (D) and college professor Brent Nelson (R) are already announced candidates for Governor. Others looking at the open gubernatorial race include lobbyist Carroll Campbell III (R), former State Democratic Chair Joe Erwin, State Superintendent of Education Jim Rex (D), former State Superintendent of Education Inez Tenenbaum (D), and a handful of state legislators. Governor Mark Sanford (R) is term-limited. Several GOP state legislators are also expected to jump into the contest for the solidly Republican CD-3 seat.

NEW JERSEY. A new Fairleigh Dickinson University poll shows former US Attorney Chris Christie (R) leading Governor Jon Corzine (D) by a 41-32 vote in this year's election. The poll also showed Corzine now has a 46% disapproval rating.
CALIFORNIA. Lake Research -- a Dem polling firm not yet retained for any candidate in the race -- conducted a poll on next year's Democratic gubernatorial primary. The numbers: Attorney General Jerry Brown - 27%, San Francisco Mayor Gavin Newsom - 20%, Los Angeles Mayor Antonio Villaraigosa - 14%, Lieutenant Governor John Garamendi - 8%, former State Controller Steve Westly - 3%, State Superintendent of Schools Jack O'Connell - 1%.
SATIRE. Check our this spoof Lou Dobbs for New Jersey Governor website. Very funny!
Daily Report by Ron Gunzburger - 03.05.09 | Permalink |
QUIGLEY WINS IL CD-5 PRIMARY; NORM COLEMAN ASKS FOR "DO-OVER"; PALIN FOE JOINS OBAMA ADMIN; PATERSON PLUMMENTS; WATTS PONDERS RETURN.
ILLINOIS. Cook County Commissioner Mike Quigley won the 12-way Democratic special election primary to fill the vacant CD-5 congressional seat, finishing first with 23%. State Representative John Fritchey narrowly edged out State Representative Sara Feigenholtz for second place, as both captured roughly 17% apiece. With most votes counted, Illinois Minuteman Project Founder Rosanna Pulido -- a vocal anti-immigration activist -- appeared likely to win the six-way GOP primary with 25%. Peace activist Matt Reichel seemingly won a narrow victory for the Green nomination. Due to the district's electoral history, Quigley is expected to score a landslide win in the April 7 special general election.
MINNESOTA. Attorneys for former US Senator Norm Coleman (R) apparently conceded in a court brief filed this week that Coleman is unlikely to overcome humorist Al Franken's (D) narrow 225-vote lead. In a new pleading filed with the court, Coleman's attorneys asked to have a new election held between Franken and Coleman. "Some courts have held that when the number of illegal votes exceeds the margin between the candidates -- and it cannot be determined for which candidate those illegal votes were cast -- the most appropriate remedy is to set aside the election," argued the legal brief.
ALASKA. State Senator Kim Elton (D) -- one of the most vocal state legislators in seeking an ethics investigation last year of Governor Sarah Palin (R) -- is resigning to become Director of Alaska Affairs in the US Department of the Interior. "Senator Elton pledged his allegiance to President Obama last summer. We wish him well as he moves on and hope that he uses this job for Alaska's benefit, " said Palin. She was investigated for firing the State Public Safety Commissioner because he wouldn't fire Palin's former brother-in-law.

NEW YORK. Governor David Paterson (D) continues to appear highly vulnerable, according to the latest independent poll. According to the new Marist University poll, Paterson's approval rating has dived to just 26%. The poll also shows Paterson losing to former New York City Mayor Rudy Guiliani (R) by a 53% to 38% vote. Other recent polls show Paterson trailing Attorney General Andrew Cuomo in a speculative Democratic primary contest.
OKLAHOMA. Former college football star and four-term Congressman J.C. Watts Jr. -- who served as the fourth-ranking Republican in the House Majority Leadership before his surprise retirement in 2002 -- is now exploring a run for Governor. According to several media reports, Watts was spotting meeting this week with top Republicans in the state capitol. Congresswoman Mary Fallin (R), Lieutenant Governor Jari Askins (D), and Attorney General Drew Edmondson (D) are already announced candidates. Governor Brad Henry (D) is term-limited.
Daily Report by Vin Gopal - Email Vin - Facebook Vin - 03.04.09 | Permalink |
IL CD-5 PRIMARY DAY; STEELE SURRENDERS TO RUSH IN WAR OF WORDS; TOOMEY LOOKING AT SPECTER PRIMARY REMATCH; CT & IL '10 US SENATE UPDATES; BLAGO CASHES IN SENATE SEAT.
ILLINOIS. Voters go to the polls on Tuesday to cast primary ballots in the CD-5 special election primary. Fourteen Democrats, six Republicans and four Greens will appear on the ballot. The winner of the Democratic primary is certain to win this safely Dem seat in the April 7 special election. The Democratic frontrunners are believed to be State Representatives Sara Feigenholtz and John Fritchey, Cook County Commissioner Mike Quigley and Chicago Alderman Pat O'Connor. The seat became vacant when Congressman Rahm Emanuel (D) resigned to become the new White House Chief of Staff.
MAN OF STEELE. Republican National

Chairman Michael Steele and conservative talk show host Rush Limbaugh exchanged sharp words. For the past few weeks, the White House and other leading Democrats have described the bombastic Limbaugh as "the de facto leader of the Republican Party." On Saturday during an appearance on CNN, Steele chafed at the description. Here is what he said: "Rush Limbaugh is an entertainer. Rush Limbaugh's whole thing is entertainment. Yes, it is incendiary. Yes, it is ugly." On Monday, a seething Limbaugh fired back during his national radio show. "I hope the RNC Chairman will realize he's not a talking head pundit, that he is supposed to be working on the grassroots and rebuilding it ... It's time, Mr. Steele, for you to go behind the scenes and start doing the work that you were elected to do instead of trying to be some talking head media star, which you're having a tough time pulling off ... I'm not in charge of the Republican Party, and I don't want to be. I would be embarrassed to say that I'm in charge of the Republican Party in the sad-sack state that it's in," said Limbaugh. On Monday evening Steele publicly apologized to Limbaugh. "I have enormous respect for Rush Limbaugh. I was maybe a little bit inarticulate ... There was no attempt on my part to diminish his voice or his leadership," said Steele to Politico.
PENNSYLVANIA. Former
Congressman Pat Toomey (R) -- who announced in January that he was thinking of running for Governor next year, but would not seek a rematch against US Senator Arlen Specter in the 2010 GOP primary -- has had a change of heart. Toomey, president of of the conservative Club for Growth, now says he is "seriously" considering running against Specter because of Specter's vote last month in support of the Obama stimulus package. Specter defeated Toomey by a 51-49 vote in the 2004 primary -- and a new independent poll out this week shows that nearly two-thirds of GOP primary voters say they plan to vote for a conservative primary challenger against Specter next year.
ILLINOIS. State Treasurer Alexi Giannoulias (D) announced his candidacy on Monday for the US Senate seat currently held by embattled interim incumbent Roland Burris (D). Former US Senator Peter Fitzgerald (R), who retired in 2004 rather than seek a second term in the wake of weak poll numbers, acknowledged Monday that he is also thinking about running for the seat.
CONNECTICUT. CNBC financial advice show host Larry Kudlow (R) is considering running next year against US Senator Chris Dodd (D). Recent polls suggest Dodd may be vulnerable. Former Congressman Rob Simmons (R) is also looking at the race.
BLAGO. Ousted former Illinois Governor Rod Blagojevich (D) has finally managed to get some cash in his pocket from appointing someone to that open US Senate seat last December. Blagojevich signed a "six-figure" book deal to write his autobiography.
Daily Report by Vin Gopal - Email Vin - Facebook Vin - 03.03.09 | Permalink |
SEBELIUS TO JOIN OBAMA CABINET; ROMNEY WINS CPAC STRAW BALLOT; FALLIN RUNS FOR OKLA GOV; BURRIS LAUNCHES CAMPAIGN WEBSITE.
OBAMA CABINET. Kansas Governor Kathleen Sebelius (D) will be named the next US Secretary of Health and Human Services on Monday. Sebelius, the daughter of former Ohio Governor John Gilligan (D), is term-limited in 2010. The DSCC has hoped to recruit her to run for the open US Senate seat next year -- but this move appears to eliminate that option.

P2012. Former Massachusetts Governor Mitt Romney (R) was the winner at this weekend's influential CPAC Conference. The following are the results of the CPAC poll on the 2012 GOP Presidential race: Romney - 20%, Louisiana Governor Bobby Jindal - 14%, Congressman Ron Paul - 13%, Alaska Governor Sarah Palin - 13%, former House Speaker Newt Gingrich - 10%, and former Arkansas Governor Mike Huckabee - 7%. Governors Mark Sanford (R-SC), Tim Pawlenty (R-MN) and Charlie Crist (R-FL) were also on the ballot, but scored negligible results. Neither Palin or Jindal attendanded the CPAC conference.
OKLAHOMA. Congresswoman Mary Fallin (R) -- a former Lieutenant Governor -- this weekend became the first Republican to jump into the open 2010 gubernatorial race.
ILLINOIS. Embattled interim US Senator Roland Burris (D) launched a campaign website last week. Democratic leaders are trying to convince Burris to announce he won't be a candidate next year for the seat.
Daily Report by Vin Gopal - Email Vin - Facebook Vin - 03.02.09 | Permalink |