BLOG ARCHIVE: MARCH 16-31, 2008.
MONDAY NEWS UPDATE.
HILLARY VOWS FIGHT TO THE CONVENTION; S.C. FILING CLOSES; GOP GIVES UP ON DEL GUV RACE; NRCC CHAIR SPEAKS OUT.
P2008- DEMS. Hillary Clinton vowed on Sunday that she will continue her campaign to the convention in August, regardless of what happens in the upcoming contests. "I know there are some people who want to shut this down and I think they are wrong. I have no intention of stopping until we finish what we started and until we see what happens in the next 10 contests and until we resolve Florida and Michigan. And if we don't resolve it, we'll resolve it at the convention -- that's what credentials committees are for," she said in an interview with the Washington Post. Obama, meanwhile, Sunday that it was "terrific" that the campaign has gone as long as it has -- while the primary contests are continuing -- and that it is "premature" for anyone to call on Clinton to quit before the final contests in early June.
SOUTH CAROLINA. Filing

closed on Sunday for the June primaries. US SENATE: Conservatives blustered for the past year that US Senator Lindsey Graham (R) would face a tough renomination battle as a backlash to his support for legislation described as "amnesty" for illegal immigrants. But, with filing closed, Graham now looks to be a safe bet to win re-election. Republican National Committeeman and orthodontist Buddy Witherspoon is Graham's lone primary opponent. Witherspoon complains Graham is "too liberal for South Carolina," but he hasn't gained any traction over the past few months since he launched his challenge. The only Dems to file against Graham are attorney Michael Cone and pilot Bob Conley. CD-1: Congressman Henry Brown (R) faces a primary contest against two challenger, including Gulf War veteran Katherine Jenerette, a former congressional aide on Brown's staff. Two Dems are also running, including wealthy philanthropist Linda Ketner. CD-4: Congressman Bob Inglis (R) is facing a primary challenge from former Reagan Administration Regional EPA Administrator Charles Jeter. Three Democrats also filed for the seat.
DELAWARE.

Republicans have already conceded they will not field a viable candidate in the open gubernatorial contest. Governor Ruth Minner (D) is term-limited. Lieutenant Governor John Carney and State Treasurer Jack Markell will compete in a very hotly contested Democratic primary in September. On the GOP side, the only two candidates are airline pilot/frequent candidate Mike Protack and state employee/'04 candidate Dave Graham. All of the other big GOP names have announced they will not run, with State Representative Donna Stone (R) saying last week she was passing on the race because it would be impossible to financially compete against either Democrat. Stone is President of the National Council of State Legislators. Markell has raised over $2.5 million and Carney has collected $1 million. Stone told the Wilmington News-Journal that it would be "very difficult, very, very difficult" for any Delaware Republican to raise a similar amount of money. Retired Superior Court Judge/'04 nominee Bill Lee, corporate CEO Alan Levin, and State House Speaker Terry Spence also said they would pass on the race. State GOP Vice Chair Vance Phillips told the News-Journal that "neither Protack nor Graham is likely to win the party's support ... I don't see either of them effectively bringing together coalitions that are required to win elections ... I probably agree with 95% of the other leaders in the Republican Party that [Protack and Graham] are not there yet."
CONGRESS. The New York Times profiled Congressman Tom Cole (R-OK) -- the NRCC Chair -- in the Sunday magazine. While the report was a fairly sympathetic profile of Cole as holding an unenviable role this year, there were several interesting quotes worth noting. Cole on the Presidential race: "I don't need the [GOP] nominee to win; I just need him to be competitive enough that we can win behind him in the places that should be ours. I need him to be Gerald Ford [in 1976]." Cole on President Bush's limited appeal in 2008: "I think this cycle he and the Vice President are going to be doing a lot of fund-raisers in the South and the Plains ... I love the President, but his appeal isn't universal." Cole on ideology: "This isn't an ideologically conservative country, and maybe some of us overreached in thinking that it was, and have been corrected for that. But I believe that it is still a center-right country, and I think this election will show that." Cole on the conservative Club for Growth PAC: "The problem I have with the Club [for Growth] is I think they're stupid. I think they're politically inept. They spend more money beating Republicans than Democrats." Former RNC Chair Ken Mehlman on the 2006 elections: "If there are Republicans out there who think that 2006 was a year that could be changed by a few votes in a few districts, they need to wake up. It was a rejection." Former NRCC Deputy Chair Dan Mattoon on GOP prospects for 2008: "Most of us can't wait to get to 2010." Although it is traditional for NRCC Chairs to serve two terms, Cole already says he doesn't think he wants a second term as Chair.
Posted by Ron Gunzburger - 03.31.08 | Permalink |
OBAMA LANDS MAJOR PENNSYLVANIA ENDORSEMENT; P.R. GUV INDICTED; REP. WYNN TO QUIT EARLY FOR LOBBYING JOB.
OBAMA. Hillary Clinton has

long enjoyed the support of Pennsylvania Governor Ed Rendell, who served as DNC Chair during final years of her husband's Presidency. On Friday Barack Obama matched Clinton by scoring the endorsement of the Keystone State's other major Dem heavyweight: US Senator Bob Casey Jr. He will make the announcement on Friday, then join Obama on a bus tour of the state. Casey had originally planned to remain neutral during the primary, so the move came as a surprise to both camps. However, Philadelphia Inquirer reported "Casey was partially influenced by the enthusiasm of his four daughters for Obama. He is expected to help Obama make inroads with white working-class voters."
PUERTO RICO. Governor Aníbal Acevedo Vilá (PPD) on Friday surrendered himself to the FBI for booking on Thursday's political corruption indictment. Hundreds of supportes mobbed the Governor's vehicle when he arrived at the FBI offices. The crowd waved Puerto Rican flags and blasted salse music, turning the event into a campaign rally for Acevedo's re-election campaign. Acevedo and a dozen political allies are charged in a 27-count indictment with allegedly hiding thousands of dollars in illegal contributions to his 2000 campaign for US Resident Commissioner to Congress. Acevedo proclaimed his innocence in a televised speech Thursday night, calling the charges a "multimillion-dollar political witch hunt" in which the Republican-controlled US Department of Justice is targeting island Democrats. Resident Commissioner Luis Fortuño (PNP) -- who is also the RNC Committeeman for the island -- is Acevedo's leading opponent in the November gubernatorial election. FYI: For those unfamiliar with PR politics, the island has its own political parties not related to the two main US national parties. The PPD supports maintaining the island's current commonwealth status, while the PNP supports statehood. Traditionally the PPD is generally allied with the national Democrats, while the PNP is split between those aligned with Democrats and those aligned with the GOP.
MARYLAND. When Congressman Al Wynn (D) lost his primary a few weeks ago, he issued a statement saying he looked forward to accomplishing more for his district during the remainder of his term. On Thursday, Wynn announced he was resigning his seat in June to accept a lobbying job with a DC law firm. "It is time to move into another phase of my life and I am very excited to be joining such an outstanding firm. My leaving early will also allow our Democratic nominee Donna Edwards the opportunity to successfully navigate a special election and be sworn in this summer," said Wynn, in his written statement. Despite any claimed altruistic motives, the move is clearly intended to give Wynn a jump-start on a higher private-sector salary. Further, it is unclear if Governor Martin O'Malley (D) will call a special election -- with the additional costs involved -- or merely let the seat sit empty for the last half of this year. "It just happened so quickly we haven't had time to run the constitutional traps on that one," said O'Malley on Thursday to the Baltimore Sun. State law does not require O'Malley to call a special election under this timing -- although O'Malley must announce within ten days of the resignation date whether or not there will be a special election.
Posted by Ron Gunzburger - 03.28.08 | Permalink |
MISSOURI, SOUTH DAKOTA PRIMARY FILING CLOSES ... AND STORM GOT MARRIED.
MISSOURI. Filing closed this week for the Missouri primary, leaving -- as usual -- lots of crowded contests throughout the state. GOVERNOR: In the open gubernatorial race, Congressman Kenny Hulshof and State Treasurer Sarah Steelman -- plus three minor hopefuls -- will compete for the GOP nomination. Attorney General Jay Nixon (D) is a lock to win his primary. Race Rating: Toss-Up. CD-6: Congressman Sam Graves (R) will face former Kansas City Mayor Kay Barnes (D) in November. Race Rating: Leans GOP. CD-9: Both parties will see hotly contested primary races for Hulhof's open House seat. The GOP primary will feature State Representatives Bob Onder and Danie Moore, former State Representative Blaine Leutkemeyer, former pro football player Brock Olivo and a political unknown. The Dems are also making a competitive run for the seat. Leadings Dems in the contest include former State House Speaker Steve Gaw, State Representative Judy Baker, former State Senator Ken Jacob and Marion County Commissioner Lyndon Bode. Race Rating: Leans GOP. The Libertarians also filed candidates for most congressional and statewide races.
SOUTH DAKOTA. Primary filing also closed in South Dakota this week, leaving both federal incumbents safe. US Senator Tim Johnson (D) -- who is continuing his recovery from a serious brain aneurisym two years ago -- drew only second-tier challengers. State Representative Joel Dykstra is the leading GOP candidate in the primary. Congresswoman Stephanie Herseth Sandlin (D) drew a

challenge from attorney Chris Lien (R).
STORMING LA FIESTA: THE REDUX. Based upon reader emails, my humorous account of the November 2003 Florida Democratic Convention -- a beauty pageant of '04 Presidential candidates -- was one of your favorites. The lead character in the story was a Kucinich volunteer named Storm Nobel (pictured, right). Storm -- a cross between sincere activist, merry prankster, and horny guy on the hunt -- served as the Greek chorus of the story. Well, for those of you who enjoyed the account, I wanted to let you know that Storm is back in Connecticut and just got married. Our congrats, Storm.
Posted by Ron Gunzburger - 03.28.08 | Permalink |
McCAIN CALLS FOR CLOSING GITMO, ADOPTING GLOBAL WARMING TREATY, STAYING IN IRAQ; BREDESEN PROPOSES DEM SUPER-DELEGATE CONVO; KEYES RUNS FOR CONSTITUTION NOMINATION; GRAVEL SEEKS LIBERTARIAN NOD.
McCAIN. Speaking Wednesday in California,

John McCain (R) gave a major policy address to the World Affairs Council in which he set himself apart from President Bush on two key issues. First, he sent a message to US allies that he shares their concerns about waterboarding and the legitimacy of keeping the controversial US prison camp in Cuba. "We can't torture or treat inhumanely suspected terrorists we have captured. I believe we should close Guantanamo and work with our allies to forge a new international understanding on the disposition of dangerous detainees under our control," he said. Second, McCain voiced support for adoption of a new treaty to combat global warming -- but not the Kyoto Treaty. "There is such a thing as international good citizenship. We need a successor to the Kyoto Treaty, a cap-and-trade system that delivers the necessary environmental impact in an economically responsible manner," said McCain. However, he vowed to stay the course with the Iraq War. McCain said he would not support any quick withdrawal of US forces from Iraq.
P2008 - DEMS. Tennessee
Governor Phil Bredesen proposed Wednesday that the DNC convene a formal super-delegate convention or "super-delegate primary" in June to bring the Presidential race to a close. Bredesen has yet to endorse a candidate. Under Bredesen's plan, Barack Obama and Hillary Clinton would both be allowed to speak to the convention, super-delegates would be required to attend the convo, the delegates could then debate the merits of the two candidates ... and then a roll call vote would be taken and all would be required to declare their choice. At that point, mathematically, the race would be over. Bredesen said DNC Chair Howard Dean opposes the concept -- seeing it as epitomizing the smoke-filled room of politicos. However, Bredesen said the DNC is a committee, not just a Chair, it is time for the DNC to act decisively to help promote an early end to the race and party unity. US Senate Majority Leader Harry Reid also voiced support for bringing the nomination race to closure in June. Obama quickly said he generally liked Bredesen's proposal: "I think giving whoever the nominee is two or three months to pivot into the general election would be extremely helpful as opposed to having this drag on for two more months all the way up to the convention. I think that would be disruptive and hard on the party as well as the nominee." Bill Clinton, however, signaled Wednesday that the Clinton campaign did not favor any compromise or early unity proposals: "My family's not big on quitting ... Let's just saddle up and have an argument. What's the matter with that?"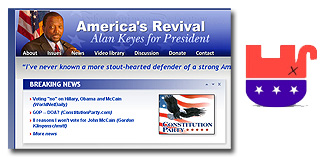 CONSTITUTION PARTY. As predicted here months ago -- when the faux "draft" movement was launched urging bombastic former Ambassador Alan Keyes to seek the GOP Presidential nomination -- Keyes has quit the Republican Party and is now officially seeking the Constitution Party's Presidential nomination. A visit to Keyes' campaign website now displays the Constitution Party logo in the "breaking news" section at the top of the page. The footer of the page displays a parody of the trademarked GOP logo -- shown on the Keyes site in the form of a dead elephant. Keyes may find he is sharply out of step with the CP on the Iraq War, as the party strongly opposed US involvement in Iraq while Keyes voiced strong support for the war during the GOP primaries this year. The other announced candidates for the CP nomination are two frequent candidates: anti-tax activist Don Grundman and anti-gay activist Diane Beall Templin. Other potential candidates for the CP nomination at the upcoming April 23-26 convention include ousted Alabama Supreme Court Chief Justice Roy "Ten Commandments Judge" Moore, '04 VP nominee Pastor Chuck Baldwin, former US Senator Bob Smith, and political writer Jerome Corsi. Insiders tell Politics1 that Moore would be a lock for the Constitution Party nomination -- if he wants it.
LIBERTARIAN PARTY. Likewise, as we predicted yesterday, former US Senator Mike Gravel confirmed he has quit the Democratic Party and is now a candidate for the Libertarian Party's Presidential nomination. In a message emailed to supporters on Wednesday, Gravel wrote: "By and large, I have been repeatedly marginalized in both national debates and in media exposure by the Democratic leadership, which works in tandem with the corporate interests that control what we read and hear in the media. I look forward to advancing my presidential candidacy within the Libertarian Party, which is considerably closer to my values, my foreign policy views and my domestic views." While the LP may find common ground with Gravel on some issues like the war and privacy, his support for big government programs like universal health care would place him sharply at odds with libertarian activists.
Posted by Ron Gunzburger - 03.27.08 | Permalink |
NANCY REAGAN FOR McCAIN; GRAVEL SWITCHES PARTIES; CONGRESSWOMAN BLACKBURN GETS "PRIMARIED"
McCAIN. Former First Lady Nancy Reagan endorsed John McCain on Tuesday. The McCain camp believed for months that Mrs. Reagan preferred McCain for the nomination, but they had been unable to convince her to make an endorsement while the primaries were still being contested.
OBAMA - CLINTON. Just more of the same. Nothing significant to report.
LIBERTARIANS. Former US Senator Mike Gravel spent the past year campaigning for the Democratic Presidential nomination -- but this week he joined the Libertarian Party. A few weeks ago,

Gravel endorsed Jesse Johnson for the Green Party's Presidential nomination. However, it quickly became apparent the endorsement was simply meant as a snub of Ralph Nader. Gravel was allegedly upset over a perceived slight by Nader against Gravel at an earlier event during this campaign season. Now, sounding like a potential candidate for the Libertarian nomination, Gravel issued a written statemnent on Tuesday explaining his latest actions. "I'm joining the Libertarian Party because it is a party that combines a commitment to freedom and peace that can't be found in the two major parties that control the government and politics of America. My libertarian views, as well as my strong stance against war, the military industrial complex and American imperialism, seem not to be tolerated by Democratic Party elites who are out of touch with the average American; elites that reject the empowerment of American citizens I offered to the Democratic Party at the beginning of this presidential campaign with the National Initiative for Democracy," he wrote. Now, here is where it gets really interesting. Former GOP Congressman Bob Barr quickly issued a statement welcoming Gravel to the LP: "It is a distinct honor to have another former member of Congress within the Libertarian Party. Just as Senator Gravel believes Democrats have lost touch with the American public, I too concluded Republicans had lost their core principles, and could no longer associate myself with the GOP. While coming from opposite sides of the aisle, Senator Gravel and I definitely agree on the fundamental need for systemic change in our political system, and that the only way we have of effecting that change is by supporting and working in the Libertarian Party, which is the only political party in America that consistently works in word and deed to maximize individual liberty and minimize government power." Is this the launch of a Barr/Gravel or Gravel/Barr national ticket for the Libertarian Party?
US HOUSE. Two surprises this week for House Republicans. NY CD-26: Republicans got some bad news when State Senator George Maziarz (R) decided not to seek the seat being vacated by retiring Congressman Tom Reynolds (R). Maziarz already was sitting on an existing campaign treasury of over $750,000 and seen as a lock for the nomination, if he wanted it. With Maziarz out, the alternatives are largely viewed as second-tier candidates. TN CD-7: Congresswoman Marsha Blackburn (R) was caught by surprise this week when Shelby County Register and former State Senator Tom Leatherwood announced he will challenge the incumbent in the GOP primary. Leatherwood said that Republicans held majority control of Congress and squandered it through a loss of conservative values. "Incumbent Blackburn was part of the problem. I think Republicans lost control of the House and Senate because they became self-serving rather than being public servants. And I think the record shows that." Leatherwood went on to blast Blackburn for the "funneling of over $120,000 in campaign and PAC funds to her family. This is out of line. Over $46,000 of that was in 2004 when she did not have any primary or general election opposition." And then Leatherwood went on to hit Blackburn for taking at least 20 vacation trips paid for by special interest groups. This is going to be a nasty primary fight.
Posted by Ron Gunzburger - 03.26.08 | Permalink |
VIEW FROM ABROAD: NIRJ DEVA, MEMBER OF THE EUROPEAN PARLIAMENT (UNITED KINGDOM).
UNITED KINGDOM: NIRJ DEVA, MEP, of the Conservative Party. Born into a political family in Sri Lanka,

Deva was raised in Great Britain. He speaks Sinhalese and English, is a Catholic, and holds dual Sri Lankan and British citizenship. Originally trained as an aeronautical engineer, he became active in British politics and think tanks beginning in the 1970s. In 1985, Deva became the first Asian-born person to be appointed by Queen Elizabeth II to the office of Deputy Lord Lieutenant for London -- a title which he holds for life. In 1992, Deva was elected as a Conservative to the British Parliament -- only the second Asian-born person elected to the House of Commons. He represented the riding of Brentford & Isleworth until 1997, when Labour ousted him and captured the seat. In 1999, Deva became the first Asian-born person to be elected as a Conservative member of the European Parliament. He was re-elected in 2004. He formerly chaired the European Parliament's delegation to the UN Commission on Sustainable Development. Deva launched a campaign urging Britain to hold a referendum on the European Parliament -- and espouses the Tory view of Britain's role in the new Europe as "In Europe, not run by Europe."
Q. WHAT ARE YOUR THOUGHTS ON THE U.S. PRESIDENTIAL RACE TO DATE?

ANSWER: I have been following American politics for the past part of 40 years and have never before witnessed such an interesting race. Just eight months ago, it appeared as if Hillary Clinton was a lock for the Democratic nomination and political commentators were writing John McCain's political obituaries. How things change. The rise of Barack Obama as a credible candidate for the Presidency only goes to show what an amazing country America is, coming only 45 years since Dr King's inspirational "I Have a Dream" speech. Last week, the artful way in which Senator Obama managed to transform criticism of his relationship with Jeremiah Wright into to high praise and critical acclaim further goes prove his substance and worth as a Presidential candidate. That said, America is facing profoundly difficult challenges in the years ahead – challenges that four years in the Senate cannot prepare you for. From his membership of the "Gang of 14" in the Senate to his early support for the troop "surge" that is working in Iraq, John McCain has proved himself to be exactly the kind of bold, consensus-building leader America needs. I was delighted to be in Washington, DC, for "Super Tuesday" when John McCain as good as secured the Republican Presidential nomination and am hopeful that he will be elected in November as the next President of the United States.

Q. WHAT ARE YOUR HOPES FOR THE NEXT U.S. PRESIDENT?

ANSWER: America's reputation on the international stage has undoubtedly taken a hit over the past few years. America is the United Kingdom's strongest ally and as such it is very much in our interests to see a United States that is respected on the international stage. The next President must immediately close Guantanamo Bay; a facility whose very existence has become a stain on America's reputation on the international stage and has become a powerful recruiting tool for terrorists. All forms of torture of terrorist subjects must be ceased immediately. As Senator McCain has said, America must send a message to the world that, in contrast to our shared terrorist enemies, the United States "upholds values and standards of behaviour and treatment of all people, no matter how evil or bad they are." I would also like to see the next President get serious about tackling climate change and continue to carry about the excellent work started by President Bush and my friend Senator Sam Brownback in tackling poverty in the third-world. On an institutional level, I would hope to see the next President support my friend Senator Norm Coleman's work in fundamentally reforming and democratizing the United Nations. Whilst I would freely admit that the Iraq War has not been as successful as I would have liked, it would be foolish in the extreme for the United States to abandon the country. British and American forces must "stay the course" and finish the noble job we started.
Do you know a foreign political leader, elected official or prominent candidate you'd like to have answer these two questions? Please email Ron if you know someone you'd like featured here.
Posted by Ron Gunzburger - 03.25.08 | Permalink |
US DEATH TOLL IN IRAQ CROSSES 4,000 MARK; CLINTON ADMITS SHE "MISSPOKE" ABOUT BOSNIA TRIP; DETROIT MAYOR INDICTED.

IRAQ. The death toll of Americans fighting in the Iraq War sadly crossed the 4,000 mark on Monday. Keep these facts in mind: over half of the US casualties were under 25 years of age ... and 97% came since President Bush declared "mission accomplished" in Iraq. Also -- at the hands of insurgents, terrorists, and allied forces -- very conservative estimates say that at least 80,000 innocent Iraqi civilians have also died since the war began five years ago (note: other estimates place the Iraqi civilian death toll in the 250,000-400,000 range).
P2008 - DEM. Hillary Clinton was forced to admit Monday -- in the face of video evidence (widely available on the internet) -- that she "misspoke" about "landing under sniper fire" and "running with our heads down" during his 1997 visit to Bosnia. Video of the event shows a peaceful ceremony with an 8-year-old girl welcoming Clinton with poem. Futher, it was clear there was no sniper threat. All of this was in response to a Washington Post report that directly accused Clinton of lying by inventing a dangerous scenario that did not exist. On Monday, Clinton told reporters her earlier account was "a blip" of a "misstatement" when viewed in light of the "millions of statements" she made during the campaign. This follows debunking of her previous claims of playing a substantive role in negotiating the Northern Ireland Peace Accord, in opposing the NAFTA treaty, and other recent claims of "experience."
DETROIT: Mayor Kwame Kilpatrick (D) and an aide were indicted Monday for perjury and obstruction of justice charges related to an investigation involving a sexual relationship the Mayor reportedly had with the female senior staffer. The charges are not a surprise, as Kilpatrick faced lots of other ethics allegations from opponents in 2005 last re-election campaign. He finished a distant second in the primary -- embattled by lots of bad press related to the city's financial deficit and embarrassing personal revelations -- before winning the general election run-off by a 6-point margin. Kilpatrick vows he will not resign and will fight the charges. "This has been a very flawed process from the beginning. I look forward to complete exoneration," he said.
Posted by Ron Gunzburger - 03.25.08 | Permalink |
McCAIN VEEPSTAKES; MONTANA FILING CLOSES.
McCAIN. Politics1 had an interesting chat over the weekend with a well-placed source who has been serving as a senior McCain advisor during the primary campaign. For reasons that will be clear, you'll see why he didn't want to be named. The topic: possible GOP Vice Presidential runningmates. "My advice is to pick a safe choice, someone who won't do any political damage," he said, "but I don't think that is entirely where it's heading. Everytime I look at the names, I think the choice is going to be [Florida Governor] Charlie Crist. I
mean, just look at the other guys [being mentioned] and they're just so underwhelming that it leads back to Charlie by elimination. Mitt Romney isn't going to happen. Huckabee may end up in the Cabinet, but won't be the runningmate. [Minnesota Governor Tim] Pawlenty has a great story, coming from blue collar roots, but he couldn't deliver Minnesota Republicans, so how is Pawlenty going to do anything for McCain in the general? [South Carolina Governor] Mark Sanford would probably be my first choice, as he's a very safe pick. But Sanford doesn't add anything that McCain doesn't already have." What about former Ohio Congressman Rob Portman, who served as President Bush's Budget Director? "Give me a fucking break: Portman has a zero percent chance of being on the ticket. He'd be a terrible choice." What about the rumors that McCain wants Senator Joe Lieberman (I-CT) as his runningmate? "Absolutely true. Joe Lieberman would be McCain's top choice if he could pick the person he really wants as a runningmate. It would be a bold pick, the kind of choice that would have the potential to remake modern American politics into something new. It would guarantee McCain a landslide win in November -- and, mark my words, McCain won't have the guts to do it. He'd really like to pick Lieberman, but in the end he'll cave to those who want a more traditional choice. That's why I say it falls back to Charlie Crist as the runningmate." Why Crist more than one of the other names? "Crist's endorsement, when Romney was flying up McCain's ass in the polls, and possibly had passed him in Florida in that last weekend, was the single turning point that made McCain the nominee. But for Charlie Crist, McCain would not be our nominee." What about the rumors that Crist is gay or too much of a centrist? "Who cares what he stands for because he delivered for McCain in the primary. Charlie would put Florida safely in the Republican column in November. As to the gay rumors, that's just a lot of insider stuff. Most Americans -- and most Floridians -- have never heard the rumors and really don't want to hear the rumors. Charlie says he isn't gay, nobody has proven otherwise, and the public will accept him at his word ... I have no idea if he is or isn't, but the public just doesn't want to hear this stuff."

MONTANA. Candidate filings closed last week, leaving Governor Brian Schweitzer (D), US Senator Max Baucus (D) and Congressman Denny Rehberg (R) all well placed to win re-election. GOVERNOR: Schweitzer will have no problem with his nominal primary opponents. Likewise for State Senator Roy Brown, who is heavily favored to win the GOP primary over frequent candidate Larry Steele. Businessman Stan Jones (Libertarian) is also running. Race Rating: DEM Favored. US SENATE: Baucus should cruise to a sixth-term in November, as the Republicans were only able to recruit a second-tier candidate. State Representative Mike Lange is the leading GOP candidate, but faces five primary opponents. Race Rating: Safe DEM. CONGRESS: Rehberg will also handily win re-election. Three Democrats and a Libertarian filed to seek the seat. Race Rating: Safe GOP. Click here for the list of Montana candidates.
Posted by Ron Gunzburger - 03.24.08 | Permalink |
RICHARDSON ENDORSES OBAMA; IDAHO FILING CLOSES; BOB BARR WEIGHS LIBERTARIAN PREZ RUN.
OBAMA. Barack Obama ended a week a relatively bad press with some good news. New Mexico Governor Bill Richardson (D) -- a former '08 White House candidate -- endorsed Obama on Friday. Richardson called Obama an "extraordinary American" who "will make a great and historic President ... [It] is a once-in-a-lifetime opportunity for our nation and [Obama is] a once-in-a-lifetime leader," said Richardson. "The time that he could have been effective has long since passed," responded Clinton chief strategist Mark Penn. As much as the Clinton campaign on Friday downplayed the endorsement as relatively insignificant, Richardson's office noted that Clinton contacted him as recently as March 13 to again ask for his endorsement.
IDAHO. Candidate

filings closed on Friday, with eleven candidates filing for the open seat of retiring US Senator Larry Craig (R). Lieutenant Governor Jim Risch will cruise to an easy landslide win in the GOP primary over his five minor opponents. The most unusual GOP primary hopeful is California realtor and frequent candidate Hal Styles Jr. -- who has never set foot in the state -- but said he plans to move to Idaho within the next six weeks. Former Congressman Larry LaRocco is also a safe bet win defeat his lone opponent in the Democratic primary. Former Caldwell City Councilman Kent Marmon quit the GOP race near the close of filing and entered instead on Friday as the Libertarian candidate. Republican rancher and veterinarian Rex Rammell also quit the GOP race on Friday -- blasting Risch as "too old" to begin a career in DC -- and instead filed as an Independent. Adding to the bizarre moves was the entry of Marvin Richardson, an Independent and frequent conservative candidate, who legally changed his name this year simply to "Pro-Life." Race Rating: GOP Favored. In CD-1, controversial Congressman Bill Sali (R) faces a primary challenge from Iraq War veteran and GOP activist Matt Salisbury. Sali has a poor personal relationship with Idaho's GOP establishment leaders. On the Dem side, attorney/'06 nominee Larry Grant and businessman/'96 US Senate nominee Walt Minnick are competing. Race Rating: Leans GOP. In CD-2, Congressman Mike Simpson (R) looks safe -- but is facing challenges from two Republicans and two Democrats. Click here for the list of Idaho candidates.

LIBERTARIAN: Former GOP Congressman Bob Barr of Georgia is considering a run for the Libertarian Party's Presidential nomination. Barr -- who served as US Attorney during the Reagan Administration -- switched his registration to Libertarian two years ago, and had voiced support this year for Ron Paul's White House campaign. "There is great deal [of] dissatisfaction with the candidates for the two major parties, particularly among conservatives, but also a great deal of internet and other support for a candidate like Ron Paul who advocates libertarian and true conservative principles," said Barr to the Washington Times, explaining why he is thinking about jumping into the race. Barr -- who previously said he would not run for President -- pointedly declined to answer if it was Paul who was encouraging him to run. Interestingly, Barr's website remains online, frequently updated, and addresses various federal issues that could form the basis a campaign platform. Twelve hopefuls have already announced their candidacies for the LP's Presidential nomination.
Posted by Ron Gunzburger - 03.22.08 | Permalink |
NY PAPERS CHASING PATERSON LOVE CHILD STORY; PASTOR WRIGHT WAS CLINTON WHITE HOUSE GUEST; REP. REYNOLDS RETIRES; NRCC-DCCC MONEY WARS; SUPREMES APPROVE WASHINGTON ELECTION CHANGES.
NEW YORK #1.

The New York Post and the New York Sun are both spending serious resources chasing a story that newly sworn-in Governor David Paterson (D) possibly fathered an illegitimate son years ago with a woman who is today a Republican District Leader in New York City. According to the rather wild allegations, Governor Paterson convinced his brother Daniel to claim fatherhood of the boy to protect his political career. Reporters this week dogged the young man, 24, to Boston where he is a college student -- but he refused to comment. The mother has likewise refused interview requests so far. The young man was present for Governor Paterson's swearing-in ceremony this week. Paterson acknowledged to reporters this week that both he and his wife have each had several affairs during their marriage. Our guess is that the story goes nowhere -- and that nothing will surface proving these claims -- but it is sending reporters on a wild goose chase.
P2008 - DEMS. Photos surfaced Thursday showing Barack Obama's controversial former pastor Jeremiah Wright ... as an invited guest in the Clinton White House at a 1998 gathering of national religious leaders. What it apparently shows is that Wright has been viewed for years as a significant religious leader, recognized well outside of his Chicago base. The Obama campaign reportedly supplied the photo to the New York Times. In response, Hillary Clinton's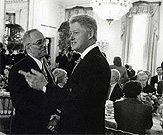 campaign downplayed the photo. "In the course of his two terms in office, Bill Clinton met with, corresponded with and took pictures with literally tens of thousands of people," a Clinton spokesman told The Politico. The progressive magazine The Nation also has a report that Clinton's own religious affiliation may cause problems for her campaign. Meanwhile, several new Pennsylvania polls show Clinton moving into a nearly 20-point lead over Obama in the state. Also, the latest Michigan and Florida re-vote proposals look dead. DNC Rules and Bylaws Committee Chairman James Roosevelt Jr. told the Boston Globe he will adamantly oppose any plan to seat the Michigan and Florida delegations based upon the unsanctioned January contests.
NEW YORK #2. Congressman Tom Reynolds (R), former Chair of the NRCC, announced Thursday he will not seek re-election. Reynolds faced tough contests in 2004 and 2006 against wealth businessman Jack Davis (D) -- and appears to be facing a possibly tougher contest against Iraq War veteran Jon Powers (D) this year. Sources tell Politics1 that a terrible upstate economy, an unpopular war and a hard-charging opponent caused Reynolds to make his retirement decision in this swing district. "It's time, for many reasons, to make the move now. There's no one piece, I just knew it was time," explained Reynolds, in his announcement. Reynolds is the 29th House Republican to announce his retirement or resignation during this Congress. NY GOP insiders praise Reynolds -- a former county and state legislator -- as a capable legislative tactician and a canny pol with a real talent for organizing and fundraising. Friends of Reynolds say they believe he plans to run for statewide office -- possibly Governor -- in 2010. State Senator George Maziarz appears to be the likely GOP candidate for the CD-26 seat, as his campaign account already has over $750,000 banked. Maziarz is a close ally of State Senate Majority Leader Joe Bruno (R) -- the new Acting Lieutenant Governor -- but is a critic of Bruno's Communications Director John McArdle (who Maziarz recently called "a rodent" because of the aide's imperious and autocratic style).
CONGRESS: The latest FEC filings at the end of February for the NRCC and the DCCC show the Dems holding a widening cash advantage heading into this election year. The NRCC ended last month with $5.1 million cash-on-hand (note: that;s $1.3 million less than a month ago) versus $38 million for the DCCC.
WASHINGTON: The US Supreme Court in a 7-2 vote upheld Washington State's new election plans, approving changes to the format of the state's elections. Starting this year, all candidates for an office will compete in open "jungle" primaries in which all candidates of all parties appear on the same primary ballot. The top two finishers, regardless of party, will then advance to the general election. Third party activists complained that this method will eliminate third party candidates from the November contests. In an interesting irony, the Louisiana jungle primary upon which these were modeled were eliminated in the Bayou State this year in favor of traditional format elections.
Posted by Ron Gunzburger - 03.21.08 | Permalink |
NO NEWS IS GOOD NEWS.
FREE SPEECH ZONE. This is one of those days when I'm asserting my prerogative to skip posting any news -- as Wednesday was a relatively slow day for significant political news (unless you count Chris Matthews dancing on Ellen DeGeneres' show). Of course, Wednesday was also the fifth anniversary of the start of the Iraq War. This November, we can decide whether we want a President who supports a relatively quick withdrawal of US troops ... or supports a hundred more years of war (or staying for whatever it takes to "win" in Iraq, and maybe Iran too). Your choice.
Posted by Ron Gunzburger - 03.20.08 | Permalink |
VIEW FROM ABROAD: NICK CLEGG, MP - LEADER, LIBERAL DEMOCRATS (UNITED KINGDOM).
SOMETHING NEW. Let me introduce a new, regular

feature on Politics1. Recently I received an email from a school teacher in the Ukraine. In an attempt to have her students better follow and understand our Presidential race, she asked me for information on how the leading Presidential candidates viewed Ukraine. Unfortunately, I had to tell her that sadly no candidates ever mentioned the Ukraine. Frankly, the only foreign issues discussed here are the "war on terrorism" and so-called "Axis of Evil" nations (Iraq, Afghanistan, Iran and North Korea), trade (Canada, Mexico and China), immigration (mainly Mexico), Israel, and -- fleetingly -- genocide (Darfur). During the months I spent in France over the past year, I saw Europeans closely following our White House race, even though they have no vote in it. Why? Because the US President plays such an influential role -- for good or bad -- in policies impacting every corner of the globe. That inspired me to find a way to place these non-US perspectives on our elections before our American readers. I plan to simply ask two questions -- the same two questions -- to as many political leaders and elected officials around the globe as possible. Some will be established leaders or rising stars. Others featured here may offend you by who they are or what they say. But, hopefully, this feature will help broaden our international perspective as informed US voters.
UNITED KINGDOM: NICK CLEGG, MP, is Leader of the Liberal Democrats. Born in 1967,

Nick is former print journalist who began his career a trainee writer at the US magazine The Nation. He later worked as a development aid and trade expert for the European Commission. In 1999, he was elected as a Member of the European Parliament. Nick stood down as an MEP in 2004, spent a year as a university lecturer, and was then elected to the British Parliament from Sheffield Hallam in 2005. Elected as Leader of the Liberal Democrat Party in December 2006, Nick has focused on marrying the party's twin traditions of economic and social liberalism to deliver social justice -- and promises to double the party's seats in Parliament in the next elections. A new The Guardian/ICM poll this week shows the LibDems rapidly gaining on Prime Minister Gordon Brown's Labour Party. The numbers: David Cameron / Conservative - 45%, Gordon Brown / Labour - 29%, Nick Clegg / Liberal Democrat - 21%.
Q. WHAT ARE YOUR THOUGHTS ON THE U.S. PRESIDENTIAL RACE TO DATE?

ANSWER: Just six months ago it looked like Hillary Clinton was set to lock down the Democratic nomination by Super Tuesday, while the Republican race seemed wide open. I have watched with fascination as John McCain has ground down his opponents, and the Democrats have become ever-more torn between Senators Clinton and Obama. There is no doubt that the 2008 race for the White House should favour the Democrats: the background of economic slowdown, foreclosures and a catastrophic war in Iraq makes it difficult to argue for four more years of a Republican Commander-in-Chief. But the longer that John McCain is out campaigning -- while the Democrats attack one another -- the stronger his hand will become. More broadly, this race has shown that whatever criticisms people make of the US political system, running for president is an extraordinary test of character which exposes both the strengths and weaknesses of those who choose to do it.

Q. WHAT ARE YOUR HOPES FOR THE NEXT U.S. PRESIDENT?

ANSWER: My hope is that the next President will break with the past eight years and take the steps necessary to restore America's moral authority in the eyes of the international community. That means bringing American troops home from Iraq, but it also requires a President who is prepared to stay within the letter of international law rather than following the path of least resistance. The next President should be resolute in the face of terror, but he or she must not undermine their pro-democracy message by breaking the law. Closing Guantanamo Bay and denouncing all forms of torture – including so-called waterboarding – are key to rebuilding trust in America and American values. That day cannot come soon enough.
Do you know a foreign political leader, elected official or prominent candidate you'd like to have answer these two questions? Please email Ron if you know someone you'd like featured here.
Posted by Ron Gunzburger - 03.19.08 | Permalink |
OBAMA'S BIG SPEECH; RE-VOTE UNLIKELY IN MICHIGAN; FILING CLOSES IN UTAH, MAINE.
OBAMA: Barack Obama

directly addressed the racial issues and undertones that divide America -- whether openly discussed or hidden in whispers -- in what pundits from left to right praised as an amazingly courageous speech. The address may not help him in Pennsylvania, and may possibly hurt him there politically in terms of primary votes, but the words spoken needed to be said. I know I'm really blurring the line today between my editorializing and neutral reporting, but his observations were true. I remember going to a public school in Florida that was only "pretend integrated" when I started first grade in 1969, but became truly integrated within a few years through court-ordered school busing. I remember our elementary school history books being yanked out of our school around fourth grade because of a hurtful, racially-insensitive tone towards blacks (and slavery, segregation, etc.). I heard racist comments made over the years by my white and black friends (just as I've heard anti-Semitic and anti-gay comments over the years at cocktail parties from friends who forgot I'm Jewish or gay because I "don't fit stereotype"). The praise for Obama's remarkable address crossed the political spectrum from Pat Robertson's Christian Broadcasting Network, conservative Pat Buchanan, and the National Review on the right to progressive media outlets and the fawningly pro-Obama talking heads at MSNBC. If you didn't see the whole speech -- and viewing clips doesn't do it justice -- be sure to click here to watch (and read) the speech from start to finish. Like or hate Obama on any other day of the week, his speech on Tuesday is worth discussing.
MICHIGAN: State legislative leaders on Tuesday said scheduling a re-vote primary for June was all but dead. DNC rules require the re-vote plans be set by Thursday -- which is why Florida leaders announced Monday they were giving up on trying to satisfy the DNC's bureaucratic hurdles. The Clinton campaign blamed the Obama campaign for the failure, while the Obama campaign blamed GOP Senators and pro-Clinton legislators. Thus, both Florida and Michigan Democrats will bring their delegate seating fight to the DNC Rules Committee and -- failing that -- a convention floor fight, if the nomination is still unresolved in August.

UTAH: Candidate filing has closed in Utah. Governor Jon Huntsman (R) is a safe bet to win re-election over a minor primary foe, three Democrats and a Libertarian. To give you an idea of the lightweight nature of the opposition, one is listed on the ballot as Monty "Millionaire" Nafoosi (D) and another as Dell "Super Dell" Schanze (Libertarian). Nafoosi is currently facing marijuana possession charges, and the colorful Schanze was previously charges with a weapons offense. Congressmen Rob Bishop (R) and Jim Matheson (D) both face second-tier opponents. Both men appear safe. Congressman Chris Cannon (R) appears to be facing a very serious primary threat in CD-3 for two major challengers: former Huntsman Chief of Staff Jason Chaffetz and former Juab County Prosecutor David Leavitt. Leavitt is the brother of former Governor Mike Leavitt (R). While the CD-3 seat is safely Republican in November, this appears to be the most serious challenge of Cannon's congressional career. Click here for the list of Utah candidates. Party conventions will narrow the fields before the June 24 parties.

MAINE: Primary filing also closed this week in Maine. US Senator Susan Collins (R) will face off in November against Congressman Tom Allen (D), after Allen wins his June 10 primary over peace candidate Tom Ledue (D). Polls show Collins -- a GOP centrist -- continuing to hold a sizable lead. Race Rating: Leans GOP. Six Democrats and two Republicans are competing to replace Allen in CD-1. Frontrunners include former State Senate Majority Leaders Chellie Pingree (D) and Mike Brennan (D), State Senator Ethan Strimling (D), former State Senator Charlie Summers (R) and businessman Dean Scontras (R). Race Rating: DEM Favored. In CD-2, Congressman Mike Michaud (D) will safely win another term over Farmington Selectman John Frary (R). Click here for the list of filed Maine candidate.
SOUTH DAKOTA: Former Lieutenant Governor Steve Kirby (R) announced he will not challenge US Senator Tim Johnson (D) this year. With Kirby passing on the contest, move Johnson to the "Safe" category over the second- and third-tier opponents already announced. Filing closes next month.
Posted by Ron Gunzburger - 03.19.08 | Permalink |
FLORIDA DEMS SAY NO TO RE-VOTE; OBAMA TO SPEAK ON RACE, RELIGION; IOWA FILING CLOSES; McCAIN VEEPSTAKES.
FLORIDA: Florida Democratic Chair Karen Thurman announced Monday that Florida Dems will not hold a Presidential re-vote. No mail-in primary. No live June primary.

No caucuses. "We must stick together, no matter where this ongoing delegate debate takes us. Last week, the Florida Democratic Party laid out the only existing way that we can comply with DNC Rules -- a statewide revote run by the Party -- and asked for input. Thousands of people responded. We spent the weekend reviewing your messages, and while your reasons vary widely, the consensus is clear: Florida doesn't want to vote again. So we won't ... This doesn't mean that Democrats are giving up on Florida voters. It means that a solution will have to come from the DNC Rules & Bylaws Committee, which is scheduled to meet again in April. When this committee stripped us of 100% of our delegates last year, some members summed up their reasoning by saying, 'The rules are the rules.' Unfortunately, the rules did not apply to Iowa, New Hampshire and South Carolina when they, too, violated the DNC calendar by moving from their assigned dates. As the late great Democratic President Franklin D. Roosevelt once said, 'We must adjust our ideas to the facts of today... Rules are not necessarily sacred, principles are,'" wrote Thurman, in a written statement. What is most likely: a compromise deal in which the Florida Democratic Party, the Clinton and Obama campaigns, and the DNC can all reach a grudging agreement. Stay tuned.
OBAMA: Senator Barack Obama will take on the serious questions about the role race and religion are playing in the 2008 Presidential campaign -- and particularly Obama's views on his controversial pastor, Jeremiah Wright. Obama will give the major address in Philadelphia on Tuesday. This speech may possibly be aimed more at the superdelegates than any other audience, as Obama must convince them the Wright concerns will not kill his campaign in the general election.
IOWA: Congressional candidate filing closed in Iowa, leaving the incumbents of both parties all looking very strong. US Senator Tom Harkin (D) appears safe in his race. Three Republicans filed against Harkin: former State Representative George Eichhorn, businessman Steve Rathje, and Navy veteran Chris Reed. In CD-1, freshman Congressman Bruce Braley (D) drew a last minute challenge from State Senator David Hartsuch (R). Race rating: Dem Favored. CD-2: Three minor GOP candidates -- physician Mariannette Miller-Meeks, chaplain Lee Harder and businessman Peter Teahen -- filed to run against freshman Congressman Dave Loebsack (D). Race rating: Dem Favored. The real contest in CD-3 is the Democratic primary. Congressman Leonard Boswell (D) is facing an aggressive challenge from progressive former State Representative Ed Fallon. An Iraq War opponent, Fallon criticizes Boswell's support for the war -- but Boswell is favored in the primary. Congressmen Tom Latham (R) in CD-4 and Steve King (R) in CD-5 both look safe. Click here for the list of Iowa candidates.

McCAIN VEEPSTAKES: Florida Governor Charlie Crist (R), in a New York Times interview, helped stoke the rumors about his interest in being Senator John McCain's Vice Presidential runningmate. Is he interested in being the VP candidate? "I think it's very flattering, obviously, but my focus is Florida," said Crist. Does he want to finish his four-year term? "Well, I love being Governor of Florida, and I feel blessed to have the opportunity to hold this job." Okay, but will you pledge to finish your four-year term (until 2010)? "I'm going to promise to do everything I can to help my fellow Floridians," said a broadly smiling Crist. Most pundits credit Crist's endorsement of McCain as being pivotal in swinging Florida to McCain, which then propelled McCain to his victory a week later on Super Tuesday. McCain and Crist enjoy a warm relationship, and Florida is a key swing state in the general election. Former Presidential rival Mitt Romney (R-MA) has also recently expressed an interest in serving as the VP runningmate -- although McCain and Romney have a very strained personal relationship.

FREE SPEECH ZONE: The latest bombshell in the soap opera of former New Jersey Governor Jim McGreevey (D) and his wife Dina's divorce case relates to Teddy Pedersen, the person who was apparently the third man in their relationship. Just my two cents but ... IF they were going to fool around and add a third person to the mix ... Pedersen was a pretty hot looking guy (note: I'm talking about the short-haired look of when he was a campaign aide, not Ted's younger and longer-hair look in some of the other online pix).
Posted by Ron Gunzburger - 03.18.08 | Permalink |
PRESIDENCY: OBAMA DISCUSSES CONTROVERSIAL PASTOR, GAINS 9 IOWA DELEGATES; McCAIN VISITS IRAQ, ISRAEL, FRANCE & U.K.
OBAMA: Senator Barack Obama (D) endured a weekend of damaging news stories. First, he acknowledged that his campaign had previously understated the amount of contributions his 2004 US Senate campaign received from donors linked to indicted businessman Tony Rezko. The correct amount was $250,000 -- not $158,000. Significantly more problematic, however, was the release of videos showing a series of controversial sermons py Pastor Jeremiah Wright. Wright, who led the Chicago-area United Church of Christ congregation where Obama and his family attended for the past two decades, retired last month. In one of the more incendiary sermons, Wright said blacks should say "God damn America" -- not "God bless America" -- because of the American legacy of slavery, institutionalized discrimination and neglect towards blacks. Obama spoke at length about Wright during a meeting last month in Ohio with Cleveland Jewish community leaders. Here is what he said:
"It is true that my Pastor, Jeremiah Wright ... is somebody who on occasion can say controversial things. Most of them, by the way, are controversial [and] directed at the African-American community, calling on them to start reading books and turn off the TV set and engage in self-help. And he is very active in prison ministries and so forth. It is also true that he comes out of the '60s [and] is an older man. That is where he cut his teeth. That he has historically been interested in the African roots of the African-American experience. He was very active in the South Africa divestment movement and you will recall that there was a tension that arose between the African-American and the Jewish communities during that period when we were dealing with apartheid in South Africa, because Israel and South Africa had a [good] relationship at that time, and ... that was a source of tension. So there have been a couple of occasions where he made comments with relation, rooted in that. Not necessarily ones that I share. But that is the context within which he has made those comments. He does not have a close relationship with Louis Farrakhan. Louis Farrakhan is a resident of Chicago and as a consequence he has been active in a range of community activities, particularly around ex-offenders and dealing with them. ... But I have never heard an anti-Semitic comment made inside of our church. I have never heard anything that would suggest anti-Semitism on part of the Pastor. He is like an old uncle who sometimes will say things that I don't agree with. And I suspect there are some of the people in this room who have heard relatives say some things that they don't agree with, including -- on occasion -- directed at African-Americans ... So the point I make is this: that I understand the concerns and the sensitivities [of the Jewish community] and one of my goals constantly in my public career has been to try to bridge what was a historically powerful bond between the African American and Jewish communities that has been frayed in recent years, for a whole variety of reasons. I think that I have served as an effective bridge and that's the reason I have overwhelming support among the Jewish community that knows me best, which is the Jewish community in Chicago. And I think that anybody who has friends among the Jewish community in Chicago should check out those credentials. But I do appreciate the opportunity to clarify those concerns ... [The] last point I would make is that you know my Pastor is going to be retiring over the next month. So my general view, and the reason that I raise this, is always a sensitive point. What you don't want to do is distance yourself or kick somebody away, because you are now running for President and you are worried about perceptions, particularly when someone is basically winding down their life and their career."
As more of the videos came to light, Obama went beyond his earlier statements. Explaining he was not at the services when the most controversial sermons were given, he said: "I didn't know about all these statements. I knew about one or two of these statements that had been made. One or two statements would not lead me to distance myself from either my church or my pastor ... If I had thought that was the tenor or tone on an ongoing basis, then yes [I may have switched to another congregation as] I don't think it would have been reflective of my values."Because of Wright's retirement, Obama added he has "no intention of leaving the church itself." Obama's campaign removed Wright over the weekend from Obama's Spiritual Advisory Committee.
IOWA: The county conventions held this weekend -- a follow-up to the January precinct caucuses -- produced some good new for Barack Obama. With the help of former Edwards supporters, Obama gained nine additional national convention delegates and Hillary Clinton lost one national convention delegate.
McCAIN: Senator John McCain visited Iraq on Sunday. He met with Iraqi governmental officials and US Army General David Petraeus. Before returning to the US, McCain will make stops in Israel, France and Great Britain. He is set to meet in coming days with Israeli Prime Minister Ehud Olmert, French President Nicolas Sarkozy, and British Prime Minister Gordon Brown.
Posted by Ron Gunzburger - 03.17.08 | Permalink |
THE STATES: GOV PALIN TRIES TO CLEAN-UP ALASKA GOP; INCUMBENT REPUBLICAN CONGRESSMEN DRAW MAJOR PRIMARY FOES IN ALASKA, WISCONSIN, GEORGIA.
ALASKA: In a surprise move, Lieutenant Governor Sean Parnell announced Friday at the State GOP Convention that he will challenge embattled Congressman Don Young in the

Republican primary. Young -- an 18-term incumbent -- is reportedly the target of a federal corruption investigation. Young's campaign committee has already spent over $800,000 on legal fees related to the investigation. Independent polling has shown Young trailing former State House Minority Leader Ethan Berkowitz (D) in general election matchups. "For too long, we have expected too little from our elected officials. It is time for change," said Parnell. Parnell is a close ally of reform Governor Sarah Palin (R), and she immediately endorsed Parnell's candidacy. Conservative State Senator Gabrielle LeDoux is also an announced GOP primary challenger to Young. State House Speaker John Harris (R) was not pleased with Parnell's announcement. Harris immediately demanded that Parnell resign as Lieutenant Governor if he goes forward with his challenge of Young. Palin brushed off the attack, saying Parnell should remain in office while running for Congress. Palin has also been openly critical of US Senator Ted Stevens (R), who is the target of a separate federal corruption probe and is likewise locked in a tough re-election contest. No word yet as to whether Palin is also lining up a primary challenger for Stevens. Palin failed, however, in her attempt at the convention to oust State Chairman Randy Ruedrich, an ally of defeated former Governor Frank Murkowski and others that Palin believes are obstacles to ridding the party of a perception of corruption. Palin asked delegates to stand up if they wanted fresh party leadership, and about half the delegates stood. A resolution calling for Ruedrich to resign was tabled by a 167-133 vote. Ruedrich was a vocal opponent of Palin during the 2006 gubernatorial primary. Ruedrich, who was elected to a four-year term as chair in mid-2006, paid a $12,000 fine for state ethics violations two years ago. Ruedrich says there is nothing that can force him to quit as chair before the end of his term in 2010. A new Hays Research Poll released this week shows Palin holding an 85% approval rating. By contrast, the poll shows Young has a 55% unfavorable rating. Alaskans are split on Stevens, with 49% vieweing him favorably versus 45% unfavorably. House Race Rating: Leans GOP.

GEORGIA: Freshman Congressman Paul Broun Jr. (R) was elected in an upset during the 2007 special election to replace the late Congressman Charlie Norwood (R). Describing himself as a libertarian conservative much like Ron Paul, Broun defeated the traditional conservative legislator who was overwhelmingly backed by the district's GOP establishment. State Senator Nancy Schaefer and State Representative Barry Fleming have both announced primary challenges to Broun in CD-10. Fleming is a mainstream conservative, while Schaefer has been a prominent leader of the Religious Right movement in the state. Iraq War veteran Bobby Saxon and jewelry store owner Terry Holley are announced Democratic candidates. Race rating: Safe GOP.
WISCONSIN: Congressman Tom Petri (R) -- a GOP centrist and 15-term incumbent -- unexpectedly finds himself facing a serious primary challenge this year. Calumet County District Attorney Ken Kratz (R) filed paperwork to launch an exploratory campaign against Petri, saying he was approached by local GOP leaders who think new leadership is needed. "I think Congressman Petri and my differences are far less ideological and far more about personality or about energy or about the way to represent the 6th District," said Kratz to the Appleton Post-Crescent. Petri, 67, said he will seek re-election this year to a 16th term. Recent FEC reports show Petri's campaign has raised over $877,000. Dairy marketing specialist Roger Kittelson (D) is also an announced candidate. Race rating: Safe GOP.
Posted by Ron Gunzburger - 03.17.08 | Permalink |
JOIN THE POLITICS1
FACEBOOK GROUP:



BLOG ARCHIVE:

April 1-15, 2008
March 16-31, 2008
March 1-15, 2008
February 16-29, 2008
February 1-15, 2008
January 16-31, 2008
January 1-15, 2008
December 16-31, 2007
December 1-15, 2007
November 16-30, 2007
November 1-15, 2007
October 16-31, 2007
October 1-15, 2007
September 1-30, 2007
August 16-31, 2007
August 1-15, 2007
July 1-31, 2007
June 1-30, 2007
May 16-31, 2007
May 1-15, 2007
April 16-30, 2007
April 1-15, 2007
March 16-31, 2007
March 1-15, 2007
February 16-28, 2007
February 1-15, 2007
January 16-31, 2007
January 1-15, 2007
December 16-31, 2006
December 1-15, 2006
November 16-30, 2006
November 1-15, 2006
October 16-31, 2006
October 1-15, 2006
September 16-30, 2006
September 1-15, 2006
August 16-31, 2006
August 1-15, 2006
July 16-31, 2006
July 1-15, 2006
June 16-30, 2006
June 1-15, 2006
May 15-31, 2006
May 1-15, 2006
April 16-30, 2006
April 1-15, 2006
March 16-31, 2006
March 1-15, 2006
February 17-28, 2006
February 1-16, 2006
January 16-31, 2006
January 1-15, 2006
December 2005
November 2005
October 2005
September 2005
August 2005
July 2005
June 2005
May 2005
April 2005
March 2005
Jan-Feb 2005
December 2004
November 16-30, 2004
November 1-15, 2004
October 16-31, 2004
October 1-15, 2004
September 16-30, 2004
September 1-15, 2004
August 16-31, 2004
August 1-15, 2004
July 16-31, 2004
July 1-15, 2004
June 16-30, 2004
June 1-15, 2004
May 16-31, 2004
May 1-15, 2004
April 16-30, 2004
April 1-15, 2004
March 15-31, 2004
March 1-14, 2004
February 15-29, 2004
February 1-14, 2004
January 17-31, 2004
January 1-16, 2004
December 16-31, 2003
December 1-15, 2003
November 17-30, 2003
---
POLITICAL BLOG ROLL:
KINDA NEUTRAL:
ABC News: The Note
CNN: Morning Grind
CQ Politics
Political Wire
MSNBC: First Read
CJR Daily
Rothenberg Pol. Report
LexisNexis: US Politics
Stateline.org
Governing.com
Political State Report
Hotline On Call
Hotline's Blogometer
Beltway Blog
WatchBlog
Lawmakers Blog
Centerfield Aggregator
Command Post
FactCheck.org
WSJ: Best of the Web
WSJ: Washington Wire
D.C.'s Political Report
2008 Political Perspective
Media Bistro
Larry Sabato: Crystal Ball
PressThink
Politics-Line
TheCapitol.Net: Blog
MyElectionAnalysis.com
DEM/LEFT:
DNC Blog
DCCC Blog
DailyKos
Lefty Blogs
Howard Dean/DFA
OurSenate.com
Frameshop
The Washington Note
Emerging Dem Majority
Think Progress
AmericaBlog.com
Amer Prospect: Tapped
Arianna Huffington
Al Franken
BAG News Notes
Eric Alterman
Senate Majority Project
FishBowl DC
Fired Up! America
TalkLeft
TNR: The Plank
The Raw Story
Blogging of the President
Joe Trippi
Swing State Project
Media Matters
Josh Marshall
Wonkette
MyDD
Working for Change
Crooks & Liars
Mathew Gross
Penndit
Progressive Dems: Blog
Atrios/Eschaton
Off the Kuff
Tom Tomorrow
Mother Jones
Jerry Springer
TruthOut
Dem Bloggers
Liberal Oasis
Penndit
Firedoglake
Good As You
AtariDemocrat
Henry Lewis
BuzzFlash
Brad Blog
Dean Nation
Louise Slaughter
TruthDig
Dem Underground
Jared Hall
Bad Attitudes
The American Street
District Blogs
GOP/RIGHT:
RNC (GOP.com)
Club for Growth
National Review: Corner
C-Log
Real Clear Politics
Andrew Sullivan
John Ellis
StoneZone
Mickey Kaus
Virginia Postrel
RedState.org
WSJ Opinion Journal
Free Republic
Instapundit
Drudge Report
Pajamas Media
Hugh Hewitt
Daniel Drezner
Daily Pundit
Bully Pulpit
Outside the Beltway
Little Green Footballs
World Mag Blog
Right Wing News
Volokh Conspiracy
Brothers Judd
David Frum
Mister Politics
Enter Stage Right
Right Wing News
PoliPundit
Power Line
Hedgehog Report
Right Voices
Booker Rising
Don Singleton
Save the GOP
OTHER:
ThirdPartyWatch.com
Centrist Coalition
Kn@ppster
Green Commons
News for Greens
---
For those who would like to track Politics1 with a newsreader, we publish a RSS feed:
---

---