BLOG ARCHIVE: MARCH 1-15, 2008.
CALIFORNIA CANDIDATE FILING CLOSES.
Candidate filing closed this past week in California. The state has an odd filing process, in that some congressional candidates file directly with the Secretary of State, while others qualify for Congress in the local county elections office. Based upon various government listsing and news stories, click here to see the list of California congressional candidates.
Posted by Ron Gunzburger - 03.15.08 | Permalink |
NRCC IS EMBEZZLEMENT VICTIM; CONGRESSMAN CRAMER RETIRES; DSCC RECRUITS KANSAS CANDIDATE; GRAVEL BACKS GREEN FOR PREZ.
NRCC: Chris Ward, the longtime treasurer of the NRCC, allegedly embezzled hundreds of thousands of dollars from the group. The money was diverted in the form of bogus charges, which resulted in funds being transferred into various personal and business accounts owned by Ward. According to various news reports, Ward was confronted by a group of GOP Congressmen with concerns about irregularities. Ward finally admitted he had lied to Cole and that no outside audits had been performed for several years. NRCC Chairman Tom Cole fired Ward in January and immediately turned the matter over the FBI. Cole says the amount missing could reach as much as $1 million. FEC records show that Ward served as treasurer for 25 other congressional campaigns and Republican fundraising committees. The Politico reports Ward "also diverted funds from the leadership PACs and re-election campaigns for which he worked, usually in smaller amounts, although ... the total taken from those PACs and campaigns may actually end up being greater than the losses suffered by the NRCC itself."
ALABAMA: In a surprise move,

Congressman Bud Cramer (D), 60, announced Thursday he will not seek re-election to a tenth term this year. "This was a difficult decision, but after 28 years of public service it is time for me to step aside, spend more time with my family and begin another chapter in my life ... While I am closing my career as a member of Congress I will continue to be active in the life, growth and development of the community that I, my parents and my grandchildren will always call home," explained Cramer, in his prepared statement. Cramer was a leading member of the Blue Dog Caucus of Democratic conservatives in the US House. The district has never before elected a Republican to Congress -- and Cramer won re-elections by landslide margins -- but the district voted 60% for Bush in 2004. Thus, this open seat may be the GOP's top congressional pickup opportunity this year. Possible candidates for the seat include State Representative John Robinson (D), State Public Service Commissioner Susan Parker (D), State Senator Parker Griffith (D), Madison County Commissioner Mo Brooks (R), and State Senator Arthur Orr (R). Race Rating: Toss-Up.
KANSAS: The DSCC recruited its top choice for the long-shot race against US Senator Pat Roberts (R). The Kansas City Star reports former Congressman Jim Slattery (D) will officially announce his candidacy next week. Slattery, once a rising star in Kansas politics, was defeated in the 1994 gubernatorial race. Since then he has worked as a lobbyist in DC. "We welcome the opportunity to draw the clear distinction between a Senator who has been a full-time advocate for Kansans and a $600-an-hour Washington lobbyist who has been a full-time advocate for special interests," said Roberts' spokeswoman. Race rating: GOP Favored.

GRAVEL: Former US Senator Mike Gravel (D) says he is still running for President. But that hasn't stopped him from endorsing a candidate for the White House. Gravel's choice: filmmaker and environmental activist Jesse Johnson (Green-WV). Johnson posted the endorsement on his campaign website."We must have a voice in the political realm speaking earnestly and intelligently about all of our environmental needs. Johnson and the Green Party have that environmental credibility that we Democrats have lost ... If we want to end the war in Iraq, provide health care to all citizens, educate our young people, we're going to have to start not only working together with these alternate parties: but literally working to support them. That's why I'm supporting Jesse Johnson's campaign for President," explained Gravel.
Posted by Ron Gunzburger - 03.14.08 | Permalink |
SPITZER RESIGNS IN SEX SCANDAL; OREGON FILING CLOSES; DR. DEATH FOR CONGRESS.



NEW YORK: As expected, Governor Eliot Spitzer (D) resigned on Wednesday in the wake of a sex scandal. Spitzer was released as "Client 9" in a federal investigation related to a multi-state prostitution ring. While others may have weathered this political storm, Spitzer could not because it revealed him as a hypocrite. As Attorney General, Spitzer prosecuted two high-profile prostitution rings. As Governor, Spitzer signed legislation into law which increased the penalties for clients of prostitutes. Under that law, the penalty for hiring a prostitute in New York -- a misdemeanor -- was increased from a maximum of three months in jail to a maximum of one year in jail. With Spitzer out, Lieutenant Governor David Paterson (D) is the new Governor. Paterson, who is legally blind, is only the nation's third black Governor since the post-Civil War Reconstruction era. Paterson, who is more socially liberal than was Spitzer, also has a reputation as being able to work well with legislators on both sides of the partisan aisle. With Paterson's promotion, State Senate Majority Leader Joe Bruno (R) also takes on the dual role of Acting Lieutenant Governor.
OREGON: Filing closed in Oregon this week for statewide and congressional offices. US Senator Gordon Smith (R) faces a minor primary opponent, plus six Democratic challengers. Smith's two main Dem opponents are State House Speaker Jeff Merkley and progressive attorney Steve Novick. None of the state's congressional incumbents faces serious opposition -- and Congressman Peter DeFazio (D) doesn't even face any major party opposition. The race worth watching is the open CD-5 contest to replace retiring Congresswoman Darlene Hooley (D). Five Democats and three Republicans filed for the seat. The candidates worth noting are State Senator Kurt Schrader (D), former gubernatorial chief of staff Steve Marks (D), former State GOP Chair Kevin Mannix, and transportation executive/'06 GOP nominee Mike Erickson. The state will also see open seat contests for Secretary of State, State Treasurer and Attorney General. The Republicans failed to field any candidate in the Attorney General race. Click here to see all of the Oregon candidates.
MICHIGAN: Retired physician and medically-assisted suicide activist Jack Kevorkian, 79, plans to run against Congressman Joe Knollenberg (R) as an Independent. Kevorkian, who was released from prison last year, was serving a second-degree murder sentence for for assisting in a suicide. Kevorkian -- widely known in the media as "Dr. Death" -- claims he helped roughly 130 terminally ill people commit suicide. He says he is running to focus on prison reform, legalizing physician-assisted suicide, and improving government integrity. Knollenberg is already locked in a tough fight against former State Lottery Commissioner Gary Peters (D). Kevorkian could possibly play a spoiler role in a tight race.
Posted by Ron Gunzburger - 03.13.08 | Permalink |
OBAMA WINS MISSISSIPPI; FERRARO'S RACISM; SPITZER HASN'T RESIGNED (YET); DEMS HOLD INDIANA CD-7 SEAT.

MISSISSIPPI: As expected,

Barack Obama won the Mississippi primary on Tuesday. The results: Obama - 58%, Hillary Clinton - 40%. In terms of delegates, Obama won 16 and Clinton won 9. As each week passes and fewer states remains unvoted, Clinton's mathematical odds of overtaking Obama continue to worsen. In the US Senate race, State Representative Erik Fleming (D) easily won the Democratic nomination to face incumbent Thad Cochran (R) in November. In CD-1, both party races appeared headed into April run-offs. Former Tupelo Mayor Glenn McCullough led Southhaven Mayor Greg Davis for the GOP nomination in Tuesday's vote. On the Dem side, Prentiss County Clerk Travis Childers narrowly led State Representative Steve Holland in primary voting. In CD-3, State Senator Charlie Ross and Rankin County GOP Chair Gregg Harper appeared to be heading towards a GOP run-off. Pickens Alderman Joel Gill won the Dem primary for the seat.
P2008 - DEMS: I'm not going to spend time bashing former Congresswoman Geraldine Ferraro (D-NY) for her fairly racist comments bashing Barack Obama -- including her bitter, unrepentant comments Tuesday where she mockingly said she was being attacked because she was white. Why? Because every campaign -- Obama, Clinton and McCain -- will have the support of a certain number of losers and jerks associated with them. I'm not holding a candidate responsible for comments by idiots like Ferraro (or Samantha Power or John Hagee). And I'll accept Clinton's comments distancing herself from Ferraro's offensive comments. In other news, Florida Democrats appear to have decided upon holding a re-vote via mail-in primary. It will be Florida's first statewide mail-in election. Ballots are expected to be mailed out in April, with a return deadline in early June.

NEW YORK: Not much to add to the ongoing Governor Eliot Spitzer (D) sex-ring scandal -- except to add that Spitzer defied the constantly swirling rumors that he would imminently resign. Spitzer, of course, may still quit as he is potentially facing federal felony charges under the Mann Act and possible money laundering charges for how he paid for the escort services through dummy shell corporations. But, as of Tuesday, he's staying put and weathering the storm.
INDIANA: Voters on Tuesday elected the grandson of the late Congresswoman Julia Carson (D) to fill her vacant seat in the special election. Indianapolis City Councilman Andre Carson (D) defeated State Representative Jon Elrod (R) by a vote of 53% to 44%. Carson will become only the second Muslim ever elected to Congress. Both men -- along with other Democrats and Republicans -- are also seeking their respective nominations for the full-term in the May 6 primary. Carson will take office this week to complete his grandmother's current term.
Posted by Ron Gunzburger - 03.12.08 | Permalink |
MISSISSIPPI VOTES; SPITZER IN PROSTITUTE SCANDAL; EVERYONE UNOPPOSED IN ARKANSAS; FRANKEN PRIMARY OPPONENT QUITS MN SEN RACE.

MISSISSIPPI: Voters cast primary ballots Tuesday in the Presidential contest, along with several congressional races. Obama appears to be a safe bet to win the Prez primary. Campaigning in the state on Monday, he ridiculed suggestions from the Clintons that he would make a good VP runningmate. "With all due respect. I won twice as many states as Senator Clinton. I've won more of the popular vote than Senator Clinton. I have more delegates than Senator Clinton. So I don't know how somebody who's in second place is offering Vice Presidency to the person who's in first place," said Obama. Also worth watching on Tuesday are the GOP congressional primaries in the CD-1 and CD-3 open seats.
NEW YORK: Governor

Eliot Spitzer (D) acknowledged his involvement in a prostitution scandal on Monday. Spitzer -- who the New York Times reported is the unnamed "Client 9" in a federal indictment related to a major escort ring -- apologized for his conduct. Spitzer met as recently as last month with a highly-paid prostitute in a DC hotel room. The woman reportedly charged as much as $5,000 per encounter. A federal wiretap reportedly ensnared Spitzer in the scandal. "I have acted in a way that violates my obligation to my family and violates my or any sense of right or wrong. I apologize first and most importantly to my family. I apologize to the public to whom I promised better. I have disappointed and failed to live up to the standard I expected of myself. I must now dedicate some time to regain the trust of my family," said Spitzer, with his wife loyally standing by his side. Despite rumors to the contrary, Spitzer's office said he has no plans to resign. It is unknown whether Spitzer will be charged with a crime in the growing federal investigation of the escort service. According to CNN, Spitzer as Attorney General had his office prosecute several escort rings. Republicans are already gloating, telling Politics1 that Lieutenant Governor David Paterson (D) may also have ethics problems. Senate Republicans say Paterson may face significant legislative scrutiny for financial conduct related to state appropriations which benefited businesses in his former State Senate district. Republicans are already dreaming of a scenario in which Spitzer resigns , then Paterson is likewise forced from office, and then Senate President Joe Bruno (R) is installed as Governor.
ARKANSAS: The close of primary candidate filing in Arkansas on Monday saw every federal incumbent move into the "safe" category. US Senator Mark Pryor (D) and Congressmen Marion Berry (D), Vic Snyder (D), John Boozman (R) and Mike Ross (D) will all head into November without any major party opposition. They may, however, still face third party or independent opposition in the general election. The only one of the five incumbents currently facing opposition is Pryor, who is being challenged by attorney Rebekah Kennedy (Green).

MINNESOTA: Humorist Al Franken is now a lock to win the Democratic nomination to face US Senator Norm Coleman (R) in November. Multimillionaire attorney Mike Ciresi (D) unexpectedly quit the race on Monday, acknowledging that Franken has won the support of key party activists. "Continuing the [Democratic] endorsement race would only lead to an unnecessary [convention] floor fight. It is time to step aside," said Ciresi. Franken still faces primary opposition, but should have no problem winning both the party's pre-primary endorsement and the September 9 primary. Polls show Franken and Coleman locked in a virtual tie. Race Rating: Toss-Up.
Posted by Ron Gunzburger - 03.11.08 | Permalink |
WHITE HOUSE: OBAMA WINS WYOMING; VEEPSTAKES; FLA SOLUTIONS; MISSISSIPPI PREVIEW.

WYOMING: Barack Obama won the Wyoming caucuses on Saturday, defeating Hillary Clinton by a 61% to 38% vote. In terms of convention delegates, Obama gained 7 and Clinton captured 4. Obama has consistently out-performed Clinton in states which used the caucus format -- largely on his strength at the organizational level.
MISSISSIPPI: The Presidential contest next moves to Mississippi on Tuesday -- a
primary state -- where three new independent polls show Obama leading by 14 points (Rasmussen), 24 points (ARG) and 6 points (Insider Advantage). Obama is expected to perform very strongly with Mississippi's large base of black Democrats.
VP: In other news, Bill Clinton suggested on Saturday that a ticket featuring both his wife and Obama would be "an almost unstoppable force," according to CNN. In recent days, Hillary Clinton and her surrogates have repeatedly suggested the national ticket would likely be strongest if it featured both her and Obama in whatever order the delegates decide. Obama did not entirely shoot down the idea. In an interview with KTVQ in Montana, Obama said that any VP talk -- by either candidate -- was "premature" because "you won't see me as a Vice Presidential candidate, you know, I'm running for President." Obama and his surrogates generally avoid talking about possible runningmates. On the other side, John McCain's camp say they have not yet started their runningmate selection process. However, names being frequently mentioned as potential McCain runningmates include Governors Tim Pawlenty (R-MN), Charlie Crist (R-FL), Mark Sanford (R-SC) and Sarah Palin (R-AK), and former Congressman Rob Portman (R-OH).
FLORIDA: Sunshine State Democrats seem to be moving towards a compromise that will reportedly satisfy the DNC, ensuring the state's convention delegates get seated. The solution appears to be a mail-in primary in June, which could be conducted at a cost of around $2-3 million. State Senator Nan Rich (D), a Florida co-chair of the Clinton campaign, proposed a more draconian alternative to force the DNC to seat Florida's delegates as is from the January 29 primary. Rich suggested Friday she may introduce a bill that would block a party from having it's national ticket appear on Florida's November presidential ballot if the state's delegates to the national convention are not fully credentialed and allowed to vote. Setting aside debate on the constitutionality of Rich's proposal, the alternative mail-in compromise idea seemed to rapidly gain traction a few hours later.
Posted by Ron Gunzburger - 03.10.08 | Permalink |

CONGRESS: DEMS WIN HASTERT'S ILLINOIS OPEN SEAT; RUN-OFFS SET IN LA SPECIAL ELECTIONS; MISSISSIPPI PRIMARY PREVIEW; HUCKABEE WON'T RUN FOR SENATE SEAT.
ILLINOIS - CONGRESSIONAL SPECIAL ELECTION: In a major embarrassment to the Republican Party, wealthy research scientist

Bill Foster (D) won Saturday's CD-14 special election to fill the seat left vacant by the resignation of former US House Speaker Denny Hastert (R). With only a brief one-term exception (the 1974 Watergate elections), the seat had been in GOP hands without interruption since 1934. While both parties' national congressional committees spent money in the contest, the NRCC poured in $1.2 million into in support of Oberweis -- an amount which equaled nearly 20% of the NRCC's total cash-on-hand for all races nationwide this year. Foster defeated multimillionaire dairy owner and frequent candidate Jim Oberweis (R) by a 52% to 48% vote. Both men largely self-financed, with Oberweis spending $2.3 million of his own money, and Foster spending $1.8 million from his own pocket. Foster even carried three of the most Republican counties in the district: Kane, Kendall and DuPage. Kendall County, for example, was Hastert's home county and had voted 61% for Bush in 2004. "Back in the laboratory, this is what we'd say was a pretty successful experiment," said Foster, in his victory comments. As expected, Dems are calling the victory a bellweather of an anti-GOP national trend for November, and Republicans say the defeat was merely a localized backlash to Oberweis's abrasive personality. In further bad news for Republicans, Oberweis is also the party's nominee for the seat in November. Look for the NRCC to pressure Oberweis to voluntarily withdraw from the race so a potentially stronger replacement nominee can be substituted on the general election ballot. On Saturday night, however, Oberweis sounded like someone planning to remain in the race. "I am disappointed we've come out second ... [but] we're going to have another run in about seven months," he said. Race Rating (for November): Leans DEM.

LOUISIANA - CONGRESSIONAL SPECIAL ELECTIONS: Louisiana held two special elections on Saturday. In a change from past years, the state now has traditional elections with closed party primaries (Saturday), followed by primary runoffs if needed on April 5, and a general election on May 3. Here are the two contests:
CD-1: This solidly GOP seat

became vacant when Bobby Jindal (R) was elected Governor last year. State Senator Steve Scalise (R) placed first, as expected, but fell short the 50% mark needed to avoid a run-off. The GOP primary results: Scalise - 48%, State Representative Tim Burns - 28%, Slidell Mayor Ben Morris - 21%, and attorney David Simpson - 3%. Scalise is favored over Burns in the run-off. In the Democratic primary, psychologist Gilda Reed defeated USAF veteran and frequent candidate Vinny Mendoza by a 70% to 30% vote. Race Rating: Safe GOP.
CD-6: This seat was left vacant when Congressman Richard Baker (R) abruptly resigned in February to become a DC lobbyist. Former State Representative and frequent candidate Woody Jenkins narrowly missed the majority mark to score an outright win for the GOP nomination. With all precincts counted, Jenkins won 49.86% -- just 43 votes short of what was needed to avoid a run-off. Businesswoman Laurinda Calongne was second with 25%, former Baker Chief of Staff Paul Sawyer was third with 23%, and Navy veteran Michael Cloonan had 2%. The Democrats will also have a run-off. The results: State Representative Don Cazayoux - 35%, State Representative Michael Jackson - 27%, attorney Jason DeCuir - 19%, former State Recovery Director Andy Kopplin - 17%, and construction worker Joe Delatte - 2%. The Dem run-off is expected to be a rather competitive contest. Race Rating: GOP Favored.

MISSISSIPPI - CONGRESSIONAL PRIMARY PREVIEW. Primary voters select US Senate and congressional nominees here on Tuesday. US SENATE: State Representative Erik Fleming is favored over frequent candidate Shawn O''Hara in the Dem primary, but it really doesn't matter. Either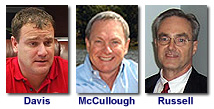 man will lose in a landslide in November to US Senator Thad Cochran (R). CD-1: Southhaven Mayor Greg Davis is heavily favored to win the GOP primary over former Tupelo Mayor Glenn McCullough and physician Randy Russell. Davis' advantage is mainly geographic, as his home county significantly outvotes the other parts of the district. State Representative Steve Holland and Prentiss County Chancery Clerk Travis Childers are the leading Dem candidates. The seat is vacant, due to the appointment of Congressman Roger Wicker (R) to the US Senate in January. FYI: The CD-1 separate special election -- featuring most of the same candidates -- will be held April 22. Race rating: Safe GOP. CD-3: Eight Republicans are competing in the primary to succeed retiring Congressman Chip Pickering (R). Wealthy businessman David Landrum (R) has spent over $500,000 of his own money on ads, dominating the airwaves and making himself the early frontrunner. He stumbled, however, when it was revealed Landrum failed to vote in the 2003 gubernatorial race or any contest since then. Landrum's campaign compounded the problem by releasing documents that purported to be the 2003 voter roll showing signatures of Landrum and his wife -- but it was quickly proven the signatures weren't genuine. Thus, Landrum lost his momentum but is still likely to make the run-off. Others with a shot at the GOP run-off spot include State Senator Charlie Ross, former congressional aide John Rounsaville and Rankin County GOP Chair Gregg Harper.

ARKANSAS - US SENATE. Former Governor Mike Huckabee (R) -- who ended his White House run last week -- reemphasized Friday he will not be a candidate this year against US Senaror Mark Pryor (D). Filing in the race closes Monday. "There's a greater chance that I would dye my hair green, cover my body with tattoos and go on a rock tour with Amy Winehouse ... That [is] a pretty apt description of my total lack of interest in running for the Senate," said Huckabee to The Hill.
Posted by Ron Gunzburger - 03.10.08 | Permalink |
WYOMING CAUCUSES + 3 CONGRESSIONAL SPECIAL ELECTIONS ON SATURDAY.
WYOMING: The Obama and Clinton campaigns both descended on Wyoming -- a statement months ago that would have provoked laughter by the seeming implausibility of it -- for Saturday's Democratic Presidential caucuses. Only a dozen delegates are at stake but, with a race this close, every delegate vote now matters. It is hard to poll caucuses but reporters in Wyoming report the contest is believed to be close. Other pundits believe Obama possibly holds an organizational edge in the state. The caucuses will be held in the afternoon, so expect results around the time of the evening news shows.



ILLINOIS: Voter cast ballots Saturday in the CD-14 special election to fill the seat left vacant by the resignation of former US House Speaker Denny Hastert (R). Although the seat has been in GOP hands for decades -- well before Hastert was first elected -- polling shows the contest to be very close. Research scientist Bill Foster (D) and wealthy dairy owner Jim Oberweis (R). Oberweis previously lost primary contests for US Senate in 2002 and 2004, and for Governor in 2006. Foster is endorsed by the Chicago Tribune and has Barack Obama appearing in his TV ads. Oberweis is endorsed by the Chicago Sun-Times and has had John McCain campaign for him in the district. Republicans are already saying that if they lose the seat, it will be because of Oberweis's abrasive personality and not a signal of any national bellweather. The election date is an expirement for Illinois, as the state has never before held a Saturday election. Race rating: Toss-Up.

LOUISIANA: Louisiana is holding two special elections on Saturday. In a change from past years, the state is now holding traditional elections with closed party primaries (Saturday), followed by primary runoffs if needed on April 5, and a general election on May 3. The state has jettisoned the previous election format where candidates of all parties competed in a single primary, with the top two vote-getters advancing to a runoff if nobody won a majority of the primary vote. Low turnout is expected for both contests. CD-1: Republicans are expected to have an easy time retaining the CD-1 seat left vacant when Bobby Jindal (R) was elected Governor last year, so the GOP contest is key. All of the GOP candidates acknowledge that State Senator Steve Scalise (R) will finish first in the primary, with the real fight being for second place if Scalise falls short of the 50% mark. Slidell Mayor Ben Morris, State Representative Tim Burns and attorney David Simpson are the GOP candidates battling for second place in the primary. Former US Air Force Assistant Inspector General Vinny Mendoza and psychologist Gilda Reed are competing in the Democratic primary. Race Rating: Safe GOP. CD-6: Unlike Jindal's seat, Democrats are viewed as having an outside shot at scoring a pickup for the seat left vacant when Congressman Richard Baker (R) abruptly resigned to become a DC lobbyist. Former State Representative and frequent candidate Woody Jenkins is the GOP frontrunner. Former Baker Chief of Staff Paul Sawyer and two others are also seeking the Republican nomination. Three of the five Dems seeking the seat are viewed as the most viable candidates in the general election: former State Recovery Director Andy Kopplin, and State Representatives Michael Jackson and Don Cazayoux. Race Rating: GOP Favored.
Posted by Ron Gunzburger - 03.08.08 | Permalink |
MICHIGAN DEMS TO HOLD NEW CAUCUSES; FLA DEMS SAY "NO RE-VOTE"; PAUL QUITS; IL CD-14 SPECIAL POLL.
P2008 - DEMS. The Michigan Democratic Party has decided to hold Presidential caucuses, which will result in a full slate of convention delegates being selected and seated. "We are currently in negotiations over the

seating of a Michigan delegation to the National Convention. Any resolution must be agreeable to all four interested parties: the MDP, the DNC, and both the Clinton and Obama campaigns because we all want a united Democratic Party in Michigan to ensure a victory for the Democratic nominee this fall," said State Democratic Chair Mark Brewer. While the specific details -- like the date -- have yet to be worked out, The New Republic reports Michigan Dems will be "announcing a new caucus in the next few days." Governor Jennifer Granholm (D) has endorsed the caucus re-vote. In Florida, by contrast, leaders of the both the Clinton and Obama camps agree a re-vote is not going to happen. "A do-over is

unworkable, too expensive, unfair and not logistically possible in a state our size this late in the game," said Congresswoman Debbie Wasserman Schultz (D-FL) to the South Florida Sun-Sentinel. DWS is national co-chair of the Clinton campaign. Congressman Robert Wexler (D-FL), state co-chair of the Obama campaign, agreed: "There does not appear to be an appetite for a new election, and there doesn't appear to be any way to pay for it either." Both sides are demanding the DNC seat a full compliment of Florida delegates, but the proposals of how to do this widely diverge. The Clinton campaign say the Florida delegation should reflect the results of the record turnout primary vote on January 29. Others have proposed an even split of delegates between Clinton and Obama, or -- bizarrely -- seating a Florida delegation that is allowed to attend the convention but not vote on the Presidential race. DNC Chair Howard Dean says he supports having a Florida re-vote -- either caucuses or primary -- but the Florida Democrats must find a way on their own to entirely finance it. US Senator Bill Nelson (D-FL), a Clinton supporter, disagrees. Nelson said the DNC must either seat the January primary delegates or foot the bill for a new primary if they refuse to do so. "We're coming on the biggest train wreck you've ever seen" if they refuse to seat the Florida delegates, wrote Nelson in a letter to Dean on Thursday.



P2008 - GOP. Congressman Ron Paul (R-TX) is making his withdrawal from the Presidential race official. According to ABC News, Paul will announce his exit from White House race in a video on his campaign site. "The message of freedom is popular. And I will continue to trumpet it in Congress and across America as I fight on behalf of the conservative, common sense values which made our country so great. In conclusion, I would like to offer my thanks and gratitude to all of the wonderful people who supported me in this campaign. I look forward to representing all of the good people of the 14th District of Texas in Congress in the years to come," explained Paul. He won 70% in his congressional primary this week.

ILLINOIS: A new Roll Call/SurveyUSA poll of Saturday's IL CD-14 special election shows scientist Bill Foster (D) leading businessman Jim Oberweis (R) by a vote of 52% to 45%. The seat was left vacant by the resignation of former US House Speaker Denny Hastert (R).
Posted by Ron Gunzburger - 03.07.08 | Permalink |
FREE SPEECH ZONE.
Perhaps it's time to revive humorist Stephen Colbert's idea: The Florida Democratic Primary ... Sponsored by Doritos ® - Snack Strong!
Posted by Ron Gunzburger - 03.07.08 | Permalink |
BUSH ENDORSES McCAIN; OBAMA TO SCORE 50+ ADDITIONAL SUPERDELEGATES; FL & MI GOVERNORS DISCUSS PREZ RE-VOTE PLANS.
P2008 - GOP. John McCain visited the White House on Wednesday, a day after securing the GOP Presidential nomination. President Bush endorsed McCain at a photo op in the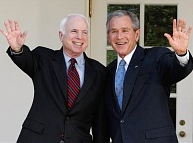 Rose Garden. "Whatever he wants me to do, I want him to win," said Bush, because "he's not gonna change when it comes to taking on the enemy" and the Iraq War. The McCain campaign would like Bush to help with fundraising, but is not expected to use Bush in any high-profile roll during the general election campaign. Look for the Dems to use pictures from the Bush-McCain meeting during the campaign fall in various advertisements linking McCain to the unpopular incumbent and the war.

P2008 - DEMS. While Hillary Clinton won the Texas primary by a 51% to 48% vote over Barack Obama, it appears Obama won the Texas caucuses for the remaining third of the state's delegates. To date, about half of the caucus results have been reported -- as the tallies are not required to be mailed to the state party headquarters until Friday. Of those caucuses reporting results, Obama leads by a 52-48 vote. Also, Congressman Lacy Clay (D-MO) -- an Obama supporter -- confirmed the the media on Wednesday that the Obama campaign will announce the endorsements of 50+ superdelegates within the next few days. "This race is over," said Clay to the Columbia Missourian. If true, this will push Obama's overall superdelegate total ahead of Clinton's superdelegate number. While the nomination contest will continue for weeks, if not months, Clinton seemingly opened the door Wednesday to the possibility of a Clinton-Obama or Obama-Clinton ticket in November. "That may be where this is headed, but of course we have to decide who is on the top of ticket," Clinton told the AP. In other news, Florida Governor Charlie Crist (R) on Wednesday said he is willing to have the state schedule a new Democratic Presidential primary in June -- but only if the Democratic Party agrees to pay the estimated $10 million cost for the election. Holding caucuses are much cheaper for the party -- and are run exclusively by the party (instead of the state) -- but the Clinton camp insists on having the re-vote in the form of a primary. Michigan Governor Jennifer Granholm (D), a Clinton supporter, said Wednesday she believes Michigan Democrats may be able to hold caucuses in June to select convention delegates.

OHIO RECAP. With all of the votes now counted from Tuesday's congressional primaries, there are a few updates to report. In CD-2, the final numbers dropped Congresswoman Jean Schmidt's (R) primary victory percentage down to 57% when the final areas were counted. In CD-10, Congressman Dennis Kucinich (D) defeated Cleveland City Councilman Joe Cimperman by a 50% to 35% vote, with three others trailing far behind. In the open CD-16 race, State Senator Kirk Schuring won by the GOP nomination over Ashland County Commission Matt Miller by a 47% to 42% vote. Schuring will face State Senator John Boccieri (D) in November.



TEXAS RECAP. State Representative and National Guard officer Rick Noreiga (D) won the Dem primary for US Senate with 51%, avoiding a run-off. He will face US Senator John Cornyn (R) in the general election. In CD-22, former Congresswoman Shelley Sekula Gibbs placed first in the crowded ten-candidate GOP primary with 30%, followed by former Congressional aide and Navy veteran Pete Olson at 21%. The two will face-off in a run-off primary next month. The winner will challenge Congressman Nick Lampson (D).

NEW JERSEY. Wealthy developer Anne Evans Estabrook (R) -- the leading GOP candidate against US Senator Frank Lautenberg (D) -- quit the race Wednesday due to health reasons. In a written statement, Estabrook announced she had suffered a mild stroke over the weekend and was leaving the contest to focus on her recovery. With Estabrook out, State Senator "Jersey Joe" Pennacchio (R) appears to be the new GOP frontrunner.
Posted by Ron Gunzburger - 03.06.08 | Permalink |
CLINTON WINS OHIO, TEXAS, RHODE ISLAND, OBAMA WINS VERMONT; McCAIN CLINCHES NOMINATION, HUCKABEE ENDORSES McCAIN.

P2008 - DEMS. For the past several weeks, top Hillary Clinton backers -- including former President Bill Clinton and Pennsylvania Governor Ed Rendell -- said she needed to win both Ohio and Texas for her campaign to continue. While her campaign lowered expectations over the past few days, the results spoke for themselves -- and she met her goals. In Ohio, Barack Obama heavily outspent Clinton but was never able to catch her. In the end, it appears Clinton scored a big victory in Ohio. Clinton defeated Obama in Ohio by a vote of 56% to 42%. In Texas, the race remained much closer. Pre-primary "early voting" in Texas, plus the offbeat precinct caucus process for awarding one-third of the state's delegates, both favored Obama. However, voters in the final days appeared broke strongly in favor of Clinton, helping boost her election day vote tally and give her a 50% to 48% win. The two other smaller primary states which voted Tuesday took a back seat to Ohio and Texas. No surprise in Vermont, where Obama cruised to a lopsided victory. Likewise in Rhode Island, where Clinton score an expected victory. Tuesday's results seem to ensure the race will continue for a few more months. The end result: Clinton shows she is still very much in this race -- although Obama still holds a significant advantage with overall pledged delegates. The spotlight turns back to finding a solution to the Florida and Michigan problem, with new contests --

primary or caucuses -- likely to be scheduled in both states for June or July.

P2008 - GOP. With solid wins in all four contests on Tuesday, John McCain secured the Republican Presidential nomination by capturing more than the 1,091 delegates needed to put him over the top. Mike Huckabee withdrew from the race in his election night speech and endorsed McCain. He called McCain an "honorable man" and promised to "do everything we can to help Senator McCain." Summing up his candidacy, Huckabee said "I'd rather lose the race than lose the principles that got me into politics."McCain will be at the White House on Wednesday, where President Bush will endorse him. Bush is also now planning to campaign with McCain -- and help with fundraising -- in some states where conservatives believe his presence will be helpful. The Bush endorsement is a mixed blessing for McCain, as Bush's approval ratings are rather dismal overall -- and are tepid at best even among Republicans.
Posted by Ron Gunzburger - 03.05.08 | Permalink |
OHIO & TEXAS CONGRESSIONAL PRIMARY RESULTS; IL CD-14 SPECIAL ELECTION UPDATE; IN & OUT IN CALIFORNIA CD-4.

OHIO. Lots of interesting congressional races to discuss. These are the highlights. CD-2: Congresswoman Jean Schmidt (R) won renomination by nearly a 2-to-1 margin. Physician Victoria Wulsin (D) won her primary, setting up a competitive rematch in November between the two women. Race rating:

Leans GOP. CD-7: State Senator Steve Austria easily won GOP primary over three opponents, winning by 21-points over his closest rival. Austria is a GOP centrist and protégé of retiring Congressman Dave Hobson (R). Race rating: Safe GOP. CD-10: Weather issues and extended poll closing times delayed the results in Congressman Dennis Kucinich's renomination fight. WIth a third of the vote counted, Kucinich was holding a 21-point lead over his nearest rival. Race rating: Safe DEM. CD-14: Former State Appeals Court Judge Bill O'Neill (D) won his primary with 63%, setting up a competitive fall race against Congressman Steve LaTourette (R). Race rating: Leans GOP. CD-15: State Senator Steve Stivers (R) and Franklin County Commissioner Mary Jo Kilroy (D) easily won their respective primaries, ensuring one of the hottest open seat contests in the nation. Kilroy nearly toppled Congresswoman Deborah Pryce (R) two year ago. Pryce chose to retire, rather than face a rematch with Kilroy. Race rating: Toss-Up. CD-16: Congressman Ralph Regula (R) is retiring. State Senator John Boccieri easily won the Dem primary with 64%. With nearly 90% of the GOP primary votes counted, Ashland County Commissioner Matt Miller was leading State Senator Kirk Schuring by a vote of 46% to 43%. Miller previously won over 40% in his challenge of Regula in GOP primary two years ago. CD-18: Former State Agriculture Director Fred Dailey won 39% of the vote to win his four-way GOP primary. Republicans are hoping to recapture this usually GOP district, currently held by freshman Congressman Zack Space (D). Race rating: Leans DEM. Click here to view the Ohio congressional nominees.



TEXAS. Congressman Ron Paul (R) won a landslide renomination victory in CD-14, capturing 70% of the vote. His primary foe had argued Paul's libertarian views were out of sync with social conservative values. Here are the other races of note. Race rating: Safe GOP. CD-4: Congressman Ralph Hall (R), age 84, scored a landslide primary win over four challengers. Hall won 71% of the vote, with former Frisco Mayor Kathy Seei in second place with just 11% of the vote. Race rating: Safe GOP. CD-22: Ten Republicans faced-off for the right to challenge vulnerable Congressman Nick Lampson (D) in this GOP-leaning district. Early returns showed former Congresswoman Shelley Sekula Gibbs and former Congressional aide Pete Olson seemingly heading ito an April 8 run-off. Race Rating: Leans DEM. CD-23: Bexar County Commissioner Lyle Larson (R) won his primary with 63%, and will face Congressman Ciro Rodriguez (D) in November in this swing district. Race rating: Leans DEM. US SENATE: With incomplete results, State Representative Rick Noriega (D) was running very near the 50% mark needed to win the four-candidate primary without a run-off. Frequent candidate Gene Kelly was second with 27%. US Senator John Cornyn (R) easily won his primary by a 4-to-1 margin. Race Rating: GOP Favored. Click here to view all of the Texas congressional run-off candidates and nominees.



ILLINOIS. Voters head to the polls on Saturday to fill the congressional vacancy in CD-14 caused by the resignation of former House Speaker Denny Hastert (R). Although the seat is traditionally a reliable Republican district, both sides acknowledge the race is surprisingly close. In an unexpected move, the influential Chicago Tribune on Tuesday endorsed scientist Bill Foster (D). In a blistering commentary, the Tribune wrote wealthy businessman Jim Oberweis (R) sees public office merely as "an opportunity to pick a fight." The race has proven so close that the NRCC has already been forced to spend $1.2 million in support of Oberweis -- even though that amount equals nearly 20% of the NRCC's total cash-on-hand for all the upcoming races nationwide this year. By contrast, the DCCC has spent $600,000 in support of Foster -- but the DCCC had $35.5 million cash-on-hand as of the last reporting period a month ago. The national candidates have also jumped into the fray, with Barack Obama appearing in a Foster television ad and John McCain headlined a recent Oberweis fundraising event.

CALIFORNIA: The dynamics of the open CD-4 seat changed radically this week as conservative Republicans are now united behind a single candidate. State Senator Tom McClintock (R) -- a four-time candidate for statewide offices -- jumped into the race. "It is true that we had a Republican Congress and a Republican President and they squandered Reagan's legacy. They abandoned our Republican principles. I want to return to them," said McClintock. He is known as an uncompromising fiscal and social conservative. Former State Senator Rico Oller and Iraq War veteran Eric Egland immediately withdrew and endorsed McClintock. The GOP primary now features an aggressive contest between McClintock and centrist former Congressman Doug Ose. Ose is also a wealthy businessman, with deep personal pockets to finance his own campaign. Former Governor Pete Wilson also endorsed Ose on Tuesday. Theodore Terbolizard, a Ron Paul campaign activist, is also running. The winner of the GOP primary will face retired USAF officer Charlie Brown (D). Congressman John Doolittle (R), the target of a federal corruption probe, is retiring. Race rating: GOP Favored.
Posted by Ron Gunzburger - 03.05.08 | Permalink |
CLINTON HOLDS OHIO EDGE, TEXAS TOO CLOSE TO CALL; CORNYN NOT YET READY FOR GOP KUMBAYAH MOMENT.
P2008 - DEMS. Final polling on the eve of the crucial
Ohio and Texas primaries shows Hillary Clinton continuing to hold an advantage over Barack Obama. In Ohio, Clinton appears to be leading by around seven points. A predicted two inches of snow on Tuesday in southern Ohio should be good news for Obama, as it may impact turnout in a part of the state that more heavily favors Clinton. In Texas, Clinton appears to be leading by around 1-2 points. However, most pundits agree Obama is better prepared for the state's complicated delegate awarding process, meaning he may walk away with more Texas delegates regardless of who wins the state overall. Also, as both Texas and Ohio are open primaries, conservative radio talk show host Rush Limbaugh urged GOP conservatives on Monday to cast primary ballots for Clinton in order to prolong the Dem nomination fight. The Clinton campaign also seems to have dropped the expectations bar, sending the message she will continue running no matter what the results on Tuesday. In other news, Florida Governor Charlie Crist (R) told CNN on Monday he would be willing to have the state finance a second Dem "re-do" primary if that's what the Democrats still need to pick a nominee.
P2008 - GOP. In a sign that John McCain still has a way to go to build party unity, check out these comments by US Senator John Cornyn (R-TX). Speaking this past weekend at a GOP dinner, Cornyn said McCain wasn't his "first choice ... or second, third or fourth choice" for the Presidential nomination. "I sort of liken it to a grieving process. You come to acceptance," said Cornyn in his speech, according to the Dallas Morning News. Still, Cornyn said he thought McCain was "head and shoulders above Barack Obama or Hillary Clinton" -- as he said he feared the election of either could lead to a "socialist regime" in the US.
Posted by Ron Gunzburger - 03.04.08 | Permalink |
KUCINICH, PAUL, HALL FACE TOUGH PRIMARIES; NEBRASKA FILING CLOSES; NM & NJ SENATE POLLS; ROMNEY SON WON'T RUN IN UTAH.


OHIO & TEXAS: Just a reminder that Tuesday is also the primary day in these two states for the congressional races. Former 2008 Presidential candidates Dennis Kucinich (D-OH) and Ron Paul (R-TX) each face competitive renomination primaries -- in large part brought on because of their respective White House runs. Polling shows both incumbents well positioned to win their races. In Ohio, the open seat GOP primaries in CD-7 and CD-16 are worth watching. In Texas, 84-year-old Congressman Ralph Hall (R) is facing some credible primary challengers in CD-4, but Hall is expected to survive. Also watch the crowded GOP primary in CD-22, as ten hopefuls vie to face vulnerable Congressman Nick Lampson (D) in November.
NEW MEXICO: The latest Rasmussen Reports poll shows Congressman Tom Udall (D) leading both of the GOP candidates in the open US Senate race. Udall leads Congresswoman Heather Wilson (R) by a 50% to 43% vote. Udall leads Congressman Steve Pearce (R) by a 50% to 42% vote.
NEBRASKA. Candidate filing closed in Nebraska on Monday, with no surprises. In the race to replace retiring US Senator Chuck Hagel (R), former Governor Mike Johanns (R) remains the clear frontrunner. Johanns should have little problem defeating financial analyst Pat Flynn in the GOP primary. Rancher Scott Kleeb, wealthy businessman Tony Raimondo and two others are seeking the Democratic nomination for the Senate seat. Conservative activist Kelly Rosberg (Nebraska) and State Green Party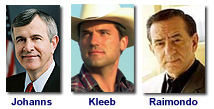 Co-Chair Steve Larrick also filed to run in the general election. In CD-2, Congressman Lee Terry (R) will face a rematch from businessman Jim Esch (D). Terry defeated Esch by a competitive 55%-45% vote two years ago. Esch said he was inspired to make a second run because of the success of Barack Obama's Presidential campaign. The state's two other GOP Congressmen each drew Dem challengers, but both incumbents appear to be safe. Click here for the list of Nebraska candidates.
NEW JERSEY: A new Rasmussen Reports survey from the Garden State gives us a snapshot of the US Senate race. Incumbent Frank Lautenberg (D) leads wealthy real estate developer Anne Evans Estabrook (R) by a vote of 44% to 34%. Lautenberg led State Assemblyman Joe Pennacchio (R) by a vote of 46% to 38%. Lautenberg also held a strong advantage over libertarian college professor Murray Sabrin (R) by a 46% to 31% vote. Lautenberg leads in each match-up but Dems should be concerned as the aging incumbent fails to crack the 50% mark -- even against a frequent candidate like Ron Paul supporter Sabrin.
UTAH: Dems got some good news on Monday as Josh Romney -- a businessman and the 32-year-old son of Mitt Romney -- announced he would not challenge Congressman Jim Matheson (D) for the CD-2 seat. "I guess I'm not ruling anything out or ruling anything in [for 2010, but] ... this one [in 2008] I'm definitely ruling out," said Romney to the Salt Lake Tribune. With the telegenic younger Romney out, bombastic former Congressman and frequent candidate Merrill Cook (R) announced Monday that he would run against Matheson again. Race rating: DEM Favored.
Posted by Ron Gunzburger - 03.04.08 | Permalink |
RICHARDSON THINKS DEM RACE MAY END TUESDAY; CLINTON LEADS IN OHIO, TX IS CLOSE; HUCKABEE SAYS "STOP PUSHING"; PAUL LOOKS STRONG IN HOUSE PRIMARY; NC FILING CLOSES.
P2008 - DEMS. Former Presidential candidate and New Mexico Governor Bill Richardson sounded on Sunday like someone preparing to endorse Barack Obama based upon simple math after Tuesday's primaries. Appearing on Face the Nation, Richardson said: "I just think the D-Day is Tuesday. We have to have a positive campaign after Tuesday. Whoever has the most delegates after Tuesday, a clear lead, should be in my judgment the nominee." As for Tuesday's contests, two Texas polls show Obama leading (Mason-Dixon & Zogby) by a 1-4% range, one poll shows Obama and Clinton tied (ARG) and one says Clinton leads by 1% (Belo). All of the new polls out of Ohio released Sunday show Clinton continuing to lead Obama, now by margins wildly ranging from as little as 1% and as much as 16%. Clinton is favored to win Rhode Island, while Obama is expected to score a lopsided victory in Vermont.
P2008 - GOP. Mike Huckabee

seems to be enjoying his Presidential run -- even jokingly acknowledging last week on SNL that he is "going to focus on miracles" because he understands it is a mathematical impossibility for him to win the Republican nomination over John McCain. However, Huckabee made it clear over the weekend he is getting annoyed by those who want him to end his campaign this week after Tuesday's vote. In comments to reporters on Sunday, Huckabee implied he plans to remain in the race for the rest of the primary season. "You can beat me but you can't make me quit ... What is the big hurry here? I guess I fail to see it. The Democrats are still having a primary, and all of these [Republicans] who for the last two or three weeks have been saying, 'let's hurry and get ours over with.' Well, what's the hurry? We have six or seven months before the convention, and another two months after that until we have the election. I don't know that there's a bomb sitting under anybody's chair that's going to go off if we don't have the nominee all settled before we get through Texas and Ohio and go on to places like Mississippi and Pennsylvania and Nebraska and North Carolina," said Huckabee. In related news, the Dallas Morning News endorsed Huckabee (and Obama) in Tuesday's primary. Huckabee campaign manager Ed Rollins partially contradicted his candidate a few minutes later, saying that "we may end up suspending for a while or not campaigning quite as actively, but we're not quitting" after the Texas primary.
TEXAS. Congressman

Ron Paul (R) appears to be in decent shape to win renomination on Tuesday, despite some media speculation to the contrary in recent days. A Public Policy Polling survey released Thursday shows Paul leading Friendswood City Commissioner Chris Peden by a 63% to 30% vote. Peden, a Religious Right conservative, argues Paul is out of step with Texas Republicans on key issues like the war and the gay marriage amendment. Paul, meanwhile, frequently reads from a letter Peden wrote him a year ago praising his service in Congress. In an ironic twist, Paul -- who loudly complained about being excluded from some GOP Presidential debates -- has refused to debate Peden. Side note: only 18% of those same poll respondents said they planned to vote for Paul for President on Tuesday.
NORTH CAROLINA. The state's primary filing deadline produced few surprises. Click here for the list of North Carolina candidates. Governor Mike Easley (D) is term-limited. Lieutenant Governor Bev Perdue (D), State Treasurer Richard Moore (D), Charlotte Mayor Pat McCrory (R), State Senator Fred Smith (R) and five others are running to replace Easley. Five Democrats and a minor GOP challenger filed against US Senator Elizabeth Dole (R), but the incumbent still holds a solid advantage. Dole's most significant Dem foes are State Senator Kay Hagan and wealthy investment banker Jim Neal. In CD-3, Congressman Walter Jones Jr. is facing a very tough GOP primary challenge from Onslow County Commissioner Joe McLaughlin. Jones, a former Iraq War supporter, has become a vocal opponent of the war. McLaughlin supports the war, and is making an issue of it in this district with it's large military population. In CD-13, a surprise entrant was bombastic former six-term State Senator Hugh Webster (R), who filed to challenge Congressman Brad Miller (D). Miller remains favored, but Webster -- who lost for re-election two years ago -- will run an aggressive campaign.
Posted by Ron Gunzburger - 03.03.08 | Permalink |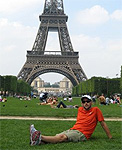 FREE SPEECH ZONE.
Now that my year of frequent Paris visits has come to an end -- as Dana just finished his culinary apprenticeship and returns home next week -- I finally got around to posting many of my pix. In fact, I just posted 20+ new albums of Paris (and Cote d'Azur) pix on Facebook. From the normal touristy stuff ... to street graffiti and street demonstrations ... to the city's grand boulevards and famous cemeteries ... to specialized albums focusing on just one place or neighborhood. Clearly, I took way too many photos (as I only posted a sampling of the many I snapped) -- but this helped me truly realize how fortunate we were to have been able to do what we did. Check out all my France photo albums on my Facebook profile page. If you're not yet on my "friends" list, just drop me a request on Facebook and I'll approve it.
Posted by Ron Gunzburger - 03.01.08 | Permalink |
JOIN THE POLITICS1
FACEBOOK GROUP:



BLOG ARCHIVE:

March 16-31, 2008
March 1-15, 2008
February 16-29, 2008
February 1-15, 2008
January 16-31, 2008
January 1-15, 2008
December 16-31, 2007
December 1-15, 2007
November 16-30, 2007
November 1-15, 2007
October 16-31, 2007
October 1-15, 2007
September 1-30, 2007
August 16-31, 2007
August 1-15, 2007
July 1-31, 2007
June 1-30, 2007
May 16-31, 2007
May 1-15, 2007
April 16-30, 2007
April 1-15, 2007
March 16-31, 2007
March 1-15, 2007
February 16-28, 2007
February 1-15, 2007
January 16-31, 2007
January 1-15, 2007
December 16-31, 2006
December 1-15, 2006
November 16-30, 2006
November 1-15, 2006
October 16-31, 2006
October 1-15, 2006
September 16-30, 2006
September 1-15, 2006
August 16-31, 2006
August 1-15, 2006
July 16-31, 2006
July 1-15, 2006
June 16-30, 2006
June 1-15, 2006
May 15-31, 2006
May 1-15, 2006
April 16-30, 2006
April 1-15, 2006
March 16-31, 2006
March 1-15, 2006
February 17-28, 2006
February 1-16, 2006
January 16-31, 2006
January 1-15, 2006
December 2005
November 2005
October 2005
September 2005
August 2005
July 2005
June 2005
May 2005
April 2005
March 2005
Jan-Feb 2005
December 2004
November 16-30, 2004
November 1-15, 2004
October 16-31, 2004
October 1-15, 2004
September 16-30, 2004
September 1-15, 2004
August 16-31, 2004
August 1-15, 2004
July 16-31, 2004
July 1-15, 2004
June 16-30, 2004
June 1-15, 2004
May 16-31, 2004
May 1-15, 2004
April 16-30, 2004
April 1-15, 2004
March 15-31, 2004
March 1-14, 2004
February 15-29, 2004
February 1-14, 2004
January 17-31, 2004
January 1-16, 2004
December 16-31, 2003
December 1-15, 2003
November 17-30, 2003
---
POLITICAL BLOG ROLL:
KINDA NEUTRAL:
ABC News: The Note
CNN: Morning Grind
CQ Politics
Political Wire
MSNBC: First Read
CJR Daily
Rothenberg Pol. Report
LexisNexis: US Politics
Stateline.org
Governing.com
Political State Report
Hotline On Call
Hotline's Blogometer
Beltway Blog
WatchBlog
Lawmakers Blog
Centerfield Aggregator
Command Post
FactCheck.org
WSJ: Best of the Web
WSJ: Washington Wire
D.C.'s Political Report
2008 Political Perspective
Media Bistro
Larry Sabato: Crystal Ball
PressThink
Politics-Line
TheCapitol.Net: Blog
MyElectionAnalysis.com
DEM/LEFT:
DNC Blog
DCCC Blog
DailyKos
Lefty Blogs
Howard Dean/DFA
OurSenate.com
Frameshop
The Washington Note
Emerging Dem Majority
Think Progress
AmericaBlog.com
Amer Prospect: Tapped
Arianna Huffington
Al Franken
BAG News Notes
Eric Alterman
Senate Majority Project
FishBowl DC
Fired Up! America
TalkLeft
TNR: The Plank
The Raw Story
Blogging of the President
Joe Trippi
Swing State Project
Media Matters
Josh Marshall
Wonkette
MyDD
Working for Change
Crooks & Liars
Mathew Gross
Penndit
Progressive Dems: Blog
Atrios/Eschaton
Off the Kuff
Tom Tomorrow
Mother Jones
Jerry Springer
TruthOut
Dem Bloggers
Liberal Oasis
Penndit
Firedoglake
Good As You
AtariDemocrat
Henry Lewis
BuzzFlash
Brad Blog
Dean Nation
Louise Slaughter
TruthDig
Dem Underground
Jared Hall
Bad Attitudes
The American Street
District Blogs
GOP/RIGHT:
RNC (GOP.com)
Club for Growth
National Review: Corner
C-Log
Real Clear Politics
Andrew Sullivan
John Ellis
StoneZone
Mickey Kaus
Virginia Postrel
RedState.org
WSJ Opinion Journal
Free Republic
Instapundit
Drudge Report
Pajamas Media
Hugh Hewitt
Daniel Drezner
Daily Pundit
Bully Pulpit
Outside the Beltway
Little Green Footballs
World Mag Blog
Right Wing News
Volokh Conspiracy
Brothers Judd
David Frum
Mister Politics
Enter Stage Right
Right Wing News
PoliPundit
Power Line
Hedgehog Report
Right Voices
Booker Rising
Don Singleton
Save the GOP
OTHER:
ThirdPartyWatch.com
Centrist Coalition
Kn@ppster
Green Commons
News for Greens
---
For those who would like to track Politics1 with a newsreader, we publish a RSS feed:
---

---