BLOG ARCHIVE: MARCH 16-31, 2007.
FLORIDA MOVING FORWARD; IA PREZ POLLS; LA, NH & AL SEN UPDATES.
FLORIDA: Two developments on the 2008 Presidential primary. First: Governor Charlie Crist (R) and State

GOP Chair Jim Greer both endorsed the rapidly advancing bipartisan bill in the Florida Legislature that would move the state's primary date to the "Tuesday following the New Hampshire primary." Based on the current NH primary date, Florida's primary would be January 29 -- and would move further forward if NH advances their primary date. Both Crist and Greer said they were unconcerned that the RNC promises to eliminate half of the state's delegates for making the move -- including eliminating all of the super-delegate spots which traditionally are reserved from prominent party leaders and elected officials. Even though Greer said he will likely lose his delegate seat because of his stance, it is "the right thing to do" for the state. The DNC has vowed to do likewise to Florida Dems. With the Crist and Greer endorsements, Florida appears certain to buck the "official" DNC/RNC approved schedule and jump a week ahead of the massive Febuary 5 mega-primary day. "It's the smartest move I've seen this cycle. They are the only one that has figured out if they go first, they could be the megastate to tip all megastates, and Florida could decide the nomination," said respected political scientist Larry Sabato to the AP. That said, here are numbers from the new Insider Advantage/Florida Chamber of Commerce poll of Democratic voters in the Sunshine State: Hillary Clinton - 26%, John Edwards - 15%, Barack Obama - 14%, Al Gore - 14%, Bill Richardson - 7%, Joe Biden - 2%, and all others at less than 1%.
IOWA: New numbers from a Zogby telephone poll of likely Iowa GOP caucus participants shows Rudy Giuliani moving further ahead in the state. The numbers: Giuliani - 25%, John McCain - 19%, Mitt Romney - 11%, Fred Thompson - 7%, Tommy Thompson - 5%, Sam Brownback - 3%, Mike Huckabee - 2%, and Chuck Hagel and Tom Tancredo tied with 1% apiece.

Oddly, Zogby excluded Newt Gingrich from the poll -- even though he placed third in the January poll. Also out is a new American Research Group poll. On the GOP side, Giuliani and McCain are tied with 29% each, followed by Fred Thompson at 12%, Romney at 10%, Gingrich at 7%, and everyone else at 1% or less. On the Dem side, these are the ARG numbers: Clinton - 34%, Edwards - 33%, Obama - 16%, and all others at 2% or less.
LOUISIANA: It looks like former State Elections Commissioner Suzie Terrell (R) -- to the surprise of most -- is readying for a rematch run against US Senator Mary Landrieu (D) next year. Landrieu defeated Terrell is a very competitive contest in the 2002 run-off. In 2003, Terrell was the unsuccessful GOP candidate for Attorney General. Congressman Charles Boustany (R) recently announced he would not run against Landrieu. Congressman Richard Baker (R) is still considering the race.
ALABAMA: Democratic political blogs have recently been touting State Agriculture Commissioner Ron Sparks (D) as a candidate next year against US Senator Jeff Sessions (R). Dem activists view the popular Sparks, who won re-election last year by a solid 16-point margin, as the party's strongest possible candidate. Sparks told the Troy Messenger that he is aware of the buzz and is not ruling the race out. "We're not taking out any possibilities. The people of Alabama know my record ... and what I stand for versus the people in office now," said Sparks. He said he plans to meet with his political advisors and make a decision in a "few weeks or months."
NEW HAMPSHIRE: A new American Research Group poll shows US Senator John Sununu (R) could be in big trouble if former Governor Jeanne Shaheen (D) decides to seek a rematch next year. The numbers: Shaheen - 44%, Sununu - 34%. Shaheen has yet to make any decision on the race. As for the Presidential race, here are the ARG Dem numbers: Clinton - 37%, Obama - 23%, Edwards - 20%, and all others far behind. The GOP numbers: McCain - 23%, Giuliani - 19%, Romney - 17%, Gingrich - 11%, Fred Thompson - 10%, and all others at 2% or less.
Posted by Ron Gunzburger - 03.30.07 | Permalink |
FREE SPEECH ZONE.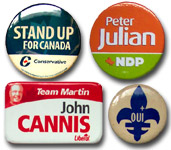 The daily open thread.
Posted by Ron Gunzburger - 03.30.07 | Permalink |
WANNA TRADE?
I'm interested in building up my collection of Canadian campaign buttons. If you've got Canadian political buttons to trade (both federal and provincial), I'm interesting in swapping with you (and will also trade your Canadian buttons for some of my great US pins). Please drop me a note! Also interested in buying Canadian pins, if you're not interested in trading.
DOBSON SLAMS FRED THOMPSON (TWICE), LOVES NEWT; SAN FRAN BANS PLASTIC BAGS.
P2008 - GOP: Influential Religious Right leader James Dobson -- leader of the Focus on the Family organization -- fired a serious shot at the potential White House candidacy of actor and former US Senator Fred Thompson (R-TN). "Everyone knows he's conservative and has come out strongly for the things that the pro-family movement stands for [but] I don't think he's a Christian --

at least that's my impression," said Dobson in an interview with US News & World Report. A spokesman for Thompson quickly responded that "Thompson is indeed a Christian. He was baptized into the Church of Christ." In a follow-up with Dobson, a Focus on the Family spokesman said Dobson stood by his earlier comments, explaining Dobson knows Thompson sees himself as a Christian but that Dobson "has never known Thompson to be a committed Christian." Although Dobson recently met with former Massachusetts Governor Mitt Romney, he appears to be strongly leaning towards former House Speaker Newt Gingrich's likely bid. Dobson told the magazine that Gingrich is the "brightest guy out there" and "the most articulate politician on the scene today." He also reaffirmed his comments of last year that "many evangelicals would find it difficult to support Romney because of his Mormonism" -- although added "I'm not saying that's the correct view or my view." No surprise, but Dobson also is not a fan of John McCain or Rudy Giuliani. Surprisingly -- despite Senator Sam Brownback's frequent courting of the evangelical community and former Governor Mike Huckabee's background as an evangelical minister -- neither man merited even a single mention from Dobson in the article.
"I JUST WANT TO SAY ONE WORD TO YOU: PLASTICS": San Francisco is the first city in North America to ban the use of plastic one-time-use grocery bags, a move that city leaders hope will spread nationwide. The law, adopted Tuesday, prohibits grocery stores and drugstores from using non-recyclable and non-biodegradable plastic bags made from petroleum products. Supermarkets have six months to comply, while drugstores have up to a year. Supervisor Ross Mirkarimi said city residents use up to 200 million plastic bags each year -- bags which take a roughly a thousand years to biodegrade in a landfill.
Posted by Ron Gunzburger - 03.29.07 | Permalink |
FREE SPEECH ZONE.
The daily open thread.
Posted by Ron Gunzburger - 03.29.07 | Permalink |
DEMS BRIEFLY WIN IRAQ SENATE VOTE; NEW IOWA NUMBERS; TAYLOR-SHULER REMATCH?
IRAQ: The US Senate voted 50-48 in favor of a Democratic plan to fund US troops in Iraq with $124 billion more, but require that the US withdrawal begins within 120 days and be completed by March 2008. "Now it's time for us to make it clear to the Iraqis it is their country. It is their war. It is their future," said Senate Majority Whip Dick Durbin (D-IL). Senate Minority Leader Mitch McConnell (R-KY) made no attempt at using any procedural tools to block the vote, explaining they were confident President Bush would veto the "surrender date" plan and Democrats had nowhere near enough votes to override the veto. US Senators Chuck Hagel and Gordon Smith were the only Republicans to vote in favor of the bill. "The American people are demanding that we develop a bipartisan consensus for an honorable and responsible exit strategy from Iraq," explained Hagel. Senator Mark Pryor and Joe Lieberman were the only two Dems who voted against the bill. Shortly after the vote, the White House confirmed President Bush will veto the bill. The House previously approved an Iraq withdrawal bill.
IOWA: Three new independent polls of likely Iowa Democratic caucus-goers show a competitive race brewing in the first-in-the-nation contest state. A new Zogby telephone poll posted these numbers: John Edwards - 27%, Hillary Clinton - 25%, Barack Obama - 23%, Joe Biden and Bill Richardson had 3% apiece, and all others were at 1% or less. Edwards' numbers are unchanged since the January poll, but Clinton is up 9-points and Obama is up 6-points since then. The University of Iowa conduced two separate polls of like caucus voters, one before and one after Edwards' announcement of his wife's health condition. The pre-announcement numbers: Edwards - 30%, Clinton - 24%, Obama - 22%. After the announcement: Edwards - 36%, Clinton - 24%, Obama - 14%.
NORTH CAROLINA: While the NRCC appears to be searching for a new candidate to challenge freshman Congressman Heath Shuler (D) next year, there appears to be a problem. All of the names being floated say they will defer to defeated former Congressman Charles Taylor (R) if he decides to make a comeback run, according to the Hendersonville Times-News. Taylor was defeated in a tough race after suffering a series of scathing news stories in the Wall Street Journal and various local newspapers which linked him to alleged corruption scandals. Taylor is interested in regaining his seat, but appears to be in no rush to make any decision.
Posted by Ron Gunzburger - 03.28.07 | Permalink |
FREE SPEECH ZONE.
The daily open thread.
Posted by Ron Gunzburger - 03.28.07 | Permalink |
GOP HAS UPHILL CLIMB FOR SEN IN '08; TAKING THE FIFTH; EX-OMB DIRECTOR INDICTED.
US SENATE - 2008: NRSC Chair John Ensign (R-NV) painted a dismal picture for Republicans in an interview Monday with the Washington Times. Ensign "acknowledged that his party faces a steep, uphill climb in next year's Senate elections when 21 Republican seats will be up for grabs, compared with 12 for the Democrats ... [and] singled out five Republican seats that are in danger in Colorado, Maine, Minnesota, Oregon and New Hampshire, compared with two vulnerable Democratic incumbents in South Dakota and Louisiana and long-shot possibilities in Iowa and Montana."
GONZALES: Monica Goodling -- a top aide to Attorney General Al Gonzales -- issued a statement that she will refuse to testify before the US Senate Committee investigating the politically-related firing of eight US Attorneys. Goodling
is invoking her fifth amendment right against self-incrimination in refusing to testify.
REAGAN ADMINISTRATION: Former Congressman David Stockman (R-MI), who served as the US Budget Director in the Reagan Administration, was indicted Monday on fraud, conspiracy and other felony charges on Monday. Federal prosecutors allege he organized the scheme to hide the dire financial condition of Collins & Aikman Corporation in a bid to deceive investors when he was CEO of the now-bankrupt auto parts maker. "The government's case amounts to a crimeless prosecution that I intend to vigorously challenge because I did nothing wrong," said Stockman, in a statement posted on his lawyer's website. Stockman said he did his best to save the company. Three other former executives with indicted along with Stockman. Four corporate executives who participated in the scheme already pled guilty in related cases and are cooperating with the Feds. Stockman was a leading advocate of "Reaganomics" and supply-side economics in the 1980s.
Posted by Ron Gunzburger - 03.27.07 | Permalink |
FREE SPEECH ZONE.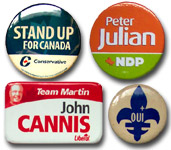 The daily open thread.
Posted by Ron Gunzburger - 03.27.07 | Permalink |
WANNA TRADE?
I'm interested in building up my collection of Canadian campaign buttons. If you've got Canadian political buttons to trade, I'm interesting in swapping with you for some great US pins. Please drop me a note!
GOP MONEY SPIN; HILLARY SCORES BIG ENDORSEMENTS; GONZALES TWISTING IN THE WIND.
P2008 - REPUBLICANS: US Senator John McCain and former Massachusetts Governor Mitt Romney both spent the weeking playing the "lowering expectations" game. In his spin, McCain announced Saturday he expects his campaign will fall short of their fundraising goal for 1Q-2007 and will be behind Romney's expected $30 million fundraising haul. Romney's campaign quickly spun back, telling The Hotline that McCain was trying to downplay expectations, that Romney raised around $20 million in this quarter, and that "McCain will be in first" in fundraising.


P2008 - DEMOCRATS: Former Iowa Governor Tom Vilsack, who ended his White House bid earlier this year, will endorse US Senator Hillary Clinton for President. The AP reports Vilsack and his popular wife will both make their announcements on stage with Clinton on Monday. Clinton also scored a major coup in New Hampshire, winning the endorsement of top political operative Bill Shaheen. Shaheen -- husband of former Governor Jeanne Shaheen -- will co-chair the Clinton campaign in NH. He played the same role in the primary for Gore 2000 and Kerry 2004. Jeanne Shaheen has not yet made any endorsement, as she is weighing a possible run next year against US Senator John Sununu (R).
GONZALES: More Republicans expressed serious reservations about Attorney General Al Gonzales remaining in his post in the wake of his having made false or misleading statements to Congress about the politically-related firing of eight US Attorneys. Had Gonzales simply said the firings were politically-related from the outset -- which is not unlawful -- it probably would have been a 1-2 day news story. Instead, he continues to twist in the wind. US Senator Lindsey Graham (R-SC) said on CBS's Face the Nation that "The Attorney General has been wounded because of his performance, not because of politics ... He has said some things that don't add up." US Senator Chuck Hagel (R-NE) said on ABC's This Week said that "you cannot have the nation's chief law enforcement officer with a cloud hanging over his credibility." US Senator Arlen Specter (R-PA), the senior Republican on the Judiciary Committee, told NBC's Meet the Press that he needs to learn more. "I'm not going to make a judgment based on newspaper stories. If we find out he's not been candid and truthful, that's a very compelling reason for him not to stay on. Let's go eyeball to eyeball with the man and see what his integrity is," said Specter. US Senator Orrin Hatch (R-UT) said he still had confidence in Gonzales, but even he offered some criticisms during an appearance on CNN. "The Justice Department has bungled this attorney thing. There's no question about it. There's no excuse for it," said Hatch.
Posted by Ron Gunzburger - 03.26.07 | Permalink |
FREE SPEECH ZONE.
The daily open thread.
Posted by Ron Gunzburger - 03.26.07 | Permalink |
EDWARDS CONTINUES PREZ RACE; LA GOV NEWS; FL 1/29 PRIMARY BILL ADVANCES.
EDWARDS: Former US Senator John Edwards (D-NC) and his wife Elizabeth have decided to continue his Presidential campaign, despite a major set-back in his wife's health. Elizabeth Edwards was diagnosed with breast cancer in 2004, although it was believed to be in remission following treatment. This week her doctor discovered the cancer had returned, spread to her bones, and was malignant. He condition may be treatable to greatly slow the spread of the disease, but it is not curable.

Mrs. Edwards said she was "incredibly optimistic ... I expect to do next week all the things I did last week. And the week after that, and next year at the same time." Edwards was reportedly willing to suspend his campaign or quit the race to spend more time with his wife, but CNN reports Mrs. Edwards pushed him to continue his run.
LOUISIANA: As retired US Senator John Breaux (D) awaits an advisory opinion as to whether he is eligible to run for Governor this year, other Democrats are also looking at the race. Lieutenant Governor Mitch Landrieu, former Congressman Chris John, and former Attorney General Richard Ieyoub all say they are interested in running -- but only if Breaux decides against running. "[There is] no other person I can think of [other than Breaux] that would deter me from giving this serious consideration," said Landrieu to the Baton Rouge Advocate. John is a lobbying partner of Breaux in DC but, unlike Breaux, John did not give up his Louisiana voter registration. Breaux told the Gannett News Service he will make a decision on the race "as soon as I can ... very quickly." In related news, a rather bitter outgoing Governor Kathleen Blanco blasted Republicans for her dismal approval ratings. She said her biggest mistake was not switching parties to the GOP after Hurricane Katrina hit the state. "When I look back at the storms, if I had had the knowledge that I would be treated as a pariah by the national Republicans in office, I would have joined the Republican Party to save my state. Then I would have been hugged and kissed and lifted, and I would have been declared the best governor in this whole country. I wish I had realized that earlier. I think that was the fatal error," said Blanco to the Shreveport Times.
FLORIDA: By a vote of 115-1, the Florida House overwhelmingly voted to advance Florida's Presidential primary to a date pegged at just "one week following the New Hampshire primary." Based upon the current schedule, that would move Florida's primary to January 29. That would place Florida's primary one week before the February 5 national mega-primary day. The bill now advances to the State Senate. If adopted, both national parties threaten to sanction Florida for breaking the agreed early primary schedule by slashing the number of delegate seats for the state at the two national conventions.
Posted by Ron Gunzburger - 03.23.07 | Permalink |
FREE SPEECH ZONE.
The daily open thread.
Posted by Ron Gunzburger - 03.23.07 | Permalink |
EDWARDS MYSTERY NEWS; McINNIS QUITS IN COLO; HUNTER-HUNTER; GINGRICH COLLECTS BUCKS.
EDWARDS: Former US Senator John Edwards (D-NC) has abruptly

scheduled a press conference for Thursday, where he plans to discuss new developments related to his wife's health. Elizabeth Edwards was diagnosed with cancer in 2004, although it was believed to be in remission following treatment. Edwards left the campaign trail on Tuesday to meet with his wife and her doctor. The campaign was mum on the news, refusing to elaborate on any details of the announcement. If Mrs. Edwards' received a clean bill of health, calling a press conference seems excessively dramatic. Traditionally -- and unfortunately -- this type of timing, drama and setting is usually a harbinger of bad news. If the news is bad, pundits are already speculating Edwards will announce he is either quitting the race or suspending his campaign to spend more time with his wife. For whatever it's worth, an Edwards campaign fundraiser scheduled for Thursday evening in New York still appears to going forward as planned. Stay tuned.
COLORADO: A variety of converging political events caused former Congressman Scott McInnis -- the perceived GOP frontrunner for the seat being vacated next year by US Senator Wayne Allard (R) -- to unexpectedly quit the race on Wednesday. Among McInnis' concerns were that Attorney General John Suthers (R) was preparing to enter the race, the media hits McInnis had taken in recent weeks for his work as a high paid lobbyist, and that retired US Senator Bill Armstrong decided to throw his weight behind the likely candidacy of former Congressman Bob Schaffer. Armstrong is known as the "Godfather of the Colorado GOP" because of the influence he wields in the state with party activists, the religious right Focus on the Family group and the fiscal conservative Club for Growth. Schaffer, who was previously an unsuccessful candidate for the GOP nomination for US Senate in 2004, is a hardcore social and fiscal conservative Republican. Suthers, who is viewed as a more mainstream conservative, is reportedly being courted to run by National Republican Senatorial Committee leaders. Retired USAF General Bentley Rayburn (R) is also looking at the race. Unlike the GOP contest, Democrats have already unified behind the Senate candidacy of Congressman Mark Udall.
HUNTER: Congressman

Duncan L. Hunter (R-CA), a longshot White House contender, will not seek re-election next year. This will enable the former House Armed Services Committee Chair to focus his efforts full-time on his Presidential bid. Hunter has held the seat since 1980. Hunter's son -- businessman and Iraq War veteran Duncan D. Hunter (R) -- announced his father's decision and said he will be a candidate for the open seat in this safe Republican district. Radio talk show host Mark Larson (R) is also a possible candidate.
GINGRICH: For a guy who claims he doesn't plan to make any decision on entering the Presidential race until September, former US House Speaker Newt Gingrich (R-GA) is certainly acting like a candidate. In addition to his hectic national speaking schedule, Gingrich has hired staffers and is busy raising money. According to The Politico, Gingrich's leadership PAC raised $1.1 million last month -- bringing his total to date since October 2006 to $2.1 million collected.
Posted by Ron Gunzburger - 03.22.07 | Permalink |
FREE SPEECH ZONE.
In regards to my editorial yesterday, I received a bunch of emails defending the reputation of President Chester Arthur. Having reflected on those comments and done some more research, I concede these readers were correct: Dubya will rank as one of our four worst Presidents. Chester Arthur will rank better than Bush.
Posted by Ron Gunzburger - 03.22.07 | Permalink |
LA GUV BLANCO QUITS RACE FOR RE-ELECTION; BUSH UPS STAKES IN ROVE-GONZALES PROBE.
LOUISIANA: Governor Kathleen Blanco (D) -- in the face of dismal poll numbers and pressure from her own party leaders -- quit her race for re-election on Tuesday. "Since Katrina and Rita, I have devoted every waking hour to both the recovery and to making the entire state stronger. Of course, there have been those who have attempted to exploit these tragedies for partisan gain. This is wrong. In

the upcoming session, I will ask legislators to adopt a bold and sweeping education agenda. Education is the key to transforming our future and developing our economy. We must give our children the opportunities they deserve. I am proud to have positioned Louisiana to compete for significant new industry for the first time in our history. And we can win the big ones! I have put forth a powerful agenda for consideration. While so many still suffer, I am choosing to do what I believe is best for my State. I will focus my time and energy for the next nine months on the people's work, not politics. After much thought and prayer, I have decided that I will not seek reelection as your Governor," explained Blanco in her televised remarks. The move paves the way for popular former US Senator John Breaux (D) to enter the race.
BUSH ADMINISTRATION: A defensive President Bush drew a line in the sand with his press conference comments Tuesday afternoon, expressing support for Attorney General Al Gonzales, bashing Congressional Dems for their inquiry ("political show trials") into the political firing of eight US Attorneys, and saying he will not allow Congress to question Karl Rove, Harriet Meier, and other top aides under oath. White House Spokesman Tony Snow, meanwhile, shot down reports as "false" that the Administration was searching for a new Attorney General nominee. Bush's defense of Gonzales is no proof that Gonzales will stay, as Bush expressed strong support for Defense Secretary Don Rumsfeld and FEMA Administration Michael Brown just days before each was jettisoned. A showdown is now set with Congress to begin later this week. Don't expect the President to find much support on the Hill for this particular fight, as the US Senate on Tuesday voted 94-2 to pass a bill that cancels the provision in the Patriot Act allowing the Administration to appoint US Attorneys without requiring Senate confirmation. The vote was in direct response to the US Attorney firings at issue.
Posted by Ron Gunzburger - 03.21.07 | Permalink |
FREE SPEECH ZONE.
Just a brief moment of editorializing here, but President Bush should be greatful his White House predecessors included Warren Harding, Franklin Pierce, James Buchanan, and Chester Arthur. After all, that band of crooks and incompetents are about the only reason Dubya won't be ranked as our single worst and most inept President ever.
Posted by Ron Gunzburger - 03.21.07 | Permalink |
FIDEL ROMNEY VISITS MIAMI; MISS DEMS PURGE BALLOT; AND AL "GONE-ZALES"?
ROMNEY: Former Massachusetts Governor Mitt Romney (R) found a unique way to crash-and-burn in his remarks in Miami before a GOP comprised heavily of Cuban-American voters. After giving a speech loaded with anti-communist lines bashing Fidel Castro and Hugo Chavez, Romney closed with the line "Patria o muerte, venceremos," saying it was the slogan of "a free Cuba." Talk about bad preparation: it turns out "Patria o muerte, venceremos" (translation: "Fatherland or death, we shall overcome") is

Castro's signature closing line he's used in nearly every speech for decades. The Cuban-American politicians in the room were not amused. "He was ill-advised ... or didn't do his homework," complained Hialeah City Council President Esteban Bovo to the Miami Herald. State Representative Rene Garcia told the newspaper he was "'unimpressed" and thought Romney tried to "use the Cuba issue way too much." State Representative David Rivera shared those views, saying "Cuban-American voters have reached a level of political sophistication where the empty rhetoric of the past regarding Cuba's liberation is no longer acceptable." Romney's spokeswoman later explained "it was an unfortunate error in the language that certainly wasn't meant to offend." The incident was surprising considering that several top Florida Cuban-American political leaders are advising Romney's campaign. Former State GOP Chair Al Cardenas -- one of those key Romney supporters -- said it was an innocent gaffe because everyone knowns Romney really "abhors Castro."
MISSISSIPPI: The Mississippi Democratic Party on Monday purged several candidates from the ballot in the August 7 state primary. The biggest news, but long expected, was the party's decision to deny incumbent State Insurance Commissioner George Dale a spot on the Democratic primary ballot in his re-election contest. A party spokesman told the AP they "questioned [Dale's] loyalty to the Democratic Party." Dale previously won eight straight elections as a Democrat, but he endorsed President Bush's re-election in 2004. "I have been a freethinker for a long time. I have a clue why they did this," said Dale. Dale said he "intends" to seek re-election, but hasn't decided yet whether to do so as a Democrat, Republican or Independent. One option, he said, is fighting in court to regain his spot in the Democratic primary. Dale could also have problems securing the GOP nod, as State Senator Mike Chaney and three others already qualified for the Republican ballot. However, the eventual primary winner could agree to step aside for Dale. The Democratic Party also denied a primary spot to a 14-term incumbent State House member seeking re-election, saying she also lacked party loyalty. Additionally, frequent candidate Shawn O'Hara was spurned in his plans to simultaneously run for every statewide office this year. The Dems knocked him off the ballot in every race except State Treasurer, where he was the only Democratic candidate to file. O'Hara said he plans to sue in federal court to be re-listed in all the other primary contests.

GONZALES: The Politico and other news sources reported Monday the Bush Administration is actively seeking to quickly identify a replacement for Attorney General Al Gonzales. Reportedly, both Gonzales and Deputy Attorney General Paul McNulty with both be forced to imminently resign for having given false or misleading testimony to Congress over the political firing of eight US Attorneys. Purported frontrunners to replace Gonzales include Homeland Security Secretary Michael Chertoff, former Deputy Attorney General Larry Thompson and former US Solicitor General Ted Olson. US News & World Report speculates the smartest choice would be "a seasoned insider, a consummate veteran or an elder statesman who has bipartisan respect and acceptance and a squeaky-clean record." Sounds like former US Senator Fred Thompson could possibly fit that description, but he seems to have other plans these days.
Posted by Ron Gunzburger - 03.20.07 | Permalink |
FREE SPEECH ZONE.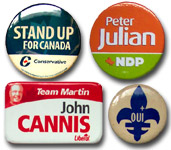 Obama's campaign claims it has nothing to do with producing this anti-Hillary spot posted to YouTube, which is a mix of Hillary images and the ground-breaking 1984 Apple Mac introduction spot. Whether they did or didn't, it's an amazing ad. Be sure to check it out!
Posted by Ron Gunzburger - 03.20.07 | Permalink |
WANNA TRADE?
I'm interested in building up my collection of Canadian campaign buttons. If you've got Canadian political buttons to trade, I'm interesting in swapping with you for some great US pins. Please drop me a note!
LOUISIANA GOP AIRS ANTI-BREAUX SPOTS; PRESSURE MOUNTS ON GONZALES TO QUIT.
LOUISIANA: Lots of folks clearly are concerned that retired US Senator John Breaux (D) appears to be moving closer to entering the race this year for Governor. Last week incumbent Governor Kathleen Blanco (D) -- an longtime ally of Breaux -- said she plans to continue her run for re-election regardless of whatever Breaux decides to do. Also, Congressman

Bobby Jindal -- the leading GOP candidate for the seat -- said he thought litigation may be needed to disqualify Breaux on residency grounds if he attempts to enter the race. This weekend, the Louisiana Republican Party began running TV spots around the state attacking Breaux as ineligible to run because he became a registered voter in Maryland after retiring in 2004. "We just want to state our position that John Breaux is not legally eligible to run for Governor. He gave up his Louisiana citizenship. He has a house in Maryland. He chopped his Louisiana driver's license," said a Louisiana Republican Party spokesman to the Lafayette Daily Advertiser. "I never revoked my citizenship in Louisiana," responded Breaux, who noted he still owns a home in Louisiana and continues to pay state taxes. Breaux said he will meet with Blanco within the next two weeks and will only run if Blanco agrees to exit the race.
BUSH ADMINISTRATION: US Senator Gordon Smith (R-OR) has become the second Republican to call for President Bush to fire Attorney General Al Gonzales over his handling of the political-related firing of eight US Attorneys. US Senator John Sununu (R-NH) made a similar demand last week. DC insiders are saying it is only a matter of time before Gonzales is forced to resign -- possibly within the next week -- over having made false statements to Congress on the matter.
Posted by Ron Gunzburger - 03.19.07 | Permalink |
FREE SPEECH ZONE.
Your daily open thread.
Posted by Ron Gunzburger - 03.19.07 | Permalink |
GOP KILLS DEM IRAQ WITHDRAWAL PLAN; COMEBACKS AND CONFUSION IN RACES.
IRAQ: US Senate Democrats suffered a 50-48 defeat Thursday as Republicans killed the resolution that called for the withdrawal of US forces in Iraq to begin by March 2008. Three Democrats -- Joe Lieberman, Ben Nelson and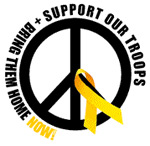 Mark Pryor -- voted with Republicans in opposition to the proposal. US Senator Gordon Smith (R-OR) was the only Republican to vote for the Dem plan. "Republicans are going to have to decide whether they will continue to support the failed policies of this president or change the course. We are in the middle of a civil war. There is no silver bullet. This is part of a process, a process working every step of the way to bring our troops home," said Senate Majority Leader Harry Reid (D-NV) to The Politico. Senators John Sununu (R-NH) and Norm Coleman (R-MN) said they oppose the surge and want to see a withdrawal of forces, but both said they voted against the resolution because it was bad military strategy to let our enemies know our timetable for withdrawal. "The best thing is for [my 2008 re-election race is] to do what I believe," said Coleman.
VIRGINIA: Former US Senator George Allen (R) is already seeking a return to elective office, just four months after narrowly losing his race for re-election. According to the Washington Times, Allen is talking to key supporters about either running for the US Senate next year if incumbent John Warner (R) retires next year or for Governor in 2009.
TEXAS: In a clear sign that former Congressman Henry Bonilla (R-TX) will not attempt to reclaim his seat from Congressman Ciro Rodriguez (D) next year, Bonilla accepted a new post in the Bush Administration. The President tapped Bonilla in Thursday to be the new US Ambassador to the Organization of American States.
NEBRASKA: Attorney General Jon Bruning (R) filed federal paperwork on Thursday to run for US Senator Chuck Hagel's (R) seat next year. But, before anyone gets excited about this, Bruning says he will not run if Hagel seeks re-election. And, if Hagel seeks re-election, Bruning will support John McCain for President. But, if Hagel runs for President, Bruning will support Hagel. Talk about decisive.
LOUISIANA: Governor Kathleen Blanco (D) said Thursday she plans to continue her run for re-election this year regardless of whatever retired US Senator John Breaux (D) decides to do. Congressman Bobby Jindal (R), who is already in the race, said he believes Breaux is legally ineligible to run because Breaux is now a Maryland voter.
Posted by Ron Gunzburger - 03.16.07 | Permalink |
FREE SPEECH ZONE.
Your daily open thread.
Posted by Ron Gunzburger - 03.16.07 | Permalink |
BLOG ARCHIVE:

April 1-15, 2007
March 16-31, 2007
March 1-15, 2007
February 16-28, 2007
February 1-15, 2007
January 16-31, 2007
January 1-15, 2007
December 16-31, 2006
December 1-15, 2006
November 16-30, 2006
November 1-15, 2006
October 16-31, 2006
October 1-15, 2006
September 16-30, 2006
September 1-15, 2006
August 16-31, 2006
August 1-15, 2006
July 16-31, 2006
July 1-15, 2006
June 16-30, 2006
June 1-15, 2006
May 15-31, 2006
May 1-15, 2006
April 16-30, 2006
April 1-15, 2006
March 16-31, 2006
March 1-15, 2006
February 17-28, 2006
February 1-16, 2006
January 16-31, 2006
January 1-15, 2006
December 2005
November 2005
October 2005
September 2005
August 2005
July 2005
June 2005
May 2005
April 2005
March 2005
Jan-Feb 2005
December 2004
November 16-30, 2004
November 1-15, 2004
October 16-31, 2004
October 1-15, 2004
September 16-30, 2004
September 1-15, 2004
August 16-31, 2004
August 1-15, 2004
July 16-31, 2004
July 1-15, 2004
June 16-30, 2004
June 1-15, 2004
May 16-31, 2004
May 1-15, 2004
April 16-30, 2004
April 1-15, 2004
March 15-31, 2004
March 1-14, 2004
February 15-29, 2004
February 1-14, 2004
January 17-31, 2004
January 1-16, 2004
December 16-31, 2003
December 1-15, 2003
November 17-30, 2003
---
POLITICAL BLOG ROLL:
KINDA NEUTRAL:
ABC News: The Note
CNN: Morning Grind
CQ Politics
Political Wire
MSNBC: First Read
CJR Daily
Rothenberg Pol. Report
LexisNexis: US Politics
Stateline.org
Governing.com
Political State Report
Hotline On Call
Hotline's Blogometer
Beltway Blog
WatchBlog
Lawmakers Blog
Centerfield Aggregator
Command Post
FactCheck.org
WSJ: Best of the Web
WSJ: Washington Wire
D.C.'s Political Report
2008 Political Perspective
Media Bistro
Larry Sabato: Crystal Ball
PressThink
Politics-Line
TheCapitol.Net: Blog
MyElectionAnalysis.com
DEM/LEFT:
DNC Blog
DCCC Blog
DailyKos
Lefty Blogs
Howard Dean/DFA
OurSenate.com
Frameshop
The Washington Note
Emerging Dem Majority
Think Progress
AmericaBlog.com
Amer Prospect: Tapped
Arianna Huffington
Al Franken
BAG News Notes
Eric Alterman
Senate Majority Project
FishBowl DC
Fired Up! America
TalkLeft
TNR: The Plank
The Raw Story
Blogging of the President
Joe Trippi
Swing State Project
Media Matters
Josh Marshall
Wonkette
MyDD
Working for Change
Crooks & Liars
Mathew Gross
Penndit
Progressive Dems: Blog
Atrios/Eschaton
Off the Kuff
Tom Tomorrow
Mother Jones
Jerry Springer
TruthOut
Dem Bloggers
Liberal Oasis
Penndit
Firedoglake
Good As You
AtariDemocrat
Henry Lewis
BuzzFlash
Brad Blog
Dean Nation
Louise Slaughter
TruthDig
Dem Underground
Jared Hall
Bad Attitudes
The American Street
District Blogs
GOP/RIGHT:
RNC (GOP.com)
Club for Growth
National Review: Corner
C-Log
Real Clear Politics
Andrew Sullivan
John Ellis
Mickey Kaus
Virginia Postrel
RedState.org
WSJ Opinion Journal
Free Republic
Instapundit
Drudge Report
Pajamas Media
Hugh Hewitt
Daniel Drezner
Daily Pundit
Bully Pulpit
Outside the Beltway
Little Green Footballs
World Mag Blog
Right Wing News
Volokh Conspiracy
Brothers Judd
David Frum
Mister Politics
Enter Stage Right
Right Wing News
PoliPundit
Power Line
Hedgehog Report
Right Voices
Booker Rising
Don Singleton
Save the GOP
OTHER:
ThirdPartyWatch.com
Centrist Coalition
Kn@ppster
Green Commons
News for Greens
---
For those who would like to track Politics1 with a newsreader, we publish a RSS feed:
---

---