BLOG ARCHIVE: MARCH 1-15, 2007.
HILLARY LEADS IN NH; GONZALES DRAWS FIRE; FRED PONDERS; BACK TO SCHOOL FOR MEEHAN.
P2008: A new WBZ-TV/Franklin Pierce College poll shows Hillary Clinton holding a seven-point lead in the
New Hampshire Presidential primary. The numbers: Clinton - 32%, Barack Obama - 25%, John Edwards - 16%, Al Gore - 10%, Bill Richardson - 3%, Dennis Kucininch - 2%, and all others at 1% apiece or lower.
BUSH ADMINISTRATION: Attorney General Al Gonzales is coming under more pressure to either better explain the seemingly-White House initiated political purge of eight US Attorneys or resign. Despite his recent statements to the contrary, the Wall Street Journal obtained copies of emails between the White House and Justice Department showing that the instigation to fire them came from the White House. Some Republicans were unhappy that these US Attorneys -- all Bush appointees -- were either investigating Republican politicians for alleged corruption or were "not moving fast enough" to file corruption charges against Democrats just before the 2006 mid-term elections. While Democrats have been uniformly critical on this issue, US Senators Arlen Specter (R-PA) and John Sununu (R-NH) have also joined the chorus. Specter has voiced serious concerns and Sununu on Thursday went so far as to demand Gonzales be fired. President Bush said Gonzales owes Congress a better explanation of the firings, but said the firings were "appropriate." Through his spokesman, Bush said he was "disappointed" with Sununu's comments and thinks Gonzales is "doing a good job."
THOMPSON: Former US Senate Majority Leader Bill Frist (R-TN) endorsed actor, attorney and former US Senator Fred Thompson (R-TN) for President this week. Frist, who himself briefly explored a 2008 White House run, said he had not spoken with Thompson about the race but was trying to encourage him to run. Thompson -- who currently plays the District Attorney on the Law & Order TV series -- told the AP this week he is "giving some thought to it, going to leave the door open" and will make a decision in a few months. "I think people are somewhat disillusioned. I think a lot of people are cynical out there. I think they're looking for something different ... and I think that they're going to be open to different things," he explained. He wants to see if any clear frontrunner emerges in the coming months.

Thompson is a conservative who is pro-life, anti-gun control, anti-gay marriage, supports the Iraq War and the President's surge plan, and said he would pardon former VP Chief of Staff Scooter Libby now for his perjury conviction last week. Thompson is active on Libby's legal defense fundraising efforts. He retired from the US Senate in 2002 after serving eight years to return to his acting career.
MASSACHUSETTS: Congressman Marty Meehan (D-MA) was selected to be the next Chancellor of the University of Massachusetts-Lowell. "The decision to leave the House has been the most difficult professional decision of my life ... The opportunity to serve as Chancellor of my alma mater is the right path for me. I believe in the University and the vital mission it plays in the community and in the state and I want to be a part of it. Obviously, this decision also gives me the opportunity to spend more time with [my wife] Ellen and my young sons Robert and Daniel. Serving in Congress has its advantages, but being away from your family three to four nights a week is not one of them," explained Meehan. He will resign his seat effective in July, setting up a special election this for the safe Democratic seat. A large number of Dems have already either announced candidacies or expressed an interest in the race.
Posted by Ron Gunzburger - 03.15.07 | Permalink |
FREE SPEECH ZONE.
Plaudits to freshman Congressman Dave Loebsack (D-IA) for being a real class act. This week he introduced a bill to name the federal building in Davenport, Iowa, in honor of former Congressman Jim Leach (R-IA). Loebsack defeated Leach last year in a close race. "For 30 years, Jim Leach represented eastern Iowa with distinction and grace," said Loebsack.
Posted by Ron Gunzburger - 03.15.07 | Permalink |
RON'S OPEN THREADS TO KEEP YOU BUSY UNTIL HE'S BACK FROM VACATION.
Next Update: March 15.
TOPIC: PRESIDENT BUSH & THE ADMINISTRATION.
Bush, Cheney, Rove, the Cabinet. The President's approval ratings.


Posted by Ron Gunzburger - 03.06.07 | Permalink |
TOPIC: CONGRESS.
Pelosi, Reid ... Boehner, McConnell ... the 2008 campaigns ... committee hearings.
Posted by Ron Gunzburger - 03.06.07 | Permalink |
TOPIC: THE P2008 DEMS - HILLARY, OBAMA, EDWARDS, RICHARDSON & ALL THE REST.
Your space to debate anything and everything about Chris Dodd, Joe Biden and Dennis Kucinich. Okay, an also Hillary, Obama, Edwards.
Posted by Ron Gunzburger - 03.06.07 | Permalink |

TOPIC: THE P2008 GOP - RUDY, JOHN, NEWT, MITT, SAM, CHUCK & ALL THE REST.
Frontrunner Rudy Giuliani and all the other hard-charging Republican hopefuls.
Posted by Ron Gunzburger - 03.06.07 | Permalink |
TOPIC: IRAQ, AFGHANISTAN, IRAN, CUBA, NORTH KOREA, ETC.
Anything and everything going on outside the US borders.
Posted by Ron Gunzburger - 03.06.07 | Permalink |
TOPIC: POLITICAL SCANDAL & CORRUPTION.
Libby trial ... the political firing of the group of US Attorneys ... Gary Miller, Jerry Lewis, Bill Jefferson.
Posted by Ron Gunzburger - 03.06.07 | Permalink |
TOPIC: STATE & LOCAL POLITICS.
Governors, state legislatures, candidates and local stuff.
Posted by Ron Gunzburger - 03.06.07 | Permalink |
TOPIC: LIBERALS, CONSERVATIVES, THIRD PARTIES ... AND EVERYTHING ELSE.
Your free speech zone for everything else.
Posted by Ron Gunzburger - 03.06.07 | Permalink |
COULTER SLURS EDWARDS; KY MUD FLIES; TOM EAGLETON, RIP; ... AND VACATION TIME.
COULTER: Conservative "shock jock" author Ann Coulter joked at this weekend's CPAC conference that she couldn't talk about Presidential candidate John Edwards (D) because "it turns out you have to go into rehab if you use the word 'faggot.'" While Dems quickly denounced the reckless Coulter -- who has previously said that Hillary Clinton, Bill Clinton and Al Gore were gay or "latent" homosexuals -- it took Republicans a day to gauge the backlash. On Sunday, Mitt Romney (R) called the remark "offensive." Rudy Giuliani said it was "completely inappropriate" and John McCain (R) called the comment "wildly inappropriate." Even one of the CPAC event co-sponsors -- the National Center for Public Policy Research -- posted an apologetic statement on their website reading: "Ann Coulter not only once again went out of her way to use a nasty epithet, she pushed her offensiveness up a notch." An unapologetic Coulter responded with a note on her website that she "can't stop laughing" over the reaction to her remark. At last year's CPAC conference, Coulter referred to Muslims as "ragheads." Editor's Question: And they invited Coulter back again after last year's comment?
KENTUCKY: Lieutenant Governor Steve Pence (R) stepped up his harsh criticism of Governor Ernie Fletcher (R) this weekend. Pence was Fletcher's runningmate in 2003, but the former federal prosecutor openly parted company with Fletcher last year over Fletcher's illegal hiring scandal. "But the facts are what they are. The fact is the pardons happened. The fact is [Fletcher] did take the Fifth. The fact is he was indicted. The fact is he does have a legal defense fund. The fact is he said we were going to get to the

unvarnished truth, but we didn't," said Pence to the Louisville Courier-Journal. Pence is supporting former Congresswoman Anne Northup against Fletcher in the May 22 primary.
TOM EAGLETON: Just a brief personal remembrance of retired US Senator Tom Eagleton (D-MO), who died Sunday at age 77. Eagleton was the Democratic nominee for Vice President in 1972 for 18 days, until he was forced to quit the McGovern ticket when it was revealed he had undergone treatment for severe depression when he was younger. I wrote Eagleton a letter with some political questions shortly before I arrived in DC as a 17-year-old college freshman in 1980. Eagleton responded with a note -- I presumed just something written by a lowly staffer -- to come visit him when I got to town. I did just that and, to my surprise, Eagleton spent a good two hours one afternoon chatting politics with me and giving me a personal tour of the Capitol building to point out his favorite historical spots in the building. He was truly one of the nicest and most gracious people to have served on Capitol Hill. Eagleton served 18 years in the US Senate, and was a leading sponsor of the War Powers Act.
VACATION TIME: As I previously mentioned, I'm going to be taking a bunch of brief vacations to visit Dana in Paris throughout the year. Well, this is one of those times. Tomorrow evening I'll post a bunch of open threads (one for each day) to help you pass the time until I return on March 15. Now this is going to be a real vacation: no computer, no email, no cell phone. Even if President Bush admits total failure in Iraq and resigns ... and if Dick Cheney then immediately succumbs to a fatal heart attack minutes getting the news he is to be elevated to the Presidency ... which would then pave the way for Speaker Nancy Pelosi to be our new President ... well, even if all those things happen, I'm still not going to post any updates after this Tuesday until 3/15.
Posted by Ron Gunzburger - 03.05.07 | Permalink |
FREE SPEECH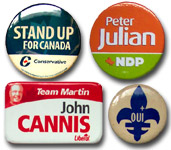 ZONE.
Hey ... see my new Obama fundraising banner in the right-side column. Please click it now and donate $5 or $10 to show your support for his White House campaign.
Posted by Ron Gunzburger - 03.05.07 | Permalink |
WANNA TRADE?
I'm interested in building up my collection of Canadian campaign buttons. If you've got Canadian political buttons to trade, I'm interesting in swapping with you for some great US pins. Please drop me a note!
FREE SPEECH ZONE.
Have at it.
Posted by Ron Gunzburger - 03.03.07 | Permalink |
RUNNING TO CENTER; CPAC NEWS; PENCE PLAYS; BLUNT PRIMARY LOOMS; MS '07 FILING CLOSES.
P2008: National Journal has some interesting new analysis out about the '08 Presidential hopefuls. Here is The Hotline's summary: "Not only are Clinton and McCain the most moderate members of Congress in the WH '08 race, but they've each made sharp swerves to the center at decisive points in the past few years. Clinton, for example, once voted solidly with the left, ranking among the most
liberal sens in '01 and '02. Since '04, she has moved notably to the right, especially on economic and foreign issues. While her lifetime average is still slightly left of Biden, she's now the 32nd most liberal; Obama is the 10th, even farther left than Kucinich .... Same story for McCain, who ranked among the most conservative Senators during his first 8 years. Starting with the GOP takeover in '95, however, and continuing through the Bush years, McCain has moved steadily to the middle (in '04, McCain, Chafee and Snowe were the most liberal GOPers). He now ranks as the 46th most conservative Senator."
McCAIN: US Senator John McCain (R-AZ) is making an odd move for a GOP Presidential candidate: he's the only major GOP contender who plans to skip the influential Conservative Political Action Conference (CPAC) this upcoming weekend. The event has been a key stop for years on the Republican road to the nomination. Even Rudy Giuliani, who is the most socially moderate of the GOP contenders, plans to attend the 34th annual CPAC gathering in DC of conservative activists. Former US Senator Rick Santorum (R-PA) -- a favorite of CPAC conservatives -- took the opportunity to slam McCain. "The only one I wouldn't support is McCain. I don't agree with him on hardly any issues. I don't think he has the temperament and leadership ability to move the country in the right direction," Santorum told The Politico. If that wasn't bad enough, McCain in the face of harsh criticism hastily retracted his Wednesday comment that the lives of 3,100 US soldiers were "wasted" in Iraq. "I should have used the word, sacrificed, as I have in the past," said McCain.


PENCE: Congressman Mike Pence (R-IN), the former Chair of the House Republican Study Committee, is the keynote speaker featured at the CPAC convo. He's a favorite of Club for Growth conservatives. Some fans have even launched a Draft Pence for President campaign site. When asked about it by The Hotline, Pence's spokesman responded: "Congressman Pence has not ruled out a run in the near term or the long term." A Pence candidacy for Prez next year is a longshot -- but we'd bet a lot of Republicans would love to see Pence in the VP spot.
MISSOURI: State Treasurer Sarah Steelman (R) is acting these days like someone readying for an aggressive 2008 GOP primary challenge to Governor Matt Blunt (R). The St. Louis Post-Dispatch reported Steelman issued a press release this week that "blasted the Blunt Administration's handling of the sexual harassment allegations and lawsuits revolving around Agriculture Department Director Fred Ferrell." Steelman criticized the $70,000 check the state paid from the the State Agriculture Department to settle the matter -- a payment the purported victim had rejected -- and she went so far as to stop payment on the

check. "I did it because it's the right thing to do. My job as State Treasurer is to take care of the people's money ... [my job involves] pointing out that this government is flawed," said Steelman to the newspaper, noting "no one would have known about it" if lawsuits hadn't been filed last week. "Governor Blunt respects the opinion of Treasurer Steelman and they have a positive working relationship," said Blunt's spokesman. When asked if she was planning to run for Governor next year, Steelman coyly responded: "I've got no timetable. I haven't even thought about it [yet]." The Dems already have an announced candidate against Blunt: Attorney General Jay Nixon (D).
MISSISSIPPI: Candidate filing for the 2007 elections closed on Thursday. Despite months of speculation, former Governor Ray Mabus (D) did not file to run against Governor Haley Barbour (R), and former Governor Ronnie Musgrave (D) likewise passed on the open race for Lieutenant Governor. Instead, Barbour's leading challengers -- both "second tier" candidates -- are wealthy attorney John Arthur Eaves Jr. (D) and former State Senator Bill Renick (D). With three open statewide offices, it was no surprise that lots of candidates qualified for the ballot. Click here to view all of the Mississippi statewide filings. The primary is August 7.
Posted by Ron Gunzburger - 03.02.07 | Permalink |
FREE SPEECH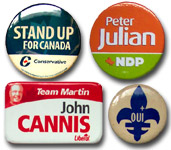 ZONE.
3,100 American lives "wasted" in Iraq ... or "sacrificed"? I'm going to step on some toes here, but the difference between those words is meaningless semantics. Dead is dead. What makes this waste of brave young lives so tragic is that they died in a preemptive, unprovoked war in which no real US interests were ever at stake (except, of course, the interest of Bush family vanity). And now our troops are caught in the crossfire of a bloody religious sectarian civil war. I'm unapologetic on this issue. If we really want to support our troops, the solution doesn't lie in the phony salve of soothing political wordsmithing. The solution is to bring our troops home from Iraq now. Let our troops concentrate on the free world's real post-9/11 mission: defeating the terrorist al Qaeda forces based in the Afghan region.
Posted by Ron Gunzburger - 03.02.07 | Permalink |
WANNA TRADE?
I'm interested in building up my collection of Canadian campaign buttons. If you've got Canadian political buttons to trade, I'm interesting in swapping with you for some great US pins. Please drop me a note!
McCAIN MAKES IT OFFICIAL; WARNER VERSUS WARNER, ROUND 2?
McCAIN: US Senator John McCain (R-AZ) officially made his preordained transition from exploratory candidate to official Presidential candidate with his Wednesday night appearance on CBS's Late Show with David Letterman. In an email
to supporters, McCain's campaign described the appearance as his announcement. It also said he will hold a formal announcement even in April -- so he can "announce" his candidacy for the third time.
VIRGINIA: The Washington Post reports former Governor Mark Warner (D) is engaged in discussions with the DSCC about making a challenge next year against US Senator John Warner (R). Mark Warner, the wealthy Nextel company founder who aborted his Presidential run late last year, has apparently dined with Senator Chuck Schumer and remains in regular contact with him and other DSCC officials about the Senate race. The two Warners faced off for the US Senate in 1996 -- a costly and competitive race won by John Warner -- before Mark Warner was elected Governor in 2001.
Posted by Ron Gunzburger - 03.01.07 | Permalink |
FREE SPEECH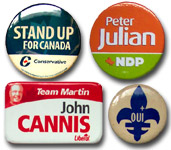 ZONE.
The daily open thread.
Posted by Ron Gunzburger - 03.01.07 | Permalink |
WANNA TRADE?
I'm interested in building up my collection of Canadian campaign buttons. If you've got Canadian political buttons to trade, I'm interesting in swapping with you for some great US pins. Please drop me a note!
BLOG ARCHIVE:

March 16-31, 2007
March 1-15, 2007
February 16-28, 2007
February 1-15, 2007
January 16-31, 2007
January 1-15, 2007
December 16-31, 2006
December 1-15, 2006
November 16-30, 2006
November 1-15, 2006
October 16-31, 2006
October 1-15, 2006
September 16-30, 2006
September 1-15, 2006
August 16-31, 2006
August 1-15, 2006
July 16-31, 2006
July 1-15, 2006
June 16-30, 2006
June 1-15, 2006
May 15-31, 2006
May 1-15, 2006
April 16-30, 2006
April 1-15, 2006
March 16-31, 2006
March 1-15, 2006
February 17-28, 2006
February 1-16, 2006
January 16-31, 2006
January 1-15, 2006
December 2005
November 2005
October 2005
September 2005
August 2005
July 2005
June 2005
May 2005
April 2005
March 2005
Jan-Feb 2005
December 2004
November 16-30, 2004
November 1-15, 2004
October 16-31, 2004
October 1-15, 2004
September 16-30, 2004
September 1-15, 2004
August 16-31, 2004
August 1-15, 2004
July 16-31, 2004
July 1-15, 2004
June 16-30, 2004
June 1-15, 2004
May 16-31, 2004
May 1-15, 2004
April 16-30, 2004
April 1-15, 2004
March 15-31, 2004
March 1-14, 2004
February 15-29, 2004
February 1-14, 2004
January 17-31, 2004
January 1-16, 2004
December 16-31, 2003
December 1-15, 2003
November 17-30, 2003
---
POLITICAL BLOG ROLL:
KINDA NEUTRAL:
ABC News: The Note
CNN: Morning Grind
CQ Politics
Political Wire
MSNBC: First Read
CJR Daily
Rothenberg Pol. Report
LexisNexis: US Politics
Stateline.org
Governing.com
Political State Report
Hotline On Call
Hotline's Blogometer
Beltway Blog
WatchBlog
Lawmakers Blog
Centerfield Aggregator
Command Post
FactCheck.org
WSJ: Best of the Web
WSJ: Washington Wire
D.C.'s Political Report
2008 Political Perspective
Media Bistro
Larry Sabato: Crystal Ball
PressThink
Politics-Line
TheCapitol.Net: Blog
MyElectionAnalysis.com
DEM/LEFT:
DNC Blog
DCCC Blog
DailyKos
Lefty Blogs
Howard Dean/DFA
OurSenate.com
Frameshop
The Washington Note
Emerging Dem Majority
Think Progress
AmericaBlog.com
Amer Prospect: Tapped
Arianna Huffington
Al Franken
BAG News Notes
Eric Alterman
Senate Majority Project
FishBowl DC
Fired Up! America
TalkLeft
TNR: The Plank
The Raw Story
Blogging of the President
Joe Trippi
Swing State Project
Media Matters
Josh Marshall
Wonkette
MyDD
Working for Change
Crooks & Liars
Mathew Gross
Penndit
Progressive Dems: Blog
Atrios/Eschaton
Off the Kuff
Tom Tomorrow
Mother Jones
Jerry Springer
TruthOut
Dem Bloggers
Liberal Oasis
Penndit
Firedoglake
Good As You
AtariDemocrat
Henry Lewis
BuzzFlash
Brad Blog
Dean Nation
Louise Slaughter
TruthDig
Dem Underground
Jared Hall
Bad Attitudes
The American Street
District Blogs
GOP/RIGHT:
RNC (GOP.com)
Club for Growth
National Review: Corner
C-Log
Real Clear Politics
Andrew Sullivan
John Ellis
Mickey Kaus
Virginia Postrel
RedState.org
WSJ Opinion Journal
Free Republic
Instapundit
Drudge Report
Pajamas Media
Hugh Hewitt
Daniel Drezner
Daily Pundit
Bully Pulpit
Outside the Beltway
Little Green Footballs
World Mag Blog
Right Wing News
Volokh Conspiracy
Brothers Judd
David Frum
Mister Politics
Enter Stage Right
Right Wing News
PoliPundit
Power Line
Hedgehog Report
Right Voices
Booker Rising
Don Singleton
Save the GOP
OTHER:
ThirdPartyWatch.com
Centrist Coalition
Kn@ppster
Green Commons
News for Greens
---
For those who would like to track Politics1 with a newsreader, we publish a RSS feed:
---

---