BLOG ARCHIVE: MARCH 16-31, 2006

CALIFORNIA. What only two years ago seemed impossible in CD-50 now seems within reach for retired professor Francine Busby (D). As the '04 Dem nominee, Busby lost to now-imprisoned former Congressman Duke Cunningham by a 58% to 37% vote. With the special election for Cunningham's vacant seat less than two weeks away, another independent poll shows Busby inching closer to the 50% mark required for an outright win in the crowded, multi-party April 11 primary. The new KGTV-TV/SurveyUSA poll places Busby at 45% -- far ahead of any of her 17 opponents. Wealthy businessman Eric Roach (R) was second with 14%, followed by former State Assemblyman Howard Kaloogian (R) at 12%, former Congressman Brian Bilbray (R) had 10%, State Senator Bill Morrow (R) and manufacturing executive Alan Uke (R) had 5% apiece, and a combined total of 6% back other candidates. Democrats have solidly rallied behind Busby, while the Republicans are engaged in a very nasty, divisive battle pitting social conservative candidates versus GOP centrist hopefuls. Busby, a local school board member, is positioning herself as a political moderate and an alternative to a culture of corruption in DC. While it still seems highly unlikely Busby will be able to secure an absolute majority in the primary, she is certain to finish far ahead of the rest of the field. If no one secures a majority, a run-off will take place June 6.
Posted by Ron Gunzburger - 03.31.06 | Permalink |
PENNSYLVANIA. A new IssuesPA/Pew/Princeton Research poll shows former pro football player Lynn Swann (R) taking the lead Governor Ed Rendell (D). Swann scored 35%, Rendell scored 29%, 2% backed others, and a whopping 34% remained undecided. Rendell ran strongest in Philadelphia, leading Swann there by a 60% to 12% vote. Swann was strongest in south-central Pennsylvania, leading the incumbent there by a 46% to 13% vote.
Posted by Ron Gunzburger - 03.31.06 | Permalink |
FLORIDA. Strategic Vision -- a GOP polling firm -- has a new poll out in the US Senate race. No surprises, though. Even the SV poll shows US Senator Bill Nelson (D) destroying Congresswoman Katherine Harris (R) by a 56% to 28% vote. In the gubernatorial race, the poll showed Attorney General Charlie Crist leading State CFO Tom Gallagher in the GOP contest by a 48% to 36% vote. On the Dem side, Congressman Jim Davis leads State Senator Rod Smith by a 41% to 19% vote. In general election match-ups, Crist led Davis by a 47% to 38% vote ... and Gallagher led Davis by a 46% to 39% vote.
Posted by Ron Gunzburger - 03.31.06 | Permalink |
SOUTH CAROLINA. Primary filing closed on Thursday, with all statewide and congressional incumbents drawing challengers. Governor Mark Sanford (R) will face physician Oscar Lovelace in the GOP primary. State Senator Tommy Moore, Florence Mayor Frank Willis and attorney Dennis Aughtry are competing for the Dem nod. Race rating: Sanford is safe. Two races worth watching are the GOP primary for Lieutenant Governor and the CD-5 congressional race. Lieutenant Governor Andre Bauer (R) faces a tough primary challenge from businessman Mike Campbell, son of the late Governor Carroll Campbell. Former State Board of Education Member Henry Jordan is also competing in the GOP primary. In CD-4, Congressman John Spratt (D) will face a competitive general election from State Representative Ralph Norman (R). Race rating: Dem Favored. Click here to view all of the South Carolina candidates.
Posted by Ron Gunzburger - 03.31.06 | Permalink |
SITE OF THE DAY. Our Politics1 Site of the Day winner is BlueJersey.net -- a great Dem blog covering NJ politics.
Posted by Ron Gunzburger - 03.31.06 | Permalink |
FREE SPEECH ZONE. TGIF.
Posted by Ron Gunzburger - 03.31.06 | Permalink |
WISCONSIN. A new Rasmussen Reports poll shows the gubernatorial contest continues to remain very close. Governor Jim Doyle (D) now leads Congressman Mark Green (R) by a vote of 45% to 40%. Doyle led by 7-points in the same poll two months ago.
Posted by Ron Gunzburger - 03.30.06 | Permalink |
CONGRESSIONAL FOLLIES. A US Court of Appeals upheld against Congressman Jim McDermott (D-WA) the jury award of $700,000 in damages to House Majority Leader John Boehner (R-OH). Boehner was awarded the money after he sued McDermott for leaking to reporters a recording of one of Boehner's illegally intercepted cell phone calls. Boehner had originally offered the settle the matter in exchange for McDermott making a $10,000 donation to a charity, but the offer was rejected ... Congressman Dana Rohrabacher (R-CA) is apparently the only Republican on Capitol Hill who fondly remembers convicted lobbyist Jack Abramoff. Despite the huge amount of money Abramoff spread around the Hill in recent years, Rohrabacher was the only Congressional incumbent who wrote a character letter in support of Abramoff at this week's sentencing hearing. Rohrabacher said that he didn't condone Abramoff's bad acts, but thought there should also be focus on "the good" he said Abramoff did in the past ... Finally, we have the story of Congressional pugilist Cynthia McKinney (D-GA). McKinney was rushing into a House Office Building on Wednesday. Although she was purportedly wearing her Member of Congress pin, a Capitol Police Officer failed to recognize the controversial McKinney as she rushed past and skipped the metal detector. Members are not required to pass through them. The officer chased after her, grabbing McKinney by the arm. McKinney then reportedly swung around and punched the officer in the chest. No charges were filed.
Posted by Ron Gunzburger - 03.30.06 | Permalink |
ALABAMA. You've got to

give ousted State Supreme Court Chief Justice Roy Moore (R) credit for ... umm ... exposing a commie cow conspiracy. Campaigning for Governor this week, the former "Ten Commandments Judge" declared that a proposed federal program to track livestock in order to deter the spread of mad cow disease was "more identifiable with communism than free enterprise." Moore went on to suggest he was highly skeptical of reports that an Alabama cow was found infected last week with the disease, claiming the timing of the announcement appeared curiously linked to Capitol Hill debate on the proposal. Alabama State Veterinarian Tony Frazier quickly ridiculed Moore, saying he has the infected carcass in his state lab. "To insinuate that it's made up is fanatical," said Frazier to the AP. Recent polls show Moore slipping further behind in his GOP primary challenge of Governor Bob Riley.
Posted by Ron Gunzburger - 03.30.06 | Permalink |
MICHIGAN. Our prize for the funniest quote of the day (and possibly of the week and the month) goes to Grand Rapids School Board Member Jim Rinck (D). He announced this week his plans to challenge six-term Congressman Vern Ehlers (R) in the heavily GOP CD-3 district. "Our Congressman is the smartest person in the district, and we might be the only place in the country that can say that. But he falls somewhat short on the charisma meter. And it might take a somewhat less intelligent -- although much noisier -- person to get some things done for this district," declared Rinck to the Grand Rapids Press. Ehlers, 72, is Chair of the House Administration Committee.
Posted by Ron Gunzburger - 03.30.06 | Permalink |
SITE OF THE DAY. Our Politics1 Site of the Day winner is the Genocide Intervention Network -- lots of important information about the largely ignored humanitarian crisis in Darfur, Sudan.
Posted by Ron Gunzburger - 03.30.06 | Permalink |
FREE SPEECH ZONE. What's on your mind.
Posted by Ron Gunzburger - 03.30.06 | Permalink |
ILLINOIS. In a surprise move,
Congressman Lane Evans (D) announced he was withdrawing from his race for re-election because of deteriorating health. Evans, 54, was first diagnosed with Parkinson's Disease in 1995 and disclosed the condition publicly in 1998. "This is a tough day for me ... the time needed to address my health makes it difficult to wage a campaign and carry out my work as representative ... I will return soon and to the best of my ability complete the important work of this term. Semper fi.," said Evans, a Marine Corps veteran. A rapid decline in his health caused Evans to miss all House votes and committee meetings since mid-February. Evans was first elected to Congress in 1982, when he captured a GOP seat in an upset. He had already won renomination without opposition this year, meaning the district's Democratic Party leadership will select a replacement nominee. State Senator Mike Jacobs is rumored to be the favorite to replace Evans as the Dem nominee. Former local TV news anchor Andrea Zinga -- who lost to Evans in 2004 by a 22-point margin -- is again the GOP nominee. Until a nominee is selected, we're moving this race from "Dem Favored" to "Leans Dem."
Posted by Ron Gunzburger - 03.29.06 | Permalink |
WHITE HOUSE. Out with the old ... and in with the equally old. OUT: White House Chief of Staff Andy Card, who resigned under pressure to let the President "inject fresh blood into his White House staff" (note: that quote comes from CNN). IN: The new Chief of Staff is OMB Director Josh Bolton -- who has served in the Bush Administration since January 20, 2001 (rendering a new meaning to the term "fresh blood"). And, before that, the pragmatic Bolton worked on the Bush campaign from 1999-2001. Bolton is closely aligned with the dominant Cheney-Rove leadership in the White House, likely presaging that any further staff shake-up will signify relatively no change in either substance nor style.
Posted by Ron Gunzburger - 03.29.06 | Permalink |

MISSOURI. Filing closed on Tuesday for the state's August 8 primary. In the US Senate race, incumbent Jim Talent (R) drew four minor opponents and challenger State Auditor Claire McCaskill (D) two unknowns in her primary. The real contest will be the hotly competitive Talent-McCaskill race in November. Because of the state's easy filing requirements, every Congressional incumbent drew opponents -- and some drew numerous foes. House Majority Whip Roy Blunt (R) drew challenges -- albeit nominal -- from three Republicans, three Democrats, and a Libertarian. Click here to view a more complete list of candidates.
Posted by Ron Gunzburger - 03.29.06 | Permalink |
VIRGINIA. US Senator George Allen (R) looks well on his way to winning re-election, setting the stage for his expected 2008 Presidential bid. The latest Rasmussen Reports poll shows Allen handily defeating either of his Democratic challengers. Allen leads technology executive Harris Miller (D) -- former Governor Mark Warner's endorsed candidate -- by a vote of 56% to 27%. Allen also leads former Reagan Administration Navy Secretary and author James Webb (D) by a 54% to 30% vote.
Posted by Ron Gunzburger - 03.29.06 | Permalink |
SITE OF THE DAY. Our Politics1 Site of the Day winner is the Pennsylvania House Republican Caucus -- functional, content depth and clean design..
Posted by Ron Gunzburger - 03.29.06 | Permalink |
FREE SPEECH ZONE. Go.
Posted by Ron Gunzburger - 03.29.06 | Permalink |
GEORGIA. The latest Rasmussen Reports poll shows Governor Sonny Perdue (R) is rapidly losing his numerical advantage. Last month, Perdue held leads of 20-points over either Secretary of State Cathy Cox (D) or Lieutenant Governor Mark Taylor (D). The new numbers: Perdue-49%, Cox-41% ... and Perdue-51%, Taylor-41%. Political pundits are already attributing Perdue's decline to the steady stream of news articles in recent weeks that closely link GOP Lieutenant Governor candidate and former Christian Coalition executive director Ralph Reed with corrupt DC lobbyist Jack Abramoff. "The Democrats, radical left, and dominant media have made numerous unfair personal attacks against Ralph," claims Reed's campaign. Professor Marvin Olasky -- the close associate of President Bush who conceived the "compassionate conservative" concept -- said Reed "has damaged Christian political work by confirming for some the stereotype that evangelicals are easily manipulated and that evangelical leaders use moral issues to line their own pockets." Some Republican activists worry Reed's continued presence on the statewide GOP ticket could potentially doom Perdue to an upset loss. Race rating: GOP Favored (but on the verge of slipping into the "Leans GOP" category).
Posted by Ron Gunzburger - 03.28.06 | Permalink |
TEXAS.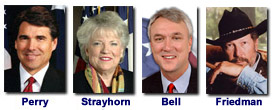 State Comptroller Carole Keeton Strayhorne (Independent) filed suit against Secretary of State Roger Williams (R), alleging his office is placing "unlawful roadblocks" to derail her gubernatorial campaign from qualifying for the November ballot. Williams is a political appointee of Governor Rick Perry (R), Strayhorne's main opponent. Strayhorne says that the Secretary of State's office has refused to either validate the count on her candidacy petitions as they are submitted or use statistical sampling to set a running tally of valid signatures collected. Williams wants to have Strayhorne -- and singer/writer Kinky Friedman (Independent) -- submit all the signatures they each believe is sufficient and then validate the totals once the deadline for submitting more signatures has closed. Strayhorne -- a former Republican -- says that move is intended to keep her off the ballot.
Posted by Ron Gunzburger - 03.28.06 | Permalink |
MICHIGAN. According to a new Rasmussen Reports poll, Governor Jennifer Granholm (D) has seen her lead evaporate. The new number s show Granholm locked in a tie with conservative billionaire Dick DeVos (R), with each holding 44% apiece.
Posted by Ron Gunzburger - 03.28.06 | Permalink |
IDAHO. First Lady Patricia Kempthorne (R) has a plan to stay in Idaho if her husband Governor Dirk Kempthorne (R) returns to DC as President Bush's next Interior Secretary. And, no, it doesn't involve divorce. The First Lady openly asked Lieutenant Governor Jim Risch (R) to select her as his interim Lieutenant Governor once he gets promoted to Governor following Kempthorne's expected Cabinet confirmation. "I'm not a campaigner, [so an appointment] is a good fit," she explained. Risch will serve as Governor until January 2007, and his selection for Lt Gov will serve for the same tenure. Risch is currently a candidate for reelection, despite his impending promotion. Risch was noncommittal about the proposal. Even if she is not selected, the First Lady says she would stay in Idaho while her husband serves in Washington.
Posted by Ron Gunzburger - 03.28.06 | Permalink |
SITE OF THE DAY. Our Politics1 Site of the Day winner is Bob Shamansky for Congress (D-OH) -- clean design, lots of content, good use of interactive resources.
Posted by Ron Gunzburger - 03.28.06 | Permalink |
FREE SPEECH ZONE. I was at a classical music performance Monday night (Michael Tilson Thomas conducting Miami's New World Symphony). The first half consisted of what could politely be described as "experimental" choices: a discordant, ugly and jerky-paced six-part work by an Austrian Nazi composer (hey, that's how the guy was described in the program) and Gustav Mahler's dreadful Songs on the Death of Children. A simple warning -- one I knew but had clearly forgotten -- "experimental" is simply artsy-lingo for "really bad."
Posted by Ron Gunzburger - 03.28.06 | Permalink |
MONDAY NEWS UPDATE.

WISCONSIN. The GOP contest for Wisconsin Governor became a one-man show on Friday when Milwaukee County Executive Scott Walker quit the race. Walker's departure leaves Congressman Mark Green as the lone candidate for the Republican nomination against Governor Jim Doyle (D). Walker cited fundraising problems as the reason for his withdrawal, saying he fell far short of his quarterly goal. Walker immediately endorsed Green -- and then went even further by urging former Governor Tommy Thompson (R) to disavow any more interest in the gubernatorial contest and look instead at the race against US Senator Herb Kohl (D). As for himself, Walker said he won't jump into the contests for Lieutenant Governor or US Senate. Walker's departure is good news for Green, as he can now focus his financial resources on the general election contest. Race rating: Leans Dem.
Posted by Ron Gunzburger - 03.27.06 | Permalink |
CONRESS. Time magazine is reporting "top strategists of both parties say privately the Republicans would probably lose the 15 seats they need to keep control of the House" and may also lose control of the US Senate. Former House Speaker Newt Gingrich (R-GA) -- the architect of the 1994 GOP takeover -- agrees. Gingrich said if he was leading the Dems he'd be using a two word slogan to sum up all the problems in Washington: "Had Enough?" And, speaking of the House, CQPolitics.com noted that seven self-imposed congressional term limits are up this year -- and all seven incumbents are breaking their previous pledges to run again in 2006. The seven who are breaking their promises: Barbara Cubin (R-WY), Phil English (R-PA), Jeff Flake (R-AZ), Tim Johnson (R-IL), Ric Keller (R-FL), Frank LoBiondo (R-NJ), Mark Souder (R-IN) and Zach Wamp (R-TN).
Posted by Ron Gunzburger - 03.27.06 | Permalink |
OHIO. A

new Columbus Dispatch poll shows Congressman Ted Strickland holding a landslide lead in the Democratic primary for Governor, while Secretary of State Ken Blackwell has a comfortable lead in the GOP contest. Strickland was at 51%, with former State Representative Bryan Flannery trailing far behind at 8%. Blackwell is at 39%, followed by Attorney General Jim Petro at 28%. These numbers come in the wake of Blackwell running an extensive buy of anti-Taft and anti-Petro attack spots on TV and radio over the past month. Blackwell also confirmed last week he will not appear for any pre-primary debates with Petro because it is not in his campaign strategy, said a Blackwell spokesperson. There were no surprises in the US Senate primaries -- except for the surprise that the newspaper paid good money to poll these two blowout contests that were never competitive. US Senator Mike DeWine (R) is at 61%, with his opponents at a dismal combined total of 5%. Meanwhile, Congressman Sherrod Brown leads truck driver Merrill Keiser in the Democratic race by a 54% to 4% vote. Keiser made headline earlier this month when he told reporters he supported the death penalty for homosexual acts. The primary is May 2.
Posted by Ron Gunzburger - 03.27.06 | Permalink |
ILLINOIS. State Senator James Meeks (D) is threatening to jump into the gubernatorial contest as an Independent -- and he is doing so knowing his candidacy would likely draw votes away from embattled Governor Rod Blagojevich (D) in the black community. The move is a ploy by Meeks and some of the other members of the Illinois Legislative Black Caucus to force Blagojevich withdraw his "no new taxes" pledge for his second term. Meeks believes the pledge would block any real increase in educational funding.
Posted by Ron Gunzburger - 03.27.06 | Permalink |
P2008. A few weeks ago, we introduced you to the gadfly GOP Presidential candidate who calls himself Michael Jesus Archangel. In what must be a setback to the Archangel's divine White House plans, he may not exactly be able to spend much time on the 2008 campaign trail. Here's why: he was arrested last week in Michigan on attempted murder and other felony charges. A good samaritan saw the candidate on the side of the road, after Archangel's car broke down. On the ride into town, Archangel began to rant about Satan, angels and communists -- and then he threatened to kill the man who stopped to help him. When the man stopped his car to get help, Archangel jumped out and allegedly pulled a knife on another man. He also threatened a police officer and had to be forcible restrained. Archangel's court-appointed lawyer has asked for a psychological evaluation for her client. Crawford County Sheriff Kirk Wakefield doesn't believe any formal evaluation is needed. "As a matter of fact, he is crazy. Anyone in their right mind can see that ... He doesn't need to be in jail. A jail is not the place for crazy people," said Wakefield, who supports diverting Archangel into a secure mental treatment facility.
Posted by Ron Gunzburger - 03.27.06 | Permalink |
SITE OF THE DAY. Our Politics1 Site of the Day winner is New Jersey for Feingold -- a great grassroots "draft" site.
Posted by Ron Gunzburger - 03.27.06 | Permalink |
FREE SPEECH ZONE. Did anyone catch that Congresswoman Katherine Harris (R-FL) has already backpeddled from her "I'm going to spend the entire inheritance I got from my father" promise she made on nationwide TV a week ago? Flaky, but true. "It is my understanding from her statements that she does not plan to use inherited money on the campaign -- rather, money from liquidating her personal assets, which she says total $10 million," said Harris' spokeswoman. Other newspaper reports say Ed Rollins, Adam Goodman and the remainder of the other political consultants she's used since the start of her career are planning to bail over the next week. Just bizarre.
Posted by Ron Gunzburger - 03.27.06 | Permalink |
MONTANA. Filing closed in Montana on Thursday for Democratic, Republican and Libertarian candidates. Despite a stream of rumors that embattled US Senator Conrad

Burns (R) would withdraw at the last minute and allow Congressman Denny Rehberg (R) to jump into the contest, both men filed for reelection to their respective current offices. State Senate Republican Leader Bob Keenan filed against Burns in the primary, running on an anti-corruption message that GOP voters may prefer to vote for a candidate not tied to the current lobbying scandals in DC. Two others also filed in the GOP primary. On the Democratic side, State Auditor John Morrison, State Senate President Jon Tester and three other hopefuls are battling for the right to face Burns in November. Burns currently trails both Morrison and Tester in head-to-head independent polls. Burns received more cash -- around $150,000 -- from former lobbyist and admitted felon Jack Abramoff than anyone else on Capitol Hill, explaining his lagging poll numbers and vulnerability. Senate race rating: Toss-Up. In the state's lone US House race, two Dems are vying in a primary to face Rehberg in the general election: State Representative Monica Lindeen and gas station owner Eric Gunderson. Race rating: GOP Favored. Other third party and independent candidates have until May 30 to file.
Posted by Ron Gunzburger - 03.24.06 | Permalink |
US SENATE. SurveyUSA completed another round of national polling on approval ratings of the 100 US Senators. Five Senators top the list with approval ratings of 70% or better. Senator Susan Collins (R-ME) and Kent Conrad (D-ND) tied for first with 72% approval ratings. The other three at the top are Olympia Snowe (R-ME), Ben Nelson (D-NE) and Barack Obama (D-IL). Five Senators also finished at the bottom of the ratings with approval ratings of under 45%. Scoring dead last -- with an approval rating of only 38% -- was Conrad Burns (R-MT). Rounding out the worst list were Jim Bunning (R-KY), Rick Santorum (R-PA), Mel Martinez (R-FL) and John Cornyn (R-TX). Of the top and bottom groups, five face voters this year: Conrad, Snowe, Nelson, Burns and Santorum.
Posted by Ron Gunzburger - 03.24.06 | Permalink |
CALIFORNIA. A new Rasmussen Reports poll is out on the gubernatorial race -- and the contest is virtual tie. State Treasurer Phil Angelides (D) and State Comptroller Steve Westly (D) each led Governor Arnold Schwarzenegger (R) by a vote of 45% to 44%. Westly trailed by five points in the last poll, while Angelides held a similar lead in February.
Posted by Ron Gunzburger - 03.24.06 | Permalink |
FREE SPEECH ZONE. TGIF.
Posted by Ron Gunzburger - 03.24.06 | Permalink |
FREE SPEECH ZONE. The Dems need to oust incumbent Congressmen like Clay Shaw (R-FL), Vito Fosella (R-NY), Tom DeLay (R-TX), Bob Ney (R-OH) and others if they are to have any shot at retaking control of the House, but is this Dem goal even remotely realistic ... did you check out the anti-Bill Frist ad paid for by the DSCC on our Tennessee page ... Congresswoman Katherine Harris (R-FL) promises to spend everything she owns in her uphill Senate campaign ... the NH State House defeats a proposed law to ban gay marriage by a 207-125 vote ... or discuss anything else you'd like to chat about. This is one of those days when -- after a really long day at work -- I'm just too tired to write much. Thus, the ball is in your court until tomorrow.
Posted by Ron Gunzburger - 03.23.06 | Permalink |
ILLINOIS.

Bad weather in at least half if the state -- the southern half -- hindered voter turnout in Tuesday's primary. Governor Rod Blagojevich (D) cruised to a landslide 70% win for renomination over former Chicago Alderman Edwin Eisendrath. In the five-candidate GOP gubernatorial primary, State Treasurer Judy Baar Topinka defeated wealthy conservative businessman Jim Oberweis by a vote of 38% to 32%. In CD-8, investment banker David McSweeney won the GOP nomination with 43% -- scoring a 10-point lead over his nearest primary rival in the crowded and nasty primary contest. McSweeney will next take on freshman Congresswoman Melissa Bean (D) in November in this GOP-friendly district. In the open CD-6 race, disabled Iraqi war veteran and DCCC-recruited candidate Tammy Duckworth (D) defeated technology consultant and liberal activist Christine Cegelis (D) by a 44% to 40% vote. Duckworth will face State Senator Peter Roskam (R), a one-time aide to former House Majority Leader Tom DeLay (R-TX), in November in this GOP leaning district. Frequent candidate Ray "Spanky the Clown" Wardingly easily outdistanced neo-Nazi Arthur Jones for Congress in the entirely comical but totally meaningless CD-3 GOP primary contest.
Posted by Ron Gunzburger - 03.22.06 | Permalink |
P2008. Not that it was any surprise, but US Senator Joe Biden (D-DE) yet again confirmed he plans to run for President in 2008. A South Carolina newspaper quoted him as saying "My intention is to run" -- but we have to presume that is a mere summary was his comments. Based upon his tendency to talk (and talk), Biden probably took about 70 minutes to explain what he meant by those five words. Meanwhile, visiting New Hampshire, US Senator Chuck Hagel (R-NE) told an audience "I'm not a Presidential candidate [now], but I may be."
Posted by Ron Gunzburger - 03.22.06 | Permalink |
NORTH CAROLINA. Democats lost one of their highly-touted Congressional challengers on Tuesday. Iraq War veteran Tim Dunn (D) -- an attorney and USMC Reserve Lieutenant Colonel -- ended his campaign against Congressman Robin Hayes (R). Dunn said family obligations were the reason for the withdrawal, although his fundraising had lagged far behind the incumbent. Hayes was viewed as vulnerable because of his vote in support of CAFTA, the free trade deal highly unpopular in the textile mill-laden district. With Dunn out of the race, we're moving it from "GOP Favored" to "Safe GOP."
Posted by Ron Gunzburger - 03.22.06 | Permalink |
SITE OF THE DAY. Our Politics1 Site of the Day winner is the Conrad Burns for US Senate (R-MT) -- well-designed site from this embattled incumbent.
Posted by Ron Gunzburger - 03.22.06 | Permalink |
FREE SPEECH ZONE. Howard Dean generously spent over two hours of his time at the Broward County reception Tuesday evening, discussing the party's 2006 strategy for an audience of around 30 folks active in Democratic politics and fundraising. Chatting with the people there -- most of whom were Dean or Kerry supporters in the 2004 primary season -- I saw how fragmented the base is with the wide choice of P2008 candidates. Activists there expressed support for Warner, Bayh, Feingold, Biden, and Hillary -- a few were even holding out for a change of mind by Al Gore -- but none mentioned Richardson, Edwards, Clark, or Vilsack, or said they wanted a second Kerry run.
Posted by Ron Gunzburger - 03.22.06 | Permalink |
MONTANA. Polling

numbers continue to show embattled US Senator Conrad Burns (R) losing ground to both of his major Democratic challengers. The latest Rasmussen Reports poll show the Abramoff-tied incumbent trails State Senate President Jon Tester (D) by a vote of 46% to 43% and trails State Auditor John Morrison (D) by a 48% to 43% vote. Montana Republicans acknowledge Burns is badly damaged by the scandal -- so much so that State Senate Minority Leader Bob Keenan is considering making a primary challenge to Burns. GOP voters may want a "viable option they can be proud of," said Keenan. One popular rumor widely afloat -- but one that I wouldn't bet anything on -- is that Burns will suddenly quit the race this week shortly before Thursday's filing deadline and be replaced in the Senate race by Congressman Denny Rehberg (R). The Rasmussen poll shows Rehberg would handily defeat Morrison or Tester.
Posted by Ron Gunzburger - 03.21.06 | Permalink |
ILLINOIS. Tuesday is primary day in Illinois. Look for Governor Rod Blagojevich (D) to easily win his renomination primary. State Treasurer Judy Baar Topinka is expected to win the GOP nomination to face Blagojevich in November -- although she has faced a spirited, bitter primary challenge from conservative businessman Jim Oberweis. Congressional primaries worth watching on Tuesday are the Democratic primary in CD-6 and the GOP primary in CD-8. And, for humor value, frequent candidate Ray "Spanky the Clown" Wardingly is facing neo-Nazi Arthur Jones in the GOP primary for Congress in CD-3 -- with the winner earning the right to lose by a landslide in November. Purely for the unintended humor, be sure to check out Jones' lengthy and bizarre rant against the Republican Party leadership, Wardingly and the Jews.
Posted by Ron Gunzburger - 03.21.06 | Permalink |
NEW JERSEY. The latest Quinnipiac University poll continues to show US Senator Bob Menendez (D) locked in a tight contest with gubernatorial scion and State Senator Tom Kean Jr. (R). The numbers: Menendez-40%, Kean-36%.
Posted by Ron Gunzburger - 03.21.06 | Permalink |
SITE OF THE DAY. Our Politics1 Site of the Day winner is the Drug Policy Alliance.
Posted by Ron Gunzburger - 03.21.06 | Permalink |
FREE SPEECH ZONE. Howard Dean visits Broward County on Tuesday evening.
Posted by Ron Gunzburger - 03.21.06 | Permalink |
NEW YORK. On Friday, 12-term centrist Congressman

Sherwood Boehlert (R-NY) announced he would not seek re-election. The demographics of Boehlert's marginal GOP district could produce a competitive race -- particularly if a social conservative wins the Republican nomination. Over the weekend, district Republican leaders aligned with Boehlert worked to clear the primary field for centrist State Senator Ray Meier. With the exception of former Seneca Falls Mayor Brad Jones -- a strident pro-life candidate who was already an announced primary opponent to the pro-choice Boehlert before the retirement announcement -- all of the other potential GOP hopefuls issued statements of support for Meier. If he wins the GOP primary, Meier would be favored to hold the seat. However, if Jones wins the GOP nod, the general election race would become highly competitive. Oneida County District Attorney Mike Arcuri, former Cortland Mayor Bruce Tytler and three others were already announced candidates for the Democratic nomination. New race rating: Leans GOP.
Posted by Ron Gunzburger - 03.20.06 | Permalink |
MINNESOTA. On Saturday, Congressman

Martin Sabo (D-MN) announced he will not seek re-election this year to a 15th term. Sabo's CD-5 district is safely Democratic, so the primary will be the only real contest for the seat. State Representative Keith Ellison and out gay Minneapolis City Councilman Gary Schiff were the first two Dems to jump into the race over the weekend, just hours after Sabo's announcement. Newspaper reports in Minnesota have named more than a dozen more Democrats who may possibly be interested in the rare open seat. Most believe Sabo would prefer to have either his daughter (former State Senator and '02 Lieutenant Governor nominee Julie Sabo) or his Chief of Staff (former State Democratic Chair Mike Erlandson) succeed him -- but neither has yet made any announcement of future plans. Two minor Republicans were already in the race, including one with an embarrassingly bad campaign website that boasts "This is site I run to support Carl Rove."
Posted by Ron Gunzburger - 03.20.06 | Permalink |
IDAHO. Candidate filing -- including for third parties -- ended in Idaho on Friday. Although Congressman Butch Otter faces three minor opponents in the GOP gubernatorial primary, he remains a very heavy favorite to win the open seat in November. Newspaper publisher Jerry Brady must defeat a nominal opponent in the Democratic primary before he gets to face Otter. Lieutenant Governor Jim Risch (R) -- who could find himself elevated to Governor very soon if retiring Governor Dirk Kempthorne is confirmed as the new US Interior Secretary -- filed to run for reelection. Former Congressman Larry LaRocco (D) filed to run against Risch. Six Republicans, two Dems and three others filed to run for Otter's open CD-1 seat. The district is heavily Republican, so the winner of the primary is expected to win the seat in the general election.
Posted by Ron Gunzburger - 03.20.06 | Permalink |
IOWA. Primary filing also closed in the Iowa. While Congressman Jim Nussle is unopposed for the GOP nomination for Governor, the Dems will see a very

lively primary for the open seat. Secretary of State Chet Culver, State Representative Ed Fallon and former State Economic Development Director Mike Blouin are locked in a competitive race for the Dem nomination. The other big race to watch here is the open CD-1 contest -- expected to be one of the closest Congressional races in the nation in November. Three Republicans and four Democrats filed for Nussle's open seat. In CD-3, State Senate President Jeff Lamberti (R) is a viable challenger against Congressman Leonard Boswell (D). College professor and "Deaniac" political activist Dave Loebsack (D) faced an mild setback, falling just ten signatures short of the amount needed. Loebsack collected more than the overall total needed, but fell short of the numbers required in two of the counties. Under state law, Loebsack will still be the Dem nominee on the ballot because the party will simply call a district convention to name him as the nominee.
Posted by Ron Gunzburger - 03.20.06 | Permalink |
SITE OF THE DAY. Our Politics1 Site of the Day winner is Iraq and Afghanistan Veterans of America PAC.
Posted by Ron Gunzburger - 03.20.06 | Permalink |
FREE SPEECH ZONE. A brief movie review. I saw V for Vendetta on

Friday and thought it was great. Not only is it a well-acted and entertaining film and a nightmarish UK of the year 2020, it gives viewers much to think about. The graphic novel it was based upon was written in the early 1980s as a parable on Britain's conservative Thatcherism movement. However, it is much more prescient as a parable of the what could happen if the current drift of American politics continues unchecked. The movie raises several thought-provoking questions. (1) How much freedom are you willing to surrender for feelings of more "security"? (2) How many of the reports we get on purported "terrorist attacks averted" are false or highly exaggerated? (3) Is terrorism sometimes justified? Before you answer a blanket "no" to the third question, remember that the British King considered the Minutemen irregulars at Concord/Lexington and the participants in the Boston Tea Party as terrorists ... and the Nazi government certainly considered the participants in the July 20, 1944 bombing plot that nearly killed Hitler to be terrorists. Before you flame me with "How can you defend al-Qaeda" emails, let me be clear: I'm not referring to Iraqi insurgents, bin Laden, etc. Just commenting on some of the questions raised by the film. Finally, even if you disagree with the political message of the film, it still is good entertainment if you can set the politics aside and view it purely as a fictional fantasy. So ... talk amongst yourselves.
Posted by Ron Gunzburger - 03.20.06 | Permalink |
FREE SPEECH ZONE. They're dropping like flies. Two more veteran Congressmen are retiring (and, unlike Congressman Elton Gallegly's aborted retirement fiasco earlier this week, these two guys actually know how to retire without making fools of themselves). On Friday, 12-term Congressman Sherwood Boehlert (R-NY) announced he would not seek reelection. On Saturday, Congressman Martin Olav Sabo (D-MN) is scheduled to announce he will not seek re-election this year to a 15th term. The demographics of Boehlert's marginal GOP district could produce a competitive race -- particularly if a social conservative, versus a Boehlert-style GOP centrist, wins the Republican nomination. Sabo's district is safely Democratic. More on both of these open seat races in Monday's report.
Posted by Ron Gunzburger - 03.18.06 | Permalink |
QUICK TAKES. I've been in Cadastral Mapping class all week related to my work as General Counsel in the Property Appraiser's office. The test is Friday morning so I'm spending Thursday night studying. Thus, a "snapshot approach" to the day's political news ... President Bush on

Thursday nominated term-limited Idaho Governor Dirk Kempthorne (R) to be the next US Interior Secretary in his Cabinet. This would be a return to DC for Kempthorne, who previously served in the US Senate ... A new American Research Group poll shows that a plurality of Americans favor US Senator Russ Feingold's (D-WI) resolution to censure President Bush for "authorizing wiretaps of Americans within the United States without obtaining court orders." Of those surveyed, 46% support the idea and 44% oppose it. To date, only two other Senate Dems have expressed support for the proposal -- and John Kerry (D-MA) now indicates he is leaning towards supporting it. On Thursday, US Senator Lincoln Chafee (R-RI) told the Providence Journal he may support Feingold's censure resolution. Chafee said he "agrees with" Feingold that

Bush "acted illegally when he launched" the program of "warrantless wiretaps of some US citizens." Maybe Chafee forgot he's facing a competitive GOP primary. Postscript: Chafee apparently remembered after the article came out and issued a new statement clarifying that he does not support the resolution, but wants a Senate debate on the these issues ... In West Virginia, state broadcasting mogul and former State GOP Chair John Raese is pitching some, umm, unusual ideas in his campaign against US Senator Robert C. Byrd (D). Proclaiming that "capitalism can save this country," Raese on Thursday called for the repeal of all clean air, clean water and minimum wage laws. No one can accuse Raese of running a poll-driven campaign ... In Texas, wealthy businessman and 2002 Dem Gov nominee Tony Sanchez broke with his party by endorsing State Comptroller Carole Keeton Strayhorn (Independent) for Governor. Former Lt Gov Ben Barnes (D) is also backing Strayhorn.
Posted by Ron Gunzburger - 03.17.06 | Permalink |
THURSDAY NEWS UPDATE.
MAINE. Primary filing closed in Maine on Wednesday. Governor

John Baldacci (D) will face a primary challenge from progressive businessman Chris Miller, but the incumbent should not have any problem winning renomination. However, Baldacci's real fight will be in November. The GOP primary will feature a competitive race between former Congressman Dave Emery and State Senators Chandler Woodcock and Peter Mills. Radio talk show host and 2004 Green Party VP nominee Pat LaMarche was the only candidate to file for the Green nomination. Ten independents are also running for Governor, but their filing deadline is in June. US Senator Olympia Snowe (R) faces only minor opposition: attorney Eric Mehnert (D) and frequent liberal candidate Jean Hay Bright (D). State Senate Majority Leader Michael Brennan (D) had previously announced he would challenge Snowe, but seemingly lost interest in the race and did not file. Congressman Tom Allen (D) faces a challenge from State Representative Darlene Curley (R) in CD-1, but Allen is safe. CD-2 Congressman Mike Michaud (D) only faces nominal opposition.
Posted by Ron Gunzburger - 03.16.06 | Permalink |
CALIFORNIA. It's a miracle! Congressman Elton Gallegly (R) -- less than a week after completely f***ing up his surprise retirement scheme due to an alleged "health concern" -- held a press conference Wednesday to announce he has a "clean bill of health" and will "aggressively" run for one last term in 2006. Gallegly won't disclose the nature of the purported medical problem, but now says he is "100%" and "there is no catastrophic [medical] issue that we have to deal with." President Bush and the House GOP Leadership both pressed Gallegly to run again to keep the seat safely in GOP hands. After five days of stumbling, Gallegly is back in the race. Minister Jill Martinez (D) and attorney Michael Tenenbaum (R) are both challenging Gallegly this year.
Posted by Ron Gunzburger - 03.16.06 | Permalink |

FLORIDA. Congresswoman Katherine Harris (R) once again flirted with rumors of her imminent withdrawal from the US Senate race against incumbent Bill Nelson (D) -- only to yet again announce she's running and will put in as much of her vast personal fortune as is needed for the effort. "I'm staying. I'm in this race. I'm going to win," said Harris. Her campaign lost more staff and consultants this week in response to Harris' most recent bizarre "is she in-or-out" antics on the trail. Polls show her trailing Nelson by a wide margin and Republican leaders have been only tepid in their support of her candidacy.
Posted by Ron Gunzburger - 03.16.06 | Permalink |
UTAH. Former CD-2 Congressman Merrill Cook (R) -- a multimillionaire businessman, perennial candidate and bombastic personality -- unexpectedly jumped into the CD-3 race against Congressman Chris Cannon (R). Cannon and Cook had a hostile relationship while the two served together in Congress -- Cannon openly supported the GOP primary opponent who defeated Cook for renomination in 2000. Cook supports a Tancredo-like crackdown on illegal immigration and opposes free trade policies, and says Cannon is wrong on these issues. Cook has very deep pockets, but will have a tough time derailing Cannon. Wealthy developer John Jacob (R), attorney Christian Burridge (D) and Phil Hallman (Libertarian) are also running.
Posted by Ron Gunzburger - 03.16.06 | Permalink |
SITE OF THE DAY. Our Politics1 Site of the Day winner is WesPAC, the official site of retired General Wes Clark.
Posted by Ron Gunzburger - 03.16.06 | Permalink |
FREE SPEECH ZONE. Your turn. (See, I almost got through a whole day without mentioning US Senator Russ Feingold. Almost.)
Posted by Ron Gunzburger - 03.16.06 | Permalink |